All the news for Wednesday 29 August 2018

2018 Asian Games - Day 10
Jakarta (INA)

Men's results 28 August 2018

Pool A     10:00     HKG - INA     2 - 3
Pool B     12:00     THA - KAZ     3 - 2
Pool B     14:00     MAS - OMA     7 - 0
Pool A     16:00     IND - SRI         20 - 0
Pool B     18:00     BAN - PAK     0 - 5
Pool A     20:00     JPN - KOR     3 - 2

Pool Standings
Pool A
| Pool A Pool B | Played | Won | Draw | Lost | GD | Points |
| --- | --- | --- | --- | --- | --- | --- |
| India | 5 | 5 | 0 | 0 | 73 | 15 |
| Japan | 5 | 4 | 0 | 1 | 19 | 12 |
| Korea | 5 | 3 | 0 | 2 | 31 | 9 |
| Sri Lanka | 5 | 2 | 0 | 3 | -33 | 6 |
| Indonesia | 5 | 1 | 0 | 4 | -35 | 3 |
| Hong Kong China | 5 | 0 | 0 | 5 | -54 | 0 |
Pool B
| Pool A Pool B | Played | Won | Draw | Lost | GD | Points |
| --- | --- | --- | --- | --- | --- | --- |
| Pakistan | 5 | 5 | 0 | 0 | 44 | 15 |
| Malaysia | 5 | 4 | 0 | 1 | 35 | 12 |
| Bangladesh | 5 | 3 | 0 | 2 | -4 | 9 |
| Oman | 5 | 2 | 0 | 3 | -12 | 6 |
| Thailand | 5 | 1 | 0 | 4 | -23 | 3 |
| Kazakhstan | 5 | 0 | 0 | 5 | -40 | 0 |
---

Stephen relieved Malaysia reached last four without any injuries

By K. Rajan



Malaysia team celebrate after defeating Oman in Jakarta. —FAIHAN GHANI/The Star.

NATIONAL men's hockey team coach Stephen Van Huizen is glad to reach the semi-finals without any major casualties to his players.

Only three of his players – Marhan Jalil, Muhamad Azuan Hasan Meor and Syed Mohamad Syafiq Syed Cholan were slightly below par due to fever and knocks but they still gave their best in their 7-0 win over Oman in their final Group B match at the Gelora Bung Karno Hockey Stadium yesterday.

Malaysia will face India tomorrow.

"There are no serious injuries to the players and that's a good sign ahead of our match against India," said Stephen.

The Malaysians booked their berth in the semi-finals after finishing second in Group B with 12 points from five matches behind group champions Pakistan who finished top, without a loss.

World No. 5 India are the overwhelming favourites to defend their Asiad gold medal and secure an early qualification for the 2020 Tokyo Olympics.

Stephen said Malaysia, ranked 12th in the world, were the underdogs.

"We've nothing to lose as we are going against a strong team. We are the underdogs based on the ranking, performance and recent records," said the 59-year-old coach.

The Star of Malaysia


---

Men finish league stage undefeated

Uthra Ganesan



India's hockey team in action against Korea. Photo Credit: AFP

Indian men rounded off their hockey league engagements with a 20-0 thrashing of Sri Lanka in Pool A on Tuesday to finish undefeated ahead of their semifinal clash against Malaysia. And coach Harendra Singh is aware that his next opponent is a tricky customer.

Akashdeep Singh scored six while Rupinder Pal Singh, Harmanpreet Singh and Mandeep Singh scored three apiece against the minnows.

The team took some time to get into the groove, managing only seven goals in the first half, before stepping on the gas to pump in at will post break. "The boys are hungry for success, they want to score more and more goals. In the end, it comes down to how you perform on that particular day," Harendra said.

India topped its group only to collapse against Malaysia in the 2010 semifinals but Harendra insisted that was in the past. "This is a different team. I have only told the boys to focus on yourself and your game, not the opponent.

"All of us including players and staff are here to create a legacy and make history and so there are no easy or tough matches for us. Our job is to go out there and do our best and win," he said.

The Hindu


---

Indian Hockey Creates World Record-Score Maximum Goals ever in a tournament

By B.G.Joshi (Sehore-Bhopal, India)



Akashdeep Singh scored double hat trick-rare phenomena in hockey in 20-0 triumph of India against Sri Lanka.

India scored 76 goals in Jakarta Asian Games in 5 matches (still 2 matches remaining of the tournament).76 goals in a tournament is World Record of 110 years of International hockey. Previously Argentina scored 68 goals in Pan Am Cup in London (Ontario-Canada) 2004. Here are top 5 tournaments in which 50+ goals have netted by a team:
| | | | | |
| --- | --- | --- | --- | --- |
| Goals | Country | Year | Venue | Tournament |
| 76 | India | 2018 | Jakarta | Asian Games |
| 68 | Argentina | 2004 | London(Ontario) | Pan Am Cup |
| 67 | South Africa | 2015 | Johannesburg | All  African Games |
| 57 | India | 2007 | Chennai | Asia Cup |
| 56 | Australia | 2013 | Startford(NZ) | Oceania  Cup |
 It is humble submission that no one in the World has prepared records (as above) in the hockey.

By God grace and good wishes of hockey family I have prepared World Records of Hockey on different 113 angles.

Fieldhockey.com


---

Indian teams are dominant so far

s2h team




Never before in the history of Asian Games hockey, both the Indian mens' and women's hockey teams have established such a supremacy in the pool stage as is happening here in Jakarata. Perhaps close to the scenarios is 1982 when Delhi hosted the Asian Games where women's genre was introduced. 36 years later, both men and women hockey players of the nation have put hockey on high pedestal. As the Individual events, especially Badminton and athletics are almost nearing completion, hockey comes to centre-stage from public point of view.

Both men and women teams have won all the matches, nine in all, totalling 114 goals.

Presence of more teams compared to previous editions, thanks to the effort of Asian Hockey Federation to increase the number of participation in its vision of future of Asia Hockey, helped dominant teams gather more goals

However, this cannot diminish the gloss of Indian success. Particularly, one can understand its run away success over Hong Kong, Thailand etc, but the ones against Japan, which incidentally defeated South Korea in the last pool match, Indian men put it across eight goals, to equal its 1958 record.

Similarly, Korea used to be nemesis of Indian women. Indian girls here could amass four goals against them. Therefore, Indian attack and more so its solidity in the midfield and defence has come in for praise from one and all.

Stick2Hockey.com


---

Pakistan humble Bangladesh 5-0 to top Group B, face Japan in semi-final

India take on Malaysia in second semi-final

Muhammad Ali




JAKARTA: Pakistan defeated Bangladesh 5-0 in their last pool match of the Asian Games Hockey Tournament at the Gelora Bung Karno Stadium here on Tuesday.

With this victory, Pakistan have entered the semi-finals as the top team of Group B.

Pakistan led 3-0 at half time.

Bangladesh finished third in the group and qualify for the sixth-fifth position decider. It was the first time that Bangladesh finished third in their group.

Pakistan will face Japan, who defeated South Korea 3-2, in the semi-finals.

Bangladesh went down a goal after just a minute's play as Mohammad Atiq found the mark. Mubashar Ali then doubled the lead in the ninth minute by scoring from a penalty corner. Mubashar scored from another penalty corner in the second period of play. Shan Ali scored in the third period before Atiq scored his second in the fourth period from a penalty corner.

India are the top team in Pool A with five wins from as many matches. They will face second-placed Malaysia from Pool B.

A marquee final between arch-rivals Pakistan and India is on the cards if both teams beat their respective opponents in the semis on August 30. The final of the Asian Games hockey event will be played on September 1.

Pakistan's hockey team represents the national contingent's best hope for a gold medal.

Hockey at the Asian Games is always a highlight and this year sees one of the biggest fields of competitors with 12 men's teams and 10 women's teams all searching for that most sought after of prizes — to be the first nation to qualify for a place at the 2020 Tokyo Olympic Games.

Pakistan's medal tally in 15 hockey tournaments of the Asian Games is eight gold, three silver and three bronze medals- hockey was not included in the first two Asiads, in 1951 and 1954. From 1958 to 1990, Pakistan claimed seven gold and two silver medals in nine consecutive Asian Games, a remarkable sequence. This included four consecutive golds from 1970 to 1982. But in the next four Asian Games, Pakistan failed to reach even the final.

In 1994, 1998 and 2006, Pakistan were third. In 2002 Pakistan failed to climb on to the podium, losing to Malaysia in the bronze medal play-off.

In 2010, the Green Shirts regained the gold after 20 years. The first place also gave them an automatic qualification for the 2012 Olympics. At the last Asian Games, in 2014, Pakistan again managed to reach the final where they met India. Pakistan had defeated India in the pool match. The final was an exciting game between the two traditional rivals. It was 1-1 after the regular time. However, Pakistan went down in the shootout. Thus, they lost the chance to get an automatic qualification for the Olympics.

The Daily Times


---

Pakistan top Pool B after 5-0 rout of Bangladesh



PHOTO: AFP

Pakistan hockey team on Tuesday beat Bangladesh 5-0 in their last Pool B match of the ongoing Asian Games to enter the semi-finals as the top team from their group in Jakarta.

For Pakistan, Mohammad Atiq and Mubashar Ali scored a brace, while Ali Shan contributed a single goal.

India are the top team in Pool A with five wins from as many matches. They will now face second-placed Malaysia from Pool B.

Meanwhile, Pakistan will face the winner of the South Korea-Japan match in the semi-finals.

A marquee final between arch-rivals Pakistan and India is on the cards if both teams beat their respective opponents in the semis on August 30.

The final of the Asian Games hockey event will be played on September 1.

The Express Tribune


---

Pakistan maintain winning streak in Asian Games hockey

LAHORE: Pakistan hockey team routed Bangladesh 5-0 to notch up their fifth successive victory in the Asian games hockey competition on Tuesday Gelora Bung Karno (GBK) Sports Complex, Jakarta, Indonesia.

Pakistan maintained their perfect record at the Asian Games, winning all the five pool matches with big margins, said the information made available to APP by the Pakistan Hockey Federation.

In their last fixture of the Pool B, the green shirts went ahead in the very first minute through Atiq Arshad, who scored a brace along with Mubashar Ali.

Ali Shan added one goal.

Pakistan led 3-0 at half time.

Semifinals are scheduled on August 30.

Pakistan and India are the only teams to win all their group matches in the tournament.

The News International


---

Hockey Series Open - Gniezno 2018 (Men) - Day 1
Gniezno (POL)

Results 28 August

CZE v ITA (RR)     3 - 4
UKR v LTU (RR)     11 - 1
POL v CYP (RR)     17 - 0

Pool Standings
| Rank | Team | Played | Wins | Draws | Losses | Goals For | Goals Against | Goal Difference | Points |
| --- | --- | --- | --- | --- | --- | --- | --- | --- | --- |
| 1 | Poland | 1 | 1 | 0 | 0 | 17 | 0 | 17 | 3 |
| 2 | Ukraine | 1 | 1 | 0 | 0 | 11 | 1 | 10 | 3 |
| 3 | Italy | 1 | 1 | 0 | 0 | 4 | 3 | 1 | 3 |
| 4 | Czech Republic | 1 | 0 | 0 | 1 | 3 | 4 | -1 | 0 |
| 5 | Lithuania | 1 | 0 | 0 | 1 | 1 | 11 | -10 | 0 |
| 6 | Cyprus | 1 | 0 | 0 | 1 | 0 | 17 | -17 | 0 |
---

Poland, Ukraine & Italy make strong starts at men's Hockey Series Open event in Gniezno




Lausanne, Switzerland: The latest event in the Hockey Series Open is up and running in Gniezno, Poland, where six men's teams are currently chasing a top two finish in order to secure a place in the next phase of the competition to keep alive hopes of qualifying for the Tokyo 2020 Olympic Games.

Host nation Poland (FIH Hero World Ranking: 21) are the top ranked side in the competition and enjoyed an extremely positive start by claiming a 17-0 triumph over Cyprus (WR:60), finishing Tuesday's opening day at the top of the standings on goal difference. Ten players made a mark on the score-sheet, with Mikolaj Gumny and Mateusz Hubloj both scoring hat tricks as the home favourites reminded everyone that they are very much the team to beat.

Ukraine (WR:25) were also winners on the opening day, storming to an 11-1 victory over Lithuania (WR:48). Oleh Polishchuk scored a hat-trick of field goals in the rout, with Maksym Onofriiuk also scoring twice for a Ukrainian side aiming to emulate the success of their female compatriots, who booked their place in the Hockey Open Finals with a first place finish in Vilnius at the weekend. Ukraine ended the day sitting second in the table level on points with Poland but with an inferior goal difference.

The most surprising result of the day came in the opening match of the competition, when Italy (WR:37) claimed a surprise 4-3 triumph over higher-ranked Czech Republic (WR:28). The Italians stunned the Czechs by scoring twice in the opening 10 minutes, with team captain Agustin Nunez netting a penalty corner before Pietro Lago's field goal doubled the advantage. Strikes either side of the quarter-time break from Tomas Prochazka and Jan Zelezny pulled the Czechs level, but Italy reestablished their two goal buffer in the third quarter as Lago and Luca da Gai found the target. Adam Uhlir reduced the deficit with three minutes of the match remaining to set up a dramatic finale, but it was the Italians who went away with all three points to make a clear statement about their own potential for success in Gniezno. 

The action continues on Wednesday 29th August, with the day's play starting with a mouth-watering encounter between opening day winners Ukraine and Italy at 15:00 Central European Time. That contest will by followed by Cyprus facing Czech Republic at 17:00 before Lithuania play Poland in the final match of the day at 19:00.

The event in Poland takes place from 28 August until 2 September and pits some of Europe's up-and-coming nations against each other as the journey towards possible qualification for the Tokyo 2020 Olympic Games begins. The top two placed teams from Gniezno will qualify for one of three FIH Series Finals events, which will be played in 2019. Each of these FIH Series Finals events will consist of eight teams and will take place throughout the world, with berths into the Olympic Qualification Events up for grabs.

#HockeySeries2018

FIH site


---

Oranje-Rood start off Hoofdklasse with dramatic win over HGC



©: World Sport Pics

HC Oranje-Rood won an epic 5-4 battle with HGC on the opening day of the Hoofdklasse in their first formal game in the lead-up to EHL ROUND1 in October.

New signing Lucas Martinez opened the scoring when he latched onto a defensive error, smashing home from mid-circle against his former club.

Ashley Jackson – on his return to the Hague – flicked home an equaliser soon after and another new HGC players, Max Plennevaux, put them in front in the 23rd minute.

Bob de Voogd scored a quality counter-attack goal for 2-2 at half-time but HGC restored their lead when Tanguy Cosyns scrambled in the first goal of the second half in his first game in sky blue.

The Eindhoven men, however, finished strong with Mink van der Weerden scoring his first goal of the season in the 52nd minute from a corner. De Voogd scored another excellent counter strike and van der Weerden stretched the lead out to 5-3.

Dick Möhlmann got one back late in the day but Oranje-Rood retained their lead and held on for the points from the game.
Oranje-Rood will meet SV Arminen and Grange in their EHL group from October 5-7, 2018.

Elsewhere on the opening weekend of the Dutch league, AH&BC Amsterdam were held at bay by Rotterdam 2-1 with new goalkeeper Mark Ingram making a crucial penalty stroke save from Justin Reid-Ross. Jeroen Hertzberger scored twice, either side of a Reid-Ross goal.

SV Kampong won 4-1 in their first game, beating Pinoke with three second half goals. Klein Zwitserland's return to the top flight was a magical one, beating SCHC 3-2, HC Bloemendaal won 2-1 at Almere and Den Bosch beat Tilburg 3-1.

Euro Hockey League media release


---

Ingram enjoys perfect start to life at Rotterdam



Mark Ingram saves from Justin Reid-Ross.

Mark Ingram enjoyed a stunning debut for HC Rotterdam in the Hoofdklasse as he saved a penalty stroke to earn his side a big win over AH&BC Amsterdam.

The goalkeeper moved from Pembroke to the Dutch club during the summer along with midfielder Sean Murray – from Lisnagarvey – and he got the nod as number one ahead of last year's regular Rotterdam keeper Berend van Eldonck.

Two goals from Jeroen Hertzberger saw their new club lead 2-1 with ten minutes to go before Amsterdam earned a stroke which South African star Justin Reid-Ross took. He caught his shot well but Ingram got down low to his left to palm it away, the key intervention in landing the victory.

Ingram is one of three goalkeepers vying for the number two role – after David Harte – in the men's World Cup which starts in November in India, battling it out with Three Rock Rovers' Jamie Carr and Monkstown's Dave Fitzgerald.

Ingram, 24, is among over 20 Irish men now playing in the top leagues across Europe this season.

Elsewhere, Harte's Kampong – the reigning Dutch champions – eased by Pinoke 4-1 while Paul Gleghorne, Matthew Bell, Neal Glassey and Michael Robson's Crefeld in the German league lost 2-1 to Club an der Alster in their first league game of the campaign.

Ronan Gormley, meanwhile, has joined Maurice Elliott at DSD in Dusseldorf.

The Hook


---

Ireland's Euro 2019 groups and schedule confirmed




The Irish men and women's teams have both been handed typically tough draws for next year's European Championships which will take place in Antwerp in August 2019.

The women have been grouped with England – who beat them 1-0 in the World Cup groups – as well as fifth ranked Germany and outsiders Belarus.

The men, meanwhile, face a Netherlands side going for three European titles in a row, sixth rated Germany and Scotland. For both tournaments, the top two in the pools go through to the semi-finals while the bottom two contest the relegation pool.




It is Ireland's first potential Olympic qualifier with the overall winner earning a ticket to Tokyo 2020. The other route for Ireland is via the World Series with Hockey Ireland confirming last week they have put their hands up to host the next phase of that competition for both men and women in the spring.

The Series currently has a host-venue slot open for an eight-team event which Ireland would need to finish in the top two. Winning the rights ensure they avoid a costly tournament away to one of the already confirmed events with Malaysia for the men or Japan for the women a possibility.

With both Irish sides likely to be top seeds for this round of the qualifiers, a successful bid is likely to be dependent on whether the national body can prove they have a suitable venue.

Currently, UCD's National Hockey Stadium is out of commission due to its turf losing its FIH approved status a couple of years ago. The college was due to replace this summer but has yet to carry out the work with the full works now looking set to be done next summer instead.

Should the new turf be put in place, the venue would tick all the boxes as a drop-in venue with a track record of hosting tournaments at this level with additional buildings less than elsewhere.

Otherwise, the likes of Banbridge, Stormont and the Mardyke at UCC have pitches and some of the infrastructure in place to host such an event but would need to build additional structures to make them operational.

EuroHockey Championships, (Women & Men), Antwerp (BEL), 16-25 August 2019
MEN'S POOL A (MA): Belgium, England, Spain, Wales
MEN'S POOL B (MB): Netherlands, Germany, Ireland, Scotland

WOMEN'S POOL A: Netherlands, Spain, Belgium, Russia
WOMEN'S POOL B: England, Germany, Ireland, Belarus

The Hook


---

2019 European Hockey Championships: Ireland women to face England in opener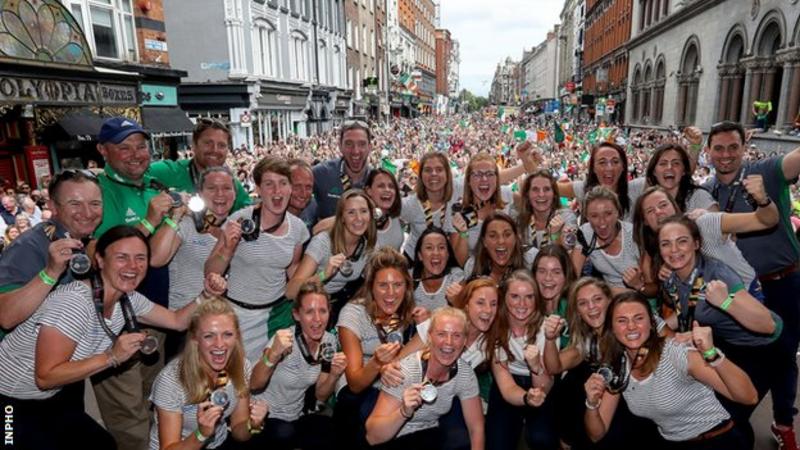 The Irish women's team made a triumphant homecoming after their runners-up finish at the Hockey World Cup

The Ireland women's team which got to the final of the recent World Cup will face England in their opening match of the 2019 European Hockey Championships.

Graham Shaw's side have also been drawn against Germany and Belarus for the tournament which will take place in Antwerp next August.

Ireland's men's team will play the Netherlands in their first match of a group that also includes Scotland and Germany.

The women's opener is on 18 August.

It will see them up against an England team that they lost narrowly to in a pool match on the way to their historic silver medal at the World Cup in London, although the Green Army had already qualified from the group before the encounter.

Next up for the women will be Belarus on 19 August, with the final pool match against Germany scheduled for two days later.

The team rocketed up the world rankings to a best-ever eighth position following their memorable World Cup campaign, before which they were in 16th place.

Their male counterparts, who are now coached by Dutchman Alexander Cox, will begin their Euro campaign against the Netherlands on 17 August.

Cox's team, which is preparing for the World Cup in India later this year, play Scotland the next day and complete their pool matches against Germany on 20 August.

Ireland women's 2019 European Hockey Championships pool fixtures:

Ireland v England - Sunday 18 August 2019 at 11:15 (BST)
Ireland v Belarus - Monday 19 August 2019 at 15:45
Ireland v Germany - Wednesday 21 August 2019 at 12:15

Men's fixtures:

Ireland v Netherlands - Saturday 17 August 2019 at 15:45
Ireland v Scotland - Sunday 18 August 2019 at 15.45
Ireland v Germany - Tuesday 20 August 2019 at 15:45pm

BBC Sport


---

'You score goals like runs in cricket': When Don Bradman paid Dhyan Chand a compliment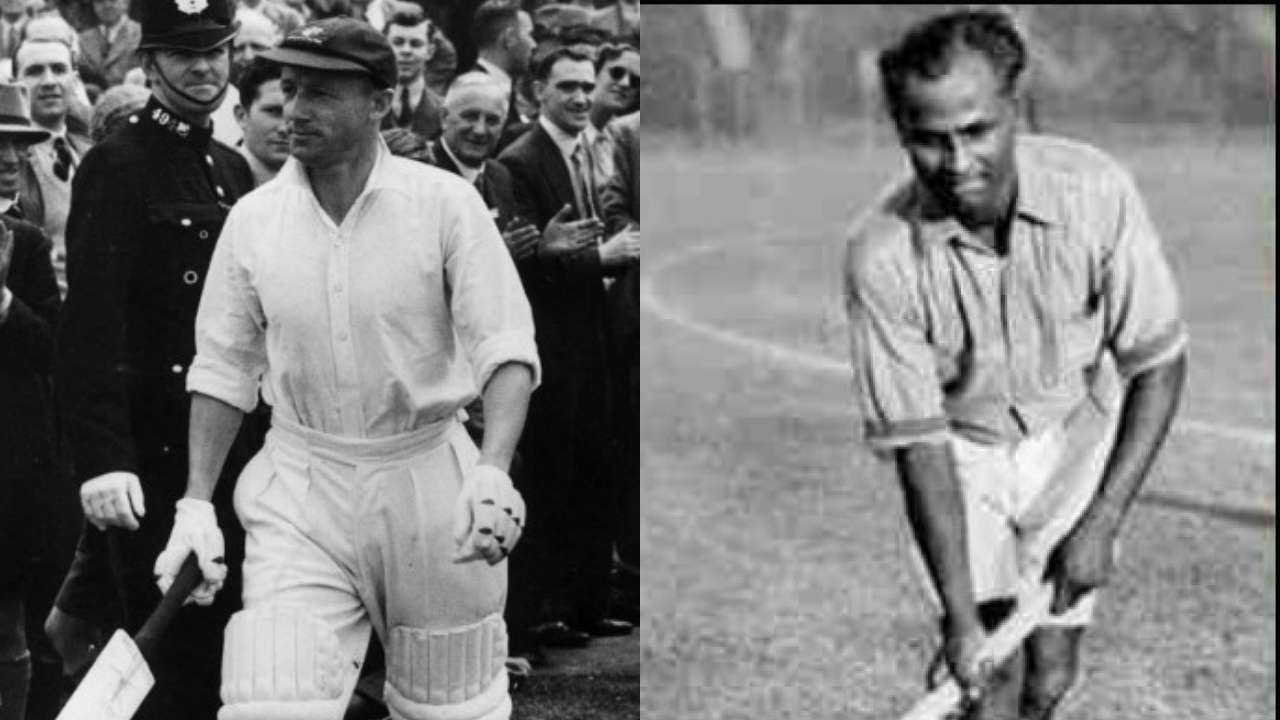 Don Bradman (L) and Dhyan Chand , AFP

India celebrates its National Sports Day on Wednesday, marking hockey legend Dhyan Chand's 113th birth anniversary. Arguably the greatest field hockey player of all time, Major Dhyan Chand won over 400 international hockey medals in his glittering career, including an unprecedented three Olympic gold medals in 1928, 1932 and 1936.

In honour of the icon, noted sports historian Mohandas Menon shared an interesting anecdote on Twitter on Wednesday. Only two days ago, it was the 110th birth anniversary of the greatest cricketer of all time - Donald Bradman. The Australian, who retired with a mind-boggling batting average of 99.94, is light years ahead of his nearest competitor in the game of cricket.

Menon recalled a meeting between Chand and Bradman in Adelaide in 1935. It was the first time the two were coming face to face and the conversation was bound to be remarkable. Menon revealed that Bradman told Chand this: "You score goals like runs in cricket!"

Daily News & Analysis


---

'Poor' maintenance of hockey stadium

D J Walter Scott



The Astroturf hockey stadium in Ramanathapuram. 

The world class Astroturf hockey stadium, established by the Ramanathapuram District Hockey Association under the 'Namakku Name' scheme at a cost of ₹ 6 crore, was not maintained properly due to stand off between the RDHA and the Sports Development Authority of Tamil Nadu (SDAT).

Former Chief Minister Jayalalithaa inaugurated the facility in February, 2016. The Velumanickam hockey stadium was buzzing with activities with series of matches for nearly a year only to fall silent for more than one year after the SDAT took over the stadium in 2017.

Established with about ₹ 1.5 crore mobilised by the association, it was lying idle as the SDAT has fixed a tariff of ₹ 1,250 an hour for competitions, Chelladurai Abdullah, secretary, RDHA, said. The tariff deterred players from coming to the stadium. Besides, those who had laid the Astroturf suggested watering it twice a day but it was done once in 10 days, he said.

The Astroturf hockey stadium in Tirunelveli had suffered due to poor maintenance, he said and feared the stadium here too would meet the same fate. "After the 7th Sub-Junior Women National Hockey Championship in March, 2017 no major tournament was held," he said.

The association wanted to host a match between India and Malaysia after the France based Labosport, one of the accredited laboratories of International Hockey Federation, certified the facility fit for hosting international tournaments but before it could arrange the match, the stadium was grabbed from them, he said.

The stadium was established thanks to the initiative taken by the then Collector K. Nanthakumar but the purpose has been defeated, Mr. Abdullah said and questioned the logic behind SDAT taking over the facility when it was built with contribution from philanthropists. The district administration has not convened a single sports meeting in the last one year, he said.

District sports and youth welfare officer P Frank Paul Jayaseelan said the SDAT was maintained well though watering twice in a day was not possible as both wells had gone dry. Funds have been mobilised and daily watering would be restored after digging a bore well. The tariff was collected only for competitions and players were free to use the facility for practice. The SDAT has recently conducted inter-districts tournament and the stadium remained vibrant, he said.

The Hindu