All the news for Sunday 26 August 2018

2018 Asian Games - Day 7
Jakarta (INA)

Results 25 August

Pool A     TPE - MAS     0 - 11
Pool B     INA - THA     0 - 2
Pool A     JPN - CHN     4 - 2
Pool B     IND - KOR     4 - 1

Pool Standings
PoolA
|   | Played | Won | Draw | Lost | GD | Points |
| --- | --- | --- | --- | --- | --- | --- |
| Japan | 3 | 3 | 0 | 0 | 19 | 9 |
| Malaysia | 3 | 2 | 1 | 0 | 19 | 7 |
| China | 3 | 1 | 1 | 1 | 7 | 4 |
| Chinese Taipei | 4 | 1 | 0 | 3 | -30 | 3 |
| Hong Kong China | 3 | 0 | 0 | 3 | -15 | 0 |
Pool B
|   | Played | Won | Draw | Lost | GD | Points |
| --- | --- | --- | --- | --- | --- | --- |
| India | 3 | 3 | 0 | 0 | 32 | 9 |
| Korea | 3 | 2 | 0 | 1 | 5 | 6 |
| Thailand | 3 | 1 | 0 | 2 | -3 | 3 |
| Indonesia | 4 | 1 | 0 | 3 | -14 | 3 |
| Kazakhstan | 3 | 1 | 0 | 2 | -20 | 3 |
---

Even without queen, Indians are queens at Jakarta

s2h Team




Indian captain Rani (queen in her mother tongue) was injured and did not play today when India took on the defending champions South Korea. Yet, the captain's energetic girls rose to the occasion to outplay Korea in the last part of the match to tilt the otherwise evenly played game to their favour. India and Korea, strong contenders here for the ultimate honours, were even on scoreboard (1-1) till 54th minute before an Indian Tsunami crushed their traditional nemesis with an unseen ferocity (4-1). Not often did Indian girls score three goals in three minutes, that too a kind opposition that Korea is, as it did today.

After Navneet Kaur deflected a Lilima Minz long corner , Korea equalized five minutes later through a controversial stroke which Yurim Lee easily converted. Trinidad and Tobago umpire Mc Clean Ayanna's decision did not go kindly with the Indian girls, who went for referral, which did not stand to the scrutiny of neutral umpire Jian Jun Chen of China.

Honestly speaking, the Korean lasses had their match in control in the entire second and third quarters, when their flank worked hard, while the defenders Heesun Jang and Park Seun Ha kept the Indian forwardline on either flank in check. Indian goalie Savita Punia made some amazing saves to keep India unpunctured in those harrowing times.

When India got a penalty corner in the 54the minute what was in store was not evident. Gurjit Kaur flicked it to the right corner to enliven the crowd, which was strong and mostly Indian supporters. This goal, and the confidential manner it was struck spurred the Indian girls go for further kill.

Next minute Gurjit Kaur again converted the only the second penalty corner for an unassailable 3-1 lead. Even before the applause was died down, Korean seemed tired and let a forward surge into the circle. It was Vanada Katariya who struck in her solo to add to the misery of defending champions (4-1). Goalie Jang Sooji came almost to the top edge to block surging Vanadana Katariya, but her swipe missed the ball, on which bounced the agile forward, and whacked the ball into the empty goal before falling down. Seconds on, shadowing Lalrmsiami fell on her to celebrate in style, even as the stands roared and waved tricolour in unison, creating an exciting hockey atmosphere.

Coach Sjoerd Marijne had a long press briefing after the morale booster of kind, and he deserved all the attention.

Stick2Hockey.com


---

Comprehensive win for Indian women over holder Korea

Score three goals in as many minutes right at the end, move to top of the pool

Uthra Ganesan



Vandana Katariya.

Not too long ago, the Indian women's hockey team was firmly entrenched at fourth spot in the hierarchy of Asian teams — behind Korea, China and Japan. On Saturday, three goals in as many minutes right at the end of the game saw them register a comprehensive 4-1 victory over defending champion Korea in its Pool-B match to reiterate that the existing order was likely to be overturned.

It was a crucial outing for the girls to decide the pool topper but, more importantly, it was the first big test for the team in the competition. Having leapfrogged the other three to be ranked ninth in the world, the Indians had a reputation to protect. They did it perfectly, outplaying Korea in every department — planning, fitness and execution.

The score was 1-1 till the 53rd minute before India broke loose. Korea's only goal came off a penalty stroke awarded for a dodgy push. Thereafter, it was a battle of attrition in the midfield with both teams conceding turnovers by the dozen.

By the final quarter, however, Korea began tiring out and India stepped up the pace. Gurjit Kaur scored off both the penalty corners India got — PCs have been a concern so far. Vandana Katariya struck a lovely reverse shot after wrong-footing the goalkeeper after Navneet Kaur gave the team an early lead.

With only its second second win against Korea in the Asian Games — the previous was a 5-1 victory in the inaugural edition in 1982 — India went on top of the pool to stake claim as one of the favourites for the title here.

The Hindu


---

India crush Korea with late strikes, enter semis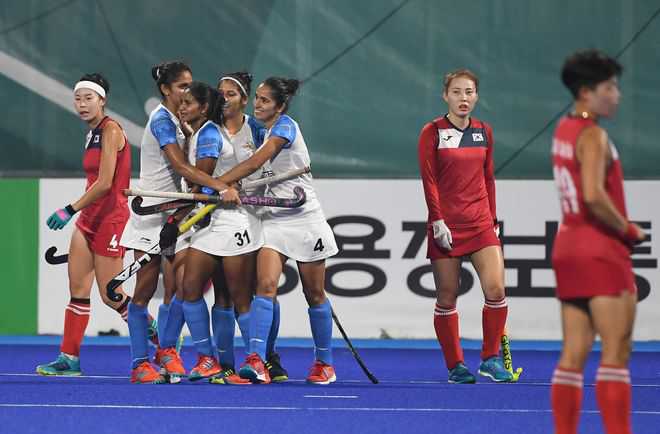 India's players celebrate after scoring a goal. AFP

Jakarta - The Indian women's hockey team beat defending champions South Korea 4-1 and confirmed its spot in the semifinals. Significantly, India's last three goals came in the last 10 minutes as India displayed title credentials to go top of Pool B with this impressive victory. And this was without the services of inspirational captain Rani Rampal, who sat out of the match. The team management, including coach Sjoerd Marijne, did not want to take any risk after she complained of pain in her glutes.

Navneet Kaur  (16th minute), Gurjit Kaur (54th and 55th) and Vandana Kataria (56th) scored.

The Tribune


---

Interesting matches await today at Jakarta

s2h Team

Exciting matches in men's category of field hockey await fans today in the Jakarta Asian Games. Sunday will see six matches -- all teams in fray again -- but the focus will definitely be on the last two matches involving top contenders from either pool. Defending champions India will take on South Korea in the fifth match (Pool A),  while last encounter will see Pakistan - Malaysia in action in the other Pool.

All these four teams have won all their three matches so far, but will try to keep up the unblemished record in tact. At least two teams will be losers, even dra will amount to virtual losing for a team, which will make the pool standing interesting.

Both these two matches are crucial as winner in each contest will top the pool and thus the cross over semi-finalist will be identified. If the present form is any indication, India should defeat South Korea, as did their distaff counterparts yesterday, and top the pool A. India has an amazing plus 51 goal difference while Korea which also did not concede a goal so far, has 34 goal difference. Despite Japan will have two more matches to complete, the emerging picture is that Korea-India are the semi-finalist from Pool A.

Japan are the top contenders in women's section is another matter.

Both Pakistan and Malaysia too are going strong so far. Defeatless and amassing goals, both sides have shown their mettle to other teams in the pool, but when the two giants in the same pool meet today, sparks are expected fly.

Interestingly enough, top two teams in Pool B will try to avoid India, and will go in full throttle to avoid finishing second. To top the pool will be top priority for Pakistan to avoid India, which is ranked rungs above it.

Fans here are not less. Saturday saw two third full on the main gallery. India will certainly have chunk of them supporting if today's gathering is any indication.

Yesterday, hardly a couple of Korean fans have to face a huge Indian fans.

Whatever, hockey will be in full flow today.

Stick2Hockey.com


---

India-Pakistan has to avoid clash in semi finals

By B.G.Joshi (Sehore-Bhopal, India)



Seasoned campaigner SV Sunil (caps-246, goals-69) have scored a goal each in every match in Jakarta.

India-Pakistan both need a draw against South Korea and Malaysia respectively to avoid clashing in the semifinals. Both have better records against their rivals in Asian Games Hockey. In 16 matches Pakistan won 13, drew 1 and lost 2. India-South Korea are neck to neck in turf hockey.

Here are statistical highlights of India-South Korea (men):
Particulars

MP

W

D

L

GF

GA

Total

78

30

17

31

167

155

In  Asian Games

14

9*

3

2

26

14

Last 10

10

4

5

1

19

13

Last played in Dhaka  Asia Cup-2017 ,medal pool match,

Drawn 1-1.*1998 final won in tie break.
 Fieldhockey.com


---

India outwit Japan 8-0 but low rate of penalty corner conversion still a concern

Sundeep Misra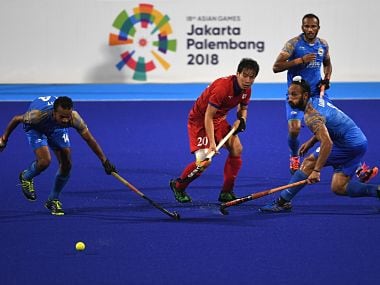 India's Lalit Kumar Upadhyay (L) and Japan's Masaki Ohashi (C) compete for the ball during the men's hockey pool B match between India and Japan at the 2018 Asian Games in Jakarta on August 24, 2018. / AFP PHOTO / SONNY TUMBELAKA

It was a prediction that went completely wrong. In fact, awry would be the word. We may just say the Indian coach Harendra Singh's crystal-gazing was static. But he wasn't complaining. Before the Indian team left for Jakarta for the Asian Games 2018, Harendra had predicted Japan as the 'surprise' team, the 'X-factor'. However, India whacked Japan 8-0 and snuffed out whatever challenge they were forecast to bring to the Asian Games. By the end of the 1st quarter, India led 2-0. Japan, surprised by India's pace, broke ranks, displaying brittle temperament and a lack of patience allowing the Indians to completely pulverize them. The score line could easily have crossed double figures and that upset Harendra the most, probably more than just getting one conversion out of 8 penalty corners (PCs) in the match.

India has never lost to Japan in Asian Games history. AFP

The scorers for India were SV Sunil (7th), Dilpreet Singh (12th), Rupinder Pal Singh (17th and 38th), Mandeep Singh (32nd and 57th), Akashdeep Singh (46th) and Vivek Prasad (47th). "The energy was good in the 1st two quarters," said Harendra. "I wanted them to push and not let go. But there are areas where we need to be sharp," he added. The Indian coach explained how he felt that with important matches coming in the next few days, especially with South Korea on 26 August, the players needed to close out moves and not waste opportunities. Manpreet Singh, who had an outing, also stressed on the fact that every 'opportunity needs to be the last' and so wasting could be crucial for the team.

The pace was killing in the 1st quarter. The team used both the flanks and interchanged positions. At times in the match, it did seem that it was just one offensive unit. Surender Kumar, Harmanpreet, Amit Rohidas and Birendra Lakra drove into the Japanese half and even entered their striking circle. The finish was sharp in the first quarters before becoming slightly sluggish as the match wore on and India kept getting the goals.

Japan did play well. But with no space to operate, they constantly back-pedalled. Two goals down, they could have made some amends but PR Sreejesh, sure and compact in the Indian defence, kept them away with fine saves. Kenta Tanaka had a brilliant chance, sprinting away into the Indian circle after a turn-over but angled his run a little too much. The resultant shot was saved by Sreejesh. A little later, he made another save keeping India's lead intact and also not letting Japan into the match. Early in the year, India had played Japan in the 4-Nation Invitational in New Zealand and had won 4-2. In 13 matches in an Asian Games, India has never lost to Japan and that record was kept intact.

India's PC conversion looked good in the 17th minute, when Rupinder Pal Singh powered in the flick off India's 2nd PC. But later in the match, despite Harmanpreet and Amit Rohidas also trying their hand, not a single flick went in. Manpreet says, "That we need to acknowledge the Japanese defence and their runners who saved the situation." But the former Indian captain is not overly bothered with the low conversion rate. "I think we shouldn't over think the issue, It will come good and we are confident about that," he said.

Vivek Prasad's 7th goal brought up India's 50th goal in the competition out of a possible 123 viable chances. Thirty-three of them have been field goals, 16 PCs and two strokes. Those 16 PCs have come off 38 attempts, an area which needs seriously looking into. Scoring against Hong Kong China is not the exact standard of opposition but scoring one off 8 against the Japan is worrying.

Harmanpreet has scored 4 out of 10 PCs, Rupinder has 5 out of 12, Amit Rohidas has 2 out of 8 and Varun Kumar has 1 out of 2. A higher percentage of conversions would guarantee a place in the final and a sure shot chance of retaining the Asian Games Gold. "We need to understand the issue. But I am confident that we will overcome," says Harendra on the PCs

The first two quarters went past in a blur. It was heartening to see most of the team play with soft hands. It's not unusual to see Akashdeep, Sardar, Lalit, Dilpreet move the ball deftly, using a high amount of skill. Even Vivek produced moments of magic – near perfect aerial balls, the silken dribble while Akashdeep did his normal tip-taps, placing the ball into empty spaces, all the while opening up the Japanese defence for the Indian team to flood in.

In the past, India have made heavy weather of lesser teams or with teams that play spoiler. The only way was to create pandemonium and India did that very well. Vivek Prasad might lull the opposition into assuming he could be slightly underage, but the 17-year-old lad packs quite a punch and with his kind of speed, it takes a special kind of defence to stop him. Even the stroke that he earned came off knowing that the Japanese would try and stop him either with a stick-check or somebody would push him. The stroke was converted by Rupinder. Lalit played with amazing dexterity while Sardar used his first touch to good effect. He still finds his teammates stick with uncanny accuracy. While clearing from the defence, he invariably opens up the opposition midfield with a counter-attack.

It was only in the 4th quarter that India lost a bit of structure which led to indiscipline – a green card for Mandeep and then later in the match, a yellow for Birendra Lakra. Japan also earned their 1st PC of the match. Sreejesh had been pulled off the 4th quarter and Krishan Bahadur Pathak also made a few good saves.

With the score lines going through the roof, India would have to guard against complacency, even though the 8-0 win on Friday also would put things in perspective. It would be a shame to underperform now knowing the strength of the opponents. In fact, after a long time that in the 1st quarters, only 3 turn-overs was given by the Indian side. Against a much more confident side, those turn-overs could have proved crucial.

For India, there were 41 circle penetrations, a fact that doesn't sit well with Harendra. "A miss is a miss and in a sport like hockey, misses lead to heavy casualties," says Harendra.

It's the hard-nosed approach that is paying dividends for Harendra. It's also an Indian team that is slowly and surely falling into the habit of winning. Against Japan, the result was expected to be in India's favour. It's the margin of victory that has fans surprised. This Indian team is combative with a remarkable level of consistency irrespective of the opposition. Goal scoring is an art and the Indian coach wants it perfected. In the days ahead, only consistency combined with fluency would be the real measure of success.

Firstpost


---

Hockey team pummelled




Bangladesh hockey team suffered a 7-0 defeat against Malaysia -- their first defeat of the 2018 Asian Games -- at the Gelora Bung Karno Stadium hockey field yesterday.

Having started their campaign with a 2-1 win against Oman which was followed by a 6-1 thrashing of Kazakhstan, the men in red and green faced a side who were technically far superior and far more agile.

Gobinathan Krishnamurthy's charges managed to keep his compatriots at bay in the first quarter. However, once the first goal went in -- a penalty corner converted on 18 minutes -- the floodgates opened.

The fourth-placed finishers from the last Asian Games scored two more goals in the first half before adding four more after the break, with four of the seven goals coming from open play. Two goals came from penalty corners while the other came from a penalty stroke.

The Bangladesh coach admitted it was an uneven match-up, and informed that their target is to secure either a fifth or sixth position finish.

"Malaysia came with two years of preparation while we came with two months'," Krishnamurthy said after the match. "It's like Bangladesh playing against Brazil [in football]."

The Malaysian added that their concentration will now be on beating Thailand. "Our focus will now be on the match against Thailand [Aug 26], and if we win that match, we will be able to play in the fifth-sixth place decider match, which will be the first time for us."

Wins over Thailand and Pakistan will take Bangladesh to the semis.

The Daily Star


---

Hockey Series Open - Vilnius 2018 (Women) - Day 5
Vilnius (LTU)

Results 25 August

WAL v CZE (RR)     3 - 0
TUR v LTU (RR)     0 - 0

Pool Standings
| Rank | Team | Played | Wins | Draws | Losses | Goals For | Goals Against | Goal Difference | Points |
| --- | --- | --- | --- | --- | --- | --- | --- | --- | --- |
| 1 | Ukraine | 3 | 3 | 0 | 0 | 8 | 1 | 7 | 9 |
| 2 | Czech Republic | 3 | 2 | 0 | 1 | 11 | 6 | 5 | 6 |
| 3 | Wales | 3 | 2 | 0 | 1 | 4 | 1 | 3 | 6 |
| 4 | Lithuania | 3 | 0 | 1 | 2 | 2 | 6 | -4 | 1 |
| 5 | Turkey | 4 | 0 | 1 | 3 | 2 | 13 | -11 | 1 |
---

2018 Test Matches: POR v SUI (M) - 2nd Test
Lousada (POR)

POR v SUI     1 - 0

Portugal win the 2 test series 2 - 0

FIH Match Centre


---

Scotland and Poland U21 men battle out a draw in Walcz

It was a competitive 2-2 draw between Scotland and Poland U21 men in Walcz with all the goals coming in the first half.

Poland took the lead when a long ball forward into the corner allowed the Polish attacker to eliminate a Scots defender for a one v one opportunity. It took three efoorts to score as a goalmouth scramble ensued, but the ball was eventually forced home to make it 1-0 to Poland.

Scotland equalised in the opening quarter and the goal was struck by Andrew McConnell – a lovely drag flick low into the goal to equalise.

In the second quarter Poland took the lead again and goal came from a high transfer out right, with a Polish attacker dribbling past two players into the D to then set up a far post tap-in to make it 2-1.

Ben Pearson equalised for Scotland as half time approached. Kyle Gladwin took the ball out wide on the right and fizzed a pass from the bassline for Ben Pearson who deflected the ball at the near post into the back of the net for 2-2.

James Nairn led the team well and McConnell looked sharp as Scotland dealt with the Polish press better in the second half and played some nice attacking hockey. The Scots showed good ball carrying skills and passing, but the final pass didn't quite fashion any clear opportunities for a winner.

The young U18 players emerging into the team all equipped themselves well and all looks promising for the final encounter tomorrow in Walcz.

Scottish Hockey Union media release


---

South Africa's CTM Premier Hockey League reaches a climax

Ockert de Villiers



The Cavemen's Rainer York in action. Photo: Sean Burke/PHL

The CTM Premier Hockey League reaches a climax this weekend with the top men's and women's teams battling it out in the play-offs today before culminating in the finals tomorrow in Randburg.

Defending women's champions the Orange Free State Rafters are resounding favourites to walk away with the spoils finishing the group stage as the first team to have won all five games.

They go up against the Madikwe Rangers in the second semi-final where they will be looking to keep their hopes of a second consecutive title alive.

Rafters coach Shaun Hulley praised his relatively young side's work ethic and the culture they have developed in a short period of time. "We have had a superb tournament and it's been great to see the team fighting for each other," Hulley said.

"We pride ourselves on the team ethic and culture we have developed. The players know that whether they have SA Hockey experience or are just a youngster breaking through, they all have an important role in the team and they have all done their part."

The Madikwe Rangers will have to step it up to cause an upset after squeaking through to the semi-finals in their final group match of the tournament.

Former PHL champions Blyde River Bunters finished second on the log boasting 15 wins in 19 games over the three seasons to highlight their class.

Spearheaded by Proteas shot-stopper Phumelela Mbande, the Bunters will take on 2017 runners-up the St Lucia Lakers in the other semi-final.

The match will be a repeat of their last group-stage match where the Bunters came out on top last weekend.

In the men's competition the Drakensberg Dragons topped the log after the group matches, winning four matches on the trot after suffering a first-round defeat against the Addo Elephants.

The Dragons will play against two-time champions Maropeng Cavemen, who will be looking for their third crown despite a topsy-turvy campaign.

"We haven't had the best group stage but our goal was to get to the final four and we are here," said Cavemen coach Mark Sanders.

"We know that in most of the games we have made mistakes, but we are ready for this weekend. The tournament starts now, and we look forward to defending our crown."

The opening match today sees the Addo Elephants take on the Garden Route Gazelles for a place in the final.

The Addo Elephants won their first four matches of the campaign before stumbling at the final hurdle against the Gazelles.

Independent Online


---

Kampong and Cox start new era with lots of fresh faces



©: Frank Uijlenbroek/ World Sport Pics

SV Kampong coach Alexander Cox says he is "interested to see" how his new look panel stands up to the rigours of the new Hoofdklasse season following the retirement of four key stars.

Quirijn Caspers, Constantijn Jonker, Sjoerd de Wert and Philip Meulenbroek all finished up their career at the Klapperboom earlier this year with the Dutch national title and a runners-up medal in the EHL.

Replacing them are some homegrown young players as well as Derck de Vilder coming in from Pinoke, Kampong's first opponent of the season. As such, Cox told the EHL website that he will learn a lot about his team as the season progresses.

"Kampong has changed a lot with the four guys retired so we have lost about 40 years of Hoofdklasse experience and we have two years of experience replacing that.

"You can see the changes in the group. It also gives an opportunity for a fresh start. I am interested to see how it all goes when things get more difficult and when games get tighter."

The initial signs are good, picking up a trophy last weekend at HC Rotterdam with wins over Almere, SCHC, Rotterdam and Den Bosch.

"We have had a good preparation at the ABN AMRO Cup, beating all the big teams so that means we did a good job. But it doesn't really say anything because other teams will be really strong this season and maybe didn't reach their level. It always depends at what phase of their preparations each team is."

The televised game this weekend on Ziggo Sport is the meeting of HC Rotterdam and AH&BC Amsterdam. Amsterdam have seen Klaas Vermeulen retire and Johannes Mooij move to Atletic Terrassa but have added a trio of players from HGC – Rik van Kan, Wigert Schut and Tom Hiebendaal.

Rotterdam have seen a huge turnover of players with drag-flicker Tristan Algera adding to their corner options, Glenn Turner giving them an extra fulcrum to the attack while Irish midfielder Sean Murray adds to their options.

Lots have moved on with Seve van Ass off to HGC, Paul Melkert going to Hampstead & Westminster, Nick Catiin to Beerschot, Oliver Polkamp to Hurley and Sjoerd Gerretsen retiring.

Oranje-Rood will be without the Asian Games-tied Muhammad Rizwan for their trip to HGC. OR have seen Agustin Mazzill go to Pinoke and Jelle Galema to Den Bosch but have brought in Lucas Martinez.

Euro Hockey League media release


---

Vila snatches winner for Mannheim 14 seconds from time



©: Dirk Markgraf

Mannheimer HC got their German league season off to a great start as Lucas Vila scored 14 seconds from the end of their tie with potential top four rivals Harvestehuder THC in a 2-1 win.

Scottish international Hamish Imrie gave HTHC a first half lead before Gonzalo Peillat equalised with 12 minutes left from a corner before Vila won the day.

Speaking afterwards, Mannheim coach Michael McCann said: "In the end, I think it was deserved because we were the better team. However, we did not take our chances; if we did, we would have decided the game earlier. But I'm glad that the team was able to force it in the end so that's a good start for us! "

HTHC's Michael Körper agreed, saying: "Ultimately it's right that Mannheim beat us today. We defended well but just did not create enough going forward. In the end, MHC had the luck."

Reigning German champions Uhlenhorst Mulheim's title defence started with a surprise 5-4 win to newly promoted Hamburger Polo Club.

Jonathan Fröschle scored a trio of penalty corners while Matthias Muller and Constantin Staib scored too for Polo to build a 5-2 lead and they held on despite two Timm Herzbruch goals late on.

Rot Weiss Koln started their season with an impressive 3-0 away win over Blau-Weiss Berlin with Marco Miltkau netting two times and Tom Grambusch scoring a corner.

Euro Hockey League media release


---

Futures Cup Joy for Tigers & Leopards



Futures Cup 2018 - Day 4

Saxon Tigers and Wessex Leopards took home the U17 titles to conclude a fantastic four days at England's Futures Cup 2018.



Saxon Tigers - U17B Champions

Five different scorers found the target for Tigers U17 Boys' team as they beat Pennine Pumas 5-2, with Eddie Harper opening the scoring after 10 minutes.

Atunrolaolu Ashaye doubled that lead before half-time but Henry Croft equalised from a corner for Pumas shortly after the break to give Pumas hope.

They nearly drew level shortly after but were denied by a stunning Oliver Juszt save, before Tigers increased their lead through Charlie Axford in the 45th minute.

Five minutes later Pumas had another through Nikash Henshaw but two goals in less than a minute from firstly Louis Tipper and then Dylan Holland secured the win for Tigers.



Wessex Leopards - U17G Champions

The drama in regulation time was much more limited in the U17 Girls' final as Wessex Leopards and Mercia Lynx both looked solid in defence, but the shootout was of the highest quality as Leopards took it 4-2.

After each sides' opening efforts were saved, Rosie Hope showed incredible hand-speed to beat the 'keeper and open the scoring before Kitty Chapple gave them a two goal lead.

Emily Leeson then brilliantly nutmegged the 'keeper to reduce the deficit for Lynx but Olivia Hamilton soon re-established their advantage before Martha Taylor brilliantly rounded the 'keeper to win the gold medal.

There was also a medal for the Wessex Leopards U17 Boys' team as they beat Mercia Lynx 3-0 to claim bronze.

Raphael Boulanger gave Leopards the lead in just the sixth minute before Sam Mackenzie doubled their advantage just before half-time and, despite Lynx resistance in the second half, they made it three in the 57th minute through Jacob Paynton.

In the other bronze game captain Ruth Blaikie was the hero for Caledonian Cougars as they beat Pennine Pumas 1-0 to win their first medal of Futures Cup 2018.

In a game of few chances, Blaikie netted her second field goal of the tournament with just 10 minutes remaining with Pumas unable to find an equaliser, firing a last minute penalty corner narrowly wide.

Caledonian Cougars U17 Boys' squad also finished Futures Cup 2018 on a high as they beat Celtic Jaguars 5-3 in a superb game at the start of the day to finish fifth.

Struan Walker was the hero as he struck four goals, including a fine reverse stick finish to complete his hat-trick, while Finn Halliday also found the net for Cougars. In return Jacob Rue-Heaton, Charlie Wilkins and Joseph Webb were on target for Jaguars.

There were goals aplenty in the other 5th/6th play-off too as Sian Emslie starred for Saxon Tigers with a hat-trick of her own as they beat Celtic Jaguars 9-1.

Aimee Plumb (2), Amy De Selincourt, Stephanie Weber and Jemima Copeman also found the net for Tigers while Tegan Waters scored Tigers' solitary goal.

U17 Boys' Final Standings

1) Saxon Tigers
2) Pennine Pumas
3) Wessex Leopards
4) Mercia Lynx
5) Caledonian Cougars
6) Celtic Jaguars

U17 Girls' Final Standings

1) Wessex Leopards
2) Mercia Lynx
3) Caledonian Cougars
4) Pennine Pumas
5) Saxon Tigers
6) Celtic Jaguars

England Hockey Board Media release


---

Golden Double for Mercia Lynx at Futures Cup



Mercia Lynx U15 Girls celebrate Futures Cup 2018

Mercia Lynx clinched a sensational Futures Cup 2018 double as they claimed both the Boys' and Girls' U15 titles in dramatic fashion.



Mercia Lynx - U15B Champions FC 2018

The boys eventually emerged as 5-3 victors over Pennine Pumas but it was far from plain sailing.

Last year's fourth-placed finishers looked to have the title sealed at half-time as they raced into a three goal lead thanks to Alex Murdoch, Tobias Chan and an Ed Marshall corner on the stroke of half-time.

Archie Gallimore then added a fourth in the 36th minute with a field goal that looked to have secured the win, but Pumas hit back just seconds later through Archie Vaughan to give themselves hope.

They grew into the game thereafter and found a second at the end of the third quarter through Michael Greenwood, before Pumas' Player of the Tournament Tom Moorhouse set up a grandstand final six minutes with a fine finish from a corner.

But Lynx held firm and sealed the win in the 58th minute as Gallimore took advantage of Pumas having a kicking back to slot home his second of the game from a corner.



Mercia Lynx - U15G Champions FC 2018

The goalkeepers were to prove the heroes for Lynx U15 Girls' team though as retained the title they won last year on a shootout after the game finished 0-0 in regulation time.

In a tight and attritional affair, Abigail Miller pulled off two fine saves in the second half as Pumas pushed hard, seeking to avenge last year's final loss to Lynx.

Tessa Shahbo then came to the fore in the shootout, not conceding a single goal, while Tasmin Cookman was coolness personified as she scored the crucial second for Lynx.

The fight for the U15 Boys' bronze medal also saw a cracking game played out, with Wessex Leopards coming out on top of an eight goal thriller as they also won 5-3 against Saxon Tigers.

Giles Hocking, Rory Buckeridge, Alex Beckett, Rory Penrose and Bobby Cound found the target for Leopards, while Callum Brown-Lea, Stewart Cuff and Harvey Edwards scored for Tigers but to no avail.

Tigers got their revenge in the U15 Girls' bronze medal game though as they put five of their own past last year's bronze medallists Wessex Leopards.

Captain Maddie Axford once again led from the front with two fine goals, while Florence Miller also scored twice and Eloise Richards bagged her third goal of the tournament, with only Amy Beckett scoring in response for Leopards.

Caledonian Cougars secured both fifth places in the U15 draw, with Ava Smith (2) and Ellie Rutherford on target as the girls beat Celtic Cougars 3-1 – with only Katie Gwyther able to respond – while captain Euan Menzies' goal was enough to secure a 1-0 win for the boys over the same opponents.

U15 Boys' Final Standings

1) Mercia Lynx
2) Pennine Pumas
3) Saxon Tigers
4) Wessex Leopards
5) Caledonian Cougars
6) Celtic Jaguars

U15 Girls' Final Standings

1) Mercia Lynx
2) Pennine Pumas
3) Wessex Leopards
4) Saxon Tigers
5) Caledonian Cougars
6) Celtic Jaguars

England Hockey Board Media release


---

Four wins and a bronze medal on Futures Cup 2018 final day




The final day of the Futures Cup 2018 saw the Caledonian Cougars play some great hockey and finish the tournament well. The U17 Girls' squad won bronze at the tournament, while both U15 squads finished fifth, as did the U17 boys.

U17G | 3rd/4th Play-off | Pennine Pumas 0-1 Caledonian Cougars

A late Ruth Blaikie goal secured a bronze medal for Caledonian Cougars U17 Girls at the Futures Cup 2018.

It was a very good performance by the Cougars who always looked in control and could have scored more goals.

The Pumas were a difficult team to break down and forced the Cougars to adapt to a different style of play.

Bronwyn Shields was very unlucky not to score when she showed great skill to beat four players at the top of the D, but her reverse shot was met by an excellent diving save high at the corner of the goal to deny the Scot.

Lucy Smith also came close from a penalty corner but was again denied by some good goalkeeping.

Ruth Blaikie eventually broke the deadlock in the final quarter when she scored to put the Cougars 1-0 in front with ten minutes to play, and it was a great goal. It all started when the Pumas burst forward in a counter attack, and the Cougars did well to win the ball back on the edge of their own D. Shields showed great composure to bring the ball forward from a tight position to prompt a slick linking break forward. Zara Mason then picked out Blaike, who had run the length of the pitch twice by this point, and she slipped the ball home to make it 1-0.

In the end one goal was enough and the U17 Girls Cougars walked away with a thoroughly deserved bronze medal.

U15G | 5th/6th Play-off | Caledonian Cougars 3-1 Celtic Jaguars

Caledonian Cougars U15 Girls rounded off their Futures Cup 2018 with a 3-1 victory over Celtic Jaguars. The result means the Cougars finished in fifth place in the tournament held in St Albans.

The opening goal came on the stroke of half time and it was Ava Smith who provided the strike to make it 1-0. Smith entered the circle on the right and fired a sublime reverse stick shot into the opposite top corner to get her side the lead.

The third quarter was a dominant one for the Jaguars and they pulled out an equaliser in the third quarter and the goal came through Katie Gwyther.

The Cougars showed great resilience to take control again in the fourth quarter, and then Ellie Rutherford restored the Cougars lead through a penalty corner to make it 2-1. The ball was slipped to the side from the injection for Rutherford, who calmly collected and swept a very composed finish into the bottom corner.

Just a few minutes later and Ava Smith gave the Cougars a two-goal cushion when she scored her second and the Cougars' third goal of the contest. The goal was almost a carbon copy of her first with the ball not quite nestling in the top corner this time, but a delightful strike nonetheless.

Congratulations to Ava Smith who was voted player of the tournament.

U15B | 5th/6th Play-off | Caledonian Cougars 1-0 Celtic Jaguars

It was a fifth place finish for Caledonian Cougars U15 boys when they defeated Celtic Jaguars 1-0 in the Futures Cup play-off in St Albans.

The Cougars were completely in charge of the match and put in a really pleasing performance to take the spoils in this match.

Attacking from the outset the Cougars had their opponents under the cosh, and Captain Euan Menzies along with Dan Pearson were putting in tremendous performances.

The game's only goal came in the second quarter as half time approached and it was the influential Euan Menzies who was the scorer from open play. The goal was one of the most impressive at the tournament, with at least 20 passes in the build-up that included lots of movement, and one-twos, before Menzies received the final pass from Charlie Jack and slid the ball low past the keeper's left into the corner of the goal.

As the game progressed the Jaguars made it very difficult to get behind their deep defence and create more clean chances for goal, although Menzies struck the side netting in the final quarter and Cameron Moran narrowly missed the top corner with a strike.

Cameron Ede was voted the team's player of the tournament and the Cougars went home with a good solid victory on the final day of the Futures Cup 2018.

U17B | 5th/6th Play-off | Caledonian Cougars 5-3 Celtic Jaguars

Caledonian Cougars U17 Boys came out on the right side of an eight goal thriller with a 5-3 win over Celtic Jaguars in the goal-fest at Futures Cup 2018.

It was the Celtic Jaguars who opened the scoring and the goal came through Jacob Heaton-Rue in the opening quarter.

The Cougars battled back in the second quarter and equalised through Struan Walker in the 20th minute. Some good interchange at the top of the D resulted in a reverse stick smash into the top left corner of the net.

The third quarter was laden with goals and it was the Cougars who struck first. Walker scored his second of the match from a penalty corner drag flick before Charlie Wilkins quickly equalised for the Jaguars.

Walker then bagged his hat-trick when he scored to make it 3-2 to the Cougars with a reverse shot into the right corner, before Joseph Webb equalised for the Jaguars as the end of the third quarter approached.

Early in the final quarter the electric Walker scored his and his team's fourth goal of the contest to make it 4-3. He is the first player to ever score four goal in one Futures Cup match.

Finn Halliday put the game to bed for the Cougars when he scored with a reverse stick shot under the goalkeeper from close range, to make it 5-3 and seal the win and fifth spot at the Futures Cup 2018.

Scottish Hockey Union media release