All the news for Friday 4 May 2018

Coaches Corner: High flying Black Sticks eye London gold



Mark Hager has been a key component of New Zealand's recent success Photo: FIH/WSP

Following a gold medal at the Gold Coast 2018 Commonwealth Games and a silver medal at the 2017 Sentinel Homes Hockey World League Final Auckland 2017, confidence is high in the New Zealand camp as they enter the final stages of preparations for the Vitality Hockey Women's World Cup London 2018.

In the third instalment of our Coaches Corner series, we catch up with Black Sticks Head Coach Mark Hager.

As was to be expected from the straight talking New Zealander, the gold medal win at the Gold Coast back in April was already consigned to the past and all thoughts are now focused on London in July.

"That win at the Commonwealth Games definitely means a lot for hockey supporters in New Zealand. For us, it provides a drive to work harder at improving key areas of our game. Both our defensive and front half's of the field are areas that we continually seek to improve upon."
Mark Hager, New Zealand Women's Head Coach

New Zealand's run of good results in recent years has seen them climb to fourth in the FIH Hero World Rankings.

This steady climb has been largely due to their consistency in reaching the last four in most competitions.

Their downfall in recent years has been the final game of the tournament where they have lost by narrow margins – often in a shoot-out situation.

At the Gold Coast, they finally broke their spell of shoot-out failures by securing a win over England. "That shoot out win over England definitely assists our belief that we can win under pressure," says Hager.

"But it's more than just the shoot out situations. We have gained a lot of experience at the top level, playing in finals and learning from the experience. We have experienced close games over a number of years and the players have learnt what needs to change for us to have greater consistency under pressure. I encourage feedback from past and current players and this all helps us grow and learn."

One player who has been pivotal to the squad in recent years is the multi-capped Stacey Michelsen. Nominated for the 2017 FIH Hockey Stars Player of the Year, Michelsen's influence on the team extends on and off the field. While Hager is reluctant to single out one player, he does acknowledge the huge role his experienced senior players have within the squad.

"Our key players are very important as they provide the direction on and off the field, they lead by example and show the way on the training track and teach the new squad members about our culture and way of playing."

The Black Sticks ethos is very much about taking a balanced view on life. Hager talks of the family environment that surrounds the team and says he encourages his players to look beyond the game.

The hard work ethic and commitment to fitness is evident in the New Zealand style of play and Hager says that this is the bedrock upon which the Black Sticks culture is built.

For the next eight weeks however, the balance will be tipped firmly in the direction of hockey.

The team will enter an intensive centralised programme, with plenty of international competition built into the lead-up to the World Cup.

As with the Hockey World League Final, one team in particular stands between New Zealand and a major international gold medal – the Netherlands. But Hager believes his team has the beating of the world number one team.

"We have had a couple of draws against Netherlands but need to maintain consistency in performance throughout a game as Netherlands are a team with great playing depth. Any little error will be punished by them. And of course, it is also about being able to convert any chances that come your way."

New Zealand start their World Cup challenge against Belgium on 22 July. They are in Pool D, alongside Oceanic rivals Australia and Japan.

#HWC2018

FIH site


---

Cromwell to host New Zealand v Australia women's hockey rematch

DEBBIE JAMIESON



Last time New Zealand and Australia met, New Zealand won the gold medal. Scott Barbour

The Central Otago town of Cromwell has secured a hockey coup with a tri-nations women's tournament featuring the New Zealand, Australian and Japanese teams playing this month.

It will be the first time the Black Sticks Women will meet their Australian rivals since beating them in the Commonwealth Gold Medal final in Brisbane, 4-1.

Accommodation has already been booked out in the town and one match has sold out.



Central Otago Sports Turf Trust chairman Michael Paardekooper at the new water turf. Jo McKenzie-McLean

Chairman of the Central Otago Sports Turf Trust Michael Paardekooper was "absolutely rapt" the tournament had been secured.

He was involved with upgrading the turf to a water turf two years ago - the same as the surface that was installed in Rio for the Olympics.

This prompted Paardekooper to consider the possibility of an international tournament, an idea he raised with Hockey New Zealand, who suggested the tri series in May.

"With all the effort that went into the upgrade and actual surface, we 've been pretty keen to see something big on the turf.

"There's been two years of discussions. Finally we've pulled it off."

Part of the deal had been securing financial backing and organisers went "door to door" asking local Cromwell businesses to invest in $1000 supporters' packages. They hoped 20 would buy-in. They got 50.

"It's made it so much easier for us now. We can put on a pretty good show."

May was a quiet time of year for the town which meant accommodation was available for players and supporters.

The 1200 available tickets had already sold out to the first Australia and New Zealand game and it was likely the final would sell out quickly also, he said.

"A lot of people can't believe that we've been able to attract these world class teams. For a start people wondered who it actually was. They couldn't believe it was the gold medal winning team. We had to explain that this was the real deal."

It had been 11 years since the Black Sticks had played a game south of Christchurch, he said.

The games would be held between May 19 and 27.

Hockey New Zealand was working on the event and providing training for officials and ball boys and ball girls.

Tickets area available at: http://www.dashtickets.co.nz/venue/6640

Stuff


---

Hockeyroos Team Named For Tri Nations Series

Ben Somerford




Hockey Australia today announces the Hockeyroos 18-member team for this month's Tri Nations series against New Zealand and Japan in Cromwell, New Zealand.

The Tri Nations will be crucial preparation for the Hockeyroos ahead of the 2018 World Cup in London in July and August where they're pooled with both New Zealand and Japan, along with Belgium.

Australia are currently ranked fifth in the world, behind New Zealand who are fourth while Japan are 12th.

The Black Sticks defeated the Hockeyroos last month in the Commonwealth Games gold medal match on the Gold Coast.

The National Selectors have made six changes from the Commonwealth Games team with a view to giving players an opportunity to show their wares.

Kristina Bates, Lily Brazel, Kalindi Commerford, Madison Fitzpatrick, Kathryn Slattery and Ashlee Wells come into the team, having not been included for the Commonwealth Games.

Hockeyroos coach Paul Gaudoin said: "We weren't able to get the result we wanted at the Commonwealth Games in the end and we want to give some players an opportunity to show what they can do.

"We think we can get some better knowledge and information for when we select the final group for the World Cup."

The Hockeyroos will play four round-robin fixtures at the Tri Nations plus finals from May 19-27.

Gaudoin said there was plenty to gain from the Tri Nations.

"We want to ensure we're still unpredictable when we get to the World Cup," Gaudoin said.

"We also want to use this tournament as an opportunity to individually develop some players.

"Also we want to make sure we're working on creating and scoring more goals.

"Our defence was solid at the Commonwealth Games but we need to find ways to create more chances and finish those chances."

Captain Emily Smith and defender Jodie Kenny are both in line to bring up their 200th caps during the tour.

Follow @Hockeyroos on Twitter for updates throughout the Tri Nations series. The semi final/final will be streamed with more details to follow.

Hockeyroos team for Tri Nations:
Athlete (City, State)
Kristina Bates (Mont Albert, VIC)
Jocelyn Bartram (Albury, NSW)
Edwina Bone (Orange, NSW) *Plays for ACT
Lily Brazel (Sydney, NSW) *Plays for VIC
Kalindi Commerford (Mollymook, NSW) *Plays for ACT
Madison Fitzpatrick (Cabarita Beach, NSW) *Plays for QLD
Savannah Fitzpatrick (Cabarita Beach, NSW) *Plays for QLD
Emily Hurtz (Sydney, NSW) *Plays for VIC
Jodie Kenny (Wamuran, QLD)
Stephanie Kershaw (Townsville, QLD)
Karri McMahon (Berri, SA)
Kaitlin Nobbs (Newington, NSW)
Brooke Peris (Darwin, NT)
Kathryn Slattery (South Stirling, WA)
Emily Smith (c) (Crookwell, NSW)
Grace Stewart (Gerringong, NSW)
Renee Taylor (Everton Park, QLD)
Ashlee Wells (Morwell, VIC)

Tri Nations Women's International Hockey Match Schedule (all times AEST):
Sunday 20 May 12:30pm - New Zealand vs Australia
Monday 21 May 4:30pm - Australia vs Japan
Wednesday 23 May 4:30pm - New Zealand vs Australia
Thursday 24 May 4:30pm - Australia vs Japan
Saturday 26 May 2:30pm - Playoff for final (2nd vs 3rd)
Sunday 27 May 12:30pm - Final

Hockey Australia media release


---

HA Offers Best Wishes To Gabrielle Nance

Ben Somerford




Hockey Australia today offers best wishes to Hockeyroo Gabrielle Nance who has decided to step away from the game indefinitely.

Nance was part of the Australia team which won a silver medal at the 2018 Commonwealth Games and following the tournament has made a decision on her future effective immediately.

The 23-year-old Kingscliff product debuted for Australia in 2014 and has made 70 international appearances, including competing at the 2016 Rio Olympics, and scored seven goals.

Nance explained her decision, thanking those who've helped her along her journey and making the point she wouldn't be lost to hockey.

"After much thought and deliberation I have decided to take some time away from international hockey," Nance said. "My experience with the Hockeyroos was extremely precious and unforgettable.

"I want to thank everyone in the National program who played a part in my career. So many amazing memories and friendships that I will hold on to forever.

"At this stage my future with hockey remains unwritten and in the meantime I'm going to enjoy my time away and whatever changes come with that."

Hockeyroos coach Paul Gaudoin supported Nance's decision and wished her every success for her future on behalf of Hockey Australia.

"Obviously it's disappointing for her to leave the programme at this stage but she goes with my full support," Gaudoin said.

"She needs a break at this stage in her career. I fully support that. I hope she may see a return to hockey at a reasonable level in the next few years.

"She's been a very strong performer for the Hockeyroos for a number of years now. We wish her all the best."

Hockey Australia media release


---

Harendra Singh's appointment as Indian men's hockey team coach stinks of gender bias, leaves women's side in muddle

Sundeep Misra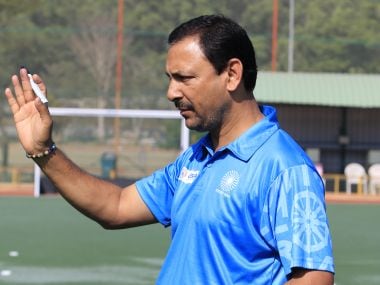 Harendra Singh was appointed as Indian men's hockey coach on Tuesday. Image Courtesy: Hockey India

Even Balkishen Singh, coach of the 1980 Moscow Gold medal winning Indian hockey team, couldn't have envisaged that in 38 years, Indian hockey would appoint 34 coaches. In May 2018, the 34th chief coach of the Indian hockey team is now Harendra Singh.

At a personal level, patience, ambition, diligence and an overriding craving to take India to a podium finish at a World Cup has paid off for Harendra. He lived, breathed, subsisted on this very sentiment and conviction that, one day, this position will be his. He did believe that this very position should have been his when Roelant Oltmans was asked to leave as Chief Coach but though hugely disappointed he took over the women's team and made them Asia Cup Champions.

No small feat for a team that finished 12th at the Rio Olympics. But that fire to take over the men's team was raging and knowing the man, he must have stoked it once in a while reminding himself that in the world of sport, defeats and victories are part of the same coin; you never know which one flips and lands perfectly. And it did when Hockey India announced after a week of drama, flip-flops, intrigue, meetings, and conferences, player interactions that the men's team coach Sjoerd Marijne would become the women's chief coach and Harendra Singh, the women's coach would take over the men's team. Dizzying! Yes, ever so slightly.

In the world of Albert Camus, absurdity is no reason to commit suicide. In fact, the French philosopher, author, journalist and Nobel Prize winner said revolt is the answer. Mutiny in the ranks happened when the players met Hockey India, to be more specific, Dr Narinder Batra, and reportedly spoke about not being happy with the present management which is Chief Coach Marijne. The Dutchman's philosophy didn't go down too well with the players. But it is quite clear that Mr Batra, a man known to fire coaches on whim and fancy was already in a furious mood after the Indian team finished 4th at the Commonwealth Games, a tournament where the minimum expectation was a silver medal; like on the previous two occasions. It is tempting to think of what could have transpired if India was on the podium. Would the players have revolted?

Spare a thought about a decision that stinks of gender bias. The women's team, not always at the forefront of Hockey India's thought process now suddenly finds itself anchorless. The women, of course, didn't have a one-to-one with Batra. Nobody checked with them what they wanted – well, they also finished 4th but yes, they beat the Olympic Champions England and lost to them in the 3rd/4th play-off; a 6-0 spanking that didn't destroy any reputations. In fact, most women hockey fans were looking forward to the July World Cup. It also begs a question – if Marijne wasn't good enough for the men, how is he good enough for the women? Or did Hockey push the women's team onto the altar, the sacrificial lambs in what has always been a men's sport in India. Eliza Nelson, captain of the 1980 Moscow Olympic team that finished 4th, once said wistfully, "If only we had Balkishen as coach, we would have played the Olympic Final."

But think of one player in the management who survives the purge, at least now. High Performance Director David John survived the blood bath after the 2012 London Olympics when India finished 12th. Michael Nobbs lost his job. Then Terry Walsh came in and won the 2014 Asian Games Gold. He was sacked. John was still around. Then Paul van Ass came in and promptly was sacked after the HWL Semi-finals in Antwerp. John was still there. High Performance Director Oltmans became chief coach till the 2020 Olympics and David was appointed as High Performance Director in November, 2016. By the time the HWL semi-finals happened in London 2017 and India lost to Malaysia and Canada, Oltmans was sacked. But the man who survived was David John. And now with Marijne gone, the cat with the nine lives is David John.

But the bigger question is can Harendra and David John partake from the same plate? Oltmans and David's relationship was tenuous at the least. And there is no doubt that if John had pushed Harendra's case, it would have been the 2016 Junior World Cup winning coach who would have taken the Indian team to the 2017 Asia Cup in Dhaka and not Marijne.

Yet, if Indian hockey wants resurgence at the top level, it needs Harendra to focus on what he is good at — aggressive hockey, an excellent player-to-coach communication and a return to the system that gives power and strength to the skills available in the Indian team. Culturally, an Indian team cannot play a mixed system that has bits and bobs of Australia, Europe and South America. Discipline is vital as Walsh showed in the structure of the team that went to the 2014 World Cup and Asian Games. Harendra's biggest asset is that he speaks the players' language. Just after he won the 2016 Junior World Cup, he said in a chat about the 2018 Men's World Cup in Bhubaneswar: "The World Cup is in India and I am confident that I can take this team to the podium."

Confidence has never been in short supply for a man who could never play beyond the 1990 Beijing Asian Games. Though, he did believe that he wasn't given an extra chance by the selection committee, that frustration, anger, discontent was channeled into coaching as he took the team to the semi-finals of the 2005 Junior World Cup in Rotterdam. In fact, that team had the players, skill, ingredients to play the World Cup final. After losing to Australia 3-2 in the semi-finals, where India led 2-0, Harendra later said, "It's terrible that we couldn't hold on or score more. We lost a big opportunity." What was left unsaid was that even as a coach Harendra could have broken into the men's senior team earlier.

Not that he hasn't had stints as national coach – From 2004 to 2011, he has been coach three times over five tournaments and won the 2009 Azlan Shah. Even as assistant coach to V Bhaskaran at the 2000 Sydney Olympics, he came within 45 seconds of taking the Indian team into the Olympic semi-final and it's with regret and deep disappointment he would remember the 2006 Doha Asian Games where India ended up 5th. And then at the 2006 World Cup at Monchengladbach, India finished 11th.

But it's been that burning ambition of doing it right that has kept him there, perched in the system that one day, I will get my chance. There will be detractors and critics who would point to him not being an Olympian, in many ways, a lack of pedigree in Indian hockey. But the world of hockey has moved on with professional coaches coming in and Harendra through the years earning his spurs.

The spotlight will now move to the team he selects for the Champions Trophy. Millions of eyes will be on Harendra as he navigates through the Champions Trophy (June), the Asian Games (August) and then the event that could very well decide his fate in Indian hockey. But first, the Champions Trophy and for a man who believes in the convergence of skill and power, will he bring back players like Gurbaj Singh into the system?

It was Harendra as coach of Ranchi Rays that the Punjab player was bought for $99,000, the highest bid for an Indian player. It was also a team that had Manpreet Singh, Birendra Lakra and Kothajit Singh. In fact, back then in November, 2016, Harendra had said: "Before the bidding began, we only wanted him. In our defensive structure, he fits in beautifully. We had decided to go all out to get him and we have the best right-half in the country." Two years later, it would be interesting to know if Harendra still believes Gurbaj remains the best right-half. Only recently, Punjab won the Senior National Championships. Punjab's captain was Gurbaj Singh.

An Indian coach in so many ways is ordained to wear the robes of Sisyphus, a figure in Greek mythology, condemned to push a boulder up a mountain only to see it roll down again; Olympics after Olympics (since 1980) and World Cup after World Cup (since 1975). Probably, it's time to shed those robes. Banish the demons. Write new chapters. Maybe, it's the most unlikely of them all, the non-Olympian, Harendra Singh for whom fate and destiny has finally combined to create a future that can only benefit from the past.


Firstpost


---

USMNT Heading to Mexico for Hockey Series Open, Traveling Squad Named




COLORADO SPRINGS, Colo. - Following the official announcement of the Hockey Series Open by the International Hockey Federation (FIH) yesterday, USA Field Hockey is pleased to announce the U.S. Men's National Team will participate in the event taking place June 5-10 in Salamanca, Mexico. This will be the USMNT's second international competition of the year following multiple training camps. They will look to build on last year's momentum from medaling in two major competitions, including the men's Pan American Cup.

"We are looking forward to this tournament in June," said Rutger Wiese, USMNT Head Coach. "For us it means we have a test in a tournament setting to see where we stand."

To start 2018, the USMNT played in the 5 Nations Tournament in Malaga, Spain from January 29 to February 4. Going up against some of the top teams in the world, FIH Hero World Ranked No. 26 USA was very competitive and kept the goal margins minimal in matches against No. 8 Spain, No. 10 Ireland, No. 11 Canada and No. 23 Scotland.

This was followed by a training camp state-side in April in Moorpark, Calif. before the squad headed overseas for a Europe Training Tour which started on April 23 in Germany. The USMNT just finished the second leg of the tour in The Netherlands with multiple training sessions, before the athletes head back to their respective club teams or back to America.

USMNT Head Coach Wiese and coaching staff used the Europe Training Tour to help establish the 18-athlete roster that will compete at the Hockey Series Open in June. This group is led by a core set of veterans who aided in the medal performances last year, but also includes a few newer faces. Amrit Beaty (Simi Valley, Calif.) and Christian DeAngelis (Doylestown, Pa.) have been selected and both registered their first official caps with the senior squad back in January at the 5 Nations Tournament.

USMNT Hockey Series Open Roster:
Michael Barminski (Ventura, Calif.), Tom Barratt (Greensboro, N.C.), Amrit Beaty (Simi Valley, Calif.), Christian DeAngelis (Doylestown, Pa.), Ajai Dhadwal (Agoura Hills, Calif.), Mohan Gandhi (Ventura, Calif.), Alex Grassi (Brookeville, Md.), Pat Harris (Moorpark, Calif.), Will Holt (Camarillo, Calif.), Deegan Huisman (Almere, The Netherlands), Aki Kaeppeler (Stuttgart, Germany), Brandon Karess (Allentown, Pa.), Jaja Kentwell (Spring City, Pa.), Jonathan Klages (Berlin, Germany), Adam Miller (Panama City, Fla.), Johnny Orozco (Ventura, Calif.), Paul Singh (Simi Valley, Calif.), Tyler Sundeen (Simi Valley, Calif.)

More about the Hockey Series:

Fueled by the magic of fast-paced, highly-skilled, action-packed hockey, the Hockey Series provides unrelenting drama and excitement driven by the opportunity to qualify for the Olympic Games or Hockey World Cup. Open to all countries not in the Hockey Pro League, the Hockey Series gives developing hockey-playing nations the opportunity to test themselves against some of the world's best, with dreams of reaching hockey's flagship events. For it is here, in the Hockey Series, that history will be made and future stars born.

The Hockey Series is composed of two rounds, played over two years preceding either an Olympic Games or Hockey World Cup. The competitions and subsequent qualification processes are exactly the same for both the men's and women's competitions in line with hockey's 'Equally Amazing' ethos.

The Hockey Series Open is available for entry to all eligible countries. Events at this level will be continentally based. The number of competitions spread throughout the world will be determined by the number of entries.

From all teams competing in this round, a minimum of 15 teams will qualify for one of three separate Hockey Series Finals.

Each of the Hockey Series Finals will have eight teams playing in them and will take place throughout the world, with berths into the Olympic Qualification Events up for grabs.

The majority of hosts of the Hockey Series Open have been confirmed, with more due to be announced within the next few weeks. Hosts of the 2019 Hockey Series Finals will be announced later this year.

As part of a commitment to support the sport's growth at all levels, these events will be available on FIH YouTube, giving fans instant access to hundreds more hours of hockey action from across the world.

For more information about the Hockey Series Open, click here.

USFHA media release


---

U-19 USMNT Will Welcome Two Teams to America for Junior Nations Invitational Tournament




NEW HAVEN, Conn. - For the first time ever, the U.S. U-19 Men's National Team program will be welcoming more than one team to American soil for the Junior Nations Invitational Tournament. Set to take place at Yale University's Johnson Field in New Haven, Conn. from May 20-27, the focal of this event is to expand upon the growth of boys' development and expose younger athletes to highly-competitive international games.

"Bringing two international squads with well-established junior programs to the United States is just what we need for boys' development," said Simon Hoskins, USA Field Hockey's Executive Director. "Over the past two years we have put a greater emphasis on grassroots on up and this event will help expose the hard work done by many in the Junior USMNT program."

The Junior Nations Invitational Tournament will consist of three U-19 aged teams including the USMNT, Ireland and Japan for a week of competition that will total eight games. It will take place on the campus of Yale University at Johnson Field that rests in a 750-seat synthetic turf complex. Admission to all games is free and open to the public. USA Field Hockey is working on providing live stream coverage.

Last year, the initiation around the development of boys' hockey started with a full year of training camps that lead to the U.S. U-21 Men's National Team playing at the Sultan of Johor Cup in Johor Bahru, Malaysia in October. This tournament provided valuable competition for the growing squad as they played the highest level possible among the top junior teams in the world. This continued a month later when the U-19 USMNT hosted Canada in a four-game series in Moorpark, Calif. These matches saw USA grow each game to show true dedication and commitment for USA to win the series, which was decided in the last contest.

This year started with more training camps before the U-16 and U-19 USMNT took a trip abroad for a five-game series in Santiago, Chile in March. That week saw lapses, turnovers, triumphs and boasts of energy as progress was made in each game. The matches also gave the coaching staff valuable time to evaluate players in a competition setting and learn from their strong junior program opponent.

To prepare for and help with the selection process of the Junior Nations Invitational Tournament, a final training camp took place at the beginning of April. This helped Junior USMNT Head Coach Rutger Wiese and coaching staff established the roster that will play May 20-27.

U-19 USMNT Junior Nations Invitational Tournament Roster:

Payton Breslow (Moorpark, Calif.), Christian DeAngelis (Doylestown, Pa.), Jack Gallucci (Trumbull, Conn.), Phile Govaert (Rye, N.Y.), Zaid Hassan (Santa Clara, Calif.), Liam Hawley (Ventura, Calif.), Colin Hennessy (Marlborough, Mass.), Wander Hommes (Westlake Village, Calif.), Graeme Jackson (Moorpark, Calif.), David Kristof (Darien, Conn.), Michael Mendoza (Monument, Colo.), Alberto Montilla (Allen, Texas), Dean Schiller (Alexandria, Va.), Amrinderpal (Garry) Singh (Corona, Calif.), Galvin Stuart (Old Saybrook, Conn.), Maxwell Walshaw (Thousand Oaks, Calif.), Spencer Walshaw  (Thousand Oaks, Calif.)

Junior Nations Invitational Tournament Schedule:

Monday, May 21        USA vs. Japan        8:00 p.m. ET
Tuesday, May 22        USA vs. Ireland        8:00 p.m. ET
Thursday, May 24        USA vs. Japan        8:00 p.m. ET
Friday, May 25            USA vs. Ireland        8:00 p.m. ET
Sunday, May 27        USA vs Japan            8:00 p.m. ET

*Click here for the full schedule

The U-19 USMNT will compete in three more international test series in the remainder of the year. In July, the squad will travel to Toronto, Canada before hosting Chile in Greenwich, Connecticut in August. Lastly, Canada will reciprocate and make their way to Moorpark, Calif. for the final training camp and test series.

For all information regarding the Junior Nations Invitational Tournament in New Haven, Conn., including the full schedule, check out the event page by clicking here.

USFHA media release


---

Teen Asfarina to play in Asian Champions Trophy

By Aftar Singh




KUALA LUMPUR: Youngster Nor Asfarina Isahyifika Isahhiddun (pic) was on cloud nine after she was named for the women's Asian Champions Trophy in Donghae City, South Korea, from May 13-20.

The 17-year-old defender from Sabah was selected by national coach K. Dharmaraj for her fine performance in the Asian Youth Olympic Qualifier in Bangkok, which ended last Sunday.

Asfarina scored two goals and also captained Malaysia to win the bronze in Bangkok.

This is the first time Malaysia finished on the podium in the tournament.

Dharmaraj was impressed with Asfarina's game in Bangkok and said that the player should be given the chance to prove herself in the Asian Champions Trophy.

"The tournament in Korea will also be a good exposure for young players like Asfarina to further develop their talent at the senior level," said Dharmaraj, after naming 18 players for Donghae City.

Asfarina, a Form Five student of Sabah Sports School, was surprised to make her debut for the national senior team.

"I'm only 17 and will be sitting for my Sijil Pelajaran Malaysia (SPM) examination.

"I never expected coach Dhar­maraj to pick me to play in the Asian Champions Trophy.

"I'm delighted to get the chance to play for the national senior team and I vow to give my best," said Asfarina.

Dharmaraj has also named youngster Nur Maizatulhanim Syafi Sheikh Fuad to feature in the tournament.

The 18-year-old forward Maizatulhanim has featured in the Asia Cup in Kakamigahara, Japan, where Malaysia finished fifth last year.

Five teams will feature in Donghae City and Malaysia open their campaign against the hosts on May 13.

Their other matches are against China on May 14, Japan (May 16) and Asian champions India (May 17).

The Star of Malaysia


---

What to expect at this weekend's Varsity Hockey tournament



Winray Christoffels (Kovsies - 17) celebrates in front of his team mates after scoring a goal

From teams and tickets to TV times – here's everything you can expect at this weekend's Varsity Hockey tournament at Wits Astro, including what you stand to win!

It's back again and this time it's the gentlemen who take centre stage as eight universities battle it out for South Africa's premier intervarsity hockey title – Varsity Hockey! UJ have been the form team over seasons past, and are the men's tournament's title-holders, but they are a new-look team. Will we see a new champion crowned? We'll find out soon enough.

Fixtures

Matches kick off today at 13:30, as we see a repeat of the 2016 final in a mouth-watering clash between UJ and Tuks. Other massive clashes include UCT versus Maties in the all-Cape derby on Sunday and the Joburg derby between UJ and Wits on Sunday.

All the fixtures are here.

TV

On Monday 7 May all four matches will be televised live on SuperSport, including the Wits-UJ derby at 18:45. 

Win

With sponsors such as FNB, Samsung and Mugg & Bean you're guaranteed an opportunity to win at the matches, whether it's an e-Wallet, Mugg & Bean voucher or Samsung electronics. Come try your hand at giant inflatable hockey or FNB's t-shirt scrabble!

Tickets

Entrance is absolutely free! You heard us – you pay nothing, zip, zero, nada. Just come on down to the Wits hockey astro and bring your mates.

Teams

There are eight universities taking part: UJ, Tuks, NWU, Kovsies, Madibaz, Maties, Wits and UCT.

Here are the full squads:
UJ

| | | | | |
| --- | --- | --- | --- | --- |
|   | Surname  | First Name  | Date of Birth (YYYY-MM-DD) | Shirt Number  |
| 1 | Martins (GK) | Matthew |   | 1 |
| 2 | Robertson | Brad | 1995/12/19 | 2 |
| 3 | Ndlovu | Andile | 1998/12/30 | 4 |
| 4 | Cachet (Captain) | Kyle-Lion | 1995/03/01 | 5 |
| 5 | Newland -Nell | Michael | 1999/01/07 | 6 |
| 6 | Burke (VC) | Chad | 1994/01/21 | 7 |
| 7 | Halle (VC) | Courtney | 1997/11/20 | 8 |
| 8 | February | Che | 1998/01/02 | 9 |
| 9 | Botes | Spencer | 1998/12/21 | 10 |
| 10 | Smith | Keegan | 1999/01/14 | 11 |
| 11 | Jacobs | Ernest | 1996/05/05 | 13 |
| 12 | Gilbert | James | 1994/12/13 | 15 |
| 13 | York | Raynor | 1997/05/06 | 16 |
| 14 | Martins | Jesse | 1999/03/01 | 17 |
| 15 | De Abreu | Diego | 1999/07/23 | 18 |
| 16 | Dube | Manessah | 1998/02/05 | 20 |
| 17 | Cooper (GK) | Gary | 1995/05/07 | 21 |
| 18 | Blackie- Roden | Tristan | 1997/04/23 | 23 |

Tuks

| | | | |
| --- | --- | --- | --- |
| Surname  | First Name  | Date of Birth (YYYY-MM-DD) | Shirt Number  |
| Kemp | Ashley | 1995/01/27 | 11 |
| Sherwood | Bradley | 1999/05/28 | 15 |
| Christian  | Kriek | 1997/09/12 | 20 |
| van Breemen | Cody | 1998/09/23 | 13 |
| Kriek (GK) | Hendrik (Estiaan) | 1995/06/07 | 1 |
| Redfern | James | 1998/03/21 | 6 |
| Cass | Jared | 1999/08/13 | 5 |
| Chong  | Mark | 1998/10/28 | 23 |
| Davies | Matthew | 1998/04/24 | 19 |
| Forrest | Michael | 1998/03/27 | 10 |
| Currie | Mitchell | 1997/07/03 | 4 |
| Lembethe (Captain) | Nduduzo (Peabo) | 1996/01/13 | 8 |
| Pio | Nicholas | 1999/07/24 | 16 |
| Letuka | Onke | 1996/05/27 | 3 |
| Mvimbi | Samkelo | 1999/01/23 | 7 |
| Mthembu (GK) | Sizwe | 1997/03/13 | 22 |
| Paulo | Steven | 1997/02/18 | 9 |
| Halle | Timothy | 1996/03/31 | 21 |
| Butler  | Matthew  | 1997/04/06 | 13* |

NWU

| | | | |
| --- | --- | --- | --- |
| Surname  | First Name  | Date of Birth (YYYY-MM-DD) | Shirt Number  |
| Van Der Schyff | Lochner | 1999/03/17 | 3 |
| Jeffery | Wayne | 1996/04/15 | 4 |
| Du Plessis | Leonard | 1998/11/27 | 5 |
| Kock | Anru | 1996/10/04 | 6 |
| Lamprecht (Captain) | Gertjie | 1993/11/02 | 7 |
| Ludick | Killian | 1996/08/09 | 9 |
| Mbekeni (Captain) | Sinoxolo | 1994/09/06 | 10 |
| Cilliers | Francois | 1995/10/02 | 11 |
| Tamine | Damian | 1998/05/05 | 12 |
| Joubert  | Francois | 1999/04/05 | 13 |
| Makan | Mitesh | 1994/01/30 | 14 |
| Kyle Kenny | Damian | 1999/09/07 | 17 |
| Botma | Pierre | 1998/06/25 | 18 |
| Mabo | Siyabonga | 1997/06/04 | 21 |
| Stean | Naude | 1994//06/08 | 20 |
| Clayton | Tait | 1999/03/11 | 23 |
| Andrew (GK) | Oosthuizen | 1998/04/20 | 1 |
| Mthokozo (GK) | Mbotho | 1999/02/02 | 22 |

Kovsies

| | | | |
| --- | --- | --- | --- |
| Surname  | First Name  | Date of Birth (YYYY-MM-DD) | Shirt Number  |
| Esterhuizen (GK) | LouFrans |  9709055128083 | 1 |
| Nel | Andre | 9712155121081 | 2 |
| Van der Merwe | Egon | 9502105015081 | 3 |
| De Villiers | Raymond | 9610145172083 | 5 |
| Scheepers | Ryan | 9502105189074 | 6 |
| Ramos | Matthew | 9706175022089 | 7 |
| Kruger | Willie | 9708045146080 | 8 |
|  Tsaoane | Mpho | 9507135403082 | 9 |
| Van Bosch | Gerhard | 9512025137089 | 10 |
| Smouse | Justin | 9610015157081 | 11 |
| Weldhagen | Tiaan | 9606045020083 | 13 |
| Van Vollenhoven | Stephan | 9704145079o81 | 14 |
| Mbombisa | Mvelase | 9808215409o84 | 15 |
| Neethling (Captain) | Cheslyn | 9509275074087 | 18 |
| Mollentze | Shelton | 9306085172080 | 19 |
| Ras | Jan Willem | 9406215260084 | 21 |
| Oliver | Tylor | 9801075178o89 | 22 |
| Nkosana (GK) | Luyolo | 9706195531085 | 24 |

Madibaz
| | | | |
| --- | --- | --- | --- |
| Surname  | First Name  | Date of Birth (YYYY-MM-DD) | Shirt Number  |
| WATERS (GK) | NATHAN | 1993/05/17 | 1 |
| ENGOLE | JOSHUA | 1999/06/05 | 18 |
| WICHT | KURT | 1996/01/03 | 4 |
| MC GILLIVRAY (Captain) | JASON | 1998/01/21 | 5 |
| DEWAR | CALLAN | 1997/03/10 | 6 |
| VAN JAARSVELD | ARNO | 1998/03/06 | 7 |
| PENHALL (VC) | ALEXANDER | 1996/06/12 | 8 |
| POTGIETER | JACQUE | 1999/11/02 | 9 |
| PENHALL | KEOGHAN | 1998/12/08 | 2 |
| COOMBS | LAYTHON | 1998/04/21 | 11 |
| FANOE | BRODIE | 1999/07/28 | 12 |
| WYNFORD | CHRISTOPHER | 1998/09/15 | 14 |
| HANSEL | MICHAEL | 1994/05/19 | 15 |
| POTGIETER | ANDRE | 1998/06/25 | 22 |
| MBOVANE | ATHI | 1997/10/10 | 23 |
| DE KOCK | JARED | 1999/10/21 | 21 |
| HARE (GK) | DUNCAN | 1998/01/08 | 24 |
| ASMAH-ANDOH | RICHARD | 1996/02/13 | 16 |

Maties
| | | | |
| --- | --- | --- | --- |
| Surname  | First Name  | Date of Birth (YYYY-MM-DD) | Shirt Number  |
| Mckinley (GK) | Rob | 1995/01/27 | 1 |
| Eveleigh (GK) | William | 1999/01/15 | 38 |
| Hobson | Andrew | 1998/03/20 | 2 |
| Richardson | Tom | 1997/10/04 | 5 |
| Baker | Ru | 1997/07/04 | 15 |
| Saker | Clayton | 1999/08/03 | 21 |
| Giger | Nicholas | 1999/02/12 | 4 |
| Stewart © | Alex | 1995/10/15 | 8 |
| Tate | Gareth | 1997/08/27 | 14 |
| Heynes | Callen | 1999/04/30 | 24 |
| Turnbull | Jordan | 1994/06/01 | 16 |
| Dollman | Wade | 1999/07/13 | 9 |
| Roman | Matthew | 1998/01/09 | 7 |
| Arendse | Reece | 1996/10/08 | 23 |
| Samboer | Dayne | 1993/05/04 | 11 |
| Mgobozi | Mbuso | 1998/07/29 | 29 |
| Pike | Max | 1998/01/26 | 12 |
| Schooling | Luke | 1997/06/28 | 17 |

Wits

| | | | |
| --- | --- | --- | --- |
| Surname  | First Name  | Date of Birth (YYYY-MM-DD) | Shirt Number  |
| Fischer (GK) | Duncan | 1998-05-06 | 1 |
| Riley  | Gareth | 1994-07-20 | 2 |
| Van Wyk | Cody | 1996-01-01 | 4 |
| Riley  | Brad | 1998-08-17 | 5 |
| James | Brandon | 1996-12-13 | 6 |
| Marki © | Michael | 1994-03-25 | 7 |
| Thomas | Jaryd | 1996-08-02 | 8 |
| Modise | Thabang | 1996-09-09 | 10 |
| Makaba | Chris |   | 11 |
| Futcher | Chad | 1997-10-03 | 12 |
| Cressy | Bryce | 1996-07-18 | 13 |
| Donaldson | Sean | 1994-01-13 | 14 |
| Horan | Michael | 1999-05-21 | 15 |
| Abrahams | Rusten | 1997-12-16 | 17 |
| Ramburuth Hurt | Kamal | 1996-11-13 | 18 |
| Botes | Kingsley | 1995-12-26 | 19 |
| Henning | John | 1998-05-08 | 20 |
| Nyandeni (GK) | Sizwe | 1998-03-07 | 23 |

UCT

| | | | |
| --- | --- | --- | --- |
| Surname  | First Name  | Date of Birth (YYYY-MM-DD) | Shirt Number  |
|  Sorensen (Captain) | Bjorn | 1995/09/01 | 5 |
| Talmage | Ross  | 1996/01/22 | 4 |
|  Barbour | Malachy | 1999/06/10 | 6 |
|  watters | James | 1996/08/06 | 2 |
| Cole | Dan  | 1995/08/07 | 12 |
|  MecKechnie | Nick | 1999/10/22 | 19 |
|  Forrest | Jack | 1997/06/22 | 10 |
|  Pfaff | Walter | 1996/12/02 | 8 |
|  Gildenhuys | Michael | 1995/04/13 | 14 |
|  Rossouw | Jaydee | 1998/06/04 | 15 |
| McKechnie | Matthew  | 1997/05/07 | 7 |
| Alfeld | Tim  | 1999/02/03 | 3 |
| Zukisa | Mawu | 1997/07/25 | 13 |
| Solomons | Daiyaan | 1998/09/01 | 23 |
| Elijah | Tino | 1999/02/27 | 31 |
| Maharage | Ross | 1997/02/28 | 28 |
| Van Loggerenberg (VC) (GK) | ANTON | 1995/02/21 | 1 |
| Peter (GK) | LIAM | 1999/09/16 | 26 |
---

Austin Smith wishes he'd played in Varsity Hockey and hints at coaching in the competition



Austin Smith from South Africa in action during a Hockey match against Scotland at the Gold Coast 2018 Commonwealth Games(Photo by Anton Geyser/Gallo Images)

South African hockey legend Austin Smith is excited about where South African hockey is headed and how Varsity Hockey are contributing to that goal.

Still performing at the highest level, for Dutch side HC Den Bosch, Austin Smith has been representing South Africa for 14 years, including multiple World Cup, Commonwealth Games and Olympic appearances.

Smith leads the way for South African players pursuing a professional career in hockey, which remains an almost impossible task without joining a top side in places such as the Netherlands, where the world's best represent clubs such as Smith's Den Bosch and Jaime Dwyer's Bloemendal.

Varsity Hockey attempting to steer South African hockey in the right direction, offering players a tournament where all travel and accommodation is covered, where universities receive the funding needed to improve facilities and staffing, and where matches are televised live on TV.

"Having SuperSport involved is huge for the event but also for hockey in general in South Africa," said Smith, currently living in the Netherlands. "Most of the hockey televised in South Africa is from foreign international tournaments, which is of course great, but it's even more exciting to see our own home grown talent on the TV.

"The fact that this allows sponsors to come on board and cover players' costs is tremendous. It's extremely difficult to make a living from hockey but events like this certainly go a long way in making that possible."

Smith was already three years too old to take part in Varsity Hockey when it began, according to the 25-year age limit, but may still be involved in the future, joining the likes of other SA hockey greats such as Gregg Clark, who coached UCT in 2016. Whether he does or not, he is excited about the way it is grooming young players for international level.

"Sadly I've never been able to take part in Varsity Hockey, but perhaps one day I will, as a coach," said Smith, smiling. "I think the event gives players a brilliant opportunity to get used to playing top level hockey in front of a big audience. Playing big games in front of a big crowd can be very difficult but as a national player it's something that you need to get used to so the fact that players can experience this now is huge for their development."

There is no doubt that Varsity Hockey has already contributed significantly to the development of young players, both men and women. And Smith is confident that South African Hockey is headed in the right direction as the 2020 Olympic Games draws nearer. It's a year that could see a number of this year's Varsity Hockey stars playing for the Green and Gold on the world's biggest stage.

"I think we are in a very exciting phase," explains Smith. "We have a clear plan on what we want to achieve leading up to the 2020 Olympic Games and I believe with the talent that has been identified we have every chance in reaching our goals. We do of course have a long way to go, but with the right people involved and a clear plan I really believe we have every reason to be excited, I certainly am!"

Varsity Sports media release


---

Spanish top four sides confirmed for playoffs



©: Frank Uijlenbroek/world Sport Pics

The Spanish top four was confirmed on Tuesday night following the derby draw between Atletic Terrassa and CD Terrassa, meaning the former cannot now reach the semis.

There was an outside chance that they could overhaul Club Egara before the night if a series of results fell their way.

Egara had lost to Polo on Sunday 3-1 with goals in the last five minutes from Nano Ortiz and Alex Casasayas sending the game out of reach. The win has Polo six points clear at the top of the table and one points from their last two games will give them the Spanish regular season title and an EHL ticket.

Club de Campo went second on their own with two goals from Gonzalo Lasso earning a 2-0 win over Madrid rivals SPV Complutense.

Junior FC drew 2-2 at RS Tenis, a result that was enough to put them into the playoff places and ensured an extended season.

It left the fourth and final place down to either Egara or Atletic if the latter could grab a win in their Tuesday game. CD Terrassa started better, taking the lead in the 28th minute via Marc Mirallas but Atletic turned things around via star men Roc Oliva and Marc Salles.

But CD Terrassa produced a wave of late attacks and eventually got a scrappy equaliser in the last minute from Jaume Ventayol.

Euro Hockey League media release


---

Glenanne head up Leinster trio for men's EYHL finale



Glenanne will look to refind the form that handed them the EYHL at a canter. Pic: Adrian Boehm

Leinster trio Glenanne, Pembroke and Three Rock Rovers will dice with Lisnagarvey for the men's EY Champions Trophy title and the number one European spot from this season.

EY Hockey League champions Glenanne open up against Pembroke in the first semi-final in a classic encounter at 2.30pm at Grange Road which took over the hosting from Banbridge in the last few weeks.

In landing the league, the Glens ended their eight-year wait for a national title, winning out with plenty to spare. While the final margin of success was just one point, they were odds on for the title for long periods, building a 10-point gap that was only reduced once the title was confirmed.

Indeed, their only league losses came in the last week of the campaign, falling to Monkstown and Banbridge. As such, in addition to a 5-2 Irish Senior Cup semi-final defeat to TRR, there may be a bit of concern from player-coach Joe Brennan about how they can recover their form for the finals weekend.

Nonetheless, it has been quite a return to the top table this season from being well outside the playoff places last term. A first factor has been the move from Tallaght to St Andrew's in Booterstown to play and train on a water-based pitch.

Next has been the arrival of Iain Walker in goals who has been a revelation. With Richie Shaw returning from Australia, Shannon Boucher following a year with Hurley in the Netherlands and a general widening of their panel, they developed an uncanny ability to come from behind to win games with late goals.

Nine of their 13 wins were by a single goal, showing their skill at closing out games. In Shane O'Donoghue, they have one of the league's outstanding players, scoring 16 times from midfield.

Against Pembroke this term, they have played out a couple of spectacular ties. The first was a 3-3 draw while Pembroke looked set to win the next only to let in two goals in the dying minutes to fall 4-3.

Pembroke do have an ace up their sleeve in Alan Sothern with 31 goals to his name this campaign while Kirk Shimmins' battle with O'Donoghue in midfield will be a highlight.

They will miss Harry Spain's calm assurance at the back but Irish international Keith O'Hare has stood out in his absence, stepping out of defence to excellent effect. Keeper Mark Ingram is another in fine form and will need to be on his game for a side who do tend to play quite open, conceding 41 times in the league.



Kirk Shimmins in a driving force for Pembroke. Pic: Sinead Hingston

Pembroke qualified for the final four on the last day of the regular season with a 4-3 win over Cork C of I.

The second semi-final is a repeat of last year, one in which Three Rock beat Lisnagarvey in a shoot-out. Since then, Rovers have won six trophies including last year's Champions Trophy and April's Irish Senior Cup along with two Leinster cup titles and two indoor competitions.

Indeed, Rovers are the form team coming into the weekend with seven wins in a row in the league as they build toward this title defence, scoring the most and conceding the least in the regular season.

Daragh Walsh was recently named the club's player of the season and her forms part of a strong midfield with Jody Hosking and Ben Walker while Olympian Mitch Darling dipping between them and the forward line. John Mullins' arrival from Clontarf last season has been a big addition while Harry Morris is on form.

Irish back-up keeper Jamie Carr dons the pads while Luke Madeley's corners and solidity in the centre of defence will be key elements if they are to go back-to-back.



Three Rock have won their last seven league games and have also won five titles this season. Pic: Sinead Hingston

They meet a star-studded Lisnagarvey side who have the largest current international selection in their armoury. There is not a more formidable defensive pairing than Jonny Bell and Paul Gleghorne in operation in Irish club hockey while Neal Glassey, Matthew Nelson and Sean Murray are part of the Green Machine's confident new breed and much of their attacks will funnel through them.

Garvey's form, though, has been indifferent in recent times with Murray carrying a knock. They have just two wins from their last six league games – those coming against the bottom two – and bowed out of the Irish Senior Cup with a 3-0 loss on home turf to Pembroke.

If they hit form, though, they could be in line for their second EY Champions Trophy success in three seasons.

It all promises to be another epic installment of the end of season playoffs with the best in Irish club hockey on display at Grange Road, Rathfarnham.

Men's EY Champions Trophy
Semi-finals (both Saturday): Glenanne vs Pembroke, 3pm; Three Rock Rovers vs Lisnagarvey, 5pm; all at Grange Road
Final (Sunday): 5pm, Grange Road
EYHL 9th Place Play-Off (Sunday): Cookstown v Bangor, 2.30pm, Shaw's Bridge Sports Complex

Ticket Prices
€22 Weekend pass (adult only)
€17 Weekend pass (OAP /uni student)
€15 Single day pass (adult)
€10 Single day pass (OAP/uni student)
Free Secondary School Children and younger

Lisnagarvey have won just twice in their last six league games. Pic: Sinead Hingston

The Hook


---

UCD the side to beat on women's EYHL finals weekend



UCD's women are looking to complete another treble. Pic: Adrian Boehm

The Irish hockey season reaches its climax at Grange Road, Rathfarnham, this weekend with the EY Champions Trophy, the competition that will decide both the women's and men's national champion for the 2017/18 season.

It features the top four from the two EY Hockey Leagues with both reigning champs in the mix once again, looking to make their mark once again in Saturday's semi-finals, leading into Sunday's final showdown.

On the women's side, UCD are very much the side to beat. They won the competition last year in a shoot-out and have since gone on to win the Irish Senior Cup and the EY league with just one defeat – on the opening day to Cork Harlequins – on their record.

Indeed, under coach Miles Warren, they have lost just once in the last two seasons on the national stage. Their speed on the counter is something to behold with the ability to snap quickly from a defensive platform into all-out attack with just a couple of swift passes.

The attacking prowess of skipper Deirdre Duke, sisters Abbie and Emma Russell is backed up by a dynamic midfield of Ellen Curran, Sara Twomey and Irish captain Katie Mullan – the league's top scorer with a healthy smattering of corner goals.

But while many outsiders focus on the offensive side, it's the defence that has been pivotal in their run of 14 wins in succession in the league. They have let in just three times since the turn of 2018 with Clodagh Cassin superb in goal, protected by Lena Tice, Leah McGuire and the experienced Sarah Robinson.

Loreto have the task of taking them down and while the task is a big one, they are the side that has come closest to finding a way since October. They pushed UCD to a shoot-out in the Irish Senior Cup semi-final after a scoreless draw in normal time.

Just a single goal separated the sides in February in the league and it was the last time Loreto lost, embarking on an epic seven-game unbeaten run to snatch the fourth and final Champions Trophy ticket from under Railway Union's noses.



Loreto nicked fourth spot from under Railway Union's nose. Pic: Adrian Boehm

Nicci Daly's return from the US has provided a huge boost with her pace and trickery offering a key outlet, a perfect foil for the rising brilliance of Sarah Torrans and fellow youngsters like Christina Hamill, Mia Jennings and Siofra O'Brien.

Ali Meeke, Niamh Small and Hannah Matthews have all won national titles before, giving a strong spine to the line-up while teenager Hannah McLoughlin's distribution and composure helps pull the strings.

The other side of the semi-final draw sees Cork Harlequins face Pegasus. The Munster side finished the season second and were, throughout the campaign, the longest challenger to UCD.

Indeed, they started off with an excellent 2-1 win on opening day over the students and remained unbeaten until January. But a few too many draws saw them lose ground and having to settle for second.

There is plenty of international talent in the side. Cliodhna Sargent – one of Ireland's 200 club – came back into the side following pregnancy before Christmas to lend steel to their defence, freeing up Yvonne O'Byrne to tear down the flanks from the right.



Cork Harlequins hope to make amends for last year's rough semi-final. Pic: Adrian Boehm

Roisin Upton is one of the most accomplished midfielders while her corner drag-flicks always offer a threat. Michelle Barry has been in red-hot form up front, working with internationals Rebecca Barry and Naomi Carroll – only pipped to top scorer by Mullan on the final day of the campaign. Emma Buckley provides an excellent last line of defence.

They will have something to prove this year after last year's injury-stricken semi-final against Hermes-Monkstown when they fell 6-2. Then, Carroll, Rebecca Barry, Sargent and Upton were all out while Buckley only made it out of hospital that week to play her role. This time, Upton and Carroll missed a couple of games in April but are on the comeback trail.

Pegasus, meanwhile, will be looking to get one over on Quins who raided Queen's in February to score a big 2-1 result in the league.



Pegasus celebrate during a recent win over Hermes-Monkstown. Pic: Sinead Hingston

Pegs will hope to have Shirley McCay – Ireland's most capped player – back available after broken fingers ruled her out of the Irish Senior Cup finals weekend. Hers and Hannah Grieve's range of passing, usually from the left, give Taite Doherty, sisters Katie and Lucy McKee and former Irish captain Alex Speers lots to work with.

Steph Thompson and Pamela Glass are an experienced centerpiece to their defence while Michelle Harvey and Ruth Maguire are the midfield engines. Three draws in their last four games may hint toward a shoot-out.

Weekend fixtures (all at Grange Road, Rathfarnham)
Women's EY Champions Trophy
Semi-finals (both Saturday): UCD vs Loreto, 10.30am; Cork Harlequins vs Pegasus, 12.30pm
Final (Sunday): 2.30pm
EYHL 9th Place Play-off (Sunday): Trinity v Old Alexandra, 12pm.

Ticket Prices
€22 Weekend pass (adult only)
€17 Weekend pass (OAP /uni student)
€15 Single day pass (adult)
€10 Single day pass (OAP/uni student)
Free Secondary School Children and younger

The Hook


---

Portrane back in Division One for first time in 20 years

Portrane produced a blistering start last Saturday en route to a 9-2 win over Weston in a Division 1/2 playoff, earning their place in the top tier in Leinster, Ireland for the first time since 1998.

With their centenary in 2019, it marks a great way for the club to continue its rejuvenation, continuing their rise back up from Division Four since the opening of their fine pitch in Donabate.

They finished sixth in Leinster league division two but were awarded a playoff at Sutton Park against Weston, the last place finishers in Division One, for a chance at playing in the higher league next term.

And the Fingal side scored three times in the first three minutes with Chris Neville, Colin Neville and Imran Khan on the mark before Peter Conway got the fourth in the 10th minute with a typically powerful shot.

Weston pulled one back but it was a brief reprieve as Colin Neville added a fifth before half-time, 5-1. Chris Neville and Mukhtar Ahmed stretched the lead out further before Khan got his second before Colin Neville completed his hat trick in the closing stages after Weston had got another back.

The Hook


---

JHL SEMIFINALS: Final push for Cikgu Shahabudin

by Jugjet Singh

KUALA LUMPUR: Cikgu Shahabudin Royani is looking for a double celebration from SMK Datuk Bentara Luar-UniKL players in the semi-finals of the TNB Cup Friday.

For, it is his birthday today (Thursday), and the 54-year-old Datuk Bentara team manager will be opting out on early retirement from the teaching profession in June.

However, he has made a tall order, as his charges face League champions Tunku Mahkota Ismail Sports School (SSTMI) Thudnerbolts in the last four.

The other semi-finals will be between Anderson Thunderbolts and Pahang's AHP-SSP Thunderbolts.

Datuk Bentara Luar, from Batu Pahat, beat Bukit Jalil Sports School (BJSS) Thunderbolts 2-1 in the quarter-finals -- to deny a Thunderbolts monopoly in the semifinals.

"I know it will not be an easy match as we face mighty SSTMI tomorrow (Friday). But I know my players will give their best for an upset, and even if they do not win, I expect them to fight like champions till the very end.

"That is all I am asking from them as a birthday as well as a retirement gift," said Shahabudin.

It's because of dedicated teachers like Shahabudin, that hockey in the country is the most respectable team sport.

Datuk Bentara started as a Division Two outfit in 2013, and gained promotion to Division One in 2016 when they finished second behind Nur Insafi.

With funding from Universiti Kuala Lumpur (UniKL) Datuk Bentara ended eighth in 2016, sixth in 2017 but were knocked out of the quarter-finals by SSTMI Thunderbolts with a 5-0 hammering.

"This is the second time we will be playing in the knock-out TNB Cup, and our first semi-finals appearance. Coincidentally we were also paired against SSTMI in the quarter-finals last season.

"This year, we lost to them 4-0 in the League, but that score is no excuse to play badly in the semis," said Shahabudin.

While it will be uphill for Datuk Bentara, Anderson Thunderbolts and AHP-SSP Thunderbolts will be a clsoely contested encounter.

FRIDAY: Semi-finals: Anderson Thunderbolts v AHP-SSP Thunderbolts (National Stadium, 4pm), SSTMI Thunderbolts v SMKDBL-UNIKL-PHJ (National Stadium, 6.30pm).

Jugjet's World of Field Hockey


---

Shahabuddin hoping for perfect birthday gift from his boys




KUALA LUMPUR: School teacher Shahabuddin Royani (pic) turned 54 yesterday with a birthday wish on his mind.

He wants his team, SMK Datuk Bentara Luar-UniKL-PHJ, to turn the tables on defending overall champions Tunku Mahkota Ismail Sports School (SSTMI)-Thunderbolt in the semi-finals today.

SSTMI beat the Batu Pahat school 4-0 in the opening Division One match in March.

Shahabuddin, who has been a school teacher for the last 31 years, will retire on July 2.

"I have been the team manager of SMKDBL since 2013 and this is the first time we finished fourth in the league and also the first time we qualified for the semis.

"Reaching the semis is a big morale boost for my school and for me as I will retire in July.

"I turned 54 today (yesterday) and I hope my boys can beat the fancied SSTMI team, who have a number of talented players.

"It will be a great achievement for my school if we can reach the final.

"However, we will start as the underdogs as my team are made of kampung players and we have never beaten them since making our debut in the league in 2013," said Shahabuddin.

He added that they don't have star players like SSTMI, who have five players who helped Malaysia to qualify for the Youth Olympic Games in Buenos Aires, Argentina, this October.

The SSTMI players, who featured in the Youth Olympic Games qualifier in Bangkok last week, are Mohd Akhimullah Anuar Esook, Syarman Mat Tee, Muhd Muhibuddin Moharam, Muhd Amirul Hamizan Azahar and Muhd Arif Syafie Ishak.

Akhimullah is the leading scorer in the league with 14 goals.

SSTMI coach Wan Roslan Wan Abdul Rahman said that their mission is to bag the double this season.

"We already secured the league title and we want to retain the overall title.

"We're not taking the Batu Pahat school lightly as anything can happen in the semi-finals.

"We'll go all out to score early to reach the final," said Wan Roslan.

The second semi-final is between two Thunderbolt teams – Anderson and Pahang Hockey Academy (AHP)-SSP.

Anderson, who finished as league runners-up, have a score to settle with the Pahang team as they lost 4-2 in a penalty shootout after both teams played to a 3-3 draw in the semi-finals last year.

The Star of Malaysia


---

Hockey India recommends Manpreet Singh, Dharamvir Singh, Savita Punia for Arjuna Award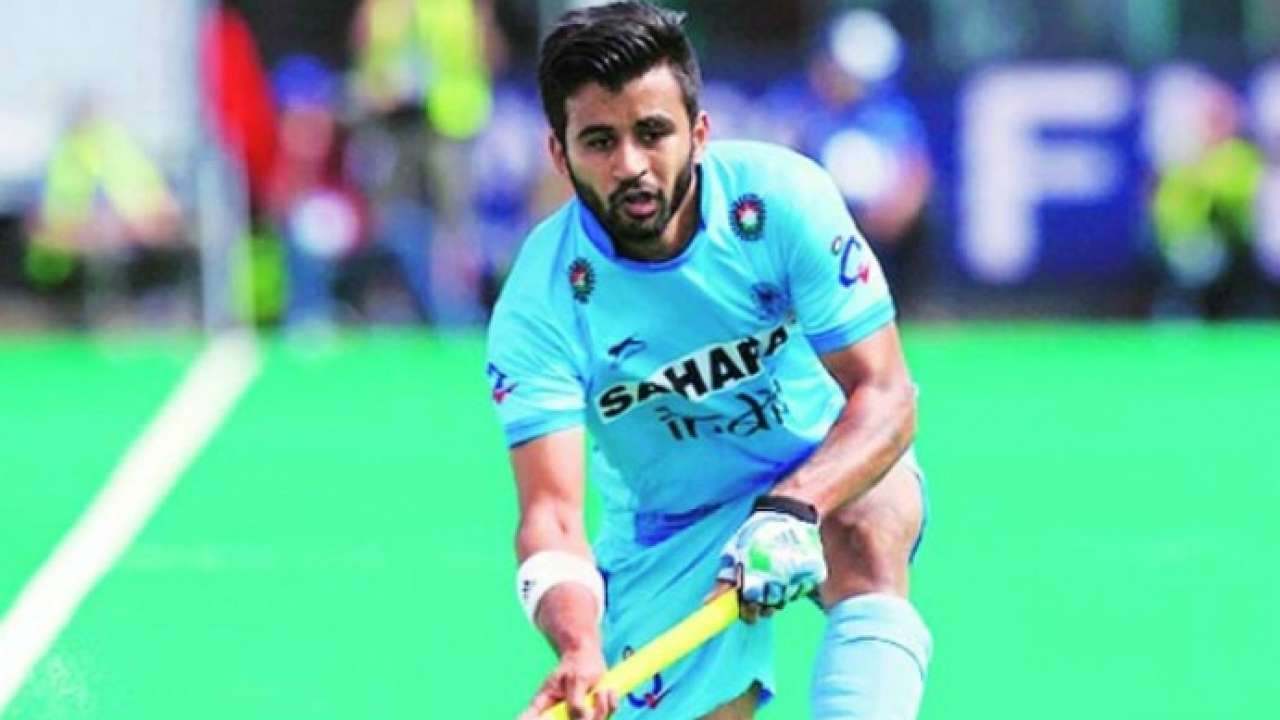 Manpreet Singh

Mid-fielder Manpreet Singh, who led India's men's hockey team at last month's Commonwealth Games, was among the three players recommended for this year's Arjuna award by the national federation here today.

Another experienced mid-fielder Dharamvir Singh, and Indian women's team goalkeeper Savita have also been recommended for the Arjuna Award.

"Sanggai Ibemhal Chanu and former men's captain Bharat Chetri have been recommended for the Dhyan Chand Award for Lifetime Achievement," Hockey India said in a statement.

Hockey India also recommended Coach BS Chauhan for the Dronacharya Award.

Speaking on the recommendations, Mohd Mushtaque Ahmad, Secretary General, Hockey India said, "They have proven their worth with significant performances that has elevated the Indian team to new heights.

"They have donned the India colours with pride and have given it their all to help the team win several accolades within the country and internationally. We at Hockey India are proud of their achievements and are happy to recommend their names for the National awards," he added.

Dharamvir formed the mid-field of the Indian team and was part of the gold medal feat at the 2014 Asian Games in Incheon, Korea. He was also part of the Indian Team that participated at the 2012 London Olympics and has also represented the country at the 2014 World Cup in the Netherlands.

Manpreet, on the other hand, captained the Indian team in the absence of PR Sreejesh who was injured last year. Manpreet was part of the Asia Cup success where India beat Malaysia to lift the title.

He also led the Indian team to a bronze medal at the World League Final last year. With over 200 international caps, Manpreet was part of the Team that participated at the 2012 and 2016 Olympic Games.

He was part of the team that clinched a silver medal at the FIH Champions Trophy in London last year, as well as a silver in the 2014 Commonwealth Games in Glasgow. He also has the Asian Games gold medal to his credit.

Savita was instrumental in India's historic Asia Cup win last year where she made a stunning save in the penalty shootout that helped the team beat higher-ranked China in the final.

Her performance was critical in helping India qualify for the World Cup as continental champions after a gap of 13 years. Savita was part of the team that qualified for the Olympics after 36 years.

She was a member of the team that won the Asian Champions Trophy in 2016.

Former India player Sanggai Ibemhal Chanu, recommended for the Lifetime Achievement Award, was part of the team that won the 2002 Commonwealth Games gold in Manchester followed by a silver in 2006, Melbourne.

In an International career spanning over a decade, Chanu has represented the country twice at the World Cup in 1998 and 2006.

Bharat Chetri, former India goalkeeper and captain, led the team in 2012 London Olympics. He was part of the team that won Silver at the 2010 Commonwealth Games and the bronze at the 2010 Asian Games. Currently he is mentoring the Indian goalkeepers both men and women.

Daily News & Analysis