All the news for Monday 30 April 2018

2018 Asian YOG Qualifier (M) - Final day
Bangkok (THA)

Results 29 April

SGP v THA (9th/10th Place)     4 - 2
TPE v HKG (7th/8th Place)     10 - 2
JPN v PAK (5th/6th Place)     7 - 5
BAN v KOR (3rd/4th Place)     5 - 4
IND v MAS (Final)     4 - 4 (2 - 1 SO)

Final standings

1. India - Qualify for Youth Olympic Games in Buenos Aires
2. Malaysia - Qualify for Youth Olympic Games in Buenos Aires
3. Bangladesh
4. Korea
5. Japan
6. Pakistan
7. Chinese Taipei
8. Hong Kong
9. Singapore
10. Thailand

FIH Match Centre


---

2018 Asian YOG Qualifier (W) - Final Day
Bangkok (THA)

Results 29 April

HKG v TPE (7th/8th Place)     0 - 3
KOR v MAS (3rd/4th Place)     3 - 5
CHN v IND (Final)     4 - 1

Final Standings

1. China - Qualify for Youth Olympic Games in Buenos Aires
2. India - Qualify for Youth Olympic Games in Buenos Aires
3. Malaysia
4. Korea
5. Japan
6. Thailand
7. Chinese Taipei
8. Hong Kong
9. Singapore

FIH Match Centre


---

Indian boys victorious in the AYOQ

s2h team




A nighmarish conceding of a goal in the last seconds of play that levelled their solitary lead did not deter India to emerge victorious in the resultant shoot out. India came out triumphant in the shoot out against Malaysia where Indian goalie Prashant Chauhan blocked a forward's attempt and then the other forward hit his quota of shot wide, leading to quiet Indian celebration. For India, everything went right with first two players finding the net in the shoot out. India thus won the Bangkok Qualifier 6-5.

Earlier, the Indian girls went down 1-4 against rampaging China in the Asian Youth Olympic Qualifier in Bangkok. India's lone goal came in the second session through the stick of Chetna when it has already conceded four goals within first four minutes of the game. India could not recover from the early shock, to end their campaign by achieving the primary goal of making it to the Buenos Aires Youth Olympics. Silver was a consolation.

Indian girls did not give any leeway for their rivals in the next two sessions, but at the same time could not pierce their citadel too. While the Chinese went straight for goals in the first session, Indian girls resorted to wing attack which worked hitherto in the campaign, but today's Chinese were a different lot. They won the edition without losing single game, while it was first defeat for India.

While their male counterparts stretched their rivals to 4-4 at the end of regulation time despite trailing twice in the first moments before piling up a respectable looking 4-2 lead in the 20th minutes. However, Malaysia struck midway in the last session and then the equalizer virtually in the last seconds. Then the shoot out came into play.

Chinese girls punched Indian citadel four times within the first four minutes, leaving Indian goalie Bichu Devi in tatters. She had to concede two goals in the same fourth minute on one-to-one situation, as the Chinese were fast, furious and purposeful.

Stick2Hockey.com


---

Indian men's junior hockey team pips Malaysia to win Youth Olympic Qualifiers

BANGKOK: Indian men's junior hockey team held their nerves to beat Malaysia 2-1 in the shootout to win the Youth Olympic Games Qualifiers on Sunday.

The victory will give India a chance to participate in the Youth Olympic Games to be held in Buenos Aires in August. The tournament was played in new Hockey 5's format.

In the women's final, India led by Salima Tete lost 1-4 to China as they ended their campaign as runners-up.

In the men's final, India were locked 4-4 after regulation time.

Malaysia made the first breakthrough after Mohamad Anuar scored in the 11th minute but India upped their ante in attack as they struck an equalizer in the 12th minute through Rahul Kumar Rajbhar.

Later, skipper Vivek Sagar Prasad fetched India 2-1 lead with his scintillating goal in the 14th minute. Muhammad Moharam however equalized the score to 2-2 soon after in the 15th minute.

India again scored in the 18th and 20th minute through Prasad and Rajbhar respectively taking 4-2 lead.

However defensive lapses saw them concede two goals in the 26th and 30th minutes in the final quarter to end the regulation time at 4-4.

In the shootout, however, India scored through Rabichandra Moirangthem and Rajbhar while Prashant Chauhan did well to keep the Malaysian attackers from converting as India pulled off a thrilling victory.

In the women's final, China dominated the proceedings with a 4-0 lead in the first quarter of the match. Goals were scored by Liu Chencheng (3rd, 4th), Zou Meirong (4th) and Ma Ning (8th) that dented India's chances.

Though Chetna scored India's lone goal in the 16th minute, they couldn't muster a winner, thus finishing as runners-up.

The Times of India


---

No despair for boys despite losing to India, our girls edge S. Korea

By Aftar Singh

KUALA LUMPUR: The Malaysian boys' hockey team came close to winning the Asian Youth Olympic qualifiers final after losing 2-1 to India in a penalty shootout at the Queen Sirikit Stadium in Bangkok yesterday.

Both sides failed to break a 4-4 deadlock in regulation time.

In the shootout, Akhimullah Anuar Esook converted but captain Muhd Amirul Hamizan Azhar and Noor Firdauz failed to do so.

India's conversions came via Rabichandra Moirangthem and Rahul Kumar.

In the match, Malaysia scored through Mohd Akhimullah Anuar Esook (1st), Mohd Muhibuddin Moharam (15th) and Muhd Noor Firdauz Rosdi (26th, 30th).

India sounded the board through Rahul Kumar Rajbhar (12th, 20th) and skipper Vivek Prasad (14th, 18th).

Bangladesh, coached by Malaysian K. Gobinathan, edged South Korea 5-4 to take the bronze.

Coach Wallace Tan took Malaysia's defeat in his stride.

"My boys never gave up despite trailing 4-2 in the final as they scored two goals in the dying minutes to take the game into a shootout," said Wallace.

"It's unfortunate that we lost. What's important is that we finished second to qualify for the Youth Olympics in Buenos Aires in October."

There were cheers for the Malaysian girls as they defeated South Korea 5-3 for the bronze.

Malaysia's five goals came from Siti Nur Arfah Mohd Nor (1st), Siti Zulaika Hussain (7th, 30th), Putri Nur Batrisyia Nornawawi (14th) and Elizabeth Epui Anak Martin (25th).

The Koreans replied through Um Jak-young (4th), Ji Yu-jin (11th) and Choi Seo-lee (18th).

China retained the title with a 4-1 win over India.

Coach Yahya Atan praised his girls for giving their full commitment to the tournament.

"The players from IMAS programme and sports school proved that we can beat stronger teams like Japan and South Korea," said Yahya.

"But they need to keep improving tactically to be on par with China and India."

The Star of Malaysia


---

Pakistan Colts suffer 7-5 defeat in Olympics qualifiers

KARACHI: Pakistan lost to Japan 7-5 in a thriller of a play-off match for fifth position in the Asian Hockey Qualifiers for the Youth Olympics in Bangkok, Thailand on Sunday.

With just two minutes left in the 30-minute match, the two sides were tied at 5-5 but the Japanese boys scored twice to emerge 7-5 victors and thus finished fifth in the 11-team event.

For Pakistan, Murtaza Yaqoob scored two goals while Zulqurnain, Muhammad Waqas and Mohsin Khan scoring one goal each. Yaqoob, with his 13 goals, ended as Pakistan's top scorer in the tournament.

Pakistan drew their first match of the tournament against Chinese Taipei 3-3 before following it up with two big wins. First came a 5-0 win over Singapore, before a crushing and emphatic 20-0 win over Cambodia sent a message to Pakistan's rivals. However, it wasn't smooth sailing from then on in as the victory was followed by a 12-1 humiliation at the hands of Malaysia. They then drew 3-3 to end their group campaign in third position in Pool B.

A win against Hong Kong took Pakistan into the fifth-place play-off but it wasn't enough to see them qualify for the Youth Olympics, with Malaysia and India claiming the two spots.

The Express Tribune


---

Australia Secures Qualification For 2018 Youth Olympics

Ben Somerford




Australia will play at the 2018 Youth Olympics men's and women's hockey tournaments after winning the Oceania qualifiers over the weekend.

Both Australian men's and women's sides comfortably won their tournaments which were played in Port Moresby from April 25-28 in the Hockey 5's format.

Australia defeated Vanuatu in both gold medal matches on Saturday, with the men triumphing 16-0 and women winning 29-0.

Both sides subsequently qualified for the 2018 Youth Olympics to be held in Buenos Aires, Argentina, from October 6-22.

Third-placed Solomon Islands also qualified in the men's tournament, with three spots up for grabs.

Australia's Benjamin White finished as top scorer with 28 goals, along with Lewis Fossey (24) and Miles Davis (22) in the men's qualifiers.

Australia's Courtney Schonell was the women's top scorer with 37 goals, while Emma de Broughe (32) and Jolie Sertorio (30) weren't far behind.

The Australian sides were coached by Ben Bishop (mens) and Tim White (womens).

Hockey Australia media release


---

South African Senior Womens IPT A-Section - Day 4
Durban

Results 29 April

SG v FS (Pool B) 3 - 0
WPP v EP (Pool B) 1 - 2
WP v KZNM (Pool B) 4 - 0
SA21G v SGW (Pool A) 6 - 1
NG v MPU (Pool A) 7 - 0
KZNC v NW (Pool A) 1 - 3

Pool Standings
Pool A
 Pool B
---

South African Senior Womens IPT B-Section - Day 3
Durban

Results 29 April

NGB v SACDB 6 - 0
SGN v KZNI 1 - 0
BOR v KZNR 1 - 1
NGB v SACDA 1 - 1

Pool Standings
---

The permutations ahead of final day of Group Stage




Four days into the 2018 SA Hockey Women's IPT and the semi-final line-up is close to being completed with just one day of action left to go.

Southern Gauteng has now secured their place in the semi-finals after a superb tactical victory over Free State to start the day. Free State has been the impressive union so far of this year's IPT with the result of the tournament being their victory over Tuffy Western Province.

They headed into an early morning battle with Southern Gauteng to secure a top 4 spot. Although Free State had tons of possession, Southerns have a superb backline featuring Lisa Deetlefs and Kara Botes who thwarted attack after attack. Southern Gauteng was also more clinical and secured victory with a double from Lilian du Plessis and regular goal scorer Sylvia van Jaarsveldt. The 3-0 victory secured Southern Gauteng their spot in the top 4, but their joiners are not yet known.

In Group A it could have been done and dusted after Northern Blues superb 7-0 win over Mpumalanga, who are running out of legs, meaning a victory for SPAR KZN Raiders over North West would secure semi-finals for both the Northern Blues and the hosts.

Kelsey Minnaar was introduced into the game in the ninth minute and within 60 seconds had given the Potchefstroom team the lead. As the game opened up and the SPAR KZN Raiders tried to raise the tempo, they were caught with two goals before halftime. First Elmien Marais scored from a penalty corner before Dirkie Chamberlain, back from her short trip to UK, made it 3-0. Jacinta Jubb pulled one back for the hosts, but try as they might they could not break through the resolute defense of North West.

In one of the earlier games, SA Invitational U21 team produced their best display of the tournament dismantling SG Witsies 6-1, Tegan Fourie and Stephanie Botha both netting braces, while arguably the game of the day was a 2-1 win for Eastern Province over WP Pens with Harriet Bisdee netting with the final hit of the game!




Permutations – Group A Northern Blues play against SPAR KZN Raiders, while North West take on SA invitational under 21. The four teams all can still qualify and drop out of the top 4.

For Northern Blues, a draw will secure progress, but depending on goal difference could still qualify regardless. For the other three teams, anything short of a win will probably see them miss out on the top 4. There is a massive pressure on they take on a team that has yet to concede a goal!




Permutations – Group B Southern Gauteng has already qualified for the Semi-finals and they take on Western Province who will at least have the comfort of knowing what the result needed will be as Free State play before them. Free State themselves will look to get a win over WP Pens early in the day that will mean that WP will need a draw to qualify for the top 4!

3 massive matches to decide the top 4, it promises to be a day of superb hockey.

You can follow daily updates on SA Hockey or check out the Tournament Management site through https://saha.altiusrt.com/competitions/25#matches SA

Hockey would like to thank our sponsors for their continued and valuable support: Private Property, Tsogo Sun, Old Mutual, iWyze, Grays, Olympic International, SRSA, Virgin Active, Fox 40, Greenfields and Belgotex Sport.

SA Hockey Association media release


---

Kampong assured of EHL spot with Hoofdklasse top position



©: Frank Uijlenbroek/world Sport Pics

SV Kampong withstood a late HGC onslaught to win the Hoofdklasse regular season crown and, with it, a ticket to next season's EHL.

They eventually won out 5-4. Philip Meulenbroek, Ties Ceulemans, Bjorn Kellerman and Lars Balk had Kampong looking virtually assured of the win that they needed to top the table, leading 4-1 after 25 minutes.

Steijn van Heijningen cut the gap a little only for Robbert Kemperman to make it 5-2 with 25 minutes left but HGC summoned goals from Olivier van Tongeren and Tristan Algera to ensure a nervous finish.

It was enough to keep them two points ahead of EHL FINAL4 rivals HC Bloemendaal who produced an impressive 2-1 win against AH&BC Amsterdam. They led via Florian Fuchs and Thierry Brinkman before Klaas Vermeulen have Amsterdam some hope in the closing minutes.

Amsterdam finish in third place as a result and so will face Bloemendaal once again next weekend in the first phase of the playoffs.

Kampong will come up against HC Oranje-Rood with the Eindhoven club coming into the playoff season off the back of a 3-1 win over Tilburg, Mink van der Weerden, Teun Beins and Jelle Galema scoring the goals.

Euro Hockey League media release


---

Jackson to return to HGC as part of van Ass's big plans



©: Frank Uijlenbroek/world Sport Pics

Ashley Jackson will renew acquaintances with HGC and coach Paul van Ass next season with the English man linking up with the club for a second spell, moving from East Grinstead.

The midfielder was the top scorer in the Hoofdklasse back in the 2008/09 season with the Hague based club with 29 goals when the club reached the playoffs.

In total, he has 164 goals in 251 international matches for England and Great Britain and will give HGC a new penalty corner option following Tristan Algera's switch to Rotterdam.

It is the first major statement from van Ass since his recent appointment to return to HGC where he enjoyed plenty of success including an EHL title in 2011.

Euro Hockey League media release


---

WatDucks secure a return ticket to EHL as Belgian regular season champs




Waterloo Ducks will return to the EHL next season for the first time since 2015 as they completed the Belgian regular season title with a 4-0 win over Herakles.

It was their 17th win of the campaign and put them out of reach of KHC Dragons – 6-2 winners over Royal Leopold – with Victor Charlet scoring two corners while William Ghislain also scored twice.

Speaking afterwards, coach Xavier De Greve said of the win: " I'm happy with this success and to have conquered in this way. We worked on the details all week and the efforts were rewarded.

"We have already gone into playoff mode following our match against La Gantoise. We were patient with the Herakles and we managed to unlock the situation. I am really satisfied. We raised our defensive level and the young players responded."

The WatDucks will face Leopold next weekend in their playoffs semi-final while Dragons will face Racing Club de Bruxelles.

"It is now a new championship," De Greve added: "But we want to stay on the same wavelenght. We are really going to polish the last details in training. We are wary of these next battles because everyone can beat everyone.

"Our goal is to be crowned champion. This European ticket is a great reward for us because we had to rebuild a team in the last three years after the departure of several stars."

Euro Hockey League media release


---

Surbiton are crowned Men's Hockey League Champions once again!



Surbiton crowned Men's Hockey League Champions 2018

Surbiton were named Men's Hockey League Champions for the second time in two years - but were pushed every inch of the way by Hampstead & Westminster.

Hampstead came from 2-0 down to lead 3-2 into the final moments of the game, only for Surbiton to go to a kicking back and score from a penalty corner, and then win 3-2 in a dramatic sudden death shoot-out.

Both sides came away from the match with great credit, Surbiton for holding onto their position as the best men's team in the land, and Hampstead for putting on a great display that received a standing ovation from the crowd at Lee Valley Hockey and Tennis Centre.

With the game shown live on BBC Sport, plenty of goals, a brilliant individual effort from Will Calnan, fully commited players and a crowd who more than played their part, it was an excellent advert for men's hockey in England.

Full report

Surbiton 3 (Forsyth 14 (FG), 16 (PS), Furlong 58 (PC))
Hampstead & Westminster 3 (Cargo 22 (PC), Calnan 28 (FG), Guise-Brown 42 (PC))

Hampstead & Westminster started on the front foot, putting Harry Gibson's goal under early pressure inside the first few minutes as they looked to exert themselves on the game.

Soon though Surbiton wrestled back into the pattern of play, and super skill from Zach Wallace allowed Alan Forsyth to score neatly on 14 minutes. And within two minutes Surbiton had doubled their lead, Arjan Drayton-Chana fouled inside the D; Forsyth slotting home the penalty stroke expertly.

But Hampstead were certainly not broken, and mounted a quite superb comeback.

First of all, Chris Cargo smacked home an excellent finish from a corner to reduce the deficit, And then Will Calnan scored the goal of the game, embarking on a wonderful solo run before producing an equally impressive reverse stick finish. A quite brilliant goal from the young talent, and honours even at half time.

The game was attritional, committed and passionate, and it was Hampstead who took the lead for the first time when Matt Guise-Brown scored his second goal in two days, expertly guiding home from a penalty corner.

As time ebbed away, Surbiton elected to play with a kicking back, and it proved a masterstroke as they won a corner with two minutes to go, lashed home by Gareth Furlong to take the game to a shoot-out.

It was Hampstead who took the advantage with a 2-1 lead in the shoot-out thanks to Calnan and Harry Martin, either side of a brilliant Forsyth effort. That put all the pressure on David Goodfield, who had to score to keep Surbiton in it, and he fired home to take it to sudden death.

With Surbiton now going first, Forsyth scored to put Hampstead in the spotlight, and as Harry Gibson saved from Martin, wild celebrations began.

Surbiton showed great resilience to win the match, and proved why they are Champions, while Hampstead & Westminster's performance was one they will be very proud of, so both teams come away with real credit.

England Hockey Board Media release


---

Surbiton pull English title out of the fire once again




Surbiton were named English Men's Hockey League Champions for the second time in two years - but were pushed every inch of the way by Hampstead & Westminster.

Hampstead came from 2-0 down to lead 3-2 into the final moments of the game, only for Surbiton to go to a kicking back and score from a penalty corner, and then win 3-2 in a dramatic sudden death shoot-out.

Surbiton took a little while to get into their stride but went up when super skill from Zach Wallace allowed Alan Forsyth to score neatly on 14 minutes. And, within two minutes, Surbiton had doubled their lead, Arjan Drayton-Chana fouled inside the D; Forsyth slotted home the penalty stroke expertly.

But Hampstead were certainly not broken, and mounted a quite superb comeback. First of all, Chris Cargo smacked home an excellent finish from a corner to reduce the deficit. And then Will Calnan scored the goal of the game, embarking on a wonderful solo run before producing an equally impressive reverse stick finish for 2-2.

The game was attritional, committed and passionate, and it was Hampstead who took the lead for the first time when Matt Guise-Brown scored his second goal in two days, expertly guiding home from a penalty corner.

As time ebbed away, Surbiton elected to play with a kicking back, and it proved a masterstroke as they won a corner with two minutes to go, lashed home by Gareth Furlong to take the game to a shoot-out.

It was Hampstead who took the advantage with a 2-1 lead in the shoot-out thanks to Calnan and Harry Martin, either side of a brilliant Forsyth effort. That put all the pressure on David Goodfield, who had to score to keep Surbiton in it, and he fired home to take it to sudden death.

With Surbiton now going first, Forsyth scored to put Hampstead in the spotlight, and as Harry Gibson saved from Martin, wild celebrations began. They take England's number one European ticket for next season with regular season champions Wimbledon taking their other assured European spot.

Euro Hockey League media release


---

Showboating or dazzling skill? Alan Forsyth shows 'unpredictable' side with Surbiton shoot-out heroics

By Rod Gilmour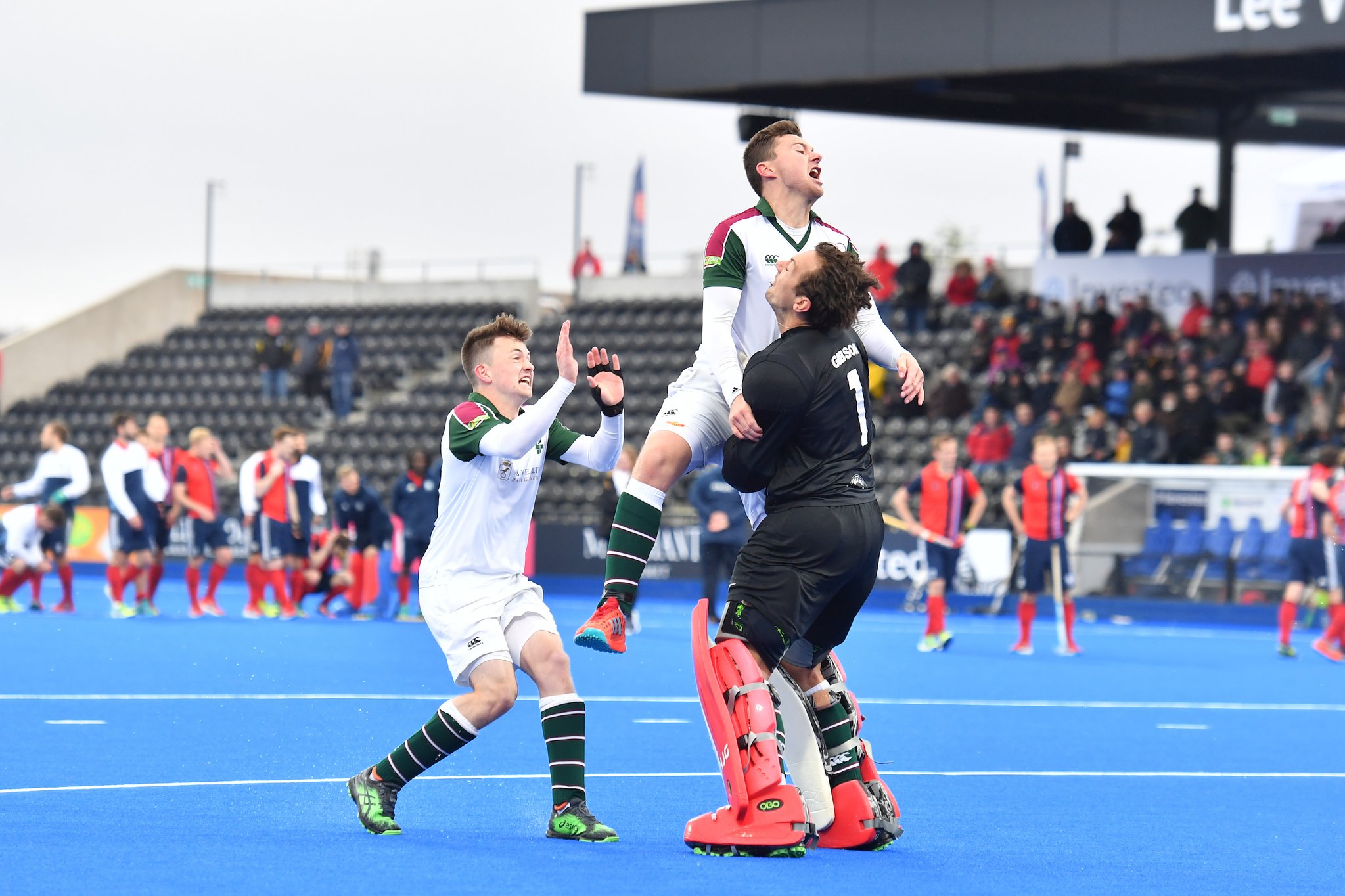 Alan Forsyth and Harry Gibson celebrate Finals success PIC: England Hockey

His shoot out strikes may have got lost if Hampstead & Westminster had held on for a famous League Finals win.

But Alan Forsyth, the league's top scorer for a third straight year, revealed that his two world-class shoot out attempts had been tested out in training with goalkeeper Harry Gibson as Surbiton claimed back-to-back titles in dramatic fashion.

It was part one of the double double for a jubilant Surbiton.

His first effort saw the Scot create a full spin, the arc deceiving Hampstead keeper Jamie Legg and handing the 26-year-old time and space to slot home. It was a move of a player in confident form.

With the final now entering sudden death, Forsyth was sent in again and this time looked to attempt the same move, only to do a half spin and shoot the other way with Legg possibly thinking that the Scot would try the same move.

Forsyth told The Hockey Paper: "I practice a lot of different thing in front of goal because I don't want to become predictable so I have to have options. I did both shuffles like that against Gibbo on Thursday night."

Mel Clewlow, commentating alongside Simon Mason, admitted that she had never seen Forsyth's shoot out move before.

However it did bring back memories of Black Stick Simon Child's attempt against England in 2014, which proved to be another match winner, with Mason, commentating in New Delhi that day, suggesting that Child's goal was "showboating". Yet both these moves clearly showed brilliant skill in a pressure cooker environment.

Forsyth's form – he notched two goals in normal time to add to his 26 over the season – left his coach Mark Pearn to suggest on Friday that the Scot should be on the list for a Tokyo 2020 berth.

"I have to make sure I perform in training Monday to Friday with GB and when I get the opportunities I need to grab them," added Forsyth.

The Hockey Paper


---

Five Investec Women's Hockey League titles in a row for Surbiton



Surbiton's Georgie Twigg and Sarah Haycroft with the 2018 Investec Women's Hockey League title

Surbiton made it five Investec Women's Hockey League titles in a row with a strong 3-1 victory over a battling Holcombe side.

First half goals from Sarah Page, Hollie Pearne-Webb and Beckie Middleton ensured victory, and although Heather McEwan gave Holcombe hope after the interval, they were unable to find another breakthrough to set up a grandstand finish.

As soon as Page scored in the eighth minute, Surbiton very much controlled the game and showed their quality to take a fifth straight title at Lee Valley Hockey and Tennis Centre.

With Surbiton's men's team also winning earlier in the day, it capped a great afternoon for their club.

Full report

Surbiton 3 (Page 8 (FG), Pearne-Webb 10 (PC), Middleton 26 (PC))
Holcombe 1 (McEwan 35 (FG))

Surbiton started on the front foot and imposed themselves on the game from the off.

With just eight minutes gone, Beckie Middleton did very well to shape the ball into the D, and Sarah Page produced a lovely touch on the dropping ball to poke over Rose Thomas for 1-0.

And just two minutes later, Surbiton had what proved to be an unassailable lead, winning a Penalty Corner that was crashed home by the imperious Hollie Pearne-Webb. Normally known for her defensive capabilities, the Rio gold medalist this time showed her prowess in the opposition D.

Holcombe were pushing to gain a foothold in the game, but found opportunities limited, and their chances of finding momentum in the game were not helped by a couple of stoppages for injuries.

With only a few minutes of the half remaining, the reigning Champions had a third, this time Middleton the goalscorer instead of provider. Again it came from a Penalty Corner, Middleton diverting home from close range to make it 3-0 on 26 minutes.

Three goals down at the interval, Holcombe could have been forgiven if they let heads drop, but it was quite the contrary as they maintained their focus on getting back into the match. And only five minutes after the break, they capitalised on a loose pass, Heather McEwan afforded a little too much time and space as she shot home at the near post.

Holcombe were giving everything to close the gap further, but found Surbiton just too strong. With three Olympic gold-medal winning athletes and another four Commonwealth Games medalists in their ranks, Surbiton were able to control the game.

They almost added a fourth on the break; Jo Hunter among those going close, and the game came to a calm conclusion as Surbiton rightly celebrated their achievements.

England Hockey Board Media release


---

University of Exeter and Sevenoaks to play top flight hockey next season



Sevenoaks men celebrate

University of Exeter and Sevenoaks will be playing in the Premier Division next season after a nail biting last day in the Men's League Play Off matches.

University of Exeter v Oxted

The students had the first chance of the game from a penalty corner but was denied by superb Oxted save. The West side pressed on and were rewarded for their efforts as Sam Hooper converted a penalty corner to add to his tally, giving his side the lead. Oxted spurred on and pushed the Exeter defensive right up to the half time whistle.

The second half was end to end, as Oxted's penalty corner by Ellis-Woodley went narrowly wide, as stand in keeper Mellows continually kept Oxted out. With ten minutes left on the clock Hooper got his second after a well-executed dag flick hit the roof of the net to give his side the lead. As the clock had six minutes left to Oxted put kicking back on and threw everything into it but it wasn't enough. As the final whistle sounded the University of Exeter support invaded the pitch in celebration they secured a spot in the Premier division next season.

Captain of University of Exeter Will Carter Keall said;

'It is a pretty special feeling, couldn't fault the lads, we did such a good job today, glad to have two wins. Our keeper had food poising overnight and Harry stepped in and did a cracking job to keep us in it today – our man of the match!'

Sevenoaks v University of Nottingham

Both sides started the game strong however it was Sevenoaks who got on the score sheet first through Lewis Tipper lifting the ball into the roof of the net. The students quickly equalised through Bertie Mortimer slotting home a penalty corner past the keeper's right to make it all level.

Second half Mortiner opened the attack but his strike saved by keepers. Both teams struggling to find the finish but it was Sevenoaks Michael Barber reverse strike rocketed it into the back of goal making it 2-1. Students attacked hard forcing a superb save from Potton as the students danced the ball along the base line to deny them a goal.

Both sides worked hard with 15 minutes left on the clock the students were awarded a penalty corner but Tom Samuel denied clearing it on the post. In the dying minutes University of Nottingham put on a kicking back but could not score an equaliser, final score 2-1 to Sevenoaks. This meaning the Kent outfitters retain their spot in the Premier Division.

Tim Warrington captain of Sevenoaks said;

'We are delighted, it was very hard work and as we never make it easy for ourselves. We love a tight game. We are thrilled to have retained our spot, it has been a really hard first season for us so to come here and finally remember how to win a game it feels good.'

England Hockey Board Media release


---

Slough retain their Investec Women's Premier status



Slough women celebrate the play offs win

Slough retain their Investec Women's Premier League status after drawing with Beeston 1-1 whilst Hampstead and Westminster beat Stourport 4-2 in an end to end thriller.

Slough v Beeston

Beeston were first on the score sheet from a great solo effort from Captain Sophie Robinson running through the Slough defence with a solid finish to make it 1-0. Slough applied the pressure forcing Beeston on the back foot then on the 23rd minute Mel Ball popped the ball round keeper Nicki Cochrane to draw her team level.

The second half neither side backed down, tired legs from Beeston but they defended well denying Slough another goal. A draw was enough for Slough to see them retain their Premier status.

Slough Captain Kat McGonigle said;

'Securing that spot was all we were obviously looking to do today so a draw was enough for us, as long as we maintained our position we are happy. The competition stayed open till today which is the best way to be, last weekend we felt we were the stronger side but playoff games can go any way. We are just happy to get the result at the end of the day.'

Hampstead and Westminster v Stourport

Hampstead and Westminster were looking for a win and relying on Slough to lose for a chance to be promoted. Stourport's Lorna Mackenzie gave her side an early lead converting a penalty corner but Hampstead and Westminster were straight back on the counter attack. Lauren Turner equalising from a field goal and minutes later Jessica Orrett slotting home a penalty corner to give her side the lead.

Twenty minutes left on the clock and Stourport did not give up despite being out of the race for promotion. After constant attacks on the Hampstead and Westminster defence a wonder reverse strike from Sophie Thompson drew her team level.

This didn't stop the London side as Louise Radford took them into the lead. This was swiftly followed by a fourth goal and Turners second of the game, getting the slightest of touches in the circle after a long ball in from the half way line. Full time Hampstead and Westminster won 4-2 but due to Slough getting a point over Beeston it wasn't enough.

Final Standings
Beeston
Slough
Hampstead and Westminster
Stourport

England Hockey Board Media release


---

Timperley and Holcombe Men's Masters Champions



Holcombe masters 2018

Despite a late comeback from Amersham and Chalfont it wasn't enough to beat Holcombe who claimed the 2018 O40s Tier 3 title.

Daniel Hancock opened the scoring just five minutes into the first half, this was swiftly followed by Jon Gurney to double the Kent outfitters lead. David Hobbs from Holcombe increased extended their lead early in the second half but this didn't dampen Amersham & Chalfont.

Richard Martin began the comeback in the 52nd minute with Amersham & Chalfont's first goal. Minutes later Duncan Ward scored to give his side a second goal, it was end to end as the Amersham brought on a kicking back but it wasn't enough. Holcombe claimed the title.

Men's O40 Tier 3
 
Holcombe 3 – 2 Amersham & Chalfont

Men's O50 Tier 3



Timperley Men masters 2018

An end to end thriller in the Over 50s Tier 3 final as Timperley edged out Marden Russets to take home the title.

Timperley were first off the mark with Albert Marcano converting a penalty corner on the 15th minute but five minutes later Nick Burdge pulled back an equaliser. It was just before half time when Timperley regained the lead through Stuart Nicholson from a set piece.

The second half saw Murray Crosby take his side level but only minutes later Duncan Brown took the lead back scoring from a penalty corner. A second goal for Marcano to confirm Timperley the over 50s crown. Full time 4-2.

Timperley 4 – 2 Marden Russets

England Hockey Board Media release


---

England Hockey Women's Investec Masters Championships



Teddington O35s Women

After a day's top flight hockey at Lee Valley Hockey and Tennis Centre, it was Teddington and Newcastle's over 35s women who took centre stage at the home of English hockey. Both sides gave everything in search of a goal in normal time, but goalkeepers Lindsay Brown and Amy Miller stood firm to take the game to a shoot-out.

The first three efforts were all scored by Donna Smith, Sarah Rae and Aimee Byrne, Helen Eddy later levelling to make it 2-2 and take it to sudden death; Smith scoring the decisive goal to earn glory for Teddington.

Investec Women's Over 35s T3 Final
Teddington 0-0 Newcastle
Teddington win 3-2 via a shoot-out



Barnes O35s Masters

The weekend's second Over 35s women game was a very tight affair that Barnes won by a single goal.

Neither team was able to find a way through the opposition defence in the first half, and it was Triona Doyle who scored the all-important field goal on 48 minutes.

Sanjay Thapan's team held on for victory and a late card for Vale's Catharine Johnson helped put paid to their hopes of a leveller.

Investec Women's Over 35s T2 Final
Taunton Vale 0-1 Barnes



Bretforton O45s Masters

Backed by a fantastic crowd, Bretforton's Over 45s secured their Investec T2 title.

It took until the 32nd minute for the deadlock to be broken, Julie Hall scoring a field goal right on half time.

Into the second period, Rosemary Logan and Lucy Wilkes put a further shine on the scoreline and sent their superb supporters home very happy indeed.

Investec Women's Over 45s T2 Final
Bretforton 3-0 Kingston-Upon-Hull

England Hockey Board Media release


---

Loreto nick final Champs Trophy spot as Hermes-Monkstown go down fighting




Loreto picked up four points from a possible six to nick the last EY Champions Trophy spot from under the nose Railway Union; Pembroke won for safety, Trinity go into the playoff and Hermes-Monkstown go down

Women's EY Hockey League
Saturday: UCD 5 (K Mullan 2, S Clarke, S Young, L Tice) Hermes-Monkstown 1 (C McGilp)
Hermes-Monkstown's tenure in the top flight of the women's EY Hockey League came to an end as they succumbed to five final quarter goals against the recently crowned champions UCD.

The first half saw Town keeper Liz Murphy make some key stops as, like the first meeting between the sides, UCD struggled to break through early on. Hermes-Monkstown did win one corner but Hayley Sarratt's drag was saved.

As such, it remained through the big break and into the final quarter before UCD finally found their scoring touch. Katie Mullan nailed a corner before Sarah Young spun to put in her first EYHL goal.

Caitriona McGilp gave Hermes-Monkstown some hope but it was quickly extinguished as Lena Tice replied from a corner for 3-1. Sorcha Clarke added another and then Mullan scored with the last act of the regular season from a corner for the fifth.

The result meant a 14th successive league win for UCD but for Hermes-Monkstown, it means relegation to the Leinster league for 2018/19.

Belfast Harlequins 0 Pembroke 1 (A Naughton)
Aisling Naughton's fourth minute goal earned Pembroke the reassuring victory that meant they were confirmed in the women's EY Hockey League for another season, guaranteeing they would be out of range of Trinity and Hermes-Monkstown in eighth place.

She got a deflection to a crash ball that proved the only goal of a day on which goalkeeper Iseult Cambay made numerous good saves. The first was from Abi Edwards from Jenna Watt's ball in while they also hit the crossbar and had several penalty corners before the big break.

Pembroke had their moments on the break which Marianne Fox dealt with Quins continued to win set pieces but could not convert. It meant Pembroke were confirmed in eighth place while Quins finished a creditable sixth, three places better off than last term.

Cork Harlequins 2 (R Upton, R Barry) Railway Union 0
Cork Harlequins ensured Railway Union would have a nervous Saturday night ahead of them to see if they will remain in the EY Champions Trophy spots. After a scoreless first half, Quins went 1-0 up in the third quarter thanks to the returning Roisin Upton and Rebecca Barry made it two soon after.

Railway took off their goalkeeper for the whole of the final quarter and threw everything forward but found Emma Buckley in superb form to make a double save at point blank range to stay out of range.

Pegasus 5 (T Doherty 2, A Speers 2, M Harvey) Ards 1 (F Brown)
Pegasus produced a confident performance in their third game of the week, beating Ulster rivals Ards 5-1 at Queen's. Taite Doherty set the tone with two goals in the opening eight minutes before Michelle Harvey extended the advantage out to three at the half-time whistle.

Lovely one-touch hockey from front to back led to Alex Speers getting the final touch for the fourth in the 41st minute. The former Irish captain got her second in the closing quarter to make it five before Francesca Brown got one back with three minutes to go. Pegasus will finish in third place while Ards are seventh.

Trinity 0 Loreto 6 (S Evans 2, S Torrans, H McLoughlin, N Daly, H Mulcahy)
Loreto gave their chances of breaking into the top four a big boost when they swept to a 6-0 win over Trinity, condemning the students to a relegation playoff game next Sunday.

Sarah Torrans gave the Beaufort club the perfect start before Sarah Evans got the first of her two goals in the second quarter. Hannah McLoughlin grabbed the third after half-time with Evans and Nicci Daly netting in quick succession for a 5-0 advantage. Hayley Mulcahy completed the route, leaving Loreto needing a draw or better when they faced Pegasus on Sunday if they were to break into the top four.

Sunday: Loreto 1 (N Daly) Pegasus 1 (C Harvey)
Loreto got the point they needed to move ahead of Railway Union into fourth place and into the Champions Trophy next weekend, earning a shot at UCD. Nicci Daly got on the end of a cracking assist from Sarah Torrans to open the scoring just a couple of minutes into the game.

It stayed that way until 15 minutes into the second half when Caitlyn Harvey levelled matters, ensuring a nervous closing quarter for the Beaufort side but they battled for every ball to get the result and an extra weekend to the season with their seventh game unbeaten in the league.

The Hook


---

YMCA's heart-stopping rolller-coaster eventually ends with EYHL promotion



Hockey Ireland vice president Martin Canniffe presents YMCA's Ben Campbell with their promotion ticket

YMCA produced a suitably mad-cap finish to their men's EY Hockey League promotion journey, contriving to blow a 4-1 lead in the last nine minutes only to beat Bangor in a shoot-out at the Mardyke to win the provincial promotion playoff series.

Indeed, they led 3-0 via a Ben Campbell double and one from Jamie Tobin. Tobin got the first 10 minutes in when he slammed home on his reverse following Andrew Jones' spin into his path. Will Powderly won a stroke soon after which Ben Campbell nailed, taking over the duties from Grant Glutz who missed one in the 5-1 semi win over Inst.

And it was three when Ben O'Grady was sent clean through and while Andrew Seay saved, the ball fell to Glutz who squared to Campbell to score. They had chances to further strengthen their lead in the third quarter but remained in reasonable control at 3-0 at the three quarter time break.

Ryan Burgess got Bangor on the board with 12 minutes to go from a corner but Sam Hyland swept home an improvised corner for what should have been the killer goal at 4-1 inside the final 10 minutes.

But suddenly the Y got white-line fever and the coastal Ulster side – who worked off a panel of just 12 players for this tie – pounced to score a scarcely believable three times in the last eight minutes with Burgess running up a hat trick from a stroke and a corner while Rhys Cunningham scoring the other.

Bangor had produced an incredibly similar comeback a day earlier at Garryduff when they scored twice in the last three minutes to beat Bandon 5-4.

Level at 4-4, it sent the game to a shoot-out with Bangor holding the momentum but YM regathered with goalkeeper Jakim Bernsden keeping out two efforts before Andrew Jones popped in the winning effort.

It was a suitably dramatic endgame to match their season. The Dubliners looked down and out in January, falling nine points behind Corinthian in Leinster Division One but got a big reprieve when a registration error from Dublin University saw the Y pick up three points from an initial 2-1 loss.

It was the key margin between a third place finish in the provincial league and top spot, edging out Corinthian only via goal difference, meaning they skipped the minefield of the wildcard playoffs.

With promotion assured, they can look forward to an exciting season ahead at the top table with the potential of their new pitch in the pipeline at Wesley College soon.

They will replace Railway Union in the top tier as they lost 7-0 to Lisnagarvey in a game they needed to win. Cookstown will meet Bangor next Sunday in the last promotion-relegation playoff tie.

Men's EYHL Provincial Play-offs – semi-finals: Bangor 5 (R Burgess 2, R Cunningham, D McClune, S Hamill) Bandon 4 (C Sweetnam 2, D Smith 2); YMCA 5 (T Ritchie 2, J Tobin 2, B Campbell) Instonians 1 (W Robinson)

Final (Sunday): Bangor 4 (R Burgess 3, R Cunningham) YMCA 4 (B Campbell 2, T Ritchie, J Tobin), YMCA win shoot-out 4-2

The Hook


---

Muckross magic to return to Irish hockey's top table




Muckross's meteoric rise back up the ranks hit another new high note as they won the women's EY Hockey League provincial playoffs at the Mardyke, going unbeaten through an exceptionally tough five-team round-robin series.

Back-to-back 2-1 wins over Munster champions UCC and Ulster Premier winners Lurgan on Sunday proved vital, scoring the last goal of three both times for first place.

They started off in confident mood against NUIG with Yasmin Pratt – who ended the weekend with four goals in four games – driving into the circle before lobbing in an impudent first goal.

Rachel Cuddy's cracking ball inspired Pratt's second three minutes into the second half before Natasha Twomey closed out a 3-0 win.

All around them, it seemed draws were the order of the day with UCC's Jenny Clein popping in a last minute equaliser for 1-1 versus Lurgan while Old Alex tied 1-1 with Lurgan, too.

UCC did move top of the day one rankings on goal difference with Clodagh Moloney's hat-trick of set pieces giving them a 5-1 win over NUIG.

Leinster rivals Muckross and Old Alex completed day one with a scoreless draw, leaving four sides covered by just two points, setting up Sunday nicely.

Lurgan took their time but eventually scored twice in the last seven minutes to beat NUIG 2-0 courtesy of a Charlene Hull corner and a Lauren Wright effort.

In game two, Muckross became the first side to record a win against anyone other than the Galway students when they edged out UCC. Lisa Mulcahy's raking pass found Jane Gilsenan on the run in the D and while her shot was saved, Pratt picked up the second phase for 1-0.

Louise Egan scored on the stroke of half-time to put the game back level but Gilsenan was credited with the winner nine minutes from the end amid a melee in the circle, 2-1 and a great position.

Old Alex mustered a 1-0 win over NUIG to ignite their challenge but they needed a favour if they were to win top spot.

But such hopes were dashed when Muckross won their fourth game. Lurgan took the initiative when Abbie McCullough nicked a corner goal in the first quarter but a smart Muckross move to injector Laura Hanlon equalised.

The tension mounted as the hailstones fell, leading to a 15-minute delay just before half-time with Lurgan waiting to take a corner. It was snuffed out and so parity lasted into the break and then through to the fourth minute of the final quarter.

Again, Pratt was the provider with a direct corner hit to put Muckross 2-1 ahead with time running out. A lengthy injury break ratcheted up the emotion even further as the seconds ground down ever slower before the final whistle finally came and the relief was felt.

The result left Lurgan out of the running in fourth, leaving the promotion/relegation spot set to be battled out between UCC and Old Alex in the final game of the weekend.

UCC needed a win to overhaul the Milltown side but were left to rue a number of missed corner chances as Alex number one runner Vanessa Winn did wonders while Pia Diepmann had a fine game at the base of the defence.

Alex had more of the game in the second half but did concede another corner in the closing minutes but the Dubliners defended it and the 0-0 draw was enough for second spot, keeping their promotion dream alive. Their next date is a battle with Trinity next Sunday.

Women's EYHL Provincial Play-offs (all at the Mardyke)
Saturday: Lurgan 1 (L Wright) UCC 1 (J Clein); NUIG 0 Muckross 3 (Y Pratt 2, N Twomey); Old Alexandra 1 (L Jacob) Lurgan 1 (J-A Wilson); UCC 5 (C Moloney 3, A Bourke, J Clein) NUIG 1 (A Montano-King); Muckross 0 Old Alexandra 0
Sunday: NUIG 0 Lurgan 2 (C Hull, L Wright); Muckross 2 (Y Pratt, J Gilsenan) UCC 1 (L Egan); Old Alexandra 1 (R Evans) NUIG 0; Lurgan 1 (A McCullough) Muckross 2 (L Hanlon, Y Pratt); UCC 0 Old Alexandra 0

Standings: 1. Muckross 10pts (+5) 2. Old Alex 6pts (+1) 3. UCC 5pts (+3) 4. Lurgan 5pts (+1) 5. NUIG 0pts (-10)

The Hook


---

Scorpions sting JKUAT in Kenyan Premier league

Parklands humble Wazalendo at City Park

By Elizabeth Mburugu



Strathmore's Gilly Okumu(Jenipher Wachie, Standard)

UON stun Titans with a 1-0 defeat in women's Super League title contest.

After finishing third last season but failing to secure a ticket to this year's Africa Cup of Club Championships, Strathmore University Scorpions left nothing to chance as they began their 2018 Kenya Hockey Union women's Premier League campaign yesterday.

The Scorpions trounced their Jomo Kenyatta University of Agriculture and Technology (JKUAT) counterparts 3-0 in their opening match at City Park. Goals from Gilly Okumu, Virginia Wanyee, and Captain Yvonne Karanja gave Strathmore a perfect start to the season. Scorpions coach Meshack Senge said his charges needed a positive start to the season and avoid playing catch-up, the way they did last season.

"We had a slow start last year and it proved costly because we were always behind our opponents and sadly, we failed to finish within our target spot," Senge said.

He added that some of his players were novices to the top tier last season, hence their inability to shine, saying they had gained exposure, especially after playing in the club championships in Ghana.

"Most of them were first-timers and lacked the confidence required to excel, but I believe they have gained exposure from the league and also the continental championships."

Strathmore called the shots from the onset as they pushed for early goals with the trio of Okumu, Karanja, and Denise Odongo frequently threatening the JKUAT defence.

Their efforts paid off 10 minutes into play as Okumu finally breached the opponent's territory to fire past JKUAT goalkeeper Emma Aroni.  

The goal saw JKUAT tighten their defence as they sought to contain the goal-hungry Strathmore even as the first quarter ended 1-0.

The second quarter was thrilling as both sides battled relentlessly. JKUAT sought to restore parity while the Scorpions went hunting for their second goal. Wanyee finally got it right in the 44th minute and seconds later, Karanja converted a penalty corner to seal the victory.

In the women's Super League, University of Nairobi (UON) edged Kenyatta University Titans 1-0. Catherine Agunda netted UON's all-important goal in the 34th minute.

Parklands thrashed Wazalendo 4-1 in the men's Premier League match.

The Standard Online


---

SpeakUp - Varsity Sports Hockey supports Mental Health awareness

Know your state of mind




Mental health is super important. In fact, a healthy body needs a healthy mind to succeed on the sports field and off it.

This year, Varsity Sports, together with the Ithemba Foundation are reaching out to all Varsity Sports athletes, fans, supporters and basically everyone reading this page. So yes, you too.

The message is clear: be aware of your mental wellness and state of mind. Talk to somebody who could help you live a balanced life. Whether you think you need to or not – Speak Up!

Join us this year, as our Players of the Match wear bright green shorts in support of mental health. Also, share our posts on social media and use the hash-tag #SpeakUp and help us spread the word on the importance of mental health.

Know the Five Signs that may mean you are in emotional distress and need assistance:

    Personality change: Not feeling like your usual self?
    Feeling agitated, anxious, angry, or moody?
    Are you withdrawn?
    Poor self-care: Are you not caring for yourself, or behaving in a risky manner?
    Feeling hopeless or overwhelmed by circumstances?

These five symptoms are the classic signs of a mood disorder. The question is: Do you recognise these signs in yourself, or a team-mate or class mate, or maybe a relative or friend? Then take action: Seek help. Depression and related mental health diseases are treatable!

For more on the five signs, visit the Ithemba Foundation. The Ithemba Foundation is a non-profit organisation with two public benefit goals: to raise awareness of depression and related mental health disorders such as anxiety as clinical, biological diseases, and to support research. Ithemba means Hope in isiXhosa.

Varsity Sports media release