All the news for Sunday 29 April 2018

2018 Asian YOG Qualifier (M) -Day 4
Bangkok (THA)

Results 28 April

JPN v TPE (5th - 8th Place) 10 - 4
PAK v HKG (5th - 8th Place) 10 - 1
THA v CAM (9th - 11th Place) 9 - 0
IND v BAN (SF 1) 9 - 2
MAS v KOR (SF 2) 4 - 4 (5 - 4 SO)

India and Malaysia qualify for the Youth Olympic Games in Buenos Aires

Please click here for the latest results

FIH Match Centre


---

2018 Asian YOG Qualifier (W) - Day 4
Bangkok (THA)

Results 28 April

TPE v SGP (7th - 9th Place)     3 - 1
JPN v THA (5th/6th Place)     4 - 2
CHN v KOR (SF 1)     6 - 0
IND v MAS (SF 2)     4 - 2

India and China qualify for the Youth Olympic Games in Buenos Aires

Please click here for the latest results

FIH Match Centre


---

Indian teams qualify for Youth Olympic Games

s2h team

For the Indians who missed out last two Youth Olympic Games, there is a good news today. India's men's and women's team have qualified for the Buenos Aires Youth Olympic Games when they defeated their rivals in contrasting style in the Asian Youth Olympic Qualifier today in Bangkok. It was a cakewalk for the boys while the girls have to sweat a lot before eke out a majestic looking 4-2 scoreline against Malaysia.

Girls first set the stage for the boys to emulate. Playing firs semifinal under the hot sun, girls took early and kept on consolidating before winning the semis 4-2. 15 minutes later, boys started their semis and went a step ahead of girls in terms of getting goals in their kitty.

Its National Hockey Academy, Delhi, boy Shivam Anand who set the Queen Sikirit Sports Turf on fire. He accounted for first three goals that struck in the first two sessions. India led Bangladesh 3-0 after 20 minutes. The controlled game of Bangladesh crashed into smithereens in the last session, as Indian machine would pump goals in quick succession to get themselves to a comfortable 8-2 scoreline.

As the finalists of the Asian qualifiers will be given ticket for the Buenos Aires Youth Olympics, Indian boys and girls have grabbed their chance.

The Chinese women who defeated Korea 6-1, have also qualified for the Buenos Aires mela.

It was a cruelling shoot out that produced the winner in the men's other semifinal. After drawing Korea 4-4 in the regulation time, Malaysia struck five times against four by Korea in the shoot out to engage India in tomorrow's final.

Boys scorers
Minute Player Score
5 Shivam Anand 1 - 0
8 Shivam Anand 2 - 0
15 Shivam Anand 3 - 0
22 Rahul Kumar 4 - 0
22 SINGH Maninder 5 - 0
23 Rahul Kumar 6 - 0
23 Sobuj 6-1
24 Vivek Prasad 7-1
24 Shivam Anand 8-1
26 Md. Alishan 8-2
29 Sobuj 9-2

Stick2Hockey.com


---

Our boys qualify for Youth Olympic Games, tough luck for girls

By Aftar Singh

KUALA LUMPUR: The Malaysian boys' hockey team created history as they qualified for the first time for the Youth Olympic Games in Buenos Aires, Argentina, from Oct 6-18.

Coach Wallace Tan's boys edged South Korea 5-4 in a sudden-death penalty shootout after both teams failed to break the 4-4 deadlock in regulation time in the semi-final at Queen Sirikit Stadium in Bangkok yesterday.

But it was heartbreak for the Malaysian girls as they lost 4-2 to India in the semi-finals.

The finalists qualify automatically for the finals in Buenos Aires.

The boys face India in the final of the Asian Youth Olympics Games Qualifier today.

India thrashed Bangladesh 9-2 in the other semi-final.

Wallace was delighted with his players for playing their hearts out to qualify for the Youth Olympics Games.

"It's a dream come true for us as we finally earned a place in the Games in our third attempt.

"My boys played exceptionally well and I'm proud of them.

"Although we've qualified for the Games, we have one more match to go and we'll go all out to win the final. India are a strong side but I have faith in my players," said Wallace.

In the girls' action, India face defending champions China in the final today.

China hammered South Korea 6-0 in the semi-finals.

The Star of Malaysia


---

Pakistan hockey fails to qualify for Youth Olympics

LAHORE: Pakistan hockey team failed to reach the semi-finals of the Youth Olympics Qualifiers after playing a draw against Bangladesh in Bangkok the other day.

With this result, Pakistan also lost the opportunity to compete in the 2018 Youth Olympics to be staged in Buenos Aires, Argentina in October.

On the last day of this five-a-side event, Pakistan first lost to Malaysia by a heavy margin of 1-12. Thus they needed to win against Bangladesh in the next match. However, the game ended in a 3-3 draw after Pakistan leading 3-1 conceded two goals in the final three minutes.

Top two teams of the qualifying round will reach the hockey event at the Youth Games in Buenos Aires.

The Daily Times


---

Indian hockey team in desperate need of course correction not window dressing with 2018 World Cup looming

Sundeep Misra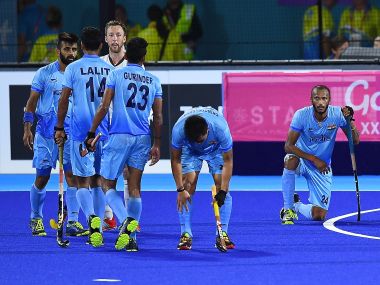 India's hockey team players sit dejected on the pitch after losing the bronze medal playoff at Gold Coast 2018. AFP

While theatres in Punjab are getting ready to welcome Khido Khundi, Soorma and Harjeeta — all Punjabi films with hockey as the central theme (the last two being biopics on former India captain and Olympian Sandeep Singh and winning captain of the 2016 Junior World Cup Harjeet Singh — a different script is playing across the real landscape, almost cinematic in its twists, turns, conflicts and last-second whodunits.

There are no delicate story-lines here. But there's the usual late entry by the producer who, after seeing the limp film play out, now probably wants a different script, director and central character, called the captain. If the past is any indicator, the director's (coach) job is up for grabs; nothing unusual in Indian hockey. As someone said, "at least they (Hockey India) are reacting."

Call it knee-jerk or whatever, only the placings at the 2018 FIH World Cup or the 2018 Jakarta Asian Games will tell the tale. But gold at Jakarta could assuage doubts, heal wounds, paper over the cracks and bring some respite to the offices of the Sports Ministry, Sports Authority of India and, of course, the recipients of the state fund, Hockey India.

Window dressing is an art. And nobody does it better than Hockey India. There was ample mind space when Roelant Oltmans was asked to leave, a coach many felt had stagnated in his thinking and tactical reasoning. Two defeats in the Hockey World League Semi-Final and Oltmans had written his epitaph in Indian hockey.

And then the churn began.

Countless meetings took place as players and officials weighed in with their comments. That was the period to cool down. Take stock and move forward. There was only the Asia Cup where India anyway would have made it to the final — there was enough talent in the team to win with an interim coach, be it Harendra Singh or Jude Felix or even the polite but powerless Chairman of Selectors Harbinder Singh, a 1964 Olympic gold winner.

Meanwhile, the back door opened and Dutchman Sjoerd Marijne entered the scene. It wouldn't be out of the ordinary to assume (and rightly so) that India's High Performance Director David John opened those doors. Hindsight is a luxury, but nobody in Hockey India stopped him and asked, "Why Marijne? Why not Harendra or why not wait and weigh our options?"

Instead, the Marijne file sped through the corridors of the Sports Authority of India. A man having never coached a national men's side was now the India coach. Marijne's fault? not at all. Yet the early signs were encouraging. He didn't touch anything at the Asia Cup and won. It wasn't easy. South Korea fought well and Malaysia gave India a tough time in the final. In the euphoria, the coaching aspect was forgotten. And then the script changed.

Suddenly, every player was to be tested, checked and the thought of the 2020 Olympics dangled in the background. David pointed towards a galactic future, expanding. In October 2017, in an interview with Livemint, David said: "The target for the men's team is to win every tournament and be ranked No 1 by 2020."

Ambitions work well in an environment where consistency is a key factor. Suddenly, 'young legs' was the central theme. There is always a thin line between changes and 'too many changes.' India won the bronze at the Hockey World League Final. But nobody read between the lines — India played six matches, won two, drew one and lost three; the back line was creaking and the midfield cracking under pressure. Then an obscure 4-Nation tournament saw another 'changed' Indian side travel to New Zealand, but with India captain Manpreet Singh and some senior players, who rightfully should have been rested. The reasoning for not resting Manpreet was that the coach Marijne had a good relationship with him and he was communicating his ideas to the team. Fair enough. India did well in a competition that had New Zealand, Belgium and Japan —playing eight matches, winning five, drawing one and losing two (both losses coming against Belgium).

But at the Azlan Shah, a tournament where the team was to be tested against quality competition, a make-shift team was sent under the captaincy of Sardar Singh, who was already under pressure to keep his place in the side under the new philosophy of 'young legs'. India played six matches, won two, lost three and drew one.

World champions Australia, Olympic champions Argentina, reigning Azlan Shah champions England were the teams India needed to face before going to the CWG. Beating Argentina, England and Australia would have given the Indian side an aura with sky high confidence before the team landed at the Gold Coast. But the main players sat in the camp drawing circles on sheets of paper and playing mock matches against each other while Australia and England played the Azlan final.

Interestingly, the failure of the Azlan Shah side wasn't Marijne's or David John's. Well, they had taken a mixed side and they were experimenting. The team's fifth place standing at the Azlan Shah was pinned on tournament captain Sardar. After coming back, David launched a broad side attack saying Sardar sometimes lacked leg speed, which remained a big problem. "He (Sardar) still holds good skills and commands the ball well, but in the last 12-18 months the game has become more faster. Sardar wasn't matching up to it," he said in an interview to The Hindustan Times. And then he went on to say: "It would be Sardar's call to take a decision about his retirement. He is very sensible and very competitive. He has played hockey up to a very high level and still wants to play at the top, which is quite difficult for him now." It was like Sardar was to play midfield, defend and also score the goals.

It was highly unusual for a High Performance Director to make such a direct comment about a player, but revealed the mindset and a possible tussle between Sardar on one side and John and Marijne on the other. Sardar was strangely quiet. But since his debut against Pakistan in 2006, Sardar has never commented against any coach or Hockey India. Not even when he was given a half-baked side to lead at the Azlan Shah, or even when he was asked to play as an inside forward at the 2016 Rio Olympics.

The change in captaincy will have its effect. If it was cosmetic, it wasn't needed. The brain trust of John and Marijne should have realised this when giving the captainship to Manpreet, or when the young captain was built up as the man to lead India at the 2020 Olympics. Admittedly, captaincy in hockey is not like cricket. But the post has relevance and does lift a key player to do better. Commonsense says that the captainship should have gone back to PR Sreejesh after he returned from his injury or at the Commonwealth Games.

But the shift now subtly puts the blame of the debacle on Manpreet. To give Manpreet his due, he was a powerhouse during the CWG. And there were moments in matches where he lifted his play to ensure India walk away with a win; especially in the 4-3 win against England. Psychologically, it will have an effect. But Manpreet will take it in his stride and move on.

The questions need to be directed to David. As former India captain and coach V Bhaskaran says, "Can Hockey India explain how they made a fitness expert, an exercise physiologist the high performance director? Look at Oltmans' background and CV and compare it with David John!"

Bhaskaran is of the view that the coach and high performance director need to be changed. "The high performance director should not be commenting on the national team or be seen anywhere near it. It's the job of the national coach and he seems to have handed it to David. Everyone knows the team selection is done by David," he adds. In a PTI report right after Oltmans was asked to leave, John had admitted that he had "differences over selection process" with the ousted Oltmans.

Clearly upset with the Commonwealth Games debacle, Ashok Kumar, the man who scored the match-winner in the 1975 World Cup final, says the team should have made it to the final and believes changes should be made in the selection of the team. "Younger players could not take the pressure," he says. "We need to bring Sardar back. It's not about young legs or old legs. It's about mentorship during moments of stress in the match. Players feel confident when they see someone with that kind of skill in the team."

But on the question of Marijne's position as coach, Ashok says Hockey India should not change him. "Yes, he made mistakes but he has to learn that without experience in the team in key positions, you cannot compete in the top six. And it is too late to change now. The World Cup is only six months away."

It's the beginning of summer, as temperatures rise to over 40 degrees in India's capital, New Delhi. But mist still swirls around the office of Hockey India on Mathura Road. Seven players have been interviewed by Hockey India. Confirmed reports say FIH President Dr Narinder Batra met them on a one-to-one basis. Dr Batra, the former Hockey India President, knows which way the water is flowing at the moment. The ambiguity needs to be cleared. Course correction needs to be done. Order must be restored. Nobody, not even Hockey India, would want a flop at the 2018 World Cup.

Firstpost


---

Marijne gets a breather, for now
 
Performance review meeting not held absence of several key officials

Uthra Ganesan



Sjoerd Marijne.

Uncertainty continued in Hockey India on Saturday with the high-powered post-Commonwealth Games performance review meeting, supposed to be held in New Delhi, remaining unclear in the absence of several key officials and a formal review of the teams with the Sports Authority of India yet to be scheduled.

An informal meeting was supposed to have been held but any formal decision on the future of men's chief coach Sjoerd Marijne has been delayed for now. Senior federation sources insisted that Marijne's passport had expired and he was waiting for a new one with the requisite work visa.

He is likely to be delayed by at least another 10 days before joining the national camp starting in Bengaluru on Monday.

While that in itself does not guarantee he would continue in the job, it does, however, mean that the Dutchman has received some respite from the intense scrutiny and would return to India at least once.

In the absence of unanimity in decision, the Dutchman, handling a senior men's side for the first time ever, might just get one more chance.

However, in case he is removed and Harendra Singh given charge of the men's side, former women's coach C.R. Kumar's name is doing the rounds for the job.

Hockey India will also be constrained by the fact that, with half the Olympic cycle over, most of the top coaches in the world are already taken and firmly in their jobs even as the number of changes seen by Indian hockey in the last few years severely limits the available pool of proven coaches.

Marijne, however, may still not be completely off the hook. A poor outing at the Champions Trophy in June may well be the last straw. That is, if he continues to be in the hot seat till then.

The Hindu


---

Change of guard: Sreejesh handed India captaincy

Harpreet Kaur Lamba

Goalkeeper Sreejesh P.R. was on Friday handed back the India captain's armband, replacing midfielder Manpreet Singh as Hockey India seeks to find answers to the team's poor outing at the Commonwealth Games.

India lacked direction and cracked under pressure at Gold Coast, with Manpreet too feeling the heat in crunch situations.

Sreejesh will lead the team at the upcoming Champions Trophy, the Asian Games in August and the World Cup at home later this year.

Along with the 29-year-old Sreejesh, woman striker Rani Rampal too has been named skipper till December 2018.

Under the current set-up, coach Sjoerd Marijne — who himself is under pressure after the team's erratic show at Gold Coast — prefers to communicate with the leaders' group, which consists of Sreejesh, S.V. Sunil, Manpreet, Rupinderpal and Harmanpreet Singh.

The model, adapted by several teams around the world, is considered a systematic method of filtering instructions from the top, taking them to the core group and finally executing them.

A leader's role thus becomes crucial as he becomes the voice of the think-tank and a go-to-man for the players.

Said a member of the think-tank, "He (Sreejesh) is a natural leader. Along with enjoying the players' respect, he has been a top performer and thus a good choice for the captain.

"After Gold Coast, we do not want any further slip-ups and need someone who can channelise the players. There are many youngsters in the team and he is the best choice."

Sreejesh had led admirably at the 2016 Rio Olympics till he was sidelined with a serious knee injury last year. During his eight-month rehabilitation period, he had mentored the junior goalkeepers and also worked with the Junior World Cup team.

On the day, the national campers also gathered at the SAI Centre in Bengaluru to prepare for the Champions Trophy in June. Focus will be on the likes of Sardar Singh and Ramandeep Singh, who had missed out on the Commonwealth Games while the youngsters too will have to up their game if they are to hold on to their places.

The Asian Age


---

PHF hires Australian physical instructor

LAHORE: The Pakistan Hockey Federation (PHF) has hired the services of Australian physical instructor Daniel Berry for national team.

According to a spokesman for the PHF on Saturday, Berry was selected on the recommendations of Roelant Oltmans – Pakistan team head coach hired recently.

Berry will be based in Abbottabad where the first phase of the national training camp for this year's Champions Trophy is being held from April 30 to May 15.

The FIH Champions Trophy will be staged in Breda, Holland from June 23 to July 15.

Meanwhile, the PHF announced the names of the 38 probables for the Abbottabad camp.

Probables:

Imran Butt (PIA), Mazhar Abbas (NBP), Amjad Ali (SSGC), Waqar (ZTBL), Mohammad Irfan Senior (PIA), Rashid Mehmood (Navy), Mohammad Faisal Qadir (NBP), Mohammad Aleem Bilal (Wapda), Tazeem-ul-Hassan (FFCL), Ammad Shakeel Butt (NBP), Mubashar Ali (SSGC), Junaid Manzoor (NBP), Tasawar Abbas (Wapda), Mohammad Rizwan Junior (SSGC), Mohammad Rizwan Senior (Army), Mohammad Toseeq Arshad (Wapda), Ali Shan (SSGC), Mohammad Umar Bhutta (Wapda), Abu Bakar Mahmood (NBP), Shafqat Rasool (PIA), Ghazanfar Ali (ZTBL), Abdul Waheed Ashraf Rana (SNGPL), Mohammad Azfar Yaqoob (SSGC), Mohammad Atiq (NBP), Mohammad Arslan Qadir (NBP), Ajaz Ahmad (Wapda), Samiullah (SNGPL), Rana Suhail Riaz (SSGC), Mohammad Irfan Junior (Wapda), Mohammad Dilber (NBP), Naveed Alam (SSGC), Asad Aziz (Navy), Mohammad Bilal Qadir (NBP), Mohammad Rizwan (SSGC), Mohammad Junaid Kamal (NBP), Khizer Akhtar (Wapda), Taimoor Malik (SSGC), Mohammad Atif Mushtaq (NBP).

The Daily Times


---

South African Senior Womens IPT A-Section - Day 3
Durban

Results 28 April

WP v FS (Pool B) 2 - 3
WPP v KZNM (Pool B) 0 - 1
SG v EP (Pool B) 5 - 0
SA21G v MPU (Pool A) 5 - 0
NG v NW (Pool A) 3 - 0
KZNC v SGW (Pool A) 3 - 0

Pool Standings
Pool A
 Pool B
---

South African Senior Womens IPT B-Section - Day 2
Durban

Results 28 April

BOR v SGN (Pool A) 3 - 1
KZNI v SACDA (Pool A) 0 - 8
NGB v KZNR (Pool A) 1 - 0
SGN v SACDB (Pool A) 1 - 0

Pool Standings
---

Big Statement from Free State on Day Three




The first two days of the 2018 IPT, fantastically organised by SPAR KZN Hockey, had really gone to script with Eastern Province securing a draw against Free State being the only result that blotted the coffee book so far. That would see a change in a remarkable opening game of the third day as Tuffy Western Province took on the Free State side.

Tuffy Western Province can call on an incredible five national players in their starting eleven and were always considered strong favourites against a side featuring only Nicole Walraven from the National squad. But under Luke Makaleni, the Free State girls have shown tremendous heart and combined with great skill look a fantastic unit.

Tuffy Western Province took the early lead with a goal by Aimee-Leigh Pote and a second from Quanita Bobbs making it 2-0 in the first quarter, a score that would remain to half-time. Some inspirational words must have been shared, or some hairdryers were thrown, as Free State emerged a different team and took the game to the Tuffy WP side. Cornelle Holtzhausen, fast becoming a name we will all remember, put home a penalty corner in the third quarter and levelled the game just four minutes later.

Both sides pushed for the winner in this classic match, which at times was reminiscent of a boxing match heading to the 12th round, counter punches were thrown and both teams were desperate to land one. In the 54th minute, it was Free State who did through Jo-Neike Swanepoel finishing a field goal to give Free State the biggest win of the tournament so far and put all the pressure on Tuffy Western province to try and make the top 4!

In the battle of the "B" Teams, it was the host province that triumphed as Amy Greaves, the skipper of the KZN Mynahs, slotted home a penalty corner to secure the victory for the Mynahs over WP Pens. Southern Gauteng managed another straightforward victory as they got another brace from Sylvia van Jaarsveldt and Lisa-Marie Deetlefs. The Johannesburg ladies are looking good ahead of their two crunch matches against Free State and Western Province.

The SA Invitational under 21 side came up against the inspired Charlize Swanepoel, but the weight of opportunities could not be denied. Hannah Pearce's brace was supported by goals by Stephanie Botha, Sare Laubscher, and Teagan Fourie. Teagan took a blow to the head and was undergoing tests to evaluate her availability for the remainder of the tournament.

The clash of two unbeaten sides in Northern Blues and North West was the most anticipated game of the day and after a sluggish start, the game started to grow into its stature. After a few chances for North West, who were without Dirkie Chamberlain, it was the Northern Blues who got the game's opening goal through Carmen Smith. They would never relinquish the lead, rather extending it through Anel Luus and Natalie Esteves. The game was shadowed by a knee injury to SA Hockey player of the year 2016, Celia Evans, with the entire South African supporter brace hoping for good news.

The final game of the night saw the hosts the SPAR KZN Raiders romp to an early 3-0 lead before taking their foot off the pedal and seeing out the game without too much stress. Jacinta Jubb once again popped up with two goals before Amy Etherington made it 3. The SG Witsies side did fight back and pulled one goal back at the end of the third quarter through Sissy Pieterse. They were unable to add to that though and it ended 3-1.

SPAR KZN Raiders and Northern Blues lead pool A with maximum points, with North West sitting in third place. Over in Pool B its Southern Gauteng with a full house being chased by Free State (7 pts.) and Western Province (6). Tomorrow morning Southern Gauteng take on Free State in the opening game while KZN Raiders will play North West later in the day.

In the B Section Border bounced back with a 3-1 win over the SG Nuggets, who themselves then also bounced back with a 1-0 win over SACD B. SACD A mauled the KZN Inland ladies 8-0 and the final game was a 1-0 win for the Northern Daisies against KZN Robins.

What it means is that Northern Daisies lead the table with 2 from 2 and are followed by SACD A and SG Nuggets, who have both played 3 games.

You can follow daily updates on SA Hockey or check out the Tournament Management site through https://saha.altiusrt.com/competitions/25#matches

SA Hockey would like to thank our sponsors for their continued and valuable support: Private Property, Tsogo Sun, Old Mutual, iWyze, Grays, Olympic International, SRSA, Virgin Active, Fox 40, Greenfields and Belgotex Sport.

SA Hockey Association media release


---

Six Games, Six Convincing Wins




The Women's SA Hockey IPT 2018 opened its second day of competition by opening the B section's competition for 2018 and that's where we will start. The B Section features 7 teams looking for an opportunity to earn a place at the top table in the future.

The format features each team playing each other once where the top 2 will then compete in the final. SA Country Districts A laid down the first marker as they triumphed 4-2 over the KZN Robins. They led 2-0, were pegged back to 2-2 before Amber Collins and Fortunate Mshenge made the game safe.

SA Country Districts B also started with a victory as they held sway to beat KZN Inland 2-0, while the Northern Daisies showed devastating form in beating Border 9-0. Harriet du Toit picked up five goals for herself, making her the clear leader in the golden stick race already. The Southern Gauteng Nuggets, coached by SA Commonwealth Star Tyson Dlungwana, were tested in their opener against SACD A but managed to edge a 2-1 win, while the KZN Robins bounced back from their opening defeat to beat their Inland neighbours 5-1 in the last game of the day.

In the A section, KZN Mynahs were strongly expected to test Free State after their fine display against Southern Gauteng on day one. They were stunned however as they found themselves 5-0 down to the Free State ladies at half-time. A spirited second half saw them score two goals but Free State looked really fantastic in a 6-2 win, putting up their hands for a top-four finish.

Tuffy Western Province completed their second 5-1 win in a row, this time over the Eastern Province ladies. South African star Candice Manuel started the scoring which was punctuated with goals throughout the game. Jade Mayne, another Commonwealth Games squad member scored the last to make it two from two for the Cape side.

North West continued their glut of goals and netted the second hat-trick of the tournament and their second too through Dirkie Chamberlain, while Sulette Damons got on the score sheet again helping her side to a comfortable 5-0 win over Mpumalanga.

Southern Gauteng underlined their title credentials with their own 5-0 victory over the WP Pens side. Sylvia van Jaarsveldt and Lisa Hawker both scored a brace to take Pietie Coetzee's charges top of pool B alongside Western Province.

Northern Blues continued the run of clean sheets and defeated the SG Witsies side 3-0 after goals from Celia Evans, Almay van der Linde, and the superb Natalie Esteves, whose goal capped off an outstanding performance in front of the national selectors with a deserved goal.

The final game of the day was looking likely to be a tough one for the SPAR KZN Raiders as they took on the SA Invitational U21 side, but in truth, it was a game they were always well and truly in control of. A brace from Jacinta Jubb took it to halftime before a fantastic finish from Donna Small set Raiders away even further. There was still time for arguably the best goal of the day as Kelly Reed reminded everyone what an incredible talent she is, smashing a bullet into the corner of the goal.

North West, Northern Blues, and SPAR KZN Raiders all remained undefeated in Group A, while Western Province and Southern Gauteng do the same in Group B. The five teams, along with Free State produced 6 convincing results from the 6 games today. But as we get deeper into the tournament we know that someone will step up to the top podium step alone, the question at this point is who will it be?

You can follow daily updates on SA Hockey or check out the Tournament Management site through https://saha.altiusrt.com/competitions/25#matches

SA Hockey would like to thank our sponsors for their continued and valuable support: Private Property, Tsogo Sun, Old Mutual, iWyze, Grays, Olympic International, SRSA, Virgin Active, Fox 40, Greenfields and Belgotex Sport.

SA Hockey Association media release


---

Surbiton Men to meet Hampstead & Westminster in the final



Surbiton Beeston

Surbiton 2-1 Beeston

Surbiton secured their place at the Men's Hockey League final after seeing off Beeston in a tight semi-final.
 
In a game high on quality with the best part of 15 full internationals on show, two high-class goals from Arjan Drayton-Chana and Nick Parkes proved the difference.
 
It was Surbiton who came closest to scoring in the first period, finding good territory in the Beeston D but being denied by an excellent double save from Simon Hujwan in the Bees' goal.
 
It was an intriguing game between two of the country's top teams, and Beeston forced Harry Gibson into a good save near the 20-minute mark, Sam Ward chopping an effort goalwards on the counter; Gibson standing tall to deny his fellow England international.
 
Right on half time it was Ward who again looked dangerous after another excellent Beeston break, and then the ball flashed across Surbiton's goal just before the half ended goalless.
 
Into the second half, it took less than 90 seconds for the game's first goal, the skilful Arjan Drayton-Chana firing low past Hujwan with aplomb. Soon the league's top goalscorer and player of the year Alan Forsyth was looking for a second, only to be denied by Beeston's back line.
 
Brilliant play from Forsyth then doubled Surbiton's advantage; the Scot showing superb control and awareness to find Nick Parkes, who turned home well from close range.
 
Surbiton were then denied what would have been a super third, Drayton-Chana showing brilliant skill to create a chance for Forsyth, who shot home only to be denied for an apparent back stick.
 
Beeston were pushing for a way back into the game, and early into the fourth quarter they forced Gibson into a crucial double save from a penalty corner. But soon they did have a foothold, Mark Gleghorne drilling home a trademark flick with eleven minutes remaining.
 
Beeston then pushed for a leveller, and Gibson saved again from Gleghorne to ensure it was Surbiton who progressed to the final against Hampstead & Westminster on Sunday.

Surbiton 2 (Drayton-Chana 32 (FG), Parkes 38 (FG))
Beeston 1 (Gleghorne 49 (PC))
 
Wimbledon 1-2 Hampstead & Westminster




Hampstead & westminster won a pulsating semi-final to make it through to the Men's Hockey League Final at Lee Valley Hockey and Tennis Centre.

The game exploded into life in the final 20 minutes, with all three goals coming in that period, and the match ending with eight men against ten as both sides left everything on the pitch in search of the win.

As the first game of League Finals weekend, the first quarter was understandably cagey, and save for a couple of Will Calnan corners for Hampstead, both teams' defences were very much on top.

Into the second period and the game began to open up, Calnan looking the most threatening, including a superb deflection from a crash ball into the box that saw his effort cannon back off the crossbar. He then hit an excellent effort on the reverse that went narrowly over.

Soon after the start of the second half, H&W began to further impose themselves on the game and forced James Bailey into an excellent save from a corner. But with 42 minutes gone there was nothing Bailey could do to keep out Matt Guise-Brown's deflection from a flicked penalty corner.

H&W continued to look the most likely at this point, and again Bailey was called into action with a big left-handed save from yet another PC.

Wimbledon were desperate to find an equaliser, but it was H&W who doubled their advantage on 53, again from a corner as Sam French flicked home expertly, giving Bailey no chance.

Into the final five minutes, the two teams' desire to win came even more sharply into focus, with Wimbledon losing Henry Weir to a yellow card and then a couple of moments later going to a kicking back in search of a goal.

Wimbledon were then down to nine men following a yellow card for Simon Mantell, but to their huge credit found a goal with just 90 seconds left through Peter Friend.

The drama still was not finished, and with 45 seconds left Wimbledon were awarded a corner, only for the decision to be overturned. And in the ensuing seconds, Wimbledon were down to eight men after a card for Michael Hoarea, and Hampstead then lost a player to yet another card, meaning the game finished with eight against ten.

The final period in particular was a cracking advert for the Men's Hockey League, and Hampstead & Westminster certainly dug deep to earn their place in Sunday's final at 1:30pm.

Wimbledon 1 (Peter Friend 58 (FG))
Hampstead & Westminster 2 (Guise-Brown 42 (PC), French 53 (PC))

England Hockey Board Media release


---

Surbiton Women to meet Holcombe in the final



Surbiton women are in the final

Surbiton 3-0 Buckingham

Investec Women's Premier League title holders Surbiton booked their place in Sunday's final and kept their charge to win five consecutive titles alive.

Goals from Great Britain and England pair Giselle Ansley and Hollie Pearne-Webb and a strike from Holly Payne guided Surbiton to their victory.

Holders Surbiton began brightly and eventually took the lead from a penalty corner as Ansley stepped up and put a fierce drag-flick hard into the net giving the keeper little chance.

The pressure continued from Surbiton as they racked up a high number of circle entries but weren't able to convert these into efforts on goal as Buckingham showcased some determined defending.

Just before the half-time break Ella Jackson had to be at her best to make a smart stop and Georgie Twigg's deflected effort sailed just wide as Surbiton ended the half well on top.

After the break Surbiton continued to dominate possession but an improved Buckingham saw a more even quarter follow. The best chance of the quarter fell to Surbiton in the final minute as Ansley tested Jackson from a penalty corner but she got down quickly to make the save.

The battle between Ansley and Jackson continued in the final quarter, Ansley's hard strike was again palmed away as Surbiton continued to be frustrated by the Buckingham keeper. Surbiton kept pressing for a second goal and Hannah Martin couldn't have gone closer when her strike on the reverse flew just wide of the far post.

With five minutes remaining the second goal eventually came for Surbiton as Pearne-Webb hammered a shot hard shot from penalty corner past Jackson to all but secure the win.

Buckingham elected for a kicking back with two minutes remaining but it was Surbiton who grabbed the next goal as Payne tucked home to finish off a swift counter attack and book Surbiton's spot in the Investec Women's Premier League final.

Surbiton 3
Ansley 10 (PC), Pearne-Webb 55 (PC), Holly Payne 58 (FG)
Buckingham 0

Holcombe 2-1 East Grinstead




Two goals in the final five minutes saw Holcombe come from a goal down to beat East Grinstead and reach the Investec Women's Premier League final.

Georgie Blackwood had given East Grinstead the lead but Joanne Westwood's 55th minute strike levelled the scores before Watton won the game with a lob two minutes from time.

They will now face Surbiton in the final tomorrow which will be live streamed on the BBC Sport website.

The opening exchanges were fiercely contested and played at a fast pace as both sides showed off their skills. It was East Grinstead who had the better of the chances in the first fifteen minutes and Rose Thomas in the Holcombe goal was forced into a smart diving save from a penalty corner just before the first break.

Holcombe responded though and Great Britain and England goalkeeper Amy Tennant was called into action to make two stops incliuding one from Dirkie Chamberlain's back hand strike.

At the other end Thomas was again at her best to save from Laura Unsworth's slapped effort to keep the game goaless but a minute before the half-time break Blackwood fired East Grinstead into the lead with a low effort.

A tight third quarter followed as the sides battled hard and largely cancelled each other out, entering the final fifteen minutes with just one goal between them.

Nerves began to show from both sides with the clock running down and Holcombe began to press for an equaliser, with five minutes remaining the scores were levelled as Westwood reacted quickest to turn in from close range. They almost took the lead immediately after but Tennant made a last ditch stop on the line.

However with just two minutes remaining Holcombe turned it around. Watton was found in space and lifted the ball over Tennant into the net to complete the comeback and book their place in Sunday's final against Surbiton.

England Hockey Board Media release


---

Men's League Play Offs Update



Sevenoaks v Uni of Exeter men

University of Nottingham and Sevenoaks went into this weekend on three points however University of Exeter and Oxted caused upset securing three points apiece, making it all to play for on Sunday.

University of Nottingham v Oxted

First goal came from the students Sean Cicchi tapping in a rebound from a penalty corner, minutes later Oxted's Robbert Schenk slotted home a penalty corner to draw level. A spectacular save on the line from Oxted captain to deny a reverse strike from Pavis on the half time whistle.

A lovely run down the left from Oxted Sam Driver to ping the ball across the goal for Chris Porter to sweep into the back of the net to give his side the lead. It was end to end but neither side could finish in the circle, final result 2-1 to secure Oxteds those all-important three points.

Sevenoaks v University of Exeter

University of Exeter took no time at all to get on the score sheet as Ed Matt drove home the opening goal. This didn't dampen Sevenoaks who quickly pulled back an equaliser in the form of David Smith.

Exeter leaped into action in the second half drawing level with a Max Heaver strike, minutes later team mate Conor Caplan giving the student the lead. The students found their rhythm and West division's top scorer Sam Hooper extended their lead making it 4-2. Sevenoaks pulled one back in the form of Michael Shelton but the students could not be stopped as Tom Watson slotted home a fifth as the crowd chanted on 'green army'. Tom Stevenson makes it six goals to the students to claim 3 points and top of the table.

After today all four teams are on 3 points making it all to play for tomorrow. University of Exeter top the table on goal difference, followed by Oxted, University of Nottingham then Sevenoaks.

University of Exeter take on Oxted whilst Sevenoaks face University of Nottingham at 11am tomorrow at the University of Birmingham.

England Hockey Board Media release


---

Investec Women's Play Offs



Beeston celebrate 2018 promotion

Beeston are guaranteed flight hockey next season as they beat Hampstead and Westminster whilst Slough secure a last minute win over Stourport.

Beeston v Hampstead and Westminster

The game was end to end but a penalty stroke for Beeston opened the scoring with Eloise Stenner slotting it away. Beeston full of confidence moved the ball superbly down the pitch on the attack for the North Divisions top scorer, Sophie Robinson to calmly strike the backboard to extend the Bees lead. Hampstead and Westminster fought back with numerous penalty corners before half time but Scottish internationalist Nicki Cochrane denied the London based team to get on the scoresheet before the whistle.

A nervy second half for Beeston as Hampstead and Westminster applied the pressure, penalty corner after penalty corner were successfully defended as Cochrane denied them a goal. Their hard work was finally reward with 10 minutes to go as Annabel Driver deflected the ball into the back of the net. Hampstead and Westminster threw everything at them but Beeston were not letting anything pass them and as the final whistle blew they celebrated knowing they will be playing top flight hockey next season!

Top scorer and player's player of the North division, Beeston captain Sophie Robinson was delighted to be promoted into top flight hockey next season.

'It's been a long time coming, especially for me being at the club for 14 years. It is absolutely fantastic, we are buzzing – excuse the pun!

'All respect to Hampstead and Westminster that second half we were on the back foot for most of it. We fought and worked hard for each other, and that has been the way for the whole of the season, we do everything as a team.'

Slough v Stourport

A last minute goal from Slough gave them the full three points from Stourport to finish 2-1. The opening goal came just before half time as Slough's Georgina Bathurst taps in the ball to give her side the lead. Stourport came out in full force resulting in a goal from Claire Pearson tapping it home for the team. With minutes left on clock Slough's Bathhurst slotted home her second of the game to see her side collect all three points.

After today's win Beeston have guarantee top two spot for next season Premier division, Slough have four points and on the edge of retaining their premier status if they beat Beeston and other results go their way tomorrow. Hampstead and Westminster have single point so must beat Stourport and rely on Beeston beating Slough to have a chance to be promoted. Stourport are bottom of the table and are out of the race for promotion.

Matches start at 1.15pm at the University of Birmingham

England Hockey Board Media release


---

Edinburgh University and Grange crowned National League 1 champions



Uddingston goalscorer Steven Percy – photo by Duncan Gray

League champions were crowned as Edinburgh University kept their composure with a 3-1 win at Western Wildcats to take the women`s National League 1 title by two points from Milne Craig Clydesdale Western, but in the men`s title race Bromac Kelburne were held to a 3-3 draw by Uddingston and then lost their title to Grange on goal difference in a dramatic final day of the season.

It was drama at Bothwell Castle; five yellow cards, a six goal thriller and a last minute penalty corner strike by Uddingston`s Steven Percy, the final outcome was a 3-3 draw and Kelburne had handed Grange the chance to snatch their league crown.

The champions had clawed their way back into the contest finishing the first half two down. However, with the seconds ticking away they led 3-2 and the silverware looked to be heading back to Paisley for the 14th time, but then Percy`s set piece effort went into the net off the post and all eyes were set on Edinburgh.

Already knowing the Kelburne result Grange took full advantage of the situation and beat bottom side Inverleith 5-0 to take their first title since 2002 on goal difference.

Grange were two up at the interval through penalty corner conversions by Luke Cranney and Michael McKenzie. Grange then confirmed their advantage with further strikes by James Nairn, Cammie Fraser and Callum McKenzie to take the crown on goal difference.



Photo by Andy Lovat

Edinburgh University retained the women`s National League title with a 3-1 away win at Wildcats. The foundation was laid in the first half with goals from Sophie Maunder and Amy Brodie.

Izzy Fowler added a third in the second half before Emily Cross got a consolation for the Wildcats, resulting in the fourth title in a row for the student.

The students finished two points ahead of Milne Craig Clydesdale Western who defeated Dundee Wanderers 5-1, there were two goals each for Emma McGregor and Millie Steiger while Heather Howie got the other.



Gordonians are Men's National league 2 Champions

Meanwhile in Men's National League 2 Aberdeen Standard Gordonians defeated Watsonians 2-1 in an exciting fast paced match watched by the largest home crowd seen at Countesswells for many years.

The result meant that both teams finished the season on 49 points, each with 16 wins, 1 draw, and 1 defeat but Gordonians won the league with a much better goal difference of 78  compared to Watsonians' 61.

Watsonians went ahead with an open play goal in the first half however the home side backed by their large home crowd overcame that half-time deficit by scoring twice early in the second half and successfully defended several Watsonians attacks to win the match 2-1. Jack Collister and John Hamilton were the Gordonians scorers.

Scottish Hockey Union media release


---

Government provides $75,000 'lifeline' for Hockey Tasmania

Hockey Tasmania will be part of a national tournament thanks to a $75,000 "lifeline" from the Hodgman Government.

Increased costs worth $600,000 over four years raised fears Tasmania would be locked out of the Australian Hockey League's new tournament format.

Minister for Sport and Recreation Jacquie Petrusma said the government's financial assistance would "aid Hockey Tasmania to a sustainable, long-term funding model".

"The transition comes amid an AHL re-structure, whereby the tournament will become a home and away competition to be played in October/November each year," she said.

"After many years away, we will finally see our local stars playing for Tasmania in Tasmania. I encourage everyone to support our players and get out to the field to watch a match over the course of the season."

Ms Petrusma said the government was "committed to working with all sporting groups to ensure their success in the state."

The Advocate


---

Ashley Jackson departs East Grinstead for Dutch side HGC

By Rod Gilmour



Ashley Jackson leaves East Grinstead (PIC: Henrietta Brierley for THP)

Former Great Britain star Ashley Jackson will play club hockey in the Netherlands next season after signing for HGC.

Jackson, 30, was lured back to the club he played for between 2008 and 2010 by Paul van Ass, the trainer who also returns to the club next season.

The pair worked together during that time when Jackson finished as the Hoofdklasse top scorer. Van Ass, who was last employed during a short-lived position with India three years ago, has clearly made a statement of intent by making Jackson his first signing.

But the move is also an enticing one for hockey fans who want to see the mercurial Jackson back playing for England and GB.

Jackson has been in the international wilderness since the fallout from the Rio Olympics and after making a u-turn on his decision to push forwards towards Tokyo 2020.



Ashley Jackson has also played in the Hockey India League in recent seasons

He returned to playing ice hockey for Invicta Dynamos and a switch to Basingstoke Bison before a move back to Dynamos this season.

He has also played for East Grinstead, with his last game for his boyhood club seeing in a hat-trick last month in a 6-1 home win over Sevenoaks.

One of GB's most gifted players of all time, coach Bobby Crutchley hinted toThe Hockey Paper last January that a door would be left ajar for Jackson.

Crutchley said last year: "He wants a bit of time away and it's not my role to persuade him to come back. It's my role to prepare the next group of athletes for the challenges ahead.

"Plenty of athletes have taken an extended break and come back and been successful."

With two years remaining until Tokyo, a surprise return may prove a step too far. But a season focusing on field hockey only may yet prove otherwise.

The Hockey Paper


---

Hockey finals day roundup

Bacchas A and Vikings A both do the double

The dominant sides in men's and women's hockey in the Isle of Man both completed doubles on finals day today.

Bacchas A beat Vikings A 3-2 in the Bridgewaters Men's Cup to add the trophy to their PwC Men's Premier Division title.

Bacchas led 2-0 at half-time through Craig Leece and Captain Jamie Brown, before Vikings came back in the second half, levelling things at 2-2 through Tom Wilson and Steve Crowe.

The match looked to be heading for flicks, but Brown scored the winner for Bacchas from a short corner in the last minute.

In the Bridgewaters Women's Cup, Premier Division champions Vikings A demolished Bacchas A.

They led 6-0 at half-time thanks to a Kim Carney hat-trick and solo strikes from Sarah Blackman, Kirsty Cooper and Zoe Crowe.

Carney hit her fourth goal in the second half, while Georgia Foxton added another to make it 8-0 at the final whistle.

The first match of the day saw Castletown B beat Saracens A 2-0 in the final of the Women's Plate.

They won thanks to a goal from the prolific Glesni Corney and an Elaine Wiseman penalty flick in the first half.

The final match was the Men's Plate, between Saracens A and Vikings C, and it went right down to the wire.

Saracens won 4-3 on flicks, with 19-year-old captain George Powell slotting home the winner in sudden death.

The match itself had finished 3-3.

Powell, John Halligan and Andy Winstanley scored for Saracens, while Lee Cowell, Ken Carney and Aaron Hynes were on target for Vikings.

Manx Radio


---

Great Britain and England Hockey partners with Toshiba TVs




England Hockey is delighted to announce Toshiba TVs as Principal Partner of England and Great Britain Men's Hockey for 2018.
 
Toshiba is a leading TV brand, whose spirit of innovation and commitment to the future has great synergy with England Hockey's values and ambition.

As part of this collaboration, Toshiba will provide 'edge of your seat' viewing experiences for the hockey community and sports fans in a year which includes the Odisha Hockey Men's World Cup 2018, where England will be pushing for a medal.
 
With England medalling at the European Championships and, more recently, earning bronze at the 2018 Commonwealth Games, the partnership with Toshiba is another excellent step forward for men's hockey in the UK. Toshiba's Partnership agreement includes exclusive branding of the England and Great Britain team's playing shirts and training kit.
 
"We're delighted to join forces with Toshiba," says Jon Cockcroft, Commercial Director of England Hockey. "The association with such an innovative brand provides a great platform to showcase all the qualities of the men's game. We're looking forward to working with team Toshiba to help reach even wider audiences."
 
Sales & Marketing Director for Toshiba TVs in Northern Europe, David Flintoft, adds, "This partnership is incredibly exciting, especially because it enables us to support England Hockey during such a significant year. We're set to capture and share the team's progress, so that fans everywhere can live and breathe the sporting action. For us, this is not only a great opportunity to introduce hockey to more TV viewers, but also to inspire the next generation of athletes."

England Hockey Board Media release