All the news for Wednesday 25 April 2018

Coaches chart glory in unknown sphere

s2h team




Limited players on the field, shorter playing area and also shorter periods of play times provide earnest coaches their space to chart their own glory. Yes, we are talking about about hockey's new avtar HOCKEY 5's. The Asian Youth Olympic Qualifier that has just started in Bangkok's Rang Sit complex TODAY will provide new stars and new vistas. That is not going to be just players but also coaches, for many of whom Hockey 5's is a news challenge, unknown territory and an area that confuses and confronts their traditional areas of knowledge.

The top two men's and women's team here will make it to the Buenos Aires Youth Olympics to be held this year. Eleven men's teams and nine women's team are here to test the waters and seek passage to Buenos Aires. Indian teams are taking part for the first time in the new venture, which has been held twice in the past. Buenos Aires will be the third Youth Olympics.

A glimpse into the coaches' view provide an insight that spells danger of survival for traditional coaches while for the others its new opportunity to showcase their space and mettle.

With so many new rules that contravenes the traditional virtues of both field and indoor versions, the hockey 5's is a potential challenger to established coaches.

For an instant, Thailand men would have hardly struck goals against mighty South Koreans in field hockey, but today they stunned with five goals in their favour while conceding double the numbers. In effect, its equivalent of 1-2 defeat, which is a good result considering the power equation in Asian hockey.

Therefore, upsets, close fights, narrow misses, emergence of new stars and nations are expected in the coming week, as the FIVE DAY HOCKEY's commence in Bangkok.

Stick2Hockey.com


---

Indian hockey team coach Sjoerd Marijne under scanner after medal-less Commonwealth Games campaign

The Indian hockey team, coached by Sjoerd Marijne, lost the bronze medal playoff against England at the 2018 Commonwealth Games in Gold Coast.



The Sjoerd Marijne (C) coached Indian hockey team returned empty handed from the 2018 Commonwealth Games in Gold Coast.(AFP)

The Indian men's hockey team's medal-less and rudder-less Commonwealth Games performance has brought chief coach Sjoerd Marijne under the scanner with Hockey India scheduling a performance review meeting later this week.

It has been learnt that some senior players of the team, led by skipper Manpreet Singh, PR Sreejesh and Rupinder Pal Singh, met top HI officials here today and presented their explanation for the performance.

It is for the first time in 12 years (since 2006) that India failed to win a single medal in hockey at the CWG and this hasn't gone down well with the national federation, which said that it won't shy away from taking tough decisions after the review meeting.

According to a Hockey India official, not just the players, the coach's performance will also be scrutinised and corrective measures will be taken, if needed, as three important tournaments -- Champions Trophy, Asian Games and the season-ending World Cup -- are lined up this year.

"The performance in Gold Coast is definitely not acceptable. It is below-par to say the least. We have been providing all facilities to the team but they just fail to deliver in big events," the HI official said.

"We were one of the medal favourites but look how we performed against lower-ranked teams like Wales, Pakistan, New Zealand and England."

India were particularly poor in the 2-2 draw against Pakistan, conceding the equaliser with just seven seconds left on the clock.

It has been earlier reported that some senior players were unhappy with chief coach Marijne's decision to blood youngsters like Vivek Sagar Prasad, Dilpreet Singh, Sumit, Gurinder Singh in place of experienced pros such as Sardar Singh and Ramandeep Singh in the CWG-bound squad.

And the HI official said all these issues will be examined during the review meeting.

"Hockey is a team game and the coach is also accountable for players' performances. It will be too early to comment anything but Sjoerd too will have to come up with answers for the poor show."

In the past too, HI's hire and fire policy on foreign coaches, including Marijne's predecessors Roelant Oltmans, Terry Walsh, Michael Nobbs and Ric Charlesworth has come in for sharp criticism.

Even though Marijne's draws his salary from the Sports Authority of India, it is HI which reviews his performance.

Marijne is presently at his home in Netherlands and is expected to join the national camp in Bengaluru from April 27. But sources said he would arrive in India only in the first week of May due to some visa issues.

Hindustan Times


---

Players unhappy with Marijne's selection

Manuja Veerappa

Bengaluru: For the first time in 12 years, the Indian men's hockey team returned from a Commonwealth Games without a medal. A fourth-place finish coming from a team which had trained hard and was confident of a podium finish was disappointing.

Following their 1-2 loss to England in the bronze-medal match, chief coach Sjoerd Marijne has been left with many unanswered questions.

Primary among them is team selection. On Tuesday, Indian Olympic Association and FIH president Narindra Batra met senior players including skipper Manpreet Singh, PR Sreejesh, SV Sunil, Rupinderpal Singh, Kothajit Singh, Chinglensana and Harmanpreet Singh in the capital to take stock of the situation.

TOI has learnt that Batra is upset with India's poor performance and temperament, especially in the shock loss to Wales and the drawn encounter against Pakistan in the league stage at Gold Coast.

Although post-mortem is a norm after ever disastrous outing, this time around, Batra has decided to take the players into confidence to take note of what ails the team, especially since the facilities and funding for hockey has increased manifold over the last few years.

The Times of India


---

Hockey players say lack of matches before CWG 2018 cause for poor show

India had fielded a relatively young team, with several regulars like Sardar Singh, Ramandeep Singh and Birendra Lakra dropped in favour of younger players.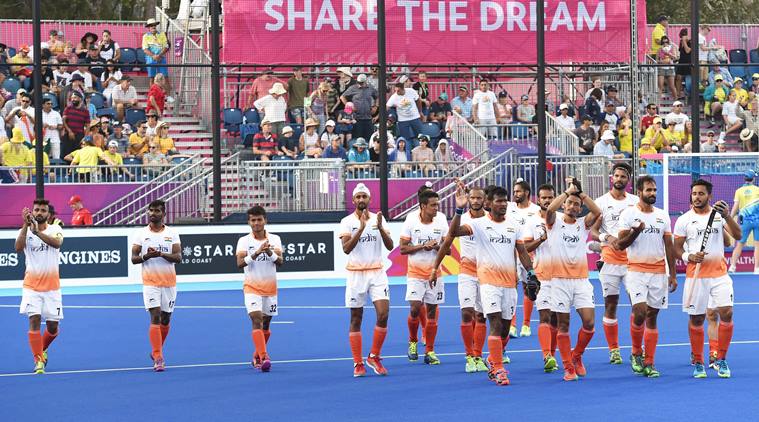 It is learnt that Hockey India is upset with the erratic performance of the men's team, which failed to qualify for the final for the first time since 2010. (Source: PTI)

IN the dock after a disappointing fourth-place finish at the Commonwealth Games, senior players have told Hockey India that the team would not have looked disjointed had they played together in a few matches before reaching Gold Coast.

The team's senior-most players – captain Manpreet Singh, goalkeeper PR Sreejesh, SV Sunil and Rupinderpal Singh – met Hockey India officials here on Tuesday as the post-mortem into the team's poor performance began in the absence of chief coach Sjoerd Marijne, who is on leave.

It is learnt that Hockey India is upset with the erratic performance of the men's team, which failed to qualify for the final for the first time since 2010 and returned without a medal for the first time since 2006. India could manage only a fourth-place finish after losing to New Zealand in the semifinal and England in the bronze medal playoff. The players defended themselves by saying there wasn't enough time to understand each other before the Games. "The players said they would've preferred to play at least one tournament together instead of directly going to Gold Coast," a source said. "However, they have not said anything against the coach's selection policies or strategies."

India had fielded a relatively young team, with several regulars like Sardar Singh, Ramandeep Singh and Birendra Lakra dropped in favour of younger players. However, the team did not play a single tournament in the build-up to the Games, with Marijne choosing to field a second-string side for the Azlan Shah Cup.

Moreover, the performance of youngsters like Vivek Sagar Prasad, Dilpreet Singh, Sumit and Gurinder Singh wasn't up to the mark, leaving several question marks on Marijne's selection policies. A Hockey India official said all these factors will be taken into account during the review meeting, which will take place through this week.

Meanwhile, barely a month after the door for the national team was slammed shut on him, Sardar Singh is set to return when the team assembles in Bangalore for the national camp later this week.

Sardar was reportedly told by the team management that his services were no longer needed, with Marijne and high performance director David John preferring younger players instead of him. However, the performance of the team without Sardar has forced them to change their mind. "It will be tough for an inexperienced team to play in important tournaments like Asian Games and World Cup later this year," a source said.

Indian Express


---

Tour of Poland: Pakistan junior hockey team training camp for Poland begins on April 27

ISLAMABAD: Pakistan junior hockey team will be put through a training camp here at the Naseer Bunda Hockey Stadium from April 27 to prepare for their tour to Poland in July this year. The Pakistan Hockey Federation (PHF) has called up 41 players to report on April 27 at the Allama Iqbal Hostel of the Pakistan Sports Board in Islamabad. The main emphasis during the camp will be on physical conditioning for tours abroad in near future for which negotiations are going on. A spokesman for the PHF said Tuesday that special effort was being made to groom juniors players. He added Olympians Kamran Ashraf and Qamar Ibrahim would supervise the training camp and the selected team would be sent to Poland to participate in a four-nation championship. "The PHF is in talks with the concerned authorities and hope the tour will go through," he concluded.

Players called up for camp: Waqar Younis (Lahore), Rizwan Ali (Faisalabad), Rehan Butt (Gojra), Moin Shakeel (Lahore), Adeel Latif (Lahore), Junaid Manzoor (Bahawalpur), Shahzaib Khan (Wah Cantt), Ghazanfar Ali (Lahore), Afroz Hakeem (Peshawar), Umair Sattar (Faisalabad), Naveed Alam (Lahore), Adil Rao (Gojra), Amjad Ali (Bannu), Awais Arshad (Lahore), Rana Waheed (Sargodha), Ahmed Nadeem (Lahore), Mohammad llyas (Faisalabad), Waqar Ali (Gojra), Zakirullah, Mohammad Ibrahim, Zakirullah (Bannu), Waqas Ahmed, Salman Shaukat, Junaid Rasool (Gojra), Mohibullah (Bannu), Ali Raza (Gojra), Awais Rasheed (Lahore), Amjad Rehman (Peshawar), Murtaza Yaqoob (Lahore), Zulgarnain (Pir Mahal), Hammad Anjum (Sahiwal), Abuzar (Faisalabad), Umar Bilal (Bahawalpur), Roman Khan (Bannu), Akmal Hussain (Sheikhupura), Zain Ejaz (Sahiwal), Khairullah (Peshawar), Mohammad Anees (Gojra), M Abdullah (Gojra), Hasan (Gojra), Ahmed Faran (Gojra), Sher Mohammad Kakar (Quetta).

The Daily Times


---

MJHL: Bukit Jalil Sports School fifth

By Jugjet Singh

KUALA LUMPUR: Pioneer Sports School Bukit Jalil Thunderbolts lost 4-3 to  Petaling Jaya City Council (PJCC) in their final Malaysian Junior Hockey League (MJHL) Division one match to end fifth on the standings.

This is a slide from third last season, as the Sports School lost a few strikers to Anderson Thunderbolts and Pahang Thunderbolts for this year's challenge.

PJCC's goals were scored by Shahzariq Haikal (19th), Faisol Rozihan (36th), Fikri Amer Runnizar (43rd) and Syabil Aizam Noor (56th).

Idris Samad (13th, 22nd), Nursyahmi Zulkifli (26th) scored for BJSS.

Arif Sabron is among the strikers, who scored five goals for BJSS last year, who moved to greener pastures.

"We can't hold on to players who have completed their Form Five and normally other clubs are always ready to snatch them. We lost a few strikers from last season, and that's why the team struggled to score," said BJSS coach Lokman Yahaya.

But with budding players expected to rise from BJSS Juniors, a Division Two team, Lokman is optimistic his team will rise higher next year.

"We have many young talent eager to be drafted from our Division Two sister team, and so I believe we will be much stronger next season," said Lokman.

Arif scored five goals for Anderson and the Ipoh school ended a laudable second on the standings.

The four Thunderbolts, who receive funding as well as tactical and coaching expertise from Tenaga Nasional, all qualified for the quarterfinals.

Six teams in Division One will be joined by Division Two finalists Malacca MBMB Warriors and Penang MSSPP-PSHA in the TNB Cup quarterfinals beginning on May 2. The last eight draw will be held today.

Malacca and Penang also won promotion to Division One next season, while Old La Sallian Association of Klang (Olak) and Perlis Young Lions will be relegated for finishing at the bottom of the pile.

RESULTS: Old La Sallians Association of Klang 2 Sabah SS Resilient 2, PJCC Tigers 4 BJSS Thunderbolts 3.

FINAL STANDINGS
                 P  W  D  L  F  A Pts

SSTMI THUNDER  9 8 1 0 49 4  25
ANDERSON THUNDER 9 6 1 2 21 11 19
PAHANG THUNDER 9 6 1 2 21 16 19
SMKDBL-UNIKL     9 6 0 3 23 17 18
BJSS THUNDER     9 4 2 3 37 17 14
PJCC TIGERS 9 4 2 3 21 20 14
SSTMI          9 3 1 5 17 23 10
SABAH            9 2 1 6 17 40 7
PERLIS          9 1 0 8 11 33 3
OLAK          9 0 1 8 9  45 1

Jugjet's World of Field Hockey


---

MBPJ roar back to upstage BJSS in nail-biting clash

By Aftar Singh

KUALA LUMPUR: Petaling Jaya City Council (MBPJ) Tigers turned on the power in the last two quarters to come back from two goals down to beat Bukit Jalil Sports School (BJSS)-Thunderbolt 4-3 in the Malaysian Junior Hockey League (MJHL) Division One match.

Both teams were tied with 14 points from nine matches but the Sports School team finished in fifth place due to a better goal difference.

Muhd Idris Samad gave BJSS the lead in the 13th minute off a penalty corner at the MBPJ Hockey Stadium yesterday but MBPJ equalised through Muhd Haikal Mohd Saiful in the 19th minute.

Three minutes later, Idris converted another penalty corner before Muhd Nursyahmi Zulkifli increased the lead to 3-1 for BJSS in the 26th minute.

MBPJ came back strongly in the third and fourth quarters to score three goals in a space of 20 minutes.

Muhd Faisol Rozihan narrowed the score in the 36th minute and Muhd Fikri Amer Runnizar equalised for MBPJ in the 43rd minute.

Mohd Syabil Aizam Mohd Noor was the toast for MBPJ for netting the winning goal in the 56th minute.

MBPJ team manager Nor Azizah Mukijan praised the players for the fighting spirit they showed in the last two quarters.

"It was a good win over BJSS as they dominated the first two quarters before my players rose to the occasion," said Nor Azizah.

"Last year we won the league title but this season our performance has been inconsistent. We lost three matches and drawn two to finish sixth in Division One."

"I hope my players will buck up in the knockout stage which begins on May 2," said Nor Azizah, who took over as team manager last year.

Former champions Old La Sallians Association of Klang (Olak) finally earned their first point in nine matches in the league with a 2-2 draw against Sabah Malaysia Sports School (SSMS) Resilient at the Pandamaran Hockey Stadium in Klang.

The Star of Malaysia


---

New stars on the rise in Varsity Hockey 2018




Golden boys and new kids on the block will be brandishing their skills at South Africa's Varsity Hockey, as the competitors look to knock UJ off their throne.

The UJ men's hockey team will look to reclaim the Varsity Hockey trophy in arch-nemesis Wits' backyard when the tournament returns on 4 May, for the first leg. The second leg will take place at the Tuks Astro from 11 May to 14 May, with the final on 21 May. In 2016, the UJ men lifted the Varsity Hockey trophy after defeating Tuks 4-2 at the UJ Astro. Varsity Hockey is sponsored by Samsung, Mugg & Bean and FNB.

UJ duo Che February and Spencer Botes could be the key to UJ's title ambitions. Both forwards represented South Africa at under-18 level and are in the current South Africa under-21 squad making them dangerous weapons in the Johannesburg side's arsenal.

Traditional-powerhouse Tuks, have their own set of super stars. South Africa under-21 player Nduduzo Lembethe, who leads the Pretoria side from the midfield, and Northerns Senior A goal-keeper Estiaan Kriek will have an axe to grind as both players were present in Tuks's loss in the final to UJ in 2016.

Maties could prove to be dark horses with the defensive prowess of Andrew Hobson keeping the opposition at bay, in conjunction with experience of Alex Stewart, a former South Africa Junior World Cup player. The men from Stellenbosch will be boosted by the lethal Keenan Horne. The ever-industrious striker recently returned from the Commonwealth Games where he captained the Proteas against Wales.

Eight universities will compete for South Africa's greatest Inter-Varsity hockey prize in Johannesburg with Wits (University of the Witwatersrand), UCT (University of Cape Town), Maties (University of Stellenbosch), Madibaz (Nelson Mandela University), NWU (University of the North West), Tuks (University of Pretoria), UJ (University of Johannesburg) and Kovsies (University of the Free State) all taking part.

The Power Play remains a fan favourite in the Varsity Hockey tournament. A Power Play is taken by one side at any stage of the game. The side choosing to initiate the Power Play forces the opposition to remove two players from the field. Any goals scored during the Power Play count for two goals.

Varsity Hockey code manager Jana Arlow explained that the tournament is one of the greatest amphitheatres for the sport in South Africa.

"The sheer number of Varsity Hockey alumni that have gone on to represent South Africa is an indication of the strength of the tournament and how much value it brings to the sport as a whole.

"Just this year, eight of the 18 players in the South African Commonwealth squad played Varsity Hockey.

"None of this would be possible without the generous support of our sponsors, including Samsung, Mugg & Bean and FNB. We are also grateful for the support from South African Hockey Association and USSA Hockey."

The last day of the Wits leg of the competition will be televised live on SuperSport on Monday 7 May, while the final three days of the Tuks leg will be televised, which includes 13 and 14 May. The final will also be broadcast live on SuperSport on 21 May.

For all the fixtures, click here.

Varsity Sports media release


---

Exciting Varsity Hockey season expected

Eight of the 18 South African players who attended the 2018 Commonwealth Games played Varsity Hockey showing the role Varsity Hockey plays in development in South African Hockey.

Ahmed Kajee




JOHANNESBURG - Men's varsity hockey returns at the beginning of May with various additions being made to the tournament to excite fans and players alike.

Eight of the 18 South African players who attended the 2018 Commonwealth Games played Varsity Hockey showing the role Varsity Hockey plays in development in South African Hockey.

Eight universities will be competing for the biggest in-varsity hockey prize in Johannesburg.

Universities from all parts of the country will be participating with Gauteng being represented by Wits University, the University of Johannesburg and the University of Pretoria who host the second leg of the tournament.

From the Western Cape, the University of Cape Town and the University of Stellenbosch who is coming off a Varsity Rugby victory will be travelling up to Gauteng for the two legs.

The Nelson Mandela University and Kovsies will be representing the Eastern Cape and the Free State respectively. NWU wraps up the final spot.

Fans can also look forward to the ever-popular Power Play that was implemented in the Varsity Rugby season which sees each team being allowed to remove two opposition players from the field of play for three minutes.

Any goals scored during the Power Play counts for two goals.

As sponsors, Mugg and Bean, Samsung FNB have partnered with Varsity Sports to reward players for exceptional performances – but also working with Varsity Sports to raise awareness of mental health throughout the tournament by having selected players wear lime green shorts during games.

Some of the awards the players will be aiming for during their matches are:

• Samsung Striker of the Match
• Samsung Striker of the Tournament

• Mugg & Bean Star Saver of the Match
• Mugg & Bean Star Saver of the Tournament

• FNB Player of the Match
• FNB Player of the Tournament

The first leg of Varsity Hockey will take place from Friday 4 May 2018 to Monday 7 May 2018 with the final day being televised on SuperSport.

The second leg of the competition will be from Friday 11 May 2018 to Monday 14 May 2018 with the final two days of the leg being televised.

The final will take place on 21 May 2018 at the home ground of the team that finishes at the top of the log.

Eye Witness News


---

No Special Treatment For Kumar – Subahan Kamal



S Kumar

KUALA LUMPUR – Malaysian Hockey Confederation (MHC) president, Datuk Seri Subahan Kamal stressed that national goalkeeper S. Kumar who is now free to return to the national squad will not be given any special treatment.

Kumar, 38, who has 295 international caps, was temporarily suspended for two years after he was found positive for sibutramine when representing the country in Asia Cup in Bangladesh, in October last year.

However, the suspension was lifted by International Hockey Federation (FIH) last Wednesday without calling Kumar to attend a hearing after FIH decided the substance he used did not influence his performance.

Speaking at a media conference today, Subahan said there would be no easy path for Kumar to get back his place as the country's first choice goalkeeper even though the squad went through a difficult phase for six months when he was absent.

"When he (Kumar) was out for nearly about six months, we managed to actually use our two other goalkeepers (Mohammad Hairi Abd Rahman and Muhammad Hafizuddin Othman) especially in major tournaments like Azlan Shah Cup and Commonwealth Games.

"I saw their performance (Mohammad Hairi and Muhammad Hafizuddin), they played well, ready to go and ready to fight for their position so now it's up to Kumar to get back to the squad….nothing is for sure, he got to fight for his number one place," he said.

Meanwhile, national coach, Stephen Van Huizen said the presence of Kumar was a right dose of tonic for the national squad with the 2018 Asian Games in Jakarta-Palembang in August.

However, he stressed that Kumar has to work hard to get into top tip condition if he wants to take back his position as there are now two top goalkeepers for the country.

"As the coach, I am happy with his return and he deserves to get a chance to fight for a place in the 2018 Asian Games squad but we need to get Kumar to train hard to perform and to be as good as he was before the suspension.

"Having Kumar back of course, gives us the assurance. Hairi and Hafiz played some very good matches and made some good saves in Sultan Azlan Shah Cup and 2018 Commonwealth Games. Of course there were some mistakes as they have not been in international hockey for long time.

"Now we have three goalkeepers and hopefully they will compete with each other as well as push each other to be the best and then we can make the selection for the final team for the 2018 Asian Games," he said.

Malaysian Digest


---

International Field Hockey Tournament Dates Set for 47th California Cup




MOORPARK, Calif. - For the past 46 years, the prestige international field hockey tournament, California Cup, has been revered as the world's most trusted and engaging event with athletes traveling from all over the globe. With an unwavering commitment by the proud Founder Tom Harris that was established in 1972 has grown to be an extensive history in the story of the oldest team sports in the world.

The 47th annual California Cup, an official USA Field Hockey Sanctioned Event, dates are set for the American holiday, Memorial Day weekend of May 25-28. The men's super, women's super and U-19 Elite competition games will begin on Thursday, May 24 at Moorpark College, Moorpark High School and Canyon Park.

As a participant of this annual event, teams are becoming part of a tradition that is internationally renowned with an extensive history of the success of field hockey in the United States. California Cup provides opportunities that are important in supporting the proud history of the sport for all, including the men's games.

"For the past 46 years, I have enjoyed playing in every Cal Cup. It is an awesome and exciting sport to play for a lifetime." – Tom Harris, California Cup Founder

"The Cal Cup is an institution in the field hockey in the USA. The 47th edition will provide rich experiences from all participants from ages 8 to 80, from those playing in their first field hockey tournament to those who have played in the Olympic Games. The Cal Cup is an essential part of our nation's field hockey fabric and is an inspiration to all those committed to Growing the Game." – Simon Hoskins, USA Field Hockey's Executive Director

"Field Hockey is a great game for both genders and all ages. Cal Cup is a wonderful tournament. It is a high-level sport, but also lots of fun. I recommend it for all field hockey lovers and I'll be definitely participating for many years to come." – Jamie Dwyer, Five-Time FIH International Field Hockey Player of the Year

The atmosphere is very festive with a covered "Market Place Environment", having more than 40 exhibitors, a food court, beer and wine garden and many other vendors selling hockey gear, sports equipment, apparel, jewelry and sports medicine. This is more than just a field hockey tournament, because of the magnificent efforts of more than 100 volunteers making sure that every venue and area is providing the best service to all.

Visit, calcup.com for more information.

USFHA media release


---

Tasmania Hockey calls on Government to back state team in new-look national league

By Chris Rowbottom



Hockey Tasmania needs financial support to play a team in the new-look national league. (Supplied: Hockey Tasmania)

Hockey Tasmania has issued an eleventh-hour plea to the State Government for funding in order to secure a place in the new-look Australian Hockey League.

In a letter to Premier Will Hodgman and Minister for Sport Jacqui Petrusma, Hockey Tasmania chair Ken Read said the organisation was seeking "urgent support to enable our women's and men's teams to enter the revamped AHL".

It came after a meeting with the Department of Sport and Recreation and Events Tasmania on Friday.

Mr Read requested $100,000 a year for the next four years from the Government to ensure the entry of a Tasmanian team in the new franchise-based competition.

Hockey Australia recently extended its deadline until April 30 for Tasmania to come up with the $545,000 required to participate in the newly-televised competition for the next four years.

"If we don't get it by April 30 or get an extension beyond that, then that's the end of it. There's no Plan B. There's no other competition to go in," Mr Read said.

"You don't play sport without seeing a pathway to the Olympics, and that pathway would become extremely difficult."



The Tassie Tigers won the AHL in 2014. (Supplied: Hockey Tasmania)

Mr Read said without a Tasmanian presence, the state's stars would be forced to play for other AHL teams.

"Eddie Ockenden would be playing in Brisbane, [Josh] Beltz would be playing in Perth and Edwards would be playing in Melbourne," he said.

Hockey Australia CEO Matt Farvier told the ABC while it was not its preference, the competition could move forward without Tasmania in year one, with an eye to include a franchise from the state beyond next year.

"That's a less preferred scenario but one that we have to contemplate," he said.

"We believe the league would be better for having Tasmania in it and right from the start as a foundation team in this revised league model.

"We'd be really disappointed if we can't arrive at a mark where Tasmania is included. We don't want to see a disruption to the pathway where athletes see a pathway to the top, and certainly an AHL would provide that."

Hockey Tasmania has struggled to come up with the funds after refusing to slug its registered players with an extra levy of $15 per player.

Recent Hockey Australia research suggested the rising costs for players was the number one factor in a drop in participation.

ABC


---

Disciplinary decision on FIH President Dr Narinder Dhruv Batra

The FIH Replacement Disciplinary Commissioner has concluded a disciplinary proceeding against the President of the FIH, Dr Narinder Dhruv Batra, regarding a Facebook post on 19 June 2017 on his personal account in which English law enforcement authorities were accused of acting in an inappropriate manner in relation to the summoning of Indian player Sardar Singh during the Hero Hockey World League Semi-Final London 2017. Dr Batra regrets his actions and has publicly apologised for his emotional statement.

Dr Batra was given a written warning. He shall pay an undisclosed amount to a sports charity institution and bear the costs of the disciplinary proceeding.

He is not restricted in any way to pursue his functions as the FIH President.

FIH site


---

Narinder Batra given written warning by world hockey over Facebook post

By Richard Bright




The International Hockey Federation has handed Dr Narinder Batra, the world governing body's president, a written warning following a disciplinary proceeding relating to a social media post last summer.

On his personal Facebook account, Batra criticised police in Britain for acting in an inappropriate manner in relation to the summoning of Indian player Sardar Singh during the Hero Hockey World League in London, reportedly in connection over an alleged sexual assault case.

The FIH said in a statement on its website that Dr Batra regretted his actions and has publicly apologised for his emotional state.

The statement added: "Dr Batra was given a written warning. He shall pay an undisclosed amount to a sports charity institution and bear the costs of the disciplinary proceeding.

"He is not restricted in any way to pursue his functions as the FIH President."

Batra also posted a series of messages on Facebook after Mirwaiz Umar Farooq, the Kashmiri separatist leader, used Twitter to congratulate the Pakistan cricket team after they beat India in the final of the Champions Trophy at The Oval in London, held during the same time as the World League in the English capital.

However, the FIH statement only referred to the social media posts surrounding Singh.

Batra became the first non-European president in the FIH's 92-year history when he was overwhelmingly voted into the sport's top post in November 2016.

He has since gone on to take the same role at the Indian Olympic Association (IOA), with some observers suggesting that holding two jobs is weighing down his hockey duties.

Batra was due to host a dinner after the Hockey Writers Club annual awards in London in January before cancelling.

He was also due to attend the recent Commonwealth Games in the Gold Coast but never travelled to Australia.

The Hockey Paper


---

Tributes paid to 'inspirational' Devon hockey player and teacher

By The Hockey Paper



Maggie Fasey, pictured centrally with headband, playing the game she loved

Tributes have poured in for an "inspirational" hockey player and teacher who died after collapsing on the pitch playing for her beloved club in Devon.

Maggie Fasey, an international Masters player who was also a revered teacher in the West for 40 years, died after suffering a suspected cardiac arrest during a 3rd XI match for Tiverton White Eagles at the weekend.

The news was confirmed by Tiverton High School on its website before a raft of tributes were paid on social media by friends and the local community.

"It is with great sadness that we announce the sudden passing of our colleague Maggie Fasey," the statement said.



Maggie Fasey, "an inspiration" (PIC courtesy of Michelle Lovegrove)

"For many years Maggie was very much the face of hockey both at THS and within the wider community. Her skills and experience were such that she represented England at international level having won a silver medal in the World Masters in 2014 and more recently a gold medal in the Grand Masters European in 2017.

"Although Maggie took retirement from her teaching position at THS in 2015 she remained an invaluable part of our community as the lead of our Primary Transition work. Her calming presence amongst the year 6's will be greatly missed.

"Our thoughts and condolences at this difficult time are with her family, friends and the many members of the Tiverton community whose lives she touched."

Fasey played for England Masters teams, including the Over-55s squad where she notched a hat-trick on her debut in 2012.

However it is with Tiverton White Eagles and the local community where she proved a "dear friend" to all.




Tiverton's chairperson Wendy Steele wrote on Facebook: "I cannot describe how unreal all this feels. We can only feel enormous sympathy for Mick, her husband, and her two sons, Dave and Chris."

Michelle Lovegrove, who was tutored by Maggie before becoming a lifelong friend, said: "Since I was nine years old you have told me to run faster, jump longer and throw stronger.

"Then at twelve years old you brought me into the world of hockey and after showing some promise, you convinced me to go and play for White Eagles (underage I might add!) I remember my first game at Taunton School like it was yesterday … I didn't look back and White Eagles became a huge part of my life. Not just a hobby, but a lifestyle choice that has afforded me an extended family and wide circle of lifetime friends.

"I am pretty certain that she was aware that she touched a lot of lives, but she was far too modest to anticipate the appreciation that is coming forward from parents, students and hockey players alike."

Lisa Whitrow added: "She was such an inspiration and a lovely caring but still fun lady. She'll be missed by everyone."

The Hockey Paper