All the news for Tuesday 24 April 2018

Hoofdklasse top four confirmed as Oranje-Rood join Kampong, Bloemendaal and Amsterdam



©: World Sport Pics

The top four places in the Hoofdklasse were confirmed with one round of action still to play with EHL FINAL4 sides SV Kampong and HC Bloemendaal joined by AH&BC Amsterdam and HC Oranje-Rood.

Amsterdam won an emotional derby game 6-3 against Pinoke which also marked the final home game for the latter club of Dennis Warmerdam. He found out before Christmas that he had a cancer in his wrist and will no longer play at the top level.

Both teams warmed up in the number 13 shirts in his honour while there was a minute's applause in the 13th minute for Warmerdam who played his part in a lively fixture.

Amsterdam were in control for much of the game with Justin Reid-Ross scoring an early stroke and Mirco Pruyser getting a hat trick of goals. Warmerdam was carried around the pitch at shoulder-height after the game to the salutes of a capacity crowd in the Amsterdam forest.

Kampong eventually got the better of Almere who had their chances in a 4-2 result, the game being level at 2-2 at one stage before Robbert Kemperman's lightest of deflections and a Philip Meulenbroek goal made the game safe.

Bloemendaal kept pace with them with a win over Tilburg. It was 2-1 at half-time with Jord Beekmans providing a cracking sweep shot to give them the advantage. Tim Swaen put them further ahead from a corner and Glenn Schuurman produced another blockbuster strike for 4-1.

If Kampong win their final game of the regular season at HGC, they will top the table and confirm a return to the EHL for next season. A loss or draw could open the door for Bloemendaal to overhaul them with a win against Amsterdam.

In the race for fourth, Oranje-Rood sealed their place in the playoffs with a 5-2 win over HGC. The Eindhoven club built a 2-0 lead only for HGC to fight back to level at 2-2 but some beautiful second half goals from Muhammad Rizwan, Jelle Galema and Mink van der Weerden, they pulled away in the second half.

The win put them well out of range of HC Rotterdam who drew with HDM 4-4 with Jeroen Hertzberger scoring a stroke two minutes from the end. But Oranje-Rood's win over HGC meant that the result did not really matter in the playoff chase, ending Rotterdam's hopes.

Euro Hockey League media release


---

Waterloo Ducks make big move for Belgian regular season title



©: Frank Uijlenbroek/world Sport Pics

The Waterloo Ducks took a big step toward the Belgian regular season title as the competition's top four looks to have taken shape following a dramatic weekend.

The Ducks won at fifth place La Gantoise who needed a win to keep their top four hopes alive and they started well when Juan Saladino put them in front and led again at 2-1 via Pierre Disempel.

But a pair of Victor Charlet (pictured) goals and then efforts from William Ghislain and Maxime Capelle swung the game the WatDucks way, winning out 4-2.

They then got the news that Dragons were beaten 2-1 at home by Beerschot with Andy Bull scoring first and last, cancelling out Florent van Aubel's goal.

The result puts Waterloo three points ahead of Dragons with two rounds of matches to play, giving them an important advantage in the race for the first guaranteed EHL spot.

Below them, Royal Leopold hammered Leuven 8-1, meaning they are all but certain to finish in the playoff places with six points between them and fifth place Braxgata. Leuven's relegation was confirmed as a result.

Royal Racing Club de Bruxelles also got a hugely important win when they beat EHL FINAL4 side Herakles 4-3.

Nico de Kerpel had dragged Herakles to a 3-1 lead, netting twice along with one from Irish international Jeremy Duncan. But Conor Harte's corners kept them in the hunt, scoring two before Tom Boon equalised in the 47th minute.

Racing applied all the pressure after that and Harte eventually completed his hat trick with three minutes to go. The result means Herakles' mathematical chance of qualifying for the EHL next season has now ended.

Racing are five points clear of Braxgata – 4-2 winners at Oree – with two games to go meaning they are virtually into the playoffs, too, barring an end of season meltdown against Pingouin.

Euro Hockey League media release


---

Olympic legacy fuels World Cup development boost



The London 2012 Olympics sparked an increase in hockey participation Photo: IOC

The legacy of the London 2012 Olympic Games is evident across many sports but where hockey is concerned the legacy is being taken to the next level with the upcoming Vitality Women's Hockey World Cup London 2018.

With 16 of the best teams in the world descending upon England's capital city this summer, Lee Valley Hockey and Tennis Centre on the Queen Elizabeth Olympic Park will once again become the global hub of hockey, with crowds of hockey lovers cheering themselves hoarse as their teams battle for the title of World Cup winners.

Tickets for England games sold out very quickly, and with less than 100 days to go, tickets for non-England sessions are also proving very popular, particularly at weekends.

At London 2012, the beauty of the hockey event at the Riverbank Arena was the way the crowds got behind every team, no matter who was playing.

As Maddie Hinch said in a recent interview with FIH: "The thought of playing in front of 15,000 people, the majority of whom are supporting England, sends a shot of adrenaline through me."

In London six years ago, teams from across the globe received the same adulatory reception. As a member of the hockey media team at the time said: "It didn't matter who was playing, the entire crowd cheered everyone with huge enthusiasm." But for England Hockey CEO Sally Munday and her team, it was about more than packed stadiums.

"International success drives the visibility of the sport, which in turn fuels a growth in participation. As more people take up the sport, so more talent is discovered."
Sally Munday, England Hockey CEO

The Olympics provided the opportunity to build a hockey legacy for the future and the canny CEO grabbed that opportunity with both hands. "It presented a virtuous circle," says Munday, "international success drives the visibility of the sport, which in turn fuels a growth in participation. As more people take up the sport, so more talent is discovered. For hockey to really secure its future, it had to appeal to the masses and deliver on the pitch."

To maximise its appeal to the masses, England Hockey launched its Five Week Frenzy, a period of five weeks before, during and after the Olympics where clubs across the country hosted turn up and play activities.

Raising the profile of hockey at a time when all the Olympic sports were after public support was a tricky ask but the Big Dribble ensured plenty of media coverage as players, former players, members of the public and celebrities all took a turn at dribbling a giant hockey ball around the UK, including up a few mountains.

England Hockey also secured unique rights to hold engagement events on the Olympic Park before the Olympic Games started, including a media photoshoot featuring athletes and the Princess of Cambridge.

During the Games themselves and including the test events, 630,000 spectators watched hockey.

Volunteers were on hand to take spectators details and signpost them to their nearest hockey club. And this furore of activity has paid off.

There has been a huge growth in numbers of people plating hockey in the UK since 2011. Take just one age group as an example: the 8-13 year-old age group has seen a 85% increase in numbers.

But England Hockey are not an organisation who will rest on their laurels. Beverley Blackburn is Participation Programmes Project Manager and, as she explains, the bar just keeps rising. "We have a target to double the number of people participating in hockey by 2027. The 'Your World Cup Campaign' is based around attracting new people as well as engaging with our current participating base. It encompasses all of the different ways to play and all the audiences we hope to appeal to under one campaign banner linked to the Vitality Women's Hockey World Cup. We have a number of strategies and targets and we are working with clubs and schools to deliver on these."

For Munday, the opportunities to drive interest in hockey to new levels is crystal clear. "The Vitality Hockey Women's Hockey World Cup is another fantastic opportunity for us to drive interest in the sport. Our clubs from all over the country have been amazing engaging with us to maximise this opportunity to increase the profile of hockey and give more and different opportunities to play.

This summer there is going to be more hockey than ever taking place. There are so many ways to get involved – Back to Hockey, walking hockey, summer play nights, flyerz (sessions specially designed for people with disabilities), have-a-go sessions, beach hockey, traditional league hockey, workshops to become coaches or officials.

You name it, our clubs are offering it. The Vitality Hockey Women's World Cup will be another catalyst for further growth and profile for hockey in our country."

FIH site


---

Belgium will be world, Olympic hockey champions by 2024, claims president

By The Hockey Paper



Belgium's Arthur Van Doren won 2017 FIH men's player of the year and rising star

Marc Coudron, president of the Royal Belgian Hockey Association, has boldly predicted that the Red Lions will become European, world and Olympic champions by 2024, with the women's side, the Red Panthers, completing a similar path four years later.

Coudron, at the helm since 2005, has overseen a rapid rise in success for the national team, while the set-up of the domestic league and the geography of the country has helped to maintain standards within the national team.

Now, he says, its time to reap the rewards with trophies.

In an extensive interview with Belgium's Le Soir newspaper, Coudron said: "By 2024, we will be, at least once, champion of Europe, the world and Olympic with the Red Lions. In the ladies, it will be between 2024 and 2028."

Coudron's bold views have weight. Since Belgium finished runners-up at the 2013 EuroHockey Championships, the men's team has shown considerable strength in the world game.

Fifth place at the 2014 World Cup was trumped in spectacular fashion when they won silver at the Rio 2016 Olympics before holding that form to reach the final of the 2017 EuroHockey in Amsterdam.

Since losing out to England in the 11/12th classification match at the 2014 World Cup, the women's team has also shown global muscle, highlighted by reaching last summer's EuroHockey final.

In the last 12 years, association membership has grown from 16,000 to 46,000 in the country.



Belgium have been on upward curve since 2014. (c) Duncan Gray

He said: "There is impressive work that is done daily by the Leagues but especially by the clubs that perform 95 per cent of the work. They do a great job.

"We must therefore continue to offer the best possible tools to our 90 clubs in terms of training, coaching or management. We are sometimes a little directive but it is our role. We must make life easier and especially accompany each club in its daily life."

Coudron also expressed his views on the upcoming FIH Pro League and believed the global tournament would have no impact on Belgium's domestic league structure.

"In the International Hockey Federation, only five or six countries offer a real national championship. These are the Netherlands, Germany, Spain, Belgium, Argentina, possibly England.

"Other countries devote all their attention to national teams. The development of the Hockey Pro League … will have no consequences on the organisation of our domestic championship."

A redesign of the domestic Championship will likely see 20 days of hockey with play-offs, according to Coudron.

He added: "The 12 clubs would be divided into two pools and would play back and forth in the group, before facing, then, once, the six clubs of the other group. Then we would go on with the quarter-finals, the semi-finals and final. But the discussions are still ongoing."

The Hockey Paper


---

Veteran keeper Kumar can play for Malaysia in Asian Games

By Lim Teik Huat



Getting the nod: S. Kumar (left) shaking hands with lawyer Jadadish Chandra as Datuk Seri Subahan Kamal looks on during a press conference in Bukit Jalil yesterday. — Bernama

KUALA LUMPUR: Malaysia's long serving goalkeeper S. Kumar has been given a reprieve and will be allowed to play in the Indonesia Asian Games in August.

The Malaysian Hockey Confederation (MHC) yesterday announced that the International Hockey Federation (FIH) have decided not to penalise Kumar any further than the six months suspension he had served.

Kumar failed a doping test during the Asia Cup in Dhaka, Bangladesh, last October when a small amount of sibutramine – a substance banned by the World Anti Doping Agency (Wada), was found in his urine sample.

Malaysia lost to India 1-2 in the final of the Asia Cup, which was their best performance before Kumar was banned.

For Kumar, it was a relief that he can make a comeback to international duty after what he described as a "lonely" six-month period.

"I was lonely during that period. I had to rent a field to be able to train on my own.

"I had to go to a public gym as I can't train with the national team."

Kumar said it was through the support of family members and everyone involved in the sport that he made it through.

"I am also thankful for the support I got on the social media," he said.

"I feared for the worst when I initially learnt about my situation and I was thinking to retire and take up coaching if I faced a lengthy ban.

"But after consulting with the FIH and our lawyers from MHC, I was told it was not a big offence and I was optimistic I can make a comeback."

Kumar said he had been tested 13 times in his career without any problem.

"But no matter what, the substance was found in my body and I had to take responsibility for it," he said.

"It's also a lesson for me and everyone to be very, very careful with what we consume.

"My spirits remained strong and I hope to fight for a place in the national team for the major competitions to come.

"I am taking nothing for granted although I am experienced and I will give more than 100% effort in training as always," said the 295-cap Kumar, who was once rated as the best goalkeeper in Asia.

MHC president Datuk Seri Subahan Kamal said they managed to prove to the FIH that the consumption of sibutramine was unintentional.

"We did not ask for the B sample to be opened as we have utmost confidence in the FIH to come out with a fair decision.

"His clean record in the 18 years of service for the national team also helped.

"Still, there is negligence on Kumar's side and he already served the reduced sentence.

"We hope he can be accepted back into the Podium Programme as soon as possible," said Subahan.

The Star of Malaysia


---

Defence Force, Paragon top UWI indoor hockey tourney

Shane Legerton of Defence Force and Kristin Thompson of Paragon were the toast of their respective teams enroute to claiming the men and women Open titles in the three-day University of the West Indies Invitational Indoor Hockey Tournament at the UWI Sport and Physical Education Centre SPEC, St Augustine on Sunday night.

In the men's final, Legerton scored a pair of goals in the fifth and 21st minutes, while Javon Woodward (17th), Mickel Pierre (34th) and Shaquille Daniel (40th) added one each to lead Defence Force past Fatima 5-3. Jordan Vieira, who ended the competition with the most goals (12) scored twice for Fatima as well in the seventh and 32nd, and Roshane Hamilton, the other in the 25th.

The women's decider was all about Thompson as she netted a handful, in the third, eighth, 16th, 26th and 36th minutes while her older sibbling, Danielle Thompson got a double (18th and 34th) and Alanna Lewis, one, in the 24th in Paragon's 8-4 defeat of Ventures.

Krizia Layne led Ventures with a hat-trick in the eighth, 21st and 24th to end with the most goals 15th, and Lidsay Williams, the other in the 23rd.

Results

UWI Invitational Indoor Hockey Tournament results:

Sunday:

Semifinals:

Women's Open:

Ventures 5 (Yael Jagbir 2nd, Krizia Layne 17th, Rose-Anne Reyes 27th, Jade Piper 31st, 40th) vs UWI 0

Paragon 4 (Danielle Thompson 1st, Alanna Lewis 9th, Kristin Thompson 19th, 34th) vs Shandy Carib Magnolias 2 (Kaitlyn Olton 13th, 27th)

Men's Open:

Defence Force 4 (Dillon Francis 2nd, Shane Legerton 7th, 30th, Mickel Pierre 17th) vs Paragon 3 (Akim Toussaint 1st, Jabari Perez 32nd, 40th)

Fatima 4 (Jordan Viera 4th, 25th, Jerazeno Bell 7th, Andrew Vieira 17th) vs UWI 3 (Daniel Byer 3rd, Kieron Emmanuel 10th, Kristien Emannuel 35th)

Third place playoffs:

Women's Open:

Shandy Carib Magnolias 8 (Brittney Hingh 11th, 17th, 27th, 35th, Shaniah De Freitas 14th, 23rd, Jessica Lee 19th, Savannah De Freitas 26th) vs UWI 0

Men's Open:

Paragon 6 (Akim Toussaint 4th, Isaiah Scott 9th, Tariq Singh 22nd, Terrence Baptiste 24th, 37th, Joel Daniel 40th) vs UWI 0

Finals:

Women's Open:

Paragon 8 (Kristin Thompson 3rd, 8th, 16th, 26th, 36th, Danielle Thompson 18th, 34th, Alanna Lewis 24th) vs Ventures 4 (Krizia Layne 8th, 21st, 24th, Lindsay Williams 23rd)

Men's Open:

Defence Force 6 (Shane Legerton 5th, 24th, Javon Woodward 17th, Mickel Pierre 34th, Shaquille Daniel 40th) vs Fatima 3 (Jordan Vieira 7th, 32nd, Roshane Hamilton 25th)

The Trinidad Guardian


---

Scottish National League 1 Championship to enter final week



Gary Maitles flies through the air to score for Kelburne – photo by Duncan Gray

The destiny of the first division titles will have to wait until next weekend, both Bromac Kelburne and Edinburgh University have a two-point lead at the top of the men`s and women`s League table respectively, but the celebrations will have to endure for another week.

Grange`s 4-2 win over Hillhead today in a catch-up fixture kept the Edinburgh side`s interest in the championship, but they are still a crucial two points adrift of champions Kelburne.

Although Frank Ryan opened for the Edinburgh side in the second minute, the gitters seemed to take over as it was Hillhead who reached the interval 2-1 ahead. However, Grange dominated the second half, Luke Cranney equalised with a direct shot at a penalty corner, then James Nairn put Grange 3-2 in front with an open play strike. In the closing stages Grange keeper Nathan Doherty saved from the spot, then Joe Waterston secured the crucial three points with a fourth goal.

Meanwhile on Tayside Western Wildcats secured their top four spot with a 2-1 victory over Dundee Wanderers. It did not look so promising for Wildcats` coach Harry Dunlop when the home side held a single goal advantage at the interval.

Wildcats levelled when Andrew McConnell converted a cross from Nikki Homfray, then with six minutes left the same player put his side 2-1 ahead with a powerful drag flick at a penalty corner. However, that was not the end of the drama, Wildcats` keeper Gavin Sommerville was called upon to save from the spot, then in the closing moments Wanderers failed to take advantage of two overtime penalty corners.

Grove Menzieshill returned to winning ways today with a narrow 3-2 win over Uddingston at Tayside but the third placed side had to recover from a single goal deficit at half-time, Brad Hughes scored for the Lanarkshire side from a late penalty corner. The Taysiders recovered their composure with a double from Albert Rowling and Jamie Carnegie getting the other, Jacky Tran replied for Uddingston.

Both Clydesdale and Edinburgh University remain in mid-table after they drew 2-2 at Titwood. Aidan Black opened for the home side after a neat passing move with Danny Cain.  The students then levelled by the interval through Peter McKnight at a quick break.

A driving run by Gordon Amour set up Sean Stewart to put Edinburgh 2-1 ahead, but Clydesdale rallied and Struan Walker smashed in a penalty corner for a share of the points.




Women's National League 1 saw a battle between Grange and Hillhead, sharing six goals, ending the match in a 3-3 draw. This adds to the intensity as both teams are currently neck-in-neck in the league table.

Edinburgh University came to Titwood only needing a draw to clinch the women`s first division crown, but instead fell 2-0 to a well-drilled Milne Craig Clydesdale Western outfit.

The script began to fall apart in only five minutes when Ali Howie, just returned from the Gold Coast, drove into the Edinburgh circle, her initial progress was blocked but she recovered to turn and fire a low shot into the net. Worse was to follow in the opening minute of the second half, Emma McGregor went unchallenged into the circle and calmly slipped the ball past the advancing keeper.

The champions proceeded to pile on the pressure, but the Western defence remained solid and repulsed no fewer than seven penalty corners and several other open play chances. Edinburgh coach Sam Judge gambled by replacing her keeper with an additional outfield player, but still that failed to produce any results.

Wildcats went to Tayside and came away with a 4-1 victory over a youthful Dundee Wanderers and consequently consolidated their third place in table. It was 2-1 for the Wildcats at the interval, Megan Cox and McKenzie Bell were on target with a penalty corner reply from Emily Dark. Wildcats added to their lead after the interval through Molly Godfrey and Catriona Booth from the spot later in the game.

Scottish Hockey Union media release


---

Scottish U16 Club Cup Victory for GHK and Grange



Photo by Mark Pugh

A terrific day of youth hockey at the U16 Club Cup saw GHK win the girls' cup and Grange win the boys' competition.

Boys:

The opening match of the Under 16's Club Cup was the Boys was on Pitch 1 which saw Inverleith get off to a good start with a win over Western Wildcats. There was a minute's applause before the match for Julian Coyle who sadly passed away. The opening goal went to Western Wildcats and it came after good pressure from Inverleith. But a long ball from Wildcats was finished off in style. Inverleith's equaliser was a cracking top corner goal by Charlie Jack just before half time. Jack gave Inverleith the lead with a reverse strike before another reverse strike to make it 3-1. Jack scored his fourth of the match after he pounced on a good save by Wildcats keeper to finish.

The second match was all play with Highland v Inverleith equally as strongminded to gain victory. This was seen firstly by the Highland side, with captain Ian McFadden scoring from a penalty corner, bringing the score to 1-0 in the first 3 minutes. However, Inverleith fought back a minute later with Charlie Jack striking right into the back of the net. Highland scored their second goal, this time Aidan McCann bringing the game to 1-2 as the Hooter goes for half time. The second half saw plenty of actions, goals were just cutting too short, with defence staying strong on both side. It was not till the 29th minute that saw Inverleith score the equaliser with another shot from Charlie Jack, bringing the scoreboard to a draw, ending the game 2-2.

From the opening minutes, it was clear Highland v Western Wildcats was going to be an interesting Club Cup match to watch. 4 minutes in saw captain Ian McFadden perform a drag flick, scoring right into the goal. The second goal for the Highland team came on the 19th minute with Alastair Douglas dribbling right into the D, striking with a reverse stick. Western Wildcats did not take this performance well and fought back, with a great strike from a penalty corner bringing the game to 2-1 to Highland. The Wildcats proceeded to keep fighting scoring with 40 seconds left on the clock. With the final few seconds counting down, Highland gained a corner right on the hooter. Everyone was on their toes at this point, both equally determined to win, Highland strike, however the keeper had a fantastic save keeping the score even and finishing the game in a 2-2 draw.

Pitch 2 saw this action unravel between the two Edinburgh sides, Grange and Watsonians. Grange managed to gain a penalty corner in the first 10 minutes with Lucas Grubb striking straight and bringing Grange into a 1-0 lead. It did not take long for a second penalty corner to be gained for Grange, this time Captain Jamie Croll bringing the team into a 2-0 lead. Watsonians started to show fight, gaining a goal for the side by Ted Porter, however this was not enough for the Watsonians, ending the game 2-1 to Grange.

In the final few games of the day, Grange stepped up and played Perthshire on Pitch 1. In the opening minutes, it was clear that Grange were determined to win this match, with Lucas Grubb striking from a penalty corner bringing the game to 1-0. The game tired throughout, with chances from both teams on goals, however just falling short or wide, causing the score to remain 1-0, going into half time. However, this game quickly picked up pace in the final 10 minutes with goals from Grange's Oliver Paterson, David Macrae and Max Bargeton, finishing the game for a 4-0 victory for Grange.

The final game of the day was Perthshire v Watsonians. The game started slow, with great defence from both sides, leading the score at half time as 0-0. However, the action really kicked off in the second half, with Watsons stepping up to the plate in the 23rd minute with Andrew Hill scoring a belter of a shot, straight into the goal. Perthshire did not take this goal lightly with them fighting back in the final few minutes of the game with Evan Johnston bring in the goal, bring the end score of the match to a 1-1 draw.




Girls:

The battle for the Club Cup win was on for the two Edinburgh rivals, Grange v CALA. With many shots on goal, the keepers were proving difficult to get past for both sides. Both teams stayed focused and held strong defences, resulting in 0-0 at half time. The second half saw the play stronger than before, however it was the commitment of the goalkeepers that was making it unsuccessful goal wise for both sides. A very good match, the score ending in a 0-0 draw.

Grange v GHK, from the get go was one filled with action and strong determination. Ellie Mackenzie started off the action with the opening goal of the match, bringing Grange into a 1-0 lead. The game was back and forth, with both teams having a chance of goal and just falling wide, however it was the second half which saw all the action. Just after half time saw a short corner for GHK, allowing Lucy Williamson to step up and strike a fantastic shot, straight into the goal. Grange fought back with Emma Fraser beating the goalie in a one-on-one play, scoring right into the back of the net. GHK showed their strong determination on the 29th minute, with Lucy Williamson against striking the ball into the D, with Anna Smith finishing it off, taking the overall score to this game a 2-2 draw.

Fjordhus Reivers v Watsonians was destined to see both teams come out fighting and put on a show for Club Cup victory. There was strikes for both side however, the keepers were quick on their toes and were not letting any goals pass them. This proved difficult for both teams who ended the first half goalless. The scoreboard remained the same in the second half, with plenty of chances but a strong defence on both sides. A lot of skills were displayed, however it just wasn't enough and the game ended in a 0-0 draw.

Victory was declared for Watsonians in their battle against Clydesdale with a 3-0 win. The opening goal was in the first 4 minutes, with a cracking shot for Emily Simmers, quickly followed in the 8th minute with Heather Taylor getting it right, bring the score to 2-0. Clydesdale tried to fight back but it was Watsonians who managed to keep their cool, with Rhona Craig scoring the final goal of the match on the 25th minute. Overall, a great game for Watsonians.

Clydesdale provided great pressure however, Erin Lawrence, goalkeeper to Fjordhus Reivers provided great keeping denying entry into their goal. Holly Shepherd brought in the first goal of the game, 8 minutes in with a fantastic strike from top D. There was a great build up throughout this game with a cross in, and Molly Turnbull scoring from deflection. By half time, the score sat at 2-0 to the Fjordhus Reivers, however they came out determined to gain more goals for their scoreboard. This proved the case as the 22nd minute saw Meghan Campbell score a fantastic shot on her reverse stick, going straight into the net. The final goal came two minutes later, with a fantastic drive into the D and crossed to Molly Turnbull who executed the goal perfectly and admirable. This brought the overall success of the game to a 4-0 victory for Fjordhus Reivers.

There was an intense atmosphere between GHK and CALA going into the deciding final match, as there can only be one winner for Club Cup 2018. GHK strike in the opening 4 minutes with a solo run from Ava Smith, passing multiple players to lift the ball past the keeper, scoring a flawless shot. CALA fought back a minute later with a great goal from Ellie Rutherford. As the second half started, the intensity was at an all-time high with the score sat at 1-1. However, a short corner for GHK saw Lucy Williamson strike straight from the top D, bringing the game to 2-1 and an overall win for GHK making them the winners of the tournament.

Scottish Hockey Union media release


---

Coach Lokman: I want my players to get a victory over MBPJ

By Aftar Singh

KUALA LUMPUR: Former champions Bukit Jalil Sports School (BJSS)-Thunderbolt's target was to finish in the top three in the Malaysian Junior Hockey League (MJHL).

But the Sports School struggled in the last few matches and are fifth in the 10-team Division One league with 14 points from eight matches.

They will wrap up the fixtures against last year's league champions Petaling Jaya City Council (MBPJ) at the MBPJ Hockey Stadium today.

BJSS coach Lokman Yahya said they started off well in the league but it was unfortunate that they could not maintain their winning form in the league.

"Two defeats to SSTMI-Thunderbolt (2-0) and SMK Datuk Bentara Luar-UniKL-PJ (3-2) were the downfall of my team," said Lokman.

"Last year, we finished third in Division One but this season we can only finish in fifth place, which is not good for us.

"Most of the teams are much stronger this season and we need to buck up in the knockout stage.

"I want my players to get a win over MBPJ tomorrow.

"MBPJ are no pushovers so the challenge will be on us to get the better of them," said Lokman.

Eight teams – six from Division One and the top two from Division Two – will feature in the quarter-finals on May 2.

The Division One teams to play in the quarter-finals are league champions Tunku Mahkota Ismail Sports School (SSTMI)-Thunderbolt, Anderson-Thunderbolt, Pahang Hockey Academy (AHP)-SSP-Thunderbolt, SMK Datuk Bentara Luar-UniKL-PHJ, BJSS-Thunderbolt and MBPJ.

The Division Two teams are Penang State School Council (MSSPP)-Penang State Hockey Association (PSHA) and Melaka Historic City Council (MBMB) Warriors.

The draw for the quarter-finals will be held today after the two Division One league matches.

The Star of Malaysia


---

HA Appoints New Manager - High Performance Unit

Ben Somerford

Hockey Australia is delighted to announce the appointment of Adam Crane to the position as Manager - High Performance Unit.

Crane joins Hockey Australia after previous roles within rugby union with the Western Force, NSW Waratahs and Rugby Australia (previously known as the Australian Rugby Union).

He was the Team Manager for Super Rugby outfit Western Force and General Manager for National Rugby Championship club Perth Spirit from 2015 to 2017 where he oversaw the off-field planning and coordination for the High Performance department.

He also previously worked in Game Development with the NSW Waratahs and Rugby Australia.

Hockey Australia High Performance Director Toni Cumpston said: "We are delighted to have an administrator of Adam's calibre joining our organisation.

"Adam has vast experience in high performance planning and strategy, having worked within the sporting industry for the past decade and will be a valuable addition."

Crane will be based full-time with the High Performance Unit in Perth at the Perth Hockey Stadium and has commenced in the role immediately.

Hockey Australia media release


---

Pakistan's hockey World Cup winner looking towards India for heart transplant



PHOTO COURTESY: PHF

KARACHI: Pakistan's World Cup winning field hockey goalkeeper Mansoor Ahmed on Monday reached out to India for help in securing a heart transplant — despite years of breaking his rivals' "hearts on the field".

The 49-year-old has been suffering for weeks from complications stemming from a pacemaker and stents implanted in his heart.

Ahmed has been a sporting icon in Pakistan since helping the country win the 1994 World Cup in Sydney with his penalty stroke push against the Netherlands in the final.

"I may have broken a lot of Indian hearts on the field of play by beating India in the Indira Gandhi Cup (1989) and in other events but that was sport," Ahmed told AFP. "Now I need a heart transplant in India and for that I need support from the Indian government."

India-Pakistan ties, including sports and cultural contacts, plummeted after the 2008 militant attacks in Mumbai, which New Delhi blamed on Pakistani militant groups.

Despite the strained ties, Pakistanis are eligible to apply for medical visas to India, renowned for its booming medical tourism industry.

Ahmed — who played 338 international matches, participated in three Olympics and various other high-profile events in a career spanning from 1986 to 2000 — said the visa could be a lifesaver.

"Humanity is paramount and I too would be obliged if I get a visa and other help in India," said Ahmed.

Sport has been one of the few avenues to improve relations between the arch-rivals, he added. "We have had a great rivalry and sports have helped on a number of occasions so that should continue," said Ahmed.

India has suspended most bilateral sporting ties with Pakistan since 2008, with high-profile cricket tours bearing the brunt of the moratorium.

They have, however, continued to play each other in multinational events like the World Cup.

The Express Tribune


---

This Pakistan hockey hero broke Indian hearts on the field, now he wants India to help in heart transplant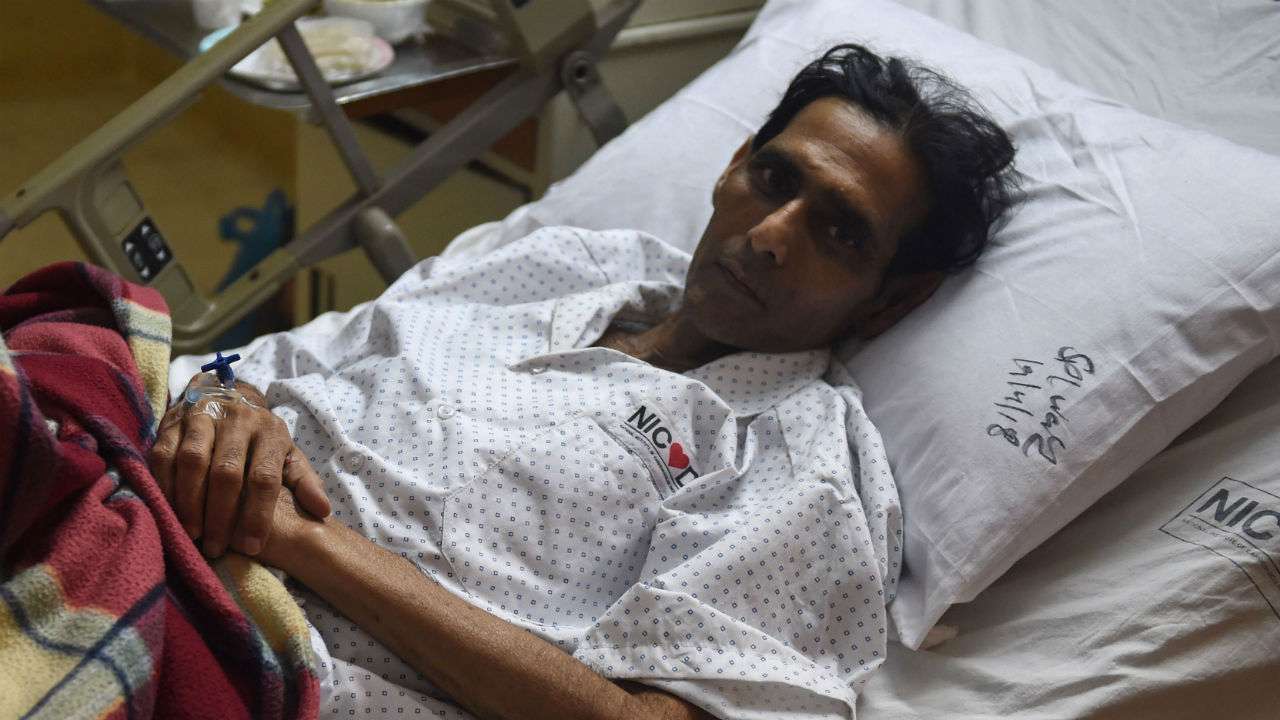 Mansoor Ahmed Former Pakistan field hockey goalkeeper Mansoor Ahmed being treated at a hospital in Karachi

Pakistan's World Cup winning field hockey goalkeeper Mansoor Ahmed Monday reached out to India for help in securing a heart transplant -- despite years of breaking his rivals' "hearts on the field".

The 49-year-old has been suffering for weeks from complications stemming from a pacemaker and stents implanted in his heart.

Ahmed has been a sporting icon in Pakistan since helping the country win the 1994 World Cup in Sydney with his penalty stroke push against the Netherlands in the final.

"I may have broken a lot of Indian hearts on the field of play by beating India in the Indira Gandhi Cup (1989) and in other events but that was sport," Ahmed told news agency AFP.

"Now I need a heart transplant in India and for that I need support from the Indian government."

India-Pakistan ties, including sports and cultural contacts, plummeted after the 2008 militant attacks in Mumbai, which New Delhi blamed on Pakistani militant groups.

Despite the strained ties, Pakistanis are eligible to apply for medical visas to India, renowned for its booming medical tourism industry.

Ahmed - who played 338 international matches, participated in three Olympics and various other high-profile events in a career spanning from 1986 to 2000 - said the visa could be a lifesaver.

"Humanity is paramount and I too would be obliged if I get a visa and other help in India" said Ahmed.

Sport has been one of the few avenues to improve relations between the arch rivals, he added.

"We have had a great rivalry and sports have helped on a number of occasions so that should continue," said Ahmed.

India has suspended most bilateral sporting ties with Pakistan since 2008, with high-profile cricket tours bearing the brunt of the moratorium.

They have, however, continued to play each other in multinational events like the World Cup.

Daily News & Analysis


---

Olympians accuse PHF officeholders of embezzlement, exceeding their constitutional term

Zeeshan Ahmed

In a letter written to the International Olympic Committee (IOC) and International Hockey Federation (FIH), four former hockey players have accused the Pakistan Hockey Federation (PHF) officeholders of financial embezzlement and continuing to stay in power despite being "defunct".

The national team's former coach Khawaja Muhammad Junaid, Olympians Saleem Nazim and Khalid Bashir and former player Syed Ali Abbas, have written to the two global bodies, pointing out how the current PHF regime has exceeded it's constitutional limit of four years.

The quartet claims that the incumbent PHF regime came into power in November 2013 but continue to occupy the office despite their four-year mandated tenure having expired in November 2017.

"Thus, as per constitution there exists no legal body and the present body has become defunct," an excerpt from their letter reads.

They alleged "there is absolutely no check and balance on the finances of the PHF" and that "a number of cash withdrawals have been made by the PHF from the banks without observing formalities."

They also accused PHF President Khalid S. Khokhar of forbidding the congress members from talking about a congress meeting held in January this year, allegedly threatening them with legal action if they failed to oblige.

Junaid and co said that the current regime cannot be trusted to hold free and fair elections, urging the authorities that the new polls be "held under an independent election commission for the sake of fairness and transparency and to avoid favouritism and nepotism."
Sardar slams quartet, tells them to present proof

Hockey legend Hassan Sardar, who is currently the national team's manager, slammed Junaid and co for penning the letter, calling it "an effort to malign Pakistan and the national game".

"The prime minister and president should take notice of this," he urged, while advising the quartet to "present proof or else avoid leveling allegations."

Sardar felt that the letter was a manifestation of disputes with the PHF, although he did agree that "asking for an audit report is everyone's right."

He also claimed that airing of grievances in such a manner was a futile exercise as "the FIH does not have any jurisdiction over Pakistani matters."

Dawn