All the news for Tuesday 16 January 2018

First Hockeyroos-Spain Test Match Called Off

Ben Somerford




The first game in the Australia-Spain Test Series has been called off due to constant rain creating unsafe playing conditions at Guildford Grammar Turf on Monday night.

Heavy rain poured down throughout the Perth metropolitan area during Monday, leaving the pitch in no condition to play.

The technical director, in discussion with both sides' coaches, called the match off one hour prior to the scheduled 6.30pm WST start.

The game was scheduled to be the first of a five-game Test Series between the countries, with the two sides set to meet again at Guildford Grammar on Tuesday night from 6.30pm WST.

The two sides are discussing the possibility of re-scheduling the match although no decision has yet been made.

The Hockeyroos are currently holding a training camp with a view to preparation for the 2018 Commonwealth Games on the Gold Coast in April.

Hockey Australia media release


---

India face Japan in Four Nations Invitational tournament

TAURANGA (New Zealand): Indian men's hockey team will look to make a winning start to the new season when they take on Japan in their opening match of the Four Nations Invitational Tournament here on Wednesday.

India will also play Belgium and New Zealand apart from Japan in two separate Five-Day Series.

With four days of training at the Blake Park and getting used to the conditions here, drag flicker Rupinder Pal Singh expressed confidence of a good start to the new season.

"The mood in the team is upbeat. We have clocked some good sessions on the pitch, now we are looking forward to a good start," said Rupinder who will be leading the team's defence along with Birendra Lakra, Surender Kumar, Harmanpreet Singh, Varun Kumar and Gurinder Singh.

"This being the first tournament of the year, it is important to win some good matches to get the momentum going," he added.

Against Japan, India has a good record as they had begun their successful outing in Men's Asia Cup last year with a 5-1 win against them.

While ensuring India remain unbeaten against Asian teams is one of their goals, Rupinder emphasized on consistent performance especially against teams like Olympic Silver Medallist Belgium who they play in their second match on January 18.

"We did well against them in the Odisha Men's Hockey World League Final Bhubaneswar 2017 but it's important to come up with consistent performance against a team like Belgium in the lead up to major events this year," he said.

"We must ensure our defence is accurate and it's good to have Sreejesh back in the team. His experience is critical against higher ranked teams."

He further said that matches in New Zealand will help him improve his personal game going into an all-important year.

"Personally, for me I am looking to build on my performance both in defence and drag flick from the previous event in Bhubaneswar," Rupinder said.

"That was my first tournament after the injury break and matches here against teams like Belgium and New Zealand will help me assess where I need to improve further ahead of major tournaments."

The Times of India


---

10 Days Until USWNT vs. The Netherlands Series




PALO ALTO, Calif. - Field hockey hits the West Coast in 10 days when the U.S. Women's National Team hosts FIH Hero World Ranked No. 1 The Netherlands at Stanford University. The four-game test series is the first international competition for 2018 as both teams are gearing up for the Vitality Hockey Women's World Cup London 2018 this July.

With 10 days to go, time is running out to grab your ticket to cheer on Team USA in the Golden State! Take advantage of a Full Series Pass or an individual game before it's too late. Tickets for both sections are sold out for the Saturday, January 27 game. All other matches are trending in the same direction.

With a seating capacity of 500 and measuring more than 111,000 square feet, Stanford University's Varsity Field Hockey Turf surface is considered the premier surface. A 2009 renovation campaign featured the addition of lights to the facility.

Tickets start at $7 for children under 18, senior citizens and military, and $14 for adults (general public) for the grass/standing area (Section B). Tickets in the bleachers are $9 for children under 18, senior citizens and military, and $18 for adults (general public) (Section A).

There is an option to purchase full series tickets starting at $15 for (children under 18, senior citizens and military), $30 for adults (USA Field Hockey Members) and $35 for adults (general public).

Discounted group tickets will also be available for each game when 10 or more tickets are purchased for the same match. This is a great option for clubs, middle and high school teams, collegiate programs or any group of friends wanting to experience international field hockey competition together. Contact Glen Hollingsworth at This email address is being protected from spambots. You need JavaScript enabled to view it. with any questions or to purchase tickets for your group!

To help rally the crowd to be big, bold and loud throughout the four-game event, Theme Nights have been established. Click here to view the nights and join in on the fun.

All games will be live streamed on usafieldhockey.com.

CLICK HERE TO PURCHASE TICKETS

USFHA media release
---

USA Field Hockey opening 2018 competition against the Netherlands in California next week

National indoor team names World Cup roster

DIANA PUGLIESE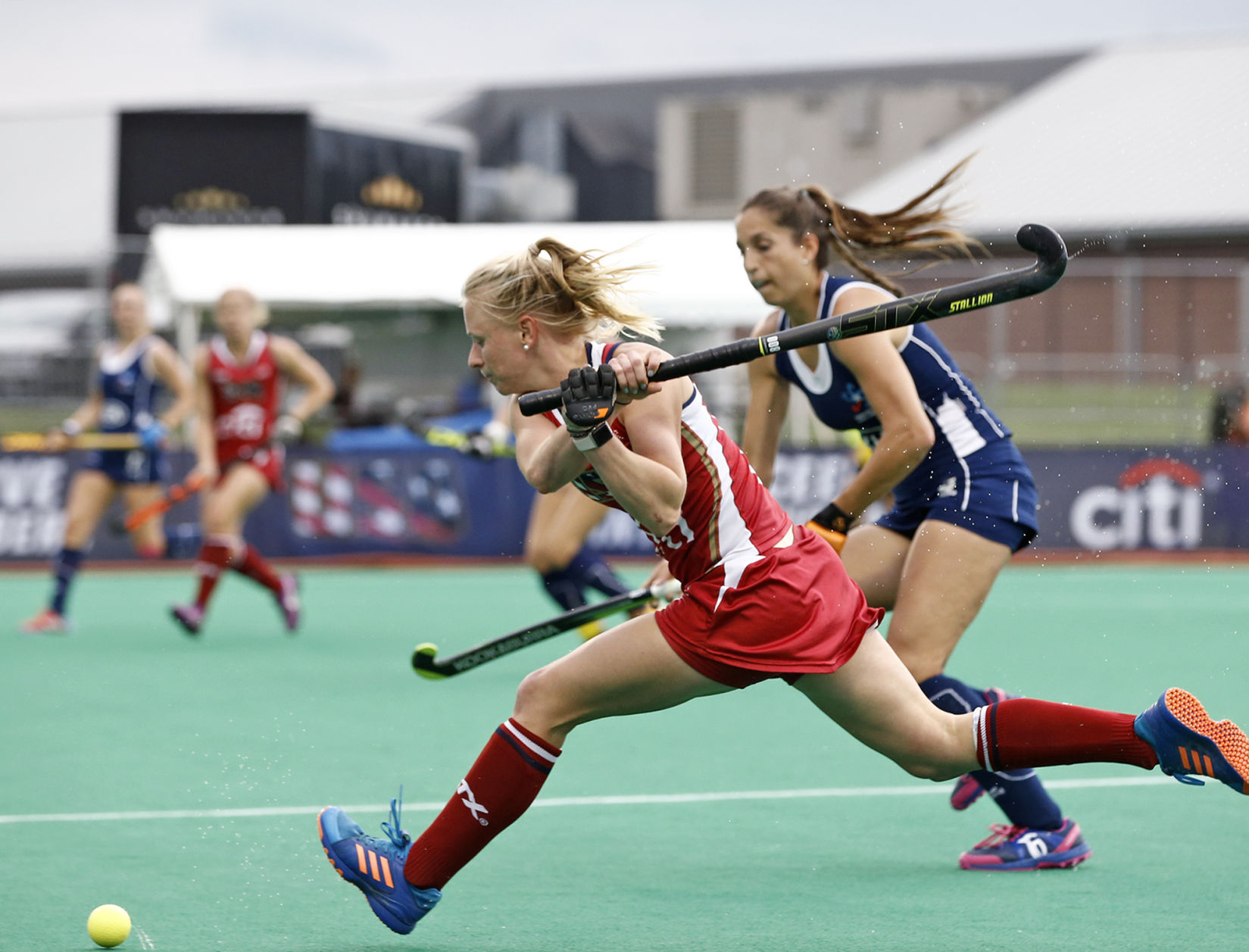 USA's Jill Witmer (10) winds up for a shot against Chile during first half action of a Pan American Cup womens semifinal game at Spooky Nook Sports Complex in East Hempfield Twp. CHRIS KNIGHT

While Lancaster County braces for more cold and possibly snow in the forecast, the U.S. women's field hockey team is ready to retake the field — in California.

After an eventful 2017, Team USA will kick off the year with a four-game test series against the Netherlands at Stanford University starting on Thursday, Jan. 25.

Games will follow on Saturday and Sunday before the series concludes on Tuesday, Jan. 30. All four contests are scheduled for 9:30 p.m. EST and will be streamed live on USAFieldHockey.com.

The series not only gives Team USA the chance to start their preparation for this summer's World Cup against the top-ranked team in the world, but also the tournament's defending champion.

The Netherlands won the 2014 title 2-0 over Australia — the Oranje's seventh World Cup championship — while the U.S. finished fourth.

It wasn't that long ago that the Americans and the Dutch were facing off, as the two squads played twice in the span of a week at two different tournaments in November.

The Netherlands rolled past the U.S. 6-1 at the International Festival of Hockey in Melbourne Australia. FIH No. 7 Team USA was able to slow the Oranje offense a week later in pool play at the Hockey World League Final, but couldn't get on the board in a 2-0 shutout.

The Netherlands went on to claim silver, while Team USA took seventh-place, the program's highest finish at the tournament.
Year ahead

Next week's tournament is just the first step in the Americans training for the World Cup in London July 21-August 5. Here's a quick look at the team's upcoming schedule.

February: The West Coast trip wraps up with a four-game series against Canada at the Chula Vista Elite Athlete Training Center Feb. 21-25.

The teams last met at the Pan American Cup at Spooky Nook Sports in August, playing to a 1-1 draw in pool play. A week later, the U.S. score two goals in the final 20 minutes to earn a 2-1 victory and the tournament bronze.

April: Team USA returns to Spook Nook to host Chile in a four-game series April 9-14.

Chile pulled off the upset the last time the team faced the U.S., scoring in the closing seconds of the Pan Am Cup semifinal to pull ahead 4-3. The final tally pushed Team USA into the bronze medal game for the first time in the history of the tournament, while Chile went on to face Argentina for gold.

June: A month before the World Cup, the U.S. will travel to Argentina to face Las Leonas for a five-game series June 10-17.

Argentina powered past Team USA 4-0 in the pool play round of the Hockey World League Semifinals in Johannesburg, South Africa. The Americans would get the last laugh, however, winning gold on Erin Matson's shootout goal, while Argentina finished fourth.

Indoor World Cup

Women's indoor team head coach Jun Kentwell announced the 12-player roster and two alternates for next month's Indoor World Cup in Berlin last week. Headlining the team is Ali Campbell, who retired from the women's outdoor team in June.

Campbell was named Best Player and Top Scorer at the Indoor Pan American Cup in October, netting her 19th goal to clinch a 2-1 win over Argentina in the gold medal game. Team USA went a perfect 7-0 at the tournament to qualify for the World Cup for the first time.

Also earning spots on the roster are Mary Beth Barham, Samantha Carlino, Sierra Espeland, Sarah Johnson, Annie McDonough, Madison Orobono, Abigail Pitcairn, Samantha Popper, Hannah Prince, Paityn Wirth and Corinne Zanolli. Katherine Gerzabek and Elizabeth Yeager were named alternates.

The U.S., 20th on the FIH's indoor rankings, will open pool play against No. 5 Belarus on Wednesday, Feb. 7 at 4:25 a.m. EST before facing No. 4 Poland at 10 a.m. The second day of competition pits the Americans against No. 12 Kazakhstan and No. 19 Switzerland before the final pool play game against No. 1 the Netherlands on Friday, Feb. 9 at 7 a.m.

The quarterfinals will be held on Saturday with the finals taking place on Sunday. Games will be streamed on the FIH's YouTube channel.

Lancaster Online


---

Euphoria builds up as World XI players begin to arrive

Anwar Zuberi

KARACHI: The euphoria around the arrival of a hockey World XI to Pakistan, which heralds a major breakthrough in the revival of foreign teams' tours here, has built up as the first batch of players arrives on Tuesday.

According to schedule, two players — former legendary penalty corner striker Paul Litjens and Rob Lathouwers accompanied by Sultan Ahmed (manager designate of the World XI) — will be the first to arrive at the Karachi's Quaid-i-Azam International Airport by Emirates Airlines flight EK 608 on Tuesday.

The second batch comprising five players — Phil Burrows, Juan Escarre (playing coach), Grant Schubert, Don Prior and Kyle Pontifex — arrives on Wednesday. With the exception of Kyle, the other four are due to arrive by the same flight EK-608 while the latter will land by EK 600.

As many as 13 players are set to arrive by different flights on Thursday. They include Rob Reckers, Roderick Weusthof, Hidde Turkstra, Roc Oliva, David Alegre, Agustin Bugallo, Nahuel Salls, Diego Paz, Benni wess, Justus Scharowsky, Floris Jan Bovelander, Christian Blunk and Philip Meulenbroek.

The last batch of two players — Matthijs and Santi Freixa — is due to arrive on Friday.

The foreign players belong to the Argentina, Australia, Netherlands, Germany, Spain and New Zealand.

The visiting World XI will play two matches — first at Abdul Sattar Edhi Stadium in the city on Friday and the second at National Hockey Stadium, Lahore on Sunday.

Veteran Dutch star Paul Litjens is the senior most player and was part of the Holland team that featured in the PIA Champions Trophy at the formerly Hockey Club of Pakistan Stadium in 1981.

The first match will be played under floodlit at 8.30pm.

According to tentative itinerary, the Pakistan Hockey Federation (PHF) will host official Hall of Fame dinner on Thursday.

The PHF had already announced names for Hall of Fame. The players who will be honoured include Islahuddin Siddiqui, Shahnaz Sheikh, Akhtar Rasool, Samiullah, Hasan Sardar and Shahbaz Ahmed.

Meanwhile, the stadium is getting a facelift for the much-hyped match that takes place after a long time, a visit by this correspondent revealed.

"Renovation work of player's hostel, rooms inside the stadium is in full swing besides paints and replacement of broken chairs," the director administration of the PHF camp office Waseeq Ahmed told Dawn.

"The hosting of the second match at Lahore on Sunday depends on the fog and the security conditions as Tahir-ul-Qadri has announced countrywide protest from Jan 17," a source confided to Dawn.

"If conditions allow, the second match will be played at Lahore as per schedule but in case of reversal, it will take place at Karachi," the source added.

Dawn


---

Foreign hockey players upbeat ahead of World XI tour to Pakistan

LAHORE - The World XI team members are upbeat ahead of their tour of Pakistan and expressed their delight to be part of the team, which is visiting the country for revival of the game.

The World XI, a mixture of top notch of international hockey , will be touring Pakistan in a few days time, playing its first match at Karachi on January 19 followed by the second and the last one on January 21 at Lahore.

In their video messages made available by the Pakistan Hockey Federation (PHF) here Tuesday, Grant Schubert (Australia), Phillip Burrows (New Zealand) and Diego Paz (Argentina) said: "We are very excited to visit Pakistan for a two-match series and we are very happy to be part of World XI, which comprises best hokey talent. Get ready Pakistan, We are coming. See you soon," they said. The three foreign players said the World XI tour will help in the revival of international hockey . "We look forward to exciting hockey during the matches," they asserted. Grant Schubert of Australia has won gold medals from all the big title events including Olympics, World Cup, Commonwealth Games, three Champions Trophy gold medals and had also honour of winning the FIH young player of the year award. Phillip Burrows of New Zealand played three Olympics, New Zealand's most capped player (343) and top field goal scorer (150), Commonwealth Games silver and bronze medalists. Diego Paz of Argentina is midfielder and has won silver medal from Hockey World League final in 2017.

The Nation


---

Happy to be visiting Pakistan again, says Dutch hockey legend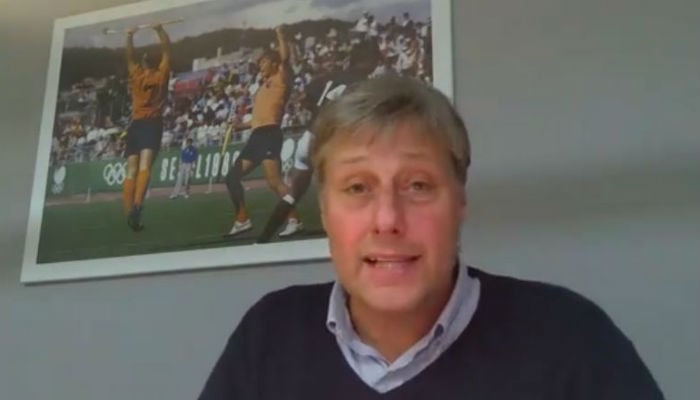 Former Netherlands penalty corner specialist Floris Jan Bovelander shared his excitement regarding coming back to Pakistan as part of World XI tour. Photo: Facebook screen grab

KARACHI: Former Netherlands penalty corner specialist Floris Jan Bovelander shared his excitement regarding coming back to Pakistan as part of World XI tour.

"I am very happy to be back in Pakistan," he said in a video statement shared by Pakistan Hockey Federation.

Bovelander can be seen in the video sitting in his office with a picture of Netherlands match against Pakistan in the background. Pointing towards the picture, he said: "As you can see in office here some good memories from the 90s and the 80s….this one [hanging picture is] from Olympics 1988 playing Pakistan.

"Of course, one of our finest moments in Lahore winning the world cup and beating Pakistan. Four years later, Pakistan beats us in final world cup. Good memories for Holland and Pakistani hockey."

The hockey legend also remarked that he believes that "Pakistan should be always at the top of hockey. Sad to see Pakistan has had some problems keeping up at international level. So, hopefully, with this event and with support from all of us, Pakistan hockey will be back."

He shared that he looks forward to meeting friends and revisiting memories in Pakistan. "Hope this aspires the children, and [proves to be] motivation for youth to get back to hockey." 

Bovelander was a part of the Dutch national squad which secured two gold medals at 1996 Summer Olympics in Atlanta. During his career, Bovelander played 241 international matches for the Netherlands and scored a total of 216 goals.

Earlier, Netherlands' Matthijs Brouwer and Rob Reckers along with New Zeland's Kyle Pontifex and Phillip Ross Burrows had shared their excitement to visit Pakistan.

The World XI will visit Pakistan on a three-day visit during which it will play two exhibition matches against the current Pakistan hockey team. The international players will arrive in Pakistan on January 19.

Geo TV


---

Foreign Players: Hall of Fame Inductees

International hockey is coming to Pakistan after a long time. A star studded World XI with players from the leading hockey nations is coming to play two matches against Pakistan at Karachi and Lahore on January 19 and 21 respectively.

In a remarkable gesture, Pakistan Hockey Federation has arranged a Hall of Fame induction ceremony which will be held in Karachi.
Along with six Pakistani stalwarts, five foreign hockey greats will be inducted in the Hall of Fame.

-Paul Litjens (Netherlands)

The most fearsome penalty corner striker of his time. He played 177 matches with the Dutch national team, scoring 268 goals, an international record he held from 1982 to 2004. Sohail Abbas broke his record.   Member of Netherlands' first ever World Cup winning team of 1973 and also when they first won the Champions Trophy in 1981 in Karachi. Top scorer at 1976 Olympics.

-Floris Jan Bovelander (Netherlands)

Another phenomenal penalty corner expert from Holland. Top scorer at 1994 World Cup with nine goals when Netherlands defeated hosts Pakistan 3-1 in the final, scored two goals in the final. Also has Olympic gold (1996), World Cup Silver 1994.

-Christain Blunck (Germany)

Born in Hamburg, Germany's major hockey centre, hockey was in his blood. Mother Greta Blunck was a German hockey star of 1950s and 1960s.

The highlight of his long international career (1989-98) was the 1992 Olympics where Germany won the gold after 20 years. Blunck played a major role in that triumph — he was declared Player of the Tournament. He also captained Germany and has a silver medal from the 1990 World Cup in Lahore.

-Juan Escarre (Spain)

The midfielder appeared in 256 Internationals. Played in three Olympics. Won silver at 1996 Olympics, World Cup silver in 1998. Captain of the European Nations Cup gold medal winning team  in 2005 and also Captain of the Champions Trophy gold medal winning team in 2004 in Lahore.

-Don Prior (Australia)

Australian is one of the most distinguished Umpires in the game of Hockey:                                                        
He Umpired at Two Olympic Finals 1988 & 1996, and also the World Cup final of 1994 won by Pakistan.

Also pioneered video & computer software for sports analysis including worldwide performance analysis system Sportscode  first used by Australian hockey teams to conduct the first performance analyses that are commonplace today in elite sports. Also worked with the FIH in the preparation of the technology for the third umpire system

PHF Media release


---

Four-nation hockey tournament in Oman from February 13-20

By Ashok Purohit



A file photo of a match between Oman and Japan during the 2017 Asia Cup in Dhaka, Bangladesh in October

The new year is turning out to be a bonanza for sports lovers in the sultanate. Be it the upcoming Al Mouj Muscat Marathon on this Thursday and Friday or the Davis Cup Asia/Oceania Group IV meet at the end of this month to Tour of Oman race and European Tour golf in mid-February, the calendar of top-class sports events in Oman is packed.

And now, add to it a hockey treat as the Oman Hockey Association (OHA) on Monday evening announced the hosting of a four-nation AHF-approved tournament involving Asian heavyweights Pakistan and South Korea, Japan and hosts Oman from February 13-20.

Speaking to Muscat Daily, the OHA chairman, Talib al Wahaibi, said, "We are all set to host a blockbuster international tournament, approved by the Asian Hockey Federation (AHF).

Top Asian nations Pakistan and South Korea, ranked No 13 and No 14 in the world respectively, along with world No 16 Japan, will be playing along with No 32-ranked Oman. It is a big step towards our preparations for hosting the Asian Champions Trophy in October and our team's build-up for the Asian Games Qualifiers here in March."



Action from the 2017 Asia Cup match between Pakistan and South Korea

The OHA chief said, "We have received the confirmation of Pakistan and Japan and are awaiting the confirmation from South Korea. Hopefully, we will receive it soon."

The last time these four nations played together was at the Asia Cup in Dhaka, Bangladesh in October, 2017. Pakistan finished third in the event while South Korea was fourth and Japan came fifth. Oman was last among the eight nations.

At the Asia Cup, Japan had edged past Oman in an eight-goal thriller 5-3 while South Korea had routed Oman 7-2.

According to OHA sources, "It is possibly the first time that three international teams are set to play together with Oman in Muscat."

 The tournament will also help the new national team coach, Tahir Zaman, to have a good look at the boys as he prepares the side for the forthcoming Asian Games Qualifiers. The Asian Games will be held in August in Indonesia.

A total of 11 nations – Bangladesh, Chinese Taipei, Sri Lanka, Indonesia, Iran, Qatar, Thailand, Kazakhstan, Singapore, Hong Kong and hosts Oman – have confirmed their participation in the qualifiers. Afghanistan and Nepal may join the event.

Zaman is expected to begin the national team's camp from January 18 and has called up 38 probables for the first camp.

Meanwhile, the Pakistan Hockey Federation (PHF) secretary, Shahbaz Ahmed, confirmed the visit of the national team to Oman for the event in February.

"The tournament in Oman will start our national team's preparations for the Commonwealth Games, Asian Games, Champions Trophy and the World Cup," said Ahmed on Monday.

Muscat Daily


---

Namibia: Hockey Women Reach New Heights


Namibia's women's national indoor hockey team have been ramping up their training schedule in recent weeks as they prepare to take on the planet's best at the upcoming Indoor Hockey World Cup in Berlin, Germany between 7-11 February 2018.

The preparations have included a number of matches against the continents leading men's indoor teams as they look to challenge themselves ahead of the pinnacle event in Germany next month.

Their qualification for the Indoor World Cup has captured the nation's attention, with national media covering their progress. Read below some of the most recent reports from national media outlet 'The Namibian' who are passionate supporters of the game.

Last month, Namibia women competed at the PSI National tournament in Cape Town, South Africa, where they took part in the Boys Under-18 B Division and comfortably won all their matches.

Their Coach, Erwin Handura, explained that the PSI tournament had gone very well, saying: "We had a brilliant tournament in Cape Town where we played nine games in three days and comfortably won all nine games. It was really good and you could see the mental toughness and the fitness levels of our players were very high. Our tactical awareness was also great and we beat most of those teams with our tactical knowledge of the game.".

Since then the players took two weeks off over the festive season and started training on 4 January again, according to Handura. "Last week we trained four hours per day for three days," he said. "We are quite happy with the fitness levels, but it can still improve. We are doing our fitness tests every Saturday and the players are improving with each week," he added.

The team have a number of matches lined up against men's teams over the next few days. Handura said these matches were crucial and would give them valuable preparation before the World Cup.

"One of the areas we're working on is off-the-ball running and movement in attack and the lines that our forwards have to run because we want to try and create more goal-scoring opportunities for our strikers"
Erwin Handura, Namibia Coach

"We hope to improve our tactics and one of the areas that we are working on is off-the-ball running and movement in attack and the lines that our forwards have to run, because we want to try and create more goal-scoring opportunities for our strikers," he said.

"We have a few games lined up against men's teams like Unam, DTS and combined teams - we are only playing against men's teams because these are the top women in the country which means that there are no other women who can compete against them at this level," he added.

The team will leave for Europe towards the end of January, but Handura will leave early to attend the EuroHockey Championships to get first hand knowledge of their opponents.

"I'm heading off to Prague in the Czech Republic where the European Indoor Championships are taking place, and all the teams that we are playing against at the World Cup will be in action there, namely Germany, the Czech Republic, Ukraine and Russia," he said.

"We are also going to play a friendly match against the Netherlands and all of them will be in action at the EuroHockey Championships so it will be an opportunity for me to see how they play and record the games and study them. When we get to play them at least we will have the upper hand by knowing them while they won't know us," he added.

Last Friday the national women's hockey team continued their unbeaten streak in preparation matches for the Indoor Hockey World Cup after beating a combined men's side 4-2 in their third practise match. Marcia Venter, Kiana Cormack, Dure Boshoff and Jeani Holz scored for the women. Earlier last week they drew 5-5 with Unam before beating the local team 5-4 shortly afterwards.

To read the articles from The Namibian click below:


#HIWC2018

FIH site


---

Tigges bows out with Dutch Euro indoor promotion assured




The Netherlands will return to the top tier of European indoor hockey following their five wins from five in Alanya, Turkey at the EuroHockey Indoor Championship II, going up along with Ukraine.

The reigning World Cup champions were relegated two years ago but they bounced back with a strong performance, starting with group wins over Portugal (3-1), Ukraine (4-1) and Turkey (6-0).

It put them through to the promotion pool and they were all but assured of promotion when they beat Croatia 3-1. Nicki Leijs and Jochem Bakker gave them a 2-0 lead at half-time before Croatia gave them a scare with a few minutes left when Petar Hrsak got a goal back but Max Sweering eased the nerves.

By the time they played next, they were confirmed as moving up and gold was assured barring a heavy defeat to Sweden. The Swedes needed a win, too, to get ahead of Ukraine on goal difference and they started well with Alex Stroby putting them 1-0 in front in the third minute.

Caspar van Dijk and Bakker swapped the lead around and van Dijk then made the game safe in the second half at 3-1.

It was Dutch player/assistant coach Robert Tigges said it was not quite the same level of his previous indoor experiences but it was nice to bow out with the primary target assured.

"We came here with one goal and that was promotion. We have achieved that," he said to hockey.nl, saying it was tough to break down compact defences. "Every opponent buried themselves from the first minute which is not always fun to play against. Fortunately, we have fit and skillful guys and that's why we always got the upper hand."

For Ukraine, they won an all-important 7-5 victory over Sweden, building a 6-0 lead before holding on despite a concerted second half fightback.

Against Croatia, Ukraine fell 2-0 behind in the first half but two goals from Vitalii Shevchuk and goals from Bohdan Kovalenko and Vitalii Kalinchuk swept them up to second place with a 4-2 success.

At the far end of the scale, Portugal finished fifth and Italy sixth while the hosts Turkey in seventh and England in last place were relegated for 2020.

Euro Hockey League media release


---

Cyprus team hail hockey displays



Cyprus gained a historic first international win in indoor hockey, overpowering Greece 4-0 (photo Maria Pericleous)

Nicosia successfully hosted the EuroHockey Indoor Championship III (Men) from January 12-24 at the Tassos Papadopoulos-Eleftheria Sports Hall in Engomi. This national team event of the European Hockey Federation was the first ever international hockey tournament to be held in Cyprus.

Belarus and Slovakia finished in the top two positions and gained promotion to the EuroHockey Indoor Championships (Men) II in 2020. Belarus were superb throughout the competition, winning all six of their matches and scoring a total of 53 goals.

Slovakia were also excellent, losing only once and deserving of the runners-up position. Their game against each other on Sunday determined the overall classification and Belarus were the winners in a very exciting match that ended 5-2.

Scotland claimed third place, following a 4-0 win on Sunday against close neighbours Wales. Having started well, winning their opening two matches comfortably on Friday, Scotland's fate was determined by the two losses they suffered on day two – albeit by tight margins – against the eventual top two finishers.

The host team Cyprus, in their debut indoor appearance and fielding several teenagers, played with a lot of heart and promise for the future. Cyprus gained a historic first international win in indoor hockey, overpowering Greece 4-0.

Captain Tunc Ilgin said after the match: "We're really pleased with the scoreline… to play that level of indoor hockey with the experience we've had is really impressive."

All in all, the players put in a huge effort and in the final game of the tournament pushed Slovakia all the way – briefly giving the Scots some hope – before finally succumbing to a 7-2 defeat.

At the prize-giving ceremony, in the presence of sponsors and dignitaries, the organising committee thanked all the teams, judges, umpires, sponsors and the volunteers who worked tirelessly to make this a fantastic tournament. The top three teams were honoured and individual awards were also given to the best players, all from Belarus.

OPAP Cyprus was the principal sponsor of the event, which was also supported by the Cyprus Sports Organisation, the Cyprus Olympic Committee, the Cyprus Tourism Organisation, Petrolina, Pizza Hut, CIPA, Classic Hotel, APS Athienites Ltd, Euthor, Yiakoumi Partners Ltd, MerinoKnit Ltd, Second Cup, BR HUB and SPP Media (media sponsor).

More information about hockey in Cyprus, and details of the academy for children aged 7-16, can be found on the CHA's website, https://www.cyprushockey.org and on the Facebook page: https://www.facebook.com/Cyprus-Hockey-1620824201465119/.

Cyprus Mail


---

Leinster indoor playoffs stage set with glut of goals

UCD and Railway Union topped their respective groups in the Leinster women's indoor league with perfect records, completing three wins from three each at St Columba's.

For Railway, Hannah de Burgh Whyte was in inspired form with eight goals in two games including six in their 8-1 win over Genesis. They followed up with an 8-2 success against Pembroke.

Glenanne ran up a 10-0 win over Genesis to assure their passage through to the semi-finals as group runners-up having beaten Pembroke in their first group game before Christmas.

For UCD, they got the better of North Kildare 5-2 in their first game on Sunday, adding to their initial 3-0 win over Three Rock. They closed out the group with a big 15-0 win over Avoca.

For second place, the decisive game proved North Kildare's game with Three Rock. Emilie Ryan-Doyle scored twice in a 3-1 win for the Maws side, pushing the Rathfarnham side into third place after their 5-2 win over Avoca.

On the men's side, Three Rock and Railway Union – the two dominant forces in Leinster indoor in recent times – will meet in next Sunday's final (6.30pm) in St Columba's.

Reigning champions Rovers had trailed Pembroke at half-time of their semi-final with Mark Ingram netting a couple of times to build a 4-3 advantage. But five quick goals early in the second half saw Three Rock all of a sudden on course for a 16-8 win.

Railway were too strong for Glenanne, winning their semi-final 9-2.

In Connacht, Galway won their regional indoor competition – the Tighe Cup – with a 4-3 final win over DIT and they will go on to represent the province at the National Indoor Trophy. The competition also featured Greenfields and NUIG.

Women's Leinster Indoor League
Pool A: Railway Union 8 (H de Burgh Whyte 6, A-M Whelan, R Clifford) Genesis 1; Genesis 0 Glenanne 10; Railway Union 8 (K Dillon 2, H de Burgh Whyte 2, O Fox, H Jenkinson) Pembroke 2

Standings: 1. Railway Union 9pts (+14) 2. Glenanne 6pts (+7) 3. Pembroke 3pts (-3) 4. Genesis 0pts (-22)

Pool B:  North Kildare 3 (E Ryan-Doyle 2, E Teevan) Three Rock Rovers 1; Three Rock Rovers 5 Avoca 2 (A O'Malley 2); UCD 5 (A Russell, S Young, S Twomey, E Young, K Egan) North Kildare 2 (E Ryan-Doyle, L Hassett); UCD 15 Avoca 0

Standings: 1. UCD 9pts (+21) 2. North Kildare 6pts (+1) 3. Three Rock Rovers 3pts (-2) 4. Avoca 0pts (-20)

Men's indoor League, semi-finals: Three Rock Rovers 16 Pembroke 8; Railway Union 9 Glenanne 2

Fixtures (Sunday, January 21; all at St Columba's)
Women
Seventh place playoff: Avoca v Genesis, 3pm
Fifth place playoff: Three Rock Rovers v Pembroke, 3.40pm
Semi-finals: UCD v Glenanne, 4.30pm; Railway Union v North Kildare, 5.30pm
Final: 7.30pm

Men's final: 6.30pm

The Hook


---

English Schools Super 6s titles decided



Cranleigh

A fantastic weekend of competition saw the U18 and U16 Super Sixes Finals titles decided with Cranleigh, St Lawrence College, Wellington and Whitgift winning silverware!

In the U18 girls final Cranleigh enjoyed a 4-2 victory over Framlingham College. Hannah de Selincourt and Charlotte Summers had twice put Framlingham ahead but goals from Izzy Petter and a double from Amy Thompson saw Cranleigh lift the crown.

St Lawrence College were victorious in the U18 boys final as they put in an impressive performance to beat Oakham 6-3. Teague Marcano was on target four times for St Lawrence with Harrison Smith grabbing a brace.



Wellington

The final of the U16s girls competition between St George's College and Wellington College was a tight affair. Kitty Baccanello got the only goal of the game as her strike was the difference as Wellington edged the final 1-0.



Whitgift

It was a similar story in the U16 boys final as Whitgift were 2-0 winners over Dean Close. Matt Blood and Spencer Wood were both on target to help guide their side to victory.

England Hockey Board Media release


---

Tough task awaits re-elected KHU boss Randiek

By BRIAN YONGA



Kenya Hockey Union chairman Nashon Randiek. PHOTO | FILE |  NATION MEDIA GROUP

Kenya Hockey Union president Nashon Randiek knows he faces a tough task of raising the standards of the game in the country following his re-election.

Randiek's first term in office was characterised by a continuation of poor performance by Kenya in international competitions, an unstructured league with no sponsors and lack of structures to develop the game at the grassroots.

For these reasons, hockey stakeholders felt that the retired Colonel needed to pave the way for new leadership.

But it seems delegates had other ideas in Saturday's AGM as Randiek floored his only opponent - former Kenyan international and Olympian Inderjit Matharu - by 12 votes to five in the polls held at Parklands Sports Club, Nairobi.

Under Randiek's reign, Kenya finished a disappointing fourth at last year's Africa Cup of Nations and also missed out on World Cup qualification. National teams are still owed allowances dating back to 2013.

While defending his record, Randiek admitted that under his watch, funding proved a challenge for KHU, resulting in financial issues.

"We want to try and reach out to more corporates and also ensure we are self-sustaining so that we don't run into these problems. We want to ensure our players get what is rightly theirs," he told Nation Sport.

Randiek has hinted that KHU will contract the services of a foreign coach to turn around the fortunes of the national team.

"We need an overhaul of the technical bench and bring on board the personnel with the necessary skills to help our national team," he said. Many will be looking to see how KHU will improve on the running of the league which has over the years been run unprofessionally.

For instance, Kenya Police were crowned men's Premier League champions on Saturday with two matches to go, while other teams still have five or six matches left to play.

In Saturday's elections, Mike Malungu and Elyna Shiveka were elected first and second vice president respectively.

Elected KHU officials

President: Nashon Randiek

First Dep. President: Elynah Shiveka

2nd Dep. President: Michael Malungu

Sec. Gen: Wycliffe Momanyi

Treasurer: Godfrey Bila

Dep. Treasurer: Syed Farhat Shah

Match & Fixtures Sec: Jane Nyamogo

Deputy match & fixtures Secretary: Moses Majiwa

Public Relations Officer: Leonard Mutuku

Daily Nation


---

Canadian field hockey community mourns the loss and celebrates the life of Shiv Chopra




Field Hockey Canada was saddened by the news that Shiv Chopra, a tireless contributor to the development of hockey in Ottawa, passed away on January 7, 2018.

Shiv was born in India and graduated from the Punjab Veterinary College before moving to Canada in 1964. He further studied at McGill University in Montreal, earning a PhD in Microbiology, and started a career as a drug evaluator with Health Canada. His professional activities and uncompromising positions in the domain of food safety are well documented, as well as his courageous whistle-blowing in the health sector.

Shiv also brought with him from India his passion for field hockey and he promptly created the Indo-Canada club in Ottawa to encourage young people in the community to play this sport. He also became President of the Eastern Region Association of the Ontario Field Hockey Association (now Field Hockey Ontario).

In 2002, Anil and Sandeep Chopra, Shiv's sons, who had clearly inherited their Dad's passion for the sport and his drive for contributing to the community, created the Nepean Nighthawks FHC, a club that grew quickly and is still going very strong. Shiv was a regular at all events organized in Nepean, an enthusiastic supporter, appreciative of the hockey played by the younger generation and always on hand to give away awards at the end of a day of play.

He was extremely proud when his grandson, Rohan Chopra, was selected to represent Canada at the Junior World Cup in India, and did not hesitate to get up in the middle of the night to watch the matches streamed from Lucknow.

Field Hockey Canada would like to acknowledge Shiv's contribution to the development of field hockey in Eastern Canada, and convey to Shiv's family the sincere condolences of the Canadian field hockey community.

Field Hockey Canada media release