All the news for Wednesday 27 December 2017

O'Brien stars to end Three Rock's decade wait for Neville Cup



Three Rock Rovers with the Neville Cup. Pic: Adrian Boehm

Shane O'Brien emerged as the star performer as Three Rock Rovers snatched the Neville Cup title from under Pembroke's noses at Serpentine Avenue.

He probably did enough in normal time to warrant a mention in the player of the match realm but a trio of shoot-out saves from Irish internationals Kirk Shimmins, Harry Spain and Keith O'Hare secured it.

It helped Rovers win out 3-1 having grabbed an out-of-the-blue equaliser with just 90 seconds of normal time remaining.

For O'Brien, it was a special moment. The 28-year-old goalkeeper has only recently risen through the ranks at Three Rock, moving up from regular outings in the fourth and fifth teams up until a couple of years ago before making a push for the second team.

He was entrusted with the pads for this competition with Jamie Carr and Conor Quinn and has enjoyed a competition to remember, also prevailing via a shoot-out in the quarter-final win over Glenanne.

As such, calm finishes from Conor Empey, John Mullins and Harry Morris saw Rovers edge the shoot-out 3-1 and land the title for the first time since 2007.

Both sides were much changed with Rovers resting a large number of first team players while Gareth Borland taking over coaching duties from Niall Denham who was in Wales.

Pembroke, meanwhile, could not draw upon a half dozen of their Munster players along with Belgian Cedric Mushiete.

As such, the first half took a while to find a shape and ended scoreless, both sides spurning penalty corner openings with O'Brien and his counterpart Mark Ingram making strong stops.

John Mullins and Conor Empey prompted most of Rovers' big attacks while David Kane played a key role in trying to subdue Alan Sothern from wriggling free.

Pembroke, meanwhile, held most of the ball with most of their main chances falling to the influential Jack Ryan. The irrepressible Shimmins, meanwhile, provided the dynamism and drive

The first period ended scoreless, paving the way for a livelier second half. Alex O'Regan's slipped reverse was the closest chance in the 40th minute before Rovers almost gifted Sothern an opener.

A miscommunication from a free out saw Ben McCrea play the ball directly to the striker 14 yards out from goal in the circle. Kane rallied quickly to get enough on the shot to concede just a corner.

O'Brien got a left hand to Sothern's drag-flick from a fifth Pembroke corner to keep the scoreboard blank. Against the run of things, Empey found some space and laid on for John Mullins who got to the right baseline and his intended cross seemingly going in off Ingram's outstretched arm via a defender in the 48th minute.

Pembroke quickly turned things around. Sothern produced an excellent darting run and while it came to a halt with both O'Brien and Kane sliding in to shut him out, Cian Murphy was on hand to slice a classy backhand shot into the roof of the goal.

Ryan looked to have set up Sothern for another moments later with a drifting run and while his cross was sharply up at chest-height, it was nonetheless a surprise to see the prolific striker clip his volley over.

O'Hare put Pembroke in front with 11 minutes to go from a corner when his initial shot was only cleared back to him eight yards out and he pushed powerfully into the net.

That seemed to be the key moment with the final hosts looking in control. But 90 seconds from time, they were caught playing the ball around the back with Empey blocking a pass on the right sideline. He ran forward and was caught from behind by Alan Giles, leading to a stroke which Ross Canning slotted home.

The shoot-out beckoned and Rovers took the laurels to close out a productive 2017 for Three Rock.

Neville Cup final

Three Rock Rovers 2 (J Mullins, R Canning) Pembroke 2 (C Murphy, K O'Hare), TRR win 3-1 on shoot-out

Three Rock Rovers: S O'Brien, P Blakeney, R Canning, C Empey, D Kane, H Morris, J Mullins, L Adams, H MacMahon, B McCrea, R McCollum, M Walker, P Lynch, A Flynn, K Mullins, A O'Regan

Pembroke: M Ingram, W Brownlow, K Crawford, K O'Hare, J Ryan, K Shimmins, A Sothern, H Spain, D Quinn, M Dowse, R McDonald, T Butler, M Treacy, B Schutte, I Cooke, A Giles

Umpires: C Kavanagh, B Bale

The Hook


---

NAVY hold WAPDA, FFC & SNGPL register Victories

NAVY, who surprised the holders PIA a few days back, continued with their good form at the Super Round of the 64th National Hockey Championships in Sukkur.

The sailors drew 1-1 with the strong WAPDA side.

Ali Sher, a regular goal getter for NAVY, once again scored for them while international Khizer Akhtar netted for WAPDA.

The match between two young sides of Sui Northern Gas Pipelines Limited and Customs was also a closely fought affair. SNGPL won 4-2 in the end.
SCORERS:
SNGPL: Zubair, Ghulam Abbas, Ayub Ali & Samiullah
Customs: Farhan & Adnan Babar

Young international Awaisur Rahman, a prolific scorer for the Fauji Fertilisers Company, starred with a hat trick as the FFC trounced Punjab 8-1. Asfanyar, Afaraz Khan,Ilyas, Taimoor Malik and Faizan Alvi were the other scorers for the winners.

Jahangir Ali netted Punjab's consolation goal.

PHF Media release


---

Kookaburras Highlights For 2017

Ben Somerford




The Kookaburras enjoyed a strong year with several titles culminating in the side re-claiming their world number one ranking as they move on from missing out on a medal at the Rio Olympics.

Here we take a look at the highlights from the calendar year…

5. Kookaburras win International Festival of Hockey




Australia came up against New Zealand, Pakistan and Japan in Melbourne in November and barely let up throughout the International Festival of Hockey (IFOH), with three wins and 19 goals in the group. The Kookas had also beaten NZ twice comfortably in Bendigo, but the IFOH decider was a hard-fought affair, with Australia hanging on for a 2-1 victory thanks to goals from Jake Whetton and Blake Govers.

4. Kookaburras qualify for 2018 World Cup




Australia were favourites to account for Egypt in the quarter-finals at the World League Semi-Final in Johannesburg so when they triumphed 4-0 it was no surprise, but the result enabled the Kookaburras to qualify for next year's World Cup in Bhubaneswar. The Kookaburras have a proud history at the World Cup, having won the past two in 2014 and 2010, and always expected to qualify. The achievement was arguably over-shadowed by a certain milestone.

3. The 300-game milestone men




Kookaburras stalwart Mark Knowles and Eddie Ockenden reached exclusive company in 2017, both bringing up their 300th caps for Australia, joining only four others. Knowles brought up his 300th against Egypt at the World League Semi-Final in a 4-0 win over Egypt in July, while Ockenden notched up the milestone in a 2-2 draw with Germany at the World League Final in December. The milestone is an achievement of excellence and longevity.

2. Kookaburras win another Oceania Cup




Australia's commanding 6-0 victory over New Zealand in the Oceania Cup Final in Sydney in October marked 10 straight continental success for the Kookaburras. It was also part of a dominant period of wins over their Trans-Tasman rivals. The Black Sticks were down a few troops, but Australia were outstanding during the tournament, scoring 5-1 and 6-0 wins over the Kiwis, as well as a comprehensive win over Papua New Guinea. Tom Wickham and Aran Zalewski grabbed doubles in the final too.

1. Kookaburras crowned World League champions




Australia re-claimed their world number one ranking after triumphing at the World League Final in Bhubaneswar, with Blake Govers' late penalty corner sealing a 2-1 win over Rio Olympics gold medallists Argentina in the decider. The Kookaburras had drawn all three pool matches, before finding form at the right time in the knockout stages, with wins over Spain, Germany and the Argentines. Govers was a stand-out with five goals, while Jeremy Hayward hit four in trademark style.

Hockey Australia media release


---

Year in Review 2017: Men's hockey team showed promise, but must translate them to performances

Sundeep Misra



India's Sumit Kumar fights for the ball with Germany's Dan Nguyen during their third place play-off of the Hockey World League match in Bhubaneswar. AFP

Recalibration is on the cards. Actually, it's underway; a new act that will dawn on Indian hockey in the New Year. Once the pack assembles back in Bengaluru, team members will understand their roles. It's vital as 2018 is a make-or-break year. How many times have we said that and tried to make sense of it? Yet we plod on, somehow or the other keeping our head above water. Surviving. Like a mountaineer caught in a gale while tethering on the edge of an outcrop.

2018 is the year of the World Cup. Come good at the World Cup in Bhubaneswar and all sins are scrubbed clean. Transgressions, faults, misdeeds of 42 years (India last won the WC in 1975), whatever they maybe, are forgotten. Forty-two years is a long time to hold onto a dream; a dream that one thought was real, guaranteed every four years. But we fell from grace. The world, in a way, had pushed us out of the ring. We were outpunched and wrestled off the mat. We failed to keep pace with the world as it crystallised skill, speed and aggression into a winning formula. Once the leaders of the pack, we found ourselves dazed by a new world, fresh thoughts, and a linear approach to what is a highly technical sport where mind and skill barely get a second to respond. It's been 42 years since we responded.

The removal of Roelant Oltmans, a brilliant mind gone soft over the years, was good enough to keep us running in the middle of the pack. And that's where we are at the moment, at sixth. In a way, it's the worst position to be in — the ones at the top won't yielding while those at the bottom will be pressing constantly. One doesn't know what really triggered the ouster of Oltmans. He was replaced by Sjoerd Marijne, an unknown 43-year-old Dutchman who, in his own eyes, was an "average" player but learnt a lot playing alongside the likes of Jeroen Delmee, Ronald Jansen, Marc Lammer and Piet-Hein Geeris. What also underlines Marijne's pedigree is the fact that in 2007, he was asked by Maurits Hendricks to help him train the Spanish team for the 2008 Beijing Olympics. Spain won the silver. India were not in Beijing as they had not qualified.

Marijne's appointment coincided with India winning the Asia Cup in Dhaka, an important victory but one whose celebrations needed to be guarded. In fact, it was like that. In Dhaka, the players went back to the hotel and slept early. They took an early Jet Flight back to Delhi, were well received at the airport and instantly went home.

Before going on a break, Marijne said, "It will give the team some belief as they have come through a turbulent period in the last six months. But that's not what we are looking for. Indian hockey and the players need to examine themselves and ask — 'what are we looking for? What do we want?'"

Answers are not easy. Since Ajit Pal Singh led the 1975 side to a World Cup win in Kuala Lumpur, captains who came after him have struggled. As the sport fell in popularity and wins dried up, fans, more than the players, couldn't come to terms. They didn't dessert the sport. They watched from the sidelines, once in a while coming to life when India won the continental competitions. Defeats and the occasional win on the international stage continued. Post-mortems happened regularly. Once in a while, epitaphs were written. But the players ploughed on as coaches came and went.

"It's not been easy," Marijne says. "I understand but I cannot do anything about the past. What is in my control I will do that. And at the moment it's re-structuring the team and making them realise their potential and try and finish on the podium in 2018."

Potential has been a dirty word, used and abused by coaches. But you do listen when Marijne talks about it. "I know there is a history to hockey in this country," he says. "But now I have seen these players and I believe they can create something magical."

Moments of magic have sustained India through what has been a winless four plus decades. Like in any other sport, winning or finishing on the podium at the Olympics or the World Cup guarantees a place in folklore. Failure to achieve that was also the reason why Oltmans was shown the door. The quarter-final defeat to Belgium in the Olympics at Rio rankled. Not because we lost, but the manner in which we were out-manoeuvred. And then came the defeat to Malaysia in the Azlan Shah and then the disaster at the Hockey World League in London. Losses to Malaysia and Canada ensured that Oltmans left a bitter man.

It brings us back to 'potential'. If the players with 'potential' couldn't raise their stock under Oltmans, can they under Marijne? Oltmans won Holland an Olympic gold and a World Cup gold, all in the space of two years — Atlanta 96' and Utrecht 98'. Marijne won the Junior World Cup for women with The Netherlands. Maybe, it's also right to talk about his 'potential'. He has he shown enough promise for one to believe him when he says, "India will deliver."

In an environment where coaches like Ric Charlesworth, Terry Walsh, and Tom van Ass have left, what is the guarantee that we will keep faith with Marijne or that his appointment won't be just another short-term project? The results have been mixed so far. If his tactics were spot-on against Malaysia in the Asia Cup, India were under pressure against South Korea. Even in the final against Malaysia, we were sailing before the Malaysians came back to force us on the defensive. And then after a spirited 1-1 start against Australia in the HWL Finals, we fell to England and Germany. The match against the Germans was strange as they controlled possession. But we didn't change the pattern. We kept playing counter-attacking hockey. The argument here is why didn't we go for possession to control the game, avoid unforced errors and not give away the ball constantly in the midfield.

"Germany has been playing like that since I have been seeing them play hockey," said Marijne. "We needed to play something different. We need to score off the chances we get." India had the opportunities but the goals didn't come.

Against Belgium, they played out of their skin. Combining skills and counter-attacks, they kept the Belgians guessing. But big errors let the team down, especially in the defence. "The boys will learn," said Marijne. The question is when, and will it be in time for the World Cup?. India won in the shoot-out, but the match proved that consistency is the major bone of contention.

In hockey, a switchover is a matter of less than a second. The advantages are gone if the defence is caught on the wrong foot or defending in the wrong zone. It happened time and again. But we were not punished. In the bronze medal match, we conceded seven penalty corners. Marijne praised the defece, but the question could be flipped — the defence gave away seven penalty corners. On a good day for Germany, that could be three goals.




The experienced players in the team have already played a total of more than 1400 matches. To be able to put them into another session of changing patterns, tactics and most probably, the thinking process itself will take time and some even may not get it. But roles are being assigned. There has a lot of criticism aimed at Mandeep Singh. He has had his chances, but apart from that opening goal against Australia, there was more smoke than fire, and it's important to remember that Singh has already played 90 matches. S Uthappa has 135 matches under his belt, but in a few matches he was simply the ghost – couldn't be seen.

It's not just about these two, but for India to win consistently, players will have to perform. They need to keep that intensity going. Germany may have lost the bronze medal to India at the HWL but their intensity didn't dim. With just eleven players and a goalkeeper masquerading as a forward, they dragged India all over the pitch. Mark Appel, the imposter upfront even scored when Germany carved out the Indian defence like a turkey on Thanksgiving Day.

The most important lesson of 2017 is that in the New Year, they need to play against the best if they want to beat the best. Marijne's boys need to play Germany, Belgium, Australia and Holland on a regular basis. The demons have to be exorcised. Sreejesh will be back and hopefully Surender Kumar at his fullback position too. Marijne is at his puzzling best when asked about Sardar Singh and his future in the team. If running at breakneck speed gives you a spot in the team, then of course even National 100-metre champion Amiya Malick too stands a chance. Marijne would have noticed that Harmanpreet made errors, that Rupinder Pal Singh was stranded a few times on top of the circle, that Lakra will need more time, that Amit Rohidas needs more exposure while the extremely talented Dipsan Tirkey needs time as well as mentored. But the most vital aspect of the game — control under duress — was missing.

The man who scored the winner against Pakistan in the 1975 World Cup final, Ashok Kumar says, "Sardar is such a player who does a good job in the defence and if we play him in half-line then there is no match to him. His feeding, his sense of passing is beyond imagination. A player cannot imagine what pass he will give. The team should try to utilize the game of Sardar Singh. I would say Sardar is a world-class player, who has the potential to play in any situation."

In the 54th minute at The Kalinga with India-Germany locked 1-1, Harmanpreet Singh finally breaks the defence, slipping in a penalty corner. There is delight as he turns around, fist clenched, baring his teeth in a snarl. In a world where reason seems to be an endangered species, faith helps. For 42 long years, faith has been the glue, sticking random parts together, trying to make it whole. In the year of the World Cup, Sjoerd Marijne and the Indian team might do well to take a leap of faith.

Firstpost


---

2017: A year of disparate halves for Indian hockey

The year for Indian hockey - both men and women - can be divided into a tale of two halves based on their performances.

by Natasha Singh



Indian men's hockey team hit the refresh button mid-year after former coach Roelant Oltmans was sacked. (File photo)

2017 wasn't a very spectacular year for the Indian hockey, both men and women's teams gave mediocre performances that saw them end with sixth and 10th World Rankings respectively. Why we say it wasn't the best of years is because the men's hockey team also began the year at the 6th position while the women's team jumped meager two places from 12th to sit on the 10th spot.

However, the year for Indian hockey can be divided into a tale of two halves based on their performances. India, who were favourites to win the Sultan Azlan Shah Cup, returned with a bronze while the women's team finished at a sad sixth position at the Hockey World League Semifinals. The second half saw structural changes in the teams as India outsmarted others in the Asia Cup to win the tournament for both men and women.

Major tournaments India participated in this year and their results –

Hockey World League Round 2 (Women) – First
Sultan Azlan Shah Cup (Men) – Third
Hockey World League Semi-Final (Men) – Sixth
Hockey World League Semi-Final (Women) – Eighth
Asia Cup (Men) – First
Asia Cup (Women) – First
Hockey World League Final (Men) – Third

Here are the key highlights of the year:

Oltmans sacking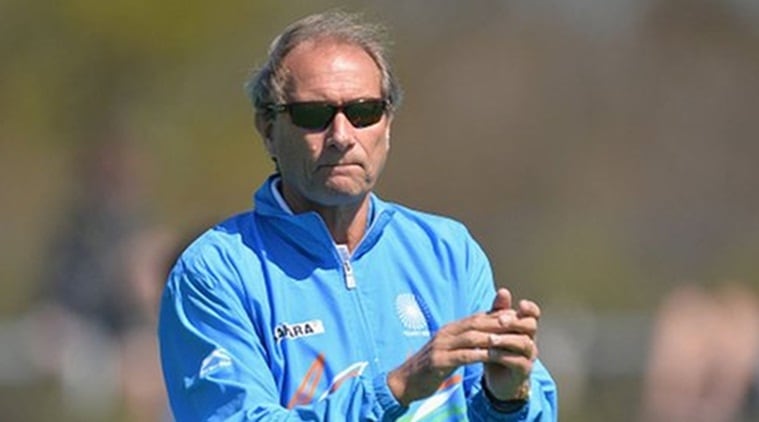 (Source: PTI)

Roelant Oltmans took over as the Indian hockey coach in August 2015 with the intention of succeeding in areas where none of the previous bosses had. This September, he was told in a brief email that his services were no longer required, ending his four-year stint (previously as High Performance Director) with the Indian men's hockey team. The three-day meeting that resulted in the decision was called after India's dismal performance in the Hockey World League semifinal and Sultan Azlan Shah Cup where they finished third.

Marijne, Harendra take over as pros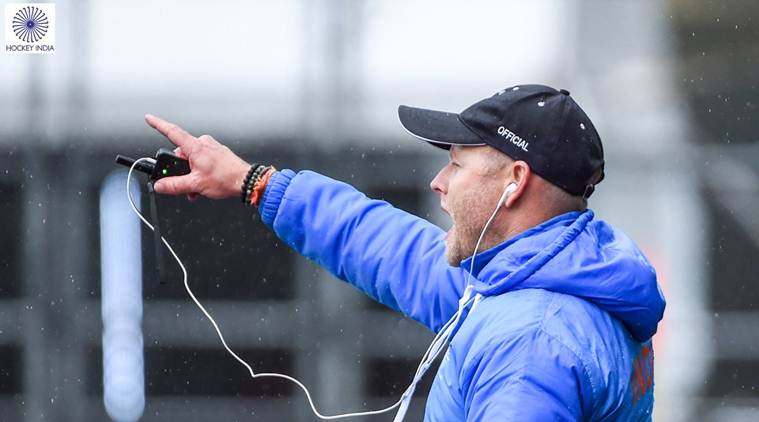 (Source: Hockey India Twitter)

After the ruthless sacking of Oltmans, Dutchman Sjoerd Marijne took over with a difficult task ahead. Meanwhile, junior World Cup-winning coach Harendra Singh, was asked to take over the women's team. Both new-comers Marijne and Harendra faced a similar challenge – delivering results in a short period of time. And oh how they delivered! Both men and women teams emerged as respective Asia Cup champions. Marijne also ended the year by becoming the first foreign hockey coach of an Indian team to finish his first two tournaments on the podium.

Asia champions, World strugglers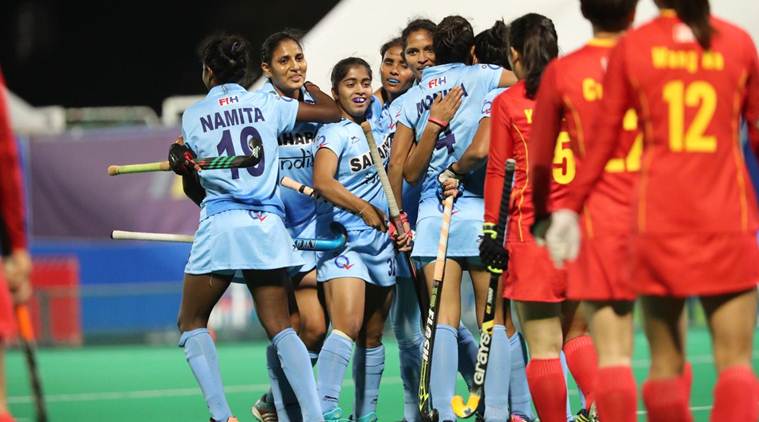 Despite lifting the Asia Cup in October, defeats against Malaysia and Canada saw Indian men's team finishing at sixth position in the Hockey World League Semifinals. But they were still lucky to secure a spot in the HWL Finals on account of being the host country. The men's team was, once again, lucky to clinch the bronze medal against Germany after a tough quarterfinal against Belgium that went in a shootout.

The women's team, on the other hand, were not so lucky as their HWL journey finished in Johannesburg at the eighth position in the semifinals, with a win against minnows Chile.

PR Sreejesh injury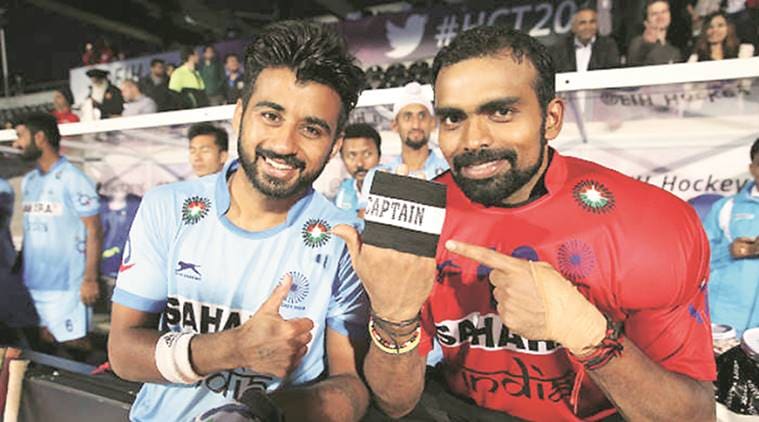 An absence that pinched the men's hockey team the most was of star goalkeeper PR Sreejesh, who suffered a knee injury against Australia at the Sultan Azlan Shah Cup and has been out of action since then. The regular skipper required surgery and is expected to make a return in January, next year.

Controversies that rocked hockey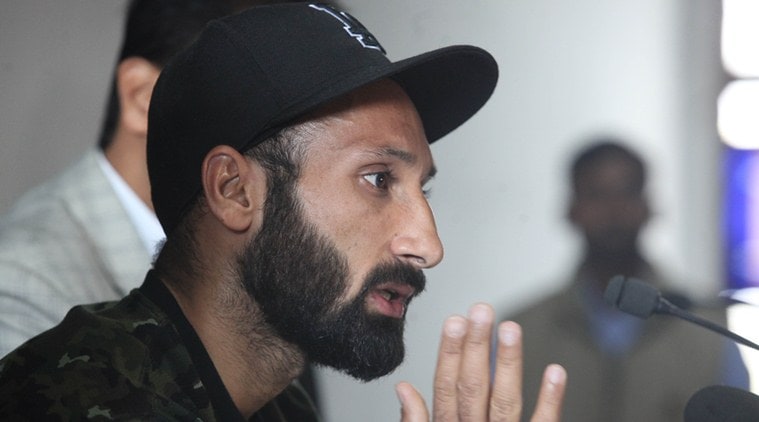 (Source: Express Photo)

Sardar Singh was accused last year in a case of rape and domestic violence involving his then fiancé, a British-Asian hockey player Ashpal Bhogal, including an allegation that he forced her to abort her child. The case came back to haunt the hockey veteran this year when Bhogal filed a police complaint in Leeds and Sardar was summoned for questioning.

Angered by the fact that the local police decided to summon Sardar to Leeds right in the middle of the Champions Trophy, FIH president Narinder Batra had said that this was the British parliament's conspiracy against India. The FIH had to then make an international statement and distance themselves from its chief Narinder Batra's criticism of the UK police.

The drama reached a new level when Hockey India president Mariamma Koshy accused Bhogal of being paid to file the complaint by Pakistan in an attempt to fix the match against India.

Indian Express


---

It's all imagination: What if Indian hockey had traversed an alternative route

By Swaroop Swaminathan



Indian hockey team (File | PTI)

Indian hockey in 2017 was very much like Indian hockey in 2016. And 2015. And 2014. And so on. Support staff were hired and fired like they were working in a Donald Trump White House. Even then, Indian hockey entered into new territory. The top management created a new record by firing three coaches in the calendar year.

After c was sacked because he had been in the job for too long, Sjoerd Marijne was shown the door after disappointments at the Asia Cup in October. They followed that with the appointment of prodigal son Harendra Singh, first job back since leading the juniors to World Cup victory last year. He even set up a new WhatsApp group titled, "Mission: 2018 World Cup." Alas, the honeymoon ended even before it began. After predictably losing the three group games, Harendra's charges also lost in a quarterfinal to Australia to bow out of the World League Final.




The loss prompted the who's who of Hockey India to descend into the bowels of the Kalinga Stadium to hand Harendra the pink slip. Even International Hockey Federation (FIH) chief Narinder Batra, fresh from a facebook rant on the failing standards of hockey coaches, attended the event. He had no connection to HI but nobody seemed to bother. How times change.

In fact, the best day for the country's hockey fraternity came on January 1, 2017. Hopes were high and dreams were built like sequences straight out of Inception. The juniors had just won the World Cup and expectation had reached fever pitch.

Free of baggage and the fear of failure, these players were expected to be parachuted into the first XI. On January 2, people woke up and those dreams collapsed. Oltmans gave an interview and warned the Indian public not to expect too many changes.

Context is king, not

True to form, he delivered. At the first camp of the year, there were recalls to players who had already removed 'India player' from their CVs. Alarmingly, he had not included any of the World Cup 18 into the camp. "They need some time off to come back to Earth," he said in an interview to a media house notorious for twisting quotes. HI summoned Oltmans but he maintained his innocence. "I had only told this paper they 'need more time and will come back into the camp at a later date'."

Even though Batra ha­d nothing to do wi­th HI, he chaired a meeting through Skype to decide Oltmans' fate. #SendOltmansBackToPakistan trended. After a tense fe­w­ days, HI opted to keep Oltmans.
Not for long, though. The team for the Sultan Azlan Shah contained more 30-year-olds and that was enough for HI to ask him to go back to Netherlands.

That paved the way for Marijne to enter the scene. In the first week of March he was informed that he would manage the women's team. A week later, his job offer said, 'in charge of the men's team'. He had no idea how it happened but was delighted. He took the selected squad to Azlan Shah and finished second to Great Britain, who celebrated like they won the World Cup.

"Mates," the England coach later told the press, "I think that allegation (of us celebrating like we won the World Cup) is rubbish. Partly because we have never won the World Cup and hence do not know what it's like to celebrate after winning one." Elsewhere Australia, who went back after finishing last (even behind Japan), retained the coach but sacked the entire team.

India were silently happy with the work Marijne had done behind the scenes after coming back from Ipoh. Young players had been integrated and there was a genuine buzz. So much so that a few of the old guard wrote a letter to HI, complaining about their lack of practice time. The letter, signed by a few of Oltmans' pets, threatened HI of grave consequences but they did not relent. The body came out with a "keep calm and carry on," T-shirt to show their solidarity.

Patriotism boils over

It's that solidarity that came into play after India went down against Pakistan at the World League Semifinal. It was a first def­e­at to the old enemy in 10 ma­tche­s a­nd HI did not like it. "We have to sack him. We cannot be se­en as anti-national," one voi­ce said. Meanwhile, Australia wo­n the whole tournament, a r­inging endorsement for the­ir new approach to crisis­ mana­­gement — sa­ck the team but retain the coach.­ Coach Colin Batch bec­ame an overnight autho­r.

At the Asia Cup, Marijne­'s luck ran out. He again lost to Pakistan and HI sacked him durin­g t­he post-match ceremony. Vince McMahon's No Chance in Hell tune was played by the DJ as HI officials hand him a pink envelope. A second sacking in three months became too much to handle and the Sports Ministry were at odd­s w­ith HI.

So much so that they disrespect­ed their own gag order an­d fi­red a stinging mail to HI — i­f there is one more sacking, we wi­l­l derecognise you. Batra took t­h­a­­t threat­ seriously. So he became the new Sports Minister after making a few phone calls.

Harendra was appointed the new men's coach and his instructions were clear. Win World League Final or risk the sack. He failed and HI were there. Again. With a pink slip. Two days after the tournament, one HI official chanced upon Australia's story of resurgence (they also won World League Final). He got his Eureka moment.

"We have been sacking coaches while they sacked a team. Let's try and do it a third way. We have already sacked the coach, now let's axe the entire team as well," he mailed his senior colleague. "Oh, and belated Merry Christmas." An automatic out of office reply landed in his inbox.

(The above article a piece of satire and is not intended to offend anyone. All quotes are imaginary It should be taken in the right spirit.)

New Indian Express


---

Pakistan back to wow hockey fans

KUALA LUMPUR: Pakistan will be back to grace the 27th edition of the Sultan Azlan Shah Cup from March 1-10.

The three-time champions missed this year's tournament and their return is not only good news for hosts Malaysia – but for hockey in Asia as well.

Perak Hockey Association secretary M. Selvakumaran said they have invited Pakistan because they can create more excitement for the sport in Asia.

"Pakistan and India are arch-rivals and they give more than 100% when they clash in a tourney. They're crowd pullers as fans want to watch the exciting dribbling skills of their players," said Selvakumaran, who is also the tournament's organising secretary.

"Pakistan's presence also benefits Malaysia as we're drawn in the same group, along with India, for next year's Commonwealth Games (Gold Coast, Australia, April 4-15)."

Next year's Sultan Azlan Shah Cup will be a seven-team affair instead of six as was earlier announced.

Apart from Pakistan and Malaysia, the other teams comprise world No. 1 Australia, world No. 2 Argentina, India (world No. 6), England (No. 7) and Ireland (No. 10). Malaysia are ranked world No. 12.

Pakistan, who won the tournament in 1999, 2000 and 2003, are the lowest ranked side at No. 13.

The Sultan Azlan Shah Cup will be Malaysia's first assignment as they prepare for the Commonwealth Games and Asian Games in Jakarta (Aug 18-Sept 2).

In the Commonwealth Games, Malaysia are drawn in Group B with India, Pakistan, England and Wales. Group A comprises Australia, New Zealand, Canada, South Africa and Scotland.

The Star of Malaysia


---

World XI hockey team to tour Pakistan in January: PHF

Pakistan Hockey Federation (PHF) President Khalid Sajjad Khokhar announced on Tuesday that a World XI hockey team will be touring Pakistan from January 18 to 21 to play a two-match series against Pakistan's senior team.

Khokhar said while addressing a press conference in Lahore that the World XI will play one match each in Karachi and Lahore during the four-day visit.

He said the foreign team was previously scheduled to visit Pakistan from January 10 but the tour was moved forward for eight days to ensure the availability of the players.

"The foreign team, which is a blend of world's known hockey players, will be playing its first match at Abdul Sattar Edhi Stadium in Karachi on January 19," he said.

He said the team will play its second match on January 21 in Lahore. "Karachi's match will be played under light and the match in Lahore will be a day affair," he added.

Khokhar said the World XI will comprise players from Australia, Germany, Holland, Belgium and Spain. The PHF chief said the tour of the World XI will be a step forward to bring back international hockey to Pakistan and to organise the Pakistan Hockey League in April next year in a befitting manner.

The World XI will comprise 15 to 16 players, he said, adding that Pakistan's former hockey captain Sohail Abbas will also be part of the World XI.

"The government has issued a no objection certificate for hosting the World XI," he added.

Dawn


---

World hockey XI to tour Pakistan from Jan 18

LAHORE - Star-studded World hockey XI will be touring Pakistan from January 18 to 21 to play two-match series against Pakistan senior team.

This was stated by Pakistan Hockey Federation (PHF) president Brig (r) Khalid Sajjad Khokhar, while addressing a press conference along with PHF secretary Shahbaz Ahmed Senior and Transmedia head Rao Umar Hashim here on Tuesday at National Hockey Stadium.

Brig Khokhar said that the World XI will play one match each at Karachi and Lahore during its four-day trip. He said the foreign team was scheduled to visit Pakistan from January 10 and the tour has been put forward for eight days to ensure the availability of the players. "The foreign team, which is a blend of world's renowned hockey players, will be arriving Karachi and will play its first match at Abdul Sattar Edhi Stadium on January 19," he said.

He said the team will play its second match on January 21 at Lahore. "Karachi's match will be played under lights and the match at Lahore will be a day affair," he added.

The PHF chief said a special function of nomination of world's former top notch players for the 'Hall of Fame' will be held at Karachi and a number of foreign and home players will be honoured with their induction in the 'Hall of Fame'.

"The prime objective of induction of players in 'hall of fame' is to develop a new culture in Pakistan hockey and to give recognition to those foreign and home players, who excelled in the game at the highest level," he said adding, "it will be big step forward to motivate the youth to take up hockey as a sport and to revive the game in Pakistan ," said Khokhar.

The PHF president said tour of World XI will portray a soft image of Pakistan , sending a positive message to the world that the country is a safe place for staging elite sport events.

To a query, Khokhar said the World XI will be comprising players from Australia, Germany, Holland, Belgium and Spain. He said the tour of World XI will be a way forward to bring back international hockey to Pakistan and to hold the Pakistan Hockey League (PHL) in April next year in a befitting manner.

"With the tour of World XI , we will be enhancing our organisational capabilities and allied aspects in order to host the PHL in a professional way.  The World XI will be comprising 15 to 16 players. Pakistan's former hockey captain Sohail Abbas will also be part of the World XI ," he added.

"The government has issued NOC for hosting the World XI and the PHL and we will be generating necessary funds from the sponsors for holding both the events in a trend setting way," said Khokhar.

Rao Umar Hashim of Transmedia said that hockey is a dying sport in Pakistan , which badly needs the attention of sponsors and business houses. "The World XI tour will infuse a new life in hockey as it has its significance in many ways as it will motivate the youth to play hockey and will help in unearthing new talent and to add to the ability of PHF for holding PHL in a professional.

He said they have come forward to market this event to join hands with PHF for achieving a sole objective of reviving hockey in which Pakistan is struggling both at home and abroad due to poor performance of the team which is at a low ranking of world number 14th," he added.

The Nation


---

World Hockey XI to tour Pakistan from Jan 18

LAHORE: A galaxy of former and current hockey legends from around the world is set to entertain fans in Pakistan as the Pakistan Hockey Federation (PHF) has confirmed the arrival of a World XI hockey team next month to a play series of two matches against Pakistan. On sidelines of the World XI tour, 'Hall of Fame' will also be organised to honour former greats of the game from Pakistan, Australia and the Netherlands. An official of the PHF said Tuesday that the World XI team would have players from Netherlands, Spain, Australia, Germany, Belgium and Argentina. "They're arriving on 18th of January to play the first match in Karachi on 19th and second in Lahore on 21st," added the official. The PHF is hopeful that the arrival of hockey stars from around the world will not only open the doors of international hockey to Pakistan but it will also provide a much-needed boost to the national sport in the country.

The World XI team visiting Pakistan includes Rob Reckers, Roderick Weusthof, Philip Meulenbroek, Hidde Turksta from Netherlands, Santi Freixa, Juan Escarre, Roc Oliva and David Alegre from Spain, Grant Schubert from Australia, Benni Wess and Justus Scharowsky from Germany, Emmanuel Stockbroekx from Belgium, Augustin Bugallo, Deigo Paz and Nahuel Salis from Argentina. Dutch player Rob Reckers, a three-time Champions Trophy gold medalist, was also part of silver medalist Athens team of Netherlands at the Athens Olympics. Roderick Weusthof won a silver medal in the 2012 London Olympics, he also won a gold medal in the 2006 Champions Trophy with the Dutch team. 29-year-old Hidde Turksta is among players who are currently in action, he also represented the Dutch team in the 2016 Olympics.

Spanish Santi Freixa, David Alegre and Juan Escarre were members of Spain's team that won the Champions Trophy gold medal in Lahore in 2004. Freixa and Alegre, along with Roc Oliva, had also won a silver medal at the Beijing Olympics 2008. Australian Grant Schubert, who was named FIH young player of the year in 2003, has six gold medals to his credit. He was a member of the Australian team that won Champions Trophy in 2005, 2008 and 2009. He also won a gold medal in 2004 Athens Olympics, 2006 Commonwealth Games and 2010 World Cup. Germany's Benni Wess won two consecutive Olympic gold medal with his team, first at Beijing in 2008 and then at London in 2012. 37-year-old Justus Scharowsky was a member of the 2007 Champions Trophy team for Germany. Emmanuel Stockbroekx was a member of Belgian Hockey team that won the Silver medal in Rio Olympics 2016. There will be Hall of Fame awards for legends of the game and for that Paul Litjens, Floris Jan Bovelander and Rob Lathouwers from Netherlands and Don Prior and Ric Charlsworth from Australia will arrive in Pakistan.

"The prime objective of induction of players in the Hall of Fame is to develop a new culture in Pakistan hockey and to give recognition to those foreign and home players who excelled in the game at highest level," the PHF spokesman added. He said the tour of World XI would portray a soft image of Pakistan sending a positive message to the world that Pakistan is a safe country for staging elite sport events.

The Daily Times


---

Women's hockey: Head coach Saeed Khan given clean chit in harassment case

By Nabil Tahir

KARACHI: An inquiry committee set up by the Pakistan Hockey Federation (PHF) to investigate the harassment case of women's team goalie Syeda Sadia at the hand of head coach Saeed Khan has found the latter innocent.

Furthermore, the committee has recommended a one-year ban on Sadia for making false allegations, and also suggested to ban the eye-witness presented by her, Iqra Javed, for the same period.

The committee has sent the report to the PHF on Tuesday.

Iqra, who supported Sadia's claim, was proven wrong on the basis of another eye-witness, the PHF women's wing secretary Tanzeela Aamer, who came forward to support Saeed.

Earlier, Sadia, while recalling the event said she that was attending a dinner being hosted for players at the hockey federation's facility in Lahore when the team coach, who had been "glaring at her throughout the night", asked her to step outside the dining hall.

Once outside, Khan allegedly spoke to Sadia in a harsh tone and he allegedly raised his hand to hit her as well.

It was at this moment, Sadia said, that Tanzeela walked out, saw the altercation, and stopped Khan from hitting her.

"Tanzeela ma'am then went back to the dinner. I ran back to my hostel room and he [Saeed] followed me there," Sadia said.

Iqra was in the room at the time, and Sadia alleged that once in the room, Saeed grabbed her arm and threatened to ban her — and Iqra, when she tried to stop him — if they spoke out against him.

She wrote to the Punjab Sports Minister, Jahangir Khanzada, and the PHF the day after the incident, detailing what happened and demanding that action be taken against Saeed.

The International Olympic Committee (IOC) also took notice and asked the Pakistan Olympic Association (POA) to inquire the matter.

Now the ball is in the PHF's court to decide if the players will receive the ban or not.

The Express Tribune