All the news for Wednesday 25 December 2017

Pakistan beat Brunei in Women Asia Hockey Challenge

LAHORE - Young Hamra Latif struck a hat-trick to guide Pakistan thumping 4-0 victory over hosts Brunei in the Women 's Hockey Asian Challenge in Brunei 's capital Bandar Seri Bagawan on Tuesday.

According to information made available here by the PHF, Hamra scored all her three goals in the first half and set up the team's thumping win. Two goals came via open play while she completed her hat-trick on the cusp of half time with a penalty corner conversion.

Pakistan added one goal in the second half. Ambreen Arshad cashed on a penalty stroke. After the completion of the first round of the double league, Hong Kong China lead the three-team competition, having won both their matches. Pakistan are second with one win and one loss. Pakistan next play Hong Kong China tomorrow (Thursday).

The Nation


---

Green Army Put 6 Past Scotland




Ireland took control right from the off and dominated possession on a slow surface due to the persistent rain falling in Banbridge. The first goal came in the 10th minute after a glorious ball from Chloe Brown found Naomi Carroll who beat the last defender and slotted home to give Ireland the lead. In the 14th minute with the clock counting down to end the quarter, an Irish turnover on the half way line, resulted in Gillian Pinder accelerating and laying off to Emma Russell at the top of the circle and she finished with a great strike anto give her side the 2-0 lead at the end of the quarter.

The second quarter saw some dazzling skill by Jessica McMaster weaving her way into the circle for Kate Lloyd to finish. The first PC of the game was for Scotland in the 25th minute but their effort was wide. Ireland had their first PC in the 27th minute which lead to a series of 3 and it was third time lucky as Zoe Wilson had an easy tap in after Roisin Upton's drag had been saved.

The 3rd quarter was dominated on the whole by Scotland who forced 4 penalty corners in the period. Their first goal came from a penalty stroke slotted away by Bruce and an expertly taken PC drag to Emma Buckley's left made it 4-2 to Ireland at the end of third quarter.

The first half of the final quarter was again dominated by Scotland but Buckley, earning her first senior international cap, did well on a few occasions to clear the danger. Ireland put the game out of Scotland's reach was Aisling Naughton's cross for Lloyd went straight in off the Scottish keeper in the 54th minute. The final goal came when Brown finished nicely to make it Ireland 6-2 Scotland.

Speaking after the game, head coach Graham Shaw praised his young side with an avergae age of just 21 "We are happy with that performance and result. I thought we had some very good attacking play and to score 6 goals at international level is always pleasing".

Ireland play their final game of the three match series at Stormont tomorrow Wednesday 25 October at 12.30

IRELAND 6 (Naomi Carroll, Kate Lloyd, Zoe Wilson, Emma Russell, Aisling Naughton, Chloe Brown)
SCOTLAND 2 (Fiona Bruce, Rebecca Condie)

Ireland starting XI: Buckley (GK), Naughton, McMaster. Tice, Carroll, McLoughlin, Pinder, Upton, Wilson, Duke (Capt), Curran

Bench: Cassin (GK), O Byrne, Lloyd, Brown, Getty, Russell, Meeke

Scotland starting XI: McMurray (GK), Ward (Capt), Dark, Robertson, Cuthbert, Belch, Brown, Mack, Holmes, Condie, Lanigan.

Bench: Camlin (GK), Cruickshank, Newlands, Swanson, Watson, Bruce, Burnet

Irish Hockey Association media release


---

Scotland beaten in Banbridge



Scotland v Ireland on 6th November 2016 – Photo by John Preece

A spirited second half performance was not enough to claw back a result for Scotland women against a clinical Ireland in Banbridge. The second match of the three-game series, the first of which ended 1-1, saw the Scots lose 6-2 after being 4-0 down at half time.

The game got underway at a wet Banbridge and it was Ireland who started off on the front foot.

The contest was five minutes old when Kate Lloyd broke into Scotland's circle but she was met by some good defending and Scotland effectively cleared the danger.

It was the home side who struck the opening goal and it came when a nice pass by Chloe Brown found Naomi Carroll in the Scotland D, Carroll rounded the last defender and scored with 11 minutes played.

Then at the end of the first quarter Emma Rusty was on hand to put Ireland 2-0 up at the first break.

Early in the second quarter and Ireland took advantage of a green card being shown to Kareena Cuthbert to score a third. Scotland hadn't organised when Lloyd hit the net after Jessica McMaster weaved her way past challenging defenders to make it 3-0.

It then went to 4-0 when Zoey Wilson scored an easy tap in after a drag flick was saved at a penalty corner.

Scotland came close to pulling one back before half time through a penalty corner routine. Emily Dark went searching for Fiona Burnet but her deflection went wide of the mark.

The third quarter got underway with Scotland dominating territory early doors.

The Scots piled on the pressure from a series of penalty corners. It was the third penalty corner that was made to count as the umpire awarded Scotland a stroke, which Fiona Bruce converted to make it 4-1 on 39 minutes.

Just two minutes later and Scotland fashioned a good chance for Lorna Cruickshank, a pass zipped across goal but was put just wide by Cruickshank at pace.

It was from another penalty corner that Scotland scored a second goal. This time a sublime drag flick to the keeper's top left by Rebecca Condie hit the back of the net to pull it back to 4-2 to Ireland.



Scotland v Ireland in 6th November 2016 – Photo by John Preece

The goal brought to a close a quarter completely dominated by Scotland and set up an exciting finale in the rain of Banbridge.

Scotland nearly pulled another goal back early in the final quarter when they took advantage of Irish errors in defence, but Charlotte Watson fired wide of the target.

Then a turnover gave Lucy Lanigan a chance to score but Emma Buckley and Roisin Upton combined to clear the danger.

As Scotland threw caution to the wind to find an equaliser it was Ireland who scored in the final five minutes to put the game to bed. Aisling Naughton crossed the ball to find Lloyd to finish the contest despite the best attempts by Lucy Camlin in goal.

With the seconds ticking down Ireland added a sixth through Chloe Brown to finish the scoring and win the match 6-2.

Scotland women's Head Coach Gordon Shepherd said, "Ireland deserved to win the match, we had a poor first half and were punished for it. The players showed great character in the third quarter to play their way back into the match, and we had chances to score more, but we got picked off on the counter attack a couple of times at the end.

"There's a lot of young players in the team so this will be a learning experience, and there are definitely positives to take from the character shown by the players in the second half. We know where we need to improve for the next match."

Scottish Hockey Union media release


---

Young Ireland side hit Scotland for six



Ireland's women won 6-2 at Banbridge. Pic: Adrian Boehm

A brilliant first half performance powered a youthful Ireland to a 6-2 win over Scotland at Banbridge in their second of three test matches this week.

Cork Harlequins' Emma Buckley became the third debutante of the week, following teenagers Sarah Torrans and Hannah McLoughlin into the team.

She was among a series of changes with Aisling Naughton, Kate Lloyd, Chloe Brown, Ali Meeke and Emma Russell coming in with Katie Mullan, Rebecca Barry, Sinead Loughran, Clodagh Cassin, Sarah Torrans and Lizzie Colvin stepping out.

They saw Ireland race into a 4-0 lead in the first half. Naomi Carroll got the ball rolling from Chloe Brown's pass before Emma Russell added a second 14 minutes in. Kate Lloyd scored her first international goal after Jessica McMaster weaved through to set up the chance.

Zoe Wilson tapped in the fourth following a series of corners. Scotland pulled two back from set pieces in the second half with Fiona Bruce and Rebecca Condie on the mark.

But Ireland finished with a flourish with Aisling Naughton's cross taking a defensive touch to be turned in before Brown completed the scoring with three minutes to go.

The win adds to Sunday's draw and the two sides will return to Stormont on Wednesday afternoon for a 12.30pm closing.

Speaking after the game, head coach Graham Shaw praised his young side: "We are happy with that performance and result. I thought we had some very good attacking play and to score six goals at international level is always pleasing".

Women's senior international test match
Ireland 6 (N Carroll, E Russell, K Lloyd, Z Wilson, A Naughton, C Brown)
Scotland 2 (F Bruce, R Condie)

Ireland: E Buckley, A Naughton, J McMaster, L Tice, N Carroll, H McLoughlin, G Pinder, R Upton, Z Wilson, D Duke (Capt), E Curran
Subs: C Cassin, Y O'Byrne, K Lloyd, C Brown, E Getty, E Russell, A Meeke

Scotland: D McMurray, B Ward (Capt), E Dark, K Robertson, K Cuthbert, K Belch, M Brown, R Mack, Holmes, R Condie, Lanigan.
Subs: L Camlin, L Cruickshank, E Newlands, L Swanson, C Watson, F Bruce, F Burnet

The Hook


---

Golden Sticks edge out Kenya




The Ghana national female hockey team yesterday came from behind to beat Kenya 2-1 in their opening match of the 2017 Africa Hockey Cup tournament underway at the Suez Canal Hockey Stadium in Ismailia, Egypt.

It was deputy skipper Nafisatu Umaru who turned heroine for Ghana when she brilliantly converted a short corner in the 54th minute for the match winner.

Her strike followed an earlier goal by Serwaa Boakye from a short corner in the 46th minute, which brought the Golden Sticks at par with Kenya who had taken the lead in the 26th minute through Juma Ali, after a goalmouth melee.
Advertisement

Kenya, who went down 5-0 in their opening match against South Africa last Sunday, were full of fight when the match started and took the game to Ghana in an attempt run over them. Ghana responded quickly with quick ball control and passes, pinning their opponents to their half, but failed to convert the chances created.

The two teams continued to attack each in both the first and second quarters of the game but failed to convert their scoring chances. Moments after the third quarter got underway, Kenya struck home the ball during a goalmouth melee. But the Ghanaians fought back strongly as Nafisatu marshalled her teammates to take the fight to their opponents.

In the 54th minute, the Golden Sticks earned another short corner and Serwaa made sure she did not miss the chance as the Ghanaians came back into the game, until Nafisatu scored to earn Ghana a deserved victory and a bright start in the competition.

The host Egypt, South Africa and Nigeria are the other countries competing for the sole ticket to represent Africa at the 2018 Hockey World Cup being hosted by India.

Earlier yesterday, South Africa recorded a double victory as their female team defeated Nigeria 5-0, while the male side whipped Nigeria 8-1.

Joy Online


---

Nor Saiful: We have to step up a level in Japan crunch match



One step ahead: India's Vishal Singh (left) trying to get past Malaysia's Firdaus Omar during their Sultan of Johor Cup match at the Taman Daya Hockey Stadium on Sunday. Malaysia lost 2-1. —ABDUL RAHMAN EMBONG / The Star

KUALA LUMPUR: After two defeats, winless matches, the Malaysian juniors have been told to step up and stop firing blanks.

Malaysia started off with 1-0 loss to Britain before going down 2-1 to India.

In both matches, the national juniors had plenty of chances to score. They also wasted many penalty corners attempts.

Team manager Nor Saiful Zaini and head coach Wallace Tan have called on the national juniors to turn on the power against Japan in today's crucial Sultan of Johor Cup match at the Taman Daya Hockey Stadium.

Nor Saiful and Wallace, both former internationals, attributed the two defeats to missing their chances.

That's why they want to see more clinical finishing from the players.

"Unlike the senior team, these players are young and need to move a level up. They are not strong enough at the international level for now and need to learn," said Nor Saiful.

"Overall, we have been playing well, except scoring more goals.

"Our penalty corner execution is also not very good. We had seven against India and scored just one. This is an area the players need to work on quickly before facing Japan, who are playing much better with every match."

Wallace admitted that the players from Britain and India were sharper although they did not win by a big margin.

"Just knowing the weak aspects is not enough. We need to improve and make sure that we get our attacking moves right. And that means the finishing must improve," said Wallace.

Japan, like Malaysia, also lost their opening two matches.

Japan head coach Kyoichi Nagaya is bracing for a tough encounter against the host and has told his players, who won bronze last year, to get their act right after two defeats.

"We are fortunate that we had a rest day. We will use it to recover after playing tough matches against India (2-3) and Australia (0-4)," he said.

"We should not be always losing matches and it's about time we win.

"This team has only been together for a few days as the players are from various colleges and universities around Japan. They were involved in the local leagues and it was impossible to get them together for centralised training.

"There is a structure and the players are beginning to play with cohesion. We hope to get a good result against Malaysia."

In other matches today, India will face the United States while Australia and Britain will be involved in a top-of-the-table clash.



 
The Star of Malaysia


---

Kookaburras' Team Named For International Festival Of Hockey

Ben Somerford




Hockey Australia today announces the Kookaburras 19-member team for next month's International Festival of Hockey in Bendigo and Melbourne.

World number two Australia will play two matches against New Zealand at Bendigo Hockey Complex on 5-6 November before heading to Melbourne.

Australia will meet New Zealand (eighth), Pakistan (14th) and Japan (17th) at Melbourne's State Hockey and Netball Centre from 8-12 November.

The Kookaburras won the Oceania Cup earlier this month in Sydney and the national selectors have made a number of changes from that team, with a view to preparation for the World League Final in India in December.

Uncapped trio Jake Harvie (from WA), Tim Howard and Corey Weyer (both from Queensland) get an opportunity after strong performances at the Australian Hockey League.

Victorian trio Kiran Arunasalam, Aaron Kleinschmidt and Josh Pollard are all recalled after their AHL triumph to play in their home state, along with goalkeeper Andrew Charter.

Captain Mark Knowles, Ben and Tom Craig, Tyler Lovell, Trent Mitton and Matthew Swann have been left out. In Knowles' absence, Aran Zalewski and Eddie Ockenden will lead the side.

Kookaburras head coach Colin Batch said: "Having a tournament prior to the World League Final is a great opportunity.

"We're very mindful it's been a long season for some players who played in the Hockey India League earlier this year.

"The key thing is for these players to refresh for World League Four and we think we can achieve that, while some of the others need to play therefore the Melbourne and Bendigo matches are ideal."

Batch said it was an ideal opportunity to blood some youth who would provide enthusiasm into the group.

"Jake Harvie is a really exciting player from WA," Batch said. "He didn't play in the Junior World Cup last year but he's progressed since then. We're really keen to see what he can produce.

"Tim Howard was a good leader of the Junior World Cup team last year. He's a good midfielder, played well for Queensland at AHL. He deserves his opportunity.

"Corey Weyer has come a long way in the last 18 months. He can play as a defender or in midfield. He's an exciting prospect.

"It's an ideal time for all three to come into the tournament and experience international hockey, they'll bring some enthusiasm to the group."

Batch said there was plenty to gain from the International Festival of Hockey.

"Playing consistently well at international level has been a challenge for us in the past," Batch said.

"We produced good form during the Oceania Cup but we need to continue that in these matches.

"Japan and Pakistan have been playing in the Asia Cup so they present a different opponent. It'll be a good challenge for us."

Kookaburras team for International Festival of Hockey:
Athlete (City, State)

Kiran Arunasalam (Doncaster East, VIC)
Daniel Beale (Brisbane, QLD)
Joshua Beltz (Hobart, TAS)
Andrew Charter (Canberra, ACT)
Tristan Clemons (Bunbury, WA)
Matthew Dawson (Killarney Vale, NSW)
Jeremy Edwards (Hobart, TAS)
Blake Govers (Wollongong, NSW)
Jake Harvie (Dardanup, WA)
Jeremy Hayward (Darwin, NT)
Tim Howard (Brisbane, QLD)
Aaron Kleinschmidt (Melbourne, VIC)
Edward Ockenden (Hobart, TAS)
Joshua Pollard (Melbourne, VIC)
Corey Weyer (Brisbane, QLD)
Jacob Whetton (Brisbane, QLD)
Tom Wickham (Adelaide, SA) *Plays for WA
Dylan Wotherspoon (Murwillumbah, NSW) *Plays for QLD
Aran Zalewski (Margaret River, WA)

Hockey Australia media release


---

Under head coach Sjoerd Marijne, the future looks bright for Indian team

Sundeep Misra



File image of Sjoerd Marijne. Image Courtesy Twitter @TheHockeyIndia

We stand at the same point – as we did in 2003, 2007; ready to pole vault to a higher plane. We have stood previously at the top of the pile knowing there are crucial steps still ahead. Take away that era which is more baggage than inspiration and we know that the 'learjet' called 'Indian Hockey' could have taken off perfectly. But as, we, critics and cynics, point out, the take off point wasn't always well judged and the 'hype' sometimes reached such a crescendo that 'reality' got fogged out.

A win and generally you see a mist blowing itself in. Apart from winning the Asia Cup, India got the 98' Asian Games gold, 2001 Junior World Cup crown, the 2011 Asian Champions trophy, the 2014 Asian Games gold, the 2016 Champions Trophy silver, the 2015 Hockey World League (HWL) bronze, the 2016 Asian Champions Trophy followed by the 2016 Junior World Cup trophy. But the cycle continues. Victories followed by domination in Asia but results at the world level not forthcoming. There were different factors at play always – coaches sacked even after winning, teams hurriedly dismantled, key players retired or discarded as 'old war horses' even as 37-year-old Aussie Jamie Dwyer played at Rio like a gladiator, or just inertia and resistance to a higher aim.

Take the last two times we won the Asia Cup – in 2003 under Rajinder Singh Senior and Joaquim Carvalho in 2007. Rajinder was promptly removed by the time the Olympics came around and we finished seventh. Under Carvalho, we beat South Korea in Chennai to win the Asia Cup for the second time and we didn't even qualify for the Olympics; history being created as India for the first time didn't play Olympic hockey. Winning the Asia Cup didn't help. We were just so consumed by it that looking forward and planning for bigger events or even tricky qualifying tournaments like the Olympic qualifying wasn't prioritised. Otherwise, why wouldn't the Indian coach and team management not go to Kuala Lumpur to watch England play the Champions Trophy knowing that India would face them in the Qualifying final at Santiago, Chile. We did and lost 0-2. In the Pool match, India also lost to England 2-3.

When we won the Asian Games gold in 98' in Bangkok, the coach MK Kaushik was sacked. In 2014, when we won the Asian Games gold in Incheon, then Coach Terry Walsh was sacked. History is an indicator of how Indian hockey instead of flying ahead and higher in a cloud of jet fumes has usually stalled and even reversed the process.

But things look different this time around. A major factor is Dutch coach Sjoerd Marijne, appointed seven matches back; just before the Asia Cup and he has certainly delivered. But then, so did Michael Nobbs, appointed before the 2011 Asian Champions Trophy,. He won the tournament. Even though Marijne is too polite to protest but the comparisons would definitely be uncomfortable. Nobbs did win the Asian Champions Trophy, but then a year later, coached the team to a 12th place at the Olympics, India's lowest ranking ever at any Olympic Games. The Dutchman's positive touch was there for everybody to see. Pressure is immense whether it's the Asia Cup or the HWL. The response gives you a peek into the man's character. Coaches hate comparisons and report-card valuations. After the team won, he was asked if he would get carried away by early success at the Asia Cup. "I know it's the Asia Cup and its importance on the continent. But there is a road we now need to travel on to get better results. That's where results matter."

Looking beyond the coach and the support staff, the team needs to perform. With the turbulence that followed Roelant Oltmans removal, there were a few indicators that India might not perform in Dhaka. In winning the Asia Cup, the team has signalled the ambition for bigger gains. The Indian team now is a lovely blend of youth and experience that can play till the 2020 Tokyo Olympics. The idea is to look for big wins; motivate and transform the Champions in Asia to the podium at the 2018 World Cup and the 2020 Tokyo Olympics. The Hockey World League Finals is too soon to expect a result. But if it comes, it will be a reaffirmation that the core is intact.

Playing without P Sreejesh has massive disadvantages and distinct advantages too. Out of oblivion comes the duo of Suraj Karkera and Akash Chikte now confirmed as the second in line after Sreejesh. In fact, at Dhaka, if you didn't check the jersey numbers of the goalkeepers, you wouldn't know who was standing in the Indian goalpost. Both performed at optimum levels. The only thing missing was a boisterous Sreejesh holding the defence lines, pushing the defenders to play up, calling them back, basically the generator unit that won't let the team power out. Four goals in the whole tournament is a good sign when you have two second-in-line goalkeeper juniors operating.

It's the defence that makes you feel extremely positive about this team. Harmanpreet Singh, Surender Kumar, Varun Kumar, Dipsan Tirkey and even Sumit, who fell back quite a bit, are solid when it comes to stick work and initiating attacks.

Harmanpreet in the striking circle is as smooth as silk, twisting and turning his stick, the ball a blur. On the flank while defending, if he has the ball, you know an attack can be created out of that position simply because the opposition cannot get the ball. Against an attack, Surender Kumar goes low and suddenly when a three forward unit attacks, he is the safest bet who will suddenly emerge from within that wall, ball on his stick. His trapping rarely fails and the only blots are the dips in focus when he stands behind his own defenders.

Dipsan is a revelation during pressure situations. He is light on his feet and can skip around when attackers have the ball avoiding penalty corners. The Sundergarh boy's asset is his flair, percentage play and the understanding that if passages and channels are blocked, he needs to rotate with Sardar and Harmanpreet. Varun has the strength of an Ox but is fragile in his mind. In the last minutes against Malaysia, he did let focus drop, got rattled and gave a penalty corner away. But throw him into the attack with the midfield and his force is like a magnetic field pushing the opponents back. As a substitute penalty corner flicker, there is more to be done.

For all those who were busy writing off Sardar Singh since the team took him to Rio as an inside forward (probably the worst decision at the Rio Olympics) his play could take him till Tokyo. Undoubtedly, the opponents were not as fast as Germany, Holland, Spain or Belgium but Sardar showed solidity on the field. He knows where to turn the ball, when to pass, to spot an empty channel and he understands the tempo of the game. He has the skills to hold the ball till eternity. His experience keeps nerves calm and the forwards have this strange telepathy with him knowing that when he clears the ball it will be to one of their sticks.



India's hockey team celebrating their Asia Cup victory. Image Courtesy: Twitter @TheHockeyIndia

In an era of rolling substitutions, Sardar is an asset and not an 'old war horse.' Having said that, those legs after playing top level hockey for more than a decade will be tested at Bhubaneshwar in the Hockey World League Finals. "He brings solidity at the back and his experience is what is required against top teams," said Pakistan captain Muhammad Irfan, when asked about key players in the Indian team.

It's the midfield where India needs a little more support for Manpreet Singh, even though Chinglensana had a terrific tournament, especially that opening goal against Pakistan in the Pool game. The captain is caught in two minds – attack or defend. And whenever he moved up with the ball in his trademark, stick extended full length style, opponents have scrambled for cover. But as Marijne understands this team and their strengths, Manpreet's role will evolve. India needs a central midfielder like what that they had with Sardar in the 2014 World Cup and as the defence settles down in their roles, Manpreet has the capability to become what Marc Delissen was with the Olympic winning 96' and World Cup winning 98' Dutch team.

At the Asia Cup, Sumit impressed. The Sonipat boy had played the 2017 Azlan Shah and in the match with Australia had moved with the finesse and skills of a veteran. He is a stallion and can turn at will when running at high speed with the ball, completely throwing the opponents off balance. Outside the opposition striking circle, his vision creates movements and players like Ramandeep Singh, SV Sunil, Akashdeep Singh and Lalit Upadhyay rely on him to switch passes which defenders feel may be going the other way. For someone who played the 2016 Junior World Cup, he should be hitting his peak between 2020 and 2024.

"There is more work to be done," said Marijne, when he was speaking about the forwards before India's Pool match against Pakistan. "They can be brilliant at times and I know we can achieve something big." In some quarters against Pakistan, Korea and Malaysia, India played at a speed that made their opponents dizzy. But to keep playing at that level needs consistency and at the moment there are times when technically issues come in of trapping and switching play inside the striking circle. When they get it together, it's like watching ghosts slip in and out of the defence.

Akashdeep plays like he is on thin ice, small steps, ball sticking to the stick like its life depended on it, creates havoc when he is on a roll. At times, his first pass gets delayed, upsetting the rhythm of the team. Ramandeep and Gurjant Singhare poachers and do their job well. Sunil had the energy but ran out of luck when handling the ball inside the opposition striking circle. He has the speed of an Olympic one-lap runner but control deserts him at crucial junctures of a match. However, his experience is vital and the Indian coach would understand that with 'ball speeds high' Sunil is the key play maker.

Lalit created a mysterious world in Dhaka, his stick work a joyous experience. But the Varanasi boy's strength was to hold his position and create space for others. Excitement at times got the better of him and goals which should have been routine were either shot over or the pass had limited vision on it.

Modern hockey is all about geometry, time and space. The creation, the split second first touch pass and the skills to open space for others. Sjoerd Marijne, on a much needed break now in Holland knows he has plenty of work to do and things to achieve. Indian hockey for long has been devoted to tradition – the constant tussle in making the sport a spectacle or a diligent, back-room, robotic formula that makes for tedious but winning finishes. Between the structural formula of Brasa, the attacking flair of Terry Walsh, the solidity of both flair and grinding it out of Oltmans, Marijne doesn't offer a mix. He comes with an energy that is both exhilarating and gives the team the space to play within the confines of what wins a match. Change at times is difficult, arduous and demanding. But it's challenging too. In Dhaka, those sparks under Sjoerd Marijne were clearly visible.

Firstpost


---

New Hockey Book




Hockey writer Sundeep Misra (author of the previous article), has recently released a book "The Mohammed of Benares and Other Stories" which is available on Amazon Kindle as an e-book

"From that unforgettable Delhi afternoon that broke a million hearts to a legend who wept simply because he couldn't carry an Olympic medal back to his mother. To those sublime, windmill wrists as if personally created by God and the legend from Pakistan for whom Indian theatres interrupted a screening of Pakeezah just because his team couldn't make it on time. Moving on to a player as soft spoken as a leaf falling through air whose current avatar as a politician has him asking Maoists to give up guns for hockey sticks. And then the lad who would have become India's most dangerous forward but for a shattered knee and inept administration – these are just some of the accounts from the collection of India's best hockey writer, Sundeep Misra.

These narratives move from the 1982 Asian Games final where a visibly upset Indira Gandhi walked away at the break to the 2016 Asian Champions Trophy with all the theatrics of yet another Indo-Pak encounter on display.

The Mohammed of Benares and Other Stories are voices in a nation that was once beguiled and dazzled by the sheer artistry of the sport. The romance continues."

Amazon write up


---

I will improve more with Sreejesh, says Akash Chikte

Both Maharashtra custodians protected the goal with equal measure in the absence of experienced Indian goalkeeper P.R. Sreejesh.

IRFAN HAJI



Indian hockey players celebrate with the trophy after winning the Hero Asia Cup 2017 at the Maulana Bhashani National Hockey Stadium in Dhaka, Bangladesh on Sunday. India beat Malaysia 2-1 to secure the title after 10 years.

After Mumbai's Adrian D'Souza served the Indian hockey team for almost a decade, two more state goalkeeper's Akash Chikte and Suraj Karkera are emerging as the future custodians for the Indian hockey team.

Chikte from Pune and Karkera from Mumbai played crucial roles in India's triumph in the Asia Cup hockey championship which Indian won after 10 years, beating Malaysia 2-1 in the final in Dhaka on Sunday.

Both Maharashtra custodians protected the goal with equal measure in the absence of experienced Indian goalkeeper P.R. Sreejesh. Both Bombay Engineer Group recruits played in all seven games sharing the halves.

The Yavatmal-born Chikte also shared the 'Best Sportsman of the Year' award with Nashik-based chess Grandmaster Vidit Gujrathi in the Sports Journalists Association of Mumbai (SJAM) Golden Jubilee annual awards 2017 held at the Bombay Gymkhana on Monday.

Chikte, who made his international debut last year in Sultan Azlan Shah tournament in Malaysia, was under some pressure before the Asia Cup hockey championship after India's average show in the World League semi-finals in London earlier this year. But the 25-year-old soaked up the pressure well and was later declared 'best goalkeeper' of the tournament.

"I started playing international hockey only two years ago, so I am still learning. We both (goalkeepers) played equally against every opponent for match experience and we were told about it beforehand. Suraj and I supported each other well," said Chikte, who also was part of Indian team that won the Asian Champions Trophy last year in Malaysia.

Though Sreejesh is set for a comeback after knee injury for the next international tournament World Hockey League final 2017 this December, Chikte is not worried about his place in the Indian side.

"He has always been supportive and played a big part in our development. I conceded one goal of the total 15 penalty corners I defended (in Asia Cup), which has improved after working with Sreejesh. I am looking forward to work with Sreejesh again in the national camp in Bengaluru (before the World League). Competition is good for the game and I will only improve when Sreejesh comes," he said.

New coach Sjoerd Marijne had taken over from Roelant Oltmans only last month and Chikte revealed they were under no pressure to win title.

"Marijine has just taken over and we trained with him for about 10 days before the tournament. We were under no pressure to perform. Seniors in the side are asked for inputs. Training is decided on the basis of suggestions from players like captain Manpreet Singh, Sardar Singh,

S.V. Sunil and Rupinderpal Singh, Sreejesh" Chikte said.

He also said that 25-year-old Manpreet Singh has brought positivity to the side as captain. "I haven't played much under other captains so I don't know about their impact on the team but Manpreet has brought positivity to the side," Chikte said.

Meanwhile, Vinod Tawde, Maharashtra's minister for sports, youth welfare and education, gave away the SJAM Golden Jubilee annual awards 2017 on Monday. He distributed the awards along with former India cricket captain Dilip Vengsarkar, noted chess coach Raghunandan Gokhale, chess Grandmaster Pravin Thipsay, ex-national table tennis coach Kamlesh Mehta, ex-international paddler Monalisa Mehta and ex-Mumbai Ranji coach Praveen Amre.

The Asian Age


---

Star-studded Punjab Police beat Air Force in opener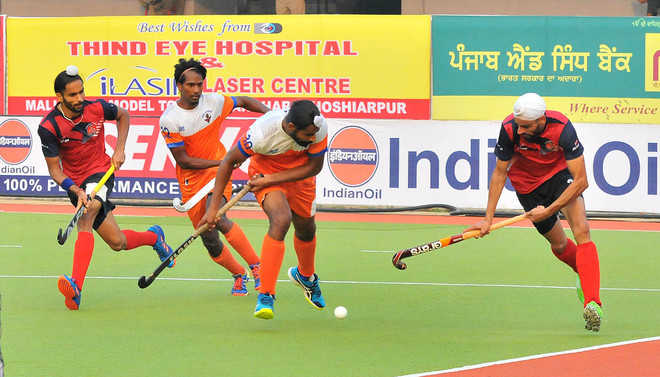 Punjab Police's former India player Gurwinder Singh passes the ball to teammate Akashdeep Singh during their match against Indian Air Force in Jalandhar on Tuesday. Tribune Photo: Malkiat Singh

Jalandhar: A star-studded Punjab Police faced a tough fight from Indian Air Force before pulling away to a 3-1 win in the first league fixture of the men's section in the 34th Surjit Hockey Tournament here today. In the second match, holders Punjab National Bank  (PNB) were held to a 1-1 draw by national champions Railways. In the women's section, defending champions Western Railways thrashed CRPF 5-0.

Punjab Police, with the likes of India captain Manpreet Singh and forwards Ramandeep Singh and Akashdeep Singh playing in their ranks, took the lead in the 9th minute. Former India player Sarvanjit Singh scored after he was assisted by Ramandeep.  In the 11th minute, Indian Air Force equalised through Sanjay.

Ramandeep restored Punjab Police's lead in the 29th minute. He was assisted by former India player Dharamvir Singh. They doubled their lead in the 65th minute — this time Ramandeep returned the favour to Dharamvir, who also got his name on the scoresheet.

PNB came out all guns blazing with Sukhjit Singh scoring in the second minute. But Sheshe Gowda equalised from a penalty corner conversion in the 25th minute.

In the women's match, Western Railways captain Pinky T scored a brace (17th and 43rd) through penalty corner conversions, while Sarita (35th), Anupa Barla (40th) and Chanchan Thokchom (47th) scored a goal each.

The Tribune


---

Empty stadium greets India stars

Rachna Khaira

Jalandhar: Even the thrilling Asia Cup title win by the Indian team after 10 years has not pulled crowds to the Surjit Hockey Tournament.

While thousands posted congratulatory messages on social media within minutes of India winning the Asia Cup, not many in Jalandhar turned up to witness current India players in action at Burlton Park.

While the inaugural day had students from a meritorious school filling the stands, today's matches were played in an almost empty stadium. Even a free entry and the lucky draws with prizes like cars and motorbikes on offer have failed to attract crowds.

"There was a time when people used to consider a sports event as a festival," said Surinder Bhapa, a sports promoter. "Nowadays, love for sports has been reduced to posting a message on Facebook or Twitter."

The Tribune


---

Third-placed finish surpasses expectations, claims Pakistan captain

By Nabil Tahir



Pakistan smashed six past South Korea despite being held to a frustrating draw by the same side in the group stages. PHOTO COURTESY: ASIAN HOCKEY FEDERATION

KARACHI: Pakistan finished third in the 10th edition of the Asia Cup and captain Muhammad Irfan believes the team performed well but could have done even better had they gotten into their rhythm early on.

The Greenshirts beat South Korea 6-3 in the third place match to match their 2013 finish, while they finished second in 2009.

"Our team had a number of new players so we performed better than expected," said Irfan. "We weren't really favourites to beat South Korea considering our stuttering form but we came through. Had we had more international experience under our belt then we could have finished in the top two."

Irfan further bemoaned the lack of international matches. "We only did training camps [during the last six months] which are not enough," he said. "You learn techniques and strategy in camps but you can't understand how to implement them if you don't play against strong international teams. I am sure we can beat India if we play more matches."

Pakistan Hockey Federation's (PHF) chief selector Hassan Sardar was not as generous with his review and felt the players missed way too many chances. "They missed chances in every match; had they converted those, then Pakistan could have won a lot more," he bemoaned.

Olympian Sardar also announced the 22 probables for a four-nation hockey tournament to be held in Melbourne, Australia from November 8-12, where they face hosts Australia, New Zealand and Japan.

The 22 players have been asked to report to camp commandant Farhat Khan on October 31 at the Abdul Sattar Edhi Hockey Stadium.

The probables include Mazhar Abbas, Amjad Ali, Mohammad Irfan, Atif Mushtaq, Mubashar Ali, Ammad Shakeel Butt, Abu Bakar Mahmood, Tasawwar Abbas, Rizwan Jr, Arslan Qadir, Azfar Yaqoob, Umar Bhutta, Ali Shan, Mohammad Atiq Arshad, Ajaz Ahmad, Shan Irshad, Qamar Bukhari, Khizar Akhtar, Shajeeh Ahmed, Hassan Anwar, Bilal Qadir and Umar Hamdi.

The Express Tribune


---

PHF names 22 probables for training camp

LAHORE: The Pakistan Hockey Federation on Tuesday named 22 probables for a four-nation tournament to be held in Melbourne, Australia from November 8-12. Pakistan, hosts Australia, New Zealand and Japan are the competing sides. The players have been asked to report at Abdul Sattar Edhi Hockey Stadium, Karachi on October 31.

Probables: Mazhar Abbas, Amjad Ali, Mohammad Irfan, Atif Mushtaq, Mubashar Ali, Ammad Shakeel Butt, Abu Bakar Mahmood, Tasawwar Abbas, Rizwan Jr, Arslan Qadir, Azfar Yaqoob, Umar Bhutta, Ali Shan, Mohammad Atiq Arshad, Ajaz Ahmad, Shan Irshad, Qamar Bukhari, Khizar Akhtar, Shajeeh Ahmed, Hassan Anwar, Bilal Qadir, Umar Hamdi.

The Daily Times


---

Field Hockey Rebounds Against Boston University, 2-1

By Sean B. Chanicka,

Following Saturday's heartbreaking defeat to No. 14 Princeton, No. 16 Harvard returned to action to face off against No. 21 Boston University on Tuesday afternoon. In a thrilling contest, the Crimson (11-4, 4-1 Ivy League) defeated the Terriers (10-7, 5-0 Patriot League), 2-1, at Berylson Field.

Playing so soon after its most emotional game of the season, Harvard knew that it would need to regain some of the momentum it had lost over the weekend. The team would have to show its resiliency if it wanted to compete with yet another ranked opponent.

"After that loss against Princeton, we lost an emotional part of our team," sophomore midfielder Bente van Vlijmen said. "We wanted to stop thinking about what we could have done. BU is a ranked opponent, so we knew we would have to focus to give them our best effort."

After being shut out on Saturday, Harvard began Tuesday's game with a flurry of efforts on net. The Crimson fired off four shots in the opening five minutes of the contest. By the sixth minute, those attempts paid off. With six minutes on the clock, freshman forward Mimi Tarrant sent a pass to sophomore midfielder Casey Allen, whose shot beat the BU goalkeeper for the score. The goal was Allen's first of her career for the Crimson. The Berwyn, Pa. native is more generally known for creating chances than converting them, as is evidenced by her six assists on the season.

However, the Terriers were not deterred by Harvard's early goal. Just three minutes later, BU would respond with a goal of its own, as Terriers freshman forward Petra Hall scored off of a redirection by junior forward Kara Enoch in front of the Crimson net. The goal marked a shift in the momentum of the game, as Harvard was pushed back onto the defensive. BU ended the half with four unanswered shots, but none of them found the back of the net, and the two teams ended the half tied at 1-1.

"They're a very fast, very opportunistic team," van Vlijmen said. "But we maintained our structure and our forwards were strong in finishing with the ball."

Harvard began the second half with a more methodical approach, choosing quality over quantity in terms of its shots. This strategy paid off in the 45th minute, as co-captain Hannah Wellington weaved through several defenders into the circle before beating the BU goalkeeper for the score. The goal was Wellington's seventh of the season and the 17th of her career.

Wellington's tally served as a catalyst for the Crimson offense, as the team would go on to outshoot the Terriers, 4-1, over the next 15 minutes of game time. While Harvard did not manage to add to its lead, it did force BU junior goalkeeper Kathleen Keegan into making a number of impressive saves. Having taken over from freshman goalie Millie Baker at the start of the second half, Keegan finished the night with two saves. Baker tallied two stops of her own in the first period.

With time winding down, the Terriers decided to pull their goalkeeper in the 64th minute, in hopes of pulling a goal back. In the 67th minute, Wellington found herself with the ball and a chance to add to her goal tally, but saw her shot on net sail wide.

In the closing moments of the game, BU found one last chance to pull even. In the 69th minute, BU forward Petra Hall fired a shot on net, but junior goalkeeper Libby Manela made the save to seal the victory for the Crimson. The save was Manela's fifth of the day, and the victory saw the junior improve her record on the season to 4-4. The Houston, Texas native has wracked up 66 total saves over the course of her collegiate career.

Following today's action, Harvard returns to Ivy League play this weekend as it hosts Dartmouth on Saturday. The Crimson will hope to translate Tuesday's win into momentum as it takes on the Big Green in the final home game of Harvard's season. The Crimson also remains hopeful of its chance to compete in the NCAA playoffs. Currently, Princeton sits in the poll position atop the Ivy League, while Harvard remains close behind in second place.

"We are hopefully still in the race for NCAA's," van Vlijmen said. "We had to win this game in order to get into the top 16 teams in the country. Playing so well as a unit restored our faith in ourselves, and we hope that we get the chance to prove that we are a great team, that we should have beaten Princeton."

The Harvard Crimson


---

Former hockey team goalkeeper to pursue harassment case alone after PHF shuts its doors

Sameyah Said

Former goalkeeper for the women's national hockey team Syeda Sadia, who has accused the team's head coach, Saeed Khan, of harassment and assault, told Dawn.com on Tuesday that she will pursue a case against Khan independently as the Pakistan Hockey Federation (PHF) seems unwilling to take any action against him.

"I will definitely pursue a case. When it comes down to my respect, I cannot tolerate it. I will not sit quietly," Sadia said speaking to Dawn.com over the phone on Monday.

Sadia, who also captains the Railways hockey team, has alleged that Khan harassed and assaulted her on the night of October 8.

Recalling the events of that night, Sadia said she had been attending a dinner being hosted for players at the hockey federation's facilities in Lahore when the team coach, who had been "glaring at her throughout the night", asked her to step outside the dining hall.

Once outside, Khan allegedly spoke to Sadia in a harsh tone and grabbed her dupatta (scarf). He allegedly raised his hand to hit her as well.

It was at this moment, Sadia said, that Tanzeela Aamer, secretary of the PHF's women's wing, walked out, saw the altercation, and stopped Khan from hitting her.

"Tanzeela ma'am then went back to the dinner. I ran back to my hostel room and he [Khan] followed me there," Sadia said.

Iqra Javed, another player on the hockey team, was in the room at the time, getting ready for the dinner.

Sadia alleged that once in the room, Khan grabbed her arm and threatened to ban her — and Iqra, when she tried to stop him — if they spoke out against him.

In her letter to the sports minister, she said Khan let her go because she physically resisted and tried to run.

"Then he forcefully took me back to the dinner. He told me to wash my face before I came down because I had been crying."

Sadia said she was highly distressed. When she returned to the dinner she barely ate and left for her brother's house immediately after.

She wrote to the Punjab Sports Minister, Jahangir Khanzada, and the PHF the day after the incident, detailing what happened and demanding that action be taken against Khan. A copy of that letter, dated October 9, is available with Dawn.com, with instructions from Khanzada for an inquiry into the matter to be completed within 10 days.

After that deadline lapsed without any action being taken, Sadia felt she should approach the media to present her case. She recorded a video statement to ask for help, which was circulated widely over the weekend.

The accused's version

Khan, who is currently in Brunei, has refuted the allegations against him.

"I'm not guilty at all and am ready to face any inquiry," Khan had said at a press conference before leaving for Brunei.

"If I was guilty, I would've escaped from the camp," he said. "She made these accusations out of frustration at being dropped from the team."

That narrative was seconded by Tanzeela Aamer, also present at the press conference, who said the former goalkeeper had accused the team coach of assault "because she was dropped from the team" selected to travel to Brunei.

Dropped from the team

Sadia also told Dawn.com said that two days before she was assaulted, she had approached Khan to ask him why she had not been selected for the team.

In response to her questions, Sadia claimed, Khan had given her his number and asked her to "call him at night".

She had mentioned the exchange in her complaint to PHF.

"I thought, 'you are in front of me, why should I call you', but I did not say anything," Sadia recalled while speaking to Dawn.com.

"I just felt it was not my destiny to be selected so I let it go." Sadia said, adding that she never ended up making the phone call.

An independent inquiry

The PHF's women's wing secretary has said there will be no inquiry into the allegations made by Sadia, insisting "they are baseless."

Speaking to Dawn.com, Tanzeela maintained that "there is absolutely no need for any inquiry into the matter."

"Why will we take action if someone is making false allegations?" Tanzeela said, denying that Sadia's version of the events of Oct 8 ever took place.

"That girl [Sadia] does not know anything. Do you think if something like this happened to one of our girls, we would just let it go?"

"I was there, nothing happened," Tanzeela repeated, before abruptly hanging up.

"A committee should be formed comprising people from outside the PHF. I will argue my case in front of them," Sadia insisted while speaking to Dawn.com.

Sadia said she wanted justice not only for herself, but also for Iqra Javed — her roommate — who had later corroborated Sadia's version of the alleged assault.

Iqra paid dearly for speaking in Sadia's support.

After she went on record to say that other female players who had refuted Sadia's allegations were not telling the truth, she was dropped from the national team — which is currently touring Brunei for the Women's Asia Challenge — on "disciplinary grounds".

Nageen Babar, who was originally travelling with the team as an umpire, was selected in Iqra's place.

Tanzeela confirmed in her press conference that Iqra was dropped from the team for coming forward in Sadia's support.

"Iqra is a close friend of Sadia and they hail from the same place," she offered by way of an explanation. "There can't be any compromise on discipline," she said.

'Sadia was specifically targeted': Iqra's account

Speaking to Dawn.com on Tuesday, Iqra recalled that Sadia was "shivering and crying" when she came into the hostel room on Oct 8.

"I asked her what the matter was when I saw the state she was in. But immediately after, Khan entered the room and told me to back off," Iqra said. She added that Khan had asked her to leave the room but she refused to do so.

"I am telling you what I saw in the room," Iqra told Dawn.com. "I saw him grab her dupatta, her arm and then raise his hand at her."

"He then told her to wash her face before she came downstairs. I went downstairs with her to the dinner. Tanzeela Madam was there and she asked what was wrong, why we weren't eating," she recalled.

Iqra said that she does not know what had happened before Sadia and Khan came into the room except for what the former told her once the dinner was over.

She said Sadia told her that Khan had asked her to step out of the dining hall and asked her what she was doing there when she had not been selected for the team travelling to Brunei. Sadia had replied that the team manager had asked her and some other girls to stay behind to collect their money, Jawed said.

Jawed alleged that another player from the team had also witnessed what happened outside the dining hall between Khan and Sadia. She further corroborated Sadia's claim that Tanzeela, too, had witnessed the two arguing outside the hall.

"We do not know why she is refuting the allegations," Jawed wondered, recalling that Tanzeela had not witnessed what happened in the room as she was at the dinner.

Jawed also knew about the 'call me' incident. She said that when Sadia first told her that Khan had given her his number, they had laughed it off together. "We thought: 'What is he doing, he is the coach'."

"We did not know what he was thinking [...] that he would do this," she said.

"Sadia was specifically targetted," she said.

Silencing abuse?

"They [the PHF] are using the players to protect themselves," Jawed alleged when asked about other players on the team refuting Sadia's allegations.

"I have been on the team for years and they dropped me [for standing up for Sadia]. How will any girl then speak up?"

"They know that the players come from small towns. This is their plan to protect themselves," she reflected.

When asked how she felt after being dropped from the squad, Jawed said that she was proud for having done the right thing.

"These are grave allegations. Sadia is the sole earner of her family, why would she make these accusations falsely, knowing the harm they will bring to her?"

"My only fault is that I spoke the truth."

Dawn