All the news for Tuesday 24 October 2017

2017 Africa Cup of Nations Results and tables

Men
22 Oct 2017 GHA v KEN 3 - 0
22 Oct 2017 EGY v NGR 13 - 1

23 Oct 2017 RSA v NGR 8 - 1
23 Oct 2017 EGY v KEN 4 - 1
| | | | | | | | | | |
| --- | --- | --- | --- | --- | --- | --- | --- | --- | --- |
| Rank | Team | GP | W | D | L | GF | GA | GD | P |
| 1 | EGY | 2 | 2 | 0 | 0 | 17 | 2 | 15 | 6 |
| 2 | RSA | 1 | 1 | 0 | 0 | 8 | 1 | 7 | 3 |
| 3 | GHA | 1 | 1 | 0 | 0 | 3 | 0 | 3 | 3 |
| 4 | KEN | 2 | 0 | 0 | 2 | 1 | 7 | -6 | 0 |
| 5 | NGR | 2 | 0 | 0 | 2 | 2 | 21 | -19 | 0 |
Women
22 Oct 2017NGR v EGY 1 - 1
22 Oct 2017 KEN v RSA 0 - 5

23 Oct 2017 RSA v NGR 5 - 0
23 Oct 2017 KEN v GHA 1 - 2
Rank
Team
GP
W
D
L
GF
GA
GD
P
1
RSA
2
2
0
0
10
0
10
6
2
GHA 1
1
0
0
2
1
1
3
3
EGY
1
0
1
0
1
1
0
1
4
NGR 2
0
1
1
1
6
-5
1
5
KEN
2
0
0
2
1
7
-6
0
Upcoming matches
Men
25 Oct 2017 13:00 KEN v NGR
25 Oct 2017 17:00 RSA v GHA

Women
25 Oct 2017 12:00 GHA v EGY
25 Oct 2017 14:00 KEN v NGR

Live streaming of the event can be seen at the official website http://www.africanhockeycup.com


---

SA hockey women and men do the double over Nigeria

Ockert de Villiers



Keenan Horne scored a hat trick for South Africa against Nigeria on Monday. Photo: Ryan Wilkisky/BackpagePix

JOHANNESBURG – South Africa dished out a double dose of pain on Nigeria on Monday, with both the men and women's hockey teams claiming commanding victories at the Africa Cup of Nations in Egypt.

The men's side went on a rampage in their first match of the tournament, claiming an 8-1 victory over Nigeria after their opening match was called off on Sunday when Zambia did not pitch.

The South African women earned their second win in as many days with a 5-0 triumph to edge them closer to a seventh consecutive continental title.

The men will be looking for their eighth trophy on the trot, but more importantly, a place in next year's Hockey World Cup in India.

Keenan Horne opened and closed the scoring in the first and final minutes of the match and ended with a hat trick.

The South Africans went into the halftime break with a 3-0 lead over the Nigerians courtesy of Horne, Reza Rosenberg and Daniel Bell. Horne extended the lead five minutes into the second stanza, with Julian Hykes and Jethro Eustice also getting on to the score-sheet.

Nigeria received a temporary stay of execution in the third chukka, with Adamu Kolo Mammam putting the ball in the back of the box in the 50th minute.

The goal only delayed the inevitable, and Jonty Robinson added the seventh goal before Horne planted the knockout blow.

The SA women produced another powerhouse performance, with Sulette Damons scoring three of her side's five goals.

Stalwart Dirkie Chamberlain, who made her return to the team after a long injury layoff, scored her third goal of the tournament to open South Africa's account against Nigeria two minutes into the match.

Damons doubled the scores four minutes later thanks to a field goal, before adding her second on the half-hour mark.

Celia Evans also got on to the score-sheet, with Damons claiming her hat-trick shortly before the final whistle.

The South African women will next face the hosts on Thursday, while the men will go up against Ghana on Tuesday.

Independent Online


---

Battered Kenya sides surely out of World Cup contention

By BRIAN YONGA



Kenya's forward Audrey Omaido drives forward during a training session at City Park Stadium on October 17, 2017 in preparation for the Africa Cup of Nation tournament to be held in Egypt. PHOTO | MARTIN MUKANGU |  NATION MEDIA GROUP

Kenya men and women's hockey teams' ambitions of qualifying for next year's World Cup on Monday went up in smoke after they suffered their second successive defeats at the Africa Cup of Nations in Ismailia, Egypt.

The women's team suffered a heartbreaking 2-1 loss to arch-rivals Ghana, while their male counterparts went down 4-1 to the hosts at the Suez Canal Authority Hockey Stadium.

The losses left both teams now having to depend on other results to make it to the final of the competition.

Kenya women were first up in the action looking to bounce back from Sunday's 5-0 loss to champions South Africa.

Coach Wilson Otieno maintained the same starting eleven with Audrey Omaido partnering Gilly Okumu upfront with Yvonne Karanja and Tracy Karanja playing on either wings.

At the back Jane Muragu, Terry Juma and Flavia Mutvia were charged with keeping the Ghanaian attackers at bay. Kenya controlled proceedings and took the lead in the 29th minute through birthday girl Caroline Guchu.

Kenya, who lost to Ghana 1-0 in last year's World League One Series, let the West Africans back into the game in the final 10 minutes.

First, Serwaa Boakye levelled matters in the 51st minute, finishing off Martha Safoa's short corner, before Nafisatu Umrau hit the winner from another short corner six minutes to the end.

"We controlled the match for large spells but could not bury our chances and got caught out in the end. It is painful to accept this defeat," Otieno said.

Kenya have a rest day on Tuesday before taking on Nigeria in third match on Wednesday while Ghana take on Egypt.

South Africa made it two wins on the trot with a 5-0 thrashing of Nigeria.

In the men's contest, Kenya fell behind in the first four minutes as Ahmed Elnaggar and Amr Elhady fired the hosts to a 2-0 lead. Houssam Ghobran made it 3-0 on 25 minutes but George Mutira pulled one back for Kenya in the 52nd minute.

Substitute Ahemd Gamal restored the hosts' three goal advantage six minutes to the end to condemn Kenya to their second loss. Kenya lost 3-0 to Ghana in the first match. Men's champions South Africa hit Nigeria 8-1 in an earlier match.

Kenya take on Nigeria in their match on Wednesday as they bid to win their first match of the tourney.

Daily Nation


---

Kenya stare at imminent exit: National women's team loses second match in Egypt

By Elizabeth Mburugu



Orange Telkom Caroline Guchu blocks Nigeria Kada Queens Loveth Moogiate when they played Africa Cup Championship PHOTO: JENIPHER WACHIE

Ghana come from behind to win 2-1 in continental championships.

Kenya's quest for the 2017 Africa Cup of Nations women's title was dealt a blow after the national team lost 2-1 to bitter rivals Ghana yesterday at the Suez Canal Authority Hockey Stadium in Ismailia, Egypt.

This was Kenya's second defeat after they lost 5-0 to defending champions South Africa in their opening match on Sunday evening.

The second loss also puts Kenya in a precarious position as they chase a ticket to next year's World Cup.

Despite scoring first through Telkom's Caroline Guchu, the Kenyan girls failed to hold on to their lead and allowed the Ghanaians to score quick goals in the dying minutes.

The defeat dimmed Kenya's hopes of advancing to the final, which would have moved them closer to claiming the continental ticket to the global showpiece.

The rivalry between the two sides was evident as they battled relentlessly in the hunt for goals. Ghana started with their best talent in Serwaa Boakye, Nafisatu Umaru, Cecilia Amoako, Martha Sarfoa, and Janet Adampa, whose international experience was unrivalled. Their lethal striker, Elizabeth Opuku, was relegated to the bench.

Kenya's coach Wilson Otieno also had his top players in the first 11 with only Elizabeth Ngombo and Pauline Naise starting from the bench.

The Kenyans started their goal hunt in earnest as they employed an offensive play, but Ghana's defence, led by Umaru, was not ready to let them have their way.

Ghana introduced Opuku in the sixth minute and her speed combined with brilliant dribbling from Sarfoa and Boakye saw them threaten Kenya's backline.

However, goalkeeper Cynthia Onyango had her defence of Rachel Ousa, Terry Juma, and Jane Muragu was well organised, thwarting the Ghanaians' efforts.

After numerous attempts on both ends, Guchu put Kenya ahead one minute to halftime as she brilliantly sent the ball past Ghana goalkeeper Bridget Azuma. That was the only goal in the first half as the first quarter had ended in a barren draw. Kenya returned for the second half with a 1-0 lead and defended well, hanging on to their slim advantage into the final period.

Ghana, known for their fighting spirit, were not ready to concede and pressed on in the hunt for an equaliser. Their efforts bore results as Boakye converted a penalty corner in the 51st minute to restore parity.

Umaru converted another penalty corner three minutes later to subject Kenya to their second loss.

It was once again a bad day for Kenya as the men's team was not spared either, losing 4-1 to Egypt.

The Standard Online


---

Hong Kong down Pakistan 3-0 in opener

ISLAMABAD: Pakistan were beaten by Hong Kong China by three goals to nil in their first match of the Women's Hockey Asian Challenge at the Hassanal Bolkiah National Stadium, in Brunei's capital Bandar Seri Bagawan on Monday.

Hong Kong, who are FIH ranked 38, were two goals ahead at the half time against the 68th ranked Pakistan. Both the goals came off penalty corners.

The third goal came through open play in the 42nd minute.

Earlier, on Sunday afternoon, in the event's opening match, Hong Kong notched up a comfortable 8-0 win against the hosts Brunei.

Pakistan play their second match against Brunei on Tuesday (today).

Scorers: Tiffany Chan (8 min), Ka Lo (17 min), Yi Man Chan (42 min).

The Daily Times


---

Ephraums strikes again for Australia

by  Satwant Dhaliwal

Defending champions Australia defeated Japan 4-0 to register their second straight win in the Sultan of Johor Cup at the Taman Daya Hockey Stadium today.

Nathan Ephraums once again came to the rescue of his side with the opening goal – his sixth in the tournament while Nathanael Stewart, Liam Flynn and Andrew Scanlon added to the Japanese misery.

Australian head coach Brent Livermore, said: "It was a low par performance from us. We only played a quarter of the four quarters and that too in the third quarter. Against a team like Malaysia, India and Great Britain it will not be good for us."

His Japanese counterpart, Kyoichi Nagaya, said the players were too tensed going into the game against the Australians and attributes this as a main factor in their defeat.

"They were under tremendous pressure and were tensed. After the match against India, the players put a lot of pressure on themselves. It was a good match in the first half but they could not match the physical strength of the Australians," said Kyoichi.

Japan, who played gallantly against reigning Junior World Cup champions India before falling 2-3 in their opening match, went into the game with the hope of creating an upset win over the Australians.

The Japanese strategy of man to man marking proved successful, at least in the first and second quarters, not giving Livermore's boys who humbled an inexperienced United States 19-0 in Sunday's opening match, much room to make inroads.

The only time the Australians ventured into the Japanese territory was in the second minute to earn a penalty corner which turned fruitless. Japan also had its fair share of ball possession and attacking opportunity but could not make any breakthrough as the first half ended scoreless,

But the Australians rallied back in the third quarter to end the deadlock and it took the ingenuity of Ephraums to open the flood gates in the 33rd minute.

That goal set the tone of a strong comeback from the Australians who went 2-0 up three minutes later via Stewart's penalty corner conversion.

It was a far busy day for Japanese young and inexperienced goalkeeper Yuri Arnould, who had a good game against India but could do little to stop the marauding Australians towards the end of the third quarter as Flynn relayed a low but powerful push into the left corner of the net to give his side a 3-0 lead in the 37thminute and Scanlon extended it to 4-0 off a penalty corner.

The tournament takes a rest tomorrow and matches will resume on Wednesday.

Official Sultan of Johor Cup site


---

Malaysia U-21 side also find India a stumbling block

by Mohd Farhaan Shah



No fair play: Malaysia's Zulhamizan Mohamad is fouled by India's Sukhjeet Singh in the Sultan of Johor Cup match at the Taman Daya Stadium last night. — ABDUL RAHMAN EMBONG / The Star

JOHOR BARU: India again got the better of Malaysia – this time in the Under-21 Sultan of Johor Cup hockey tournament.

The national Under-21 team followed in the footsteps of the senior squad when they were beaten 2-1 at the Taman Daya Hockey Stadium here yesterday.

On Sunday, Malaysia also lost 2-1 to India in the Asia Cup final in Dhaka, Bangladesh.

Malaysia put up a better performance yesterday compared to the 1-0 loss to Britain in their opening match. They were able to pressure India, the Junior World Cup champions, from the get-go.

The homesters grabbed the lead after only three minutes when Mohammad Firdaus Omar converted a penalty corner.

Stunned, India launced several quick attacks but goalkeeper Muhammad Zaimi Mat Deris put on a sterling performance to frustrate them.

But India's constant pressure finally paid off. From a long pass from his own half, Dilpreet Singh managed to beat Muhammad Zaimi for the equaliser in the 20th minute.

Dilpreet was again on target, this time in the 43rd minute to give India their second win in as many matches. India were 3-2 winners over Japan on Sunday.

Malaysia coach Wallace Tan said the main difference was India were able to convert their chances.

"The positive thing in both our two matches is that we did not lose by a margin. Our players are still young and lack international experience. But they are getting better in each match," said Wallace.

The other two teams – defending champions Australia and Britain – also secured their second wins yesterday. Australia whipped Japan 4-0 while Britain thrashed the United States 11-0.



 
The Star of Malaysia


---

India beat Malaysia 2-1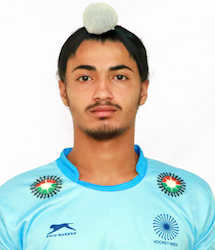 Dilpreet Singh scored a brace

Dilpreet Singh scored a brace as the Indian junior men's hockey team defeated hosts Malaysia 2-1 to register their second consecutive win at the seventh Sultan of Johor Cup.

The Indian colts came from a goal down to win their second consecutive match of the tournament at the Taman Daya Hockey Stadium. Malaysia scored an early goal through Firdaus Omar (3rd min) but Dilpreet Singh (20th, 43rd min) found the net twice to enable India take full points from the encounter.

Malaysia displayed some attacking hockey, which led to an early penalty corner in the third minute. Drag-flicker Firdaus Omar converted the chance to put Malaysia ahead.

India managed to draw level in the 20th minute when a long pass to Dilpreet Singh was well-controlled by the forward on the right flank. He moved into the circle and hit a fierce shot that was deflected off the Malaysian goalkeeper Muhamad Mat Deris into the net.

India put pressure on the Malaysian defence that led to a second goal in the 43rd minute when Maninder Singh passed the ball inside the circle, and Dilpreet did the rest. India ended the third quarter with a 2-1 lead after Dilpreet's strike, his fourth goal of the tournament.

India will next play the USA in their third match on Wednesday.

The Tribune


---

Golden and MacKenzie on form for GB U21

Scotland's Cameron Golden and Callum MacKenzie have both featured heavily in Great Britain U21 men's opening matches of the U21 2017 Sultan of Johor Cup.

Both Golden and MacKenzie were on the scoresheet in GB's 11-0 victory over USA in their second match of the tournament.

Golden scored the opener against USA, the strike came in the first quarter, before adding to his tally when he scored GB's fifth goal of the match.

MacKenzie also scored with a strike from close range to make it 8-0 in the victory.

Duncan Scott bagged a hat-trick in the impressive victory over the Americans. Wales' Ben Francis also helped himself to two while Tom Sorsby, James Sutcliffe, Nick Park and Alex Blumfield also put themselves on the scoresheet.

It was the first time a British side had reached double figures in a Sultan of Johor Cup match and only the second time it had ever been done after the USA also lost heavily to Australia the day before, succumbing 19-0.

Great Britain came flying out of the traps early on and found themselves two goals ahead at the end of the first quarter thanks to Golden and Scott after good work from Francis and Zach Wallace respectively.

But the Americans dug in well in the next quarter, their goalkeeper pulling off a number of superb saves as GB failed to make a further breakthrough before half-time.

The floodgates opened in the third quarter however as Scott found himself in the right place at the right time twice in the space of two minutes to wrap up his hat-trick.

Sorsby and Francis then both produced fantastically swept finishes into the top corner to extend their side's advantage to six by the end of the third quarter.

Francis scored a superb solo goal, reversing the ball into the net after a mazy run in which he beat several defenders, to make it seven.

Mackenzie and Sutcliffe then both scored with clever deflections but there was nothing subtle about Park's goal as he drilled in a penalty corner while on the pitch as a kicking back.

Head Coach Jon Bleby believes there is still room for improvement before their next game on Wednesday.

"Having two wins from two games is really positive and this new group is learning a lot already," he said.

"But we do need to be much more clinical in attack and from our penalty corners.

"I'm really looking forward to our game against Australia now."

Both Golden and MacKenzie featured in the opening match of the tournament against Malaysia where GB won 1-0 through a Duncan Scott goal.

In warm-up games ahead of the tournament MacKenzie scored a double against India with the goals with a 'made in Scotland' label, as Golden created both chances for close range Mackenzie tap-ins.

Golden got his name on the score sheet in a warm-up match against Australia.

GB take on the Australians at 09:05 BST on Wednesday, a game which can be watched here.

Scottish Hockey Union media release


---

U-21 USMNT Drops Second Game of Sultan of Johor Cup Against Tough Great Britain Team




JOHOR BAHRU, Malaysia - After a morning stretch and video analysis session, the U.S. U-21 Men's National Team came back with resilience in another tough match at the Sultan of Johor Cup in Johor Bahru, Malaysia. Match two saw them up against Great Britain, who were only missing four players from their recent Hockey Junior World Cup team, as USA fought hard but ultimately fell 11-0.

The squad fought hard in the fist half with countless shots on goal. While at the other end, USA goalkeeper Nate O'Lari (Orange, Mass.) was solid between the pipes. The game commentators were ready to hand him a 'man of the match' award after his first half performance.

USA stated the second half with grit, but Great Britain put the pressure on and moved the ball quickly which fatigued USA. This constant movement opened up the gaps that Great Britain was looking for as they piled on a few goals. In the fourth quarter, USA defenders Zaid Hassan (Santa Clara, Calif.) and Vincent Heller (Stuttgart, Germany) took the opportunity to throw quite a few 50-meter overheads when Great Britain pulled their goalkeeper. This allowed for some excitement as USA's strikers were given the opportunity o get into their attacking circle and earn two offensive penalty corners. From game one to game two, there was a dramatic overnight improvement from this young team as they head into a rest day tomorrow.

The U.S. U-21 Men's National Team has tomorrow off before facing India on Wednesday, October 25 at 6:05 a.m. ET. For all the latest scores, information and livestream schedule, check the SOJC Event Page by clicking here.

Goal Scoring Summary:
Team     Minute     Player     Action     Score
GBR     6     #5 Golden     FG     0 - 1
GBR     15     #15 Scott     FG     0 - 2
GBR     40     #15 Scott     FG     0 - 3
GBR     41     #15 Scott     PC     0 - 4
GBR     44     #5 Golden     FG     0 - 5
GBR     45     #17 Francis     FG     0 - 6
GBR     46     #17 Francis     FG     0 - 7
GBR     47     #19 Mackenzie     FG     0 - 8
GBR     54     #3 Sutcliffe     FG     0 - 9
GBR     56     #13 Way     PC     0 - 10
GBR     59     #6 Blumfield     FG     0 - 11



Thank you to the continued support the U-21 USMNT is getting from local fans!

USFHA media release


---

Burras Make It Two From Two In Malaysia

Ben Somerford




Australia backed up their opening day win over the United States with a 4-0 victory over Japan at the Sultan of Johor Cup in Malaysia on Monday.

The Burras piled on four third quarter goals after a tight first-half to claim the win over the Japanese which takes them two wins from two games.

Nathan Ephraums, Nathaneal Stewart, Liam Flynn and Andrew Scanlon scored the goals in the win.

Stewart and Scanlon's goals were both from penalty corners during a rampant third term.

Australia next faces Great Britain on Wednesday from 7.05pm AEDT.

Hockey Australia media release


---

'Waited 10 years for this trophy'

Uthra Ganesan



Sardar Singh. 

A decade is a long, long time in sports. A decade ago, on a warm, muggy September night in 2007, the Dr. Radhakrishnan Stadium in Chennai was packed with more people than it could hold — there were as many outside as there were inside, and the Indians ran roughshod over an off-colour South Korea to retain the hockey Asia Cup.

The only survivors from that victory at Dhaka on Sunday night were S.V. Sunil, now the vice-captain, who made his senior international debut in that competition, and Sardar Singh, still learning the ropes and unsure of his spot in the national side. Incidentally, both were awarded earlier this year — Sardar received the Khel Ratna and Sunil the Arjuna award. There were few in the stands to savour the win this time around, but the Indian dominance was similar.

"I feel extremely lucky to play for so long and it feels really special. I do not have words to express my happiness. More so since, like the last time, we did not lose a single game through the competition.

"I have waited ten years hold this trophy again. Both titles are special — 2007 because it was my debut as a young player and now, in 2017, as a senior player with the responsibility to guide the youngsters," S.V. Sunil told The Hindu after the game.

That win sparked hopes of the umpteenth revival of Indian hockey. Six months later, India lost a single game and crashed out of the Olympics for the first time ever. Despite the steady climb in rankings in the past few years, the Asia Cup has eluded India. Caution, therefore, is a by-word in every appreciation at the moment.

"It's a great win. But the team and management will have to regroup quickly. The HWL Finals will be a different ball game altogether, both in terms of competition and opposition.

"We finished on the podium in 2015 so we need to maintain that," V.R. Raghunath, who also gained prominence from the 2007 win, advised. Coach Sjoerd Marijne has admitted consistency is a concern. But his attempts to make the players equal stakeholders in not just the result but also the planning has, for now, paid off. There have also been questions on the quality of opposition.

It is no secret that India has moved far ahead of the graph in Asia. The team holds the Asian Games, Asia Cup and the Asian Champions Trophy. It's time, now, to look beyond.

The Hindu


---

India's Asia Cup triumph a small step ahead of bigger challenges

India's biggest test will be at the World League Finals in Bhubaneswar in just over a month's time, when they will be up against all the top nations.

by Mihir Vasavda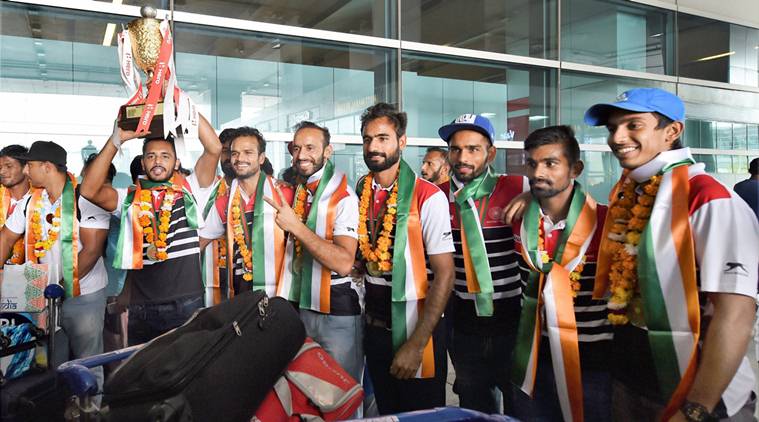 India hockey team won the Aisa Cup title after 10 years. (Source: PTI)

Dipsan Tirkey was just seven when India last won the Asia Cup. Back then, he did not even know what hockey was. Regardless, he joined the rest of his town, Sundergarh, in celebrating the win orchestrated by two Tirkeys — Prabodh, then captain, and Dilip. It was a subtle initiation to the sport, which would gradually turn into an obsession to emulate his idols. A decade on, he's taken a small step towards that. The latest Tirkey to have emerged from the seemingly endless supply line of technically-gifted defenders from the tribal belt in and around Odisha might not have been as influential as Prabodh and Dilip, but he played a crucial role in India lifting the Asia Cup for the first time since 2007 by beating Malaysia 2-1 in the final on Sunday.

The title hardly comes as a surprise. If anything, it reinforces what was already known – that India are a notch above the rest in Asia. The fact that the country currently holds all senior continental titles (Asia Cup, Asian Games and Asian Champions Trophy) along with the under-18 Asia Cup is a testimony to its regional dominance. In that sense, this performance was on expected lines.

But looking at the bigger picture, this should calm some nerves. Indian hockey has been going through frosty times of late. The sacking of coach Roelant Oltmans, withdrawal from international tournaments, cancellation of the Hockey India League, and poor performances against minnows put a spanner in the narrative that, after years of neglect, hockey was getting back on track in India.

There were doubts whether this team would be able to put these distractions behind to get the job done on the field, especially since the ever-improving Malaysians have been consistently causing India problems. The fears were not unfounded as India looked to be struggling initially before they got their act together and finish with a flourish.

Although it's risky to read too much in this title triumph, Sjoerd Marijne, Oltmans's successor who had around a month with the team before flying to Dhaka, will take away a lot of positives. Most importantly, the manner in which the young players in the team have responded.

One of the reasons Oltmans was sacked was his reluctance to give the players who won the junior World Cup last year a break in the senior team despite being urged by Hockey India's high performance director David John to do so. Given what was on display over the last one week, one can understand why John wanted fresh legs in the team.

Tirkey was one of several young players who continue to add to their reputation. Gurjant Singh, who had scored in the junior World Cup final against Belgium, showed he hasn't lost his penchant to score timely goals. His last-minute strike against South Korea helped India salvage a point. He combined well with midfielder Sumit and created several opportunities for the forwards with his defence-splitting passes and runs down the flanks.

At the back, Harmanpreet Singh — the tournament's joint top-scorer — continues to justify his selection ahead of seasoned defenders-cum-drag-flickers. He is strong and decisive with his tackles although the conversion rate from penalty corners remains iffy. Alongside him, Tirkey and Varun Kumar looked edgy at times but were covered well by Sardar Singh, who was used more in a defensive role.

That is likely to be Sardar's new role in the team. The former captain still adds value to the team but is often beaten for pace by younger, quicker opponents. However, Sardar remains one of the strongest players technically in the team, making him an asset in defence, as was evident in the final.

With Sardar at the back, captain Manpreet Singh played with more freedom in midfield. His task was made easier by SV Sunil, who seems to be enjoying the responsibility that comes with being the vice-captain. Sunil was easily one of the best Indian players of the tournament, his pacy runs down the right proving too much for opponents to handle.

But this tournament will probably be remembered as the one where Lalit Upadhyay finally came of age. Upadhyay is one of the most
graceful players in the team but his subtle style often goes unnoticed because of flashier teammates. Upadhyay's pass that led to a Satbir Singh goal against Pakistan was one of the best one'll ever see on a hockey field while his goal in the final against Malaysia was equally impressive.

All this, however, came against opponents who are nowhere close to world standards – a point reinforced by the fact that none of these teams qualified for the Rio Olympics. The Indian team lacked structure, which is something Oltmans had worked relentlessly for the last two years. There were missed passes and miss-traps galore and the game-play was scrappy at times.

These errors went unpunished because of the quality of the opponents in Asia. India's biggest test will be at the World League Finals in Bhubaneswar in just over a month's time, when they will be up against all the top nations. For Marijne, this win will help in generating some lost momentum while for the likes of Tirkey, who played their first major tournament, this is a small step ahead of bigger challenges.

Indian Express


---

Van Huizen admits Malaysia still a work in progress

by S. Ramaguru



Memorable win: Malaysia's Tengku Ahmad Tajuddin (left) in action against Pakistan in the Super Fours opening game in Dhaka.

KUALA LUMPUR: Malaysia are regaining their foothold in world hockey.

Coach Stephen van Huizen's side continued their good showing by finishing second in the Asia Cup in Dhaka, Bangladesh, on Sunday. It was the first time that Malaysia reached the final.

The other notable achievement for Malaysia was their 3-2 win over Pakistan in a Super Four clash. It was Malaysia's first-ever win over Pakistan in 11 meetings in the tournament.

Before that at the World Hockey League Semi-Finals in London in July, Malaysia made it to next year's World Cup Finals in India after a creditable fourth-place finish.

The performances in the two tournaments have certainly caught the eye of hockey enthusiasts. Malaysia are now more consistent with a high fitness level. They also managed to cut down their mistakes or last-minute lapses of concentration.

Van Huizen, however, said that "Malaysia is still a work in progress".

"We must not get carried away by the success. We are not a finished product yet. The players are learning and have improved with each tournament. That's the good thing.

"We are also able to last the pace and play with greater confidence.

"One important aspect is that the players are able to play the big teams and match them," said Van Huizen.

Malaysia played seven matches in Dhaka, winning four, drawing one and losing twice. Both the defeats were in the hands of three-time champions India.

"There was not a single match where we had not performed well. Even in the 2-6 loss to India (in the preliminary round), we showed good form. We made some early mistakes and India capitalised to take a healthy lead.

"Several of our players suffered injuries during the tournament but they soldiered on. Key players like Nabil (Fiqri), Mohamed Shukri (Mutalib) and Mohamed Marhan (Mohamed Jalil) played on despite their injuries.

"This is the kind of spiirt we want in the team. So overall, the Asia Cup outing is a success," said Van Huizen.

There was more joy for Malaysia as forward Faizal Saari shared the tournament's joint top scorer award with India's Hermanpreet Singh with seven goals each.

Van Huizen has given his players a one-week break before reporting to their respective teams for the Razak Cup tournament in Ipoh from Nov 4-12.

The players are expected to regroup after the Razak Cup for a short training stint before the start of the Malaysia Hockey League (MHL) in January.

"Our training programme for next year is ready, but it needs to be approved by the Malaysian Hockey Confederation's (MHC) executive board," said Van Huizen.

It will be a busy year for Malaysia as they are down to compete in four major tournaments next season. They will start the season with the Sultan Azlan Shah Cup in March followed by the Commonwealth Games in Australia (April), Asian Games in Indonesia (August) and World Cup Finals (December).

Malaysia's main target is the Asian Games as the gold medallists will get an automatic berth to the 2020 Tokyo Olympics.

"We want to make the cut for the Olympics. The training programme will be tailored to achieve that target," said Van Huizen.



 
The Star of Malaysia


---

Barbados Hockey Tridents take fifth spot



Barbados' Dave Cox (right) has to contend with the defensive efforts of Mexico's Cristhopher Vigueras. (PAHF)

Saturday's final day of the 2017 Indoor Pan Am Hockey Cup at the Cliff Anderson Sports Hall, Georgetown, Guyana, showcased a herculean effort from the Hockey Tridents to secure fifth place over CAC counterparts, Mexico.

Mexico had the honour of the first touch of the match and started a bit slower than their round-robin encounter with Barbados, taking a bit more care in their positioning and passing and measuring the Barbados defence. Early in the second, Mexico's first attack down the right flank was firmly guided out of play by the Barbados on-court captain, Dave Cox.

The Hockey Tridents looked a bit slow and unfocused in the opening exchanges. This error was fully exploited by Mexico's Cristhopher Vigueras, as he attacked down the right side, this time flashing a cross towards the goal from close to the baseline that Barbados custodian Keenan Knight mistook for going wide and courteously stepped out the way, allowing it into the goal and giving Mexico the lead in the third minute.

The early goal jolted the Hockey Tridents into action and they quickly responded, earning a penalty corner in the fifth, converted using a "back-to-the-pusher" routine, which went from Che Warner, to Neil Franklin and back to Warner for a comfortable deflection into the Mexico goal levelling the scores at 1 – 1.



Barbados' Che Warner (right) challenging Alan Baas of Mexico. (PAHF)

The pace of the match quickly increased, with both sides now trying to gain the lead and creating end-to-end chances. It would be Mexico who broke the deadlock after employing a two-man press and earning a penalty corner in the 12th. Mexico's captain Alan Baas made no mistake with this one and whipped his shot past Knight into the roof of the Barbados goal, giving Mexico the 2 – 1 lead.

Playing with the tempo now, Baas ran with a counterattack down the Barbados left side, eliminating the Barbados mid-court players and taking a lifted shot off the right foot, beating a diving Knight on his right side and scoring Mexico's 3rd goal, making the score at half-time 3 – 1 to Mexico.

After the restart, Mexico continued with the tempo and continually tested the Barbados defence without success due to some solid defensive work. It would not be until five minutes into the second half, that Mexico's Luis Solorzano took a fast break up his left side and executed a timely scoop shot from the left, that caught Knight moving and increasing Mexico's lead to 4 – 1 in the 25th.

Freshly motivated, the Hockey Tridents went up a gear and from the touch, pressed Mexico high and hard, which resulted in Baas sending Cox to ground in the "D" with an over enthusiastic shoulder, drawing a penalty stroke call from the umpire. Barbados' Neil Franklin, stepped up to take the stroke, which he shot intently into the low left corner beating Mexico's goalkeeper Roberto Orozco and pulling one back for the Hockey Tridents in the 26th minute.

With a renewed sense of urgency, shortly after the Mexico touch, Barbados continued their all-out press on Mexico. A skillful run from Barbados forward Akeem Rudder ended in a yellow card for him, after using a bit of excessive aggression while eliminating the Mexico right back. With Barbados down to five men for two minutes, Mexico held the numerical advantage, but this would not stop Warner from sending a searching ball up the middle to young Javier Wharton, who was well positioned for his light deflection past Orozco into the Mexico goal in the 27th, decreasing the deficit to just one.

With the momentum squarely in favour of the Hockey Tridents, their pressing would yield another penalty corner in the 33rd minute. The Hockey Tridents executed a perfect penalty corner routine, which started with an injection from veteran Aaron Forde, to Laurando Davis, then back over to the right to Warner, who stopped it for Rudder to expertly finish into an open Mexico goal, leveling the scores at 4 – 4.  It was so nice, they had to do it twice. Awarded with yet another penalty corner in the 38th, Barbados executed the same routine, this time using Cox as the injector, allowing Rudder to net his second of the match beating Orozco and giving Barbados the lead for the first time in the match at 5 – 4, with 2 minutes left on the clock – a lifetime in indoor hockey.

Mexico restarted quickly, perhaps wondering how they lost a three-goal cushion, but with under two minutes left, it was all business. An experienced Warner took advantage of a call in Barbados' favour and slowed the game down to carefully position the ball, then caught the Mexico defence sleeping with a direct searching pass that found captain Cox, lurking at the top of the Mexico "D" where he deflected the ball with the faintest of touches past Orozco in the 39th, scoring his first of the match and extending Barbados' lead to 6 – 4.

Mexico earned a penalty corner in the dying seconds, but could not convert so Barbados walked away with the 6 – 4 victory and a well-deserved 5th place.

In other finals matches, tournament favorites Canada got the edge over the hosts Guyana, defeating them 5 – 2 to take the Bronze medal and in the final match, a speedy and clinical Trinidad & Tobago man-handled Pan Am Outdoor Hockey powerhouse Argentina, schooling them with a 7 – 0 lesson to take the gold medal and earn their spot in the 2018 FIH Indoor Hockey World Cup, taking place in Berlin, Germany in February 2018. (KH)

Barbados Today


---

Nine Athletes Added To Men's National Development Squad

Ben Somerford




Hockey Australia today confirms nine athletes have been added to the Men's National Development Squad.

Tasmania's Kieron Arthur, Queensland's Robert Bell and Hugh Pembroke, New South Wales' Matthew Butturini, Kieran Govers and Jack Hayes, Victoria's Tim Cross and Stephen Gale and WA's Frazer Gerrard have been added by the National's Men's Selection Panel.

National Development Squad players remain decentralised but receive Hockey Australia support and resources through the state institutes and NTC coaches.

Kookaburras head coach Colin Batch said the Australian Hockey League (AHL) had provided an ideal opportunity to assess the talent available with a view to offering opportunities in the National Development Squad ahead of 2018 which includes the Commonwealth Games and World Cup.

"AHL was a really significant selection opportunity. We were able to view all the players playing against each other in a tournament situation which was really valuable," Batch said.

"We have got a lot of promising kids coming through and we want to look after them."

Butturini and Govers are experienced players coming back into the fold.

Batch added: "We identified there were some of our more experienced athletes who haven't been in the program that did play well during AHL and we want to see if they can reach the level they have in the past."

Butturini, 30, helped Australia win gold at the 2010 World Cup and bronze at the 2012 London Olympics and has 89 caps and 18 international goals to his name but hasn't represented his country since 2013 having battled a serious knee injury in recent years.

Govers, 29, has previously represented Australia 121 times scoring 58 goals, last playing for his country against India in November.

Arthur is a talented flicker who was top scorer at the 2017 AHL, while Bell, who has seven caps, was named Player of the Final at the AHL.

Cross also has eight caps and one goal for the Kookaburras, while Gale and Gerrard are defenders who were part of Australia's 2016 Junior World Cup team. Queensland's Pembroke is a defender/midfielder and Hayes is a midfielder/striker from the Illawarra region.

Men's Program National Development Squad 2017
Athlete (State)
Kieron Arthur (TAS)
Robert Bell (QLD)
Matthew Bird (WA)
Tim Brand (NSW)
Scott Boyde (QLD)
Matthew Butturini (NSW)
Tim Cross (VIC)
James Day (ACT)
Johan Durst (VIC)
Stephen Gale (VIC)
Frazer Gerrard (WA)
Kieran Govers (NSW)
Jake Harvie (WA)
Jack Hayes (NSW)
Max Hendry (VIC)
Tim Howard (QLD)
Kurt Lovett (NSW)
Kurt Mackey (TAS)
Hugh Pembroke (QLD)
Lachlan Sharp (NSW)
Josh Simmonds (VIC)
Ash Thomas (NSW)
Jack Welch (TAS)
Corey Weyer (QLD)

Hockey Australia media release


---

Rot-Weiss forge ahead in Bundesliga as HTHC and Mannheimer falter



©: Frank Uijlenbroek / World Sport Pics

Rot Weiss Köln extended their lead at the top of the German league thanks to a 3-0 away win over Munich while their two nearest rivals both lost; stretching their advantage to four points with a game in hand.

Despite the final scoreline, Rot-Weiss coach André Henning picked out his goalkeeper as the player of the match: "You have to pick Victor [Aly] who can hardly train at the moment because of the preparation for the exam, but regularly delivers very strong performances.

Christopher Rühr opened the scoring in the 25th minute from a corner and he also scored the second goal in the second half. Florian Scholten completed the scoring in the 50th minute.

Mannheimer HC lost 2-1 with Linus Michler scoring a last minute goal for Crefelder HC. The Mannheim coach Matthias Mahn was left frustrated by the outcome.

"There were enough chances for both sides for more goals, and our problem is not that we did not score from six corners. I'm sure the team will show a clear reaction next week against Nürnberg."

Indeed, Mannheimer had their final corner with 40 seconds to go but were able to counter at pace and score with the last touch of the game.

UHC Hamburg produced their best result of the season to date when they beat previously high-flying Harvestehuder with early goals from Hannes Müller and Philip Schmid scoring inside the first 22 minutes to set up the 2-1 win.

It means Rot-Weiss need one win from their final two games of the first half of the season next weekend, meeting strugglers Dusseldorfer HC on Saturday and then Crefelder HC on Sunday.

Euro Hockey League media release


---

Rotterdam's magic eight too much for HGC



©: Frank Uijlenbroek / World Sport Pics

EHL KO16 hosts HC Rotterdam produced a stunning 8-3 win – with Jeroen Hertzberger scoring four times – against HGC to leap-frog their rivals and move into fifth place in the Hoofdklasse.

Hertzberger got their first from the penalty spot inside a minute before corner goals from Seve van Ass and Simon Egerton extended the lead to 3-0. Tjep Hoedemakers drove forward to slip home the fourth goal before half-time.

Hertzberger tipped in Jochem Bakker's cross for the fifth early in the second half before Tristan Algera got one back from a HGC corner. Milan van Baal, though, added a sixth and Hertzberger added another couple of corners, countering two from Rik van Kan.

SV Kampong returned to the top of the table with a 4-0 win over Den Bosch while AH&BC Amsterdam were 6-1 winners over HDM and Oranje-Rood beat Almere 4-1.

The surprise result saw HC Bloemendaal draw 1-1 with Pinoké with Florian Fuchs and Marlon Landbrug exchanging goals either side of half-time. That result saw Bloemendaal drop a couple of places to third with Amsterdam moving up to second.

Euro Hockey League media release


---

Bandurak hat trick knocks Surbiton off top spot in England



©: Frank Uijlenbroek / World Sport Pics

A Nicholas Bandurak hat-trick helped Holcombe inflict the first defeat of the English men's Premier League season on defending champions Surbiton as they ran out 4-2 winners.

Alan Forsyth put Surbiton ahead on 31 minutes but they failed to hold that lead through to the break thanks to Bandurak's first of the afternoon.

That would prove crucial as the 24-year-old completed his hat-trick after the break, with veteran Barry Middleton also on target. Arjan Drayton Chana hit a late consolation but it was not enough to prevent Surbiton's first defeat.

Mark Gleghorne hit a brace as Beeston overtook Surbiton at the top of the division after a 4-2 triumph at home to Hampstead & Westminster on Saturday.

Gleghorne opened the scoring from a short corner after just four minutes, but Chris Cargo levelled for the visitors nine minutes later. Penalty corner specialist Gleghorne had his second of the afternoon and sixth of the season on 23 minutes, before Adam Dixon doubled the Beeston lead soon after.

Toby Roche reduced the arrears before the break but Hampstead could not find another break through, Sam Ward wrapping up the points for the hosts with the final play.

Simon Faulkner converted a hat trick of penalty corners as East Grinstead defeated Canterbury 6-1. Kieran Mulholland, Chris Griffiths and Rob Cope were all on target, Craig Boyne pulled one back for Canterbury who are yet to score a point this term.

Andrew Ross scored a hat-trick as Sevenoaks picked up their first win of the campaign with a 3-1 victory over Brooklands MU, David Flanagan had levelled for the visitors.

Reading were back to winning ways after a 3-2 home win over Wimbledon, James Carson scoring the winner seven minutes from time. The hosts led twice through Dale Hutchinson and Stuart Loughrey, but equalisers from Alistair Brogdon and Ed Horler were in vain after Carson's field goal secured the points.

And in Sunday's lone Premier Division match East Grinstead won 3-1 against Wimbledon, with David Condon, Liam Ansell and Simon Faulkner getting their goals.

Euro Hockey League media release


---

Top hockey clubs plot revamped men's Premier League

Rod Gilmour



England Hockey will hold crucial talks to prevent the future of the sport Credit: Getty Images

English hockey's leading clubs will hold private talks in London next week to propose a new men's Premier League, amid fears that the domestic game will be "completely destroyed" when a global competition for the sport begins in 2019.

According to a document seen by Telegraph Sport, the meeting will centre upon a revamped 'England Hockey Premier League' which suggests that "the top clubs in England should take ownership".

It is understood that officials from 12 clubs – including Beeston, Wimbledon and champions Surbiton – will all attend the meeting at Southgate Hockey Club on Nov 2. They will convene without representatives from England Hockey, the national governing body, which has held consultation meetings over the past year with clubs to outline a plan that 'bridges the gap' between the international and domestic game.

The domestic shake-up follows the International Hockey Federation's decision to set up its Hockey Pro League, which will feature nine of the world's best men's and women's teams – including England and GB – playing each other home and away.

The crux of the issue centres on England Hockey and Great Britain's centralised programme. When the global league starts in early 2019, clubs will be without their star players from January to June. With the domestic season starting in September, it means that English clubs will be devoid of key players for the second half of the season.

Some Premier Division clubs admit that the global league will impact the national game to such a degree that, with no international stars available to both play and coach younger members, the game's long-term future will be bleak. "There will be no aspirational figures to follow and the talent pool will dry up in a generation or two," claimed one club official.

The official added that leading Olympians could become "mercenaries" and be enticed to play abroad in Holland or Belgium, where players are well paid on top of their centralised contracts.

There are already ramifications with the indoor game, with England stars unavailable for the Super 6s, while Surbiton will travel to their European indoor campaign next year with, effectively, a second-string side because of Commonwealth Games preparations.

Officials believe that working alongside England Hockey in the future is integral to both national and international success and say next week's meeting will not address the prospect of a "breakaway" league as such. Instead, clubs want more control over domestic fixtures and a bigger say in commercial viability, with the document stating that the league would "put hockey on television".

England Hockey said in a statement: "We have been working with clubs and other stakeholders for the past 14 months to find the best way to align our domestic leagues with this new global landscape. We have proposed changes to enable international players to play club hockey in a meaningful way as well as give them the best chance of winning medals on the world stage."

The Telegraph


---

Thailand and Indonesia back for Razak Cup

KUALA LUMPUR: Thailand and Indonesia are back in the fray for the Razak Cup hockey tournament at the Sultan Azlan Shah Stadium in Ipoh from Nov 4-12.

The two countries, who were absent from the competition for more than 10 years, will join Singapore as the three foreign teams in Division Two.

The others vying for the Division Two title are Pahang, Selangor, Kelantan, Perlis, Kedah and Armed Forces.

Eight teams will feature in Division One. Defending champions Terengganu head the cast with Kuala Lumpur, Johor, Negri Sembilan, Malacca, Perak, Police and Penang.

THE GROUPINGS

Division One

Group A: Terengganu, Kuala Lumpur, Malacca, Penang.
Group B: Police, Perak, Johor, Negri Sembilan.

Division Two

Group A: Pahang, Kelantan, Indonesia, Selangor, Thailand.
Group B: Armed Forces, Perlis, Singapore, Kedah.

The Star of Malaysia