All the news for Wednesday 27 September 2017

Vantage Black Sticks in form for Oceania Cup



Pictured: Stephanie Dickins, courtesy www.photosport.nz

Head coach Mark Hager has named an in-form Vantage Black Sticks Women's side to contest next month's Oceania Cup in Sydney.

The team of 18 includes 11 players who competed in Sunday's Ford National Hockey League final between Midlands and Northland.

Versatile defender Stacey Michelsen is the most capped player with 235 tests to her name while she is joined by eight others who have played over 100 games.

There are likely to be two significant milestones chalked up during the event with Samantha Charlton just one match away from her 200th test while goalkeeper Sally Rutherford is currently on 147 caps.

North Harbour defender Stephanie Dickins and Midlands defender/midfielder Tarryn Davey have both been rewarded for an impressive performance throughout the week at the Ford NHL.

"We have a few changes from our team which played at the World League Semi Final in Belgium and I think it shows the quality of depth we have with competition for spots," Hager said.

"Steph Dickins and Tarryn Davey in particular were great contributors for their teams at the Ford NHL and they will bring athleticism for us along with fitness, speed and versatility.

"While we have already qualified for the World Cup we will be going to the Oceania Cup with plenty of motivation and team goals in the lead up to the Hockey World League Final in Auckland this November."

The Oceania Cup runs from 11-15 October at the Sydney Olympic Park Hockey Centre where New Zealand will be joined by hosts Australia and Papua New Guinea.

Held every two years, the Oceania Cup is the continental championship for the Oceania region with the winner of each gender automatically qualifying for the 2018 Hockey World Cup.

Both the Vantage Black Sticks Women and Men have already qualified for the World Cup, with the women's event in London (July, 2018) and the men's in India (November, 2018).

Each nation will play each other in the pool rounds before the top two ranked nations face off in the gold medal match for the Oceania Cup title.

CLICK HERE for more on the 2017 Oceania Cup

VANTAGE BLACK STICKS WOMEN – OCEANIA CUP
11-15 October - Sydney, Australia

| | | | | | |
| --- | --- | --- | --- | --- | --- |
| SHIRT # | PLAYER NAME | REGION | POSITION | AGE | CAPS |
| 13 | Sam CHARLTON | Midlands | Defender | 25 | 199 |
| 5 | Frances DAVIES | Midlands | Defender | 21 | 25 |
| 1 | Tarryn DAVEY | Midlands | Defender/Midfielder | 21 | 7 |
| 17 | Steph DICKINS | North Harbour | Defender | 22 | 7 |
| 20 | Natasha FITZSIMONS | Midlands | Defender | 28 | 86 |
| 28 | Shiloh GLOYN | Midlands | Striker/Midfielder | 28 | 43 |
| 12 | Ella GUNSON | Northland | Defender | 27 | 168 |
| 2 | Sam HARRISON | Auckland | Striker | 25 | 124 |
| 24 | Rose KEDDELL | Midlands | Defender | 22 | 151 |
| 11 | Rachel McCANN | Canterbury | Striker | 23 | 62 |
| 4 | Olivia MERRY | Canterbury | Striker | 24 | 172 |
| 31 | Stacey MICHELSEN | Northland | Defender | 25 | 235 |
| 9 | Brooke NEAL | Northland | Defender | 24 | 122 |
| 15 | Grace O'HANLON | Auckland | Goalkeeper | 24 | 17 |
| 6 | Amy ROBINSON | Midlands | Midfielder/Striker | 21 | 31 |
| 8 | Sally RUTHERFORD | Midlands | Goalkeeper | 35 | 147 |
| 25 | Kelsey SMITH | Capital | Midfielder/Striker | 22 | 57 |
| 16 | Liz THOMPSON | Auckland | Defender/Midfielder | 22 | 151 |
Hockey New Zealand Media release


---

New faces necessary for Black Sticks Women

By David Leggat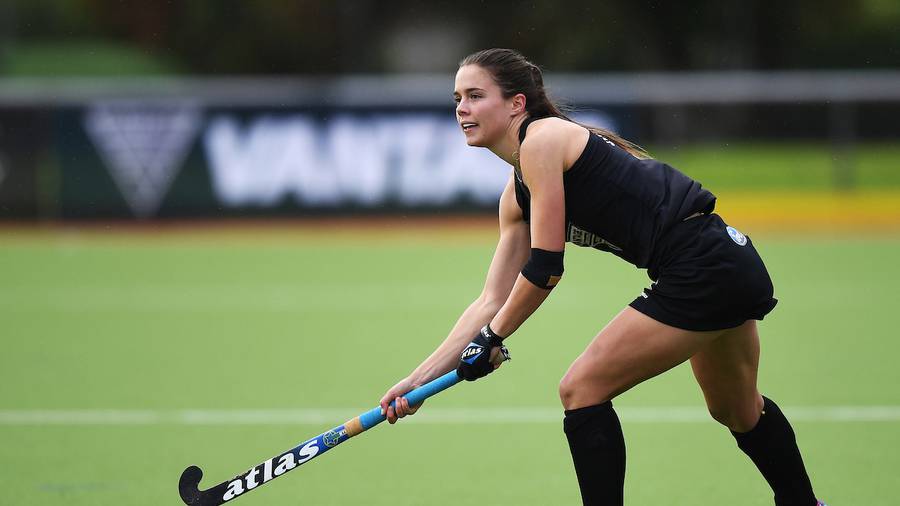 Tarryn Davey is one of the promising youngsters in the Black Sticks. Photo / Photosport

Black Sticks women's coach Mark Hager is preparing for a sea change among his squad over the coming year.

It's a busy time too, with New Zealand hosting the world league final in Auckland in November; followed by the Commonwealth Games on the Gold Coast in April, then the World Cup in London in July.

Half a dozen players, who have been integral parts of the national team for the last few years are likely to be absent, and in most cases, may be gone from the national team for good.

Lively midfielder Anita McLaren has not played since last year's Rio Olympics. She sat out last week's national league, won't play the world league, but the door is open to her returning for next year. For all that there is bright young talent coming through, McLaren's fleet-footedness and strong scoring ability at penalty corners will help.

Charlotte Harrison, Petrea Webster, Sophie Cocks and Gemma McCaw, all absent since Rio, have indicated they want more time out. Hager has no beef about that.

You've got to move on," he said today. "In the last two Olympic cycles we lost players. We've got some good young talent and that's exciting and they're really keen to be there."

McCaw, 27, has won 246 caps. Hager admired her perspective after having a chat today.

"She said if she can't give 100 percent then she can't commit properly. It takes a lot of courage to do that.

"The others, I feel, are at the same stage in their lives. You enjoy playing but it's the hard yards, all the training, getting back into that again. That's the hard bit.

They have all moved on with their lives, and as Gemma said you've got to be 100 percent committed. Doing it half hearted doesn't do you or your team any service," Hager said.

In naming his Oceania Cup squad, Hager singled out young North Harbour defender Steph Dickins and midfielder Tarryn Davey from the national league winners Midlands, for special praise. Both have won only seven caps but caught the eye at the tournament last week.

"Steph is a very fit, strong girl who offers a bit out of the back and Tarryn was very good in midfield and her conditioning at speed is very good."

Eight of the national league-winning Midlands team are in, along with three from runnersup Northland.

Midlands' Rose Keddell returns after getting injured at the world league tournament in Belgium this year, while four players have dropped out from that Belgian squad - midfielders Pippa Hayward, Jordan Grant and Erin Goad and attacker Kirsten Pearce.

The sixth-ranked Black Sticks have this week off before preparing for Sydney, where they will face world No 5 Australia and lightweights Papua New Guinea from October 11-15.

New Zealand squad for the Oceania Cup:
Goalkeepers: Sally Rutherford (Midlands), Grace O'Hanlon (Auckland)
Defenders: Sam Charlton, Rose Keddell, Frances Davies, Natasha Fitzsimons (Midlands), Ella Gunson, Stacey Michelsen, Brooke Neal (Northland), Liz Thompson (Auckland), Stephanie Dickins (North Harbour)
Midfielders: Tarryn Davey, Shiloh Gloyn, Amy Robinson (Midlands), Kelsey Smith (Capital)
Strikers: Olivia Merry, Rachel McCann (Canterbury), Sam Harrison (Auckland)

The New Zealand Herald


---

Gemma McCaw not returning for Black Sticks

Gemma McCaw won't be returning for the Black Sticks despite a strong outing for Midlands at the national hockey league tournament.

McCaw has made herself unavailable for next month's Oceania Cup in Sydney despite helping Midlands to the K Cup title after beating Northland in Sunday's final.

Her decision is based on wanting to focus on her career and her family life with husband Richie McCaw.

National hockey coach Mark Hager said he hoped the door remained open for McCaw to return but in the meantime she was focusing on work commitments and her personal life.

McCaw, who has studied for a Bachelor of Sport and Exercise Science throughout her hockey career, works as a health coach. She also write a column for a women's magazine.

She has played more than 200 internationals for New Zealand and last appeared for the Black Sticks at last year's Rio Olympics.

Eleven players from last weekend's final have been included in the Black Sticks squad.

Classy defender Stacey Michelsen, is the most capped player with 235 tests, while eight others have played more than 100 matches.

North Harbour defender Stephanie Dickins and Midlands defender/midfielder Tarryn Davey, both with just seven caps to their credit, have both been rewarded for impressive performances throughout the week at the Ford-sponsored NHL.

"We have a few changes from our team which played at the world league semifinal in Belgium and I think it shows the quality of depth we have with competition for spots," Hager said.

"Steph Dickins and Tarryn Davey, in particular, were great contributors for their teams at the NHL and they will bring athleticism for us along with fitness, speed and versatility.

"While we have already qualified for the World Cup, we will be going to the Oceania Cup with plenty of motivation and team goals in the lead up to the world league final in Auckland in November."

Experienced defender Sam Charlton, who led Midlands to the national women's title on Sunday, is one match shy of her 200th international, while goalkeeper Sally Rutherford is three short of reaching 150.

The Oceania Cup runs from October 11-15 with New Zealand, ranked sixth, are joined by fifth-ranked hosts Australia and outsiders Papua New Guinea.

Held every two years, the Oceania Cup is the continental championship for the Oceania region with the winner of each gender automatically qualifying for the 2018 World Cup.

The Black Sticks have already qualified for the cup, which will be held in London next July.

New Zealand squad: Sam Charlton, Frances Davies, Tarryn Davey, Natasha Fitzsimons, Shiloh Gloyn, Rose Keddell, Amy Robinson, Sally Rutherford (Midlands), Steph Dickins (North Harbour), Ella Gunson, Stacey Michelsen, Brooke Neal (Northland), Kelsey Smith (Capital), Olivia Merry, Rachel McCann (Canterbury), Grace O'Hanlon, Liz Thompson, Sam Harrison (Auckland).

The New Zealand Herald


---

Gemma McCaw unavailable for Black Sticks

OLIVIA CALDWELL



Gemma McCaw has missed out on Black Sticks selection for next month's Oceania Cup. GETTY IMAGES

Gemma McCaw's Black Sticks career is on hold after making herself unavailable for next month's Oceania Cup.

Coach Mark Hager confirmed McCaw had spoken with him during the National Hockey League last week and said she needed more time away from hockey to focus on her career and family life.

"She spoke to me last week and just said she needed a bigger break from hockey. Hopefully that doesn't mean the door is closed for future selection," Hager said.



Gemma McCaw (right) was a stand out for her winning midland side at the NHL last week. ROBERT KITCHIN/STUFF

"She has her work commitments she wants to concentrate on, she's married; just wants to get her life in order," Hager said.



Gemma and Richie McCaw at the 2017 Australian Open in tennis, in Melbourne. SCOTT BARBOUR/ GETTY IMAGES

The 27-year-old McCaw (nee Flynn), who has 246 New Zealand caps, was dominant for the winning Midland side in the national competition, but had approached Hager late in the week at the Wellington tournament.

Hager said that both himself and McCaw had left the door open, along with several other players who had missed selection including Canterbury's Pippa Hayward.

"We have both sort of left the door open and it depends what happens over the next few years, that will determine what happens next."



Gemma Flynn and Richie McCaw in Wanaka the day after their wedding, January 15, 2017. RICHIE MCCAW/FACEBOOK

McCaw could not be reached for comment.

TOUGH SELECTION PROCESS

The Black Sticks squad of 18, named on Wednesday, includes 11 players who played in the weekend's National Hockey League final between Midlands and Northland, who Hager said were the standout teams.

He said the selection process was tougher than usual, but he was happy with his side.

"It's good and bad, now I have to have some tough conversations with some great players."

Hager said after losing some great speedy players form the squad which went to the 2016 Rio Olympics, such as McCaw, he was looking to replace them with similar styled players.

"By no means is anyone who has missed out on selection this week out of contention for future selection," Hager said.

Versatile defender and captain Stacey Michelsen is the most capped player with 235 tests to her name while she is joined by eight others who have played over 100 games.

There are likely to be two significant milestones chalked up during the event with Samantha Charlton just one match away from her 200th test while goalkeeper Sally Rutherford is on 147 caps.

North Harbour defender Stephanie Dickins and Midlands defender/midfielder Tarryn Davey have both been rewarded for an impressive performance throughout the week at the NHL.

"We have a few changes from our team which played at the World League semifinal in Belgium and I think it shows the quality of depth we have with competition for spots," Hager said.

"Steph Dickins and Tarryn Davey in particular were great contributors for their teams at the NHL and they will bring athleticism for us along with fitness, speed and versatility."

While the side has already qualified for next year's world cup they are plenty motivated to beat the Australians and Papua New Guinea, said Hager.

The Oceania Cup runs from 11-15 October at the Sydney Olympic Park Hockey Centre. Held every two years, the Oceania Cup is the continental championship for the Oceania region with the winner of each gender automatically qualifying for the 2018 Hockey World Cup.

Each nation will play each other in the pool rounds before the top two ranked nations face off in the gold medal match for the Oceania Cup title.

Black Sticks to play at Oceania Cup, October 11-15 - Sydney, Australia: Sam Charlton, Frances Davies, Tarryn Davey, Natasha Fitsimmons, Shiloh Gloyn, Ella Gunson, Sam Harrison, Rose Keddell, Rachel McCann, Olivia Merry, Stacey Michelsen, Brooke Neal, Grace O'Hanlon, Amy Robinson, Sally Rutherford, Kelsey Smith, Liz Thompson

Stuff


---

Has Gemma McCaw dropped hockey or did hockey drop her?

Olivia Caldwell



Gemma McCaw has taken on a new career path coaching kids and corporates on wellbeing. GRANT MATTHEW/STUFF

OPINION: Has Gemma McCaw taken a break from hockey, or has hockey taken a break from McCaw?

It was hard to tell with all the smoke and mirrors around her non-selection for the Black Sticks.

Hockey and coach Mark Hager spoke in riddles. McCaw wouldn't speak at all.



Have we seen the last of Gemma McCaw in the Black Dress? PHOTOSPORT

But the last time McCaw did speak to me on the topic - just four months ago - it was all eyes on her hockey future.

"I've still got that hunger, especially for those major tournaments," she said. That hunger seems to have disappeared completely and it is all a bit baffling really.



Gemma and Richie McCaw following the Coast to Coast mountain run. ALDEN WILLIAMS/FAIRFAX NZ

When the Black Sticks squad was announced on Wednesday for the Oceania Cup without the prolific striker in the mix, I assumed she had been dropped cold by coach Mark Hager, despite being in form at the National Hockey League tournament in Wellington last week.

I asked New Zealand Hockey if she had pulled out of the running and was told: "Gemma is not currently in the national squad or development squad, so not selected."

Shortly after I spoke with Hager, who said she had, in fact, made herself unavailable for selection for the remainder of the 2017 season to focus on her career and "get her life in order".

So with a media manager saying dropped, a coach saying won't play and McCaw saying , well nothing at all, I am feeling very much out of the hockey loop.

While Hager said it was McCaw's call, he didn't sound overly concerned one of the New Zealand's leading players was otherwise occupied. He mentioned her career and married life.

With 246 caps to her name and two Commonwealth Gold medals, it'd be fair to assume hockey has been McCaw's career.

I understand people and circumstances change. We get older, we get married and so on. But if a career is really what McCaw is choosing to focus on, would it not be a Tokyo Olympic gold medal, or a Commonwealth Games gold medal, or a Hockey World Cup gold medal? Or all of the above. McCaw will still only be 30-years-old when the 2020 Olympics rolls round, hardly over the hill for one of the best strikers the side has seen in recent years.

Outside of hockey McCaw is shining for sure. This year she has started her new business, the 100 Percent Project - a joint venture with three others that educates and coaches corporates and children on wellbeing. In May, she said her profile from hockey had helped get the business started and who wouldn't do the same. It's a great opportunity for any Black Stick who struggles to balance work and hockey on very little pay for a professional athlete.

McCaw's profile also lifted when she met, dated and married another sporting star - former All Black captain Richie McCaw. I mention this only because one of the reasons she has chosen not to play for the Black Sticks, was to focus on her family life.

While she has said nothing about starting a family just yet, the former All Black has.

"My wife plays hockey for New Zealand, so when she's decided she's had enough of hockey, maybe," the 36-year-old told a French show while promoting his movie Chasing Great.

Although McCaw hasn't played international hockey since last year's Olympic Games campaign when the team came up short of bronze, she has proved this year she is more than capable of being a great Black Stick again. She has travelled to the US for the California Cup and nailed an NHL win with her Midland side on Saturday.

McCaw has appeared in several women's magazines this year, speaking about hockey, her job and a little about life with Richie. Her social media accounts also demonstrate her love for her hockey, her hubby and adventure.

But, on Wednesday, when McCaw was left off one very important guest list, she made herself unavailable for comment.

Maybe she said it loud and clear to me earlier in the year. Perhaps, McCaw has just lost her passion for the Black Sticks.

"You've got to have that passion. You don't want to go back just to play in a major event you have to be 100 per cent into it. You can't play these matches at 80 per cent."

Stuff


---

Tougher Asia Cup format calls for fitter players

By S. Ramaguru

KUALA LUMPUR: The Asia Cup in Dhaka will use a new format of a "tournament within a tournament".

Unlike past editions where the champion are decided after five matches, this time it will take seven matches.

The Asia Cup, which is also a World Cup qualifier, will be held from Oct 11-22.

The eight teams will initially be divided into two groups.

Group A comprises India, Pakistan, Japan and hosts Bangladesh. Group B has Malaysia, South Korea, China and Oman.

The top two teams from each group will qualify for the next round – called the Super Fours. This will see all four teams in a single group and the top two will then meet in the final.

Asian Hockey Federation (AHF) chief executive Datuk Tayyab Ikram said that they decided to have extra group matches due to demands from television networks.

"There is a feeling that the previous format restricts the number of top-level games.

"By having the top four play in a round-robin format, there will be quality matches in the second round," said Tayyab.

So far India, Malaysia and Pakistan have qualified for the World Cup in India next year. South Korea, China and Japan can make the cut if they win the Asia Cup.

National coach Stephen van Huizen said that the new format meant that "teams will need to be very fit to cope with the extra matches".

"We have no issue with the format of play. Fitness will play a crucial role for all the teams. You have three matches in the preliminary round.

"For the top four sides, there will be another four matches before you can win the title.

"Since we all know the format, especially the Super Fours, we will be prepared for it," he said.

The Star of Malaysia


---

Injury recovered Poonam and Dipika returns to core group




Bengaluru: Being in the sidelines for almost three months due to injury, the star duo of Poonam Rani and Dipika return to national core group, even as new coach in Harendra Singh officially takes charge of the team in SAI, Bengaluru today.

Harendra made it clear that winning Asia Cup is first goal as Chief Coach The ninth Asia Cup will be held next month in Gifu, Japan. The winner will qualify for the London World Cup 2018.

After a strong performance by the Indian girls in their Europe tour -- where they played against the Belgium Junior Men as well as the Den Bosch, a premier hockey club in the Netherlands which consists of over nine Dutch national players -- the 33 campers reported at the Sports Authority of India, Bengaluru for a four-week national camp that will conclude on October 24.

During the course of the camp, selection trials will be conducted under the purview of national selectors, David John, Director, High Performance, Hockey India and newly appointed Indian Women's Team Chief Coach Harendra Singh, to pick up an 18-member squad for the Asia Cup Women 2017.

"Though newly appointed Chief Coach Harendra Singh is very well acquainted with all the women in the national camp, a formal handing over of the team happened this morning. The Indian Women's team have done well against the Junior Belgium Men's team, where India played a men's team for the first time. I believe the team has shown improvement. The Asia Cup is an important tournament for the women to win a direct berth for the World Cup next year. In my opinion, they go into Asia Cup as No.1 side and I definitely expect them to finish in the final," expressed David John, Director, High Performance, Hockey India.

On taking over the reins of the team for the first time in his coaching career that spans over 19 years, Harendra Singh known for his taskmaster-approach said discipline and result-oriented performance will be his priority.




"This is the first time in my career that I would be coaching a women's side and I see this as a new challenge. Discipline and committing 100 per cent to the team's goals will remain a top priority. I have followed this group of girls for a while now and they have a strong base, they are focused and understand each other's strengths and weaknesses after having played together for three to four years. I would like to see them go into every tournament as tough contenders for a medal."

Under Harendra, the Women's team's first big tournament will be the Asia Cup Women 2017. The trials to pick the 18-member squad will be held on October 4th and 5th in Bengaluru.

"We have already set short term and long term goals for the team. While short term goal is to win the Asia Cup Women 2017 and directly qualify for the World Cup next year, my mission for 2018 is to win the Asian Games and qualify for the Tokyo Olympics. I believe this is a realistic target," emphasized Harendra.

Women Campers:
Goalkeepers
1. Savita
2. Rajani Etimarpu
3. Swati

Defenders
4. Deep Grace Ekka
5. P Sushila Chanu
6. Sunita Lakra
7. Gurjit Kaur
8. Hnialum Lal Ruat Feli
9. Navdeep Kaur
10. Rashmita Minz
11. Neelu Dadiya

Midfielders
12. Namita Toppo
13. Nikki Pradhan
14. Deepika
15. Karishma Yadav
16. Renuka Yadav
17. Navjot Kaur
18. Monika
19. Lilima Minz
20. Neha Goyal
21. Udita
22. M Lily Chanu
23. Nilanjali Rai

Forwards
24. Rani
25. Vandana Katariya
26. Preeti Dubey
27. Reena Khokhar
28. Anupa Barla
29. Sonika
30. Lalremsiami
31. Poonam Rani
32. Navneet Kaur
33. Navpreet Kaur

Stick2Hockey.com


---

Harendra Singh eyeing 2018 Asiad gold with Indian eves

BENGALURU: Newly-appointed women's hockey team coach Harendra Singh has already set his goals and said he expects the Indian eves to win next year's Asian Games and seal a direct berth to the 2020 Tokyo Olympics.

"We have already set short-term and long-term goals for the team. While the short-term goal is to win the Asia Cup and directly qualify for the World Cup next year, my mission for 2018 is to win the Asian Games and qualify for the Tokyo Olympics," he said on Tuesday.

"I believe this is a realistic target," added Harendra, who has never coached a women's team before.

Harendra, known for his taskmaster approach, said discipline and result-oriented performances will be his priority areas.

"This is the first time in my career that I would be coaching a women's side and I see this as a new challenge.

"Discipline and 100 per cent commitment will remain top priorities. I have followed this group of girls for a while now and they have a strong base, they are focused and understand each other's strengths and weaknesses after having played together for three to four years," he said.

"I would like to see them go into every tournament as tough contenders for a medal," added the Dronacharya awardee coach, who guided India to the Junior World Cup title last year.

The Asia Cup will be the Indian eves' first big tournament under Harendra, and High Performance Director David John has high hopes from the team.

"I believe the team has shown improvement. The Asia Cup is an important tournament for the women to win a direct berth for next year's World Cup. In my opinion, they go into Asia Cup as no. 1 side and I definitely expect them to finish in the final," said John.

A total of 33 players reported at the Sports Authority of India for a four-week national camp that will conclude on October 24.

During the course of the camp, selection trials will be conducted under the purview of national selectors, John, chief coach Harendra Singh.

The trials to pick the 18-member squad will be held on October 4 and 5 here.

The women's Asia Cup will be held in Kakamigahara, Japan from October 28 to November 5.

Women Campers:

Goalkeepers: Savita, Rajani Etimarpu, Swati

Defenders: Deep Grace Ekka, P Sushila Chanu, Sunita Lakra, Gurjit Kaur, Hnialum Lal Ruat Feli, Navdeep Kaur, Rashmita Minz, Neelu Dadiya

Midfielders: Namita Toppo, Nikki Pradhan, Deepika, Karishma Yadav, Renuka Yadav, Navjot Kaur, Monika, Lilima Minz, Neha Goyal, Udita, M Lily Chanu, Nilanjali Rai

Forwards: Rani, Vandana Katariya, Preeti Dubey, Reena Khokhar, Anupa Barla, Sonika, Lalremsiami, Poonam Rani, Navneet Kaur, Navpreet Kaur.

The Times of India


---

Harendra Singh happy to coach women's team



Harendra Singh.  Photo Credit: K_MURALI_KUMAR

Harendra Singh has denied any disappointment at being overlooked by Hockey India for the role of senior men's coach, instead welcoming the chance to work with the women's team. "No, there's no question of disappointment," he said at the SAI here. "If anybody wants to serve the country and he's a coach he should not look at what the job is. He should volunteer and come forward to serve his country. When this job was offered, I did not hesitate even for a second. I instantly said yes. India is looking for women's empowerment and I want to start with the hockey team."

Harendra, who had led the Junior men's team to World Cup victory on home soil in December before his term ended, stated that he did not see his current role as inferior in any way. "I don't know how we look at it in India but in the rest of the world, women's teams and coaches have a lot of importance. We need to change our mindset. All the top coaches in the world have come up coaching women's teams. The method of coaching and the philosophy, there's not much difference (between men's and women's teams)," he said.

There was no dissatisfaction that he did not continue as Junior coach following the World Cup, Harendra remarked, adding that the time away from hockey had left him feeling refreshed. Hockey India High Performance Director David John was confident Harendra was the right man, even if he had never coached a women's team before over his 19-year coaching career. "He has done his apprenticeship with the Junior men and this is one promotion. And obviously the next promotion will be the senior men. It's the natural progression," he said.

The Australian added: "There was obviously some apprehension from the girls because there was a change. I said, 'No no, Harendra has a daughter who is 22. He will treat you with the same respect and love as his daughter, maybe a little more discipline.'"

Harendra smiled. "The day I accepted the offer, my daughter was waiting for me at home. She hugged me and said she was proud of me for finally coaching the women's team. She's going to be 22. Most of the girls in that team are in that age-group," he said.

Harendra's first assignment with the women will be the Asia Cup (Oct 28-Nov 5, Japan), the squad for which will be selected based on trials here on October 4 and 5. On Tuesday, HI named 33 women's probables for the National camp.

The Hindu


---

McClelland snatches Quins draw after early Kirk Cup cracker



Instonians captain William Robinson netted twice. Pic: Adrian Boehm

John Flack rounds up the weekend's hockey in Ulster, looking back on a thriller between Belfast Harlequins and NICS and all the other action from the Kirk Cup, Linden Cup, Ulster Shield and Senior Cup

Luke McClelland scored an early candidate for goal-of-the-season as Belfast Harlequins stormed into an early 2-0 lead against Civil Service in the Kirk Cup on Saturday but the home team had to settle for a 3-3 draw after a thrilling contest at Deramore.

McClelland whacked a first-time shot into the net off the crossbar in the from the edge of the circle in the fourth minute after a five-man, first-time passing move which prompted Quins' coach Fergie Cosgrove to say a loud 'thank you' from the dug-out.

Four minutes later, it was 2-0 after an equally clinical finish, without the intricate build-up, as Mattie Gray hammered the ball home from a wide angle after McClelland's initial shot had been saved.

However, Service fought back and Chris Barnes sent a drag-flick high into the net from his side's second penalty-corner to reduce the arrears in the 28th minute.

With 13 minutes left, Barnes, who had scored hat-tricks in the previous two games, levelled matters from the penalty-spot after Chris Lemon had kept the ball out of the net with his foot.

Four minutes later, the impressive Matty Willis made it 3-2 to the visitors with a blistering shot from am acute angle. But Quins weren't to be denied as McClelland grabbed the equaliser with five minutes remaining when he scored from close-range.

The result harms Service's chances of reaching the semi-finals after rivals Instonians made ot two from two with a 4-1 win over North Down at Shaw's Bridge where team captain William Robinson scored two of the goals.

Kilkeel kept up their 100% record with a 5-1 victory over Newry while last season's Senior One champions, South Antrim. were 3-0 winners over Portadown.

In the women's Denman Ulster Shield, Queen's and Banbridge are the first teams into the semi-finals after a 4-1 win over Lurgan and a 1-0 success over Rainey respectively.

Irish international Jessica McMaster hit a double for the students, who had trailed 1-0 at the break after Jo-Anne Wilson had scored for the holders

However, it was far from plain sailing for Queen's, who, on their own admission, were flattered by the scoreline, if not the result.

Coach Simon Bell declared: "We had to work hard for it and maybe 2-1 might have been a fairer reflection of the pattern of the game."

"Once we had gone 4-1 up after being a goal down at half-time, they threw everything at us and we let them back into and had to defend well to defend our lead.

"However, we are delighted to be in the semi-finals again and there's still a chance we could meet Lurgan in the final as the second place in the group is still very much up for grabs."

With Lurgan's game with Dungannon postponed last week, the runners up spot is likely to be disputed by those two teams.

On Friday night, Dungannon defeated Randalstown 3-1 with goals from Laura White, Lynda Elliott and Andrea McKay, with CJ McDonald replying.

Banbridge joined Queen's in the last four in the other group after making it three wins in a row after Stef McCullough grabbed the only goal of the game against Rainey in Magherafelt.

The Ulster Elks got their first win of the season after beating Portadown 5-1 at Edenvilla Park, the goals coming from Judithe Allen, who got two, Hannah Irwin, Annabelle Hamilton and Shannon Atkinson with Leanne Cassells replying.

In the other game, Ballymoney, who are unlikely to progress after two defeats earlier in the campaign, defeated North Down 2-0 with goals from Charlotte Stacey and Olivia Mullan.

Meanwhile, Pegasus and Belfast Harlequins finalised their preparations for the delayed start to the new EYHL season by fighting out a 3-3 draw in a friendly at Deramore where the home team were 3-1 ahead in the third quarter.

Women
Ulster Shield, Pool A: Randalstown 1 (CJ McDonald) Dungannon 3 (L White, L Elliott, A McKay); Portadown 1 (L Cassells) Ulster Elks 5 (J Allen 2, H Irwin, A Hamilton, S Atkinson); Rainey 0 Banbridge 1 (S McCullough)

Pool B: Lurgan 1 (J-A Wilson) Queen's 4 (E McStea, E Getty, J McMaster 2); North Down 0 Ballymoney 2 (C Stacy, O Mullan)

Senior Cup: Pool A: Ballymena 3 (E Clarke, K Young, K Craig) Priorians 1; Omagh 0 Victorians 3 (J Orr, R Hewitt, E Cutrona); CI 0 Raphoe 2 (E Harper, S Patterson).

Men
Kirk Cup Pool A: Kilkeel 5 (D Finlay 2, J Aiken, L Russell, M Henning) Newry 1 (C McKnight); South Antrim 3 (J Moore, W Phillips, C Henry) Portadown 0.

Pool B: Instonians 4 (W Robinson 2, G Leckey, B Palmer) North Down 1 (J Gilmore); Belfast Harlequins 3 (L McClelland 2, M Gray) Civil Service 3 (C Barnes 2, M Willis)

Linden Cup: Armagh 3 Cliftonville 2 (J Stevenson, McKimm); Antrim 4 (D Wilson 2, R McClintock, A Linford) Ballynahinch 1 (W Edgar); Bangor 5 (D McClune 2, R Burgess, M McCombe, Z McKee) Raphoe 1 (A Meehan)

The Hook


---

Women's AHL State-By-State Form Guide

Ben Somerford




The Queensland Scorchers have won the Australian Hockey League (AHL) the past two years and appear the favourites for this year's title but there's plenty of contenders.

The AHL gets underway at Perth Hockey Stadium on Thursday 28 September, running through to Sunday 8 October.

The Victorian Vipers have been unfortunate the past two years, finishing runners-up on both occasinos. They will be hoping to go that one step further. Emily Hurtz has won Top Scorer for the tournament the last two years and will be important.

The NSW Arrows have won the most titles in the competition although they haven't taken the title since 2014 when Casey Sablowski won Player of the Tournament and Player of the Final. After finishing third in 2016 they will be hoping to at least make it into the grand final this year.

The Canberra Strikers are yet to win an AHL championship so after finishing fourth last year they will be pushing hard to make it into the grand final.

The WA Diamonds have won seven AHL titles but they haven't won since 2010. After just missing out on the semi-finals in 2016, they will be hoping to make it this year.

The Tassie Van Demons are also yet to win a title, they will be striving to at least make the final four this year.

The SA Suns have won two championships but not since 2011. Jane Claxton won Player of the Tournament in 2015 and she will be hoping to get her side into the semi-finals this year.

After finishing 10th last year, the NT Pearls will be hoping to finish higher this year and they are yet to make it into the grand final, they will be hoping to try make it into the semis.

India and New Zealand will also field developmental sides, with the Kiwis finishing sixth last year.

This year's AHL finals will be streamed via Hockey Australia's social media channels on Saturday-Sunday 7-8 October. You can follow the remainder of the tournament via the Hockey Australia website or https://hockeyaustralia.altiusrt.com/.

Hockey Australia media release


---

Nanscawen: Vics Motivated To Go One Better

Ben Somerford




Reigning Australian Hockey League Best Player winner Georgia Nanscawen is hungry to see the Victoria Vipers go one better in 2017 after consecutive runners-up finishes.

The Vipers have been beaten in the past two AHL gold medal matches by Queensland, with last year's decider dramatically finishing 3-2 to the Scorchers.

"We're pretty happy Madonna Blyth is not there this year!,"Nanscawen laughed.

"She tore us up in a couple of them. They're always strong and they've got numerous talented players across the board.

"They'll be one of the teams to watch this year. If it comes to that in the final, hopefully we can knock them off."

Hockeyroos forward Nanscawen was part of Victoria's side which triumphed in 2012.

"We've had some good performances in the last couple of years," the 25-year-old said.

"The Victorian brand of hockey is a team game. We play a good brand of team passing hockey, we work well with each other.

"Obviously we'd love to go one better this year, we have the team to do it, but you can never tell until you're in the tournament."

Nanscawen, who has 205 caps and has scored 37 goals for Australia, recently missed out on selection for the Oceania Cup team.

"That's pretty disappointing so there's a lot to prove in this tournament," she said.

"I think I play my best when I'm feeling really happy and loving it. I normally do with the Victorian girls.

"You don't think about those things. You want to do your best for the Victorian team and do your best."

Nanscawen entered last year's AHL in similar circumstances, having missed out on selection for the 2016 Rio Olympics.

"It was a pretty tough year last year, missing out on Rio so it was nice to be able to put in a good performance in AHL," she said.

"I'll be looking to do that again this year. It's fun to play with the Victorian girls.

"This year, that's my exact aim, is to enjoy the tournament. That's when I play my best hockey."

Hockey Australia media release


---

Knowles 'Sparked' By Queensland Return

Ben Somerford




Kookaburras captain Mark Knowles has loved his return to Queensland this year and is optimistic about his home state's chances at the upcoming Australian Hockey League (AHL) which starts in Perth on Thursday.

Brisbane-based Knowles will lead the Queensland Blades in the tournament which runs from Thursday 28 September to Sunday 8 October.

The decorated 33-year-old defender moved to Brisbane with his young family this year, having long been based in Perth with the Kookaburras.

He helped Easts win the local league title recently with a Player of the Match display in the 4-2 final triumph over Labrador.

Knowles now turns his attention to the AHL, playing almost entirely throughout Queensland's dominant period with eight titles in the past 15 years.

This year's edition will be different for Rockhampton-born Knowles, given his time spent away from the Kookaburras set-up but he said the change has given him an "extra spark".

"I've loved it," Knowles said. "It's a different feel for me.

"Moving back to Brisbane has given me a bit of extra spark.

"I'm the type of person who likes to lead from the front. That's been my style with the Kookaburras.

"Not being in Perth has felt different for me, but I made a strong decision not to retire and give it away.

"I've put the same type of effort into gym recovery and training as I possibly can.

"I'm experienced enough to know the standard isn't the same in Perth, so I need to challenge myself in different ways.

"It's a breath of fresh air where you're not being pushed by players and coached every day and you've got to do it for yourself.

"It's been a great change for my family, being closer to both (wife) Kelly's and my parents and we've loved it."

Knowles missed last year's AHL as Queensland failed to reach the semi-finals but the group has won three of the past five titles and loom as a major contender.

"This group is still strong," Knowles said. "You've Matt Swann, Daniel Beale, Dylan Wotherspoon, myself, we're the national representatives plus we've got players from the Junior World Cup as well.

"The competition is getting tighter and tighter. Queensland has been through a golden era but the AHL is full of challenges."

Almost half of Queensland's 18-player AHL team are members of Knowles' title-winning Easts side too, creating strong familiarity fresh from their success.

"It was my first club Grand Final since 2000 back in Rockhampton with Souths," Knowles said.

"It was pretty awesome. Seven of those Easts guys are in the AHL team so that's great.

"It was a great way to finish my first season back in Brisbane. To have that different club environment it was nice."

Knowles added that he loved the opportunity to play AHL.

"When I was coming through the ranks in the early 2000s playing for your state was very important," he said.

"When we get the chance we want to make it mean something. No doubt you'd hear it from a lot of the players. I love playing for my state."

Hockey Australia media release


---

Hockey India congratulates Gurinder and Ripudaman

NEW DELHI: Hockey India congratulated Gurinder Singh Sangha and Ripudaman Sharma for being appointed as potential for International Umpire Manager by FIH, the world governing for hockey.

The FIH announced it's decision on Monday after their names were recommended by Hockey India and supported by Asian Hockey Federation.

"I wish Gurinder Singh Sangha and Ripudaman Sharma the very best for their new role as potential for FIH International Umpire Manager," Hockey India's secretary general, Md. Mushtaque Ahmad, said.

"The duo has contributed immensely towards promoting young umpires in the country and I believe they will continue to serve hockey the same way they have over the past 20 years at both domestic and international level."

While Gurinder Singh Sangha began his umpiring career in 1995, Ripudaman Sharma began his career in hockey umpiring in 1997 and since have been officiating in domestic and international matches as umpires.

Sangha has umpired at the 2003 Afro Asian Games, Hamburg Cup, AHF Cup final, Hero Hockey World League Final 2015 in Raipur among other events, while Sharma has officiated as umpire at Sultan Azlan Shah Cup, South Asian Games, Asian Champions Trophy Japan and Junior Asia Cup in Singapore.

"With this new role as potential International Umpire Manager for FIH, I am sure we can learn a lot more about umpire management at the world level, learn more about the technology being used and impart what we have learnt to Umpires in India," said Sharma.

For Sangha, apart from fond memories of officiating in top international events, his stint as an Umpire during the Hockey India League (HIL) has been most fruitful.

"I have officiated during the first 4 seasons of HIL. It was during the HIL when I decided I too must take up the Umpire Manager role and started understanding more about its requirements during HIL," said Sangha.

The Times of India


---

Former Women's team national coach P Anthony is no more.




The Sports Authority of India coach breathed his last today in Bengaluru.

Anthony was made coach along with Satinderwalia for women's national teams between 1987 and 1989.

He also trained the Junior Asia Cup team of Indian girls in 2000. The event was held in Kuala Lumpur.

Anthony did his Diploma of Coaching from National Institute of Sports in Patiala, Punjab and joined Sports Authority of India in Bengaluru.

Stick2Hockey.com


---

USA Field Hockey Family Mourns Loss of Spirit Eagles Leader & Team USA Bronze Medalist




COLORADO SPRINGS, Colo. – It is with heavy hearts that the USA Field Hockey Family mourns the loss of a well-known field hockey coach, player and passionate advocate for the game. Bobby Issar, player and coach, with more than 27 years of experience at the national level, passed away peacefully today.

"It was heartbreaking for us all to learn of the passing of Bobby," said Simon Hoskins, USA Field Hockey's Executive Director. "He dedicated so much of his life to hockey and achieved so much as a player, coach and selector. He inspired so many young people in the game who grew in field hockey through Spirit Eagles. It is tragic that Bobby was taken from our sport too soon. The field hockey community can be so thankful that we had Bobby in our lives and in our sport. Our hearts go out to his family and friends."

Issar has a proven track record that highlights many international and domestic as well as personal and coaching successes. He was a member of the 1987 Pan American Games team that won the bronze medal when hosted in Indianapolis, Ind. He was part of the U.S. Men's National Indoor Team and was a five-time indoor champion, and was the Goal Scorer of the Tournament at three of those events. He remained part of the U.S. Men's National Team program as a player and coach from 1981 until 2005, completing six Olympic Games Cycles. He was the fourth member of his family to represent Team USA since 1959 and used his expertise to compete in 26 different countries.

On the coaching side, he was involved with USA Field Hockey's High Performance programs as a coach and selector for both the men's and women's teams.

In 1990, he started the club team Spirit Eagles, which is directly related to the old North Jersey Men's Field Hockey founded in 1956 by a number of enthusiasts of various national origins. As the director and head coach, he was committed to training and development of elite field hockey players. This mission translated to him taking teams abroad for special coaching by some of the world's best as well as arranged for high-caliber coaches to come to the United States for training camps.

USA Field Hockey Family wants to extend our condolences to the Issar family as we send our thoughts and prayers for Bobby's recent passing.




USFHA media release