All the news for Thursday 21 September 2017

Men's quarter finals confirmed at Ford NHL



Photo: www.photosport.nz

The men's quarter final match-ups have been decided after the final day of pool play at the Ford National Hockey League on Wednesday.

North Harbour continued their momentum with an impressive 5-0 performance against Midlands to take their third consecutive win and top spot in Pool A.

Harbour ripped open a four goal buffer at halftime after penalty corner strikes from Daniel Harris and Cory Bennett, along with field goals to Robbie Capizzi and Kalyan Jeram.

Midlands were unable to convert any chances before Warren Wild added his side's fifth goal from the field 10 minutes from fulltime.

The top placed finish sets North Harbour up for a cross-over quarter final against Northland (4th Pool B) at 5:15pm tomorrow night.

The Capital Cobras held on in a physical encounter with the Southern Dogs to snatch a 2-1 win thanks to fourth quarter goals from Oscar Wookey and Daan Jongejan.

The win cemented second place in the pool for Capital meaning they now face the Canterbury Cavaliers while Southern go up against the Central Mavericks in the quarters.

Auckland closed out the pool phase undefeated thanks to a straightforward 4-1 effort against Northland, giving them a top placed finish in Pool B.

Both sides traded goals in the early stages before Auckland ran away with three unanswered strikes to seal the result, with Joe Crooks and Hamish McGeorge both scoring doubles.

As number one seed, Auckland will go up against defending champions Midlands (4th in Pool A) in the quarter finals at 5pm.

The Central Mavericks mustered a strong performance to down the Canterbury Cavaliers 2-0 and snatch second spot in Pool B.

Central opened the scoring in the 16th minute when Hayden Phillips hit home from a penalty corner deflection and iced the game four minutes from fulltime with a Martin Atkinson field goal.

The Ford National Hockey League quarter finals get underway from 1pm tomorrow at the National Hockey Stadium in Wellington.

MEN'S QUARTER FINALS SCHEDULE

5:00pm - Auckland vs Bayleys Midlands
5:15pm - TigerTurf North Harbour vs printing.com Northland
7:00pm - RICOH Capital Cobras vs Canterbury Cavaliers
7:15pm - Central Mavericks vs Southern Dogs

CLICK HERE for more on the 2017 Ford National Hockey League

FORD NATIONAL HOCKEY LEAGUE
Wednesday 20th September

MEN'S RESULTS

Auckland beat printing.com Northland 4-1
Auckland: 4 (Joe Crooks 2, Hamish McGeorge 2)
printing.com Northland: 1 (Josh Down)
Halftime: Auckland 2-1

Central Mavericks beat Canterbury Cavaliers 2-0
Central Mavericks: 2 (Hayden Phillips, Martin Atkinson)
Canterbury Cavaliers: 0
Halftime: Central 1-0

TigerTurf North Harbour beat Bayleys Midlands 5-0
TigerTurf North Harbour: 5 (Daniel Harris, Robbie Capizzi, Cory Bennett, Kalyan Jeram, Warren Wild)
Bayleys Midlands: 0
Halftime: North Harbour 4-0

RICOH Capital Cobras beat Southern Dogs 2-1
RICOH Capital Cobras: 2 (Oscar Wookey, Daan Jongejan)
Southern Dogs: 1 (Kieran O'Connor)
Halftime: 0-0
   
Hockey New Zealand Media release


---

Capital men to face Canterbury in National Hockey League quarterfinals after late win



North Harbour's Daniel Harris, right, with team-mates Joseph Batholomew and Benji Edwards, was a key man as they topped pool A to book a quarterfinal against Northland. MARTY MELVILLE/PHOTOSPORT

Two late goals saw Capital men string together successive victories and book a National Hockey League quarterfinal against Canterbury.

Capital were 1-0 down to Southern in the final pool match before the knockout rounds, when their Australian import Oscar Wookey and Dutchman Daan Jongejan struck in quick succession to clinch a 2-1 victory.

It meant Capital, the 2015 champions, finished second behind North Harbour in pool A and will meet Canterbury - who were third in pool B - on Thursday at Wellington's National Hockey Stadium.



Northland players celebrate a goal to Stacey Michelsen on the way to topping pool A, and a quarterfinal against Southern. RAGHAVAN VENUGOPAL/PHOTOSPORT

The new format has drawn criticism as the men's and women's eight-team competitions go straight into a knockout quarterfinal format where opponents are matched on seedings. Previously there were more pool matches then teams progressed into semifinals.

North Harbour stamped themselves as the men's team to beat with a third win from three, 5-0 over Midlands. They face Northland - fourth in pool B - in the quarters.

Auckland built a similar three-from-three record, iced by a 4-1 win over Northland thanks to doubles from Joe Crooks and Hamish McGeorge. Auckland face defending champions Midlands in the quarterfinals, after they lost all three matches in pool play and conceded 12 goals.

Central men finished second in pool B after a 2-0 win over Canterbury, sealed by a late goal from Martin Atkinson, and play Southern in the quarters.

In women's pool play which wrapped up on Tuesday, Auckland and Northland were top qualifiers, and face bottom-placed sides Central and Southern respectively in the quarterfinals.

Northland and Southern get quarterfinal day under way at 1pm, followed by defending women's champions Canterbury against North Harbour.

Hosts Capital finished third in their pool and take on Midlands in the last women's quarterfinal.

DAY FIVE RESULTS - MEN

Auckland 4 (Joe Crooks 2, Hamish McGeorge 2) Northland 1 (Josh Down). HT: 2-1.

Central 2 (Hayden Phillips, Martin Atkinson) Canterbury 0. HT: 1-0.

North Harbour 5 (Daniel Harris, Robbie Capizzi, Cory Bennett, Kalyan Jeram, Warren Wild) Midlands 0. HT: 4-0.

Capital 2 (Oscar Wookey, Daan Jongejan) Southern 1 (Kieran O'Connor). HT: 0-0.

THURSDAY QUARTERFINAL DRAW

Women (prefix denotes pool placing): 1-Northland v 4-Southern at 1pm, 2-Canterbury v 3-North Harbour at 1.15pm, 1-Auckland v 4-Central at 3pm, 2-Midlands v 3-Capital at 3.15pm.

Men (prefix denotes pool placing): 1-Auckland v 4-Midlands at 5pm, 1-North Harbour v 4-Northland at 5.15pm, 2-Capital v 3-Canterbury at 7pm, 2-Central v 3-Southern at 7.15pm.

Stuff


---

Gemma McCaw goal eases Midlands past Capital, sets up semi v Auckland

Liam Hyslop



Capital's Kelsey Smith and Midlands' Gemma McCaw clash on Thursday. ROBERT KITCHIN/STUFF

Midlands have snuck past Capital to setup a National Hockey League semifinal against Auckland.

A Gemma McCaw field goal in the fourth minute was enough for the 1-0 win at the National Hockey Stadium in Wellington on Thursday.

It was a game which Midlands controlled for long periods, creating a host of good chances to extend their lead, although Capital weren't without the odd good chance down the other end.



Capital's Ruby Logan attempts a pass against Midlands on Thursday. ROBERT KITCHIN/STUFF

It resulted in levels of frustration from both camps post-match, with Midlands captain Sam Charlton saying her side would need to remain patient in Friday's semifinal.

"We just need to be careful we don't get too stressed if we're not scoring because we are a team that creates a lot of opportunities. We just need to be patient in the fact that if we don't score it will come."



Midlands' Kim Tanner and Capital's Lydia Velzian battle for possession on Thursday. ROBERT KITCHIN/STUFF

Charlton said they were guilty of reducing their intensity after McCaw's early goal.

"I thought our first quarter was really good and we did dominate that, that was our best patch of the match, but we sort of took the foot off the accelerator a bit and gave them a few opportunities.

"Capital have some really fast, skilful players and we struggled with that at times, but we're just looking to try and improve each game so when it comes semifinals and finals we're really humming through that full game."



Frances Davies (Midlands) and Esther Chan (Capital) dive for the ball on Thursday. ROBERT KITCHIN/STUFF

After Capital weathered the first-half storm, they came out firing in the second half. They earned a penalty corner within 15 seconds of the restart, before a cross just eluded Felicity Reidy as the third quarter came to a close.

Capital coach Hugh Rosemergy expressed his pride at the way his team fought back from the early setback, but was left to think of what could have been in the second half.

"In the first 15 we lacked a bit of pace, looked about a yard behind, but we addressed that, got back into the game and certainly created opportunities, but we just couldn't convert them.



Capital's Kelsey Smith and Midlands' Frances Davies battle for possession on Thursday. ROBERT KITCHIN/STUFF

"They gave themselves every opportunity to win it, but for a dive when it just gets on the end of a stick we could well be going through to the semis."

In the other quarterfinals, Auckland, who won their pool, needed a shoot-out to beat Central, who finished bottom of pool B. Normal play finished 1-1, before Black Stick Samantha Harrison scored the sudden death winner in the shoot-out.

North Harbour got revenge over Canterbury for their defeat in last year's final with a 2-1 win. Stephanie Dickins scored a double, including the winner with two minutes to go.



Gemma McCaw scored Midlands' only goal in their quarterfinal win over Capital on Thursday. RAGHAVAN VENUGOPAL/PHOTOSPORT

They will meet Northland in their semifinal, after the latter easily saw off winless Southern 7-1.

In the men's quarterfinals, Midlands suffered a similar fate to the Central women, forcing top qualifier Auckland into a shoot-out before losing it in sudden death. They might feel a bit hard done by, with Erik Bouwens' appearing to be tripped by Auckland goalkeeper Devon Manchester, before his sprawling shot crossed the line just after the hooter went. Calls for a retake fell on deaf ears.

It was smoother sailing for the other top qualifier, North Harbour, as they hammered Northland 7-0.

AT A GLANCE

National Hockey League quarterfinals

Women

Northland 7 (Jodie Nichol 3, Brooke Neal 2, Stacey Michelsen, Ella Gunson) Southern 1 (Maddi McLean). HT: 3-0.

North Harbour 2 (Stephanie Dickins 2) Canterbury 1 (Pippa Hayward) . HT: 1-0.

Auckland 1 (Polly Inglis) Central 1 (Emma Rainey). HT: 1-1. Auckland won 3-2 in a shoot-out

Midlands 1 (Gemma McCaw) Capital 0. HT: 1-0.

Men

Auckland 2 (Jared Panchia, Michael Ritchie) Midlands 2 (Matt Rees-Gibbs, Jonty Keaney). HT: 1-2. Auckland won 4-3 in a shoot-out.

North Harbour 7 (Kalyan Jeram 2, Daniel Harris 2, Robbie Capizzi, Kirk Shimmins, Joseph Bartholomew) Northland 0. HT: 6-0.

Stuff


---

Pakistan Hockey Team for Asia Cup Announced

18 member Pakistan's national team for the 10th Hockey Asia Cup scheduled in Dhaka, Bangladesh from October 11-22, has been announced.

Mohammad Irfan is the captain of the team and Rizwan Senior, the vice captain.

TEAM:
Mazhar Abbas (goal keeper), Amjad Ali (goal keeper), Muhammad Irfan (Captain), Atif Mushtaq, Mubashar Ali, Ammad Shakeel Butt, Abu Bakar Mahmood, Tasawwar Abbas, Rashid Mahmood, Rizwan Jr, Arslan Qadir, Azfar Yaqoob, Umar Bhutta, Rizwan Sr (Vice Captain0, Ali Shan, Muhammad Atiq, Waqas Akbar and Ajaz Ahmad

STANDBYS:
Junaid Kamal, Ali Hassan Faraz, Irfan Jr, Shan Irshad, Saleem Nazim, Qamar Bukhari, Khizar Akhtar, Shajeeh Ahmed & Hassan Anwar

OFFICIALS:
Farhat Khan (Manager/Head Coach), Malik Shafqat (Coach) & Muhmmad Sarwar (Coach), Dr Atif Bashir (Team Doctor) Abuzar Umrao (Video Analyst)

PHF Media release


---

New Pakistan hockey coach Farhat Khan eyeing 4th Asia Cup title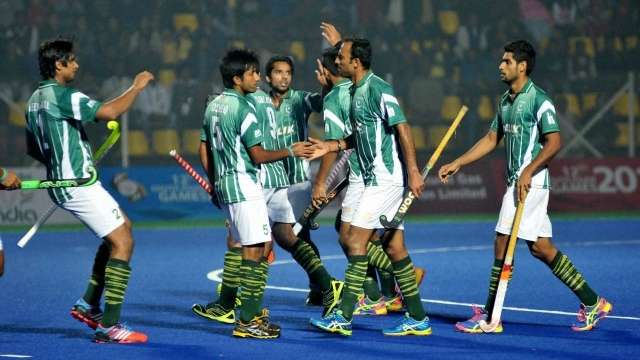 Pakistan will go into the tournament as one of the favourites along side world no.6 India and South Korea, who have won the coveted tournament four times.

Having missed last year's World Cup and Rio Olympics, Pakistan are eager to make their presence felt in the upcoming Asia Cup hockey tournament in Dhaka with newly-appointed head coach Farhat Khan setting his sights firmly on their fourth title.

Being the second most successful team with three Asia Cup titles, Pakistan will go into the tournament as one of the favourites along side world no.6 India and South Korea, who have won the coveted tournament four times.

"We have already qualified for next year's World Cup in India, but our main focus will be on performing well in the Hero Asia Cup," said Khan, who has recalled some experienced players in the national camp.

"Our performance in last Asia Cup was not bad as we won all our three pool matches quite convincingly. However we lost to South Korea by a goal in the semi-final and eventually finished third by beating hosts Malaysia. But we failed to achieve our target.

"We will need to make improvement in all areas of our game if we want to achieve our goal this time. We have faced a tough time in recent years as we failed to qualify for the last World Cup, and then 2016 Olympic Games, therefore we want to deliver our best starting from Hero Asia Cup 2017," he added.

Pakistan have been placed in Pool A alongside arch-rivals India, Japan and hosts Bangladesh. And Farhat feels that as always India would be the team to beat in the tournament.

"There is tough competition among the participating Asian teams with India being the strongest on paper with a world ranking of 6," he said.

"But there are always teams who can spring a surprise as Malaysia showed by finishing 4th at the Hockey World League Semi-Final in London. Therefore, it is important for us to keep focus on our game if we want to win the tournament," Khan added.

Pakistan will open their Asia Cup campaign against hosts Bangladesh on October 11 before squaring up against Japan on October 13 and India on October 15.

DNA


---

India is strongest team on paper in Asia Cup: Pak hockey coach

DHAKA: Pakistan hockey coach Farhat Khan on Thursday termed India as the "toughest team on paper" for next month's Asia Cup in Bangladesh. Pakistan have been placed in Pool A alongside India, Japan and hosts Bangladesh.

The team will play their opening match of the Hero Asia Cup against the hosts on October 11 in Dhaka before taking on Japan and India on October 13 and 15 respectively.

"There is tough competition among the participating Asian teams with India being the strongest on paper with a world ranking of 6," Farhat said while assessing the strength of the various teams.

"But there are always teams, who can spring a surprise as Malaysia showed by finishing fourth at the Hockey World League Semi-Final in London. Therefore, it is important for us to keep focus on our game as we want to win the tournament," Farhat added.

The head coach said that the teams need to improve in all areas of their game.

"We will need to make improvement in all areas of our game if we want to achieve our goal this time. We have faced a tough time in recent years as we failed to qualify for the last World Cup, and then 2016 Olympic Games, therefore we want to deliver our best starting from Hero Asia Cup 2017," Farhat stated.

The Pakistan hockey team has not been able to perform well in the past few years, the most recent disappointment being a seventh-place finish at the Hockey World League Semi-Final in London earlier this year.

The major changes that have taken place in the Pakistan Hockey Federation after that are the appointment of Brig Khalid Khokhar as the President, and former hockey legend Shahbaz Ahmad as the Secretary General.

Even though Pakistan have already qualified for the 2018 Hockey World Cup to be held in India, PHF has brought in changes in the management and selection committee as well.

Pakistan will go into the tournament as one of the favourites as they are also the second most crowned champions in Asia Cup history with three wins behind South Korea, who have won the coveted tournament four times.

The Times of India


---

FIH confirms Indoor Hockey World Cup, Berlin 2018 playing schedule



Fans can now buy tickets for every game at the Indoor Hockey World Cup Photo: FIH/WSP

The International Hockey Federation (FIH) has announced the playing schedule for the Indoor Hockey World Cup, Berlin 2018.

12 men's and 12 women's national indoor hockey teams will go head to head to be crowned world champions between 7-11 February in Berlin's Max-Schmeling-Halle.

With 40 men's and 40 women's matches taking place at this showpiece event, fans can now buy tickets to see their favourite teams in action in what will be a hockey feast in Germany's capital city.

With all but one nation (from the Pan American continent) from each gender now qualified, teams now know who they will be up against in this truly global competition.

Wednesday 7 February provides an action-packed start to the event, with 24 matches taking place throughout the day including defending women's champions Netherlands taking on Switzerland and Kazakhstan and men's 2015 runners up Austria taking on Belgium and South Africa.

Another 24 matches take place the following day before the final men's and women's Pool matches conclude on Friday 9 February. The men's Quarter-Finals then take place that evening.

Saturday 10 February sees the women's Quarter-Finals and classification matches take place before the men's and women's Semi-Finals later in the day.

Super Sunday then hosts the men's and women's medal matches, with the women's bronze medal match at 10:00, the men's at 11:30 before the new Indoor Hockey world champions will be crowned, with the women's final at 13:00 and the men's at 14:30.

The full schedules are now available on the official event websites, with the men's schedule here, and the women's here.

The indoor competition, contested between qualifiers from indoor continental championships, was last held in Leipzig, Germany in 2015 with Netherlands men and women winning both events.

For more information about tickets, click here.

Qualification System for 2018 Indoor Hockey World Cup: Click here

FIH site


---

Kentwell Solidifies Indoor USWNT Roster to Compete at women's Indoor Pan American Cup




COLORADO SPRINGS, Colo. - With just 26 days until the starting whistle of the women's Indoor Pan American Cup (IPAC) in Georgetown, Guyana, U.S. Women's Indoor National Team Head Coach Jun Kentwell has solidified the 12-athlete traveling roster that will compete at this six-day event starting on October 16, 2017. USA is bringing a blend of experience and youth with some athletes who will earn their first international caps including, Allyson Fuller (Ellicott City, Md.), Sammy Popper (Blue Bell, Pa.), Paityn Wirth (Thompsontown, Pa.) and goalkeeper Sierra Espeland (Fredericksburg, Va.). Returning to the international stage, Ali Campbell (Boyertown, Pa.) will suit up again in the red, white and blue as a member of the Indoor USWNT following her retirement from the senior outdoor squad.

"Despite two players out with injuries, and a number of players unavailable through their college and work commitments, the selection has been difficult with a strong squad of players competing for places on the IPAC team," commented Kentwell. "I have been particularly pleased with the development of many of our younger players through our summer training sessions and some players can feel unlucky to just to miss selection".

Taking place at The Cliff Anderson Sports Hall, the seven-team tournament includes Argentina, Barbados, Canada, Guyana, Trinidad and Tobago, Uruguay and the USA. The Indoor USWNT opens tournament play against Trinidad and Tobago on Monday, October 16 at 12:30 p.m. ET followed by FIH Hero Indoor World Ranked No. 18 Uruguay on Tuesday, October 17 at 6:00 p.m. ET. Next up is No. 13 and reigning IPAC champions Argentina on Wednesday, October 18 at 4:30 p.m. ET, Barbados at 12:45 p.m. ET and Guyana at 7:00 p.m. ET on Thursday, October 19. USA will finish round robin play against No. 9 Canada on Friday, October 20 at 2:30 p.m. ET. The crossover rounds will be held on Saturday, October 21, with the Continental Qualifier winner advancing to the FIH Indoor Hockey World Cup, which will be held in Berlin, Germany in 2018.

Women's Indoor Pan American Cup Matches:

Monday, October 16        USA vs. TTO        12:30 p.m. ET
Tuesday, October 17        USA vs. URU        6:00 p.m. ET
Wednesday, October 18        USA vs. ARG        4:30 p.m. ET
Thursday, October 19        USA vs. BAR        12:45 p.m. ET
                        USA vs. GUY        7:00 p.m. ET
Friday, October 20            USA vs. CAN        2:30 p.m. ET

Click here for the full women's Indoor Pan American Cup schedule.

U.S. Women's National Indoor Team Indoor Pan American Cup Team:
Mary Beth Barham (Fairfax, Va.), Ali Campbell (Boyertown, Pa.), Samantha Carlino (Kennett Square, Pa.), Sierra Espeland (Fredericksburg, Va.), Allyson Fuller (Ellicott City, Md.), Katherine Gerzabek (Springfield, Pa.), Jessica McCarthy (Havertown, Pa.), Anarose McDonough (Kennett Square, Pa.), Madison Orobono (Macungie, Pa.), Samantha Popper (Blue Bell, Pa.), Hannah Prince (Gorham, Maine), Paityn Wirth (Thompsontown, Pa.)

Alternates for the IPAC are Riley Donnelly (Doylestown, Pa.), Nathalie Friedman (Phoenix, Md.) and Samantha Minrath (Louisville, Ky.). Supporting Kentwell in Guyana will be assistant coach Ahmed Elmaghraby, manager Richard Kentwell and athletic trainer Aaron Finer.

As part of the team's final preparation before heading to Guyana for the IPAC, Australia's Women's National Indoor Development Team will be training and playing six matches against the U.S. Women's National Indoor Team at The Training Center in Spring City, Pa.

"These games have come at a good time for our preparation and give us the opportunity to work on various tactics and set piece options, as well as settling to play together as a team," added Kentwell. "We hope a lot of families will come out and support the Indoor USWNT."

Indoor USWNT vs. Australia Women's National Indoor Development Team Schedule:

Saturday, September 30        6:00 p.m. ET
Sunday, October 1            7:00 p.m. ET
Monday, October 2            8:00 p.m. ET
Wednesday, October 4        8:00 p.m. ET
Saturday, October 7        6:00 p.m. ET
Sunday, October 8            8:30 a.m. ET

Admission to these matches is free, but all spectators will be asked to take part in a raffle for a chance to win some great prizes donated by Harrow Sports. As the athletes are funding their own way to compete at the IPAC in Guyana, all proceeds will go to help defray the expenses.

The U.S. Men's National Indoor Team will not be competing at the men's Indoor Pan American Cup. After careful consideration and taking into account coach and player availability, in October the men's program will focus on preparation and competing in the Sultan of Johor Cup which will take place in Malaysia. The U.S. U-21 Men's National Team will take on top level competition against Australia, Great Britain, India, Japan and hosts Malaysia.

USFHA media release


---

Progress made but second week of EYHL fixtures cancelled due to umpiring impasse



Hockey Ireland's EYHL working group representative Inez Cooper expressed her frustration that a second weekend of matches has been cancelled.

The EY Hockey League's scheduled fixtures will not go ahead once again despite significant progress between the Irish Hockey Umpires Association and Hockey Ireland's EYHL Working Group.

The two bodies held a conference call on Tuesday evening during which agreement on expenses for the EYHL competition and development support was reached without recourse to a Hockey Ireland AGM.

A further meeting was arranged for October 1 to discuss arrangements for Hockey Ireland's cup competitions and the four-year umpire development plan.

However, the IHUA said that while the EYHL arrangement is agreed, matches will not be appointed this weekend until an arrangement is agreed relating to cup competitions. As a result of this and the timeframe leading into the weekend, the EY Working Group has "reluctantly followed the same position as last week" and cancelled the EYHL fixtures.

The IHUA have stated they are committed to improving umpiring of Hockey Ireland competitions overall and "believe the level of budget for umpires [detailed below] and the wider support team is needed to deliver on this commitment for the EYHL in particular".

Inez Cooper represented the EY Working Group in the meeting and, in a letter explaining the situation to the clubs, felt that decent strides had been taken but was left frustrated that another series of women's EYHL matches and one men's game will now need to be refixed.

"Everyone left the meeting recognising that good progress had been made and in good faith on what had been agreed and that EYHL matches would happen this weekend. The IHUA wished to consult their Executive and to provide a response by latest 2pm today to confirm their position.

"This afternoon, the IHUA has reverted to say that while the EYHL arrangement is agreed, matches will not be appointed this weekend until an arrangement is agreed on Cup competitions.

"An appeal to avoid bringing hockey's reputation into disrepute, as well as driving a wedge through the hockey family by umpiring EYHL this weekend while everyone is clearly engaged, was rejected.

"The objective is to hold out for the remaining cup matches, many of which aren't umpired by IHUA appointments for early rounds.

"As a result of this latest impasse and with the answer received at 7.40pm, the IHL WG has reluctantly followed the same position as last week, that we will not proceed with the matches this weekend utilising the umpires who came forward directly to the IHL WG for the same reasons outlined last week."

The agreement reached sees expenses being borne by the EY sponsorship money and will be paid from the IHL budget. This situation continues the current process and so averts the requirement of taking this to an SGM to ask clubs to take up the cost.

The increased cost, though, will mean a reduction in the overall EY sponsorship money that is distributed to clubs, an arrangement put in place to aid clubs with their travel and hosting costs. A revised club contribution will be advised to clubs in due course.

As for the expense remuneration, the IHUA will now take responsibility for the Umpire Expense Budget, previously done by HI following signoff by IHUA Appointment Manager. From this budget, they will pay EYHL umpires, umpire assessors, coaches and managers for their expenses.

The expenses will be set in line with Revenue requirements and expected to be within 30 to 32 cent per kilometre with subsistence ranging from €14 to €33 depending on time away.

The Hockey Ireland Board has agreed on a cost of €28,000 for the EYHL competition for the season of 2017/18. This is a 56% increase on the original budget.

"The IHL WG recognise that there is an impact to the EYHL club's budgets, however, we hope that by being able to get the EYHL underway, clubs can work throughout the season to exploit options to increase their own sponsorship income on the back of initiatives covered at the EYHL recent meeting and on the back of the clubs and WG mutual endeavour to build a bigger, bolder EYHL as we enter season three.

"Needless to say the IHL WG are also hugely frustrated and disappointed with the position being taken with regard to the EYHL given that agreement has been made."

The EY Working Group will now hand over the negotiations to the cup competitions – which are not under the Working Group's remit – to Hockey Ireland with a view to expediting this issue.

"Hopefully this will see matches on Saturday, September 30," Cooper added. "In the interim, we will focus the time on looking at the very limited options to re-schedule matches, working in conjunction with the HP [the high-performance international teams] and the clubs to try and find fair and workable solutions. Please bear with us."

The Hook


---

Maryland field hockey wants more scoring production from its forwards

By Scott Gelman

Maryland field hockey defender Bodil Keus stood in front of the cage in the 46th minute of the Terps' 2-1 loss to No. 17 Princeton Tuesday with the Tigers defense behind her.

After the Terps' newfound aggression in the second half helped them earn their first penalty stroke of the game, Keus deposited the ball into the upper-left corner of the net to get Maryland on the board for the first time. That was the extent of coach Missy Meharg's offense Tuesday.

After scoring a combined seven times in two contests leading to Tuesday's match, Maryland's attack struggled to generate opportunities. When it did, the shots sailed wide, which prompted Meharg to emphasize shot selection entering Maryland's game against No. 14 Northwestern on Sunday.

"All of us need to feel confident in those positions to shoot the ball, because we're in those positions," midfielder Brooke DeBerdine said. "We dominated the second half and were in the circle a lot. We just need to take it into our own hands to put the ball into the cage."

Meharg wants her forwards to score more, and the fact they haven't highlights the talent in Maryland's midfield. Forward Olivia Reiter has taken four shots but hasn't recorded a score. Sabrina Rhodes is 1-for-6. Linnea Gonzales is 3-for-26, and Julie Duncan is 2-for-7.

Perhaps a fraction of the challenge comes from Mayv Clune's season-ending injury, as the freshman forward was the top prospect in the nation.

Nonetheless, Princeton's speedy backline prevented Maryland aggression in its offensive zone. One of the Terps' best chances to score came in the 50th minute, when forward Rhodes was isolated near the top of the circle. Her shot sailed wide-right and was one of seven the Terps took after intermission.

"It's instincts, just going for it," Meharg said. "We have a lot of young players who have scored goals throughout their careers. I'm waiting for it to fall. I think they are too. I don't want to wait a lot longer."

Meharg praised Gonzales and midfielder Lein Holsboer's shot selections, notable because Holsboer's position requires her to set up shots for her teammates more often than drive to the goal.

But Holsboer, who has scored a team-high five goals, has been an influential addition to the Terps' attack. She scored twice in wins against Indiana and Bucknell and took a pair of shots against the Tigers.

"We really get opportunities when we get those quick touches on the ball," Holsboer said. "We had a couple of great shots. Now, we have to figure out how to put it in the net."

Maryland outshot Princeton, 14-12, but couldn't capitalize on those chances or its five penalty corners. Meharg said the Terps' lack of production shouldn't be connected to their chemistry as they've played alongside each other for long enough.

Maryland's forwards, who practice shot selection with the rest of the team, watched as Keus scored the Terps' lone goal. Now, Meharg wants them more involved.

"We had opportunities in there," Meharg said. "People [are] wanting to shoot and be big time goal scorers."

The Diamondback


---

Australian Maddy Murphy proves to be a valuable player for the Iowa field-hockey team.

By Taylor McNitt



Iowa's Madeleine Murphy lunges for the ball during the Iowa-University of New Hampshire field hockey match on Sunday, 10 September, 2017. Iowa defeated UNH by a final score of 7-1. (David Harmantas/The Daily Iowan)

From the land Down Under comes a player who is rising up top — freshman Maddy Murphy is taking Iowa field-hockey by storm.

Last week, the Big Ten named her Freshman of the Week, and shortly after, she was named to the Australian Indoor World Cup Team.

"We've done a lot of training camps and stuff over the last three years since the last World Cup," Murphy said. "The women's Australia team actually do pretty good; they're one of the top 10. We had nationals last year and a tour to Europe. We went through Berlin, and Belgium, and stuff last year, and then they picked the team in July this year, and I was lucky enough to make it."

In February 2018, the Indoor Hockey World Cup will be held in Berlin. The top-12 men's and women's field-hockey teams will take part in the tournament.

"We are excited and extremely proud of Maddy's selection to the Australian team for the upcoming Indoor World Cup," head coach Lisa Cellucci said. "It is a great honor and one that she is very deserving of. She has done a fantastic job representing her country on the international stage in the past. We look forward to Maddy continuing to gain great experience and to representing both Australia and the Hawkeyes this winter."

Beyond being named as a valuable player for Australia, Murphy has also been recognized as a valuable player for the Hawkeyes by the Big Ten.

As it currently stands, Murphy is second on the team in goals (6), points (15), and shots (17), and she's tied for third in goals and fourth in points in the Big Ten overall.

"She's an amazingly skilled player," Cellucci said. "Her speed, her athleticism, and just her elimination and ball-handling skills are outstanding."

Considering all of this, Murphy's beginnings are actually quite humble.

"My dad is the one who got me involved at the very beginning," she said.

Murphy's father played field hockey in college, and after initially playing soccer, Murphy decided to give hockey a try in sixth grade.

"My best friend and I made a team up in primary school, and I just loved it — I fell in love with it, and just haven't stopped playing it since," she said.

Since then, Murphy has played on state and national teams.

"Back home, I played with ladies who are about 50, down to 12-year-olds on my team," she said. "Here, [the age difference is] 18 to 24, so I guess it's a lot different than the structures we play, the way we play. There's a different focus on being more physically fit here."

Murphy has adjusted well to playing at the American college level, and Cellucci showed her excitement about having Murphy on the team for the next few years.

"We knew recruiting her, it would be a huge get to have her come to Iowa," Cellucci said. "It has been proven so far, and I think she's going to continue to keep getting better. Off the field, [she's] just a dynamic personality. Very easy to get along with everybody, constantly laughing, just brings the mood up. [She's] just a wonderful person to have on the team, and we're really glad she's a Hawkeye."

The Daily Iowan


---

Numbers increase in Marist hockey tournament

Pravin Narain



Marist Hockey Club president Peni Sigabalavu, East Gate family member Reginald Gates, vice-president Paul Frazer and sponsor Gary Barnet during the cheque handover at National Hockey Centre in Suva yesterday. Picture: PRAVIN NARAIN.

TWO of the oldest hockey district teams in Fiji, Ba and Levuka, will compete in the 2017 Geotech Drilling International Services-sponsored 2017 Marist Eastgate Memorial Tournament which will be played later this month.

"The tournament will see two old hockey powerhouses back into competition with Levuka coming back after 10 years while Ba returns after six years," tournament director Paul Fraser said.

Fraser said he was looking forward to a successful tournament.

"This year we have a record of 20 teams which is the biggest entry by far and as it draws closer the excitement and chatter from players going to take part in the tournament from around Fiji is overwhelming for the Marist Club and Geotech Drilling directors as the organisers," he said.

"All the national reps will be taking part with their respective clubs and the organisers hope this tournament brings the best out of each player and team. Ventures, Stingers and Marist in both categories are favourites while the teams from the Sugar City of Lautoka, Ba and Levuka will be out to upset the men and women from the capital it should be a weekend of exciting hockey."

Meanwhile, Geotech Drilling International Services had sponsored the tournament with the $13,000

The Fiji Times