All the news for Friday 25 August 2017

Rabo EuroHockey Championships 2017 Results

Thursday 24 August 2017

12:30 Women / Pool C CZE 1 - 3 IRL
14:45 Women / Pool C ESP 2 - 1 SCO
17:00 Women / Semi Final 1 GER 0 - 1 BEL
20:00 Women / Semi Final 2 NED 1 - 0 ENG

Women Pool C standings
     W     D     L     P
Spain     2     0     0     6
Ireland     1     1     0     4
Scotland     0     1     1     1
Czech Republic     0     0     2     0

Rabo EuroHockey Championships 2017 Official site


---

Netherlands beat England in Euros Semi-Final



England v Netherlands

A final quarter strike from Marloes Keetels guided the Netherlands to a 1-0 victory over England in their EuroHockey Championships semi-final clash.

It was a thrilling encounter between the sides with 10,000 fans filling the Wagener Stadium in Amsterdam and the action on the pitch matched the atmosphere in the stands.

The Dutch go on to face Belgium in the final while England will now play Germany for the bronze medal on Saturday.

It was England who made the brighter start, breaking down the right Susannah Townsend made her way into the circle before unleashing a strike at goal, but Anne Veenendaal was able to kick away.

The Dutch responded strongly and some stunning defending from Shona McCallin on the line saw her hook away a fierce effort from a penalty corner before later blocking Frederique Matla's effort before the first break.

A tighter and tense second quarter followed and the loud Dutch crowd were quietened as England ended the half strongly as Danson spun and shot at goal before winning a penalty corner which was cleared.

Just before the break Zoe Shipperley fired a cross to Sophie Bray but her touch could only take the ball wide as the sides entered the break level.

The game continued to be played at a flying pace with the hosts settling into their rhythm and pinning England back. However stoic defending and tenacity from the English backline and two eye-catching tackles from Hollie Webb kept the Netherlands at bay.

Four minutes into the final quarter the deadlock was eventually broken. England lost possession in midfield allowing the Dutch to break, Maddie Hinch made an initial save but Keetels collected the rebound and fired quickly into the goal with aplomb to put her side ahead.

There was to be no way back for England, as the clock ran down they removed Hinch for a kicking back in the closing minutes but this couldn't change the outcome as the Dutch held on to their lead to reach the final.

England: Maddie Hinch (GK), Hollie Webb, Anna Toman, Laura Unsworth, Giselle Ansley, Susannah Townsend, Shona McCallin, Hannah Martin, Lily Owsley, Alex Danson (C), Sophie Bray

Subs (Used): Zoe Shipperley, Ellie Rayer, Jo Hunter, Sarah Haycroft, Emily Defroand, Ellie Watton

Subs (Unused): Amy Tennant (GK)

England Hockey Board Media release


---

Green Army Put 3 Past Czech Republic As McCay Makes History



Shirley McCay, who having won her 250th cap today became Ireland's most capped female athlete

Starts don't come more ideal than the one the Green Army manufactured for themselves today as Lena Tice got herself on the scoresheet inside the opening minute with a powerful penalty corner sweep.

Ireland looked in control for large periods as they moved the ball around at will but the all-important final touch in the circle was just missing. The Czech's created some chances of their own as Klara Hanzlova found herself through on goal only to draw a good body save from Grace O'Flanagan. In the 9th minute Ireland had the opportunity to double their lead as they were awarded a stroke from a penalty corner stop on the line but Roisin Upton's shot pinged off the post. Hanzlova very nearly found herself bearing down on goal again but Hannah Matthews poached the ball before she could shoot. The opportunities started mounting for Ireland as the half wound down and they pushed for another goal but the Czech defence sat very deep. Katie Mullan saw her reverse pass zip across the face of goal, just past the outstretched Anna O'Flanagan. The best chance of the half fell in the dying seconds as Matthews sent the ball to O'Flanagan in the circle who duly spun her marker only to be robbed of the ball in front of goal, but Chloe Watkins sent the ball back in and O'Flanagan's deflection was somehow saved by Barbora Cechakova.

Ireland's momentum didn't waiver early in the second half as Nikki Evans, Deidre Duke and Sinead Loughran all found themselves in front of goal but the ball simply wouldn't fall for the Irish as shots spun wide or final passes were missed. A 47th minute goal from Hanzlova put the Irish under pressure but they responded within 2 minutes with a well won penalty corner that Roisin Upton sent flying against the back board to retake the lead. Ireland put the game to bed 5 minutes later as Emily Beatty darted into the circle only to slip the ball to O'Flanagan who got in front of her marker to chip the ball past Cechakova. Both Evans and Mullan saw their shots either saved or rip over the cross bar in the final minutes of the tie as Ireland looked to add to their goal difference. 

Commenting after the fixture, head coach Graham Shaw said "Maybe a little disappointed we didn't rack up more goals but the most important thing is the win, and now we focus on Spain. I'm pleased with how well we started but we're just lacking a little bit on confidence in front of goal at the moment. We created a lot of opportunities and played some good hockey at times, overall we're happy with the win".

Shaw also paid tribute to Shirley McCay, who having won her 250th cap today became Ireland's most capped female athlete "It's an incredible achievement and she should be very proud. The dedication, commitment and loyalty she has shown over the last 10 years is a testament to the person that she is. From the management and team, we want to congratulate her, it really is an incredible achievement".

McCay, ever humble, said "I wouldn't be here today with 250 caps if it wasn't for the team around me. I'm so grateful for everyone around me; all my family and friends, and all the support I've gotten throughout the years. Obviously, it's a very special occasion and I'm very proud to win my 250th cap".

The Green Army's final match is against Spain on Saturday (August 26th) at 11:15am (Irish time).

The Green Machine begin their 5th-8th place pool tomorrow (August 25th) against Spain at 1:45pm (Irish time).

Rabo Eurohockey Championship 

Ireland 3 (Tice, Upton, O'Flanagan)
Czech Republic 1 (Haklova)

Ireland: G O'Flanagan, Y O'Byrne, K Mullan (Captain), S McCay, E Tice, G Pinder, C Watkins, N Daly, A O'Flanagan, Z Wilson, D Duke

Subs: C Cassin, N Evans, E Beatty, R Upton, S Loughran, H Matthews, A Meeke

Czech Republic: B Cechakova, K Lacina, A Kolarova, J Reichlova, K Poloprutska, K Hanzlova, K Dukatova, T Mejzlikova, V Novakova, A Lehovcova, B Haklova

Subs: K Jirsova, A Vancurova, V Decsyova, A Vorlova, N Babicka, B Kavanova, N Novakova

Irish Hockey Association media release


---

Late Irish goals give Euro survival hopes big boost




Late goals from Roisin Upton and Anna O'Flanagan put the Irish women within a result of retaining their status at the top table of European hockey as they saw off the Czech Republic 3-1 in Amsterdam.

It puts them in good shape to stay up provided they can get something from already safe Spain on Saturday morning. Lose, though, and they could be in danger of being pipped by Scotland on goal difference.

As such, despite the win, there was a tinge of frustration to the post-match reflections with the feeling they left a few goals behind them to bolster their goal tally.

"Maybe disappointed we didn't rack up a few more goals but the most important thing is we got the win and go for the win against Spain to retain A status," coach Graham Shaw said afterwards.

"The pleasing thing was we started well, something that we maybe haven't done in this tournament. To score after 20 seconds, you thought it might flow a little bit. We just lack a bit of confidence in front of goal, we created a lot of good opportunities and we're happy with the win."

It came on a day when Shirley McCay became the first Irish sportswoman to reach 250 international caps.

Shaw paid tribute to the defender, saying: "It an incredible achievement. She and her family should be very proud of her.

"The commitment and loyalty she has shown over that 10 year period in an amateur sport where she doesn't receive a penny is a testament to the person she is. From the management and the team, we just want to congratulate her."

For McCay, she said it has been a product of "a lot of graft and a lot of sore bodies" before selflessly thanking her team mates and family.

"I'm delighted to be part of the team around me. I wouldn't be around today if it wasn't for them.I'm grateful for everyone around me, my family and friends for all the support I have got throughout the years."

As for the game, Lena Tice's piledriver into the bottom corner just 20 seconds into the tie looked to be a portent for a positive outlook for a potentially big win.

But the Czechs – the lowest ranked side in the competition – proved an obstinate opposition, making life difficult for Ireland at every turn, sitting deep and limiting space.

Roisin Upton spurned a penalty stroke chance, pinging the post, while Anna O'Flanagan's diving touch closed out the half with Barbora Cechakova smothering the effort.

The Czechs, for their part, draw a couple of fine saves from Grace O'Flanagan in the first half but the Irish keeper was a spectator in the second half, usually more than 50 metres away from her nearest team mate.

And yet they managed to summon an equaliser from their only attack of note with 12 minutes to go.

A hopeful ball into the circle was miscontrolled, offering Klara Hanzlova a chance which was blocked high. Barbora Haklova volleyed in the loose ball.

Ireland's response was immediate with Nicci Daly winning a corner which Upton netted down the left channel for 2-1 with 11 minutes to go. Emily Beatty then picked out Anna O'Flanagan at the near post for the insurance goal.

Whether an extra goal or two will come back to haunt them remains to be seen on Saturday morning. Ireland next play Spain on Saturday at 11.15am (Irish time) with a win guaranteeing their place in the top tier for 2019.

A draw or loss keeps them up; a loss could open the door for Scotland to overhaul them on goal difference.

As has been the case on many occasions in the last decade, it sends Ireland's hopes down to the last day, something McCay knows all too well having stayed up in 2009 and 2011 before enduring relegation in 2013.

"This European tournament is the hardest you will play in. There's no second chances and if you don't play well, you don't do well. In the relegation playoffs, there's almost more pressure than the top four so these are key games for us, gaining experience."

The Irish men, meanwhile, start their relegation pool campaign against Spain at 1.45pm on Friday, a win sealing their top tier place.

Women's Rabo EuroHockey Championships

Ireland 3 (L Tice, R Upton, A O'Flanagan)
Czech Republic 1 (B Haklova)

Ireland: G O'Flanagan, Y O'Byrne, K Mullan, S McCay, L Tice, G Pinder, C Watkins, N Daly, A O'Flanagan, Z Wilson, D Duke
Subs: N Evans, E Beatty, S Loughran, R Upton, H Matthews, A Meeke, C Cassin

Czech Republic: B Cechakova, K Lacina, A Kolarova, J Reichlova, K Poloprutska, K Hanzlova, K Dukatova, T Mejzlikova, V Novakova, A Lehovcova, B Haklova
Subs: K Jirsova, V Decsyova, A Vorlova, N Babicka, B Kavanova, N Novakova, A Vancurova

Umpires: K Alves (FRA), V Bagdanskiene (LTU)

The Hook


---

Late strike sees Scotland lose to Spain in Amsterdam



Photo by EHF / World Sports Pics

A late strike saw Scotland lose 2-1 to Spain at the RABO EuroHockey Championship 2017 in Amsterdam. The result leaves Scotland requiring a win in their final match against Czech Republic on Saturday, and for Ireland to lose to Spain with the goal-difference ending in Scotland's favour to avoid relegation.

The early stages of the contest was tight and nervy with both sides struggling to get a grip of the game. Sarah Robertson was running hard for Scotland, powering through the centre of the pitch, but unable to create any clear openings.

Spain began to put the Scots under pressure as the first quarter grew older, and they took the lead after a run into the D from the right and the ball found its way to Begona Garcia who slipped it under Amy Gibson to make it 1-0.

Spain nearly had a second goal when they stole the ball in the Scotland half and tore toward the D. Gibson was out quick to block and Amy Costello cleared the danger.

Scotland's first chance of the match fell for Charlotte Watson midway through the second quarter but she didn't make a good connection with her reverse stick shot, and it pinged into the air.



Photo by EHF / World Sports Pics

Spain nearly made it 2-0 early in the second half when Marta Segu latched onto the ball in the Scotland D and prompted a save by Gibson.

Spain continued to press the Scots in search of a second goal but the Scottish defence was resolute.

Scotland equalised when the ball fell kindly for Sarah Jamieson in the Spanish D, but it struck a back on the line resulting in a penalty stroke. Nikki Lloyd stepped up and sent the ball into the top left corner to make it 1-1.

Spain retook the lead with five minutes remaining when the ball was smashed into the Scotland D and Carlota Petchame deflected it past Gibson to score.

Scotland battled until the end but couldn't break Spain down for an equaliser. A 3-0 win over Czech Republic and a defeat for Ireland against Spain would guarantee Scotland avoiding relegation.

Scotland Head Coach Gordon Shepherd said, "We're really disappointed with the result. The girls worked really hard and played well but it didn't go our way in the end. A point would have been great but hopefully we'll have another opportunity on Saturday to stay in the division. We'll prepare for the match against Czech Republic and hopefully the result in the other match goes in our favour."

Scottish Hockey Union media release


---

Indoor hockey team suffer another embarrassing defeat

NOT many believed that Malaysia could lose in women's indoor hockey.

But lose they did, 3-0, to Thailand on Wednesday. And yesterday, the door to the final – and gold – was slammed shut.

Thailand, who were already through to the final courtesy of their win over Malaysia, lost 2-0 to Indonesia at the Malaysian Trade and Exhibition Centre (MiTEC).

The Indonesians, who had earlier yesterday routed the Philippines 11-0, scored through El Islamy Annuar (2nd minute) and Andrini Dewi (35th) to check into the final at the expense of Malaysia.

Malaysia may not be happy with the way the Thais capitulated against Indonesia, but the hosts have only themselves to blame for missing out on the gold medal.

After a 19-0 win over the Philippines in their first match, they could only draw 1-1 with Indonesia.

Then came the loss to Thailand.

Thailand and Indonesia will meet in the final today while Malaysia, who beat Singapore 6-0 in the last match yesterday, will play against the same team for the bronze.

Thailand coach Esfandyar Safaei said they were ready for the final and "we will go for a win".

"The defeat does not bother me as the game (against Indonesia yesterday) was of academic interest. We just let all the players have some game time as we had already qualified for the final," he said.

The Star of Malaysia


---

Ballot update: 60,000 tickets already applied for




England Hockey are reporting incredible demand after just six days of the ticket ballot for the Hockey Women's World Cup London 2018.

• All England pool games, the Quarter Final, Semi Final and Final are going to sell out in this ballot.
• So if you want to see England or the big knockout games, the only way to get tickets for those matches is to enter the ballot before 6pm on Wednesday 6 Sep.
• In total, more than 60,000 tickets have been applied for in only a few days, on top of the 21,000 purchased by hockey clubs earlier in the year.
• If you want to be at this World Cup, make sure you apply for other sessions as well as England
• If you enter the ballot now, you still have an equal chance of success.
• Kids tickets start from just £1 so the World Cup is open to everybody.

Follow this link to sign-up: http://eng.hockey/WorldCupBallot

This massive event will be held at Lee Valley Hockey and Tennis Centre on Queen Elizabeth Olympic Park and will see England's women take on the very best in the pinnacle of the sport.

How can I secure my tickets?
Due to the incredibly high demand for tickets, we are running a ballot system to ensure everyone gets a fair chance to get the tickets they would like. This ballot is now live and will close at 6pm on Wednesday 6 September.

You simply need to register, select which sessions and tickets you'd like and give payment details. You will not be charged at this point. The ballot will then be drawn after the 6 September and if successful you will be notified and charged for your tickets by the end of September. Please note, once you have entered the ballot you can log back in and amend your order up until 6pm on 6 September.

What has happened so far?
A Hockey Family priority ticket sale was launched in April 2017 where an unprecedented 21,000 tickets were sold in the two weeks the window was open, a gold rush to see Pure Hockey Gold! This demonstrates the huge demand there is for tickets, so make sure you enter the ballot now!

How can I ensure I see England play when applying for tickets in the ballot?
Whilst we don't know the full schedule as some teams still need to qualify, we have plotted when hosts England will play each game so you can ensure you select these tickets in the ballot.

You can have a look at the schedule here, and remember – the England sessions are going to sell out, so consider applying for another match as well to give yourself the best opportunity to be at this once in a lifetime event.

I've never been to an international hockey event before, will this be a good day out?
In short, yes! Hockey is a brilliant sport to watch live, and this tournament will showcase just how fast-paced, action packed and highly skilled the game is. You'll be able to see English members of the Great Britain Olympic squad battling for gold to go alongside their Olympic Gold medal and we are planning the biggest fan zone we've ever staged for a hockey event ensuring there will be something for all the family to enjoy.

Which teams will be playing?
As well as England, the Netherlands, Argentina, USA, Australia, New Zealand, Germany, China, Korea, Japan, Italy and South Africa have all qualified so far and will be going for Gold in London next year. With the top 9 teams in the World all qualified, England will need all the home support they can get so make sure you are ready to cheer them on!

Should I wait until general sale to buy England tickets?
In a word, no! General sale will be at a later date to be announced, but if you want the best chance of England tickets then you should enter the ballot! All England Pool tickets will sell out in the Public Ballot so if you want to watch us on home soil then make sure you apply in the Ballot.

Follow this link to sign-up: http://eng.hockey/WorldCupBallot

England Hockey Board Media release


---

Commonwealth Games to step up fight against drug cheats



2018 Commonwealth Games crest © gc2018.com

Doping samples at next year's Commonwealth Games on the Gold Coast will for the first time be stored long term for future testing as officials send a strong message that the host country will not "tolerate cheats" at the multi-sports event.

A pre-Games anti-doping taskforce would also be established to test athletes before they even arrive in Australia for the Games, which run from April 4-15, organisers said on Friday.

The Commonwealth Games Federation (CGF), local organisers and the Australian Sports Anti-Doping Agency (ASADA) will also share intelligence with law enforcement to investigate the possession and trafficking of banned substances.

"Athletes deserve a fair, legitimate and level playing field," CGF President Louise Martin said in a statement.

"This is why I am determined that the CGF and its Medical Commission will play a lead role in the fight against doping in sport."

Global sports competitions have been plunged into turmoil in the last two years, with Russian athletes banned from events including last year's Rio Olympics after investigations uncovered evidence of state-sponsored doping.

Commonwealth countries Kenya and Jamaica have previously had their drug testing programmes scrutinised and ordered to be brought up to world anti-doping standards.

"Given recent international events, the 2018 Commonwealth Games provide a watershed moment ...to raise the bar for anti-doping programmes and restore athletes and supporters faith in fair competition," ASADA acting CEO Judith Lind said.

"The decision to tank all samples for the first time in Commonwealth Games history shows our commitment to a high-integrity games, and to the protection of clean athletes the world over." The Australian government pledged an additional A$1.5 million for testing to ensure the event was as drug-free as possible.

"Australians do not tolerate cheats, plain and simple," said Australia's Minister for Health and Sport Greg Hunt.

"That is why this Government committed $1.5 million in funding to support additional testing of both Australian and international athletes in the lead up to the Games.

"This partnership will go a long way to giving confidence to the thousands of athletes and fans who deserve a level playing field in 2018."

Supersport


---

International Festival of Hockey 2017 tickets on sale

Hockey Australia is excited to bring world-class hockey back to Melbourne and Bendigo for the second annual International Festival of Hockey. This elite competition will take place from Sunday 5th November through to Sunday 12th November and is supported by the Victorian State Government.

Last year, the event showcased men's teams from three nations including India, New Zealand and Malaysia and the women's team from India competing with Australia as part of the tournament. This year the festival has expanded and become gender balanced with four women's and men's teams.

Victoria will play host to five visiting nations from all corners of the globe including the world's number one women's team, Netherlands. Also competing against Australia's Kookaburras and Hockeyroos will be teams from Pakistan, Japan, New Zealand and the United States of America.

"We look forward to welcoming world-class men and women's hockey to the sporting and major events capital – Victoria," said The Hon. John Eren MP, Minister for Tourism and Major Events; and Sport.

"The International Festival of Hockey is another great opportunity to prove that no one puts on a show like we do." 

After the success of last year's inaugural International Festival of Hockey, Bendigo remains to be the perfect location for the regional leg of the festival which saw a near-full Bendigo Hockey Centre on both days of the event with fans of hockey flocking to see Australia take on India.

Mayor Cr Margaret O'Rourke said the City of Greater Bendigo was very excited to be able to host the International Festival of Hockey again this year.

"It is wonderful that our community can come and see some of the world's best hockey players right here in Bendigo," Cr O'Rourke said.

This year the Trans-Tasman rivalry will be re-ignited with the Kookaburras playing two matches against the Blacksticks Men and it will be amazing to have the Hockeyroos as part of the Bendigo games, playing against USA.

Matt Favier, Chief Executive of Hockey Australia said, "The International Festival of Hockey provides sports fans with access to four world-class hockey matches a day right here in Melbourne. It certainly will be bigger and better than last year with top teams competing and we're sure that fans will not want to miss out on this year's final international hockey event to take place in Australia.

"It is a festival in its true sense – offering a family-friendly environment for attendees with a fun-zone area, entertainment for kids and a varied food experience."

"Hockey Australia is very happy to once again host the International Festival of Hockey and give fans an opportunity to experience one of Australia's most iconic team sports," Matt added.

Tickets will be available for purchase through Ticketmaster on Friday, 25th August.

The full details of this are:

Tickets on sale: Friday, 25 August 2017

Event Dates:  Sunday, 5 November – Sunday, 12 November.

Event Locations:
State Netball Hockey Centre 10 Brens Drive, Parkville, VIC 3052
Bendigo Hockey Complex 14 Ashley Street, Long Gully, VIC 3550

Teams playing:

Men's – Australia (FIH ranked #2), New Zealand (FIH ranked #8), Pakistan (FIH ranked #14) and Japan (FIH ranked #17)

Women's – Netherlands (FIH ranked #1), USA (FIH ranked #4), Australia (FIH ranked #5) and Japan (FIH ranked #11)

Event Schedule:

Sunday 5 November 2017, Bendigo

4:00pm - Australia v New Zealand (men)

Monday 6 November 2017, Bendigo

4:00pm - Australia v New Zealand (men); 6:00pm - Australia v USA (women)

Wednesday 8 November 2017, Melbourne

3:00pm - USA v Japan (women); 4:30pm - New Zealand v Japan (men); 6:00pm - Australia v Pakistan (men); 7:30pm - Australia v Netherlands (women)

Thursday 9 November 2017, Melbourne

3:00pm - Pakistan v Japan (men); 4:30pm - Netherlands v Japan (women); 6:00pm: Australia v New Zealand (men); 7:30pm - Australia v USA (women)

Saturday 11 November 2017, Melbourne

2:00pm - Netherlands v USA (women); 3:30pm - New Zealand v Pakistan (men); 5:00pm - Australia v Japan (women); 6:30pm – Australia v Japan (men)

Sunday 12 November 2017, Melbourne

1:15pm - Bronze medal playoff (women); 3:00pm - Bronze medal playoff (men); 4:45pm - Gold medal playoff (women); 6:30pm - Gold medal playoff (men)

Hockey Australia media release


---

AHL - NSW History

The last 3 years of NSW's AHL

Holly MacNeil




The NSW Waratahs finished third in the 2016 Australian Hockey League tournament. They made it to the bronze medal match where they beat India 5 – 1. Tom Craig got NSW top goal scorer in this 2016 tournament with 6 goals, he made a major contribution to the bronze medal match with 2 goals with Landon Morley also scoring 2 goals in the bronze medal match.

In 2015, the Waratahs finished third in Pool A, however by the end of the tournament they finished fifth. In the 2014 AHL tournament, the Waratahs finished fifth again although they ended up with the top goal scorer in both tournaments thanks to Blake Govers, who scored 9 goals in 2015 and 10 goals in 2016.

The NSW Arrows finished third in the 2016 Australian Hockey League tournament. They competed in the bronze medal match where they beat Canberra Strikers, 2 – 1. At half time, Canberra lead 1 – 0 but the Arrows came back and scored 2 goals in the third quarter leading them to victory. Mariah Williams became NSW top goal scorer for that tournament with 4 goals.

In 2015, the Arrows finished third beating Canberra, 3 – 1. Emily Smith had a major impact during this game with 2 goals. Smith also finished top goal scorer for NSW Arrows in the 2015 tournament with 5 goals.

2014 was a big tournament for the NSW Arrows where they finished first beating QLD in the gold medal match, 3 – 2. This was NSW Arrows 9th title in the Australian Hockey League. It was also a big tournament for Casey Sablowski as she won Player of the Tournament and Player of the Final, finishing the tournament with 2 goals. Emily Smith also finished top goal scorer again in the 2014 AHL tournament with 3 goals.

Hockey Australia media release


---

US Weekend College Games: Season Opener Edition




USA Field Hockey's weekly feature of highlighting some of the top college games in Division I, II and III is back

Division II and III games have not officially started yet, so this week we are only highlighting Division I.

FRIDAY, AUGUST 25

No. 4 Connecticut vs No. 13 Stanford | 1:00 p.m. ET
Two of last year's top ranked Division I field hockey teams will compete this Friday to start off the 2017 season. Stanford will begin the pursuit of its second consecutive America East Conference title. Stanford, ranked No. 13 in the NFHCA Coaches Preseason Poll, will be led by underclassmen goalkeeper Kelsey Bing and Corinne Zanolli. Both players were recently named to the U.S. U-21 Women's National Team. Connecticut is also on the hunt for its sixth consecutive BIG EAST Championship. Ranked No. 4 in the Preseason Poll, the Huskies have veteran players on both defense and attack. The squad is led by Preseason Defensive Player of the year Casey Umstead and Preseason Offensive Player of the year Charlotte Veitner.

No. 5 Syracuse vs California | 2:00 p.m. ET
Syracuse will start regular season play this Friday at Cal Berkeley. Ranked No. 5 in the NFHCA Coaches Preseason Poll, the Orange finished the 2016 season with an overall record of 15-4. After a successful 2016 season, Syracuse welcomes 11 newcomers to the team. Although they have a lot of underclassmen, Syracuse will still turn to their veteran upperclassman for experience. The team will be led by upperclassmen Lies Lagerweij, Roos Weers and Laura Hurff who all earned All-America honors last season. Cal opens 2017 third in the America East Preseason Poll. The Bears finished with a 5-13 overall record last season hope to be more threatening on attack this season by returning three of its team leading scorers from 2016.

No. 21 American vs Richmond | 5:00 p.m. ET
After being picked to finish third in the Atlantic 10 Preseason Poll, the Richmond spiders are ready to embrace the challenge of regaining the top spot in their conference. Their crusade to reach the top will start on Friday when they open their 2017 season against American University who was selected No. 1 in the 2017 Patriot League Preseason Poll. The Eagles are expected to repeat their Patriot League title run from last year as the squad will be led by Junior, Rafaela Rubas, who was selected as the league's Preseason Offensive Player of the Year.

St. Joseph's vs Temple | 6:00 p.m. ET
Temple will open its 2017 campaign with an inner-city battle against St. Joseph's. These two Philadelphia teams will both be looking to start their 2017 runs with a victory. St. Joseph's ended the 2016 season with a 16-0 overall record. The Hawks are returning a core group of veteran players and a big freshman class ready to jump in. Following a 7-12 overall record in 2016, Temple is ranked fifth in the BIG EAST Preseason Poll. The team will be led by senior Rachael Mueller who was the leading scorer for the Owls last season.

SATURDAY, AUGUST 26

ACC/BIG Ten Challenge
No. 1 North Carolina vs No. 11 Michigan
Now in its 16th season, the ACC/Big Ten Challenge has proven to be the premiere early-season field hockey tournament on the collegiate slate. All four participating schools have combined to win 39 conference titles and 21 national championships.

In the first game, Michigan will face off against the 2016 NCAA Division I Runner-Ups, North Carolina. The Tar Heels are looking to have another successful season in 2017 as they are ranked No. 1 in the Preseason Poll. The squad will be led by junior defender Ashley Hoffman who will bring leadership and experience as one of the youngest members of the U.S. Women's National Team. Michigan welcomes back 16 letter winners this fall, including All-Americans Sam Swenson and Katie Trombetta, and more than 70 percent of its goal production from 2016. Check out this top match up to see if North Carolina's strong defense can stop Michigan's power offense.

No. 15 Wake Forest vs No. 17 | Iowa 2:00 p.m. CT
The second match-up of the ACC/Big Ten Challenge features Wake Forest and Iowa. The last time these two teams met was during this event last year which finished in an evenly matched game where Iowa topped Wake Forest, 2-1. Expect this game to be another extremely competitive match-up as both teams are ranked close to one another in the Preseason Poll. The No. 15 Wake Forest will be led by Sophomore Nicola Pluta who was named to the Preseason All-ACC Team. The No. 17 Hawkeyes will look to last year's Big 10 Freshman of the Year Katie Birch, to led them to victory.

No. 19 James Madison vs No. 25 Liberty | 1:00 p.m. ET
Picked to finish second in the Colonial Athletic Association (CAA), James Madison welcomes five newcomers after finishing 13-7 overall last season. James Madison made its third consecutive appearance in the CAA title game in 2016 where the Dukes were ranked as high as No. 17 in last year's poll. Liberty was also picked to finish second in the 2017 BIG EAST. The Lady Flames finished the 2016 season with an overall record of 8-10.

UC Davis vs Michigan State | 2:00 p.m. PT
A season opening four-match home stand will begin on Saturday, August, 26 for UC Davis when they take on Michigan State. The squad will be looking to improve their 15-3 overall record from last season. In the 2016 season Michigan State went 8-12 overall and was led by top seniors Kendal Anderson and Simone Vagnoni. Both players were named Second Team All-Big Ten and NFHCA All-West Second team last year.

SUNDAY, AUGUST 27

ACC/BIG Ten Challenge
No. 11 Michigan vs No. 15 Wake Forest | 11:30 a.m. CT
The last meeting between these two teams happened last year in Wake Forest, N.C. in the ACC/BIG Ten challenge. In a true ACC/BIG Ten battle Michigan beat Wake Forest, 2-0.

No. 1 North Carolina vs No. 17 Iowa | 2:00 p.m. CT
In the second game of the day, Iowa will fight to defend their home turf and upset No.1 North Carolina. Iowa will look to their 12 returning letter winners from last season to help lead them to victory. ­­­­

No. 3 Delaware vs No. 9 Louisville | 12:00 p.m.
In Louisville's second match of the season, they will face off against the defending NCAA National Champions, Delaware. After capturing the program's first ever Division I Field Hockey Title in 2016, four-time defending conference champion Delaware is ranked No. 3 in the Preseason Poll. The squad will be led by senior Taylor Lister and junior Greta Nauck. Lister is a member of the U.S. Women's National Developmental Team and Nauck was chosen as the 2017 Preseason Player of the Year. Louisville comes into the match ranked No. 9 in the Preseason Poll, marking the highest preseason ranking in program history. The Cardinals will be led preseason All-ACC senior Nicole Woods. Woods gained top level playing experience this summer while competing with the U.S. Women's National Team.

No. 7 Penn State vs No. 10 Virginia | 1:00 p.m. ET
The last meeting between these two teams was during the 2016 opening weekend where Penn State beat Virginia, 3-0. The Nittany Lions finished the 2016 season with a 17-3 overall record and will be looking to continue last season's success when they take on Virginia this Sunday. After the 2016 regular season defeat, Virginia went on to have a record setting season. The Cavailers won the 2016 ACC Championship for the first time in program history as they were led by two-time National Player of the Year, Tara Vittese.

No. 12 Boston College vs No. 18 Albany | 1:00 p.m. ET
After finishing last season with a 10-10 overall record, Boston College is hopeful to take the next step forward in competing for national glory. The Eagles will look to their midfield core led by two junior captains, Ymke Rose Gote and Frederique Haverhals. The University of Albany finished the 2016 season with a 14-6 overall record and in the 2017 season, the Great Danes have welcomed seven newcomers including players from four different countries.

*Rankings are based off of NFHCA/NCAA Preseason Poll

USFHA media release


---

Penn State field hockey prepares for a pair of games on opening weekend

Jenna Minnig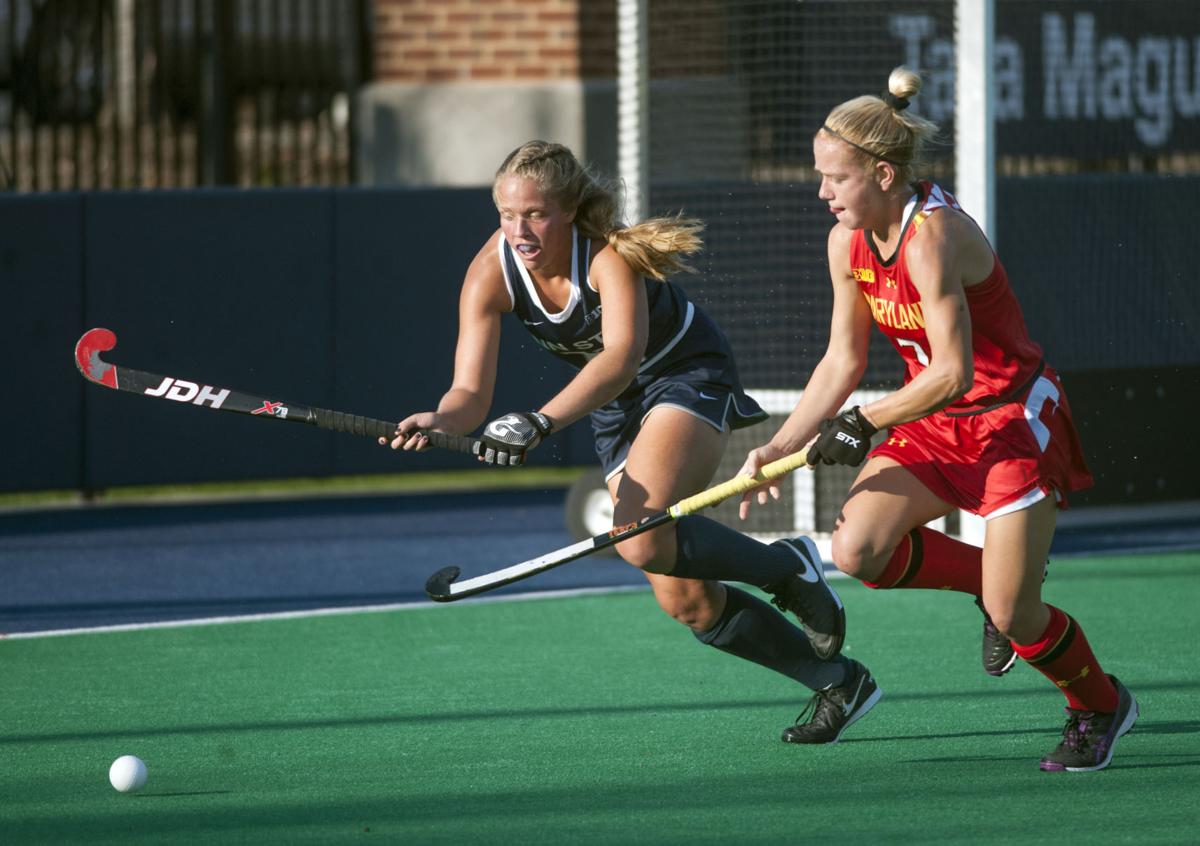 Skyler Fretz (11) fights for the ball from Maryland during the game at the Penn State Field Hockey Complex on Sunday, Oct. 16, 2016. Maryland defeated Penn State 5-4. Camille Stefani

There's reason to be optimistic about this year's edition of Penn State field hockey.

For one, the Nittany Lions are coming off their first Big Ten tournament championship since 2012.

They're also returning the majority of their roster.

The Nittany Lions, who last took the field after being upset in the first round of the NCAA tournament, will get their season started this weekend against Old Dominion and Virginia.

After two impressive performances in exhibition games against James Madison and Syracuse University last week, the team seems to be picking up right where it left off.

Penn State scored a 6-3 victory over James Madison on Aug. 15 in a 70-minute exhibition that represented the team's first action of the season.

"I was a little taken back with our start at James Madison. We started out very shaky and a little tentative and regrouped in the second half," head coach Charlene Morett-Curtiss said.

Following the game against James Madison, Penn State traveled to Syracuse on Aug. 19 for a 75-minute scrimmage. The match finished in a tie with both teams scoring three goals.

"It was really nice to see the players make that change going from one scrimmage to the next scrimmage," Morett-Curtiss said. "They really came through against Syracuse.

"We're still working on our defense to play as a unit," Morett-Curtiss said. "We're trying to put our fitness into the game which we think could be a big advantage for us."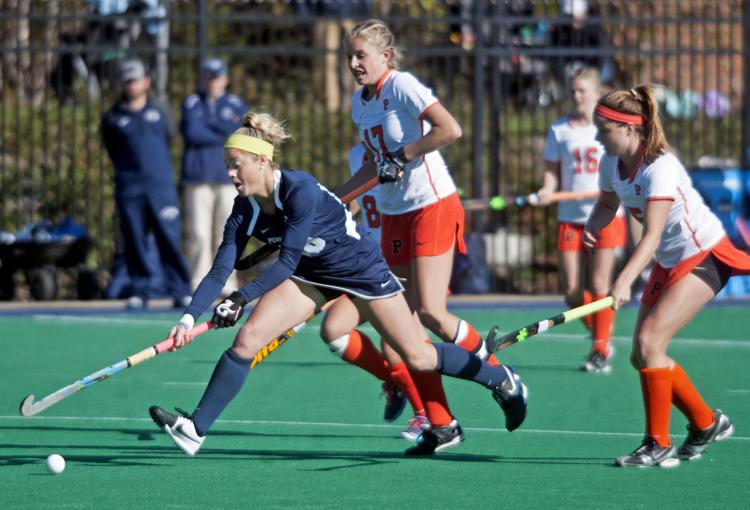 Moira Putsch (18) runs after the ball during the game against #14 Princeton in the opening round of the NCAA tournament at Penn State Field Hockey Complex on Saturday, Nov. 12, 2016. Princeton defeated Penn State 2-1.

In their first game against Old Dominion in Virginia on Friday evening at 6 p.m., the Nittany Lions will be led by two team captains.

Shay Cannon and Skyler Fretz, both seniors, were voted team captains for the 2017 field hockey season following a unanimous team decision.

Cannon, a forward, has been active on the field since her sophomore year. A significant scoring threat, Cannon tallied 11 goals last season, tied for third on the team.

Fretz has also experienced field action since her freshmen year with a starting position in all 19 games during her sophomore season.

The Nittany Lions, were ranked 7th in the NFHCA Division I preseason poll on Tuesday. Their first game opponent, Old Dominion, was ranked 23rd in the poll.

Also this weekend, the field hockey team will travel to Charlottesville to take on Virginia on Sunday at 12 p.m. Virginia was ranked 10th in the field hockey preseason poll.

"We're really working on an aggressive style of play to get the season started," Charlene Morett-Curtiss said at the Fall Sports Media Day on Wednesday.

With a roster of 33, Morett-Curtiss has been busy training the team this summer so that she can lead them into what should be a promising season.

The Daily Collegian


---

Dar Academy Rout Hurley 10-3

By Ijaz Chaudhry

This was Pakistan's Dar Hockey Academy's sixth match of the Holland tour. Their opponents THC Hurley fielded the A1 side; comprising entirely of under 18 boys. So, for the first time, the Lahore based colts faced same age group team.

In almost all the previous games, Dar HA had played H1; the No 1 sides who compete in the national league.

Surprisingly, it was Hurley who called the early shots. The sloppy Dar HA conceded two penalty corners in the first five minutes, both due to unforced errors. Off the second, Pelle Bloem put Hurley ahead with a flat angular push on the right side of the goal keeper.

 Dar HA were soon in their elements and  remained in ascendancy till the hooter sounded for the end of the first half.

First Waseem Akram equalised with a top of the circle finish after an exhilarating interplay with Farhan.

Aqeel made it 2-1 off the second penalty corner with a measured hit striking right corner of the board.

Asif scored the last goal of the first half, capping a fine build up from the right.

Half time: Dar HA:3, Hurley: 1

In the second half,Dar HA laid siege to the Hurley goal for log periods.

No less than seven goals were added with five coming in the last quarter.

They also let in two goals, again due to slack defence.

Interestingly, Dar academy's 10 goals were shared by no less than seven players.

For this match, the Dar HA traveled to Amsterdam. The Euro Hockey Nations Championships are being held at Amsterdam's famous Wagener stadium. After playing the Hurley match, the Dar HA contingent walked to Wagener and watches two matches: Holland vs Spain and Belgium vs Austria in the jam packed stadium.

Final Score: Dar HA: 10, Hurley: 3

SCORERS:
Dr Hockey Academy: Mohammad Usman 2, Tauseeq 2, Usman Nazim 2, Waseem Akram, Aqeel, Shahzaib, Zulqarnain,
THC Hurley: Pelle Bloem. Teun Tolboom & Thom van Ralten

Tour Record Updated: Won:4 Lost 2

Ijaz Chaudhry writes on hockey & other sports. For more about him and his work, visit: www.sportscorrespondent.info 

Fieldhockey.com


---

Peerless Sinyolo Girls retain hockey title in Gulu

By BRIAN YONGA IN GULU, UGANDA



Sarah Wanyonyi of St Joseph's Girls (left) tackles Vivian Wanjiru of St Cecilia Misikhu (right) during their girls' hockey match in the ongoing East Africa Secondary School games at St Joseph's College Layibi in Gulu, Uganda on August 19, 2017. PHOTO | ISMAIL KEZAALA |  NATION MEDA GROUP

Sinyolo Girls on Thursday became the first Kenyan team to win a title in the ongoing Brookside East Africa Secondary School Games here in Gulu after retaining their hockey crown.

Sinyolo were in imperious form as they handed Uganda's Old Kampala a 7-0 thrashing to claim a record fifth straight title.

With their final match of the discipline that is played on a round-robin format, Sinyolo topped with 13 points - winning four matches and drawing one - to once again affirm their status as the sport's power house in the region.

They drew 0-0 with St Cecilia Misikhu in their opening match before a 6-0 win over Uganda's St Mary's Namugunga in their second encounter. They would then rout Uganda's Bweranyange 13-0 before a securing a hard-fought 1-0 win over St Joseph's Kitale.

It was the Owiti siblings, Alice and Maurine, who once again starred for the Siaya County school as they handed their opponents a lesson in hockey.

Alice struck five times while her sister bagged a brace in the lop-sided encounter played at St Joseph's Layibi.

The final whistle drew wild celebrations from the Kenyans as they broke into song and dance joined by their coach Alloice Owino. The coach warned that his side will seek to dominate the sport for years to come.

"Winning the title for a fifth time is no mean feat and this squad totally deserves to be champions after a good outing. We are not resting on our laurels and this is just the beginning," an elated Owino said.

"Our future is secure because only four first team players will leave at the end of the year and I already have upcoming players rearing to get a chance to shine," he added.

Sinyolo needed just 12 minutes to go ahead in the match. Grace Juma pushed a short corner and Alice was at hand to blast the ball past Old Kampala keeper Miriam Kyabe.

Nine minutes later, they doubled their lead after Sinyolo broke clear and Eunice Awuor squared to Alice who scooped the ball to the bottom corner. She added another goal just before the break, finishing off another penalty corner.

EYEING SILVER

Old Kampala rarely threatened with their forward players Amina Kobusingye and Martina Amito completely neutralised. Maureen scored two goals in a span of two minutes to extend her team's lead to 5-0.

St Joseph's, who are second in the pool with seven points, can secure silver as the hockey matches end Friday. The debutantes play Bweranyange as Misikhu take on Old Kampala.

Elsewhere, girls' basketball champions Kaya Tiwi of Kenya face 2015 winners St Mary's Kitende and Lac Tanganyika of Burundi play Uganda's Buddo in today's semis.

Daily Nation


---

Sinyolo bag fifth title

By Elizabeth Mburugu



Sinyolo Girls Hockey player during the Kenya Secondary Schools Sports Term 1 Games at Friends Kamusinga Boys High School, Nzoia region in Bungoma County on Saturday, April 16, 2016. [Jonah Onyango, Standard]

Hockey queens Sinyolo extended their reign in Brookside East Africa Secondary Schools girls' hockey scene after they won their unprecedented fifth title yesterday.

The Kenyan girls, who only had the regional title to hang on to after surrendering their national title to St Cecilia Misikhu during the national Term One games, were in superb form as they won their fifth gong on a clean sheet.

With one hand on the trophy, Sinyolo were in impeccable form with a brilliant performance as they drubbed Uganda's Old Kampala  7-0 in their last round-robin match.

Although they never conceded a goal, Sinyolo had a slow start as they played to a barren draw against Misikhu in their opening match.

Determined to retain their title, they came back stronger to thrash Uganda's St Mary's Namagunga 6-0 to enhance their chances of retaining the trophy.

They got better with every match and staged their most impressive show when they defeated Bweranyange 13-0. They edged out compatriots St Joseph's Kitale 1-0 and completed the job with a 7-0 win against perennial rivals Old Kampala.

They topped the table with 13 points from four wins and a draw to be crowned champions.

An ecstatic Sinyolo coach Alloise Owino praised his charges saying they deserved to be champions for the unprecedented fifth time.

"Winning the title for a fifth time is not an easy thing and my players deserve to be this year's winners. They had a good campaign," Owino said.

Misikhu and St Joseph's are currently tussling for the silver medal as Kenya seeks a clean sweep. National champions Misikhu are second on the log with eight points, while St Joseph's are third with seven.

Both teams will play their last round-robin matches today. St Joseph's take on Bweranyange while Misikhu play Old Kampala in the last girls' hockey games.

It seemed like a family affair as siblings Alice and Maurine Owiti ruled the hockey pitch at St Joseph's College Layibi, steering Sinyolo to victory. Alice struck five times while her sister netted a brace in the one-sided match that the Kenyans dominated from the first whistle.

In girls' basketball title hunt, champions Kaya Tiwi of Kenya face 2015 winners St Mary's Kitende and Lac Tanganyika of Burundi play Uganda's Buddo in today's semis.

Tiwi are the only surviving Kenyan team in after Tigoi, St Brigid's Kiminini were eliminated from the contest while national champions Laiser Hill and Upper Hill were sent packing in the boys contest.

The Standard Online


---

SAHA rolls out development plan for kids



DEVELOPMENT BOOST: All Saints Daycare teachers and pupils gleefully show off their new equipment donated to them by the South African Hockey Association (SAHA) last week. SAHA project manager, Gary Dolley, (black jersey at back) handed over hockey equipment and gave a presentation on the fundamentals of hockey to teachers who will coach the kids Picture: THANDEKA NTLONTI

SOUTH African Hockey Association (SAHA) has brought a plan to East London grow the sport from grassroots level.

The project aims to focus on the physical and technical skills development of the participants in a fun and caring environment as well as focus on life skills with a strong emphasis on education.

The South African junior modified hockey project overseen by former hockey player and project manager of SAHA, Gary Dolley, will focus on primary schools across the country and will incorporate the basic sport skills with the school curriculum.

In a hockey presentation held last week Thursday at All Saints Day care in Parkside, he said: "We are targeting 100 new schools in 2017. In the Buffalo City region we are targeting 10 primary schools from Buffalo Flats and at least 15 from Mdantsane," Dolley said.

"This pilot project started last year and we refer to this project as the neighbourhood leagues, encouraging the local schools to participate. The aim is to get kids actively involved in sport, promoting sporting skills and consolidating fundamental movement skills," he added.

SA Hockey will partner with provincial departments of sport initiatives around hubs identified by the department to roll out a coordinated programme to impact the development of hockey around the identified hub. The regional hubs will enable young athletes from the disadvantaged areas an opportunity to develop their talents to the best of their ability. All Saints Daycare owner, Patricia Smith, thanked Dolley for the generous donation of hockey kits.

"As All Saints Daycare we are very privileged to be part of this great project. My staff and I are ready and we will definitely get other crèches in the area involved," Smith said.

Dolley said in his presentation how much easier it was to identify talent once a person has a solid base in terms of fundamental movement skills, which should be taught to kids at entry level.

Go & Express


---

Field Hockey is a 'Game for Life' for Adult Club in Virginia




HAMPTON ROADS, Va. – Last weekend, with unseasonably cooler temperatures for August in southeastern Virginia, the Hampton Roads Adult Field Hockey Club had the opportunity to scrimmage with the College of William and Mary varsity squad at Busch Field in Williamsburg, Va.

Adult field hockey clubs provide an excellent opportunity for people to get into into the game. Mat Thomas, the founder of the Hampton Roads Adult Field Hockey Club, wants to show that field hockey does not end after college, and that you can still play at a high level as an adult.

"We're here to have fun and provide a competitive training opportunity for the college team," said Thomas. "It's really rewarding for our group to be able to play in events such as this scrimmage and we are grateful to the college players and coaching staff for inviting us back this summer."

William and Mary's Assistant Mark Egner agrees strongly with Thomas' statement and even echoed that sentiment.

"Having a competitive adult hockey club nearby is a great opportunity and offers a unique challenge for our athletes," commented Egner. "Scrimmages help the team with problem solving and shows both the players and the community that hockey is a game for life."

This year, the team for Hampton Roads was comprised primarily of men. Mimi Smith, one of the umpires who continues to play hockey, observed that scrimmages between colleges and adult clubs have the potential to make everyone better.

Co-ed hockey is prevalent around the world. In the United States, many have the misconception that field hockey is just for women, and USA Field Hockey is working to change that belief and grow the game for men and women of all ages. "Women don't often have the opportunity to play against men," stated Smith. "Doing so allows us to challenge ourselves for personal success. I watched many of the college players challenge their opponents and smile a little when they were able to beat them."

Hampton Roads Adult Field Hockey Club also participated in a scrimmage this past weekend against Old Dominion University at L.R. Hill Sports Complex in Norfolk, Va.

Adult field hockey is growing in the United States, with opportunities to play across the country. If you are an adult looking for an opportunity to play field hockey, visit USA Field Hockey's Find a Club portal by clicking here. If you'd like assistance in starting an adult club, please reach out to This email address is being protected from spambots. You need JavaScript enabled to view it..

USFHA media release