All the news for Thursday 24 August 2017

Rabo EuroHockey Championships 2017

Wednesday 23 August 2017

09:30 Euro ParaHockey Finals
12:30 Men / Pool B GER 7 - 3 POL
14:45 Men / Pool B IRL 1 - 2 ENG
17:00 Men / Pool A ESP 2 - 0 BEL
20:00 Men / Pool A NED 6 - 0 AUT

Pools and Standings

Men pool A
    W     D     L    P
NED 2     0     1     6
BEL 2     0     1     6
ESP 1     1     1     4
AUT 0     1     2     1

Men pool B
    W     D     L    P
GER 2     1     0     7
ENG 2     0     1     6
IRL 1     1     1     4
POL 0     0     3     0

Women pool A
    W     D     L    P
NED 3     0     0     9
BEL 2     0     1     6
ESP 1     0     2     3
CZE 0     0     3     0

Women pool B
    W     D     L    P
GER 3     0     0     9
ENG 2     0     1     6
SCO 0     1     2     1
IRL 0     1     2     1

Rabo EuroHockey Championships 2017 Official site


---

Lleonart shows Bloemendaal what they can look forward to



©: Frank Uijlenbroek

New Bloemendaal signing Xavi Lleonart gave a taste of what's to potentially come as he inspired Spain to a shock 2-0 win over the previously all-conquering Belgium at the European Championships.

The tricky winger has been out for a long time with a shoulder injury but returned for this event and made a huge impact in their first win of Pool A.

It was in stark contract to their heavy loss to the Dutch and a draw with Austria that meant their place in the relegation pool was pretty much decided.

Against Belgium, Lleonart scored a glorious first goal before Joan Tarres completed the result.

Speaking afterwards, the former Real Club de Polo man said: "After my injury, it was a really hard five months. It was a long wait to get fit again but I really enjoyed this amazing game.

"It was not important for our competition because we are fighting for fifth to eighth place but we are happy to beat this amazing team. We hope to get to the same level again in the next few days.

"The last two games weren't good for us. We really needed this kind of game against a strong team like Belgium and it gives us a lot of confidence."

Looking forward to life at Bloemendaal, Lleonart added that it will be a quick transition between country and club duties.

"I go back to Spain for two days, change the luggage and then come back on to Holland on August 31 and a new chapter for me. I always dreamed of playing in this amazing [Hoofdklasse] league; I think it's the best one in the world.

"When Bloemendaal started the conversation, I didn't have to think about it too much! I want to play the best hockey possible."

He also has a date back in his home city to look forward to in the Euro Hockey League ROUND1 where his club meet Wimbledon and SV Arminen.

"It will be nice to be back in Barcelona to play with a Dutch team with my family watching me. I am waiting for the EHL in October and it will be another amazing tournament for us!"

For Wimbledon's part, Phil Roper has been captaining England in tandem with Ian Sloan and George Pinner and he helped them edge past Ireland 2-1 to reach the semi-finals, too.

"With Ireland over the last few years, we always know it will be a massive battle," the Wimbledon man said.

"They are a talented side with a lot of good young players and experienced ones as well. We know we have to put our game out there but also expect the battle and we got that today.

"We've been trying to recognise the phases of play and when you feel something good going on, like the start of that third quarter, and getting two goals when they were down men was brilliant and paid dividends. That fight at the end was amazing.

"It's just relief; it was a tough last five minutes, especially with the corner but we fought and did really well."

Euro Hockey League media release


---

England men book Euros Semi-Final place



Sam Ward and Chris Griffiths v Ireland

England came from behind to defeat Ireland 2-1 and reach the EuroHockey Championships semi-finals.

Matthew Nelson's early opener was cancelled out in the second half by David Goodfield's strike before Sam Ward popped up with the winner.

It was win or bust for England coming into the contest and the victory means they are set to face Belgium in the semi-finals on Friday night.

Despite the obvious pressures on England heading into the contest they made a calm and composed start, keeping the ball well and making numerous penetrations into the Irish circle in the opening exchanges.

However with their first threatening attack it was Ireland who grabbed the first goal of the game. From a penalty corner Conor Harte's effort was cleverly deflected by Nelson high into the net giving George Pinner and Liam Sanford no chance on the line.

Both sides largely cancelled each other out in the second quarter, Ireland were awarded an early penalty corner but the ball wasn't controlled allowing England to clear.

In response England won a corner of their own but David Harte produced a smart double save in the Irish goal to keep England at bay and ensure his side entered the half-time break ahead.

England flew out the traps after the interval and were level inside a minute. Sanford fired a ball into the circle which was deflected to Goodfield, his effort was too hot for the Irish defence as it burst through their efforts and into the backboard.

Moments later England produced a glorious chance to move ahead, from a penalty corner the ball was shifted right to Middleton who crossed to Weir on the back post but he couldn't make contact and the scores remained level.

However just before the final break England moved ahead. David Ames won the ball in midfield before feeding Ian Sloan down the right, he reached the baseline before cutting back to Ward who got in front of his marker to finish past Harte.

Ireland pressed to find an equaliser but found Pinner in top form to tip O'Donoghue's effort over the bar from a penalty corner. With two minutes to go the Irish opted for a kicking back but England held firm to progress to the semi-finals.

England: George Pinner (GK), Michael Hoare, Brendan Creed, Liam Sanford, Adam Dixon, David Ames, Barry Middleton, Sam Ward, Phil Roper, David Condon, Chris Griffiths

Subs (Used): David Goodfield, Mark Gleghorne, Ian Sloan, Harry Martin, Henry Weir, Ollie Willars

Subs (Unused): Harry Gibson (GK)

England Hockey Board Media release


---

Green Machine Into 5th-8th Place Pool



Photo credit: World Sport Pics

England arguably started the stronger of the two sides and looked dangerous with pacey interchanges. Ian Sloan, David Condon and Adam Dixon all found their way into the circle but Paul Gleghorne and Conor Harte were on hand to sweep up any danger. However, it was Ireland who proved more efficient as they converted their first penalty corner of the game. Harte's sweep was deflected past George Pinner by Matthew Nelson to give his side the lead in the 13th minute. A second PC didn't yield quite the same return minutes later as the mistrapped ball made its way to Sean Murray who's shot was batted away. England won their first PC as Sam Ward spotted a back stick from Harte but his resulting drag flick drew a fine double save from David Harte to keep Ireland in the lead going into half time.  

England came out of the blocks at half time at blistering pace and David Goodfield smashed the ball in from close range after just 2 minutes. Ward's drag flick minutes later was well saved and then again, he spun his marker and found himself in acres of space only to blast the ball over the crossbar. Ireland were down to 9 men for a short period as Kirk Shimmins picked up a green card while Shane O'Donoghue landed himself with a 10-minute yellow for appearing to lash out at David Ames. England controlled phases due to the man-advantage and the Irish defence finally cracked in the 44th minute when Ward bundled the ball into the goal following a run along the baseline from Sloan. Harte made another superb save as Condon appeared in on goal but was denied by the Irish captain. Ireland began to put some passes together and began to trouble the English who were sitting with all their players well inside their own half. O'Donoghue's PC drag drew a fine high glove save from Pinner, and despite Johnny Bell coming on as kicking back, the Irish couldn't force the equaliser in the dying minutes.  

Commenting after the match, coach Craig Fulton said "We made some mistakes in the third quarter and the two goals put us under pressure. We had a few chances, they took theirs and we didn't. We move on now and regroup, it's key to take the lessons out of today".

Ireland now move into the 5th-8th place pool. The Green Machine are next in action on Friday (August 25th) against either Spain or Austria at 1:45pm (Irish time), with the fixture to be shown live on BT Sport.

Ireland women's hockey team begin their 5th-8th place pool against Czech Republic tomorrow (August 24th) at 11:30am (Irish time), shown live on BT Sport.

Rabo Eurohockey Championships

Ireland 1 (Nelson)
England 2 (Goodfield, Ward)

Ireland: D Harte, J Jackson, M Bell, A Sothern, N Glassey, K Shimmins, S O'Donoghue, M Robson, P Gleghorne, C Harte, S Loughrey

Subs: J Bell (Captain), M Nelson, S Murray, B Walker, D Walsh, L Cole, M Ingram

England: G Pinner, D Ames, M Hoare, S Ward, P Roper (Captain), A Dixon, B Middleton, B Creed, D Condon, C Griffiths, L Sandford

Subs: H Gibson, O Willars, H Weir, H Martin, I Sloan, M Gleghorne, D Goodfield

Irish Hockey Association media release


---

Jackson family make Euro team sheet first



Jennifer Jackson, picture top right in the pic, has been team doctor on numerous occasions. Pic: Koen Suyk/World Sport Pics

When Ireland's men took the field against Germany in their opening Rabo EuroHockey Championships, it marked a family-first for the Jacksons.

Defender John, 31, is a veteran of 230 internationals. His father, Peter, has been the team manager 179 times in a spell that dates back to 2006, working with the team on and off. Peter's wife Jennifer, meanwhile, has been the team doctor with the Green Machine for a number of tournaments, too.

But, while they have been at many tournaments together, for the first time this summer all three have been formally appearing on the same match sheets, the tie against Germany the first time this has happened in a European Championships.

For John, he says it's nothing like a case of jobs of just finding someone handy to fill a role, saying it is incidental that they are his parents.

"By chance, its my mum and dad," he said. "My mum adds a lot of value, she's been a nurse in the army on the medical side for 25 or 30 years. She's here as a doctor and is quite good at the trauma side of things having been in Iraq and Afghanistan!"

If anything, he is perhaps underselling the abilities of his mother.

"I see myself first and foremost as a nurse, then as a mother and then a soldier," Jennifer said in 2014 when she was honoured at the Belfast Telegraph Woman of the Year awards.

A qualified practice and occupational nurse, she joined the Territorial Army in 1982 and linking up with the Queen Alexandra Royal Army Nursing Corp.

And so, when the first call went out for the first Gulf War in 1991, she put her hand up to volunteer. She did so again in 2003 for the second Gulf War, taking part in Operation Telic in Iraq, working in an accident and emergency department for six months.

"There wasn't a great deal of difference in what we had to deal with in Iraq and what the 12 of us [on Operation Telic] from Northern Ireland had dealt with during the Troubles.

"The Army gave me that confidence and they have given me opportunities and skills that I wouldn't have got anywhere else."

Among those opportunities, she was in charge of coordinating the Army's medical cover during the Queen's Golden Jubilee celebrations and the Olympics in London.

It saw her oversee more then 20,000 Army personnel posted in the city in the security efforts for the world's biggest showcase.

"These ranged from the minor such as blisters on their feet to more major incidents and I had to know at all times where the soldiers involved were, what hospitals they were in and ensure they were getting the right care."

In 2015, she started working more closely with the Irish senior hockey team at a time when Peter had taken a step back as the regular team manager. She was on the sidelines when Ireland went on their historic qualification for the 2016 Olympic Games.

Peter has since returned to the manager's role full-time with the team in 2017, making for the unique family arrangement on the Irish team sheet this summer.

For John, the main challenge is to make sure not to look at them as parents but important colleagues in an Irish team that is continuing to break new ground.

"I don't want to say it's a family affair and I try to maybe distance myself from it during tournaments but everybody in our team will say that they bring good value to the team."

The Hook


---

England keep it in the family as both teams chase EuroHockey Championship glory

Rod Gilmour, in Amsterdam



Hannah Martin (right) will be cheered on by her brother, Harry in her semi-final on Thursday Credit: anp

England will be buoyed by family ties when the men's and women's teams attempt to reach their EuroHockey Championship finals, a joint feat last achieved 30 years ago.

When the women and hosts Holland push back for their semi-final on Thursday night, it will mark the rivals' biggest 60 minutes since the Olympic final. In the sea of 10,000 Oranje, goalkeeper George Pinner will be supporting his wife, Jo Hunter, while midfielder Harry Martin will be cheering on Hannah, his younger sister.

Both Hunter and Martin, 22, are new additions to a women's squad vastly different to the one who secured the last European title, and then Rio gold, against the Dutch.

"Having a familiar face is great," said Hannah of her brother, the youngest British player at London 2012. "He talks me through what goes on [at Bisham, their training base] and it's nice doing the same job."

For the past four years, Hunter, a speedy midfielder, had been watching Pinner play in tournaments abroad. Now, she will wear an England shirt in the biggest match of her career. She will also keep her emotions in check knowing that Pinner, who was pivotal in the men's 2-1 win over Ireland on Wednesday , will be watching on.

"We chat after the games and it's easy to keep things separate as we've been together so long," said the 26-year-old. Defeat against Germany in the pool stages forced the much-anticipated clash with the Dutch ahead of Saturday's final.

"Yes, we are meeting them a little bit earlier than we'd hope," said goalkeeper Maddie Hinch. "People perhaps wanted this to be the final but we have to play them sometime and we have a good history on these big occasions. We've been watching all their games in the evening, with 10,000 people supporting them. We can't wait."



George Pinner, the men's goalkeeper, is married to Jo Hunter Credit: Getty images

If England are to continue their title defence, the meeting will hinge on newly found pace.

Alex Danson has hailed Hunter and Ellie Rayer as "electric" alongside Lily Owsley, the latter pair both being junior elite athletes.

On a fast-paced pitch here, England have shown their attacking flair, while Hinch, with her view from goal, backed up her captain on Wednesday.

"This is one of the quickest and most attacking sides we've had as an England-GB side," admitted Hinch.

"We have to use that advantage against the Dutch and be defensively sound, as we normally are. If we can get the Dutch a bit nervous, we have every chance."

Pinner's last-gasp save on Wednesday added gloss to a stirring comeback in England's win over Ireland.

Their pool clash threatened to boil over after Shane O'Donoghue elbowed David Ames – a former Irish international – in the face and was shown a 10-minute yellow card.

After Matthew Nelson's opening strike for the Irish, goals from David Goodfield and Sam Ward set up a semi-final with Holland. Belgium will take on Germany in the other semi-final.

The last time two England sides reached the Euro final came in 1987 when Holland won both titles in Moscow.

The Telegraph


---

Pakistan qualify for Odisha Hockey Men's World Cup Bhubaneswar 2018

Three places still available to winners of remaining continental qualifiers




Lausanne, Switzerland: Pakistan men's hockey team have become the latest team to qualify for the Odisha Hockey Men's World Cup Bhubaneswar 2018.

The Green Shirts, currently ranked 14th in the FIH Hero World Rankings, finished in seventh position in the Hero Hockey World League Semi-Final in London, meaning they faced an anxious wait to see if that was good enough to earn them qualification to the blue riband event that takes place in India next year from 28 November to 16 December.

The results at the Rabobank EuroHockey Championships, which are currently taking place in Amsterdam, Netherlands, have gone very much in favour of Pakistan, with all four of the semi-finalists having already qualified for the World Cup via the Hockey World League route.

Under FIH regulations, the team that wins its continental qualifier automatically qualifies for the World Cup. However, the semi-finals of the European continental qualifier will be contested by Germany, England, Netherlands and Belgium, teams that have already achieved World Cup qualfication thanks to top five finishes in the Hockey World League Semi-Finals. This means that the World Cup ticket goes to the highest placed finisher from the Hockey World League Semi-Finals that has not already achieved World Cup qualification. Pakistan are the higher ranked of the two seventh place finishers from the Hockey World League Semi-Final events that took place in London and Johannesburg, with 16th ranked France next in line for that all-important World Cup ticket.

Pakistan become the 13th team to qualify for next year's global showpiece, joining host nation India, Argentina, Australia, Belgium, Canada, England, Germany, Ireland, Malaysia, Netherlands, Spain and New Zealand. They have an envious record in the competition, having claimed the title on four occasions, more than any other nation. It is a welcome return to World Cup action for this famous hockey playing nation, following their failure to qualify for the Rabobank Hockey World Cup 2014, which was played in The Hague, Netherlands.  

The final three men's World Cup qualification places will be decided by the outcomes of the upcoming Continental Championship events in Oceania (9-15 October 2017), Asia (17-22 October 2017), and Africa (19-29 October 2017).

FIH site


---

Pakistan back in hockey World Cup despite seventh-place finish

LAUSANNE: A seventh-place finish at the Hockey World League Semi-Finals has proved good enough for Pakistan to qualify for next year's men's Hockey World Cup in India, marking their return to the mega-event after missing out on the previous edition.

The European semi-finalists have already qualified for the mega-event, which will be held in Bhubaneswar from November 28 to December 16, helping Pakistan's cause.

The Green Shirts, currently ranked 14th in the FIH standings, ended seventh in the World League Semi-Finals in London, where the likes of Germany, England, Netherlands and Belgium earned World Cup qualification by finishing in the top five.

The results at the Rabobank EuroHockey Championships, which are currently taking place in Amsterdam, have gone very much in favour of Pakistan, with all four of the semi- finalists having already qualified for the World Cup via the HWL route.

Under FIH regulations, the team that wins its continental qualifier automatically qualifies for the World Cup.

Pakistan are the higher ranked of the two seventh place finishers from the HWL Semi-Final events that took place in London and Johannesburg, with 16th ranked France next in line for that all-important World Cup ticket.

Pakistan become the 13th team to qualify for the global showpiece, joining host nation India, Argentina, Australia, Belgium, Canada, England, Germany, Ireland, Malaysia, Netherlands, Spain and New Zealand.

They have an envious record in the competition, having claimed the title on four occasions, which is more than any other nation.

The Times of India


---

Pakistan hockey team qualifies for World Cup 2018

Faizan Lakhani

KARACHI: Pakistan hockey team has qualified for next year's World Cup despite the poor show in Hockey World League – thanks to the results of the ongoing European Hockey Championship.

The Green Shirts – currently holding the 14th position in the world rankings – finished seventh in the FIH Hockey World League semi final, held in London, and anxiously waited to see if their performance was good enough to let them be a part of the blue riband event.

The World Cup is slated to be held next year – from 28 November to 16 December – in India.

The results of the EuroHockey Championship, currently taking place in Amsterdam, Netherlands, have been quite in favour of Pakistan, with all four of the semi-finalists having already qualified for the World Cup via the Hockey World League route.

The team that wins its continental qualifier automatically qualifies for the World Cup, the Fédération Internationale de Hockey's (International Hockey Federation/FIH) rules suggest.

However, the semi-finals of the European continental qualifier will be contested by Germany, England, Netherlands, and Belgium, all of whom have already achieved the World Cup qualification berth thanks to the top five finishes in the Hockey World League semifinals.

Therefore, the World Cup ticket goes to the highest-placed finisher from the Hockey World League semifinals that has not already achieved World Cup qualification. Pakistan are the higher-ranked of the two seventh-place finishers from Hockey World League semifinal events that took place in London and Johannesburg.

Pakistan becomes the 13th team to qualify for next year's global showpiece, joining host nation India, Argentina, Australia, Belgium, Canada, England, Germany, Ireland, Malaysia, Netherlands, Spain, and New Zealand.

The Green Shirts have an envious record in the competition, having claimed the title on four occasions, which is more than any other nation.

This is a welcome return to World Cup action for the famous hockey playing nation, following their failure to qualify for the Rabobank Hockey World Cup 2014 that was played in The Hague, Netherlands.

Geo TV


---

Pakistani cricketers congratulate hockey team on qualifying for World Cup

Pakistani cricketers have congratulated national hockey team for qualifying for 2018 World Cup.

All rounder, Shoaib Malik congratulated team for qualifying and stated that he has already marked the calendar for hockey World Cup.

Wicket-keeper batsman Kamran Akmal sent his best wishes to the hockey team wishing them good luck. He hoped that hockey team will make Pakistan proud.

Opener Muhammad Hafeez also congratulated the team with saying 'well done' and doing a great effort. He urged the green shirts to keep working hard.

The Nation


---

Euro Para Hockey Champions



Para Hockey Euros 2017 Winners

It is gold for England! Midlands Mencap represented England Flyerz in the EuroHockey ParaHockey tournament where they beat Spain to win gold out in Amsterdam.

The tournament was run alongside the Euro Hockey Championships in the Netherlands. It is for hockey players with learning difficulties and includes representatives from a host of different European countries.

England beat Spain in a shoot out to claim the top spot; the other teams competing include France and Holland in a 7-aside tournament. There are three tiers that make up the Championship and England competed in Challenge tier, for beginners. The event saw 200 athletes, 9 countries and 12 teams competing in this inclusive event.   

The team first represented England Flyerz at a Parahockey tournament when it was hosted in England during the 2015 Euros. This is the first time England Flyerz has won gold at a Parahockey tournament. The team were presented their winners medals by Helen and Kate Richardson-Walsh.

Flyerz Hockey is the name given to disability hockey in England; it's an ever growing as more and more clubs are starting up Flyerz Hockey sections.

Information and tools to support your club with Flyerz hockey can be found here: www.englandhockey.co.uk/flyerz Or check out Access Sport who support Flyerz in the UK.

England Hockey Board Media release


---

Indoor hockey clean sweep in jeopardy

MALAYSIA'S hopes of a clean sweep of the hockey golds suffered a dent when the women's indoor hockey team lost 0-3 to Thailand at the Malaysian International Trade and Exhibition Centre (MiTEC).

Having drawn with Indonesia on Tuesday, this was a match they needed to win to stay in the hunt for a berth in the final.

The Thais are in the final with a match to spare.

They will meet Indonesia at 4.30pm today.

Indonesia, who are also chasing a final berth, have two matches today, including the morning match against the Philippines. All they need is four points – a win and a draw – from those two matches to keep Malaysia out of the final.

Malaysian coach K. Gobinathan said all they can do now is to stay focused and beat Singapore (today).

"At this stage, it's out of our hands. Indonesia hold the advantage. We had chances to score against Thai­land but failed to take them. Now we must beat Singapore," he said.

Against Thailand, Malaysia performed below par and even muffed a penalty stroke.

The Thais took the lead in the fourth minute off a field goal by Thanaporn Tongkham before two lightning quick goals in the dying minutes by Tikamporn Sakunoithak and Sukanya Piitngam killed off any hopes Malaysia had of a fightback.

The Thais have nine points from three matches while Malaysia have four from as many games.

Indonesia also have four points, with a game in hand.

In the men's category, Malaysia are in the final after thumping Indonesia 6-2

The Star of Malaysia


---

European tour: Indian women looking for consistency

Uthra Ganesan



Determined: The Indian women's hockey team for the European tour.  

The Indian women's hockey team for the European tour was announced on Wednesday with a sprinkling of youngsters included in the side as coach Sjoerd Marijne hoped to expand his choices ahead of the Asia Cup later this year.

With a World Cup qualification spot at stake, the Asia Cup would be the big test for the team and, despite a disappointing outing at the Hockey World League Semifinals in Johannesburg, the Dutchman and the players are hoping to improve on the tour that would see the girls play two games each against the Belgian junior men's side and the Den Bosch club women's team.

"We will be experimenting new combinations in Holland and try out different variations in penalty corner conversions and goal-scoring. Mental training is another aspect we are focused on in our ongoing camp apart from improving speed and core fitness," Marijne said.

Youngsters such as Rashmita Minz, Karishma Yadav and Lalremsiami have been brought in while the likes of Sushila Chanu, Ritu Rani, Preeti Dubey and Anupa Barla have been rested.

The most important aspect of the tour for the Indians would be training sessions for penalty corners with Dutch expert Toon Seipman.

India suffered from the absence of an experienced drag-flicker in Johannesburg with Gurjit Kaur being the lone one and hardly used.

"We will have nine training sessions with Seipman, who is a drag-flick expert. I am sure our players can learn a great deal," Marijne added.

The team will leave for the 15-day tour, from September 5 to 20, after a three-week camp in Bengaluru.

India finished eighth at the HWL Semifinals, managing to win and draw a game each, against lower-ranked sides.

A bigger concern was the lack of speed and stamina with the girls appearing not just lethargic but clueless throughout the tournament. Captain Rani, though, insisted the team was focusing on consistency. "There are quite a few aspects we need to learn from our Johannesburg outing. We need to bring more energy into our attack and I am sure playing in Holland will be a learning experience," she said.

The Asia Cup will be held in Japan from October 25 to November 5 and with three of the top continental teams — Japan, Korea and China —already qualified for World Cup, India has a good chance of making the cut, though it will be hoping to do so with a title it last won in 2004.

The squad: Goalkeepers: Savita Punia, Rajani Etimarpu; Defenders: Deep Grace Ekka, Gurjit Kaur, Navdeep Kaur, Sunita Lakra, Rashmita Minz; Midfielders: Namita Toppo, Nikki Pradhan, Monika, Karishma Yadav, Lilima Minz, Neha Goyal; Forwards: Rani Rampal, Poonam Rani, Vandana Katariya, Reena Khokhar, Lalremsiami.

The Hindu


---

Indian skipper PR Sreejesh out of Asia Cup, Hockey World League Final with injury

By Swaroop Swaminathan



Indian goalkeeper Sreejesh won't play in a competitive tournament till next year's Commonwealth Games in Australia. (File | AP)

CHENNAI: It is likely that PR Sreejesh won't play in a competitive tournament till next year's Commonwealth Games in Gold Coast, Australia. The goalkeeper suffered a medial collateral ligament (MCL) injury during the Azlan Shah tournament earlier this year and was advised by doctors to rest and allow the body to heal.

However, subsequent reports revealed that he had suffered both an MCL as well as an anterior cruciate ligament (ACL) injury. The 29-year-old did not want to undergo surgery, but after doctors advised him to go under the knife, he was up for it. "He wanted to be clear of issues in the run-up to the World Cup in 2018, so he said yes," a source close to the keeper said.

While Sreejesh will miss the Asia Cup and the World League Final, the good news is that the custodian is already up and running as he takes his rehab into the second stage. "He will be there at the camp from September 3 or 4," the source pointed out. In his absence, Hockey India will continue experimenting with Suraj Karkera, Akash Chikte or Vikas Dahiya between the sticks. Also missing out from Asia Cup is drag-flicker Rupinder Pal Singh, who has had a nagging groin issue.

New Indian Express


---

David John Explains Everything Indian Hockey is Going Through

David, the High Performance Director of Hockey India, speaks on a difficult and controversial 2017 for the sport so far - both on and off the field.

By Jaspreet Sahni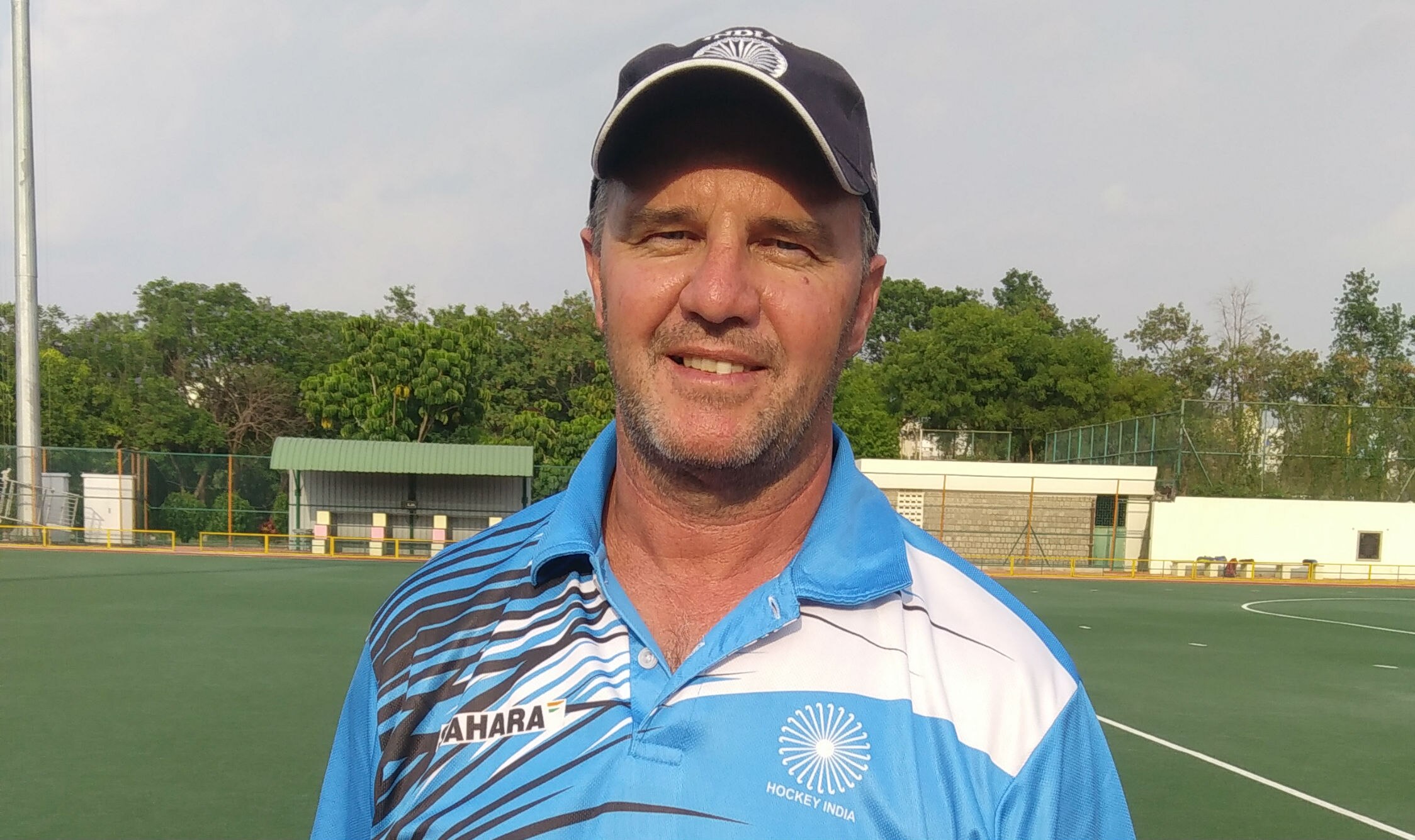 Hockey India's High Performance Director, David John (Image: Hockey India)

New Delhi: 2017 hasn't so far been a year that Indian hockey hoped for. After the high of Champions Trophy silver, an improved Olympic show, Junior World Cup triumph and Narinder Batra becoming the International Hockey Federation (FIH) president – all in 2016, the turn of events on and off the field left the last eight months full of ups and downs. And heading into the crucial year-ending tournaments – the Asia Cup in Dhaka and the Hockey World League (HWL) Finals in Bhubaneswar, it needed someone from Hockey India to step up, not just to ease the nerves of a gobsmacked Indian fan but also reassure about the health of Indian Hockey.

And it couldn't have been anyone better than Hockey India's (HI) High Performance Director, David John, to be that voice in a welcoming chat with Zee Media.

Twin defeats to Malaysia – at Sultan Azlan Shah Cup and HWL Semis in London – came in make-or-break games and losing to Canada in London led to widespread criticism. To the surprise of world hockey, HI's relations with FIH, despite Batra at the helm, turned sour, allegedly due to FIH president's outburst against Pakistan on social media and the resultant apology he was asked to issue. India pulling out of FIH's Hockey Pro League is also considered an aftermath of that, though voices emanating out of HI corridors have denied it.

De-rostering Hockey India League from the 2018 calendar came as nothing less than a setback for players, leaving a question mark over the game's future with corporates (franchise owners) mulling pullout.

String up all of the above, and there seems a lot that's wrong at the moment. But two encouraging back-to-back wins over Netherlands in international friendlies on the Europe tour, especially the transition of juniors to senior team, ensured things aren't as bad on the pitch as they appear.

The insightful and upfront David John addressed all that.

Excerpts:

Summing up India this year…

David: The word is inconsistent. We tend to have some good performances, like against Pakistan (beating them twice at HWL Semis), and can be disappointing like against Malaysia and Canada. We have to be consistent to win tournaments, can't have ups and down.

On reviewing the flop show at HWL Semis in London…

David: I didn't have a discussion with coach Roelant (Oltmans). I myself have reviewed the matches. When we are going to meet the teams (we lost to) in future, we will be much more consistent.

Oltmans's role going forward…

David: Like coaches do, he has evolved. I think by introducing junior boys in the squad, it has given Roelant new energy, working with young enthusiastic players. He worked with them at the (2016) Junior World Cup. These young boys are keen to learn; and for a coach, I think that's what you want from your squad. Roelant has a lot of knowledge to give in that area.



David John having a pep talk at the national camp of Indian women's team. (Image: Hockey India)

Effects of no HIL in 2018…

David: I think it will have a positive effect. The last 2-3 years our seniors have played a lot of hockey, minutes in matches. They come out mentally tired. Next year, we need to make sure they are fresh. We are going to play the Commonwealth Games, Asian Games and the World Cup. It's (no HIL in 2018) actually a positive for senior players.

Will withdrawal from Hockey Pro League cost India international exposure?

David: I don't think it is a setback. It is likely they (European teams) will come here and play practice games for their matches in Australia. I can see Belgium and Holland coming to play in India on the way to Australia and New Zealand.

On the injuries to PR Sreejesh and Rupinder Pal Singh…

David: Sreejesh has advanced in his recovery (from knee injury he suffered during Sultan Azlan Shah Cup), but he won't be ready for the Hockey World League Finals (in December). I trained with him a couple of times, and he is in really good spirits. Rupinder Pal has also put in a lot of hard work (to recover from a ruptured hamstring) and is ready to re-join the camp later this month.

Sreejesh being away from the squad is good thing in a way that it is keeping him fresh and we need back-up goalkeepers. So they are getting good exposure. Indian hockey will benefit from that in the long run. While Sreejesh not returning this year might be a bad news for the fans, we want him fit for a very difficult 2018.

The transition of juniors

David: We did very well with a young team (on recent Europe tour) and gave them exposure against two best teams (Belgium and Netherlands) in the world. These young players certainly have talent and capability, got exposure against quality opposition. Six of those I saw in Europe did a really good job. They weren't nervous and showed poise. Dipsan (Tirkey) and Varun (Kumar) very good.

Do we know our best 18 for the Asia Cup and HWL Finals out of the core group of 33?

David: We have about 25 on our mind after this last tour (of Europe), which is a very healthy position. There will be a lot of competition for places. Young players have showed capability to play at a higher level, which will put a lot of pressure on veterans.

Home series with Germany

David: I hope Germany will come before HWL Finals. They will play matches in Bhubaneswar before the tournament. They are amenable to the idea, we need to finalise the dates.

India.com


---

Scoring prowess could help UMaine field hockey team earn first NCAA tournament berth

By Larry Mahoney



University of Maine's Libby Riedl (right) and Providence's Allie Lancaster battle for control of the ball during their season opener field hockey game. Ashley L. Conti | BDN

The University of Maine's field hockey team finished 10th in the country in scoring a year ago, averaging 3.25 goals per game.

With six of their top seven scorers returning to go with a veteran back line and two redshirt senior goalkeepers, the Black Bears have a legitimate chance to secure their first ever NCAA tournament berth.

UMaine was close to doing so two years ago when it went 19-4 but lost to Albany 2-0 in the America East championship game and didn't earn an at-large bid.

The America East tournament champion earns an automatic berth to the NCAA tourney.

UMaine was 13-7 a year ago and was ousted in the first round of the AE tourney by the University of California 3-2.

"We are returning a great team and we're more experienced," said 11th year head coach Josette Babineau whose team was picked to win the AE East Division and will begin the season as the nation's 24th-ranked team.

"But Albany and New Hampshire are still going to be good so we're going to have to play well," Babineau said.

Michelle Simpson, UMaine's first year associate head coach who spent the previous eight seasons as an assistant at Albany, said this has been "my best preseason in my nine years of coaching.

"We're already pretty far along with what we're trying to do and how we're trying to play. We have a very talented group of individuals," said Simpson, a former All-American at Albany.

Junior central midfielder Casey Crowley headlines the list of returnees. Crowley was the team's leading scorer last year with 10 goals and 10 assists and she was an All-AE East Division and Division I All-Northeast Region choice.
Article continues below highlights

Junior forward Libby Riedl (7 goals, 12 assists) was the second-leading point-getter and junior center back Samantha Wagg (9 & 6) was tied for third with the departed Danielle Aviani.

Wagg, who is extremely dangerous in penalty corners, was an All-AE East Division selection and a second-team All-Northeast Region selection.

Senior forward Maddy Cummings had a breakout junior season as the Belfast native was the top goal scorer with 11. Cummings also had an assist and she led the team in game-winning goals with four.

Riedl and Cummings are joined up front by sophomore Brianna Ricker (7 & 2), who earned an AE All-Rookie team spot.

Brittany Smith, a sophomore who wasn't eligible to play last year, junior Lydia Gavner (3 & 1), Old Town freshman Brooke Sulinski and Garland freshman Abby Webber will supply depth at forward.

"We have a very dangerous forward line," said Babineau.

"We have a lot of attacking players on this team and that's one of the most exciting things," said Simpson.

Crowley is accompanied in the midfield by junior Ella Mosky (3 & 9) and sophomore Riley Field (3 & 4) of Sidney, who was an All-AE Rookie team pick.

Freshmen Lydia Dexter from Oakland, a former teammate of Field's at Messalonskee High School in Oakland, and Hana Davis will also be in the midfield along with Clinton sophomore Lilla Tilton-Flood, who played in seven games a year ago and had an assist. Smith is also an option in the midfield.

Junior Emily Hindle, who played in all 20 games last year and started 18, provides UMaine with a reliable left back alongside Wagg. Freshman Cassandra Mascarenhas has earned the right back slot. Sophomore Morgan Anson, who played in nine games a year ago, will also see duty in the back.

"One of our goals is to improve a little bit defensively and limit the short corners we concede," said Simpson. "We want to clean up our tackling at the back and make sure we're working together as a unit."

Goalkeepers Emma Cochran (7-3 record, 1.46 goals-against average, .714 save percentage) and Emily Corbett (6-4, 2.22, .444) have typically each played a half in every game the past two years.

That will change this season.

"Two years ago, it worked out well. Both played well. But, last year, they didn't get into the same rhythm," said Babineau, who will stick with the goalkeeper that wins the job.

"We'll make a decision early and see how it goes," said Babineau.

Cochran has the inside track as Corbett is nursing a minor injury.

UMaine, which has played exhibition games against No. 16 Boston University (2-0 loss) and Holy Cross (6-2 win), opens the season at Providence on Friday at 1 p.m. before entertaining Quinnipiac on Sunday at noon.

Bangor Daily News


---

After PAC - National Team Members Returning to Campus Pitch




COLORADO SPRINGS, Colo.  In the aftermath of a pair of bronze medal performances at the Pan American Cups at Spooky Nook Sports in Lancaster, Pa., members of the U.S. Men's and Women's National Teams are shifting gears before the next set of international competitions.

For some, it's back to campus like USWNT members Ashley Hoffman (Mohnton, Pa.) and Nicole Woods (Beverly, Mass.). Hoffman, who is entering her junior season at the University of North Carolina at Chapel Hill, tallied 28 points in the 2016 season. She also appeared and started in 26 games in that year that saw the Tar Heels reach the NCAA Championship.

Woods meanwhile returned for her senior season at the University of Louisville. A co-captain for the Cardinals in 2017, Woods registered five goals and ten assists in her junior season. Like Hoffman, Woods started and played in all games for Louisville in 2016.

While in the midst of the Pan American Cups, Rutgers University announced the finalization of its field hockey coaching staff for the 2017 season, including U.S. Men's National Team captain Ajai Dhadwal (Agoura Hills, Calif.) as an assistant coach.

Dhadwal comes to RU as a highly accomplished professional player, with 91 international caps and is the current captain of the USMNT. The Agoura Hills, Calif. native earned an undergraduate degree from Johns Hopkins University, where got his start in coaching as an assistant there for three seasons. Dhadwal spent two years coaching at Brunel University London, coaching the men's and women's university teams. He also was the head coach for Canyon Crest Academy in San Diego, Calif. in 2015.

"I am very excited to be joining the Scarlet Knights' field hockey staff this season," said Dhadwal. "As an assistant coach, I am looking forward to helping the players improve every day to become the best they can possibly be for the team."

Content courtesy of Rutgers University Athletics

USFHA media release


---

McClean takes over from mom



T&T's Ayanna McClean is the Caribbean's highest-ranked hockey umpire.

At age 35, many or even most athletes would consider themselves still able to carry on a bit further, but not for Ayanna McClean. Strictly speaking, she is still performing at the highest level, however the former T&T international hockey player has long since traded in her stick for a whistle.

For most of her playing career, she simultaneously pursued umpiring and can boast of at least 16 years experience in officiating. Nowadays she umpires at the highest international level while playing is a purely recreational pursuit.

It is ironic that the tables were completely turned when she first encountered officialdom.

She told Guardian Media Sports: "I did not know I was going to be an umpire, it was not something that was on my radar. I got into it by accident. With my mother being an umpire it was the typical story of going to watch a game, no umpire showed up and I was asked to do the game, even though I had no clue what I was doing."

Born and raised in Belmont, McClean attended South East Port-of-Spain Secondary School (SEPOS) from where she received a full scholarship to Hofstra University in Long Island, New York, all the while actively representing T&T as a defender.

It was while at Hofstra, McClean decided that umpiring was worth serious consideration and found the time to become an FIH certified umpire and got her first appointment to the Junior Pan American Games in Puerto Rico in 2005.

She remembers the occasion as one of her proudest moments, saying: "There have been so many key moments. But my first official FIH tournament is right up there with receiving my 50th umpiring cap as well as being appointed to my first final at the PanAm Cup in Argentina, the Youth Olympics in Singapore and receiving my Grade 1 upgrade. That one is particularly special because my mother, Cherill McClean, who is now a retired FIH umpire, was at one time the highest-ranked female umpire in the Caribbean, having gotten to the Grade 1 level, so having matched her was pretty special."

McClean has since taken over that mantle from her mother, and from 2013 to present, she has been upgraded twice and now sits as the highest-ranked current FIH umpire in the Caribbean.

But while her success has been swift and astronomical, it has come with extreme difficulty and strife.

The holder of a marketing degree with a bachelor's in International Business, McClean says: "Being from a small country, and an even lesser known hockey playing nation, it is difficult to get the automatic respect umpires get from major nations. Support to attend warm-up matches, tournaments, to attend seminars, do necessary training and testing is practically non-existent. Maintaining a high level of self-motivation can be challenging."

She added: "Umpires and technical officials in various sporting disciplines are not adequately recognised for their contribution to the growth and development of their respective sports. The performance of national teams and the locally-based players, are directly affected by the exposure of their officials. As is the case of the various high-tech and advanced coaching techniques so too are the expectations of the umpires at international tournaments. In some cases, the performance of umpires and technical staff far surpasses that of the athletes locally but the general awareness within their fraternity is minimal."

In spite of it all, Ayanna has managed to balance corporate success while also extending her umpiring resume with regular appointments at the highest level conferences in US collegiate hockey, such as the Sweet 16 and Elite 8 for Division 1 Field Hockey Championships, and in 2015 and 2016 she umpired the Division 2 Championship final.

So far in 2017, she attended World League Semifinal in South Africa this past July and is currently at the Chinese National Games final in Tianjin, China, dubbed the Olympics of China and in 2018, will officiate at the Commonwealth Games in Australia and the World Cup in England.

The Trinidad Guardian


---

Harrogate Water signs major sponsorship agreement



Harrogate Water

England and Great Britain Hockey has announced a major three-year sponsorship agreement with Harrogate Water including being the official water of the Hockey Women's World Cup London 2018.

Hockey is one of the world's most popular team sports, broadcast in 125 countries and has been on a domestic high since Great Britain won women's gold at the Rio Olympics in 2016, following bronze at the London Olympics in 2012.

Countries taking part in the 2018 Women's World Cup, alongside England, represent every continent and include Argentina, Australia, China, Germany, USA and South Africa.

Altogether, 16 teams will compete at London's Lee Valley Hockey and Tennis Centre in the Queen Olympic Park from July 21 to August 5. A public ticket ballot is now underway to help accommodate unprecedented demand for England matches.

Nicky Cain of Harrogate Water said: "This is an exciting time to be involved with England and Great Britain Hockey and offers enormous opportunities. More than ten million Brits watched Great Britain win gold in Rio and the Hockey Women's World Cup will have a global audience of around one billion.

"The great attraction of the sport for us is that hockey appeals to men and women in equal measure, with a family-friendly following and a strong healthy lifestyle bias.

"We share England and Great Britain Hockey's passion and ambition, not only their determination to excel, but also their desire to inspire and make a difference.

"It is refreshing to see an elite team sport in which women are leading the way and becoming role models with huge popular support and appreciation for their achievements. We're proud to be sponsoring the Hockey Women's World Cup and are really looking forward to working with both the women's and men's teams and following their fortunes over the next three years."

Jon Cockcroft, Commercial Director at England and Great Britain Hockey, said: "It is fantastic to have such a recognised and aspirational brand partnerwith England Hockey. With growing public awareness of hockey as a participation and spectator sport and the huge opportunity that a home World Cup presents, we look forward to developing exciting campaigns which build our respective brands.

"With the Hockey Women's World Cup and the overall partnership,we look forward to working with Harrogate Water. As with other partners it is a great opportunity to raise their brand-awareness and profile through the international and domestic game for both men and women."

Nicky Cain added: "We are particularly thrilled by the opportunity to work with players, including the Olympic stars, in marketing activities, helping to increase visibility of Hockey at all levels from grassroots participation through to celebrating performance on the world stage. Exciting times ahead."

Harrogate Water has a successful track record of sports sponsorship. The Harrogate Spring brand is the official water of Royal Ascot and Ascot Racecourse. It was the official water of England Cricket for three years until March and remains the official water of Yorkshire Cricket. It is the official water of British Masters Golf 2017.

Harrogate's first mineral spring was discovered in 1571 and the water was first bottled in 1740, making Harrogate Spring the original British bottled water.

England Hockey Board Media release