All the news for Monday 26 June 2017

Netherlands storm to victory at Men's Hero Hockey World League Semi-Final in London




London, England: The Netherlands are the winners of the Hero Hockey World League Semi-Final, storming to a 6-1 victory over Rio 2016 Olympic gold medalists Argentina in a wonderful event final at the Lee Valley Hockey & Tennis Centre on Sunday (25 June).

Valentin Verga scored two high quality goals in the first quarter and the Dutch never looked back, with Thijs van Dam, Robbert Kemperman, Mirco Pruijser and Thierry Brinkman all on target before Matias Paredes scored a late consolation. The Netherlands were simply superb in the match, playing with a relentless energy that caused Argentina problems throughout. It was a performance that defender Mink van der Weerden was particularly pleased with. "For us it was a really good win and another step forward. That's the most important thing."

Argentina's Gonzalo Peillat took home both the Hero Best Player and Hero Top Scorer awards, with his tally of 12 goals clearly turning the heads of a voting panel that included the team coaches and members of the broadcast and written media. Dutchman Thierry Brinkman was named as the Best Junior Player, for athletes aged 23 and under.  

Ahead of the memorable final, home favourites England gave a big crowd plenty to cheer about with a 4-1 victory over Malaysia in the 3-4 classification match. A third place finish here in London means that England have qualified for the Odisha Hockey World League Final 2017, joining Netherlands, Argentina and hosts India at the event in Bhubaneswar, with the remaining four places being finalized upon the completion of the forthcoming Hockey World League Semi-Final in Johannesburg, South Africa. Harry Martin finished off two penalty corners either side of a wonderfully worked field goal from birthday boy David Ames, putting England 3-0 up at half time. Faizal Saari's superb close range deflection reduced the deficit with seven minutes remaining, but team captain Phil Roper killed the game in the dying stages to give Bobby Crutchley's team a third place finish on home soil.

"We played well and dominated throughout", said England midfielder Barry Middleton. "We played some aggressive, attacking hockey but at 3-0 didn't quite find the fourth to kill it off. But we were always in control. They've had a good tournament, but after a disappointing day yesterday, we picked ourselves up. And it was fun!"

Perhaps the most surprising result of the day came in the 5-6 classification match, with Canada upsetting the FIH Hero World Rankings to defeat India 3-2, guaranteeing their place at next year's Odisha Hockey Men's World Cup Bhubaneswar 2018. India – who defeated Canada 3-0 in the pool phase – dominated for long spells but it was the Canadians who emerged triumphant, battling back from 2-1 down to take the victory thanks to strikes from Keegan Pereira and Gordon Johnston, who had also opened the scoring earlier in the match before a double from Harmanpreet Singh put India in charge. Goalkeeper Antoni Kindler was the star of the show, making numerous world class saves to give Canada a superb victory over their illustrious opponents, claiming that all important fifth place finish in the process. 

Keegan Pereira, scorer of Canada's second goal said: "Obviously it was a tight game. We have not played particularly well against India since Rio. But we followed the game plan and didn't sit back as much as we did in the first [pool] game [against India] and put pressure on them. Once we got goals on the scoreboard we knew we could hold on to that lead."

In the opening match of the day, Pakistan secured a seventh place finish in the competition with a 3-1 victory over China. Muhammad Umar Bhutta scored twice in the match, with Muhammad Irfan Jr. also on target. China matched the Green Shirts for long periods of the match, but Pakistan's three goal burst between the 51st and 56th minutes proved too big a margin for their opponents to overcome, with Guo Xiaoping netting a late consolation goal.

Results – 25 June 2017
Match 30 (7-8): Pakistan 3, China 1
Match 31 (5-6): India 2, Canada 3
Match 32 (3-4): Malaysia 1, England 4
Match 33 (1-2): Argentina 1, Netherlands 6

Final standings
1: Netherlands
2: Argentina
3: England
4: Malaysia
5: Canada
6: India
7: Pakistan
8: China
9: Korea
10: Scotland

Individual awards
Hero Best Player of the Tournament: Gonzalo Peillat (ARG)
Hero Top Scorer of the Tournament: Gonzalo Peillat (ARG) – 12 goals
Best Goalkeeper: Kumar Subramiam (MAS)
Best Junior Player: Thierry Brinkman (NED)

FIH site


---

Netherlands sweep aside Argentina for HWL gold in London



©: Frank Uijlenbroek

The Netherlands swept aside Argentina 6-1 to win the Hockey World League Semi-Final in fairly simple fashion, beating the Olympic gold medalists in the final in London.

Valentin Verga scored two high-quality goals in the first quarter and the Dutch never looked back, with Thijs van Dam, Robbert Kemperman, Mirco Pruijser and Thierry Brinkman all on target before Matias Paredes scored a late consolation.

The Netherlands were simply superb in the match, playing with a relentless energy that caused Argentina problems throughout. It meant the Dutch won all of their matches, scoring 28 times in seven games, conceding just three times – a fine performance given that they fielded a large number of players in their first world ranking tournament.

"We played some very good hockey," captain Billy Bakker said of the tournament. "In interviews, I am often asked what is the secret of this team. It's the [team] dynamic. We have young players, old players, all with different specialties.

"Today that came to the fore. Sometimes it might look easy but that's because everything worked well for us. Easy it is not it!"

Argentina's Gonzalo Peillat took home both the Hero Best Player and Hero Top Scorer awards, with his tally of 12 goals clearly turning the heads of a voting panel that included the team coaches and members of the broadcast and written media.

Bloemendaal's Thierry Brinkman was named as the Best Junior Player, for athletes aged 23 and under.

Ahead of the final, home favourites England gave a big crowd plenty to cheer about with a 4-1 victory over Malaysia.

Canada, meanwhile, beat India 3-2 in the most important match of the day, one which brought with it the final guaranteed World Cup ticket that was on offer from this competition.

The red caribous battled back from 2-1 down to take the victory thanks to strikes from Keegan Pereira and Gordon Johnston, who had also opened the scoring earlier in the match before a double from Harmanpreet Singh put India in charge.

In the opening match of the day, Pakistan secured a seventh place finish in the competition with a 3-1 victory over China.

Euro Hockey League media release


---

Netherlands win Hero Hockey World League Semi-Finals in London



Valentin Verga

Valentin Verga scored a brace as the Netherlands stormed to a 6-1 victory over Argentina in the Hero Hockey World League final in London.

Further strikes from Thijs Van Dam, Robbert Kemperman, Mirco Pruijser and Thierry Brinkmann rounded off an impressive performance from the Dutch who controlled the game from start to finish.

It was a tough afternoon for reigning Olympic champions Argentina who struggled to find their feet in the contest, meeting a Dutch side full of confidence who turned on the style at Lee Valley Hockey and Tennis Centre.

Reflecting on the win in London, Verga said: "It's a place that has given me really good memories. I played my first Olympics here in 2012, the first time I won a European tournament was in London in 2015 and now this!

"It feels like home! The support from the crowd was great to see and a lot of people came out to watch."

Argentina created the game's first chance inside two minutes but the Dutch were soon into their stride and dominated the opening quarter. Verga exchanged passes at the top of the circle before teeing himself up and smashing a volley into the bottom right corner to give the Netherlands an early lead.

The confident Dutch side owning the ball and Argentina had little answer and the lead was soon doubled. Jorrit Croon made a darting run down the right before crossing to Verga who deflected home on his reverse as the Netherlands marched on imperiously.

Their dominance continued into the second quarter with Bjorn Kellerman and Billy Bakker both going close and just before the half-time break Van Dam pounced on a loose ball to flick his side into a 3-0 lead.

In the third quarter the Netherlands put the game beyond any doubt as strong strikes from Kemperman and Pruijser proved too hot for Vivaldi in the Argentina goal, the dutch taking a 5-0 lead into the final fifteen minutes.

Brinkmann made it six in the closing minutes before Matias Paredes grabbed a consolation goal for Argentina two minutes from time.

England Hockey Board Media release


---

England secure third place finish against Malaysia



Harry Martin celebrates goal v Malaysia

England came out on top against Malaysia for the second time in a week at the Hero Hockey World League Semi-Finals. Having previously won 7-3 in the Pool stages, England again ran out convincing winners, securing a 4-1 victory in front of a home crowd. A brace for Harry Martin plus goals for birthday boy David Ames and captain Phil Roper rounded off a successful tournament for the new look England squad. The third place finish means England have qualified for the World League Finals that take place in India later this year.

England dominated possession and territory in the opening exchanges and broke the deadlock after just five minutes. Sam Ward's low drag flick was initially saved by the pads of Kumar Subramiam, but the rebound fell straight to Harry Martin, who was comfortably able to net his first goal of the tournament. Minutes later the lead was doubled after David Ames finished off a free-flowing attacking team move. One touch build up play in the midfield led to Barry Middleton laying the ball off perfectly to the number 5 to smash into the bottom corner. Malaysia came closest to pulling a goal back two minutes before the first break but George Pinner was able to shepherd wide Tengku Tajuddin, who was one on one with the England keeper.

The game continued to ebb and flow with Ward and David Goodfield both missing chances to increase the home side's lead. Azuan Hasan gave England a scare as he rattled the crossbar from a tight angle, having expertly manoeuvred his way along the baseline. However, yet again, it was the combination of Ward and Martin in a well worked penalty corner routine that secured an all important third goal for England. The Holcombe forward deliberately directed his drag flick onto the stick of a diving Martin, who deflected the ball into the roof of the net two minutes before half time. 

Subramiam made two excellent saves in the third quarter to prevent England from putting the game completely out of sight. He stretched with his left kicker to tip the ball onto the post from Ian Sloan's strike before standing tall to block Chris Griffiths reverse stick effort, after the striker had been superbly set up by David Condon. 

In the 53rd minute Malaysia managed to break through the England defence as Faizal Saari deflected in on the spin his brother's, Fitri Saari, crash ball into the circle. Bobby Crutchley's side almost immediately restored their three goal lead from the re-start but a diving Subramiam denied Roper at the far post. It was Roper who had the last laugh though as his powerful shot squeezed through Subramiam in the 59th minute to seal a 4-1 victory and a third place finish for the home side.  

England 4 (2)
Harry Martin, 5, 28 (PC, PC)
David Ames, 9 (FG)
Phil Roper, 59 (FG)

Malaysia 1 (0)
Faizal Saari, 53 (FG)

England XI: George Pinner, David Ames, Henry Weir, Ian Sloan, Michael Hoare, Mark Gleghorne, Phil Roper, Barry Middleton, Brendan Creed, David Goodfield, Liam Sanford, Ollie Willars, Harry Martin, Sam Ward, Adam Dixon, David Condon, Chris Griffiths
Sub (Unused): Harry Gibson

England Hockey Board Media release


---

'I'm delighted with what the players have done'



England's men with coach Bobby Crutchley

Having set out to qualify for the World Cup, World League Final and play exciting hockey, Bobby Crutchley's England team ticked all three of those objectives in the Hero Hockey World League Semi Final in London.

Finishing third overall was very pleasing for Bobby, and with Great Britain having won the Azlan Shah Trophy earlier in the year, 2018 has been very positive for men's hockey.

Speaking after a 4-1 final day win over Malaysia, Bobby said, "I'm really pleased with the step forward we've taken in a pressurised situation with World Cup and World League Finals qualification on the line. We achieved that, and that gives a really good opportunity to prepare for the next 18 months with lots of exciting tournaments ahead.

"Today, I thought on the whole we dominated the game and scored some great goals. There's always bits and pieces you want to improve but throughout the tournament I've been delighted with some of the hockey we've played.

"In terms of how we feel on the whole, winning the last game helps, Malaysia were no pushovers but the lads scored some great goals.

"There have been some fantastic learning experiences. On the whole they've developed well - don't get me wrong there's lots we can improve and be better at. To play in front of a home crowd, with new faces, I'm delighted with the way they've done.

"The new faces have put in some outstanding performances. As I say there's still lots to learn, for example if we come up against the Dutch again we want to put them on the back foot and put in a better performance."

England's men next play in the EuroHockey Championships in the Netherlands in August.

England Hockey Board Media release


---

Malaysia finish fourth in World Hockey League



File pic of Faizal Saari during the game against India.

PETALING JAYA: Malaysia lost 4-1 to England in the third/fourth placing match of the World Hockey League in London on Sunday.

England who are ranked 7th in the world were the dominant team throughout the match and took a 3-0 lead in the first half through David Ames and Harry Martin who scored two goals.

Malaysia who are ranked 14th in the world pulled a goal back in the 53rd minute through Faizal Saari before Phil Roper scored the fourth goal for the hosts in the match at the Lee Valley Hockey and Tennis Centre.

The national team can still walk tall after defying the odds to come this far in the tournament and qualify for the semi-finals for the first time.

Malaysia's 3-2 upset win over world No. 6 India in the quarter-finals on Thursday ensured that Stephen Van Huizen's team qualify for next year's Hockey World Cup to be held in Bhubaneswar, India.

Malaysia finshed in 12th place in the 2014 Hockey World Cup in Holland.

The Star of Malaysia


---

Canada beats 6th ranked India to qualify for 2018 World Cup

Shaheed Devji



Gordon Johnston of Canada celebrates scoring Canada's third goal during the 5th/6th place match between India and Canada on day nine of the Hero Hockey World League Semi-Final at Lee Valley Hockey and Tennis Centre on June 25, 2017 in London, England.  (Photo by Alex Morton/Getty Images)

It was not impossible, but highly improbable. To match the drama for the 2015 edition of the World League Semi-Final was a tall order. Yet, Canada's men's field hockey team might have just done it picking up with another historic win, coming back from a 2-1 deficit in the second half and beating sixth ranked India 3-2 to finish in 5th spot and qualify for the 2018 World Cup.

Two years after upsetting 7th ranked New Zealand in the 2015 quarterfinal match, 11th ranked Canada came up with another win for the ages Sunday at the 2017 Hockey World League Semi-Finals in London, beating India in a major competition for the first time since a 4-1 win nearly twenty years ago at the 1998 World Cup in the Netherlands.

"We stuck to our game plan, we got a little bit of luck in a couple areas, and our goalkeeper was fantastic," said Men's National Team Interim Head Coach Paul Bundy after the win.

"We've worked so hard, we're a really small, tight knit community and I think it's going to mean a lot to Canada."

Gordon Johnston scored twice, including the game-winner on a backhand shot in the 44th minute, and goalkeeper Antoni Kindler had  a career-defining match, playing particularly well in the second half, holding off the Indian attack and preserving the win.

"It was an all around great team performance," said Kindler, who was making only his second start of the competition. "We came out with one goal and that was to get the win from today and mission accomplished."

"It's something that we take a lot of pride in," Kindler added. "We obviously had a statement game at World League 3 two years ago to qualify for the (2016) Olympics. Since that time we've been talking about we're due for another statement game."

This was that game for the Canadians, who finish 5th – in line with their ranking in the tournament and ahead of higher ranked India – but more importantly pick up the fifth of five tickets given out in London to next year's World Cup in India.

They join host England, Malaysia, Argentina, and the Netherlands as the five teams that earned a 2018 World Cup spot by finishing in the top five in London.

For Johnston, the two-goal performance gives him a total of five on the competition, tying him with Canadian captain Scott Tupper for the team lead.

"Our guys worked so hard, we got a lot of chances today, and we buried them," said Johnston, who represented Canada the 2016 Olympic Games in Brazil and will likely be a shoe-in for the Canadian roster at next year's World Cup.

"The last one we were at was 2010," Johnston added.  "Eight years I've been dreaming to get there, so its a dream come true."

Sunday's game had an ideal start for Canada, which withstood early pressure from India before scoring the game's first goal in the 3rd minute when Johnston scored his first of two goals on a penalty corner.

India tied the game in the 7th minute and then took the lead in the 22nd minute. Both goals were scored by Harmanpreet Singh on Indian penalty corners.

Kindler was required to make a handful of strong saves before the end of the first half, the highlight of which came in the 26th minute when he wished out to make a sliding save on Talwinder.

Down a goal and with a spot at the World Cup on the line, Canada came out with more energy in the second half and nearly scored in the 32nd minute when Gabriel Ho-Garcia setup Iain Smythe at the side of the goal, but the ball eluded the veteran forward.

After Kindler stopped Harmanpreet on a heavy drag flick in the 36th minute, Canada found an equalizer in the 40th minute.

Veteran Mark Pearson dribbled along the baseline before finding Keegan Pereira in front, where he quickly stopped the ball and deposited in the Indian goal to tie the game 2-2.

Then, Kindler kept the game tied with with a quick stick save after teammate John Smythe deflected the ball on his own goal in the 41st minute.

The save proved to be crucial, as only minutes later Canada took its first lead of the game.

Pearson earned a penalty corner and after Johnston's drag flick attempt was stopped, he picked up the ball in the circle and fired the backhand, and eventual game-winner, in the Indian goal.

Canada defended well in the fourth quarter, but India had a chance to tie the game when Mandeep had a ball bounce to him at the top of the Canadian circle, where he quickly let go a reverse shot that Kindler saved with his mask.

That save was high best and most important, as it kept Canada ahead and let them to the 3-2 victory.

Field Hockey Canada media release


---

Profligate India dominated against Canada but failed to convert

Sundeep Misra



India form a huddle during the World Hockey League Semi-Final match against Canada. AP

The Indian hockey team came to the Hockey World League Semi-Final aspiring for the podium; or at least the semi-finals, setting themselves up as contenders for the HWL Finals later this year. But after seven matches and three defeats, two of them to teams well below the pecking order, the team has left in their wake confused coaches, bewildered players, annoyed fans and deep disappointment.

After the 2-3 defeat that sent Canada to the 2018 World Cup as the fifth-placed team, India were left poring over stats that read: penalty corners 10; striking circle penetrations 26; shots on goal 18; players involved in striking circle attacks eight. To any coach in the world, these stats would signify the quality of a team. To the others, it would tell a different story — the Indian team dominated for long periods in each of the four quarters but were unable to achieve the only thing important in sport — victory.

Before the tournament began, Indian coach Roelant Oltmans said, "Teams that score three goals plus usually win 75 percent of the matches." The three matches that India lost were 1-3 to Holland, 2-3 to Malaysia and 2-3 to Canada. Except for Holland, India dominated the rest of the two matches in every sense of the term. So what is going wrong for India?

The answers are simple and complex. Ric Charlesworth, considered by many to be a 'super coach', and who once coached India only to be left betrayed by the Indian hockey establishment said, "There needs to be a want in India to be champions. India needs to have that hunger." On the quality part, Ric said only thing, "The world would die to have the quality that India possess."

Quality alone couldn't give India victory against Canada. In an earlier match in Pool B, India had dismantled Canada 3-0. But on Sunday, the margin could have been wider and could have bordered on the embarrassing for the Canadians. However, they won 3-2 against India. In almost every quarter, India dominated. The forwards did everything but score. But it's never quite so simple.

Forwards either need to strike or create for the others to strike home. Neither happened. Both the goals against Canada came off penalty corners. And India had 10 of those in the match. Try as they might, Ramandeep Singh, Akashdeep Singh, Mandeep Singh, SV Sunil and Talwinder Singh couldn't guide a 235 mm sized ball into a space measuring 2.14 metres high and 3.66 metres wide. Across four quarters, over 26 attempts driving into the Canadian striking circle, they couldn't score.

Canada sat patiently, waited for counters, and scored off set pieces to clinch the match and a place in the 2018 World Cup. India didn't have the pressure of trying to cement a spot in the World Cup. All they needed was to win against Canada, a team ranked four sports below them at 10th, and finish fifth. In sport, it's true that anything can happen. But it would have been more believable if India had been outplayed.

Canada scored in the third minute through a penalty corner flicked in by Gordon Johnston, a powerful, tall player who was also in the 2016 Olympic team that drew 2-2 with India at Rio. India then equalized in the seventh minute with a flick from Harmanpreet. In the 22nd minute, India took the lead off another penalty corner flick by Harmanpreet. In between, India couldn't score of five penalty corners and almost 10 circle penetrations with eight shots on target. Till the end of the second quarter, not a single angled shot was taken on the Canadian goal. Akashdeep, Ramandeep and Sunil's shots were all on the Canadian goalkeeper's pads. There were, however, shots that Antoni Kindler really had to stretch for.

In the 40th minute, Keegan Pereira, almost knelt but drove the ball home. At 2-2, India were looking like a side that could still do all the attacking but were again caught on the counter. In the 44th minute, Johnston fired home the match-winner. India still had a full quarter. The flanks still raced in, and the forwards were all over the Canadian striking circle. Ramandeep missed deflections; Akashdeep couldn't beat Kindler; Sunil shot over the ball while Talwinder tapped into the wrong player.

Canada hung on, like a climber on a precipice. Mandeep had a chance when he had the ball on top of the striking circle, with no one between him and Kindler. But he didn't move ahead to beat the Canadian goalkeeper. He shot from his position, and the ball travelled high over the bar. Common sense tells us that India had a bad time, and luck was not on their side. History tells us that issues with the team persist. Every tournament can't be an experiment ground. In this tournament, teams won against India to qualify for the 2018 World Cup — Malaysia and Canada are prime examples. Having said that, there is no doubt that Canada, and Malaysia in the quarter-final, deserved to win.

Pereira, who scored the second goal against India, said, "Obviously it was a tight game. We have not played particularly well against India since Rio. But we followed the gameplan and didn't sit back as much as we did in the first Pool game against them. Once we got goals on the scoreboard, we knew we could hold on to that lead."

In the post-match media briefing, Oltmans pointed at the attitude of the players. "Canada had to win to qualify. We had already qualified. I think the attitude of the players was not at the required level. After beating Pakistan everyone thinks that is the only important game in the tournament. That is bulls**t, because Pakistan at this moment is not the team that you have to beat. You have to beat teams like Malaysia, Canada, other teams, England." The Indian coach pointed out stats as proof of India's dominance — 20 shots on goal from India and five for Canada, out of which they scored thrice.

The Indian coach, however, asked for patience. "I have said many times before and it's not anything new, that we go from three different tournaments with different players, Azlan Shah, here and the tour in August, and after that we will come with the 18 players that will be the strongest team during the Asia Cup and the HWL Finals. So let's wait and see. We are using these tournaments to come to the 18 players."

Oltmans is right when he says that this tournament wasn't a do-or-die one for the Indian team. "Do or die will be in October (Asia Cup)," he said. "Do or die will be in December (HWL Finals). I don't know if it is good or not."

Oltmans refused to discuss the negatives or the areas where the Indian team fell short. "There is nothing that I will discuss right now. That is nonsense. We have enough homework given by opponents. One of them is that if you create a lot but not score, at least you have to make sure that your defence stays well organised. With due respect to Canada, looking at all the statistics, we should have never lost this game." The Indian coach also said that sometimes it's good not to win because it clearly pinpoints areas that they have to work on.

For a fan base that wishes to see India on the podium outside of an Asian tournament, Oltmans had one message: "People in India and the media should understand that these boys are fantastic hockey players. They create more chances than any other team in the world. Maybe we have to support that, don't look always at the result. Look at the process, and be sure that it is coming. That's what I am telling you. Don't worry. These boys have the quality to be back at the top."

India played in London without Rupinder Pal Singh, who has been India's most potent penalty corner convertor in recent times. Even Harmanpreet agrees that his absence cost India. The national team were also without their captain and No 1 goalkeeper P Sreejesh other and players like SK Uthappa and Birendra Lakra, even though Surender Kumar is turning out to be a brilliant defender.

One shouldn't forget that recently Japan beat Australia for the first time in their hockey history at the 2017 Azlan Shah. In the end, processes begin and end with the coach and the support staff. Patience is always a key element. In a recent interview with The Guardian, the newly appointed Southampton manager Mauricio Pellegrino, said, "Experience shows that good results and bad results are part of the same packet. If you're calm and you win people say: 'The team is doing well because he's calm.' If you lose, they say: 'He's so calm he can't get the team going.' You can see a prince or a frog in every player, every coach, and everyone."

At this moment, it's up to the Indian hockey team and Oltmans to show whether they will remain frogs or turn into princes.

Firstpost


---

Goalie Kindler gets World Cup berth for Canada

s2h team

Its difficult to say whether India was let down by its own forwards or the rival goalie Antoni Kindler will not let your ball in. It was India's last match, which it lost famously to Pan American Champions Canada (2-3). Canada just made 17 circle penetration and won the match 3-2 whereas India had almost thrice penetration but ended up losers.

By virtue of finishing fifth, Canada has qualified for the Bhubneswar World Cup.

Expected to podium finish, highly rated India which now seems inflated, ended up poor sixth in the ten team competition.

For most part of time, India held the ball possession, attacked ferociously but the hitherto brittle Canadian defence put up extraordinary show when needed much like Mark Pearson who outwittted half a dozen forwards who were trying to negotiate another of excellent hit from the stick of Pardeep Mor, but with enormous 3 D skills, he cleared beyond difficult zone.

"We stuck to our game plan, and lucky sometimes, and it made a great match" said coach Bunty after the match.

Earlier, Pakistan kept up its hopes of Indian journey with an improved fourth quarter play that saw them beat China 3-1. All goals came up in the last quarter. Umar Bhutta stuck a brace out of solo efforts.

If Canada will win the Pan American Championship, Pakistan will get Delhi WC berth.

Its Gordon Johnston who gave the ultimate winners the lead in the third minute only to see a brace coming in for reply from higher ranked India. Harmanpreet Singh struck two penalty corners to give India equlizer and the lead (2-1) in the 7th and 22 minutes, respectively.

Canada equalized in the 40th minute through opportunism of Geegan Perreira and the five minutes later Johnston again came up with a gem to give Canada the lead. This lead, despite Indians creating more than a dozen chances, survived.

Two Akashdeep's close range scoops, and a backhand thunder from Mandeep Singh in the spell saw extraordinary stuff coming from Kindler.

Its the goalie who stood between India and his team.

India had as many as eight penalty corners, but the Canadian defence led by captain Scott Tupper would not budge.

Stick2Hockey.com


---

Namaste London

India sign off with a sixth place finish in HWL Semis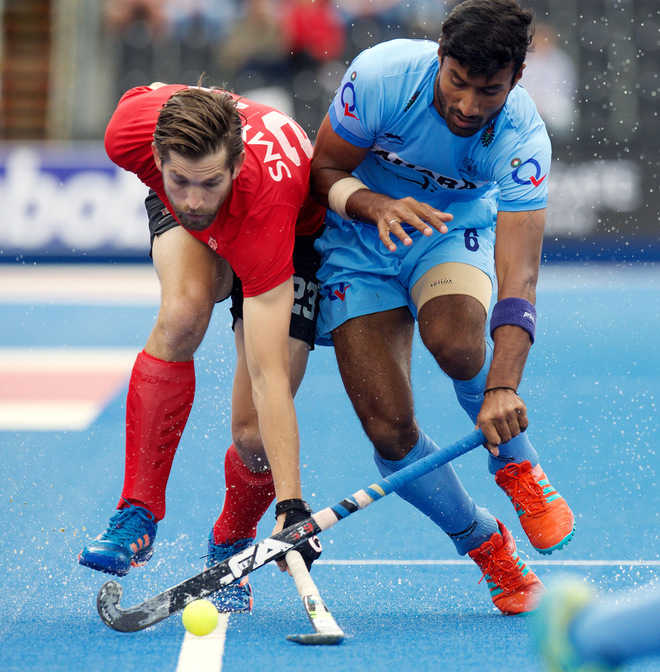 Smythe Iain and Surender Kumar vie for the ball during their Hockey World League Semifinals fifth-sixth classification match. HI

London - India wasted chances galore to finish a disappointing sixth in the Hockey World League Semifinals after being stunned 3-2 by Canada here today.

It was India's second upset defeat against a lower-ranked side in the tournament after having lost to Malaysia in the quarterfinals.

Gordon Johnston (3rd and 44th minutes) scored two goals while Keegan Pereira (40th) found the net once for the 11th ranked Canadians. Harmanpreet Singh (7th, 22nd) converted two of India's nine penalty corners. Canada not only finished fifth but also qualified for next year's World Cup, to be held in Bhubaneswar. "We stuck to our game plan; we got a little bit of luck in a couple areas, and our goalkeeper was fantastic," said Canada's interim head coach Paul Bundy. "We've worked so hard, we're a really small, tight-knit community and I think it's going to mean a lot to Canada." For India, the loss definitely counts for a morale-shattering outing.

India started the encounter as the overwhelming favourites, having defeated the same opponents 3-0 in the pool stage. However, with a World Cup berth at stake, Canada played with great determination and gave their higher-ranked rivals a run for their money. Even though India dominated the share of possession and had more shots at goal, Canada surprised their rivals when it mattered the most.

India continued their under-par performance from penalty corners as they converted just two out of nine they earned in the match. Canada took the lead early on when Johnston converted a penalty corner. But Harmanpreet drew parity four minutes later from a penalty corner. In the second quarter, the Indians secured their third penalty corner but Harmanpreet's low flick was saved by the goalkeeper.

The Tribune


---

Misfiring India lose 2-3 to Canada, finish sixth



Sunil Sowmarpet of India in action during the 5th/6th place match between India and Canada on day nine of the Hero Hockey World League Semi-Final. 

An inconsistent India wasted chances galore to finish a disappointing sixth in the Hero Hockey World League Semifinals after being stunned 3-2 by lower-ranked Canada here on Sunday.

It was India's second defeat against a lower-placed side in the tournament after having lost to Malaysia in the quarterfinals.

Gordon Johnston (third and 44th minutes) scored two goals while Keegan Pereira (40th) found the net once for the 11th ranked Canada. Harmanpreet Singh (seventh and 22nd) converted two of India's nine penalty corners.

By virtue of this win, Canada not only finished fifth but also qualified for next year's World Cup at Bhubaneswar. Sixth-ranked India has already qualified by virtue of being the host.

India started as the overwhelming favourite, having defeated the same opponent 3-0 in the pool stages, but the script panned out differently as, with a World Cup berth at stake, Canada played with determination and gave India a run for its money.

Even though India dominated the share of possession and had more shots at the goal, Canada surprised the opposition with some great counter-attacks when it mattered the most.

Canada took the lead early when Johnston converted a penalty corner in the third minute. But Harmanpreet drew parity four minutes later off another penalty corner.

In the second quarter, India secured its third penalty corner but Harmanpreet's low flick was saved by goalkeeper Antoni Kindler, who was brilliant under the Canadian goal.

Seconds later, Harmanpreet again wasted another penalty corner for India before he found the target in the 22nd minute with a powerful low flick to hand his side the lead.

Canada mostly relied on defending in numbers and surprising India on counters. It was dismal with penalty corners, converting just one of the five it earned.

In the 26th minute, Talwinder's effort, after a fine interchange with Akashdeep Singh, was saved by an alert Kindler. India was awarded its sixth penalty corner in the 27th minute but Harmanpreet was off the mark.

After the change of ends, India secured two more short corners but to no avail.

The missed chances cost India dearly as Canada struck twice within four minutes. Pereira levelled the scores in the 40th minute, pushing in Mark Pearson's cross, before Johnston scored the winner with a reverse hit four minutes later.

Down by a goal with just a quarter left, India went all out attacking and secured two more penalty corners, but the chances went wasted.

The results (final):

Argentina 1 The Netherlands 6

Placings: 3-4: Malaysia 1 lost to England 4.

5-6: Canada 3 (Gordon Johnston 3, 44, Keegan Pereira 40) bt India 2 (Harmanpreet Singh 7, 22).

7-8: Pakistan 3 bt China 1.

The Hindu


---

Stats Speak:   Canada and Malaysia shocked India in crucial matches

By  B.G.Joshi  (Sehore-Bhopal, India)

Often Indian team humbled to opponent when it matters. Canadian and Malaysian both defeat Indian by identical margin of 3-2 to get berth in 2018 World Cup. Here are highlights of Malaysia and Canada triumph over India in important international matches:

India lost to Malaysia in following 5 crucial matches
| | | | | |
| --- | --- | --- | --- | --- |
| Year | Venue | Tournament | Stage | Score |
| 1991 | Auckland | Olympic Qualifier | Pool | 2-3 |
| 1998 | Kuala Lumpur | Commonwealth Games | SF | 0-1 |
| 2010 | Guangzhou | Asian Games | SF | 3-4 |
| 2017 | Ipoh | Azlan Shah Cup | League | 0-1 |
| 2017 | London | World Cup  Qualifier | QF | 2-3 |
India lost to Canada in following 4 crucial matches
| | | | | |
| --- | --- | --- | --- | --- |
| Year | Venue | Tournament | Stage | Score |
| 1978 | Buenos Aires | World Cup | Pool | 1-3 |
| 1989 | Madison | World Cup  Qualifier | SF | 2-3 |
| 1998 | Utrecht | World Cup | Pool | 1-4 |
| 2017 | London | World Cup  Qualifier | Ranking | 2-3 |
Fieldhockey.com


---

Pakistan beat China in Hockey World League

By Nabil Tahir

KARACHI: Pakistan hockey team's chances to get berth of World Cup 2018 have increased as they beat China 3-1 in the seventh and eighth place payoff to finish their Hockey World League (HWL) semi-final round on seventh position.

Pakistan after losing 1-6 to India in fifth and sixth place playoff came down to play against China for the seventh position. After having goal-less three quarters, Pakistan opened the goal tally by their first goal in the 51st minute as Umar Bhutta scored a field goal to take lead.

The lead was soon doubled as Bhutta scored a second goal in 56th minute through a field goal. In the same minute Muhammad Irfan junior took the ball from midfield to China's circle to score a beautiful field goal and take 3-0 lead. China then came back in the 58th minute to score their lone goal by Xiaoping Guo.

HWL semi-final round 1 and 2, which serves as the qualification round for top five teams has England, Argentina, Malaysia, Netherlands and Canada in top five.

If Argentina qualify for World Cup 2018 from their continental championships, the next team (sixth) in HWL semi-final round 1 – India – will get a place. But since they have already qualified as a host nation, the seventh ranked team, Pakistan, will get a place.

Meanwhile, if Netherlands qualify from Euro Hockey National Championship (August 9-27); China, the last team of this round, will also get a place.

Pakistan still have a straight chance of direct qualification by winning Asia Cup, which is scheduled to be held from September 30-October 8.

The Express Tribune


---

Pakistan defeat minnows China 3-1 after struggle to finish at 7th spot




ISLAMABAD: It was a classification match for the 7th-8th position in the World Hockey League at London's Olympic Park on Sunday. Finishing 7th meant a virtually assured berth in the next year's World Cup. For the team at the 8th position, the qualification wasn't guaranteed. Pakistan cut it fine. It was goalless with just 10 minutes left. Tension was mounting among the Pakistan in the ground, on the bench and in the stands. In the 51st minute, Ammad Shakeel Butt, perhaps the most impressive Pakistan player in this event, beautifully robbed a defender. After a good run along the left flank, he slipped the ball to Mohammad Dilber near the circle whose first touch found Umar Bhutta in an excellent position. Bhutta's angular shot hit the right corner of the goal. A goal down, China put more players forward leaving gaps in the defence. Two more goals came in quick succession in the 56th minute.

A sweeping counter starting from deep inside Pakistan's territory resulted in Bhutta, again, making it 2-0 with a reverse flick. Then an excellent reverse hit from the left was deflected into the cage by the diving Mohammad Irfan Junior. China got a consolation goal with two minutes left on the clock. A ball into the circle was well dispatched on the board by an unmarked Guo Xiaoping with a first time strike. It was quite an absorbing contest with stakes high for both the sides. The first half saw the two sides creating chances through open play as well as the PCs. The third quarter was also entertaining; an up and down stuff at quite a fast pace. Then arrived the exciting last quarter with goals aplenty.

SCORERS:

Pakistan: Umar Bhutta (2) and Mohammad Irfan Junior
China: Guo Xiaoping

The Daily Times


---

Pakistan beat China, finish seventh at Hockey World League




LAHORE: Pakistan beat China 3-1 to finish a poor seventh at the Hockey World League (HWL) semi-final round at London's Queen Elizabeth Olympic Park on Sunday.

With this victory, Pakistan are virtually assured of a place in the 2018 World Cup, said the information made available to APP here.

Finishing seventh meant a virtually assured berth in the next year's World Cup and Pakistan cut it fine in a nerve wrecking tensed tie in which it was goalless with just 10 minutes left.

For the team at the eighth position, the qualification wasn't guaranteed.

In the 51st minute, Ammad Shakeel Butt, perhaps the most impressive Pakistani player in this event, beautifully robbed a defender. After a good run along the left flank, he slipped the ball to Dilber near the circle whose first touch found Umar Bhutta in an excellent position. Bhutta's angular shot hit the right corner of the goal.

A goal down, China put more players forward leaving gaps in the defence.

Two more goals came in quick succession in the 56th minute. A sweeping counter starting from deep inside Pakistan's territory resulted in Bhutta, again, making it 2-0 with a reverse flick.

Then an excellent reverse hit from the left was deflected into the cage by a diving Irfan Junior.

China got a consolation goal with two minutes left on the clock.

A ball into the circle was well dispatched on the board by an unmarked Guo Xiaoping with a first time strike.

It was quite an absorbing contest with stakes high for both the sides. The first half saw the two sides creating chances through open play as well as the PCs.

The third quarter was also entertaining; an up and down stuff at quite a fast pace.Then arrived the exciting last quarter with goals aplenty.

Pakistan exhibited dismal show in the event, losing three back-to-back league matches to Holland, Canada and India.

Dawn


---

Netherlands lead way in Pool A: Belgium stun Black Sticks in Pool B




World number one team, the Netherlands continue to dominate Pool A at the FINTRO Hockey World League Semi-Finals as they recorded their third victory, a 1-0 win over China. The results mean Netherlands will top Pool A and Scotland are eliminated from the quarter-finals but nothing else has been decided. Both Italy and China could finish second in the pool, but equally Korea or China could finish third, depending upon results in the final pool matches to be played on Tuesday 27 June.

Australia currently top Pool B on nine points, although they have played one match more than their pool rivals. Belgium have moved to second on goal difference from New Zealand, following their 1-0 win over the higher-ranked Black Sticks. The results in Pool B mean that Australia top the pool on nine points, having played one more match; New Zealand and Belgium are on six points each, but Belgium are ahead on goal difference; Spain are next on three points and Malaysia are bottom of the pool, with no wins as yet. This situation means the top three positions are yet to be settled so it all comes down to Tuesday's results.

Australia v Spain 4-1

Two different styles of play were on display for the opening match of Day Four. Australia, the world number four, have shown themselves to be powerful, uncompromising and keen to defence-splitting passes in their previous three games; Spain (WR: 10), by comparison, play a tight, energetic game that works best when using short, sharp passes. The spectators were keen to see how things would pan out.

A very cagey first half saw both teams settle into the pace of the game but it was Australia who were first to breakthrough, Maddy Fitzpatrick, who is enjoying a good tournament, made a great interception on the edge of the Red Stick's circle and fed Kathryn Slattery, who doesn't hesitate to shoot from that position.

Spain evened things up with a neat deflection by Lucia Jimenez, her deft touch in the circle caught Rachael Lynch in the Australia goal unawares as the ball flew into the goal. The goal gave the Red Sticks renewed confidence and Rocio Ybarra was next to take a shot, her reverse stick flying viciously over the bar. However, it was Australia who scored next in this intriguing fixture. Slattery burst through the Spanish defence with a burst of speed and slammed the ball past Maria Ruiz in the Spanish goal to double her tally in the game and, more importantly, put her team back in front.

The Hockeyroos extended their lead further when Georgina Morgan scored from a penalty corner just as the whistle for the end of the third quarter sounded. Australia's speed on the counter was given a full showing when Emily Smith picked up a clearance from a defensive penalty corner and charged down the pitch before slotting the ball into Spain's goal to make the final score 4-1.

"We got a much cleaner execution all over the field today," said double goal hero Kathryn Slattery. "In fact, we cut them apart in the final quarter. For me personally, I perhaps struggled a little in the first two matches but it came together out there and I felt much more natural. I was trapping well and I was able to take the chances cleanly."

With the pools still to be decided, Australia's future opponents at this event remains uncertain but Slattery is keen for the Hockeyroos to test themselves against the world number one, the Netherlands,

"That is a match we always look forward to. In fact, this tournament is a great opportunity to see where all the teams are at. There have been a lot of changes in the top teams, so these are exciting times."

Spain's Berta Bonatstre rued the missed scoring opportunities. Talking to reporter Eliott Dautrebande, she said: "We played well but if you can't score, you won't win. Now we have to beat Belgium to secure third place, because we don't want to meet the Netherlands in the quarter-finals."

Belgium v New Zealand 1-0

Aisling D'Hooghe delivered an outstanding performance in the Belgium goal as the host nation took the points and secured their second win of the tournament and a place in the quarter-finals.

Neither side gave any ground in the first quarter as the players tested each other out. The second quarter saw the higher ranked Black Sticks (WR: 5) pile on the pressure but the Red Panthers (WR: 14) defence held firm, marshalled by the excellent Aline Fobe.

Belgium began to put their own pressure on the New Zealand team. Alix Gerniers stole possession on the edge of the New Zealand circle and her pass was nearly turned in by Joanne Peeters. Seconds later Emma Puvrez was tantalisingly close to scoring as the ball again whistled across the face of Sally Rutherford's goal.

As the half drew to a close, both teams began to develop their own strategies. For New Zealand this involved sharp passes that used the whole pitch and suits perfectly their strong running game. Belgium, by contrast, worked in groups to shut down play and then looked for the break.

The break came unexpectedly in the third quarter. New Zealand were just beginning to get the upper hand – their penalty corner count was rising and the Europeans were looking jaded. However, a penalty corner was saved quite magnificently by D'Hooghe and the subsequent quick counter saw Anouk Raes receive the ball in the New Zealand circle. Her turn and shot flew into the goal to the delight of the Belgium supporters.

With seven minutes of the game left, D'Hooghe made a fine double save as the Black Sticks penalty corner team fired two rockets at the diminutive 'keeper. With Ella Gunson sent off, New Zealand threw all they had at the Belgium's but the lower ranked team showed huge maturity to hold possession as the clock counted down.

Belgium's Joanne Peeters, speaking to reporter Melanie Kreusch, said: "We knew we would be able to play well against New Zealand because we had performed well against Australia. Today we stayed with the game plan. After the goal, we kept pushing and attacking. We wanted to win not a draw. Even though New Zealand had a lot of penalty corners, we were determined not to concede."

Mark Hager was phlegmatic about the result. "We didn't score. We won a lot of penalty corners but we didn't make the most of them. I think some of the newer players were a bit over-awed by the crowd but this is all part of the learning process."

China v Netherlands 0-1

Netherlands dominated possession, had seven times the number of shots on goal and a further four penalty corner opportunities but for more than three quarters of the game, the Chinese defence was unbreathable.

For China, a point would probably have been enough to see them through to the quarter-finals but a win would have made that a certainty. A 2-2 draw against Italy and a 1-1 draw with Scotland have been poor returns for the team ranked eighth in the world. In this game, however, a draw with the world number one side, would have been a remarkable result. As it was, Netherlands showed they were prepared to be patient when the occasion called for it and eventually they were rewarded for their efforts.

China set up their stall to prevent Netherlands from playing the free-flowing style of hockey they had displayed in the previous match against Korea and for the first three quarters it was a successful strategy. The Dutch marauded and made in-roads into the Chinese circle but were always met with a staunch and determined Chinese defence, marshalled as usual by the excellent Cui Qiuxia.

Also playing at the top of her game was Ye Jiao in the China goal, she made several saves in the first two quarters, including a vicious penalty corner from Caia van Maasakker. The game very nearly went China's way completely when Liang Meiyu fired a shot from the edge of the circle but the mid-air shot was saved by Josine Koning in the Netherland's goal. At the other end, Lauren Stam, Carlien Dirkse van den Heuval and Maartje Krekelaar were just a few players who came close to beating the China defence, only to be foiled by Ye Jiao.

Finally, a penalty corner worked for Netherlands as Irene van den Assem shot home to give her side the lead. This was not the end of the drama. China's Gao Lihua nearly equalised as China poured forward and it took quick work by Caia van Maasakker to keep the ball from the back of the net.

Head coach to Netherlands, Ayson Annan said she was pleased by her team's ability to play to the game plan. "We had a lot of tempo but China defended very well. It was important for us to have a 0-0 like that because we had to work hard and be patient. We expected China to play like that and we knew what we had to do."

Laurien Leurink echoed her coach's words: "We knew we would have to be patient and this game would be nothing like yesterday [9-0 against Korea]. This is an important step in our development."

China's goalkeeper Ye Jiao was playing her first game for the senior side. She said she was disappointed that her team had conceded a goal after working so hard to keep the Netherlands at bay but she was pleased by their performance overall.

Scotland v Korea 0-5

Korea hit top gear at the crucial stage of the competition as they took the game to Scotland in this match to decide who would be eliminated from the quarter-final stages. Both teams had a loss and a draw coming into the match and, with other results going against them, the loser was certain to finish bottom of Pool A.

Cheon Eunbi scored the first goal as she found a gap in the Scottish defence and fired the ball past Amy Gibson in goal. Scotland were visibly shaken and, although they worked hard, their attack lacked the structure they had shown in previous games. This approach was punished when Cheon Seul Ki took advantage of a penalty corner opportunity and fired home to double her team's lead. After the break, it was Korea who again showed the structure and discipline necessary and Cheon Seul Ki scored her second penalty corner – a well-placed and speedy shot to Gibson's right.

The fourth Korea goal was from a penalty corner variation. Cheon Seul Ki slipped the ball and Shin Hyejeong was on hand to fire home. As Scotland's hopes of a first ever quarter-final appearance at this event evaporated under the Korea onslaught, the Blue Sticks threw everything into the game. They were rewarded with a number of penalty corners but this was not to be their day and Korea extended their lead to five when Cheon Seul Ki scored her third.

"I wish I had managed to score in the earlier games," said Cheon Seul Ki, as she reflected upon her hat-trick. "But this is the start of Korea playing well in this competition."

FIH site


---

Hockeyroos win final pool match 4 - 1 v Spain

Slattery, Morgan & Smith score

Holly MacNeil




The Hockeyroos won their final pool game against Spain today at the World League Semi-Finals in Brussels, Belgium. The final score was AUS 4 – 1 ESP, with Australia's goals by way of a double from Kathryn Slattery, a penalty corner from Georgie Morgan and a field goal from Emily Smith.

Within five minutes of the game starting Spain were up for the first penalty corner of the match. Excellent defending by Australian goalkeeper Rachael Lynch and the Hockeyroos saw the opportunity denied.

Twelve minutes into the game and Spain were up for a second penalty corner, however the ball didn't get near the net as the Australian team pulled off some more great tackling.

With two minutes to go in the first half Australia scored a stunning field goal. Madi Fitzpatrick passed to Kathryn Slattery who was positioned directly in front of the net to flick the goal in past the Spanish keeper.

An exciting third quarter saw three goals scored; the first a field goal to Spain courtesy of Lucia Jimenez which equalised the score. Australia fought back and Kathryn Slattery nailed a second field goal to again give Australia the advantage.

As the buzzer sounded for three quarter time Australia referred against a decision and as such were awarded a penalty corner opportunity. It was a good choice to refer as Georgie Morgan went on to score a penalty corner goal, leaving the score going into the final quarter AUS 3 – 1 ESP.

Australia's fourth goal came after a missed penalty corner from Spain saw Australia pick up the ball with Emily Smith working it down the pitch and into the circle before taking a spectacular hit at goal which hit the left-hand corner of the net, leaving the final score AUS 4 – 1 ESP.

Hockeyroos head coach Paul Gaudoin said: "It was pleasing to get the win today, the girls worked hard and were pretty disciplined. I think we deserved to win the match, however there are still lots of little things that we want to improve on.

"Today we just wanted to get the win on the board, and to get the three points and that's what we've done. Now we want to make sure we're setting ourselves up for a great quarter final with all the learnings we've made along the way."

The Hockeyroos next play in the quarter finals on Thursday 29 June. Who they will play in the quarter finals depends on the outcome of the final pool games played today and on Tuesday, 27 June. Tune into the game live on Fox Sports Australia.

Hockeyroos Match Schedule
Thursday, 29 June – quarter finals TBC

HOCKEYROOS 4 (1)
Kathryn Slattery 28, 38 (FG, FG)
Georgie Morgan 45 (PC)
Emily Smith 51 (FG)

SPAIN 1 (0)
Lucia Jimenez 33 (FG) 

Hockeyroos team v Spain
Athlete (Hometown, State)
Laura Barden (Kew, VIC) 34/5
Jane Claxton (Adelaide, SA) 124/11
Kate Hanna (Constitution Hill, NSW) 22/1
Jordyn Holzberger (Ipswich, QLD) 51/5
Rachael Lynch (Melbourne, VIC) 162/0
Karri McMahon (Berri, SA) 116/9
Georgina Morgan (Armidale, NSW) 63/14
Georgia Nanscawen (Melbourne, VIC) 202/37
Emily Smith (Crookwell, NSW) 176/67
Renee Taylor (Everton Park, QLD) 24/0
Georgia Wilson (Mahogany Creek, WA) 6/0

Used Substitutes
Jocelyn Bartram (Albury, NSW) 17/0
Edwina Bone (Orange, NSW) *plays for ACT 140/3
Jacqui Day (Mountain Creek, QLD) 13/0
Madison Fitzpatrick (Cabarita Beach, NSW) *plays for QLD 23/5
Stephanie Kershaw (Townsville, QLD) 19/2
Madeleine Ratcliffe (Warnambool, VIC) 16/3
Kathryn Slattery (South Stirling, WA) 74/27

Hockey Australia media release


---

Black Sticks edged by hosts Belgium



Photo: Planet Hockey

The Vantage Black Sticks Women have been handed their first loss at the FIH World League Semi Final after being edged 1-0 by hosts Belgium.

Belgium played an up tempo attacking game against the Kiwis, who were strong on defence until a 44th minute goal broke the deadlock.

The Black Sticks created plenty of their own chances but struggled to break down the defence in the crucial stages with 11 shots at goal and six penalty corners during the match.

Assistant coach Sean Dancer said it was a tough clash against Belgium who are in form and benefitted from a home crowd.

"We knew Belgium were going to be a tough game and they certainly proved that today. They're a side who has progressed immensely over the past 12 months," he said.

"They were able to shut us down in some parts of the game and we struggled to respond to that pressure.

"We need to go away and make sure we put together a top performance against Malaysia to get some momentum going into the quarter finals."

It was a fast-paced opening quarter with both sides creating chances on attack but unable to put goals into the back of the net.

Belgium had the advantage in possession in the first half although the Black Sticks played very well on defence to keep out of trouble.

The hosts broke the shackles late in the third quarter when Anouk Raes put on a spin move in the circle and hit into goal between the legs of goalkeeper Sally Rutherford.

New Zealand battled to find an equaliser after the goal and had several great chances from penalty corners but Belgium's desperate defence held firm.

The Vantage Black Sticks play Malaysia in their final pool match at 2:00am on Wednesday morning (NZT), with live coverage on SKY Sport.

VANTAGE BLACK STICKS 0
BELGIUM 1: (Anouk Raes)
Halftime: 0-0

Hockey New Zealand Media release

---

Scotland beaten by Korea in final pool match of the World League Semi-Finals



(Photo: FiH/Getty)

The clinical finishing of Korea was enough to defeat Scotland in their final Pool A match at the World League Semi-Finals in Brussels. It was a brave and battling performance by the Scots but the result means Scotland will play in the 9th/10th play-off on Thursday.

It was a good confident start by the Scots, pegging Korea back. There were no clear chances created in the early stages but the team was playing good hockey, and probing the Korean defence with menace.

Then came a sucker punch. Korea took the lead against the run of play when a crash ball from the left was deflected at great pace into the net by Eunbi Cheon. It was a superb finish out of absolutely nowhere to make it 1-0.

The Koreans were enjoying more possession at the start of the second quarter and won a soft penalty corner from a speculative crash ball into the D. The resulting flick prompted a superb save by Gibson low to her right, and Scotland tore forward on the break looking for an equaliser, but it was well defended and led to nothing.

Scotland came agonisingly close to equalising when Fiona Burnet was denied by a goal line clearance after some excellent play by Sarah Robertson on the left. Robertson dribbled the ball into the D and found Burnet who was unlucky not to find the net.

Korea won another penalty corner after Robyn Collins leaned on a running forward to concede. The initial effort was saved by Gibson but it led to another penalty corner after the ball got caught underneath the keeper. The second effort by Seul Ki Cheon found the bottom left corner to make it 2-0 to Korea.



(Photo: FiH/Getty)

In the third quarter an early chance was created by Scotland as they came quickly out of the blocks, but Sarah Jamieson couldn't connect to a powerful pass into the D to get a shot on target. Korea then broke forward and won a penalty corner. Seul Ki Cheon stepped up to strike it and scored her second, and Korea's third, to make it 3-0. It was a killer blow to the Scots and left the team with a mountain to climb.

A short while later and a scramble in the Scotland D resulted in another penalty corner to Korea. It allowed Korea to strike a fourth when Hyejeong Shin deflected the ball past Gibson to make it 4-0.

Yun Kyoung Cho came very close to scoring a fifth for Korea when she latched onto a long ball forward but scooped her effort wide of the left post.

The fifth goal for Korea arrived right at the end of the third quarter. Seul Ki Cheon bagged her hat trick with a rocket in off the crossbar to make it 5-0.

Into the final quarter and from a Nikki Lloyd pass, Millie Brown battled away in the Korean D to win a penalty corner. It led to an effort for Amy Costello but it was deflected over the bar by a rushing Korean defender.



(Photo: FiH/Getty)

Scotland were awarded a penalty corner for a foul on Holmes near the end of the match. Nikki Lloyd injected but a good save at the right post denied Scotland a well-deserved consolation goal.

Scotland's women's Head Coach Gordon Shepherd said, "It was a tremendous effort by the players and in the end we got beaten by some really clinical finishing, while we didn't make the most of the opportunities we created. There's a lot to be learned from these games and it's about using this experience positively for the future.

"It's a very young team and our young players have all done really well in these games. Players like Millie Brown, Fiona Burnet, and Katie Robertson have been superb throughout. Now we'll prepare for the match on Thursday and try to end the tournament on a win."

Scotland's Becky Ward said, "It's been a great experience to get here and wanted to play our best against the top teams. It's been a great learning experience for the squad and we've learned a lot from the tournament. We've got our final game and we want to get some pride back from that game."

Scottish Hockey Union media release


---

Indoor AFCON 2017 - Golden day for Namibian Women and SA Men

Tyron Barnard

History was written today in Swakopmund as the Namibian Indoor Hockey ladies side shocked the Hockey world with a stunning showdown victory that secured their place in the FIH Indoor Hockey World Cup for 2018.

SPAR South Africa had been dominant in the tournament conceding only one goal, while Namibia had looked distinctly average and out of sorts throughout. In all honesty the Namibian bench looked unhappy throughout the tournament.

It took less than a minute but Namibia soon looked happy as they scored through Marcia Venter, there was debate about whether the ball took a touch, but the umpires were satisfied and it was awarded. Playing in her 51st test match skipper Cindy Hack levelled for the SPAR South Africa ladies after great work by Eloise Walters.  Jessica O'Connor was celebrating her 50th test cap would have been delighted when Hack turned provider to allow Shelley Higgo to net the go ahead goal for SPAR SA.

Not long after the goal, Higgo then brought down Jocelle Deysel in the D to give Namibia a Penalty Stroke, which was well finished by Gillian Hermanus. Just 7 minutes into the final we had seen four goals. 28 minutes after the fourth goal in the game came the fifth and it was captain fantastic Cindy Hack once again. South Africa had 6 minutes to hold on and confirm their place in Berlin.

Hanli Hattingh made a few saves but SPAR South Africa were dropping back and allowing pressure and with 15 seconds left on the clock South Africa were stunned as a mistake was punished by Marcia Venter who sent the crowd into raptures and the game into showdowns. South Africa were then beaten in the showdowns 2-1 to send Namibia hockey to the FIH Indoor Hockey World Cup. It was a devastating blow to the SPAR South African ladies as they ended the tournament undefeated in normal time, but without a place in the World Cup.

The TOPS @ SPAR BlitzStoks would have seen the warning signs from the ladies game and started out with a great set of determination. An early goal by Reza Rosenberg settled the game and it remained that way for long periods before on the stroke of half time Namibian keeper made an error and Justin Domleo pounced for a 2-0 lead.

Early in the second half player of the tournament Brynn Cleak pulled one back for Namibia who refused to give in to their neighbours. Strauss in goal for the Namibians did everything he could to make up for the earlier error and made some great saves to deny the South Africans. The nerves were jangling but South Africa limited the opportunities for the Namibians and although they couldn't add to the scoreline did enough to claim the title. The TOPS @ SPAR BlitzStoks are going to Berlin!

It was a weekend of hockey that highlighted the development of the game in our continent and plans will now begin for Namibia and South Africa as they work towards the FIH Indoor Hockey world Cup in Berlin in February 2018!

Women's Keeper of the Tournament – Jamie Haasbroek (Zimbabwe)
Men's Keeper of the Tournament – DJ Strauss (Namibia)
Women's Top Goalscorer – Heather McEwan (South Africa)
Men's Top Goalscorer – Keagan Robinson (South Africa)
Women's Player of the Tournament – Maggie Mengo (Namibia)
Men's Player of the Tournament – Brynn Cleak (Namibia)

SA Hockey Association media release


---

Green Machine Beat Germany To Take Hamburg Title




There was very little to differentiate the two sides in the opening half with Jonny Bell saving a shot off the line before Tobias Walter made a superb double save from Shane O'Donoghue's and Chris Cargo's shots at the other end. But the game really came to life in the second quarter with 3 goals in 2 minutes.  Tom Grambusch got the scoreboard ticking in the 19th minute with a fine drag flick to David Harte's left. Moments later Moritz Trompertz forced a turnover and sent a reverse shot towards goal for Marco Miltkau to get the faintest of touches on to take it past Harte. But 30 seconds later O'Donoghue had brought Ireland back into it as he deflected in a shot from close range to leave Walter with no chance. The sides finished the half all even at 2-2 thanks to Alan Sothern's goal in the 30th minute; Sean Murray did well as he drew Walter before releasing the pass to Sothern on the penalty spot who swept into an open goal.

The second half was slightly more heated with several yellow cards being handed out. Eugene Magee broke the deadlock in the 34th minute with a phenomenal goal that started with Paul Gleghorne rifling the ball into the sky for Shane O'Donoghue to snatch at pace and fire across the circle to Magee. Germany continued to rack up the chances and had no fewer than 6 penalty corners but their shots went either wide or were calmly dealt with by the Green Machine defence, with Bell clearing yet another shot off the line. Harte was called on more than once with the pick of the bunch being a fine save from Christopher Ruhrs close range shot.  The game was put to bed by Sean Murray two minutes after Germany had taken off their goalkeeper as he tapped into an open goal. Germany didn't give up though and wave of attacks followed but the final touch was always missing; perhaps Germany's young side lacked some of the composure needed with just 3 players on the side having over 100 caps and 7 of the players having less than 20 caps each.

But nonetheless the victory deservedly went to the men in green and acts as ideal preparation for the fast approaching World League Semi Finals in Johannesburg.

Ireland 4 (O'Donoghue, Sothern, Magee, Murray)
Germany 2 (Grambusch, Miltkau)

Ireland: D Harte, J Jackson, J Bell (Captain), C Cargo, A Sothern, E Magee, S O'Donoghue, J McKee, P Gleghorne, S Loughrey, S Cole

Subs: J Carr, M Bell, M Nelson, N Glassey, S Murray, J Duncan, L Cole

Germany: T Walter, M Muller, L Windfeder, M Trompertz, T Herzbruch, JP Rabente, T Grambusch, C Ruhr, M Zwicker (Captain), B Furk, N Wellen

Subs: J Gomoll, TO Prinz, DE Linnekogel, M Miltkao, J Meyer, F Weinke, M Appel

Hamburg Masters (all Irish time)
Thursday 22/6 3:45pm: Ireland 4vs1 Spain
Friday 23/6 3:45pm: Ireland 7vs2 Austria
Sunday 25/6 11:30am: Ireland 4vs2 Germany

Irish Hockey Association media release


---

The Green Machine win the Hamburg Masters with big comeback victory over Germany



The Irish men's team with the Hamburg Masters trophy. Pic: Sabine Muller

Ireland's men will head to Johannesburg next week in confident mood following a superb 4-2 victory over world number three side Germany to win the Hamburg Masters title.

It continued their excellent run, losing just once in 16 games in 2017, and was probably the most significant result as goals from Shane O'Donoghue, Alan Sothern, Eugene Magee and Sean Murray saw the Green Machine best the 2016 Olympic bronze medalists.

Both sides were much changed from the line-ups that met in Rio last year with Ireland fielding eight players from then. The Germans had eight from Rio in addition to Jan-Philipp Rabente who won gold in 2012 in London along with six from the Rot-Weiss Koln side that won the Euro Hockey League earlier this month, showing this was no scratch outfit.

Nonetheless, Ireland made some strong opening strides with O'Donoghue picking out Stu Loughrey in the second minute on the overlap; his rising shot stung the palm of Tobias Walter.

Lukas Windfeder saw a corner shot saved off the line by Jonathan Bell while Walter saved from both O'Donoghue and John Jackson from a pair of Irish corners in a scoreless first quarter.

The tie came to life in the second with three goals in less than two minutes. Tom Grambusch whipped in a corner for 1-0 and, moments later, Moritz Trompertz robbed possession on the 23-metre line and fired in for Marco Miltkau to tip in.

But Ireland were quickly back int the tie as Matthew Nelson and Neal Glassey worked some space down the right wing, feeding the ball into Jeremy Duncan who peeled off his marker. His shot was goalward bound but Shane O'Donoghue got an important shot to tickle the ball by Walter.

It was level by the break as Sothern was located unmarked and open in front of goal by Murray who did well to snatch the ball back after his first up chance was saved by Walter.

Following a 4-1 win over Spain and a 7-2 success against Austria, a draw would have been enough to win the title but there was no sense of sitting back.

Paul Gleghorne and O'Donoghue combined brilliantly with the latter latching onto a diagonal overhead pass to burst in behind the German defence. With space and time, he made no mistake in picking out Eugene Magee at the far post for a superb go-ahead goal in the 34th minute.



Stu Loughrey puts in a brilliant tackle to nick the ball away from Christopher Ruhr. Pic: Sabine Muller

From there, the hosts piled on the pressure, pinning Ireland back in their own circle for long periods. The pick of the chances fell to Christopher Ruhr with a rising reverse-stick shot that David Harte dealt with well.

In that spell, John McKee picked up a yellow card. During that spell, Germany went for broke in the last ten minutes, swapping their goalkeeper for a kicking back it was, for a time, 11 on eight outfielders.

McKee, though, returned just in time. Straight from the sin-bin, he raced onto a pass down the right wing and he fired the ball across to Sean Murray in the middle of the circle and he poked home on his backhand for 4-2.

There was still plenty of defending to do – something which led to David Harte winning the game's "most entertaining player" award – while Bell saved another drag-flick at the left post.

The result puts Ireland in great shape for their World League semi-final tournament in South Africa. There, they will need a top-five finish from the 10-team competition to qualify for a first World Cup since 1990; the competition starts on July 9.

Hamburg Masters
Ireland 4 (S O'Donoghue, A Sothern, E Magee, S Murray)
Germany 2 (T Grambusch, M Miltkau)

Ireland: D Harte, J Jackson, J Bell, C Cargo, A Sothern, E Magee, S O'Donoghue, J McKee, P Gleghorne, S Loughrey, S Cole
Subs: M Bell, M Nelson, N Glassey, S Murray, J Duncan, L Cole, J Carr

Germany: T Walter, M Muller, L Windfeder, M Trompertz, T Herzbruch, J-P Rabente, T Grambusch, C Ruhr, M Zwicker, B Furk, N Wellen
Subs: J Gomoll, T O Prinz, D-E Linnekogel, M Miltkau, J Meyer, F Weinke, M Appel

Umpires: M Eilmer, M Gabarro



Jonathan Bell saves a Lukas Windfeder shot off the line. Pic: Sabine Muller

The Hook


---

Wales beat Poland 2-1 to seal series sweep

By Beth Fisher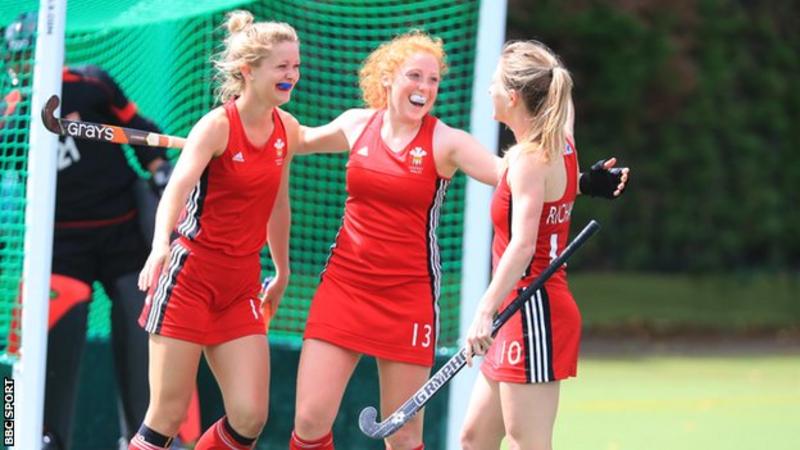 Scorer Danni Jordan with Eloise Laity and Phoebe Richards

Wales wrapped up a series sweep over Poland with a 2-1 victory on Sunday in Cardiff as they prepare for the Euro Hockey Championships.

Danni Jordan put the home side up 2-0 at half time after Sian French opened the scoring with a fine strike. Poland replied through Amelia Kateria.

Wales beat Poland 2-0 on Saturday and 3-0 on Friday.

The series is preparation for the group stages of the Euro Hockey Championships being held in Cardiff from 6-12 August.

"It took us some time to get going in the series but we're delighted to continue the momentum that we've been building for a while now and it's nice that we're putting in consistent performances," head coach Kevin Johnson said.

"I'm pleased this weekend that as the games moved on we became more creative and I think we opened Poland up in a number of areas.

"The atmosphere and everything around it will be completely different but I think the belief that we will gain from these results is obviously key.

"We would much rather be in our camp having the momentum of having three wins against Poland but we are acutely aware that one match in August against them is going to be a different scenario to deal with."

Wales beat Poland 2-0 for a second victory thanks to goals from Eloise Laity and Sophie Clayton.

Captain Abi Welsford and vice captain Leah Wilkinson - a scorer in Friday's 3-0 win - each earned their 135th international cap in that match.

That left Welsford and Wilkinson three caps shy of equalling Anne Ellis' record 138 Wales appearances.

Jo Westwood and Sarah Jones joined Wilkinson in scoring the home goals on Friday.

BBC Sport


---

Over-40s and 45s keep on rolling at Masters Home Nations

On the second day of the women's masters Home Nations at Three Rock Rovers, the Irish Over-40s and Over-45s continued their winning ways, while the Over-50s were held to a draw by England with the Over-55s losing to a strong English team.

The O-40s beat Scotland 1-0 to put them in pole position to retain the title if they can beat Wales on Sunday at 12.15pm. The Irish O-45s also won by a single goal margin beating Wales 2-1.

They too have two wins from two matches with their final match for the title taking place on Sunday afternoon at 3.45pm against England.

Following on from their resounding 6-0 win on Friday v Scotland (match report below), the Irish O-50s faced the 'auld enemy' England at 9am on Saturday morning.

They took an early lead when hot shot Cathy Walsh scored off a Kathy Shaw pass. England pressed hard for an equaliser throughout the remainder of the game and were rewarded with nine minutes left on the clock.

In a nervy end, Sinead Guilfoyle in the Irish goals snuffed out any English threats (match report below). The Ireland O-50s play Wales on Sunday at 1.15pm with a chance of the title.

The Irish O-55s team have had a tough tournament to date, playing against experienced opposition. The recently formed squad lost 1-3 to a well organised Welsh side on Friday (match report below).

On Saturday they faced a very strong English side coming out on the wrong side of a 0-6 score line. Their cause was not helped when the squad was reduced due to injury (report below).

They will regroup for an early start against Scotland on Sunday at 9.30am where they will be seeking a good performance and a win.

Saturday, June 24 results
O-40: Ireland 1 Scotland 0
O-45: Ireland 2 Wales 1
O-50: Ireland 1 England 1
O-55: Ireland 0 England 6

Sunday, June 25 fixtures
O-40: Ireland v Wales,12.15pm
O-45: Ireland v England, 3.45pm
O-50: Ireland v Wales, 1.15pm
O-55: Ireland v Scotland, 9.30am

Friday: Ireland 50s 6 Scotland 0

Ireland got off to a great start in the Home Nations with a 6-0 win against Scotland, however, the scoreline didn't reflect the early pattern of the game.

It was Scotland who started the better of the two teams and for the first 15 minutes they pressed and harried the Ireland defence and midfield and Ireland found it hard to get any decent possession in the opening exchanges.

Scotland failed to take advantage of their opportunities and found themselves one down from Ireland's second corner when a well-worked move was neatly finished by Roly Burke to give Ireland the lead.

Ireland increased their lead in the final minute of the half when a great move out of defence saw Julie Doak drive at the Scotland defence, slip the ball through to Joanne O'Grady who calmly slotted it past the keeper.

Ireland controlled more of the game in the second half and it wasn't long before they effectively put the game beyond Scotland's reach. From their fifth penalty corner of the game captain Linda Jenkinson followed in after a straight strike and converted from a tight angle on the left post in the 44th minute.

Scotland had to force forward to try to get back into the game and this meant more gaps appeared at the back and Ireland took full advantage of the opportunities they created in the remaining quarter.

Goal number four came when Ireland broke down Scotland possession in their own quarter and Julie Shaw pounced on the loose ball and her square pass found Jane Salters who neatly flicked home at the right post.

Ireland's fifth goal followed a quick free by Julie Shaw which was picked up outside the circle by Kathy Shaw who played a neat pass into the circle for Julie Doak to convert a powerful strike off her back foot.

Ireland finished off the scoring and completed a great win when Marian O'Brien's strong run resulted in a shot from Julie Doak but Kathy Shaw was on hand to slot in the rebound.

Saturday: Over-50s 1 England 1

Ireland and England fought out an entertaining 1-1 draw to give both teams the chance of taking the title on Sunday. Ireland started the better of the two teams and took an early lead in the third minute.

Kathy Shaw danced into the circle, took her time and neatly slipped a pass to Cathy Walsh who calmly slotted it past the keeper. Ireland continued to press in the first quarter and protected their back four very well as the midfield worked hard to deny them possession.

The pattern of play changed in quarters two and three as England changed their shape and pressed high making it difficult for the Irish to get the ball into the midfield and forward line.

England created a number of good chances but Sinead Guilfoyle in the Ireland goal was up to the task and make several super saves to keep Ireland in the game. Ireland had a couple of chances late in the third quarter through Julie Doak and Kathy Shaw but the English defence marshalled them well and cleared their lines.

England scored the equaliser with nine minutes to go when they turned over possession, fired a shot across the pitch which was touched in at the far post. The last nine minutes were nervy for Ireland as England pressed forward in search of a winner but Guilfoyle pulled off another couple of fine saves and the scores remained level at full time.

A great team performance by Ireland today with everyone working so hard to ensure Ireland go into tomorrow's game against Wales with the chance of winning the title.

Friday: Over-55s 1 Wales 2

The Irish 55's went 3-1 down to very organised Welsh team in their first game of the Home Countries Tournament. Wales played like a team that have played together for a number of years, Ireland on the other hand have only been together for a few months but show lots of potential.

Wales capitalised on an Irish error early in the first quarter, resulting in a deflection just in front of Roche from their first corner of the game. Their second came from their second corner was deflected this time by a Irish defender which was unfortunate for the Irish keeper.

In the third and fourth quarters Ireland produced their best hockey and their goal when Pat Stewart received the ball on the right of the circle, took it along the back line before turning it back to Captain Dymna Hill who in full stride slotted the ball past the oncoming keeper.

At 2-1 Ireland pressed for an equaliser and were unfortunate with Wales scoring their breakaway third goal.

Saturday: Over-55s 0 England 6

The 2.30pm slot on the show pitch at Three Rock Rovers was the setting for an encounter with 'The Auld Enemy' for the 55s. The 'girls' put body and soul on the line for 55 out of the 70 minutes of hard hockey and kept the score line to 1-0 through the brilliant defensive work of newbie Ursula Harper at sweeper and stalwart Helen Roche in goal.

Coach Gordon Watkins organised his team to frustrate and deny the English forwards and going into the final quarter a penalty corner goal was the only difference in the teams.

With all to play for both teams upped their game and unfortunately for Ireland the English with more in their locker scored three top drawer goals in the 56th, 58th and 61st minutes.

Ireland, after losing Dee Mooney and Pat Stewart to injury, had no more to offer and England now very much on the front foot finished with a further two well taken goals late in the game to give England a flattering 6-0 score line.

The final game of the tournament sees Ireland playing to avoid the wooden spoon v Scotland tomorrow morning at 9.30am.

The Hook


---

RSPB completes hat-trick of titles

Uthra Ganesan



The victorious Railways team on Sunday. Photo Credit: Rajeev Bhatt

For the second year running, Railways Sports Promotion Board (RSPB) was crowned national champion in the shootout, getting past Punjab & Sind Bank (PSB) 3-0 on penalties after the teams were tied 1-1 at the end of regulation time here on Sunday.

The win also marked a hat-trick of titles for the side in the competition, making it one of the most successful domestic teams in recent times.

The performance on field, however, was not up to the mark. Playing below par and missing chances, Railways had the upper hand for long periods but was unable to convert them. It missed three penalty corners, umpteen open goals and lack of support for Affan Yousuf upfront meant all his dodges and passes went waste.

Yuvraj Walmiki ran a solo across the length of the field but could not lift the ball past PSB goalkeeper Guriqbal Singh. Yousuf ran circles around defenders and midfielders to slice past them but found no one upfront to intercept his passes. Nilakanta Sharma kept sending the ball into the circle and kept seeing them pushed wide.

In fact, if not for the brilliant defending of Amit Rohidas, Railways could have been in trouble. Rohidas, who has been impressive all along both in the HIL and national camps, was his usual solid self, attacking to tackle and possess the ball and not allowing the PSB forwards to get through.

PSB, relying more on defensive lapses, finally went ahead through Gaganpreet Singh's penalty corner in the 15th minute after the hooter had gone for the first quarter but Rohidas levelled three minutes after resumption.

Thereafter, however, it was a battle of attrition and with no team willing to concede space, the game had to go into shootout even though Ajmer Singh had the chance to end the game in regulation time but rolled the ball wide seconds from time.

PSB, which got lucky in the shootout against Air India in the quarterfinals, was unable to get any of its first three shots past Railways goalkeeper Jugraj Singh while Sheshe Gowda, Raju Pal and Nilakanta were all on target to seal the title after Walmiki missed the first shot.

In the hardline match, Punjab struggled to get past Chandigarh 2-1 to finish third despite having a large share of possession and chances. Chandigarh as always relied on counters and defence but Punjab was let down by its vastly experienced attack of Sarvanjit Singh, Gurvinder Singh Chandi and Dharamvir Singh, all former India internationals.

The results (final):

RSPB 1 (Amit Rohidas) bt PSB 1 (Gaganpreet Singh) in shootout; Third-fourth place playoff: Punjab 2 (Baljinder Singh, Sarbjit Singh) bt Chandigarh 1 (Damandeep Singh).

The Hindu


---

RSPB clinch National Hockey Championship for 3rd year in row

LUCKNOW: Railway Sports Promotion Board (RSPB) on Sunday beat Punjab and Sind Bank in the shoot-out to retain their crown for the third consecutive year at the Hockey India Senior National Hockey Championship 2017 (Men) 'A' Division.

In the shoot-out RSPB prevailed 3-0 over Punjab and Sind Bank after both the sides were locked 1-1 at the end of regulation time.

In a highly competitive final of the seventh edition of the tournament, both the teams started off cautiously and fought tooth and nail to seize the initiative.

In a tense first quarter, Punjab and Sind Bank struck the first blow when Gaganpreet Singh converted a penalty corner in the 15th minute to give them the lead.

Within moments of the second quarter, Amit Rohidas drew parity for RSPB scoring from penalty corner in the 18th minute.

The teams went into halftime with a 1-1 scoreline.

Despite a marked increase in energy, neither team could find the breakthrough in the third and fourth quarters taking the game into shoot-out.

Punjab and Sind Bank had experience of shoot-out having won one in the quarter-finals.

But in the summit clash, they couldn't hold their nerve missing three consecutive attempts.

Despite missing the first attempt, Raju Pal, Sheshe Gowda and Nilakanta Sharma scored to clinch the victory for the Railwaymen.

In the bronze medal play-off, Hockey Punjab beat Hockey Chandigarh 2-1.

The Times of India


---

Scorpions, Spartans share spoils in premier league tie



Multi Media Linda Nelima(l) and Multi Media Lorraine Muturi fight for the ball when they played National Ladies premier at City Park. ON 24/06/2017 PHOTO: JENIPHER WACHIE

Strathmore University Scorpions yesterday squandered a 2-0 lead to draw 2-2 against United States International University of Africa (USIU-A) Spartans in a Kenya Hockey Union women's league clash at City Park.

Scorpions took an early lead and were seemingly headed for victory in the university derby, but lapse in concentration proved costly as Spartans forced a 2-2 stalemate.

International Elizabeth Ngombo and Denise Odongo scored in the first quarter for Strathmore, who failed to hold on to their valuable lead. Determined to maintain their second spot on the log, Veronica Maua and Rhodah Kuira netted in the second and third quarters to salvage a point for USIU-A.

With the outcome, Spartans remain second on the log with 22 points, five less than league leaders and defending champions Telkom Orange, while Scorpions are third with 20.

Strathmore captain Yvonne Karanja said they were complacent after taking the lead.

The Standard Online


---

Dr Ghulam Rasool and Akhtar Rasool (father and son) — Pakistan hockey legends




Dr Ghulam Rasool was the one of the greatest players of Pakistan hockey. He was truly a legend. He captained his university hockey team and won Inter-University Tournament. Later he was included as a member of the Pakistan national team that participated in the Melbourne Olympics in 1956 and won a silver medal. Two years later, he represented Pakistan in the Asian Games Hockey Tournament in Tokyo and received a gold medal. In the 1960 Rome Olympics, Dr Rasool was part of the Pakistan team that won a gold medal by defeating archrivals India in the finals. In 1962, Dr Rasool was again an important member of the national team that participated in the Asian Games Hockey Tournament held in Jakarta and won a gold medal by defeating India in the finals. In 1963, Dr Rasool became captain of the Pakistan team that took part in a tournament in Lyon, France. After retirement from active hockey, Dr Rasool served the Pakistan Hockey Federation (PHF)as its top official. He also served as the chairman of the national selection committee. Dr Rasool died in 1991. One of his sons, Akhtar Rasool, was also an international hockey player who skippered the Pakistan team in the 1982 World Cup in India and won a gold medal for Pakistan by defeating India in the finals.

An Educationist: Dr Rasool obtained his MSc degree in Agriculture from Faisalabad University with first position in the university. He began his career as a lecturer in Atchison College Lahore, but soon joined Rehabilitation Department where he worked as Deputy Settlement Commissioner. Later, he joined the Kansas University in the United States and completed a PhD within three years, returning to Pakistan to join as Principal of Atchison College Lahore. Later, he was appointed vice chancellor if Faisalabad University for three years. Thereafter he joined the Punjab Agriculture Development Corporation as a managing director. He finally retired as secretary of the Agriculture Department in Punjab. Dr Rasool was also the honorary secretary of Pakistan Association of Science and was the first Asian ever to receive the International Alumni Medallion Award from Kansas State University, the highest honour on him for life achievement.

He was recipient of a number of distinctions and gold medals and was conferred the 'Pride of Performance Award' title by the President of Pakistan in 1963.

Akhtar Rasool: Like his father Dr Ghulam Rasool, Akhtar was noted for his clean style play and spectacular performance and as such was included in the Pakistan team in 1971. He was a player of relaxed approach but extreme courage, control and poise were hallmarks of his excellence in a highly demanding position at center-half. From 1971 till 1982, Akhtar played numerous national and international matches, displaying his superior skills in hockey. He had an exceptional technique and a knack of passing the ball to the right player at the right time. In the latter part of his hockey career, Akhtar made a great mark for himself. He played a crucial role in Pakistan's victories in 1978 and 1982 Hockey World Cups. In 1982, Akhtar captained the Pakistan team for the World Cup held in Bombay and won a gold medal for Pakistan by defeating India in the finals. After World Cup in Bombay, Akhtar retired in a blaze of glory. By then, he had the singular distinction of being the only player to have played in four World Cups. Akhtar also played in the 1972 Summer Olympics held in Munich and 1976 Summer Olympics held in Montreal and won silver and bronze medals in 1972 and 1976, respectively.

He was also awarded highest civil award Pride of Performance by Pakistan Government. Akhtar was also elected as a member of Punjab Provincial Assembly five times and served as a Provincial Minister three times. Akhtar served as the president of the Pakistan Hockey Federation and the chairman of the national selection committee in the year 2002 and that time too his focus was the development of Pakistan hockey. He ensured that the players were helped in each possible way to maintain their consistency.

The Daily Times


---

Richardson-Walsh becomes EH Member Of Honour



Kate Richardson-Walsh becomes an England Hockey Member Of Honour

England Hockey Patron Her Royal Highness the Countess of Wessex today presented the England Hockey Member of Honour award to Kate Richardson-Walsh OBE.

This award is the highest accolade that can be bestowed by the Governing Body and is made in recognition of outstanding contribution to England Hockey. Including Kate there are only six existing Members of Honour.

As the most capped and most decorated women's player in the history of England and Great Britain Hockey, Kate will forever be remembered for her achievements in our sport.

As captain of England and Great Britain for over 13 years, in 2012 she led Great Britain to a bronze medal despite a broken jaw, then won European gold in London in 2015, followed by the most amazing moment in women's sport in 2016, when almost 10 million people saw her team win gold in Rio.

In total she played 375 times for England and GB, winning 19 major medals and scoring 49 goals.

Her CV speaks for itself, and it is only right that she is recognised in this manner.

England Hockey Board Media release