All the news for Thursday 23 March 2017

Marcano gives Calypso Stickmen 2nd warm-up win

Nigel Simon



T&T senior men's hockey team players Tariq Marcano, from left, Dylan Francis, Stefan Mouttet, Daniel Byer, Mickell Pierre and Jordan Reynos celebrate a goal against Barbados during a warm-up encounter at the National Hockey Centre, Tacarigua, on Monday night for the FIH World Hockey League Round Two qualifying competition which flicks at the same venue on Saturday. T&T won 3-0. PHOTO: ANTHONY HARRIS

England-base Tariq Marcano scored in the first quarter as T&T senior men's hockey squad continued their build-up towards Saturday's opening of the eight-team International Hockey Federation's (FIH) Hockey World League Round Two qualifiers with a 1-0 win over pool rivals Chile.

Playing at the N​England-base Tariq Marcano scored in the first quarter as T&T senior men's hockey squad continued their build-up towards Saturday's opening of the eight-team International Hockey Federation's (FIH) Hockey World League Round Two qualifiers with a 1-0 win over pool rivals Chile.ational Hockey Centre, Tacarigua on Tuesday night, Marcano, one of two overseas players in the Glen "Fido" Francis-coached T&T squad got the decisive item as early as the fourth minute while he also missed a penalty-stroke with five minutes left on the clock.

Despite the late miss, Marcano's early item was enough to give the tournament host a second win on the trot after blanking Caribbean neighbours, Barbados 3-0 on Monday night with strikes from rookie, Dylan Francis, Stefan Mouttet (penalty corner), and Mickell Pierre.

Speaking after his team's second win and clean-sheet as well, Francis, a former national goalkeeper said he was delighted that his team had picked up a winning mentality from the warm-up matches.

"It's not the real competition, but we are happy to see the guys working hard and these wins will serve as confidence boosters for the team."

With these matches being the team's first since facing Barbados last November/December, Francis said it was also great to see the team switch on to competitive mode quickly.

"We have been training a while now without any real opposition, so to actually have a chance at facing international opponents and getting to implement what you have been working on in training, is also a welcome for us."

In addition to Marcano, who plies his trade with English club St Albans, Kwandwane Browne, the player/coach at English Premier Hockey League club Halmstead & Westminster is the other overseas player in the team.

Browne will be making his national team return, his first appearance since a torn Achilles tendon on his left foot in 2015 prior to the Pan American Games in Canada while his last competitive outing for national team was the FIH World League Round Two qualifiers in California in 2014 and Francis said it was a delight to have them both back.

"They have both played in the two warm-up matches but you can still see they are a bit still jetlagged but the same time, they add a lot of quality to the group and gives the players much more confidence," said Francis.

Today, from 10.15 am, the 33rd ranked T&T men's team captained by Queen's Park Darren Cowie, will come up against USA in a its final warm-up match ahead of Saturday's opening clash with world 22nd ranked Russia from 8 pm in Pool B.

Looking ahead to the clash with the Americans, Francis said he will continue to give as much playing time to all his players.

"We will continue with our same policy and try and use as much of the players as we can as we are looking at how they respond to certain situations in different playing positions on the field but the same time we will not be trying to give away our match tactics for the tournament."

Other warm up matches carded for today are Barbados versus Russia from 11.30 am Japan against Chile at 4.30 pm.

For T&T, hosting the event is a big deal as the team has ambitions to move up the rankings and make their mark on the international hockey scene. A third place finish at the 2013 Pan American Cup, a first-ever win at the 2014 Commonwealth Games (a 4-2 win over higher-ranked Malaysia) and a top of the table finish in Round One of the 2015 HWL season, all serve to demonstrate that this is a team who knows how to win.

However, the team that went from that victorious Round One win in 2015 was well out of its depth in Round Two and ended the tournament in bottom place with no wins.

Legendary player and coach and T&T's most capped player, Browne, says the team was just too inexperienced that time around.

"We had nine Under-21 players and the physicality of the tournament was too much for them. It's the fourth quarter where we were always really punished."

Experience will not be such an issue this time around, with Browne (302 caps), captain Darren Cowie (128), Mickell Pierre (119) and goalkeeper Andrey Rocke (117) are all in the current squad which will be trimmed to a final 18-man squad for the tournament.

The Trinidad Guardian


---

Canadian women open home test series with 3-1 win over Chile

Shaheed Devji



Canada's women celebrate a goal in their 3-1 victory over Chile on March 22, 2017 at Rutledge Field in West Vancouver, BC (By Blair Shier)

Canada's women's field hockey team showed it is ready for next week's Gryphon Hockey World League Round 2 by winning the first of three pre-tournament test matches 3-1 over Chile Wednesday in West Vancouver.

The pre-World League 2 test series is being played at Rutledge Field, the same venue as World League Round 2 from April 1-9, and Canada's women felt right at home right out of the gates.

"We were really excited, a little bit nervous I think going to play on home soil, but it was really exciting," says defender Danielle Hennig, who had one goal in the game. "We came out hard and I think moved the ball really well. Chile played pretty well in the second half and put us under a bit more pressure but we managed really well and we're happy with the foundation that we laid."

Getting their legs under them on home turf ahead of World League Round 2 is important for a Canadian team which features a large contingent of athletes from the Vancouver area who have not played an international competition in British Columbia.

But while getting comfortable with the home environment is important, the three test matches this week are equally as important when it comes to on-field results, as reaching peak performance prior to next week is the priority.

"It was a good start," says Women's National Team Head Coach Ian Rutledge. "The performance was solid and the result was good, so I think it was encouraging on both parts. Definitely things to be better at, but definitely a lot of positives to take away from it."

Canada started quick on Wednesday, as Hannah Haughn fired a backhand from the top of the Chilean circle but was turned away in the fifth minute.

Shortly after the chance, Canada picked up a penalty corner on which defender Karli Johansen – who hails from nearby North Vancouver, was stopped, but captain Kate Wright (Gillis) knocked in the rebound to give the Canadian women the 1-0 lead.

Despite a Chilean shot on goal in the 13th minute, which goalkeeper Kaitlyn Williams turned away, Canada controlled the play throughout the first half.

The momentum led to a string of corners starting in the 20th minute and finishing off on the half-time buzzer with Stephanie Norlander, another North Vancouver native, re-directing a Johansen flick by the Chilean keeper for the 2-0 lead at half-time.

Hennig's goal late in the third quarter on a hard drag-flick gave the Canadians a 3-0 lead before Chile got one back on only its second shot of the game late in the game.

Canada and Chile play again on Friday at 4:45pm at Rutledge Field in West Vancouver, BC. The game is open to the public and free to watch.

Field Hockey Canada media release


---

Pakistan takes series lead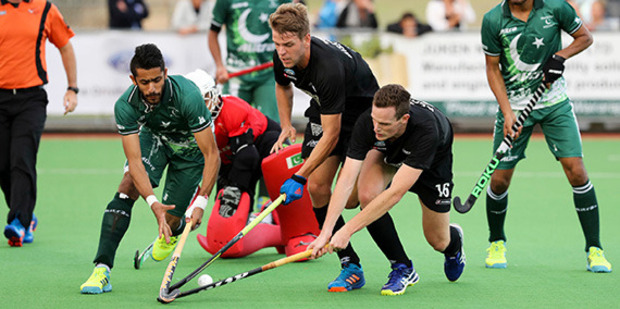 New Zealand's Harry Miskimmin and Jonty Keaney challenge for the ball in front of goal. Photo / Photosport

Pakistan captain Abdul Haseem Khan led from the front with a first half double as the Vantage Black Sticks Men went down 2-1 in front of a vocal crowd at the Trust House Hockey Wairarapa complex.

Head coach Darren Smith said despite the loss, there were some good passages where we his young side was able to dictate parts of the game.

"It was a mixed game with an element of softness in the two goals we gave away which were not particularly well earnt from Pakistan, and that's frustrating when you see those ones go in," he said.

"We just weren't able to create enough chances in front of goal, and it'll be interesting to see the stats but I'd be surprised if it was more than 10 which is not where we want to be."

Pakistan started the brighter of the teams with Haseem Khan striking an early lead after 10 minutes before Jonty Keaney drew the Kiwis level with his first international goal in just his third test.

The Black Sticks exploded to life with a goal one minute into the second quarter, after Keaney finished off a strong attack following a lung busting run from Harry Miskimmin leading to the well taken goal in a scrap at the Pakistan goal mouth.

However, Pakistan reclaimed the lead seven minutes later with a second goal from Haseem Khan, taking a 2-1 lead into halftime.

The Black Sticks had their chances to equalise but couldn't find the finishing touch.

Their closest chances were in the third quarter, after a sprawling dive from Stephen Jenness saw the ball rolling just past the outside post with the Pakistani keeper left stranded.

New Zealand almost scored again just seconds before the end of the third quarter but a great save from Pakistan keeper Mazhar Abbas tipped a rocket of a shot over the bar.

Despite some late pressure and the crowd cheering the hosts on, a goalless second half ensured the score remained 2-1 at fulltime.

Pakistan now lead the five test series 2-1, giving the Vantage Black Sticks one last chance to level the series in the final test at 6:30pm tomorrow night at Trust House Hockey Wairarapa complex in Clareville.

The New Zealand Herald


---

Captain Haseem's brace: Pakistan beat NZ 2-1 in fourth hockey Test



PHOTO COURTESY: @PhotosportNZ

Pakistan beat New Zealand 2-1 on Wednesday in the fourth of the five-match hockey Test series in Wairarapa.

Pakistan opened the scoring with a goal from captain Abdul Haseem Khan in the 10 minute of the first quarter.

Abubakr Mahmood's hat-trick helps Pakistan beat New Zealand 4-2

New Zealand came back strong courtesy Jonty Keaney's goal in the first minute of the second quarter.

However, captain Haseem was once again on target with just seven minutes remaining before half-time (end of second quarter).

The next two quarters went goalless as Pakistan defended their lead against the hosts. With the victory, Pakistan have taken a significant 2-1 lead in the five-match Test series.

PSL final gives hope to hockey federation

Earlier, on Tuesday, Pakistan levelled the series 1-1 with a 4-2 win against the Black Sticks courtesy a hat-trick by Abubakr Mahmood.

New Zealand won the first match of the series while the second match had ended in a draw.

The last match of the Test series will be played on Thursday, March 23 at Trust House Hockey Wairarapa, Clareville.

The Express Tribune


---

Haseem's brace gives Pakistan 2-1 lead in NZ series




CARTERTON (New Zealand): Leading from the front, Pakistan captain Haseem Khan scored a brace to steer his team to an impressive 2-1 victory in the fourth test against New Zealand here on Wednesday.

With this win, Haseem's men took a 2-1 lead in the five-match series. The last match will be held at the same venue on Thursday.

New Zealand won the series opener 3-2. It was followed by a 2-2 draw in the second game. Pakistan in the third match rebounded with a fine 4-2 win.

After the first three tests in Wellington, the two sides moved to Carterton, Wairarapa for the last two matches.
Advertisement

Pakistan owed their success to Haseem who exhibited superb hockey in the role of mentor for a team which has majority of young players.

The hosts began aggressively but Pakistan soon wrested the initiative and applied pressure. They were ahead after 10 minutes.

Haseem beautifully slipped through a congested defence before flicking the ball in with a nice flick. One minute into the second quarter, it was 1-1. A wonderful run from Harry Miskimmin was put into the goal by Jonty Keane.

With seven minutes to go before half time, the green-shirts reclaimed lead, again through Haseem who showed good opportunism as Pakistan finished halftime 2-1 ahead.

Third quarter saw the momentum swinging to and fro but the score board didn't change.

With crowd loudly cheering them, New Zealand went all out for the equaliser in the last 15 minutes. The Pakistanis resolutely defended to keep the lead intact when the final hooter sounded.

Interestingly, there was no penalty corner goal on Wednesday. The two sides had scored 10 goals off the set piece in the first three tests.

The last test is being billed as a match of nerves as 8th-ranked New Zealand will be under immense pressure to win the game to share the series with the 14th-ranked Pakistan.

Dawn


---

Anita McLaren - I haven't retired

By Dale Budge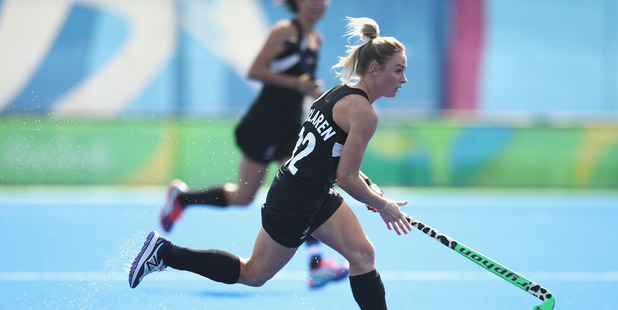 Anita McLaren runs with the ball during Rio 2016 Olympic Games. Photo / Getty Images

It's not quite at the Mark Twain "the reports of my death are greatly exaggerated" level but former Black Sticks skipper Anita McLaren is reassuring fans she hasn't retired.

McLaren, nee Punt, took an indefinite break from the sport after the Rio Olympics to re-charge herself mentally and physically but is promising to return at some point.

"I have not retired even though everyone seems to keep telling me I have," McLaren tells herald.co.nz. "I would love to be back playing hockey but I need to give back to my work - by having this time off I will be fresher and more mentally in it.

"I've [always been] hungry for it - it is the training side and the travel. This body is getting a little bit old and it doesn't like getting out of a car after sitting there for two hours and trying to run around chasing after some 20-year-olds.

"I'm not done. I haven't retired."

McLaren has put all her energy into work this year as she tries to make up for time she took off leading into and for the Rio Games.

"It has been a long time. I held my hockey stick for the first time the other day and she had a few cobwebs that's for sure," the 29-year-old said.

"I have been trying to relax. I had a lot of time off work for my Rio preparation so I have been pretty much just been working. I am trying to get ahead for when I decide to return to the group and need more time off.

"My focus is on next year and I will need a lot of time off so I am trying to do as much as I can work-wise to get myself ahead and build up some credit so when it comes to next year I can get that time off then.

"I am definitely missing being around the team. The competing side I love - I love playing for New Zealand - and I am very much missing that."

For players like McLaren, who have been in the national side for two Olympic cycles, the demands get harder and harder to maintain as other areas of life become more important.

"We are semi-professional but we act like we are professional athletes. It is six days a week and some days it is double training. I live in South Auckland and work in South Auckland so I have to head over to the gym on the Shore and I need to be there before 6am because I need to leave at 7am so I can get back through an hour and a half of traffic for work. Then you work your day and head back over to the Shore for training. Then I run around for two hours and then head back home. That is a very big hole for my body and also mentally.

"You are not doing it for the money side you are doing it for the passion and representing your country is such a huge honour and something that keeps me going for it even though it isn't making me a millionaire."

A return to club hockey will be the first steps McLaren takes along a path to returning to the Black Sticks environment. She will sit out next week's Hawke's Bay Cup but hasn't made a decision on whether she will make herself available for the World League Semifinal in Brussels in June.

"I'm not ruling anything out at this stage.

"I still have to make that decision and first of all I need to get back into playing some hockey so I will be playing for the mighty Howick club and we will just go from there.

"I can't just walk back into the team - I have to prove that I am good enough. I will get put through all my paces and be checked to make sure I am up there to be able to get back in the squad let alone the team to go to world league 3."

The New Zealand Herald


---

Women's team to embark on Euro tour of Holland and Germany

by S. Ramaguru




KUALA LUMPUR: Malaysian women's team will go on a 22-day tour of Europe as part of their preparations for the World Hockey League Semi-Finals.

The team are expected to play at least 14 matches during the tour to Germany and Holland.

National coach K. Dharmaraj expects his players to benefit from the quality of matches being arranged for them.

"There is minimum travelling involved ... so, this will allow the players to get plenty of rest and play without any distractions.

"Three matches will be against the German Under-21 side and one against the Dutch Under-21 team. The rest of the games will be against top clubs in both the countries," he said.

The 22-player national women's team will leave for Cologne, Germany, on April 8. They will return home on April 29 for the final phase of training.

The World Hockey League Semi-Finals will be held at two venues – Brussels, Belgium from June 21-July 2 and Johannesburg, South Africa, from July 8-22. Malaysia are still unsure where they will play.

The International Hockey Fede­ration (FIH) will only announce the teams and venues in early April after the completion of all Round Two tournaments.

The last of the Round Two tournament (men) will be held in Trinidad and Tobago from March 25-April 2.

Dharmaraj, though, has one major concern – regular midfielder Fadzila Sylvester Silin is down with a knee injury.

She has been out of action for three weeks and is racing against time to be ready for the tour.

"She has just started light training ... we hope she can make the tour as she is an important member of our team," he said.

The Star of Malaysia


---

Stanzl looking forward for "really special" EHL hosting in Eindhoven




Benjamin Stanzl is looking forward to another "really special" experience in the Euro Hockey League as he looks forward to linking up again with HC Oranje Rood after a couple of months on the road.

Stanzl has played just once with the Eindhoven club in 2017 following his stint with the Delhi Waveriders in the Hockey India League before lining out for Austria last week in Stormont.

But he is back with Oranje Rood four the closing few weeks preparation for the big event at his home club. He previously won the title in Eindhoven with Harvestehuder before reaching the KO8 last season with Oranje Zwart.

And now he hopes to make new memories in the competition he has a particular affinity for.

"It's a really special event, especailly playing in Holland with the crowd. It means so much as a hockey player because you don't play games like this every day," he told the EHL website.

"You don't think about being tired or anything like that because one event follows after the next. Having the EHL at our club will be amazing and something we are really looking forward to."

His side play AH&BC Amsterdam in a potential classic, a repeat of last year's Dutch championship final.

"We are a new club and so everyone is looking forward to this event. The crowd will be amazing and it is such a good game, us against Amsterdam.

"The final last season was pretty tight but we won out in the end. There is definitely some fight in the game. I'm curious to see how it pans out and it will be a really nice game for the public."

Stanzl was speaking following his side's fifth place finish at World League Round 2. He admitted it was a frustrating performance, citing a low-key preparation as focus on indoor and a lack of funds for more training camps as issues.

Nonetheless, he was one of the nominees for the player of the tournament title – which eventually went to Scotland's Alan Forsyth – as he started off as a sweeper before terrorising defences in a more attacking role in the knock-out games.

And Austria coach Cedric d'Souza said that using Stanzl in the best way was a key tactic if the side were to shine.

"Benny had played with me in the Hockey India League. I knew what his level of performance was so I tried to use him in the best way that was required which was part of our plan."

Their 2018 World Cup hopes are over but Stanzl is still keen to push for silverware this season with the EHL high on the agenda.

Euro Hockey League media release


---

Bell says Irish performance can underpin EHL performance




Lisnagarvey's Jonny Bell says that the performance of Ireland's young stars at the Hockey World League Round 2 in Belfast last week will serve them well for the Euro Hockey League.

Five players from Garvey and four from Banbridge were involved in the Green Machine's victory at the tournament which saw them advance to this summer's World League semi-finals.

Bell captained the Irish side in Belfast, saying it was something enjoyed hugely.

"The guys aren't difficult to lead because they are all self-motivated and self-driven guys," he said about the captaincy. "It's just about creating an environment and a culture for the young guys to thrive."

Ireland had only eight of their Olympic side available to them and so used a wealth of young players taking on their first ranking tournament. Bell said that even though it was a new look side, they were always confident of progressing through the tournament.

"Ireland are ranked 10th in the world now and that brings expectation. You may have younger players coming in but you are playing for the Irish men's team which brings a level of performance and we got that. Regardless of the age group, you expect a performance from an Irish senior men's team and that's what we got from them."

For Bell and Garvey, they are facing into an EHL KO16 game against Atletic Terrassa in Eindhoven in a couple of weeks along with Matthew Nelson, Neal Glassey, Paul Gleghorne and Sean Murray.

Banbridge were represented in Stormont by Matthew Bell, Eugene Magee, Jamie Wright and young player of the tournament Jonny McKee who will meet Racing Club de France in the KO16.

Bell added: "The EHL is a fantastic tournament to play in and the experience our guys – and those from Banbridge – got from playing in this and it will stand them in good stead for the EHL.

"It's fantastic having two Irish teams in the KO16; it's really putting Irish hockey on the map on the club front as well as the international front."

Euro Hockey League media release


---

University teams crowned BUCS Champions



University of Birmingham BUCS

University of Bath hosted the English BUCS Sport Trophy and Championship finals as part of Big BUCS Wednesday finales.

The Trophy finals kick started the day with University of Exeter women beating Oxford Brookes University 2-1. This was followed by University of Exeter men beating Cardiff University 3-0.

In the BUCS Championship final for women saw Loughbourgh University take on rivals University of Birmingham, both sides featured an array of Great Britain junior and senior players. Olympian Lily Owsley gave University of Birmingham the lead early on the first half with a reverse strike beating the keeper to give them the lead. Both sides pushed each other but University of Birmingham managed to hold on and secure that win to be crowned Champions.

Captain Lucie Daman said; 'It is pretty great to captain such a great group of people and it is awesome to have won. We made it hard on ourselves on the day but it worked out in the end and it feels great to lift the trophy.'

Next was the men's final and the crowds piled in for old enemies University of Nottingham vs University of Loughborough seeing a 400 plus crowd ready for the battle to unfold in front of them.

Loughborough were first on the score sheet with Captain Robbie Shepherdson dancing round the defence to lift the ball over the keeper to give the purple outfitters the lead. University of Nottingham pulled one back by Harry Norris converting the rebound from a penalty corner making it 1-1. It was end to end with both sides unable to put the final finish on the ball to break deadlock but it was Luke Cornish who slotted home what was to be the winner for Loughborough, final score being 2-1.

Captain Robbie Shepherson said; 'It is always strange playing in this sort of atmosphere as you don't normally get that, it is just something else with the noise of the fans. Big BUCS Wednesday is just brilliant. I thought we played really well; it is always difficult to play in a final.  We defended with our hearts in the end and the boys were so brave with their tackles.'



Loughborough University BUCS

England Hockey Board Media release


---

Surbiton inspired by Dutch super clubs



Surbiton men

Premier hockey club, Surbiton have been inspired by the Dutch super club social parties and looking to host an end of season bash this Sunday.

Dave Beckett, player and sponsorship manager at Surbiton hockey club said "I think it is a great opportunity for members of the hockey family to come together to not only watch two of the top sides in the country battle it out, but is a chance for people in our hockey community to come together."

"What we are trying to do is mirror what the clubs do out in Holland. From what we have seen they have parties at a specific club each Sunday which is open to all hockey players. With the national league coming to a close on the 26th of March we thought it would be a good to have as many of the hockey family celebrate the end of another exciting season. We will have live music and food and drink on sale from the bar.

The gates will open from 12:00 with the Surbiton men v Wimbledon at 14:00, following the game there will be live music in the bar which will close at 22:00.

"Hockey events are few and far between in comparison to Football or Rugby. With the Dutch idea in mind we thought what better way to get as many of the hockey family in one place at one time. It is always enjoyable socialising at these large domestic hockey events and this is something that we thought we would try to recreate."

Please note any child that brings a copy of the flyer with their name and contact details on the back they will be entered in the prize draw, this will be drawn at the end of the match.

For more information about the event please see their social channels or website below!
Website

England Hockey Board Media release


---

Negri score big win to book spot in second round



Close and personal: Penang's Putera Ahmad Shahmie trying to steal the ball from Negri Sembilan's Raja Amirul Aiman (centre) in the MHC-Milo Under-16 match yesterday. — RICKY LAI/The Star

KUALA LUMPUR: Negri Sembilan did what they had to do in their final Group A match – beat Penang 5-1 – to pip Johor to a place in the boys' second round on goal difference in the MHC-Milo Under-16 Hockey Championships.

Penang needed only a draw while Negri had to win big.

Mohd Noor Syahmi Noor Azmi opened the scoring in the 10th minute for Negri before Luthfi Hasnizan (19th, 40th) and Mohd Iqhmal Rahmat (37th, 47th) added a brace each.

Penang got their consolation goal through Mohd Zarif Abdul Razak (51st).

With the win, Negri found themselves tied on seven points with Johor and Kedah.

Although Johor beat Kedah 3-1, Negri joined Group A leaders Terengganu in the second round with a better goal difference.

In the other Group A match, goals by Mohd Faris Ros Fadilah (19th), Alfarico Lance Liau Jr (25th) and Mohd Ikhmal Hakim Mohd Rodzi (50th) sealed victory for Johor, although Kedah reduced the deficit through Sheikh Ahmad Azhari (35th).

In the girls' category, defending champions Selangor made the second round when east coast side Kelantan failed to beat Sabah in their final Group A match.

Kelantan needed a big win to pip Selangor, but lost 5-1 to Sabah.

Thus, Sabah joined Selangor in the second round.

The Star of Malaysia


---

Nakuru High hit Nanyuki to make last four

By Ben Ahenda



Nakuru High Kevin Kasyoka(blue)in action against Nanyuki High during the ongoing Rift Valley school games in Nakuru high school on March 22,2017.PHOTO:MOSES KIPSANG

Nakuru defeated Nanyuki High in boys' hockey to qualify for the semifinals of Rift Valley Term One secondary school games yesterday at Nakuru High.

Kevin Kasyoka scored the all-important goal in the 6th minute.

Earlier, Tambach defeated national champions Narok Boys 2-0 in another quarter-final match. In the other quarter-final matches, Boito of Bomet were to face off with Kapenguria Boys of West Pokot, while former champions St Anthony of Trans Nzoia were to play Laboret of Nandi.

In girls' hockey, defending champions Kapkolei of Nandi topped Pool A with four points after two rounds of matches. They defeated St Teresa Tartar of West Pokot 2-0 in their last match. They drew 1-1 against Hill School of Eldoret in the other match.

Kapkolei were scheduled to meet Entarara of Kajiado, while St Joseph's of Trans Nzoia were to play Hill School. Mulot of Bomet were to face Kapkenda of Nandi and Njoro Girls of Nakuru County play Ole Tipis of Nakuru in the last quarter-final match.

In rugby Sevens, Cheweyot of West Pokot qualified for the semifinals after dismissing Mulot 25-0, while defending champions Moi Sirgoi of Nandi were to play Utumishi Academy of Nakuru.

On their way to the quarterfinals, Cheweyot defeated Nanyuki High 43-0, while Moi Sirgoi defeated Mulot of Bomet 32-0. In another match, Utumishi Academy drew 8-8 against Cheweyot.

In boys' basketball, Laiser Hill Academy of Kajiado qualified for the quarterfinals with maximum points after three rounds of matches.

In their last match, they defeated St Joseph's 90-34. They beat Kapenguria Boys 54-28 and won 77-36 against Uasin Gishu High in their other match.

"It has not been easy for us especially the match against Kapenguria, but we are determined to win the title and take part in the national championships," said Laiser Hill coach Anthony Kirimi.

In girls' basketball, St Brigid of Trans Nzoia defeated St Mary's of Narok 106-4 to book a ticket to the semifinals.

St Brigid topped Pool C with maximum points from two matches after defeating Sing'ore Girls of Elgeyo Marakwet 69-15 and won 72-18 against Cheptil of Nandi.

On their part, St Marys' qualified for the quarterfinals after finishing second in Pool A. They have three points from two rounds of matches.

The Standard Online


---

Crawford ready for hockey spectacle

Defending champions Ashton International College will be keen to reclaim the title for the fourth time in the seven years' history of this tournament.



Looking forward to the upcoming SPAR KZN School Girls' Hockey Challenge are Crawford College La Lucia's captain, Tanika 'TK' Schram and vice-captain Lisa Lister-James. CCLL will be hosting seven teams on their turf for the Durban North Regional on Saturday 25 March. PHOTO: Sophie Thompson

SEVEN teams will be taking to the turf to participate in the Durban North Regional of the South African SPAR KZN School Girls' Hockey Challenge on Saturday 25 March at Crawford La Lucia. It will be an early start to the regional, with the round robin games getting underway just after 7am. Teams will be playing in one direction in short 18 minute burst games with the two top teams battling it out at the end of the day in the regional final. Defending champions Ashton International College will be keen to reclaim the title for the fourth time in the seven years' history of this tournament.

Challenging them will be host school, Crawford College La Lucia together with Crawford College North Coast, Danville Park Girls' High School, Our Lady Fatima DCS and Reddam House Umhlanga.

Previous winner, Danville Park (2012 and 2014) would like to have their name engraved on the trophy for a third time. And if Fatima's feisty spirit is anything to go by, they too would love to lift the trophy for the second time, having taken the regional title in the inaugural tournament in 2011.

Tournament Director, Les Galloway said, "We are in for an exciting day of hockey at this regional. I have chatted to a number of the coaches and it appears that after a fantastic indoor season, the schools are raring to go with a number of teams eyeing out the regional trophy."

At the conclusion of the 22 games, the Durban North Regional will reveal the fifth team who will go through to the Grand Finals that takes place at St Mary's in July.

Four teams have already secured their berth at the tournament, Ferrum High School (Northern KZN); St John's DSG (PMB Central); St Anne's College (PMB North) and Amanzimtoti High School (DBN South).

North Glen News


---

Vale Alan Berry

Holly MacNeil




It is with great sadness that we announce the passing of Alan J Berry on Wednesday 22 March 2017. Alan was a long standing leader in the Victorian and Australian hockey community and a Life Member of Hockey Australia, Hockey Victoria and the Essendon Hockey Club.

Alan represented Victoria as a player on numerous occasions, and was President of the VHA and AHA. Alan participated in three Olympic Games as the manager of the Australian Men's Team.

At a club level, Alan played in Essendon's A Grade Premierships in 1952 and 1955, and was captain coach in Premiership years from 1960 - 1965, he also played in the 1968 winning team.  Alan was Chairman of the Essendon Hockey Club from 1970 to 1980 and was made a Life Member in 1990.

Alan was highly regarded and admired as a player, a leader, a mentor, a coach and an administrator by his team mates and opposition alike.

Hockey Australia Board & Staff wish to express our gratitude for Alan's contribution to hockey and his leadership in growing hockey as a sport in both Victoria and around the country. 

Alan was pre-deceased by his wife of many years Betty. On behalf of the entire hockey community, our sincere condolences are offered to Ian, Sue, Stephen and their families.

Hockey Australia media release