All the news for Wednesday 22 March 2017

Pakistan defence resolute as Black Sticks slide to defeat

JACK BARLOW



New Zealand's Harry Miskimmin and Jonty Keaney battle for the ball in front of goal. PHOTOSPORT

They had their chances, but the Black Sticks couldn't convert as they went down 2-1 to Pakistan on Wednesday evening at Carterton, in the Wairarapa.

Going into the hockey test with the series drawn 1-1, it was a tightly fought contest.

The Black Sticks created more pressure, but Pakistan's defence proved more than equal to the task.



New Zealand's Jonty Keaney celebrates his goal against Pakistan, which briefly evens the score. PHOTOSPORT

New Zealand attacked from the start, but Pakistan soon had the ball and they spent the opening minutes putting the New Zealand defence on the back foot.

After ten minutes it paid off, with a lovely little flick from Pakistani captain Abdul Haseem Khan cutting its way through the pack to make it 1-0.

A minute and a half into the second quarter New Zealand struck back, with Jonty Keaney thrusting a scrappy ball through Pakistan's defence to equalise the scores.

The parity didn't last long. With seven minutes left Haseem Khan struck again, flicking one through to edge Pakistan into the lead once more. They went into the half 2-1 up.

The Black Sticks began the second half with a head of steam, a great steal from MacKenzie Wilcox near the Pakistan box nearly leading to a goal.

However, momentum shifted back to Pakistan, and it was once again New Zealand's turn to feel the pressure.
Ad Feedback

Two penalty shots from Pakistan were quickly batted away, but the strain was showing.

New Zealand were also guilty of some sloppy passes at important times.

Knowing they needed to score, the Black Sticks came out firing in the final quarter, which was almost completely contested outside the Pakistan goal.

It wasn't enough. The second half ended up goalless as the Black Sticks lost the series lead.

New Zealand coach Darren Smith was philosophical in defeat, but admitted his team probably hadn't made the most of their possession.

"There's some real talent in there," he said. "We were able to dictate much of the game, but it was also mixed with an element of softness. The two goals weren't particularly well earned by Pakistan."

"We weren't able to create enough chances."

There's one more chance for New Zealand to equalise, with Thursday's series finale at the same ground.

Stuff


---

Pakistan series throwing up new names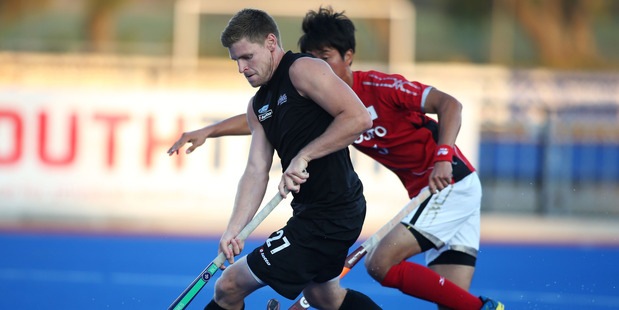 Stephen Jenness playing against Japan. Photo / Getty Images

The Men's Black Sticks first series of the year is unearthing some names for the future.

20-year-old striker Mac Wilcox is one of four debutants in the current squad and scored a goal in his debut against Pakistan on the weekend.

Senior Black Sticks striker Stephen Jenness says Wilcox is a hard worker who doesn't stop running.

Jenness says it's an inexperienced striking group currently so he's taken on a leadership role where he's worked towards playing off their strengths.

The Black Sticks will meet Pakistan in tonight's fourth test in Carterton.

Centre pass is at 6:30pm.

Radio Sport


---

Experience counts as teams finalise preparations

FIH World League R2 - Tacarigua - March 25 to April 2

Sarah Juggins



Sukhi Panesar (Canada) - 2016 Olympic Games in Rio. (Photo: Yan Huckendubler)

With just a few days to go until the final men's event of this season's Hockey World League (HWL) R2 bursts into action, we take one last look at the prospects of the competing teams and hear from some of the coaches and athletes.

As things stand, Malaysia, China, Ireland and France have booked their places at HWL R3, which takes place across two venues – London and Johannesburg – in June and July this year. They will be joined by the top two placed teams from Tacarigua, plus the two highest ranked third place finishers from across the three Round Two events. Not only will these teams play for HWL glory and important world ranking points, but a top three finish at Round 3 means a team can qualify for the 2018 World Cup. So make no mistake, this event is very important.

All the PAHF teams participating in Tacarigua have been pulling out all the stops to ensure they are ready for this event and none more so than the lowest ranked team going into the competition, Barbados.

Ranked 49th in the world, Barbados are ranked 16 points lower than their nearest rivals, PAHF neighbours and host nation Trinidad and Tobago (WR: 33).

Assistant coach Dave Cox spoke about his team's strong sense of belief going into the event. "This will be a great chance for us to measure ourselves against good competition. We believe in ourselves and think we will surprise some people."

"Of course, we are accustomed to playing games in the Pan Am region so, for us the new challenge will be new playing teams like Russia, Switzerland and Japan. They play a different style of hockey and that is something we must quickly learn to deal with."

Preparations for the event have been as thorough as a nation with limited hockey resources can be. Cox is confident that his team's speed and fitness will be among the best of those competing in Tacarigua but, when it comes to preparing to play unknown opposition, Barbados do not have the luxury of flying across the world to play test matches and scores of international competition.

"Much of our preparation has been classroom based, watching lots of videos of our opposition's matches. This is very important as styles and strengths of the other teams are different." says Cox, adding that pitch sessions have also been difficult as the only facility the Barbados team can regularly practice on is a pitch meant for soccer.

"The major challenge we have faced has been a lack of playing time against good opposition. We would have really benefited from doing a pre-tour."

To overcome this, the coaching team are making sure the players have plenty of time to acclimatise, arriving in Trinidad and Tobago early and ensuring that they get plenty of pre-competition pitch time.

Looking at the teams that stand between Barbados and a dream outcome in Tacarigua, Cox knows that his team will be seen as the rank outsiders. He picks Canada as the team he thinks will take the title but says that home advantage will play a big part in how Trinidad and Tobago perform.

While the Barbados coaches and athletes are desperately seeking more international experience against higher-ranked teams, that is certainly not something that Canada has lacked in recent seasons. Qualification for HWL R3 in 2015 gave the team plenty of international competition against the highest ranked teams before they competed in the 2016 Rio Olympics.

The Red Caribou's main problem might well be the weight of expectation going into the event. As talented midfield Sukhi Panesar says: "Our goal is to advance to the finals and qualify for HWL3. We are the top ranked team heading into the competition and if we play to our capability we are confident we will achieve this.

"The HWL competition can sometimes prove to be challenging as we face teams we may not be as familiar with and, with the significance of qualifying for either the World Cup or Olympics, the pressure is magnified and each result becomes that much more important."

Both Panesar and fellow midfielder Taylor Curran say that their preparations for the event have gone well, aside from the occasional snow fall, which has disrupted some sessions. Both players talk of "intense training" since Christmas and Curran adds that the team is "a very hardworking and gritty team, with great team chemistry, and we have had our best performances in our most important matches."

Chile men will arrive in Trinidad and Tobago on the back of a successful trip to Argentina in preparation for HWLR2. The Varones played a number of top club sides, including Mendoza and the University of Cordoba before returning to Chile for some specialised training at the Centro Equilibrio Funcional (CEF Chile). Their final preparation was a confidence boosting 2-0 win over PAHF rivals Uruguay – a victory that will send the team ranked 26th in the world going into their opening fixture against Barbados with high hopes of three points on the board.

Meanwhile, Trinidad and Tobago's captain, Darren Cowie is full of expectation for his team to take a third place finish. The skipper, who is recovering from injury, says that his team is much better prepared for this year's HWLR2 than their disappointing showing at the 2015 event, where they finished in eighth place with no wins to their name.

The host nation face Russia in their opening game – a repeat fixture from 2015, where T&T lost 6-1. Cowie is certain that the same will not happen this time around. In an interview with the Trinidad and Tobago Daily Express, he said: "We were missing a lot of senior players but I think the system (we are playing) is much better to cope with Russia and their kind of physical play, their European style, you know, they don't play as fast but they play very physically."

"So we have been working on some stuff where we avoid contact and move the ball a little more around the park. We have been watching old videos of Russia too, so we will be better prepared and there is the home factor as well, so all of those things will come together and help us to build the momentum straight through from the start."

Assessing his team's chances, Cowie added: "I think probably acceptable is a fifth-place finish, judging from rankings, preparation and the fact that we are the only team that has not had a international match in preparation. Even Barbados has had, while we haven't had any matches in almost two years. Nothing! But despite all that, we are better prepared tactically and we are aiming for third spot."

The action begins on 25 March, as PAHF northern rivals USA and Canada take to the field.

Pan American Hockey Federaion media release


---

U.S. Women's National Team to Host Ireland in Three-Game Citi Series on U.S. Turf




LANCASTER, Pa. – The wait is over! The next opportunity to catch your U.S. Women's National Team contend in the land of the free and the home of the brave has been confirmed on the competition calendar. Team USA will face Ireland at Spooky Nook Sports, the Home of Hockey, in Lancaster, Pa. from May 24 - 27 for the Citi USWNT vs. Ireland Series. International threat Ireland, with a Hero FIH World Ranking of 16, will meet the red, white and blue for three test matches.

CLICK HERE TO PURCHASE TICKETS

The last meeting between the two teams was at Spooky Nook Sports in late May 2015. The three-series format filled stands in record time with thrilling end line to end line play. Team USA edged out Ireland with a clean sweep. Looking to turn the table, Ireland will be on the hunt to rewrite the storyline. 

Citi USWNT vs. Ireland Schedule, Date, Time

Match One: USWNT vs. Ireland, Wednesday, May 24, 6:30 p.m. EST
Match Two: USWNT vs. Ireland, Friday, May 26, 6:30 p.m. EST
Match Three: USWNT vs. Ireland, Saturday, May 27, 6:30 p.m. EST

This series serves as the final round of preparation for the United States before heading into a stacked summer of key international games. The USWNT treks to Cape Town, South Africa for FIH's Hockey World League Semifinals in July, a FIH World Cup qualifier. This event is quickly followed by the all-important and highly-anticipated Pan American Cup in Lancaster, Pa. in August, another FIH World Cup qualifier and a Pan American Games invite. 

"The series vs Ireland is a great way for the U.S. public to meet our team again for the first time after the Olympics in Rio," said Janneke Schopman, USWNT Head Coach. "With familiar faces and new talent we strive to play some great games that will prepare us for the important tournament in South Africa, where we can qualify for the World Cup."

Games will be played on the outside turf at Spooky Nook Sports. Tickets will be for sale by assigned sections during the series. Single game tickets start at $14 to sit in Section D (farthest from the center of the pitch), $16 for Section C, and $18 for seats in Section B (closest to the center). Youth (age 17 and under) and Active Duty Military tickets will be available for 50 percent off the normal single ticket prices. Series Passes are available for $38. Click the link above for a full ticket listing! USA Field Hockey Members, be sure to check your email as well for information on exclusive ticket discounts before purchasing.

Bringing a group? Contact Glen Hollingsworth by email at This email address is being protected from spambots. You need JavaScript enabled to view it. to order your tickets today! Group discounts will be $1 per ticket for groups of 10 or more, $2 per ticket for groups of 20 or more and $3 per ticket for groups of 30 or more.

USFHA media release


---

Sreejesh highlights what he expects from his squad

With a raft of junior players making it to the Indian senior hockey core group, captain P.R. Sreejesh called on them to show that they belong to the highest level.

"It's a fresh beginning and with so many youngsters coming into the core probables, the juniors as well as seniors will really have to push for a spot," Sreejesh said.

"The juniors will need to get better and better in their skills and execution, adapt well in the camp and prove themselves that they are worthy of that position and are ready to replace a senior player."

"As for a senior player, he needs to match the fitness and speed the juniors bring to the table.

"While we know that juniors will be the future as we prepare for 2020 Tokyo Olympics, they shouldn't take it for granted that they will make it to the squad. They need to earn it."

Different standard

Even as he said that the juniors, who won the World Cup last year and also played as well as they could in the 2017 Hockey India League, he stressed that the standard of the game will be entirely different at the senior level.

"Though they have seen us train closely as the junior team and we were based in the same campus in 2016, I believe being in the system is very different from watching us train."

"Senior players like Sardar [Singh] and [S.V.] Sunil have great work ethic and there's a lot the juniors can learn from them. As seniors we also have an added responsibility of mentoring the juniors and making sure they stay on track."

Motivating factor

Getting two former India players, Arjun Halappa and Jugraj Singh, to be part of the support staff would be a great motivating factor, Sreejesh felt. The presence of Hans Streeder, who replaced strategy coach Roger van Gent, will improve the squad further, he added.

The Hindu


---

'Juniors' presence will make contests for slots intense'

Nandakumar Marar



Learning curve: Rupinderpal Singh says drag-flickers need to improvise to get new angles for scoring.   | Photo Credit: Yan Huckendubler

Drag-flicker Rupinderpal Singh has said that India's victory at the 2016 Junior World Cup hockey has resulted in the senior Internationals revising targets for the year ahead.

"The Junior World Cup win has brought positive energy to the game and given strength to the seniors. Hockey players are getting public recognition, thanks to the juniors' achievement. The momentum will be maintained when the senior team wins a major tournament, like the World Cup. We now have a major title as our next target."

India seniors won the 2014 Asian Games gold at Incheon, South Korea and the 2016 Asian Champions Trophy title at Kuantan, Malaysia. Rupinder played his part in both wins, emerging top-scorer at the Malaysia competition. The inclusion of outstanding Junior World Cuppers from now on would keep the seniors on their toes, he said. "When the juniors soon join us at the camp, competition will get intense since they will try to make an impact. Individually, playing levels will rise due to fight for places. It can only benefit Indian hockey."

The defender, an imposing figure on the turf, is also confident about the effect on juniors rubbing shoulders with them. "When juniors train with us, over a period of time their confidence level has to change. As of now, they are close to our levels, a few of them are equal to us," said Rupinderpal, identifying Junior World Cuppers Harjeet Singh, Hamanpreet Singh and Vikas Dahiya when asked to name junior internationals whose playing ability he thought were on par.

Harjeet is a midfielder and was captain at Lucknow when India was crowned Junior World Cup champion. Harmanpreet is a defender and a penalty corners specialist. Dahiya plays in goal. These three were among senior National probables for the Rio Olympics preparations. Harmanpreet got the nod, Dahiya was named in the reserves for Rio, where Rupinder made his Olympic debut last year.

"The juniors training with us are aware of senior squad requirements. So as members of Indian juniors, they make a difference there" He was speaking on the sidelines of TOISA awards.

Replying to a specific query about penalty corner conversion rate by the drag-flickers, Rupinderpal said: "Over the last three to four years, overall performances are okay. Our coach (Roelant Oltmans) has told us that 33 per cent out of 100 should be our contribution. Penalty corner defence has improved and drag-flickers need to improvise to get new angles for scoring."

Coach given credit

He gave credit to the Dutch chief coach for keeping players in a positive frame of mind even in defeats. "Coach knows each player, his strengths and weaknesses." The latter was in charge at the Asian Champions Trophy and also at Rio Olympics.

The senior team drag-flicker credited the juniors for raising interest levels. "Public affection has increased ever since the Junior World Cup victory, so have the public expectations. Indian hockey greats expect us to bring more glory to India," he said, pointing out that crowds for Hockey India League games, especially in his home State Punjab, was a happy feeling.

Harjeet expressed delight at the packed stands in Lucknow for Junior World Cup final and felt HIL's popularity was rising each year. Both are teammates at Delhi Wavewiders, the former is captain. The junior international is viewed as a future leader.

The Hindu


---

Both juniors & seniors will have to push for spots: Sreejesh

BENGALURU: India hockey captain PR Sreejesh says it is heartening to see healthy competition for spots in the national team between juniors and seniors.

With emphasis given to junior players in this new Olympic cycle, the task is cut out for the senior members of the side.

While the seniors have a responsibility of mentoring the youngsters, they will also need to push equally hard to keep their places in the squad.

"It's a fresh beginning and with so many youngsters coming into the core probables, the juniors as well as seniors will really have to push for a spot in the national team," Sreejesh said at the national camp, currently on at the Sports Authority of India centre here.

"The juniors will need to get better and better in their skills and execution, adapt well in the camp and prove themselves that they are worthy of that position and are ready to replace a senior player. For a senior player, he needs to match the fitness and speed the juniors bring to the table.

"While we know that juniors will be the future as we prepare for 2020 Tokyo Olympics, they shouldn't take it for granted that they will make it to the squad. They need to earn it," the talismanic goalkeeper added.

The Indian colts, which won the junior Men's World Cup last year, had a fabulous outing in 2016 and also showcased their potential in the 2017 Hockey India League.

But Sreejesh feels that the standard of game will be entirely different in the senior team.

"These six weeks (at the national camp) will be good exposure for them in terms of understanding the system we follow, learn how we strategise, plan and execute. Though they have seen us train closely as the junior team and we were based in the same campus, I believe being in the system is very different from watching us train," said Sreejesh.

Sreejesh also feels this is a great opportunity for the youngsters to learn from stalwarts like Sardar Singh and SV Sunil.

"Senior players like Sardar and Sunil showcase great work ethics and there's a lot the juniors can learn from them. As seniors we also have an added responsibility of mentoring the juniors and making sure they stay on track towards achieving the goals the team has set," he said.

Speaking about the new support staff, Sreejesh said inclusion of two former India players into the fold is a great motivating factor for the team.

"Arjun (Halappa) was an attacking center forward and midfielder while Jugraj Singh was a very good defender and dragflick expert. They understand the passion, the culture of the team and it's great advantage to have them as support staff. I have worked with Hans Streeder (Analytical Coach) earlier in HIL and he is a good strategist.

"He was also there at the Junior World Cup as a part of the Dutch team and he has watched most of our players very closely and understands where they need improvement," he said.

The selection trials for the senior team will be held in the following weeks to pick the final squad for the Sultan Azlan Shah Cup to be held in Ipoh, Malaysia starting April 29.

"I feel that will be a great tournament to see where the juniors stand in terms of temperament and performance," Sreejesh concluded.

The Times of India


---

Goodfield brace helps Surbiton stay unbeaten

By Mike Haymonds



David Goodfield takes the ball past Evan Kimber of Loughborough. Photo Credit: Tim Reder

DAVID Goodfield continued his recent good scoring form with a brace as Surbiton beat Reading 3-0 to maintain their unbeaten Premier League run since the first day of the season.

Goodfield, 23, a member of the new centralised GB/England training squad for the build-up to the Tokyo 2020 Olympics, had returned earlier in the week from an England tour to South Africa where he made his senior international debut, scoring three goals in two games each against the hosts and Germany.

He is relishing the latest stage of his career at both club and country, having joined Surbiton after a season with the German club Harvestehuder and earlier a spell with Sheffield Hallam while at the local university, graduating in sport development.

"The England training at Bisham is a big transition but it's a really good environment: the sheer volume of training, the much higher standard, and the improvement in fitness and strength.

"At Surbiton we have a coach Mark Pearn who knows the game inside out and I'm learning a lot from him as a fellow striker.

"On the tour to South Africa everyone did themselves justice."

Saturday's win consolidated Surbiton's place in the championship play-offs next month with the top four already qualified. Wimbledon clinched the league title with a 2-1 victory over Hampstead & Westminster, who they will meet again in the Final Four semi-finals, with Holcombe and Surbiton facing each other. Loughborough Students' automatic relegation, with only one point, was already known while Canterbury will hope to retain their Premier status in the relegation play-offs.

In the Investec Women's Premier League winners Surbiton struggled to beat already relegated Reading 1-0 with an early penalty corner strike by Scot Robyn Collins. Holcombe, 3-1 winners over University of Birmingham, confirmed their runners-up slot while East Grinstead, the Birmingham students, Clifton Robinsons and Leicester are contesting the other two play-off places.

Bowdon Hightown, who have never been out of the top tier go into the relegation play-offs.

Fieldhockey.com


---

Cardiff & Met suffer from International call-ups

By Rod Gilmour, The Hockey Paper



Luke Hawker

Cardiff & Met coach Walid Abdo believes that Wales' top club have been put into a "farcical and ridiculous situation" after losing eight players to men's international duty this month.

The Conference West side are currently second on goal difference behind Team Bath Buccaneers and head into the final day of the season needing a win against third-placed University of Exeter to be in with a chance of qualifying for Finals Weekend next month.

Cardiff & Met were five points clear with three games remaining but since Wales' participation in the World League they lost their first match of the season to Team Bath and drew with Chichester - handing nine second team player their National League debuts in the process.

"It's so frustrating as we were going great guns," Abdo told The Hockey Paper. "It's possibly a whole year's work down the drain and we are being penalised for having internationals in the team. I just feel sorry for the team and the backroom staff."

Abdo said that the club had written to England Hockey to request a postponement on the game, but were denied in a brief response by the national governing body.

"Everyone I have spoken to can't believe we haven't been able to postpone," he added. "We managed to make a fist of it with players from our 2nd team but it is a ridiculous situation to be in and it is a farce."

Read more in this week's The Hockey Paper. Details on print or digital subscriptions at www.thehockeypaper.co.uk

The Hockey Paper


---

Olympic hockey star Sam Quek opens up on Tokyo 2020 and retirement

SAM QUEK has admitted that she doesn't know whether she will be in Tokyo in three years' time to help defend her Olympic hockey gold medal.

By James Gray
   


Sam Quek was part of the gold medal-winning Team GB women's hockey side. GETTY

Quek was part of the Team GB women's hockey team that went all the way in Rio to claim a historic gold medal, winning a thrilling final against the Netherlands on penalty flicks.

The 28-year-old has since shot to fame, receiving an MBE and even appearing on reality TV show "I'm A Celebrity Get Me Out Of Here" last year.

And while she says has still not tired of being recognised in the street, Quek is unsure whether she will extend her hockey career until the next Olympics.

"My body is still in good enough condition to do so even though I've been playing senior international level since 2007, which is obviously a long time," Quek told Express Sport.

"But at the moment I'm having a physical and mental break.

"The maximum block of time I've had off in the last 10 years is about four weeks and that's purely down to not making the Beijing or London Olympics.

"After that I had to go straight back in and fight for my place in order to get back on the programme.

"I'm very lucky to be in this position and I'm enjoying different experiences and doing a little bit of work experience here and there.

"It was always the plan to have some time off after the Olympics but now it's a case of what next.



Sam Quek helped Team GB battle to victory in Rio. GETTY

"I would still play hockey even if I walked away from the international game. It's great physically and socially - so I couldn't just stop playing just like that."

She has already embarked on a number of projects outside hockey and is at the forefront of the #MakeMindASport.

The campaign, run by Mindsports Academy, is aiming to get games such as chess, scrabble and go, which have participation numbers of more than one billion worldwide, recognised as a sport.



Sam Quek now wants scrabble, chess and go to be classed alongside more mainstream sports. Tony Ward

And Quek, more of a scrabble player than a chess grandmaster, is desperate to get across the idea that the sports involve so much more than just sitting down.

"The more you think about, the more you can understand what physiological responses there are and what competing at a high level of chess or scrabble actually does to the body," Quek added.

"I like to see the brain as another muscle.

"It can be trained and it can be improved.

"To be able to concentrate for hours and maintain your performance [in mind sports] you have to be very physically fit - when you're playing, your blood pressure goes up, your heart and respiratory rates go up.

"There's a healthy body, healthy mind aspect too.

"We talk about exercise as helping your heart and losing weight, but there's illnesses like depression and Alzheimer's that mind sports can really help with."

Daily Express


---

Scorpions tackle Vikings in hockey league opener

By BRIAN YONGA



Strathmore Scorpions' Laura Gichau clears the ball during a past match. PHOTO | MARTIN MUKANGU |

Strathmore University Scorpions will be hoping to draw inspiration from their male counterparts when they get their Kenya Hockey Union women' Premier League campaign underway Wednesday against Vikings in a mid-week match at City Park Stadium.

Last season, the Strathmore University men's team - fondly referred to as the Gladiators - upset all odds to win the men's Premier League title. They saw-off favourites Kenya Police (semis) and Butali Sugar Warriors (play-off final) to clinch their third league title.

FINISHED SECOND

It is that achievement that the women's team will be using as they bid to end the dominance of 19-time champions Telkom Orange and win their maiden league title.

The students finished in second place last season, two points behind champions Orange in another season of heartbreak.

Scorpions coach Meshack Senge, who also handles the men's team, is looking forward to a competitive season tipping his charges to challenge Orange for the league title.

"I think we have always been their (Orange) main rivals and this season will be no different. We harbour ambitions of winning the title and the success of the men's team is motivator and helps us believe we can do it," Senge told Nation Sport.

The tactician is wary of a Vikings side he describes us 'tricky' and very well organised.

"If we want to be considered title challengers it is important we get off to a winning start. Vikings are not going to make it easy for us and we will need to be smart in breaking them down," he added.

Senge will rely on Kenya international Gilly Okumu to lead the attack and should also have Linda Ayodi back from injury.

Skipper Yvonne Karanja carries a threat with her pace and dribbling skills and she will be charged with creating chances for the front two. Senge could also hand starts to a number of new players, who joined from various secondary schools.

Vikings, who finished sixth last season, are hoping for a top-three finish but team manager Marie Aran is worried that dream could be wrecked due to lack of funds to support the team.

"We are self-sponsored and most of the players have to use their own money to travel for matches. We are hoping things get better so that we can give our all in the league," she said.

The club lost star midfielder Vivian Achieng to Chase Amira.

Daily Nation


---

Kamusinga eye title defence

National boys' hockey giants chase 17th regional trophy

By Elizabeth Mburugu



Morgan Nyongesa of Friends School Kamusinga in action against Ntare School (Uganda) during their East Afrca Secondary School Games hockey match at Eldoret Polytechnics, Uasin Gishu County on August 30, 2016.[PHOTO:DENNIS OKEYO/STANDARD]

East Africa boys' champions Friends School Kamusinga (FSK) and Kakamega will be out to extend their dominance when the Western Region secondary school Term One games start tomorrow in Mumias.

FSK will defend their hockey title, while Kakamega will seek to extend their Rugby15s reign.

Western, which was known as Nzoia Region for the past four years before old provincial boundaries were reintroduced, is now home to four counties. Turkana, West Pokot and Trans Nzoia counties have been moved to Rift Valley, which was known as Mau Region. Western now has Kakamega, Bungoma, Busia and Vihiga counties.

Giants FSK, who have won 18 regional titles since 1999, save for 2010 and 2015, will battle for a ticket to the national games against seven other sides.

The reigning national and East Africa champions are in pool A together with Kakamega County champions Musingu, Nyang'ori of Vihiga and Amukura of Busia. Group B has Busia and Vihiga winners, Butula and Vihiga, St Mary's Kibabii and Malava.

FSK coach Emmanuel Sanya said this year's competition posses a bigger challenge because they would meet most of their opponents for the first time.

"It is more challenging to play a team for the first time, no matter how good you are, because you don't know what to expect from them. Our strategy is to be cautious, remain focused and read their game plan before executing ours," Sanya said.

National and East Africa girls' hockey silver medallists Tigoi launch their campaign in pool B against Kakamega champions Archbishop Njenga, Moding of Busia and Moi Girls Kamusinga (MGK). Group A has Bungoma queens St Cecilia Misikhu, Kaimosi of Vihiga, Kolanya of Busia and Mukumu Girls.

Five-time East Africa rugby15s champions Kakamega begin their Western title defence and quest for a place at the nationals in pool B against Vihiga, Butula and FSK. National champions Bungoma High School highlight group A, where they face off with Nambale of Busia, Chavakali and hosts, St Peters Mumias.

Kakamega coach Amos Wamanga said despite several of his first team players finishing Form Four last year, he had a good transition plan in place.

"Most of my winning team players completed school, but I'm not worried because being a school team, departures of players are inevitable."

Former regional boys' basketball champions FSK are hopeful of making a return to the national games after futile attempts. They are in group A together with Sigalame, who dethroned them in 2015, Nyang'ori and Mukumu. Pool B has Butula, Chavakali, Teremi and Kakamega.

Tigoi will lead the chase for a semis slot in pool A in girls' category and they are up against MGK, Mukumu and Chakol of Busia. Lugulu, Butere, Vokoli and Kolanya will battle in group B.

The Standard Online


---

Nat U16: Sabah Boys' & Girls' on super high

By Jugjet Singh

SABAH Boys' and Girls' made the next round of the Malaysian National Under-16 without losing any match, and aim to make the finals this year.

The boys won bronze last year by beating Pahang 1-0, while Sabah girls are a revelation as they ended ninth, but are in stunning form a year later.

Tuesday, Sabah girls beat defending champions Selangor 4-0, and top Group A with a match in hand against Kelantan today. The scorers were Inka Shafika Juani (19th), Kersimah Kauran (33rd, 53rd) and Syunita Manap (47th).

Sabah HA secretary Avtar Singh said they will field reserves against Kelantan.

"The group job is done, as we will remain tops whatever the outcome against Kelantan, so we will try out our resrve players before the knock-out stage," said Avtar.

Fourteen boys and 13 girls teams are competing for titles, and have been divided into three groups in each gender.

The top-two teams in each group will be divided into two groups of three teams each in an open draw and the group champions play in the final, while runners-up for bronze.

"These boys and girls are product of Sabah 1Mas who were then placed in the Sabah Sports School from Form One onward. Over the years, we have managed to slowly train them and are now looking forward to both our teams playing in the final of this tournament," said Avtar.

RESULTS: Boys' Group A: Penang 0 Terengganu 2, Negri 4 Kedah 0; Group B: Perak 0 Selangor 3, Perlis 3 Sarawak 0.

GIRLS' Group A: Sabah 4 Selangor 0, Kelantan 4 Sarawak 1; Group B: Pahang 1 Negri 2, Terengganu 1 Penang 11; Group C: Perak 2 Malacca 3, Johor 0 Kuala Lumpur 2.

WEDNESDAY -- Boys' Group A: Johor v Kedah (KPM, 5pm), Penang v Negri (KLHA, 5pm); Group B: Perak v Perlis (KLHA, 3pm), Malacca v Sarawak (KPM, 3pm).

GIRLS' Group A: Kedah v Sarawak (KPM, 7.30am), Sabah v Kelantan (KLHA< 7.30am); Group B: Penang v Negri (KPM, 9.15am), Terengganu v Pahang (KLHA, 9.15am).
Note: All matches at Jalan Pantai, Kuala Lumpur.

Jugjet's World of Field Hockey


---

Terengganu gain crucial win to advance in U-16 hockey meet

by S. Ramaguru



I'll stick it in: Negri Sembilan's Raja Amirul Aiman (left) and Kedah's Muhammad Izzat Firdaus jostle for the ball in the MHC-Milo Under-16 match at the Kuala Lumpur Hockey Stadium yesterday. — KAMARUL ARIFFIN / The Star

KUALA LUMPUR: Defending champions Terengganu reached the boys' second round after a 2-0 win over Penang in Group A of the MHC-Milo Under-16 hockey championships.

Needing a win to move on in the championships, the east coast side rose to the occasion to top Group A with nine points.

Terengganu, who were surprisingly beaten 0-2 by Johor on Sunday, controlled play at the Education Ministry Turf yesterday. But they had to wait until the 40th minute to break the deadlock through a field goal by skipper Syarman Mat Tee.

Nukman Hakim Mohammad added the second with a penalty corner conversion in the 44th minute.

Penang, who are second on six points, can still make the second round if they beat third-placed Negri Sembilan, on four points, in their final group match today.

Team manager Mohamed Amirul Abdullah is confident that Penang can make the cut.

"We're not disappointed with the loss to Terengganu. The players can learn from the defeat. We have one more match to go and can still salvage the tournament with a win," said Amirul.

In the girls' competition, Sabah and Negri Sembilan are through to the second round.

Sabah were 4-0 winners over Selangor to lead Group A with nine points. They will complete their group fixtures against Kelantan today.

Negri qualified from Group B after edging Pahang 2-1 for their second win in as many matches. They will play Penang in the last group match today.

Penang enhanced their chances of making the second round when they whipped Terengganu 11-1. The islanders have four points and need just a draw against Negri to reach the next round.

The other teams who have already made the second round are Group C's Kuala Lumpur and Johor.

RESULTS

■ BOYS
Group A: Penang 0 Terengganu 2, Negri Sembilan 4 Kedah 0.
Group B: Perak 0 Selangor 3, Perlis 3 Sarawak 0.
■ GIRLS
Group A: Sabah 4 Selangor 0, Kelantan 4 Sarawak 1.
Group B: Pahang 1 Negri Sembilan 2, Terengganu 1 Penang 11.
Group C: Perak 2 Malacca 3, Johor 0 Kuala Lumpur 2.

TODAY'S FIXTURES

■ BOYS
Education Ministry Turf
Group A: Johor vs Kedah (5pm).
Group B: Malacca vs Sarawak (3pm).
KL Hockey Stadium
Group A: Penang vs Negri Sembilan (5pm).
Group B: Perak vs Perlis (3pm).
■ GIRLS
Education Ministry Turf
Group A: Kedah vs Sarawak (7.30am).
Group B: Penang vs Negri Sembilan (9.15am).
Kuala Lumpur Hockey Stadium
Group A: Sabah vs Kelantan (7.30am).
Group B: Terengganu vs Pahang (9.15am).

The Star of Malaysia


---

Punjab's grassroots hockey academy stuck in grass pitch

Navneet Singh

A prominent hockey academy for girls opened by the Shiromani Gurdwara Parbandhak Committee (SGPC) at Fatehgarh Sahib, Punjab, three years ago threatens to run aground due to the absence of the very basic infrastructure - an artificial turf.

The academy was opened by the influential SGPC in May 2014 and trainees from the region were drafted in with the assurance they would be provided good playing facilities besides free education and boarding.

But the players have been mostly confined to training on a grass pitch. The results have been good with eight players from the academy chosen among a core group of 33 by Hockey India (HI) for its junior women's squad.

However, this recognition could be misleading as the initial bunch of trainees chosen included 20 outstanding players from Shahabad in Haryana, regarded as the hockey hub of the region. They followed Baldev Singh, a reputed coach hailing from Shahabad, who was appointed as the hockey expert.

A Dronacharya awardee, Baldev is disappointed with the state of affairs. "Playing on grass is of no use. I don't see any logic in sweating on the natural surface these days when all national level competitions are played on artificial surface," he told HT.

While artificial turf made its Olympic debut at Montreal in 1976, at the Asian level, the 1982 New Delhi Games marked the beginning.

To train on the artificial pitch, the trainees now travel to Ludhiana, over an hour's journey from their base. It is an inconvenience, but there is no choice. "We go on weekends," said Baldev.

Although the proposal for an artificial turf is pending since 2014, Baldev is not sure whether the 40 trainees, some of them internationals, will get the facility in the near future. "I have no idea, so far there is no turf," he said.

The trainees played a major role in Punjab winning the under-17 and under-19 girls' titles at the National School Games in 2015-2016. Representing Punjab, the girls have also been dominating the national sub-junior competition since 2014.

However, the national hockey federation has no scope to redress the problem. Hockey India has no provision to give financial assistance to improve infrastructure at grassroots level. According to HI spokeswoman, Elena Norman, academies should apply to the state government for financial grant through the state hockey unit.

When contacted, SGPC president, Kirpal Singh Badungar, put the ball in Baldev's court. "He (coach) should be able to provide necessary inputs," he said.

Hindustan Times


---

Handful of nominations #BeAGameChanger



Alex Danson celebrates scoring in Rio

England hockey and Great Britain hockey have been shortlisted for a host of awards by the Women's Sport Trust #BeAGameChanger awards, including Sport Role Model in both individual and team.

The Women's Sport Trust #BeAGameChanger Awards recognise those individuals and organisations doing the most to progress women's sport. Following a public nomination process, each award is shortlisted by the board of trustees. The finalist in each category is then chosen by their expert panel. Then we need you! It goes to a public vote with the winners announces on Thursday 11th May.

For more information around the awards please see Women's Sport Trust.

We couldn't be prouder to have been shortlisted, you can see what we have been shortlisted for below;

Sport Role Model – Individual
Alex Danson MBE

National Governing Body of the Year
England Hockey

Inspiring initiative – National
Team Up

Sport Role Model – Team
Great Britain hockey team

England Hockey Board Media release