All the news for Tuesday 14 March 2017

Hockey team leaves for Australia, New Zealand

The national hockey team on Monday left for their tour of New Zealand and Australia, said a press release from Pakistan Hockey Federation (PHF).

The team will be playing a bilateral series in the two countries

Matches in New Zealand will be held between March 17 and March 23, while the Australian leg of the tour will start on March 28, added the statement.

Australia is currently ranked as the world's top hockey team as per International Hockey Federation (FIH) rankings while New Zealand is ranked 8th.

"The experience gained during these two series would help Pakistan prepare for the all important Hockey World League's semi finals to be held in London in June this year which doubles up as the 2018 World Cup qualifier," said the national hockey federation.

Abdul Haseem Khan will be the skipper for the team with Umar Bhutta as his vice-captain.

Dawn


---

Pakistan hockey team reaches New Zealand for bilateral series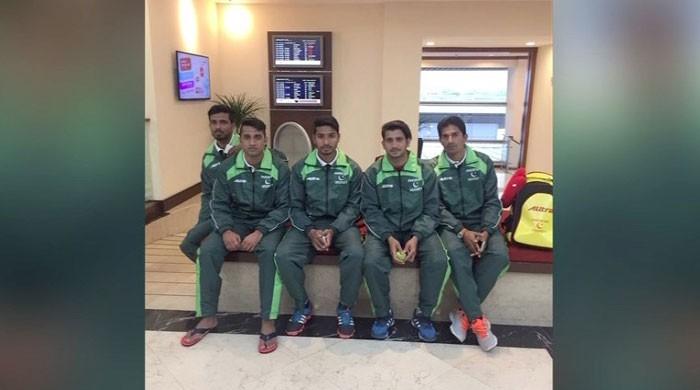 Pakistan hockey team reaches New Zealand for bilateral series

LAHORE: Pakistan's national hockey team arrived in New Zealand on Tuesday where it will play a bilateral test series.

The Pakistan team will also play a bilateral test series in Australia, said a spokesman of the Pakistan Hockey Federation.

"As per the FIH rankings, Australia is currently the world's top hockey country while New Zealand is at the 8th place", he added.

The experience gained during these two series would help Pakistan prepare for the all-important Hockey World League's semi finals, to be held in London in June this year which doubles up as the 2018 World Cup qualifier, he said.

Team: Amjad Ali, Mazhar Abbas, Ammad Shakeel Butt, Mohammad Aleem Bilal, Nawaz Ashfaq, Abu Bakar Mahmood, Tasawar Abbas, Tazeem-ul-Hassan, Mohammad Rizwan Junior, Mohammad Atif Mushtaq, M. Faisal Qadir, Mohammad Irfan Junior, Mohammad Umar Bhutta (V. Capt), Abdul Haseem Khan (Captain), Ali Shan, Ajaz Ahmad, Muhammad Dilber, Mohammad Azfar Yaqoob, Muhammad Arslan Qadir and Umair Sarfaraz.

Fixtures

Pakistan will play against New Zealand at the International Hockey Stadium, Wellington on March 17, 18, 20 and at Trust House Hockey, Wairarapa, Clareville on March 22 and 23.

In Australia, Pakistan will play tests at Marrara Hockey Centre, Darwin on March 28, 29, 31 and April 1.

Geo TV


---

Amsterdam and Rotterdam battle out emotional draw




AH&BC Amsterdam and Rotterdam played out an emotional battle at the Wagener Stadium to draw 2-2 in a top-class battle in the Dutch Hoofdklasse.

Simon Egerton got a brilliant deflection to Blair Tarrant's powerful crash ball in the second minute to open the scoring. Boris Burkhadt equalised with an excellent backhand shot for 1-1 at half-time.

Jeroen Hertzberger saw a penalty stroke saved by Jan de Wijkerslooth on his first team debut but then powered his way through to bash home Rotterdam's second goal, flinging his stick away as part of his celebrations.

Justin Reid-Ross, though, equalised with four minutes to go with a ripper of a penalty corner to share the spoils. Amsterdam stay second, six points behind Bloemendaal and six ahead of Rotterdam, Oranje-Rood and Kampong.

Oranje-Rood fell to a surprise defeat to Pinoke, 2-0, in a frustrating performance, conceding twice in the closing six minutes.

Kampong beat Qui Vive 7-1 with Spanish star Salva Piera scoring two powerful goals. Bloemendaal extended their lead with a 5-0 win over Tilburg with Florian Fuchs setting them on their way with a blistering first goal.

HGC and Den Bosch both closed the gap on the top four places with big wins, beating Hurley (6-0) and Almere (5-1) respectively.

Euro Hockey League media release


---

Dragons thump Daring to keep slender lead in Belgium




KHC Dragons thumped Royal Daring 7-0 to retain their single point lead at the top of the Audi Hockey League in Belgium, all but ending the Molenbeck side's hopes of reaching the playoffs.

The visitors got on the board in the third minute through Florent van Aubel and never really looked back. Thomas Briels added another in the 13th minute before van Aubel's second came before half-time.

A late burst of goals from Robbert Rubens, Thomas Verheijen, Jeffrey Thys and Henri Raes saw Dragons storm home for an emphatic victory.

Speaking afterwards, van Aubel said: "Compared to last week against the Herakles, we wanted to make an extra step up and that's what we did well. I think we can really be very satisfied after this victory."

Waterloo Ducks went second on their own with a 5-2 win over Antwerp thanks to Gauthier Boccard's triple including two from a penalty corner.

Racing Club de Bruxelles dropped back a couple of points following a 3-3 draw against KHC Leuven. Anthony Versluys had given Racing the lead late in the game but Tom Degroote equalised in the last 90 seconds.

Herakles beat Braxgata 4-1 and are fourth place, four points ahead of Royal Leopold who were 4-0 winners against Wellington.

Euro Hockey League media release


---

Wimbledon win English regular season title despite first defeat




Despite a first defeat of the season, Wimbledon landed the English Men's Hockey League Premier Division with two rounds to go.

Relegation-threatened Canterbury showed they won't be going down without a fight when they scored a 5-2 shock win over the top-ranked side on Sunday.

Tom Bean scored twice and Michael Farrer, Sam Barrett and James Oates were also on target for Canterbury, who moved out of the relegation zone on the back of the win. Ian Sloan and Chris Gregg got the consolation goals for Wimbledon who are now guaranteed to finish top despite the defeat.

That is because both Holcombe and Surbiton missed out on full points in their games too. Hampstead and Westminster also secured a place in the playoffs with two games to spare courtesy of a hard fought 5-4 win over Reading.

Stephen Dowds and Richard Alexander put the visitors two up but Reading came back through Ben Boon and Montgomery Jefferson before taking the lead through Ajai Dhadwal. In a breathless finale to the first half, Michael Watt levelled the scores for Hampstead, making it 3-3.

Second half goals from Samuel French and another for Watt sealed the win for Hampstead but Andy Watts also found the target for Reading.

Loughborough Students took their first point of the campaign with a 2-2 draw against third-placed Surbiton but it's not enough to keep them in the league. Liam Ansell hit a double for Surbiton and for Loughborough, Seb Ansley and Matthew Ramshaw found the net.

Ashley Jackson scored a brace as East Grinstead beat Holcombe 4-1. Martin Scanlon and Simon Faulkner were also on the score sheet for East Grinstead and Nick Bandurak pulled one back for Holcombe.

Beeston's chances of making the top four were extinguished as they were held to a 0-0 draw against Brooklands Manchester University who are fighting for their lives.

Euro Hockey League media release


---

Edinburgh Uni and Western reach women's Scottish Cup final




Edinburgh University and Milne Craig Clydesdale Western will contest the women`s Scottish Cup final after seeing off the Tayside threat of Grove Menzieshill and Dundee Wanderers respectively.

The foundation of the students` victory came inside three minutes of the first half; Louise Campbell opened the scoring and that was followed by another from Sarah Robertson.

Former Scotland captain Linda Clement gave the Taysiders some hope with a goal three minutes into the second half, but any revival was stifled by a third by Becky Dru. The result put Edinburgh University through to the final.

Western completed the league and cup weekend double over Dundee Wanderers with a convincing 4-0 victory. There was only a single goal between the sides at the interval, the Glasgow side had their noses in front through a penalty corner conversion by Frances Lonergan.

Western continued to add to their tally in the second half, Jen Eadie scored the second at another set piece, and there followed open play goals from Heather Lang and Emma McGregor.




The women`s plate final will be a showdown between Glasgow University and first division CALA Edinburgh.

In the semi-final battle of the students, Dundee University versus Glasgow University, honours were even at half-time - Jenny White`s strike for Dundee was cancelled out by Glasgow`s Laura Murray.

But in the second half Glasgow took command and added to their total through a brace by Nicole Pike and another by Connie Laithe for a 4-1 lead before Ailsa Small notched a consolation for Dundee.

CALA ran out 2-0 winners in their semi-final encounter with Aberdeen University to seal their spot in the final. CALA built up a single goal first half lead over Aberdeen University through Kyra Dugeren. The result was secured when Lorna Crawford added a second eight minutes after the interval with no reply from Aberdeen.

The catch-up men`s first division clash between Cludesdale and Hillhead ended in a 2-2 draw at Titwood. The result leaves Hillhead in sixth place while Clydesdale now join Western Wildcats and Watsonians on the 11 point mark although the Titwood side have still a game in hand.

In a feisty contest there was plenty of cut and thrust in the first half which Clydesdale shaded, but no goals.

Hillhead looked to have the game won with two penalty corner strikes by Michael Sherry, but in front of their own vociferous supporters the home side retaliated to save the match.

Andrew Allan started the comeback from the spot and not long after Patrick Lonergan levelled when he forced the ball home after a scramble in the circle for a share of the points.

Photos by John Preece

Scottish Hockey Union media release


---

Indian women's hockey team celebrates Holi

BHOPAL: The Indian women's hockey squad, which is gearing up for the all-important Hockey Women's World League (HWL) Round 2 in Canada were put through the grind on Monday morning under the watchful eyes of chief coach Sjoerd Marijne. But no sooner than the gruelling session came to an end, the girls indulged in a splash of colours to celebrate the festivities of Holi.

Even the newly-appointed coaches, including chief coach Marijne, analytical coach Eric Wonink, both from Netherlands, and Hockey India's High Performance Director David John were not spared a soaking in colours.

"They were absolutely thrilled to play Holi with us. They totally enjoyed and so did we. I have never played Holi like this in my entire life," stated an excited Rani Rampal.

Customary to any celebrations these days, the girls pulled out their smart phones for a round of selfies with the team and this occasion sure counted as one of the many highlights as these girls have trained together for several years and have found a home away from home in the national camp.

"We have celebrated many festivals together as a family but this one is very special," exclaimed senior most member of the squad Deepika.

The festivities went on right till 3 pm before the girls called it a day and set out to gear up for the evening session.

"We had only heard about the festival of colours but had never played. It was overwhelming to be part of the celebrations and I also see this as a great team bonding opportunity," expressed a candid Marijne.

"Now getting these colours off our faces and clothes will be a task."

The Times of India


---

Requim mass held for legendary hockey player 'Alu'

By CHARLES OUKO



Friends and relatives accompany the body of former Kenyan hockey player Alexinho Mendonca during a requiem mass in Kileleshwa, Nairobi on March 13, 2017. PHOTO | COURTESY | 

Kenya's hockey legend and Olympian Alexinho Eduardo Mendonca, known to all as 'Alu', was on Monday honoured by family, friends and former team mates during a requiem mass to celebrate his peerless sporting life.

Scores trooped to the Holy Trinity Catholic Church in Kileleshwa, Nairobi, for the farewell mass of the former Kenya hockey captain, rated by his peers as the finest left winger in world hockey, in his day.

He represented Kenya as a player in four editions of the Olympics - 1956, (Melbourne), 1960 (Rome), 1964 (Tokyo) and 1968 (Mexico City). He was captain in Rome. During the mass, no tears were shed, but joy radiated amongst the congregation during the service, that begun promptly at 11am and ended two hours later.

An echo of the simplicity of the great Alus' own life, their was no funeral programme printed, no official photographers and no videos taken either!

Alu, who took his final bow on March 10 at the Nairobi Hospital aged 85, was born in Goa and was among the pioneering Goan and Sikh hockey players who placed Kenya on the global hockey map; just prior to independence in 1963 and throughout the 70s.

At Kileleshwa, the tribute was read by his son-in-law Shaun Barretto who is married to his daughter Cora-Lisa. Taking pride of place in the front pew of the church was the Sikh Union battalion comprising former Olympians and Kenya internationals.

Undoubtedly a testament to their huge respect for their once formidable club foe, Alu.

Among the former hockey players who attended were Rawesh Balla, Gurchanan Singh, Surjit 'Junior' Sindhi and the one and only Avtar Singh Sohal ''Tari'. Tari was himself a formidable left full back for Sikh Union and Kenya.

As Sohal and Sindhi removed the two hockey sticks from atop the simple brown mahogany coffin, and then were joined by their fellow Olympians in placing the coffin in the hearse, all assembled knew that an unforgettable part of Kenya's sporting history, had just come to a close.

Thank you for the memories, great man.

Daily Nation