All the news for Sunday 26 February 2017

So close for SA against England

The South African women's hockey team almost managed to beat England in the first of the two matches in the second Cape Town Summer Series.

It was a case of so close, but yet so far for South Africa loosing 2-4 to England at Hartleyvale. South Africa had control of this one, but the final chukka was 15 minutes too far for the locals.

After the first chukka the score was 0-0. England had a few chances to score near the end of the quarter, but was denied by SA goalkeeper Phumelela Mbande.

In the second quarter the South African players started to create some chances of their own. Striker Dirkie Chamberlain looked especially dangerous close to the goal-box. The crowd went crazy in the 24th minute when local Cape Town player Candice Manual hit the back of the goal-box from a well constructed penalty corner.

At the start of the third quarter England scored somewhat against the flow of play when captain Sarah Haycroft got the visiting team's first goal of the match. South Africa struck back immediately though when Chamberlain got the ball in the goal-box once again from a penalty corner. England equalised again when Joie Leigh scored the fourth goal in a very entertaining match.

After two minutes of play in the final quarter England – who has been on the attack since the start of the chukka – got a penalty shot and it gave them the lead for the first time in the match. The final quarter belonged to England. With two minutes left England's Grace Balsdon scored to put the game out of the reach of the home team.

Many of the England players were part of the Great Britain team that won the gold medal at the Rio Olympic Games last year.

The next match in the series of two is tomorrow afternoon at 16:00. This series is another preparation opportunity for the World Cup qualifying Africa Cup of Nations tournament taking place in August as well as the Hockey World League Semi Finals taking place in July.

The SA women's squad: Nicole la Fleur (WP), Phumelela Mbande (NG), Marelise van Tonder (NG), Kara Stella (KZN C), Jessica O'Connor (KZN C), Kirsty Adams (Boland), Erin Hunter (KZN C), Izelle Verster (NG), Illse Davids (WP), Nicolene Terblanche (NG), Stephanie Baxter (SG), Marizen Marias (SG), Tarryn Glasby (WP), Bernadette Coston (SG), Sulette Damons (NW), Kate Koenig (KZN C), Candice Manuel (WP), Toni Marks (SG), Dirkie Chamberlain (NG).

The South African men's side will play its first match on Thursday against England. The match starts at 18:00. All matches played at Hartleyvale. 

Schedule for rest of the second Summer Series: Saturday, 4 March @ 16:00 – England v Germany; Sunday, 5 March @ 16:00 – South Africa v Germany; Monday, 6 March @ 18:00 – South Africa v England; Wednesday, 8 March @ 18:00 England v Germany; Thursday, 9 March @ 18:00 – South Africa v Germany.

SA Hockey Association media release


---

Eight debutants in opening win against South Africa



England team vs South Africa

In their first competitive fixture of the Tokyo cycle, Danny Kerry's team began with a pleasing 4-2 win in South Africa.

With a number of debutants, the game was certainly a training exercise; the squad's first game at international level more than six months since the Olympics.

Although there were six goals, only one came in the first half as the hosts went into the interval a goal to the good following a strike in the second quarter.

In the second half there was plenty of goalmouth action though, with Sarah Haycroft getting England back level, only for the hosts to go back ahead.

However England then took control, with Joie Leigh making it 2-2 as the third quarter drew to a close. Into the final period, a penalty stroke from Ellie Watton and a debut goal from Grace Balsdon sealed victory.

While the win was of course pleasing, debuts for Sabbie Heesh, Amy Tennant, Emily Defroand, Grace Balsdon, Anna Toman, Suzy Petty, Hannah Martin and Erica Sanders were of much greater significance.

And Sunday afternoon will see more of the same as Kerry's side again face South Africa, beginning at 2pm UK time.

Starting XI: 23 Amy Tennant (GK), 6 Anna Toman, 10 Susie Gilbert, 13 Erica Sanders, 16 Emily Defroand, 18 Giselle Ansley, 20 Hollie Webb, 21 Ellie Watton, 26 Lily Owsley, 27 Jo Hunter, 31 Grace Balsdon

Subs (all used): 26 Sabbie Heesh (GK), 2 Zoe Shipperley, 4 Laura Unsworth, 5 Sarah Haycroft, 7 Hannah Martin, 11 Suzy Petty, 14 Joie Leigh

England Hockey Board Media release


---

Kalinga Lancers beat Uttar Pradesh Wizards 4-3 in a dramatic penalty shootout




Chandigarh: Kalinga Lancers held their nerves to make their second successive Final appearance in the Coal India Hockey India League after a dramatic 4-3 win against Uttar Pradesh Wizards in a nerve-wrecking penalty shootout here on Saturday. It was Aran Zalewski who struck the golden goal in the sudden death beating PR Sreejesh that saw them seal the Finals spot. Lalit Upadhyay too scored twice in the shootout to help the Kalinga Lancers win.

The boisterous Chandigarh spectators couldn't have asked for a better Semi Final encounter with both teams showcasing incredible prowess that took the match into a tense shootout after they ended the 60-minute play with a 4-4 draw. Kalinga Lancers goalkeeper Andrew Charter rose to the occasion with some incredible saves that saw his team through.

Uttar Pradesh Wizards got off to a fine start by winning their first PC as early as the 3rd minute of the match however Argentine drag flicker Gonzalo Peillat's attempt was slightly off the mark. But they rallied back stronger to take a 2-0 lead in the 4th minute when Arthur van Doren, who was awarded the FIH Rising Star of the Year 2016, was impeccable with his stick work to assist Florent van Aubel who effortlessly put the ball past Kalinga Lancers goalkeeper Andrew Charter. Kalinga Lancers reduced the deficit in the 9th minute when they won their first PC.

Though Moritz Fuerste couldn't take the flick due to a miss trap, they quickly recovered with Aran Zalewski finding the rebound only to assist Devinder Walmiki who deflected the ball into the post ending the first quarter with the score reading 2-1 in favour of Uttar Pradesh Wizards.

Coach Roelant Oltmans' men continued to be impressive in the second quarter as they won a PC soon after the two-minute break. However, they couldn't make much of the opportunity as Peillat's flick was promptly padded away by an alert Charter. Uttar Pradesh Wizards in-form forward Akashdeep Singh made several strong attempts at converting a field goal and he even came close to scoring one in the 18th minute when he showcased fine dribbling skills to race into the circle and take a strike but he was slightly off the mark. His team won another PC this quarter but skipper VR Raghunath's fiercely struck flick was saved by Charter.

With the half time score of 2-1, Uttar Pradesh Wizards were quick to win a PC in the 24th minute both both the attempts by Raghunath failed to make the post. However, Kalinga Lancers didn't miss out on the opportunity as their in-form captain Moritz Fuerste, who is also a two-time Olympic gold medalist for Germany, came up with an incredible flick to send the ball past PR Sreejesh like a lightning to equalize in the 35th minute. They came close to taking a 3-2 lead in the 44th minute, but both the attempts by Moritz Fuerste by a strong Uttar Pradesh Wizards defence ending the quarter at 2-2.

It was an intense final quarter, with the Kalinga Lancers turning an evenly poised game in their favour when Aussie forward Glenn Turner beat the Uttar Pradesh defenders to find Billy Bakker who scored a fine field goal to take their score to a strong 4-2. Though the Kalinga Lancers won another PC in the 53rd minute, Fuerste's attempt was pushed outside the circle by Raghunath. Akashdeep Singh scored a crucial field goal to equalize in the 58th minute after a bit of a scramble in the circle. They were quick to earn two back-to-back PCs with just a little over a minute to go for the final hooter. But they couldn't make much of it while Kalinga Lancers showcased good defensive skills to take the match into a thriller of a shootout.

Billy Bakker of Kalinga Lancers was awarded with a prize money of Rs 50,000 for scoring the Coal India Goal of the Match from Mr. B.K Upadhyay, Regional Sales Manager Coal India Ltd.

Dipsan Tirkey of Kalinga Lancers won the prize of Rs 25,000 for being the Hero Young Achiever of the Match from Dr. Chander Shekhar, President, Hockey Chandigarh.

The Airtel Most Entertaining Player of the Match was awarded to Florent van Aubel of Uttar Pradesh Wizards that came with a prize money of Rs 25,000 and presented by Mr. Gyanendro Ningombam, Member, Hockey India Executive Board.

Andrew Charter of Kalinga Lancers was declared the Man of the Match and was awarded a prize money of Rs 50,000 by Mr. Bhola Nath Singh, Vice President, Hockey India.

On 26th February, 3/4th place Play Off and Final with be held at the Chandigarh Hockey Stadium.

Uttar Pradesh Wizards Vs Loser SF2 at 16.50hrs
Kalinga Lancers Vs Winner SF2 at 19.20hrs.

Matches will be shown live on Star Sports 2 & HD 2 and Star Sports 3 & HD 3 and live streamed on Hotstar.com

Official HIL Site


---

David Harte stars in Dabang Mumbai's 2-0 win against Delhi Waveriders




Chandigarh: Table toppers Dabang Mumbai made it to their first ever Final in the history of the Coal India Hockey India League with a comfortable 2-0 win against the Delhi Waveriders in the second Semi Final of the day.

26 February promises to be an exciting Final day with Kalinga Lancers taking on Dabang Mumbai in a battle of equals and interestingly both teams will be led by German skippers Moritz Fuerste and Florian Fuchs respectively. In the 3rd and 4th Placing match, Uttar Pradesh Wizards will play Delhi Waveriders.

Dabang Mumbai were on top of their game from the very beginning with better ball possession and circle entries. Though Delhi Waveriders won their first PC in the opening quarter, their woes with converting them continued. However, Dabang Mumbai were clever to use their PC when they attempted a field goal to ensure a 2-0 lead as a field goal counts for two goals. A perfect set piece saw Robbert Kemperman put the ball past Vincent Vanasch in the 26th minute that set the tone of the match for Dabang Mumbai's win.

Almost immediately Delhi Waveriders earned a brilliant opportunity to equalise when they were awarded a penalty stroke, however, Irishman David Harte who won the FIH Goalkeeper of the Year 2016, was impeccable in his efforts when he swiftly padded away Iain Lewers' strike to deny them an equaliser. Harte was awarded with the Man of the Match for his incredible performance on Saturday.

Harte's save was perhaps the clincher for Dabang Mumbai who came up with a tactical defensive structure to keep their lead through the third quarter. Though both teams traded two PCs each in this quarter, neither could successfully convert the goal.

The Delhi Waveriders made desperate attempts to come back into the game in the final quarter but a a strong defence in Dabang Mumbai led by Harte at the post kept them at bay. "We are overwhlemed by making it to the Final and more so by how we performed today. We know we played our best hockey and our defensive worked out perfectly. When David Harte saved that penalty stroke it seemed like that was the key," stated Florian Fuchs on winning the Semi Final.

Robbert Kemperman of Dabang Mumbai was awarded with a prize money of Rs 50,000 for scoring the Coal India Goal of the Match from Mr. B.K Upadhyay, Regional Sales Manager Coal India Ltd.

Affan Yousuf of Dabang Mumbai won the prize of Rs 25,000 for being the Hero Young Achiever of the Match from Dr. Chander Shekhar, President, Hockey Chandigarh.

The Airtel Most Entertaining Player of the Match was awarded to Robbert Kemperman of Dabang Mumbai that came with a prize money of Rs 25,000 and presented by Mr. Gyanendro Ningombam, Member, Hockey India Executive Board.

David Harte of Dabang Mumbai was declared the Man of the Match and was awarded a prize money of Rs 50,000 by Mr. Jason McCracken, CEO, International Hockey Federation.

On 26th February, 3/4th place Play Off and Final with be held at the Chandigarh Hockey Stadium.

Delhi Waveriders Vs Uttar Pradesh Wizards at 16.50hrs
Dabang Mumbai Vs Kalinga Lancers at 19.20hrs.

Matches will be shown live on Star Sports 2 & HD 2 and Star Sports 3 & HD 3 and live streamed on Hotstar.com

Official HIL site


---

Goalkeepers endear as Kalinga and Mumbai enter Sunday HIL Final

s2h team

Amazing goalkeepers Andrew Charter and David Harte played pivotal role in their teams, Kalinga Lancers and Dabang Mumbai, respectively winning the tight semifinal encounters and put their teams in to the Sunday final of the Hockey India League. While Charter charted Sudden Death route (8-7) for Kalinga's second final entry the FIH Player of the Year David Harte held his forte solidly to safeguard solitary goal lead till the end to pave way for Dabang Mumbai's maiden entry into the HIL Final.

Fittingly both got the coveted Man of the Match award

In a pulsating semifinal, where the teams seemed to have reserved their best, Kalinga Lancers' goalie Andrew Charter came out triumphantly saving twice in the penalty shoot out and then vital one in the sudden death to give his side second straight Hockey India League final entry. Full time score stood 4-4, shoot out 6-6 and sudden death score 8-7. On the other hand, Robbert Kemperman's early penalty corner goal taken in field goal fashion (2-0) was suffice for the pool toppers to overcome gritty Delhi Waveriders to enter Sunday Final.

Aran Zelewski converted the all important goal in the sudden death after Akashdeep missed out for the Kalinga's day of joy (8-7).

Kalinga otherwise were cruising to final with 4-2 lead till less than three minutes for the hooter, but Uttar Pradesh came up with a stunning leveller to drag the Kalinga juggernaut into the shoot out vortex.

The Thanks to hardworking Uttar Pradesh Wizard's never-say-give up attitude, Akashdeep Singh struck a field goal to clear the two goal deficit to take the match to cruelling shoot out and sudden death.

In the shoot out, Lalit Upadhyay gave perfect saviour goal to level 2-2 after his captain failed. In the sudden death, Moritz again failed, so also Akashdeep Singh whose shot hit the top bar agonizingly.

At this juncture, Aran Zaleswki came up with a peach of a conversion to deny hithto solid looking PR Sreejesh to take his team to the Sunday final.

Florent van Aubel scored in the sudden death for which Lalit replied. Before that Mazzli and Moritz missed out. When Akashdeep missed out, Aran Zaleski came out with the semifinal clincher.

The first semifinal started with a brisk note in the first quarter, contrary to the next which saw a flurry of action from the Wizards but unable to move the scoreboard.

Two Belgians in its rank, Van Doren, who won the FIH Young Player Award pipping Harmanpreet Singh, and Aubel played big role in UP Wizard forging ahead in the fourth minute itself.

Van Doren received a pass from near top of the circle, which he sent in to the D through a fast slap, where his colleague in Belgium team Aubel put the stick in perfect angle to deflect it to the goal (2-0). Four minutes later, even though penalty corner process failed at the circle top, a reluctant push between the legs saw alert Devinder getting the feed he was waiting for, and taps in to goal to narrow down the lead to solitary goal (1-2). Second quarter witnessed hectic effort from UPW, but the combination of Ramandeep Singh and Akashdeep Singh just missed chances after chances that their midfield created.

At least thrice in the spell, Akashdeep Singh either hit wide or his shots were so feeble that Andrew Charter easily palmed it away.

At half time, UPW had four times more circle penetration than Kalinga, but found wanting in making goals. Gonzalo's poor form with PCs continued as he missed out twice, while Raghu too did not make any tent with the lone strike he got till the first half.

AWARDS SF1:

Goal of the Match: Billy Baker
Young Achiever of the Match: Dipsan Tirkey
Most Entertaining Player of the Match: Florent van Aubel
Man of the Match: Andrew Charter AWARDS SF2:

AWARDS SF2:

Goal of the Match: Robbert Kempermen
Young Achiever of the Match: Affan Yousaf
Most Entertaining Player of the Match: Robbert Kemperman
Man of the Match: David Harte

Stick2Hockey.com


---

Kalinga squeeze into final; Mumbai stop Delhi

Kalinga beat UP Wizards 4-3 in shootout; Mumbai beat Delhi 2-0

Indervir Grewal



Dabang Mumbai's Emmanuel Stockbroekx (blue) vies for the ball with Benjamin Stanz of Delhi Waveriders during their HIL semifinal match in Chandigarh on Saturday. Tribune photo: S Chandan

Kalinga Lancers squeezed through to their second consecutive Hockey India League final after outlasting Uttar Pradesh Wizards in a long and topsy-turvy shootout here today.

The Bhubaneshwar-based team will have another chance at the title when they will take on first-timers Dabang Mumbai, who denied Delhi Waveriders a chance to go for their second crown.

Newly crowned FIH Goalkeeper of the Year David Harte's Man of the Match performance helped Mumbai pull off an unexciting win and extend their dream run.

Mumbai, who made it to the semifinals for the first time in the event's history by finishing on top of the pool, didn't need to repeat their Houdini act again as a 26th-minute field goal from Robbert Kemperman proved enough.

The Delhi rushers gave the Dutchman too much time to run in from the dotted line — a penalty corner variation to get a field goal — and smash a tomahawk shot into the far corner.

Harte stopped Iain Lewers' penalty stroke a few seconds later, and it started a string of saves from the Mumbai goalkeeper interspersed with a few costly misses by Delhi.

Mumbai also missed many chances, created on the counter after Delhi pushed forward, to kill off the game; they were denied by the post twice. But an "overwhelmed" Florian Fuchs was happy about his team's performance.

"Overwhelmed to reach our first final. One of the best Dabang performances today, especially how we performed as a team," the Mumbai captain said.

Changing fortunes

Earlier, as the temperature dipped with the setting sun, the first semifinal of the day saw a climactic finish. The small but very animated crowd was treated to an eventful shootout that saw a penalty stroke, a German great missing twice, an Indian youngster belying his age, two master keepers at their best, and an Australian keeping his cool amidst taut nerves.

Lancers, who "should have won the match in regular time", first fell two goals behind in the shootout, then missed the opportunity to win in the teams' first attempt in sudden death — captain Moritz Fuerste missed

for the second time in

The shootout.

Lancers then came back from the dead when Lalit Upadhyay converted coolly for his second finish in the shootout. Kalinga's Andrew Charter and Wizards' PR Sreejesh intimidated the players into missing nine of the 16 total attempts. Finally, Australian Aran Zalewski sealed it 4-3 with a second calm finish past Sreejesh.

Earlier, Kalinga fought back after going behind to a Florent van Aubel goal in the 4th minute. He deflected in FIH Rising Player of the Year Arthur van Doren's cross.

A "nervous" Kalinga came under immense pressure throughout the first half but Charter kept them in the game with many saves. Kalinga then slowed down the pace, concentrating more on keeping possession than finding a goal.

Wizards, meanwhile, kept missing their chances — as has been the case throughout the tournament — allowing Kalinga back into the game. Devinder Walmiki reduced the lead in the ninth minute, scoring with a deflection after Kalinga messed up the penalty corner.

Fuerste then did what he has been doing best this season, firing a drag-flick into the bottom left corner, to bring Kalinga back into the game in the 35th minute. Dutchman Billy Bakker scored a field goal in the 46th minute to put Kalinga 4-2 ahead.

After taking the lead, Kalinga started controlling the game, while the number of errors from the Wizards players increased. It seemed that Kalinga would see the time through, a lapse in concentration saw Wizards equalise in the 58th minute through Akashdeep Singh.

Kalinga coach Mark Hager said: "We should have won it in regulation time. The goal shouldn't have been conceded."

"Great to be in the final for the second year in a row," Hager added.

The Tribune


---

Kalinga Lancers beat Uttar Pradesh Wizards, storm into final



Kalinga Lancers celebrate after beating (HIL)

Kalinga Lancers stormed into the final of the fifth edition of Coal India Hockey India League (HIL) after defeating Uttar Pradesh Wizards via penalty shootout in a semi-final match in Chandigarh on Saturday.

Both teams were locked 4-4 as the match went down to the wire, and it was only in the sudden death that Lancers won 4-3.

Kalinga Lancers Australian goalkeeper Andrew Charter, who won man-of-the-match for his efforts, saved several goals for his team, not only in the alloted time but also in the penalty shootout.

Earlier, Akashdeep Singh of the Wizards pumped in a goal in the dying minutes of the alloted time after the Lancers were leading 4-2.

The Lancers, who were down 1-2 at the half time, came back strongly post interval to turn the tables on the Wizards.

For the winners, skipper Mortiz Fuerste and Billy Bakker scored the winning goals.

UP Wizards took an early lead when Belgian Florent Van Aubel scored the first goal in the 4th minute converting from a pass from Arthur van Doren. Being a field goal, its conversion was counted as two as per tournament rules.

Prior to that they earned a penalty corner in the opening couple of minutes and two more by the half time, but they failed to convert any of these.

Just three minutes before end of the first quarter, Lancers Devindar Walmaki scored through a penalty corner.

Till half-time, the Wizards, who were leading 2-1, played some attacking hockey and had it not been for some valiant saves made by Lancers' goalkeeper Andrew Charter, they would have scored more goals.

Lancers, however, were back in action when their skipper Mortiz Fuerste of Germany scored the equaliser in the 4th minute of the third quarter from a penalty corner.

In the third minute of the fourth and final quarter, Dutch Billy Bakker showed some great skills to beat Wizards' defence and went past at least three players to score a goal.

By virtue of Bakker's goal and as per tournament rules, Lancers extended the lead by 4-2.

However, for the Wizards, Akashdeep Singh, riding on the back of some good work from his team's forwards, made no mistake to net the ball in the dying minutes of the alloted time to tie the scores 4-4.

Hindustan Times


---

Dabang Mumbai to face Kalinga Lancers in Hockey India League 2017 final



Dabang Mumbai beat Delhi Waveriders to book their spot in the Hockey India League final against Kalinga Lancers.(HIL)

Dabang Mumbai entered the finals of the fifth edition of Hockey India League by winning their semi-final match against Delhi Waveriders and will now face Kalinga Lancers in the final on Sunday.

Table toppers Dabang Mumbai, led by their skipper Florian Fuchs, rode on a 26th minute field goal by Dutch import Robbert Kemperman to beat Delhi Waveriders 2-0 and reach the summit clash.

Earlier, Kalinga Lancers defeated Uttar Pradesh Wizards via penalty shootout after both teams were locked 4-4 as the match went down to the wire. It was only in the sudden death that Lancers won 4-3.

While defending champions Punjab Warriors have already been knocked out of the competition, both Mumbai and Lancers have never won the title earlier.

For nearly 20 minutes, both Mumbai and Waveriders played cautiously before Mumbai earned their first penalty corner four minutes before the half-time.

Showing great skills, Mumbai's Dutch import Robbert Kemperman converted the opportunity into a field goal and finally scored with an angular backhanded shot.

Barely a minute after Mumbai had scored, Waveriders got the golden opportunity to equalise when they earned a penalty stroke but they failed to convert the chance with Irish import David Harte, who recently won FIH goalkeeper of the year award, standing like a wall.

At the half-time, Mumbai were up 2-0, with field goal being counted as two as per the tournament rules.

In the remaining period, both teams fought hard, but the scoreline remained unchanged, even though Mumbai got a few close chances to increase their lead.

"It was a great team effort. I am happy that we reached the finals," the Mumbai skipper said after the match.

For the losers of the two semi-finals today, Waveriders and UP Wizards, it was the failure to convert the penalty corner opportunities that came their way which let them down.

Hindustan Times


---

Dabang Mumbai, Kalinga Lancers storm into HIL finals

CHANDIGARH: Dabang Mumbai and Kalinga Lancers entered the finals of the fifth edition of Coal India Hockey India League by winning their respective semi-finals against Delhi Waveriders and Uttar Pradesh Wizards at the Sector 42 Hockey Stadium here on Saturday.

Table toppers Dabang Mumbai, led by their skipper Florian Fuchs, rode on a 26th minute field goal by Dutch import Robbert Kemperman to beat Delhi Waveriders 2-0 and set up a summit clash with the Lancers in the finals here tomorrow.

Lancers defeated Uttar Pradesh Wizards via penalty shootout after both teams were locked 4-4 as the match went down to the wire. It was only in the sudden death that Lancers won 4-3.

While defending champions Punjab Warriors have already been knocked out of the competition, both Mumbai and Lancers have never won the title earlier.

For nearly 20 minutes, both Mumbai and Waveriders played cautiously before Mumbai earned their first penalty corner four minutes before the half-time.

Showing great skills, Mumbai's Dutch import Robbert Kemperman converted the opportunity into a field goal and finally scored with an angular backhanded shot.

Barely a minute after Mumbai had scored, Waveriders got the golden opportunity to equalise when they earned a penalty stroke but they failed to convert the chance with Irish import David Harte, who recently won FIH goalkeeper of the year award, standing like a wall.

At the half-time, Mumbai were up 2-0, with field goal being counted as two as per the tournament rules.

In the remaining period, both teams fought hard, but the scoreline remained unchanged, even though Mumbai got a few close chances to increase their lead.

"It was a great team effort. I am happy that we reached the finals," the Mumbai skipper said after the match.

For the losers of the two semi-finals today, Waveriders and UP Wizards, it was the failure to convert the penalty corner opportunities that came their way which let them down.

Earlier, Lancers Australian goalkeeper Andrew Charter, who won man-of-the-match for his efforts, saved several goals for his team, not only in the alloted time but also in the penalty shootout.

Akashdeep Singh of the Wizards pumped in a goal in the dying minutes of the alloted time after the Lancers were leading 4-2.

The Lancers, who were down 1-2 at the half time, came back strongly post interval to turn the tables on the Wizards.

For the winners, skipper Mortiz Fuerste and Billy Bakker scored the winning goals.

UP Wizards took an early lead when Belgian Florent Van Aubel scored the first goal in the 4th minute converting from a pass from Arthur van Doren. Being a field goal, its conversion was counted as two as per tournament rules.

Prior to that they earned a penalty corner in the opening couple of minutes and two more by the half time, but they failed to convert any of these.

Just three minutes before end of the first quarter, Lancers Devindar Walmaki scored through a penalty corner.

Till half-time, the Wizards, who were leading 2-1, played some attacking hockey and had it not been for some valiant saves made by Lancers' goalkeeper Andrew Charter, they would have scored more goals.

Lancers, however, were back in action when their skipper Mortiz Fuerste of Germany scored the equaliser in the 4th minute of the third quarter from a penalty corner.

In the third minute of the fourth and final quarter, Dutch Billy Bakker showed some great skills to beat Wizards' defence and went past at least three players to score a goal.

By virtue of Bakker's goal and as per tournament rules, Lancers extended the lead by 4-2.

However, for the Wizards, Akashdeep Singh, riding on the back of some good work from his team's forwards, made no mistake to net the ball in the dying minutes of the alloted time to tie the scores 4-4.

The Times of India


---

England and GB's Dixon into HIL final



Adam Dixon in the Hockey India League

England and Great Britain's Adam Dixon is through to the final of the Hockey India League.

His Kalinga Lancers side won a thrilling semi-final against Uttar Pradesh via a shootout, and now face Dabang Mumbai on Sunday.

The game begins at 7:20pm local time (1:50pm UK time) and will be online at www.hotstar.com/sports/hockey

Speaking on Friday, Adam said, "I cannot wait for the HIL finals weekend to begin. It's been a long week resting up whilst watching the final few games of the league pan out. I just want to get out there now and try to go one better than last years' second place finish.

"The HIL has been a great learning experience. Exposure to different coaching and playing styles has definitely helped me to progress as a player. The Kalinga Lancers are made up of representatives from Australia, Germany, The Netherlands, India and I fly the flag solo for England. We try and play attacking hockey, as favoured by the Australians and Indians, whilst us Europeans tend to emphasise the importance of playing from a solid defensive platform."

This summer, Adam's England will play in the World League Semi-Final in London, and India, Pakistan, Argentina and Holland are already confirmed to take part.

Dixon said, "I always look forward to playing internationals on home soil and I was thrilled when London was announced as a host of the FIH World League Semi Finals. England Hockey organise some of the best international hockey events that we get the chance to attend. With the added prize of World Cup qualification on the line, the pressure will be firmly on us as a team but we hope that the home advantage and amazing crowd support will give us the edge.

"The event will also showcase many of the talents from the Hockey India League. My teammates Billy Bakker, Matt Dawson and SK Uthappa will be ones for us to keep a close eye on in London."

England Hockey Board Media release


---

2017 HIL Finalists: Head to head

B.G.Joshi (Sehore-Bhopal, India)

Debutant semifinalist Dabang Mumbai beats Delhi Waveriders  2-0 in second SF of HIL season-5.Earlier Kalinga Lancers have entered  HIL final in succession. Kalinga beat UP Wizards by 4-3 in sudden death shoot out. Full time scores were 4-4.In their maiden final (2016) Kalinga was the runners-up. We will see new winner in HIL as Dabang also made it to their first ever final. Both the teams have German captains. Florians Fuchs (Dabang) and Moritz Fuerste (Kalinga) they have won Gold Medal together in London Olympics (2012). Coaches Jay Stacy (Dabang) and Mark Hager (Kalinga) also have played together for Kookaburras during Olympics (1988-1996).Head to head of finalist's teams in HIL are:
Kalinga

 Lancers

Category

Dabang

 Mumbai

8

Played

8

5

Won

3

3

Lost

5

23

Goals For

21

21

Goals Against

23
Fieldhockey.com


---

We'll increase the amount of hockey on TV ten times, says FIH CEO Jason McCracken

The New Zealand hockey official spoke with Chandigarh Newsline about FIH plans for hockey, new home and away league concept, and the importance of Indian hockey.

by Nitin Sharma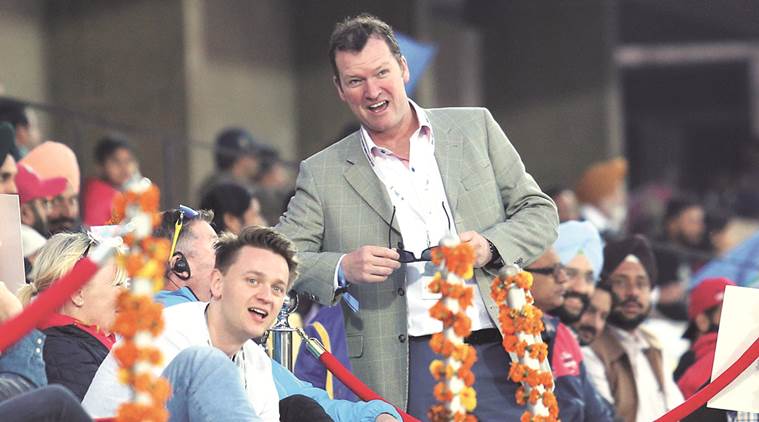 Jason McCracken, CEO, International Hockey Federation at the HIL 2017 semi-final in Chandigarh on Saturday. (Source: Kamleshwar Singh)

With experience of more than two decades as a hockey umpire, referee and technical official, New Zealand's Jason McCracken took over the charge of the Chief Executive Officer of the International Hockey Federation (FIH) earlier this month. McCracken, who has also officiated in the World Cup and Olympics and was a technical director in Rio Olympics for male hockey, is in Chandigarh for the FIH Hockey Stars Awards and the Hockey India League finals. The New Zealand hockey official spoke with Chandigarh Newsline about FIH plans for hockey, new home and away league concept, and the importance of Indian hockey.

Coming as the CEO after spending more than two decades in hockey umpiring and tournaments, how do you see this phase and FIH plans for the new home and away League?

I think that was a very successful hockey phase for us but I must say that we are going to do some new, exciting things. In 2019, we are going to introduce our new home and away hockey league and we are going to increase the amount of hockey on television by ten times. The new format will be the league all around the world. The top eight-nine teams will play one match in their country and then play one match away against the same country and it will happen for 2-3 months at the start of the year. We will be having hockey for a much longer duration. We already have 18 teams in the second stage of selection and the final teams will be announced in June later this year.

Will the new league have the same stakes as the world league and other continental championships, and will it be a criteria for spots in the Olympics too?

The top four teams will play the final of the new league. We were determined to have top players play in the away countries too, and this also gives a chance for the teams to look forward to playing against the top teams every year for a duration of 2-3 months. This will also form the part of the qualification process for the Olympics spots. The continental winners will get the entry to the Olympics, and this league will also have one or two spots for the qualification. I was also disappointed when South Africa was denied the opportunity to be at Rio, despite being the African continental champions. We will also talk with Hockey India about shifting HIL by some days as we want the home and away league to happen at the start of the year.

While Rio Olympics had a record viewership for hockey events, how is FIH thinking ahead as part of the ten-year evolution strategy and how do you see the coming phase till the next Olympics?

We are trying to grow the game. We are trying to increase the amount of exposure that hockey gets. I guess in India, hockey gets good exposure but that's not the case in other countries. Importantly, it is about youngsters seeing big stars. We are willing to try things to get more exposure. The Champions Trophy had its history and I was also a part of the last edition of the Champions trophy. But that was not in the ten-year hockey revolution strategy which we decided earlier. But then we now have tournaments like Hockey World league has seen hockey events being held in South Asia. India, too, holds an important part in hockey's history and will also continue to be an important part in the future. The Indian hockey team has been performing well at the world stage and HIL is also promoting the game.

FIH also made changes in rules at the international level during the last one decade. Do we see more rule changes in the future, too?

The rules were changed to make the game faster and more exciting and to score more goals. Those were the things that we tried to do. I think historically the game was more about stop and start. So we introduced things like the self pass, the overhead pass and things like playing the ball in the air to make the game more. And we saw more goals being scored. If we look at the hockey league, we are getting scores like 5-0 or 5-2. Traditionally, hockey games were seeing more scores of 1-0 or 2-1. Rules were changed and it was part of the evolution which FIH wanted to do. We are not going to change rules more. We are seeing more goals. I think we are trying to change the exposure. At the moment, if you are a hockey fan you love it. What we are trying to do it to make it go and watch it every day. The change to Blue in London was good for the game and people adapted to the change.

Teams like Argentina and Belgium reached the final in Rio and the game had a new Olympics champion. How do you see the development for the game?

I think it is interesting. I was the tournament director in Rio. What I noticed was some of the top teams becoming more athletic and physically very good. Fitness is becoming one of the main things in modern hockey. Because hockey is becoming more demanding and needs more fitness. So my observation was that the top two fittest teams were in the final at Rio. Argentina played very aggressive hockey. In the old days, say five or ten years ago when the Europeans dominated, teams like Germany or Netherlands they played more of traditional and holding the ball. These days teams are playing attacking hockey and trying to score goals and take the ball forward.

Indian Express


---

Leicester end Surbiton's unbeaten run



Leicester scorer Maddie Newlyn celebrates her goal against Surbiton. Credit Andy Smith

Surbiton's three-year unbeaten run ended as Leicester beat them 3-2 in the Investec Women's Hockey League Premier Division on Saturday.

Having not lost in 53 games since they were last defeated in the league, Surbiton were beaten as Leicester kept alive their hopes of qualifying for the Finals Weekend.

Last beaten in February 2014, Surbiton's last defeat was also at the hands of Leicester, who beat them this time thanks to goals from Maddie Newlyn, Katie Long and Rachel Mack.

Elsewhere Holcombe closed the gap at the top of the table to eight points, a first half goal from Quanita Bobbs giving them a 1-0 victory at home to battling Bowdon Hightown, who remain ninth.

Clifton Robinsons went third in the table after a 3-2 win at bottom placed Reading.

Claire Thomas scored a pair with Olympic gold medal-winning former Reading ace Alex Danson also on target for the visitors.

East Grinstead kicked off their double-header weekend with a defeat, falling 2-1 at home to the University of Birmingham.

Jess Dean gave East Grinstead a first half lead, but two goals in the last ten minutes from Rebecca Condie and Alicia Caillard gave Birmingham all three points.

Clifton, East Grinstead and the University of Birmingham are all now level on points as the battle for the top four intensifies.

Elsewhere, Slough earned a share of the spoils in a 1-1 draw at Canterbury.

Victorine Vankemmel opened the scoring for the hosts, only for Louise Bevan to hit back within a minute.

Investec Women's Conference East

Wimbledon continue to lead the way from Sevenoaks after the top two in the Investec Conference East both recorded comfortable victories on Saturday.

The leaders ran out 5-0 winners at Chelmsford, Tamsyn Naylor, Cherry Seaborn, Crista Cullen, Rosie MacPherson and Rose Winter all on the scoresheet.

Sevenoaks remain three points behind after a 7-0 home win against winless Northampton Saints, Maddie Thompson scoring a brace.

Conference leading scorer Maria Andrews was on target again for Harleston Magpies but they lost ground on the top two after being held to a 2-2 draw at Southgate, Caitlin Wales with a brace for the hosts.

Amy Askew netted twice as Hampstead and Westminster won 2-1 at West Herts, whilst St Albans and Cambridge City finished all square.

Cambridge City entertain leaders Wimbledon on Sunday, with the match now starting at 2.30pm rather than the originally stated time of 4pm.

Investec Women's Conference North

Brooklands Poynton remained four points clear at the top of the Investec Conference North after a 2-0 home win over Liverpool Sefton.

Helen Turner and Jessica Berry scored at the end of each half to give the hosts the points.

Beeston kept up the pressure after a 7-0 home win over Wakefield, Sophie Robinson taking her season tally to 15 goals in a match that had seven different scorers.

Ben Rhydding won for the first time in four matches, a Kate Hesketh brace helping them to a 4-2 victory over Sutton Coldfield.

Elsewhere, the University of Durham beat bottom side Belper 3-1, whilst Loughborough Students came from behind to win 3-2 at Timperley.

Investec Women's Conference West

The gap between Stourport and Buckingham remains at three points after both sides picked up home wins in the Investec Conference West on Saturday.

Lora Symonds took her total for the campaign to 17 with a brace in a 3-0 win for Stourport over Exe, Claire Pearson also on target.

Abbie Brant scored the only goal of the game just before the break as Buckingham defeated Swansea City 1-0.

Third place side Olton and West Warwicks twice came from behind to earn a 2-2 draw at Gloucester City.

Elsewhere, goals from Cat Horn and Heather Batten gave Trojans a 2-1 win at Oxford Hawks, whilst Isca beat Bristol Firebrands 2-1.

Investec Women's Hockey League (Saturday, February 25, 2017):

Investec Women's Premier Division: Canterbury 1, Slough 1; East Grinstead 1, University of Birmingham 2; Holcombe 1, Bowdon 0; Leicester 3, Surbiton 2; Reading 2, Clifton Robinsons 3.

Investec Women's Conference East: Chelmsford 0, Wimbledon 5; Sevenoaks 7, Northampton Saints 0; Southgate 2, Harleston Magpies 2; St. Albans 1, Cambridge City 1; West Herts 1, Hampstead and Westminster 2.

Investec Women's Conference North: Beeston 7, Wakefield 0; Ben Rhydding 4, Sutton Coldfield 2; Brooklands Poynton 2, Liverpool Sefton 0; Timperley 2, Loughborough Students 3; University of Durham 3, Belper 1.

Investec Women's Conference West: Buckingham 1, Swansea City 0; Gloucester City 2, Olton & West Warwicks 2; Isca 2, Bristol Firebrands 1; Oxford Hawks 1, Trojans 2; Stourport 3, Exe 0.

England Hockey Board Media release


---

Big wins for Kelburne men and Edinburgh Uni women to top the tables




Bromac Kelburne men and Edinburgh University women both won big games this Saturday to top the men's and women's National League 1 tables.

Bromac Kelburne made significant progress towards retaining the first division title with a 3-0 win over rivals Grange at Glasgow Green. The Paisley side have now opened up a five point gap over Grange at the top, although the latter still have a game in hand.

The opener came when slip by a Grange defender donated the ball to Lee Morton, he drifted into the circle and unselfishly crossed the ball for Jack McKenzie to stroke it into the empty net.

There were chances at both ends, Kelburne`s Jonas Nommensen fired his effort over the bar, while at the other end a Duncan Riddell reverse stick shot was well blocked by Rory Kerr.

Kelburne doubled their tally when Johnny Christie latched onto a kick by the goalkeeper, and the former Scotland striker composed himself to fire a low shot into the empty net.

The pivotal moment came midway through the second half, Kelburne defender Josh Cairns lost the ball to Todd Mills in the circle but the resulting shot was fired directly at Kerr. Within a minute the Paisley side went up to the other end, won a penalty corner, and Cairns made amends by scoring with a fierce drag flick.

Grove Menzieshill consolidated their third spot in the table with a narrow 3-2 win over Edinburgh University on Tayside. The foundation of the victory came in the opening ten minutes with goals by Aidan McQuade from a set piece and then Ciaran Crawford.

The students pulled one back at their fourth penalty corner when Dan Coultas fired the ball home. The Taysiders regained their two goal lead with an open play strike by Hamish Gault. Coultas scored for Edinburgh with the last hit of the game but it was only a consolation by then.

Hillhead also failed to make up any ground on the top sides after losing 4-3 to Western Wildcats at Auchenhowie. Hillhead led 2-1 at the interval through goals from Chris Wilson and Andrew Hilton from the spot, while Rob Harwood got the Wildcats` goal.

The second half belonged to the Wildcats, Adam McKenzie scored twice from set pieces while Alex Morrison added another from open play, Callum Duke got Hillhead`s only reply. The result lifts the Wildcats up to seventh in the table on the same points as Uddingston who lost 2-1 at home to Clydesdale.




Watsonians fall back into the relegation zone after drawing 3-3 with Gordonians, the Aberdonians` first point of the campaign.

Edinburgh University moved to the top of the women`s first division with a narrow 3-2 win over Bromac Kelburne with Amy Brodie, Maisie Morris and Waverley Miller getting the goals.

The students now lead Milne Craig Western by a single point but the latter have now two games in hand. The two are due to meet on Sunday in a match that could have a huge bearing on the title this season.

Western Wildcats are also still in the hunt after a single goal win over Dundee Wanderers, Kareena Cuthbert getting the winner from a penalty corner. The result means Wildcats are joint top on 22 points.




Grove Menzieshill are also only a point behind after seeing off Watsonians 4-1, and they also have the luxury of two games in hand. They are currently fourth on goal difference in what is a close top in four in the race for the title.

Meanwhile, Hillhead lifted themselves further away from the bottom of the table with a 4-2 win over CALA Edinburgh, leaving the latter at the foot of the first division. There is now a six-point gap between Hillhead and CALA – today's win was an important one for Hillhead.

Photos by Mark Pugh and Duncan Gray

Scottish Hockey Union media release