All the news for Sunday 19 February 2017

Kalinga Lancers register emphatic 7-0 win over Jaypee Punjab Warriors




Chandigarh: Jaypee Punjab Warriors hopes of defending the title in front of their home crowd in the fifth edition of the Coal India Hockey India League practically ended as they lost their second successive match on home ground here on Saturday. The visiting team Kalinga Lancers, playing their last league match, walked away with a 7-0 triumph to seal their spot in next week's Semi Final on 25 February in Chandigarh's Hockey Stadium.

Kalinga Lancers have been one of the most consistent teams in the League this season and they continued their good show by getting a lead early in the game. It was skipper Moritz Fuerste who created a PC in the 9th minute of the match but a miss trap by Adam Dixon almost seemed like the chance went begging. But Dixon was quick to make up for the error by fetching the rebound, only to ambitiously drive into the striking circle beating defenders Mark Gleghorne and Varun Kumar to send a fiercely struck ball past in-form keeper Tristan Clemons. The visitors ended the first quarter with a strong 2-0 lead.

When the two teams met earlier in the League in Bhubaneswar, Kalinga Lancers enjoyed a narrow 6-5 win against Jaypee Punjab Warriors. The visitors executed their plans to perfection today, making their intentions of winning the match strong and clear in the second quarter which saw both teams trade PCs. While Jaypee Punjab Warriors couldn't convert a goal from the seven PCs they earned this quarter, Kalinga Lancers put one past Clemons in the 24th minute. It was German stalwart Moritz Fuerste who was responsible for extending the visitors' lead to a comfortable 3-0 when he successfully converted his 7th PC of this season.

Kalinga Lancers forward Lalit Upadhyay further dented Jaypee Punjab Warriors' hopes of making a comeback in the second half when he improvised an assist from Billy Bakker to extend his team's lead to 5-0 with an attractive reverse hit. The Jaypee Punjab Warriors seemed like they had completely lost the plot, their defensive errors left exposed, as Kalinga Lancers went on to score yet another field goal in the 39th minute when Dharamvir Singh deflected the ball into the post after a good assist by Malak Singh from within the circle.

With a formidable 7-0 lead, the Kalinga Lancers looked poised for a win in the final quarter by defending their lead rather diligently. Though the home team won two PCs this quarter, they couldn't make much of the opportunity. The home team's forward SV Sunil converted a field goal in the 56th minute, but a video referral in Kalinga Lancers' favour denied them the consolation.

Adam Dixon of Kalinga Lancers was awarded with a prize money of Rs 50,000 for scoring the Coal India Goal of the Match from Ms. Shantilata Sahu, Director Personnel, Northern Coal Fields Ltd.

Matthew Dawson of Kalinga Lancers won the prize of Rs 25,000 for being the Hero Young Achiever of the Match from Mr. Balbir Singh Senior, three-time Olympic gold medalist.

The Airtel Most Entertaining Player of the Match was awarded to Lalit Upadhyay of Kalinga Lancers that came with a prize money of Rs 25,000 and presented by Mr. Debasis Das, General Secretary Coal India Sports Promotions Association.

Dharamvir Singh of Kalinga Lancers was declared the Man of the Match and was awarded a prize money of Rs 50,000 by Mr. Inderjeet Vinayak, Senior Vice President Jaypee Cement.

On 19 February, Delhi Waveriders will take on Uttar Pradesh Wizards at the Shivaji Stadium in New Delhi at 1900hrs.

Matches will be shown live on Star Sports 2 & HD 2 and Star Sports 3 & HD 3 and live streamed on Hotstar.com

Official HIL site


---

Kalinga Lancers enter semifinals with a 7-0 win over Jaypee Punjab Warriors

s2h team

Chandigarh: The visiting team Kalinga Lancers, playing their last league match, walked away with a 7-0 triumph to seal their spot in next week's Semi Final on 25 February in Chandigarh's Hockey Stadium.

Jaypee Punjab Warriors hopes of defending the title in front of their home crowd in the 5th edition of Hockey India League practically ended as they lost their second successive match on home ground here on Saturday.

Kalinga Lancers have been one of the most consistent teams in the League this season and they continued their good show by getting a lead early in the game. It was skipper Moritz Fuerste who created a PC in the 9th minute of the match but a miss trap by Adam Dixon almost seemed like the chance went begging. But Dixon was quick to make up for the error by fetching the rebound, only to ambitiously drive into the striking circle beating defenders Mark Gleghorne and Varun Kumar to send a fiercely struck ball past in-form keeper Tristan Clemons. The visitors ended the first quarter with a strong 2-0 lead.

When the two teams met earlier in the League in Bhubaneswar, Kalinga Lancers enjoyed a narrow 6-5 win against Jaypee Punjab Warriors. The visitors executed their plans to perfection today, making their intentions of winning the match strong and clear in the second quarter which saw both teams trade PCs.

While Jaypee Punjab Warriors couldn't convert a goal from the seven PCs they earned this quarter, Kalinga Lancers put one past Clemons in the 24th minute. It was German stalwart Moritz Fuerste who was responsible for extending the visitors' lead to a comfortable 3-0 when he successfully converted his 7th PC of this season.

Kalinga Lancers forward Lalit Upadhyay further dented Jaypee Punjab Warriors' hopes of making a comeback in the second half when he improvised an assist from Billy Bakker to extend his team's lead to 5-0 with an attractive reverse hit.

The Jaypee Punjab Warriors seemed like they had completely lost the plot, their defensive errors left exposed, as Kalinga Lancers went on to score yet another field goal in the 39th minute when Dharamvir Singh deflected the ball into the post after a good assist by Malak Singh from within the circle.

With a formidable 7-0 lead, the Kalinga Lancers looked poised for a win in the final quarter by defending their lead rather diligently. Though the home team won two PCs this quarter, they couldn't make much of the opportunity. The home team's forward SV Sunil converted a field goal in the 56th minute, but a video referral in Kalinga Lancers' favour denied them the consolation.

AWARDS:

Goal of the Match: Adam Dixon
Young Achiever of the Match: Matthew Dawson
Most Entertaining Player of the Match: Lalit Upadhyay
Man of the Match: Dharamvir Singh

Stick2Hockey.com


---

Lancers steamroller Warriors

Defending champion consigned to the bottom of the heap

Uthra Ganesan



Happy bunch: Lancers players celebrate Lalit Upadhyay's strike against Jaypee Punjab Warriors. 

Jaypee Punjab Warriors ended its home engagements of the Hockey India League on a losing note, going down 7-0 to Kalinga Lancers on Saturday, to languish at the bottom of the table and in real danger of missing out on a playoff spot.

It was a continuation of a dismal season for the defending champion, boasting of three National captains and a slew of big names in its ranks, that began with a 10-4 humiliation against Dabang Mumbai and never picked up pace since. Even in the three wins its scored, two were contests won more because of the opposition's mistakes than JPW's excellence.

On Saturday, the host seemed to be going through the motions, with little or no co-ordination among its players and hardly a couple of shots at the goal, that went wide. The defence was in shambles and the offence non-existent. When names like Mark Knowles and Robert van der Horst make elementary trapping mistakes and Sardar Singh loses possession to a youngster like Lalit Upadhyay, it's clear that the team has big problems to solve.

JPW lost its third player this season with Armaan Qureshi, who was hit on the shin against Delhi, ruled out of the remaining games. JPW earned eight penalty corners but failed to converted any, including three back-to-back in the dying seconds of second quarter.

Lancers, which finished runner-up last season, was a team with a plan and had the personnel to execute it.

Upadhyay, Dharamvir and Adam Dixon were sharp in the attack, assisted by captain Moritz Fuerste playing far upfront.

In the defence, Dipsan Tirkey and Amit Rohidas were stubborn as a wall, hardly letting any balls through. The few times they missed, goalkeeper Andrew Charter was up to the task.

Dixon failed to stop a push in his team's first penalty corner but made up for it by chasing the ball and slotting it past two defenders and the goalkeeper to put Kalinga ahead in the 9th minute.

A second PC in the 24th minute found its mark and an unmarked Lalit was put through by Billy Bakker in the 34th minute to calmly slot the ball in — with eight Punjab players defending inside the circle — in the 34th minute to make it 5-0. Dharamvir rounded up the tally five minutes later.

While Kalinga ended its league stage with 28 points and is all set to finish in the top-four, JPW may find even a victory in its last match, to be played in Delhi, inadequate to make the cut with coach Dancer admitting as much after the game.

The result: Kalinga Lancers 7 (Adam Dixon 2 FG, Lalit Upadhyay 2 FG, Dharamvir Singh 2 FG, Moritz Fuerste 1 PC) bt Jaypee Punjab Warriors 0.

The Hindu


---

Lancers give Punjab a 7-0 thrashing

Indervir Grewal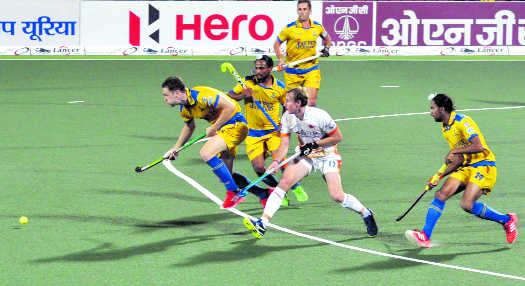 Punjab Warriors (yellow) suffered a big defeat on Saturday. Nitin Mittal

Chandigarh: Too many wasted chances and Kalinga Lancers sneaking in goals against the run of play sent Punjab Warriors to the brink of elimination as the defending champions suffered one their heaviest defeats (7-0) in this year's Hockey India League season here today.

An extraordinary goal started Punjab's downfall, another precise finish by captain Moritz Fuerste pushed the hosts further into the ground, while two field goals resulting from silly mistakes buried the defending champions in their last home game of the season.

Their fourth defeat in a row left Punjab in last place, desperately in need of a win from their last pool game, against Uttar Pradesh Wizards, to have any chance of qualifying for the semifinals.

Notwithstanding the margin of defeat, Punjab's performance gave hope to coach Barry Dancer that his team could finish with a win. "For the first time in five games, we dominated the midfield and created many chances. We had around 12 shots on target, but our finishing let us down," Dancer said.

"Now we have only one target, to win against UP. Right now, we are not thinking about the semifinals; our focus can't go beyond the next game," the Australian added. For the second match in a row, Punjab fell behind early despite creating the first chance on goal. Kalinga's Adam Dixon failed to stop the push during a penalty corner, but the Australian more than made up for his error. He quickly retrieved the ball from the 25-yard line, swiveled around to go past one defender, sent the ball through another before firing at goal from a narrow angle. The shot went in at the near post of Tristan Clemons, off his glove, giving Kalinga a 2-0 lead in the ninth minute.

Despite dominating in the next few minutes, Punjab fell further behind in the 24th minute. Fuerste, in hot form with his drag-flicks, sent the ball into the bottom left corner, his favourite spot this season.

Despite being behind, Punjab looked dangerous, especially when they played long balls. Unlike in their last four games, Punjab played a fast, passing, game and created many chances, though wasting all.

Despite having a clear shot at goal, SV Sunil and Sardar Singh hesitated and wasted two golden opportunities to reduce the deficit before the halftime. With pressure increasing on them fast, Punjab made two errors that led to two counter-attacking field goals by Lalit Upadhyay (34th) and Dharamvir Singh (39th), who was named the Man of the Match.

The Tribune


---

Kalinga Lancers thrash Punjab Warriors 7-0 to enter semis

Hockey India League defending champions Punjab Warriors were thumped 7-0 by Kalinga Lancers a day after losing 6-1 to Delhi Waveriders. The defeats have eroded their hopes of a semifinal berth.



Kalinga Lancers players celebrate after scoring against Punjab Warriors in the Hockey India League on Saturday. (HIL)

Kalinga Lancers handed defending champions Punjab Warriors their second heavy defeat in two days to qualify for the semifinals of the Hockey India League on Saturday. Lancers routed the hosts 7-0 to seal a spot in the knockouts.

However, Punjab Warriors' last four hopes faded with their second heavy defeat in successive days, having lost 6-1 to Delhi Waveriders. Playing in their last home match in the league stage, Warriors failed to even collect one point for the second day due to the huge margin of defeat. Only losing teams with a margin of two or less get a point.

Kalinga Lancers finished their league campaign with five wins and a draw. Having collected 28 points in 10 matches, they are second in the points table.

Punjab Warriors, semifinalists in all the four previous editions, are at the bottom with 17 points from nine matches. They will be playing their last league match against Uttar Pradesh Wizards and their chances of qualifying are remote.

Kalinga Lancers were in an attacking mode from the beginning and their foreign player Adam Dixon gave them the lead in the ninth minute. Lancers got their first penalty corner, but their stopper fumbled and it rolled out of the striking area.

Adam was quick to trap the ball and he dodged past two defenders before scoring from a narrow angle, giving a 2-0 (two points for a field goal) lead to the visitors.

There was no stopping for Kalinga Lancers from there as they completely dominated from there. They scored again in the 24th minute when skipper Moritz Fuerste converted a penalty corner. Lalit Upadhay and Dharamvir Singh then scored field goals in the 34th minute and 39th minutes respectively.

Punjab forced around half-a-dozen penalty corners, but missed them. They came close in the 56th minute when SV Sunil seemed to have converted a field attempt, but it was disallowed following a video referral.

Dharamvir Singh, adjudged Man-of-the-Match, is playing his biggest tournament after missing last year's Rio Olympics due to back injury. "When the league started I was bit cautious because of my previous injury, but as it proceeded, the level of my game also kept improving. I am pinning hopes on my HIL performance to be back in the national fold," he said.

Hindustan Times


---

Kalinga Lancers thrash Punjab Warriors 7-0 to enter HIL semis

CHANDIGARH: A determined Kalinga Lancers qualified for the semi-finals of the Coal India Hockey India League (HIL) as they whipped past defending champions Jaypee Punjab Warriors 7-0 at the Hockey Stadium on Saturday.

Needing only a draw in their final game to qualify for the semi-finals, the last year's runners ran riot with goals from Adam Dixon (ninth minute), Moritz Furste (24th, penalty corner), Lalit Upadhyay (34th) and Dharamvir Singh (39th).

The win took second-placed Kalinga's points tally to 28 as they and Dabang Mumbai are the two teams who have reached the knock-outs to be held here.

Bottom-placed Punjab remained at the bottom of the table with 17 points from eight matches.

Punjab, who were coming into the match with three consecutive defeats, continued their slump against Kalinga, who lost to the former in last edition's final.

Punjab got off to a disastrous start as they were behind by two goals in the early ninth minute when English midfielder Dixon made amends for a trapping mistake during a penalty corner execution as he gathered the ball and ran past couple of defenders on the right before slotting in from a tight angle.

Punjab showed good character after conceding the lead. They made good attacking build-ups and Baljit Singh tested Kalinga custodian Andrew Charter with a back-hander from the top of the 'D'.

The hosts earned three penalty corners in the first five minutes of the second quarter but none of them were trapped properly. Kalinga too missed one penalty corner with a mistrapping by the stopper.

But Kalinga corrected the mistake in their next attempt and German talisman Furste fired a grounder to the right, beating the outstretched right foot of Clemons to mark his seventh penalty corner goal and ninth of the campaign.

Punjab too had their chances, as many as three penalty corners, but the efforts from Mink van der Weerden and Mark Gleghorne were not enough to beat Kalinga goalkeeper Charter and his defence.

Kalinga continued their good game and made it 5-0 in the 34th minute as Billy Bakker, from the top of the circle, played a square pass to the left where Upadhhay was stationed unmarked. The India forward hammered home at the near post, much to the disappointment of the home camp.

Five minutes later, it was 7-0 and it seemed very easy as Punjab defence was out of place. Gurjinder Singh dribbled past two guarding defenders guarding the left post before passing to Malak Singh, who chipped from the baseline to the front of the goal. And only thing an unmarked Dharmvir did was to tap the ball in.

Few minutes later Lalit was again at the opponent circle but he failed to reach in time to meet a baseline cross from Pardeep Mor.

Punjab threw everything at the end but couldn't pull back even a goal. S.V. Sunil thought to have opened their account for the night with 3.15 minutes left on the clock but the goal was disallowed for a ball obstruction before it reached the Karnataka forward.

It completed a harrowing night for Barry Dancer-coached side, which is now on the verge of elimination.

They play their final league game on Monday against Delhi Waveriders, who have 21 point from eight games.

Uttar Pradesh are fourth with 20 points from seven matches, while former champions Ranchi Rays are fifth with 18 points from nine games.

The Times of India


---

HIL Points table
 
 
Matches
Goals
 
Rank
Team
Played
Won
Drawn
Lost
For
Against
Diff
Points
1
Dabang Mumbai
9
6
1
2
36
28
8
33
2
Kalinga Lancers
9
4
1
4
25
40
-15
23
3
Delhi Waveriders
8
3
1
4
26
16
10
21
4
Uttar Pradesh Wizards
7
3
2
2
26
16
10
20
5
Ranchi Rays
9
2
3
4
19
24
-5
18
6
Jaypee Punjab Warriors
8
3
0
5
24
32
-8
17
---

Have an under-16 tournament in HIL: Bovelander

RANCHI: Floris Jan Bovelander became a key name in the development of hockey in India when his country the Netherlands signed a partnership of association couple of years ago. The Dutch great, who owns both the Olympic men's hockey gold and the World Cup title, is offering dreams of a great revival through an ambitious tie up with Tata Trusts' project — Collectives for Integrated Livelihood Initiatives.

Bovelander says hockey in India can regain its lost glory only if it has a proper youth development programme in place.

"It would be a good idea to have an u-16 tournament attached to the Hockey India League (HIL) as that would surely boost the youth development," Bovelander suggests.

The Dutch Olympic champion asserted that there is not much difference in the "willingness and attitude" between the kids in his country and children in two districts of Khunti and West Singhbhum where his academy is working in close association with Tata Trusts.

"In the end the main point was being enthusiastic about hockey. The children here are nice and friendly. Of course at home the equipment is better and they play on artificial pitches with shin guards. But in terms of willingness to learn and attitude, there are a lot of similarities than differences," Bovelander told The Hindu in a chat over Skype in the Trusts' office at Khunti.

The two districts adopted by the Trusts for development will offer the initial batch of students for the upcoming Tata Hockey Academy in Jamshedpur, which is scheduled to be launched in May this year.

"The Academy will give these players a place where they can explore their talent in the sport so that one day become the best player of the state if not for the National team," Bovelander says adding that he expects the results to come in four years after the academy starts functioning.

Putting a lot of faith on HIL, Bovelander said India's result in the Rio Olympics is also an indication of the upswing.

"In the last few years Hockey India did a good job by introducing the HIL and getting some good foreign coaches to develop the Western style of play. The World Cup in 2018 (to be held at Bhubaneshwar) will also add to the development of the sport here," Bovelander said.

"I think there are hardly four or five countries which had both the men's and women's teams in the Olympics. And with both Indian men and women playing in the last Olympics (2016), it was a good development," is how Bovelander holds out hope.

The Hindu


---

Hockey India League one of the best tournaments in the world: Bovelander

Dhiman Sarkar



Floris Jan Bovelander, has won the Olympic gold and the World Cup with Holland.(Getty Images)

The much-decorated Floris Jan Bovelander, who has won the Olympic gold and the World Cup with Holland, is a partner in a Jharkhand initiative that teaches hockey to children in a village almost 50km from Ranchi. Bovelander, 51, spoke to the media on Skype in Khunti, Jharkhand.

Excerpts

Q: What are your thoughts on the academy in Jamshedpur?

A: This initiative teaches a lot of life skills through hockey but in the end, for talented players there should be a place where they are able to get the most out of themselves. The academy will give players that opportunity.

Q: When will the girls join?

A: It also very important to improve the girls, who I have seen do not enjoy the same facilities like the boys. I would like to include them in the academy in two years.

Q: As the wait for an Olympic medal gets longer, what are your thoughts on hockey in India?

A: I think there were hardly four or five countries which had both the men's and women's teams in the Olympics so it was a good development for India. The Hockey India League is one of the best hockey tournaments in the world, which gives enough inspiration to players here to grow in the sport.

The area where India needs to work on is the grassroots. Also, in India you learn to play on artificial turf when you are 16 or 18 years old by which time you have already developed a style not suitable for the surface… But in the last few years, Hockey India though has done a good job by getting good foreign coaches to develop the western style of play. I hope this will popularise the sport again as communities start adopting hockey in a bigger way.

Q: Which is the world's best men's hockey team now?

A: I find things very close from the quarter-final stage onwards in big tournaments. Argentina becoming the Olympic champion is big news but I do not think they can be called the best. I think there are eight very good teams and India belongs to that group.

Q: As a penalty-corner specialist, what do you think about the two-goal rule for the field goals?

A: A penalty-corner conversion will always be appreciated as a great goal in hockey. Some goals should come from penalty-corners. It is easy to watch and understand for the spectators. Putting two points to a field goal has not changed hockey much and it won't help if teams become too defensive. I think it is getting more and more difficult to score from a direct flick.

Hindustan Times


---

Holcombe move into top four



Holcombe celebrates Leah Wilkinson's goal. Credit Peter Smith

Holcombe moved back into play-off contention in the Investec Women's Hockey League Premier Division, battling to a 4-2 win at Clifton Robinsons to secure their first win in three matches.

The Kent side leapfrogged their opponents in the table, and with the university of Birmingham also losing Holcombe climbed to third and boosted their hopes of making it to the Finals Weekend.

Sarah Jones opened the scoring for Holcombe on three minutes, but Hannah Coulson levelled for the hosts midway through the half.

Leah Wilkinson (pictured) again put the visitors ahead but Jo Leigh converted a penalty corner to restore parity at the break.

Second half goals from Emily Maguire and Lucy Wood gave Holcombe all three points, leaving Clifton Robinsons hanging onto a top four spot on goal difference.

The University of Birmingham slipped out of the top four after a 6-0 home defeat against leaders Surbiton.

Giselle Ansley scored her eleventh of the campaign, with Sarah Haycroft and Hannah Martin also on target before the break.

Rebecca Middleton, Sarah Page and Naomi Evans goals wrapped up the points in the second half, moving Surbiton 10 points clear at the top of the table.

Leicester moved to within two points of the top four after a 3-2 away win at Canterbury.

Rachel Mack, Katie Long and Elizabeth Honarmand put the visitors three up after 24 minutes.

Grace Balsdon pulled one back on the stroke of half time, before Eliza Brett scored her fifth of the campaign to reduce the deficit with 26 minutes to play, but Canterbury could not find the equaliser.

Reading remain six points behind Bowdon Hightown as the bottom two in the division played out a goalless draw.

Bowdon sit two points behind Slough with five games to go, as they look to avoid the relegation play off.

Investec Women's Conference East

Wimbledon recorded a thumping 9-1 home win over St Albans to stay three points clear at the top of the Investec Conference East.

Lizzie Rae, Crista Cullen and Tamsyn Naylor both scored twice in the emphatic victory.

Sevenoaks remain three points behind after a 3-1 win at struggling West Herts, Jess Denniff took her tally for the season into double figures with a brace.

Conference leading scorer Maria Andrews was on target again as Harleston Magpies defeated Chelmsford 3-1, Tor Findlay and Lauren Barber were also on the scoresheet.

Elsewhere, a Helen Cathcart double helped Hampstead and Westminster defeat Southgate 4-1, and Heidi Baber scored two as Cambridge won 4-0 at bottom side Northampton Saints.

Investec Women's Conference North

Beeston did their best to keep the pressure on Conference North leaders Brooklands Poynton with a 4-1 win against the University of Durham. Rosy Stephens led the scoring with a brace.

Brooklands Poynton continue to lead however, with a 2-0 defeat of Loughborough Students. Caroline Hulme and Ellen Lockhart scored their goals.

Liverpool Sefton played out a thrilling 3-3 draw with Wakefield with Wakefield coming back from three goals down. Kelly Baxter was their hero with a goal in each half.

Sutton Coldfield beat Timperley 2-1 and Belper took a 2-0 win over Ben Rhydding.

Investec Women's Conference West

Stourport threw down the gauntlet in the Conference West as the leaders beat third-placed Olton and West Warwickshire 6-1 away from home. Claire Pearson provided most of their firepower, scoring a hat-trick.

Buckingham are just three points behind Stourport and have a game in hand. They kept their ship on course with a 1-0 win over Trojans.

Exe earned their fifth point of the season with a 1-1 draw at home to Gloucester City and Swansea City also played out a 1-1 draw with Isca University.

Sophie Shakespeare hit a brace as Oxford Hawks beat Bristol Firebrands 4-2.

Investec Women's Hockey League (Saturday, February 18, 2017):

Investec Women's Premier Division: Bowdon 0, Reading 0; Canterbury 2, Leicester 3; Clifton Robinsons 2, Holcombe 4; University of Birmingham 0, Surbiton 6.

Investec Women's Conference East: Hampstead and Westminster 4, Southgate 1; Harleston Magpies 3, Chelmsford 1; Northampton Saints 0, Cambridge City 4; West Herts 1, Sevenoaks 3; Wimbledon 9, St. Albans 1.

Investec Women's Conference North: Beeston 4, University of Durham 1; Belper 2, Ben Rhydding 0; Brooklands Poynton 2, Loughborough Students 0; Liverpool Sefton 3, Wakefield 3; Sutton Coldfield 2, Timperley 1.

Investec Women's Conference West: Bristol Firebrands 2, Oxford Hawks 4; Buckingham 1, Trojans 0; Exe 1, Gloucester City 1; Olton & West Warwicks 1, Stourport 6; Swansea City 1, Isca 1.

England Hockey Board Media release


---

Classic Sunday Showdown

By Jugjet Singh



LION .. KLHC's Harvinder Singh in action against a UniKL player recently

MILLION-RINGGIT teams Kuala Lumpur Hockey Club (KLHC) and Terengganu Hockey Team (THT) will battle for the Malaysia Hockey League Premier Division title Sunday, with little to separate them.

Both teams ended day tied on 33 points after 13 matches, and No 14 will decide who is the unlucky one.

THT have a 21-goal cushion over KLHC and can afford a draw, while the Charity Shield holders need a clear win.

KLHC won the Charity Shield when they beat THT 6-5 on shoot-out after both teams played to a 2-2 draw in the MHL curtain raiser.

But the return leg encounter Suday is expected to have a clear winner in 60 minutes.

The battle for third will be between Tenaga Nasional and Universiti Kuala Lumpur (UniKL) who incidentally will also play their last game against each other Sunday.

Tenaga only need a draw, while UniKL must win to grab the third spot.

"My players know how crucial Sunday's game is going to be against THT in our chase for the title. We are almost there and knowing that THT have a 21-goal advantage over us so the only way to the title is to win three points," said KLHC coach Harun Alrashid Samri.

And the good news for THT is that one of their top-scorers Faizal Shaari will be back in action after a hamstring injury.

Faizal scored eight goals before getting injured: "We will be registering Faizal and also Shakeer Butt for the last match as they have recovered from their injuries," said THT coach Sarjit Singh.

In the first leg encounter, Faizal and Jang Jong Hyun scored for THT. Jang, from South Korea, is the Premier Division top-scorer with 22 goals while another THT player Tengku Ahmad Tajuddin is second on 11 goals.

Last season, Jang also top-scored with 16 goals, while Tengku Ahmad Tajuddin was second on nine goals.

"Like in the Charity Shield, I again expect a close game tomorrow (today) but we will be playing to keep our League title, and extend the streak to four consecutive years, so we have our strategy ready," said Sarjit.

THT were League champions in 2014, 2015 and 2016 while before that, KLHC were eight-time consecutive winners.

As Ernst and Young, they won three titles from 2006, 2007 and 2008 -- and after changing their name to KLHC they won five more times before THT took over in 2014.

TODAY: Tenaga Nasional v UniKL (KLHA, 6pm), Kuala Lumpur HC v Terengganu HT (KLHA, 8pm), SSTMI v TNB Thunderbolts (SSTMI, 5pm), Maybank v UiTM-KPT (Malacca, 6pm).

STANDINGS

             P  W  D L  F  A  Pts
T'GGANU HT   13 10 3 0  71 11 33
KLHC         13 10 3 0  58 19 33
TENAGA       13 7  4 2  45 19 25
UNIKL        13 7  2 4  35 19 23
MAYBANK      13 5  1 7  29 38 16
THUNDERBOLTS 13 4  1 8  23 42 13
UITM-KPT     13 0  2 11 15 67 2
SSTMI        13 0  2 11  7 68 2

Jugjet's World of Field Hockey


---

Possible national team recall a big boost for Terengganu's Tengku Ahmad

by S. Ramaguru



Formidable forward: Terengganu's Tengku Ahmad Tajuddin (front) last donned national colours in the World Hockey League Semi-Finals in Antwerp, Belgium, in July 2015.

KUALA LUMPUR: Terengganu forward Tengku Ahmad Tajuddin has received a timely boost ahead of his team's Premier Division title-deciding clash against Kuala Lumpur Hockey Club (KLHC) today.

National coach Stephen van Huizen said yesterday that he is considering recalling Tengku Ahmad to the national team.

Tengku Ahmad last donned national colours in the World Hockey League Semi-Finals in Antwerp, Belgium, in July 2015.

"There is no doubt that if we were to pick players based on merit, then he has to be among those who should be considered. That means we will also considering him for the Dhaka tournament (World Hockey League Round Two).

"It is up to him to prove himself and make the cut," said Stephen.

The 31-year-old Tengku Ahmad was the top scorer among local players last year. He is set to upstage the other national players for a second time this year.

Tengku Ahmad, who has scored 12 goals so far this season, was called up to train with the national team on an attachment basis for the last few weeks.




With a possible national team recall on the cards, Tengku Ahmad will be all fired up to help Terengganu chalk up a unique record of winning four consecutive Premier Division titles at the KL Hockey Stadium today.

Terengganu coach Sarjit Singh admitted that Tengku Ahmad "has played an important role for us over the last two years".

"Based on his form, he deserves a (national) call-up. But right now, our focus is on the Premier Division title.

"KLHC are getting stronger with each match and we have to work extra hard. It is going to be touch-and-go," said Sarjit, who has also decided to register the injured Faizal Saari for today match.

Faizal has not played for the last three weeks after suffering a torn hamstring.

"He is getting better ... we're hoping that he will recover for this match.

"We have included him in the team list for the game."

This will be the fourth time since 2014 that Terengganu and KLHC will be involved in a straight fight for the Premier Division title.

Both teams drew their opening match this season and they both accumulated 33 points to be joint leaders in the eight-team standings.

Terengganu, who top the table with a superior goal difference, need only a draw today to clinch retain the title.

But Sarjit has ruled out any plans to park the bus.

"No, we will go all out for a win.

"I will not take the risk by playing for a draw," he said.

The Star of Malaysia


---

MHC want national team to win Round Two

KUALA LUMPUR: Go and win it.

That's the clear message from the Malaysian Hockey Confederation (MHC) to the national team who will be competing in the FIH World Hockey League Round Two in Dhaka, Bangladesh, from March 4-12.

MHC set the target based on the fact that Malaysia are the highest-ranking team in the tournament, which will also feature hosts Bangladesh, China, Ghana, Egypt, Oman, Sri Lanka and Fiji.

Malaysia were originally scheduled to play in Trinidad and Tobago from March 25-April 2. That would have been tougher as the other teams in the fray there are Russia, Japan, Switzerland, Chile, the United States, Trinidad and Tobago and Barbados.

The top two teams from each of the Round Two events will qualify for the World Hockey League Semi-Finals.

However, Malaysia were offered the chance to play in Dhaka when Canada pulled out citing security fears.

"It wasn't our decision to play there (in Dhaka). There was an offer and, after deliberation by the team officials and our technical people, we agreed to play in Dhaka although the period of training will be much shorter.

"Team officials feel that we stand a better chance of making the World League Semi-Finals by playing in Dhaka ... that's why we accepted the offer.

"We are confident the team will achieve the desired result," said MHC president Datuk Seri Subahan Kamal after chairing the exco meeting yesterday.

The MHC will name the final 18-man squad for the tournament after the Malaysia Hockey League's Premier Division final on Feb 26. The team will leave for Bangladesh on March 28.

Subahan said that the national team's programme for the rest of the year would be finalised "once the team have made the cut for the World League Semi-Finals"

The Star of Malaysia


---

Help for women to break new ground

By Jugjet Singh



FINALLY: MHC made special medals for the women who won silver in the WL RD2 in Kuala Lumpur...MHC pic

THE Malaysian Hockey Confederation (MHC) held their Ninth Executive Board meeting yesterday and reiterated that they will do everything possible for the women to qualify for their first World Cup.

Also the MHC are optimistic that the men will not only play in the World League Round Two final in Dhaka, but also defend their title won in the WL Round Two in Singapore.

The MHC also feted a group of orphans at a hotel in Kuala Lumpur and gave them pocket money as well.

Both the men's and women's national players were present at the lunch, where the women were also presented with World League Round Two medals.

(Note: The International Hockey Federation (FIH) only handed out the challenge trophy to Ireland, while no individual medals were given to the winner and Malaysia).

"We have plans leading to the Women's World League Semifinals where the players will head for Europe to play more than a dozen friendlies. This will help them to try and qualify for their first World Cup," said MHC president Datuk Seri Subahan Kamal.

As for the Sea Games, where four gold medals are on offer in hockey, Subahan is also confident that a clean sweep will be made even though the indoor teams are not in serious training yet.

Two field and two indoor gold medals will be offered in the August Sea Games.

"Since the men are involved in the MHL and also do not have a venue to train for indoor, they will start preparations at a later date. however, the women have been training for indoor in Klang. We are confident that all four gold medals will be delivered by our players," said Subahan.

Kuala Lumpur Hockey Club player Kevin Lim and former national coach Paul Lissek have been roped in to help in the indoor campaign -- as both have experience on its specifications while they were in Germany.

Jugjet's World of Field Hockey


---

Pakistan a glaring omission from this year's Sultan Azlan Shah Cup

By Usman A Khan Tahir




A total of six countries will compete in this year's Sultan Azlan Shah Cup, which is set to be held from 27 April-6 May. Pakistan is a glaring omission from this year's cup.

Pakistan finished fifth in 2016 after beating Canada 3-1. Canada will not join this year's edition either.

According to a Malaysian sports website, the line-up confirmed by the Sultan Azlan Shah Cup organising committee chairman Datuk Abd Rahim Mohd Arif includes Malaysia, Australia, Japan, India, New Zealand and Great Britain.

The number of teams for this year's cup has decreased by one compared to last year's tournament where seven teams competed.

However, the Malaysia Hockey Confederation Chief Executive Officer K Logan Raj told Malaysian media that Malaysia's target is to at least finish in the top four.

Talking to Pakistan Today, Pakistan Hockey Federation (PHF) Secretary and former Pakistan captain Shahbaz Ahmed Senior said, "We are not informed about that." He further added that PHF will talk to the Asian Hockey Federation regarding this.

Pakistan to play five hockey tests in New Zealand:

The Black Sticks men's hockey team will play Pakistan in five tests in New Zealand next month.

The series, which is the Black Sticks' first action in 2017, will see three tests at the National Hockey Stadium in Wellington ( March 17, 18, 20) and two games at Clareville in the Wairarapa (March 22 and 23). The tests come on the heels of the appointment of former Kiwi international Darren Smith as new head coach of the men's programme.

Talking to Pakistan Today, PHF secretary said the preparations were ongoing regarding the tests. Coach Khawaja Junaid is heading the camp, he added.

"We are heading into these tests looking for experience for our future event in London. The players are not getting enough chances to play for the team and it would be a great opportunity for them to get some experience."

Asked about the team captain, he said the team selection is in ten days and the captain would only be announced then.

Wellington Hockey Chief Executive Trafford Wilson said the games will be a celebration of the sport ahead of a big year.

"Wellington Hockey is thrilled to be hosting the Black Sticks Men vs Pakistan for the first three games of their five-match series," a New Zealand sports website quoted him as saying. "We look forward to working with Hockey New Zealand to make this test series a huge success and the opportunity to continue to grow our sport's profile across the Wellington region."

Wairarapa Hockey Executive Officer Kelly Govan also expressed excitement regarding the news and said, "Hockey Wairarapa is delighted to have received confirmation that the Black Sticks Men and Pakistan will be playing two tests in the Wairarapa.''

Pakistan Today