News for Saturday 18 February 2017

Black Sticks held to draw against Argentina



Grace O'Hanlon keeps the ball out for the Vantage Black Sticks. Photo: Hernan Pablo Barrios

A late goal helped hosts Argentina secure a 2-2 draw with the Vantage Black Sticks Women in the fourth of six tests.

It was a hard fought encounter with the Kiwis opening strongly before Argentina powered back into the match.

Jordan Grant opened the scoring for the Black Sticks in the fourth minute after deflecting home from a superb penalty corner set piece.

New Zealand opened a two goal advantage in the 13th minute off the back of some strong defensive work, Olivia Merry hammering a cracking shot past the goalkeeper.

Argentina responded just before the halftime break through Eugenia Trinchinetti before Maria Grantto snatched an equaliser two minutes from the final whistle.

Assistant coach Sean Dancer said it was a much better performance from his side, although the final result was disappointing.

"It's really disappointing not to get the final result that I felt we deserved today," he said.

"I was impressed with the way our girls stepped up, we played with a lot of confidence and flow. We held onto the ball and were able to create and score a couple of good goals."

The Black Sticks face a must-win against Argentina in test five at 10:00am on Monday morning (NZ time), with the game streamed live online

CLICK HERE for more on the Vantage Black Sticks Women vs Argentina

VANTAGE BLACK STICKS 2: (Jordan Grant, Olivia Merry)
ARGENTINA 2: (Eugenia Trinchinetti, Maria Granatto)
Halftime: Black Sticks 2-1

Hockey New Zealand Media release


---

Black Sticks concede late goal to draw with Argentina



Jordan Grant scored the opener for the New Zealand against Argentina. PHOTOSPORT

The Black Sticks women have entered must-win territory for the rest of their series against Argentina after being held to a 2-2 draw in the fourth test in Buenos Aires.

New Zealand raced out to a 2-0 lead in the 13th-minute when Olivia Merry backed up Jordan Grant's opener with a cracking shot past the keeper.

Argentina responded just before the halftime break through Eugenia Trinchinetti.

And while the Kiwis battled hard to keep their rivals at bay, they faded down the stretch with Maria Grantto snatching the equaliser two minutes from the final whistle.

"It's really disappointing not to get the final result that I felt we deserved today," assistant coach Sean Dancer said.

"I was impressed with the way our girls stepped up, we played with a lot of confidence and flow. We held onto the ball and were able to create and score a couple of good goals."

Trailing 2-1, the Black Sticks now have to win the final two tests to have a chance of winning the series, with game five on Monday at 10am (NZ time).

Stuff


---

Black Sticks Women draw with Argentina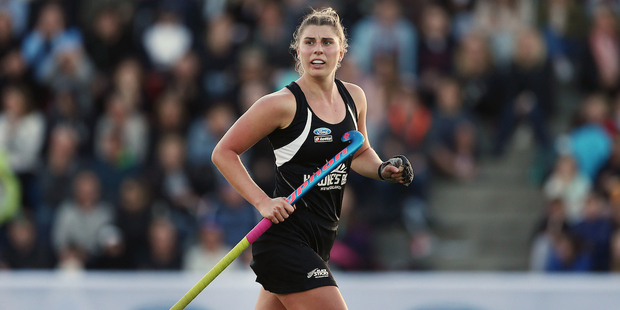 Olivia Merry was on the scoresheet for the Black Sticks. Photo / Photosport

The Black Sticks Women have been pegged back from two goals up to tie 2-2 with Argentina in the fourth of six Tests in Buenos Aires.

Goals to Jordan Grant and Olivia Merry gave the Kiwis a solid buffer against their South American rivals, but they couldn't see the lead out to the end.

Argentina reduced the arrears just before half-time through Eugenia Trinchinetti, before Maria Grantto levelled the scores with two minutes remaining.

Down 2-1 in the series, the Black Sticks will now need to win both of their final games to take the title home.

Assistant coach Sean Dancer said the side had improved considerably on their 3-0, third-Test defeat on Friday.

They had deserved victory for their first-half performance.

"We played with a lot of confidence and flow, we held onto the ball and were able to create and score," Dancer said.

"It's really disappointing not to get the final result."

The fifth Test will take place on Monday morning (NZDT), before the teams square off for the final time on Tuesday.

The New Zealand Herald


---

Oman and Egypt decide to fine-tune game in Malaysia

KUALA LUMPUR: There is good news for the Malaysian men's hockey team. They can have a close look at two of their FIH World Hockey League Round Two opponents – Oman and Egypt.

The two teams will hold their final phase of training here before heading for the March 4-12 tournament in Dhaka, Bangladesh, from March 4-12. The other teams competing in Dhaka are hosts Bangladesh, China, Ghana, Sri Lanka and Fiji.

The World Hockey League Round Two will be held at two venues – in Trinidad and Tobago from March 25-April 2 and Dhaka.

Malaysia were supposed to play in Trinidad and Tobago, but decided to take up the offer to play in Dhaka after Canada refused to play there due to security concerns.

Oman and Egypt will be here from Monday until March 1.

Oman will be based in Malacca and have lined up a series of friendlies at the Bukit Serendit Hockey Stadium.

They will play Malaysia Hockey League (MHL) club sides TNB-Thunderbolt and Maybank before playing two matches against Singapore on Feb 24 and Feb 25.

The Egyptian team will stay and play friendly matches in Kuala Lumpur. They are hoping to play at least one friendly with Malaysia.

Since Malaysia will only hold the centralised training after the Premier Division of the MHL ends on Feb 26, it looks like Egypt will have to make do with friendlies against club sides.

The Egyptians will train at the MBPJ Hockey Stadium in Jalan Selangor, Petaling Jaya.

The Star of Malaysia


---

Delhi Waveriders push defending Champions to bottom of the points table   




Chandigarh: An inspired performance by the Delhi Waveriders saw them edge past title holders Jaypee Punjab Warriors with a 6-1 win, pushing them to the bottom of the table and further denting their dreams of playing the Semi Final in front of their home crowd next weekend in Chandigarh. Goals by Justin Reid-Ross (4'), Rupinder Pal Singh (17'), Mandeep Singh (38') and Iain Lewers (44') ensured they fetched the winner's points for Delhi Waveriders as they climbed to the third spot in the Coal India Hockey India League.

Delhi Waveriders struck early when Mandeep Singh won them a PC in the 4th minute. Mark Knowles who almost crashed into Mandeep while tackling that gave away a PC. Though Justin Reid-Ross didn't convert in his first attempt, a video referral won them another PC as his flick was obstructed by defender Varun Kumar's foot. Justin Reid-Ross made no mistake in firing the ball away to the post, leaving in-form keeper Tristan Clemons stunned. Going into the first break, Delhi Waveriders enjoyed a 1-0 lead.

The Delhi Waveriders continued their good nick into the second quarter, winning another PC in the 17th minute. This time it was India's most experienced drag flicker Rupinder Pal Singh attempting the flick and he was inch-perfect in sending the ball low and hard to the right corner, beating Clemons and taking their lead to a comfortable 2-0. With only 17 seconds left for the half-time hooter, the home team won their first PC thanks to good stick work by young forward Armaan Qureshi. The opportunity was used to advantage with Mark Gleghorne putting the ball past Vincent Vanasch at lightning speed to close the deficit to 1-2.

Junior World Cup hero Mandeep Singh starred in the third quarter for Delhi Waveriders helping his team extend the lead to 4-1 with his 38th minute field goal. It was brilliant work by Surender Kumar and Niklas Wellen who beat the Jaypee Punjab Warriors' defenders in the striking circle to find Parvinder Singh who selflessly assisted the ball to Mandeep who just had to tap the ball into the goal. This was Mandeep Singh's eighth goal this season. The visitors good run continued when they were awarded a penalty stroke in the 44th minute and Englishman Iain Lewers promptly put the ball past Clemons taking their lead to a formidable 6-1.

It was a herculean task for the home team to come back into the game in the final quarter as Delhi Waveriders' defenders pushed hard to keep the lead. It didn't help the home team's cause when they messed up a PC opportunity in the 49th minute while attempting to convert it to a field goal. Jaypee Punjab Warriors conceded two PCs this quarter but an alert Jugraj denied Delhi Waveriders any further lead.

Mandeep Singh from Delhi Waveriders was awarded with a prize money of Rs 50,000 for scoring the Coal India Goal of the Match from Ms. Shantilata Sahu, Director Personnel, Northern Coal Fields Ltd.

Harjeet Singh of Delhi Waveriders won the prize of Rs 25,000 for being the Hero Young Achiever of the Match from Mr. Balbir Singh Senior, Olympian.

The Airtel Most Entertaining Player of the Match was awarded to Mandeep Singh of Delhi Waveriders that came with a prize money of Rs 25,000 and presented by Mr. J. Bagchi, Chief Manager Finance, Coal India Ltd.

Justin Reid-Ross of Delhi Waveriders was declared the Man of the Match and was awarded a prize money of Rs 50,000 by Mr. Inderjeet Vinayak, Senior Vice President Jaypee Cement.

Official HIL site


---

DWR beat JPW 6-1,climb to third spot

Delhi Waveriders defeat defending champions Jaypee Punjab Warriors by 6-1

s2h team

Delhi Waveriders climb to third spot in the points table after defeating defending champions Jaypee Punjab Warriors by 6-1 in the 25th match of HIL 2017. Punjab Warriors are now at the bottom of the table, further denting their dreams of playing the Semi Final in front of their home crowd next weekend in Chandigarh.

Delhi Waveriders struck early when Mandeep Singh won them a PC in the 4th minute. Mark Knowles who almost crashed into Mandeep while tackling that gave away a PC. Though Justin Reid-Ross didn't convert in his first attempt, a video referral won them another PC as his flick was obstructed by defender Varun Kumar's foot. Justin Reid-Ross made no mistake in firing the ball away to the post, leaving in-form keeper Tristan Clemons stunned. Going into the first break, Delhi Waveriders enjoyed a 1-0 lead.

The Delhi Waveriders continued their good nick into the second quarter, winning another PC in the 17th minute. This time it was India's most experienced drag flicker Rupinder Pal Singh attempting the flick and he was inch-perfect in sending the ball low and hard to the right corner, beating Clemons and taking their lead to a comfortable 2-0.

With only 17 seconds left for the half-time hooter, home team Punjab Warriors won their first PC thanks to good stick work by young forward Armaan Qureshi. The opportunity was used to advantage with Mark Gleghorne putting the ball past Vincent Vanasch at lightning speed to close the deficit to 1-2.

Junior World Cup hero Mandeep Singh starred in the third quarter for Delhi Waveriders helping his team extend the lead to 4-1 with his 38th minute field goal. It was brilliant work by Surender Kumar and Niklas Wellen who beat the Jaypee Punjab Warriors' defenders in the striking circle to find Parvinder Singh who selflessly assisted the ball to Mandeep who just had to tap the ball into the goal. This was Mandeep Singh's eighth goal this season.

The visitors good run continued when they were awarded a penalty stroke in the 44th minute and Englishman Iain Lewers promptly put the ball past Clemons taking their lead to a formidable 6-1.

It was a herculean task for the home team to come back into the game in the final quarter as Delhi Waveriders' defenders pushed hard to keep the lead. It didn't help the home team's cause when they messed up a PC opportunity in the 49th minute while attempting to convert it to a field goal. Jaypee Punjab Warriors conceded two PCs this quarter but an alert Jugraj denied Delhi Waveriders any further lead.

AWARDS:

Goal of the Match: Mandeep Singh
Young Achiever of the Match: Harjeet Singh
Most Entertaining Player of the Match: Mandeep Singh
Man of the Match: Justin Reid-Ross

Stick2Hockey.com


---

Big win does wonders for Delhi

Punjab pushed to the bottom, in danger of missing out on the playoffs

Uthra Ganesan



Marksmen: Delhi Waveriders's Justin Reid-Ross, Rupinder Pal Singh and Mandeep Singh shared five goals 

Delhi Waveriders had come into the game against Jaypee Punjab Warriors here on Friday placed bottom and desperate for a win to stay in the race. It managed to do so in emphatic fashion, winning 6-1 to not just jump up to third spot but also relegate the defending champion to the bottom and in real danger of missing out on the playoffs, for the first time ever.

A goal-bound shot by Manuel Brunet padded off by JPW goalkeeper Tristan Clemons and the rebound hit in by Mandeep Singh found the ball land squarely on Varun Kumar's chest on the goal-line, conceding a penalty stroke and a suspension for the latter in the 44th minute. Iain Lewers calmly stepped up and added two goals to Delhi's tally. It was the final blow to JPW's hopes of getting any points from the match and summed up coach Barry Dancer's frustration with disciplinary issues in his side.

Delhi put up a dominating display of both attack and counter-attack, helped along by shoddy finishing from JPW. The host created fewer chances and the ones it did were wasted by mis-trapping and being off-target.

Delhi's assault began early, Mark Knowles pushing Mandeep at the edge of the circle and conceding a penalty corner. Justin Red-Ross's shot found Varun Kumar's leg and a second PC, on referral, was converted.

It became 2-0 in the 17th minute through another PC, this time by Rupinderpal Singh, even as Punjab saw Sardar Singh, S.V. Sunil, Mark Gleghorne, Jake Whetton and Ajit Pandey all miss scoring chances.

Gleghorne's conversion of a PC saw JPW go into half-time just one goal in arrears but it was a different story post-break. Punjab showed no desperation upfront even as Pandey missed an easy chance. Lewers and Surender Kumar ensured there were no unmarked JPW players lurking in front of the goal and cleared every ball that came close.

Mandeep Singh seems to be increasing in confidence with every game. His passing was again on target as the youngster moved out of his comfort zone to buoy the Delhi wingers in opening up the gaps.

He was again at the right spot, tapping in a rising ball from Parvinder Singh to make it 4-1.

The result: Delhi Waveriders 6 (Mandeep Singh 2 FG, Iain Lewers 2 PS, Justin Reid-Ross 1 PC, Rupinderpal Singh 1 PC) bt Jaypee Punjab Warriors 1 (Mark Gleghorne 1 PC).

The Hindu


---

Delhi Waveriders sink Punjab 1-6

Indervir Grewal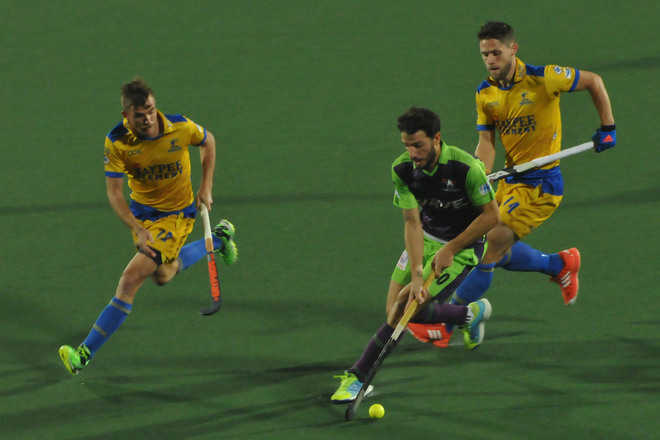 Punjab Warriors (yellow) had a tough time on the field. Vicky Gharu

Chandigarh: Punjab Warriors' campaign to defend their Hockey India League title is coming apart fast as the hosts suffered their third consecutive defeat here today and slipped to the last spot in the points table.

A couple of days of break couldn't get their game back on track as they slumped to one of their biggest defeats in the season, losing to a "determined" Delhi Waveriders.

The visitors, who came into the match after a heartbreaking loss to Dabang Mumbai, displayed an all-round performance to hammer Punjab 6-1. Reid-Ross opened the scoring in the fourth minute with a rasping drag-flick that went in off the horizontal bar. Rupinder Pal Singh made it two out of two, his low drag-flick beating in-form goalkeeper Tristan Clemons in the 17th minute.

Punjab, who had a couple of good chances after the first Delhi goal, lost their composure after the second. They lacked cohesion and started to force their attacks. The frustration led to too many individuals making useless runs with the ball. Punjab's Dutch playmaker Robert van der Horst, though, had a good game and provided the drive to their attack with runs from the back. He earned their first penalty corner, which was converted by Mark Gleghorne at the stroke of halftime. However, Mandeep Singh's field goal in the 38th minute and Iain Lewers' 44th-minute penalty-stroke goal, resulting from a Delhi counter-attack, knocked the wind out of Warrirors.

The Tribune


---

Delhi Waveriders hammer Jaypee Punjab Warriors 6-1



Delhi Waveriders beat Jaypee Punjab Warriors 6-1 in the Hockey India League.(HIL)

Delhi Waveriders hammered Jaypee Punjab Warriors 6-1 to jump to the third spot and consign the defending champions to the bottom of the Hockey India League (HIL) in Chandigarh on Friday.

Penalty corner conversions from Justin Reid-Ross (4th minute) and Rupinder Pal Singh (17th) helped Delhi take a 2-1 lead at half-time after drag-flick heroics from Mark Gleghorne (30th) lifted the spirits of the hosts.

Then in the second half, Delhi didn't leave anything for Punjab. A field goal from Mandeep Singh (38th) and Iain Lewers (44th penalty stroke) made it 6-1 for Delhi, who registered third victory in their last four games.

The win took Delhi to the third spot with 21 points from eight games, leaving Punjab at the final spot with 17 points from eight matches.

Top-placed Dabang Mumbai have already qualified with 33 point from nine points. Kalinga Lancers, who play their final game against Punjab on Saturday, are second with 23 points. Uttar Pradesh have 20 points from seven matches to be third on the table, while Ranchi Rays are fourth with 18 points from nine games.

With both the bottom-placed teams, Delhi and Punjab, desperate to reach the semi-finals, the match picked up pace from the beginning. Delhi's Mandeep was fouled which led to a penalty corner in the fourth minute. Reid-Ross blasted one to the roof, giving no chance to goalkeeper Tristian Clemons to make it 1-0 in the second attempt.

The goal gave a big early boost to Delhi who are bidding their first win away from home. However, Punjab were not bogged down and Jake Whetton tested Delhi goalkeeper Vincent Vanasch's awareness from a tight angle.

Delhi, two minutes into the second quarter, doubled their lead when Rupinder drag-flicker fired a lower one to the left corner which beat a outstretched right leg of Clemons.

The two-goal advantage meant Delhi take the reins of the match for the next 10-12 minutes. So much so that defender Reid-Ross could have scored a field goal when he met a cross from Mandip Antil only to be blocked by Clemons from a point-blank range.

With 10 seconds to go for the half-time, Punjab halved the deficit with a brilliantly-taken penalty corner from Englishman Gleghorne, who flicked high to the right corner.

Delhi continued to impress with their counter-attacking game even after the break. Harjeet Singh's through ball found Mandeep with an one-on-one situation with Clemons. The latter charged ahead to keep the danger away in the 35th minute.

One minute later, Reid-Ross was again in action, this time putting a flick above the goalpost. But the goal did come two minutes later as Parvinder Singh's base-line chip over a fallen goalkeeper Clemons was deflected in by Mandeep to make it 4-1.

Punjab put up a poor show defensively and it hit nadir when a rebound off goalkeeper Clemons hit final defender Surender Kumar on the body. It resulted in a penalty stroke and seasoned Englishman Lewers stepped to put the ball to the left corner and make it an impregnable 6-1.

Delhi continued to be relentless despite the handsome lead and didn't allow the visitors to even a hope of a comeback as they romped home 6-1.

Hindustan Times


---

HIL Points Table
 
 
Matches
Goals
 
Rank
Team
Played
Won
Drawn
Lost
For
Against
Diff
Points
1
Dabang Mumbai
9
6
1
2
36
28
8
33
2
Kalinga Lancers
9
4
1
4
25
40
-15
23
3
Uttar Pradesh Wizards
7
3
2
2
26
16
10
20
4
Ranchi Rays
9
2
3
4
19
24
-5
18
5
Jaypee Punjab Warriors
7
3
0
4
23
26
-3
17
6
Delhi Waveriders
7
2
1
4
20
15
5
16
---

German master's dual pursuit

In 'amateur' Germany, 32-year-old Moritz Fuerste tries to build a boardroom career

Indervir Grewal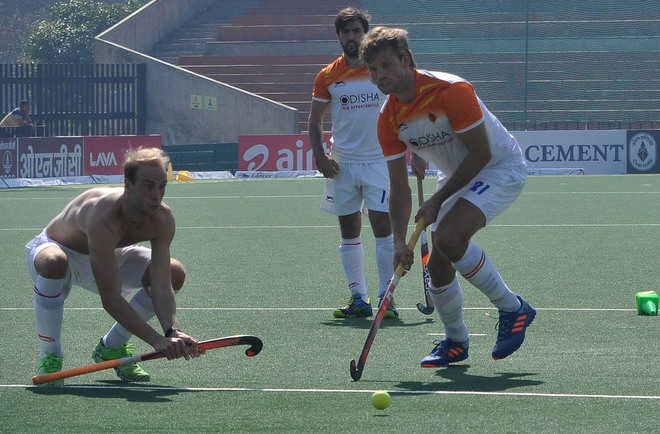 Moritz Fuerste undergoes dragflick drills at the Sector-42 Sports Complex in Chandigarh. Vicky Gharu

Chandigarh: "Ok, time to go," Kalinga Lancers coach Mark Hager shouted out, asking the last few players spread around the field to wrap up the team's training session on a sunny afternoon.

"One more," pleaded Moritz Fuerste, standing at the top of the circle. The German's "last" drag-flick was gloved away by the goalkeeper. As the ball stopper, Billy Bakker, started to walk away, Fuerste urged: "One last?" To Bakker's quizzical look, the German replied: "I have to score, finish with a goal."

Fuerste scored and followed it up with a celebratory run back to the dugout. It is this mixture of determination, inventiveness and flamboyance shown by the 32-year-old playmaker over his decade-long career that has made him one of the all-time favourites of hockey fans.

"It's always a pleasure (to meet fans)," said Fuerste, who has had a long and successful career for Germany — having won two Olympics gold medals and a World Cup title.

Fuerste is known for his competitive nature and leadership skills. In this year's Hockey India league, he has led his team to the brink of the semifinals.

Famous for his ability to find highly improbable passes and his Zinedine Zidane-like ball-holding skills — the part-time drag-flicker has found his goal-scoring touch in this year's edition.

Fuerste is currently among the top-scorers in the league.

Marketing man

Despite being at the fag-end of his long career, Fuerste is still at the top of his game. The 2012 FIH Player of the Year has been nominated for the award this year; it's his fifth nomination. So, why retire from international hockey?

"It's temporary. I am taking a break," said Fuertse, who retired after leading Germany to the bronze medal in the Rio Olympics.

"I have two kids, I am 32. In Germany, hockey is not a professional sport, so we have to study and look for alternative careers," said Fuerste, who completed his masters in business psychology in 2014.

"I have started a sports marketing and consulting company with two partners in Hamburg," he added.

How has the new experience been?
"Well, I did work in an advertising company for four years while I was doing my graduation in media management," he added. "I worked as an executive, doing every job from organising events, shoots, bargaining with the clients etc."

How did the clients deal with an Olympics medallist?
"Not everyone knew about me, though in the sports industry many did. It obviously helped dealing with the ones who knew my name, but you still have to prove yourself," he added.

Smooth transition

Fuerste said that the leadership and man-management skills he has learnt playing hockey have helped him in his new career. Fuerste has played most of his club hockey in Hamburg, at the Uhlenhorster Hockey Club; and like most German players, he also coached the club's junior teams. "I did that for 10 years. It helped me improve as a player. It changes your perspective, looking at the game from the outside. Teaching others makes you learn about yourself. The kids' feedback helped me learn. All those experiences are helping me now," added Fuerste, who still plays in the German league.

What about international hockey?
"The German team has not had a training camp since the Rio Olympics, so it's all right now. But when they do, I am sure I will miss that experience," he said.

What about a coaching career?
"Not thinking about it right now."

The Tribune


---

Terengganu and KLHC in showdown for Premier Division title

by S. Ramaguru



Spot on: UniKL's goalkeeper Tomas Matias Santiago (centre) diving for the ball in the MHL Premier Division match at KL hockey stadium yesterday. — AZHAR MAHFOF / The Star

KUALA LUMPUR: The stage is set for a colossal showdown between Terengganu and Kuala Lumpur Hockey Club (KLHC) for the Premier Division title.

Both teams won their penultimate matches in the Malaysia Hockey League (MHL) to be tied on 33 points in the eight-team standings.

Yesterday, Terengganu defeated Maybank 5-2 while KLHC overcame Universiti Kuala Lumpur (UniKL) 3-1.

The odds are in Terengganu's favour as they have a far superior goal difference.

So, a draw against KLHC tomorrow will be enough for the east coast side to lift the title for a fourth time.

KLHC must beat Terengganu if they want to regain the title they last won in 2013.

"It's a straight fight now for the title. We can afford a draw, but we will go for a win. KLHC are a very determined side and they will be out for revenge as we've denied them the title for the last three years," said Terengganu coach Sarjit Singh.

"There is a lot at stake here. We want to keep the title ... that is all that matters."

KLHC team manager Annuar Sham Kamar was just as upbeat.

"It's now down to this one game on Sunday. Our players are doing well and we have a more solid defence this time. I expect a close and tough game, but we are ready for the challenge," he said.

In the match against Maybank, Terengganu got their goals through Tengku Ahmad Tajuddin (10th), South Korean penalty corner specialist Jang Jung-hyun (12th, 17th), Mohamed Firhan Azhaari (31st) and Ameer Aiman Mohamed Saberi (56th).

Jang Soon-chan (31st) and Jeremy Edwards (47th) replied for the bankers.

In the other match, KLHC scored through Umar Bhutta (14th) Hanmod Casey Dawson (29th) and Anton Fritz (50th) while UniKL replied through Faridzul Afiq Mohd (28th).

The Star of Malaysia


---

Schedule confirmed for World League Round 2 in West Vancouver, tickets on sale Monday

Shaheed Devji



Danielle Hennig and Canada's Women's National Team face Chile at the 2015 Pan American Games in Toronto, Ontario (July 24, 2015, by Yan Huckendubler)

The International Hockey Federation (FIH) has confirmed the schedule for Gryphon Women's Hockey World League Round 2, which takes place from April 1-9, 2017 in West Vancouver, British Columbia.

The full match schedule, including playoff games, can be found here and will be updated throughout the tournament.

Canada's women open the tournament against Mexico on April 1st at 4:30pm local time. The Canadians complete pool play with games against Chile and Trinidad and Tobago at 4:30pm on April 2nd and 4th respectively.

Each match day will consist of three games to be played at Rutledge Field at Ambleside Park in West Vancouver, British Columbia.

Games are free to watch from standing room areas at the field, however, paid "All-Access Tournament Passes" consisting of guaranteed seating at centre-pitch will also be available.

Ticket information, include a link to buy online, will be released Monday, February 20th at 10:00am Pacific time at fieldhockey.ca. A limited number of tickets will be available on a first come first serve basis.

Field Hockey Canada media release


---

Maddie Hinch on THAT history making match!



Maddie in ENG v NED

On 19 August 2016, Great Britain Women's Hockey Team made history when they beat world number one side, the Netherlands in the Olympic Final in Rio.

With the rematch on the horizon on 11 June 2017 on home turf, we take a look back to an interview with the BBC with England's very own Maddie Hinch after she faced one of the most important matches of her career!

"I was a little bit nervous going into the final against the Dutch. I knew I would be busy and would have a role to play; I just prayed it would go well.

I made an early save, which was key. Then there was the penalty miss by Maartje Paumen. I have not seen that girl miss in years, so I thought that was a sign. I was just loving it and couldn't wait to make another save.

Things continued to go our way. It was like that throughout the tournament. There were key moments against key teams. It was like it was written for us.

We beat the Netherlands on penalties last summer to win European gold, so I remember thinking I would much rather be in our camp as soon as it went to the shootout. They had to be nervous and you could see it. They couldn't look at me; their heads were down.

I loved it. I wasn't nervous in the slightest and everything went my way. The ball kept hitting me, whether it was my head or my foot. I have never kept a clean sheet in a shootout, so that was a personal achievement.

I don't remember what happened when we won. I think I turned to my family; I was in a state of shock. Someone jumped on me. It was all a bit of a blur."

General tickets for the Clash of the Champions go on sale at 10am on Sunday 19 February - www.englandhockey.co.uk/tickets

England Hockey Board Media release


---

Great Britain goalkeeper Kirsty Mackay shares all as part of goalkeeper week



Kirsty Mackay GB

We caught up with Rio Olympian and East Grinstead goalkeeper Kirsty Mackay as part of goalkeeper week!

How did you get into goalkeeping?

I was a keen footballer playing at Blackburn Rovers School of Excellence and my PE teacher thought skills would be transferable; it was one of the only sports I hadn't played before. Purely because when we played it at primary school, I had no interest in it.

What is your favourite memory playing in a England or Great Britain shirt?

Luciana Paula Aymars (retired Argentina player who won the FIH Player of the Year 8 times) last tournament at the Champions Trophy in 2015. Crowds were awesome and great to play in one of world's best players ever let games. The atmosphere was amazing.

Your top tip for any aspiring keeper?

Stay balanced and just watch the ball, sounds simple, but it's amazing how you can react on other 'noise' such as body/stick movements and anticipate rather than focusing in on the actual ball.

If you played outfield what position would you play and who would you fancy from outfield players in goal from the national sides?

Forward! There is a forward in every GK! And I reckon Unsy! (Laura Unsworth)

Inspired to become a goalkeeper? Find your nearest club today! Want some goalkeeping coaching tips? Check out the Hockey Hub or sign up to a Integrating Goalkeepers workshop!

England Hockey Board Media release


---

Goalkeeper with missing hand & forearm shares his story



Paul GK from Stevenage HC

Paul from Stevenage shares his story of how he overcame his fears and became a hockey goalkeeper 4 years ago.

I joined Stevenage hockey and cricket club as a social member around 4 years ago. During the summer I watched the cricket and started chatting to other members who played hockey, I met Tom Conlon, a goalkeeper at the club. He was telling me about a hockey tour they do every year to Milton Keynes and asked me if I wanted to join. I said I'd never played hockey before and that I couldn't play out on pitch as I had no way of holding a stick. I have a loss of my right hand with part forearm missing. Tom suggested playing in goal and taping the stick to my arm and it all started from there.

I went to Milton Keynes festival and was feeling nervous, not knowing what to do but under Tom's coaching and enthusiasm, he kitted me up and soon as the game started I had so much fun! I loved it! That is when I said yes, goalkeeping is for me.

I started playing part time for a company team but there was no training. Then Stevenage hockey club started up a Flyerz section. I joined and met coach Claire Young who gave me one to one coaching on Sundays to build my skill levels. I soon picked it up and went on to join Stevenage men's 5th team. We had a great season so I went on to play summer league in which the captain of the men's 3 saw me play and asked if I wanted to play for him.

That's when I went and saw my doctor to see about getting a prosthetic arm made for hockey. I went to the Royal National Orthopaedic Hospital in Stanmore and with their technical department we came up with a design which I could hold a goalie stick in my limb which could also detach itself in the event of a bad stick tackle.



Paul's goalkeeper arm

I played for the 3s and we had a great season! We got promoted as league champions and I went on to receive the most improved player of the year, and this season we are sitting in 4th place and pushing for promotion again.

At the age of 56 I now wish I had taken up hockey much earlier in life. It's a great team sport and now my fitness level is second to none as I am training up to 3 times a week and playing up to 2 games a week (when we are short on keepers!)

I would say to any disabled person that there are no limits on what you can achieve.

We want to thank Paul for sharing his story with us. If you have been inspired to give goalkeeping a try you can find your nearest club here. If you want to develop your goal keeping knowledge find your nearest Integrating Goalkeepers workshop here.

England Hockey Board Media release


---

Team GB's Olympic hockey golden couple Kate and Helen Richardson-Walsh receive honours together at Buckingham Palace

By Paddy Dinham



Helen and Kate Richardson-Walsh in the rain at the closing ceremony of the 2016 Rio Olympic Games. The pair received and MBE and OBE, respectively

Hockey's Olympic golden couple have spoken of their pride after receiving their honours at Buckingham Palace together.

Kate Richardson-Walsh, 36, who captained Great Britain's women to a first Olympic hockey gold medal at Rio 2016 Olympics, collected an OBE.

She said it was 'really special' to be sharing the day with her wife and team-mate Helen Richardson-Walsh, 35, who picked up an MBE.

Kate said: 'When I was at school and thinking of what I might be one day, this was nowhere near my radar.

'I wanted to be a PE teacher and I would have been quite happy with that but this is like being in a movie. It is quite bizarre. It is like what dreams are made of.

'I think it does show that, with hard work and if you really go for it, these things can happen to you.

'It was also so special to have this opportunity and see my wife have this recognition after having stood with her on the podium in Rio.'

Kate has now retired from the international game after 375 caps for her country and captaining the side since 2003.

The couple married in a civil ceremony in 2013.

Kate said they felt very lucky to be a high-profile same-sex couple with incredibly supportive families and hockey team.



Kate Richardson-Walsh of Great Britain celebrates with her teammates after scoring a goal during 2016 Rio Olympics, at which the team won gold

She said: 'I know there are people who have been shunned and locked out of their homes. We want to say there a place for you where you can feel comfortable in your own skin, whatever that is.

'We know that we are creating history. Being a same-sex couple is something different and it it good that people are talking about it because same-sex marriage and LGBT issues are still a little bit taboo - so the more we can normalise it and talk about it the better.'

She led Great Britain to a nerve-shredding triumph over the Netherlands at the Rio Olympics. They won in a dramatic penalty shoot-out.

Speaking after they received their awards from the Prince of Wales, Helen said: 'It is another nice photograph for the mantelpiece.'

Daily Mail