All the news for Wednesday 8 February 2017

Women's HWL Round 2 Valencia, Spain

Day 3 results, February 7, 2017

GHA - POL , 0 - 3
ESP - TUR , 6 - 0
RUS - CZE , 2 - 3
SCO - UKR , 1 - 2

FIH tournament microsite


---

Scotland lose final group game to Ukraine



Kaz Cuthbert: Photo by John Preece

Scotland lost their final Pool match of women's World League 2 in Valencia 2-1 to Ukraine, after a controversial penalty corner was converted to win the game. The result means Scotland have finished second in Pool B, behind Poland on goal difference, and will face Russia in the quarter-final on Thursday.

The Scots got off to a great start and took the lead in the seventh minute. A penalty corner routine saw the ball find its way to Sarah Robertson out wide, who spun and slotted the ball low into the net to make it 1-0.

Heather Howie nearly doubled Scotland's lead soon after; she ran the contour of the D before slamming a shot towards goal, but it was deflected wide by a Ukrainian defender.

Then Kate Holmes went on a brilliant solo run from the centre of the pitch into the D, but shot against the keeper's shin pads – a let off for Ukraine.

Just before half time, Amy Costello unleashed a fierce strike from a penalty corner but it was deflected off target by a charging defender to keep the score 1-0 at the break.

Scotland continued to dominate in the second half but couldn't convert their chances to goals. Jen Eadie was next to have a shot at goal; twisting and turning at the top of the D, but her eventual effort shot wide of the post.

Eadie then had another good chance when she arrived into the left side of the D but her reverse stick shot flew into the air and over the bar.

As the game entered the final phase Eadie thought she'd finally scored, but her effort was cleared off the line by a defender with Becky Merchant charging in.

Then came a goal for Ukraine. A long ball forward to relieve Scottish pressure found Oksana Ponomarenko, who ran into the D and forced the ball under the advancing Nikki Cochrane in the Scotland goal to equalise. 1-1.

Ukraine looked content to play out a draw, which was how it seemed the game would end, but a penalty corner was awarded to Ukraine at the death amongst claims that the final hooter had already sounded. The shot from the penalty corner was saved by Cochrane low at her right post, but the rebound was knocked over the line by Yana Vorushylo to give Ukraine the points.

Scotland women Head Coach Gordon Shepherd said: "The penalty corner was the wrong decision, but we can't dwell on it – we have to move forward.

"We were in control of the game from start to finish. We knew we'd be dangerous and we looked really good at times, even though we didn't play our best hockey tonight. We have to be more clinical and we know we can do a lot more in that area."

Scottish Hockey Union media release


---

Malaysia to play World Hockey League in Dhaka

KUALA LUMPUR: Malaysia will replace Canada in the men's World Hockey League Round Two in Dhaka, Bangladesh, from March 4-12.

Canada withdrew from the competition last week citing security concerns and the International Hockey Federation (FIH) drafted in Malaysia to play in Group A at the Maulana Bhasani Hockey Stadium.

Malaysia were earlier scheduled to compete in the World League Round Two in Trinidad and Tobago from March 25-April 2.

World No. 13 Malaysia are the highest-ranked team in the competition and coach Stephen van Huizen's men are drawn in Group A with Oman (world No. 31), Bangladesh (No. 32) and Fiji (No. 67).

Group B comprises China (No. 18), Egypt (No. 20), Sri Lanka (No. 42) and Ghana (No. 43).

The top two teams in Dhaka will qualify for the World League Semi-Finals in London from June 15-27, which is the qualifying event for the 2018 World Cup in New Delhi.

Malaysian Hockey Confederation (MHC) chief executive officer K. Logan Raj confirmed Malaysia's participation in Dhaka yesterday.

Malaysia will play open their campaign against Bangladesh on March 4, followed by matches against Oman (March 5) and Fiji (March 7).

The quarter-finals are on March 9; semi-finals on March 11; and final on March 12.

The MHC held a meeting on Monday with coaches and managers of the eight Premier Division teams requesting for the national players to be released for training on Mondays and Tuesdays.

"It was a very amicable meeting and the team managers agreed to our request," said Logan.

The Star of Malaysia


---

England prepare for World League Semi-Final



The Great Wall of Ipswich, George Pinner

Bobby Crutchley, the England Men's Head Coach has named his squad for a four test series in South Africa. As Crutchley's team embark on their preparations for the Hockey World League Semi-Final in London they head to Cape Town to face South Africa and Germany.

England will play the hosts twice on 2 March 2017 and 6 March 2017 with the Germany clashes on 4 March 2017 and 8 Match 2017.

The 18-strong group has a youthful look about it with nine of the players recently added to the central programme in line to win their first caps.
James Albery, Liam Ansell, Brendan Creed, David Goodfield, Jonty Griffiths, Ed Horler, Liam Sanford and Luke Taylor are all set to make their first senior appearances. Goalkeeper Harry Gibson has seven Great Britain caps but is yet to make his England bow, which he could do in this series. 

Rio Olympians David Ames, George Pinner, Michael Hoare, Ian Sloan, Sam Ward and Henry Weir will also make the trip. Ward will win his 50th international cap in the next match he plays.  There is also a place for Chris Griffiths who makes a return from long term injury.



Chris Griffiths celebrates a goal

The squad of 21 athletes also contains two players from England's U21s. University of Durham's Jack Turner and Bath Buccaneers forward Peter Scott have both impressed in the junior ranks and will join the team to gain valuable experience of a senior international trip as part of their continued development.

Captain Barry Middleton, Adam Dixon and Mark Gleghorne will be rested after competing in the Hockey India League whilst Harry Martin is unavailable due to club commitments with Rotterdam.

Crutchley told England Hockey:

"The trip is a great opportunity to expose the new squad to international matches early in the cycle. With matches against Germany and South Africa it provides an ideal opportunity to start our preparations for the World League semi-final and Europeans later in the year."

You have a chance to support Bobby Crutchley's new-look England squad on home soil this summer as they take on the best in the world in a crucial World Cup qualifier. Tickets for the Men's Hockey World League are now on sale and can be bought here.

Full squad and staff can be found below:

James Albery, Beeston
David Ames, Holcombe
Liam Ansell, Surbiton
Tom Carson, Reading
Brendan Creed, Surbiton
Harry Gibson (GK), Surbiton
David Goodfield, Surbiton
Chris Griffiths, East Grinstead
Jonty Griffiths, Loughborough
Michael Hoare, Wimbledon
Ed Horler, Loughborough Students
George Pinner (GK) Holcombe
Phil Roper, Wimbledon
Liam Sanford, Team Bath Buccaneers & RAF
Peter Scott, Team Bath Buccaneers
Ian Sloan, Wimbledon
Luke Taylor, Loughborough Students
Jack Turner, University of Durham
Sam Ward, Holcombe
Henry Weir, Wimbledon
Ollie Willars, Beeston

England Hockey Board Media release


---

Visitors Jaypee Punjab Warriors beat Delhi Waveriders 3-2 in front of home crowd   




New Delhi: Ahead of their first home game in Chandigarh on 9th February, the Jaypee Punjab Warriors were eager to find their winning ways and they did exactly that with a splendid 3-2 win against the Delhi Waveriders who are yet to win a match in the fifth edition of Coal India Hockey India League.

Prior to the start of the game, played in front of a loud Delhi crowd, the defending Champions Captain Sardar Singh insisted on consistent performance and getting an early lead and they stuck to the plan. It was Robert van der Horst's 15th minute goal that gave the defending champions the lead while a PC converted in the 53rd minute by Mink van der Weerden ensured they earned the winning points.

Though initially, in the first quarter, the home team did well in containing the defending Champions from making too many circle entries. They marked key players like SV Sunil who had converted two field goals in their win against Ranchi Rays but only with a minute left for the first hooter, Jaypee Punjab Warriors earned their first field goal thanks to the experienced Dutchman Robert van der Horst who made no mistake in putting the ball past Delhi Waveriders keeper Vincent Vanasch after a perfect assist by Satbir Singh. This 15th minute goal earned the visitors a 2-0 lead.

The Delhi Waveriders played an inspired second quarter, pushing for chances and they finally succeeded through Mandeep Singh when he helped earn a PC in the 27th minute. However, skipper Rupinder Pal Singh's flick went straight to the keeper who padded it away rather easily. A second penalty corner came through in the 29th minute, again it was Mandeep Singh who was in the thick of things. But a good defence from the visitors ensured Rupinder Pal Singh's flick didn't find the post. Coach Cedric D'Souza will not be a happy man with the number of chances his team has missed at converting PCs.

The third quarter saw the home team continue to chase that elusive goal and they finally found a break through with Tristan White converting a field goal in the 39th minute to level the score 2-2. Interestingly, this was the Delhi Waveriders' first successful field goal this season. The visitors, continued to be persistent, and bagged their first PC when SV Sunil's strike within the circle found Harjeet Singh's foot. But the chance was lost with an unsuccessful variation.

The final quarter saw some tense moments with both teams coming up with an improvised game. Delhi Waveriders were quick to earn their third PC of the game only minutes into the quarter, creating a perfect opportunity to take the lead, but Rupinder Pal Singh flicked it far too left from the net. However, the home team defenders did well in pressing the defending Champions high up the pitch denying them a chance at goal. But the pressure caught on when a silly foul in the circle by Delhi Waveriders saw them gift a PC to the visitors and Jaypee Punjab Warriors' Mink van der Weerden was inch-perfect in finding the net in the 53rd minute giving his team a 3-2 lead. A PC, earned by forward Talwinder Singh for the home team, in the dying minutes of the match could have changed the result for the Delhi Waveriders but a poor attempt at converting this chance to a field goal was denied by the visiting team's defenders.

Robert van der Horst of Jaypee Punjab Warriors was awarded with a prize money of Rs 50,000 for scoring the Coal India Goal of the Match from Shri B.K. Panda, Director (Personnel), BCCL, Coal India Ltd.

Mandeep Singh of Delhi Waveriders won the prize of Rs 25,000 for being the Hero Young Achiever of the Match from Mr. Ajit Pal Singh, Olympian.

The Airtel Most Entertaining Player of the Match was awarded to Satbir Singh of Jaypee Punjab Warriors that came with a prize money of Rs 25,000 and presented by Mr Martin Gotheridge, Chairman, Jury of Appeal, Coal India Hockey India League.

Tristan Clemons of Jaypee Punjab Warriors was declared the Man of the Match and was awarded a prize money of Rs 50,000 by Mr Rajat Sethi, General Manager, The Grand, New Delhi.

On 8 February, Delhi Waveriders will take on Uttar Pradesh Wizards in Shivaji Stadium, New Delhi, at 1900hrs.

Official HIL site


---

Warriors pile misery on Waveriders



PERFECT EXECUTION: Mink van der Weerden's technique was brilliant when it comes to converting penalty corners.  Photo Credit: Shiv Kumar Pushpakar

Delhi Waveriders dominated in its first home game of the Hockey India League (HIL) this season but victory continued to elude it even as Jaypee Punjab Warriors jumped to fourth position with a 3-2 win here on Tuesday.

Delhi coach Cedric D'Souza had defended his team's defensive structure so far, claiming it had done everything right except score.

On Tuesday, the team was far more attacking but a combination of off-target hitting and strong defence from Punjab meant it continued to languish at the bottom of the table, still seeking its first win.

It was perhaps what Punjab had expected, cutting down on its own attacks, packing its defence and depending more on counters to get the goals.

There were fewer attempts but one of them saw Satbir Singh snatch the ball past the half line and send a cross-field pass to Robert van der Horst on the left, the Dutch captain's reverse shot striking the board in the final minute of the first quarter.

Mandeep Singh, on the other hand, was the key player for Delhi and the youngster was also the busiest.

He kept breaking through the Punjab defence from the left flank and was the architect of most of Delhi's scoring chances, including creating a couple of penalty corners.

It speaks volumes about the youngster's confidence levels that he even managed to hustle Sardar Singh a couple of times, forcing the senior pro to get rid of the ball with a desperate pass.

Delhi was offensive all through, increasing the frequency in the last quarter that saw the game being played almost entirely in Punjab's half but the host couldn't find the target.

A goalmouth melee in the 30th minute was cleared by Punjab goalkeeper Tristan Clemons twice, three PCs went waste as Rupinder Pal Singh, strong in his defending, continued his struggle with the drag-flick and Mandeep kept shooting wide.

Tristan White did manage to level in the 38th minute but Mink van der Weerden converted the only PC for Punjab to again put his side ahead.

Delhi got its last PC in the final few seconds but tried to go for a field goal and lost possession.

Relieved

After losing narrowly in its last game, Punjab would be relieved to get its second win in the competition but with the number of chances that Delhi missed, the team only had itself to blame.

The result:

Delhi Waveriders 2 (Tristan White 2 FG) lost to Jaypee Punjab Warriors 3 (Robert van der Horst 2 FG, Mink van der Weerden 1 PC).

The Hindu


---

Punjab pips Delhi narrowly 3-2

s2h team

Delhi missed chances like a millionaire and inflicted upon itself a defeat, third in four, to let unforgiving visitors Jaypee Punjab Warriors cherish a well earned 3-2 win.

At the close of first quarter Rober van der Horst put Punjab ahead, and saw he home team bouncing back in the 39th minute with gem of a close range goal from Tristan White.

Delhi waged good battle in the second half, but forwards Simon Child, Mandeep Singh and Talwinder Singh missed many goals, leaving leeway for the visitors.

Mink van der Weerden struck the winner through a penalty corner seven minutes before hooter.

Stick2Hockey.com


---

Cedric DSouza: A trial of missed chances

s2h team




Delhi Waveriders' chief coach Cedric D'Souza termed his team's defeat today at home against Jaypee Punjab Warriors a trial of missed chances.

Despite dominating most part of the game, and having earned more penalty corners, Delhi went down to Punjab 2-3, conceding a last quarter penalty corner goal. Delhi is now at the bottom of the table with just one draw to show in four matches.

"We did everything correct. Structure was there throughout the match, were attacking fully. They had controlled play and out shots would not go in". Its trial of misses chances, chief coach Cedric D'Spuza who is also chief coach of Austria, said.

On the team failing to convert penalty corners, he pointed out the trend of this year's Hockey India League.

"Last year my same set of players were on cloud nine. This year so far the trend I observe is the fine tuning of chargers' techniques. It almost not possible to go for direct conversions".

"When you don't score through field, there is additional pressure when take on PCs. And that Rupinder Pal Singh is captain, will have further pressure to deliver. The team perhaps put pressure on themselves. What they need to look at is, that last year every of our PC flew into the net. This year the trend is not so".

"I wont press panic button. I believe in the team".

"On the issue of not trying variations, he said the set of players on the turf have full freedom to do, to go direct or indirect. Because it mainly depends on how the defences is organized at that particular moment".

"They have full freedom, will continue to have too", he said.

On his part, Barry Dancer, chief coach of the winning team, praised his team goalie and runners in particular for the success.

"Runners did a pretty good job. Goalie Tristan did a decent job under the bar. In all our penalty corner defence was very good". He said.

He praised Mandeep Singh from his rival team, who really dazzled though ended up losing.

"Young player, future material, I respect him, he created lot of clearances".

Rob van der Horst, who struck the field goal that set the tune and tenor of the match said: " We played a strong sixty minutes game. When we conceded a goal, we got a set back. We responded to that".

"Delhi had fast counters, we responded well".

Stick2Hockey.com


---

Dutch flavour gets stronger in Indian hockey

Alongside Roelant Oltmans as chief coach, Hockey India is set to appoint former Holland assistant coach Hans Streeder as his assistant.

by Mihir Vasavda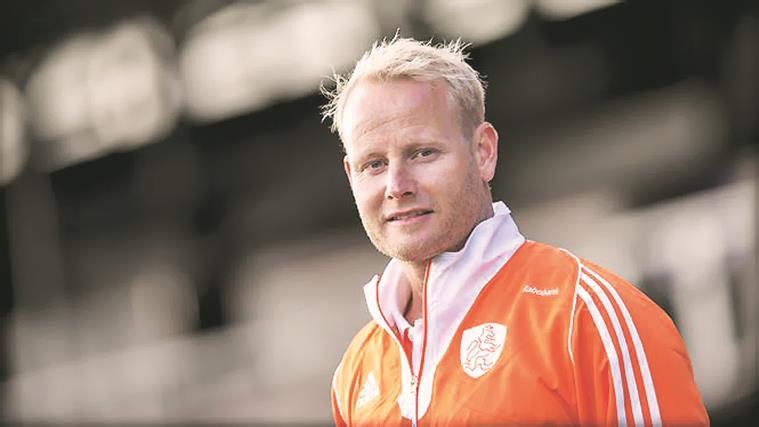 Dutchmen Marijne Sjoerd (in pic) will be the chief coach of the Indian women's team while Hans Streeder will be Roelant Oltmans' assistant.

A few years ago, when Roelant Oltmans came to India as the high performance director, he was surrounded by Australian coaches. The men's team chief coach was Michael Nobbs with David John as his assistant, followed by Jason Konrath. Terry Walsh succeeded Nobbs while Neil Hawgood managed the women's team in two stints with Matthew Tredea as the scientific advisor.

Now, with an Australian – John – as the high performance director, rest of India's staff has gone Orange.

The three important coaching positions will all be held by Dutchmen. While Oltmans continues to be the chief coach of the men's team, Hockey India is set to appoint former Holland assistant coach Hans Streeder as his assistant. Marijne Sjoerd, meanwhile, will be the chief coach of the women's team.

The two additions to the coaching staff are yet to be made official. But Oltmans said Sjeord is likely to take charge of the women's team later this month while Streeder will join the men's camp in middle of March.

"It was an open invitation for anyone to apply and these guys did. They were clearly the best candidates and will be a good addition to the coaching staff," Oltmans told The Indian Express.

In 2015, Streeder was in contention to replace Walsh as the team's chief coach. Instead, Hockey India appointed his compatriot Paul van Ass. Streeder went on to coach Pinoke, one of the leading Dutch clubs, while simultaneously working as the assistant for the team that took part in the junior World Cup in Lucknow last December.

He will replace strategy coach Roger van Gent, who quit following the junior World Cup owing to family commitments.

Sjoerd, meanwhile, has played an instrumental role in revitalizing the Dutch women's hockey team. He led them to the junior World Cup title in 2013 and followed it up by guiding the senior women's team to gold at the Hockey World League semifinals in 2015. He parted ways with them after a fallout with the Dutch federation.

Oltmans, however, said the appointment of Dutch coaches would not mean the men and women's team would adopt a particular style of play. In the past, Indian teams have swayed from one extreme to another in trying to play the Australian way – quick and aggressive – or the European, which is much more structured and disciplined.

Under Oltmans, though, the men's team has formed a style of their own and have turned into one of the most dangerous counter-attacking teams in world hockey. "At the moment, it (new coaches) will help because we can change our structure. But we are not trying to adopt a style. We are looking for an Indian structure…that's what we are aiming for," he said.

The women's team, meanwhile, hasn't taken giant strides although they qualified for the Olympics last year after more than three decades.

Their performance in Rio, though, left a lot to be desired. Sjoerd is expected to arrive in Delhi in a week or two and will join the camp immediately to prepare for the World League Round 2, which begins on April 1 in Vancouver. A high finish there would ensure a berth in the World League semifinals later this year, which will act as the qualifiers for next year's World Cup. The men's team, meanwhile, will not have to worry about qualifying for the World Cup as they get in on the virtue of being the hosts. They are likely to begin their camp in mid-March.

Indian Express


---

Hockey players to benefit from quality fields in India



The 2016 Junior World Cup field in Lucknow is one of many new fields constructed by FIH certified Field Builders in India Photo: FIH/World Sports Pics

Hockey players across India will increasingly be able to develop their skills on some of the best hockey fields in the continent after the first four Field Builders in the country were certified by the International Hockey Federation (FIH).

Advanced Sports Technologies LLP, Shiv Naresh Sports PVT Ltd, Syncotts International and Great Sports Infra PVT Ltd have all been certified in recent weeks, marking yet another important milestone in relation to the growth of the Programme.

As part of their certification, these Field Builders have shown a high quality of workmanship over several years. However, more importantly, they have committed to ensure that all of the fields they will build in India over the coming years, for all levels of play, will be to the recognised standards detailed in the FIH Quality Programme for Hockey Turf.

Developed with the best interest of hockey players at its heart, the FIH Quality Programme for Hockey Turf is designed to make a significant impact on the next generation of hockey players. Hockey fields built by certified Field Builders will ensure that players will be able to develop their hockey skills in safe and reliable environments.

The quality-assurance Programme provides consistent and dependable industry standards for the performance, construction and durability of hockey turf installations worldwide and ensures the appropriate quality for the intended level of play. As a result, it will help inspire more people to play hockey, promote player welfare and protect the investment of those funding hockey facilities.

The Programme is an integral part of the FIH's Hockey Revolution, a 10-year strategy that aims to make hockey a global game that inspires the next generation. As part of the overall strategy, a major initiative was launched to increase the degree of professionalism in hockey. The Quality Programme is one of the key components of this initiative.

Speaking of the progress of the Quality Programme, FIH Director of Sport and Development, David Luckes, said: "We believe that the long-term success of our sport lies in the quality of hockey facilities around the world. Certifying these four Field Builders in India indicate further recognition of our Quality Programme, and in particular the Field Builder category. Companies are seeing the commercial benefit of being certified whilst governing bodies and venue owners are also recognising the value of using certified Builders, Suppliers and Products in relation to their investment in hockey facilities. We hope that over the coming months, many more Field Builders across the world will be certified as this Programme continues to expand."

For more information about the Quality Programme, visit the Hockey Turf section of FIH website: fih.ch/hockeyturf.

FIH site


---

Odisha govt gives approval to host Hockey World Cup 2018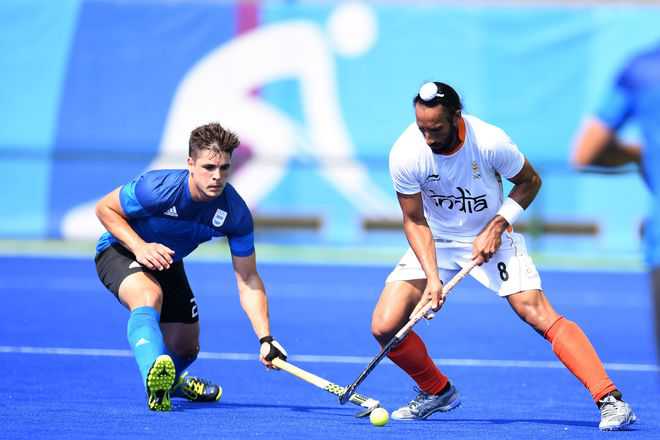 Bhubaneswar: The Odisha government on Tuesday accorded in-principle approval to a proposal for hosting the 14th Men's Hockey World Cup-2018 in Bhubaneswar.

"Today's meeting has in principle decided to organise and host the event. The final and official announcement for the event would be done by Hockey India. The matches would be played for 3 weeks," Chief Secretary A P Padhi, who presided over a high level meeting here to discuss Men's Hockey World Cup-2018 preparations, told reporters.

Stating that the state government will provide all support and assistance for the successful hosting of the international event, Padhi said the event is scheduled to be held at Kalinga Stadium here from November 28 to December 16, 2018.

Padhi directed different departments to make all necessary arrangements to make it a world class event.

He further advised to showcase Odisha and its potential in the fields of tourism, culture and sports development.

Secretary Sports and Youth Affair Vishal Dev said, "This is for the third time India will organise the prestigious World Cup and Odisha is proud to get the chance to host it at Bhubaneswar".

India had hosted the Hockey World Cup for first time in 1982 at Mumbai and for second time in 2010 at New Delhi.

Dev said around 1000 players from 16 nations will participate in the World Cup.

The winners of five continental championships—Africa, America, Asia, Europe and Oceania—along with 10 highest placed teams of the Semi-Finals of Hockey World League-2017 will take part.

Around 20,000 foreign visitors, including the players and officials from various countries, are expected to reach Bhubaneswar to witness the event.

Chief Executive of Hockey India Elena Norman was among others who attended the meeting.

The Tribune


---

Odisha government to boost infrastructure for Hockey World Cup in 2018

BHUBANESWAR: The Odisha government on Tuesday decided to boost infrastructure and other facilities at Kalinga Stadium here to successfully host the Hockey World Cup in 2018.

A preparatory meeting was held under the chairmanship of chief secretary AP Padhi to discuss the detailed programme and work plan for the world class event.

The matches are scheduled to be played in November and December next year. A total of 16 teams will participate.

Padhi advised showcasing Odisha and its potential in the fields of tourism, culture and sports development during the event.

"The meeting has in principle decided to organise the hockey world cup. The final and official announcement for the event would be done by Hockey India League. The state government will provide all support and assistance for the successful organisation of this international event," said the chief secretary.

In the meeting, it was decided that the beautification work at Kalinga Stadium will start soon as it will host most of the matches during the three-week event.

"This for the third time that India is going to organise the prestigious World Cup and Odisha is proud of getting the chance to host it at Bhubaneswar. We will soon make the detailed programme and work plan for meeting the requirements like transport, hotel accommodation, stadium development, security arrangements and execute them as per the timeline," said sports secretary Vishal Dev.

India had hosted the Hockey World Cup twice - first in 1982 at Mumbai and then at Delhi in 2010.

Hockey India CEO Elena Norman, who was also present at the meeting, said the stadium infrastructure will be developed as more matches are being played here.

"We are ready to host any tournament as the overall infrastructure is really good as of now. And, we will develop it as we conduct more matches here," the CEO added.

Bhubaneswar has already successfully hosted the eight-nation Champions Trophy men's hockey tournament in 2014.

Around 1000 players from 16 nations will participate in the World Cup. Around 20,000 fans, relatives and associates of the players and officials from various countries are expected to reach Bhubaneswar to witness the event, said sources.

The Times of India


---

UniKL will be without skipper Marhan for two matches in Johor

by Aftar Singh




KUALA LUMPUR: Universiti Kuala Lumpur's (UniKL) bid to stay in touch with leaders Terengganu has been dealt a severe blow as they will be without skipper Mohd Marhan Mohd Jalil (pic) for two Malaysia Hockey League (MHL) Premier Division matches in Johor this week.

Marhan is down with suspected dengue fever and is definitely out of the matches against TNB-Thunderbolt today and SSTMI on Friday at the same venue – the Tunku Mahkota Ismail Sports School (SSTMI) pitch in Bandar Penawar.

UniKL coach A. Arulselvaraj said the absence of Marhan would be sorely felt but they have to make the necessary adjustments.

"I hope that it is not dengue as he will take time to recover and we have crucial matches these final two weeks," said Arulselvaraj, who added that goalkeeper Khairul Nizam Ibrahim is also doubtful for the two matches as he has only just recovered from fever.

UniKL are third in the eight-team standings with 18 points – four behind leaders Terengganu and two adrift of second-placed Kuala Lumpur Hockey Club (KLHC).

Double champions Terengganu, powered by their penalty corner specialist Jang Jong-hyun, will be looking for another impressive win over Tenaga Nasional at the Kuala Lumpur Hockey Stadium today.

The east coast side have scored a whopping 48 goals in eight matches.

The Star of Malaysia


---

Road to Tokyo starts now



Frances Block

Following the success of Rio, the FIH have identified 6 English umpires who have been shortlisted to umpire at the 2020 Tokyo Olympic Games. These umpires are:
 
Frances Block
Hannah Harrison
Bruce Bale
Dan Barstow
David Dowdall
Paul Walker
 
Over the next 3 years, the above umpires will work with International Umpire mentors on all aspects of their umpiring. From regular fitness training and video analysis of performances in our National League through to specialist working groups around international tournaments.

All of our umpires will be selected for some of the most prestigious events in the run up to final selection in 2020, including the Hockey World League, Commonwealth Games and World Cups. We wish them all the best of luck over the next 3 years and will be updating their progress through our website.

England Hockey Board Media release


---

1st Women Hockey League: Lahore face Quetta in Final

Karachi play Islamabad for 3rd position

Lahore: It was the last day of the league phase of the 1st Women Hockey League at the National Hockey Stadium.

Lahore Lions Down Quetta Panthers 3-0 to Maintain Perfect Record

It was the match between two sides with 100% record in the league. Both had won all the three matches and already qualified for the Wednesday final; only bragging rights were at stake.

If today's result is any indication, Lahore are the favourites for the final as they outplayed Quetta.

Interestingly, all the three goals came via penalty corner conversions.

International Hina Pervaiz (Player of Match) had a brace while the third goal was scored by Ishrat Abbas.

Lahore: Lions: 3   Quetta Panthers: 0
Hina Pervaiz: (15' & 23') & Ishrat Abbas (40')
Player of Match: Hina Pervaiz

Karachi Finishes 3rd in League with Easy Win over Peshawar

It was the last match of the league phase. Peshawar Deers had lost all the three previous matches but still had an outside chance to make it to the 3rd position play off. They needed a big  win over Karachi Dolphins.

However,  the match went as per the form book. Karachi, controlling the proceeding most of the time, rode to an easy 3-0 victory.  They were out of  the blocks from the word go. Saira Ashraf struck in the very first minute. It stayed 1-0 when the first half ended.

Immediately on resumption, Tehmina (player of match) extended the advantage' also through open play.

Third goal was added by Arzoo Manzoor via a penalty corner.

Karachi now play Islamabad Shaheen in the third place match on Wednesday.

Karachi Dolphins: 3  Peshawar Deers: 0
Saira Ashraf (1'), Tehmina (32') & Arzoo Manzoor (44')
Player of Match: Tehmina

FINAL POINTS TABLE:
 
Team, Matches, Wins, Defeats, Draw, Goal Difference, Points
Lahore Lions, 4, 4, 0, 0, +14, 12
Quetta Panthers, 4, 3, 1, 0, +3, 9
Karachi Dolphins, 4, 2, 2, 0, -1, 6
Islamabad  Shaheenv4, 1, 3, 0, -5, 3
Peshawar Deers, 4, 0, 4, 0, -11, 0
 
Matches on Wednesday:
3rd Position (Karachi Dolphins vs Islamabad Shaheen ): 10:00 am
Final (Lahore Lions vs Quetta Panthers): 12:00 pm

PHF Media release


---

Imran Butt's Allegations Baseless

He had Submitted Medical Certificate to PHF about his Unfitness to Attend National Camp

Pakistan Hockey Federation has taken a serious notice of international goal keeper Imran Butt's recent interview to a private TV channel. The excerpts of Interview were later also published in quite a few newspapers.

In the interview, Imran Butt has blamed the head coach of Pakistan's national team, Khawaja Junaid for his non selection in the national camp, announced a few days back. He alleged that Junaid has some personal grievances against him and that is the sole reason for the absence of his name from the probables' list.

PHF has termed the allegations as totally baseless, "in fact, it is ridiculous since Imran Butt had himself submitted a medical certificate to the PHF before the announcement of the camp probables stating his unfitness."

The federation has decided  to take the appropriate disciplinary action against Imran Butt.

PHF Media release


---

Men's National Program names 2017 Junior Development Squad

Shaheed Devji



Canada vs South Africa at the 2016 Junior World Cup in India. By Yan Huckendubler.

Canada's men's field hockey program has named an 87-player Junior Development Squad for the upcoming year as the junior men begin the journey to the 2020 Junior World Cup.

The athletes who make up the squad come from four provinces: British Columbia, Alberta, Ontario, and Quebec. The roster includes eight athletes who represented Canada at the recent Junior World Cup in Lucknow, India. That list includes the likes of Jamie Wallace and Thomson Harris, who have also been named to the 2017 Senior Development Squad.

The squad has been selected after the completion of the Under-16 National Championships this past summer, and with input from both National and Provincial coaches.

"We're working closer with our provincial partners to help grow the competitive depth of the program," says Paul Bundy, who in addition to serving as the Assistant Coach of the Senior Men's National Team, heads up the Junior National Program. "We're sending a National Coach out to all the provincial trials to work with the coaches from the four respective provinces that contain our JDS athletes."

The provincial alignment is part of a four-year strategy to grow the competitive depth within the country as Canada begins a new quadrennial leading up to the 2020 Junior World Cup.

There are plans to introduce Under-18 and Under-23 National Championships in Toronto this July, as well as for Canada's juniors to host international matches following the conclusion of National Championships. More information with regards to these event will come at a later date.

2017 Junior Development Squad (Men)
Name, Province
Alex Darling , Quebec
Alexander Bird, Quebec
Amninder Atwal, Ontario
Amraaz Dhillon , British Columbia
Amritjot Toor, Ontario
Arjun Hothi, British Columbia
Arshjot Toor, Ontario
Avi Dhaliwal, Alberta
Brendan Guraliuk, British Columbia
Brien Murphy, Alberta
Casey Brennan, Quebec
Chris Tardif, Quebec
Christophe De Haas, British Columbia
Clovis Vandermeirsch, British Columbia
Connor Rutledge, British Columbia
Damandip Maangat, British Columbia
Daniel Nahir, Quebec
Dario Vaz, British Columbia
Dildeep Seehra, Alberta
Dilpreet Cheema , Ontario
Dwayne Rodricks , Ontario
Ethan Mctavish, British Columbia
Fin Boothroyd, British Columbia
Flynn Mcculloch, Quebec
Ganga Singh (Jr), Ontario
Gaurav Agnihotri, British Columbia
Gavin Bains, British Columbia
Gurvansh Mann, British Columbia
Harbir Kamboj, Ontario
Harpreet Benipal , British Columbia
Harsimran Dhugga, Ontario
Harsohail Parmar , Alberta
Harvir Malhi, British Columbia
Isaac Farion, Quebec
Jackson Syrros, Quebec
Jagpreet Singh, Ontario
Jamie Wallace, British Columbia
Jarod Timmins, British Columbia
Jasmeet Biring, British Columbia
Jasmeet Gill, Ontario
Jason Dhaliwal, British Columbia
Jay Dhaliwal, Alberta
Jeevan Jammu, Ontario
Jesse Carvalho, Ontario
Joshua Kuempel, Ontario
Julius D'Souza, Ontario
Kevin Watson , Alberta
Kyle Bishop, British Columbia
Lyle Fernandes, Ontario
Mankirat Rai, Ontario
Manveer Jhamat, British Columbia
Manwinder Kailey, British Columbia
Marek Chopra , Ontario
Michael Brown, British Columbia
Michael Mackenzie, British Columbia
Muhammad Hamza Sohail, Alberta
Naman Sharma, British Columbia
Nicolas Syrros, Quebec
Nityanland Rewanker, Ontario
Noah Loomis, Quebec
Pascal Brisson , Ontario
Rajan Kahlon, British Columbia
Rajan Singh, Ontario
Ranbir Kalkat, Ontario
Robbie Bleich, Quebec
Robinpreet Virk, Alberta
Roopkanwar Dhillon, British Columbia
Rowan Childs , British Columbia
Sahib Suri, British Columbia
Sam Cabral, British Columbia
Sam Seaberry, British Columbia
Satbir Brar, British Columbia
Shahzad Shazab, Alberta
Sukhman Bajwa, British Columbia
Sumeetpal Dhaliwal, British Columbia
Tajveer Bisla, British Columbia
Tanveer Kullar, Alberta
Tanvir Kang, Alberta
Tarjan Sandhu, British Columbia
Tarnpreet Gill, Ontario
Thomson Harris, British Columbia
Trevor Lee Barrett-Lennard, British Columbia
Tristan Philippe, Ontario
Vincent De Waal, Alberta
Yuvraj Brar, British Columbia
Zachary Coombs, Quebec
Zaiq Rana, British Columbia

Field Hockey Canada media release


---

Hockey ace joins Wits



Chris Makaba in action on the hockey field.

JOHANNESBURG – The guard is set to change at Wits hockey as an incredible talent joins the ranks.

A young hockey ace, Chris Makaba, has joined the ranks at Wits University after barrelling down the hockey straight in recent times.

Makaba, a junior national team player, led the Jeppe Boys 1st team hockey side to a tournament victory in the prestigious Aitken Tournament – an interschool tournament that features some of Johannesburg's leading schools. He went on to captain the SA U18 schools side in an international match against Australia in Pretoria in November last year.

He now savours taking on the challenge of studying at Wits, having impressed with his incredible hockey skills. He said, "I decided to come to Wits because it is such a well-known institution. It has an amazing pull-factor; not only in the way of getting a degree that is internationally recognised but also because of the atmosphere that exists therein."

Makaba's lifelong dream has been to play hockey as a professional, with the promise of proudly singing the South African national anthem each time he takes to the field of play, a constant motivation. His experience of donning the national kit has bolstered his love for the sport immeasurably. "I was fortunate enough to have represented the side and I'm very honoured to have been part of the team that played against Australia in the three-day series. That is one of my fondest memories and I will cherish it for a very long time."

Outstanding additions to the athlete's repertoire has been his leadership capabilities, his self-drive and maturity, attributes he feels will allow him to contribute to the continued success of Wits hockey.

"I can be a positive influence and I can stay consistent, which will aid me to play well, thus aiding the team because as a team player we feed off each other's energy and if the team plays well, all the players play well," he added.

"You need to have a plan going forward – even drawing up a timetable is advised [noting] when you have practices and when your attention should be focused on academics. That way, with a plan, you will be able to balance both by working hard and staying up to date with your academics and sports."

City Buzz