All the news for Tuesday 7 February 2017

Spain and Scotland lead way in Valencia




The Hockey World League Round Two (HWLR2) event, held at the Virgen del Carmen-Beteró Sports Centre in Valencia, provided a second day of high octane hockey action. Goals rained down and silky skills wowed the fans as the two pool leaders extended their unbeaten runs and moved one step closer to a chance to compete for a place at the 2018 World Cup.

Pool A leaders Spain stunned the Czech Republic with a goal scoring masterclass to strengthen their lead in Pool A, while in Pool B, Scotland beat Poland in a narrow and tense encounter between two closely matched teams. The results leave Spain and Scotland top of their pools, with the final round of pool matches taking place on 7 February.

Russia v Turkey 7-0

Russia quickly recovered from the opening defeat versus Spain by producing a very good performance against the lowest ranked team, Turkey. Anthony Thornton's team showed no mercy as they put away seven goals, recovering their confidence in the process. Irina Osipova (2), Valeriia Borisova, Kseniia Svezhentseva, Marina Fedorova, Svetlana Eroshina and Bogdana Sadovaia scored the Russian goals. Krivoshei is the high-scoring player of the event so far with five goals.

Spain v Czech Republic 5-1

This was an encounter between two teams who had got off to a winning start in Valencia. But it was Adrian Lock's Redsticks who were quickest to get on the scoresheet through a first quarter penalty corner from Xantal Giné. Spain created many more chances but the Czech Republic held strong and the sides remained separated by the single goal until the final quarter. Then the goals poured in… five goals and many more opportunities. Alejandra Torres Quevedo, Carmen Cano, Carola Salvatella and Begoña García all found the net for the home side, while Klara Hanzlova scored a consolation goal for the Czech Republic.

Scotland v Poland 1-0

Scotland continued their winning ways with a single goal victory against Poland. The result will be a blow to Poland who came to the event with high hopes. The east European side will need to bounce back in their final pool match against Ghana to restore confidence. Robyn Collins scored Scotland's goal from a well-struck penalty corner.

Ghana v Ukraine 2-2 (Ghana win SO 2-1)

Ghana and Ukraine played out an exciting and closely-matched fixture that left the teams inseparable at the end of full time. Rachel Bamfo and Cecilia Amoako scored for Ghana, but their strikes were cancelled by Ukraine's Oksana Ponomarenko and Viktoriya Stetsenko. At the shootouts round, Ghana prevailed thanks to the superb performance of the goalkeeper, Bridget Azumah.

Fixtures: Tuesday 7 February 2017. All times CET.
10:30: Ghana vs Poland (Pool B)
13:00: Spain vs Turkey (Pool A)
15:30: Russia vs Czech Republic (Pool A)
18:00: Scotland vs Ukraine (Pool B)

#HWL2017 #MakeYourMark

FIH site


---

Success at the inaugural Masters Indoor World Cup



England Men's Over 50s along with the other medallists,  Germany and Netherlands.

England Men's Over 50s and Women's Over 40s won bronze medals at the first ever Masters Indoor World Cup that was held in Germany over the weekend. England Men's Over 40s also participated and finished seventh in their tournament

For more details click here.

England Hockey Board Media release


---

Canadian women finish with win in Australia, head back to Vancouver

Shaheed Devji



Canada takes on Queensland Scorchers on January 26, 2017. By Andrew Blanchard.

Canada's women's field hockey team is headed back home to Vancouver after a successful training tour in Gold Coast, Australia.

The Canadian women finished the near month-long trip to Queensland and eight games with the Queensland Scorchers, a state team which features Australian international players, with a record of 4 wins, 3 draws, and one loss. The final two games finished in a 2-2 draw, and a 2-0 victory for Canada.

In the final match, Canada's goals came from Brienne Stairs on a penalty corner, and Hannah Haughn from the run of play.

The Canadians showed well on the pitch during the eight games, proving to be physically fit in particularly hot and humid conditions.

According to the team's head coach, Ian Rutledge, the women put in a "consistent and improving performance each game."

While the trip was an opportunity to solidify team systems on and off the field ahead of World League Round 2 in April, it was also a chance for some bonding.



Women's National Team. Gold Coast, Australia. 2018 Commonwealth Games site. February 2017.

The Canadian women, who were travelling with a group that included both veterans and players new to the senior level, had a chance to visit the site of hockey for the upcoming 2018 Commonwealth Games in Gold Coast, Australia.

Visits to the beach and a local sanctuary, coupled with the chance to play in hockey loving venues such as Brisbane and Murwillumbah, made for a thorough and successful trip on many fronts.

The Canadian women now return to Vancouver, with less than two months to go before World League Round 2, which is part of the 2018 World Cup qualification process and will be hosted by Canada in West Vancouver from April 1-9, 2017.

Field Hockey Canada media release


---

MHC: No news from FIH yet

by Jugjet Singh

THE Malaysian Hockey Confederation (MHC) called Premier Division managers for a meeting yesterday to prepare for 'all-weather' leading to the World League Round Two.

After Canada withdrew for the Dhaka, Bangladesh, World League Round Two recently there is a possibility that Malaysia might move from their initial venue in Trinidad and Tobago to Bangladesh.

But the MHC are still tight-lipped about any changes in venues.

"No we have not received any news from the FIH (International Hockey Federation) on a change of venue. This meeting was called to request for national players in the Premier Division to attend training every Mondays.

"The teams agreed, and there were no further issues," said MHC CEO K. Logan Raj.

National men's coach Stephen van Huizen also said he does not know about any change in venue, and is just preparing for the World League.

"I have no news about the change in venue for the tournament, and in fact even my players have asked me the same question but I could not answer their queries.

"The only difference between both the venues is the travelling time of about 30 hours to Trinidad and Tobago while its about four hours to Dhaka.

"Also, in Trinidad and Tobago, we are grouped with European and Caribbean sides while in Dhaka it will be basically Asian teams," said van Huizen.

However, the hasty meeting might be to prepare a team early for Dhaka as the tournament dates would become closer if there is a change in venue.

Malaysia are slated to play their WL in Trinidad and Tobago on March 25-April 2.

But if they replace Canada, Malaysia will play in Dhaka on March 4-12.

The Malaysia Hockey League Premier Division matches end on Feb 26, and the Dhaka tournament is just a week after that.

In a news report, Bangladesh Hockey Federation secretary general Abdus Sadeque said: "It is very sad that Canada have withdrawn from the tournament on security grounds, which we learnt on Monday through the FIH (International Hockey Federation)."

In Dhaka Canada were in Group A with Fiji, Oman and Bangladesh, while in Group B are China, Egypt, Ghana and Sri Lanka.

While in Trinidad and Tobago Malaysia are in Group A with Barbados, US and Chile. In Group B are Japan, Switzerland, Russia and the hosts.

Jugjet's World of Field Hockey


---

Well... Its Dhaka as written earlier than FIH statement

MHC has received an offer from FIH to play in the Dhaka HWLR2 instead of the T&T HWLR2.

Upon consultation with the respective bodies which include the coaches, Technical Director, Coaching Chairman and members of the EB, and taking into consideration various matters that generally contribute to our decision-making processes, MHC would like to officially inform that the Men's National Team will be heading to Dhaka to participate in the Men's Hockey World League Round 2.

The tournament will take place from the 4th to 12th March and feature the following teams:

1. Egypt
2. China
3. Oman
4. Bangladesh
5. Sri Lanka
6. Fiji
7. Ghana

Kindly be informed. We look forward to giving our best at the tournament.

Jugjet's World of Field Hockey


---

Top teams invited for Seventh SOJC

by Jugjet Singh

JOHOR Hockey Association (JHA) have invited top junior sides for the Seventh Edition of the Sultan of Johor Cup to be held on Oct 22-29.

A star studded field of Argentina, Great Britain, Germany, India and Australia have been contacted to play at the Taman Daya Stadium against the hosts.

"We are extending invites to these teams as they had expressed interest in participating this year," said JHA Deputy President Datuk Manjit Majid Abdullah.

"These are top junior teams and it will help boost the image of the tournament. We have also received interest from a few other countries and will keep our options open and invite them should any of these five decline."

Among the countries on the reserve list are New Zealand, Japan, Pakistan and Egypt.

Manjit said that they were also looking at other teams like South Africa, Spain or Belgium for the tournament.

Should India accept the invite, they will be making a return after a years absence.

Australia are the defending champions and Malaysia as well as Great Britain have emerged as champions before.

Jugjet's World of Field Hockey


---

Premier Division shaping up to be another two-horse race

by S. Ramaguru

KUALA LUMPUR: Despite the challenge provided by Universiti Kuala Lumpur (UniKL), the Malaysia Hockey League's Premier Division title is turning out to be a two-horse race, just as in previous years.

The two unbeatean teams – Terengganu, a three-time champion, and KLHC – are the frontrunners with 22 and 20 points after eight matches.

UniKL are third with 18 points and the only way for them to get into the title race is to beat the top two sides.

They were on the receiving end in the first half of the season and it remained to be seen if the damage had already been done.

UniKL face Terengganu on Feb 12 and then KLHC five days later. And if they fall at either hurdle then the title is out of their grasp.

Terengganu coach Sarjit Singh put it right when he said all that matters now is collecting three points from each match.

"As with the other teams that is all we need to win the title. If they beat us then they will get into the title mix.

"There are no big matches involved here. It's straigthforward and we don't intend to falter at this stage," he said.

For the fourth year in a row, Terengganu and KLHC will meet in the last match of the preliminary round on Feb 19. And each year that game decided the title outcome.

Terengganu are really hitting it off with their top two hitmen on fiery form.

South Korea's Jang Jung-hyun and former national forward Tengku Ahmad Tajuddin were the top two strikers in the MHL last season.

They currently are the leading scorers with 16 and 11 goals respectively.

"Yes, I'm pleased with their scoring rate. Tengku is showing good form and I'm surprised that the other strikers from the national team have not matched him."

Meanwhile, TNB Thunderbolt moved into fifth spot after being awarded three points in the match against UiTM-KPT which was abandoned on Feb 3. The match was called off when both teams wore the same colour socks.

UiTM did not have an alternate colour which forced the match to be abandoned.

They were also fined RM500. The scoreline will read 3-0 in favour of Thunderbolt.

The Star of Malaysia


---

1st Women Hockey League: Quetta & Lahore have qualified for the Final

Lahore: In the 1st Women Hockey League, on Monday, Quetta Panthers and Karachi Dolphins  won their respective matches at the National Hockey Stadium.

Quetta Panthers Qualify for Final with Third Successive Win

Quetta Panthers had an easy 3-0 over Peshawar Deers.

Having won all the three matches, Quetta have qualified for Wednesday's final against Lahore Lions, the only other unbeaten side in the League. These two sides would meet on Tuesday in their last league match in a rehearsal for the final.

Quetta girls held the upper hand almost throughout against the hapless Peshawar Deers who have now lost all the three matches.

All the three goals came through open play. Quetta's prolific scorer Aqsa Javed opened the account with her fourth goal of the event in the 12th minute.
International Sana Allah Ditta, doubled the lead in the 24th minute.

Qurat-ul- Ain, later declared Player of  Match, completed the tally with the only goal of the second half.

Quetta Panthers: 3  Peshawar Deers: 0
Scorers:
Aqsa Javed (12'), Sana Allah Ditta (24') & Qurat-ul-Ain (47')
Player of Match: Qurat-ul-Ain

Karachi Dolphins' First Win

After losing the first two matches, Karachi savoured the taste of victory with a well deserved 2-0 win over Islamabad Shaheen.

Karachi had a goal in each half. Both were field goals, scored by Saira Ashraf and Humaira Rafi

Karachi Dolphins:2  Islamabad Shaheen: 0
Scorers:

Player of Match: Saira Ashraf

POINTS TABLE:

Team, Matches, Wins, Defeats, Draw, Goal Difference, Points
Lahore Lions, 3, 3, 0, 0, +11, 9
Quetta Panthers, 3, 3, 0, 0, +6, 9, Karachi Dolphins, 3, 1, 2, 0, -4, 3
Islamabad  Shaheen, 4, 1, 3, 0, -5, 3
Peshawar Deers, 3, 0, 3, 0, -8, 0
 
Matches on Tuesday
Lahore Lions vs Quetta Panthers: 11:00 am
Karachi Dolphins vs Peshawar Deers: 02:30 pm

PHF Media release


---

Tickets for Coal India Hockey India League Finals Weekend now available   

New Delhi: With less than three weeks to go for the Coal India Hockey India League play offs, where four teams will vie for top honours, Hockey India have announced online sale of tickets for the matches to be played on 25 and 26 February in Chandigarh.

The Finals weekend will feature two Semi Finals played between the top four teams on the points table which will be held on 25 February while the winners of these two matches will play the Final on 26 February at the Chandigarh Hockey Stadium in Udyan Path, Sector 42A. On 26 February, there will also be the play off match for the Bronze medal in the fifth edition of the Coal India Hockey India League.

The tickets for the event will be priced at Rs 50 (for North, East and South Stand) and Rs 100 (for VIP – Right and Left Wing). The tickets can be bought at ticketgenie.in

Speaking about the opening of the sales, Mohd. Mushtaque Ahmad, Chairman, Coal India Hockey India League, said, "The high-intensity matches and the level of competition showcased by the teams in this year's Coal India Hockey India League has garnered a lot of interest among hockey fans not

just from India but around the world. We wanted to make the tickets available for the play offs at an early stage so that hockey lovers can plan their trip and come in huge numbers to support their favourite teams."

After having played seven matches in the league so far, Dabang Mumbai are currently leading the points table, while Kalinga Lancers are placed second followed by Ranchi Rays.

For further details or enquiry on tickets, call: 080- 41150910.

On 7 February, Delhi Waveriders will take on Jaypee Punjab Warriors at the Shivaji Stadium, New Delhi at 1900hrs.

Official HIL site


---

Glenn Turner: We get to learn some Indian style of Dance

Tazeen Qureshy




He is the one player, who is all over the field, doing every trick in the hat to score for his team. From his stick work to the mesmerising goals he scores, to even his crazy dance celebration, Glenn Turner is an absolute entertainer. Perhaps, for this reason, he is a favourite of the crowd in Bhubneswar, the home of Kalinga Lancers, who pin a lot of hope on him.

Post the last home match of Kalinga Lancers, Glenn is up, close and personal with s2h and reveals a few off the field details.

You are one of the most energetic players on the field. Once you set in, the crowd is all for entertainment. Tell us what Glenn Turner does right before a match.
"I usually stay in the changing room longer, sit there and get my head ready for the game. I like to listen to a few songs. When I come out, I am ready to pump up the crowd. Just before the warm-up, I start thinking about the game. I don't really think about hockey all day long."

You are the most recognised player in the team. Any guesses as to why such widespread popularity?
"I have got no hair on my head, so I am easily recognisable (laughs). India appreciates attacking hockey and they know the goal scorers. So, that's one of the things I do. Even I hate boring hockey where no goals are scored."

This is a long league. The players are already talking of fatigue. What do you do to keep up the momentum?
"Whenever we get a break, we use it to recover well. Post this we have a five day break. Unfortunately, we have two players who are ill. Hopefully, they will be fit and we all will recover to fire in the next game."

How does the team spend time on non-match days?
"We got to the beach and play some golf. There are heaps of things we do like yoga and pool sessions to make sure the team stays together."

You have been in India for long. Have you managed to learn some Hindi words?
"Kaise ho? (How are you). Thik hai (I am fine)."

We see a shift in the way Kalinga Lancers are celebrating this year after a goal is scored. Why this change?
"The boys wanted to mix it up this year. With the song on, they wanted to do some Indian dance. It is good for the crowd and it is good for us because we get to learn some Indian style of dance."

Finally, where do you see Kalinga Lancers stand in this edition?
"We can beat anyone. It is a close competition. For us, it is all about getting some 6-7 points more to seal our position. If we keep up the momentum, nobody can touch us."

Stick2Hockey.com


---

A dangerous trade to ply



TOUGH JOB: A defender has to to be technically correct as well as brave when he is in the firing line of drag-flickers. 

The incident of Dabang Mumbai player Robbert Kempermann getting hit off a deflection while saving a penalty corner against Ranchi Rays in a Hockey India League match the other night has again highlighted the dangers associated with the job.

Thankfully, the ball hit Kempermann's mask and the Dutch recuperated from the impact to take the field following a short break.

Kempermann was not the only one who got affected by penalty corner shots. Ranchi's Manpreet Singh had a deep cut and Sumit broke his shin guard while defending short corners against Uttar Pradesh Wizards.

"It is dangerous," says Ranchi coach Harendra Singh. "That's why the International Hockey Federation (FIH) has allowed so many protective gears."

No doubt, one needs a big heart to be in the firing line of drag-flickers. "You need to be very brave. Not everyone is made for it. You need to be technically correct as well. Half the battle is wanting to be in that position. There are a lot of guys who say it is an important part of their job.

"The ball comes very hard, maybe somewhere between 100-115kmph. Back in the older days they used to hit the ball a lot harder.

"Dutchman (Floris Jan) Bovelander used to hit the ball at 130 to140 kmph. I used to be a penalty corner hitter, so I hope it remains," says Dabang Mumbai coach Jason Stacy. According to Harendra, one must learn penalty corner defence techniques early.

"It's important to teach the techniques from grassroot level. Unfortunately, in our country we don't give much importance to this. Players get to know these techniques when they start playing competitive tournaments or join the National camp."

In Australia, Stacy says, the coaches pick young players who are eager to take up the responsibility.

"Then they practice it like they do other skills."

The Hindu


---

HIL Here and There: When Chess met hockey

Tazeen Qureshy




When Chess met hockey: The Kalinga Stadium has been hailed by many, including national and international hockey players, for the huge crowd it draws everytime during the match. From sports lovers to school students and even live match debutants, the crowd in Bhubaneswar has lived up to the expectations of the hockey fraternity. On Sunday, when hosts played against Uttar Pradesh Wizards, there was a very special guest on the stands, enjoying every bit of the game.

Padmini Rout, a chess player and a big sports icon in Odisha was cheering out as the teams lined up for the match. "It is the first time I am here to watch any live physical sport. So far, I have only seen live chess games. This is my first-ever live match," said Rout, who is an International Master and Woman Grandmaster. "I have not really followed hockey much. Hopefully, I will after watching this match live." Strangely while everyone expected Kalinga Lancers to be her obvious choice of support, she surprised everyone as she cheered equally for both teams. "VR Raghunath, the skipper of UP Wizards is my colleague at Indian Oil. So, I want Raghunath to play well and also Kalinga Lancers. I am supporting both teams," she reveals.

=================================================

MEDIA ROOM: While there has been much talk about cricket versus hockey every time, the two warring sports were once again on the battlefield, this time at the media room of the Kalinga Stadium in Bhubaneswar. As the match between the Lancers and the UP Wizards clashed with the T20 cricket match between India and England, a few journalists took the TV remote and changed the channel where the cricket match was being telecast.It was only after a lady journalist gave a piece of mind to the rest, the channel was changed and the no one dared to touch the remote once again.

=================================================




Disappointed Crowd: The crowd at Kalinga Stadium has turned up every time, despite the performance of the home team Kalinga Lancers. But, it looks that the fans ran out of patience after the dismal 10-0 loss to UP Wizards. Post-production match, when the players kneeled down for stretching, a few people in the crowd jeered, "Now, hold your ears and apologize." The players, busy in their exercises , perhaps didn't hear it or chose to ignore.

=================================================

Winning it the 'Pakhala' way: Fans have their own way of showering the love in their favourites and it can get crazier sometimes. The same happened when a housewife in the crowd was asked her opinion on how the team can improve. Without thinking much, she quickly retorted, they need 'Pakhala ' For those who don't know, pakhala is the native Odia dish. Also known as 'Rice water,' it is mostly consumed during summer season. Nutritionists of Kalinga Lancers, are you listening?

=================================================

Performance Matters: While the crowd at Kalinga Stadium is undoubtedly favouring the home team, good players are hailed irrespective of their team. So, even though Kalinga Lancers lost 0-10 against UP Wizards, the crowd applauded and cheered for India skipper PR Sreejesh after the match. A humble player that he is, Srejesh didn't disappoint the crowd and waved and thanked t hem for their unconditional support.

=================================================




Mr Dependable: Ever since the Kalinga Lancers team was formulated in the Hockey India League in 2014, Devinder Walmiki has been one of the few constants in the franchise which has seen much overhaul in the last three years. The younger of the Walmiki brothers, he has dealt with everything- from the team finishing at the bottom of the pool to becoming the finalists last year. While the Lancers continue to give a good run to the other teams this year, Devinder can be touted as the 'Mr Dependable' of the Lancers.

"I have been one of the players, who has been with the franchise since the very beginning. I have seen the team lose and recover and was part of the whole process for building this team. Now, it has become a home. This crowd supports me like I am one of their own," Devinder sums up his journey with the Lancers. On his role in the team, he says he plays on the directions of the coach who keeps on rotating his position as per need. "Our coach (Mark Hager) is doing a lot of experimentation. As far as I am concerned, he keeps me on the forward line at times, as I have a good shot on the goal post. I also have a good run, for which I play as the midfielder. Sometimes, I do a bit of work in the defense also," he explains.

"Whatever role he is given to me, I try to mould myself into it." Devinder, who has been a part of both the success and failures of the team, however, refrains to give details on the team's chances this season. "We had started well. The players became tired in the middle. It is part of the game. We will have to keep looking back at our performance and chalk out the way ahead."

Stick2Hockey.com


---

One step closer to glory....



Tom Carson in action for Reading

The Men's Cup Quarter finals took place this past weekend and with the big day at Lee Valley almost in touching distance, all the teams knew the stakes were high in their quest for glory.

Holders Beeston went up against 2015 winners Reading. With both sides looking to recover from league defeats the day before the match was keenly fought. Reading raced into a three-goal lead through Richard Mantell, Tom Carson and Ben Boon and although Will Byas pulled one back after half time, the Bees could not sting the Ding and the Sonning Lane outfit booked their semi-final spot.

Brooklands MU's Road to Lee Valley took them south to play Oxford Hawks. Ross Hall and David Flanagan struck within a minute of each other to put Brooklands in command and then the ever dangerous RICHARD Slater netted a third in the 53rd minute to make the game safe. Although Alex Williams clawed one back with seven minutes left Brooklands, the 2014 finalists were safely in the hat for the last four.

They were joined by Canterbury. Buoyed by their 0-0 draw with Holcombe in the league the day before, the Kent side put their league woes behind them to put Conference North outfit Bowdon to the sword 5-2. Despite two penalty corner from Bowdon's Mike Shaw; strikes from Tom Bean, Ed Welch, James Oates, Josh Pollard and Craig Boyne fired the Kent side into the semi-finals.

Bromley and Beckenham remain the only side from outside the Men's Hockey League in the competition after they saw off South League rivals Havant 2-0. First half goals from Chris Barnett and Dan Walsh did the damage. 

The draw for the next round took place this morning and gave some interesting ties. Bromley and Beckenham's reward for their progress is a Kent derby with Canterbury.  Whilst Reading will host Brooklands as both sides aim to reach the final as they have done in recent years.

Ties will take place on 2 April 2017.

For all the latest details on the cup including draws and results, click here. 

England Hockey Board Media release


---

Hawke's Bay plots international coup

By Anendra Singh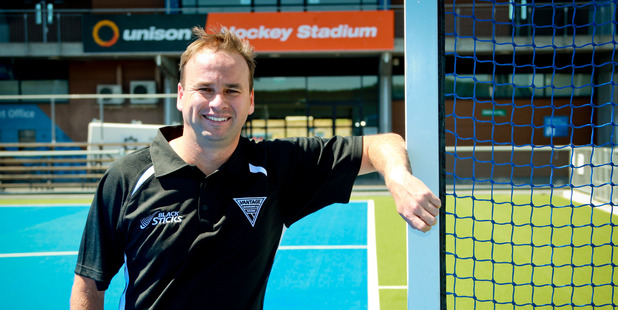 Hockey NZ chief executive Ian Francis is excited about Hawke's Bay taking the code into a new global FIH Home and Away League in 2019. PHOTO/Warren Buckland

A WINDOW of opportunity has opened in "Home and Away" and Hawke's Bay is among protagonists to play a major role in it from 2019.

No, not the popular Australian soap opera that plays on New Zealand television on weekdays but the mouthwatering outdoor "Hockey Revolution" planned for the international circuit.

"With the new World League coming in 2019 there'll be opportunities to get the top eight nations into New Zealand," says Hockey New Zealand CEO Ian Francis of the proposed FIH Home and Away League during a visit to Hastings.

"It'll be fantastic because we don't get the Dutch, the Germans or GBs out this way too often so under this model, if we're successful, they'll have to come this way,"

The International Hockey Federation (FIH) has shortlisted 18 nations, including New Zealand, as candidates for the men's and women's leagues.

Argentina, Australia, Belgium, England, Germany, India, Ireland, Japan, Korea, the Netherlands, New Zealand, South Africa and Spain have made the cull for both genders.

China, Italy and the United States have thrown their hats into the ring for the women's teams while Malaysia and Pakistan have put their feelers out for the men.

The 18 have met the criteria of the provision of suitable venues, their ability to host up to eight matches at home and play as many away, and have pledged their commitment to ensure drawcard players will compete.

Francis delights in the timely appointment of Jason McCracken, former director of Hockey NZ, as the CEO of FIH in Lusanne, Switzerland, from Wednesday last week.

"In his opening speech, when he spoke about what's expected from the role, he talked about the global Hockey Revolution, the new Home and Away League in 2019 and he mentioned Hawke's Bay taking the game to the world," he says of Wairarapa-born McCracken who served on the New Zealand board for the past two years.

Francis says McCracken championed the special relationship the Bay has had with its parent body, Hockey NZ, for more than four years as an example of how to develop a rapport.

The Bay community have supported the Black Sticks since the 2012 London Olympics and for the past three years the Unison International Hockey Stadium in Hastings has hosted the annual Hawke's Bay Festival of Hockey.

The festival has grabbed a window of opportunity on the hectic international calendar in April to stage a women's eight-nation tournament featuring three elite countries competing out of the top six world seeds vying for the Hawke's Bay Cup.

Argentina won the inaugural one, Australia in 2015 and the Black Sticks last year.
The top European nations, such as the Netherlands, Germany and Great Britain, have been conspicuous by their absence.

"What this means for us is that we have a bidding round going around at the moment."

Francis says New Zealand has to demonstrate it is capable of fulfilling the criteria to participate and host the league.

"We have to put our best foot forward because we absolutely want to be in this league," he says, relishing the thought of luring the world's most elite campaigners to the country with consistency.

"We also want to participate in this league and have both genders in there."

The 42-year-old from Auckland, who has been with Hockey NZ for six years, says the Bay community has been pivotal not just financially but as custodians of the code from the grassroots level.

"We get the local publicity, the marketing and promotions, as well as the commercial support," says the man who was acting as CEO since December 2015 after Malcolm Harris resigned.

"The real exciting thing for us as national support is that it has leverage and legacy components to it," says Francis who assumed the mantle of CEO in July last year.

Having world-class stadium and a 20 per cent growth in junior participation numbers lend credence to the province's status.

"Hawke's Bay Hockey Association is probably one of our leading associations in terms of delivery."

Sir Graeme Avery's initiative to establish a high-performance facility at the HB Regional Sports Park, the extension of turfs at the Unison Stadium as well as bedding new turfs at Park Island, Napier, reflects that commitment.

Hockey NZ also tend to conduct coaching and umpiring accreditation courses here because the Bay boasts some of the world's elites who make it a bonus in taking the game around the country.

"The growth has just been phenomenal."

The proposed league's commercial bundle includes securing coverage globally.

It helps that the country's female and male teams have over the past few years hovered around the top five world rankings and also flirted with medal opportunities at the Olympics.

"The last four minutes in Rio [for the men] will still haunt us for a while," he says with a laugh after the Black Sticks got to Olympics as the 13th-placed "golden goose" when South Africa pulled out only to squander a 2-0 lead with three goals in four minutes to Germany to miss the playoffs.

Hawkes Bay Today


---

Legends of the EHL: Rob Short




In the second of our EHL Legends interviews, we speak to HGC's Rob Short about winning his first piece of club silverware. The Canadian did so after over a decade playing in the Netherlands, describing it as something like his last chance saloon as he was 39 years old at the time.

Into the bargain, he won the MVP as HGC took the title of Europe's best club for the 2010/11; here's the story of how he led The Hague club to glory.

Reflecting on the 2010/11 EHL, Rob Short said the tournament was always going be his "first and last chance" at grasping the Alain Danet Trophy. It was his 14th season in the Netherlands, coming agonisingly close the year before to the Hoofdklasse.

Looking back, Short said it was a competition he wanted to be part of ever since it was introduced.

"The EHL was the most professional tournament the world of hockey had seen," he said. "The EHL were pioneers in bringing our sport to a new level of professionalism with better tv angles, more cameras, well promoted/marketed, big crowds, etc.

"After watching it live, I dreamt about having the chance to perform against Europe's best club teams, and most of the worlds best players, with HGC.

"It was also a chance to put my club HGC back on the map as one of the best clubs in the world. There was a rich history at our club but unfortunately, since I arrived in 1998, while we had many strong years and we had only managed to make the finals without any success.

"Many people in Holland didn't rate us so it was nice to prove all the doubters wrong in 2011. Teams in our league were getting stronger and it was harder and harder to visualize winning the Hoofdklasse with one last season left post-EHL with HGC."

They eased through the ROUND1 group with a 9-2 win over Ukraine's Kolos Sekvoia before beating Pembroke 4-2 but they found the other Irish side, Glenanne, a much tougher proposition in the KO16.

They only properly killed off a 2-0 win with a Rodrigo Vila goal with two minutes to go; they were also made to sweat in the KO8 in a 4-3 win over Beeston.

"We definitely found the KO16 at Bloemendaal to be tough competition. Glenanne for sure surprised us and our team was not happy with our performance but I think that was a turning point for us.

"If we performed like this vs Beeston, OZ or Club de Campo there would not have been a EHL trophy for us at the end. Beeston was arguably the toughest game we faced in the whole tournament.

"While tested by Beeston especially, through leadership from our new coach Dirk Loots and the experienced players around us, we all were confident throughout the whole process."

HGC had a long wait until the FINAL4 with four weeks separating their last Hoofdklasse game and their date with Oranje Zwart. Short said it did add to his anxiety, knowing it was his last season but he praises Loots for keeping the rest of the panel calm.

They duly eliminated OZ on home turf in the semi-final with two goals from Timo Kranstauber with Short netting the second in a 3-0 win.

"OZ was the biggest hurdle we had to overcome for sure. They were a strong side in our league competition with players such as [Jeroen] Delmee and [Rob] Hammond who were great leaders as well as fantastic players.

"It was Delmee's last match so we knew they would come out ready to go. Our crowd was massive for us for sure in that win and through to the final. After beating OZ we were confident we would beat Club de Campo but were wary as we knew a lot less about them and their style of play."

It ended in a tight 1-0 win, Kranstauber's penalty stroke with nine minutes to go the crucial moment.

"The final was a bit of a blur but I remember never thinking we would lose that match despite the onslaught of chances they had as the match neared the end.

"It wasn't the most exciting final for sure but it didn't matter to us at all nor to our fans. It was a great feeling to celebrate that win with such a great group of guys, a great coach, my club, and our fans. It is one I will never forget!"

It gave Short an amazing, tangible moment after years of coming close with no crowning reward.

"I was in Holland for 14 years which is a lot of hockey. Understanding leaving Holland without a single title was something that haunted me and therefore applied personally a ton of pressure.

"My coach Dirk Loots let me take his room for that night in the hotel as I was having sleep issues because of the tension and anxiety I was feeling prior to the last two matches at HGC.

"As you get older, you realize that moments like this are few and far between. In those moments, I had fear that I would let this slip this by and not be my best, or not achieve the desired result.

"When I was younger you just step on the field and play and love the moment. In my opinion, it gets much harder the longer you play!"

It came with the added bonus of landing the MVP award, his dominant performance as leader and the driver from midfield shining on the big stage, "his most cherished personal achievement".

"I knew my career was winding down sadly so to be recognised for my play at such a late stage in my career was rewarding."
He adds that he wished he could have shared the award with his buddy Kenny Pereira who he played side by side for almost 20 years, his wing-man at almost every turn.

"Often on the field for Canada or club I would get double-teamed and he would also be double-teamed but I would yell "help" and he would somehow pop up in some spot nearby and without seeing him I could play him the ball. He was a massive part of all my success in the sport and it was such a special moment to be hoisting the EHL trophy together that day."

Euro Hockey League media release