All the news for Monday 25 July 2016

Indian juniors thrash Scotland 5-1

K. Arumugam

Exercising energy and enterprise, Indian colts established total control in thrashing Scotland Seniors 5-1 in the second and last test match at Lilleshall National Sports Centre, Birmingham.

Winger Ajay Yadav and composed Varun struck a brace in the feat while the Scots struck a consolation goal five minutes before the hooter.

The early morning match started briskly with the Scot earning their first penalty corner in the first minutes, but Indian goalie Suran saw it go waste. Two minutes later India got a penalty corner but the indirect manoeuvre did not work.

undefined Sixth minute otherwise purposeful Parminder Singh struck a sitter wide, but he earned quick penalty corner of which Varun struck but the ball went inches off the right post.

India continued to press, and got the reward when Ajay Yadav scooped a rebound above the fallen goalie David Forrester.

First quarter ended with this 1-0 scoreline.

On resumption, Hamish Imire saved a Indian attack, but in the 26th minute after Manpreet Singh's shot hit the post, Ajay tapped in to enhance the score in style.

Scots, who are preparing for the HWL R1 in Glasgow were a jaded lot even in the second half, with Indians untiring in their ball control efforts, and occasional counters.

As Gurjant Singh was body pushed inside D, India got its third penalty corner, but Nilam Sanjeev's lightening flick hit the top bar and bounced out.

Two minutes into the third quarter, moments after Ajit's dive to connect a perfect cross from left did not connect, India got a stroke awarded by umpire Munro.

Cool and composed Varun placed the ball to the right of goalie to give India an unassailable 3-0 lead.

India pushed hard in the third quarter, giving chance to all in the bench, where energy showed in abundance.

Around 50th minute, Varun gave finishing touches to an flying ball inside D to give India 4-0 lead. It was a stunner for its reflex.

Gurjant added another after set up by pumped by medio Nilakanta Sharma.

Willie Marshal, who struck in the previous match too, came up with a consolation goal four minutes from the hotter, deflecting in a penalty corner rebound (5-1).

Krishan Bahadur, India's second goalie, came up with some excellent saves earlier when the Scots got a series of penalty corners, six over all.

Indian captain Dipsan Tirkey expressed happiness after the match, while coach Harendra Singh felt the boys played to his plan.

Stick2Hockey.com


---

India juniors thrash Scotland 5-1

MARLOW (England): India's junior men's team continued its good run with a 5-1 thrashing of Scotland senior team in the second game at the Bisham Abbey Sports Centre here on Sunday.

Despite a swift beginning by the opponents, India weathered an early storm as they defended a penalty corner in the opening minutes before winning one of their own off a counter attack. However, they failed to convert it.

India started controlling the game and took the lead with a goal by Ajay Yadav.

Thereafter, Indian goalkeeeper Suraj Karkera pulled off two smart saves to deny Scotland the equaliser heading into the first break.

The saves proved crucial as India came out quicker in the second quarter, creating a flurry of chances in the opening exchanges. Yadav capitalised on some slack Scotland defending to extend India's lead to 2-0 heading into half time.

India won a stroke early in the third quarter and Varun Kumar made no mistake from the spot, giving India a 3-0 lead.

Desperate to reduce the scoreline, and the threat of a blowout imminent, Scotland started pushing forward in numbers and holding the ball in the midfield. India's defence held strong though and the scoreline remained 3-0 heading into the final break.

The trend continued in the final quarter. Scotland played the ball forward as India looked to capitalise on the counter.

A couple of quick PCs were smartly denied by Suraj in India's goal, before Varun scored his second goal of the match to put any hopes of a Scotland comeback on hold.

With the game headed to the hooter Gurjant added a fifth to India's tally.

Scotland's William Marshall scored a goal in the dying minutes, but it proved to be little consolation.

The Times of India


---

Pakistan U-21 hold Netherlands

KARACHI: Having lost to Germany and Belgium, Pakistan's Under-21 team produced its best result at the Four-nation Junior Hockey Tour­nament in Hanover, Germany by holding the Netherlands to a 1-1 draw in their final match on Sunday.

According to the information made available here, the Dutch took the lead through a penalty stroke before Atiq Arshad produced the equaliser when he converted a penalty corner.

Earlier in the tournament, Pakistan began with a 5-2 hammering by Germany before losing 4-2 to Belgium.

Dawn


---

Stats Speak:  know the teams  in the Rio Olympics (part-7)

By B.G.Joshi (Sehore-Bhopal, India)

Renowned hockey statistician B.G.Joshi have compiled stats and records on all the 24 competing teams  in Rio Olympics. Today he is providing stats and records of Australia and Netherlands- two men teams.

1.0 Australia (AUS)
Pool: A
World Ranking:01
Title: Champions Trophy Champions(London-2016),World League Champions(Raipur-2015),World Cup(Hague-2014)C'wealth Champions(Glasgow-2014) and Oceania Cup(Startford-2015)
Coach: Graham Reid
Captain: Mark Knowles,Eddie Ockenden,Simon Orchard (multiple captains)
How Qualified: 1st  in Antwerp HWL(2015) and Oceania Cup(2015)
Appearances:14,1 Gold(2004), 3 Silver(1968,1976,1992),5 Bronze(1964,1996,2000,2008,2012),twice 4th(1984,1988),twice 5th(1956,1972),once 6th(1960).
Records: P-W-D-L-GF-GA- 106-63-17-26-287-133.
Head to head versus pool competitors in Olympics:
| | | | | | | |
| --- | --- | --- | --- | --- | --- | --- |
| Australia vs. | MP | W | D | L | GF | GA |
| Great Britain | 13 | 5 | 4 | 4 | 32 | 18 |
| Belgium | 1 | 0 | 1 | 0 | 2 | 2 |
| New Zealand | 6 | 3 | 1 | 2 | 7 | 4 |
| Spain | 8 | 5 | 1 | 2 | 23 | 13 |
| Brazil | 0 | 0 | 0 | 0 | 0 | 0 |
Biggest ever win: 10-0 vs. Mexico in 1968 and 10-0 vs. South Africa in 2008
Worst defeat: 0-3 vs. Pakistan in 1960
Prolific Scorer: Chris Ciriello, born- Oct 1,1985, Intl. Caps-188, Goals-114

2.0 Netherlands (NED)
Pool: B
World Ranking:02
Title: Europeans Cup Champions (London-2015)
Coach: Max Caldas(Argentina)
Captain: Robert van der Horst
How Qualified: 3rd place in Buenos Aires HWL(2015) and Europeans Cup Champions (London-2015)
Appearances:17,2 Gold(1996,2000), 4 Silver(1928,1952,2004,2012),3 Bronze(1936,1948,1988),four times 4th(1972,1976,1992,2008),once 5th(1968), once 6th (1984),once 7th(1964),once 9th(1960)
Records: P-W-D-L-GF-GA- 114-69-16-29-282-180
Head to head versus pool competitors in Olympics:
| | | | | | | |
| --- | --- | --- | --- | --- | --- | --- |
| Netherlands vs. | MP | W | D | L | GF | GA |
| Germany | 11 | 5 | 2 | 4 | 17 | 18 |
| India | 11 | 3 | 1 | 7 | 17 | 29 |
| Argentina | 4 | 4 | 0 | 0 | 17 | 3 |
| Ireland | 0 | 0 | 0 | 0 | 0 | 0 |
| Canada | 5 | 5 | 0 | 0 | 21 | 6 |
 Biggest ever win: 9-2 vs. Great Britain in 2012
Worst defeat: 0-6 vs. Pakistan in 1968
Prolific Scorer: Mink van der Weerden, born-Oct 19,1988, Intl.Caps-103,Goals-68

Fieldhockey.com


---

Weight of expectation driving Black Sticks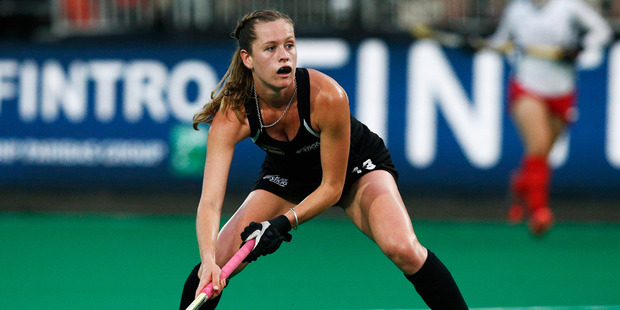 Samantha Charlton in action during the Fintro Hockey World League. Photo / Getty Images

The weight of expectation is set to drive the women's Black Sticks on their quest for success at the Olympics.

The team is currently en route to Rio where they will hope to put a disappointing build up behind them.

After finishing dead last at the recent champions trophy tournament, defender Samantha Charlton says the team is feeling pressure to perform.

Charlton missed the champions trophy through injury, and says the prospect of being able to win a medal is really exciting and she can't wait to get stuck into everything.

She is hoping it will be a case of second time lucky at the Olympics.

Charlton made her Olympic debut in 2012 as a fresh faced 20 year old in London.

The Black Sticks finished agonizingly short of a medal in London and Charlton says she will play a more senior role in Rio.

The Black sticks will play a couple of warm up games in Argentina before continuing to Rio.

Radio Sport


---

Indian men's hockey looks to reclaim its bragging rights

Uthra Ganesan



Having qualified well ahead of the the Olympics, Indian men's hockey team is beginning to look like a well-oiled machine. It has every reason to be confident of a possible redemption and a shot at history. — PHOTO: K. MURALI KUMAR
Playing alongside only for the second time ever, and with fewer expectations, the women will back themselves to make it to the top eight

On August 6, the Indian men's hockey team will take its first step towards possible redemption at the Olympics and a shot at history. A day later, the women would step out on the Olympic Hockey Centre turf against Japan, more realistic of their journey, but hoping to surprise everyone, including themselves, on sport's biggest stage.

For only the second time ever, both Indian men and women would be together at the Olympics, but the routes they took and the expectations from them are vastly different. As Asian champions, Indian men were the first to qualify, more than 18 months in advance. That has helped the team build its core plans and study likely opponents without worrying about making the cut.
Constant figure

Coach Roelant Oltmans was a constant figure despite a series of changes in personnel. Known to give players space and freedom, the Dutchman has a ruthless streak when it comes to performances. The team stayed focused with no one taking his place for granted. It is now beginning to look like a well-oiled unit.

P.R. Sreejesh is solid under the bar, the defence of V.R. Raghnath, Kothajit Singh and Rupinderpal Singh is strong, Manpreet Singh is reliable in the middle, Sardar Singh — freed of the burden of captaincy — can fit in anywhere, given his immense skills. With more control, S.V. Sunil has developed into a dangerous feeder upfront but the rest of the attack needs to sharpen.

India opens its campaign against Ireland, playing in its first-ever Olympic by virtue of finishing third at the European Championships ahead of teams like Great Britain and Belgium. Ireland may seem like a novice but the European outing makes it a tricky opponent. India would do well to avoid any complacency. India has defeated all the other teams in its pool — the Netherlands, Germany, Argentina and Canada — in recent times. But none of these would be an easy opponent with the first two keen on retaining their podium finishes from the previous edition.

Once into the last eight — it would be presumptuous to say India would definitely make it but highly unlikely that it won't — it would be up to the team to step up. India has been a different team in knockouts in the past year but it would be keen to avoid placing fourth in the group, which might pit it against Australia in the quarterfinals.

A lot simpler

It's a lot simpler for the women. Coach Neil Hawgood has repeatedly said that the women have already overachieved by qualifying, given that its ranking is 13th in the world, but now that they have, there is no point in simply making up the numbers. There are fewer expectations from them but the young side, with most players still in their early 20s, is backing itself to make it to the top eight.

It isn't impossible either, given that they only have to ensure being in top four out of six teams in the league stage. Japan and USA are definitely beatable, which gives India a good chance to advance.

Rani Rampal and Vandana Katariya upfront, Sushila Chanu in the middle, Deep Grace Ekka and Deepika Thakur at the back and the experienced Savita Punia under the bar — the team's core picks itself and has been together long enough to understand each other.

The absence of Ritu Rani, dropped on form and attitude, is something the team would need to recover from.

The Australians and Europeans, not to mention the 2012 silver medallists Argentina, though, are too far ahead of the curve at the moment, but the experience of being there would be a reward in itself.

The hopes of a billion Indians at the Olympics has, for the longest time, hinged on how the men's hockey team performs.

It's only now that other sports have begun staking a claim to the honour.

That freedom from the burden of expectations may well be the best thing to have happened for the sport that is keen to reclaim the bragging rights in the country.

The Hindu


---

Team India need to be best in every match to be medal contender: Roelant Oltmans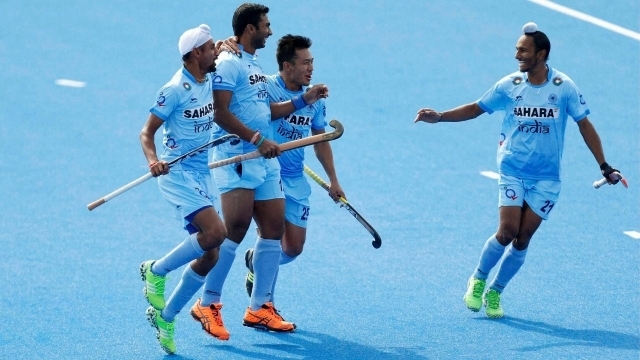 Their recent impressive showings have raised serious expectations from the national men's hockey team in the Olympics and it's chief coach Roelant Oltmans said if his wards can give their best in every match, India stand a good chance of finishing in the podium in Rio.

"The team is eager and ready to challenge itself. In the lead up to the Olympics, we have shown some really good performances. It shows the ability of this team against the top sides in the world. Now the idea is to show and prove that it was not one-off," Oltmans said ahead of the team's departure for the Games.

"We still have to show that we can repeat such a performance in every match at the Olympic Games. Our challenge is to do our best every day in Brazil. If we're able to do so, we stand a good chance of a medal," he added.

After a 10-day gruelling national camp here, the 16-member Indian team departed for Madrid in the early hours today, where they will play two friendly matches against Spain before heading to Rio.

Newly-appointed captain PR Sreejesh, who replaced long-standing skipper Sardar Singh, was upbeat about his team's prospects in Rio.

"It's heartening to see the kind of support we are getting ahead of the Olympics. This will only motivate us to do better," said Sreejesh, who successfully led the Indian team to a historic silver medal at the recent FIH Champions Trophy.

"We hope to gain some match practice in Madrid. We leave for Rio on July 29 from Madrid. The boys are upbeat, well prepared and eager to start the tournament," he added.

Sreejesh said in a sporting carnival like the Olympics, they can ill-afford to take any team lightly.

"Every match in Rio will be crucial. Every team will play to win, be it Ireland, Canada or Holland. We can't take anyone lightly. We have our strategy for each team," the experienced goalkeeper concluded.

DNA


---

'A top-four finish would be ambitious'



Ajit Pal Singh.

The Rio Olympics would be a big test for the Indian hockey teams but I can see the progress in the men's side in recent times and am hopeful. The men have come up really well in the past few years and I can see them being strong challengers at Rio.

For the women, participation itself should be a great motivator. There is a vast gulf in the class of teams there and Indian women would surely go as minnows. But the hopes are all from the men.

The team's manning of the defence has improved a lot. The overall performance of the side has also been heartening recently. The recent Champions Trophy in London was a great outing for the side. We could see that the team was not just getting lucky. The boys were playing very well, they beat some very good teams to deservedly reach the final and finish second. It was a remarkable tournament and we witnessed the development of the team.

But we need to hold our horses still. Personally, I feel that Australia continues to be the fittest, strongest, toughest side by far in the world at the moment. If we compare the Indian men's team to the top sides in the world, we are still lagging, in my opinion. Not just Australia — the other top European teams in the world at the moment are also ahead of us. Defending champion Germany, silver medallist Netherlands, even Great Britain are all capable of being there on the podium at Rio.

As for India's chances, I believe a top-four finish would be an ambitious expectation from the team. It is not impossible, nothing is impossible really at the Olympics, but it will be very tough. Finishing in the 5-8 bracket is definitely a possibility and a 5-6 place would be a good result. If the team does make it to the top four, personally, I would consider that as good as winning a medal.

Among other sides, as I said, my bet would be on Australia. But we shouldn't forget that the European sides raise their standards whenever required. As such their performance at Rio would be vastly different from the Champions Trophy or any other competition and any team is capable of winning on its day. Belgium and Argentina are good too and the former will be a serious contender for a top-four spot. Argentina's defence has always been tough but now they have begun scoring also, which makes them tricky.

I seriously believe that the recent change in captaincy should not affect the team. Playing for the country at the Olympics in itself is a great honour. For example, Harmeek Singh was captain of the side at the 1972 Olympics, I captained the team in 1973 but when the 1976 Olympics came, M.P. Ganesh was named skipper and we both gave our best under him.

I would advice the team to not even bother about such petty issues, wish them good luck and hope they do really well.

(As told to Uthra Ganesan)

Hindu


---

A dominant force that has gone dormant

Nandakumar Marar

Hockey at the Olympic Games can be split into two halves, before 1976 Montreal Olympics and after. The Canadian federation's reported inability to provide quality grass surface for a 14-team competition resulted in a shift to artificial pitches for the first time. The world hockey body went with the flow. European teams got a shot in the arm due to familiarity with such surfaces.

India embraced change from grass to turf with reluctance and with better-prepared teams joining the fray, got pushed back in the medals race. The successful run in Olympic hockey from 1928 (six back-to-back titles), appeared like a distant tale thereafter. Confident after a strong showing at the 1975 World Cup in Kuala Lumpur, India stumbled on the artificial turf. Four years later, Indian men stepped on the podium to receive gold medals at the 1980 Moscow Olympics. They have not finished in the top three ever since.

Dhyan Chand's son Ashok Kumar is the link between a glittering past and the dark reality as India is doing the catching up with hockey's elite nations.
Causes for downfall

The ace Indian forward attributed over-training on artificial turf after landing in Montreal and excitement about playing on a new surface as the causes for downfall. Ashok admitted that training like the Europeans, after watching them in preparation and practice matches, was a mistake at Montreal and it exposed India's shortcomings on turf in matchplay. Asian dominance in Olympic hockey continued till 1960 Rome (Pakistan and India contested the final, finishing in that order).

Former Indian women's hockey team captain Eliza Nelson echoed Ashok's views when explaining Indian women's difficulty in performing to potential at the 1980 Moscow Games, when the Olympics programme included women's hockey for the first time.

Vasudevan Baskaran led the men to the gold under coach Balkishen Singh's guidance, while the women were exhausted before the event began, due to mismanagement, explained Eliza. The players would arrive at the practice facility at the wrong time and waited hours for their turn to train. Indian coaches struggled to strike the balance between turf tactics and player skills till the late Balkishen took charge.

Respected in Australia for his knowledge and coaching technique, he moulded a skilful bunch into a winning squad in time for the 1980 Moscow Games. India drew with Spain in the men's league, defeated the European nation again in the final. A podium finish in hockey remains a cherished dream since.

Indian team(s) at the Olympics: 1928 Amsterdam, 1932 Los Angeles, 1936 Berlin, 1948 London, 1952 Helsinki, 1956 Melbourne (all champions); 1960 Rome (second place), 1964 Tokyo (champion), 1968 Mexico (third), 1972 Munich (third), 1976 Montreal (seventh), 1980  Moscow (men: champion, women: fourth).

The Hindu


---

Dhyan Chand — immortalised by achievements

Nandakumar Marar




Fear or awe reflected in a rival's eyes towards a sportsperson is a mark of respect for every top-flight achiever. Dhyan Chand simply floored the Germans with his full package of hockey skills at the Berlin Olympics 80 years ago.

Three goals from him in the 1936 Games men's hockey final on August 15, the top-scorer in a 8-1 rout of Germany in front of home fans and the Fuhrer Adolf Hitler himself put the sinewy Indian into the spotlight.

It is said that Hitler, after walking away from the hockey arena in a huff to avoid witnessing further humiliation heaped on Germany, instead of glory for the Reich, expressed a wish to meet the Indian captain. Dhyan Chand was offered a high rank in the German armed forces as incentive for accepting citizenship. The offer was refused by the player, explaining that he was proud to be an Indian.

When the Olympic champion returned to India by ship, Dhyan Chand was felicitated in a manner fitting his achievements as goal-scorer and inspiration to millions in an incredible hockey career. He retired as a Major in the Indian army, the National Stadium in the capital was named after him in 2002, his birthday (August 29) is celebrated as the National Sports Day.

It is difficult to capture the essence of Dhyan Chand's feats in words. Nor can the magic of his game or beauty of spectacular goals scored be explained in prose.

Tales passed down from generation to generation is the only way to know a little about this proud Indian with feats spread over a lifetime.

The Hindu


---

U18 Euros opening day in Glasgow rains goals and drama



24 July 2016 at the National Hockey Centre, Glasgow Green, Scotland. EuroHockey U18 Championships II, Day 1. Scotland v Czech Republic

Glasgow was the scene for some top-class hockey in the U18 EuroHockey Youth Championship II. The host nation fans went home delighted following Scotland victories for both the boys and the girls, while France girls stood at as a potential tournament favourite.

The opening match of the girls' tournament was the Girls Pool A contest between France and Lithuania, and it was the French who emerged as the victors with a 4-1 win. Yohanna Lhopital opened the scoring early from open play, scoring the first goal of the tournament.

Albane Garot doubled France's lead from a penalty corner on the 20th minute. Lithuania pulled one back seven minutes later through Kotryna Kartanovic and the first half ended 2-1 to France. Yohanna Lhopital scored to quick goals in the second half to put the French out of sight and the game ended 4-1 to France.

Wales boys took on Ukraine in the opening game on Pitch 1 and it was an end-to-end competitive battle. Ioan Wall broke the deadlock from a penalty corner in the 27th minute then Oleksandr Lipskyi equalised just three minutes later. Wales again took the lead just after half time through Rhys Bradshaw and then on 53 minutes Ukraine levelled the scoring again through Yurii Dzemukh. 2-2 full time.

Austria girls secured a 2-1 victory over Italy in a tight game. The first half ended goalless and it took until the 44th minute before Lisa Maurer opened the scoring for Austria. Ten minutes later and Helene Herzog doubled Austria's lead from open play. Federica Carta pulled one back for the Italians with ten minutes to go but the Austrians held on to start their Euros campaign with a win.

Scotland boys were the first host nation team to take to the pitch when they played France. The Scots got off to a winning start through goals from Joe Waterston and Owen Jenkins-Garcia giving the Scots a superb 2-0 win over France. It was a confident and assured performance by the home nation in front of a vocal local support.

Austria boys followed on from the earlier Austrian girls' success by recording a 2-1 win over Russia. Oleg Kotkov opened the scoring for Russia in the 23rd minute and Austria quickly responded through a goal by Luca Frischauf. Fabian Unterkircher gave Austria the lead just before half time with a goal from open play. Igor Shilkov picked up a green card in the second half for Russia but there were no more goals, and Austria boys got their tournament off to a winning start.

Scotland girls left it late to secure a dramatic 3-2 win over the Czech Rep despite having most of the possession throughout the game. From the penalty corner, Anna Kolarova smashed the ball low into the net to give Czech Rep the lead. Morven Cawthorne made it 1-1 from the spot after a foul in the D. Maddie Cleat scored after half time and Kolarova equalised instantly for the Czechs. Ella Watt scored in the last minute to give Scotland the victory over a stubborn Czech side.

The last game on Pitch 2 saw Poland rack up the goals against Switzerland in an impressive 5-2 victory. Poland's goals came from Ryszard Wisniewski; two from Albert Wrzesinski; Krystian Sudol; and Jacek Kurowski. The Swiss goals were scored by Tom Hug and Felix Schwander. Poland were leading 1-0 at half time before a second half goal-fest.

The final game of the day had Belarus record a fine 5-1 win over Ukraine. Belarus took the lead through Karina Zhuk who tapped the ball home from close range after good build up down the right. Ukraine bagged an equaliser through Hanna Serozhko who reacted quickest from a goalkeeper save. In the second half Belarus turned on the style. Maryna Mandrykava scored a penalty flick; Dziyana Batsiukova added a third on 61 minutes; a wonderful run from Dziyana Batsiukova led to a goal for Karyna Batsiukova; and Karyna Syddykava finished the scoring just before full time.

EuroHockey media release


---
Belgium and Germany boys make early impact in Pool A as Spain top Pool B

Germany on the attack against Ireland. Picture: Adrian Boehm
Day 1 of the U18 EuroHockey Championship got underway at 2 venues in Cork, with all the teams in action. 
U18 Boys EuroHockey Championships, Pool A
Belgium 8 (C Freyling 2, A De Chaffoy 2, B Gougnard 2, W Ghislain, L Sidler) Czech Republic 0

Belgium swept to a strong opening win in Pool A over the Czech Republic to start their EuroHockey Youth Championships in great fashion.
Cyril Freyling gave them the perfect start, converting a fourth minute penalty stroke. From there, they were frustrated for much of the first half as the Czechs defended well with Michal Kourimsky making fine saves and Jaroslav Kasl keeping things together.
But a yellow card for Ondrej Dubina reduced their numbers and almost immediately Achille de Chaffoy added the second goal, stealing the ball from the two centre backs and pumping home. A lovely umpiring advantage allowed Loic Sidler to slip a pass to Boris Gougnard to slide home the third goal of the half.
It broke the Czech's resistance and Belgium raced clear after the break. De Chaffoy added the fourth, Freyling whipped home a penalty corner and Gougnard applied a brilliant reverse-stick finish to make it 6-0. William Ghislain got the seventh before the Czechs had their best moment when Denis Tomes hit the post from a corner. Belgium countered direct from there with Sidler finishing off the eighth goal.
Speaking afterwards about the result, Belgian coach Simon Letchford said he was "really happy" with the performance. "We did miss a fair few opportunities but given the preparation we have had over the last few weeks, it was important for us to get off to a strong start."
Looking at the wider competition, he is targeting a top four place. "At Euro Under-18s, it's a balance between performance and outcomes. For sure, we would be disappointed if we don't make the semi-finals and anything after that is a bonus."
Germany 5 (J Schiffer 2, F Bock, E Knobling, T Henrichs) Ireland 0

Germany's corner proficiency under-pinned their excellent start to the campaign, scoring from three set-pieces to see off home hosts Ireland.
They did not have it all their own way, though, as Matthew Nelson almost nicked in for an early goal, through one-on-one with Alexander Stadler but the goalkeeper stood tall from the first major chance.
The Germans were moving the ball well, however, using their platform to launch overlaps down the two sidelines to create chances. They went ahead from their second corner in the 13th minute, Fedor Bock flicking in from a switch move.
Despite Raphael Hartkopf's yellow card, Germany extended their lead when Jan Schiffer went direct from another corner, 2-0 at half-time. Eric Knobling finished off an excellent right wing move for the third 10 minutes into the second half when Linus Muller wriggled free and his pass was met perfectly by the attacker.
Schiffer flicked in an unorthodox personal second to make it 4-0 from the sixth German corner. Teo Henrichs then completed the scoring with a brilliant lobbed finish from the right baseline, finding the tightest possible angle.
Irish coach Gareth Borland said of his team's performance: "We gave them a good battle in the first half and were well in the game but gave them too many soft short corners.
"We are happy with this as a start point, happy with the boys and their attitude, working right the way until the end of the game."
 Boys EuroHockey Youth Championships, Pool B
Netherlands 2 (D. de Haan, D.Dekker) England 2 (E.Way, E.Kimber) 
Netherlands were the better team in the opening half taking a early lead via D de Haan. England pushed them hard and earned a corner, which was struck home by E.Way. England then went ahead again via E.Kimber, a stunning reverse slap that the keeper had no chance of getting to. A very determined Dutch team came out following the break and pushed England hard with chances going wide and hitting the bar it had all the hallmarks of a game that could slip away from them, but they pressed hard and earned a corner which D.Dekker. The last 10 minutes saw pressure being applied by both teams, but 2-2 stood at the final whistle.
England's coach Jody Paul said  that he felt his team started poorly but then sorted it out and played really well in the second half  "We were full value and should have gotten one more goal. Our chat at half time was keeping positive and we played much better in the second half. The Dutch pressed us hard." He admitted that England had too many turnovers and that's not something that you can do against a side like The Netherlands. Overall the Dutch could have won and whilst he wasn't overly pleased with the draw he was happy with the improved performance of his young team.
 

| Team | Minute | Shirt # | Player | Action | Score |
| --- | --- | --- | --- | --- | --- |
| Netherlands | 8 | 7 | de HAAN Daniel | Field Goal | 1 – 0 |
| England | 17 | 13 | WAY Eddie | Penalty Corner | 1 – 1 |
| England | 31 | 18 | KIMBER Evan | Field Goal | 1 – 2 |
| Netherlands | 58 | 4 | DEKKER Daan | Penalty Corner | 2 – 2 |
Spain 5 (M.Recasens, S.Cortes, A.Tello 2, G.Quijano) Italy 2 (M.Malucchi, P.Lago) 
Italy dominated the first half of the game and were rewarded with a goal courtesy of Malucchi in the 13th minute. With no more scores on the board, it looked like a possibly low scoring game! But that all changed in the second half as Spain came alive and they attacked at every opportunity, the Italian keeper did well until a PC in the 41st minute driven home by Recasens. Italy, unperturbed settled back into the game and went ahead again via Lago. After that a tired Italy lost their control of the game and Spain dominated, drawing in the 48th minute via Cortes and then 3 quick goals in the 63, 70 and just before the whistle secured the win. Head Coach Alejandro Siri was pleased with a win in the first game of the Tournament. "It was a difficult match against a strong team, they made it difficult for us, but in the second half we created lots of opportunities, we believe in what we train and put that on the pitch." Speaking about the rest of the pool games he agreed that they have tough games ahead, against Netherlands and England with this new generation team – but in the end he concluded "they have to play hockey!"
Our Championship and Championship II (boys and girls) started today in Cork and Glasgow respectively. With the boys Championship II in Albena starting on 27th July.
To follow the games, click below:
EuroHockey Youth Championships III, U 18, Girls, Gibraltar
EuroHockey Youth Championships, U18, Boys, Cork
EuroHockey Youth Championships, U18, Girls, Cork
EuroHockey Youth Championships II, U18, Boys, Glasgow
EuroHockey Youth Championships II, U18, Girls, Glasgow
EuroHockey Youth Championships III, U18, Boys, Albena
We Will Be Active On All Our Social Channels!
So follow us on:
Twitter – @eurohockeyorg #EHYouth2016
SnapChat from Cork – @eurohockeyorg
Instagram – eurohockeyorg
There will Live Streaming of the Finals in Cork and Glasgow, links to follow! 

EuroHockey media release

---

England U18 Boys draw with Netherlands



England U18 Boys celebrate

A fantastic first half performance from the England Under-18 Boys saw them take a 2-2 draw against their Dutch counterparts in the EuroHockey Youth Championships on Sunday.

The match, played at the Garyduff Sports Ground in Cork, Ireland, got off to a bad start for England with Daniel De Haan giving the Netherlands the lead after 10 minutes.

But England were the better side and were creating numerous chances. It was only a matter of time before one of the chances was tucked away and it was Eddie Way with a neat drag-flick shot from a penalty corner on 17 minutes that pulled them level.

And England were in front before the break with Evan Kimber scoring a superb solo goal on the half-hour mark. Following up on a counter-attack, Kimber picked the ball up on the halfway line and burst into the D before slotting a low finish into the net.

It was a positive start for the young Englishmen with Rory McCallum having very little to do, although he made two good interceptions.

But McCallum was much busier after the break with the Netherlands side redoubling their efforts in the second half.

They put the England goal under pressure from the restart and McCallum made a number of key saves before the framework of his goal was rattled.

The Dutch pressure finally paid off when a penalty corner was given for a foot inside the circle and Daan Dekker's shot deflected into the net to make it 2-2 on 58 minutes.

A five-minute yellow card for Josh Pavis shortly after the second Dutch goal saw England struggle and McCallum came to the rescue twice before the Netherlands hit the bar once again. But despite the mounting pressure, the England rear guard held firm to claim the draw and on balance it was a fair result.

Coach Jody Paul said after the encounter: "I was very pleased with the first half performance but in the second I was half disappointed because the game plan was not well executed. There is definitely room for improvement against Italy tomorrow."

Netherlands U18 Boys 2 (1)
England U18 Boys 2 (2)

England Hockey Board Media release


---

Scotland Boys begin Euros with a win




Scotland boys got off to a winning start in the EuroHockey Youth Championship II tournament in Glasgow. Goals from Joe Waterston and Owen Jenkins-Garcia gave the Scots a superb 2-0 win over France.

Following a rousing rendition of Flower of Scotland, France started the game in the pouring rain but it was Scotland who settled quicker. The Scots were passing the ball around the skiddy surface well, and were looking confident in their home surroundings. Despite the early assurance in possession the France defence was resolute and refused Scotland any real opportunity to threaten the goal.

It was midway through the first half when some great play by Scotland fashioned their first real opportunity - and it was one that could easily have resulted in a goal. Owen Jenkins-Garcia and Alan Johnston combined well with Johnston nearly scoring from close range. Scotland were rewarded with a short corner from which Aidan McQuade shot just wide.

Scotland came forward again and a scramble in the French D looked like it could result in a goal, but the danger was cleared to keep the score 0-0.

France threatened to penetrate the Scotland backline on the break but great defending by McQuade prevented a French shot at goal. Scotland themselves broke and won a short corner. Ryan McCurry has his shot from the short corner saved. Still, Scotland continued to press.

France, however, nearly took the lead towards the end of the first half but were denied by some outstanding goalkeeping. Douglas Gourley in goal for Scotland slid out to clear a dangerous pass but it resulted a penalty corner. Eliot Curty set up Antoine Patoux but found Gourley diving to the top corner to save the powerful shot.

The French came close again on the brink of half time; Gourley was lobbed as he slid out but his captain David Nairn tracked back and cleared the ball off the line.

Half Time Scotland 0 France 0



Scotland U18 boys

Scotland emerged for the second half fired up and almost immediately they opened the scoring. A Scotland short corner resulted in McQuade having the first shot blocked, then Joe Waterston followed in and buried it into top corner. 1-0.

France's Curty showed great skills, running across the centre line, but made no progress towards Scotland's goal. Scotland were in control.

Dean Baber went on a brilliant solo run from left into the French D, but the goalie saved well at close range.

Then Louis Goyet shot just wide for France through a move from the left. It was a great opportunity to level the score.

France were made to suffer for their miss when Scotland doubled their lead. A fluid passing move down the right found Jenkins-Garcia arriving unmarked in the D, and he blasted home to make it 2-0 to Scotland.

France had to react quickly and they nearly pulled one back when Etienne Tynevez produced a lovely piece of skill in Scotland's D. He spun quickly but blasted his shot wide.

With the clock ticking down Scotland could have scored a third when Jack Jamieson showed impressive skills to take him past two French players, but his pass was intercepted.

When the full time hooter sounded the result was never in doubt and Scotland's boys clocked a well-deserved opening game victory. Their next game is tomorrow against Wales.

Full Time: Scotland Boys 2 France Boys 0



Scotland U18 boys

Scottish Hockey Union media release


---
 
Historic win for Russia over Germany at the U18 EuroHockey Championships
A fantastic day of hockey as the opening day of the U18 EuroHockey Championships got underway in Garryduff and UCC, Cork.
Game 1 – Netherlands v Spain 4-3 
A game of 2 halves! Netherlands dominated the first half of this game, putting pressure on the Spanish defence and being rewarded with goals coming from Fay van der Elst popping the ball in from a rebound. Yibbi Jansen put them ahead in the 21st and 23rd minute, two stunning goals, backhanded flick and then a dragflick worthy of any senior player, left the Dutch girls seemingly comfortable at half time.
A brilliant  fight back by the Spanish girls brought then to 3-3 in the 68th minute, but the Dutch girls pressed for a corner and were rewarded in the final minute and once again Yibbi Jansen was on target and a narrow win for the Dutch was a relief for Dutch coach, Marieke DIJKSTRA she was happy to come away with the win "in one way it feels like a win as of course we got the 3 points but on the other hand the second half was way below our level, so we do have to improve and change some things for tomorrow."
Goals:  
A dominant performance by a technically better side in Belgium. Belgium went ahead in the 3rd minute via Boey, Struijk doubled the score after 15 minutes and Boey was on target again in the 30th minute, t'Serstevens added a 4th and just before the half Struijk was once again on target leading to a comfortable lead of 5-0 in going into the break. The Polish keeper did in fact keep the scoreline down with some great double saves.
In the second half the Belgian's eased back and allowed some attacks from Poland, notably their number 7 Kuzmecka who had several individual runs down the right, but these were scuppered by a strong Belgian defence. Belgium added a further 2 to their tally, sitting pretty on top of Pool A after the first day's play. Belgian head coach John Goldberg said he was "Very pleased with the start especially with the first half, and scoring some nice goals." He added that they would be analysing the Dutch game which will be a tough game but they "are ready". When asked about his target for this event he said they will play "game by game" and expect an exciting final pool game v Spain.
Goals:
 Game 3 – Russia v Germany 3-2
Valeriia Borisova's 63rd minute volley saw Russia stun a hotly fancied German side as they nicked a 3-2 victory in a thrilling opening game in Pool B of the EuroHockey Youth Championships. It capped a brilliant performance for the Russians who defended with their lives before launching a series of epic counter-attacks. Indeed, they took the lead three times with Svetlana Eroshina a crucial player throughout.
She served notice of her threat just three minutes in when her shot was just scrambled off the line by Katharina Kirschbaum. In the eighth minute, Eroshina was not to be denied as she linked up with a through pass and, one-on-one, beat the goalkeeper Karlotta Lammers before flicking high past two back-pedalling defenders.
Solvej Althof equalised from the penalty spot soon after but Russia had the lead back once more before half-time as they survived a series of chances before taking one of their rare openings. Eroshina did the damage once again, beating two defenders and while she had space for a shot, selflessly passed to Borisova to push into an open goal.
Sonja Zimmerman levelled for a second time with a direct drag-flick from a corner but they could not make more use of their set pieces as Karina Golovastikova made a string of good saves and Anastasia Kolpakova organised a close-knit defence.
Breaks were rare but they did make one stick with some sublime skills leading to the ball popping up to Borisova on the left post and she batted into the net. They held out another couple of last minute corners to cling on for their famous win.
 Game 4 – Ireland v England 0-3
England began their pursuit of European glory with a 3-0 win over home hosts Ireland with a superb first half laying the base for their victory at the Mardyke. The English were flying in the first half, racing forward at speed at every opportunity. They scuppered a couple of early corners but, from their second, recovered the ball and captain Holly Munro broke down the right, centring the ball perfectly for Sophie Jefferson to swipe home for a fifth minute lead.
Ireland's counters were dangerous with Niamh Carey's runs and some neat one-touch passing causing problems. But England were ravenous for more goals and they got their second in the 18th minute from Mimi Tarrant, her shot from a corner switch deflecting into the backboard.
They threatened more but Hannah McLoughlin made at least two brilliant interventions to block out chances, one an exceptional diving tackle with the goal beckoning for Lily Wolstenholme. Ireland were dealt a further blow when captain and goalkeeper Emma Buckley had to retire injured before half-time. Her replacement Liz Murphy made two key blocks before the break to keep it at 2-0.
The hosts showed more attacking fire in the second half, winning a couple of corners while Tess Howard was required to brilliantly clear another chance off the line with a last ditch volley. But England had the cutting edge and when the chance fell to Lily Wolstenholme, she duly smashed home from the top of the circle for the clinching third goal with 12 minutes to go.
For Irish coach Stevie Arbuthnot, he said he was "a bit gutted" with how his side began the match. "Credit to England for the way they started; they stepped up on us an we didn't respond. It was disappointing from our perspective that we didn't react and they fully deserved to go 2-0 up and while we scrapped after that, we never really got a hold of the game."
Our Championship and Championship II (boys and girls) started today in Cork and Glasgow respectively. With the boys Championship II in Albena starting on 27th July.
To follow the games, click below:
EuroHockey Youth Championships III, U 18, Girls, Gibraltar
EuroHockey Youth Championships, U18, Boys, Cork
EuroHockey Youth Championships, U18, Girls, Cork
EuroHockey Youth Championships II, U18, Boys, Glasgow
EuroHockey Youth Championships II, U18, Girls, Glasgow
EuroHockey Youth Championships III, U18, Boys, Albena
We Will Be Active On All Our Social Channels!
So follow us on:
Twitter – @eurohockeyorg #EHYouth2016
SnapChat from Cork – @eurohockeyorg
Instagram – eurohockeyorg
There will Live Streaming of the Finals in Cork and Glasgow, links to follow!

EuroHockey media release


---

Emphatic win for England U18 Girls

England Under-18 Girls made an emphatic start to the EuroHockey Youth Championships, beating hosts Ireland three-nil in Cork on Sunday evening.

Two early goals helped settle the nerves, before a third goal came late in the match to seal a good win and give the team confidence ahead of their next match against Germany on Tuesday.

"It's good to get the first game under our belts," said Head Coach Sarah Kelleher. "Getting here two days ago we were ready to play.

"The first goal relaxed us, but we didn't want to take our eye off the ball. We had scenarios planned for if either side scored in the first few minutes, and we carried them out well.

"Even when we scored our second goal we had other chances that we didn't score, so we weren't resting on our laurels and it would've been nice to get a few more in the goal as we weren't totally comfortable.

"Ireland came out and put us under good pressure in the second half but we handled that well, even when we were a man down. It was only really when the third goal went in that we felt safe."

Sophie Jefferson gave England the lead in the fourth minute. A penalty corner had broken down, but Holly Munro picked the ball up and took it down the right before crossing to Jefferson to score.

Tess Howard secured England's second goal from a 15th minute penalty corner with a simple shot past the goalkeeper, while England had to wait until the 58th minute for the third goal.

Lily Wolstenholme won the ball from the Irish full back, and went one on one with the goalkeeper before firing past her into the goal.

England U18 Girls 3 (2)
Ireland U18 Girls 0 (0)

England Hockey Board Media release


---

Watt a finish - Scotland girls snatch late win over Czechs



Ella Watt

Scotland girls left it late to secure a dramatic 3-2 win over the Czech Rep at the U18 EuroHockey Youth Championship II competition in Glasgow. Ella Watt scored in the last minute to give Scotland the victory over a stubborn Czech side.

Scotland made a good positive start to the game; applying good pressure on the Czechs to the loud support of the home crowd.

The first opportunity came through some fantastic play by Scotland's Anna Logan but Tereza Koprivova in goal for the Czechs did well to block the final shot. Logan made a superb start to the game and was controlling the play from the middle of the pitch. Hanna McKie also stood out and looked very good on the ball.

Scotland had to be patient; stroking the ball around the pitch in front of a solid Czech defence. Despite having most of the possession it was Czech Rep who scored first.

A good break by Natalie Novakova was halted when Scotland conceded a penalty corner. From the penalty corner, Anna Kolarova smashed the ball low into the net to give Czech Rep the lead.

Scotland continued to have lots of the ball but the Czech defence was solid - there was no way through.

The Scots thought they'd equalised when Martha Lawson scored but it was disallowed for an infringement.

A goal for Scotland would eventually come however and it was Morven Cawthorne who made it 1-1 from the spot after a foul in the D.

Scotland were looking good as the half came to a close but there was one final scare when Barbora Pazitkova went running through on goal, but she didn't have the legs to outrun the Scotland defence.

Half time: Scotland girls 1 Czech Rep girls 1



Scotland Girls U18 Czech

Czech Rep get the second half underway and the pattern of the game in the second half immediately mimicked the first. Scotland threatened not long after the restart through good play by Maddie Cleat; winning a penalty corner. It ended in Scotland taking the lead and it was Cleat herself who scored, deflecting the ball into the top corner. 2-1.

Scotland couldn't hold the lead for long as Czech Rep equalised straight away. Kolarova ran through the Scotland defence easily and smashed the ball low into the net for her second goal of the match. 2-2

The well-organised Czech defence continued to frustrate the Scots. Some excellent running by Ella Watt and McKie won a penalty corner, but the Scots couldn't make it count. Then on another penetration into the Czech D Katherine Holdgate was easily dealt with by the defence.

The Czechs nearly took the lead themselves through a tremendous solo run by Novakova, but she was thwarted at the last moment by good Scotland defending.

Scotland came forward still; Katie Crawford went on an attacking run up the middle of the pitch but McKie couldn't get on the end of her pass. McKie then hit the post when it looked as if a goal was a certainty. It seemed it was going to be one of those days for the Scots.

Then in the last minute of the game, Ella Watt popped up in the right place at the right time and tapped the ball over the line from close range to make it 3-2.

The last minute goal prompted scenes of delirium on the pitch and it sets up the Scots well to play their next game on Tuesday against Italy.

Full Time: Scotland girls 3 Czech Rep girls 2



Scotland Girls U18 team Czech

Scottish Hockey Union media release


---

Canadian U16 National Championships – Day 5 Update

Tyler Klenk




Sunday marked Day 5, Championship Sunday, of the U16 National Championships in Calgary, Alberta. After 4 long days of hard fought games, the lineups were all set for what was sure to be some fantastic hockey.

The first game of the day featured the battle of BC. BC Yellow took on BC White in the final consolation game of the tournament. After a long week of games, both teams were showing the affects of fatigue. Moments before halftime BC White was able to take the lead as Sarah Lilley scored off a goal mouth scramble. BC Yellow was able to equalize in the 50th minute with a goal from Cordel Tromp as she broke away from the defenders and came on 1-on-1 with the keeper. The score finished at 1-1.

Game 2 of the day was the men's bronze medal match between Quebec and Ontario White. It was a high scoring affair as Quebec was able to take a 2-0 lead into the half with goals from Isaac Farion and Flynn McCulloch. Ontario Red was able to equalize with 2 of their own through Reilly O'Brien and Jeremie Fradette-Roy. Each team exchanged goals in the last 10 minutes to bring the score to 3-3 at the end of regulation. In the shootout, Ontario Red's goalkeeper stood tall and they were able to take the bronze medal 2-1.

The third match of the day was the women's bronze game between Alberta and Ontario White. With a large crown behind the Alberta girls, they came out of the gates strong with some very nice build-up play. Alberta was able to open the scoring in the 46th minute after a goal from Holly Richmond. Ontario White was able to equalize 1 minute before the final horn sounded to take the game to a shootout. Alberta was able to win the shootout, and the Bronze, 2-1 after a strong performance by goalkeeper Kimberly Scott.

Game 4 of the day was the much anticipated gold medal match. Ontario Red was taking on BC Blue for all the marbles. With the teams playing strong offensively and defensively, it was a free flowing game from the opening whistle. In the 29th minute, Ontario Red's Grace Davis was able to finish off a well worked penalty corner to take the lead into the halftime break. In the second half Ontario Red put up a defensive wall. They were able to hold off BC Blue to win the gold medal 1-0.

The final match of the day was the men's gold medal match between Alberta and BC. With a large hometown crowd behind them like their female counter parts, the teams played a highly entertaining match. BC was able to take the lead in the 30th minute after a goal from Roopkanwar Dhillon. They went ahead by 2 in the 63rd minute with a well structured counter-attack goal by Harvir Malhi. Alberta was able to cut the lead in half in the 68th minute after Shazab Shahzad was able to finish a penalty corner. With furious last minute pressure against them, BC was able to hold off Alberta 2-1 to win the men's gold medal.

Special thanks goes out to Field Hockey Alberta for hosting a phenomenal U16 event. With over 100 volunteers across the 5 days, it was truly spectacular to see the Calgary field hockey community come together to welcome 12 teams and host a tournament for the ages.

Boys Final Standings:

    BC
    Alberta
    Ontario White
    Quebec
    Ontario Red

Girls Final Standings:

    BC Blue
    Ontario Red
    Alberta
    Ontario White
    BC Yellow
    BC White
    Quebec

See pictures from the final day here

Field Hockey Canada media release


---

Scorpions hold hockey champs Orange

By Elizabeth Mburugu



Strathmore Regina Mwangi (l) guards the ball as Vickings Sarah Bonareri when they played at City Park. Strathmore scored 2-0. ON 10/01/16 PHOTO: JENIPHER WACHIE

Champions Telkom Orange rallied from behind to share spoils with rivals Strathmore University Scorpions. Eighteen-time league champions Orange were forced to sweat as they fought from two goals down to salvage a point in their 2-2 stalemate against the students.

Yvonne Karanja ensured her elavated status as Scorpions captain did not go unnoticed as she led her charges from the front scoring a brace to give her side a 2-0 advantage at halftime. Orange scored through Barbara Simiyu and Flavian Situma in the second half.

"I am proud of my girls because their performance today was top-notch. I'm a bit disappointed because we dropped two points. This is a match we should have won,'' Strathmore coach Meshack Senge said after the match.

Karanja put the Scorpions in the lead seven minutes into play with a converted penalty corner. The goal roused the champions in their hunt for an equaliser. Veteran Jackline Mwangi could have levelled for Orange, but her shot went wide minutes later.

Scorpions will have their goalkeeper Natasha Maria to thank for brilliant saves from goal hungry Orange attackers.

Karanja made it two in the 19th minute as the Scorpions settled in the match.

Orange were not ready to go down easily coming in stronger in the second half with Simiyu pulling a goal back for the champions in the 40th minute. Situma restored parity in the 56th minute.

Maureen Okumu thought she had scored a third goal for Orange but was disallowed.

Orange tactician Josephine Ataro admitted her charges were slow in the first half but blamed their woes on poor officiating.

The Standard Online


---

Penang give Sarawak a hiding in Sukma hockey

by Aftar Singh

KUCHING: Muhamad Rahimi Iskandar Baharom was the eight-goal hero as Penang registered a record 15-1 win over Sarawak in men's hockey in Sukma.

Rahimi was on target in the third, 15th, 19th, 23rd, 30th, 31st, 59th and 67th minutes in the Group A match at the Paku Secondary School.

Penang's other goals came through Muhd Amirul Hamizan (34th, 43rd and 67th). Muhd Aliff Farhan Riduan (64th and 66th), Muhd Sulaiman (25th) and Muhd Haikal Abdul Muthalib (45th).

Aiman Iryani Kamaluddin (18th) scored the consolation for Sarawak.

Penang and defending champions Perak are now tied on six points but Perak lead the standings with a better goal difference.

Penang's remaining matches are against Johor on Monday  and Perak on Tuesday.

The 20-year-old Rahimi was overjoyed to score eight times, taking his tally to 10 goals in three matches.

"I'm feeling very confident now. I hope to help Penang qualify for the semi-finals," said Rahimi, who is featuring in his third Sukma.

The Star of Malaysia


---

Premier Division side Nur Insafi to use foreign players in league

by S. Ramaguru

KUALA LUMPUR: For the first time, foreign players will play in Division One of the Malaysia Hockey League (MHL).

Penang-based Nur Insafi have hired three Pakistanis – Abdul Asim Khan, Mohamed Imran and Kashif Ali – to spearhead their challenge.

Previously, foreign players were only confined to the richer sides in the Premier Division.

With the three Pakistanis in the fray, the league will see 23 foreign players in action. The other players are from South Korea, Spain, India, Germany and Holland.

Twenty will feature in the Premier Division with double champions Terengganu, Kuala Lumpur Hockey Club (KLHC) and Universiti Kuala Lumpur (UniKL) having signed up the full quota of six foreign players. Maybank have two while Sapura have three.

The only Premier Division side to stick to an all-local side is Tenaga Nasional. Initially, they had wanted to sign some foreigners but made an about-turn.

The Division One will start on Aug 5 and the Premier Division on Aug 19.

The Charity Shield match between Terengganu and KLHC will be held in Kuala Terengganu on the opening day of the Premier Division.

The Star of Malaysia


---

Terengganu opt out of women's hockey league

by S. Ramaguru

KUALA LUMPUR: Terengganu have pulled out of the women's league of the Malaysia Hockey League (MHL).

With the pull-out, only five teams – Blue Warriors of Police, ATM Pernama, SSTMI, Politeknik Malaysia and PKS-Uniten-KPT – will battle it out for the title.

But the Malaysian Hockey Confederation (MHC) may field their development side to make it a six-team tournament again.

Said MHC chief executive officer K. Logan Raj: "We are looking into the matter. But we have a few things to sort out as most of our development players are registered with the other teams."

The women's league will get under way on Aug 5 with the match between PKS-Uniten-KPT and SSTMI.

The top four finishers will play in the knockout stage for the overall title.

The Star of Malaysia


---

St Thomas High School rules schools hockey

Kalesi Mele

THE St Thomas High School hockey teams have won all the grade titles of the Lautoka Secondary Schools hockey competition in Fiji.

The school won all respective divisions, the U16 and U19 girls and boys divisions.

LSSH Association president Makelesi Mawi said she was grateful for the effort put in by all the schools and officials of both Lautoka and Fiji hockey.

"I believe Lautoka schools will provide good competition when it comes to the nationals in Levuka.

"At the moment I am really happy with the St Thomas with the way they have performed especially with today (yesterday) being the playoffs,"she said.

With respective districts around the country participating in the Tucker's Ice Cream national playoffs, Lautoka have been able to determine the four schools to represent each grade.

Mawi added that each of the schools will have a further two weeks of training before nationals in Levuka during the first week school holidays.

Schools attending nationals

U16 girls: St Thomas High School, Nadi SSKMC, Xavier College, SVC

U16 boys: St Thomas High School, Tilak High School, XC, SVC

U19 girls: St Thomas, Nadi SSKMC, XC, Ratu Navula Secondary School

U19 boys: StThomas,Natabua High School, Tilak High School, Ba Provincial Freebird Institute.

The Fiji Times


---

Pan American Youth Championships 2018 (Men & Women)



Pan American Hockey Federation (PAHF)   

The Pan American Hockey Federation is pleased to announce that the Pan American Youth Championships 2018 (Men & Women) will be held in the city of Guadalajara, México from 10 to 17 of March 2018.

The evaluation process was completed earlier this month and the PAHF Board of Directors approved the recommendation received by the Bid Evaluation Committee.

The venue will be the Pan American Games 2011 hockey stadium, inside the Sports Complex Revolución, a high quality and well known facility, which is conveniently located with plenty hotels and services nearby.

Pan American Hockey Federation media relea