All the news for Sunday 24 July 2016

Sourisseau scores in 100th match, Canada falls short in second tilt with India

Shaheed Devji




Canada's women's field hockey team came up on the short end of a 3-1 decision against India Saturday in the second match of a four game series in Lancaster, Pennsylvania.

For the second straight day, the Canadian women found themselves right in the thick of things as the game against 13th ranked and Olympic-bound India neared an end.

Down only 2-1 from early in the third quarter, it was a late fourth quarter goal that put the game out of reach for Canada.

Natalie Sourisseau, who scored Canada's lone goal, was one of three Canadian women who reached a milestone in Saturday's match.

In addition to Kelowna, British Columbia's Sourisseau, Vancouver's Shanlee Johnston and North Vancouver's Stephanie Norlander each played in their 50th match for Canada.

The first quarter was scoreless, with the only items recorded on the scoresheet being a green card to each team and a yellow to Canada.

India opened the scoring in the 19th minute thanks to a tally from Poonam Rani. But Canada – like it did twice in Friday's match – responded quickly.

Sourisseau picked up her first of the series in the 21st minute to tie the game at one.

The game remained even until halftime, but when proceedings resumed in the second half, India quickly took the lead on a penalty corner goal from Renuka Yadav in the 32nd minute.

Despite its best efforts, this time, however, Canada couldn't not find an immediate equalizer.

India's Anuradhaa Thokchom added the insurance marker in the 58th minute.

Canada and India will meet once more in Lancaster (Monday, July 25 at 3:30pm PT/6:30pm ET) before Canada takes on the host United States on Tuesday, July 26 (3:30pm PT/6:30pm ET). The Canada-U.S. match will be streamed live here.

Field Hockey Canada media release


---

India beat Canada 3-1 in their second consecutive encounter

Poonam Rani scored India's opener in the 19th minute. Renuka Yadav (32') scored the second and Anuradha Thokchom (58') the third




Manheim, USA 23 July 2016: India beat Canada 3-1 in their second consecutive encounter at Pennsylvania today.

India immediately started off on the offensive and had a shot on target within the first few minutes, one that was saved by Rowan Harris in Canada's goal. A PC was also squandered away, before the game settled into a midfield battle, as the teams played out a stalemate heading into the first break.

Despite Canada's fresh start in the first quarter, India were the ones who broke the deadlock via Poonam Rani in the 19th minute. Canada equalised shortly after via Natalie Sourisseau. India went under sustained pressure after the equaliser as a green card for Deep Grace Ekka left them a player short. Canada won a flurry of PCs but failed to convert any with the Indian eves determined and putting bodies behind the ball. The defensive work paid off as they went into half time with the scores level at 1 goal apiece.

India hit back immediately after the restart, Renuka scoring from a direct shot off a PC in the 32nd minute. Soon enough India were the ones creating all the chances and pressuring Canada into mistakes off the ball. A second PC in the quarter saw a goal disallowed after a direct shot went into the net. Deep Grace had a chance later on, but went narrowly wide as India went into the break leading 2-1.

It was all one way again in the final quarter, as India played the game out in the midfield, denying Canada the ball and a chance to equalise. Anuradha scored another with two minutes to the hooter, a shine on their performance as they won their third consecutive game of the tour.

India had defeated Canada by 5-2 in the previous match played a day before.

India next play Canada on 26th July at 04.00hrs IST.

Stick2Hockey.com


---

In-form Indian women hockey team beat Canada 3-1

MANHEIM (USA): The Indian women's hockey team beat Canada 3-1 in their second consecutive encounter on the USA tour here on Saturday.

Poonam Rani scored India's opener in the 19th minute, Renuka Yadav (32) scored the second and Anuradha Thokchom (58) added another to the tally.

India started off on the offensive and had a shot on target within the first few minutes, one that was saved by Rowan Harris in Canada's goal. A penalty corner was also squandered away, before the game settled into a midfield battle, as the teams played out a stalemate heading into the first break.

Despite Canada's fresh start in the first quarter, India were the ones who broke the deadlock via Rani. Canada equalised shortly after via Natalie Sourisseau.

India went under sustained pressure after the equaliser as a green card for Deep Grace Ekka left them a player short. Canada won a flurry of PCs but failed to convert any with the Indian eves determined and putting bodies behind the ball. The defensive work paid off as they went into half time with the scores level at 1 goal apiece.

India hit back immediately after the restart, Renuka scoring from a direct shot off a penalty corner in the 32nd minute. Soon enough India were the ones creating all the chances and pressuring Canada into mistakes off the ball. A second penalty corner in the quarter saw a goal disallowed after a direct shot went into the net. Deep Grace had a chance later on, but went narrowly wide as India went into the break leading 2-1.

It was all one way again in the final quarter, as India played the game out in the midfield, denying Canada the ball and a chance to equalise. Anuradha scored another with two minutes to the hooter, a shine on their performance as they won their third consecutive game of the tour.

The Times of India


---

Wales win the EuroHockey Championships III and earn promotion!


Wales win the EuroHockey Championships III with a 2-0 win over Switzerland. Perfect conditions in Gibraltar today as the Rocks unique microclimate produced a cloud layer, dampening the direct impact for the hot summer sunshine.  
With the game scheduled for a morning start, the Welsh and Swiss arrived at The Victoria Hockey Stadium to warm up.  With good numbers of supporters for the Welsh and Swiss it was soon to be the final to discover who will be promoted to the EHF Youth Championships II.  With both teams led onto the pitch by the Umpires, heart felt national anthems were sung at full voice by the players and team members.  Push back and the Welsh soon took the possession and the game to the Swiss with a high percentage of the first periods play being in the Swiss half.  With end to end action, players fully committed to support each other especially the Swiss goalkeeper, who made some excellent saves, deservedly winning keeper of the tournament.  The Welsh having several short corners were soon to score by the Welsh number 5, Jessica Roe.  The first period ended with Wales up by 1 goal.  
The second period started with the Swiss applying more pressure to the Welsh, who in return played some lovely hockey, switching the ball around the back and down the side of the pitch.  The second goal was again scored by Jessica Roe, who was recognised by winning the top goal scorer award.  Wales now 2 – 0 up.  With the Swiss putting pressure on the Welsh the team found it difficult to score, even through penalty corners, the welsh defence and goalkeeper looked solid. In the closing stages of the match the Welsh became a team of 10 with a player being issued a yellow card.  A hard final push by the Swiss team came to no avail with the sound of the final hooter.
Well done to the Welsh team for becoming ranked 1st place and gaining promotion.  The prize ceremony followed with the above named players receiving their awards.  In addition, the Captain of the Welsh team Lauren Dunne was awarded 'Best Player' by the teams.  Lauren also collected the winner's trophy, presented by Jo Pennycook, EHF Tournament Delegate. 
The Gibraltar Hockey Association would like to thank the EHF, Swiss and Welsh Hockey on making this a remarkable tournament and one to remember for the players, officials and visiting supporters.  We wish everyone the all the best for future Hockey Competitions in the future, you are always welcome back here in Gibraltar for training camps and games, or just to see the Macaque Apes!!!! 
To follow the games, click below:
EuroHockey Youth Championships III, U 18, Girls, Gibraltar
EuroHockey Youth Championships, U18, Boys, Cork
EuroHockey Youth Championships, U18, Girls, Cork
EuroHockey Youth Championships II, U18, Boys, Glasgow
EuroHockey Youth Championships II, U18, Girls, Glasgow
EuroHockey Youth Championships III, U18, Boys, Albena
We Will Be Active On All Our Social Channels!
So follow us on:
Twitter – @eurohockeyorg #EHYouth2016
Facebook – https://www.facebook.com/EuroHockeyorg/
SnapChat from Cork – @eurohockeyorg
Instagram – eurohockeyorg
There will Live Streaming of the Finals in Cork and Glasgow, links to follow! 
Thanks to David Devincenzi-Clemens for the update and photographs from Gibraltar
---

Malaysian Sukma hockey quickly turning into a battlefield with more sending-off

by Aftar Singh

KUCHING: The Sukma men's hockey competition is turning out to be a fiery affair.

After just four days of competition in Kuching, three players have seen red!

Terengganu midfielder Muhammad Sufi Ismat Rohulamin is the latest to be given the marching orders for using foul language on umpire Mohd Haris in the 47th minute of his team's Group B match against Sabah at the Paku Secondary School on Saturday.

On the first day of the hockey competition, Selangor's Muhd Zamri Mohd Zainal and Pahang forward Mohd Kamil Mohd Yusop were sent off by umpire Ahmad Nazirul, also in a Group B match, for fighting in the 63rd minute. Both the players were suspended for one-match each and also issued a stern warning.

Tournament director Jusvir Singh said that Sufi had been suspended for one-match for using a "four-letter" word on umpire Haris.

"We have also issued a stern warning to him," said Jusvir.

"There may be stiff competition among the teams to qualify for the semi-finals in the men's Group B, but that doesn't mean the players can get emotional and lose their temper.

"Three red cards flashed in four days ... is not a good for hockey."

Sufi will be suspended for the match against Selangor on Monday.

Terengganu team manager Zaki Mohd Noor said that his players must learn to control their temper.

"Getting a red card will only affect the team's performance. Our mission here is to qualify for the semi-finals. I want my players to focus on winning the remaining three matches so that we can reach the last four," said Zaki.

Terengganu, the 2012 Sukma champions, have four points from one win, a draw and one defeat. Their remaining matches are against Selangor tomorrow, Negri Sembilan on Tuesday and Kelantan on Wednesday.

In Saturday's match, Terengganu had to come back from a goal down to beat Sabah 3-1.

Mohd Dodi Musa gave Sabah the lead in the 18th minute before the east coast side stepped up a gear to hit back with goals from Mohd Akimullah Anuar Essok (24th), Mohd Shazwi Rani (54th) and Mohd Zainul Rusyaidi (55th).

The Star of Malaysia


---

U16 National Championships – Day 4 Update

Tyler Klenk




Day 4 at the Canadian U16 National Championships in Calgary, Alberta had 5 games on the schedule. Deemed semi-final Saturday, 4 boy's teams and 4 girl's teams were competing for a spot in Sunday's Championship games. With one of the closest playing field at a U16 National Championship in recent years, it was truly anyone's tournament in both the boys and girl's competition.

The first game of the day pitted Quebec and Ontario Red in a consolation game that moved the winner into the bronze medal match. Ontario Red opened the scoring in the 35th minute on a penalty corner right at the horn for halftime as Harsimran Dhugga ripped a drag flick past the Quebec keeper. Quebec was able to equalize through a penalty stroke by Flynn McCulloch after a foot on the goal line. Three minutes later Noah Loomis put Quebec ahead 2-1. The victory for Quebec put them through to the Bronze medal match against Ontario White

In match 2 Alberta played Ontario White in the men' semi-final. The game was very back and forth with both teams going for goal often and early. Alberta was able to open the scoring in the 8th minute through Tanver Kullar. They then went on to score in the 11th, 23rd and 33rd minute to take a 4-0 lead into the half. Ontario White was able to find the scoreboard in the 43rd minute with a well worked penalty corner by Jeremie Fradette-Roy. It was not enough as Albert was able to win the match 7-3. They will now face BC Blue in the gold medal match.

Match 3 was a girl's consolation match that brought together BC White and Quebec. BC White had most of the offensive pressure as Quebec had to play some strong defense. At half the score was tied at 0-0. In the second half Quebec was able to find some offensive pressure of their own which caused the game to become more free flowing. Both goalkeepers played strong and kept their teams in the game. The match finished at 0-0.

In the first girl's semi-final, Ontario White lined up against Ontario Red. With Ontario bragging rights on the line, as well as a spot in the gold medal match, both teams came out flying. Ontario Red's Samantha McCrory opened the scoring in the 10th minute to make the score 1-0. McCrory went on to score two more goals for a hat trick. Ontario Red took the match 4-0 and will BC Blue in the final.

The final game of the day had the home town Alberta girls taking on BC Blue for the final spot in the girls Championship game. With a large crowd behind them, the Alberta girls were able to stand strong and hold off the attack of BC Blue. In the 39th minute Allison Kuzyk was finally able to beat the Alberta keeper, Kimberly Scott, for the first goal of the match. BC Blue was than able to score again the 49th and 51st minute to go ahead by 3. The score stood at 3-0 meaning BC Blue will face off against Ontario White for the U16 Girls National Championship.

Schedule for tomorrows matches – Sunday July 24th 

 8:30am Girls Cons – BC Yellow vs BC White
10:15am Boys Bronze – Ontario White vs Quebec
12:00 Girls Bronze – Ontario White vs Alberta
1:45pm Girls Gold – BC Blue vs Ontario Red
3:30pm Boys Gold – BC vs Alberta

See Pictures from the event here

Field Hockey Canada media release


---

Helena Valley hockey umpire off to Rio for fourth Olympics

by Justin Bianchini


 
MEN'S hockey umpire Murray Grime is off to his fourth Olympics.

Rio is a dream come true for the Helena Valley resident, who missed the London Games after officiating in Sydney, Athens and Beijing.

"I missed selection to London due to some politics and possibly because I wasn't at my best, but that just spurred me on," he said.

"There are not many other umpires in my sport who have been to this many Olympics, so it is an honour that I will cherish forever.

"The thrill of receiving notification that you have made it on to the plane to go to the Olympic Games is one every sports player and official dreams about."

Grime, who grew up in Hazelmere and attended Guildford Grammar School, has had a busy lead-up to Rio.

He has been involved in Olympic qualifier competitions overseas, international tournaments at home and abroad, and the Australian Hockey League.

"I'm currently assisting to expand and mentor umpires in Asia, which is an area that is expanding rapidly," he said.

Grime has to fund his own way to the Games as officials are not part of the Australian Olympic team.

He will also have to put his business Artificial Lawn Supplies aside while he is in Rio.

"I am self-employed running my own artificial turf business and it (officiating) puts a toll on both your business and your family life," he said.

"Both suffer along the way due to the sacrifices and unsociable hours you need to put into training and supporting your local and national associations and other aspects of your sport."

Grime also umpires in the state league and appoints umpires and officiates for the Private Schools Association competition.

If you can help sponsor Grime, email him at This email address is being protected from spambots. You need JavaScript enabled to view it..

Hills Gazette


---

Men's team leaves for Rio, to play friendly in Spain

Indian men's team to play two friendly matches in Madrid before heading to Rio

s2h team




Bengaluru: After a ten-day grueling national camp here in Bengaluru, where the focus was on getting the finer details right, the team departed for Madrid in the early hours of Sunday morning where they will play two friendly matches against Spain before heading for Rio.

"The team is eager and ready to challenge ourselves. In the lead-up to the Olympics, we have shown some really good performances. It shows the ability of this team against the top sides in the world. Now the idea is to show and prove that it was not a one-off. We still have to show that we can repeat such a performance in every match at the Olympic Games. Our challenge is to do our best every day in Brazil. If we're able to do so we stand a good chance of a medal" Chief Coach Roelant Oltmans stated ahead of the team's departure.

"Every match in Rio will be crucial. Every team will play to win, be it Ireland, Canada or Holland. We can't take anyone lightly. We have our strategy for each team. These are our well-guarded secrets, of course. But we have got a basic structure on the field. For every team and players, we will tackle that with our strategy." Sreejesh concluded with a smile.

The team was cheered on by roaring fans and young hockey players from Hockey Karnataka and SAI Sports Hostel on the team's arrival at the Kempegowda International Airport late on Saturday night.

Earlier in the day, the team was given a grand send off by Hockey India at the Lalit Hotel in Bengaluru. The lunch was hosted by Hockey India CEO Ms. Elena Norman along with Mr. SVS Subramanya Gupta, President, Hockey Karnataka and Mr. Kannan Krishnamurthy, General Secretary, Hockey Bengaluru where they all conveyed their best wishes to the team!

"Every match in Rio will be crucial. Every team will play to win, be it Ireland, Canada or Holland. We can't take anyone lightly. We have our strategy for each team. These are our well-guarded secrets, of course. But we have got a basic structure on the field. For every team and players, we will tackle that with our strategy." Sreejesh concluded with a smile.

Stick2Hockey.com


---

Hockey coach Oltmans to use multiple captains in Rio

Manuja Veerappa

BENGALURU: The Kabali mania, which gripped the nation on Friday, did not spare the Indian hockey team. Following a strenuous two-hour practice session, the serene settings at SAI, South Centre were punctuated with the Kabali chant. Skipper PR Sreejesh, a die-hard Rajinikanth fan, imitated the superstar and even taught chief coach Roelant Oltmans the trademark Kabali pose and pronunciation.

Amid all the fun and laughter, the pre-departure jitters, nervousness and excitement was palpable, especially among youngsters set for Olympic debut. The team, which leaves for Madrid in the wee hours of Sunday for some practice matches before heading to Rio, has had its share of controversies with Sreejesh replacing Sardar Singh as captain. While many wonder of its impact on the team, Oltmans believes the show will go on without a hitch.

"Captaincy is everything, no doubt. I think in India it's a bit too much responsibility because of the comparison with cricket captains. The cricket captain has a bigger role because he plans the strategy. It is different for us. To be honest, he's (Sreejesh) a nice man but I decide the strategy, not Sreejesh. Not even Sardar before."

With India going into the Olympics with only one goalkeeper in the 16, they can ill-afford to lose Sreejesh owing to cards or penalties. To counter this, the senior players will take turns to wear the captain's arm band.

"From now on, we will share captaincy. Sreejesh is the captain but he will never wear the band during matches. Sardar, Raghunath, Sunil and Mandeep will wear it. We worked on the group of captains to make sure on and off the pitch, more responsibility is taken up by more players," elaborated Oltmans.

Oltmans believes the team, which comprises seven from the nightmarish 2012 London outing, carries the pain in the heart but has erased it mentally. "The pain is in their hearts but not in the minds any more. If it is in the heart, then I understand because London was important for the players. There were reasons behind why the 2012 didn't work out well. What we learnt from then is setting targets in a different way. What we need to do now is be realistic in our approach of the game," said Oltmans, who started off as the high performance director and took over the reins of the team following the exit of Paul Van Haas last year.

While London memories have faded, India's glorious run of eight Olympic gold medals too is history, asserted the coach. "What can I do with history? Nothing. We take it into consideration. We know about the fantastic past of the Indian hockey team at the Olympics, but we don't live in the past or the future. The only thing we are aiming for is the best possible performance for this team in Rio. That's the only thing in our hands."

Given the team's silver at the Champions Trophy last month, expectations have increased and Oltmans is willing to shoulder it on behalf of his men.

"When it's only on my shoulders, I don't care. I can cope with that pressure. I don't run away from it. The fact that people are talking like that again is because we had a good year. This year, we created our own expectation. At the same time, it shouldn't influence the performance of the players," signed off 62-year-old.

The Times of India


---

Constant change of Indian hockey captains illogical, says former Olympian Gurbux Singh

Kolkata: The constant change of captains in the Indian hockey team is in bad taste and defies logic, feels Olympian and former India captain Gurbux Singh.

The highest capped Indian player Sardar Singh, who led India to a silver in the Azlan Shah, was 'rested' and the baton was handed to 28-year-old goalkeeper PR Sreejesh, who led the side to a historic silver in the Champions Trophy.

Sardar returned to lead in a six-nation Spain tour where India secured a solitary win and after return, Hockey India sprang a surprise naming the Kerala goalkeeper the captain for the Rio Olympics.

"It's in a bad taste. I'm not blaming any player. But you should decide whoever it may be one year in advance for a big event like Olympics," the 80-year-old, who was named joint captain with Prithipal Singh in Mexico Olympics, told PTI.

"I'm not against anyone, be it Sardar or Sreejesh. I don't understand this logic. You just can't put a new captain every match. But I don't think it would affect the atmosphere. Just that the team would have looked more settled.

"If you had Sreejesh in mind, he should have been named captain one year in advance. Hockey India already knew that Sardar had some personal problems. I don't understand what made them take the call at the last minute."

Asked whether it would affect the performance of Sardar who led the side in 2012 Olympics, he said: "It did not affect in our case. When it's about winning an Olympic medal, players always put aside their personal differences and ego.

"I think it's rubbish if a player says he's not playing for personal glory but for the country. After all your country will only benefit if you score goals. Who does not want an Olympic medal?"

Their silver lining in the Champions Trophy and Azlan Shah Cup may have provided the perfect build-up in the road to Rio but Singh said India should brace themselves for tougher challenges in the Summer Games next month.

India bagged a maiden silver medal in the Champions Trophy after losing to Australia in a dubious penalty shootout last month.

"For teams like Germany and Australia, Champions Trophy is a practice tournament where they send their reserve players. Yes we did well but we should brace for a tougher challenges next month," Gurbux said.

India are placed in a tough group of reigning Olympic champions Germany, runners-up Netherlands along with the Pan Am
winners Argentina, Ireland and Canada in Olympics.

This time four teams from two groups will advance as the knockout round would begin from quarterfinals as against
semifinals earlier.

Gurbux, who was named in the World XI in 1968, however, said India should first target to make quarters.

"The first target should be to make the quarters. If we can win against two/three teams our chances would be better. Once we're in the knockout, anything can happen."

Hailing coach Roeland Oltmans for bringing in consistency, he said, "Earlier we used to make silly mistakes and concede goals at the end of the last quarter, it affected the psyche. But now there's a vast improvement, there's planning and defence has improved. We have more chance to make the quarters."

A winner of eight Olympic gold medals, one silver and two bronze, India have not won any medal since the 1980 Moscow Olympics but Gurbux said Indian hockey's last big achievement was winning the World Cup in 1975.

"The real last big win for hockey was in 1975 when we had won the World Cup (beating Pakistan 2-1). Yes, we got an Olympic gold medal in 1980 but most top teams did not compete in Moscow," he said pointing out that only six teams competed with Spain and Soviet Union being the two big competitors.

"The fact is we have not been able to reach a world cup semis for 41 years," he said hoping that it would not stretch for another four years.

He also lamented the absence of Pakistan from the quadrennial extravaganza. "At the moment, Asian hockey is not in the pink of the health. Absence of Malaysia, Korea and Pakistan will make Asia poorer. India will be the only team from Asia."

Firstpost


---

Rising India

Young blood has energised team, but don't expect a medal yet

Indervir Grewal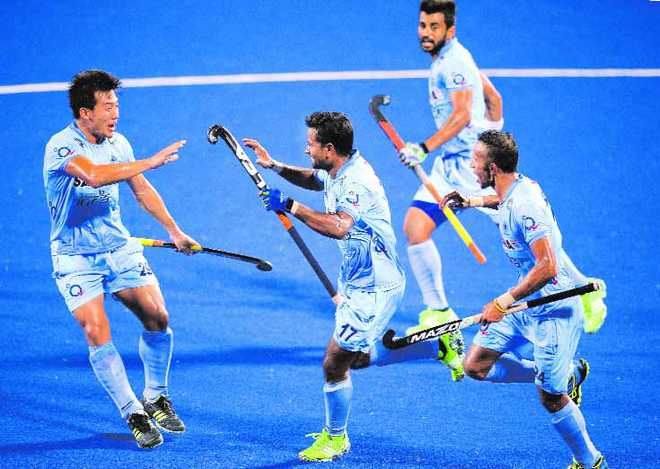 Sixteen men again stand ready to take on the world at the Olympics with the weight of history and expectations on their shoulders.

These 16 men are desperate to write a favourable chapter in Indian hockey's much-celebrated Olympics history. The memories of India's failure to qualify in 2008 and last-place finish — their worst ever — in 2012 are still fresh.

But much has changed since India lost every single match, even to South Africa, on the newly introduced blue and pink turf in London four years ago. India, then world No. 10, have climbed to No. 5. They have won more medals in the last two years than in the previous decade.

Incidentally, the seeds of this transformation were sown a year before the London Olympics. There were attempts made earlier when foreign coaches were brought in but the team, enabled by the frustrated foreigners, clung on to its old, chaotic, style of hockey.

Time for change

But in 2011, when the core group was expanded by bringing in a large number of young players, which included a majority from a reviving Punjab, it seemed that Indian hockey was ready to move on.

It was time to let go of the senior players who were handicapped by their old habits, and develop youngsters in the modern system, instilling in them the technical, tactical and mental characteristics needed for the fast-evolving game. It was time to rid the team of hierarchy and indiscipline that followed stardom, and bring in a culture of teamwork, which is the true essence of modern hockey.

In 2011, India's recently changed coaching staff took a young team to the Asian Champions Trophy, trying to prove a point to the seniors and the federation. Against all odds, India won gold. However, for the Olympics, the selection committee and coach Michael Nobbs opted for the seniors — a decision which showed that India was not yet ready to put its faith in the successors. The team had a disastrous run.

Change of guard

Four years have passed since Nobbs' ill-fated choice. A lot has changed. That decision in 2011, taken so as to widen the pool of players for the future, is showing results now. Many of those youngsters form the core of the current team. They were in the team that won the gold in the 2014 Asian Games and the silver in the 2014 Commonwealth Games. Over the past one year, they have helped India break new ground. The bronze at the FIH Hockey World League Final last year was India's first major medal at the world level in three decades. The silver medal at the Champions Trophy is India's best ever finish at the tournament.

The last few months have shown that the baton has been passed and the mindset, to a great level, has changed. The focus has shifted from star players with limited skills to complete players. Now, at the heart of the team, which was for long the domain of arguably the most popular face of Indian hockey, sits one of the most talented yet inconspicuous players of his generation — Manpreet Singh. Already, a junior player (Harjeet Singh), who much like Manpreet is an all-rounder, is in line to be his successor.

Up front, star forwards of the past have been replaced by well-equipped and hardworking ones, who will track back every time to help out in defence. At the back, the rise of Harmanpreet Singh suggests that the future belongs to fullbacks who are known more for their defending and play-making skills than their drag-flicks and not the other way around.

And most importantly, PR Sreejesh's promotion to captaincy shows that it is time to move on from stars who overshadow the team. A captain's position is more or less about inspiring the team; despite being India's most consistent performer in the last few years, Sreejesh has never been the face of the national team but a helmeted symbol of security.

Overhaul

But the last four years have not all been about success. The youngsters have suffered many failures, faced criticism. They have had to play under four different coaches. They have been winning medals for over two years but only in the last six months have they started to consistently be competitive at the top level.

But there is still a long way to go before India can crash the elite group's party and win an Olympics or a World Cup medal.

This slow progress (when compared to the top nations) is because these youngsters were 18-20 years old when they were brought in; a lot of the damage had been done by then. Harjeet and Harmanpreet are representatives of a junior lot that will very soon start knocking at the senior team door, just because their initiation into the system was done at a younger age.

Still, there is a huge divide between the national-team level and the national level. It is also the reason why the reserve pools for the national teams — junior and senior — are still not big enough. The only way forward if India is to become a medal prospect at the Olympics is to make sweeping changes across India. There has to be a uniform system of training from the national-team level down to the grass-roots level.

9 debutants, fingers crossed

After four years of more failures than successes, the young Indian team (with nine players making their Olympics debut) faces its greatest test. India might have to bear many more disappointments — the Rio Games could be one — before achieving more success.

But their recent performances suggest a good showing at Rio. If these youngsters play that fearless yet disciplined brand of hockey they have displayed in the last couple of tournaments, they will return from Rio with their heads held high.

The squad: 5 from Punjab, 2 from Haryana

PR Sreejesh (captain)
DOB: 08/05/88
international app: 156
Kerala

Rupinder Pal Singh
DOB: 11/11/90
international app: 144
Punjab

Harmanpreet Singh
DOB: 06/01/96
international app: 16
Punjab

VR Raghunath
DOB: 01/11/88
international app: 214
Karnataka

Surender Kumar
DOB: 23/11/93
international app: 24
Haryana

Kothajit Singh
DOB: 17/08/92
international app: 131
Manipur

Devindar Walmiki
DOB: 28/05/92
international app: 29
Maharashtra

Manpreet Singh
DOB: 26/06/92
international app: 156
Punjab

Chinglensana Singh
DOB: 02/12/91
international app: 110
Manipur

SK Uthappa
DOB: 02/12/93
international app: 94
Karnataka

Sardar Singh
DOB: 15/07/86
international app: 247
Haryana

Nikkin Thimmaiah
DOB: 18/01/91
international app: 71
Karnataka

Ramandeep Singh
DOB: 01/04/93
international app: 72
Punjab

Akashdeep Singh
DOB: 02/12/94
international app: 102
Punjab

Danish Mujtaba
DOB: 20/12/88
international app: 160
Uttar Pradesh

SV Sunil (vice-captain)
DOB: 06/05/89
international app: 190
Karnataka

Indian angle

For the first time since 1980, Indian teams will figure in both men's and women's competitions. The Indian men won the gold and the women finished fourth at Moscow 1980.

Men's Schedule
Indian men are in Group B
Aug 6: India vs Ireland
Aug 8: India vs Germany
Aug 9: India vs Argentina
Aug 11: India vs Netherlands
Aug 12: India vs Canada

Women's Schedule
Indian women are in Group B
Aug 7: India vs Japan
Aug 8: India vs Great Britain
Aug 10: India vs Australia
Aug 11: India vs USA
Aug 13: India vs Argentina

Format

The twelve teams in both men's and women's competitions have been divided into two groups of six. Each team will play five matches in a round-robin format.

After the round-robin stage, the top four teams from each group will advance to the quarterfinals. For the first time in an Olympics hockey competition, quarterfinals will be played.

Favourites

MEN: Germany are the winners of the last two Olympics gold in the men's category. Australia finished third both times. Australia have won the Champions

Trophy six times in the last seven years, including 2016, when they beat India in the final.

Australia currently hold the World Cup title. Netherlands are currently ranked No. 2 in the world behind Australia, while Germany are No. 3. India are No. 5, and it would be a huge challenge for them to qualify for the semifinals — they've not made the semis after 1980.

Women: Netherlands, Argentina and Australia are the top teams in women's hockey. Netherlands are two-time defending Olympics champions. Argentina won silver in 2012 and bronze in 2008. Australia were last on the podium in 2000, when they won gold. Argentina have won the Champions Trophy three times in a row.

Netherlands are the current World Cup winners. Argentina and Netherlands won the World Cup two times each in the last four events. India's women are ranked No. 13 in the world.

India's Great past

Between 1928 and 1964, the Indian men's team won the Olympics gold medal seven times in eight tournaments, including six times in a row. The team slipped after that, and since then India have won only two bronze medals and one gold, but that gold came in Moscow 1980, weakened by the US-led boycott.

Back after 36 years, eves must prove they belong

When the Indian women take on Japan in their first match on August 7, it will be a historic moment.

The Indian women's team will be returning to the Olympics after a gap of 36 years. However, their performances in the last six months suggest that they are likely to get a rude welcome back into the Olympics.

Since qualifying for the Rio Games last year, the team's performance has seen a slump. Only on three occasions have they been able to get a draw against a higher-ranked team, while losing the others. This year, they have won only two matches so far, in the ongoing America series.

By reaching the 12-team Olympics competition, the world No. 13 Indian team has already outdone itself.  Now, the Indian women will have to work even harder to prove that belong in  the Olympics fray.

Women's squad: 6 from haryana

Savita (goalkeeper)
DOB: 11/07/90
international app: 121
Haryana

Deep Grace Ekka
DOB: 03/06/94
international app: 101
Odisha

Sunita Lakra
DOB: 11/06/91
international app: 71
Odisha

Deepika (vice-captain)
DOB: 07/02/87
international app: 172
Haryana

Sushila Chanu (captain)
DOB: 25/02/92
international app: 112
Manipur

Namita Toppo
DOB: 04/06/95
international app: 92
Odisha

Navjot Kaur
DOB:07/03/95
international app: 68
Haryana

Nikki Pradhan
DOB: 08/12/93
international app: 12
Jharkhand

Renuka Yadav
DOB: 18/07/94
international app: 24
Chhattisgarh

Rani Rampal
DOB: 04/12/94
international app: 154
Haryana

Monika
DOB:05/11/93
international app: 54
Haryana

Lilima Minz
DOB: 10/04/94
international app: 72
Odisha

Poonam Rani
DOB: 08/02/93
international app: 159
Haryana

Vandana Kataria
DOB: 15/04/92
international app: 139
Uttar Pradesh

Anuradha Devi
DOB: 02/02/89
international app: 86
Manipur

Preeti Dubey
DOB: 13/06/98
international app: 9
Madhya Pradesh

The Tribune


---

Indian hockey's time to capitalise on recent gains

Manuja Veerappa

The last of Indian hockey team's training sessions prior to their departure for the Olympic Games in Rio winded up at the Sports Authority of India (SAI) campus. As is the case with this team, camaraderie was high and jokes were traded back and forth as the players slowly made their way for a pre-departure photo shoot. It made for a heartwarming picture, except for the forlorn figure of Sardar Singh.

The former skipper looked detached - both in spirit and physical distance -from the jovial bunch as he packed his bags a little distance away. Bags packed and photo shoot over, he trudged off the pitch, never once looking back.

Sardar is not a man who wears his emotions on the sleeve, but ever since he was stripped of the captain's arm band, he has been sulking like a child deprived of its favourite toy. Sardar has missed the wisdom of divesting him of the captaincy. It was always on the cards ever since he was accused of rape. The former skipper denies those allegations, but the threat of being charge-sheeted or even jailed was too big a problem - and a needless one - for Indian hockey to tackle. It was one of the reasons why the 30-year-old was 'rested' for the Champions Trophy in London in June.

The question though is: With less than two weeks to go for the Olympic Games, will the team pay the price for Sardar's personal woes, not to speak of his indifferent attitude?

Sardar's fitness levels cannot be faulted, but his game has been on the decline in the last few months. His passes lack the usual sharpness, and a recent tendency to hold on to the ball a little longer than necessary has time and again broken momentum and the flow of the team's attack. It is fair to say that in Rio, the team will look for Sardar's understudy, Manpreet Singh, to handle the central midfield. This may well mean that Sardar may be pushed into attack, but with the flair of Akashdeep and Ramandeep Singh, backed by the experience of SV Sunil, a lethal combination of pace and precision, Sardar may not be a first choice in the frontline.

It would be a huge climb down for Sardar, a player who has been a vital cog in the Indian team, a man who has fought and won many midfield battles with his craft and skill. But the Olympic Games is no place to rest on past feats and sentiment.

This team carries a great burden of expectation. It is the fittest team in recent times, it has delivered in tournaments and the players have vowed to wipe out the lingering nightmare of the London Olympic Games four summers ago. They have ticked the right boxes, starting with the silver at the 2014 Glasgow Common wealth Games and the Asian Games gold a few months later which helped them book their Rio berth.

A bronze and a silver at the Sultan Azlan Shah Cup over the past couple of years, the bronze at Hockey World League Finals (2015) and last month's Champions Trophy silver are all endorsements of the team's abilities and consistency. The fact that they have infused a lot of fresh blood into the team augurs well for the pace of play.

Off the field, the team has made a lot of adjustment from a drastic change in their diet to various team bonding exercises. Going by the rankings, India is the third highest ranked team in the group after The Netherlands and Germany, with Argentina, Canada and Ireland following them.

Currently ranked fifth in the world, a quarterfinals berth may not be a tough ask for PR Sreejesh and his men. But from there on they will have to script their own extraordinary story, one which will ease the pain of past and offer hope to the future of the sport in this country.

The Times of India


---

India at the Olympics: The 'Dhan' to rags story of Indian hockey

Austin Coutinho



Dhanraj and Dhyan Chand. Illustration © Austin Coutinho

Khel Ratna Dhanraj Pillay was just an adolescent when India last won an Olympic gold in hockey. A dark and wiry lad, who impressed everyone with his skills and speed, he dreamt of emulating his idol, Mohammed Shahid someday.

Playing on the soft, dusty surface of the Ordnance Factory ground at Khadki, Pune which was tended by his father Nagalingam, for Pillay an Olympic gold medal was an obsession. His brothers and he would pick broken hockey sticks and mend them and play with old, scruffy hockey balls. They would practice till the sun went down and their doting mother had to call them home for supper.

Mohammed Shahid's masterly display at Moscow in 1980, and his combination with Zafar Iqbal, had helped India win Olympic gold after a lapse of 16 long years. Thirty six years after that triumph, Indian hockey is still looking for that elusive magic wand which had won them seven gold medals in eight editions of the Games from 1928 to 1964.

It was indeed a 'magic wand', that of the wizard, Dhyan Chand which had won the hearts of millions of sports lovers the world over in the pre-World War II years. Son of an army man, he had joined the armed services when he was 16 and had been infatuated by the game. He would practice his skills, alone, late into the night — in moonlight. His teammates therefore had christened him 'Chand'.

From 1928, at Amsterdam, where India made their Olympic hockey debut to the 1936 Games in Berlin, it was Dhyan Chand versus the world. He scored 14 goals as India trampled slipshod over Austria, Denmark and Switzerland and then took Netherlands to the laundry to win their first Olympic title.

The Indian team had been seen off at the Bombay Docks by three persons. When the team returned from Amsterdam, there were thousands of people at the Docks to receive them and to get a glimpse of their Olympic heroes.

The great depression of the 1930s, which was gnawing into the mental and physical reserves of most nations, affected participation at the Los Angeles Games. India, displaying mesmeric skills thumped Japan 11-1 and then blitzed the Americans with two dozen goals. The lone American goal came when India's goalkeeper, Allen was signing autographs!

The Berlin Games were allegedly played under the shadow of the swastika. India again ran through the league stage like a hot knife through butter. They trounced France 10-0 in the semifinals and qualified to meet Germany in the finals on August 15, 1936.

The Germans had worked hard together for two years. Big-built, they played physical hockey and kept the score down to 0-1 at the crossover. The Indians then unleashed their magical skills and scored seven more goals. The home team reduced the margin through a rebound. And after losing a tooth, Dhyan Chand asked his players to play 'pass-ball' and teach the Germans a lesson in clean hockey.

Stories of Dhyan Chand's wizardry abound — perhaps apocryphal — where Hitler is said to have offered him the post of a colonel in the German army which he refused, politely; where his stick was broken down to see if there were magnets in it, and where in an exhibition game, he was asked to play with an umbrella and he still managed to score a goal.

Post WWII

It was indeed praise worthy effort on part of the IHF to field a team at the London Games of 1948, in the aftermath of World War II and the partition. Dhyan Chand had retired, but there was a wealth of talent in the Indian team.

The preliminaries were a walk in the park. For some reason, Balbir Singh Sr., who had scored 6 goals in one match, was rested, and India struggled to beat Spain and Holland in the quarterfinal and semifinal respectively. Back in the playing eleven against Great Britain, in the finals, Balbir scored a brace in India's 4-0 triumph.

The hockey crown was retained at Helsinki in 1952, under KD Singh 'Babu' almost effortlessly. The tournament was played in the knockout format for the first time. India, after a bye in the first round, trounced Austria, beat Great Britain and then trounced the Netherlands to pocket their fifth consecutive gold.

The Indian team of 1956 was said to be the best ever to have left India's shores. Expectedly, they hammered Afghanistan, USA and Singapore. After Balbir Sr was forced to sit out with a finger injury, Udham Singh came in and scored 9 goals, including one against Germany in the semifinals. In the final, against a belligerent Pakistan, Gentle scored off a second half short corner to make it six golds in six Olympiads.

A Naseer Bunda goal for Pakistan, in the 11th minute of the finals at Rome, ended India's unbeaten run in Olympic hockey. Sailing through the preliminaries, the Indians, under Claudius, had found it tough to beat Australia and Great Britain in the quarterfinal and semifinal respectively. Though the Indians played at a furious pace against Pakistan, the latter managed to keep them from scoring and thus had to settle for silver.

Pakistan were a force to reckon with in the 60s, and India did well to wrest the Olympic crown from them in 1964, at Tokyo. Qualifying through the league and beating Australia in the semifinals, India were put on the defensive early on. Managing to mount a few attacks in the second half, they earned a penalty stroke, which was converted by Mohinder Lal. India won 1-0, even as the Indians in the crowd did an impromptu bhangra.

The journey downhill

It was downhill from there on. Joint captains, Prithipal Singh and Gurbux Singh brought home a bronze in 1968, while Harmik Singh followed suit in 1972. One of the best centre-halves ever, Ajitpal Singh could only manage a 7th place in 1976 at Montreal, even though he had led India to a World Cup win in 1975.

The introduction of 'astroturf' in the mid-70s compounded India's problems. Groomed on natural surfaces, the Indians were no match for their stronger and fitter opponents from Australia and the continent on artificial grass.

The 1980 triumph, though creditable, should be seen in the light of an event that saw many boycotts. Pakistan, Netherlands, Australia, New Zealand and Germany were a few of the top teams missing from that Olympic lineup.

India finished a dismal 5th in 1984 and had slid to 7th by the 2004 Games in Athens. What followed was disaster. They failed to qualify for the Beijing Games in 2008 and then made up the rear at London in 2012.

Dhanraj Pillay played in four Olympic Games from 1992 to 2004, when India finished in the 7th position on three occasions and in the 8th position in 1996. Adorning his mantelpiece is the Khel Ratna Award, the Arjuna Award, the Padma Shri and many other coveted cups and trophies. But the one that is missing, an Olympic gold medal, is one he will live to regret forever.

And to add to his troubles, his idol, Mohammed Shahid passed away recently.

Austin Coutinho is a caricaturist, cricket and mental toughness coach, and the co-author of 'Devil's Pack' along with Balvinder Sandhu

Firstpost


---

Impala edge Dedan Kimathi lads in thriller

Newcomers Amiras Sailors made their bow in the women's league in a 0-0 draw against Titans.

By BRIAN YONGA



Ann Mbugua of Kenyatta University drives the ball during their Kenya Hockey Union Women's Premier League match against Chase Amiras at City Park Stadium on July 23, 2016. PHOTO | MARTIN MUKANGU |  NATION MEDIA GROUP

Impala edged out Dedan Kimathi University 2-1 in a Kenya Hockey Union (KHU) men's national league match at City Park Stadium on Saturday.

A last minute winner from Brian Odhiambo gave Impala the three points in the pulsating encounter.

Impala had fallen behind to a 23rd minute strike from Kimathi's Kevin Otieno but levelled seven minutes after the break through a field goal from Odhiambo.

Odhaimbo struck again with the last shot of the game with a pin-point penalty conversion to ensure his team walked away with the three points.

Impala coach Amway Olubai was pleased with his team's fighting spirt after falling behind early on.

"Our attitude after falling behind was fantastic and we were able to pin them back in their won half. We are hoping to build on this result in our coming matches and hopefully, we can secure promotion to the top flight," Olubai told Sunday Nation Sport.

Kimathi will only have themselves to blame for the defeat after failing to convert a number of chances while they were still 1-0 up. Otieno missed two one-on-one opportunities with Impala keeper Walter Lumumba.

A pep talk from Olubai at the breather inspired Impala's fight-back in the second half and they deservedly got the two goals to complete an impressive display. Odhiambo levelled after his shot beat Kimathi keeper David Mathenge at his near post.

The home side continued to press and with the game seemingly headed for a draw, Odhiambo popped up once again to grab the winner finishing off a penalty corner to break the university players' hearts.

"I think we were unlucky to lose this match because we dominated in the first half. We switched off in the second half and allowed our opponents to dominate," Kimathi coach James Kinuthia said.

Earlier, newcomers Amiras Sailors made their bow in the women's league in a 0-0 draw against Kenyatta University Titans at the same venue.

Amiras, fielding players signed from Titans, Jomo Kenyatta University of Agriculture and Technology (JKUAT) and United States International University of Africa (USIU-A), were unable to break down a Titans side that defended well.

Daily Nation


---

Top teams lose in Wellington men's hockey preliminary playoffs

Todd Foster



Northern's Craig Turner scored the winning goal as his side beat Hutt on Saturday. ROBERT KITCHIN/FAIRFAX NZ

Northern's Craig Turner scored the winning goal as his side beat Hutt on Saturday.

Two big upsets marked the Wellington men's hockey preliminary playoffs with both top teams going down to extra time golden goals.

Hutt led Northern United 2-0 at half-time, before Robin Smith replied for Northern with a superb diving shot.

Steve Crossett and Craig Turner gave Northern the lead with time running out. Ollie MacIntyre equalised at the death after Northern 'keeper Bart de Vries was 'sin-binned', and golden-goal extra time was required.

There was no scoring in the first period and with the teams down to seven players, it was Turner who ensured Northern get the week off.

At Clareville, Dalefield tapped in early against Indians but were 4-1 down at halftime with the visitors on top.

Playing more attacking hockey after the break Dalefield levelled very late through Aaron Oakly, only to concede a goal to Jainesh Shantilal in the first period of extra time for their first loss of the season.

Victoria beat Naenae 4-1 after the Hutt Valley side had scored first through Eden McCabe at a penalty corner.

The students played with more cohesion in the second half, and Jack Burgess scored after 45 minutes. Three goals within six minutes, two to drag-flick specialist Kieran Whitmore, saw Vic through to a meeting with Hutt in next week's preliminary semi-final.

Harbour City ended Karori's season with a convincing enough 4-0 win, although they had a few anxious moments in the first spell.

Jared Jones netted twice, while Luke Cracroft-Wilson and Gabe Kepes also scored. They will meet Dalefield next week.

Results went more as expected in the women's competition although table-topping Dalefield had to work hard to beat a determined Victoria 1-0 at Clareville.

Vic's inability to put away chances again cost them but their defence was sound, with Kristy Anderson scoring the only goal midway through the second half.

Four second half goals in 11 minutes saw near full-strength Eastern Hutt to a 4-0 win over Harbour City, also boosted by returning players.

Greer Lane finally converted Eastern pressure with a strike from a penalty corner and three more goals followed quickly, including a penalty stroke to the impressive Ani Roberts.

Kapiti played some of their best hockey of the season before conceding two late goals to go down to Indians 5-0.

Indians captain Sangita Patel scored two goals within the first seven minutes and a third early in the second half.

Oakley Wilson-Rangihuna and Chhigna Govind also scored for Indians who will give themselves a chance against Victoria in next week's preliminary final.

Karori found their goal-scoring form to defeat Toa 6-2 and secure a play-off game against Harbour City in a repeat of last year's women's final.

A penalty stroke to Izzy Shalswell, followed immediately by the first of Katie Reed's two goals put them on the right track, although Toa fought back with goals to Bella Cronin-Stone and the hard-working Lisa Bishop.

RESULTS

Men

Indians 5 (Jainesh Shantilal 2, Chris Thomas, Jainesh Sukha, Michael Balle) Dalefield 4 (Aaron Oakly 2, Benedict van Woerkom, Dane Lett) (in extra time) HT 4-1

Northern United 4 (Craig Turner 2, Robin Smith. Steve Crossett) Hutt 3 (Ollie MacIntyre 2, Sunny Schaller) (in extra time) HT 0-2

Victoria 4 (Kieran Whitmore 2, Jack Burgess, Matt Wilson) Naenae 1 (Eden McCabe) HT 0-1

Harbour City 4 (Jared Jones 2, Luke Cracroft-Wilson, Gabe Kepes) Karori 0 HT 1-0

Women

Dalefield 1 (Kristy Anderson) Victoria 0 HT 0-0

Karori 6 (Katie Reed 2, Chloe Nicholson, Izzy Shalswell, Sophie Macadre, Lucy Cooper) Toa 2 (Bella Cronin-Stone, Lisa Bishop)

Indians 5 (Sangita Patel 3, Oakley Wilson-Rangihuna, Chhigna Govind) Kapiti 0 HT 2-0

Eastern Hutt 4 (Greer Lane, Kirsty Cole, Tara Hegarty, Ani Roberts) Harbour City 0 HT 0-0

Next week's preliminary semi-finals

Men

Dalefield v Harbour City; Hutt v Victoria

Women

Harbour City v Karori; Indians v Victoria

Dominion Post


---

Polo honour trio of club heroes




Real Club de Polo de Barcelona paid special tribute to three of their club heroes who finished up their playing time with the first team at the end of the last campaign.

Jordi Fàbregas we awarded the 'Trofeo Pere Fàbregas' for his career with the club. He won five titles with Polo before taking a year out to play in Belgium with Leuven.

After a year there, the midfielder returned to Barcelona where he enjoyed another wealth of success including three Spanish national titles in succession.

Pepe Borrell and Borja Casanovas were also honoured for their service to the club and were presented with a golden badge to recognisde their excellence.

Reflecting their service, a club statement said of the trio: "A big thank you to the three for these years of hockey, good times, smiles, tears, effort and rewards. We'll see you down in the stands from now on!"

Euro Hockey League media release


---

Top level sport begins in the cradle

Column 'Jewels from Jacques' by Jacques Brinkmann for Stick2Hockey.com




All arrows on the youth! An excellent, innovative youth training is crucial to win top tournaments. And that certainly applies to team sports such as football and hockey. The best example is of course FC Barcelona. The famed food fall club invests more than ten million euro in the youth training. Other clubs to spends astonishing amounts which hockey world hardly dream of. Kampong invests each year for an example 100,000 euro and that is the highest in the world of hockey.

In addition to the large difference in financial resources there is an important difference between the two sports. The top clubs such as Ajax, Feyenoord, PSF and FC Utrecht are there for the training of the raw talents. At hockey things go exactly the opposite way. The representing youth teams of the KNVB come together only occasionally. I have the last few years as a trainer and father of football talent Tim and hockey talents Thierry and Julie in the kitchen can look at Ajax, FC Utrecht, KNVB, Stichtse Cricket en Hockey Club, Kampong and field players.

Fun is in my experience has always been at the forefront in order to stand out from the crowd. This creates a feeling of confidence of the surroundings, confidence in yourself and which results in Excellence, security and respect to team mates. But more is needed to maximize the value of talented hockey players and footballers. From my own experience, I note that, in addition to pleasure and confidence, five preconditions for the ultimate youth training are:

Firstly, Talented youth players must already be from 7 years the highest quality training sessions and matches to be given. The period between 12 and 18 years is too short to fully develop basic qualities.

Secondly, best trainers should be on the youth. In The Netherlands we have many coaches, but too little trainers whom young players rely on for learning something, they make better.

Thirdly, winning is not a priority in the training. It is a matter of fact that players themselves gel well to develop in to a team player. Each day the talent should learn something, lest the day is wasted.




Fourthly, School performance should go over and above sport performance. The most talents ultimately get the absolute top spot, and then a good school training is important in order to be able to fall back on. Discipline is the key word in this connection, indispensable for as talent and top sportsman to 'slayers'.

Lastly, Modern accommodation with facilities for under other strength and fitness training, medical care, healthy food and video analysis.

The mission of each youth training should be young, ambitious to stimulate children and help to make their dreams come true. The impossible to possible. Or the FC Barcelona now is with a budget of ten million or hockey club Kampong with one percent. Let's celebrate talent!

Successful hockey Olympian from The Netherlands, celebrated Author and acclaimed Coach, Jacques Brinkmann will be writing exclusive column 'JEWELS FROM JACQUES' for stick2hockey.com. The column will seek to provide perspective glimpse in to the global hockey, especially Dutch and India.

Stick2Hockey.com