All the news for Friday 22 July 2016

EuroHockey Youth Championships gets underway


In this the Summer of Youth Hockey or #EHYouth2016, the EuroHockey Youth Championships Under 18 got underway in Gibraltar yesterday.
The opening match of the Championships III commenced under the warmth in Gibraltar and the host team faced the Welsh.  With travelling Welsh fan base and local support in the stands support was strong for both teams.  Played at the Victoria Hockey Stadium with its unique setting adjacent to to the main runway the opening national anthems were delayed whilst Monarch Airlines landed!  The team's embraced their anthems, players singing  from their hockey hearts, the game then commenced.  The Welsh started off strongly, giving the local team some work to do.  With the Gibraltarian team playing good hockey throughout in both offence and defence, the Welsh team outplayed the host in the first half.  The second half was action packed, keeping the Technical Table busy with green card suspensions and more goals scored by penalty corners and a penalty stroke.  Both teams played some excellent hockey leaving the pitch in high spirits at the the final whistle.
During the evening Gibraltar Hockey Association (GHA) hosted a function where they present the Tournament Designate (TD) for the EHF with an association plaque and on behalf of the Minster for Culture and Sport a glass trophy of the Rock of Gibraltar.  In return the EHF TD presented the GHA president with a gift in appreciation of hosting this Championship in special circumstances in short notice.
We are delighted that the games can be viewed online via the @gibraltarhockey twitter page, via Periscope, 15 minutes before the match start time.
To follow the games, click below:
EuroHockey Youth Championships III, U 18, Girls, Gibraltar
EuroHockey Youth Championships, U18, Boys, Cork
EuroHockey Youth Championships, U18, Girls, Cork
EuroHockey Youth Championships II, U18, Boys, Glasgow
EuroHockey Youth Championships II, U18, Girls, Glasgow
EuroHockey Youth Championships III, U18, Boys, Albena
We will be active on all our Social Channels!
So follow us on:
Twitter – @eurohockeyorg #EHYouth2016
Facebook – https://www.facebook.com/EuroHockeyorg/
SnapChat from Cork – @eurohockeyorg
Instagram – eurohockeyorg
There will Live Streaming of the Finals in Cork and Glasgow, links to follow! 
Thanks to David Devincenzi-Clemens for the update and photographs from Gibraltar

EuroHockey media release


---

Anita McLaren says Black Sticks are departing for Olympics in confident mood

PHILLIP ROLLO



Black Sticks star Anita McLaren trains in the lead-up to the Olympic Games. PHOTOSPORT

Anita McLaren says she will take a leaf out of Kelsey Smith's book and "play with a bit of confidence."

The Black Sticks speed demon was due to depart for the Olympic Games on Friday night, clearly keen to avenge their agonising fourth place performance in London four years ago.

For the first time heading into a major hockey tournament such as the Olympics she will be joined by another Nelson player, 21-year-old Smith earning a place in the squad after a breakout past 12 months where she has done basically everything asked of her following a series of late injury call-ups.

Having come through the same system and attended the same school you would think it would be Smith looking to McLaren for guidance, but it appears the 28-year-old, and New Zealand's all-time leading scorer, is the one taking tips.

"I need to take a leaf out of Kelsey's book and play with a bit of confidence and just play my game," McLaren said, before flying out Argentina where the team will be based ahead of the Olympics.

The 239-cap player said she has been impressed with what Smith has brought into the New Zealand set-up, always giving her all in every game, and wants to follow her lead.
"She always plays to her potential, which I really admire. She doesn't let the occasion affect her and for her to keep playing with that confidence will help us win a medal."

McLaren was still packing on Friday afternoon, just hours before the team depart Auckland International Airport, and said she "never enjoys" leaving home but was looking forward to finally touching down at the Olympic village.

"When you get there the food hall is pretty exciting and I know what to expect now, I've been to London, but I've never been to the Olympics in Rio so it'll be exciting to see what the village will have.

"We when get welcomed in we'll be there for four days, which gives us time to be girls, be crazy, go adventure and get excited, then we'll leave for four days to take some time out and come back in really focussed right up until the closing ceremony."

The Black Sticks finished last at the recent Champions Trophy but McLaren said their final placing hasn't knocked the players' confidence in the lead-up to Rio.

"We have to be confident. We're the ones who have to believe it. We've been putting everything into it so of course we believe we can medal, we've got the potential for sure.

"I know everyone jumped up and said 'what's happening?' but we never doubted ourselves and I never felt pressure or thought we're not ready because we are.

"The games just didn't fall our way unfortunately and we didn't click, but we're happy with the opportunities we created and we've got a lot more to give so I'm still really excited."

New Zealand will play two practice games in Argentina before flying into Brazil ahead of their opening game against South Korea on August 8.

Stuff


---

Among the scandals dogging Rio, Irish hockey is already an uplifting success
       
Drugs, bugs, refuseniks, and a troubled host city: it really hasn't been the smoothest of rides so far for Rio 2016.

Brendan O'Brien



Ireland hockey coach Craig Fulton at Dublin Airport on Tuesday as the team heads for Rio. Picture: Brendan Moran

Pretty much every major sporting tournament serves up its first course on the back of an extra-large portion of controversy but the 2016 Olympic Games has already delivered an all-you-can-eat buffet of bad news as we await the opening ceremony two weeks from today.

Rio de Janeiro's ills, whether financial, political, criminal, or social, have been flagged for years. The drip-fed loss to the Games of various millionaire golfers and tennis stars has heightened exposure levels to the zika story. And then there is the Russian doping scandal making a late run for a place on the podium of opprobrium.

Is it any wonder then if the general appetite for the Games is less than keen?

It is easy, and necessary, to criticise all of that. And to voice concern about the enormous piles of cash swishing around the five-ringed corporate circus, to fume over the lamentable, underhand dealings done by far too many officials in far too many sporting organisations and to bemoan the bloated mess that is the Olympics and the IOC itself.

But good news stories still proliferate.

Most of us will throw an eye over the Games at some point. Viewership here will naturally peak when one of the boxers or some other medal hope shows signs of claiming dibs on a shiny piece of metal but Rio will offer a very different experience for the Irish public what with the presence of our men's hockey team.

It is 68 years since Ireland was represented in a team event at an Olympic Games but the sight of Craig Fulton's green machine competing in Brazil will, if anything, rekindle memories of all those times we as a nation have bought into the exploits of our footballers, rugby players, and cricketers at major international events.

Support for individual athletes — successful individual athletes — has never been slow to build at previous major events but there is something unique and emblematic about a team in green competing on such a global stage and Fulton, Ireland's South African head coach, is mindful of the momentum that can come from home shores.

A two-time Olympian with his native country in 1996 and 2004, Fulton is also a keen cricket fan and he accepts entirely the potential comparisons between his side and the Ireland cricket teams that captured the imagination of a previously indifferent nation with their heroics at World Cups in the Caribbean, India, and Australia.

"I love my cricket. When you qualify for World Cup or a T20, and you do take the chance and do something big, it is ten times bigger. It is the story of the tournament, in a sense, you know? There is massive momentum that can be built and in any tournament, especially one involving teams. That momentum is everything and it's not like you have to be playing your best hockey in the first game."

Ireland will view the first of their five Group B games, against India on August 6, as a must-win. Three victories would secure a semi-final, two a quarter-final berth.

Whatever the results, Ireland's is a hockey team that will be easy to root for.

Money is so tight that players who are effectively semi-professional at best must pay an annual stipend just to compete. Fundraising is a constant fact of life and confirmation of their place in Rio necessitated a drive to close a financial gap of over €225,000, which has, among other things, enabled the squad to train 24/7 for the run-up to the Games.

All five of their Group B opponents are full-time and have been for years but the Irish hockey team's ability to scrape enough resources together, though unfortunate, stands as a far better tribute to old Olympic values than many of the well-paid and pampered stars who will share the Olympic village with them in the coming weeks.

"In 2015, we played our most hockey together," said Fulton.

"We had 40-odd games and we had our most successful year. There's the link (with the fundraising). It is no coincidence. We needed that time together.

"I hope people turn their TVs on and support us and see that these guys wear their hearts on their sleeves and are trying to do everyone proud."

They deserve that much at least.

Irish Examiner


---

Stats Speak:  know the teams  in the Rio Olympics (part-5)

By B.G.Joshi (Sehore-Bhopal, India)

Renowned hockey statistician B.G.Joshi have compiled stats and records on all the 24 competing teams  in Rio Olympics. Today he is providing stats and records of Germany and Japan- two women teams.

9.0 Germany (GER)
Pool: A
World Ranking:09
Title: Nil
Coach: Jamilon Mulders
Captain: Hannah Krueger
How Qualified: 3rd in Valencia HWL(2015)
Appearances: 8,1 Gold(2004),2 Silver(1984,1992),once 4th(2008),once 5th(1988),once6th(1996),twice 7th(2000,2012)
 Records: P-W-D-L-GF-GA- 47-23-8-16-82-75
Head to head versus pool competitors in Olympics:
| | | | | | | |
| --- | --- | --- | --- | --- | --- | --- |
| Germany vs. | MP | W | D | L | GF | GA |
| Netherlands | 5 | 1 | 1 | 3 | 10 | 17 |
| New Zealand | 4 | 2 | 2 | 0 | 4 | 2 |
| China | 3 | 0 | 1 | 2 | 3 | 5 |
| South Korea | 5 | 3 | 0 | 2 | 11 | 10 |
| Spain | 3 | 1 | 1 | 1 | 5 | 5 |
Biggest ever win: 5-1 vs. Great Britain in 2008
Worst defeat: 2-6 vs. Netherlands in 1984

10.0 Japan (JPN)
Pool: B
World Ranking:10
Title:Asia Cup Champions(Kuala Lumpur-2013),Asian Champions Trophy Champions(Kakamigahara-2013)
Coach: Yuji Negai
Captain: Miyuki Nakagawa
How Qualified: Dual qualification of  Australia vacate the slot,Japan qualify as stood 6th in Antwerp HWL(2015)
Appearances: 3, once 8th(2008),once 9th(2012),once 10th(2008)
Records: P-W-D-L-GF-GA- 18-5-2-11-19-32
Head to head versus pool competitors in Olympics:
| | | | | | | |
| --- | --- | --- | --- | --- | --- | --- |
| Japan  vs. | MP | W | D | L | GF | GA |
| Argentina | 2 | 0 | 0 | 2 | 2 | 5 |
| Australia | 1 | 0 | 0 | 1 | 1 | 3 |
| USA | 1 | 0 | 1 | 0 | 1 | 1 |
| Great Britain | 2 | 0 | 0 | 2 | 1 | 6 |
| India | 0 | 0 | 0 | 0 | 0 | 0 |
Biggest ever win: 2-0 vs. South New Zealand in 2004
Worst defeat: 0-3 vs. China in 2004

Fieldhockey.com


---

Canadian women continue to make most of Olympic year

Shaheed Devji




When Canada's women's field hockey team takes to the field against India Friday in Lancaster, Pennsylvania it will face a team headed to the 2016 Olympic Games and ranked 13th in the world.

The four game series during which Canada will also face the 5th ranked United States is yet another example of how Canada is making the most of the 2016 Olympic year, despite having missed out on qualification.

After the series in Lancaster is complete, the Canadian Women's National Team will have played twenty official international matches in 2016 and all of them will have come against teams ranked higher and are headed to the Olympics in August.

"They're all so good and we have a lot to learn from them," says veteran defender Karli Johansen. "So when we do film review, we're not just looking at ourselves we can take things from them to learn and get better."

"We feel like we compete with these teams, and we do compete with them, but there are little things that make big differences."

It's little consolation but highly beneficial for a Canadian team that is on the rise.

And those intricacies are what the Canadian women have been working on implementing ahead of a busy and impactful year to come.

In 2017, Canada will host Women's World League Round 2 in the Great Vancouver area. The tournament is the first stage of 2018 World Cup qualification for Canada's women and is why the current year of competition against Olympic teams is important.

"It's a great time to be building and playing the best teams when they're leading up to the Olympics and when they're in their prime," says forward Nikki Woodcroft, who is in her first full year with the Senior National Team. "It's great competition for us and it's exciting to jump right into that and see what the highest level is."

But the Canadian women are not just along for the ride.

They proved that with a historic result at the 2015 Pan American Games, earning a medal (bronze) for the first time in 16 years.

That was followed up by an upset of higher ranked Korea at the Hawke's Bay Cup in New Zealand earlier this year, and a strong showing in Japan in a four-game series with the Olympic bound Japanese.

With the 2018 World Cup and 2020 Olympics on the horizon, Canada's women believe that is only the beginning of what is to come.

"Four years out from Tokyo (2020 Olympics) we are competing with these teams," Johansen adds. "So it gives me a lot of hope that next year and the year after we'll keep getting exponentially better – that's the goal and I really believe we can do it."

Field Hockey Canada media release


---

U16 National Championship – Day 2 Update

Tyler Klenk




Day two of the U16 Field Hockey Canada National Championships started off with a bang. With perfect sunny weather in Calgary, teams are coming into top form after the first day of competition.

The action kicked off with the men's competition, with BC taking on Quebec. The game began with a furious pace, with both teams creating chances in the oppositions D. A 26th min goal by Rajan Dhaliwal had BC ahead 1-0 at half. Strong push back from Quebec in the second half, and a 39th min goal by Isaac Farion brought the game to 2-1 in favor of BC. Both teams traded goals in the last 10 minutes which left the final score at 3-2 for BC

Game 2 featured BC White and Ontario Red in the girl's competition. Ontario Red came out of the gates strong, which forced the BC White girls to play some strong defense. In the 20th minute Samantha McCrory scored a beautiful field goal, which was quickly followed by a second by Rachel Buttinger off a well worked PC in the 26th minute. A late goal with 3 minutes' left in the game by Jenna Berger proved to be too much for BC White, as the game finished 3-0 for Ontario Red.

In the 3rd game of the day, BC Blue took on Ontario White on the girl's side of the competition. This was a battle for first place in pool B. BC Blue came out strong with a 10th minute goal by Tara Hamilton. With 8 minutes' left in the game, a well worked penalty corner lead to a goal by Kuljit Sahota. The score remained 1-1 which left both teams atop of pool B. They are set to face each other in a tie-break shoot out competition Friday morning.

The 4th match of the day was another game packed with action. It featured Alberta and Ontario Red on the boy's side. Alberta was able to open the scoring in the 3rd minute with a goal through Tanveer Kullar. They doubled up in the 15th with a well worked field goal. Ontario Red stormed back with goal in the 36th and 55th minute to bring the game level at 2. Seconds before the final whistle Vincent DeWaal made a beautiful run up the right side of the field around the outside of the defense which resulted in a sliding sweep him into the roof of the net. Alberta was victorious 3-2.

The fifth game of the day featured Ontario White and Quebec men. The first half proved to be a defensive battle, as both teams stood strong in the back field. With a half time score of 0-0, the teams came out strong in the 2nd pushing forward for the go-ahead goal. A goal in the 50th minute by Jeremie Fradette-Roy made it 1-0. The game finished 2-0 after a late 60th minute goal by Tristan Philippe.

Game six featured the battle of British Columbia. BC Yellow took on BC White. BC Yellow came out of the gates strong with a 4th minute goal from Leah Fourie. BC White was able to equalize quickly through a very nice flowing field goal from Anya Hermant in the 11th minute. The deciding goal came in the 21st minute as BC Yellow was able to find the back of the net off of a nicely worked penalty corner from Madeline Sherwood.

Next was game seven which featured Quebec and Ontario Red women. With Ontario Red in top form they were able to find the back of the net early with a 12th minute goal by Jenna Berger. With goals in the 13th, 18th, 26th and 29th minute, Ontario Red went into halftime with a 5-0 lead. In the second half Quebec put up and a defensive wall and held Ontario to 2 goals. Annabelle Murray had a standout performance with many top notch saves keeping the score close. The match ended 7-0 in favor of Ontario.

The final game of the day featured the hometown Alberta boys playing against BC. With packed stands behind the Albertans, came out of the gates flying and taking a 1-0 lead at half time. Some serious back and forth action created quite the spectacle I the second half. At the full time whistle the final score read

Pool standings after day 2:

Boys:

    BC                           7 points
    Ontario White     6 points
    Alberta                  4  points
    Quebec                 3 points
    Ontario Red        0 points

Girls: Pool A                                                   

    Ontario Red 9 points
    BC Yellow          6 points
    BC White              3 points
    Quebec 0 points

Pool B

T1. BC Blue                     4 points
T1. Ontario White          4 points
3. Alberta                         0 points

(BC Blue and Ontario White will do a shootout competition tomorrow morning to determine the pool standing)

Schedule for tomorrows matches – Friday July 22nd

 8:30am Boys – Ontario White vs Ontario Red
10:05am Girls QF1 – 1st B vs Quebec
11:50 Girls QF2 – BC Yellow vs Alberta
1:35pm Girls QF3 – 2nd B vs BC White
3:20pm Boys – Quebec vs Alberta
4:45pm Boys – Ontario Red vs BC
6:20pm Girls Cons– Loser QF1 vs Loser QF2

Field Hockey Canada media release


---

FIH confirms schedule for women's Hockey Junior World Cup 2016




The International Hockey Federation (FIH) is pleased to confirm the official match schedule for the women's Hockey Junior World Cup 2016 which will take place between 24 November and 4 December in Santiago, Chile.

Club Manquehue will play host to 10 days of high-speed, action packed hockey as the world's rising stars battle it out to be crowned junior women's world champions.

Hockey's best up and coming athletes will have the perfect stage to showcase their talent as they will play on a new field, built by FIH Certified Field Builder Revestimientos Sinteticos S.A, which has a top quality hockey turf playing surface produced by FIH Global Turf Supplier Polytan.

The pool stages will take place between 24-28 November before the classification matches begin on 30 November. The medal matches will then be held on Sunday 4 December, with the bronze medal match at 16:15 and the Final taking place at 18:30 (all times local).

Hockey fans will be treated to six fixtures on each of the first two days of action, followed by four matches per day for the remainder of the event.

The opening day of play sees Asian junior champions China take on Spain in the first match of the event in what should be a close encounter. Hosts Chile meanwhile will be hoping to get their campaign off to a good start in front of their home fans against European junior bronze medallists England in the last match of the day.

Day two features two exciting all-European matches, with European junior silver medallists Germany taking on France, and rising stars Belgium and Spain going head to head later in the day.

Super Saturday then follows, with the highlights including a showdown between commonwealth rivals England and Australia, while Germany and Argentina are bound to play out a fiery encounter.

African junior runners up Zimbabwe will no doubt find their toughest match against reigning champions Netherlands on Sunday 27 November, whilst it will be all to play for on the final day of pool action on the Monday.

Amongst the last matches, some tough challenges await Japan, who play Germany, and France, who take on women's Hockey Junior World Cup 2013 runners up Argentina.

To see the full schedule, including match times, click here.

Keep up to date with all the latest information about the women's Hockey Junior World Cup 2016 by following FIH on Twitter, Facebook and Instagram and visiting FIH.ch over the coming months.

#HJWC2016

FIH site


---

Analytic hockey camp to help overcome players' weaknesses: Junaid

LAHORE - Pakistan hockey team head coach Khawaja Junaid has said that the analytic hockey camp will certainly help in overcoming the players' weaknesses with a detailed analysis comparing their past and present playing acts and actions in crunch situations during the matches.

"It is like studying hockey by judging the past and present performance with a thorough analytic view with the help of audio video methods and special lectures," Junaid said after a training session on the third day of the week-long camp here at the National Hockey Stadium (NHS) on Thursday.

The former Olympian said that the Pakistan Hockey Federation (PHF) had taken such an initiative for the first time in the history of Pakistan hockey in order to rectify the grey areas of the players, setting aside traditional methods of physical training while switching to modern techniques to develop physical endurance with the help of aerobics and other techniques to add to their mental toughness.

Junaid said 42 probables had been attending the camp and taking keen interest to adapt the new methods of training which was a positive sign.

"We are imparting training to our players which is already in practice by the Holland football team and I am in touch with the technical staff associated with the Dutch team and getting their feed back by sharing my own players' performance.

I am optimistic that through this type of training, we will be able to lift the level of our players besides seeing a visible improvement in their physical fitness and mental toughness," he said.

The head coach said that the two-and-a-half-hour long aerobics strength training focused on enhancing physical fitness and muscle endurance as the traditional methods of physical fitness caused a lot of fatigue to the players.

"In the afternoon session, we have match practice in which we try to correct the individual mistakes of the players noticed during the previous matches and during the camp," he said.

Junaid said in between the morning and afternoon training, there were two exclusive sessions to analyze the performance of the players with the help of audio visual methods and lectures.

"We are trying to develop a culture of harmony when the players are in action to act accordingly during a crucial situation to utilize maximum number of the scoring chances which come across their way in a match besides beefing up the defence in case of a counter attack.

"We are teaching them hockey to create a new spirit among them so that they put in more hard work and show commitment and promise not to repeat their mistakes of previous matches in the coming games during the camp training," he added.

The former Olympian said the strength of the camp included the members of the senior team, stand byes players and a group of young emerging players who were also following a special diet plan in order to ensure their top physical fitness.

"It is a good experience that we are training with new concepts and we are updating the PHF authorities on its daily outcome and if necessary, the PHF will extend the duration of the camp," Junaid concluded.

The Nation


---

PM's generosity: National sport set for Rs50 million windfall

By Nabil Tahir

LAHORE: Pakistan Hockey Federation (PHF) has finally succeeded in convincing Prime Minister Nawaz Sharif to approve a mega Rs50 million grant, which it will use to organise a series of domestic tournaments as well as international tours for teams of all men and women age groups.

According to a letter sent by the Prime Minister Office to the Ministry of Inter Provincial Coordination (IPC), "This grant-in-aid of Rs50 million shall be provided to the PHF immediately in a single tranche from the funds allocated to the PSB, Ministry of IPC, in the budget for the 2016-17 financial year."

The PM's loosening of the purse strings did not come as a surprise as the PHF had been knocking on his door for quite some time.

As per PHF secretary Shahbaz Ahmed Senior, Rs10 million of the allotted funds will cover the expenses incurred on the recently concluded U21 team's training camp for their participation in the ongoing four-nation hockey tournament in Germany.

Another Rs16 million have been earmarked to send the U21 team to more European tours, including France, Spain and Belgium. The seniors, on the other hand, are scheduled to partake in the Asian Champions Trophy in Qatar later this year, and the tour's training in Lahore will be fuelled by the Rs16 million set aside from the aforementioned cash injection.

The remaining sum of Rs8 million will be spent on the training camp for the U18 team's trip to Dhaka, where the Youth Asia Cup will take place in September.

In addition to the international tours, the PHF's agenda also has the 29th National Women Championship, the Asian Women Hockey championship, an inaugural nine-a-side tournament in Karachi as well as the COAS Gold Cup Hockey Championship.

Once those are out of the way, the PHF also plans on holding several inter-district and inter-school tournaments to improve the infrastructure of hockey at grass roots.

The Express Tribune


---

Scotland's men continue to build towards World League One



Hamish Imrie

Scotland's men head for Lilleshall today (Thurs) for a series of training matches as they continue their build-up towards the World League, Round 1, in Glasgow in September.

Coach Derek Forsyth has a strong squad, which is up-beat following the recent success in winning the 90th anniversary tournament of the Polish Hockey Federation. There they drew with France and beat Poland and Italy, and on this occasion the squad face an English Development squad and two games against India under-21.

Forsyth can now call on Great Britain player Alan Forsyth, who plays for Surbiton in England, for the first time this season but Dutch-based striker Kenny Bain is attending his brother Adam's wedding and misses out.

The nucleus of the team remains and Forsyth has included several new faces to see how they play in a competitive environment.

Scotland's Dutch connection continues as it has been announced that Hamish Imrie has signed for Dutch side Schaerweijde with the 20-year-old Scottish international striker joining a multi-national squad. Imrie had an option to go to Nottingham Trent University and re-join former Grange coach Colin Clarke but has decided to try his luck in Holland after a year playing for Nottingham side Beeston.

Imrie's last game was in the English Cup final, which Beeston won, and he said: "The Dutch people spoke to me before Scotland went to Poland for three recent internationals. They noted my performance there and now I am very excited about going to live and play in Holland."

Imrie, a former pupil of Cargilfield School and Fettes College in Edinburgh, flies out for pre-season training in early August but confirmed that he will be available for the Scottish national side who are preparing for the World League in Glasgow in September.

Scottish Hockey Union media release


---

Sukma gold hopeful Sabrinah travels nine hours to play hockey

by Aftar Singh

KUCHING: Sabahan Nur Sabrinah Mohd Tan has to endure long hours of travelling just to play hockey.

The 15-year-old lives in a remote part of Felda Umas-Umas in Tawau and has to travel nine hours by bus to Kota Kinabalu to play hockey.

But she's not complaining.

"I love playing hockey and would do anything to represent my state in tournaments. Although I travel nine hours to Kota Kinabalu, it is worth the time and effort as I've been selected to play in Sukma," said Sabrinah, who was encouraged to take up hockey by her teacher Norhaimah Herman three years ago.

"I didn't make much progress in hockey due to the lack of facilities at my school in Felda Umas-Umas. So, my teacher Norhaimah encouraged me to travel to Kota Kinabalu to train on the Astroturf.

"It's not easy travelling long hours and most of the time I put up a night in Kota Kinabalu at my relative's house."

Sabrinah isn't too pleased with her performance in Sukma thus far.

"I failed to score in the first two matches against the Federal Territories and Pahang ... it shows that I lack the killer instinct. I still have a lot to learn, but I will try my best to score against Kedah tomorrow," said Sabrinah, who is third among five siblings.

Sabah lost 1-0 to the Federal Territories on Wednesday and 3-2 to Pahang yesterday in Group A matches.

The Star of Malaysia


---

Hockey wizard Mohammed Shahid laid to rest

Rajeev Dikshit

VARANASI: Thousands of people of the historical city and former Olympians bid last adieu to the hockey wizard Mohammed Shahid with wet eyes as he was laid to rest at Taktakpur graveyard on Thursday afternoon.

With the arrival of Shahid's mortal remain at his residence on Maqbool Alam road from Gurgaon on Wednesday night, hundreds of his relatives and admirers had gathered. With the dawn the gathering started to increase while many former Olympians including Jafar Iqbal, Ashok Kumar, Sujit Kumar, RP Singh, Shaqil Ahmed and Sardar Singh also visited there to offer floral tributes. Politicians from all political parties also paid homage to Shahid at his residence.

Around 12.45 pm Ashok Kumar and Jafar Iqbal wrapped the body with Indian tri-colour after which his last procession was carried out. This last procession was halted at police lines crossing to take the mortal remains of Shahid inside Dayam Khan mosque to offer Janaje-ki-Namaj and later it marched again towards the graveyard. Police had to divert traffic from Kutchehri Golghar, Pandeypur and Hukulganj crossing till the Shahid's funeral procession reached Taktakpur due to high number of participants.

The graveyard caretakers had made all preparations for burial before the mortal remains of Shahid reached at the Taktakpur graveyard located few hundred yards away from the same police lines ground, where Shahid had started playing hockey in `70s and also played his last charity match in 2011. Before the rituals of burial was performed UP minister Ram Sakal Gurjar, DIG range Sanjiv Gupta, district magistrate VK Anand and SSP Akash Kulhary also paid tributes.

Following some complication in stomach this former captain of Indian hockey team was admitted to Sir Sunder Lal (SSL) hospital in Banaras Hindu University (BHU) on June 25. When doctors noticed sharp deterioration in his health condition he was referred to Gurgaon based hospital on June 29. But, he died there during the course of treatment on Wednesday morning. He was 56. Shahid is survived by wife, one son, daughter and son-in-law.

Born on April 14, 1960 this master dribbler made his debut in junior team in 1979 to play in Junior World Cup in France and following his impressive performance in Aga Khan Cup he secured a berth in senior team in the same year. When Indian team won gold in Moscow Olympic in 1980 he played as center forward for his team. He was also the member of the Indian team that won silver and bronze medals in Asian games in 1982 and 1986 respectively. He got captaincy of Indian team in 1985. He received Arjuna award in 1980-81 and Padam Shri in 1986.

The Times of India


---

Thousands bid emotional farewell as hockey legend Mohd Shahid laid to rest

Many ex- hockey players paid their last respects.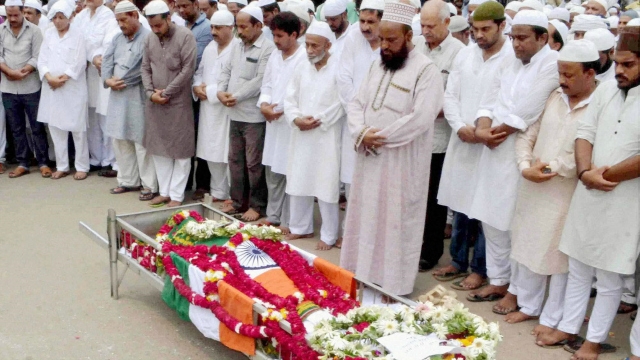 People offer funeral prayers for hockey legend Mohammed Shahid, in Varanasi on Thursday. (PTI)

The moment was poignant and there were tears in everybody's eyes as former Olympians along with thousansds of sports lovers bid final adieu to hockey wizard Mohammed Shahid as he was laid to rest at Taktakpur graveyard today afternoon.

With the arrival of Shahid's mortal remain at his residence on Maqbool Alam road from Delhi last night, hundreds of his relatives and admirers had gathered. Shahid's best friend Zafar Iqbal along with Olympians Ashok Kumar, Sujit Kumar, RP Singh, Shaqil Ahmed and Sardar Singh offered their tributes. Politicians cutting across party lines also paid homage to Shahid.
 


Image courtesy PTI

It was World Cup winner Ashok Kumar and best friend Iqbal, who wrapped Shahid's body with Indian tri-colour.The mortal remains was taken inside Dayam Khan mosque to offer Janaze-ki-Namaaz and later it marched again towards the graveyard. Call it irony, Shahid was laid to rest in Taktakpur graveyard, which is located few hundred yards away from the Police Lines ground, where a young talent bloomed and the veteran artist was at work during his last charity match on 2011.

The last rites were performed in front of UP minister Ram Sakal Gurjar, DIG range Sanjiv Gupta, district magistrate VK Anand and SSP Akash Kulhary.

DNA


---

Hockey legend Shahid remembered in Rajya Sabha

Former Indian hockey captain and leader of Biju Janata Dal (BJD) Dilip Tirkey on Thursday raised the issue of the late Mohd. Shahid in the Rajya Sabha and sought government assurance of support to his family.

Speaking during Zero Hour, Tirkey said Shahid was a role model for several generations of hockey players and recalled his contributions to Indian sports. Shahid was a member of the 1980 gold-winning team at the Moscow Olympics and considered one of the greatest players of all times.

"Except for cricket, we are forgetting our sports stars," said the MP and was supported by several members of the House.

"I think the entire House agrees with you," Deputy Chairman P.J. Kurien said, while MoS Parliamentary Affairs Mukhtar Abbas Naqvi said the government had taken care of the medical expenses and also announced a financial assistance of Rs. 10 lakh.

Tirkey also sought support for Shahid's family, saying they should not face any hardships. Shahid's son is still pursuing his graduation.

Congress leader Satyavrat Chaturvedi and several others wanted an obituary to the Olympic gold medallist to come from the Chair with Kurien assuring the sentiments would be conveyed to Vice-President Hamid Ansari, who is also the Chairman of the House.

The 56-year old Padma Shri and Arjuna awardee Shahid passed away on Wednesday.

The Hindu


---

Jimmy Walker

Scottish Hockey is sad to hear of the passing of Jimmy Walker. Hockey player; a Councillor and JP in Dundee; and a Sergeant in the Black Watch - Jimmy Walker was one of a kind.

Jimmy was a lively character in hockey and was hockey's first professional in Scotland when he became Director of the Administration of Men in 1980.

He was a goalkeeper with a playing career at Grove Menzieshill, and also at Dundee Wanderers just after war. He even played for a ladies mix teams at New Year!

He was Midlands Hockey President in 1975 and SHA president in 1978. He was also Midland District Secretary before becoming the last Midlands Hockey Association men's president.

Jimmy retired in 1985 after five years commuting daily Dundee-Edinburgh for hockey in Scotland.

Our thoughts are with Jimmy's family and friends.

Scottish Hockey Union media release