All the news for Thursday 21 July 2016

In a Close Hard Fought Contest, India Comes Back to Defeat USWNT in Second Series Game



Taken by Mark Palczewski

LANCASTER, Pa. - Another full crowd gathered at Spooky Nook Sports in Lancaster County, Pa. to see the U.S. Women's National Team face India in their second game of the Citi Rio Send-Off Series. The highly competitive match saw many USA scoring opportunities go unanswered as they fell to India by a score of 1-2.

"These games are really important for us in our preparation and in this final phase," said Craig Parnham, USWNT Head Coach. "It's important that we get to see teams like India, as we don't get to see them much. It's useful and allows us to try different things and the strategic differences have been valuable for us."

With possession starting off in Team USA's favor, the action quickly transferred into India's offensive circle where a skillful attack generated a backhand shot opportunity that was saved by Jackie Briggs (Robesonia, Pa.). A midfield ball transfer by Team USA led to Paige Selenski (Shavertown, Pa.) carrying play in the attacking circle allowing her to get a shot off that hit the outside panel of the cage. Play made its way to the opposite end of the field as India penetrated the circle but was met with a strong tackle by Julia Reinprecht (Perkasie, Pa.) who made the block to outlet the ball up the field. With possession switching, a composed Selenski found herself in a 1v1 situation with India's goalkeeper Savita but her shot hit the post. This opportunity was followed by Katie Bam (Blue Bell, Pa.) finding space for a reverse shot that went wide. Working hard to generate scoring chances, Selenski beat two defenders to again find herself in a 1v1 situation with India's Savita who came up big to make the save. This play finished out the first quarter with a score of USA 0, India 0.

Eager to make the most of goal scoring opportunities in the second quarter, Team USA's forward line continued to press and close off passing channels to deny India forward ball movement. The urgency paid off as the USA was awarded their first penalty corner of the game in the 11th minute. Off the top unit, Michelle Kasold (Chapel Hill, N.C.) delivered the ball to the reverse stick of Jill Witmer (Lancaster, Pa.) who converted to put Team USA up 1-0.

Cohesively USA's midfield and defense continued to shut down India's forward threats limiting play inside their offensive 25 yard line. The defensive discipline led to a chance for forward Alyssa Manley (Lititz, Pa.) who tested Savita with a quick reverse shot that went just wide of the target. As possession was shared in the middle of the field, the clock ticked down for the halftime score to report as USA 1, India 0.

Starting off the third quarter strong, Team USA earned a penalty corner in the 33rd minute looking to extend the scoring margin but a mistrap led to no result. India took possession and threatened forward testing USA's defense with constant pressure. Staying strong, Team USA regained the ball and pushed it forward where Kelsey Kolojejchick (Larksville, Pa.) worked hard to generate attack in the circle.

Continuing to push forward, Katelyn Falgowski (Landenberg, Pa.) made an interception in the middle of the field where she bumped it to Kat Sharkey (Moosic, Pa.) who threaded it through just outside of Katie Reinprecht's (Perkasie, Pa.) reach. India quickly transitioned down the field to earn their first penalty corner of the match in the 44th minute. After the first attempt was blocked by a USA defender, India was awarded a second penalty corner where Preeti Dubey converted on a straight strike to find the equalizer and make it USA 1, India 1 just before the end of the third quarter.

Tied going into the fourth quarter both teams knew that possession was valuable to finish out the game. In the 48th minute, Caitlin Van Sickle (Wilmington, Del.) was awarded a green card giving India a player up advantage. India used the situation to their benefit as their constant ball movement and pressure allowed them to penetrate USA's defensive circle multiple times. The build-up lead to a penalty corner for India in the 55th minute where Lilima Minz converted by hitting the backboard to get the game winning goal and make the final score USA 1, India 2.

In their first match-up against India, the U.S. Women's National Team withstood India's comeback to secure a 3-2 victory. The USWNT will play their final match on United States soil on Tuesday, July 26 before heading to Brazil. This last match of the Citi Rio Send-Off Series will be against Canada at 6:30 p.m. EST. This game will be streamed live on usafieldhockey.com. Tickets for this game will be available for purchase by cash or credit card at the door.

The theme for Tuesday's match is Rio Send-Off Night. We encourage everyone in attendance to embrace the culture and dress in their best Brazilian get-up. Be festive and wear Brazil's colors before the USWNT heads to Rio.

USFHA media release


---

USA field hockey's 2-1 loss to India provides learning experience before the Olympics

Lancaster County's Jill Witmer scores for Team USA in Rio Send-Off Series

DIANA PUGLIESE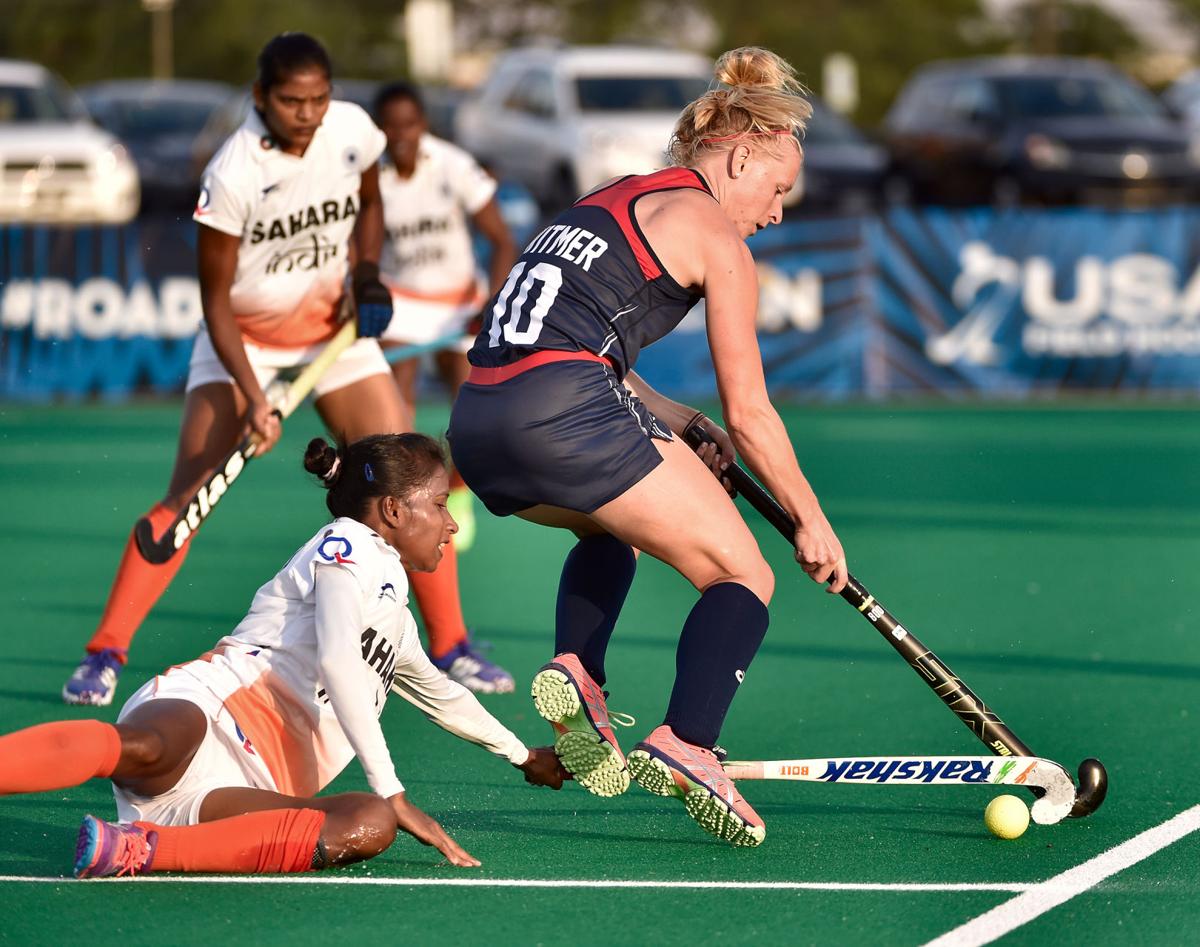 Jill Witmer of the United States field hockey team was tripped up by India's Nikki Pradhan on Wednesday July 20 2016. Suzette Wenger

As the final seconds began to tick off the scoreboard at Spooky Nook Sports on Wednesday, "U-S-A" chants broke out from the crowd as the fans tried to will the United States women's field hockey team to victory.

Team USA took a 1-0 lead over India in the second game of the Rio-Send Off Series, but the visiting squad came back to earn a 2-1 win in the final meeting between the two teams before the Rio Olympics.

While the final score wasn't the result U.S. head coach Craig Parnham and his squad were looking for, the night still provided some positives.

"I'm not going to stand here and say we want to go out and lose games — we don't enjoy it, we certainly don't want to aim to do that — but there is a lot of learning from each experience," Parnham said. "Today we tried a couple of little things that were new to us. There was a great deal of learning in that game for us and, beyond the scoreline, there were some really good moments and some big opportunities for us to learn and develop from a team that we're going to see in a few weeks in a game that matters."

With India's victory, the teams split their two meetings this week.

The U.S. won the first game 3-2 on Monday night behind goals from Kat Sharkey, Katie Bam and Kelsey Kolojejchick.

Team USA and India will face off again Aug. 11 in pool play at the Summer Games in what could be a very closely contested game, if Wednesday's match is any indication.

Play remained between the 25-yard-lines for the first five minutes before India rallied off a trio of shots, but goalie Jackie Briggs was there for a pair of big saves.

Team USA's offense turned up the pressure in the final minutes of the period but could not connect.

Former Penn Manor standout Jill Witmer found Paige Selenski near the left post, but the shot bounced off the outside of the cage. Selenski had another opportunity four minutes later, taking a pass from Katie Reinprecht, but her shot clanged off the crossbar.

Reinprecht used her speed to split two defenders on her way to India's cage with just 2:30 left in the opening quarter, but the period ended without a score after a save from Indian goalkeeper Savita Punia.

It didn't take long for Team USA to get things going in the second, earning the night's first penalty corner 3:52 into the frame.

Michelle Kasold took the insert and fired toward the goal where Witmer was waiting to deflect the ball up and into the cage for a 1-0 lead.

As the half drew to a close, Warwick graduate Alyssa Manley launched a reverse shot on goal, but the attempt went wide, keeping it a one-goal game at the intermission.

"We practice that corner a lot," Witmer admitted of her goal. "I have so much trust in Kas, who's delivering it, so all I do is just put my stick down and, yeah, the ball went in the net. That's all we need."

Through the majority of the third quarter, it looked like that was all Team USA would need to close out the game, but India came back to capitalize on a penalty corner with just 52 seconds on the clock.

India's first corner was blocked by the U.S. defense, but the visiting squad was awarded a second attempt and Pretti Dubey fired a straight shot into the back of the net to tie the game at 1-1 heading into the final 15 minutes.

India's Lilma Minz, standing unmarked by the left post, broke the tie on a penalty corner with 4:55 on the clock, and Team USA was unable to find the equalizer.

"They're just really good with getting touches on the ball, " Witmer said of India, "but we definitely had a little different game plan — we were doing half-court press. We get a lot of buzz from our pressure up front and so we just had a couple of different things we're working on."

The two games against India — and the Rio-Send Off Series finale against Canada set for Tuesday — give the Americans the opportunity to work on their game while getting ready for the stiff competition awaiting in Rio.

"We can't take any team lightly," Witmer said. "We just have to keep going and go all out."

Lancaster Online


---

Indian eves register come-from-behind win over USA

NEW DELHI: India women's hockey team fought valiantly to register a 2-1 come-from-behind win over hosts USA in their second game of the America tour in Manheim, Pennsylvania.

Both Indian and US girls played out a goal less first quarter with neither able to breach the rival defense and create openings.

But USA took the lead four minutes into the second quarter a Jill Witmer's (19th minute) penalty corner conversion.

The Indians went into half time trailing 1-0.

But the Indian eves came out stronger in the second half and started creating inroads into the US defence, constantly breaching the circle via the flanks.

Their efforts bore fruit in the final minute of the third quarter when Preeti Dubey scored the equaliser by converting a penalty corner.

With one quarter left to play, the game was evenly-poised, presenting both teams with an opportunity to take home the victory.

India constantly kept the pressure up in the final quarter and in the 55th minute Lilima Minz scored from another set piece to give them the lead, which they held on to record their first victory of the tour.

India had earlier lost 2-3 to USA in the first game of the tour, their final preparation before flying out to Rio de Janeiro for the Olympics, starting August 5.

India next play Canada tomorrow.

The Times of India


---

Dutch defeat for England U16 Girls



England U16 Girls anthems,

Unforced errors cost England Under-16 Girls dear as they lost out to the Netherlands in the third match of the Osaka Six Nations Tournament in Antwerp, Belgium, on Wednesday afternoon.

Clinical play from the Dutch saw them capitalise on errors almost all of the time, and although England battled hard to find a way back into the match they couldn't find the net.

"The unforced errors in the first half led to the Dutch scoring every time," said Head Coach Marc Bourhill. "In the second half we played much better and there was a tremendous performance from captain Fiona Crackles who led by example and worked hard throughout.

"Despite the defeat some of the players have said that they took a lot from it and will move on and learn from the experience."

Floor de Haan put the Netherlands ahead after just three minutes from a penalty stroke, and further goals followed – all from open play – from Noor Omrani on 20 minutes, Tess Niessen on 22 and 34 minutes, Amber Exechields on 28 minutes.

England's defence tightened up somewhat after the half time break, but the Dutch extended their lead through Anne Tukkers on 51 minutes and Exechiels again on 54 minutes.

After a rest day on Thursday, England Under-16 Girls are back in action at midday on Friday against Ireland.

Netherlands U16 Girls 7 (5)
England U16 Girls 0 (0)

England Hockey Board Media release


---

England beat Dutch after penalty drama



England U16 Boys PC defence

Goalkeeper Luke Brownlee's final save in a dramatic penalty shootout helped England Under-16 Boys snatch victory over the Netherlands in the Osaka Six Nations Tournament in Antwerp on Wednesday.

After going behind to the Dutch after just ten minutes, England battled back well to level at 2-2 and forced the game into a penalty shootout, where they took the win 4-3 after ten rounds of shuffles.

"Obviously I'm very happy with the result again," said Head Coach Jerome Goudie. "It is becoming a trend to come back from behind and we've maintained our ability to do that, but also to get back on level terms to stay there.

"The forwards worked really hard to disrupt the Netherlands defenders, turning the ball over on several occasions which really helped to give us momentum during the game."

Jim van de Venne scored from the left of the circle for the Netherlands after just ten minutes, and although England fought well and created good chances they were still trailing at half time.

However, they made a breakthrough in the 52nd minute, Stuart Rushmere scoring from open play with a shot from the left of the circle which he lofted over the goalkeeper with a reverse stick effort.

But it was only three minutes before the Netherlands retook the lead, Valentijn Charbon scoring with a drag flick at a penalty corner.

However, battling England had Finley Newton to thank as he scored on 61 minutes at a penalty corner to level the game.

And so to the penalty shootout, and England goalkeeper Luke Brownlee made several good saves, leaving the Netherlands having to score to stay in the match. But Brownlee made the final stop, securing the win.

With a rest day on Thursday, the next match for England Under-16 Boys is on Friday afternoon when they take on Ireland.

Netherlands U16 Boys 2 (1)
England U16 Boys 2 (0)

England win 4-3 on penalty shootout

England Hockey Board Media release


---

Stats Speak:  know the teams  in the Rio Olympics (part-4)

By B.G.Joshi (Sehore-Bhopal, India)

Renowned hockey statistician B.G.Joshi have compiled stats and records on all the 24 competing teams  in Rio Olympics. Today he is providing stats and records of Great Britain and South Korea- two women teams.

7.0 Great Britain (GBR)
Pool: B
World Ranking:07
Title:Europeans Cup Champions(London-2015) .
Coach: Danny Kerry
Captain: Kate Richardson-Walsh
How Qualified: 1st  in Valencia HWL(2015) and Europeans Cup Champions(London-2015) 
Appearances: 6, 2 Bronze(1992,2012),twice 4th (1988,1996),once 6th(2004),once 8th(2000)
Records: P-W-D-L-GF-GA- 37-15-7-15-62-62
Head to head versus pool competitors in Olympics:
| | | | | | | |
| --- | --- | --- | --- | --- | --- | --- |
| Great Britain vs. | MP | W | D | L | GF | GA |
| Argentina | 5 | 2 | 1 | 2 | 9 | 5 |
| Australia | 3 | 0 | 0 | 3 | 1 | 5 |
| USA | 3 | 1 | 2 | 0 | 3 | 2 |
| Japan | 2 | 2 | 0 | 0 | 6 | 1 |
| India | 0 | 0 | 0 | 0 | 0 | 0 |
Biggest ever win: 5-0 vs. Argentina  in 1996
Worst defeat: 0-5 vs. South Korea  in 1996

8.0 South Korea (KOR)
Pool: A
World Ranking:08
Title: Asian Games Champions(Incheon-2014).
Coach: Han Jin Soo.
Captain: Kim Jong Eun.
How Qualified: 2nd in Antwerp HWL(2015) and Asian Games Champions(Incheon-2014)
Appearances: 7,2 Silver(1988,1996),once 4th(1992),once 7th(2004),once 8th(2012),twice 9th (2000,2008)
 Records: P-W-D-L-GF-GA- 42-16-6-20-92-89.
Head to head versus pool competitors in Olympics:
| | | | | | | |
| --- | --- | --- | --- | --- | --- | --- |
| South Korea vs. | MP | W | D | L | GF | GA |
| Netherlands | 5 | 2 | 0 | 3 | 11 | 10 |
| New Zealand | 2 | 1 | 0 | 1 | 7 | 3 |
| China | 2 | 0 | 0 | 2 | 1 | 10 |
| Germany | 5 | 2 | 0 | 3 | 10 | 11 |
| Spain | 4 | 1 | 1 | 2 | 4 | 4 |
Biggest ever win: 5-0 vs. Great Britain in 1996 and 5-0 vs. New Zealand in 1992
Worst defeat: 1-6 vs. China in 2008

Fieldhockey.com


---

Chasing The Dream with USWNT Athlete Emily Wold




The click of a camera cues Emily Wold for action.

Diving on the turf for a photo-finishing touch.
Dodging around a defender with flair.
Ducking into the background of a perfectly positioned selfie with a bold, mischievous grin.
 
TODAY Show's Matt Lauer even gave a nod to Wold's stealthy talent, claiming she won the "gold medal award for the best photo bomber ever." But it doesn't stop there.

Wold was able to successfully snap a picture with every country at the 2014 Rabobank Hockey World Cup in The Netherlands and the 2015 Pan American Games in Toronto. What started out as a challenge posed by a staff member to snap and share a smile with other international athletes, turned into cultural connections allowing Wold's undeniable cheerful nature to shine through. But anyone who knows Wold would say this isn't out of the norm. She accredits her perpetual state of happiness to genetics.

"My mom can walk into the room and make anyone feel an immediate sense of happiness," said Wold. "Her positiveness is contagious. Over the years, I've picked up on that to and try to carry the same mindset with me. I constantly challenge myself to seek the good in everything. Life has so much to offer. Why not be happy?"

Wold's breezy, laidback personality pairs wells with long standup paddleboard sessions, exploring cozy caffeinated coves and handling an intense amount of pressure that comes with being part of the U.S. Women's National Team.

The midfielder from Freehold, N.J. isn't new to the international stage. Joining Team USA in 2013, Wold has helped the team earn gold medals for the USWNT at the 2015 Pan American Games in Toronto, Canada and at the 2014 Champions Challenge in Glasgow, Scotland where she was named Rookie of the Event. She was most recently part of the squad that secured bronze medals at the women's Hockey Champions Trophy 2016 in London. As an University of North Carolina athlete, she was recognized as a 2015 first-team All-America, received first-team honors three times in her career and, as a result, is the sixth player in program history to be named three or more times. Wold was also the 2015 ACC Championship MVP. She made All-ACC selection in all four years and is just the 13th player in conference history to be a four-time pick and finished her career third on the Tar Heels all-time assists list.

Tracking further back into Wold's playing portfolio at Freehold Boro High School, she was dubbed a two-time All-America and all-region selection and helped her team to two state titles. She holds school records career goals, career assists and most goals in a season. In her earlier days of competing in grade school, Wold started wearing jersey number 9 because of her soccer idol Mia Hamm. Switching from soccer to hockey, she kept the same number through college in honor of UNC alum, USWNT athlete and Olympian, Rachel Dawson. Dawson allowed her number to come out of retirement so the promising talent would be able rock 9 on the back of her jersey.

"I obviously thought so highly of her," said Wold. "To me she was the face of field hockey. At one of my Junior High Performance practices, Rachel showed up and I was star struck and asked her to sign my shin guard. There's still no shame behind it. It's unbelievably cool to be how we're teammates now."

A family forged through a common passion and goal training at the most elite level of the sport has an addictive quality that, to this day, still holds Wold's attention and heart.

"Playing field hockey at this level gives you this intense natural adrenaline rush that isn't comparable to anything else out there," said Wold. "That alone is enough to keep me coming back for more."

And the USWNT is a stronger program because of the dedicated individuals like Wold lay it all out on competition day and every other day in between.

USFHA media release


---

India's Rio Dreams: Devinder Walmiki, the Hockey Trump Card

Jaspreet Sahni



(Photo Credit: Hockey India)

When Yuvraj missed the 2012 London Olympics due to injury, gloom descended upon the Walmiki household that always wanted its two sons – Devinder being the other – wear India colours on the field of hockey.

On July 12, at the announcement of Devinder's name in the squad for Rio Olympics, a tear must have rolled down the cheek of Yuvraj, who will now see himself in his younger brother wearing heart on sleeve for the nation at the biggest stage for any athlete.

Life has come full circle for Devinder whose flourishing career was once forced into wilderness for participating in the unsanctioned World Series Hockey (WSH). But the moment he struck a goal on debut for the senior team in Belgium last year, the junior Walmiki was on his way.

His team-mates at the club he played for in Germany called him 'Miki', but he prefers sticking to Walmiki, for he wants people to know that he is the younger brother of Yuvraj Walmiki.

Since the 2015 Hockey World League semi-finals in Antwerp, Devinder has cemented his place as an attacking midfielder, who creates space out of nowhere with his exceptional off-the-ball running.

In a team that rests largely on the shoulders of skipper PR Sreejesh (goalkeeper), VR Raghunath and Rupinderpal Singh in defence; Sardar Singh and Manpreet Singh in the midfield; and vice-captain SV Sunil and Akashdeep Singh in attack, Devinder could well be the trump card up the sleeve of coach Roelant Oltmans.

Devinder, along with defender Harmanpreet Singh, are two players who have come up the ranks over the 12 months and have earned a place in the Olympics squad on the weight of their skill and performance. And like others on the flight to Rio, their confidence has also sky-rocketed after India's historic silver medal at the Champions Trophy last month.

Fine-tuning his preps in Bengaluru before the teams flies to Rio via Spain, Devinder said News18 that the ecstasy over selection has sunk in and he is now fully focused on oiling himself for the Rio extravaganza.

Excerpts:

At last, a Walmiki will represent India at the Olympics. How big a relief is that?

Yes. This is the greatest moment of my life as after 14 years one boy from the Walmiki family will represent India at the Olympics. Everyone back home is very excited and happy. I know they will be waiting to watch the matches that begin on August 6.

For sure, Yuvraj was the first person you spoke to after getting selected. What did he have to say?

When the team was officially announced, the first call I made was to my brother, Yuvraj. When I gave him the good news, he was very happy and proud of me. It was his dream that I fulfilled. He had missed out on representing the nation in the London Olympics 2012. All he desired was to see me in the team. I had made a promise to him that I will get selected and this was the best gift I could ever give to my brother.

Is Yuvraj your critic as well?

Yuvraj has been my mentor from day one, ever since I started playing hockey. It is because of him only that I picked up hockey as a career. When I got into the junior camp or even the senior camp, we would always discuss my performance, areas of improvement. Though he played the role of a critic well, he always made sure I took any negative comments in my stride. His guidance has taken me a long way and has always helped me better my game.

You are the only Mumbai player in the squad. What has been the reaction back home?

It is a big event and a huge feat. It's a dream come true. It's not just people from Mumbai who are wishing me but supporters of hockey from across the globe are sending me messages on social media. It's very encouraging to know we have garnered this kind of support.

My friends and family always supported me. They kept me going. I was very disappointed and dejected when I missed the 2013 Junior World Cup. I was very sad. I didn't think I would have a future in hockey, but my family kept me motivated and always said the opportunity will come. I will never forget the line they often said to me -

"Be a fighter, not a loser. With this attitude, you can always achieve." Now that I am in the team, I feel really proud to be rubbing shoulders with some of the senior players I once looked up to.

What is your biggest strength on the hockey field? Jagbir Singh once said that Devinder's off-the-ball running is superb and he could be India's surprise weapon in Rio.

(Smiles) I should thank him for that. If I keep my cool and stay calm on the field, I can surprise anyone. When I get the opportunity, I can score. I think that is my biggest strength.

Many past Olympians have considered first appearance at the Olympics as the toughest, because the stage is much bigger than what a debutant expects. How do you plan to approach this challenge?

I think it's their perception. For me, there is no pressure. I motivate myself all the time. I tell myself - I can do it. Pressure in big games is always there, but I enjoy that pressure. The coach and psychologist also say that we must enjoy the pressure on the field and not let it affect us negatively.

You have been part of the upswing in Indian hockey where we are now No. 5 in the world today. What according to you made this happen and what's needed to reach the top three?

The way we are going now, we are on the right track. We have worked step by step and the work is still in progress in all areas. The idea is to keep it simple and stay focused. The team has bonded over the years and that's worked well for everyone.

When Sreejesh was captain in the Champions Trophy, he would always tell us, "Be free, be jovial, never think seniors or juniors. You can talk to me and joke with me." Our team bonding is that strong. There are times mistakes happen on the field but they are always encouraging us. That's how even we as juniors feel confident and take equal ownership of the overall game performance. These factors have resulted in us climbing up to No. 5 in FIH Rankings. It is a great achievement and I am sure we will escalate to higher rankings soon.

Let's end it on a routine note with the questions many must have already asked you. But let me put it this way: Is the team thinking of a medal in Rio?

I think the way we played in the FIH Champions Trophy, people have started believing in us and I think if we stick to the plans coach (Oltmans) has for us and manage to execute them, then we can do some wonders in Rio.

News18


---

Kayla Whitelock confident in Black Sticks' Olympic medal chances

SHAUN EADE



Kayla Whitelock will bring up 250 games for the Black Sticks at the Rio Olympics. ANDREW CORNAGA/PHOTOSPORT

After taking lessons from their fourth-place finish at the London Olympics, Black Stick captain Kayla Whitelock is confident that her fourth Olympics campaign is her the best chance to claim her maiden medal.

Whitelock, 30, was in positive spirits as she prepared for of the Black Sticks' departure for Rio on Friday.

That is despite New Zealand winning just one game and finishing last at the Champions Trophy in London last month.



Kayla Whitelock believes the Black Sticks' team for the Rio Olympics has the best chance of a medal since her debut in 2003.
ANDREW CORNAGA/PHOTOSPORT

"We know that we did not play that well, but we out-stated every opposition except the Dutch in terms of attacking circle penetration and then goal shots," she said.



Kayla Whitelock with her daughter Addison. PHIL WALTER/GETTY IMAGES

"We know that we have the potential and it is just about making sure that we are on the right page and going over our structures again. We know that we can create opportunities, but it is just about finishing them off at the Olympics."

But it was memories of another London tournament, the 2012 Olympics, that have been key to the Black Sticks' build up this year.

The Black Sticks pushed the Netherlands to a penalty shoot-out in the semifinal only to lose.

They then lost to Great Britain in the bronze medal match to finish an excruciating fourth.

"You learn from your experiences," Whitelock said. "We went into London not really expecting to make the top four. I don't think anyone expected us to make the semifinals, not even ourselves really.

"Now we have been in those situations... so we have learnt from them. We know what it takes to win and our mindset heading into this one is that we are going in there to be in the top four and to have a chance to win a medal."

Whitelock, who has already earmarked the tournament as her swansong from international hockey, will also have the chance to bring up her 250th game for New Zealand - she has played 247.

She debuted for the Black Sticks in 2003 and was part of the team for Athens in 2004, Beijing in 2008 and London in 2012 leaving her among the most experienced athletes in the entire New Zealand Olympic team.

That has allowed her to help give advice to some of the younger players in the Black Sticks squad.

"We have talked about situations and not getting caught up in the atmosphere of the Olympic games," she said. "It can be quite daunting but also quite exciting at the same time, so it is just about getting that balance right.

"It is important to remember what you are there to do and that is to play hockey and to try and win a medal."

It was very different back in 2004 when Whitelock, then known as Kayla Sharland, was part of a relatively young team.

"I was just 18 so I just followed along and did what I had to do and followed the older girls. It was a massive experience, the atmosphere was pretty cool and I guess I did not really appreciate at the time.

"I have learnt new things from every Olympics I have been to. But I think this group has the most potential going forward."

Whitelock took time away from the game for the birth of her first child, Addison, last year.

She said time has flown by since she returned to the Black Sticks.

"For me it feels that [the Olympics] has crept up quite quickly," she said. "I just started back with the team in January so it has been a quick six months. But I am really looking forward to getting over there now and getting into it."

The Black Sticks set off for Argentina on Friday for two warm-up matches, before they head for the Olympic village.

They are ranked fourth in the world.

Stuff


---

Avtar says Indians were scared at Munich

K. Arumugam




MUNICH Olympics is a watershed one in the annals of field hockey: a Non-Asian winning the gold after 1920, Indians missing out the final second time in trot, and a medal winning entire Olympics team (Pakistan) banned for misconduct.

One man who saw everything hapening not on the stands but being part of the playing community is Avatar Singh Burji.

typically an Indian, of Sikh hockey provenance but representing an African country in Munich!

Avtar, 70, now lives in London, was one among the eleven Indians in the Uganda team, only outfit that drew ultimate winners West Germany.

Then of buzzing 20+, the midfielder saw history unfolding for Europe, humiliation coming to giants of the day India and Pakistan.

He vividly remembers every moment of Munich as if it all happened the other day.

India was a good side. They were equal to Pakistan in every department in the semis. But I observed they were a bit scared of their reputed rivals, Pakistan, i must say, asserts Avatar.

For instant, Indian left half Harmik Singh, who was also leading the side, was completely off colour that day. He was excellent in form till then. His lack of form helped Pakistan launch numerous raids from the right, which proved the Indians undoing.

I was playing left-half that's why i observed him very minutely and closely, and still remember every moment, says Avtar with a pain in his eyes.

He was obviously sacred of his rival team, i thought then" Indian forwards on the other hand, right winger MP Ganesh was penetrative, so also BP Govinda. Young Ashok Kumar was shaping up, his individual game was not good for the team.

He used to run diagonal with the ball, kind of runs that bypasses many other field positions and somehow spoils the show".

The Indians should have been more aggressive and asserted by they nurtured a fear against defending champions and thus lot the semis with a slenderest of margins.

I feel the penalty corner given against Pakistan which turned out to be the lone goal is definitely controversial.

The Germans were not straight in taking the penalty. They delayed the push. Pakistanis were made to rush out before the push, and twice push retaken. Its umpiring oversight or mistake. Pakistan definitely felt cheated.

Their behaviour during the victory ceremony was distasteful. I saw Shahnaz Sheikh dropping his medal to his leg, which did not escape many eyes. Then every other Pakistan player also did the same. It was a shameful conduct from any team

Many years later too I observed him in a same predicament of different kind.

He was manager when Pakistan players allegedly misbehaved with chest thumping after defeating India at the Bhubneswar Champions Trophy.

He must have known the consequence of such acts of misconducts, still allowed things go the way they went in India.

Avtar, who is often called Surrey Icon as he played for the County side for seven fruitful seasons, carving a niche for himself before migrating to Kenya.

Avtar in his 70s is still active, coaching Clubs and then finding new moorings in press photography.

Stick2Hockey.com


---

Four-nation hockey tournament: Pakistan Colts to face Germany today

By Nabil Tahir

KARACHI: Pakistan's junior hockey team is set to face reigning world champions Germany in the opener of four-nation tournament today in Hannover, Germany.

The youngsters in green, who have qualified for the Junior World Cup, are led by the talented Dilber Hussain, who is confident that they will give a tough time to Germany.

"We have always been a surprise package," claimed Hussain while talking to The Express Tribune. "Although our senior team — of which I was a part as well — failed to qualify for the Olympics, the new talent of the U21 team has really impressed the coaches and officials of the Pakistan Hockey Federation."

He added that out of the training camp's big pool to choose from, the fittest of the lot were selected for the tournament.

"The players did not waste time in Ramazan and kept practicing in their respective hometowns," said Hussain. "I'm optimistic that they will not only perform well at the tournament but will also learn from other teams and prepare themselves for the World Cup."

The 20-year-old shared that the legendary Shahbaz Ahmed Senior, who is now the secretary of PHF, was his first inspiration as a player. "I've always loved the way Shahbaz Senior used to play and tried to learn from him a lot. Although he is the secretary now, but he still gave useful tips and motivation that eventually led me to be chosen as captain of the team."

Hussain further said that his current role model is former senior team captain Muhammad Imran. "I've played under Imran for several years, he's seen and experienced both old hockey and new and I've learnt a lot from that knowledge."

The Express Tribune


---

Varsity Hockey flavor to SA U21 Men's Hockey team heading to Junior World Cup




Thirteen of the 18-man squad announced for the Junior Hockey World Cup in India this December, are Varsity Hockey players. The SA U21 side will face the likes of Canada, Australia, Spain and Argentina in the competition and will be led by Varsity Hockey's winning coach, Garreth Ewing of UJ.

Three Tuks players and four Maties players made the squad, while 2016 Varsity Hockey champions UJ boast an impressive five players. Garreth Ewing is confident that his side can go further in the tournament this year and had high praise for the role that Varsity Sports has played in preparing the young players.

"I'm very happy with the strength and balance of the World Cup team," said Garreth Ewing. "All but one of whom is currently a full-time university student. Thirteen of those competed in Varsity Hockey. This emphasizes the importance of university teams to South African hockey, as a breeding ground and "finishing school" for future senior national talent."

The strong UJ contingent in the squad, under the guidance of their university and national coach, Ewing, will bode well for the team's cohesion.

"It's been an advantage to me having five boys from UJ in the team," said Ewing, "because I obviously get to work with them on a regular basis, but also because my two main flickers (Kyle Lion-Cachet and Courtney Halle) get to work on their skill as a team at UJ. They will be very important to our set piece at the Junior World Cup so it's great that they can spend time together.

"It's a healthy situation for us that nearly all of my team have played the high level of competition that Varsity Sports, and the recent USSA tournament offers to student-athletes. I know how they will cope under pressure because I've seen firsthand how they deal with the stress of competition, and as a result I have a good idea of their strengths and weaknesses."

The competition begins on 8 December, 2016 in India.

U21 squad representing SA at the 2016 Junior Hockey World Cup:

Robert McKinley Maties
Siyavuya Nolutshungu
Kyle Lion-Cachet UJ
Courtney Halle UJ
Jayson Reed
Tylo Remke
Ryan Julies
Matthew de Sousa Maties
Charles Bowren Maties
Alex Stewart Maties
Nduduzo Lembethe Tuks
Tyson Dlungwana UJ
Khumo Mokale Tuks
Ryan Crowe UJ
Nqobile Ntuli
Walter Pfaff UCT
Tevin Kok Tuks
Amkelwe Letuka UJ

Coach: Garreth Ewing UJ

Varsity Sport media release


---

Can the PSL format revive Pakistan hockey?

Irfan Waheed

I remember the time Pakistan was at the pinnacle of four different sports. It was a brief sliver in its tumultuous history, but it filled the people of this country with pride, and actually gave us something to enjoy when we turned on the TV.

This was long before the cacophony of shrill media outlets rudely awakened Pakistan from its slumber.

In those days, the poor among the awaam wondered why TV sets had more than one channel (PTV), and the rich among the awaam wondered why TV sets had more than four channels (PTV, Atari, VCR, and Doordarshan on a calm night).

At least one of these channels could be trusted to broadcast the therapeutic and calm-inducing PTV. The year was 1995. The 9pm khabarnama — probably the state-run network's biggest draw — anchored the entire nation.



Hassan Sardar dribbling past a Russian player during the 1986 World Cup in England.

I remember watching the khabarnama to get the latest updates on sports. The lead-in to the sports report always featured a four-way split screen — the winning moments from Pakistan's four triumphs broadcast in each.

Exultant Pakistani sportsmen celebrating their cricket, hockey, squash and snooker victories were shown on PTV, and they were viewed daily by millions of people across the land.

It was a purple patch — the likes of which can perhaps never be met again. Needless to say, it instilled great pride amongst people to hold four world titles in a diverse set of sports. For all of us, being Pakistani meant being champions on a global scale.

A missed opportunity

For the powers that be, it would have been the perfect opportunity to capitalise on the unprecedented rise in athletic success by strengthening the grassroots infrastructure for each one of these sports.



Front page of DAWN announcing Pakistan's victory in Rome (1960).

We should have built professionally-run institutions to harness the talent oozing in the streets and trained young unknown athletes to become heroes.

True to form, we did not miss an opportunity to miss an opportunity.

We let the moment slip, focusing on individual personalities and hero worship, rather than establishing sustainable institutions capable of empowering teams and delivering future champions.

While the decline in Pakistan's cricket fortunes has been awful and dizzying, public interest in cricket still hasn't eroded enough to banish the game into irrelevance.

Hockey, on the other hand, has been a different story.

Pakistan's national game

Wikipedia will tell you that hockey is still Pakistan's national sport. If you saw the pathetic performance of Pakistan's hockey outfit — a four-time World Cup champion failing to qualify for the most recent World Cup — you could be excused for breaking into a fit of chuckles.



1978 World Cup winning Pakistan squad.

For those who wish to see the men in green once more setting AstroTurf on fire across the globe, introspection would probably be more appropriate.



Pakistan captain Islahuddin receiving the World Cup from Lt.-Gen Jorge Rafael Videla, President of Argentina, after Pakistan's 3-2 victory over Holland in the final of Buenos Aires on April 2, 1978. — Dawn Archives

Back in hockey's heyday, Shahbaz and Wasim Feroze were household names. A coordinated dribble down the left flank by Wasim was a sight to behold. And I will never forget Shahbaz shooting across the field like lightning, scoring goals impossible for anyone else.

As a matter of fact, there was enough talent to necessitate a senior-junior distinction between the two Shahbaz. And I always enjoyed watching Pakistan's decorated goalkeeper Mansoor Ahmed swat away fizzing penalty strokes with consummate ease.

Hockey was flourishing in schools, and kids played the game on the streets. Public interest had never been higher. All the seeds needed to breed enduring success were there, just waiting to be sown.

Sadly, the effort to crystallise these seeds of success into actual success was missing. Perhaps this had to do with the dearth of financial resources, but I would blame a lack of vision and professionalism above all.

The way forward

Modern sport across the world has wholeheartedly embraced franchise-based competition, ditching dull and dreary domestic contests in favor of glitzy and lucrative leagues. This paradigm-shift has been very successful on many fronts.

By following the rules and rigours of real-world business, sport forces itself to be accountable. In order to justify its value, a sports franchise cannot just survive — it must thrive and grow and endure from its success.



Modern sport are embracing franchise-based leagues across the world. — AFP

By adopting this model, we might be able to resurrect hockey in Pakistan. The successful opening season of PSL proves that franchise-based professional leagues are not inconsistent with Pakistan.

If we wish to model our franchise system on a professional hockey league that already exists, we don't have to look that far either. For example, the Hockey India League (HIL) has been successfully operating for the last four years, and it's been bringing in significant cash in the process.

If India can do it, why can't Pakistan?

If a professional franchise-based Pakistani league can take root and thrive, then a champions league modelled on European football starts looking like more than a pipe-dream. If we can be smart, disciplined and passionate about our national sport, then resurrecting hockey in Pakistan will become more than just a nostalgic fantasy.

To add a Pakistani flair to our league, we can perhaps even consider the radical idea of crowdfunding one or more of the franchise teams. A bold move like this can serve to generate heightened interest in the competition.

If Pakistanis are literally invested in the league with their own hard-earned money, it would generate a level of interest which only actual ownership can bring.

The first step is always the hardest. But if the logistical, administrative and marketing efforts, which made the PSL and the HIL roaring success stories, could be replicated in the Pakistani hockey circuit, then there is no reason why our hockey fortunes cannot be reversed.

In a piece like this that recounts Pakistan hockey's glory days and names famed goalie Mansoor, I would be remiss if I failed to mention reports circulating the web regarding Mansoor's ill-health.

Of everything that needs be done to resurrect Pakistan hockey, making sure former greats are not left to fend for themselves would be a good start.

Dawn


---

Bann's Tumilty buzzing for EHL challenge



Picture: Adrian Boehm

Banbridge coach Mark Tumilty says his club is buzzing following the announcement of the draw and the schedule as they look forward to welcoming Round 1 from October 7-9.

Speaking about the chllenge ahead, he said: "The EHL is a superb event and for our club to be hosting it is magnificent.

"For the players, to be given an opportunity to play two games of this magnitude in front of our own supporters and large crowds will be a wonderful experience and hopefully help develop the team.

"I also think when you look at the quality of players in attendance over the weekend, every hockey supporter should be excited. The opportunity to watch a game like Kampong v Holcombe on the Saturday don't come along too often in Irish hockey."

Looking specifically at his club's group, Tumilty's men will come up against Saint Germain and Royal Leopold and he is aware of the big challenge that faces his team.

"It is a very tough draw but, at this level, I don't think it was every going to be easy. I know our players are looking forward to the games.

"Saint Germain are always competitive at this level and with the addition of the Genestet brothers it will make them a stern challenge for us. Leopold will be hot favourites to progress from the group especially having signed one of world hockey's top goal scorers in Glenn Turner."

Euro Hockey League media release


---

Grassick overwhelmed by support




Chris GrassickScotland's hockey captain Chris Grassick has been overwhelmed by messages of support since rupturing his anterior cruciate ligament which is expected to sideline him for a year, writes Nigel Duncan.

The 25-year-old is now recovering in London after damaging his right leg in an accident playing for Great Britain against Germany in Dusseldorf last Thursday.

Edinburgh-born Grassick, who captained Scotland in the 2014 Commonwealth Games in Glasgow, faces surgery soon and a lengthy rehabilitation programme. The former Inverleith player, who is currently captain of the Surbiton squad, suffered the injury on a counter-attack but remains positive about his future.

He said: "I drove as fast as I could towards the opposition goal and cut back on the inside. My right leg just gave way and I knew then that it was bad."

The Napier University graduate said: "I've received lots on messages and I would like to thank those people who have been in touch. People have been so kind and it is much appreciated."

He added: "They say it could take a year to get me back playing but I still love playing hockey and I will do everything I can to get back on the pitch again."

Scottish Hockey Union media release


---

Temper flares in Sukma hockey opening match

KUCHING: The Malaysian Sukma men's hockey competition got off to a fiery note – with two sackings!

Selangor defender Muhd Zamri Mohd Zainal and Pahang forward Mohd Kamil Mohd Yusop were sent off by umpire Ahmad Nazirul for fighting in the 63rd minute at the SMK Paku field in Bau.

Pahang were leading the opening Group B match 2-0, which is also the final score, when the incident occurred.

Mohd Kamil put Pahang ahead in the 25th minute off a field attempt before Muhd Hazzim Amin Hafidz added the second with another field goal in the 62nd minute.

Pahang coach Mohd Sufian Mohamed claimed that the Selangor player provoked his player.

"It all started when the Selangor player accidentally knocked into my player and fell. He then went for my player," said Sufian.

"Despite the incident, I'm satisfied with my players' performance as we collected full points. It was a good start for us.

"We hope to get our second win against Terengganu tomorrow."

Tournament director Jusveer Singh said that they held a meeting after the match and decided to suspend both the players for one match. Mohd Zamri and Mohd Kamil were also given stern warnings about their future conduct.

The Star of Malaysia


---

U16 National Championship – Day 1 Update

Tyler Klenk




Day one of the U16 Field Hockey Canada National Championships didn't fail to provide exciting action throughout in Calgary, Alberta. Wednesday was filled with 3 boys and 5 girls matches total.

The action was kicked off with one of our U16 Boys featured match of the day having Alberta play Ontario White. Ontario White and Alberta came out flying with lots of energy in the opening match of the tournament. With goals back and forth, the half time score was 3-3, with both sides creating plenty of offensive chances. A late goal in the 59th minute gave Ontario White 5-4 lead, which stood until the final whistle.

The second match pitted Ontario Red against Quebec men. This was one of the highlight matches of the day, with a strong defensive performance by both teams. Chances at both ends created a back and forth match which highlighted both team's skill. A 39th minute goal by Isaac Farion stood as the only goal of the match, with Quebec taking the match 1-0

Game 3 featured BC Blue and Alberta women. With a strong hometown crowd backing Alberta, the girls came out flying, with lots of energy and intensity. The game finished 2-0 in favor of BC Blue as Ashlyn Toljander scored both for BC Blue.

In the fourth game of the day, Ontario Red took on BC Yellow. Ontario Red came out of the gates flying, showing their class. A strong pushback from BC Yellow provided a 2-0 half time score line in favor on Ontario Red. In the second half Ontario came out strong and proved to be too much for BC Yellow, with a final score reading 5-0.

Game five had Quebec take on BC White in the women's division. A strong defensive performance was put in by both teams, but a 48th minute goal by Sarah Lilley of BC White resulted in a winner performance for BC White.

The day rolled on with game six which had BC taking on Ontario White in the men's competition. This match had both teams creating chances, with offensive action in both ends. A 50th minute goal by Harvir Malhi gave BC a 2-0 victory.

Game 7 had the hometown girls from Alberta taking on Ontario White. With Alberta playing strong in defense, Ontario struggled to create many circle penetrations. A 23rd minute goal by Sophie Schmidt, as well as a 46th minute goal by Abby Jenssen resulted in a 2-0 win for the British Columbians.

The final match of the day was definitely a one of the highlights of the day. Quebec was taking on BC Yellow on the women's side. After 60 minutes, BC took the victory 1-0 with a 39th minute goal from Avery Nystedt. Quebec came up just short on the scoreboard but put in a spectacular performance defensively, with goalkeeper Annabelle Murray making countless saves to keep Quebec in it.

Tomorrow schedule features six matches throughout the day:

8:30am Boys – BC vs Quebec
10:05am Girls A – BC White vs Ontario Red
11:40 Girls B – BC White vs Alberta
1:15pm Boys – Alberta vs Ontario Red
2:50pm Boys – Quebec vs Ontario White
4:25pm Girls A – BC Yellow vs BC White
6:00pm Girls A – Ontario Red vs Quebec
7:30pm Boys – Alberta vs BC.
Field Hockey Canada media release


---

Mohammad Shahid: An artist nonpareil

BY S.THYAGARAJAN 

Death has deprived the world of hockey a stalwart when life ebbed out of Mohammad Shahid on Wednesday.

Few players of our times and perhaps only a handful in any era had enriched the art of stick work in the same measure as Shahid.

It was sheer romance that projected the aesthetics of Indian hockey whenever he dribbled forward, bewildering a bevy of defenders.

Whatever Shahid showed on the field was not acquired from the pedantry of the coaches and the systems they sought to impose on the player.

He was gifted, endowed with supple wrists that tapped the ball with lightening speed and teased all his tormentors.

Even as early as 1979 when Shahid was just a junior player he marveled everyone in the Four-Nation Tournament at Kuala Lumpur. He flummoxed the renowned defenders like Munzur and Munawar in the match in which India drew Pakistan 3-3.

"Don't tell me to mark a player on the opposite side, they will do that to me," was what Shahid once told Vasudevan Baskaran who led the Indian team for the Olympics at Moscow.

Even the European and Australian teams ensured that more than one defender was on the prowl near Shahid throughout the match.

In some there were three defenders instructed to keep an eye on this inscrutable star. Gifted he was, Shahid showed no inhibition to use the left hand also to dribble past the rivals with utmost ease.

It was impossible for anyone not being struck by Shahid's proficiency with the ball.

At the MEG Ground in Bangalore in 1979, Shahid was representing the UP junior squad in the Nationals that were being held as the selection trials for the first Junior World Cup at Versailles.

The selection committee headed by V.Rajagopal, himself a wonderful dribbler from Bangalore, with Haripal Kaushik, Muneer Sait, and Krishnamurthy, took only seconds to mark Shahid as the forward for the future, along with Merywn Fernandez of Bombay.

How these two served Indian hockey from then is well documented in our history.

It was unfortunate that Shahid was in full bloom when the Indian hockey administration was anything but well structured. Schisms and dissensions ruined the progress making the players depressed and distressed.

Coaches added their own archaic inputs to the denigration offering new fangled strategies. Definite efforts were made to curtail, or restrict Shahid's flair, finesse and fluency to integrate his approach with the less efficient forward lines. He was urged to part with the ball quicker and indulge less in ball play.

Shahid believed he was more a creator than a scorer. Statistics never fascinated him as much caressing the ball that is tuned to an Arcadian melody.

The beauty of it all is that he never was conscious of his incomparable proficiency that mirrored the full meaning of the epithet-GENIUS.

He was humble, humane and had a huge amount of respect and regard for the media.

Courting controversy was alien to him, and I do not recall an instance of his remonstration to any of the Umpire's rulings.

He lived in a world of his own creation, enjoying the fantasy that he was displaying to the connoisseurs of the game.

How do you look back and define Shahid: a match winner, a scorer possessing remarkable appetite for goals or a just facilitator for others near the target?

He relished the act of swerving round the chasers showing a clean pair of heels to them and helping the best placed person inside the circle to put the finishing touches.

Baskaran conceded that for all his dominance in the rival area during the final against Spain in the Olympics in Moscow that India pumped in four goals for the Gold Medal, Shahid scored only one goal.

Even a player as endowed as Ric Charlesworth, an impeccable inside forward, chased Shahid like a shadow during our match in the Olympics at Los Angeles.

Should Mohammad Shahid be viewed in comparison to this or that stalwart who were before him is very subjective.

He should be studied in isolation and be left as one as incomparable. But in sport as in any walk of life comparison is sacrosanct to evaluate.

There were a few who spoke eloquently of Shahid against the backdrop of Dhyan Chand. The two belonged totally to a different era and identifying Shahid with the maestro was unacceptable to many.

Some former players linked his style and class to K.D.Singh (Babu), V.J.Peter, and Haripal Kaushik.

A few critics agreed that one player as classy as Shahid was Pakistan's Shahbaz Ahmed.

Evaluating the life and times Shahid may be a point for a great debate.

But the fact he was unique in more ways than when it came to dribbling the ball with that gentle and imperceptible stick movements can never be the part of any dispute.

Admittedly, Shahid was well decorated by the country for his craft, charm and character. There is no need to document them here, except expressing regret for the ordeals he was subjected to during his final hours were very, very unfortunate.

No one can disagree that Shahid epitomized the essence of hockey's aesthetics.

Fieldhockey.com


---

Dribbler extraordinaire Shahid passes into history

Contemporary greats effusive in paying tributes to a courteous star who created magic on the turf

Uthra Ganesan



Mohammad Shahid (1960-2016). —THE HINDU PHOTO ARCHIVES

It wasn't the way he would have liked to go. Padma Shri Mohammad Shahid, dribbler par excellence and 'partner' to everyone he met, passed away at a city hospital on Wednesday after weeks of struggle with liver and kidney issues. He is survived by wife Parveen, son Saif and daughter Heena.

Shahid, 56, had been put on life support late on Monday night after he slipped into coma. He never recovered from it. Former teammate and close friend Zafar Iqbal, who had been at his side all through the three weeks in hospital — along with another team mate M.K. Kaushik — was unable to control his emotions.

Zafar shattered

"In our last conversation at the hospital he said, 'don't worry partner, I will dodge this also.' I told him 'yes you have dodged many feared opponents, this will also pass.' He tried to speak more but couldn't. Those were his last words," Zafar, eyes welled up, said even as he tried to console Shahid's wife Parveen.

Zafar and Shahid were part of the magical trinity up front that also included Merwyn Fernandes and was considered perhaps the finest ever in Indian hockey and among the best in the world.

"We played together from 1979 to 1988. There was an incredible understanding between us. At times, I would even forget to chase the ball, so mesmerised I would be, watching his skills. It's a shocker that he is no more," Fernandes said.

Praise from Pakistan legends

For someone who could single-handedly destroy the opposition, Shahid was hugely popular among the opponents too. Pakistan legend Shahbaz Ahmad, considered one of the most magical of all hockey players, remembers picking up skills from Shahid.

"We played a lot against each other but also occasionally in the same team. The kind of art and skill he possessed was mind-blowing. I started playing when he was at his peak and I am blessed to have seen him play. The vision and stickwork he possessed was beyond human abilities. He was God's gift.

"But more than playing against him, it was playing with him as part of the Asian All-Stars team that I enjoyed more. I learnt a lot from him then as we beat everyone else hands down. And yet, with all the magic he had, he was one of the most courteous, decent human being I knew," Shahbaz said from Lahore.

He was not the only one from across the border to miss Shahid. The legendary Hassan Sardar remembered how the Pakistan team used to plan for Shahid, and everyone else, in that order.

"Not just us. We used to talk to players from across the world and all teams had a similar gameplan — block Shahid and you can win. And yet, all the plans, more often than not, would fall apart in the face of his skills," a sombre Sardar said.

Mesmerising

Halfway across the world, Australian Ric Charlesworth had similar memories. "He was one of the most wonderful, skilful and mesmerising players I've ever played against.

"Shahid's ability to create something out of nothing was amazing. With him around we never knew what to expect.

"You would think he was going one way but he would change course before you knew it," Charlesworth said.

Joaquim Carvalho, often Shahid's roommate on tours, found it hard to digest that his friend was no more. "For the last couple of days, all of us from the 1980 batch had been in touch, updating ourselves on his condition through the people present in Delhi. We knew the prognosis was not good but it still is a shocker and very depressing," Carvalho said.

"He was always so immaculate in his dressing and everything in his life. His kit bag used to be one of the tidiest and his playing kit seemed to come from the drycleaners! For a match at five in the evening, he would be ready by one and then spend the next few hours dribbling around the room, preparing for the game, planning for the opposition. There can never be another Shahid again," he added.

Tributes poured in from all quarters, including Prime Minister Narendra Modi, as #MohammedShahid started trending on Twitter early in the morning and stayed among the top all day.

SAI coach and friend A.K. Bansal accompanied the body to the airport to take care of formalities.

Zafar, who stayed with the family even after the body had been taken away — it is being transported back to his beloved city of Banaras with the burial scheduled for Thursday afternoon — preferred to remember the good times with his 'partner'.

"All we had to do was give the ball to him and enjoy the magic. At times it was frustrating because we hardly got the ball but as teammates, we had the best seats in the house and watching his skills made up for everything," he said.

The Hindu


---

To take two to three defenders on a ride was child's play for him

Vijay Lokapally



Mohammad Shahid, who lost his battle with a serious ailment on Wednesday, brought joy to millions of hockey fans with his sublime stickwork in a generation gone by. Photo: The Hindu Archives

Did someone once suggest a scrutiny on the legendary Dhyan Chand's stick to check if it had magnetic elements to attract the hockey ball? They ought to have dissected Mohammad Shahid's stick. The ball stayed glued, as did the audience, in a trance, watching this artist weave magic on the hockey turf — natural and later artificial — with the opponents dancing to his tune.

Shahid was the most sought-after merchant for selling hockey to the masses. In a team game, they flocked to the venue to watch just one man… Shahid from Banaras.

He was to hockey what shehnai maestro Bismillah Khan was to the world of music – an intoxicant that transported you to a joyful realm, real and vibrant. India would often lose those days. But not Shahid. His legion of fans only multiplied.

A simple human being

Everyone was a "partner" for Shahid. He was a simple human being. But a complex man to deal with if you happened to play against him. The intricate circles he would build around, with the defenders groping for the ball, meeting with thin air, and chasing Shahid's shadow.

He would leave you embarrassed with his skills at the left-in position, the most difficult on the hockey turf. Many a right-back shifted to the left to avoid being reduced to mediocre by Shahid.

Strong in basics, he developed the famous flick — half push and half hit where he would find the top of the net from the top of the circle. It was a deadly missile. He was not a phantom who tormented hockey defenders in their dreams. He was real, sometimes leaving them in tears, and sometimes deeply anguished at not even being able to touch the ball, leave aside snatching it from Shahid, who held it close as if by right.

He was a jovial character and a compulsive prankster. He once penned a 'love-letter' at a hockey camp to his room-mate Jalalludin Rizvi, who, over the moon after receiving it by post, shared it with the third roomie – Zafar Iqbal. The 'lady love' never appeared before Rizvi, who for many years did not discover the author of the letter. Shahid's lovely handwriting had done the trick. One doubts if Rizvi knows the truth even today.

Trusted saviour

He was the team's trusted saviour. He was the team. His teammates hovered around him, made the most of his company, especially on the field when he took on the best of opponents and mocked at their tactics to stop him. He played hockey as if it was an individualistic demonstration of one's prowess and endurance. To take two to three defenders on a ride was child's play for him.

Once he dribbled past five ferocious German defenders, including the advancing goalkeeper, in a Champions Trophy match and, with an unmanned post in front, selflessly passed the ball for a colleague to score. Anyone could have tapped the ball in. Anyone. Shahid never played for himself.

At the Moscow Olympics, Surinder Singh Sodhi was the highest scorer. But the world saw who set up most of those goals. "All because of Shahid," was Sodhi's humble acknowledgement.

Shahid did not score from penalty corners. He created them from nowhere. And at will. Defenders desperately poked and swung their sticks but the ball remained elusive. So did Shahid, flashing past them, his image a mere blur in the horizon. They really dreaded playing Shahid. But he loved them, the first to put an arm around the opponent and share a joke.

Even though he always played with a foreign-made stick, Indian hockey remained close to his heart. Dearer than anything else on this planet.

The Hindu


---

The day a star was born

Ashok Kumar, 1975 world cup winner

I have seen Shahid grow from a normal hockey player to a world-class, legendary player. Shahid used to say that he idolised me, but sometimes, I used to get inspired by his exceptional hockey skills.  He was the find of KD Singh 'Babu' sahib (former Indian hockey player) in a true sense.

He introduced Shahid to hockey when Shahid was learning the nuances of the game at the KD Singh sports hostel in Hazratganj, Lucknow.  The Indian team had returned home after winning the gold at the 1975 World Cup in Kuala Lumpur. I was a member of the victorious side. We used to have our national camp in Lucknow. As most of the team members were also part of Indian Airlines, we used to have our camp there. Shahid would diligently watch us train and observe our game.  One day, Shahid came to me and said, "I like your game." I said, "Continue with your passion and you will become a great player."

In 1978, our team Indian Airlines had a match with the Lucknow Sports Hostel, for which Shahid was playing. In a big upset, the hostel boys defeated us and Shahid played a pivotal role in that win. That day I was assured that a star has born, a star who would go on to touch new heights in Indian hockey. The best part about Shahid's game was that he used to play the same classic hockey on astroturf which we played on grass. That set him apart from the others. He was born to play hockey. As told to Sabi Hussain

The Tribune


---

Extraordinarily skilful, brave, honest and funny

Merwyn Fernandes, Shahid's teammate (79-88)



Mohammed Shahid. courtesy: Indian Hockey Olympians

Today is a sad day for Indian hockey. But for me and I am sure everyone who played with him for India in the 1980s, the news of Mohammed Shahid passing away is particularly upsetting. We were so close, everyone. It was a very close-knit unit, especially in the mid-80s.

The Shahid I knew

He was such a fun-loving and funny person. He used to joke around all the time, teasing everyone. I remember, during warm-up, he would start joking, start distracting others. He would say, "If I exert too much now, I won't be able to perform on the field." But he was very fit. His untimely demise brings back memories; suddenly, it seems so distant. So many years have passed.

I played with him for many years. We were in the team that played in the 1979 Junior World Cup. Then we graduated to the senior team and played together till 1988. In fact, Shahid and I, along with MM Somaya, played in all the Olympic Games in the 80s.

I still remember the first time I really noticed him. It was in the Aga Khan Cup. He must have been 18 then. He was playing in the Lucknow academy team. I was on a stipend with Indian Airlines, which was the top team of that time. He really pushed the Indian Airlines defence that day. That was when I saw him at the top level for the first time.

He was a livewire. He was a player with extraordinary skill. After Ashok Kumar, his was the best stick-work I have ever seen. I remember him performing mind-boggling tricks with the stick and ball during training. This one trick I will never forget — he would rotate the stick like a screw, all the while balancing the ball on it. I have never seen anyone else do that. He could roll the ball from the stick's bottom to top with such speed… it was wizardry indeed.

But it was not all for show. His stick-work was complemented by his amazingly quick footwork. It was astonishing, the ease with which he would dodge past defenders. He had the uncanny ability to catch them on the wrong foot. That frustrated the defenders; they used to get angry and try to hit him.

I was fortunate to have played with him in his prime in the early 80s. Everyone knows he had great chemistry with Zafar Iqbal on the left side. Over the years, even we built great understanding. Before the 1984 Olympics, coach Balkishan Singh Grewal changed the playing system. He eliminated the centre forward's position and introduced an attacking centre-half. The change affected Shahid, who was inside-left, and me, inside-right. Both of us struggled initially, but we helped each other during that phase. Both of us, along with centre-half Hardeep Singh Grewal, built great chemistry.

We kept in touch till his last days, messaging each other, exchanging Christmas greetings. When he got into commentating, I congratulated him. Even I had ventured into the field. He told me, though, that it wasn't his cup of tea.

Despite all his popularity, he was very humble. People will remember him for his wizardry, I will remember him for his ever-smiling face.

As told to Indervir Grewal
'One of the finest ever to grace the game'

Tributes poured in from players across generations for Mohd. Shahid who breathed his last on Wednesday.

Balbir Singh (Sr.) (Former captain and three-time Olympic gold medallist): He was a great player and also a great human being. He will be surely remembered as one of the greatest hockey player who played for India.

It is an irreparable loss and it is sad that great players are remembered only after have they have gone.I pray that God grants peace to his soul and strength to his family to endure the tough time

V. Baskaran (Olympic gold-medal winning skipper): If you look for comparisons across all sports, I would put Shahid in the same league as Lionel Messi. Simple, he played hockey at that level. Only three others in hockey matched him. They are Shahbaz Ahmed, Teun de Nooijer and Stephan Veen.

Dhanraj Pillay: (Former India captain): He was a magician on the field. There used to be times when he would single-handedly win games. All of us players from the 90s generation had tremendous respect for him.

I remember the last time I met him, it was at the Medanta Hospital. Despite his illness, he spoke to us as much as he could. He was a very loving person.

Mir Ranjan Negi (Former India goalkeeper): He destroyed defenders using trickery with the ball. If defenders could not read him, how can a goalkeeper? The running penalty stroke in use now leads to a one-to-one situation between the attacker and goalkeeper. Just visualising Shahid outwitting goalkeepers in strokes using close control and stick skills is a delightful thought. Special players liked him created unique situations in a match. Shahid had a shuffle, distinct from others, which took him past tackles.

Mukesh Kumar (Former India captain): It is a huge loss to the sport. He was one of the finest ever to grace the game. A true magician with the stick on the field.

Jude Felix (Former India captain): It's very emotional for me. Each touch of his was simply magic. I have not seen anyone in India play like him. He respected me and I was overjoyed to be playing with him. I'm proud and humbled that I actually played in his position. It's a sad day for Indian hockey. No way there can be another like him.

Allen Schofield (Former India goalkeeper): He was lightning fast; you couldn't even see the turn of the stick," he said. "I remember one of our coaches stopping a game and calling him aside. 'Give me your stick,' he said, just for fun. 'I want to check if there is glue at the end'.

Bir Bahadur Chettri (former India goalkeeper): Mohammad Shahid was confidence personified and inspired the whole team. No matter how big was the match and how strong was the opponent, he never had any sign of nerves. I have not seen a better dribbler than him.

(with inputs from V.V.S. Subrahmanyam, Nandakumar Marar, K. Keerthivasan, Y.B. Sarangi, Shreedutta Chidananda and Tanay Apte)

The Hindu

Many other tributes are recorded below


---

Rich tributes pour in for Hockey legend Mohammed Shahid

New Delhi, July 20 (ANI): Tributes have flooded in for legendary Indian hockey player Mohammed Shahid, who passed away at the age of 56 after battling severe liver and kidney ailments.


---

Toughest opponent yet dear friend: Pakistan greats on Shahid

NEW DELHI: "I would tell him that if you join Pakistan team, we would be world beaters and he used to say the same for me," was how Pakistan's legendary centre forward Hasan Sardar reacted on the demise of Indian hockey great Mohammed Shahid.


---

Shahid played freely, that was the beauty of his game: Zafar Iqbal

Siddharth Saxena

Only yesterday I had gone to Aligarh, when suddenly I got a call that (Mohammed) Shahid+ 's condition had worsened.


---

Shahid was a very good singer and a great prankster: V Baskaran

Krishnakanta Chakraborty

CHENNAI: When V Baskaran saw Mohd Shahid for the first time in the camp for a 1980 Kuala Lumpur tournament in Bengaluru, the India skipper was awestruck. Shahid's ability to dribble the ball with lightning speed was something Baskaran had not seen in his decade-long career. Baskaran, let out a deep breath, "A star is born for India."


---

Greatest of my generation, a mesmeriser on field: Somaya

Dhananjay Roy

MUMBAI: There's a piece of statistic which Mohammed Shahid, Merwyn Fernandes and MM Somaya share, which would make any hockey player's chest swell with pride. The trio played together in three successive Olympics - the gold-winning one in Moscow in 1980 Los Angeles and Seoul in 1988. So, it was pretty natural that Fernandes was in mourning on Wednesday after the news of Shahid's death trickled in. "It has come as a shock," Fernandes said.


---

Shahid had supreme control over his craft

Siddharth Saxena

Hockey wizardry, that rapidly vanishing Indian craft, lost the last of its classicists when Mohammed Shahid passed away at a suburban hospital here on Wednesday. Like Varanasi's other illustrious son, shehnai maestro Bismillah Khan, Shahid effortlessly wowed the world with his magic but was happy to quietly retire to the ancient city's labyrinthine pulls and charms.


---

Varanasi shocked, but in true tradition the stories flow on

Rajeev Dikshit

VARANASI: Mohammed Shahid hailed from a financially-weak background that always threatened to disrupt his development as a young and promising hockey player, but it was the support of his early coaches that saw him pull through.


---

Dribbler par excellence fails to dodge death

Asheem Mukerji

Mohammad Shahid, who passed away at a Gurgaon hospital on Wednesday, was not just one of the names on the glorious list of Indian hockey. He was a shining star who helped his side match the European and Australian teams at a time the game was at the crossroads.


---

Hockey loses its dribble king Mohammed Shahid

Siddharth Saxena

NEW DELHI: Hockey wizardry, that rapidly vanishing Indian craft, lost the last of its classicists when Mohammed Shahid+ passed away at a suburban hospital here on Wednesday. Like the other illustrious Varanasi+ son, Shahid was a Bismillah Khan with the hockey stick, effortlessly wowing the world with his magic but as simply, happy to quietly retire to the ancient city's labyrinthine pulls and charms


---

India hockey star Shahid dies aged 56




NEW DELHI: Hockey star Mohammed Shahid, who saw India to a gold medal at the Olympic Games in 1980, died Wednesday, his family said. The 56-year-old, who had been battling a severe liver ailment and kidney disease, died in a hospital on the outskirts of New Delhi after being admitted there last month. "He passed away at around 11 today. He suffered a multiple organ failure. He will be taken to Varanasi for his burial," Shahid's son Mohammed Saif told media. The former captain was rated as one of the best dribblers on the hockey field, and formed a formidable forward line with striking partner Zafar Iqbal. But the sportsman led a low-key life after his retirement as he retreated to the north Indian city of Varanasi - his birthplace - while working for Indian Railways. Shahid, who played in three Olympics - 1980, 1984 and 1988 - saw the national side take its first gold medal in the sport since 1964.


---

Mohammed Shahid: The wizard of hockey

Mohammed Shahid was an artist and the best representative of a game that was once played with wrists.

Over the last couple of decades, Indian hockey has suffered a crisis of identity. What was it supposed to be? The team flirted with different styles and coaches. Hockey affairs were chaotic, and fans confused. Back in the day, 1980s to be specific, that was not the case. Mohammed Shahid, who passed away on Wednesday, was Indian hockey. Much before the hit-long-run-hard and total hockey entered the vocabulary, there was Shahid and his dribbling. Physicality was not an attribute of his game: Shahid's style of play was based on speed and an ability to tie the ball to his stick with rare wizardry, dodging past one defender, then another, and perhaps a couple more before he emerged the last man standing.Shahid, born in 1960, the year India gave up its stranglehold on Olympic gold, was in a sense the final hurrah of the sport in India. The teams he represented and led did not win too many titles. The Moscow Olympics gold is Shahid's only medal of repute. He was however also part of the squad that lived through one of Indian hockey's biggest humiliation, a 7-1 hammering by Pakistan in the finals of the 1982 Delhi Asian Games. However, this doesn't matter to memories of Shahid. More than a player, Shahid was an artist. The fact that he scored goals or set them up by finding a careless defender's leg was incidental. His job was to dazzle. And that he did. Perhaps some of the romance surrounding Shahid's game comes from the fact that he played his game in the '80s. It's hard to find a video of his. This means much of Shahid's legend is from oral history.


---

Death of a hockey magician

The 56-year-old, who was battling kidney and liver problems, breathed his last on Wednesday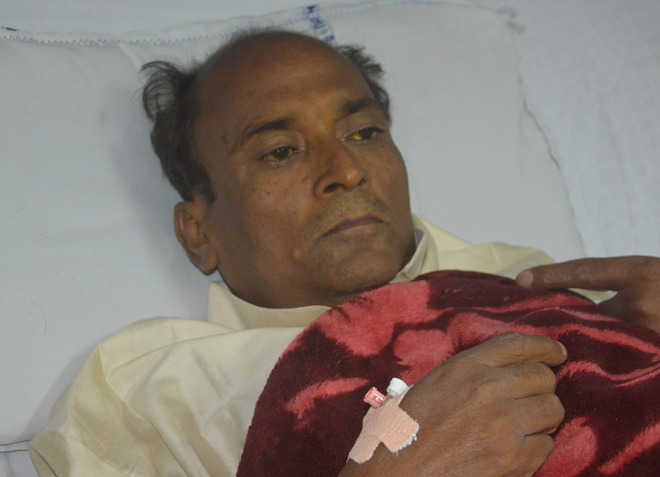 Shahid in hospital

India's hockey legend Mohammed Shahid was known not just for his excellent dribbling skills, but was also considered as one of the greatest players of all time. The 56-year-old, who was battling kidney and liver problems, breathed his last on Wednesday at a Gurgaon hospital.


---

Indian hockey legend Mohd Shahid passes away




Triple Olympian and Moscow Olympics gold medalist Mohd Shahid, 56, passed away today at a Gurgaon hospital. He was undergoing treatment for multiple defects.


---

Mohammed Shahid's death 'a great loss' for Indian hockey: Sreejesh, Dhanraj

Jamie Alter

NEW DELHI: The demise of Indian hockey great Mohammed Shahid+ , part of the team that won gold at the 1980 Moscow Olympics, has been met with shock and by legends of the Indian hockey fraternity. Shahid passed away at Gurgaon's Medanta Medicity hospital on Wednesday after struggling to overcome a severe liver condition and kidney failure. He was 56.