All the news for Saturday 2 July 2016

Fiji off to Round 2

Mere Naleba



The Fiji men's hockey team after their match against Vanuatu during the FIH World Hockey League Round 1 in Suva yesterday. Picture: JONACANI LALAKOBAU

THE Fiji women's hockey team yesterday qualified for Round 2 of the FIH Hockey World League tournament to be held in Kuala Lumpur, Malaysia next January.

The side came out as pool winners after a round robin competition against Papua New Guinea, Vanuatu and Samoa at the National Hockey Centre, Suva, this week.

Coach Alison Southey said the win did not mean that the same team would travel to Kuala Lumpur next year.

"It is a great feeling when you achieve your goals, and our goal was to win the women's division and to qualify for Round 2. But there will be trials again for the side that travels for Round 2," Southey said.

"The girls will have to continue with their training and more girls will join the side."

Southey said Round 2 would be tougher than Round One.

The team consisted of Tiara Dutta (captain), Lala Ravatu (co/captain), Maxine Browne, Catherine Fabiano, Lora Bukalidi, Sarote Nakaora, Asinate Blake and Lavenia Ratumaimuri.

The Fiji Times


---

Open letter to the FIH

WHAT STANDING – WORLD LEAGUE 5-A-SIDE?

By Patrick Rowley
 
Gentlemen of FIH,

Hockey has been shocked that one of the World League I competitions has been held at Suva in Fiji with 5-a-side teams.

We appreciate that these Oceanic countries can't afford to travel with 18 players.
 
While we are all delighted that small hockey playing countries have been able to participate, we are compelled to ask if it is fair to ask countries to go from 5 to 11-a-side in one major competition as the successful teams will surely have to do.

The media need your guidance.  Are these 5-a-side matches to be recorded as full internationals?. World statisticians need to know if these results are to be filed by organisations such as the Hockey Museum like other international results?.

One is aware that 5-a-side has been played at junior level – in Oceania – but are any other 5-a-side full internationals due to be played?.

Can I suggest that the words 5-a-side be included on match sheets.

Talking of match sheets, it was noticeable that the name of the video umpire, now an integral part of the game at top level, was not included at the recent Champions Trophy events. Can his/her name be included in future.?

Could also more prominence on the results forms be given as to which sex is playing.?

Finally would the FIH give any consideration to holding a separate world competition/championship on grass for countries who cannot afford artificial surfaces?

To date the FIH has failed to indicate their position on 5-a-side.

Fieldhockey.com


---

Parnham Names Nation's 16 Top Outstanding Athletes to 2016 U.S. Olympic Women's Field Hockey Team




COLORADO SPRINGS, Colo. – Craig Parnham, Head Coach of the U.S. Women's National Field Hockey Team, spotlighted the nation's finest talent with the announcement of the 16-player roster for the Rio 2016 Olympic Games. With unparalleled heart, hustle and American pride Team USA looks to make a statement in Brazil by showing the global hockey scene and elite sporting world their true intentions, a podium finish.

"Selection for the Olympic team has been an ongoing process for many months, evaluation and monitoring are very much part of the program," said Parnham. "The whole squad has committed so much to the program over the past years, for those selected it is a great moment in their hockey careers."

Since Parnham's induction into the USA Field Hockey program in January 2013, a shift in team culture and performance has heightened the team's overall profile as one of powerhouses in hockey.

Despite tremendous effort, the London 2012 Olympic Games left a sting of disappointment for the U.S. Olympic Women's Field Hockey Team, which finished the tournament in 12th place. Landing last, however, inspired a core group from the 2012 team to commit to another 4 years of rigorous training and a chance at redemption. Since 2012, the program has undergone several changes, including new coaching staff leadership, the implementation of cutting-edge technology and a cross-country move from the west to east coast. During this short duration, the team climbed from 10th in FIH World Rankings to 8th after the 2014 Rabobank World Cup, and eventually catapulted to fifth, marking a historic milestone for the program; their current placement. Other noteworthy accomplishments include 2014 Champions Challenge gold medal finish, winning a gold medal and Olympic qualification at the 2015 Pan American Games and just last weekend securing a bronze medal at the women's Hockey Champions Trophy 2016 event in London.

Heading into the Olympic Games competition with a roster that includes nine returning Olympians, U.S. is in a challenging pool made up of No. 2 Argentina, No. 3 Australia, No. 7 Great Britain, No. 10 Japan and No. 13 India. The U.S. will open Pool B play at the Olympic Games with a face-off against Argentina on Sunday, August 6. The U.S. will continue pool play and close the preliminary round with Great Britain on Saturday, August 13. The women's first semifinal will take place on Wednesday, August 17. The gold-medal round commences on Friday, August 19. More details regarding the team's event schedule can be found by clicking here.

"It's an exciting match schedule, opening against our continental neighbors will be a great way to get started," said Parnham. "The second game against Australia will see us play our only morning game, following this the rest of the pool games will be all evening games. Our approach to the tournament will be to adopt a game-to-game focus and not get concerned about looking too far ahead. The team has made some significant gains in terms of consistency over the past couple of years and we look forward to being able to produce some strong performances in Rio."

The team will depart for Rio on Friday, July 29.

The U.S. will begin their final preparation for the Rio 2016 Olympic Games in the Rio Send-Off Series against India and Canada, at Spooky Nook Sports in Lancaster County, Pa. Tickets are still available to the public and can be purchased on usafieldhockey.com.

All nominations to the U.S. Olympic Team are subject to approval by the United States Olympic Committee board of directors.

2016 U.S. Olympic Women's Field Hockey Team:

Goalkeeper:
Jackie Briggs (Robesonia, Pa.)

Defenders:
Lauren Crandall (2008, 2012 Olympian // Doylestown, Pa.)
Stefanie Fee (Virginia Beach, Va.)
Julia Reinprecht (2012 Olympian // Perkasie, Pa.)
Rachel Dawson (2008, 2012 Olympian // Berlin, N.J.)
Alyssa Manley (Lititz, Pa.)
Caitlin Van Sickle (Wilmington, Del.)

Midfielders:
Katelyn Falgowski (2008, 2012 Olympian // Landenberg, Pa.)
Melissa Gonzalez (2012 Olympian // Mohegan, N.Y.)
Katie Reinprecht (2012 Olympian // Perkasie, Pa.)
Michelle Vittese (2012 Olympian // Cherry Hill, N.J.)

Strikers:
Michelle Kasold (2012 Olympian // Chapel Hill, N.C.)
Katie Bam (2012 Olympian // Blue Bell, Pa.)
Jill Witmer (Lancaster, Pa.)
Kat Sharkey (Moosic, Pa.)
Kelsey Kolojejchick (Larksville, Pa.)

Alternates:
Paige Selenski (2012 Olympian // Shavertown, Pa.)
Alesha Widdall (Whitney Point, Pa.)

USFHA media release


---

USA Field Hockey names Olympic team, Paige Selenski an alternate

By Eric Scatamacchia



The U.S. women's field hockey team named its 16-player squad that will compete at the 2016 Rio Olympics.

The U.S. women's field hockey team announced its roster for the 2016 Rio Olympics on Friday, and in a surprise, Paige Selenski was not included.

The U.S. will be bringing an experienced group to Rio. Of the 16 players named, nine have previous Olympic experience, including three players who played in the 2008 and 2012 Games. The only active member of the 2012 Olympic team that did not make the team is Selenski, who was named as an alternate.

In March 2015, Selenski suffered a serious hamstring injury in which her hamstring tore from the bone. After giving herself a month to rehab and rest, she tried to play through the injury, but the pain persisted and she elected to have surgery.

Selenski spent a good portion of 2015 and the beginning of 2016 trying to get back to full strength for the U.S. Although she returned to playing in May 2016, she was not on the team's roster in late June as the U.S. won bronze at the Champion's Trophy. USA Field Hockey declined to comment Friday on Selenski's injury.

Since finishing in last place at the 2012 Olympics, the U.S. brought in a new head coach, Craig Parnham, and has experienced much better success highlighted by a fourth place finish at the 2014 World Cup.

In the past four years, the U.S. has steadily climbed up the world rankings to fifth currently and has a shot at winning a medal in Rio.

The U.S. will be in Pool B at the Olympic tournament. It's first match is August 6 against Argentina.

Here is the full roster: 

Goalkeeper- Jackie Briggs

Defenders- Lauren Crandall (2008, 2012 Olympian), Stefanie Fee, Julia Reinprecht (2012 Olympian), Rachel Dawson (2008, 2012 Olympian), Alyssa Manley, Caitlin Van Sickle

Midfielders- Katelyn Falgowski (2008, 2012 Olympian) Melissa Gonzalez (2012 Olympian), Katie Reinprecht (2012 Olympian), Michelle Vittese (2012 Olympian)

Strikers- Michelle Kasold (2012 Olympian), Katie Bam (2012 Olympian), Jill Witmer, Kat Sharkey, Kelsey Kolojejchick

Alternates- Paige Selenski (2012 Olympian), Alesha Widdall

NBC Olympics


---

Former Duke field hockey defender Stefanie Fee named to U.S. Olympic team

Former Duke defender Stefanie Fee has become the Blue Devils' first ever Olympian in field hockey, appearing on the 16-player U.S. roster that was revealed Thursday.

Fee has competed for the U.S. since graduating from Duke in 2012, playing her 50th game for the national team in February against Argentina. The Virginia Beach, Va., native was a member of last year's U.S. team that won the gold medal at the Pan American Games and helped Team USA to a bronze medal at the Champions Trophy tournament last month.

The U.S. will open Olympic play in Rio de Janeiro August 6 against Argentina, the highest-ranked team in its pool at No. 2 in the International Hockey Federation world rankings. The U.S. is ranked No. 5.

Fee started all of the Blue Devils' games during her four-year college career from 2008-2011, earning All-American and All-ACC recognition as a senior in 2011.

Goalkeeper Lauren Blazing, who wrapped up her career at Duke last season as a redshirt senior, was under consideration for the Olympics but did not make the final U.S. roster.

Duke Chronicle


---

Former UVa star makes U.S. Olympic field hockey team



United States' Paige Selenski (20) celebrates her goal against Belgium with teammate Michelle Vittese (9) in a women's field hockey classification match at the 2012 Summer Olympics in London. Vittesse was named to the 2016 U.S. Olympic team, while Selenski was named an alternate. (AP Photo/Mike Groll)

Former Virginia field hockey player Michelle Vittese was named to the United States' 16-player roster for the 2016 Rio Olympic Games on Friday. Fellow Virginia alum Paige Selenski was named as an alternate for the team.

It will be the second Olympic appearance for Vittese, who also competed with the U.S. team at the 2012 London Olympics. Selenski, who has battled injuries this year, also competed in the 2012 London Olympics.

Vittese, a midfielder who earned her 150th international cap on June 18 during a 2-2 draw against Australia in the Champions Trophy tournament in London, has won two Pan American Games gold medals with the U.S. Women's National Team. Vittese was a three-time All-American at Virginia who helped lead the team to back-to-back NCAA semifinal appearances in 2009 and 2010.

Selenski has 137 international caps and also was part of the American 2011 and 2015 Pan Am Games gold medal teams. Selenski was a four-time All-American forward at Virginia and was a Honda Award semifinalist in 2009 and 2010. Selenski finished her UVa career with a program-record 238 points, which ranks eighth all-time in NCAA history, and was just the 10th player in NCAA history to score 100 career goals.

The U.S. women's national team, currently ranked fifth in the world, will bring a roster that includes nine returning Olympians to Rio. The U.S. is in a challenging pool made up of No. 2 Argentina, No. 3 Australia, No. 7 Great Britain, No. 10 Japan and No. 13 India. The U.S. will open Pool B play at the Olympic Games with a face-off against Argentina on Sunday, August 6 at Deodoro Stadium.

The team will depart for Rio on July 29.

The Daily Progress


---

India can win hockey medal at Rio: Gurbux Singh

Archiman Bhaduri

Hockey has fetched the maximum number of medals for India at the Olympic Games. The country had dominated the sport at the global stage for a long time.

However, India have failed to produce desired results over the last few Games. But Olympian Gurbux Singh feels India stand a good chance to finish on the podium at the Rio Olympics in Brazil.

"I think the format of this Olympic will suit India," Gurbux said.

This time the 12 qualified teams have been divided into two groups of six nations each. While each team will play each other once, four teams from each group will make the knockout stage. "With four teams making the quarterfinals, I feel there is a greater chance of India making the knockouts this time," Gurbux said.

The former India captain felt things become different once a team makes the quarters. "I have always seen that once teams make the knockouts they play with a lot more heart. I am sure if India make the quarters, they will play much better brand of hockey," he said.

Looking at India's group at Rio, Gurbux felt they should beat all the teams except Germany and the Netherlands. "Germany and Netherlands will be tough. But India are capable of beating them too. But even if they fail to do that, they should qualify for the quarters beating Argentina, Canada and Ireland," Gurbux, who won the Olympic gold in 1964 Tokyo Olympics, said.

The Times of India


---

St Albans named host venue for Futures Cup



Oaklands College

St Albans Hockey Club based at Oaklands College will play host the England Hockey Futures Cup on the 26th to 29th of October 2016 and in August 2017.

The Futures Cup is the pinnacle event of the England Hockey Player Pathway for U16 and U18 girls and boys. Teams from across the country including one from Scotland and Wales will compete to be crowned the Future Cup winners.

Our best young players are selected from Junior Regional Performance Centres to play in 4 representative teams at Futures Cup. Providing a best vs best competition as it supports player and coach development within a high-intensity and pressurised tournament environment.

The format mirrors an international event to give our developing young players a sense of what they might experience if they are selected to play for England. England national junior squads are selected at Futures Cup.

Sally Mapley the Player Pathway/Single System Manager commented;

"After an extensive process involving many potential venues we are delighted to appoint St Albans Hockey Club in association with Oaklands College and University of Hertfordshire as the host venue for England Hockey Futures Cup. Futures Cup 2016 will be the launch of The Player Pathway and I am sure will provide a fantastic platform to start the exciting development in the provision for our talented young hockey players. The England Hockey Performance Team are looking forward to developing a fantastic event alongside all involved." 

Andy Bowskill, St Albans Hockey Club Director of Hockey said;

"St Albans Hockey Club, in conjunction with Oaklands College, is delighted to have been chosen to host the next series of Futures Cup tournaments. It is the most prestigious junior event in the national calendar and provides a great opportunity for our elite young talent to showpiece their skills in preparation for National Squad representation. We look forward to providing a very warm welcome to players, their families and friends, officials and all visitors to the world class facilities at Oaklands."

Andy Halliday, St Albans Hockey Club Men's Head Coach and Great Britain Men's Team Manager

"As somebody who has a dual role, both with our International squads and at club level, I understand the important role now played by The Futures Cup in identifying and nurturing our future International players. It is fantastic to see the tournament will be held at St Albans Hockey Club where we have developed the facilities with a focus on performance. I have no doubt that the strong infrastructure and willing club volunteers will ensure this event is a roaring success."

St Albans Hockey Club President, Mike Fordham comments

"We are really delighted. It is a privilege to be entrusted with delivering so important an event. St Albans HC is blessed with great facilities in open countryside outside a historic city. Through our strong partnership with Oaklands College our club strives for inclusivity, excellence and sustainable innovation. Hosting the Futures Cup brings both opportunity and responsibility and we are rolling up our sleeves."

Oaklands College Nicole Sadd, Commercial Director at Oaklands College

"Oaklands College is delighted to be selected to host the Futures Cup Hockey Event. Building on our successful partnership from the Euro Hockey Masters Tournament last summer, we look forward to working with England Hockey & St Albans Hockey Club to deliver an exciting and memorable experience for all involved."

Ed Barney the Head of Great Britain Talent Development

"Whilst Futures Cup will remain an integral part of the England Hockey Player Pathway, I'm delighted that the opportunity to participate is being extended to teams from Scotland and Wales. Providing a challenging, best versus best competition environment that supports player development and allows players to develop their skills under pressure is fantastic. From a Great Britain perspective, it's great that we will be seeing the best talent from across the country in one place – this will only aid the work that we are doing in developing more world-leading players. It promises to be a brilliant event."

England Hockey Board Media release


---

Fexco Sponsor Ireland vs Netherlands Match Series




We are delighted to announce Fexco as the title sponsor of Ireland v Netherlands match series, July 4th and 6th in University College Cork. The world number 2 side will prove ideal preparation for the Green Machine ahead of the Rio Olympics.

This is your last chance to see the Green Machine before they head off to Rio!

Tickets for these games will be available at the gate.

Ireland Squad:
1 David Harte (C,GK)
2 Jamie Carr (GK)
3 John Jackson
4 Jonathan Bell
6 Ronan Gormley
7 Michael Watt
8 Chris Cargo
9 Gareth Watkins
10 Alan Sothern
11 John Jermyn
12 Eugene Magee
13 Peter Caruth
15 Kirk Shimmins
16 Shane O'Donoghue
18 Matthew Bell
20 Michael Darling
21 Timothy Cockram
22 Michael Robson
24 Kyle Good
26 Paul Gleghorne
27 Conor Harte

Irish Hockey Association media release


---

Telkom Orange, Butali Sugar Warriors kick start title defence

Champions Butali Sugar Warriors and Telkom Orange begin their title defence this weekend.

By BRIAN YONGA



Nakuru Hockey Club's Caleb Nyakundi vies for the ball with Zack Aura of Butali Sugar Warriors during their Kenya Hockey Union men's Premier League match at City Park Stadium on April 3, 2016. PHOTO | MARTIN MUKANGU |  NATION MEDIA GROUP

Champions Butali Sugar Warriors and Telkom Orange begin their title defence this weekend as the 2016 Kenya Hockey Union season gets underway on Saturday at the City Park Stadium, Nairobi.

Orange, who won a record 18th league crown last season, open the proceedings against Kenyatta University (KU) Titans in a women's league match.

Men's Premier League champions Butali will kick start their bid to win the title for the third straight season against KU Vultures at the same venue while debutantes Chase Sailors will play Kenya College of Accountancy of University (KCAU) in the last match of the day.

Orange won all their matches last season, finishing on 54 points and will be looking to extend their dominance on the local front.

Orange head coach Jos Openda has urged his charges to be better than last season as they seek to win a record 19th crown.

"We conceded only once last season and we want to try and keep clean sheets in all matches this season," Openda said on Friday.

The African Club champions scored an impressive 132 goals from 18 matches last season with prolific striker Jackline Mwangi topping the scoring charts with 20 goals.

Mwangi is expected to lead the attack for Orange assisted by Audrey Omaido and Lilian Aura. Titans, who finished sixth last season, will be aiming for an improved performance this season.

"We have learnt from our mistakes and our target this season is to try and defend better and also work on our forward play," Titans coach Dominic Mutwol said.

POOL SYSTEM

The men's Premier league will adopt a pool format this season and champions Butali are in Pool A while last season's runners up Kenya Police headline pool B.

The top two teams in each pool will advance to the playoffs, where the winners will meet in the final to determine the men's premier league champions.

Butali have bolstered their squad with the acquisitions of internationals Lawrence Okubasu and Tony Nyukuri from USIU and Greensharks respectively.

The two are expected to add fire power to an already lethal forward line that has Zack Aura, Seth Oburu, Frank Wanangwe and Emmanuel Simiyu.

The Kisumu-based side won the league last season with 77 points, four more than Police. Butali coach Cliffe Okello believes the pool format will be tricky but is optimistic of reaching the playoffs.

"The first target is of course to make the playoffs and then try and win the league. We have the players who can win us matches and titles as well," Okello said.

Police will be in action tomorrow against Wazalendo while former champions Sikh Union Nairobi and Strathmore University Gladiators facing off in the last match of the weekend.

FIXTURES (All Matches at City Park Stadium)

Saturday

Women's National: Orange v Titans – 12pm
Men's National: Thika Rovers v TUK- 2pm
Men's Premier: Butali v Vultures - 4pm, KCAU v Chase – 6pm

Sunday

Women's National: Sliders v Daystar Falcons – 9am
Men's National: Wazalendo Youth v Multimedia - 11am
Men's Premier: Kenya Police v Wazalendo- 1pm, Sikh Union v Strathmore – 3pm

Daily Nation


---

Ugandan National hockey league resumes

By Kasozi Balikuddembe



Deliverance Church Youngster in Blue takes on Weatheread Gazelle player in yellow during the National Hockey league at Lugogo recently. Weatherhead won 3-0. Photo/ Johnson Were

After taking a long week lull, the National Hockey league resumes with third placed Simba looking to unseat second placed Kampala as the two sides meet at Lugogo onn Saturday.

After losing by a whisker to Wananchi in the Weatherhead open that happened last weekend, Ali Muhammad's side are looking to pick up their pieces with a win against Kampala.

"We are looking to forget about that miss of the Weatherhead open. We really need the points" said Ali Muhammad, Captain of Simba.

Meanwhile in the Women's division, leaders Wananchi are looking to extend their lead at the table with a game against KHC Swans on Sunday.

National Hockey League Fixtures

Saturday

Men

Simba vs. Kampala

Women

Weatherhead A vs. Weatherhead B

Sunday

Men

Weatherhead vs. Rockets

Women

Wananchi vs. KHC Swans

The New Vision


---

Dhanraj Pillay appeals to PM for Shahid's treatment

New Delhi: Indian hockey legend Dhanraj Pillay today appealed to Prime Minister Narendra Modi to provide assistance for the treatment of former national captain Mohammad Shahid, who is fighting for survival due to liver and kidney problems.

The 56-year-old former forward was admitted to Medanta Medicity Hospital in Gurgaon after a bout of jaundice and dengue made his condition worse. He was airlifted on Tuesday evening from Varanasi.

"Shahid bhai is a legend, an icon, someone who made India proud internationally. Indian hockey was known across the world because of players like him. As a person and as a player, he lifted the Tricolour high with pride in being an Indian," Pillay said in a statement.

"It is pity that today not even a single senior political leader has bothered to even inquire about his condition even though he has been in the Intensive Care Unit for two days now," the former captain added.

"I appeal to our honourable Prime Minister, sports minister, all sports associations and everyone else to please take note of the Shahid bhai's condition and provide all help possible. We are also trying to mobilise all support," he further stated.

A master of stick control, Shahid was considered one of the most exquisite proponents of the game for his ability to dodge and weave past any opponent. He was a part of 1980 Olympic gold-medal winning team and also won silver and bronze in the 1982 and 1986 Asian Games, respectively. CM AH AH

The Times of India


---

Hope and support for Mohd. Shahid

Vijay Lokapally

A stinging comment by former India captain Dhanraj Pillay and a sustained effort by friends in the hockey fraternity as well as the media has raised a ray of hope for the ailing Mohammad Shahid.

The hockey legend is battling liver and kidney-related issues at a private hospital in Gurgaon, with no assistance coming from any quarter until the Union Sports Ministry stepped in on Friday.

According to Sports Ministry sources, Shahid will be provided the best medical help. "The quantum of the financial assistance will depend on the report provided by the hospital," said the source.

Railways to fund expenses

The Indian Railways, for whom Shahid played in National competitions, said it would take care of his medical expenses. "The formalities and paperwork are complete. Shahid's full treatment will be taken care of by the Indian Railways," said a senior source in the RSPB.

Earlier, Dhanraj had pleaded with the Prime Minister to intervene. "I appeal to our honourable Prime Minister, Sports Minister, all sports associations and everyone else to please take note of Shahid bhai's condition and provide all help possible. We are also trying to mobilise all support from our end," he said.

"He is a legend, an icon, and someone who made India proud internationally. Indian hockey was known all over the world because of players like him," said Dhanraj.

The Hindu


---

Indian Railways is taking care of Shahid's medical expenses

NEW DELHI: Former India hockey captain Mohammad Shahid, who is fighting for survival due to liver and kidney problems, will have all his medical expenses taken care of by Indian Railways.

The 1980 Moscow Olympics gold medallist, Shahid, 56, was admitted to Medanta Medicity Hospital in Gurgaon after a bout of jaundice and dengue made his condition worse. He was airlifted on Tuesday evening from Varanasi.

Indian Railways, for whom Shahid played in the National Competitions, on Friday, said they are taking full care of the medical expenses of the former hockey player.

"The formalities and paperwork are complete. Mr Shahid's full treatment will be taken care by Indian Railways," a senior source in RSPB told PTI.

His condition is reportedly better than Thursday.

Indian hockey legend Dhanraj Pillay also appealed to Prime Minister Narendra Modi to provide assistance for Shahid's treatment.

Shahid was a part of India's last Olympic gold medal winning team. He was also a member of the 1982 and 1986 Asian Games squad which won silver and bronze respectively.

The Times of India


---

Mohammad Shahid's family point fingers at Indian Railways and Hockey India

Doctors says Mohammad Shahid needs a liver transplant. But because his kidneys are not functioning normally, he can't undergo surgery.

by Jonathan Selvaraj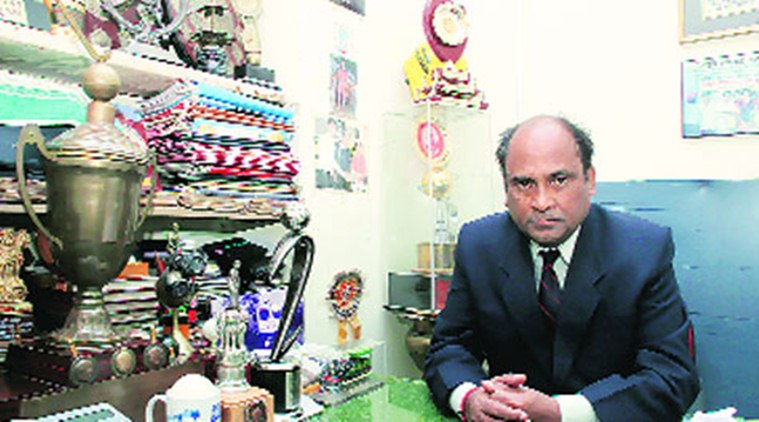 Mohammad Shahid, was admitted to the ICU of the Medanta Medicity hospital in Gurgaon with serious liver and kidney ailments. (Source: File)

Two days after former India hockey captain and Moscow Olympic gold medalist Mohammad Shahid, was admitted to the ICU of the Medanta Medicity hospital in Gurgaon with serious liver and kidney ailments, his family rued what they felt was poor treatment accorded to him by his employers the Indian Railways and the Indian hockey federation (Hockey India).

"No member of the Indian Railways or Hockey India has come to inquire about his well being," said Mohammad Nasir, his nephew and a former India hockey player. Nasir, an employee of ONGC said that the authorisation credit note – a note issued by the Railways to the hospital informing them that they would take care of all of Shahid's expenses – mentioned that Shahid had to be be shifted to the general ward following his stay in the ICU. "Isn't it sad that a hockey player who was an Olympic gold medalist, a Padam Shri and a Class 1 officer with the Railways gets this sort of treatment," said Nasir.

Nasir added that the Railways letter had only been issued on Friday, two days after Shahid, 56, had first been airlifted to the hospital from the Sir Sundar Lal Hospital in Varanasi where he was being treated. " Until now, the family has been making payments by cash to the hospital on our own. We have spent close to two and a half lakhs already, says Nasir. He alleged that there had been lack of support from the federation as well.

"On the day Shahid mamu was being taken to Delhi, we got a call from the office of Dr. Narinder Batra (President of Hockey India) office asking whether we would want to get him shifted to Dr. Batra's hospital in Delhi. But the doctors in Varanasi had already suggested that he be airlifted to Medanta. So we had him admitted to Medanta. But ever since that first call we have had no contact from the federation or any offer of financial support," said Nasir. He says it is only some of Shahid's teammates who have visited him or made calls to the family asking about his health. "Zafar Iqbal, had visited him yesterday. We also got calls from Mohinder Pal Singh and a few others" he said.

Shahid's condition remains critical says Nisar. "Doctors have said that he needs a liver transplant. But because his kidneys are not functioning normally, he can't undergo surgery. They have said they will try to get his kidneys functioning normally over the next few days before deciding any further course of action," says Nisar.

Indian Express


---

When Md. Shahid called for help to cancer ailing Olympian Vivek Singh

K Arumugam




Living legend Mohd Shahid may now be undergoing medical treatment and need all our prayers, but 12 summers ago, he used his charisma to help out an ailing colleague, and showed his softer side of human being in full measure.

It was about 12 years ago, months before the Athens Olympics. Living legend Mohd Shahid rank me up to help him get an appointment with actor–turned politician Sunil Dutt, who had just taken over as the Union Minister for Youth Affairs and Sports.

A call from the legend is most important for me, and agreed immediately.

He said the Memo was to get some fund from the said Ministry to assist cancer-suffering Olympian Vivek Singh.

After brief discussion, I insisted him visit Delhi and meet the Minister, as submission of memo won't help immediate cause of getting enough fund for treatment.

A day later Mohd Shahid called and informed that Vivek Singh will be flying to Mumbai for ayurvedic treatment, and he can break journey if I want to meet him at the airport.

It was the time I and a couple of friends including Shailesh Chaturvedi of Hindustan Times, and Rajesh Sahu of TWI were putting together an organization called Hockey Journalists Association of India.

We thought it should be our first activity.

Words spread and wonderful response resulted from otherwise fragmented sporting fraternity.

We thought of collecting a fund first ourselves. Each one was assigned to meet other leading newspaper sports sections. Each assignee took their role very seriously. Journalist asking donation from fellow journalist, and it was sheer Mohd Shahid magic.

When we sent a collective mail for fund to NDTV for example everyone including Rajdeep Sardesai chipped in.

In about 48 hours we had Rs.43k.

Our target was 20k, but could collect only 16k till a few hours left. Anupam Ghulati presented 4k to round it off to 20k. However, as words further spread, we could doube the collection in hours. It was sheer Shahid magic, his appeal that worked.

At least eight of us media men went to Palam domestic airport. We met Vivek Singh, who looked tired but had enough spirit to engage all of us which includes NDTV's Vimal Mohan, Doordarshan's Digvijay Singh Do, Navbharat Times' Satyender Pal Singh, Mail Today's GS Vivek, HT's Shailesh Chaturvedi, and others. We handed over the money to him, while having a life-time chat with the ailing Olympians. He was hesitant to receive the money, but was prevailed upon.

Even before I returned home, I had to stop my Priya scooter to attend a call from Mohd. Shahid.




The eulogy he heaped on Delhi media's gesture is one that still fresh in my memory.

I avoid writing those generous words to avoid self-praising.

Within a week, we invited Mohd Shahid for a press conference, triple Olympian Harbinder Singh, Moscow Olympic Goldie Zafar Iqbal joined.

We got the Press Club venue free of cost, with help from Norris Pritam.

An exhibition match was announced there to collect fund. Digvijay Singh of then Doordarshan got the nod of Sunil Dutt to attend the event.

Railway Board helped us bring its Olympians. It also brought then women's national team. Olympian Ashok Diwan playing a lead role in all these.

Many in the TV lost no time in getting the Minister to witness the exhibition match.

Sanjay Nirupam, then was in Shiv Sena, invited Delhiites to present in good numbers for the match, having spent an hour with us at National stadium.

But we the organizers, especially me, was getting nervous as we could not collect any sizeable fund to be given to Vivek.

We went all public sector institutions. Working journalist proved poor in marketing! Many even turned up without visiting cards!!

It was then Ajay Kumar Bansal came into picture. He took me an Indian Oil Boss who lost no time in sanctioning Rs.1 lac. With just two days left, we had hardly Rs.2 lacs commitment.

Things changed. Nehru Society chipped in. Many things fell in line. We could collect cheque worth of Rs.8 lac.

Vivek's father and Mohd Shahid, together with Olympian Rahul Singh and his another brother turned up.

Sunil Dutt announced some measures, and spent almost three hours with us at Shivaji Stadium.

Who is who of Indian Olympians including Nandy Singh, Raghubir Lal, Ashok Kumar, MP Ganesh turned up to play for Vivek Singh Charity match.

MP Ganesh, then Executive Director with Sports Authority of India, got playing jerseys from Rakshak's Kohli.

In hockey its first time a charity match was conducted and fund handed over when it was need, not long after the need perished.

Unfortunately, due to an inspection at DWL where he is officer, Mohd Shadid had faced lot of difficult to come Delhi on that day, but his will prevailed.

It was just a call from Mohd Shahid that energised all of us.

This event is personally a highlight for me.

Its Shahid's persona, his magnetic appeal that helped Vivek Singh feel comfort in his times of ill-health.

Grateful Shahid invited me and Shailesh when they organized a fund collection meet in Varanasi, where Amar Singh opened the strings of UP govt's purse.

The same Shahid who stood for his collegue Vivek is in need of our prayers to come out of the present pass.

Its holy month of Ramzan, we pray to the Almighty to bless the finest human being in his times of need.

Stick2Hockey.com