All the news for Thursday 30 June 2016

Fiji bags honours in thrilling Fiji-Vanuatu encounter




The much-anticipated clash, on Day 2 of Men's Hockey World League Round 1 in Suva, between favourites Fiji and giant killers Vanuatu lived up to its expectations.

The match went into penalty shootout after the teams were locked 4 - 4 at the end of full time.

Both sides came unbeaten into this match which was played under scorching sunshine. Their last encounter being the Pacific Games Final in Port Moresby last year where Fiji came out victors.

Fiji's Amenatave Veitamani opened the scoring in just the first minute in a fast paced physical encounter.

The Vanuatu side undaunted by the reputation of the Fijians hit back in the fourth minute to equalise through Peter Harry. Fijian captain Hector Smith Junior extended the homeside's lead in the 8th minute for the scores to read Fiji 2, Vanuatu 1 at the breather.

Vanuatu scored two quick goals when play resumed in the second half to lead 3-2. The match seesawed with Fiji leveling at 3 all and then Vanuatu through Ben Sam extended it to 4-3, five minutes from fulltime.Fiji's Kristofer Mock leveled proceedings two minutes from fulltime before he was yellow carded.
 
In the shootout both sides chose three players and both missed a shot each, meaning they were still level at 2-2. In sudden death play, Fiji scored and the Fijian keeper blocked Vanuatu's attempt.

Fiji's top-goal scorer Leevan Dutta who scored 15 on Day 1 was off target.

Vanuatu's Development officer Wes Stewart expects another tough encounter when the sides clash again in the coming days.

Meanwhile in the Women's event the Fijian women remain unbeaten after thumping Tonga 19-0 and Solomon Islands 9-1.Newcomers Solomons contained Fiji in the first half to only 3-1.

Fijian captain Tiara Dutta led from the front scoring 9 against Tonga and 2 against Solomons.

For detailed match results please click here

FIH site


---

Fiji struggles to win

Pravin Narain



Fiji's Lala Ravatu on the attack against Solomon Islands' Rovina Manu during the 2016 FIH Hockey World League Round 1 at the National Hockey Centre yesterday. Picture: JONA KONATACI

THE Fiji men's hockey team faced a strong challenge from Vanuatu in the FIH World League Round One at National Hockey Centre in Suva yesterday.

The match ended 4-4 forcing the winner to be decided on the penalty shootout with Fiji winning 7-6.

Coach Hector Smith Sr said: "Our performance was not good. The match went into extra time and they showed a lot of character and we have some young boys who are playing," he said.

"This is five-a-side hockey and Vanuatu has improved with Papua New Guinea. It is also tiring and the skill level is coming up. Vanuatu is working on the development side and it is paying off for them. It is good for the sport.

"We have young players like Epeli Naduva from Lautoka who made it to the national team and God bless him," he added.

"The players are also playing for one another.

"During the penalty shootout, there were players from different clubs, but still everyone supported each other. We are trying to include as many players as we can, but at the end of the day we only pick the best players."

Meanwhile, the Fiji women's team defeated Tonga 19-0 and 9-1 against Solomon Islands.

The Fiji Times


---

Dutta scores nine goals in big win over Tonga

Pravin Narain



Tiara Dutta on attack for Fiji against Solomon Islands yesterday. Picture: JONA KONATACI.

FIJI women's hockey rep, Tiara Dutta is a player to watch in the FIH World League Round One at the National Hockey Centre in Suva.

She scored nine goals in the 19-0 win over Tonga on day two of the competition.

Tiara, 17, said: "I am only able to score goals with the help of my hardworking teammates."

"I started playing hockey when I was at primary school at Veiuto and from there my interest grew."

Her brother Leevan Dutta is the highest goal scorer with 14 goals while their mother Alison Southey is also the coach for the women's team.

Dutta who is in Year 12 at Jai Narayan College in Suva said she would look at an option of playing overseas after secondary school.

"I do have a dream of playing for an overseas club in future." she is the deputy head girl of JNC. "

The competition ends on Saturday.

The Fiji Times


---

Debut for Solomon Islands women

Pravin Narain

SOLOMON ISLANDS have formed a women's team for the first time in the history of the sport in their country.

And they are competing in the FIH Hockey World League Round One at National Hockey Centre in Suva.

The team had a surprise when they played at the artificial turf compared with playing on grass at home. They faced an acid test losing 9-1 to Fiji in their first international..

Team official Eddie Koke said it was a big challenge.

"This is the first time we have come to play hockey since this is also the first Solomon Islands women's team ever formed," he said.

"Solomon Islands is only known for Futsal and football, but we are happy we have started in hockey. We had to look for players from schools and in communities to form the team.

"In five years if we give time to the girls and proper guidance, I am sure we will be a good hockey nation. We are learning a lot of new things."

Player Madlyn Sikomea said there was a lot of dedication and commitment shown by the players.

"The men's team was there in 1970, but not the women's team. The boys had been playing in the Pacific Games," she said.

"Back home we have been playing on grass and soil and coming here to play on artificial turf is a challenge for us. The ages of the players range from 15-22 years."

Day Two results: Women: PNG 2 - SOL 1, FIJ 19 - TGA 0, FIJ 9 - SOL 1, PNG 7 - TGA 0. Men: SOL 3 - TGA 2, FIJ 4 - VAN 4 (2-2) (3-2) In sudden death, Fiji won for a total score of 7-6. Van 3 - SOL 1, PNG 7 - TGA 1

The Fiji Times


---

Narrow defeat for Scotland's women in Spain



Kareena Marshall 100 caps

Gordon Shepherd praised the performance of his Scotland women's squad despite losing 2-1 to Spain in Alicante, writes Nigel Duncan.

Becky Merchant (Edinburgh University) levelled early in the second period after the Scots lost a first-half goal. The Scots only failed to earn a draw following a Spanish goal four minutes from time.

Earlier, co-captain Kareena Marshall (Western Wildcats) earned her 100th cap and Lucy Lanigan (CALA Edinburgh) won her first in the second of four international fixtures between Scotland and Rio-bound Spain this week.

Shepherd's squad bounced back after losing 3-0 to Spain in their opening game on Monday but Dundee-born but Glasgow-based play-caller said: "This was a brilliant performance. The girls were much improved from Monday and they played really well, picking up the tempo from the start. They took the game to Spain and a draw would have been a fair result."

Scotland have a light gym session before playing Spain again on Thursday and Friday.

Challenge: Scotland women 1, Spain 2 (San Vicente del Raspeig, Alicante)

Scottish Hockey Union media release


---

Back injury puts Emily Gaddum's chances of Rio Olympics farewell in doubt

SHAUN EADE



Emily Gaddum (nee Naylor) has not been able to fully train since May due to her back injury putting her in doubt for the Rio Olympics. Hannah Johnston

Emily Gaddum's Rio hopes are hanging in the balance with a back injury putting the Black Sticks' most capped player's Olympic swansong in doubt.

Gaddum, nee Naylor, missed the Black Sticks' poor showing at the Champions Trophy in June due to the injury.

The 30-year-old has already made the decision to call time on her hockey career following the Olympics.

The Olympic team is set to be named next week, but the injury is still causing her issues.

"It has not been great so we will see how I go, whether I can make it or not," she said.

The injury is nothing new for Gaddum.

"It is a bit of a problem area for me. In the last Olympics [in 2012] I put my back out quite badly half way through it and I had to have an epidural to get me through the rest of the tournament."

She said rest was the key to recovering from the injury, but doubted she could fully get over it while playing hockey.

"I don't know if while I am playing hockey if it will ever leave me," she said. "With playing hockey you are always bent over and you are using your back a lot."
Ad Feedback

She started to notice her back causing issues again during the Black Sticks' tour to Darwin in May.

Following the tournament, she has been limited in what exercise she has been able to do.

"I have done a little bit of jogging and walking, but not so much hockey, so I am probably a little bit rusty," she said.

But she was still holding out hope that she will be able to make it to one last tournament with the Black Sticks.

Losing Gaddum would be a big blow to the Black Sticks, who missed her defensive presence during their disappointing Champions Trophy performance.

She put those performances down to pre-Olympic selection nerves.

"It was not the results they were after, but I think it is tough just before Olympics," she said. "There are always people a but nervous with Olympic selection and our coach is trying out different things.

"It is good not to peak too early and will put a bit of fire in the belly come Rio."

Regardless if she is able to make the trip, Gaddum is confident the Black Sticks have the players to break their Olympic medal drought.

"The team has shown some good results in the last few years," she said. "There is the belief there and it is just a case of putting some good performances out there."

"What ever 16 make that Olympic team will be a really strong team, probably the strongest group that I have been involved with over the last 12 years."

Gaddum has played 274 games for New Zealand since her debut in 2004.

If she is selected for Rio, it will be her fourth Olympics following Athens in 2004, Beijing in 2008 and London in 2012.

EMILY GADDUM (nee Naylor)

School: Palmerston North Girls' High School
NHL team: Central
Black Sticks debut: 2004
Games: 274
Goals: 3
Awards: New Zealand women's player of the year 2009, 2010.
Best Commonwealth Games finish: Second in Delhi in 2010
Best Olympic Games finish: Fourth in London in 2012

Stuff


---

Fantastic fourth for GB's fantastic three.



Barry Middleton celebrates scoring for GB

Now that the Great Britain Olympic squads have been announced, attentions turn from the anxiety of selection to the excitement and determination about competing at the greatest sporting show on earth. For three players in the Great Britain squads the Olympic Games is a familiar friend. Barry Middleton, Kate and Helen Richardson-Walsh will be competing in their fourth Games when they set foot on the pitch in Rio.

Each has their own story, their own journey, but the achievement is impressive however you look at it.

"It's unfinished business for me." says Kate Richardson-Walsh. "Getting the bronze in London gave me a little taster of what's hopefully to come."

She adds: "I look back to 1999 when I got my first cap. I was amazed to get that and now I'm standing here about to go to my fourth Olympics and I'm just amazed it's going to happen. It won't sink until I finish and I can look back I'll really feel how special it was."

Of course the women's captain shot to fame in the London 2012 bronze medal campaign when she returned from a broken jaw to lead her side to the podium. Injuries have played a prominent part in her wife and team mate Helen Richardson-Walsh's career, too.



Helen and Kate Richardson-Walsh celebrate during HCT2016

The midfielder has battled back from two serious back problems to defy the odds and take her place in her fourth Olympics:

"An arrow can only be shot by pulling it backwards. When life is dragging you back with difficulties, it means that it's going to launch you into something great. So just focus, and keep aiming."

This is a quote Helen lived by when she had her first back surgery in 2013 and then her second operation 11 months later. Now, with a European gold tucked away in her trophy cabinet the No8 is looking forward to being propelled into something great, another Olympics.

On the men's side of things, Middleton, the most capped men's player in his country's history is also set to appear in his fourth games. What keeps him coming back time after time?

"They're all different and that's the beauty of it." he says. "Because they are four years apart the teams are so different and there's different emotions going into it. The first couple were great experiences but we didn't deep down think we could win it. London we went with a hope of winning it and this one we want to go there and achieve something. We aren't just there to enjoy the food and the village; we are there to play hockey and to succeed like any other hockey tournament."

Middleton has plenty of Olympic memories, admitting the first tournament passed him by in a "bit of daze" whilst London 2012 remains an experience he will "never forget". As he heads to Games number four, there is a clear memory he'd like to collect to trump those that went before:

"A gold medal would top the lot. That's the plan; that's why we do this. We want to make something special happen and that's what we're fighting for."

Three very different journeys, three decorated and wonderful players hoping they will enjoy their fantastic fourth in Rio.

Great Britain Hockey media release


---

Tough times don't last. Tough people do.



Sam Quek in international action

Each and every athlete embarks on their own personal journey when they being their quest for a place in the Olympic squad. The all-important selection email can't come quickly enough but when it comes it brings all kinds of emotions. Below is a social media post from Sam Quek, the Great Britain defender set for her first Olympics. Read on to find out the mixture of emotions she has felt during the whole process.

"Today I can confirm that I WILL BE GOING TO THE OLYMPICS!!!

Words cannot adequately express how I feel at achieving my lifelong dream of representing my country on the very highest stage; at an Olympic Games. I am completely overcome with joy and happiness, along with an overwhelming sense of justice given the unbelievable amounts of hard work and heart wrenching sacrifices I have had to make in order to be in this position.

The "Road to Rio" for me, as many of you know, was not a smooth nor conventional one, but today's announcement seems to put all of that into perspective.

I can tell you now, the moment I found out (via email) I was in tears of pure joy, elation, relief and proud that everything I had done had paid off... Along with screaming out a few expletives!!

I am not foolish enough to believe I got here alone, and have so many thank yous and apologies to make to people, who assisted and put up with me, whilst I chased my dream.

Firstly, I want to thank my family. Mum, Dad, Max, Mike, Shaun, Sam and Yaz, you have taken the brunt of those tough times and seen all tears of sadness, vulnerability and frustration. Even when I had to be selfish, seemed out of order, or became jaded and lost faith in this process, no matter what, you still had the time and words to help me return in the right frame of mind and become the fighter I am today. I will love you forever and please know that you guys motivate me to be better every single day, so that I can always make you proud.

A mention too for my amazing Nanna (Dolly) who is the strongest woman I know; this past year alone coming back from a broken hip/operation/separation from Auntie Ann as well as the sad news of losing my Auntie Barbra.

You have been my inspiration and helped me believe that nothing is ever impossible and I can't wait for you to see me step out there representing Great Britain at the Olympics.

To my friends, again, thank you and sorry! I know I have been an unbelievable let down at times missing nights out, birthdays, reunions, weddings, christenings etc for what is essentially (and being quite blunt) selfishness, as I did what I had to in order to achieve my dream. The test of a true friendship is time and no matter what has got in the way, no matter what I have missed, I know true friendship lasts forever. You have supported me through thick and thin and been a constant throughout my career. In the distant future, I will make it up to all of you.

To my boyfriend Tom and the dogs Max and Ollie (who are basically my children!)… You have been my rocks. Back when we met, you took a huge gamble with me because you understood that my priority in life was my career. You understood the sacrifices I had already made, the hardship I had faced and realised all those would be in vain if I stopped then and there.

You entered my life when hockey for me was at its pinnacle, yet only a year later I was back down at my lowest. You lifted me up, gave me confidence, loved me and made me laugh when all I wanted to was cry. When required, told me a few home truths (even if I didn't like it at the time), and most of all made sure I never forgot what I was about. I could go on forever about all the things you do for me but I can't and never will be able to thank you enough for everything.

Finally, I would like to thank my coaches, the staff who have assisted me, my team mates and most importantly of all, the fans and my supporters. Without you and your relentless support, Hockey would not be what it is in this country, and I could never have imagined how much this sport that I love, would bless me with personally.

Thank you to every single one of you who have followed my journey. Whether you have sent me a message, liked a tweet, commented on status, or even held up a banner or sang my name at one of my games… whether it was in the early days on the side-lines at Chester Hockey Club when I was only 14, or now as I play for Great Britain in front of the nation and the world as part of Team GB; every single one of those words and acts of kindness has added to the reason why I kept bouncing back and helped me along the way. Who would have ever thought that the journey was actually along a road to the Rio Olympic Games?!

My highs and lows in Hockey are well documented, and amongst all the joy and elation I feel today, I would like one message to shine through… Never, ever, give up on your dreams...

In your darkest hours, you will question your motives, everything will tell you to abandon your path, but I am here to tell you to never quit, just fight back harder, no matter how hard it may seem. I have won many medals, most notably at Commonwealth Games and winning Gold in front of a home crowd at the European Championships… but I have also missed out on Olympic selection twice before, both in Beijing and most devastating of all the London 2012 games. Life can be fickle, especially in sport, as just last year I was captaining my Country in the Champions Trophy, only for a few months later to be dropped from the team as they went to qualify for Rio because I was struggling with injury… lows like that can break a person both mentally and physically, but in those dark times, the belief that this day would come kept me chasing the light at the end of the tunnel, that's what champions do… that's what Olympians do… so never give up on your dreams, because I didn't, and now I am living them!

TOUGH TIMES DON'T LAST, TOUGH PEOPLE DO.

Thank you

Sam Quek – Olympian!!!!!!!!!"

Congratulations to Sam and all the other athletes selected. We are all right behind you!

England Hockey Board Media release


---

GB Hockey defends 'outrageous' Olympic squad selection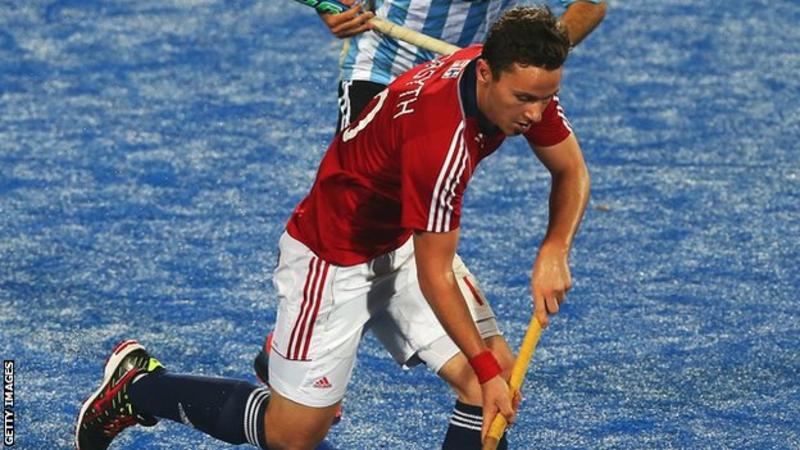 Alan Forsyth played for Great Britain at the World League Finals

Great Britain Hockey has defended its Olympic squad selection, after it was criticised for an absence of Scottish players.

Former international Laurence Docherty led the complaints after English hockey's Players' Player of the Year Alan Forsyth - a Scot - was left out.

"This is the most outrageous situation I have heard of," Docherty said.

But GB Hockey responded that squad selection was "based on performance criteria only, not on nationality".

It added: "Selection is exceptionally difficult and every decision is taken with due diligence and in the best interests of Great Britain Hockey."

Scot Docherty himself switched allegiance to the Netherlands after being left out of the Great Britain squad for Sydney 2000.

Docherty believes Forsyth - who was also the top scorer in England's top league in 2014-15 - is just one of the Scots who deserved a place in the men's or women's squads.

The 23-year-old was recently capped by Great Britain at the World League Finals in India.

"Twenty-plus goals and not selected - mental," Docherty added.

In a statement, Scottish Hockey expressed its disappointment, saying: "Our athletes have worked exceptionally hard, made significant personal and professional sacrifices and shown a fantastic commitment to competing in a sport they love.

"We are disappointed for them that they have not been rewarded for their efforts. They are a credit to Scottish Hockey and the sport."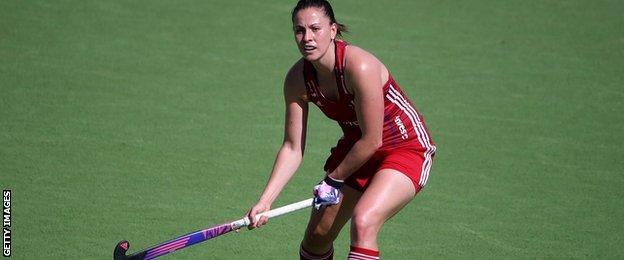 Scotland's Emily Maguire was in the Great Britain team at the World League Finals

BBC


---

Chasing The Dream with USWNT Athlete Melissa Gonzalez




She's an aspiring sunscreen model, known for her unique facial applications of American flags in bright colored zinc.

She's an underground beat boxer, always poised to drop vocal percussions at a moments notice.

She's an Olympian with impeccable work ethic that builds the type of muscle, speed and confidence her teammates appreciate but her opponents hate.

Ladies and gentleman, meet the multi-talented, never-dull Melissa Gonzalez.

Known for rocking a shirt featuring a heavenly stack of fluffy pancakes, you can't miss her and, in our opinion, you wouldn't want to. Her hysterical and charming nature is magnetic. You can't run into Gonzalez without coming away with a story or admiration. While all business on the pitch, off the turf, the USWNT athlete majors in the art of funny, quick banter.

"For me, that's where the enjoyment comes from," said Gonzalez. "In my family, the language of love is busting each other's chops. What we do can be so tedious and monotonous. It's easy to succumb to that type of energy. I like to face the challenges light heartedly."

There's no doubt she stood out as an athlete in her younger years. Guiding Lakeland High School to a four-year record of 82-5-2, including two state championships as well as contributing to the Hornets' perfect 24-0 mark her senior season grabbed the attention of many. Icing on the cake was breaking the school's career marks for most goals, assists and points in a career. Her superior stick work put her on Nancy Steven's, University of Connecticut Head Coach, radar.

While a Huskie, Gonzalez was a 2010 NFHCA All-America First Team, NFHCA Mideast Region Player of the Year, back-to-back titleholder of the BIG EAST Defensive Player of the Year and Honda Sports Award finalist.

"I'm grateful for anyone who has given me an opportunity," said Gonzalez. "I've been fortunate that a lot of people have extended themselves for me, not even necessarily about field hockey but about life. UConn, the staff and my teammates, were integral in shaping me as a person and player nurturing my never-give-up attitude."

Giving her talents and time as an volunteer assistant coach for several programs including Yale, UMass and UConn, Gonzalez learned as much as she taught.

"I was able to be around a lot of great coaches and picked up on a lot of tricks and tips along the way," said Gonzalez. "On the other side of it, as a player, I was able to examine what a coach might want and how I can bring that back to my game to help my team."

She's goal-oriented, fearlessly aggressive when it comes to challenges – pull-ups, squats, sprints, you name it, sign Gonzalez up. But from time to time, Gonzalez's competitive mindset has been known to backfire. Like after consuming a plethora of sushi, she was unable to leave two more pieces on her plate because it's seen as quitting, and Gonzalez is anything but a quitter. She gobbled down the sushi to the point of almost becoming sick. Overly stuffed yet satisfied, add another W to Gonzalez's win column.

It's the same kind of spirit that led the Mohegan Lake, N.Y. native to the senior national team in 2010. Making an instance contribution, Gonzalez proudest moment on the team thus far is anytime she's able to wear the Team USA jersey knowing so many great individuals have worn and still wear the uniform. She not only plays for her teammates, but for her family. Through thick and thin, the Gonzalez family continues to generate the love and support for USWNT's number 5. And equally, she brings them with her wherever the team travels, not only with the last name etched into the back of her USA uniform, but also by wearing two sweatbands located just upon her right and left elbow in memory of her father.

"After he passed away, my high school soccer team gave me sweat bands with my dad's initials on them and it stuck," said Gonzalez. "I continue to wear them now every time I step in between those two lines as a way of honoring him."

Her father was dedicated to seeing Gonzalez succeed, driving her 2 hours to soccer practice to Albany, N.Y, for a 2 hour practice and another 2 hours back home all while she did homework. As a constant, positive influence, his passing left Gonzalez at a crossroad.

"I could have let it break me down, which it did for a while, or I could honor him by choosing to fight, and to fight hard in everything I do," said Gonzalez. "Whatever I come up against now, I know I can handle because nothing will ever be as difficult as losing him. I am fortunate to even have had someone like that in life. Some people don't."

She carries a hunger to achieve greatness, beating out who she was yesterday. She isn't one to do anything half-heartedly and either are her teammates.

"While there is glamor and appeal to the Olympic Games, we train at the same high-energy level all day, all year, no matter the occasion," said Gonzalez. "This isn't a typical 9-5 job, it almost becomes an obsession to a certain degree. To give anything less on any given day is a loss of opportunity." 

Gonzalez is methodical and deliberate. Either perfectly dishing the ball to her teammate on USA's attack corner unit for a goal or bringing a rotisserie chicken as a Christmas present to gift gains via protein to another teammate, there's no denying the vital role she plays on the squad.

USFHA media release


---

Hockey athletes unanimously back WADA's anti-doping message



Argentina star Delfina Merino is proud of hockey's reputation as a clean sport. Photo: FIH/Getty Images

Hockey has long been held in high regard for its excellent reputation when it comes to anti-doping education, with the International Hockey Federation (FIH), Continental Federations and the National Associations all working tirelessly to ensure that the important message of a doping-free sport is heard by all.

A clear indication of how seriously the sport takes the education of its athletes on anti-doping was evident at the recent men's and women's Hockey Champions Trophies, which were played at the Lee Valley Hockey and Tennis Centre in London. The FIH is proud to report that every single athlete that competed at the events had completed anti-doping education courses either organized by the World Anti-Doping Agency (WADA) or their National Anti-Doping Organisations (NADO).

All 216 athletes on show at both the Men's Hero Hockey Champions Trophy and the Women's hockey Champions Trophy had earned certificates by completing either WADA's online anti-doping course or one specifically organized by their NADOs.

As well as this, the FIH ensured that anti-doping information was freely available to all athletes competing at the events thanks to a special display located in the athlete's rest area at Lee Valley.

Speaking about the importance of the anti-doping message, Argentina superstar Delfina Merino said: "I think every sport has to be clean. If people are not clean then it is not fair. It is important that all athletes are on the same level. In hockey we really believe in that. We all want it to remain a clean sport and that we all give our best by ourselves without any unfair advantages."

"I am very proud that hockey has such a good reputation as being a clean sport", continued Merino. "I love the sport, I have played since I was four years old so my life is all about hockey. It is a sport that also gives you values that you have with you for your whole life, so I am very proud that we are clean."

The FIH firmly believes that anti-doping education is a key pillar of good governance for our sport, and is proud that the National Associations and the athletes themselves have embraced the drive to keep hockey clean. In addition to the educated athletes at the Champions Trophies, the FIH has requested that all hockey athletes selected by their National Association to compete at the Rio 2016 Olympic Games must earn their anti-doping certificate prior to the start of the competition.

For more information about WADA, visit their website by clicking here.

FIH site


---

Positivity following U21 men's double-header with Wales



Graham Moodie

Graham Moodie remains up-beat about the prospects of Scotland's under-21 squad after a double-header against a strong Welsh Development side, writes Nigel Duncan.

The Scottish youngsters lost 3-2 and 4-2 at Uddingston with Jock Breckenridge and Kyle Gladwin scoring in the first game, and Jock and Chris McFadden netting in the second.

Coach Moodie said it was great to give all the players in the squad an opportunity to show what they can do and to take responsibility without Scotland's senior players being available.

The home side led in both games and Moodie, a former Olympian, said: "This was a strong Welsh squad and I take a lot of positives from this."

Edinburgh-based Moodie takes a squad to Terrassa near Barcelona in Spain next month for three international matches and he can call on five under-21 players currently in the Scotland squad, Patrick Christie (Durham University), Jamie Wong and Gordon Amour (both Edinburgh University), Hamish Imrie (Beeston) and Ed Greaves (Loughborough University).

Three of the players – Edinburgh-born Christie and Imrie plus Glaswegian Greaves – are forwards and all featured in Scotland's side during the recent victory in the 90th anniversary tournament in Poland.

Wong and Amour play in midfield and Moodie said: "It is difficult to say what the strength of the Spanish side in Terrassa will be. However, traditionally Spanish sides are strong and we welcome competitive games as we develop the squad ahead of major internationals."

Scottish Hockey Union media release


---

Scotland U21 Women in narrow defeat to Ulster U23 Women




Scotland's U21 Women were narrowly defeated by Ulster U23 Women in an exciting encounter at the National Hockey Centre in Glasgow.

It was a close and competitive game, the first of three between the pair, and gave a first outing to a number of young Scottish players at U21 level.

The game started at a rapid pace and it was not long before Kerry-Anne Hastings struck Scotland's first attempt at goal. A fleeting transition came to a close when Hastings shot just past the post at speed.

Ulster then settled into the game and enjoyed lots of the ball, but found Scotland defending well. Ulster's Zoe Brown had the visitors' first attempt for a goal but her hard strike from a penalty corner was blocked by a Scottish stick.

It was from penalty corners where Ulster looked their most dangerous. Brown again came close prompting a great save by Susan Al Haddad from an Ulster drag flick. It was superb goalkeeping by the Scottish keeper.

Then Scotland opened the scoring when Chloe Hardie smashed home for the hosts after a good run by McKenzie Bell. 1-0. Almost immediately Ulster struck back through Chloe Brown, scoring a drag flick from another penalty corner. 1-1.

The second quarter found Scotland pressing well. The pressure was soon rewarded when Drew Berry finished after Ellie Hutcheson progressed well down the right. 2-1. Scotland went on the hunt for more goals and were nearly rewarded when Frances Lonergan, attacking down the right, fired a ball into the shooting circle but couldn't find a Scottish stick.

Ulster's Taite Doherty had a great chance to score but Scottish jerseys managed to get back and snuff out the danger in the shooting circle. Then came a couple of quick goals for Ulster. A great exchange between Ulster's Zoe Wilson and Brown, saw the latter finish well despite a valiant dive from Al Haddad. 2-2. Then the visitors took the lead through a thunderous goal by Wilson to make it 3-2.



Scotland U21 women v Ulster

HT Scotland 2 Ulster 3

Scotland started the second half positively. Some great trickery by Alison Eadie opened up an opportunity for a shot on goal, but she couldn't find the final pass under pressure.

Then a great interception and solo run by Lorna Cruickshank led to a penalty corner for the Scots. It gave Berry an opportunity to strike back but her shot smashed just wide of the target. Scotland were looking good.

Ulster then broke forward and Brown set up Taite Doherty whose shot prompted another fantastic save by Al Haddad. It was close range effort well blocked by the impressive keeper.

Emily Cross was having a good game for Scotland and influenced well in the middle of the field as Scotland took the game to Ulster. Towards the end of the third quarter the Scots had two penalty corner opportunities well saved by Ashley McIlroy for Ulster. Scotland's Lonergan hitting fierce shots on both occasions but denied for the score to remain 3-2 to Ulster.

At the start of the fourth quarter Ulster's Brown came close with a violent smash across the face of the goal. Then, up the other end of the pitch, Scotland's Bell almost got onto the end of a pass into the shooting circle. Both sides were battling for the next goal.

With the clock ticking down, Ulster won a penalty corner and tried to finish the game off through an inventive routine. It prompted another great save by Al Haddad, deflecting the ball with her legs from a powerful Brown shot.

In Scotland's eagerness to level the game a collision saw a green card given to Berry. It allowed Ulster to play out the final few minutes and record the win in what was an exciting and competitive encounter.




Scotland 2
Ulster 3

Scotland U21 women v Ulster

Scotland U21

The squad for the matches is:

Susan Al Haddad (Match 1 and 2)
Megan Inch
Erin Gilchrist
Alison Eadie
Iona Armour
Lorna Cruickshank
McKenzie Bell
Drew Berry
Emily Cross
Ellie Halliday
Ellie Hutcheson
Tess Hannah
Chloe Hardie
Kerry Anne Hastings
Katie Hibbert
Frances Lonergan
Emma McDairmid
Shona McNab
Makenzie Brown

Ulster U23

Ashley McIlroy
Hannah Gieve
Alex Ogilby
Pippa Best
Taite Doherty
Ruth Maguire
Zoe Wilson
Chloe Brown
Zara Malseed
Kerri McDonald
Naomi Harkness
Emma Kernohan
Faye Kidd
Jane Kilpatrick
Emma Quinn
Rebecca Mercer

Scottish Hockey Union media release


---

Madibaz will be tested by the USSA hockey format experienced in Varsity Hockey

By Coetzee Gouws




Adapting to a different format at the University Sport South Africa (USSA) hockey tournament will be among the biggest challenges for the NMMU-Madibaz men's and women's teams in Johannesburg next week.

The annual varsity event will take place at Wits from Monday to Friday, with the men's Madibaz team determined to show what they can do after playing in the last two finals.

However, coach Cheslyn Gie said their main challenge would be to adjust to the playing conditions adopted by USSA, where matches are played over four quarters of 15 minutes each.

"We don't play that format in our EP league and we saw the effects of this in the Varsity Hockey competition played earlier this year.

"The approach and strategy per quarter changes and we struggled to make the adjustment to the fast pace in the fourth."

The Madibaz have also battled to replace experienced players Dalan Phillips, who now coaches the women's team, and Jason Maclachlan.

After having not played much league hockey this year, the Madibaz held a two-week camp to prepare for the USSA week and Gie said they were definitely aiming to make at least the semifinals.

"In defence, our goalkeepers Chad Durrheim and Muzzamil Sheik will be vital players, as well as captain Grant Kapp, who had a great Varsity Hockey tournament.

"Chad Cairncross is our drag-flicker and if he scores a few goals, we will be in with a very big chance. Up front our strikers Ignatius Malgraff and Cerezo Comerasammy are very good as a combination and experienced at this level."

With EP not having sent a team to the interprovincial this year, Phillips said the Madibaz women had not had much competitive hockey and found themselves in a rebuilding phase.

"Although that is the case, each individual will have her own goals and will be aiming to compete in every match and to show constant improvement," he said.

The women's team have lost five players from last year, including former SA player Nicole Kemp and goalkeeper Saskia Cressey, but Phillips said the biggest challenge would be adapting to the four-quarter format.

"The EP league has not introduced this in the last two years, so adapting to the format will take some time during this week. Our preparations have been pretty sound as we had a two-week training camp."

Varsity Sports media release


---

DCW alleges Hockey India of making 'defamatory remarks' regarding Sardar Singh's sexual assault case

DCW chief Swati Maliwal stated that 'the allegations of political jugglery and linkages with the political party 'AAP' against the members of the Commission are false and malicious.'

Taking strong exception to Hockey India's (HI) response in an alleged sexual assault case against Indian captain Sardar Singh, the Delhi Commission for Women has accused the federation of making "defamatory allegations and remarks" against the statutory body.

The Commission, which termed as "false and malicious" the purported remarks of HI linking the DCW members with AAP, also refused federation's request for 10 weeks' time to submit the details sought by DCW, and asked it to send its response within a week or face action.

"The Delhi Commission for Women takes strong exception to your response wherein defamatory allegations and remarks have been made against a Statutory body invested with the powers of a Civil Court.

"Despite the intemperate language and your reluctance to participate/cooperate with us in meting out justice to the victim, we would like to give you further opportunity of seven days from the date of receipt of the instance communication failing which we will be constrained to take appropriate action in accordance with law," the notice read.

In the notice, the DCW chief Swati Maliwal also stated that "the allegations of political jugglery and linkages with the political party 'AAP' against the members of the Commission are false and malicious", while adding that the Commission was discharging its duties on the basis of a complaint forwarded to it by a leader of the BJP, Poonam Azad.

"Your attempt to intimidate the office bearers of this Commission whilst performing their legitimate statutory duties is severely unbecoming of an organization entrusted by the Government of India with the mandate of promoting the national game of Hockey in India," the DCW said.

"As a responsible organization at a national level, you are duty bound to co-operate and provide information to this Commission," Maliwal said in the notice.

On June 15, the Commission had issued a notice to HI president Narinder Batra and had sought an explanation with regard to the allegations made by the complainant against HI and the action taken or proposed to be taken by it in the matter.

HI in turn had said that that it will be able to send a comprehensive response on the matter only after the Olympics get over on August 23 even as it questioned the complainant's "belated" charges. The complainant, a British woman Hockey player of Indian origin, has alleged rape, physical abuse and criminal intimidation by Singh.

The woman has also alleged that Singh had tried to push her from the top floor of a five-star hotel in Delhi and that she was raped by Singh. Sardar, on his part, has denied the allegations.

In addition, she has alleged that HI has taken no action on her complaint, despite knowing about these incidents and that HI has facilitated her travel to various destinations and stay in hotels to accompany Singh during his hockey matches.

The complainant had also informed the Commission that HI had taken no action on a complaint she had sent to the organisation in May 2016. The 21-year-old complainant was the first British-Asian woman to represent England in hockey in 2010 as part of their junior women's team. She had filed a police complaint in February in Ludhiana following which an SIT was formed to probe the sexual harassment allegations. The SIT had given a clean chit to the Indian hockey team skipper.

DNA