All the news for Wednesday 29 June 2016

Dutta siblings handful for opponents on Day 1




The Dutta siblings of Leevan (Fiji men's) and Tiara (Fiji women's) were a handful for their opponents on the first day of the Hockey World League Round 1 matches for Oceania teams at the Fiji National Hockey Centre in Suva, Fiji.

Leevan scored a total of 15 goals as favourites Fiji amassed 26 and conceded five goals against Tonga, Papua New Guinea and Solomon Islands.

However, Fiji's first match against Tonga, the new kids on the block of Hockey World League set the pace for some thrilling encounters.

The hosts as usual performed their version of the Fijian war cry 'cibi' and were matched by their Tongan counterparts with the 'Ikale Tahe' challenge.

And much to the surprise of the small morning crowd and the Fijian team it was the Tongans who drew first blood in just the opening minute.

Although outscored 8-2 at the end of 20 minutes of play, the Tongan goals gave hope to PNG and Solomons.
 
Fiji struggled against PNG in the first half of their match and were held 1 all at the breather.

Striker Leevan scored two of his three in this match to see Fiji through to 4 goals to 2 at the end.

Fiji cruised past Soloman Islands with a 14-1 victory with the in-form Leevan scoring 7 goals.

The only other unbeaten team in the men's is the impressive Vanuatu side, which defeated Tonga 6-0 and PNG 5-3.

FIH site


---

Fijians set the pace

Maikeli Seru



The Fiji Women's hockey team after their match against Solomon Islands yesterday. Picture: JONACANI LALAKOBAU

THE big scorelines dished out by Fijian teams in the start of the FIH World Hockey League Round One were the results of different standard of facilities around the region.

The Fiji men's team beat Tonga 8 - 2 in the first match, Papua New Guinea 4 - 2 and the Solomon Islands 14 - 1. The Fijian women led Solomon Islands 8-0 at halftime before scoring the highest score 18-0 at fulltime. They also beat Papua New Guinea 9-1.

Fiji had the luxury of playing at home on synthetic turf compared with some of the opponents' grass grounds.

"Of the five playing nations, three of them have the same turf and it is good that they are adopting well to the standard of the game," Oceania Hockey Federation president Dr Robin Mitchell said.

He said almost all teams were represented by young players.

"This is because of developments and we are glad that teams have adapted to the five-a-side league which is shorter and faster."

Teams competing:

Men: Fiji, Papua New Guinea, Solomon Is, Tonga, Vanuatu.

Women: Fiji, Papua New Guinea, Solomon Is, Tonga.

Day 1 results: Men: Fiji - TGA 8 - 2 (5 - 1), PNG - SOL 4 - 2 (3 - 1), VAN - TGA 6 - 0 (5 - 0), FIJ - PNG 4 - 2 (1 - 1), VAN - PNG 5 - 3 (3 - 0), FIJ - SOL 14 - 1 (6 - 1)

Women: FIJ - SOL 18 - 0 (8 - 0), PNG - TGA 10 - 1 (5 - 0), TGA - SOL 1 - 2 (0 - 2), FIJ - PNG 9 - 1 (5 - 1)

Today's program: Wednesday, June 29: 10am; (W) (3) PNG vs Solomons, 10.45am: (W) (3) Fiji vs Tonga, 11.30am: (M) (4) Solomons vs Tonga, 12.15pm: (M) (4) Fiji vs Vanuatu, (M) (4) PNG Bye, 1pm: (W) (4) Fiji vs Solomons, 1.45pm: (W) (4) PNG vs Tonga, 2.30pm: (M) (5) Vanuatu vs Solomons, 3.15pm: (M)(5) PNG vs Tonga, (M) (5) Fiji Bye.

The Fiji Times


---

Black Sticks handed tough lesson by Germany



Nick Ross looks for options while Nic Woods provides support. Photo: David Aliaga Images

The Black Sticks Men have suffered a tough 6-1 defeat at the hands of world number three Germany at the Six Nations in Valencia.

The Kiwis struggled against the super-efficient Germans who scored four of their goals from penalty corners, one from a penalty stroke and another field goal.

Mortiz Furste grabbed a hat-trick while Jonas Gomoll, Tom Grambusch and Christopher Ruhr were also on the board for Germany.

The Black Sticks manged a consolation goal one minute from fulltime with a penalty corner drag flick from Kane Russell.

Head coach Colin Batch said it was a disappointing result and shows some areas of the game that still need working on.

"It's a pretty disappointing performance from us today. Our first quarter was ok but then Germany hit their strides and we couldn't stem the flow," he said.

"We needed to put more pressure on Germany but once they raced out to a four goal lead at halftime it was very hard work from there."

Germany opened the scoring in the eighth minute when Furste sent a penalty corner flick low and hard past Devon Manchester in goal.

Five minutes later it was a replay of the first goal with Furste doubling his side's advantage.

In the 14th minute the Germans were awarded a penalty stroke for a judged push in the circle, Jonas Gomoll converting to open a three goal lead.

Furste scored his hat-trick midway through the second quarter from his third successful penalty corner of the match.

Germany then raced out to a 6-0 lead after further goals from Grambusch (48th minute) and Ruhr (50th minute).

The Black Sticks managed to pull one back in the 59th minute when Russell flicked to the right side of Jacobi and into the back of the net.

The Black Sticks have a rest day tomorrow ahead of their next clash against India at 4am Friday morning (NZ time), with live streaming at www.hockeynz.co.nz/Video

BLACK STICKS 1: (Kane Russell)
GERMANY 6: (Mortiz Furste 3, Jonas Gromoll, Tom Grambusch, Christopher Ruhr)
Halftime: Germany 4-0

Hockey New Zealand Media release


---

Black Sticks thrashed by Germany



New Zealand's Simon Child. Photo / Greg Bowker.

New Zealand have been beaten 6-1 by world No 3 Germany in their second game at the Six Nations men's hockey tournament in Valencia today.

It follows yesterday's 2-0 loss to hosts Spain in their opening match.

New Zealand's only goal came from a late penalty corner strike by Kane Russell.

Four of Germany's goals came from penalty corners and one from a penalty stroke.

Mortiz Furste scored a hat-trick, his penalty corner striking proving irresistible, while Jonas Gomoll, Tom Grambusch and Christopher Ruhr got Germany's other goals.

Black Sticks coach Colin Batch said it was a disappointing result and shows some areas of the game that still need working on.

"It's a pretty disappointing performance from us today. Our first quarter was ok but then Germany hit their strides and we couldn't stem the flow," he said.

"We needed to put more pressure on Germany but once they raced out to a four-goal lead at halftime it was very hard work from there."

World No 8 New Zealand's next game is early on Friday against fifth-ranked India. The tournament is the final leadup to the Rio Olympics in August.

The New Zealand Herald


---

Black Sticks men put to the sword by Germany at Six Nations tournament



Kane Russell scored New Zealand's only goal against Germany. CHRIS SYMES/FAIRFAX NZ

The Black Sticks men have been dealt a harsh lesson at the Six Nations tournament in Spain after suffering a 6-1 thumping to Germany.

The Kiwis struggled against the world No 3 side from the outset before Kane Russell grabbed a consolation goal one minute from time with a penalty corner drag flick.

The Germans excelled from set-piece, scoring four goals from penalty corners as Mortiz Furste led the way with a hat-trick.

The result continues the Black Sticks' disappointing start to the tournament in what is their last major hit-out before the Olympics, having lost their opening match to Spain 2-0.

"It's a pretty disappointing performance from us today. Our first quarter was OK but then Germany hit their strides and we couldn't stem the flow," coach Colin Batch said.

"We needed to put more pressure on Germany but once they raced out to a four goal lead at halftime it was very hard work from there."

Germany opened the scoring in the eighth minute when Furste sent a penalty corner flick low and hard past Devon Manchester in goal.

He double the lead with a replay of of the first goal five minutes later before the Germans were awarded a penalty stroke for a judged push in the circle, Jonas Gomoll converting to open a three goal lead.

Furste scored his hat-trick midway through the second quarter from his third successful penalty corner of the match.

The one-way traffic continued after halftime as the Germans raced out to a 6-0 lead until the Black Sticks salvaged some pride through Russell's late strike.

Batch will be looking for a big response when they play India on Friday (4am NZ time), before games against Ireland on Saturday and Argentina on Monday.

GERMANY 6 (Mortiz Furste 3, Jonas Gromoll, Tom Grambusch, Christopher Ruhr) NZ 1 (Kane Russell). HT: 4-0.

Stuff


---

Ireland Fall 2-1 To India In Close Contest




The Green Machine began the game at a blistering pace with Mitch Darling and Mikie Watt linking up on more than one occasion to cause havoc down the right wing. The men in green needed just 4 minutes to get on the scoresheet when John Jackson's pinpoint reverse shot across the circle found the waiting Kyle Good who calmly deflected goalward.

India's opening goal came in the 19th minute courtesy of Talwinder Singh when an initial penalty corner drag flick was saved by David Harte but Singh pounced on the rebound to draw the game level. Chances aplenty arose for both teams with Harte ensuring the game remained level while the final touch just eluded the Irish at the other end.

2 minutes into the second half and the experienced Sardar Singh gave his side the lead as he got on the end of a crash ball into the circle and sent the ball high into the net. The Green Machine defence remained composed as 2 Indian penalty corners were kept out while a pacey Irish counter always offered a threat. Peter Caruth and Kyle Good, former Monkstown team-mates, evaded the Indian defence and went on mazing runs down the left wing but the final pass at the top of the circle couldn't connect. Harte was pulled from his goal in the final 2 minutes but Irish pressure couldn't convert as the world number 5's held on for a 2-1 victory.

Teams have a rest day tomorrow before Ireland face Spain at 7pm on Thursday.Watch live here!

6 Nations Tournament Valencia

Ireland 1 (Good)
India 2 (T Singh, S Singh)

Team: D Harte, Jackson, Gormley, Watt, Jermyn, Caruth, Shimmins, O'Donoghue, Darling (Captain), Gleghorne, C Harte

Substitutes: Carr, J Bell, Cargo, Sothern, Magee, M Bell, Good

Irish Hockey Association media release


---

India beat Ireland by 2-1

Talwinder Singh scored India's opener in the 19th minute
Sardar Singh scored India's winner in the 37th minute

Valencia: India recorded a win over Ireland in their second game of the 6-Nations invitational tournament.

The two teams started the game cautiously, playing the ball on the flanks and using the width to dictate play. India sat deeper in their zone and allowed Ireland to hold the ball, hoping to score via counters. Ireland though, against the odds took the lead in the 4th minute via Kyle Good and went into the first break with the lead.

Shocked by the goal, India rallied back strongly, and had their first penalty corner of the game in the 19th minute. Rupinder Pal Singh's flick was stopped by David Harte, but Talwinder, lurking inside the circle, pounced on the rebound and slotted it into goal. India were level with 11 minutes of the half to play. Despite India's attacking intent and skill on full display, Ireland held on to go into the break on level terms.

It wasn't to last for long though, as India took the lead within minutes of the third quarter beginning. Great play between VR Raghunath and Birender Lakra, led to a quick shifting of the flanks, and Surender Kumar, operating on the left, whipped in a powerful cross into the circle. Sardar Singh was at hand, deflecting the ball in deftly to give India the lead. They had several more chances in the half, first Rupinder and then Raghunath denied from PCs.

India played the final quarter strongly, with an eye on ensuring they didn't concede as they looked to launch counters to kill the game.

Speaking after the game, Chief Coach Roelant Oltmans said, "We started off slow today, much like yesterday, but quickly came back and found our rhythm. The good thing is we played strongly once we took the lead and had several chances to secure the game, an area we need to work on."

India play New Zealand at 21:30 on June 30th.

Stick2Hockey.com


---

India rally to beat Ireland in 6-nation hockey tournament

India earlier lost 0-4 to Germany.

Putting behind their disappointing opening match loss against Germany, a valiant India rallied from a goal deficit to register a 2-1 win over Ireland in their second game of the six-nations invitational hockey tournament in Valencia on Tuesday.

The win gave India their first success in the tournament after having lost 0-4 to Germany in their opening fixture. Both the teams started cautiously, playing the ball on the flanks and using the width to dictate play. India sat deeper in their zone and allowed Ireland to hold the ball, hoping to score via counters. Ireland took the lead as early as in the fourth minute through Kyle Good's goal.

Stunned by the goal, India rallied strongly and earned their first penalty corner of the game in the 19th minute. Rupinder Pal Singh's initial flick was stopped by Ireland goalkeeper David Harte, but Talwinder Singh, lurking inside the circle, pounced on the rebound and slotted the ball into goal to level the scores in the 22nd minute. Despite India's attacking intent and skill on full display, Ireland held on to go into the break on level terms.

It wasn't to last for long though, as India took the lead within minutes of the third quarter when skipper Sardar Singh scored in the 32nd minute with a fine deflection after he was beautifully set up by VR Raghunath, Birender Lakra and Surender Kumar. India had several chances in the half but first Rupinder and then Raghunath were denied from penalty corners.

India played the final quarter strongly, with an eye on not conceding a goal as they looked to launch counters to kill the game. Speaking after the game India's chief coach Roelant Oltmans said, "We started off slow today, much like yesterday, but quickly came back and found our rhythm. The good thing is we played strongly once we took the lead and had several chances to secure the game, an area we need to work on."

DNA


---

India beat Ireland

Valencia: A defiant India managed to hold back Ireland and register a 2-1 win in the second match of the six-nation hockey tournament on Tuesday.

After a below-par show in the opening game against Olympics champs Germany, India put on a better show against Ireland to get their first points.

As in the 4-0 loss to Germany, India fell  behind early, but managed to fight back with goals from forward Talwinder Singh and skipper Sardar Singh in the 22nd and 32nd minutes, respectively. Ireland began the proceedings on a promising note, midfielder Kyle Good opening the scoring in the fourth minute.

India looked rusty but did not allow any more scoring opportunities. India bounced back well in the second quarter, creating chances before getting the equaliser in the 22nd minute. Talwinder tapped in a rebound after a penalty corner attempt.

Sardar deflected in a brilliant pass from VR Raghunath to give India the lead. India missed a couple of chances in the next few minutes. The final quarter witnessed a tough contest with the Irish giving India a tough fight. India tried their best to extend the lead but failed.

The Tribune


---

Scotland Women lose first game of four away to Spain

Goalkeeper Nicola Cochrane was outstanding despite Scotland's women losing 3-0 in the opening fixture of their four-game challenge against Spain.

The Edinburgh University and Great Britain under-23 stopper made a string of saves to deny the eager Spanish side who are preparing for the Olympic Games in Rio.

Scotland were 1-0 behind at the break in Alicante and lost two second-half goals in just over seven minutes.

They did have chances with Bex Condie (Birmingham University), Nikki Lloyd (Wimbledon HC) and Robyn Collins (Surbiton) coming close from penalty corner awards. Spain's goals were scored by Maria Contardi; Cristina Guinea; and Beatriz Perez.

Coach Gordon Shepherd admitted there was room for improvement, particularly defensively. The next encounter between the two takes place tonight.

Spain forced five penalty corners but a positive note for Scotland was that the hosts failed to convert and all of their counters came from open play.

Shepherd said: "We set a target of being competitive with Spain this week and hopefully we can do that.

"After today we have things to sort out but this was a fair result and we have room for improvement."

Challenge (women)
Spain 3
Scotland 0

Spain

1 LOPEZ DE EGUILAZ ZUBIRA Maria (GK)
3 YBARRA Rocio (C)
5 GUTIERREZ Rocio
6 PONS Julia
7 PETCHAME Carlota
8 SALVATELLA Carola
9 LOPEZ GARCIA Maria
11 GUINEA Cristina
12 GARCIA Maialen
13 MAGAZ Alicia
14 TOST Maria
15 CONTARDI Maria
16 RUIZ Maria (GK)
19 MARAÑA Patricia
20 GINE Xantal
21 PEREZ Beatriz
24 GARCIA Begoña
29 JIMENEZ Lucia

Scotland

1 EADIE Jennifer
2 COCHRANE Nicola (GK)
6 WARD Becky (C)
7 BRODIE Amy
9 ROBERTSON Katie
12 WATSON Charlotte
13 HOWIE Heather
14 MARSHALL Kareena
16 MERCHANT Rebecca
17 JAMIESON Sarah
18 McGILVERAY Susan
19 LLOYD Nikki
21 HOWIE Alison
25 HOLMES Kate
26 COLLINS Robyn
27 BURNET Fiona
28 CONDIE Rebecca
32 CAMLIN Lucy (GK)

Scottish Hockey Union media release


---

Latest FIH Hero World Rankings released



USA goalkeeper Jackie Briggs celebrates after helping her team to a bronze medal at the Women's Hockey Champions Trophy 2016 in London. Photo: FIH / Getty

The International Hockey Federation (FIH) has released the latest FIH Hero World Rankings following the conclusion of the hugely entertaining 2016 Hockey Champions Trophies in London.

World Cup holders and Hero Champions Trophy 2016 winners Australia remain at the top of the men's rankings, while Olympic and World champions the Netherlands hold on to top spot in the women's rankings.

There is no change in the men's top three nations, with Netherlands ranked second and Germany third. While England (and Great Britain) remain fourth, India have leapfrogged Belgium (6) and Argentina (7) into fifth place thanks to their outstanding silver medal winning performance at the Hero Hockey Champions Trophy 2016 earlier this month.

In the women's rankings, Argentina's stunning title success at the Hockey Champions Trophy keeps them in second place but has seen them narrow the gap with the top-ranked Dutch. Australia and New Zealand remain in third and fourth place respectively, but fifth place is now held by USA, who have moved up from seventh courtesy of the brilliant bronze medal that they won at the Champions Trophy on Sunday.

The rankings were confirmed following the conclusion of the Women's Hockey Champions Trophy in London on Sunday. The next update to the FIH World Rankings will be published following the completion of the Rio 2016 Olympic Games, which take place in August.

The update to the FIH Hero World Rankings will have no impact on the pools for the Olympic Games, which were set based on the rankings as at 1 January 2016.

For a complete guide to the FIH World Rankings, click here.

FIH site


---

Indian men's hockey team jumps to fifth place in FIH rankings

NEW DELHI: Following their silver medal winning performance at the Champions Trophy in London, the Indian men's hockey team on Tuesday jumped two places to fifth spot in the latest rankings, issued by the FIH.

The Indian team, which played inspiring hockey throughout the tournament, leapfrogged Belgium and Argentina to enter among the top-five nations.

World Cup holders and Champions Trophy winners Australia remained at the top of the men's rankings while Netherlands, the Olympic and World Champions held on to top spot in the women's rankings.

There is no change in the men's top three nations, with Netherlands ranked second and Germany third while England (and Great Britain) remain fourth.

In the women's rankings, Argentina's stunning title success at the Champions Trophy keeps them in second place but has seen them narrow the gap with the top-ranked Dutch.

Australia and New Zealand remain in third and fourth place respectively, but fifth place is now held by USA, who have moved up from seventh courtesy the brilliant bronze medal that they won at the Champions Trophy on Sunday.

The next update of the FIH World Rankings will be published after completion of the Rio 2016 Olympic Games.

The Times of India


---

USWNT Climb From 7th to 5th in World Ranking Courtesy of Medaling Finish at Champions Trophy

LANCASTER, Pa. - Top-tier talent put on display in London, England last week shook prized world power placements at the completion of the women's Hockey Champions Trophy 2016, propelling the U.S. Women's National Team from 7th to 5th on the International Hockey Federation's (FIH) World Ranking system. The USWNT were dubbed bronze medal winners after a tremendously fought matchup against Australia, with a 1-0 shootout tally, after a draw of 2-2 in regulation time. 

RANK, COUNTRY, POINTS

1, Netherlands, 2086
2, Argentina, 1988
3, Australia, 1873
4, New Zealand, 1628
5, United States, 1555
6, China, 1473
7, England, 1451
8, Korea, 1368
9, Germany, 1344
10, Japan, 1100

At a rapid clip during the past 3 years, Team USA leapt from 10th to 8th and now holds the 5th spot, territory the program held back in March 2015 before slipping to 7th in the summer of 2015 after Hockey World League Round 3. Since the introduction of Craig Parnham and his coaching staff and the rebasing of the team to the Home of Hockey in Lancaster County, Pa. in 2013, the team's consistent hard work has resulted in strong performances in international competition recognized by opponents and fans alike.

The next and final opportunity to see the USWNT play before the Rio 2016 Olympic Games is the Rio Send-Off Series against India and Canada, at Spooky Nook Sports in Lancaster County, Pa.! Single game tickets are $20 for adults ($18 for USA Field Hockey members) and $10 for spectators under age 18, seniors (65+), and active military. A group discount of up to $3 per ticket depending on the size of your group will be available on orders of 10 or more tickets to the same match.

USFHA media release


---

Pakistan ranked 10th in world hockey charts

ISLAMABAD: Pakistan is ranked 10th in the latest International Hockey Federation (FIH) Hero World Rankings released on Tuesday following the conclusion of the Champions Trophies in London.

Pakistan's is ranked 10th with 1073 points, said a press release issued here.

World Cup holders and Champions Trophy winners Australia remain at the top of the men's rankings, while Olympic and World champions the Netherlands hold on to top spot in the women's rankings.

There is no change in the men's top three nations, with Netherlands ranked second and Germany third. While England (and Great Britain) remain fourth, India have leapfrogged Belgium (6) and Argentina (7) into fifth place thanks to their outstanding silver medal winning performance at the Champions Trophy.

In the women's rankings, Pakistan are not even in top 35. However Argentina's stunning title success at the Champions Trophy keeps them in second place but has seen them narrow the gap with the top-ranked Dutch.

Australia and New Zealand remain in third and fourth place respectively, but fifth pla­ce is now held by USA, who have moved up from seventh courtesy of the brilliant bro­nze medal that they won at the Champions Trophy.

Dawn


---

Canadian women rise one spot to 18th in women's world rankings

Shaheed Devji



2015 Pan American Games in Toronto. By Yan Huckendubler.

The latest International Hockey Federation (FIH) World Rankings were released Tuesday and the Canadian Women's National Team rose one spot from 19th to 18th in the world.

The new rankings – for both men and women – were released after the conclusion of the Hockey Champions Trophy tournament.

Canada's women did not participate in the tournament, but were competing in Japan over the last week in a four-game series with the 10th ranked and Olympic-bound Japanese.

Despite going winless in the four-game series, the Canadians are pleased with their performance against the higher ranked side from Japan.

"Overall, a very satisfying tour," says Women's National Team head coach Ian Rutledge. "To see the team string four very solid performances together; we made major head ways into our game and had all of our team systems assessed thoroughly by a very good and experienced Japanese team."

The Japanese series did not have a direct impact on the world ranking, but the Canadian women will feel the rise is well deserved, after three grueling competitions against higher ranked nations to start the year.

In each of the three competitions – a test series with the U.S., the 2016 Hawke's Bay Cup in New Zealand, and the test series against Japan – Canada's women held their own and proved that they are truly are progressing.

Canada's men – who are preparing to compete in the 12-team tournament at the 2016 Olympic Games in Brazil this summer – fell from 14th to 15th in the men's world rankings after South Africa jumped up to take the 14th spot.

The Men's National Team will have a chance to rise again in the rankings at the Olympic Games, where world ranking points will be awarded. South Africa will not be able to do so as it will not be participating in the games.

Field Hockey Canada media release


---

2016 Men's Olympic Hockey Team

"The hard work begins here"

By Lawrence West



Chris "Big Dog"  Ciriello Is in despite sitting out most of CT2016 through injury

The hard work has only just begun for 16 men's hockey players today selected to take to the pitch at Rio, says triple Olympian captain Mark Knowles.

The men's hockey section of the 2016 Australian Olympic Team features 10 returning Olympians and six eager debutants ready to fight together to claim top spot on the dais.

"When we go to the Olympic Games as the Australian men's hockey team we want to win, we don't want to get bronze, just make the semis or play off for fifth," Knowles said.

 "I sent every player in the squad a message after the selection memo came out. The most important message I gave was the one I said to those selected, making the team isn't enough."

"I'm extremely proud. I've been selected for a fourth time and it's something I never thought I'd have chance to do as Rockhampton country boy."

Knowles, who became a father for the third time only three weeks ago, knows how special this selection is for the six debutants, reminiscing on his first Games, 12 years ago.

"I think about myself when I was a 20-year-old, in 2004 and how excited they must be. It's a life-long dream coming true."

Knowles will lead the side in Brazil, backed by an extremely powerful leadership group. The side will capitalise on the experience of Knowles and fellow triple Olympian Jamie Dwyer, as well as dual bronze medallists Eddie Ockenden and Fergus Kavanagh who will line up for their third Games.

Chris Ciriello, Simon Orchard, Glenn Turner, Matthew Swann, Matt Gohdes and Tim Deavin will all take to the pitch at their second Games, while Blake Govers, Daniel Beale, Jake Whetton, Matthew Dawson, Andrew Charter and Tristan White will don the Olympic uniform for the first time.

At 37 years old Dwyer will make history as Australia's oldest hockey player at an Olympics.

But a fourth Olympic appearance seemed doubtful a couple of years ago, after he missed selection for the 2014 Commonwealth Games.

"After missing out on the Commonwealth Games in 2014 I was thinking about retiring and for a good couple of months wasn't sure what I'd do," Dwyer said. 

"I'm very happy that I decided to give it a crack. Even if hadn't made it I was glad I'd given it everything. I feel like I've played well in the past 18 months and have performed my role for the team.

"One of the perks of playing hockey is that I've had the opportunity to play in a lot of great places but South America will be a new experience."

For 22-year-old Matthew Dawson an Olympic debut, he's inspired by his legendary teammates.

"I can remember getting up at 3am to watch the 2004 Olympic gold medal match with my family sitting in the lounge, that was the start of it," he said.

The Central Coast native was hoping for Olympic selection after a strong performance at the recent Champions Trophy where the Aussies walked away with gold, but says he certainly wasn't expecting it.

"Trying to crack into a group with Mark Knowles, Fergus Kavanagh, Chris Ciriello and Tim Deavin is hard."

The team will head into Rio as the number one ranked team in the world. The side recently claimed their 14th Champions Trophy in London and were the 2015 World League Champions.

When the competition begins on August 6 the Aussies will face trans-Tasman rivals New Zealand in the preliminary round as well as Great Britain, Belgium, Spain and the hosts, Brazil.

The top four from each of two pools will progress to the all-or-nothing quarter finals, with Rio 2016 being the first Olympic Games to feature the new format, all building to the gold medal match on August 18.

These 16 athletes take the overall 2016 Australian Olympic Team to 216 from 21 sports, with an expected final Team of around 440 athletes. Complete biographies on all selected athletes here

Australian Men's Olympic Hockey Team, Rio 2016
Athlete (Hometown) Rio 2016 Olympic Games
Daniel Beale (Brisbane, QLD) 1st Olympic Games
Andrew Charter (GK) (Canberra, ACT) 1st Olympic Games
Chris Ciriello (Melbourne, VIC) 2nd Olympic Games
Matthew Dawson (Central Coast, NSW) 1st Olympic Games
Tim Deavin (Launceston, TAS) 2nd Olympic Games
Jamie Dwyer (Rockhampton, QLD) 4th Olympic Games
Matt Gohdes (Rockhampton, QLD) 2nd Olympic Games
Blake Govers (Wollongong, NSW) 1st Olympic Games
Fergus Kavanagh (Geraldton, WA) 3rd Olympic Games
Mark Knowles (Rockhampton, QLD) 4th Olympic Games
Eddie Ockenden (Hobart, TAS) 3rd Olympic Games
Simon Orchard (Maitland, NSW) 2nd Olympic Games
Matthew Swann (Mackay, QLD) 2nd Olympic Games
Glenn Turner (Goulburn, NSW) 2nd Olympic Games
Jake Whetton (Brisbane, QLD) 1st Olympic Games
Tristan White (Wollongong, NSW) 1st Olympic Games

Hockey Australia media release


---

Knowles, Dwyer to lead Australia's charge for hockey gold in Rio

PERTH (Australia): Jamie Dwyer and Mark Knowles have been selected for their fourth Olympics, giving No. 1-ranked Australia an edge in experience as it bids to end Germany's run of gold medals in men's field hockey at the Summer Games.

The pair, who are brothers-in-law, were on the Australian team at the 2004 Olympics in Athens where Dwyer hit the winning goal in the final that earned Australia its first Olympic gold medal in the competition.

The 32-year-old Knowles was captain of the 16-man Kookaburras squad announced Wednesday for the Aug. 5-21 Olympics in Rio de Janeiro, and desperate to improve on the bronze-medal finishes in 2008 and 2012 when Germany claimed the titles. The squad features 10 returning Olympians and six rookies.

"As the Australian men's hockey team we want to win, we don't want to get bronze," Knowles said.

At 37, five-time international player of the year Dwyer will be Australia's oldest field hockey player ever at the Olympics.

"After missing out on the Commonwealth Games in 2014 I was thinking about retiring and for a good couple of months wasn't sure what I'd do," Dwyer said. "I'm very happy that I decided to give it a crack."

Australia won the World Cup in 2014, the world league in 2015 and most recently the last Champions Trophy, and heads into the Olympics with the No. 1 ranking.

The Australians face New Zealand, Britain, Belgium, Spain and Brazil in the preliminary round.

Australian squad: Andrew Charter, Blake Govers, Christopher Ciriello, Daniel Beale, Eddie Ockenden, Fergus Kavanagh, Glenn Turner, Jacob Whetton, Jamie Dwyer, Mark Knowles, Matt Gohdes, Matthew Dawson, Matthew Swann, Simon Orchard, Timothy Deavin, Tristan White.

The Times of India


---

GB's Barry Middleton earns fourth Olympic selection in Rio as Hockey squads announced

By Mike Haymonds



Barry Middleton is set to appear in the Olympics for the fourth time

There were no surprises when the Great Britain men's and women's hockey squads for the Rio Olympics were announced yesterday..

Eight of the women's team who won bronze at London 2012 return with Kate and Helen Richardson-Walsh set for their fourth Olympics while Crista Cullen and Alex Danson are selected for their third Games. Hannah MacLeod, Georgie Twigg, Laura Unsworth and Nicola White are also all included.

The rest of the 16-strong squad are set for their first Olympic experience. However, all have plenty of pedigree after helping England claim European Championship gold in London last year.

For the men, Barry Middleton will make his fourth Olympic Games appearance while Ashley Jackson returns for his third Games after appearing at Beijing 2008 and London 2012.

Nick Catlin, Dan Fox, Iain Lewers and Harry Martin also return from the squad who finished fourth in London with ten players set for their Games debuts.

Rio will be the first Olympics without non-English players since 2000 (women) and 1996 (men).

Women's squad: Ansley, Bray, Cullen, Danson, Hinch, Macleod, McCallin, Owsley, Quek, H Richardson-Walsh, K Richardson-Walsh, Townsend, Twigg, Unsworth, Webb, White. Reserves:Leigh, Mackay, Watton.

Men's squad: Ames, Brogdon, Catlin, Condon, Dixon, Fox, Gleghorne, Hoare, Jackson, Lewers, Martin, Middleton, Pinner,Sloan, Ward, Weir. Reserves: Bailey, S Mantell, Shingles.

After their disappointing fifth place at last week's Investec Champions Trophy in the Olympic Park GB's women dropped a place to seventh in the latest world rankings.

GB's men stayed in fourth place after finishing fourth at the previous week's equivalent tournament.

Daily Express


---

Kate Richardson-Walsh & Alex Danson in GB hockey squad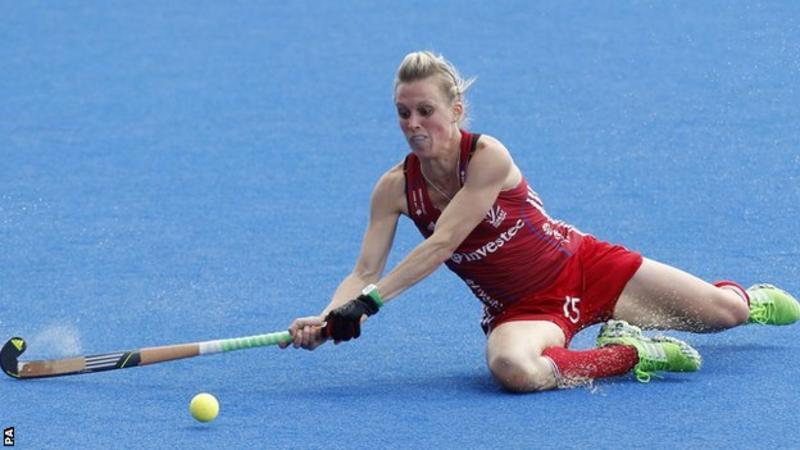 Alex Danson scored a hat-trick as Great Britain beat New Zealand 4-3 to finish fifth at the Champions Trophy

Eight of the women's team who won a bronze medal at London 2012 have been named in the Great Britain hockey squad for this summer's Olympics in Rio.

Kate Richardson-Walsh and Helen Richardson-Walsh will compete at their fourth Olympics, while Crista Cullen and Alex Danson will be at their third.

Striker Lily Owsley, 21, who won hockey's rising star award last year, will make her Games debut.

Barry Middleton has been named in the GB men's squad for the fourth time.

The 16-strong squad also includes Nick Catlin, Dan Fox, Iain Lewers and Harry Martin, all of whom were part of the squad that finished fourth in London.

GB women, who won the EuroHockey Championships in London in August 2015, came fifth in the six-team Champions Trophy in London this month, while the men finished fourth.

The Rio Games run from 5 to 21 August.

Women's squad

Giselle Ansley, Sophie Bray, Crista Cullen, Alex Danson, Maddie Hinch, Hannah Macleod, Shona McCallin, Lily Owsley, Sam Quek, Helen Richardson-Walsh, Kate Richardson-Walsh, Susannah Townsend, Georgie Twigg, Laura Unsworth, Hollie Webb, Nicola White.

Reserves: Joanna Leigh, Eleanor Watton, Kirsty Mackay.

Men's squad

David Ames, Alastair Brogdon, Nicholas Catlin, David Condon, Adam Dixon, Daniel Fox, Mark Gleghorne, Michael Hoare, Ashley Jackson, Iain Lewers, Harry Martin, Barry Middleton, George Pinner, Ian Sloan, Samuel Ward, Henry Weir.

Reserves: James Bailey, Simon Mantell, Dan Shingles.

BBC Sport


---

Four NI players in Great Britain men's hockey squad for Rio 2016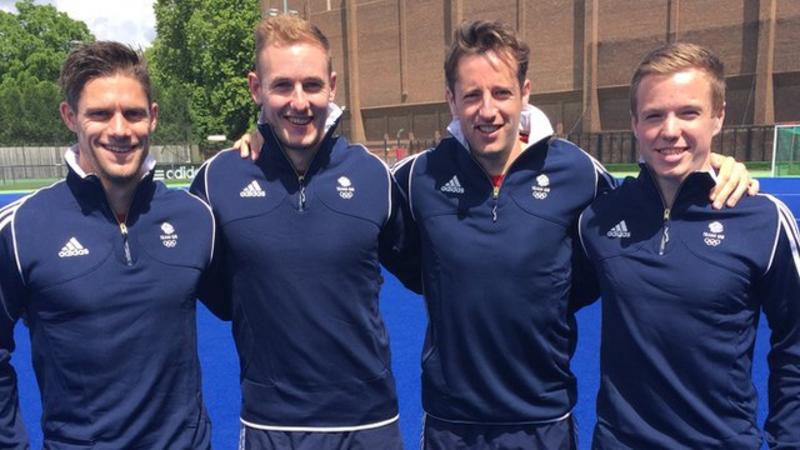 Mark Gleghorne, David Ames, Iain Lewers and Ian Sloan

Four players from Northern Ireland have been named in the Great Britain men's hockey squad for the Rio Olympic Games.

Belfast man Iain Lewers, 32, is one of six members who were part of the squad which finished fourth at London 2012.

Cookstown pair Ian Sloan, 22, and, David Ames, 27, and Mark Gleghorne, 31, from Antrim, are three of 10 new faces from that which competed in London.

Mark's brother Paul Gleghorne will compete for Ireland at the Games, which run from 5-21 August.

Great Britain men's hockey squad

David Ames, Alastair Brogdon, Nicholas Catlin, David Condon, Adam Dixon, Daniel Fox, Mark Gleghorne, Michael Hoare, Ashley Jackson, Iain Lewers, Harry Martin, Barry Middleton, George Pinner, Ian Sloan, Samuel Ward, Henry Weir.

Reserves: James Bailey, Simon Mantell, Dan Shingles.Men's squad

BBC Sport


---

Seven Holcombe players in GB squad

Barry Middleton is set to play in his fourth Olympic Games while his Holcombe club mate Ashley Jackson returns for his third Games after appearing at Beijing 2008 and London 2012.

Both were named in the Great Britain squad announced today and are among a wealth of Holcombe players named in the squad. They are joined by Nick Catlin, Iain Lewers and Dan Fox, who all played in London, as well as Sam Ward and George Pinner from the Kent club who are looking forward to a first Games.

Harry Martin is the other returnee while there are 10 Olympic debuts in the squad in total. Wimbledon's Henry Weir, Michael Hoare and Ian Sloan are all included as is Alastair Brogdon who played for the club last season but switches to Rotterdam along with Adam Dixon.

East Grinstead's David Condon and Beeston's Mark Gleghorne and David Ames completed the panel, the latter pair among four former Irish internationals now in the GB squad.

Team GB Chef de Mission, Mark England, said of the selection: "It's great to qualify athletes in the team sports, and a tremendous spirit exists across hockey, which has developed and grown during this four year cycle. I'm sure this will stand them in good stead this summer and I'm confident that on their day they can match any team in the world."

Euro Hockey League media release


---

Scottish Hockey response to the GB Hockey squad selection for Rio announcement

Following the GB Hockey squads announcement for the Rio Olympics, Scottish Hockey would like to acknowledge that none of our Scottish players have been selected. Our athletes have worked exceptionally hard, made significant personal and professional sacrifices, and shown a fantastic commitment to competing in a sport they love - we are disappointed for them that they have not been rewarded for their efforts. They are a credit to Scottish Hockey and the sport.

Selection for the Olympic Games is always competitive, the GB Coaches have selected a squad that they believe will give GB the best possible chance of success, and we look forward to supporting Team GB at Rio.

In Scotland we are currently in a period of transition where we are building for the future. We are in the process of delivering the outcomes of our recent performance review and with our plan and structure to continue to produce world class hockey players and teams in the years ahead.

Looking to the future, Scottish Hockey has a number of young Scottish athletes in GB full time programmes and will nominate a number of high quality athletes for the GB programmes going forwards and we have high hopes for them. The Scottish players that have been involved over the last cycle have amassed positive experiences as part of this in World League 3 and World League 4 competitions as well as professional training and elite test series, playing against top athletes.

We have three players in the GB under 23 programme, and two players in the GB under 21s women side. Further to that, Alan Forsyth was named English Hockey League's players' player of the year – we have top athletes of that stature. We have a strong platform to build on and we want to continually improve and produce the very best athletes for the future.

On an exciting and positive front we have two umpires going to Rio, following the success of Ged Curran who Umpired the 2012 Olympic Final. They have worked hard, shown real commitment, and are a credit to Scottish Hockey.

We would like to wish Team GB all the very best for the Olympics and we look forward to supporting the team at Rio.

Scottish Hockey Union media release


---

Team GB hockey squads 'outrageous' for lack of Scots, says Laurence Docherty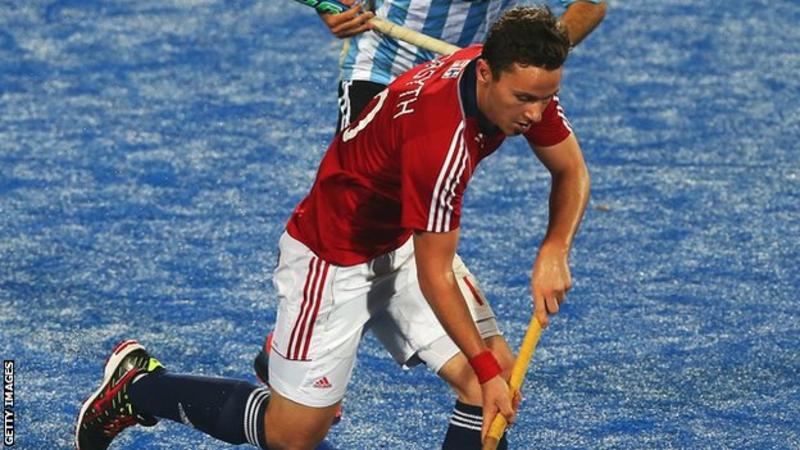 Alan Forsyth played for Great Britain at the World League finals

Former hockey international Laurence Docherty has strongly criticised the Team GB squads for the Rio Olympics because no Scots have been chosen.

Surbiton forward Alan Forsyth was left out despite being voted Players' Player of the Year in English hockey.

"This is the most outrageous selection situation I have ever seen and heard of," Docherty said on Facebook.

The Scot switched allegiance to the Netherlands after being left out of the Great Britain squad for Sydney 2000.

Docherty, 36, believes that Forsyth - who was also the top scorer in England's top league in the 2014-15 season - is just one of the Scots who deserved a place in the men's or women's squads.

The 23-year-old was recently capped by Great Britain at the World League finals in India.

"Twenty-plus goals and not selected - mental," Docherty added.

In a statement, Scottish Hockey expressed its disappointment, saying: "We have top athletes of that stature.

"Our athletes have worked exceptionally hard, made significant personal and professional sacrifices and shown a fantastic commitment to competing in a sport they love.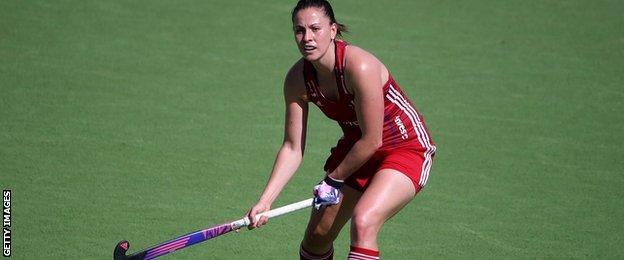 Scotland's Emily Maguire was in the Great Britain team at the World League finals

"We are disappointed for them that they have not been rewarded for their efforts. They are a credit to Scottish Hockey and the sport.

"Selection for the Olympic Games is always competitive. The GB coaches have selected a squad that they believe will give GB the best possible chance of success and we look forward to supporting Team GB at Rio."

Scottish Hockey hoped that the situation would change in the future.

"Scottish Hockey has a number of young Scottish athletes in GB full-time programmes and will nominate a number of high-quality athletes for the GB programmes going forwards and we have high hopes for them," it added.

"The Scottish players that have been involved over the last cycle have amassed positive experiences as part of this in World League 3 and World League 4 competitions as well as professional training and elite test series, playing against top athletes.

"We have three players in the GB under-23 programme and two players in the GB under-21s women side."

BBC Sport


---

The SA U18 Hockey Interprovincials going down to the wire

JONATHAN COOK at Kovsies Astros

Day three of SA U18 A Section hockey at University of The Free State Astro Centre brought some good hockey as well as some less than pleasing stuff as tempers frayed at times but the quality overall was impressive nevertheless.

First up in SA U18 girls A Section, KZN Coastal produced some sublime goals interspersed with mediocrity in beating a competitive Southern Gauteng B 3-0, the score 1-0 at the changeover. Goals went to Courtney Slaney, vice-captain Teagan McFall and Tegan Fourie.

Western Province A took their chances while Northerns didn't in a 2-0 win, the goals going to their outstanding players captain Jamie Southgate and Nicola du Plessis.

KZN Inland A fought hard against the defending champion Boland line-up, opening the scoring in the 18th minute through Julia Raw, but it wasn't enough to stop the Bolanders who netted via voice-captain Stephanie Botha and captain Frances Carstens.

Eastern Province were impressive in accounting for Northerns B 3-0 with captain Lenta Cullinan, Ongeziwe Mali and Kelsey Minnaar getting on the scoresheet.

Amathole, who have boxed below their weight, outlasted Mpumalanga 4-2 with goals from Claudelle McKay (2), Teagan de Bloe and Jamie-Lee Marais.

Southern Gauteng A won the top of the group clash with Southern Free State 2-1 with strikes coming from Lezaan Jansen van Vuuren, Agin Kungoane, Courtney Abrahams while vice-captain Minke van Heerden kept the Free Staters in the hunt with a goal in the 41st minute but the remaining 19 minutes in the match brought no tangible results.

Northerns A edged Southern Gauteng B 3-2 after the score was 0-0 at half-time. The winners were decided with seconds on the clock when Mialette Kock grabbed her second penalty corner (PC) goal, the other going to Zeane Smith while Almay van der Linde and Monique Brummer scored for Southerns B.

The upshot is that Southerns A lead Pool B with 12 points and an overwhelming goal difference of 19. Southern Free State lie second on seven points, marginally ahead of Eastern Province and Amathole.

Mpumalanga and Northerns B account for the rest of Pool A.

Boland are through to the semi-finals with 12 points a fill house from four matches while KZN Coastal and Northerns, Western Province are neck and neck on seven and six points respectively.

The Girls U18 A Section leading goalscorer is Frances Carstens (4) with six players on three. The disciplinary record is reasonably stable.

Wednesday's final round of Pool play sees KZN Coastal A vs Southerns B at 8.40am; WP v Northerns at 10am; Amathole vs Southern Gauteng at 10am; KZN Inland vs Boland 11.25am; EP vs Northerns B 12.45pm; Mpumalanga vs Amathole 2.05pm; Southern Gauteng vs Southern Free State 3.30pm; Southern Gauteng b vs Northerns 4.50pm and KZN Inland B vs KZN Coastal B derby at 6.05pm.

The Boys U18 A Section is developing into a tight tussle for semi-final places. KZN Coastal were too polished in beating a hardworking Eastern Gauteng 11-0 with Lethuxolo Meketo, Cody van Breeman (2), James Stamatis (3), Hlumelo Mekuto, Matthew Lees (2), Blake Tyack and Grant Oliver troubling the scorers.

Boland edged Northerns 3-2 in a thrilling match with the prolific Johannes Nieuwoudt and captain Franco Carstens scoring for the Pretorians while a disappointing Northerns replied with a double strike by Donovan Ferreira.

KZN Inland B's James Godfrey scored a thrilling equaliser with 40 seconds left as the Maritzburgers drew 2-2 with WP B. The other Inland success went to Jared Kriel.

Eastern Province did well to beat a disappointing SWD 3-2 with goals from Ross Vides (2) and Michael Keevy while SWD got on the playing card with goals by Jean du Plessis and Todd Walker.

Western Province clinched a berth in Thursday's semi-finals with a game to spare, beating a disappointing Amathole 7-2 the goals coming from Max Pike, Christian Rohrer, Che February, Wade Dollman (2), Tim Alfeld and the prolific Dayaan Cassiem. The East London lads netted through Daniel Elliot and Keogan Penhall.

KZN Inland did very well to beat a favoured Southern Gauteng 2-1 with goals from Michael Horan and Ben Njapha Southerns got a PC through Spencer Botes.

Northerns edged East Gauteng 1-0 with the ever-present Don Ferreira getting their lone goal.

Pool A looks like this with one day of Pool play to go and all played four:

Boland 10 points GD14; KZN Coastal 8 points GD 8; Northerns 6 points GD2; KZN Inland B six points GD5; WP B six points GD-6; East Gauteng 0 points GD-28.

Pool B: WP 12 points GD 10 and into semis; Southern Gauteng 9 points GD9; KZN Inland 7 points GD7; EP 6 points GD-3; SWD 1 point GD-3 and Amathole 0 points GD-13.

There is much to play for on day four Wednesday with Inland against EP at 9am; Amathole vs SWD 10.20am; Boland vs KZN Coastal 11.40am; Northerns vs Inland B 1.05pm; WP B vs East Gauteng 2.25pm; Southern Gauteng vs WP 3.45pm; EP vs Amathole 5pm and Limpopo vs Southern Gauteng B 6.15pm.

Thursday's semi-finals are at 3.30pm and 5pm respectively. Friday's gold medal match is at 12.40pm and the bronze battle is fought at 11.15am.

It promises to be a topsy-turvy day of the best order.

SA Hockey Association media release


---

Junior hockey camp to begin next month

ISLAMABAD: The Pakistan Hockey Federation has invited 93 players to attend a training camp at the Naseer Bunda Hockey Stadium from July 13 for the fourth under-18 boys Asia Cup.

The tournament will take place in Dhaka in September.

The players are directed to report to manager/camp commandant Kamran Ashraf and coach Mudassar Ali Khan.

Following players have been invited for training:

Goalkeepers: 1. Adeel Rao/Punjab Blues, 2. Waseem/KP Colours, 3. Aimal Khan/KP Whites, 4. Awais Rasheed/Punjab Whites, 5. Sabir Ali/Punjab Greens, 6. Naveed Mughal/Islamabad, 7. Usman/Islamabad, 8. Abdul Rehman/Gojra, 9. Abdullah Khan/Vehari, 10. Kamran Ali/KP, 11. Abdullah/Punjab Blues, 12. Waqar Younis/Punjab Colours, 13. S. Shabihuddin /Sindh Whites, 14. Abdul Rehman/Sindh Greens.

Fullbacks: 1. M. Mubasshir/Punjab Blues, 2. Farhan/Punjab Blues, 3. Abid Bhatti/Punjab Blues, 4. Amjad Ali/KP Colours, 5.Mehmood Abbas/KP Colours, 6. Sami Ullah/KP Whites, 7. Asad Arshad/KP Whites, 8.Faizan/KP Whites, 9. Usman Bashir/Punjab Greens, 10. Azmat Ullah Khan Niazi/Islamabad, 11. Sher M. Khan/Balochistan Colours, 12. Jahangir Khan/Balochistan Whites, 13. Badr ud din/Sindh Whites.

Halves: 1. Ali Raza/Punjab Blues, 2. Asif Hanif/Punjab Blues, 3. Yasir Ali/KP Colours 4. Sohail/KP Colours, 5. Amjad/KP Colours, 6. Mohib/KP Whites, 7. Waqas Ali/Punjab Whites, 8. Qadeer Ahmad/Punjab Whites, 9. Rizwan Ashraf/Punjab Greens, 10. Mohsin Hussain/Punjab Greens, 11. Isa Khan/Islamabad, 12. Suleman Khan/Balochistan Colours, 13. Minhas Khan/KP Greens, 14. M. Qasim/Balochistan Whites, 15. M. Jameel/KP, 16. Aimal Khan/Mardan, 17. M. Saleem/Boner, 18. Salman Shaukat/Punjab Colours, 19. Junaid Rasool/Punjab Colours, 20. Abdullah Bukhari/Sindh Whites, 21. M. Ahad/Sindh Colours.

Forwards: 1. Ahmad Nadeem/Punjab Blues, 2. M. Ilyas/Punjab Blues, 3. Waseem Akram/Punjab Blues, 4. Afroze/KP Colours, 5. Shah Fahad/KP Colours 6. Roman Khan/KP Colours, 7. Khair Ullah/KP Colours, 8. Shah Riaz Khan/KP Colours, 9. Saeed Ullah/KP Colours, 10. Amir Hamza/KP Whites, 11. Aamir Farooqui/KP Whites, 12. Ehtesham/KP Whites, 13. Zareen/KP Whites 14. Zulqarnain/Punjab Whites, 15. Aamir Ali/Punjab Whites 16, Umer/Punjab Whites, 17. Murtaza Yaqoob/Punjab Whites 18, M. Fawwad/Punjab Whites, 19. M. Yasir/Punjab Greens 20. Muzammil Hussain/Punjab Greens, 21. Haseeb/Islamabad, 22. Haq Nawaz/Islamabad, 23. Abdul Nasir/Balochistan Colours, 24. Nadeem Khan/Balochistan Colours, 25. Usman Tariq/KP Greens, 26. Mohib/Bannu, 27. Qazi Moazzam/PSC, 28. Umar Mustafa/Rawalpindi, 29. Zakir Ullah/Bannu, 30. Abdul Munaf/Fata, 31. Zeeshan Shafique/Bahawalpur, 32. M. Arslan/Hyderabad, 33. Jawwad Khan/Mardan, 34. Khushal/Fata, 35. Awais Arshad/Punjab Colours, 36. Ali Aziz/Punjab Colours, 37. Waqar Ali/Punjab Colours, 38. Imran Ali/Punjab Colours, 39. Abdullah Babar/Punjab Colours, 40. Arslan Haider/Sindh Whites, 41. Faheem Khan/Sindh Whites. 42. Akbar Bhatti/Sindh Greens, 43. Haris Soomro/Sindh Greens, 44. Sardar Khan/Sindh Colours and 45. Faizan Ali/Sindh Colours.

Dawn


---

Wanri shares her love of hockey

Thomas More College sports coordinator, Wanri Venter, is a passionate umpire who teaches kindness and camaraderie through hockey.



Thomas More College's Wanri Venter. PHOTO: Sophie Thompson

SOUTH Africa is a nation of sports lovers, where athletes who achieve success on the field are revered as heroes and legends. However, such glory would be impossible without the hard work and dedication of referees and umpires and Wanri Venter, Thomas More College's sports coordinator is one of these custodians.

Now in her tenth year of service to the school, Wanri has nurtured a love of hockey since her childhood in Stellenbosch. "I started umpiring during my first year at Maties in 2000 because learning to do so was compulsory, but I only really attended tournaments in 2004," she said.

Wanri is an umpire and coach, but is also an active participant in the sport. "I enjoy hockey's speed, fitness and physicality but most of all, the tactical aspect. The older you get, the more you rely on your experience."

Officiating matches presents unique challenges because they are played at an ever-increasing pace. This makes the sport exciting for spectators, but requires umpires to be on top form at all times. "You strive to move constantly, so that you're in the best possible position to make the right decision. When you umpire at a higher level, you need to trust your instincts because if you are unsure, you will miss the moment to step in.

"Often you're like an actor on a stage; you need to sell your decisions using the tools at your disposal such as whistle tone, cards and body language. You need to earn the players' trust by being calm, open to questions and confident."

Since earning her international badge in 2014, Venter has umpired 22 international matches, most of them locally between South Africa and Belgium, Scotland, Australia and India. She has twice travelled to Kenya, the first trip she officiated for the Africa Cup of Nations then for the World League Round One, she also was chosen to oversee several international indoor matches during December 2015 between South Africa, Australia, US and Namibia.

Venter believes that the lessons she's learned from hockey have carried over into her personal life. "I have learned to never give up and that the game is certainly not over until the final whistle. Friendships and other people's feelings are more important than winning the game."

Her next major event is the Junior World Cup in Santiago in Chile from 23 November to 4 December. She will also be helping co-ordinate the upcoming SPAR KZN School Girls' Hockey Challenge at St Mary's DSG next month.

Highway Mail


---

Former hockey captain Mohammed Shahid admitted to hospital

Saiyed Faiz Hasnain

Shahid was part of India's hockey team which won gold medal at Moscow Olympics in 1980

Former captain of the Indian hockey team Mohammed Shahid (56) has been admitted to hospital following complaints of a stomach ache.

Shahid was part of the team which won India's last gold medal in the sport at Moscow Olympics in 1980. Known as the dribbling master, Shahid helped Team India win a sliver and a bronze medal in Asian Games in 1982 and 1986 respectively. He was captain of the team during 1985-86. His attacking pairing with Zafar Iqbal was well known.

According to family members, Shahid was feeling unwell for a few days. Therefore on Tuesday he was admitted into Sir Sundarlal Hospital in Varanasi under the care of Dr VK Dixit.

Shahid received the Arjun Award in 1981 and was honoured with the Padmashree Award in 1986.

DNA