All the news for Wednesday 20 April 2016

Yet another revolution in FIH Hockey

K. Arumugam




Revolutions are a rare phenomenon in history, occurring once in a long cycle. But it is a matter of routine in some unstable domains like the sport we love. Field hockey is perhaps the only global sport that witnesses revolution as a routine, demeaning the word itself.

Now another big bang revolution is going to rock the sports world, crowds will blast stands, world will be different, if the latest narratives of the FIH about the impending revolution are to be believed.

This is the difference between the Federation Internationale de Hockey (FIH) and the International Cricket Council (ICC).

The former manages world's most unstable and conservative sport while the other transforms almost magically a gentleman game into world's most professional sport.

If cricket today comes under top three sports in every country it is popular, hockey is number one game in NONE of the countries despite it is played ten times more countries than Cricket.

Cricket innovated without destroying old forms.

Hockey does the reverse.

The latest merry-go-round is dispensing away with yet another spec of history, the Champions Trophy, the tournament that entertained hockey connoisseurs for about five decades.

When the Test cricket could not stand test of times, ICC came out with One Day Internationals. When ODIs too proved to be too long for another generation of spectators, it came out with T20s.

Now, all the three forms survive, extent of success depending on the true merit or lack of it of each form. This is basically the difference in outlook between pro sports and the ones that ape them without application of mind.

Hockey has undergone revolution as many times ball is intercepted in a hockey match.

Revolutions are one time affair, but in hockey it's a routine.

When the synthetic grass was introduced in the early 70s it was hailed as revolution. The change was not because the FIH wanted it, or it foresaw its dividends, but because one Olympic Organizing Committee compelled them, threatened them.

But the FIH called it revolution.

Then when they removed offside, it was touted as another revolution.

Other revolutions (!) that have taken place in field hockey include
Rolling substitution
Introduction of dotted line as if number of lines dotting the hockey field is less,
Hockey 5s, abolition of tie-break for shoot outs.
Introduction of Hockey World League.
Quarters and reduction of play time from 70 mins to 60
These all disfigured hockey, did not usher in any revolution that the FIH promised to the sporting world.

Four years ago, the FIH claimed in an gay abandon akin to Archimedes innovation that HWL is the answer it was looking and got it. The FIH officials just were just short of rushing out of water body the way Archimedes did when he found his theories as a matter of chance.

HWL is a joke in itself at least nomenclature is concerned. For example, India and Pak met at

Raipur in HWL last stage. What was that match?

It was Semifinal of the HWL Semifinals!

Can any layman understand what all these semifinals are about?

Every stage had a semifinal yet you had a full blown HWL Semifinal in which not four but 8 teams participated out of which four reached, what, semifinals! Hell with semifinals!

Its irksome, nauseating, still we had undergone it last four years.

Leave aside, now the FIH brainstorm tells us Global Hockey League is just another Revolution in waiting. Now half of the HWL will be there, and the remaining part will be GWL.

When HWL was put on board, it came after killing various Qualifiers (World Cup, Olympics, Champions Trophy) all in one stroke. These Qualifiers were attractive, understood and drew public attention. HWL is in that way confused everyone. Countries qualified 5, 6 months after HWL SFs! The purpose of league has become qualification to other tournaments while it should have been what leagues are meant to be.

Now the GWL will kill half the HWL and also Champions Trophy.

Can FIH not bring new tournaments, if it wants to, without throwing away historical ones?

We don't know the nitty gritty of GHL. Better not to loose sleep. When you clearly understood what is GHL, another revolution will have swept it!

If HWL is success then why now GHL, which proves HWL has flopped. Which means the promised Revolution of last 5,6 years did not occur. But we have another Revolution. But according to the FIH yet another promise full stands and full revenues waiting to happen as it ushers in GHL.

If the FIH will make GHL successful, I will count it miracle.

But as of now the digging of graveyard for Champions Trophy, hurts.

GHL is yet another revolution in FIH hockey, but only in boardrooms.

When will the FIH will have some vision to keep history along side whenever it wants usher in Revolution

Stick2Hockey.com


---

PHF protests the elimination of the Champions Trophy

Pakistan Hockey Federation introduced the Champion's Trophy to the International Hockey Federation in 1979. Since then, the tournament had been set for 35 times out of which Pakistan had won the title thrice.

The World's top six hockey teams come together annually to face off against each other for the said title.

However, In light of the recent decision of FIH, it is a matter of immense disappointment and dismay for Pakistan Hockey Federation to learn that FIH has decided to eliminate the ever exciting Champions Trophy from its yearly calendar all of a sudden without any prior consultation with PHF whatsoever.

Pakistan being the originator of the said tournament has always remained vigilant and supportive for the best interest of our national game and its audience and such decisions result in dissuasion of Hockey governing bodies for taking constructive initiatives for the growth and development of hockey.

PHF therefore expresses its utmost concern and protests to FIH on the elimination of champion's trophy at its end.

PHF Media release


---

FIH to be asked about CT abolishment plan: PHF chief

ISLAMABAD: Pakistan Hoc­key Federation (PHF) president retired Brig Khalid Sajjad Kho­khar on Tuesday termed Inter­national Hockey Federation's (FIH) move to scrap the Champions Trophy uncalled for, stating he would ask the world's hockey governing body to reconsider its decision.

"The move is the most unfortunate for the game of hockey. We'll ask the FIH to rescind its plan of doing away with the event and continue holding it regularly," he told APP.

"Hockey is our national game which though has been suffering for quite some time, people still love it very much. It'll be unfortunate if the prestigious international event is dumped for any other event," he maintained.

The FIH has recently announced that a new portfolio of events will be launched in 2019 which will completely change the landscape of international hockey. The plan also includes scrapping of the Champions Trophy which, according to the FIH plans, will be held for the last time in 2018 at Amsterdam, the Netherlands.

Proposals for the new portfolio were approved by the FIH Execu­tive Board in Lausanne, Switzer­land earlier this month. The decision was made after more than 18 months of consultation and resea­rch overseen by a specially-formed working group for the project.

However, the PHF chief said that the federation was not taken on board as the current FIH Executive Board member from Pakistan Qasim Zia (former PHF president) never conveyed it to the PHF management. "We were never informed about the FIH's new plan," he claimed.

The PHF did not oppose any new event, he said, adding that the federation believed that maximum events should be held to popularise the game of hockey. "Notwithstanding, our concern is that a new event should not be held at the cost of the Champions Trophy."

Khokhar also pointed out that all major events including Champions Trophy were introduced by the PHF. "Our innumerable services to the game of hockey are well-known. Changes could have been made without doing away with the Champions Trophy, if they were really necessary at all," he remarked.

Dawn


---

Former players surprised over Champions Trophy axe

Rohan Alvares

MUMBAI: The International Hockey Federation's decision (FIH) to introduce a new annual global home and away league involving the world's top nations may have got Kelly Fairweather excited about the sport's future, but not everyone shares the FIH CEO's enthusiasm.

Aimed at rejuvenating the sport at the international stage, the radical changes announced on Monday will see the new league replace the existing Hockey World League Semi-finals and Finals from 2019 and also bring the curtains down on the traditional Champions Trophy -a decision that took some former players by surprise.

Shahnaz Shaikh, vice-captain of the Pakistan side that conquered the inaugural Champions Trophy in 1978, criticised the move to scrap the Champions Trophy, a competition founded by the Pakistan Hockey Federation, although the former Olympian stated that he was not against the introduction of the new global league.

Talking to TOI on Tuesday, former India coach and Olympic gold medallist MK Kaushik also couldn't understand the reason behind the move to do away with Champions Trophy. "I would continue with the Champions Trophy and I suppose you could also have this new league," Kaushik said. Further into the interaction, though, the 60-year-old said he wasn't convinced by the FIH's ambitious plan.

"You have to look at the financial aspect and also the players' perspective. I'm not sure if it will help FIH make more money. It could be a more expensive affair to travel so much. And not every team can afford that. Also what sort of recovery time will players have between matches? I'm not for this change," Kaushik said.

The Times of India


---

China men and Thailand women triumph at Hockey World League Round 1, Singapore

China and Sri Lanka men earn tickets to Round 2, with Thailand, Kazakstan and Singapore women also reaching second phase



The Hockey World League Round 1 in Singapore proved exciting for fans Photo: Singapore Hockey

The first Hockey World League events of the 2016-2018 season have come to an end, with China men and Thailand women emerging victorious at the Hockey World League Round 1 competitions at the Sengkang Stadium in Singapore.

China (FIH World Ranking: 19) were in great form throughout the men's competition, winning all of their matches before being given a real scare by Sri Lanka (WR: 42) in the tournament final.

Despite sitting 23 places below their opponents in the FIH World Rankings, the Sri Lankans produced a stunning performance to fight back from 2-0 down to take a 3-2 lead thanks to three goals in a remarkable ten-minute spell from Sandaruwan Sudusingha, Damith Mahara and Lakshan Nanayakkara. However, a penalty corner from China's Meng Dihao restored parity nine minutes from time before the top ranked team emerged victorious in the shoot-out 4-2.

Despite the pain of losing in the shoot-out, Sri Lanka will take great heart from their excellent showing in Singapore and know that a top two finish has earned them a ticket to Round 2.

Thailand (WR: 61), finished third by beating host nation Singapore (WR: 38) 3-1 in the bronze medal match. 

The format of the women's competition was a round-robin league, with Thailand (WR: 35) finishing top of the standings with six wins out of six to snatch one of three available Round 2 qualification tickets on offer at the event.

The Thais were by far the best team in the competition, scoring 42 times and conceding just once on their way to a comfortable first place finish. Tikhamporn Sakunpithak was the star of the Thai team, scoring 13 times including 11 goals from open play.

Kazakhstan (WR: 33) claimed four wins from six matches to finish in second place, sealing their safe passage through to the second phase of the Hockey World League. The meeting between the top two sides took place on Saturday (15 April, with Kornkanok Sanpoung scoring twice as Thailand defeated Kazakhstan 3-1. 

Picking up the third women's qualification spot for Hockey World League Round 2 was hosts Singapore who finished in third place.

For all the information, visit the FIH event page by clicking here.

Hockey World League
Launched in 2012 and played every two years, the World League acts as another avenue for nations to qualify for the 2018 FIH Hockey World Cup (in addition to those qualifying as continental champions and the World Cup hosts). World ranking points are also at stake. The competition will be played over four rounds, with the first round featuring teams ranked 20th and below in the FIH World Rankings (dependent on number of entrants), with the top three men's teams and top two women's sides from the tournament qualifying for Round 2.

Hockey World League Round 1 – Singapore

Final standings

Men
1: China – Qualified for HWL Round 2
2: Sri Lanka – Qualified for HWL Round 2
3: Thailand
4: Singapore
5: Hong Kong
6: Kazakhstan
7: Myanmar
8: Brunei
9: Vietnam

Women
1: Thailand – Qualified for HWL Round 2
2: Kazakhstan – Qualified for HWL Round 2
3: Singapore - Qualified for HWL Round 2
4: Hong Kong
5: Sri Lanka
6: Brunei
7: Cambodia

FIH site


---

Racing hold off St Germain to win Top 8




Racing Club de France claimed top spot from the French Top 8, a result that brings with it a European place and sees them as the major favourites when the Top 4 competition comes around.

They got the draw whey needed against Saint Germain, tying 2-2, to stave off the challenge in the battle between the top two from the past two seasons.

Christopher Peters-Deutz opened the scoring in just the fourth minute before Saint Germain replied quickly from a subtle deflection from Spanish striker Guillem Roig.

Racing returned to the front via Jacinto Domingo-Perez in the 27th minute for a 2-1 advantage but their rivals had the best of the second half as the need for victory powered them on.

Gregoire Samson equalised to give his side hope with ten minutes remaining but, in a very tense closing packed with many stoppages, Racing held on for the draw that secured them top spot.

Elsewhere, Lille and Lyon reached the playoffs. The former won 5-0 against fifth place Paris Jean-Bouin while Lyon were 5-2 victors against Montrouge.

Euro Hockey League media release


---

Sliders' long wait for continental action over

Sliders women's hockey club returns to the Africa Club Championship after a seven-year absence.



Sliders' Nancy Jepchumba (left) wheels away in celebration after scoring a goal against Mombasa Sports Club during the women's national hockey league match on April 17, 2016 at City Park Stadium. PHOTO | CHRIS OMOLLO |   NATION MEDIA GROUP

Sliders women's hockey club returns to the Africa Club Championship after a seven-year absence.

The self-sponsored club clinched a place in the continental event after securing second spot in the Kenya Hockey Union (KHU) women's National League at the weekend.

A brace from Nancy Chepchumba and one a goal each by Dorsillah Agunda, Njeri Kariuki and Doris Kirui gave Sliders an emphatic 5-0 win over Mombasa Sports Club.

The victory moved Sliders to second place on 41 points, one point ahead of last season's runners-up Strathmore Scorpions.

Champions Telkom Orange lead the standings with- 54 points, having already clinched their record 18th league crown. The top three teams have completed their league matches with the 2015/2016 season set to end on May 1.

Despite Orange thrashing Daystar Falcons 16-0 in their last league match last Saturday, it is Sliders that grabbed the headlines after qualifying for the club championship to be held later this year.

Sliders have participated in the annual event thrice. The team won the title during their debut in 1999 in Bulawayo, Zimbabwe a year after winning their only domestic league title.

In 2000, they finished third in Egypt and then missed out on the championship for the next nine years.

In 2009, sliders were beaten 2-1 in the final by eight-time winners Telkom Orange when the event was held in Nairobi. Striker Anita Agunda was voted the tournament's Most Valuable Player.

Sliders' coach Nixon Nyangaga believes the team is ready to reclaim its place on the continental scene.

"It has been a long wait for this team. We have had success in the past before going into a slump but we are now ready to roar again," Nyangaga told Daily Nation Sport on Tuesday.

BOLSTER SQUAD

The tactician, who also handles men's Premier League side Greensharks, is looking to bolster his squad ahead of the continental event and also the 2016/2017 season, which begins in June.

"I am hoping to bring in an established striker as well as a defender to help us challenge Orange on both the local and continental front," said Nyangaga.

The team - which has a blend of both young and experienced players - won 13 out of 18 league games played this season, losing only thrice and managing two draws.

The evergreen Agunda was the team's top scorer this season with 12 goals, alongside Chepchumba's eight during the team's brilliant season.

According to club president, Vivien Akinyi, the team needs Sh3 million to cover the expenses during the club championship.

"We have already started talking to corporates, well-wishers and former players to help us send this great team to the event," she said.

Daily Nation


---

Whitgift win the the Boys' U14 Schools title




Whitgift proved victorious in the Boys' U14 Schools' Finals at a sun drenched Lee Valley Hockey and Tennis Centre taking the title with a perfect record.

Whitgift sailed through Pool B without conceding a goal. Their first game was against Dean Close who pipped them in last year's U13 in2Hockey final and they gained revenge with a 2-0 win. They followed that up with a 5-0 win over Bishops Stortford and then a 3-0 win over Oakham. Bishops Stortford secured the runners up spot beating Dean Close in the last pool game to do so.

Pool B was tighter but saw Stamford come out on top.  They beat Wilmslow 2-0 in the first game of the day whilst RGS Guildford were beating holders Repton by the same scoreline.  With the next round of matches seeing two draws It was a case of winner takes all in the Stamford-RGS game and it was the Lincolnshire side who ran out emphatic 4-0 winners. This allowed Repton to go above RGS into second place after beating Wilmslow 1-0.

In the 3-4 game Bishops Stortford defeated Repton 3-2 on strokes after the game had ended 1-1.  Carlos Godo Masana had given Repton a second half lead but this was cancelled out by Josh Pitcher.

The action continues tomorrow at Lee valley with the Under 16s and Under 18s taking centre stage.
In the final Whitgift got the best possible start when Steve Rich gave them a 3rd minute lead thanks to a bullet reverse stick shot from the top left hand side of the D. They followed this up with a stroke form Matthew Blood for a 2-0 half time lead. They held on to this comfortably in the second half and Xavier Teyletche put the icing on the cake with a last minute third

England Hockey Board Media release


---

A brave new India in Ipoh

Ahead of Rio Olympics, Oltmans-coached side returns from Azlan hockey with many positives

Indervir Grewal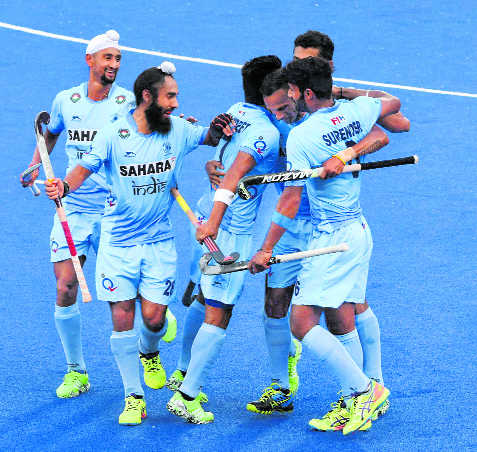 The Indian team celebrates a goal against Pakistan during the Sultan Azlan Shah Cup in Ipoh. PTI

Chandigarh: It turned out to be a clichéd ending to an otherwise refreshing script. A realistic ending, but maybe not for the eternal hopefuls, who would have loved to see India slay the mighty Australians. The realists, though not really surprised, would have hoped for a not-so-bitter pill to swallow.

Both were disappointed — there was no beating Australia in the final of the Sultan Azlan Shah Cup, nor was there that one Indian goal at least that would have helped the team, and the fans, save face.

It is important to remember that the Ipoh (Malaysia) competition was a build-up tournament for the Olympics, with teams trying out new players and strategies. India coach Roelant Oltmans tried out some junior players along with two making a comeback — Nikkin Thimmaiah and Mandeep Singh.

However, after a long time, there were more encouraging aspects in India's campaign than the usual upsetting ones. The 4-0 loss in the final does not truly reflect, and cannot overshadow, India's surprisingly professional performance in the tournament.

"We shouldn't judge them from the silver. This was a build-up tournament and most of the teams were below us in the rankings. They lost to both Australia and New Zealand. There was, however, definite improvement in the team's performance," said Olympian Hardeep Singh Grewal.

A crescendo

World No. 7 India were the second-highest ranked side in the tournament behind world No. 1 Australia. India won four matches and lost three — twice to Australia and once to defending champs and world No. 8 New Zealand — on their way to a second medal in five months.

If the bronze at the Hockey World League Final in Raipur was the result of two knockout wins, the silver in Ipoh came after a steady progression — something the Indian team is not known for. The performance level, even of the top teams, is relative to the opposition — it rises against better teams and drops against the weaker ones. The consistent teams, however, always find a way to get a favourable result. India have never been counted among them.

However, it was surprisingly different in Ipoh. Despite a rusty start, they fought back from a goal down to overcome a defensive Japan 2-1. They raised their game to beat Canada 3-1.

Fearless but smart

Then they took their game to a different level in the biggest match of the tournament, thrashing Pakistan 5-1. India showed no sign of that familiar fear and nervousness involved in a match against Pakistan; it's due to this nervousness that India have managed to beat the lower-ranked Pakistan only once in two years (Asian Games final).

India were calm, fearless and, at the same time, smart; they stuck to their plan of playing possession hockey and never let the match slip into that usual seesaw of purposeless attacks and counterattacks.

This fearlessness came from a better defensive display, which in turn was the result of a collectively intelligent performance by the team. The Indian players made smart decisions most of the times. They didn't give away possession through those wild and overly ambitious hits into the circle; they went for safer dodges. That's the reason there were fewer turnovers.

Not only did they dominate possession, the movement of the ball was much quicker and the off-the-ball running was much-improved. Thimmaiah, playing his first tournament in almost a year, was at his scintillating best throughout the tournament.

All this resulted in a positive goal difference. In seven matches, India scored 18 goals (12 field) and conceded 15 (nine to world champs Australia in two matches and only six in the other five matches).

In the do-or-die match against Malaysia, India took it a notch higher, beating the hosts 6-1 to enter the final. It was one of India's best performances in a long time — a complete domination. Two players stood out with their all-round performances, and both are young men who have the potential to become the complete players that India desperately need. Oltmans brought Harmanpreet Singh and Harjeet Singh in to check out his options before the Rio Games. Both made a strong case for their inclusion into the Rio-bound squad.

Sloppy at back

Despite an improved defensive showing, the goals that India conceded were the result of a sloppy defence; this has been a perennial problem. A few were caused by individual errors, especially by the two goalkeepers — Harjot Singh and Akash Chikte had a poor tournament.

But the main reason behind conceding such goals remains the absence of a leader in defence, someone like Australia's Mark Knowles. This sweeper or libero is responsible for maintaining the team's structure, manning the danger zones — blocking through-balls, covering for the other defenders — and engaging with an opponent one-on-one if needed. This requires the capacity to recognise situations, patterns and being adept at tackling. Knowles is a master of this and is rarely found out of position. This position also demands the player to have the vision to play long balls. With pressure on the midfielders, those defence-piercing passes very often come from the back. India have failed to find someone for this role and it is unlikely they will before the Olympics.

But Oltmans still has a few months to iron out the more immediate flaws. The Dutchman, along with the fans and critics, will get another opportunity to gauge the team before the Olympics. The Champions Trophy in London in June will provide a much tougher challenge. "It is the toughest tournament in the world and will give us a clear picture of where India really stands," said Grewal.

How they play in London will show whether India's new-found confidence and composure in Malaysia belied their nervous disposition, especially when playing top teams.

The Tribune


---

PHF invites 40 junior players for camp in Abbottabad

ISLAMABAD: The Pakistan Hockey Federation (PHF) on Tuesday invited 40 junior players for attending a training camp for their grooming and to improve and develop their physical conditioning. "The specialization national junior Under-21 activity will take place from April 24 till May 10 at Tobe Camp in Abbottabad," said a spokesman for the PHF. Former Pakistan captain Tahir Zaman has been named as the camp commandant.

Following will attend the camp:

Goal-kepeers: Muneeb-ur-Rehman, Ali Raza, Roman Khan, Hafiz Ali Umair and Usman Ghani.

Full backs: Mohammad Atif Mushtaq, Hassan Anwar, Zahid Ullah, Faisal Shah, Abid Bhatti, Amjad Khan and Mubasshir Ali.

Halves: Abu Bakar Mahmood, Faizan, Mohammad Junaid Kamal, Mohammad Usman, Muhammad Qasim, Ali Raza, Tanzeem-ul-Hassan, Sohail Sheraz, Muhammad Adnan and Ghazanfar Ali.

Forwards: Shan Irshad, Mohammad Azfar Yaqoob, Muhammad Dilber, Muhammad Atiq, Mohammad Bilal Qadir, Mohsin Sabir, Rana Sohail, Fahad Ullah, Sami Ullah, Amir Ali, Mohammad Sheharyar, Muhammad Rizwan, Bilal Mahmood, Muhammad Naveed, Saran Ben Qamar, Khair Ullah, Zeeshan Bukhari and Umar Hamdi.

Officials: Brig (r) Khalid Mukhtar Farani (team manager) Zeeshan Ashraf Muhammad Irfan (assistant coaches), Arshad Hussain (goalkeepers coach), Ghazanfar Ali (physical fitness trainer and nutritionist), Waqas Butt (assistant goal-keeper coach) Zahid Ali (video analyst) and Mohammad Adnan (team doctor).

The Daily Times


---

Men's and women's competitions to run together at Razak Cup

by Aftar Singh

KUALA LUMPUR: The men's and women's competitions will be held together for the first time in the 54th edition of the Malaysian Razak Cup hockey tournament.

The tournament will be held at the National Hockey Stadium in Bukit Jalil from May 21-29.

Only the men's competition had been held since its inaugural in 1963.

Malaysian Hockey Confederation (MHC) chief executive officer K. Logan Raj said that the women used to compete in the Raja Noora Ashikin Cup.

"Since the tournament is not on the MHC calendar, we've decided to include the women's competition in the Razak Cup.

"We're happy with the response as 14 teams have confirmed their entries," said Logan.

All 14 states, including affiliates Police and Armed Forces, will feature in the men's competition. Only Kelantan and Perlis are not competing in the women's meet.

The Star of Malaysia


---

Four hockey players to trade sticks for batons starting May

by Aftar Singh



Razie (with red armband) celebrates his goal against Japan in the Sultan Azlan Shah Cup in Ipoh recently. - Bernama

KUALA LUMPUR: Four Malaysian national hockey players, including penalty corner specialist and skipper Mohd Razie Abdul Rahim, will take a nine-month break to attend a police inspector training stint.

The 29-year-old Razie, midfielder Nabil Fiqri Mohd Noor and two national women player – Farah Ayuni Yahya and Noor Hasliza Mohd Ali – will report for duty on May 8 at the Police training centre (Pulapol) in Jalan Semarak.

Razie was called up for the police training last year, but he requested for a postponement.

"The national hockey team needed me for the World League Semi-Finals in Antwerp, Belgium last June ... it was a qualifying tournament for the Rio de Janeiro Olympics," said Razie, who has 220 caps for Malaysia since making his debut in the Sultan Azlan Shah Cup in 2006.

Malaysia failed to qualify for the Rio Olympics after finishing sixth in the 10-team Antwerp tournament.

"I've always dreamt of becoming a police officer ... I also need a permanent job to support my family," said Razie, who has a daughter.

The nine-month police training will see Razie miss several tournaments, namely the Razak Cup (at the National Hockey Stadium in Bukit Jalil from May 21-29), the Australia League in September and also the fourth Asian Champions Trophy in October.

Razie, who has been playing for the Kuala Lumpur Hockey Club (KLHC) in the Malaysia Hockey League (MHL) since 2007, said that he would continue to represent the country after completing the police training next February.

"I featured in the 2014 World Cup (in The Hague, Holland) ... I hope to play in the 2020 Olympics in Tokyo before I retire," said Razie, who was a member of the Malaysian team who won silver in the 2010 Guangzhou Asian Games.

The Star of Malaysia


---

India's Durga Thakur promoted as FIH international umpire

NEW DELHI: India's Durga Thakur has been promoted to international outdoor umpire by the International Hockey Federation (FIH) following her good performance at the recently-held Hawkes Bay Cup in Hastings, New Zealand.

Thakur started her career as an umpire from the third Hockey India Sub-Junior Men & Women National Championship (Finals) in Bhopal in 2013.

A graduate of NSNIS in 2011, her first international assignment came in 2015 at the double six-Nation Cup in Breda, Netherlands.

A physical education teacher at Modern School, New Delhi, Thakur has represented her state Himachal Pradesh in the National Championships in three sporting disciplines --- handball, basketball and hockey. She was one of the umpires in the finals of the last National Games.

Thakur is an addition to a crop of young Indian umpires currently officiating at the international level. The list currently has 14 Indians in the elite league of international umpires (10 men, 5 women).

Congratulating her on the achievement, Mohd Mushtaque Ahmad, secretary general of Hockey India said, "It is an extremely proud moment for us at Hockey India to have added another name to the list of international umpires. We have a dedicated professional and upward moving Indian women team. Durga is young, passionate and very committed to her job. We are proud of her achievements and congratulate her on her promotion."

The Times of India


---

International Hockey Federation to open regional office in Dubai

Governing body the first to accept Dubai Sport Council's offer to International Federations to host representatives within its new headquarters



FIH President Leandro Negre (right) with His Excellency Saeed Hareb, Secretary General of the Dubai Sports Council

The International Hockey Federation (FIH) announced today that they will be the first organisation to take up Dubai Sports Council's offer to all summer Olympic International Federations to set up a regional office within its new headquarters at Dubai Design District (d3).

Dubai Sports Council and FIH representatives confirmed the agreement at the SportAccord Convention 2016 in Lausanne, Switzerland, signing a memorandum of understanding (MOU).

Commenting on the announcement, His Excellency Saeed Hareb, Secretary General of the Dubai Sports Council, said: "For Dubai, hospitality is central to everything we do and that makes us the perfect host for any International Federation or governing body looking to set up regional offices and stage annual conferences and meetings. As such, we are delighted to welcome FIH into Dubai's wider sporting family and look forward to hosting their representatives in our new headquarters as we work together to promote sport both in the region and across the globe."

Winner of the 2015 Mohammed bin Rashid Al Maktoum Creative Sports Award's 'International Creative Organisation Award', the FIH joins a list of leading global sporting entities such as cricket's International Cricket Council, golf's European Tour and Spanish football's La Liga that already benefit from having a presence in Dubai.



Members of the Dubai Sports Council with FIH CEO Kelly Fairweather (left red tie) and FIH President Leandro Negre right red tie)

Leandro Negre, President of the International Hockey Federation, said: "Dubai's world-class sporting facilities, events infrastructure and global connectivity all contribute to the city's growing reputation as a home for international sport. For the FIH, deciding to place representatives in Dubai, sitting at the crossroads of the world and at the centre of hockey's key markets, makes perfect sense and we are grateful to Dubai Sports Council for its kind offer and continued support of the Federation."

Dubai Sports Council will officially switch operations to its new premises in May and will provide world hockey's governing body, and any other interested summer Olympic International Federations, office space for up to two representatives for two years.

This is one of the latest steps taken in line with the FIH's 10-year Hockey Revolution strategy aimed at making hockey a global game that inspires the next generation.

FIH site


---

Hockey family mourns deaths of Denys Carnill and Pierre Belmer



Denys Carnill (1926-2016)

FIH was saddened to hear of the recent deaths of Great Britain Olympian Denys Carnill and former Fédération Française de Hockey President Pierre Belmer.

Denys Carnill, the former Great Britain and England hockey captain, died a few weeks after celebrating his 90th birthday.

He played in three Olympic Games, at Helsinki (1952), where he won a bronze medal, Melbourne (1956) and Rome (1960). A speedy left back, he was capped 45 times for England and 27 times for Great Britain, in an era when very few internationals took place annually.

He died after a short illness and leaves Pam, his wife of many years, and two daughters, Libby and Sally.

Pierre Belmer, who was President of the French Federation between 1981-1994, died aged 94 at home on 16 April, after suffering from prostate cancer.

Pierre's funeral service will be held on Thursday 21 April at 14:00 in the Church St Sauveur in Arras, France. The burial will be in the cemetery of Douai.

Speaking about these men, FIH President Leandro Negre said: "The hockey family is deeply saddened by the deaths of Denys and Pierre who dedicated so much of their lives to our sport. They were both inspirational characters who played hugely important roles in the development of hockey within their country. We wish our deepest sympathy to his family and friends at this extremely difficult time."

FIH site