All the news for Monday 7 March 2016

Milestone for Black Stick Archibald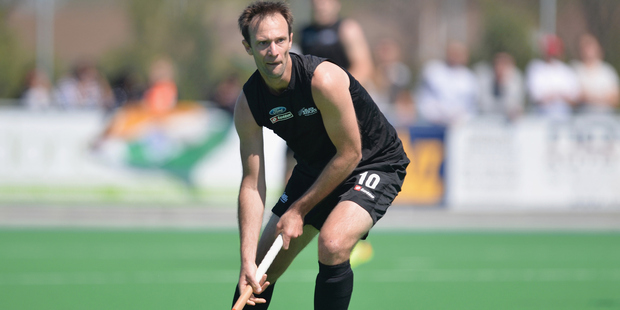 Ryan Archibald during the international men's hockey test against India. Photo / Getty Images

A significant milestone for veteran Black Sticks midfielder Ryan Archibald.

The 4-1 win over Malaysia in the opening test of the four-match series was Archibald's 300th appearance for New Zealand, a feat only achieved by Phil Burrows and Dean Couzins.

Archibald says he doesn't measure his career by appearances, but this is special.

He says it's a year that means a huge amount and this achievement is one of many things to be ticked off this year.

The second test is in Tauranga tonight.

The New Zealand Herald


---

EHL Trophy Tour hits Amsterdam



Picture: Koen Suyk

The Euro Hockey League's Alain Danet Trophy began its tour around the Netherlands at the Wagener Stadium as the countdown to the KO16 begins in earnest.

The trophy was present at the stadium for the Amsterdam versus HGC in the Hoofdklasse with Amsterdam's former goalscoring machine Taeke Taekema and EHF President Marijke Fleuren present as special guests for the first phase of the tour.

It will visit a number of other grounds over the next couple of weeks with fans getting the chance to see the famous golden trophy.

Keep an eye on the EHL website for further details of where the Trophy will go next.

Euro Hockey League media release


---

Incredible Holcs land English league




Holcombe have earned one of the two European club competition spots for the 2016/17 season as they confirmed their place at the top of the English Premier Division regular season today with a 4-1 win over Beeston.

It continues the Kent club's meteoric rise in the past few years since making a series of eye-catching additions to their panel. They earned promotion from the regional conferences last year and then raced to this latest title with 12 wins and five draws from their 17 games so far, moving seven points clear of Surbiton with one round of matches to go.

They ran up a 3-1 win over Brooklands MU on Saturday afternoon and they followed up with the win over the Bees. Against Beeston, they fell behind in the first half before Sam Ward equalised early in the second half.

Ward put Holcombe in front when he rebounded off the back of Ashley Jackson's first up shot. Jackson created the third goal as well, finding a path to James Stedman to deflect into the goal.

Jackson completed the scoring from Gareth Andrew's assist. Andrew almost made it 5-1 right at the end in the most incredible fashion, latching on to Iain Lewers' massive overhead ball, playing the ball one-handed in tennis-style but the chance went just wide.

Holcombe will play in their final league game next Sunday against Hampstead and Westminster before progressing to the finals weekend which takes place on April 16 and 17.

They will be joined there by Surbiton and Reading as well as reigning champions Wimbledon who stamped their ticket this weekend, too.

On Sunday, goals from Ali Brogdon and Johnny Kinder earned Wimbledon a 2-1 win over East Grinstead, following up a 1-0 win on Saturday against Hampstead and Westminster.

Euro Hockey League media release


---

Wimbledon fight to play-off spot



Wimbledon's Ali Brogdon in action against East Grinstead. Credit www.hockeyimages.co.uk

Wimbledon sealed their place at the League Finals Weekend with back to back wins to see off the challenge of Brooklands Manchester University in the Men's Hockey League Premier Division.

After losing 3-1 to Holcombe on Saturday, Brooklands needed to win at Canterbury and hope Wimbledon dropped points at East Grinstead. But goals from James Spain, Wei Adams and Craig Boyne meant victory for Canterbury despite Pete Cornell and Ross Hall scoring consolation goals for Brooklands.

Ali Brogdon and Johnny Kinder scored the goals on Sunday for Wimbledon that gave them an insurmountable cushion in fourth place and booked their spot at the League Finals Weekend on April 16-17 at the Lee Valley Hockey and Tennis Centre in London.

At the other end of the table Cannock threw away a half time lead to lose 2-1 at home to Hampstead and Westminster, Joel Carroll and Stuart Loughrey cancelling out Callum Mackenzie's goal to leave Cannock needing a result in their final game to have any hope of avoiding the drop.

Cannock conceded a last minute winner at Reading on Saturday when Richard Mantell struck in the 70th minute.

Canterbury's win means they still have a chance of catching East Grinstead going into the final game, and Beeston are also not safe after they were beaten 4-1 by hosts Holcombe to make it two defeats over the weekend.

That was Canterbury's second win of the weekend after they beat Beeston on Saturday thanks to goals from Ross Gilham-Jones, Wei Adams and two from Joshua Pollard.

Elsewhere Surbiton warmed up for the League Finals Weekend with a 2-1 win over Reading, with the two sides looking likely to meet again in the semi-final as things stand.

Men's Conference West

The battle against relegation will go right down to the wire in the Men's Conference West with Chichester Priory Park and Guildford both trying to avoid automatic relegation next week.

Chichester are currently bottom by a point but put in a great performance to beat Team Bath Buccaneers 4-2, a result which sees Bath slide to fourth.

Guildford lost heavily with Sam French hitting a hat-trick for the University of Birmingham in a 6-2 win.

Champions Cardiff and Met drew 2-2 with Isca. Luke Hawker hit a brace for Cardiff and Sam Lynch matched the feat for Isca. The University of Exeter beat Cheltenham 3-1 and Fareham drew 1-1 with Indian Gymkhana.

Men's Conference North

Three teams are fighting for survival in the Men's Conference North with only a point separating Wakefield, Lichfield and Olton and West Warwicks.

Only Lichfield made any progress this weekend, climbing off the bottom of the table with a 2-2 draw at home to Sheffield Hallam with Oliver Mason and Steven Bailey on target.

Wakefield lost 4-2 at Doncaster with Dan Legg and Tim Shelley both scoring twice for the South Yorkshire side. Olton also lost 4-2, to Deeside Ramblers.

Champions Loughborough Students beat Preston 6-1 with Ed Horler scoring three and Bowdon drew 4-4 with the University of Durham.

Men's Conference East

Richmond have one hand on the title in the Men's Conference East after going top with a 7-1 win over Oxted. Josh Smith led the scoring with a hat-trick.

Southgate slip to second after a shock 2-1 defeat to West Herts and are now two points behind Richmond going into the final game.

Bromley and Beckenham have given themselves a chance of climbing out of the relegation play-off spot after a 3-2 win over Sevenoaks. Brighton and Hove must get at least a point to ensure survival after conceding a last-minute goal in a 3-2 defeat against Teddington.

Harleston Magpies are already relegated and lost 5-1 to Cambridge City.

Men's Hockey League (Saturday, March 5 2016):

Men's Premier Division: East Grinstead 1, Surbiton 5; Holcombe 3, Brooklands Manchester University 1; Canterbury 4, Beeston 3; Wimbledon 1, Hampstead and Westminster 0; Reading 3, Cannock 2.

Men's Conference East: Bromley and Beckenham 3, Sevenoaks 2; Southgate 1, West Herts 2.

Men's Hockey League (Sunday, March 6 2016):

Men's Premier Division: East Grinstead 1, Wimbledon 2; Canterbury 3, Brooklands Manchester University 2; Holcombe 4, Beeston 1; Reading 1, Surbiton 2; Cannock 1, Hampstead and Westminster 2.

Men's Conference West: Cardiff and Met 2, Isca 2; University of Exeter 3, Cheltenham 1; Chichester Priory Park 4, Team Bath Buccaneers 2; Fareham 1, Indian Gymkhana 1; University of Birmingham 6, Guildford 2.

Men's Conference North: Bowdon 4, University of Durham 4; Loughborough Students 6, Preston 1; Deeside Ramblers 4, Olton and West Warwicks 2; Doncaster 4, Wakefield 2; Lichfield 2, Sheffield Hallam 2.

Men's Conference East: Richmond 7, Oxted 1; Harleston Magpies 1, Cambridge City 5; Teddington 3, Brighton and Hove 2.

England Hockey Board Media release


---

Irish Men's EY Hockey League Round Up




Lisnagarvey moved into touching distance of the men's EY Hockey League regular season title and a European spot thanks to Matthew Nelson's late winner against Cork C of I.

It snatched a 3-2 win which moves Garvey 11 points clear of the pack with five rounds of games to go. They did it the hard way, though, trailing 1-0 to C of I at half-time due to John Jermyn's early drag-flick.

Sean Murray and Timmy Cockram swapped the lead in the third quarter but Philip Sweetnam tied up the game in the closing phases. Garvey showed the mark of champions, however, as they snatched a late winner through Nelson to make it 11 league wins in a row.

Nelson was the saviour last week as well, scoring in the Irish Senior Cup semi-finals against Three Rock in the last two minutes to earn an ultimately successful penalty shoot-out chance.

Rovers, for their part, shared a draw with Monkstown for the second time this season. Guy Sarratt's close range finish was countered by Daragh Walsh's deflected effort for a 1-1 game of few chances with goalkeepers David Fitzgerald and Jamie Carr on top.

Railway Union returned to the top half of the table thanks to a 6-3 win over Cookstown. Mark English scored a hat trick as the Sandymount side built a 3-0 lead only for the Co Tyrone side to bounce back to 3-2 early in the second half.
English, though, struck twice while James Dick was on the mark twice to record the victory.

Annadale picked off a hugely important win over Glenanne with a superb defensive performance to run out 2-0 victors. James Cox's early penalty stroke opened the scoring before Matthew Crookshanks clinched the tie in the closing quarter. The Glens piled on the pressure throughout but could find no way past Jonny Moore for Dale who move level with Cookstown, making for a fascinating battle to avoid the relegation places.

Stevie Dowds rescued a point for Banbridge against Pembroke as they drew 2-2 at Serpentine Avenue, cancelling out Alan Sothern's pair of goals. Dowds had given Bann an early lead before Sothern scored twice – once from play, once from a corner – to give them the lead which they held until the final two minutes. Dowds, though, repeated his earlier trick for a share of the spoils.

Men's EY Hockey League: Annadale 2 (J Cox, M Crookshanks) Glenanne 0; Lisnagarvey 3 (S Murray, T Cockram, M Nelson) Cork C of I 2 (J Jermyn, P Sweetnam); Railway Union 6 (M English 3, J Dick 2, S McKeever) Cookstown 3 (R Millar 2, G Allen); Monkstown 1 (G Sarratt) Three Rock Rovers 1 (D Walsh); Pembroke 2 (A Sothern 2) Banbridge 2 (S Dowds 2)

Day 13 extended reports
Annadale 2 (J Cox, M Crookshanks) Glenanne 0
Annadale produced a superb defensive performance to earn a vital three points as they continue to fight for survival in the men's EY Hockey League. The result moves them level with Cookstown on 10 points, closing the gap to Cork C of I in eighth place.

The Glens had plenty of chances but the league's top scorer Shannon Boucher had a rare off day from penalty corners as the Tallaght side lost for the third game in a row.

He had the first chance but was unable to connect from an early opening. From Annadale's first penalty corner,  James Cox's shot was stopped on the line by a Glenanne foot. Cox then converted from the resultant penalty stroke in the fourth minute.

Boucher saw his first corner drag-flick blocked by Cox in the ninth minute while Eddie O'Malley's deflection flashed past the post. Sam O'Connor brilliant right-wing run ended with a cross which just eluded the onrushing attackers.

Cox, David Smyth and Jonny Moore stood strong in defence for Annadale while Peter McKibbin, in an unaccustomed midfield role, was energetic in Annadale's rare attacks. A superb Robbie McGuire run from his own half led to a penalty corner which was well saved by Lukasz Domachowski as Dale went in at half-time 1-0 up.

Early in the second half, Boucher fired a low push wide. Moore then saved brilliantly from O'Malley's goal bound shot as the home team continued to soak up the Glenanne pressure. Moore closed out the third quarter with two outstanding double saves from consecutive corners.

Against the run of play, Annadale increased their lead in the 47th minute when, after good work from Adam McAllister, Matthew Crookshanks fired home from close range. In the face of a stream of attacks, Dale held on for this key win.

Lisnagarvey 3 (S Murray, T Cockram, M Nelson) Cork C of I 2 (J Jermyn, P Sweetnam)
Lisnagarvey extended their lead to 11-points at the top of the men's EY Hockey League to move within touching distance of the regular season title and a European spot.

They trailed at half-time to a John Jermyn corner goal but raced back into the lead with Sean Murray, Timmy Cockram and Matthew Nelson turning the tide. Garvey – who were without Mikey Watt, Neal Glassey and Andy Williamson – had the first major chance with Jonny Bell cutting in from the right before crashing a tomahwak off the crossbar.

But C of I countered with a good press and won a corner that Jermyn dragged low past John Tormey for the opening goal. They retained that advantage to the break with a solid defensive effort with few chances of note falling Garvey's way.
Indeed, the Cork side went close to extending the lead when Jermyn fired another corner into the roof of the net from a corner but the effort was disallowed. Garvey's equaliser came in the 37th minute when Peter MacDonnell dribbled through the visitor's defence before squaring to Sean Murray to tap in the equaliser.

Early in the fourth quarter, a James Lorimer overhead found Daniel Buser who held the ball up and fed Timmy Cockram who slapped across Billy Lynch for the lead. C of I equalised in the 54th minute via Philip Sweetnam off the back of a quickly taken long corner after Jermyn's corner flick was saved off the line by Lorimer.

But, within 60 seconds, Garvey retook the lead when Matthew Nelson reacted quickest to a loose ball in the circle and the ball dribbled past the stranded Lynch with five minutes to go.

Monkstown 1 (G Sarratt) Three Rock Rovers 1 (D Walsh)
Monkstown and Three Rock Rovers drew for the second time this season in another low-scoring, closely contested battle at the Merrion Fleet Arena. Town were withouth the injured Kyle Good and Richard Sykes while David Cole was absent due to exams for the tie.

Jonny Bruton, against his former club, went close in the eighth minute when he latched on to Nick Dee's overheard in the eighth minute while Jody Hosking had Rovers best first quarter chance when he took a quick attacking free. He drove left from a quick free but his shot was well saved by David Fitzgerald.
The second half was similarly close with both sides suffering green card suspensions for over-eager tackles. Bruton's diagonal ball picked out Karl Smith but his shot never generated enough power and bobbled wide.

Monkstown started the second half with more intensity with Peter Caruth lashing a half chance over and Lee Cole and Stephen Cole controlling a lot of possession. However, on 35 minutes, a defensive lapse left Ross Canning open but, again, his shot was well saved by Fitzgerald

The hosts took the lead in the 37th minute when Davy Carson received the ball on the left side of the D and his cross-come-shot found Guy Sarratt on the far post. His first effort was parried by Carr but he coolly lifted the rebound into the roof of the net for the first score.

Rovers equalised in the 48th minute from an attack down the left. As Monkstown's defence paused, the visitors took advantage and Daragh Walsh's shot across the circle took a defensive stick to deflect in just inside the far post.
Town did have a corner chance with two minutes to go – just the second of the game – but the drag was comfortably saved by Jamie Carr to leave it at a point each.

Pembroke 2 (A Sothern 2) Banbridge 2 (S Dowds 2)
Pembroke nudged a point closer to safety but they were within a couple of minutes of all three before Stevie Dowds fired home a late corner to earn Banbridge a share of the spoils.

Pembroke started brightly and good interplay between Alan Sothern and Jason Lynch was closed down and cleared by the Bann defence. Gradually, Bann worked their way into the game and, from a corner in the 10th minute, Dowds fired his side in front.

Sothern equalised in similar fashion in the second quarter after Karl Lynch's break down the right and good work from Sothern won the corner. The play was fast and furious but the scores did not advance further before half-time.
Early in the third quarter, Eugene Magee ran at the Pembroke defence and a stray Spain foot led to a corner which Ingram did well to save. Sothern was, again, the fulcrum of the Pembroke attack at the far end and, from Andrew Shekleton's square pass, he beat a covering defender and took the ball onto his open side before beating the keeper from the edge of the circle.

It gave them a 2-1 lead going into the final quarter. Bann were making much of the running at this stage with Pembroke existing on the counter. Ingram saved a corner while Scott Sullivan went close to extending the lead.

In the 55th minute, a further break by Sothern led to a corner but the drag flick was pulled wide. Bann substituted their goalkeeper and in the 58th minute and won a final corner. Dowds repeated the corner trick to equalise at 2-2.

Railway Union 6 (M English 3, J Dick 2, S McKeever) Cookstown 3 (R Millar 2, G Allen)
Mark English's hat trick played a big role in Railway Union's impressive 6-3 win over Cookstown to move the Park Avenue side back into the top half of the table. It was the second high-scoring win of the season for David Bane's side over the Co Tyrone outfit, having won 7-3 earlier in the campaign.

Simon McKeever opened the scoring in the first minute when he finished off Eoin MacArthur's great touch. James Dick deflected in Mateusz Nowakowski's cross for the second for a 2-0 quarter-time lead.

Dick then went solo, weaving through a couple of tackles, before setting up English for his third goal. Ryan Millar got one back from a straight strike at a corner to reduce the gap to 3-1 at half-time.

Greg Allen got another back to get Cookstown back into range but English's corner drag put Railway out of range once again. He hit the post soon after before landing his hat trick. Dick nabbed his second for 6-2 before Cookstown closed out the scoring.

Irish Hockey Association media release


---

Irish Women's EY Hockey League Round Up



Credit: Rowland White/Press Eye
 
After a roller-coaster of a double-weekend, Ulster Elks and Pegasus occupy the women's EY Hockey League playoff places thanks to their Sunday victories.

The Elks are the league's form side with five wins in succession lifting them to second place in the standings. They won 3-1 in Galway against Greenfields on Saturday with Rebecca Barry's pair of goals and one from Megan Frazer all coming in the second quarter for the northern side.

They followed up with a hugely important 3-2 success against Railway Union at Jordanstown with Megan Frazer, Gemma Frazer and Jessica McMaster on the mark.

For Railway, they had won 1-0 against Pegasus on Saturday with Sinead Dooley's breakaway goal in the last five minutes proving the only difference between the sides.

That had lifted them back up to second place in the table but their Sunday loss to the Elks drops them into fourth place, albeit with a game in hand on their rivals.

Pegasus had fallen out of the top three due to their loss to Railway but they bounced back in excellent fashion with a 1-0 win over UCD on Sunday. They move up to third place in the standings.

For UCD, one point from a possible six has left them with three points to make up if they are to get into the playoffs. The students were denied victory on Saturday by UCC at the very last after they led with precious little time remaining.

Aisling Naughton's pair of goals had them 2-1 up going into the final phases but Saoirse O'Leary tied things up for a draw.

Cork Harlequins were another side whose playoff hopes fell away over the weekend. A 1-1 draw with Ards on Saturday chipped away at their outside chances. They produced a brilliant comeback from 3-0 down to draw 3-3 with Hermes on Sunday but they are now six points away from the top three and pretty much out.

Hermes, already crowned regular season champs, had a forgettable weekend as they lost 2-1 on Saturday to Pembroke – their first defeat of the campaign – as Erika Hinkson and Alice Ward scored for the Serpentine Avenue side.

At the bottom, Ards retained their narrow two point wedge over UCC a the two sides drew on Sunday afternoon 1-1 with Emma Barber and Chloe Brown exchanging goals.

Women's EY Hockey League
Saturday: Greenfields 1 (K Hennessy) Ulster Elks 3 (R Barry 2, M Frazer); Pembroke 2 (E Hinkson, A Ward) Hermes 1 (A O'Flanagan); Cork Harlequins 1 (M Crowley) Ards 1 (A Benson); Pegasus 0 Railway Union 1 (S Dooley); UCD 2 (A Naughton 2) UCC 2 (S O'Leary, A McGrath)

Sunday: UCC 1 (E Barber) Ards 1 (C Brown); UCD 0 Pegasus 1 (T Doherty); Cork Harlequins 3 (K Bateman 2, C Sargent) Hermes 3 (E Horan, N Carroll, S Campbell); Ulster Elks 3 (M Frazer, G Frazer, J McMaster) Railway Union 2 (E Lucey, A Heisterkamp)

Day 15 extended reports (from Saturday)
Greenfields 1 (K Hennessy) Ulster Elks 3 (R Barry 2, M Frazer)
Ulster Elks moved into third place overnight as Rebecca Barry's double helped them win their fourth win in succession, coming home from Galway with all three points.

All their goals came in the second quarter as Greenfields were competitive long periods but succumbed to quick-fire blitz of goals. Both sides won a corner each in a scoreless first quarter before the game opened up.

Megan Frazer scored the first goal in the 18th minute with a corner drag-flick. Barry was quickest to react when Frazer's shot four minutes later was saved to make it 2-0 and the Limerick woman's reverse-stick shot from the left made it 3-0, giving Sinead Collins no chance.

The third quarter was a more even affair with the play going from end to end with Greenfields creating several scoring chances. Elks also created chances but were denied by a resolute home defence. The hosts produced their best hockey in the closing stages with Brenda Flannery, Ellie Noone and Kate Hennessy to the fore and they got a goal back in terriffic style. Flannery's powerful slap into the circle got a great touch from Hennessy to reduce the final deficit.

Cork Harlequins 1 (M Crowley) Ards 1 (A Benson)
Cork Harlequins bid for a Champions Trophy place took a blow as they were held to a 1-1 draw by Ards at Farmer's Cross. Ards were quickest out of the blocks, winning a penalty corner after three minutes but Chloe Brown drag flick was comfortably saved by Emma Buckley.

Harlequins started to get on the ball more as time wore on and, in the tenth minute, a fantastic run from Yvonne O'Byrne along the end line found Miriam Crowley at the back post to tap home.

Quins continued to hold the balance of power in the second quarter. After a good run from Katie Campbell, the ball found its way to Rachel Hobbs who had her shot well saved by the Ards keeper to keep the gap at 1-0.

Ards upped the pace immediately at the start of the second half, having more possession and getting Brown on the ball. The game swung further Ards way in the 40th minute with Quins going down to ten and then nine players within sixty seconds with Karen Bateman and Yvonne O'Byrne both sent to the bin.

From the resulting free, Ards took full advantage, spreading play wide before working it into the circle to find Amy Benson to slam home.

 The last quarter swung from end to end with both sides pushing for the win. Defence was on top for the most part but in the last minute Harlequins forced a penalty corner. The ball looked to be travelling in to the bottom right hand corner before Kerri McDonald expertly cleared the ball off the line for 1-1.
 
Pegasus 0 Railway Union 1 (S Dooley)
Sinead Dooley struck five minutes from time to earn Railway Union a hugely important 1-0 win over Pegasus, leap-frogging their Ulster rivals and moving back into second place in the women's EY Hockey League table overnight.

In an end to end battle on the Malone Road, Pegasus had the clearer chances while Railway held more of the possession without creating too much.

The second quarter saw Railway have a shot flash just wide from Dooley after Anna Heisterkamp's approach work in the 22nd minute and Sammy Jo Greer reacted well to save minutes later. Pegasus however enjoyed the majority of the possession but were denied by a resilient Railway defence.

Alex Speers, against her former club, went close on a couple of occasions for Pegasus. The third quarter started with much more energy from both teams and the speed of play increased.

Possession was again even between both teams with few goal scoring opportunities being created. Pegasus were awarded another corner which was again defended well by Railway.

As Pegasus pushed forward in the closing quarter, Railway's Emma Smyth played a lovely through ball to Zara Delany behind the Pegasus defence which Greer and Pamela Glass dealt with smartly. Pegasus pushed forward and were awarded another two penalty corners, the second of which Sarah Canning took off line.
Speers found some space and crossed in to the circle but there was no one able to get on the end of it. Almost immediately after that chance, Railway found a pocket of space in midfield and played Sinead Dooley in one on one with the goalkeeper and she calmly slotted home on her reverse and Railway took the lead.

Pegasus continued to press and, despite three further corners in the final minute, they couldn't find the equaliser.

UCD 2 (A Naughton 2) UCC 2 (S O'Leary, A McGrath)
UCD dropped out of the playoff places as they were held 2-2 by student rivals UCC who are still hoping they can try and get out of the relegation playoff place.

The Dubliners opened the scoring when Aisling Naughton broke past twi players and got a shot away from the top of the circle which went bottom corner. UCC replied with a great deflection from a crash ball outside the circle and Saoirse O'leary got a deflection which went top corner, leaving Natasha Cooke with no chance.

After that opening flurry of goals, UCD were the dominant force, creating plenty of chances from a well set up press but no goals accrued.

One of the better quarters UCD have played this season came in the third quarter, creating plenty of chances using the width of the pitch with Emma Duncan holding the middle of the pitch well.

And they eventually got ahead in the fourth quarter with a great team move, starting at left back with Elaine Carey beating two players to set up a glorious chance which Naughton put away.

But, with a minute on the clock, UCC won their first corner of the game and Antonia McGrath got the Cork students back level with a straight strike.
 
Pembroke 2 (E Hinkson, A Ward) Hermes 1 (A O'Flanagan)
Pembroke became the first side in Ireland to beat Hermes in normal time as they recorded a 2-1 win over the already confirmed league champions. Anna O'Flanagan's 17th minute goal had given Hermes the lead but efforts from Erika Hinkson and Alice Ward turned things around for Keith Crawford's side.

The win means that Pembroke, by the end of the weekend, cannot now be caught by UCC in ninth place and so are safe from any outside chance of being dragged into the relegation playoff.



Credit: Deryck Vincent

Day 16 extended report
Cork Harlequins 3 (K Bateman 2, C Sargent) Hermes 3 (E Horan, N Carroll, S Campbell)

Cork Harlequins produced a stunning fightback from 3-0 down at half-time to earn a draw at Farmer's Cross. Eimear Horan's fabulous deflection to Anna O'Flanagan's initial shot had given Hermes an early lead, one that was augmented by Naomi Carroll's cracking effort.

Suzie Kelly then set up Sally Campbell for the third goal of the game for an imposing half-time lead. Quins, though, bounced back with a corner goal early in the second half and were back in range by the end of the third quarter. Their equaliser arrived in the final 15 minutes with all three of the goals coming from penalty corners, Karen Bateman scoring twice and another from Cliodhna Sargent.

Irish Hockey Association media release


---

Police arrest Sikh Union in hockey match at City Park

By Elizabeth Mburugu



Kenya police vs Sikh Union Sikh Union Davis Wanangwe(l) fights for the ball with Kenya Police Willis Okeyo when they played Premier Men at city Park on 06/03/16. PHOTO: JENIPHER WACHIE

Kenya Police beat Nairobi Sikh Union 5-2 in a Kenya Hockey Union men's premier league match at City Park yesterday.

Seeking to reclaim the title they lost to Butali Sugar Warriors last season, Police left nothing to chance as they beat the 2012 champions for the second time this season.

Police coach Kenneth Kaunda said early goals helped them set the pace and control the match, but they needed to score more goals.

"Early goals gave us the three points because we controlled the game. But we also needed to score more goals so as to improve our goal ratio," Kaunda said.

Goals have been difficult to find for Police, compared to their rivals and defending champions Butali Sugar Warriors. Police need to up their game and sharpen their striking force.

Sammy Oungo put the law enforcers on the lead six minutes into play through a penalty corner. The goal boosted their momentum as they went on a goal hunting mission.

Their efforts paid off 10 minutes later when Captain Brian Saina scored a superb field goal to make it 2-0 for the 2013 champions.
See also: Police officer accused of abducting and raping schoolgirl for six days

The second goal prompted Sikh Union to beef up their defence. Their plan worked for some moments, but international Sammy Wokila sounded the boards in the last minute of the first half to give Police a 3-0 advantage at halftime.

Midfielder Oliver Echenje scored Police's fourth goal in the 42nd minute, before Felix Okoth slotted in the fifth four minutes later. Stung by the massive score, Sikh Union took the opportunity and scored two goals through Collins Wanjala and Jaspreet Kalsi in the 57th and 70th minutes.

In another men's premier league match, Greensharks defeated Wazalendo 3-0. Sharks' captain Samuel Mucheke put his side in the lead after 22 minutes.

Antony Nyukuri and Carl Langbjenne scored Sharks' second (63rd minute) and third goal (65th minute).

The Standard Online


---

Anderson Thunderbolts turn Giant-killers

ANDERSON Thunderbolts created Junior Hockey League (JHL) history when they held UniKL Young Guns 2-2 in the Second Leg quarter-finals to become the first Division Two team to advance to the TNB Cup semi-finals on 5-4 aggregate.

Rising from Division Two, by becoming champions in the play-off and claiming a spot in Division One next season, the Ipoh school lads also made sure that the semi-finals is an all-Thunderbolts affair.

Anderson will now play BJSS Thunderbolts in the two-leg semis on Wednesday and Friday, while the other semis will be between SSTMI Thunderbolts and SSP-MSP Thunderbolts.

Anderson, who beat Division One team UniKL Young Guns 3-2 in Bukit Jalil in the first leg, rose to the occassion to hold them at the Azlan Shah Stadium yesterday.

Najme Hayazi (22nd and 27th) became the hero for Anderson, before UniKL fought back with goals from Zul Yadain Kasman (55th) and Wan Haziq Hisyamuddin (61st) but lost out on aggregate.

"I told my players before the match if they give their best, they will create history which will be sweet memories for them decades to come and they rose to the challenge," said Anderson team manager Saiyuti Samat.

Anderson's fairytale started by becoming Division Two Group A champions, followed by winning the Division Two play-off final 1-0 against BJSS Juniors.

They earned their rights to play in Division One next season, and then became giant-killers by edging UniKL who finished third in Division One.

"Now, we want to go even further by beating BJSS (Thunderbolts) In the semi-finals. I believe my players deserve to play in the final of the TNB Cup as well," said Saiyuti. 

RESULTS -- TNB Cup q-finals Second Leg:
Perlis Young Lions Juniors 0 SSTMI Thunderbolts 8. (SSTMI win on 15-1 aggregate).
Anderson Thunderbolts 2 UniKL Young Guns 2. (Anderson win on 5-4 aggregate).
BJSS Juniors 0 BJSS Thunderbolts 10. (BJSS Thunderbolts win on 16-3 aggregate).
Sabah Sports School 2 SSP-MSP Thunderbolts 6. (SSP-MSP win on 14-3 aggregate).

Jugjet's World of Field Hockey


---

Anderson-Thunderbolt create history to reach junior hockey league semis

by K. Rajan

KUALA LUMPUR: Anderson-Thunderbolt created history after becoming the first Division Two side to qualify for the Malaysian Junior Hockey League (MJHL) semi-finals.

The Ipoh-based side, the Division Two champions, edged Universiti Kuala Lumpur (UniKL) 5-4 on aggregate after a 2-2 draw in the quarter-finals second leg at the Sultan Azlan Shah Hockey Stadium in Ipoh on Sunday.

Having won 3-2 in the first leg in Kuala Lumpur last Friday, Anderson increased the aggregate to 5-2 after the first half.

Muhammad Najme Ahmad Hayazi was the hero. He converted a penalty corner in the 22nd minute and, five minutes later scored a field goal.

UniKL managed to reduce the deficit in the 59th minute when Muhammad Khairulamirin Abdul Jalil found the target from a penalty corner. Wan Haziq Hisyamuddin Wan Ameer Ruzman then gave UniKL a glimmer of hope when he scored to make it 5-4 in the 61st minute through a field goal.

UniKL tried their best but they just could not find the third goal as Anderson held firm to set up a semi-final showdown with Bukit Jalil Sports School (BJSS)-Thunderbolt.

BJSS again proved too good for BJSS Juniors, winning 10-0 for a 16-3 aggregate at the National Hockey Stadium in Bukit Jalil.

Anderson manager Mohd Sayuti Abdul Samad was overjoyed with his team's achievements.

"I'm so proud of my players. Now, our aim is to score an upset against BJSS-Thunderbolt," said Sayuti.

In Johor Baru, Division One champions SSTMI-Thunderbolt thumped Perlis Young Lions Juniors 8-0 at the SSTMI pitch for a 15-1 aggregate win.

SSTMI will take on SSP-MSP Thunderbolt of Pahang in the other semi-final. The Pahang side beat Sabah Sports School 6-2 to go through on a 14-3 aggregate.

The Star of Malaysia


---

Coaching the JHL coaches



Pic: Datuk Ow Soon Kooi

THE Malaysian Hockey Confederation (MHC) coaching committee yesterday broke new ground when they held a one-day seminar to educate Junior Hockey League (JHL) coaches.

Thirty-two JHL coaches went through a brief syllabus, conducted by MHC technical director Terry Walsh, to upgrade their knowledge, and synchronise their training methods with the national coaching style.

"We conducted a seminar for JHL coaches because these are the people who are in touch with future national players and how, and what, they teach these youth will form the basics," said coaching committee chairman Datuk Ow Soon Kooi.

Walsh upgraded their knowledge on recent rule changes, and parted with methods on how to conduct basic training.

"We started this clinic to make sure that every coach in the country follows the same syllabus so that when these 16 to 19 year-olds graduate to become national players, the national coaches will not have to start from scratch again.

"This is just a small beginning, as we intend to have another clinic during the Azlan Shah Cup (April 6-16 in Ipoh) for higher level coaches who handle the Razak Cup as well as the Malaysia Hockey League," said Soon Kooi.

A total of 35 teams, 10 in Division One and 25 in Division Two, competed in this season's JHL. Some of the coaches could not attend the clinic as they are involved with the quarter-finals stage of the TNB Cup.

Jugjet's World of Field Hockey


---

Wins for Sindh, Punjab, Railways, KP

KARACHI: Sindh, Punjab (Whites), Pakistan Railways and Khyber Pakhtunkhwa (Whites) on Sunday won their respective matches in the ongoing National Junior Hockey Championship at the National Hockey Stadium, Lahore.

Sindh beat Islamabad 3-0, Punjab (Whites) defeated Pakistan Board 3-1, Pakistan Railways secured a 5-1 win against Balochistan while KP (W) triumphed against Pakistan Ordnance Factory (POF) 2-1.

Match between KP (W) and POF turned out to be the most entertaining encounter. Both teams got a penalty corner each in the dying minutes with POF wasting it in the 57th when their pusher threw the ball on the wrong side while captain of the KP (Whites) Zahidullah availed the opportunity in the 60th to earn a well-deserved victory.

Earlier, KP (Whites) took lead in the 18th minute when Khairullah struck a beautiful field goal.

On the other hand, losing side's Wajeeh and Amjad had made a fine move in the 55th minute to help their team earn a penalty corner which was converted by Amjad through a rebound.

Sindh's first two goals were the result of penalty corners which their captain Arslan Haider and Wahab successfully converted in the 40th and 45th with Hunain striking a beautiful field goal in the 57th minute.

In the third match, Pakistan Board lost their rhythm after striking the first blow in the 11thminute through Mohammed Murtaza's field attempt.

However, two back-to-back field goals from Arhas Bin Amar helped Punjab recover from the shock with Arhas striking in the 26th and 27th. Three minutes later Waqar Ali netted the third field goal for Punjab.

Balochistan offered little resistance in their last match of the pool against Pakistan Railways who scored three goals in the first quarter.

Pakistan Railways' Waseem Akram converted a penalty-corner in the second minute with Tanzeem-ul-Hassan striking in the 8th, Mohammed Imran and Awais-ur-Rehman netting one field goal each in the 15th and 21st while Mohsin Ali converted a penalty corner in the 50th. Baluchistan's consolatory goal came from Raheel in the 30th.

Dawn


---

Hockey coaches clinic

KARACHI: A five-day clinic for coaches under the aegis of the Pakistan Hockey Federation (PHF) begins in Lahore on Monday. Earlier, the PHF have organised similar clinics at Karachi and Peshawar.

The purpose of clinics is aimed at preparing coaching manual which would be implemented at the grassroots level.

As many as seventy coaches from all provinces and departments will participate in the clinic which is expected to groom technical proficiency of coaches.

FIH master coach Olympian Tahir Zaman will conduct the clinic while Zahid Ali will assist him.

Dawn


---

Travelling down Memory Lane

Lucas Vila (Argentina), Darren Cowie (Trinidad & Tobago) and Carla Rebecchi (Argentina)

Sarah Juggins



Darren Cowie (TTO), Carla Rebecchi (ARG). Photo: Yan huckendubler

Even with Olympic medals, Champions Trophy titles and huge global success in your sport, you still remember back to where it all began. At least that is the belief of the three superstar hockey players who have spoken of their memories of competing in the Junior Pan American Championships.

Lucas Vila was just 19 years old when he played for Argentina in the 2005 Pan Am Junior Hockey Championship, but his nerves would have been steadied in his team's opening encounter as the Argentinians got off to a 17-1 win over Jamaica and Lucas found himself on the score-sheet twice.

Talking about that tournament, Lucas says: "I was really excited and anxious at that moment. Because for our group this was our first big tournament and it was a very important step to get the qualification to the Junior World Cup.

"We played really well during the group phase," he adds - in fact Argentina scored 46 goals and conceded just four in the opening rounds. The pressure increased on the team in the semi-final and final, but they beat Mexico and Chile respectively and continued to keep Argentina's 100 per cent record in the competition.

What were the special moments during that tournament? Perhaps surprisingly, it is not the winning or the lifting of the trophy that Lucas remembers so well. Rather it is the unconventionality of the event. "Hmmm, we had a few special moments because it was hosted in Cuba. And there were some "non-traditional" situations to come to terms with. For example, we were training in an outside gym next to the hockey field, with no roof, only a sand-dust floor and some old weights. That made it very different and very special."

For Lucas, that dusty gym was the bedrock of a glittering career. "It's where it all begins... it's a perfect moment to enjoy the game, maybe with less responsibility that you will get later on, with more freedom to play. It is also the first chance you really have to compare yourself against players from other countries. And off the field, when the match is over, there is even more joy, because all the players are a similar age and everything is new."

Hockey runs through the Vila household, elder brothers Matias and Rodrigo both played for Argentina and were obvious role models to their younger sibling. Lucas also names Netherlands superstar Teun de Nooijer and Australia's Jamie Dwyer as two players he has always looked up to.

To the current squad of young Argentine players getting ready for their first really serious foray onto the international stage, Lucas has this advice: "Take every match seriously, you will play it only once in your life! As I said it before, this is where all begins, so make sure you get off on the right foot. Above all, have fun and enjoy it! Off the field, find time to relax and make friends, but be careful to distinguish when is the time to relax and when you must be focused."

Darren Cowie is a national hero in Trinidad and Tobago. Captain of the national team and coach to the Trinidad and Tobago team that will be contesting the title in Toronto in May, Cowie is one of the island's leading lights in hockey development.

Like Lucas Vila, Darren played in the 2005 Pan Am Junior Hockey Championships and was team captain. He says: "There were some mixed feelings about this competition as it was meant to be played in 2004. Being a small hockey playing nation we lost out on a lot of players due to age who would have brought senior team experience to the squad. Nevertheless, the experience was a humbling one and gave me some much needed insight into the international side of the sport."

During the tournament, Darren had some stand-out moments that he still re-lives 11 years later. "Scoring against Mexico to tie up the score still sticks in my mind. I stick-stopped on corners and, in this particular corner, the injection was a bad one and came to my fore-hand. What was worse was that when I hit the ball to goal I topped it. Luckily it caught the keeper and post man off guard and eventually bobbled into the goal. Sadly that goal was not enough and Mexico took the game 4-3."

Darren recalls a high level of friendly competition between players within the team. In particular, he remembers Kiel Murray and Wayne Legerton – both of who went on to play for the senior national team – trying to claim the title of top scorer. "Both were deadly on corners," he says. "Kiel with the hit, Wayne with the drag-flick. Wayne eventually outdid Kiel and ended up fifth on the total goal scoring list while Kiel was ninth. Pedro Ibarra of Argentina came out as the top scorer, while Pat Harris (USA) also tallied up a number of goals for the States."

As young players relatively new to the international scene, Darren and his peers would inevitably experience times of doubt or a lack of confidence. He says that his remedy for times when things were not going so well was to work harder. "Negative feelings would show up from time to time and would also result in some bad touches on the ball. Something that helped me was knowing that there was one thing that I couldn't get wrong: that was hard work. So for every bad touch I had on the ball I would work twice as hard to regain possession and, in the next training session, I would work on my first touch just as much."

A common theme among many of the players who represent their countries in the Pan Am Junior Championships is the amount of support they receive from their parents and family. For Darren, this was important, particularly as he spent much of his teens trying to decide between hockey, basketball and football. Fortunately for Trinidad and Tobago hockey, his parents had both been heavily involved in hockey and so steered their son in that direction. His height – 5'6" / 165cm – was also a deciding factor, Darren says, explaining how hockey overcame basketball eventually.

Outside the family, one man has proven to be a consistently influential figure and that is hockey legend Kwandwane Browne. Most capped player for Trinidad and Tobago and now an international coach, Darren says of Browne: "He was a mentor, and still is, especially as I'm now following in his footsteps and taking on more of a coaching role. But his attention to detail when playing is beyond comparison."

Trinidad and Tobago finished eighth in 2005, just losing out to Barbados in the 7/8th play-off spot. For Darren this was the start of a long international career and ever greater involvement in hockey. But for him, the best moment of his career so far was the 2013 Pan American Cup, where Trinidad and Tobago won bronze. "It may not sound like much," he says. "but it was the first time since 1967 that a Trinidad and Tobago senior hockey team had ever won a Pan Am medal. It was made even more special as I was trusted to carry on the captaincy by Kwan and coach Glenn 'Fido' Francis."

Carla Rebecchi's hockey career has been full of golden moments. Among her many trophies, the Las Leonas captain has five Champions Trophy gold medals; one World Cup gold and a silver and a bronze Olympic medal. Like Lucas and Darren, Carla is also a graduate of the 2005 Pan Am Junior Hockey Championships, a tournament that Argentina won after defeating the USA in the final.

Carla scored her first goal against Chile, but despite Argentina clocking up an incredible 53 goals in five games, with no goals conceded, the forward did not find the goal again until the final, which Argentina won 3-1 against the USA. For Carla however, the tournament was just the thing she needed to develop her own confidence and cement her place in the senior squad.

"I played only one Pan Am Junior Championship in Puerto Rico. I was already playing for the senior team, so I had a lot of expectations on me. I felt really excited before the first match. It was such a great tournament for me, I had been training for it since I was 17 – although I was 20 by the time the tournament came round.

"We had a great time there, everything was new for us, it was great to travel and see another country and meet people from other countries. I think that is the advice I would give young players today: 'Enjoy the junior age group, it is great but it happens really fast. You must use the junior championships to gain confidence and be open to learning all they can.'

Pan American Hockey Federation media release


---

The greatest hockey player ever

A new book about 91-year-old field-hockey legend Balbir Singh Sr. sets the record straight

Charlie Gillis



Three-time gold medalist in field hockey Balbir Singh poses for a photo in Burnaby. (Photograph by Jimmy Jeong)

In the run-up to the 2012 Summer Games, the International Olympic Committee dialed up Balbir Singh Sr. with a flattering request. They wanted to borrow the baby-blue captain's blazer he'd worn during the 1956 Olympics in Melbourne—scene of Singh Sr.'s third gold medal as a member of India's once-invincible field hockey team. The win had been a crowning event in his newly independent country's sporting history, and IOC curators saw the jacket as a perfect artifact for an exhibition they planned to stage in London during the Games.

Singh Sr., a proud member of the Olympic family, was happy to help, but there was a hitch: He'd donated the jacket decades earlier to the Sports Authority of India, and bureaucrats at the governing body were having trouble locating it. You'd think the blazer would qualify as a relic, along with the three dozen medals and a stack of historic photos Singh Sr. passed on to the authority in 1985. They represented the halcyon days of Indian field hockey, after all, and on paper, Singh Sr. was the game's Gordie Howe—a living legend whose on-field performances live on in record books and bits of grainy film.

But a desultory round of rummaging by officials failed to turn up the blazer, while access to information requests filed by his family pointed to a galling conclusion: the jacket had been lost, or possibly stolen, along with the rest of Singh Sr.'s memorabilia. Only now had anyone noticed.

Singh Sr. was upset. "I donated these items to inspire the younger generations," the still-spry 91-year-old told Maclean's last week. But he was far from surprised. The loss of his souvenirs counts in a series of oversights, omissions and outright snubs by his birth country that have arguably made Singh Sr. the world's most underappreciated sports legend. Field hockey is second only to cricket among the passions of Indian sports fans. But as a Sikh star amid an increasingly prideful Hindu majority, he's been all but airbrushed from India's collective memory, eclipsed by athletes who adhere to the country's dominant religion. His childhood hero Dhyan Chand, a Hindu centre forward who played during the British Raj, is widely celebrated as the country's greatest-ever athlete. He's had stadiums named, statues erected and national sports awards titled in his honour. But as B.C. author Patrick Blennerhassett writes in A Forgotten Legend, a new book about Singh Sr., Chand's numbers were inflated because he playing alongside Pakistani and British-Indian stars prior to India's partition.

Singh Sr., meanwhile, lives with his son and daughter-in-law in a modest townhouse in Burnaby, B.C., unrecognized by passersby when he walks the family dog. Now a Canadian citizen, he returns to India for a few months each year, staying with extended family in the northern city of Chandigarh. There, too, he roams the streets in relative anonymity, his snow-white beard and red turban familiar only to close friends and relatives. "I'm better known and recognized abroad by international fans," he says matter-of-factly, "than I am by Indians."

Blennerhassett hopes to change that. In 2014, the Vancouver-based journalist travelled to Chandigarh to meet Singh Sr, thinking he'd write a magazine story about him, but soon got wrapped up in what he viewed as a historic injustice. "Not once did somebody come up and say, 'Oh, are you Balbir Singh Sr.?' If you were walking around any country with any of its iconic athletes, you'd be mobbed. Wayne Gretzky in Canada. Pelé in Brazil. These people have been instantly recognizable. Balbir's not, and just seeing that made me think that this was an issue."

Blennerhassett's argument for Singh Sr.'s primacy boils down to the relative competitiveness of postwar hockey. When Chand played, he argues, the British Raj had virtually no competition, so his 40 goals in Olympic play must be discounted when considered against Singh Sr.'s 22. Much has been made, too, of India's triumph over Nazi Germany in the 1936 Olympic final—the last of three gold medals to which Chand led his team. But the 8-1 shellacking typified the lopsided scores racked up by a team stacked with the best Hindu, Muslim and Sikh players living under British rule.

Only after Indian independence and partition in 1947 did real competition emerge. Pakistan and Britain formed formidable sides of their own, while the Netherlands, Germany and Australia renewed their interest in the sport. As a result, the international hockey scene Singh Sr. entered in the late 1940s was much tougher than that faced by his idol. What's more, within India's Hindu-led field hockey system, he was vulnerable to internal politics and cronyism. At the 1948 Summer Games in London, for instance, he scored six goals in a preliminary-round game, only to be scratched from the next two matches for players with better social connections. His Games were saved by a group of Indian medical students from the University of Oxford, who complained about Singh Sr.'s absence to their country's high commissioner in London. Pencilled in for the final against Great Britain, he scored twice in a 4-0 win.

It doesn't get much more symbolic. India had won its first gold medal as a sovereign country against its former colonial master, marvels Singh Sr. "And we did it in our former master's home." Singh Sr., meanwhile, had demonstrated his capacity for big-game dramatics. Four years later in Helsinki, he scored five times in India's 6-1 gold-medal victory over the Netherlands, setting a record for goals in an Olympic final that stands to this day. In 1956, he played the final in Melbourne with a broken finger, a character performance that helped squeeze out a 2-1 win over Germany.

Singh Sr. went on manage India's national men's team, winning a World Cup title in 1975. But his achievements were soon overshadowed by waves of religious violence that engulfed India, culminating in the 1984 military assault on the Sikh Golden Temple in Amritsar, and the retaliatory assassination of prime minister Indira Gandhi. In the early 1980s, he followed his three sons to Canada, where he made a part-time home, and the snubs have piled up ever since. Organizers of the 2010 Commonwealth Games in Delhi left him out of their ceremonies, hastily sending standard event tickets after his family members brought the omission to their attention. Media lists of greatest-ever hockey players routinely leave him out. On a couple of occasions, major Indian newspapers have misidentified him in photo captions.

To Blennerhassett, this is not so much a case of explicit discrimination as unacknowledged bias, which he says has deepened as religion has exerted itself in Indian politics. The subtitle of his book, Balbir Singh Sr., Triple Olympic Gold & Modi's New India, refers to Prime Minister Narendra Modi, leader of the Hindu nationalist BJP, who has sought to portray India's religious majority as tolerant. Blennerhassett has his doubts. "If you ask whether the marginalizing of Singh Sr. is a religious thing," he says, "most Indians will flatly deny it and get angry at you. For a journalist, that seems a sure sign they're either not telling the truth or trying to hide something."

The sad thing is, if the government wished to rise above religious chauvinism, it could find no better unifying symbol than Singh Sr. Throughout his life, he's had little interest in religious sectarianism or caste politics. In 1984, while attending a match at the Summer Games in Los Angeles, the aging legend grabbed an Indian flag from a Sikh protester who was tearing it to pieces. "He's a Sikh by birth and a secularist and a nationalist by choice," explains Ringo Dosanjh, the son with whom Singh Sr. now lives. "He believes in equality of all people. They could leverage him, politically, and he could become an international spokesperson for Indian sports."

At least part of that message might finally be getting through, thanks to his family's efforts to restore his profile. In the summer of 2014, Modi's newly appointed sports minister, Sarbananda Sonowal, dropped by Singh Sr.'s home in Chandigarh to apologize over the missing artifacts, touching the elder's feet in a gesture of respect. Then, two weeks ago, the Sports Authority granted Singh Sr. a lifetime achievement award. Singh Sr. was delighted enough by the honour to overlook the scant mention it received in the Indian press, and to ignore the fact the award itself is named after Dhyan Chand. By now, he's used to such things.

Macleans