All the news for Sunday 6 March 2016

Black Sticks power past Malaysia in opener



Photo: www.photosport.nz

The Black Sticks Men have recorded a strong 4-1 win over Malaysia in the first of four tests at Blake Park in Tauranga.

After a slow start which saw them go down 1-0, the Black Sticks powered back with four unanswered goals through Jacob Smith, Nick Wilson, Nic Woods and Shay Neal.

The spotlight was on veteran midfielder Ryan Archibald who became just the third New Zealand player ever to reach 300 caps behind Phil Burrows (343) and Dean Couzins (318).

Archibald made his debut against Malaysia in 1997, and in his 19 year career to date has represented New Zealand at three Commonwealth Games, two Olympic Games and two World Cups.

Head coach Colin Batch said the result was a pleasing start to the series.

"It's our first game in four or five months so we started a bit slowly, but I thought we really grew throughout the game," he said.

"We generated some good phases and counter attacks particularly in the second half and that's pleasing to see going into game two tomorrow."

Malaysia earned a stroke inside the first 10 minutes but goalkeeper Devon Manchester, fresh off a stint in the Hockey India League, made a great save on Razie Rahim's attempt.

Early into the second quarter the visitors lit up the scoreboard with Rahim making amends courtesy of a penalty corner flick.

Following the goal though, the Black Sticks found their feet and took control of the game.

Jacob Smith levelled the score midway through the second quarter with a nice final touch on a ball into the circle, before Nick Wilson added to the tally just minutes later thanks to a reverse shot into the corner of the goal.

Holding a 2-1 halftime lead, the Kiwis won their first penalty corner of the game in the 39th minute and Nic Woods obliged with a scorching flick into the top of the net.

In his return to international hockey, striker Shay Neal added a fourth goal for the Black Sticks 10 minutes from fulltime after smashing home a deflection.

The Black Sticks play Malaysia again in tomorrow's second test in Tauranga at 6pm, tickets are still available through www.dashtickets.co.nz

The Black Sticks vs Malaysia series is proudly supported by the Tauranga Energy Consumer Trust (TECT).

CLICK HERE for more on the Bay/City Tour

BLACK STICKS 4: (Jacob Smith, Nick Wilson, Nic Woods, Shay Neal)
MALAYSIA 1: (Razie Rahim)

Hockey New Zealand Media release


---

Black Sticks men get win over Malaysia

By David Leggat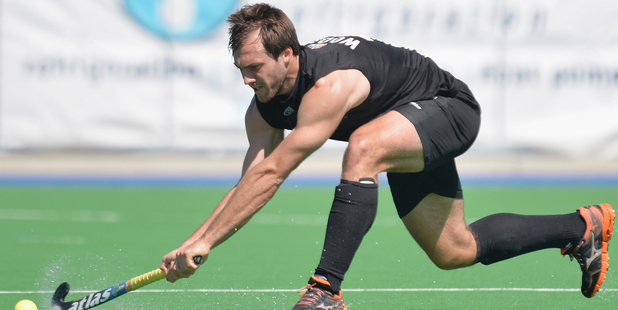 Nic Woods scored with a rasping drive from a penalty corner. Photo / Getty

The Black Sticks had to overcome a sluggish start and an awkward Malaysian side before winning the opening game in their four-test series 4-1 in Tauranga today.

It's been five months since the world No 8 team played an international and it showed early.

But by halftime they had gone ahead, after going behind early, before easing away for a good win.

Malaysia's Razie Rahim had a penalty stroke saved early by goalkeeper Devon Manchester, but Rahim still put 13th-ranked Malaysia in front soon after.

Jacob Smith, Nick Wilson, with a reverse stick shot, Nic (crrt) Woods, with a rasping drive from a penalty corner, and Shay Neal scored the goals which got the start of Olympic year under way in a satisfactory fashion.

''The way I judged it was where did we start, where did we finish," coach Colin Batch said.
''We were a bit rusty early, but kept improving. Malaysia certainly didn't make it easy for us.

''Our defensive structure was better, we ended up winning the ball, counter attacking and scoring from those situations.

''Our level kept improving, so from a growth point of view I was very happy with that side of it. Sure we need to improve in a number of areas."

Batch admitted there were signs the players were unsettled trying to bed in various combinations, ''but the players are getting a very good understanding of what is required of them".

While it is Olympic selection year, Batch's focus has team development as top priority - ''it's still about the team".

The match was also notable for being the 300th international for New Zealand's veteran midfielder Ryan Archibald, joining Phil Burrows and Dean Couzins in the country's 300 club.

The only player ruled out of today's game was Southern defender Kane Russell, who tweaked his back during training on Saturday. Batch said he might be ready for game two at the same venue on Monday night, but no chances would be taken.

Malaysia, good counter-attackers and with useful one-on-one skills, made things tricky for New Zealand.

However Batch was happy his defence got a good workout, notably in the first quarter where they had to be on guard around their defensive circle.

The New Zealand Herald


---

Gutsy SA force draw against Germans

In a memorable and gutsy performance the South African national women's hockey team forced a 2-2 draw against Germany.

It was the last test in the Private Property Summer Series. South Africa fought back twice from a goal behind to get in equal terms with the 8th placed Germany. SA is in the 11th spot on the FIH World Rankings.

If you did not know the score and just listened to the response from the crowd when the final whistle blew you would have thought South Africa won. The locals put up a great performance in front of the Stellenbosch crowd to end the series on a positive note.

The turnaround time from the first test - which SA lost 1-5 - to the second test where less than 24 hours, but Nicolene Terblanche and her team looked amped and fought like titans.

Germany's Franzisca Hauke got the scoreboard ticking in the 12th minute and at halftime the scores were level after a blinder from striker Dirkie Chamberlain. In the third quarter Germany took the lead again after Lydia Haase got past the SA goalkeeper. While the South Africans did look somewhat tired in the last 30 minutes they did not took the pressure off. That they managed to frustrate the Germans were obvious.

In the last quarter it was pretty much all about Germany...that was until Matie local Tarryn Glasby went on a counterattack and put her teammate Toni Marks in perfect position for goal with just three minutes left. The crowd went crazy and so did the players. It was a big moment for a team that was totally outplayed just a day earlier. Germany kept on trying, but it was plain as day that the locals weren't going to let another goal pass.

It was gutsy performance and a great way to end the series.

SA Hockey Association media release


---

Southgate's chances of winning England's Conference East League dented

By Patrick Rowley

Leaders Southgate lost valuable points in their bid to win East Conference with a 2-1 home defeat by West Herts.

The man who master-minded their defeat was West Herts coach, Matt Grinham, a recent Southgate defender.

West Herts have been the revelation of the second half of the season with a string of impressive results.

Southgate deservedly went ahead  (17 mins) and  should have had the match settled in the first half.

They were unlucky not to have a penalty stroke just before the half time whistle. An unmarked Southgate attacker was all set to receive a long overhead at the top of the circle when Herts goalkeepr Dave Soulsby raced forward to sweep the ball away with his free arm. A penalty corner was scant reward for a deliberate foul.

West Herts, with Ed Welch outstanding in defence, look a different side in the second half and stole ahead with goals by Shea O'Sullivan (37) and Max Webster (44).

With the league finishing next Saturday, Richmond (who host Oxted today) can now steal the conference title from the Gate.

Next week Richmond visit third placed Sevenoaks while Southgate go to Oxted.


---

Salute to goal getters in Hockey

By B.G.Joshi (Sehore-Bhopal, India)

It is unfortunate that the apex body of international hockey does not keep and maintain records of the game.  Indian Hockey Federation also has a similar situation. My hobby has shown me some light when I collected stats and records and prepared the record book on 110 different facets of the game. Now we know that Sohail Abbas (348 goals) of Pakistan and Pietie Coetzee (282 goals) of South Africa are World Record Holders for most goals in international hockey in men and women hockey respectively.

Sohail played 283 matches for Pakistan from 1998 to 2012, surpassed Netherlands Paul Litjens record of 267 goals on Oct 8, 2004 at Amritsar during India-Pakistan test match. Pietie played 287 matches for South Africa, surpassed USSR Natela Krasnikova record of 220 goals on June 21, 2011 at Dublin versus USA.

Dhyan Chand of India conquered the world during the era 1926-1949. He scored 570 goals in 185 appearances (matches played in various world tours). Legend Dhyan Chand had played 12 matches and scored 39 goals in 3 Olympics (1928, 1932 and 1936) and won Gold medal thrice in a row. Balbir Singh Senior of India also thrilled the world during the era 1948-1958. He netted 246 goals in 66 appearances (matches played in various world tours). Great Balbir Singh Dosanjh had played 8 matches and scored 22 goals in 3 Olympics (1948, 1952 and 1956) and became triumphant on all 3 occasions. Dhanraj Pillay has scored 121 goals in 339 international matches played during 1989-2004.Sandeep Singh has scored 145 goals in 191 internationals during 2004-2013. Now VR Raghunath who is still playing has a record of 127 goals in 203 international matches since 2006.These 5 Indians are only centurions' scorers in 90 years of Indian Hockey.

Fieldhockey.com


---

Roper relishing Wimbledon's EHL debut challenge




Wimbledon's Phil Roper says his side are relishing the challenge of trying to take down Dutch leaders and home hosts Amsterdam in the KO16 when the two sides meet on March 26 in the Wagener Stadium.

It could be one of the highlights of the knock-out phase of the competition as the English champions make their debut in the competition, becoming the 58th different club to take part the world's premier club competition.

Speaking to the EHL website, the English international said of their match up with Amsterdam: "If we had been offered a slightly easier draw for KO16, of course would have taken it!

"But its such a huge opportunity to play Amsterdam in their own stadium in front of hopefully a large crowd, and we are relishing the challenge! We want to put our stamp on the competition and hopefully we can let our quality show on the big stage."

Wimbledon currently sit fourth in the English league with a big battle with Brooklands MU in the race for the fourth playoff place. They can make a big step towards that place with two wins this weekend against Hampstead and Westminster on Saturday and East Grinstead on Sunday.

And Roper says they mood in the camp is good for the biggest month of their season to date.

"We have been improving throughout the season and are hoping to peak for the Euro Hockey League at the end of March. There is a lot of excitement around the club about our debut season in the EHL, we have great support from all areas of the Wimbledon club.

"Plus we have a lot of talented hungry players fighting for competition so it makes for a exciting month."

Recently, his side raced to a hugely impressive win against title rivals Surbiton 4-1 but consistency has been an issue and they followed up with a narrow 1-0 loss to Beeston last weekend. Ironing out those lows and hitting more of the highs will be crucial for them to progress ahead of Amsterdam.

"The win against Surbiton was great because we put in a really strong performance against them, we dominated the game and played some of our best hockey this season.

"It's also always great to get one over on our local rivals! The Beeston game was disappointing, we didn't create as many chances as we usually would, they defended really well and they had a couple of internationals back from the Hockey India League which gave them a boost.

"Our form isn't as good as we would have hoped at this point, but we have a big three games left in the season to improve, and then really kick on and make an impact on the EHL in Amsterdam."

Indeed, the English league is an interesting one. While other leagues in Europe are on downtime around the Hockey India League and international preparations, the Premier Division continues on.

As such, Wimbledon fell to two league losses when six of their players were at the World League finals in December. It requires the club working together closely with the national set-up in order to maximise their respective training.

"The club manages the situation really well. We, as internationals, have a great relationship with all the staff and squad, so they understand when we have to prioritise playing for our country over our club.

"We also have a strong squad, so having players to come in and have an impact on the pitch when we are away is great. I think the more high quality players you have in a training environment is only going to improve the standard so it can only be a good thing."

Euro Hockey League media release


---

Punjab Colours lift Girls National Junior Hockey title

Mohsan Ali

ISLAMABAD - Punjab Colours taught hockey lesson to Pakistan Board by thrashing them 7-0 to lift the 4th U-18 Girls National Junior Hockey Championship 2016 title here at Naseer Bunda Hockey Stadium on Saturday.

Punjab Whites bagged the third position by edging out Islamabad 1-0 in the play off match played earlier at the same venue. Inamuddin Shokeen was the chief guest on the occasion, while Pakistan Hockey Federation (PHF) president Brig (R) Khalid Sajjad Khokhar along with his spouse, secretary Shahbaz Senior, women wing secretary Tanzeela Aamir Cheema and others were also present on the occasion.

After carving out sensational victory against Punjab Whites, Pakistan Board team was looking dangerous to record another upset victory. The first quarter started with both the teams displaying the quality stick work. The crowd was right behind Punjab Colors, who were looking simply off-colored due to an extraordinary defence of Pakistan Board, who stood rock solid and denied Punjab from taking early lead. Despite enjoying lime share of possession, Punjab girls' even their top scorer Rimsha was finding it too tough to break the deadlock.

Just when first quarter was about to end and honors were even, Rimsha broke the deadlock and hit the first goal in the dying moments of the first quarter to end it at 1-0.

Rimsha then doubles Punjab's lead through her second goal in the 17th minute.

Saba Riaz then made it 3-0 through her impressive goal in the 28th minute. After conceding 2 goals in the second quarter, Pakistan Board defence suddenly woke up again and denied Punjab from scoring further goals in the third quarter. Their forwards too started playing attacking hockey and tried to convert some crucial goals to reduce the margin, but they failed to take advantage from golden opportunities.

Punjab then attacked Pak Board goal and thwarted fabulous four more in the fourth and last quarter to finish the match at 7-0. Saba scored the fourth goal in the 47th minute, Kinza scored fifth goal in the 48th minute, Aqsa Javed sixth in the 52nd minute and Kinza completed her brace in the 59th minute to cap a memorable victory for Punjab Colours.

In the third place match, it was once again the magician Hoor, who won the day for Punjab Whites, as she scored the only goal of the match in the 50th minute to break the hearts of Islamabad girls, who were enjoying overwhelming crowd support. Chief guest Inamuddin Shokeen gave away gold medals, Rs 50,000 cash and championship trophy to Punjab Colors players, Mrs Khalid Sajjad Khokhar handed over silver medals, Rs 30,000 cash and runners-up trophy to Pak Board players while PHF secretary Shahbaz Senior awarded bronze medals and Rs 20,000 cash to Punjab Whites players.

A special prize of Rs 10,000 cash was given to winners coach M Parviaz by Shahbaz Senior, while Rs 5,000 cash was handed over to top scorer of the event Rimsha Ilyas, while Aqsa Javed was awarded special fair play trophy.

Tournament organiser Tanzeela Aamir Cheema and her team fulfilled their promise of providing excellent facilities to the guests and journalists. She especially hired a focal person, who remained active and provided much-needed information to the sports journalists, who were in quite a few numbers to cover the event.

The Nation


---

Police, Army, Railways and Customs register victories

LAHORE: Pakistan Police, Pakistan Army, Pakistan Railways and Pakistan Customs won their respective matches in the 35th National Junior Hockey Championship at the National Hockey Stadium here on Saturday. Police beat Pakistan Board 3-0, Army defeated Sindh 5-0, Railways humbled Khyber Pakhtukhwa Colours 7-0 and Customs outplayed Pakistan Ordnance Factory 2-0.

Police showed good possession of the ball with excellent dribbling and speed against their rivals. They downed their opponents in skill as well. Pakistan Board appeared a disjointed team in the middle. Except the fourth quarter in which their forwards made some moves, they hardly made any attempt to reduce the margin of defeat in the previous three quarters. Asad's 6th minute field goal opened the account for Police. Tariq's field goal in the 28th minute doubled the lead and a 49th minute conversion of penalty corner by their captain Shajeeh Ahmed brought Police in a commanding position. Pakistan Board got a penalty corner in the 13th minute which they failed to convert. Asfar and Shabir Ahmed supervised the match.

Two goals each by Mohammad Afzal and Umar Hayat guided Army to win the second match of the day. Afzal successfully struck a penalty corner in the 10th minute and a penalty stroke in the 40th minute. In the 28th minute, Umar scored his first goal on a penalty corner rebound and then netted a beautiful field goal in the 46th minute. Noman scored a field goal in the 32nd minute. Sindh appeared a weak team in the match. They faltered in distribution of pass and missed at least two fair chances to reduce the margin. In the 38th minute Mohammad Wahab and Anas Ahmad made a move and entered in Army's circle but Anas failed to strike in time. Again Wahab and Touqeer Muneer launched an attack in the 49th minute which Touqeer failed to finish. They even failed to convert any of the three penalty corners. Zahid Hameed and Faisal Sayyam were the field umpires.

Saram Bin Qamar opened the account for Railways on a penalty corner in the 9th minute. Forward Mohsin Ali's two field goals in the 15th and 30th minutes consolidated Railways' position. Mohammed Usman netted a field goal in the 41st minute while Usman Ghani struck a penalty corner in the 47thminute. Zaheer Hussain and Awais-u-Rehman scored one field goal each in the 52nd and 60th minute. Sohail Janjua and Haroon Rasheed supervised the match.

After an early success, Customs faced tough resistance from POF. Mohammad Asif struck the first blow in the 3rd minute for Customs on a penalty stroke. Mohammad Abid converted a penalty corner in the 38th minute. POF made a number of counter attacks and even gained five penalty corners but lady luck did not favour them. Ameer Hamza and Irfan Ali were the field umpires.

Today's matches:

Sindh vs Islamabad
Pakistan Board vs Punjab Whites
Railways vs Balochistan
POF vs KP Whites.

The Daily Times


---

Police, Army, Railways, Customs record victories

LAHORE: Police, Army, Railways and Customs won their respective matches in the 35th National Junior Hockey Championship at the National Hockey Stadium here on Saturday.

Police beat Pakistan Board 3-0, Army outclassed Sindh 5-0, Railways taught a 7-0 lesson to Khyber Pakhtunkhwa Colours and Customs overcame the Pakistan Ordnance Factories (POF) 2-0.

Police exhibited complete domination over a disjointed-looking Pakistan Board team posing no threats.

Barring the fourth quarter in which Pakistan Board forwards made some dangerous attempts against their rivals, they could hardly make any significant move in the first three quarters.

Asad's sixth minute field goal opened the account for Police. Tariq's field attempt in the 28th doubled the lead and a 49th minute penalty corner conversion by captain Shajeeh Ahmed gave Police a firm 3-0 lead.

Meanwhile, a brace each by Afzal and Umar Hayat guided Army to a fine victory.

Afzal opened the account for Army converting penalty corner in the 10th minute and made it 2-0 on a penalty stroke in the 40th. In the 28th minute Umar scored his first goal on a penalty-corner rebound and then netted a beautiful field goal in the 46th. Noman in the meantime scored a field goal in the 32nd.

In the third match, Saram Bin Qamar opened scoring for Railways on a penalty corner in the ninth minute.

Forward Mohsin Ali's double (15th, 30th) extended Railways' lead.

As Railways continued to penetrate KP Colours' defence line, Mohammad Usman netted a field goal in the 41st minute while Usman Ghani struck on a penalty corner in the 47th to further increase the lead to 5-0.

Zaheer Hussain and Awais-ur-Rehman scored a field goal each in the 52nd and 60th minute, respectively, to complete the tally.

In the day's last match, Customs won the match but not without facing tough resistance from the POF.

Asif gave Customs lead in the third minute on a penalty stroke. Abid's penalty corner conversion in the 38th minute doubled the lead.

Sunday's fixtures: Sindh vs Islamabad, Pakistan Board vs Punjab Whites, Railways vs Baluchistan, POF vs Khyber Pakhtunkhwa Whites.

Dawn


---

Anderson-Thunderbolt treading on thin ice ahead of UniKL match

by K. Rajan



UniKL's Muhammad Shahfirul Aqmal (right) fights for the ball with Anderson-Thunderbolt's Muhammad Fuad Zaquan Saidin during the Malaysian Junior Hockey League at the National Hockey Stadium in Bukit Jalil on Friday. - GLENN GUAN / The Star

PETALING JAYA: Division Two champions Anderson-Thunderbolt are ready to claim their spot in the Malaysian Junior Hockey League (MJHL) semi-finals.

The Ipoh outfit head into Sunday's quarter-finals second leg against Division One side Universiti Kuala Lumpur (UniKL) at the Sultan Azlan Shah Hockey Stadium in buoyant mood after a 3-2 win in Kuala Lumpur on Friday.

But Anderson manager Mohd Sayuti Abdul Samad has warned his side against complacency.

"We have the lead, but there's still 70 minutes. The good thing is we will play in front of our home crowd and that gives us a slight advantage," said the former international.

"The key is how we're going to play the second leg. In the first leg, we played better in the second half to bounce back after conceding two goals in the first half. If we can repeat the same performance, we can win the tie.

"At this stage any mistakes can be costly. UniKL are an experienced side and we can't go into the match thinking that we have won the match," he added.

The Star of Malaysia


---

Azlan Shah Cup : Indian will take on Japan in the opener




India will take on Japan on the opening day of the Silver Jubilee Sultan Azlan Shah Cup which will start first week of next month in Ipoh, Malaysia.

Seven nations - Pakistan, Canada, New Zealand, Malaysia, Australia, Japan, India -- are taking part in the Asia's prestigious tournament which will serve a platform for teams qualified for the Rio Olympics

Four teams -- Canada, New Zealand, Australia besides India -- have qualified for the Rio.

India will meet Japan on 6th April. Australia-India tie will come next day.

Much awaited India - Pakistan match is billed for 12th April.

India's last engagement in the pool is the hosts Malaysia.

The Schdeule for India

6th April Vs Japan
7th April Vs Australia
10th April Vs Canada
12th April Vs Pakistan
13th April Vs New Zealand
15th April Vs Malaysia

Stick2Hockey.com


---

Garcia: T&T Under-21 hockey women will spring surprise

Nigel Simon



Brian Lewis, T&T Olympic Committee president, left, at the launch of the T&T Hockey Board's hosting of the the qualifying tournament for the Junior Hockey World Cup in Santiago, Chile, from November 26 to December 4. Also at the launch at the VIP Lounge, Hasely Crawford Stadium, Mucurapo, yesterday were Michael Phillips, Sport Company of T&T (Sportt) chairman, Maureen Craig-Rousseau, executive member of Federation International Hockey and director of the Pan Am Hockey Federation, Douglas Camacho, T&T Hockey Board president, Brian Garcia, coach of the T&T Under-21 team and players Savannah De Freitas, her sister Shaniah, Cyan Lue Sue and Danielle Martin . The qualifier will take place from from March 30 to April 9 at the National Hockey Centre, Eastern Regional Sports Arena, Tacarigua. Photo: Anthony Harris

National Under-21 women's hockey team coach, Brian Garcia, believes his inexperienced squad can spring a few surprises in the Women's Junior Pan American Championships. T&T, ranked 30th in the world will host the nine-team event from March 30 to April 9 at the National Hockey Centre, Eastern Regional Sports Arena, Tacarigua.

Among the opponents are world seventh ranked USA, Canada (#19) and Mexico (#34) in Pool B, while second ranked Argentina, Chile (#21), Uruguay (#25), Barbados (#48) and Venezuela, ranked 63rd are in Pool A.

At the end of the two round-robin groups, the top two teams in each group will advance to the semifinals from which the winners will qualify for the Hockey Junior World Cup in Santiago, Chile, from November 26 to December 4.

Speaking at the launch of the T&T Hockey Board's hosting of the qualifying tournament at the VIP Lounge, Hasely Crawford Stadium, Mucurapo, on Friday, Garcia, a former national men's senior standout said he expects a few surprises from his young squad.

However, the former England-based player was quick to point out the women's competition is expected to be of a very high standard.

Looking at T&T's group, a relaxed but confident Garcia said: "There are two teams that are ranked in the top ten in the world—Argentina which is ranked second and USA at seventh, so when we compete at this level we need to understand that it is one of the most elevated confederations in women's hockey.

He added: "Argentina has been number one previously and USA as recently as this year has been as high as number five in the world, so the girls will have a very tough challenge on their hands.

"The girls have been very dedicated and motivated over the past nine months of training. They have shown significant improvement collectively and individually and I expect them to be very competitive throughout the course of the tournament."

The T&T coach said while the team, which comprises a few players who were away at college plying their trade at various universities throughout America, has not played any international warm-up matches to date, training has gone well.

"We have played against some of the junior men's teams and will also play some warm-up matches when the international teams arrive. Overall I'm hoping the opportunity to play on home soil would be one that is not lost on the players.

"I have never played a tournament at this level at home, so I think its a wonderful opportunity for the players, friends and family to come out and support them.

The support of the local hockey fraternity and the public in general can also  energise the girls and help them play at a much higher elevated standard and hopefully we get optimum performance out of our players.

"Hopefully with a bit a luck, technical expertise and tactical knowledge and some know how from Maureen Craig-Rousseau, Douglas Camacho and ex-national captain Kwandwane Browne along with other coaches like Joey Lewis we can pull together among ourselves and pull a few surprises in the tournament and really perform at a level where we can surprise some of our contemporary rivals."

With regards to the team's preparations, Garcia said one of the main things they have done is to eliminate and try to focus on team aspect and building a cohesive unit. He added: "In the past we have had teams with standout individual players, which is always beneficial to a team, but especially with the girls being so young we have encourage them to work together with the entire team philosophy which is about us moving forward as a united group.

"From a more technical stand point of pressing, possession and passing its a task for 11 people as international sport I believe is grown past the one-man team syndrome, even for the best teams in the world

Yes they all have standout players, but the team still work in unison

In terms of the characteristics of the teams in T&T group, Garcia said he expects USA and Canada to be physically strong teams, fit with good speed, while Mexico normally plays a slower, skillful passing game with more flair, which he will be preparing his team for.

"The girls have been responding well to what we are planning for each team and I think we will pull some surprises in the tournament. I think the biggest surprise we will pull off will not really be what and how the results go, because we can't control results as its down to the athletes.

"They are a very young group and I know we will struggle for consistency throughout a tournament that is at this high level at home because of the pressures of the tournament. I think definitely the level of our competitive and just our level of competitiveness will shock teams as we will be very well prepared tactically and fitter than we have ever been as a team.

Also at the launch were T&T Olympic Committee president Brian Lewis, Sport Company of T&T (Sportt) chairman Michael Phillips, executive member of the Federation International Hockey (FIH) and a director on the Pan Am Hockey Federation, Maureen Craig-Rousseau, T&T Hockey Board president, Douglas Camacho,  and national Under-21 players Savannah De Freitas, her sister Shaniah, Cyan Lue Sue, Danielle Martin and team manager, Valisha Sylvester.

The Trinidad Guardian


---

Hockey tourney in new stadium from March 13

The State-level inter-district senior boys hockey tournament would be held in the newly-laid Astroturf hockey stadium inaugurated by Chief Minister Jayalalithaa on February 27.

The tournament would be held from March 13 to 20 at the latest 'Blue and Pink' stadium established at the Seethakathi Sethupathy sports stadium here at a cost of Rs. 5.98 crore, A. Chelladurai Abdullah, president, Hockey Unit of Tamil Nadu, said.

The tournament was jointly organised by the Hockey Unit of Tamil Nadu and Ramanathapuram District Hockey Association and "this is the first tournament held in the new stadium after it was inaugurated by the Chief Minister last week," Mr. Abdullah, who is also the Secretary of the district hockey association said.

About 640 players from 32 districts in the State would take part in the eight-day league and knock-out tournament, he said adding the Tamil Nadu senior boys' hockey team would be selected in the tournament to represent the State in the All India senior boys hockey tournament to be played in Uttar Pradesh.

He was organising the tournament in association with District Hockey Association patron Dr. T. Aravindraj, Vice President Manoharan and Joint secretary B. Kizhavan Sethupathi, he said.

The local district team would be selected in a match to be held here on Sunday.

The selected players would be required to attend the coaching camp, he added.

640 players from 32 districts in the State will take part in the eight-day tournament

The Hindu