All the news for Tuesday 17 November 2015

London 2012 medallist Crista Cullen out of retirement for world final

By Graham Wilson



Crista Cullen helped Team GB to a medal at the last Olympics, a feat she'll be looking to repeat. GETTY

CRISTA CULLEN was called back into the international fray yesterday - three years after winning the Olympic bronze medal at London 2012.

Great Britain coach Danny Kerry said the full-back was in "great physical shape" and now needed high standard international play which is why he has picked her for the World League Final in Rosario, Argentina, starting from December 5 to 13.

GB will also play a three-match Test series against Argentina before the event.

Cullen, 30, has been out in Africa with her family all this time and only came back into training a month ago. She was the team's corner specialist and top scorer in London with five goals.

Her power in that scenario has been much missed, despite Kerry's squad qualifying for the Rio Olympics and England winning the Unibet European Championship at the Olympic Park, beating the world and Olympic champions Netherlands in the final in the summer.

Cullen, who has 171 caps to her name, said: "Having gone through a period of high intensive training I am now looking forward to playing in Argentina.

"It's always amazing there because of the crowds and people are so passionate about hockey.

"It will be amazing getting back on the pitch and putting on that competitive shirt again."

Cullen added: "I wanted to retire on a high. I wasn't sure if I had the same passion for another four-year campaign, having been involved in Athens, Beijing and London. It was the right time for me. I went home, was normal, had a job, did three years and was very happy in what I was doing.

"Obviously, I watched from afar the girls' successes in recent times. Having been given the opportunity when the coach phoned me to consider returning, I thought a nine to 10-month commitment to have a crack at the Olympic Games doesn't come along very often. I am hugely privileged to be in this position.



Danny Kerry's side beat New Zealand in the bronze medal match at London 2012. Ady Kerry

"I'm fit enough and I thought I would give it a crack. The worse case scenario would be to make the group more competitive."

Cullen has tried not to get frustrated with her lack of touch at the start of her return.

"Sometimes you have to laugh at yourself. You have to respect that it takes a bit of time to get that back but it is not as extreme as I was worried it might be."

Of her all-important drag-flicks at penalty corners, Cullen said: "It's something you don't forget how to do, thankfully. It's about grooving it again and about making sure we get the opportunities to win corners. Then that's my job, my responsibility.

"We want to celebrate winning those corners like we did in London. Winning a corner was like scoring a goal. It's going to be hard but it is definitely doable. I am confident we can get ourselves back there."

Britain are in a pool against hosts Argentina, who they face in their opening game, before taking on Australia and China.

Unlike the men, who have made eight changes to their squad when they go to India for their World League Final at the end of the month, Kerry has picked a strong side, including captain Kate Richardson-Walsh, who has only just returned to national league action following a back injury, and Maddie Hinch, the goalkeeper who kept out the Dutch in the shootout final.



England are the current European champions, giving Team GB a strong core of players ahead of Rio. GETTY

She has suffered a knee injury since that glory day in August. Sam Quek and Ashleigh Ball, brought back in at the last minute for the Europeans, have kept their places.

Kerry said: "Over the course of those events we will use 25 players for a number of different aims. We will look at a number of combinations. It has been a difficult selection as we will leave behind a number of athletes that could easily swap in for those selected. This is testament to the strength we have in depth in this Olympic cycle."

Those missing out are Susie Gilbert, Giselle Ansley and Shona McCallin.

On Cullen, Kerry said: "Fundamentally, the Test series and tournament provides Crista with some much needed match play after only completing two practice internationals (against the USA last month) since her last outing at the London Olympic Games.

"Crista has returned to the GB programme in great physical shape and now needs exposure to high standard international match play."

He added: "As ever we will take a game by game approach and have faith in our preparation. This approach has served us well through 2015 and we will continue to build towards Rio and beyond."

Kerry will have added much to GB's gold medal ambitions if Cullen can prove she can still cope with the physical demands of top class performance and importantly still has the power to put away the penalty corners.

Also in the squad is golden girl Alex Danson and the University of Birmingham's Lily Owsley, whose fortunate foot into goal gave England their gold medal chance against Holland.

Owsley scored for Birmingham in the 54th minute in their top clash against Surbiton in the Investec League on Sunday but honours turned out even for the unbeaten sides at 1-1 when Jo Hunter found the net from a penalty corner in the 61st minute.

Birmingham's squad of junior internationals stay two points clear at the top.

Canterbury caught up in third place as they crushed Bowdon Hightown 7-1, with Grace Balsdon and Sara Kerly both hitting hat-tricks.

Reading came back a goal down to beat Leicester 4-1, with Argentina bound Helen Richardson-Walsh amongst the scorers in the second half. 

Holcombe are in the fourth spot play-off place after Emily Maguire converted a penalty corner in the dying seconds to edge a 3-2 win over bottom placed Buckingham.

Two goals from Claire Thomas and one from Danielle Jordan took Clifton to a 3-0 win over East Grinstead.

Daily Express


---

Katie Glynn retires from international hockey



Photo: www.photosport.nz

Well respected Black Sticks striker Katie Glynn has announced her retirement from the international game.

Glynn, aged 26 from Auckland, says it's the hardest decision she has ever had to make, but knows it's the right call as the Black Sticks schedule intensifies ahead of the 2016 Rio Olympics.

Debuting in 2009, Glynn scored a remarkable 77 goals throughout her career making her New Zealand's second highest female goal scorer of all time.

Having struggled with both knee and back injuries in the last two years, Glynn and coach Mark Hager were hopeful she would be back playing internationals next year.

"As much as I've been trying to push through and hope things would improve, I'm still really restricted and it has become incredibly hard for me to keep training as I would like. It's been a really hard couple of years, I've found it both mentally and physically exhausting," said Glynn.

Named in the National Squad following the 2015 Ford National Hockey League, Glynn was hoping to make the 2016 Rio Olympics National Squad which is set to be named at the end of this year.

"I was really grateful for the opportunity to be selected in the National Squad, but I have had to be realistic, and as much as I don't want to stop, I know deep down that it's the right thing to do," said Glynn.

Hager says Glynn was an outstanding player who will be well missed both on and off the field.

"She is one of the players that helped create the team that it is now – she drove the culture, was a top goal scorer, was match hardened, always won the 50/50 contest and loved playing the tough games," said Hager.

Glynn had a stellar career competing at all the major global hockey events including the 2014 World Cup, 2014 Glasgow Commonwealth Games, 2012 London Olympics, 2010 World Cup and 2010 Delhi Commonwealth Games.

"It's hard to pick out a highlight, I guess the Olympics – it's always a dream to go to an Olympics and to get that close to a medal made it special.

"The thing I will miss the most will be the team environment, it isn't a professional sport and we do it because we love it and I think that creates a special kind of culture, you are all sharing the journey together.

"I have a lot to be thankful for and a lot of great moments and friendships that I will cherish for a lifetime," said Glynn.

Glynn believes the key driver to the team's success over recent years has been the "faultless commitment and passion" shown by Hager.

"He pushes players and keeps challenging us to the best we can be. Women's hockey in New Zealand is the strongest it has ever been and this is credit to Mark and the work he has put in over the last six years," said Glynn.

Although no longer in the black shirt, Glynn is hoping she will be back playing for her Roskill-Eden Hockey Club and at the 2016 Ford National Hockey League.

A full-time sports manager at Auckland's Diocesan School and coach of its First Eleven, Glynn has signalled her interest in coaching at both a regional and national level in the future.

"I'm really passionate about coaching and now that I'm not playing, I have the time to put towards it," said Glynn.

She believes the Black Sticks have every opportunity to return with a medal from Rio and she will be closely following their progress in the upcoming months.

KATIE GLYNN'S CAREER

- Played 134 tests for New Zealand.
- One of the key strikers in the team, she scored 77 goals for New Zealand, equal to Krystal Forgesson.
- Debuted in 2009 against Argentina at Pukekohe.
- Coach Mark Hager has been her only Black Sticks coach during her international career.
- Glynn competed at the 2014 World Cup, 2014 Glasgow Commonwealth Games, 2012 London Olympics, 2010 World Cup and 2010 Delhi Commonwealth Games.
- Grew up in Auckland and plays for Auckland in the Ford National Hockey League.
- Started playing hockey at the age of four.
- Full-time sports manager at Diocesan School.
- Played age-group cricket, including one game for the Auckland team.
- Her diagnosis is a bulging disc and bone bruising on her spine.

Hockey New Zealand Media release


---

Malaysia must sort out defensive frailties to avoid another heartache

by S. Ramaguru



National Juniors having a light training session at their hotel's swimming pool ahead of the Japan clash on Tuesday. - Bernama

KUANTAN: Malaysia had better shore up their back line or risk further heartache when they play against Japan in the Junior Asia Cup on Tuesday.

The National Juniors were let down by defensive frailties in the Group A match against India at the Wisma Belia Hockey Stadium on Sunday.

The Malaysians gave it a real go against India but lost 5-4.

Coach A. Arulselvaraj's boys are second in the group with three points from two matches. India are top with six points while Japan are third, also with three points. China are bottom with no points.

Malaysia want to finish among the top two in the group as that would mean an easier quarter-final tie.

To achieve that, they must beat Japan. A draw may be enough, but it would be risky.

Arulselvaraj admitted that they have to sort out their defensive errors and go for a win against Japan.

"We must work on our weaknesses ahead of the quarter-final tie. Although all the teams will make the last eight, we have to keep improving with each game," he said.

Japan have impressed with a simple game, where they rely on fast breaks to get the goals.

They came back from a goal down to beat China 2-1 in their second game and gave India a run for their money despite losing 2-1.

"Japan have produced some good hockey ... they will be tough to beat. We have to plan properly and the players have to raise their game," said Arulselvaraj.

"We gave away soft goals against India. That has to stop."

But the coach pointed out that there were some positives from the loss, with Malaysia showing a potent strike force, plenty of fighting spirit and good counter-attacking skills.

Forward Mohd Shahril Saabah and India's Harmandpreet Singh of India are the tournament's leading scorers with four goals each.

Malaysian skipper Mohd Najib Hassan agreed with Arulselvaraj that "we have to defend better".

"Our defensive play was bad against India but we need to get over it. Japan have been playing well but we will stop them," he said.

Injured defender Mohd Amirol Aideed is ready to take to the field against Japan and that has put a smile on Arulselvaraj's face.

"He did not play in our two earlier matches, but he has recovered and is fit to play against Japan. So, I expect our defence to be better prepared," said the coach.

The Star of Malaysia


---

Pakistan, South Korean aim to finish strong in group matches

by S. Ramaguru

KUANTAN: Pakistan and South Korea look set to take the top two spots in Group B of the Junior Asia Cup.

As things stand after two matches, Pakistan top the group with six points, followed by South Korea and Bangladesh on three points. South Korea are second on better goal difference. Oman are bottom with no points.

Pakistan are set to stay at the top on Tuesday as they have a game against winless Oman while South Korea should have a little more opposition in the form of Bangladesh.

Pakistan team manager Khalid Farani is already looking at the Oman game to fine-tune his team for a quarter-final clash against either China or Japan.

"Both (China and Japan) are strong teams and should not be taken lightly," he said.

"We need to keep improving and use the match against Oman to fine-tune our moves. We will field our best players against them.

"Our players need as much game practice as they can get."

While Pakistan are in a confident mood, South Korea team manager Yoo Moon-ki seems a bit concerned about his team's lack of experience.

"I think we can beat Bangladesh, but I'd like to see overall improvement in our game. The players did not play well in the 3-0 loss to Pakistan.

"It was basically due to poor finishing and failure to launch fast counter-attacks. Our players have to be more clinical.

"We need to win (against Bangladesh) so that we'll have an easier match in the quarter-finals," he said, knowing very well that a defeat may set them up against Malaysia.

"And that's a match we wish to avoid for now," added Moon-ki.

The Star of Malaysia


---

Japan plan to unleash hockey blitzkrieg against Malaysia

by S. Ramaguru

KUANTAN: Japan are ready to hit Malaysia hard and fast in their crucial Group A match in the Junior Asia Cup at the Wisma Belia Hockey Stadium on Tuesday.

Japan coach Takahiko Yamabori believes that is one of the ways they can overcome a Malaysian side who have shown vast improvement since the two teams met in February.

"They are favourites to win this match. They are very strong," he said.

"But we won't make it easy for them. We have a plan ... we hope to surprise them with our speed.

"We need to make every shot count and not give them too much space to operate."

In February, Japan played four friendlies with the National Juniors, winning three of the matches and drawing one.

"Let's not look at those matches as a yardstick. They were just friendlies and neither side had their best players," said the coach.

"The Malaysian team today is almost completely different. So, we are not going to be lulled into complacency."

Japan have three players – Shota Yamada, Hirotaka Wakuri and Shunya Miyazaki – from the senior side in their ranks.

Yamabori said that the team are being groomed for the 2020 Olympics, which Japan will host.

"Our main aim is to develop a team for the 2020 Games. We're hoping that many of these juniors will graduate into the senior team by then.

"So, making the cut for the Junior World Cup (in New Delhi, India, next year) is important as it will help us with the team building," he said.

In the Junior Asia Cup, Japan have three points in Group A, just like Malaysia, after two matches. India top the group with six points.

Japan need a win if they are to take the easy route into the last eight. A defeat could see them facing either Pakistan or South Korea in the quarter-finals.

The Star of Malaysia


---

Confident India look to continue winning streak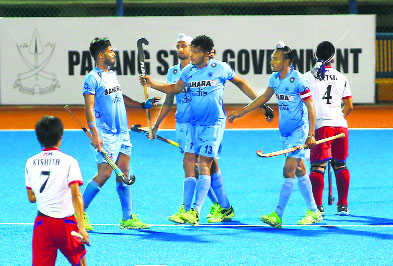 Kuantan (Malaysia): A confident India will look to continue their winning run when they take on China in their last pool match of the 8th Men's Junior Asia Cup here tomorrow.

India are sitting pretty atop pool A with six points from two games, having beaten Japan 2-1 and Malaysia 5-4.

India only needs a draw against China to qualify for the quarterfinals. China have lost both their matches so far.

"The one day's rest has helped us to analyse our performance in the tournament and look back at the areas of concern. We have trained hard and tried to fill the gaps in defence so that we can play a tighter game. We will be hoping for a much more balanced performance in the match against China," chief coach Harendra Singh said.

The Tribune

---

Oz series will set pattern for HWL Final: Oltmans

Raipur: India's chief coach Roelant Oltmans today said that the three-match Test series against Australia will help the team prepare for the Hockey World League (HWL) Final to be played here from November 27 to December 6.

The India-Australia series will begin on Thursday with the first match in Rajnandgaon. "The team has been together for more than a month at the camp in Bengaluru and has been showing good results in the practice sessions," Oltmans said. "The Test series against Australia will set the pattern for the HWL Final. We wish to put up a good show in front of the home crowd."

India have been grouped with Germany, the Netherlands and Argentina, while Australia, Belgium, Britain and Canada are in the other pool.

India captain Sardar Singh reckoned the home support will be a big factor. "We are glad that the tournaments are happening in our backyard; it will give us more time to get used to the pitch and the home support will also be a big factor," Sardar said.

The Tribune


---

Dragons lead Belgian league for winter

Dragons have taken the lead into the winter break as they won their tenth game from 12 outings with a spectacular 7-4 win over Daring, giving them a two-point lead over the chasing Racing Club de Bruxelles.

It was 2-2 at one stage before rthe Antwerp side raced away with the win with Florent van Aubel adding two more to his tally while there were also goals from Thomas Verheijen, Felix Denayer, Jeffrey Thys,Thomas Briels and Louis Rombouts.

Racing Club de Bruxelles are the other on-form side with yet another win, this time a 5-1 success against Beerschot with Tom Boon's double, allied to goals from Anthony Versluys, Simon Gougnard and Jerome Truyens,easing them clear.

They looked perfectly placed for the playoffs when the league returns in February in the New Year. After that, the battle to be a top four side is much closer-knit. Leopold's have risen through the table to sit third in the division on 24 points – seven behind Dragons – courtesy of a 2-1 win over struggling Leuven.

Tanguy Zimmer had opened the scoring for Leo before Tom Degroote equalised on the half hour. Max Plenneveaux, though, got what proved to be the winning goal just before half-time and they held on for that win.

Leuven sit in tenth place with just three wins from 11 to their name, something they will need to improve ahead of the EHL at Easter.

Waterloo Ducks moved into a share of fourth place thanks to their 7-0 win over Pingouin while Braxgata are also very much interested in the playoff places thanks to their 6-2 win over Antwerp.

Euro Hockey League media release


---

Bandurak goal sends Holcombe top as Mantell battles through broken finger

By Graham Wilson



Simon Mantell has represented country at three Commonwealth Games. GETTY

HOLCOMBE went to the top of the men's England League on goal difference despite being held to a 1-1 draw against Hampstead and Westminster.

Nick Bandurak scored for the Kent club in the last minute to snatch a point which was enough to overtake Surbiton who were beaten 3-2 by champions Wimbledon.

Caspar Phijffer gave Wimbledon the lead just before half-time, Alan Forsyth equalised five minutes into the second half before James Jewell and Phil Ball made it 3-1 in three-minute burst. Surbiton's Andy Hayward scored with two minutes left.

Wimbledon are in the fourth play-off place on 17 points, five points clear of nearest rivals Hampstead after nine games

Reading, in third place, hit Cannock for six, with England striker Tom Carson scoring twice along with Andy Watts, Simon Mantell, Dan Shingles and Ben Boon, before Thomas Morris and Peter Jackson scored two late goals for Cannock.



Tom Carson struck twice as Reading put six past Cannock. GETTY

Mantell is playing with a fractured finger but is looking forward to his first tournament in India since the Commonwealths when he goes out with Great Britain for the World League Final after a year out suffering the after-effects of a concussion injury.

Brooklands Manchester University gained a valuable three points as Richard Slater and Aidan Khares scored in a 2-1 victory over East Grinstead moving them above the Sussex side on goal difference.

Second from bottom Beeston kept in touch with the clubs ahead of them after Mark Gleghorne scored twice in a 3-1 win over pointless Canterbury.

Daily Express


---

U.S. Umpires Appointed to Prominent 2016 Events



2015 Pan American Games (Toronto, Canada)
L to R: Umpire Stephanie Judefind, Technical Officer Rene Zelkin, Umpire Suzi Sutton

COLORADO SPRINGS, Colo. -  Five USA Field Hockey umpires have been appointed to prominent and world-renowned field hockey events in 2016 to exemplify their talents on the international stage.

Stephanie Judefind (Wilmington, Del.) and Rene Zelkin (Lorton, Va.) were both appointed to the 2016 Women's Champions Trophy in London, England, June 18-26, 2016. Judefind will serve as an umpire while Zelkin will be a judge. As the world's entertainment showpiece, the Champions Trophy is an eight-team tournament where teams earn their place based on their performance at previous Champions Trophy and Champions Challenge tournaments. The U.S. Women's National Team earned their place at this tournament after winning the Champions Challenge against Ireland in Glasgow, Scotland in 2014.



2015:Atlantic Coast Conference Finals (Charlottesville, Va.): Umpire Amy Baxter

No stranger to the Olympic Games, Amy Baxter (Marshfield, Mass.) has been appointed to the Rio 2016 Olympic Games as an umpire. Baxter attended the London 2012 Olympic Games and was the first U.S. umpire to officiate the Games since the Sydney Olympic Games in 2000. Baxter was selected as one of 16 umpires to hold a whistle on the international stage at the world's most prestigious sporting event to be held August 5-21, 2016. Zelkin was also selected as a judge for the Rio 2016 Olympics being one of only six from around the world. In the sport of field hockey, the
 
technical staff includes the tournament director, technical official and the judge. The tournament director is responsible for the entire event, from technical set-up to everyday operations throughout the tournament and ensuring all technical requirements are met. The technical official supports the tournament director and is on the sidelines with the teams to manage the game and benches and ensure the sole focus of the umpires is what occurs within the playing field. The judge supports both the tournament director and technical official in pre-tournament equipment and technical set-up, timing the game and documenting the game events, working behind-the-scenes and assists the on-field umpires.

"On September 24, 2015, I received an email confirming my appointment to the Olympics in Rio de Janeiro as a Judge, and to the Champions Trophy in England as well," said Zelkin. "As a lifelong hockey member in many roles, working at the Olympics is a true honor."



2015 Atlantic Coast Conference Semifinals (Charlottesville, Va.): Umpire Grant Hundley

"We are very proud of both Amy and Rene for their accomplishments and dedication to USA Field Hockey," said Steve Horgan, USA Field Hockey Director of Umpiring. "They have worked really hard and fully deserve to represent the U.S. at the Rio 2016 Olympics. Amy has grown tremendously in the past number of years and has become one of the world's leading umpires. She is on the World Panel of Umpires which is a group of only 12 women from various countries. Rene has been and continues to be a gracious and enthusiastic representative of USA Field Hockey at major events around the world. She continues to impress everyone with her professionalism and efficiency wherever she is appointed. We wish the the best for a great experience."

Adding to the appointed umpires is Suzi Sutton (Evanston, Ill.) who was selected to umpire at the Women's Junior World Cup in Santiago, Chile from November 23 to December 4, 2016. Also umpiring at the Junior World Cup on the Men's side in New Delhi, India, December 1-11, 2016 is Grant Hundley (Westerville, Ohio). Held every four years, the Junior World Cup is a spectacle of new talent and the perfect platform for young players to unleash their raw skills on the international hockey scene. Sixteen teams will compete in each division. Both the U.S. U-21 Men's and Women's National Teams will be looking to qualify as one of those teams at this event.

Umpiring offers the opportunity to excel in a different component of field hockey as well as provide players the opportunity to give back to the sport. USA Field Hockey is actively seeking new umpires. More information on umpiring in the U.S. can be found by clicking here. #GrowtheGame

Photos courtesy of Rene Zelkin and Beth Strauss

USFHA media release


---

Quicksticks fever hits Africa




West Africa has caught the Quickstick bug after schools, clubs and England Hockey donate old Quicksticks kits to Ghana Hockey as part of the Targeted Assistance Program (TAP). TAP is an exciting four year expansion programme for hockey in West Africa with England Hockey supporting Ghana Hockey to develop their participation and performance programmes for coaches, umpires and players.




With 4 players on each team Quicksticks uses a larger, lighter ball meaning it can be played on any surface. This has been vital as there are only 11 artificial grass pitches in Africa outside of South Africa and the vast majority of hockey is still played on alternative surface types like concrete, dirt, gravel, grass, sand, tarmac and laterite.




Back in May England Hockey sent coach and umpire educators out to Ghana and they held workshops for coaches from Ghana, Togo, Cameroon and Ivory Coast. During these workshops the coaches quickly brought into Quicksticks as the introductory format due to the fun, fast, safe and exciting nature of the game. However the greatest appeal was Quicksticks design, where it can be delivered by anyone regardless of previous hockey experience. Meaning as the coaches returned to their communities with the donated kit, they could share the game with local teachers and other coaches.

The results are already staggering with 300 children in Ivory Coast playing Quicksticks every week in community clubs and in Togo 10 schools are playing Quicksticks run by the newly enthused coaches and teachers.

We have a couple more images below, but to really get a taste of the action take a look at the videos on the Ivory Coast Hockey Association's Facebook page which can be found here.

If your school or club are interested in running Quicksticks visit www.playquicksticks.co.uk for more information and to buy Quicksticks balls to make hockey deliverable, whatever the surface visit here.




England Hockey Board Media release