All the news for Monday 16 November 2015

Danny Kerry announces squad for World League Final

Crista Cullen returns

Great Britain Head Coach Danny Kerry has named the 18 athletes to compete in the FIH World League Final in Rosario. Kerry has made three changes to the squad who competed in the World League Semi-Final in June, a competition where Great Britain secured their qualification for the Olympic Games in Rio.

Kerry has opted to bring in three players for the World League Final, two of whom – Sam Quek and Ashleigh Ball won gold medals with England at the Unibet EuroHockey Championships in August. The third player to come in is London 2012 Bronze medallist Crista Cullen. Cullen, who has 171 international caps, stepped away from hockey after the 2012 Olympics but made a return to the Great Britain training squad in October 2015. The World League Final will be her first tournament since her return.

The players who competed at the World League semi-final who will not play in Rosario are Susie Gilbert, Giselle Ansley and Shona McCallin.

A number of players are set to reach landmarks in their international careers during the tournament in Argentina. Captain Kate Richardson-Walsh currently has 348 combined England and Great Britain caps and is set to reach 350 out in Argentina.

Striker Alex Danson has 245 international appearances to her name and could reach the 250 mark in Rosario. Helen Richardson-Walsh is poised to make her century of appearances for Great Britain; she currently has 99 GB caps whilst Emily Maguire and Nicola White should make it to their half-centuries, having as they do, 48 and 49 Great Britain caps respectively.

Great Britain are in a pool with hosts Argentina, who they face in their opening game, before going up against Australia and China in their remaining pool games.

Quotes – Danny Kerry, Great Britain Head Coach

"Our time in Argentina affords us two great opportunities in the three match test series in Tucumán, and the World League Finals in Rosario. Over the course of those events we will use 25 players for a number of different aims. It will provide us team and individual competition development exposure. As part of that we will look at a number of combinations under test match and tournament conditions allowing us to further build our capacity in the many facets of performance. It has been a difficult selection as we will leave behind a number of athletes that could easily swap in for those selected. This is testament to the strength we have in depth in this Olympic cycle.

There will understandably be media interest in Crista Cullen's selection. Fundamentally the test series and tournament provides Crista with an opportunity to get some much needed match play after only completing two practice internationals (against USA in October) since her last outing at the London Olympic Games. Crista has returned to the GB programme in great physical shape and now needs exposure to high standard international match play.

As a squad we will meet before departure to discuss and agree our objectives given the opportunities in front of us. As ever we will take a game by game approach and have faith in our preparation. This approach has served us well through 2015 and we will continue to build toward Rio and beyond."

Great Britain squad for World League Final

Name, Club

Ashleigh Ball, Slough
Sophie Bray, East Grinstead
Crista Cullen
Alex Danson, Reading
Maddie Hinch, Holcombe
Joie Leigh, Clifton
Kirsty Mackay, East Grinstead
Hannah Macleod, St Albans
Emily Maguire, Holcombe
Lily Owsley, University of Birmingham
Sam Quek, Holcombe
Helen Richardson-Walsh, Reading
Kate Richardson-Walsh, Reading
Susannah Townsend, Canterbury
Georgie Twigg, Surbiton
Laura Unsworth, East Grinstead
Hollie Webb, Surbiton
Nicola White, Holcombe

Great Britain Hockey media release


---

JAC 2015: No shame in 4-5 defeat

by Jugjet Singh



PC ace Najmi Jazlan (fist in air) after scoring against China.

MALAYSIA blew an early lead to lose 5-4 to India in Group A of the Junior Asia Cup in Kuantan Sunday.

After a day's rest, the hosts meet Japan in their final pool match and its a must-win situation of they want to finish second in the Group.

"There were moments of lapses which turned the match around for India, but I'm very proud of the way my boys played today (yesterday) and I am confident that they will rise against Japan to finish second in our group," said Malaysian coach Arul Selvaraj.

Shahril Saabah scored a super reverse stick goal 45 seconds from the start, and Malaysia looked like they were about to maul India.

But after a brilliant save by goalkeeper Ridzwan Azmi in the ninth minute, he made a schoolboy blunder in the 10th minute and Mandeep Singh punished Malaysia and drew level.

This was the fastest match of the tournament, as even before India could settle down from celebrating their goal, Shahril struck yet again.

The No 1 penalty corner flicker in the country, Shahril, scored a cheeky field goal in the 20th minute when he deflected home skipper Najib Hassan's slap-in from the top of the semi-circle.

It was Shahril's third goal of the tournament, as he also scored against China on Saturday.

India coach Harendra Singh, dissapointed that his goalkeeper Vikas Dahiya for failing to stop Shahril's second goal, replaced him with No 2 Suraj Karkera in the 27th minute.

Malaysia took the game the India after the breather, but a lapse in defense saw Gurjant Singh handing his side yet another equaliser with a 40th minute reverse stick attempt.

Malaysia were guilty of giving away easy penalty corners after that, and India finally took the lead in the 46th minute when Harmanpreet Singh blasted home a drive.

And it was almost all over for Malaysia in the 56th minute, when Harmanpreet scored his second penalty corner, while Manddeep Singh made it 5-2 in the 61st minute.

Sufi Ismat pulled one back a minute later to make it 5-3, and Malysia went on a rampage and made it 5-4 in the 66th minute when Shahril nailed his hat-trick.

Meanwhile in Group B, Pakistan upset South Korea 3-0 and are poised to top the group as they have an 'easy' game against winless Oman on Tuesday to collect maximum points.

Korea play Bangladesh last, but even if they win, they are set to end second in Group B.

RESULTS: Group A: China 1 Japan 2, Malaysia 4 India 5.

Group B: Pakistan 3 South Korea 0, Oman 4 Bangladesh 5.

Nov 16: REST DAY

GROUP A
            P  W  D  L  F  A  Pts
INDIA       2  2  0  0  7  5  6
MALAYSIA    2  1  0  1  8  5  3
JAPAN       2  1  0  1  3  3  3
CHINA       2  0  0  2  1  6  0

GROUP B
            P  W  D  L  F  A  Pts
PAKISTAN    2  2  0  0  6  1  6
S KOREA     2  1  0  1  5  5  3
BANGLADESH  2  1  0  1  6  7  3
OMAN        2  0  0  2  6  10 0

Jugjet's World of Field Hockey


---

India down Malaysia 5-4 in Junior Asia Cup

by S. Ramaguru



Shahril Saabah (right) celebrating his goal in the match against India at the Wisma Belia Hockey Stadium in Kuantan. - Bernama

KUANTAN: Malaysia started off well to put India to the sword but ended up losing 4-5 in the Junior Asia Cup at the Wisma Belia Hockey Stadium.

The win gave India top spot in Group A and Malaysia will battle with Japan on Tuesday for second place.

The Malaysians held the lead twice but defensive lapses in the second half put paid to their chances of winning the match.

Mohamed Shahril Saabah scored the first hat-trick of the tournament but sadly ended on the losing side.

Malaysia got off to a great start, taking the lead in the first minute, when a quick attack down the middle allowed Shahril to slot the ball past goalkeeper Vikas Dahiya.

But against the run of play, India hit back to draw level. Mandeep Singh capitalised on a poor defensive clearance to score a field goal in the 10th minute.

But the Malaysians kept up their attack and were rewarded in the 20th minute. Once again it was Shahril who was on target as Malaysia led 2-1 at half-time.

India started off strongly in the second half and after five minutes were on level terms after Gurjant Singh collected the ball in the 25-yard line and blasted from an acute angle past goalkeeper Mohamed Ridzwan Azmi.

The Indians kept pushing and earned two penalty corner in the 45th and 46th minutes. The second one bore fruit with Harmandpreet Singh scoring with a direct flick for a 3-2 lead.

Ten minutes later Harmandpreet was again on target for India's fourth goal and Mandeep scored his second in the 61st minute to seal all the points.

Malaysia staged a fightback with Mohamed Sufi Ismat reducing the deficit with a field goal in the 62nd minute and Shahril completing his hat-trick in the 66th minute.

National Juniors coach A. Arulselvaraj was disappointed with the loss as he felt they could have salvaged a draw.

"We failed to keep the lead and made too many errors in the second half. We should have done better. I am happy that we fought back in the second half to narrow the deficit. We have to regroup now and get ready for the match with Japan," he added.

Earlier, in another Group A match, Japan came back from a goal down to beat China 2-1 to keep alive their hopes of a top-two finish in the group.

China took the lead in the 12th minute with a field goal by Su Lixing.

In the second half, the Japanese were more organised and Shunya Misayaki gave them a lifeline with a field goal in the 49th minute. Three minutes later they found the winner through a penalty corner conversion by Shota Yamada.

Said Japan skipper Hiromasa Ochiai: "It was tough as China made us work for the win. We played much better in the opening game against India (which Japan lost 1-2). We need to improve before the next match. It is good that we have a rest day before playing Malaysia."

The Star of Malaysia


---

Pakistan cruise to another win in Junior Asia Cup

by S. Ramaguru

KUANTAN: Mohamed Dilber scored a brace to power Pakistan to a 3-0 win over South Korea in the Junior Asia Cup at the Wisma Belia Hockey Stadium.

Having beaten Bangladesh 3-1 in their opening match, Pakistan are now assured of first place in Group B with six points. South Korea, who whipped Oman 5-2 in their opener, will now have to beat Bangladesh in the last group match to finish in second place.

Pakistan and South Korea are hoping to avoid Malaysia and favourites India in the cross over quarter-finals.

Mohamed Dilber, who has 106 senior international caps, scored the opening goal after only eight minutes from a penalty corner scramble.

But Pakistan had to wait until the 42nd minute for goal No. 2. This time, Mohamed Dilber scored a field goal.

Seven minutes later, Abu Mahmood netted Pakistan's third goal.

The South Koreans were surprisingly a subdued side. They had six penalty corners in the first half, but failed to utilise them.

Pakistan team manager Brig Khalid Farani was elated with the win and said it showed they have the ability to play the big teams.

"This match was a big test for my players. Our all-round play was good. Today's win has boosted the players' confidence tremendously. It's good that we have managed to get into the semi-finals early as this will take away the pressure from the players," he said.

South Koreans team manager Yoo Moon-ki lamented his players' lack of experience.

"We missed too many chances in the first half. But we are still optimistic of finishing in the top two," said Moon-ki.

In the other Group B match, Bangladesh secured their first win by edging winless Oman 5-4.

Roman Sarkar (fourth), Ashraful Islam (11th and 38th), Arshad Hossain (16th) and Md Deen Emon (25th) scored for Bangladesh. Oman replied through Mohamed Al Lawati (third and 20th), Khalid Al Batashi (38th) and Ammar Al Shaaibi (56th).

The Star of Malaysia


---

Sweet win for India against Malaysia




Kuantan, Malaysia: India posted a sweet revenge victory over the hosts Malaysia in its second match of the Kuantan Junior Asia Cup. The India who lost to Malaysia in the previous Junior Asia Cup at Malacca, today churned out a champagne stuff, with a lot of a sweating of course, for a 5-4 win, after narrowly defeating Japan 2-1 yesterday.

Malaysia drew first blood in the game with an opening minute field goal.

India however came back strongly to level 1-1 within 10 minutes through Mandeep Singh. The first half saw both the teams pressing hard until Malaysia scored again to take the lead in the 25th minute.

The Second half started with India again conceding a penalty corner but it was bravely saved by goalie Suraj Karkera. This pepped up the Indian attack, with Gurjant Singh scoring to level the score(2-2)

. With 23 minutes left in the game, the Indian forwards pressed hard. Their efforts were duly rewarded with two back to back penalty corners, one of which was beautifully converted by Harmanpreet Singh to give India the much needed lead (3-2).

India converted another one by invincible Harmanpreet Singh (4-2).

Mandeep Singh's goal shortly after ensured India's comfortable three goal lead as the score stood at 5-2.

However, the Malaysians thereafter pressed hard and succeeded twice to break through the Indian defence to score two consecutive goals in the dying moments of the game taking the score to a close 4-5, with India still in the lead. The Indian colts thereafter made no errors and earned their second consecutive victory in the 8th Junior Asia Cup.

Coach, Indian Junior Men's Hockey team, Harendra Singh said, "It was a very good effort by the team. The boys showed impeccable attacking ability by putting 5 goals past the opponents. The defence was tested to such an extent for the first time in the tournament and it was a narrow escape. We will take the positives out of the game and work hard on deriving a balance between attack and defence."

India will take on China day after tomorrow.

Stick2Hockey.com


---

India beat hosts in high-scoring thriller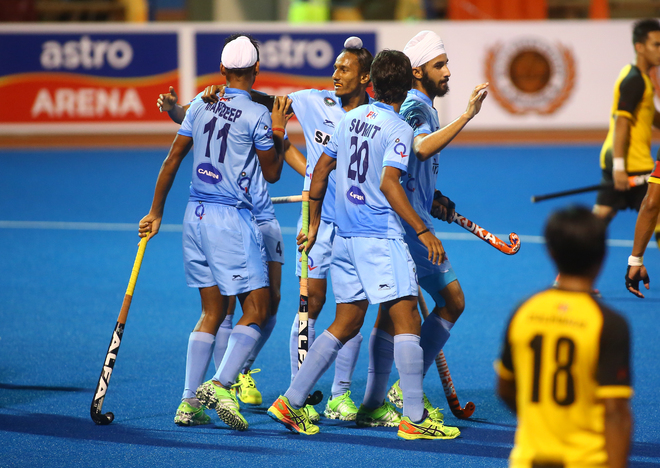 Mandeep Singh celebrates with teammates after scoring against Malaysia during their Junior Asia Cup match in Kuantan on Sunday. Hockey India

Kuantan (Malaysia): India faced a few anxious moments right at the end before eking out a close 5-4 win over hosts Malaysia and register their second consecutive win at the 8th Men's Junior Asia Cup here today.

With this win, India rise to the top of Pool A. They will play China in their last encounter of the group stage on Tuesday. India had defeated Japan 2-1 yesterday.

Malaysia drew first blood with a goal in the opening minute. India, however, came back strongly to level the scores within 10 minutes through forward Mandeep Singh. The first half saw both the teams pressing hard until Malaysia scored again to take the lead in the 25th minute.

In the second half, India pressed hard for the equaliser but in the process conceded a penalty corner after a Malaysian counterattack. It was bravely saved by goalkeeper Suraj Karkera.

The save started the turnaround for India with Gurjant Singh scoring the equaliser for India. With 23 minutes left in the game, India were awarded two back to back penalty corners, one of which was beautifully converted by Harmanpreet Singh to give India the lead for the first time in the game.

Another streak of consecutive penalty corners within seven minutes resulted in India converting another set-piece through Harmanpreet.

Mandeep's second goal of the match a little later ensured India's comfortable three-goal lead as the score stood at 5-2.

However, the Malaysians pressed hard and succeeded to break through the Indian defence, scoring two consecutive goals in the dying moments of the game. The Indians, however, got their act together to earn their second victory in the tournament.

"It was a very good effort by the team. The boys showed impeccable attacking ability. The defence was tested to such an extent for the first time and it was a narrow escape. We will take positives out of the game and work hard on finding a balance between attack and defence," coach Harendra Singh said.

The Tribune


---

Pakistan go top of Pool B with 3-0 win over Korea

By Nabil Tahir



Dilber was a constant thorn in the Koreans' side and scored a decisive brace in his side's comfortable 3-0 win. PHOTO COURTESY: ASIAN HOCKEY FEDERATION

KARACHI: Two goals by experienced vice-captain Muhammad Dilber Hussain led the Pakistan junior hockey team to their second win in as many games at the 8th Men's Junior Asia Cup.

The Colts defeated Korea 3-0 at the Wisma Belia Hockey Stadium in Malaysia.

Dilber opened Pakistan's tally when he converted a penalty corner in the eighth minute, which proved to be the only goal of the first half as Pakistan went in leading 1-0 at the break.

The forward doubled his side's lead with his second goal of the game in the 42nd minute.

It went from bad to worse for Korea as SeongJae Kim was shown a yellow card in the 48th minute and was forced to sit for the next five minutes.

Pakistan made full use of their numerical advantage and made it 3-0, via Abu Mahmood,  just a minute later from a penalty corner to virtually end the match as a contest.

Muhammad Kamal also received a yellow card in the 54th minute to give coach Tahir Zaman's men a nervy few minutes but the Koreans were unable to break through Pakistan's obdurate defence, who held on for a convincing 3-0 win.

"Korea are not a weak team; defeating them by this margin is a great achievement," said Zaman while talking to The Express Tribune from Malaysia. "Dilber displayed his entire repertoire of skills and also showcased his experience."

The coach also expressed satisfaction with the way his side has begun the tournament, especially in attack. "The team in the last two games has showed tremendous combination play and perfect communication while scoring goals," he said.

Zaman also hoped the players will improve as the tournament goes along. "It was a good win and I hope the good performances continue," he said. "This is an important stage for the national junior hockey squad."

Meanwhile, man of the match Dilber was happy with his contribution. "I am glad that I was able to perform for the team," he said. "I didn't feel any pressure because the entire team was playing as a unit."

The Greenshirts now lead Pool B after claiming two wins in two games. They now face Oman, who have lost both their matches in the tournament so far, on November 17.

The Express Tribune


---

Dilber shines as Pakistan win again

KARACHI: Spearhead Mohammad Dilber scored twice including one on penalty corner as former champions Pakistan coasted to a 3-0 victory over South Korea, their second successive win in the eighth junior Asia Cup hockey tournament in Kuan­tan, Malaysia, on Sunday.

According to the results made available here, Pakistan — striving to regain their lost prestige in world hockey — opened the account when Dilber scored off a penalty corner in the eighth minute.

The greenshirts, who won their Pool 'B' opener against Bangladesh 3-1 on Saturday, consolidated their lead when Dilber scored his second goal in the 42nd minute while Abu Mohammad sealed the win by slamming the third goal in the 49th minute off penalty corner.

In the other matches, Bangladesh inflicted a 5-4 defeat on Oman, Japan carved out a 2-1 victory over China while India stunned title holders Malaysia 5-4.

Monday is the rest day in the event.

Dawn


---

JAC 2015: Beat Japan or take the tough road

Malaysia's back against the wall

by Jugjet Singh



Skipper Najib Abu Hassan and coach Arul Selvaraj

MALAYSIA have placed their backs against the wall after losing 5-4 to India, and today, coach Arul Selvaraj and his boys must beat or hold Japan at all cost in the Junior Asia Cup in Kuantan.

A win or a draw will see Malaysia finish top-two in Group A, and meet either Bangladesh or Oman in the cross-over quarter-finals. A defeat against Japan will pit Malaysia against South Korea in the last eight.

The tournament offers three tickets to the 2016 Junior World Cup, and Malaysia must play in the semi-finals to take up the offer.

India are favourites to top Group A, provided they beat China today.

"My boys did some silly mistakes against India, but we can't afford the same against Japan. I believe it will be another tough match but we have the capability to come out tops.

"We played Japan in four friendlies in February and lost three and drew one match. But that was a different Malaysia and I did not have 50 per cent of my top players. Even then, I don't believe in history, because I think positive, and have inculcated that habit in my players over the Sea Games (gold) and Sultan of Johor Cup (bronze)," said Arul.

The good news yesterday was that defender Amirol Aideed is ready to play his first match in Kuantan.

"Amirol was rested to recover from hamstring against China and India, but will play against Japan. He has a cool head, and its just what we need to keep a tight lid in defense," said Arul.

Malaysia were guilty of letting in three soft goals against India, and hopefully Amirol, who played a sterling role in the SOJC, will not disappoint.

Japan coach Takahiko Yamabori, whose charges surprised India when they only lost 1-2, believes his boys are ready for Malaysia, as they plan ahead for the 2020 Tokyo Olympics.

"We are building this team for the Tokyo Olympics, and I believe at least 60 per cent of my juniors will play in the Olympics and that is why its very important that we beat Malaysia to have an easier passage into the Junior World Cup.

"We need to play in the Junior World Cup to make these players more confident when they play in the Olympics," said Takahiko.

Japan failed to qualify for the last Junior World Cup where Malaysia finished fourth ahead of South Korea (eighth), Pakistan (ninth) and India (10th).

The battle cry from Japan was chilling, but Arul has his plans: "Inside both the 25-yards, they must play with intelligence, and inside both the semi-circles with passion to 'die' defending and scoring.

"That's what I have trained these players to do, and they displayed these qualities in both the previous matches. Silly mistakes is what made us lose to India, but my charges are ready to make amends against Japan."

Group B is very much wrapped up, as barring upsets, Pakistan should beat Oman to top the group, while South Korea is the better team compared to Bangladesh and should finish second.

Nov 16: REST DAY

Nov 17: Group A: India v China (6pm, Pitch I), Japan v Malaysia (8.15pm, Pitch I).

Group B: Oman v Pakistan (4pm, Pitch I), South Korea v Bangladesh (4.30pm, Pitch II).

Nov 18: REST DAY

Nov 19: Quarter-finals.

GROUP A
            P  W  D  L  F  A  Pts
INDIA       2  2  0  0  7  5  6
MALAYSIA    2  1  0  1  8  5  3
JAPAN       2  1  0  1  3  3  3
CHINA       2  0  0  2  1  6  0

GROUP B
            P  W  D  L  F  A  Pts
PAKISTAN    2  2  0  0  6  1  6
S KOREA     2  1  0  1  5  5  3
BANGLADESH  2  1  0  1  6  7  3
OMAN        2  0  0  2  6  10 0

Jugjet's World of Field Hockey


---

All level in top of the table clash



Canterbury's Sarah Kerly celebrating her second goal of a hat-trick in her side's 7-1 win against Bowdon Hightown in the Investec Women's Premier Division. Credit: www.hockeyimages.co.uk.

THE top two teams clashed in the Investec Women's Hockey League Premier Division, and they couldn't be separated as leaders the University of Birmingham drew 1-1 at Surbiton on Sunday.

Lily Owsley slammed home for Birmingham in the 54th minute but Jo Hunter saved a point for Surbiton, finding the net from a penalty corner after 61 minutes.

Canterbury retain third spot after a 7-1 defeat of Bowdon Hightown. Grace Balsdon and Sarah Kerly caused problems in the Bowdon Hightown defence and grabbed three goals apiece.

Hannah Griggs scored their other goal and Natalie Wray notched a consolation goal for the opposition.

Reading moved up to eighth after coming from a goal down to beat Leicester 4-1. Katie Long had given Leicester the lead after nine minutes and it took until the final minute of the first half for Reading to hit back through Elspeth Cockburn.

After the restart, Reading pushed forward in numbers and took victory with further goals from Emma Scriven, Helen Richardson-Walsh and Emma Thomas.

Buckingham still prop up the table after suffering a last gasp 3-2 defeat at the hands of Holcombe.

Alexandra Naughalty gave Buckingham an early lead before Steph Elliott equalised for Holcombe. The home side took the lead through Jessica Booker in the 19th minute but Canterbury hit back through Amie Hone. However, there was another goal left in the game as Emily Maguire fired home from a penalty corner in the dying seconds.

In the day's other top flight game, two goals from Claire Thomas and one from Danielle Jordan helped Clifton to a 3-0 win over East Grinstead.

Investec Conference East

There was a shock in the Investec Conference East as leaders Slough suffered their first defeat of the campaign.

Harleston Magpies, sitting sixth in the table, took the lead in the second minute through Elizabeth Clymer and managed to hang on for a 1-0 win.

Slough are still well ahead though, with six points on Cambridge City who drew 1-1 with Hampstead and Westminster.

Maidenhead scored their first win of the season to move off the bottom of the table as goals from Jane Smith and Holly Cram handed them a 2-0 win over Ipswich who take their place at the foot of the table.

Two goals from both Katie Warrington and Rebecca Ross helped Sevenoaks to a 4-1 win over Chelmsford and St Albans played out a 1-1 draw with Wimbledon.

Investec Conference North

Wakefield maintained their six-point lead in the Investec Conference North with a narrow 1-0 win against basement club Liverpool Sefton. Heather Stafford scored the lone goal.

Springfields took only their second win of the season, beating Belper 1-0 courtesy of a Hannah Ferguson strike.

The University of Durham are still second despite losing 2-1 to Brooklands Poynton. Ellen Lockhart and Annabelle Watton were on target for Brooklands. Third-placed Ben Rhydding drew 1-1 with Loughborough Students.

Sophie Robinson scored both goals for Beeston as they beat Whitley Bay and Tynemouth 2-1.

Investec Conference West

Sutton Coldfield showed the kind of form which has seen them score almost twice as many goals as any other team in the Investec Conference West as they beat Oxford Hawks 7-0.

They raced into a 5-0 lead before half time with a brace from Susan Wood and further goals from Sarah Parkinson-Mills, Emma McCabe and Vicky Woolford. McCabe scored two goals late on to complete her hat-trick.

In the Bristol derby, it was Firebrands who got the better of the University team, winning 2-1 with goals from Abigail Porter and Holly Savage.

Meg Crowson scored two for Isca, including a last-minute winner as they beat Olton and West Warwicks 2-1 and Stourport beat Trojans 3-1.

Charlotte Lawley scored twice as Gloucester City edged Swansea City out 4-3.

Investec Women's Hockey League (Sunday, November 15 2015):

Investec Women's Premier Division: Reading 4, Leicester 1; Canterbury 7, Bowdon Hightown 1; Clifton 3, East Grinstead 0; Surbiton 1, University of Birmingham 1; Holcombe 3, Buckingham 2.

Investec Women's Conference East: Slough 0, Harleston Magpies 1; Chelmsford 1, Sevenoaks 4; St Albans 1, Wimbledon 1; Maidenhead 2, Ipswich 0; Hampstead and Westminster 1, Cambridge City 1.

Investec Women's Conference North: Whitley Bay and Tynemouth 1, Beeston 2; Wakefield 1, Liverpool Sefton 0; University of Durham 1, Brooklands Poynton 2; Loughborough Students 1, Ben Rhydding 1; Springfields 1, Belper 0.

Investec Women's Conference West: Stourport 3, Trojans 1; Gloucester City 4, Swansea City 3; Bristol Firebrands 2, University of Bristol 1; Isca 2, Olton and West Warwicks 1; Oxford Hawks 0, Sutton Coldfield 7.

England Hockey Board Media release


---

Wimbledon record important win over Surbiton




Wimbledon produced one of their best performances to date in the English league to beat Surbiton 3-2, a result that saw their near neighbours lose their top spot in the table.

Surbiton trailed by one goal at half time with Caspar Phijffer giving Wimbledon the lead, but despite Alan Forsyth's equaliser the visitors retook the lead with James Jewell and Phil Ball scoring for 3-1.

Andy Hayward scored with two minutes left, but it wasn't enough for Surbiton who now trail Holcombe on goal difference. Wimbledon are in fourth place with a five-point gap back to Hampstead and Westminster in fifth.

Holcombe, meanwhile, were grateful for Nick Bandurak's last minute goal which helped them take top spot. Goalless for much of the game against Hampstead, their opposition took the lead through Matt Botha with five minutes left, before Bandurak's strike from open play gave Holcombe a point which was enough to put them top.

Brooklands Manchester University moved ahead of East Grinstead after beating them 2-1 with goals from Richard Slater and Aidan Khares. They are now seventh.

Reading fired six past hosts Cannock, beating them 6-2. Tom Carson scored twice, while others came from Andy Watts, Simon Mantell, Dan Shingles and Ben Boon as Reading went six-nil ahead.

Thomas Morris and Peter Jackson scored late goals, but they were just a consolation for Cannock.

The bottom two clubs played each other with Beeston at home against Canterbury, and the hosts ended up 3-1 winners, Mark Gleghorne scoring twice and Stuart Pilgrim adding the other. Wei Adams scored a consolation goal for Canterbury.

Euro Hockey League media release


---

Men's EY Hockey League – day 5 and 6 round-up




Monkstown and Lisnagarvey have cut themselves clear at the top of the EY Hockey League as both recorded double wins over the weekend.
 
Town have the slight edge as they snuck a 4-3 win over Cork C of I on Saturday before convincingly bearing Cookstown a day later.
 
Against C of I, they had trailed 3-1 in the first quarter but two goals from Gareth Watkins – in a week he celebrated his return to the Irish senior setup – and one each from Josh Gregory and Kyle Good earned them the spoils.
 
There was much less difficulty a day later as they led 6-0 at half-time in Co Tyrone and never looked overly troubled in the second half – Watkins added three more to his weekend total.
 
Garvey's tie with Cookstown on Saturday was much tighter, nicking a 2-1 result. They followed up with a gritty 2-0 win in Tallaght with Sean Murray adding to his growing reputation.
 
Railway Union produced the comeback of the weekend when they salvaged a last ditch 4-4 draw against Annadale on Sunday. They trailed 4-2 with less than five minutes remaining but summoned efforts from Nick Tate and a sliding Simon McKeever who levelled with mere seconds to go.
 
They managed the draw in spite of having six front-line playes injured. The result also leaves Dale adrift at the bottom of the table after they fell 3-1 to Pembroke a day earlier with Alan Sothern on the mark twice.
 
On Saturday,Railway were undone by an improving Glenanne side 3-2 with South African Shannon Boucher scoring his second hat trick of the season, James Dick getting both of Railway's goals.
 
Railway had led 2-0 but Boucher was on hand to score three times in the closing 20 minutes of the game to swing the tie the Tallaght side's way.
 
Three Rock Rovers' youthful side continued their fine start to the season. A 0-0 draw with Banbridge on Saturday owed much to goalkeeper Jamie Carr's heroics while Sunday's 2-1 win against Pembroke came courtesy of a Jody Hosking thunderbolt with 17 minutes to go. Ross Canning and Sothern had traded first quarter goals.
 
Banbridge ended the weekend with two draws as Stephen Parker snatched a late 2-2 tie for Cork C of I in their second game of the weekend. The Cork side had led via Parker in the first half before Stephen Dowds scored twice in the closing quarter to put Bann 2-1 up.
 
Parker, though, struck with the equaliser mere seconds from the final whistle for a dramatic point that keeps them in the top four.
 
EY Hockey League
Saturday: Railway Union 2 (J Dick 2) Glenanne 3 (S Boucher 3); Lisnagarvey 2 (S Murray, A Forrest) Cookstown 1 (S Smyth); Monkstown 4 (G Watkins 2, J Gregory, K Good) Cork C of I 3 (P Brownlow, A Daunt, J Dale); Three Rock Rovers 0 Banbridge 0; Pembroke 3 (A Sothern 2, P Shanahan) Annadale 1 (M Allister)
 
Sunday: Banbridge 2 (S Dowds 2) Cork C of I 2 (S Parker 2); Glenanne 0 Lisnagarvey 2 (S Murray 2); Annadale 4 (A McKibbin, M Alistair, M Robson, R McGuire) Railway Union 4 (N Tate 2, K Carroll, S McKeever); Pembroke 1 (A Sothern) Three Rock Rovers 2 (R Canning, J Hosking); Cookstown 1 (E Butler) Monkstown 6 (G Watkins 3, J Gregory, J Bruton, K Good)
 
Extended match reports – round five

Saturday

Monkstown 4 (Gareth Watkins 2, Josh Gregory, Kyle Good) Cork C of I 3 (Philip Brownlow, Julian Dale, Andrew Daunt)
Monkstown came back from a 3-1 deficit to score a rousing 4-3 win over Cork C of I with Gareth Watkins celebrating his recent return to the national team with a pair of crucial goals.

It saw them retain their slender one-point lead at the top of the division, inflicting a second defeat of the campaign on the Cork side who slip to fourth in the division.

CI had begun brilliantly with Philip Brownlow tapping in a left wing cross from close range. Julian Dale dragged in a corner in the ninth minute for 2-0. Watkins got one back when he touched in Jonny Bruton's cross but Andrew Daunt restored the two-goal cushion immediately after a drive along the right baseline.

Watkins reduced the gap from the penalty spot and Monkstown were upping the ante with Billy Lynch called on to make a couple of big saves, notably keeping out Peter Caruth and Richard Sykes.

Josh Gregory tied things up in the second half when Watkins darted in from the right. His shot was saved but the Australian rebounded well, driving left and reversing home via a deflection.

And the winner came in the 46th minute. It came from a corner variation, working the ball back to Kyle Good at the injector's position to push low and hard from a tight angle for 4-3.

CI thought they had an equaliser soon after but the shot was deemed to be outside the circle by the umpires. They also won three corners in the closing quarter with John Jermyn twice testing David Fitzgerald's reflexes to see his side cling on for the win.
 
Pembroke 3 (Alan Sothern 2, Patrick Shanahan) Annadale 1 (Matthew Allister)
Alan Sothern's pair of first quarter goals set Pembroke on course for their second win of the men's EY Hockey League campaign as they beat bottom-placed side Annadale at Serpentine Avenue.

He scored from a penalty corner and a penalty stroke early one to give his side a firm foundation from which to earn the points, the goals coming inside the first eight minutes.

From there, it was a tight-knit battle with Annadale forging some chances but Pembroke stayed out of range until the half-time break. Dale, though, continued to push the tempo in the second half and got their reward from Matthew Allister, getting on the end of a swift counter-attack move which had its origins in a Pembroke corner.

But the game was broken in Pembroke's favour in the 45th minute when Patrick Shanahan worked his way along the baseline and got away a quick shot. It was parried by Johnny Moore but Shanahan put away the second attempt for 3-1.

Pembroke were content to sit deeper in the final quarter and break frequently but the final pass did not quite connect. Defences closed the tie out on top with Harry Spain and Adam Pritchard (for Pembroke) and David Smyth for Annadale excelling.
 
Railway Union 2 (James Dick 2) Glenanne 3 (Shannon Boucher 3)
Shannon Boucher's second hat trick of the season – following one against Newry in the Irish Senior Cup – as they came from two goals down to record their second win of the campaign. Railway started brightly and took an early lead when Kenny Carroll's drag-flick was saved onto the post but only as far as James Dick who scored from close range.

After a closely fought second quarter with neither side creating much, Dick doubled the lead on the counter with a great deflection in to the top corner from a Ravin Nair crash ball. Glenanne, though, got back in the mix when Darrell Carey cleverly won a corner and Boucher scored from a slip left. Nick Tate had a chance to restore the two-goal advantage when he scooped over Lukasz Domachowski but the ball trickled just wide.

The Glens duly punished them. Joe Brennan's long overhead into the circle was not dealt with by Stephen O'Keeffe and Boucher was waiting in behind and touched into an empty net.

With all the momentum, the winner came when Gary Shaw did brilliantly down the left wing, beating three players before laying on a pin-point cross for Boucher to roll into an empty net. Railway had a final whistle corner but Domachowski saved again to lock down the 3-2 result.

Lisnagarvey 2 (Sean Murray, Andy Forrest) Cookstown 1 (Stuart Smyth)
Lisnagarvey moved into second spot on their own thanks to a 2-1 win over Ulster rivals Cookstown as goals from Sean Murray and Andy Forrest did the damage. Cookstown had started well with a number of good openings. From their best chance, they did hit the net but was deemed too high from an early corner.
Garvey soon found their mojo with shots raining down from Daniel Nelson and Forrest. After a barrage of fine chances in the first half, Murray eventually gave the hosts the lead when Timmy Cockram tore down the right baseline, following a quick turn at the head of the D, and picked out the recently capped midfielder to poke home.

Forrest made it 2-0 from an excellent counter-attack as Garvey intercepted ball on halfway and quickly found the striker. Unopposed, he entered the circle and fired past the impressive Ian Hughes.
Stuart Smyth got one back from a corner drag-flick to bring the game back into the mix but Garvey looked the more likely side to score again. Hughes made a quartet of excellent saves in the final quarter to keep it at 2-1 with Garvey making it four wins from five.
 


Photo Credit: Rowland White/ Press Eye
 
Three Rock Rovers 0 Banbridge 0
Three Rock played their second scoreless draw in succession in the men's EY Hockey League as they kept the usually free-scoring Banbridge at bay at Grange Road. Indeed, they went within inches of winning it three minutes from the end when Conor Empey's first time volley skimmed the crossbar. Otherwise, it was a game for goalkeepers with Jamie Carr outstanding while Bann's Gareth Lennox was an imposing presence between the posts, too, making a number of good stops.

Bann almost went ahead inside a minute but Carr kept out a weak corner shot. He would later do brilliantly to keep out Stephen Dowds and an excellent Eugene Magee baseline run, cleverly keeping the ball out of the reach of two on-rushing rebounders.

For Rovers, Ross Canning went within inches of breaking the deadlock with his diving effort to Peter Blakeney's cross. Canning also had one disallowed correctly for hitting his foot en route to goal from a corner. Bann had the majority of the ball through the second half with Magee always to the fore. Dowds and Owen Magee did sting Carr's palms on a couple of occasions while Rovers existed on the counter with Mark Samuel a key figure.

And they had the best chances in the final five minutes. Luke Chadwick and Blakeney combined to win a corner which Lennox caught in his pads. From the follow-up attack, Daragh Walsh's crash ball found its way to Empey who clipped just over. Dowds saw a last second corner tipped away to ensure the honours were even.
 
Sunday

Pembroke 1 (Alan Sothern) Three Rock Rovers 2 (Ross Canning, Jody Hosking)
Jody Hosking's 43rd minute blast proved the difference as Three Rock Rovers won their second game of the season, moving up to fifth place with another solid defensive performance.

After two successive 0-0 draws, Rovers – who handed debuts to Peter Lynch and Ben Walker – hit the front within a minute with Ross Canning mopping up a rebound after Mark Ingram's initial save. The lead didn't last long, though, with Alan Sothern scoring his third goal of the weekend before the first quarter was out.

It was tight enough thereafter with Pembroke shading the second quarter while Rovers, late in the third quarter began to push on. Hosking saw his first shot at goal stopped on the line by Karl Lynch from Dylan Shirley's pull-back but the clearance only went as far as the South African.

He made no mistake second time around, smashing home from the head of the circle. Ingram then kept his side in it with a brilliant diving stop from Luke Chadwick. Pembroke pushed on with much more ball in the closing quarter but their best chances, mainly from corners, were denied by either Jamie Carr or postman Hosking.

With their goalkeeper pulled, Rovers twice should have made better use of bursts past the Pembroke backline to kill the game. It left Pembroke with a chance to salvage a point in the last minute from a corner but Carr kept it out.
 
Annadale 4 (Matthew Allister, Michael Robson, Robbie McGuire, Andrew McKibbin) Railway Union 4 (Nick Tate 2, Kenny Carroll, Simon McKeever)
Injury-hit Railway Union produced an amazing comeback in the last few minutes to earn a 4-4 draw at Lough Moss, cruelly denying Annadale their first win of the campaign. Railway were without key men Fergal Keaveney, Mark English, Miguel Villar and Eoin MacArthur but they started perfectly, Kenny Carroll dragging in the first corner of the game in the second minute.
 
Annadale, though, went on to control much of the play and swapped the lead quickly with Matthew Allister levelled from a Chris Jackson pass while Michael Robson latched onto a loose ball to rocket home for 2-1.

The second quarter was more even with Connor Roberts and Allister incisive for Dale but Stephen O'Keeffe impressed between the posts while Ravin Nair and Carroll stood tall. Jonny Moore was also called into action on a couple of occasions.

Robbie McGuire extended their advantage in the third quarter from a clever corner deflection move but they were left to rue further missed chances.
The fourth quarter proved a pulsating affair. Nick Tate reduced the gap after a good advantage was played by the umpires. Andrew McKibbin restored the two goal gap when Jackson's shot was blocked by O'Keeffe.

Railway swapped out their keeper for the last four minutes, though, and it paid dividends with Tate firing home for 3-4. And Simon McKeever snatched the draw, sliding home after excellent build-up work by Ravin Nair.
 
Cookstown 1 (Ewan Butler) Monkstown 6 (Gareth Watkins 3, Josh Gregory, Jonny Bruton, Kyle Good)
A six-goal first half blitz saw Monkstown cruise to their fifth win from six outings so far this year in the league, sweeping past the challenge of Cookstown at Steelweld Park.

Gareth Watkins was the main man once again with a hat trick, bringing his weekend tally to five. His first came in the ninth minute when he guided home a corner move. Three minutes later, Josh Gregory made it 2-0 when Gavin Groves got to the byeline, leading to a scuffle in front of Ian Hughes which was eventually turned home.

Watkins smashed in the third on the reverse for 3-0 and Jonny Bruton cracked in number four when Richard Sykes intercepted a loose clearance. Lee Cole hit the post from another attack before Davy Carson set up Kyle Good for the fifth goal, juggling the ball past Hughes.

Watkins completed his hat trick on the half-time hooter when he out-paced the defence and pushed the ball past Hughes. Cookstown rallied in the second half with Timmy Sloan drawing the best from David Fitzgerald while Ewan Butler got a goal back on 37 minutes when Keith Black won a short corner which the sweeper converted at the second attempt.

They won further corners as time wore on but could not make further inroads in the deficit, ultimately falling 6-1.
 
Banbridge 2 (Stephen Dowds 2) Cork C of I 2 (Stephen Parker 2)
Stephen Parker salvaged a point from the weekend for Cork C of I with the very last touch at Havelock Park, denying Banbridge the points as the hosts recorded their second successive draw.

Indeed, he scored in the last minute of both the first and second half for his side, annulling two goals from Stephen Dowds. An even first quarter ended scoreless with both sides enjoying good possession but created few chances. Fraser Mills' corner-switch was deflected wide.

Gareth Lennox was called on for the first time when he made a great reflex save from John Jermyn while Ross Beattie stroked an effort wide on his reverse with Bann's best chance. Parker, though, made it 1-0 with one of the last touches of the half for 1-0.

They looked to defend that lead for much of the third quarter with the visitors sitting very deep. It served to frustrate Bann who were making some decent moves but the final pass evaded them.

This changed in the final quarter when Dowds burst into the circle and was deemed to have been fouled illegally. He dusted himself off to equalise from the penalty spot.

With only a few minutes remaining, he struck again when Bruce McCandless picked him out in the circle and Dowds won a corner. He whipped it into the corner.

It left Bann in winning position and they looked set to close out the tie before a misplaced pass, under pressure, was intercepted and worked into Parker who levelled with practically the last touch of the game.
 
Glenanne 0 Lisnagarvey 2 (Sean Murray 2)
Sean Murray made it four wins in succession for Lisnagarvey as they claimed the points from Glenanne Park. His side started in great form but found Lukasz Domachowski in beligerent mood between the posts, making a number of big stops. For Glenanne, they had a couple of corners in the second quarter, one of which clipped the bar but they were caught on the counter-attack from turnover ball in the 23m area and Murray was on hand to finish off the only goal of the first half.

They held that lead through the third quarter as Sam O'Connor's drag-flick slipped just wide. Garvey were content to sit back and play on the counter and they got their second goal when a long overhead was missed by the Glens defence. After a scramble in the circle, Murray was the man again to finish off for 2-0. They duly shut down the game to stay within one point of Monkstown at the top of the table.

Irish Hockey Association media release


---

Women's EY Hockey League – week five round-up




Hermes maintained their two-point lead at the top of the women's EY Hockey League with a dramatic 3-2 win over title rivals Railway Union in a thrilling tussle at Park Avenue.

All the goals came in a stunning first half with Hermes taking a 2-0 lead inside five minutes via Chloe Watkins and Naomi Carroll. Emma Smyth got one back before Anna O'Flanagan's ninth league goal of the season made it 3-1 at quarter-time.

Kate McKenna got another back for Railway and they came within a sniff of nicking a last second equaliser but Emma Gray made a brilliant save at the death to ensure the points for Hermes.

It means they stay two points clear at the top of the division with Ulster Elks, the nearest challengers. They won their Ulster derby 2-0 against Ards with 18-year-old Jessica McMaster breaking the deadlock when she got on the end of Shirley McCay's cross.

Irish captain Megan Frazer then sealed the points in the second half with the second goal from a penalty corner move, McCay again instrumental.

Cork Harlequins continued their winning streak, making it three in-a-row with Olivia Roycroft's drag-flick and a smart turn and shot from Aoibhinn Martin earning a 2-0 win over local rivals UCC at a rain-soaked Farmer's Cross. For Roycroft, it builds her scoring streak to four goals in three games.

Pegasus got their first win of the campaign when they saw off bottom side Greenfields 4-0 thanks to goals from Suzanne Ferris, Pamela Glass, Taite Doherty and Vanessa Surgeoner. The result lifts them to eighth place.

UCD, meanwhile, move into the top half of the table for the first time thanks to their 5-2 win over Pembroke. Katie Mullan and Aisling Naughton both scored in their first quarter for a dream start before former UCD player Caroline Hill gave Pembroke a lifeline early in the second half.

But further Mullan and Naughton goals, allied to one from Elaine Carey, saw the Belfielders race clear.

EY Hockey League, round five results: Pembroke 2 (C Hill, A-K Trevor) UCD 5 (K Mullan 2, A Naughton 2, E Carey); Cork Harlequins 2 (O Roycroft, A Martin) UCC 0; Pegasus 4 (S Beaney, P Glass, V Surgeoner, T Doherty) Greenfields 0; Ulster Elks 2 (J McMaster, M Frazer) Ards 0; Railway Union (E Smyth, K McKenna) Hermes 3 (C Watkins, N Carroll, A O'Flanagan)
 
Extended reports

Railway Union 2 (Emma Smyth, Kate McKenna) Hermes 3 (Chloe Watkins, Naomi Carroll, Anna O'Flanagan)
Hermes retained their perfect record at the top of the women's EY Hockey League in dramatic fashion, winning a feisty top of the table clash with perennial Dublin rivals Railway Union at Park Avenue.

All the goals came in a cracking, end-to-end first half, before Railway came within inches of salvaging a draw on the final whistle from a last-ditch penalty corner. It was not to be and Hermes make it five wins from five, keeping their two-point lead over the Ulster Elks in tact with Railway now in third, five points off the pace.

Chloe Watkins gave Hermes the dream start with a first minute opening goal from close range. Naomi Carroll then rounded the goalkeeper and shot home for 2-0 with barely five minutes on the clock.

Emma Smyth got one back with a corner deflection goal but Anna O'Flanagan – with her ninth goal in the league and 15th in all competitions – restored the two-goal lead by quarter-time from Nikki Evans' excellent assist for 3-1.

Kate McKenna scored the goal of the game with a rocket to the top corner for 3-2 at half-time to give Railway a sniff of a result. The second half was more circumspect but Railway did earn themselves a last minute chance amid a goal-mouth melee.

From the final corner, Emer Lucey shot goalward but Emma Gray got down brilliantly to tip it away and record the points.



Photo Credit: Deryck Vincent

Pembroke 2 (Caroline Hill, Amy-Kate Trevor) UCD 5 (Katie Mullan 2, Aisling Naughton 2, Elaine Carey)
UCD moved up to fifth place ahead of Pembroke as braces from Katie Mullan and Aisling Naughton saw the students earn their second win of the season. It continues Pembroke's home woes – they have lost all three of their home ties but won both games they have played on the road.

Mullan got UCD up and running in the ninth minute when she converted a corner chance with an excellent reverse-stick strike. Naughton doubled the lead 17 minutes in when she picked up the line of a cross from the left wing and diverted into the goal.

Stella Davis kept Pembroke just about in the tie with a number of fine saves against her alma mater to limit the damage to 2-0 at half-time.

And her side were right back in the mix when another former UCD student, Caroline Hill, found the net from a corner chance. But, in the minute before the three-quarter time whistle, UCD retaliated with quick-fire goals from Naughton and another Mullan effort to race into a 4-1 lead.

Elaine Carey copper-fastened the win while Pembroke were down to ten players with Sarah Clarke in the sin-bin before Amy-Kate Trevor got one back late on, her second in as many games.
 
Cork Harlequins 2 (Olivia Roycroft, Aoibhinn Martin) UCC 0
Cork Harlequins struck twice in the second half to win the Cork derby in the women's EY Hockey League to close the gap on the top three with their third win in succession. In driving wind and rain, the conditions made things difficult at Farmer's Cross with the majority of play initially confined to the middle third of the pitch.

Nicola Kerr and Ailbhe Coyle were to the fore in the UCC defence while Rachael Kohler showed some sublime touches but few chances accrued.

With Yvonne O'Byrne pushing on, the home side began to control more of the play in the second quarter but it was UCC who had the best chance with Sarah Browner finding herself unmarked in the circle but she was unable to capitalise.
Cliodhna Sargent's corner shot was well saved low down by UCC goalkeeper Kate Murphy to keep it scoreless at half-time.

Harlequins, though, flew out of the blocks after the big break. Olivia Roycroft netted her fourth goal in three games with a rocket of a drag-flick into the roof of the net for 1-0. Her hard-running, in tandem with Miriam Crowley, was causing all sorts of problems, winning a number of penalty corners which Murphy did well to keep out.

It kept UCC in the tie and they started to forge their best chances as time went on. Former Quins' player Antonia McGrath's deflected shot wreaked havoc with the ball somehow staying out courtesy of Sargent's diving clearance.

With the students committing players forward, the game was sealed for the hosts when Aoibhinn Martin capitalised. Crowley's reverse-stick shot was well saved by Murphy but it fell to Martin who spun quickly and slotted home for 2-0.
 
Pegasus 4 (Suzanne Ferris, Pamela Glass, Taite Doherty, Vanessa Surgeoner) Greenfields 0
Pegasus recorded their first win of the season with a comfortable 4-0 win over Greenfields whose struggles in the national league continue. The Ulster side went 2-0 ahead insid the first quarter and kept the Galway side at arm's length from there on .

Indeed, the signs were there early on as Pegs won a couple of corners before taking an eighth minute lead. Hannah Grieve worked the ball along the back line to find Suzanne Ferris unmarked at the back post to score.

Four minutes later, Pegasus made good use of the slow pitch, drenched in heavy rain, when Ferris caught up with a ball in the corner and found Ruth Maguire free. She, in turn, picked out the unmarked Pamela Glass at the top of the circle and she fired past the goalkeeper.

It stayed that way until the third quarter when Pegasus capitalised on sustained pressure. Taite Doherty got the third from close range before Vanessa Surgeoner completed the win when she struck early on the spin to unleash a shot into the bottom corner for 4-0.



Photo Credit: Rowland White/Press Eye

Ulster Elks 2 (Jessica McMaster, Megan Frazer) Ards 0
The Ulster Elks won their fourth match from five outings to stay within two points of leaders Hermes with a composed 2-0 win over Ards in a full-blooded all-Ulster derby, played under torrential rain throughout.

The hosts dominated possession initially, winning a couple of penalty corners in the early exchanges before Ards, via good work from Emma Reid, did likewise at the far end but no goals accrued.

Jessica McMaster broke the deadlock three minutes before half-time when Shirley McCay's ball into the circle located the 18-year-old who took a touch before planting the ball into the top of the goal.

The Elks pushed on in the second half with McCay and Gemma Frazer powering their efforts. After a trio of corners went unconverted, Megan Frazer extended the advantage in the 42nd minute from a well-worked set-piece that the Irish captain's backhand shot found the net.

Elks continued to press for more goals with Ards counter-attacking when possible but no further goals accrued. The hosts remain second while Ards drop to seventh place after five rounds of matches.

Irish Hockey Association media release


---

Hermes extend winning streak in EY Hockey League

Unbeaten Ulster Elks stay on leaders' shoulder after victory over Ards

Mary Hannigan



Ireland International Chloe Watkins was among the scorers for Hermes. Photograph: Donall Farmer/Inpho

So far, at least, there's no stopping Hermes. On Saturday they made it five wins out of five in their most testing game of the EY Hockey League yet. Three goals in the first 15 minutes at Park Avenue proved enough, even though third-placed Railway Union went on to make a fight of it.

Chloe Watkins and Naomi Carroll had Hermes 2-0 up after just five minutes and no sooner had Emma Smyth pulled a goal back for the hosts Anna O'Flanagan restored the two-goal advantage with her ninth goal of the campaign. Kate McKenna got it back to 2-3, but Hermes held on for victory.

Ulster Elks, the league's only other unbeaten team, stay second after a goal in each half from Jessica McMaster and Megan Frazer gave them a 2-0 win over Ards.

Cork Harlequins took the honours in their Munster derby against UCC at Farmers Cross, second-half goals from Aoibhinn Martin and Olivia Roycroft seeing off the students and moving Harlequins up to fourth.

And UCD climbed to fifth with their second league win, two goals apiece from Katie Mullan and Aisling Naughton helping them to a 5-2 defeat of Pembroke Wanderers at Serpentine Avenue.
Consolation

After trailing 2-0 at half-time, Pembroke halved the deficit through Caroline Hill in the third quarter, but UCD responded with three goals before the hosts got a last-minute consolation.

In Belfast, Pegasus registered their first win of the campaign, goals from Suzanne Beaney, Pam Glass, Taite Doherty and Vanessa Surgeoner consigning Greenfields to their fifth consecutive defeat.

The Irish Times


---

Sweet victory as Butali Sugar Warriors return to league summit

By BRIAN YONGA



Zack Aura of Butali Sugar Warriors (top) and Samuel Oungo of Kenya Police during the final of the Kenya Hockey Union league at City Park stadium on December 7, 2014. Defending champions Butali Sugar Warriors stormed back to the top of the Kenya Hockey Union after thrashing two teams over the weekend. PHOTO | MARTIN MUKANGU |   NATION MEDIA GROUP

Defending champions Butali Sugar Warriors stormed back to the top of the Kenya Hockey Union (KHU) men's Premier League table after recording two wins away in Mombasa over the weekend.

The lakeside club on Sunday thrashed Mombasa Sports Club 8-1 in Mombasa adding to Saturday's 5-0 win over Mvita XI to complete a perfect weekend for the champions who last played a league match on August 10.

Warriors coach Cliffe Okello was pleased with the result but expressed disappointment with the league fixtures format.

"We are preparing for the club championship which are three weeks away, we need to be playing regularly so as to maintain our shape. But not playing regularly is not helping," Okello said.

"We dropped points and we wanted to get back to winning ways, this was the perfect response to our critics."

New signing Seth Oburu and Robert Amadi scored twice each while Barnabus Odhiambo, who hit a hat trick in Saturday's win scored once alongside Saidi Okwemba, Emmanuel Simiyu and Arif Shah.

The hosts got a late consolation through Brian Karimi's field goal .

ODHIAMBO'S HAT-TRICK

On Saturday, Odhiambo hit a hat trick while Seth Oburu and Okwemba also got their names on the score sheet against Mombasa Sports Club.

Former Kenya skipper Zack Aura was instrumental in both wins setting up most goals for his team-mates.

At the City Park Stadium, Nairobi, Kenya Police missed the chance to cement their place at the top after they were held to a 0-0 draw by Strathmore University Gladiators in a Saturday late kick-off match.

The law enforcers dominated the match but were unable to find a breakthrough against a defensive Gladiators side.

In other matches played yesterday at the same venue, Jomo Kenyatta University of Agriculture and Technology (JKUAT) upset Daystar Falcons 3-0 in a women's National League match.

Goals from Esther Wakonyo, Josephine Ouma and Vivian Gekonyo were enough to hand the Juja-based lasses their first win of the season against a Falcons side that wasted numerous chances in the match.

The win saw JKUAT move above their opponents in the league standings as the second leg commences.

In the men's National League, Parkroad Tigers beat Daystar 3-0 with a brace from Godfrey Bila and one goal from Fredrick Omondi. University of Nairobi scored a last minute winner to edge out Kabarak University 3-2.

The two teams were locked at two-all before John Kaloti finished off a penalty corner to break Kabarak's hearts.

Daily Nation


---

At 40, Rahul Singh pulls a victory for Central Secretariat.




At 40 it is not possible to play hockey on turf unless its veteran variety. Its all the more difficult to last full seventy minutes on turf, that too in a demanding contest like knock out match. But, Central Customs' Rahul Singh, a well known centre-half of yore, defied the common belief today at the Shivaji Stadium. Varanasi born Olympians Rahul Singh not only played reasonably and fittingly well for Central Secretariat team full time but also struck a goal – a drag flick in the first penalty corner – in sealing 5-2 win against the young but brittle home team Delhi XI.

The tournament was India's most popular Nehru Senior Cup which got off to a grand start yesterday with a match between MP Academy and BSF.

Nehru Senior Cup starts on Nov 14, birth anniversary of India's first Prime Minister, and the traditional is being maintained over six decades.

Central Secretariat is a team consisting of palyers from veracious government departments like Customs, various Ministries of Government India, Income Tax etc.

However barring Jr International goalkeeper Naveen Kumar and Hockey India League Player Gunasekaran, the team had mostly well aged players. However, seasoned campaigners like Rahul Singh, captain, led the side admirably well to get full points and thus move to next match while Delhi is made to exit.

Rahul, like a debut maker's enthusiasm, covered the ground to retrieve the ball, and with a hawkish eye helped defence to clear dangerous situation, and when the host team almost got the workable score of 2-3, he pulled himself up and accelerated the speed, even diving once full length, and is 40!

"I go to Khalsa College, which produced many players thrice a week and keep myself fit" said Rahul post match, wiping off profuse sweating.

Rahul is younger brother of Vivek Singh, who played 1988 Olympics and 1990 World Cup among other things. Vivek died 15 years ago after cancer.

Rahul, like his industrious and popular elder brother, donned centre-half position and played for India in the mid 90s. First he worked for Indian Railways before moving to Central Customs, and is now based in Mumbai.

Stick2Hockey.com


---

UConn Field Hockey Heading To Semifinal Game Against Syracuse After Defeating BC, 1-0

UConn Field HockeY Moves On To Final Four

Lori Riley



Left to right: Karlie Heisted, Sophie Bowden, Roisin Upton and Anna Middendorf, celebrate their 1-0 NCAA quarterfinal win over Boston College. Upton scored the only goal. (Melanie Stengel / Special to The Courant)

Undefeated UConn field hockey team moves on to national semifinals, seeking third straight NCAA title

STORRS – Earlier in November, the UConn field hockey team gave up six goals during two games in the Big East Tournament.

The Huskies scored 11 and won the championship but coach Nancy Stevens knew her team – which had given up a total of six goals in the regular season — couldn't allow that much scoring in the coming NCAA Tournament.

So this weekend, the defense buckled down. UConn didn't allow a goal in two games and in the latest on Sunday, the two-time defending national champions beat Boston College 1-0 in the NCAA quarterfinal game at the Sherman Family-Sports Complex to advance to their third straight semifinal game and 13th overall.

It was UConn's 36th consecutive victory.

"Last weekend in Virginia, we let in a few goals," junior back Anna Middendorf said. "During this week of practice, we said, 'Let's go back to UConn field hockey, let's go back to an amazing defensive performance that we pride ourselves on.' Everyone worked so hard today."

UConn (22-0) will play Syracuse (19-1) in the national semifinal game Friday at noon in Ann Arbor, Mich., in a rematch of last year's national championship game, which UConn won, 1-0. UConn is ranked third in the National Field Hockey Coaches Association poll; Syracuse is No. 2 after losing to No. 1 North Carolina in the ACC championship game.

Senior Sophie Bowden scored on a penalty corner with 8:48 left in the first half, off an assist by senior Roisin Upton.

"I'm so happy I could do that, not just for myself but for my team," Bowden said.

The Huskies dominated play, with 22 shots on goal, while Boston College (13-9) had none. UConn had 12 penalty corners to BC's one.

"Boston College played so hard," Stevens said. "We had 22 shots on goal and only one went in. They deserve a great deal of credit. They were under the gun for most of the game.

"Our defensive performance started yesterday. We played great defense and to get two shutouts on the weekend is terrific in post-season."

UConn beat Louisville 3-0 in the first round of the tournament Saturday.

Boston College's senior goalkeeper, Leah Settipane, made 13 saves Sunday. With two minutes to go, BC pulled Settipane and put an extra player on the field but UConn's defense held strong.

"You have to give Boston College goalkeeper credit, she really kept them in the game," Stevens said.

The Huskies have outscored opponents 125-14 this season and lead the country in goals per game (6.15). There have been a lot of blowouts but the game against Boston College during the regular season was not one of them; UConn won 2-1 on Sept. 12. So the Huskies knew this would not be an easy game, especially in the NCAA tournament.

"They didn't allow many spaces to open up for us [around the goal]," Stevens said. "We went outside of [Settipane], to get Sophie in behind [her], a backdoor, and felt that was going to work and it did.

"I think hosting [the games] is a big advantage. We played the first game at 11:30 [a.m. Saturday]. I thought we were fresher and we play well at home. We're confident. I was thrilled with the way we played."

Hartford Courant


---

Virginia's field hockey season ends in NCAA quarterfinals

The Virginia field hockey team had its season come to an end with a 2-1 loss to Duke at University Hall Turf Field on Sunday in the quarterfinals of the NCAA Championship.

Duke (14-6) controlled the first half, scoring two goals on nine shots and holding a 2-1 advantage at halftime. Virginia (15-6) battled in the second half, outshooting the Blue Devils 8-3, but the Cavaliers could not erase the deficit.

"This was a tough way to lose after such a great season," said Virginia head coach Michele Madison. "The team really believed it, wanted it. We had such strong play all season; to end on this note leaves a sour taste. We will take some time and eventually we can look back and see what a great season this was."

Junior striker Caleigh Foust scored the Cavaliers' lone goal, converting a fastbreak by senior Taylor Brown into the then game-tying goal 10:42 into the first half. Duke's game-winner came three minutes before halftime, with the Blue Devils converting their fourth penalty corner of the period into a 2-1 lead.

"The first two times we played Duke, we were able to generate a lot more attack inside the circle, something we weren't able to do today," Madison said. "We really dominated the second half, but we just couldn't put it away, which is not normal for us."

Junior goalkeeper Rebecca Holden made seven saves, playing the entire game in goal.

 "I think we came out very strong in the second half," Holden said. "We were very determined to come back and tie the game. I think we looked very strong, very composed out there. It is a shame we couldn't put the ball in the net, but I am very proud of what we accomplished."

North Carolina, Syracuse and UConn also advanced to the NCAA Semifinals on Friday in Ann Arbor, Michigan.

The Daily Progress