All the news for Sunday 11 October 2015

Men: How do they become finalists of the Pan American Challenge?

Unbeaten Brazil and Venezuela reach the final of the tournament with best goal difference. They will duel for the gold medal at 3:45 PM (20:45. GMT), in Chiclayo

Patrick Espejo

Both teams reach the great final of the Pan American Challenge, scheduled tomorrow, with similar numbers. Brazil and Venezuela obtained three wins and one draw so far, and they both have a similar number of scored goals. However, taking into account that they will play the final tomorrow, these numbers are only useful for statistics.

When the teams walk into the pitch at the Campo San José in Chiclayo (Northern Peru) tomorrow, they will both aim to achieve the gold medal of the tournament organized by PAHF together with the Peruvian Hockey Federation.

Brazil is finalist after the 18-0 victory over Panama, 5-1 win against Puerto Rico and a 2-2 draw against Guyana in the pool phase. Once in the semifinals, they defeated Uruguay 4-0. Brazil has 29 scored goals and only three against, these results puts in evidence the good defense play and performance of goal keeper Rodrigo Faustino.

Venezuela earned the right to the final after a dramatic 5-4 penalty shoot out against Guyana that followed the tie in regulation (3-3).  In the pool phase, they defeated Ecuador 20-0, Uruguay 3-0 and Peru 5-1. They have 31 scored goals, and have the best scorer of the tournament, Cristian Vargas with 11 scored goals (five field goals and the rest through executed penalty corner.)

BRONZE MEDAL

Tomorrow at 9 AM, Uruguay and Guyana will meet in the bronze medal match. The Uruguayans are disappointed because they could not reach the final. "We came to the tournament to fight for the gold medal, but we couldn't achieve it. Still, we want the bronze medal to bring it home and make our people feel proud of us", said Gonzalo Martinioni.

PERU: 5th PLACE

On this Saturday sports day, the second to last of the tournament, the places from 5th to 8th of the Pan American Challenge were defined. Peru finished in fifth place after beating Puerto Rico in a thrilling shoot out, where Felix Mafferetti had an outstanding performance, saving three times.

The match finished in a tie in regulation time. Host Peru, opened the scoreboard in minute 20 with Sebastian Dennison's goal, but Puerto Rico equalized seven minutes later with Ottus Feliciano's goal .

Panama finished in 7th place, and obtained one of the first victories of an international tournament, beating Ecuador 2-1. The scorers were: Ecuadorian Hugo Vásquez, in minute 9, later Panamanian Manuel Correa and Angelo Boodie in minute 21 and 34 respectively.

Pan American Hockey Federation media release


---

Women: The great final: best offense (Barbados) vs best defense (Brazil)

After Barbados and Brazil's 1-1 draw in the qualifying round, both teams will meet tomorrow again to fight for the gold medal of the Pan American Challenge.

Patrick Espejo   

This will be the second time in five days, but unlike the 1-1 draw, now one of them will become champion. Barbados and Brazil will play the great final of the women's competition of the Pan American Challenge at the pitch of Colegio San José in Chiclayo and after the duel, one squad will be proclaimed best team of this tournament, organized by PAHF together with the Peruvian Hockey Federation.

Barbados, with the best offense of the tournament (with 18 goals) will face Brazil, the best defense (only two goals against, one scored by Barbados, one scored by Peru)

Barbados is the biggest surprise for most of the fans of the tournament. The players combine good fitness and good technique, which result in a solid team in all lines. Patrina Brathwaite and Tammisha Small are the most efficient players, each with four goals scored, but they will have to beat goalkeeper Andrea Gomes Bernardes, who has shown her good reflexes and know where to stand when required.

Brazil opened the tournament with a 7-0 win over Panama followed by a 1-1 draw against Peru, 1-1 draw against Barbados and 6-0 victory against Puerto Rico.

On the other hand, Barbados opened the tournament with 10-0 victory against Panama, a 5-0 win against Puerto Rico followed by a 1-1 draw against Brazil, closing the round-robin with a 2-2 draw against Peru.

The great final is unpredictable. It is scheduled at 1:30 PM (18:30 GTM) and a numerous crowd of fans is expected.

BRONZE MEDAL: PUERTO RICO vs PERU

Finally, Puerto Rico will face Peru for the bronze medal of the Pan American Challenge. Puerto Rico earned the right to the final, after defeating 4-0 Panama today, with two goals by Nicole Bachelet (first two goals scored as a player of her national team), Julia Rivera, and Captain Josefina Delgado.

The match will start at 11:15 AM. Puerto Rico will meet host Peru who will fight to achieve the bronze medal and fulfill their goal: climb to the podium and show that hockey is at the zenith in their country, especially because they will host the XVIII Pan American Games in Lima (July 26th through August 11th) in four years.

Pan American Hockey Federation media release


---

"Hockey on a synthetic turf pitch is real hockey"

Some players of Panama and Ecuador stepped on a synthetic pitch for the first time during the Pan American Challenge held in Chiclayo

M. Josefina Chavez Díaz   

While playing their last matches of the tournament, some of the leading players of both teams told us how playing is like in their countries and about the effort made to participate in this type of tournaments.

Passionate about the sport, they try to bring their teams forward and grow despite the results.

Panamanian Ademir Montenegro is 25 years old, and started to play when he was 14.

Since that moment, he trains whenever it is possible, and helps bring in more young players to participate in the sport.

"This is the first time we were able to play on an official synthetic turf pitch. We played on natural grass pitches or indoor pitches in our previous tournaments. However, playing on an official pitch, in an official tournament, is playing real hockey. We feel this is the right way to play it," said Ademir.

Ademir is studying his last year to become an Electronics and Telecommunications Engineer, and says that due to the international tournaments he is playing lately, he had to quit his job.

"I'm a fire fighter at the Cloé Airport where I live, and train when I can, on my free days," says Manuel Correa  # 9 of the Panamanian team.

"Playing on this pitch was an exciting experience. We're not able to play like this back home as they don't lend us the pitches. We were able to practice in a small pitch before coming and gather for five days. However, we don't have the training and support we need. We're aware that the teams develop with each tournament, but we can't grow as we wish. We don't have the support we need to grow. Some of the players lost their jobs because of the last tournaments we've played. After coming back from the Indoor Tournament in Honduras, some of the players found they didn't have their jobs anymore. True enough, the Panamanian Hockey Federation provide as much as they can, but we need much more to compete in a high level tournament", said Manuel.

One other challenge Panamá and Ecuador have to face is getting optimal clothing for these competitions.

"In Panama, we have to buy many things on the internet to be able to travel and have the required equipment to play," they said.

"I am playing with an equipment of a developing team, and it's not the adequate. I wish we could have more support to be able to train better," said Ecuadorian goalkeeper Lincoln Palacios. Perhaps, he is the youngest of the team, but with great experience and an outstanding personality in the pitch, organizing his players and promoting hockey out of it.

Student, and only 17 yeras old, he tells us the family had to move to be able to play hockey.

"We used to live in Santo Domingo, but I and my family moved to Manabí, where we've recently played a tournament. We don't have a pitch there, we mostly play on indoor pitches. That's the reason why this team is not experienced in this type of pitch. Despite what I've said before, I think we've grown a lot and gained experience since the Bolivarian Games. Nevertheless, without a pitch it'll be very difficult to grow. We find it difficult to get together to train. I think that the Ecuadorian Hockey Federation is not coordinated with the Olympic Committee", said Lincoln.

Despite being only 20 years old, Yeremy Bombon is one of the older players of the Ecuadorian team.

"I play hockey since I came to Ecuador. Some players changed sports, but I still and keep on promoting the sport and play hockey, despite the limited availability of time to practice," said Yeremy meanwhile he watched Brazil defeating Uruguay.

"I would have liked to play against Brazil, even if you lose, you acquire a lot of experience. We lack experience because we don't have a synthetic turf pitch as there are always other sports in our country to prioritize. It takes a lot of time to travel to get together and train.

Before coming to this tournament, we trained on an indoor pitch as we were traveling to Honduras. Finally, they told us we were not competing at The Indoor Tournament, and had to change the pitch to be able to come here. This was a great experience for us," said Yeremy.

Moved by the passion for hockey, and limited as they are because of the situation in their country, these players represent their nation the best they can. From the inside, playing and learning. From the outside, working to make more athletes join the sport, and fighting to get the necessary support to be able to grow as they hope they can.

Pan American Hockey Federation media release


---

Black Sticks draw final game against India




The Black Sticks Men have drawn their final game against India 1-1 in Christchurch – a game that head coach Colin Batch says was their best performance of the 2015 South Island Tour.

After a scoreless first half, the action was in the third quarter when Nick Ross scored for New Zealand with Sunil Sowmarpet finding the equaliser moments later. 

"I thought we played pretty well today. In the areas that we have been working on there has been good progress – I think it was our best performance even though we didn't win the game," said Batch.

"India tested us and we overcame those challenges well today, so a lot of positives have come out of the game but of course the game is about winning and we didn't do that today."

The team are well aware of the focus required over the next ten days ahead of the 2015 Oceania Cup (21-25 October) in Taranaki. Australia Men and Women, Samoa Men and Women and Fiji Men will also be competing in the continental event.

The Black Sticks Women have already qualified for the 2016 Rio Olympics, however the Black Sticks Men are needing to topple World No.1 Australia at the 2015 Oceania Cup to book their berth.

"This time in two weeks we will be lining up for the final [Oceania Cup] game, we have just played four games in a short amount of time and it's demanding for the players, so we will rest up over the next few days and refocus. There are a lot of positives to take from this tour – it's been good preparation."

In the first half, both teams played clinical hockey with local Black Stick Brad Shaw playing a blinder in defence and making it difficult for the skillful Indian side to enter the circle.

A dangerous tackle in the 22nd minute meant Shaw was yellow-carded, but it didn't appear to affect the Black Sticks as they rallied together for the remainder of the half.

Despite a nil-all score line at half time, it was an exciting 30 minutes of hockey with both sides creating opportunities and playing at high intensity throughout.

The Kiwis finally made it count in the 41st minute when Nick Ross intercepted a ball in their attacking third, passed to Nick Wilson who dribbled it into the circle, passing back to Ross who tapped it in.

It was only two minutes later that India found the equaliser through Sunil Sowmarpet, the Black Sticks defenders caught unaware in a goalmouth scramble as the ball rolled over the line.

The Black Sticks were awarded a penalty corner with just a couple of minutes on the clock but luck didn't go the Kiwis way and Ryan Archibald's deflection went just wide of the post.

The Black Sticks Men finish the series with one win, one draw and two losses.

Click here for more information and to buy tickets for the 2015 Oceania Cup.

Click here to watch a replay of today's game.

RESULTS
Full time: 1-1
Half time: 0-0
NZ goal scorers: Nick Ross
India goal scorers: Sunil Sowmarpet

Hockey New Zealand Media release


---

Black Sticks draw against India but lose men's hockey series 2-1

HANNE DAVIS



India's Satbir Singh and and New Zealand's Kane Russell tussle for the ball in the drawn men's hockey international at Marist Park, Christchurch, on Sunday. IAIN MCGREGOR/FAIRFAX NZ

India have won the four-test men's hockey series against New Zealand after a 1-1 draw in the final test in Christchurch on Sunday.

New Zealand won the first match of the series in Nelson on Tuesday, but lost the next two and needed to win on Sunday to square the series.

Although disappointed with the draw, Black Sticks head coach Colin Batch felt his side had made strides over the four South Island fixtures.



Nick Ross celebrates after getting New Zealand's only goal in its draw with India at Marist Park, Christchurch, on Sunday. Iain McGregor

"We did pretty well, I was very happy with large elements of the game but unfortunately we couldn't quite finish," he said.

"But overall it's been a very valuable series for us and one that will prepare us well for Oceania Cup."

Looking ahead to that tournament in Stratford later this month, he said the Black Sticks would work on converting chances in the circle.

He complimented his midfield and strikers, and singled out Brad Shaw for praise despite his yellow card in the first half.

"We did want to have that intent to create opportunities in a more attack-orientated match.

"We had that in game three but we tidied up our defence a little bit, so that was very well structured and solid for us today."

The Black Sticks started with a more aggressive shape than they had on Friday, but both teams found themselves limited in their attempts on goal at Marist Park.
Ad Feedback

The visitors had an early chance when the ball hit a New Zealand foot for a penalty corner. They opted to hit the ball across the ground, allowing Brad Shaw to deflect it out the circle and open up the pitch for a Kiwi counterattack.

In New Zealand's only chance of the first quarter, Jared Panchia was charged with finishing the move, forcing a great save on the line from India's goalkeeper Sreejesh Parattu.

The Kiwis got an early penalty corner to kick off the second quarter. Parattu saved Nic Wood's drag flick on the line and then held firm as New Zealand failed to convert a goal from the subsequent play in the circle.

Having held the defensive line admirably for the first 20 minutes, Brad Shaw made a rare error as he slid into India's Sunil Sowmarpet and earned himself a yellow card and 10 minutes on the sidelines.

Sensing their opportunity, India shifted into a more aggressive shape, but couldn't make their extra man count on attack. Late in the quarter Akashdeep Singh had time at the top of the circle, but his shot swung past Pontifex's left post.

Nick Haig showed his defensive nous with an important tackle to get New Zealand out of trouble and begin a move down the field. It ended with New Zealand's first chance of the quarter through Hugo Inglis, but Parattu got his foot to it.

After a sustained period of midfield deadlock, it was Nick Ross who converted an opportunity in the circle to get New Zealand ahead.

After getting the turnover, he passed to Nic Woods who darted into the circle, then Ross laid the ball off into the back of the Indian net.

The visitors were quick to respond, working their way out of the right pocket for Sowmarpet to slip the ball past Pontifex's feet and level the score with three minutes left in the quarter.

With five minutes left in the match, captain Simon Child opened up the Indian midfield, and Ross' pass into the circle led to a well executed penalty corner opportunity but Ryan Archibald's shot cleared off the line.

It stayed much the same for the rest of the match, neither team able to breach the last lines of defence and get a realistic opportunity to win the match. .

New Zealand 1 (Nick Ross) India 1 (Sunil Sowmarpet) HT: 0-0.

Stuff


---

India wins New Zealand Series by 2-1

The fourth and final match of the series ended in a 1-1 draw

New Delhi: In the final game of the New Zealand Tour, India held the hosts to a 1-1 draw. With the draw, India has won the 4 match series by 2-1 over New Zealand.

The first quarter of the game witnessed a series of attacks coming in from the India who dominated the entire session. Without wasting much time, Sardar Singh broke into the hosts defence from the right flank but unluckily his attack was stopped by New Zealand's Alex Shaw. In the 11th minute India was awarded with a penalty corner but Rupinder Pal Singh's effort went off the target.

New Zealand started putting some pressure on the Indian defence with a long pass from Blair Tarrant which Nic Woods found himself in a goal scoring position but an alert Indian defence blocked his attack. Dying moments of the first quarter saw Akashdeep Singh get a chance to open the account but his attempt went wide of the post. The score line remained 0-0 as first quarter saw no goals from either side.

In the second quarter of the match, the Black Sticks dominated the early part with attack from left side of the pitch which earned them a penalty corner, but PR Sreejesh beautifully saved the ball. This was followed by India's counter attack as they broke through the Kiwi defence by an unmarked Dharamvir Singh, who, attempted a scoring chance but unfortunately it was blocked by New Zealand goalkeeper. Going ahead in the half time Akashdeep Singh pierced the New Zealand defence but his attempt was thwarted, which concluded the first half without any goal.

Going into the quarter, both the teams tried to find the opening goal but could not find a way through. Finally in the 41st minute, the game saw the first goal of the game coming from the stick of Nick Ross, who collected the pass from Steve Edwards and finished calmly to give New Zealand a 1-0 lead over India. India replied immediately in the 43rd minute with a goal from SV Sunil through a field effort as he successfully opened the Indian account from the left side of the post, which concluded the third quarter at 1-1.

The last quarter started with equal zeal as New Zealand got a great chance to take the lead in the early minutes with Simon Child running into the Indian defence but the Indian defence blocked the attack without any damage. Riding on series of attacks, New Zealand earned a penalty corner in the 54th minute of the match but PR Sreejesh, diving to his left brilliantly saved the ball. As the scores were equaled, India kept the possession in the dying moments of the game and the final game of the tour finished with a score line of 1-1. With this draw India has won the 4 match test 2-1.

Stick2Hockey.com


---

India hold New Zealand to 1-1 draw, win hockey Test series 2-1

NEW DELHI: India eked out a 1-1 draw against New Zealand in the final hockey Test to pocket the four-match series 2-1 in Christchurch.

After a goalless opening two quarters, Nick Ross broke the deadlock for New Zealand in the 41st minute. But the hosts' joy was shortlived as India equalised two minutes later through a field goal from SV Sunil (43rd).

The first quarter of the game witnessed a series of attacks from the Indias, who dominated the entire session.

Without wasting much time, skipper Sardar Singh broke into the hosts defence from the right flank but his attack was stopped by New Zealand's Alex Shaw.

In the 11th minute India was awarded a penalty corner but Rupinder Pal Singh's effort went off the target.

New Zealand then put some pressure on the Indian defence with a long pass from Blair Tarrant, which found Nic Woods in a goal scoring position but his effort was denied by an alert Indian defence.

Dying moments of the first quarter saw Akashdeep Singh get a chance to open the account but his attempt went wide of the post.

In the second quarter, the Black Sticks dominated the early part with an attack from the left side of the pitch which earned them a penalty corner, but Indian goalkeeper PR Sreejesh made a good save.

This was followed by an counter attack from India but an unmarked Dharamvir Singh's try was blocked by New Zealand goalkeeper.

Akashdeep Singh then pierced through the New Zealand defence but his attempt was thwarted as both the teams failed to open their account at the halfway break.

After the change of ends, both the teams tried hard to break the deadlock but could not find a way through.

Finally in the 41st minute, the game witnessed its first goal from the sticks of Ross, who collected a pass from Steve Edwards and calmly finished off the move to give New Zealand a 1-0 lead.

India replied back immediately in the 43rd minute with a goal from Sunil and draw level.

The last quarter started with equal zeal as New Zealand got a great chance to take the lead in the early minutes with Simon Child running into the Indian defence but a vigilant Indian defence blocked the attack without any damage.

Riding on a series of attacks, New Zealand earned a penalty corner in the 54th minute but Sreejesh dived to his left to make a brilliant save.

The Times of India


---

Last chance to stick it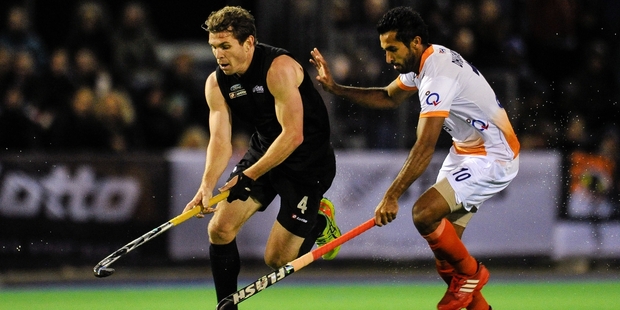 Nick Haig and the Black Sticks are playing India in a series, building up to the Oceania Cup. Photo / Photosport

In a fortnight, at 4pm in Mt Taranaki's shadow, the New Zealand men's hockey team look set to decide their Olympic fate.

With a world ranking of seventh, they are expected to make the final of the Oceania Cup against either Australia, Samoa or Fiji.

They must win that match in Stratford to qualify for the Rio Games. If not, they face temporary sporting oblivion. A loss of personnel, many of whom balance jobs with international careers, would seem inevitable.

"This is the most important game for our sport in a number of years," Hockey New Zealand high performance director Terry Evans says.

"Our athletes train full-time while incorporating work and family life, which places tough demands on them. Around 10 million people play hockey and our teams are ranked fourth [women] and seventh [men].

"We effectively do that on a shoe-string, smell-of-an-oily-rag [budget]."

Hockey NZ received funding of $750,000 for the men's team and $1.3 million for the women's team in this year's High Performance Sport New Zealand budget.

The women, who have qualified for the Olympics, are guaranteed another $1.3 million next year. There are no such promises for a men's side who last missed the Games in 2000.

The women are on discretionary performance enhancement grants but need to get a top-three finish in December's World League 4 to guarantee that funding in 2016. The men are already out of contention.

This raises the question: Do these teams face imminent failure?

Semi-professional teams rarely win Olympic medals; that's certainly the case in hockey.

In fact, no amateur New Zealand team of more than two people has won an Olympic medal since 1988.

According to Evans, around 70,000 people play hockey in New Zealand. Add initiatives like Hawke's Bay's festival of hockey in April, when seven international teams competed against New Zealand's women, and it suggests winning an Olympic medal might be too simplistic a criterion to judge whether a sport deserves taxpayer funding.

Those visiting teams invested thousands of dollars in the local economy. Conversely, the sport earns export dollars when New Zealanders are regularly invited to compete in overseas leagues.

"We need to find a mechanism by which our athletes can commit," Evans says. "In the current environment that's difficult, because we're working to make the whole operation sustainable.

HPSNZ chief executive Alex Baumann acknowledges the desire to support hockey as a key part of New Zealand's sporting fabric, but says sports still need to meet agreed standards.

"Team sports can impact a broad range of people and therefore be important for the country, but we can't shy away from actual performance. We understand team sports cost more and our hockey teams probably receive less investment relative to some of the stronger countries.

"However, as our system has evolved, the bar has been raised. We would love to invest more but this is the reality."

There is a convoluted Olympics escape route for the men's Black Sticks should they lose the Oceania Cup. If South Africa win the Africa Cup - they have won the last six - to secure the last Games continental spot in Johannesburg on the same day, their Olympic Committee are considering not sending them because they might not be competitive enough.

New Zealand would get a Rio reprieve via their world ranking.

The men's next match is today against India in Christchurch when they will look to level the series. The visitors lead 2-1.

Herald on Sunday


---

All four KO16 tickets still up for grabs

All four Euro Hockey League tickets to the KO16 remain up for grabs going into day three of Round 1 in Hamburg with Sunday set for some big showdowns.

On a day for records, Gabriel Dabanch netted seven times in an amazing personal performance in a 9-3 win for Royal Leopold against SG Amsicora in game one of the day.

The win sees them move top of Pool C ahead of Dinamo Elektrostal on goal difference, meaning that a draw for the Belgian side on Sunday morning will confirm their passage to the semi-final.

Pool D looks set for a thrilling finale, too, after Club Egara shaded their tussle with East Grinstead 1-0 courtesy of Pep Romeu's second half drag-flick.

It was the only goal of a physical battle in which English goalkeeper Patrick Smith was superb throughout. The narrow win means Egara have the edge in the group but Monkstown could oust them from top spot if they grab a win on Sunday.

Amsterdam broke the EHL goalscoring record as they beat KS Pomorzanin Torun 19-2 in Pool A, setting up a showdown with Saint Germain tomorrow for the top spot in the group.

The game was dead as a contest from a very early stage as Justin Reid-Ross scored twice in the opening seven minutes. He went on to score a hat trick while there were four goals each for Kenny Bain and Mirco Pruyser in the huge win.

In front of a noisy Austrian support, HC Wien and Grange recorded their very first draw each in the Euro Hockey League as they shared a 0-0 deadlock in Round 1 in Pool B.

There was precious little between the sides throughout with both defences on top for much of the game. Grange pushed forward in the second half but to no avail.

For Wien, it keeps alive a chance of reaching the KO16. They will need to surprise home hosts Harvesthuder to nick the top place in the group.

Fixture schedule – all times CET

Sunday 11 October

09.30h, Pool C: Royal Leopold (BEL) vs Dinamo Elektrostal (RUS)
11.45h, Pool D: Club Egara (ESP) vs Monkstown HC (IRL)
14.00h, Pool A: AH&BC Amsterdam (NED) vs Saint Germain (FRA)
16.15h, Pool B: Harvestehuder THC (GER) vs HC Wien HC (AUT)

Euro Hockey League media release


---

Dabanch hits SG Amsicora for seven of the best

Gabriel Dabanch's seven goals put Royal Leopold on course for a comfortable 9-3 win over SG Amsicora, setting up a Pool C showdown with Dinamo Elektrostal for top spot and a ticket to the KO16.

His goals saw the Belgian side overcome their Italian opposition who showed some initial promise, equalising at 1-1 through Luca Angius in the first quarter.

But Dabanch quickly helped his side race clear and they never looked in danger after that. The Spaniard – an EHL winner last year with Oranje Zwart – got Leo off to a great start from turnover ball, smashing the ball past Marcello Manca from close range.

Angius equalised soon after, though, when he controlled a crash ball at the left post and shot with his second touch, bouncing off both posts before the ball dropped over the line.

But Leopold were in no mood to let this affect their mentality. Dabanch ripped in a second goal from a corner before Tanguy Zimmer hit the post from a rebound.

Dabanch's innovative behind the back shot extended the lead to 3-1 at half-time and his second corner flick, high over Manca's head, stretched the advantage further. Scott van Strydonck's powerful flick made it 5-1 by three quarter time.

Angius pulled another one back early in the final stanza before Zimmer and Dabanch corner goals extended the lead once more, moving to 7-3.

Amsicora were not done, though, and got another back via Gabriele Murgia with a low drag-flick. Dabanch's close range finish and another drag-flick completed the rout.

Euro Hockey League media release


---

Record breaking Amsterdam beat Pomorzanin




Amsterdam broke the EHL goalscoring record as they beat KS Pomorzanin Torun 19-2 in Pool A, setting up a showdown with Saint Germain tomorrow for the top spot in the group.

The game was dead as a contest very early on as Justin Reid-Ross fired home two penalty corners inside seven minutes before Mirco Pruyser and Kenny Bain made it 4-0 at quarter-time.

Both Bain and Pruyser went on to score four times each while Reid-Ross completed his hat trick in the second half. Pomorzanin did get a couple back, Michal Kunklewski to make it 7-1 and Volodymyr Stretovych for 11-2, but they were overwhelmed by their most experienced hosts.

Sander 't Hart and Robert Tigges scored two while there were also goals for Jan-Willem Buissant, Valentin Verga, Teun Rohof and Max Sweering.

The goal tally outdid the 14-2 win for Bloemendaal over Pomorzanin last year in the KO16, making it the highest scoring game.

Euro Hockey League media release


---

Romeu fires Egara to important Pool D win



Picture credit: Andy Mair

Pep Romeu's single goal earned Club Egara a 1-0 win over East Grinstead that puts them in great shape to advance to the KO16, needing a draw on Sunday to top Pool D.

Patrick Smith kept East Grinstead in the game in the first half, running up a quartet of great stops with Eduardo Arbos the man most often frustrated by the goalkeeper's dexterity.

Twice Smith blocked Arbos on the backhand while another effort pinged the right post as Egara created the best of the first half chances. The goalkeeper was at it again in the second half with two more big stops but he was eventually beaten by Pep Romeu who powered in a drag-flick.

From that point, East Grinstead started to push forward with much more purpose and won a couple of penalty corners but Adam Seccull fired one over and Simon Faulkner saw another one saved by Quico Cortes.

They could not break through as Egara stood firm and recorded their 1-0 win.

Euro Hockey League media release


---

Wien and Grange off the mark in Pool B

HC Wien and Grange recorded their first draw each in the Euro Hockey League as they shared a 0-0 deadlock in Round 1 in Pool B.

There was precious little between the sides throughout with both defences on top for much of the game. It made for few chances in the opening quarter as each circle was defended superbly.

The second quarter saw a few chinks of light appearing with the Austrian side first to try their luck, winning two corners but Lukasz Staniczek fired his drag-flick over.

At the far end, Cammy Fraser was having an influence in midfield while his two slapped corner shots wreaked havoc. One of them led to the ball crossing the goal line but only seconds after the whistle had gone for a corner, meaning the first half ended 0-0.

A similar fate befell Frank Ryan in the second half as he potted from close range but the play had been called back for an earlier HC Wien foot.

Michal Zdrojewski made a couple of good saves while Staniczek then took another Ryan shot off the line as Grange upped the ante as time went on with Todd Harmsworth a constant menace.

But they could not find the golden chance to put away. It means Grange miss out on the KO16 but HC Wien have a chance to qualify if they can surprise Harvestehuder on Sunday evening.

Euro Hockey League media release


---

EHL stalemate means group stage exit for Grange

A 0-0 draw with Austrians HC Wien in today's EuroHockeyLeague Pool B contest resulted in Grange owing out of the competition at the group stage.

With defences resolute throughout the match, there were few goal-scoring opportunities.

Lukasz Staniczek had a penalty corner opportunity in the second period, but his drag-flick sailed over the crossbar.

Cammy Fraser had the ball in the net for Grange in the net for the Stags but the whistle had already sounded for a penalty corner, leaving his side rueing their bad luck with the scores level at half-time.

Yet again, the capital outfit had cause for frustration as Frank Ryan finished from close range, only for the play to have been called back for an earlier infringement.

With Grange pushing for their first EHL win, Wien goalkeeper Michal Zdrojewski made a couple of good saves and Staniczek cleared a Ryan shot off the line.

Wien stood firm to the final whistle, leaving the Scottish playoff champions having to settle for a share of the spoils

It means Grange miss out on the KO16 but HC Wien have a chance to qualify if they can somehow defeat Harvestehuder tomorrow.

Scottish Hockey Union media release


---

Shahril could turn king-maker

By Jugjet Singh

MALAYSIA will be banking on penalty corner ace Shahril Saabah to get off on a flying start when they host Britain in the curtain raiser of the Sultan of Johor Cup today.

The other world class teams in the SOJC are India, Australia, Argentina and Pakistan. All matches will be played at the Taman Daya Stadium in Johor Baru, and the entrance is free.

Shahril made his mark while playing for Bandar Penawar Sports School in the Junior Hockey League, and is now fast becoming among the best penalty corner executioner in the country.

Malaysia played a friendly with Britain on Friday and lost 3-2: "We were trying out several tactical moves in the practice match and were really not at our best.

"We are looking at a winning start and from my personal perspective, it'll be nice to be on the scoring sheet against Britain, but more importantly its the three points that matter."

Shahril was a member of the 2013 Junior World Cup squad that finished fourth in New Delhi, and his experience will be invaluable in the SOJC.

Malaysia, coached by Arul Selvaraj, will be hoping for a creditable performance ahead of the Junior Asia Cup that will be held in Kuantan next month.

Having had seven months of training together, the team, although short on international exposure will be counting on grit and determination to see them through to achieve their target of a podium finish.

Last year it was a miserable fifth: "I'm looking for a positive attitude and consistency in matches from my players throughout the week." said Arul who was also the coach of the team that finished fifth last year.

"We will be trying out things that we have learned in training in order to gauge the ability of the players to perform at higher levels."

"I expect the players to give their best as this tournament will also serve as a selection process for the final squad of the Junior Asia Cup."

Britain's manager Paul Gannon is looking forward to playing the hosts today.

"It's an exciting opportunity for us to play against the host team as they have home ground advantage.

"But we won't worry too much about Malaysia, we will focus on our own strengths and hopefully play well enough to win and kickstart a positive tournament run for," said Gannon.

Defending champions India beat Britain 2-1 in the final last year, with the winning goal coming in the final minute via Hermanpreet Singh.

They were also the champions in 2013 and will be looking to make a hat-trick of titles this year.

"It will be nice to win (their third title) but we're not going to put pressure on ourselves as the five other teams are also capable of winning the title this year," said India coach Harendra Singh.

India will start against Pakistan today.

FIXTURES: Sunday -- Argentina v Australia (4.35pm), India v Pakistan (6.3pm), Malaysia v Britain (8.35pm).
Oct 12: Australia v Pakistan (4.35pm), Britain v India (6.3pm), Malaysia v Argentina (8.35pm).
Oct 13: REST DAY.
Oct 14: Britain v Pakistan (4.35pm), Argentina v India (6.3pm), Malaysia v Australia (8.35pm).
Oct 15: Pakistan v Argentina (4.35pm), Britain v Australia (6.3pm), Malaysia v India (8.35pm).
Oct 16: REST DAY
Oct 17: Argentina v Britain (4.35pm), Australia v India (6.3pm), Malaysia v Pakistan (8.35pm).
Oct 18: Final and placing matches

Jugjet's World of Field Hockey


---

National Juniors will have to do better than their predecessors

by S. Ramaguru

JOHOR BARU: The Project 2016 team, competing in this year's Sultan of Johor Cup (SoJC), have big shoes to fill.

The team, formed early last year, have been set a target of matching or improving on the efforts of the Project 2013 squad.

The Project 2013 squad, coached by K. Dharmaraj, was a four-year project and they won the inaugural SoJC in 2011. They went on to win the Junior Asia Cup in 2012 and finished fourth in the Junior World Cup a year later.

With the Junior Asia Cup coming up in Kuantan next month, the Project 2016 team, also known as the National Juniors, know that expectations are high on them.

The National Juniors were formed less than 18 months ago and have had very little time training together.

Three players with the senior team – Meor Mohd Azuan Hassan, Mohd Shahril Saabah and Mohd Haziq Shamsul – have not trained with the team at all.

There is no doubt that these three players are vital to the team's chances. They can play in the Junior Asia Cup in Kuantan but will be over-aged when the Junior World Cup comes around in December next year in New Delhi, India.

The players know that a top-four finish at the Junior Asia Cup is crucial as it will guarantee them automatic spots in the Junior World Cup next year.

National Juniors chief coach A. Arulselvaraj is confident of his team's chances and feels that there is enough talent in the squad for them to make their way to the Junior World Cup next year.

His only setback is that two of his regulars – Mohd Sufi Ismat and Rafizul Ezry – are injured.

Nobody expects the National Juniors to win the SoJC, but a top-three finish will at least convince everyone that they have a chance in Kuantan next month.

The Star of Malaysia


---

Malaysia banking on goal-getters Haziq and Shahril in Johor

By S. Ramaguru

JOHOR BARU: They are a different breed of strikers.

Mohd Haziq Samsul is an opportunist while Mohd Shahril Saabah is a penalty corner flick specialist.

These two goal-getters will be pivotal to Malaysia's hopes of winning the Sultan of Johor Cup (SoJC), which begins at the Taman Daya Hockey Stadium on Sunday.

That's not all, they are also expected to get the goals and guide Malaysia to victory in the Junior Asia Cup in Kuantan next month.

For now, though, their focus is the SoJC, where Malaysia will begin their campaign against Britain.

Haziq acknowledged that a winning start would provide the team with the confidence to do well in the tournament.

"We feel good about our chances this year," said Haziq.

"The team have come together despite only training for about seven months. So, even though we're a relatively new team, we have faith in each other and confidence in our skills."

Having played in the last two editions of the SoJC, this will be Haziq's last chance to help Malaysia win the title.

"Next year I will be part of the senior team," said the Perak-born Haziq. "So I'm really hoping that we can do well this year."

Shahril, who also played in the 2013 Junior World Cup, is ready to deliver the goals from set pieces.

"I've been working hard in training, polishing up my flicks from penalty corner set pieces. Hopefully, I'll find the net consistently," said Shahril, who plays for Tenaga Nasional Berhad in the Malaysia Hockey League (MHL).

"We have several set pieces lined up in case the direct route does not work out. But, with the Junior Asia Cup in mind, we have to be careful not to show all our cards." 

The Star of Malaysia


---

Indian hockey juniors begin title defence against Pakistan

JOHOR BAHRU (Malaysia): India will start their title defence against traditional rivals Pakistan in the 5th Sultan of Johor Cup junior hockey tournament here on Sunday.

After a month of intensive training, the two-time defending champions will also face Britain (Monday), Argentina (Wednesday), Malaysia (Thursday) and Australia (Saturday) in the prestigious Under-21 invitational tournament.

The performance of the Harendra Singh-coached team will revolve around defenders -- vice-captain Dipsan Tirkey and senior international drag-flicker Harmanpreet Singh, midfielder and captain Harjeet Singh. Arman Qureshi and Parvinder Singh will be the main strikers.

The tournament will also provide the team with ample opportunities to improve the skills ahead of the all important Junior Men's Asia Cup 2015 next month.

In the past two encounters, India have beaten Pakistan by huge margins of 6-0 in 2014 and 4-0 in 2013 in the same tournament.

However, coach Harendra is not giving much importance to past records and wants his players to start fresh.

"The team is very much excited and well prepared. Everyone is geared up for the challenge ahead and are looking at an exciting contest against Pakistan. We have beaten Pakistan in the past and in both the encounters our boys outplayed them," the coach said in a statement.

"The team in the last two editions showed its mettle during crucial moments. The players' strong mental strength helped them to win. But we understand that is the past. We will start the campaign tomorrow with a fresh mind and energy. We expect a great match and a positive result in our opening game," said Harendra, who guided Ranchi Rays to its Hockey India League (HIL) title triumph last year.

The Times of India


---

Great expectations

Ijaz Chaudhry




Malaysia is the biggest hub of international hockey. The country has hosted numerous title tournaments, ...

Malaysia is the biggest hub of international hockey. The country has hosted numerous title tournaments, including World Cups (senior as well as junior), Asia Cups (senior and junior) and events such as World Hockey League.

In 1983, Malaysia introduced an international invitational tournament in the shape of Sultan Azlan Shah Cup. Initially a biennial event, it has been held annually since 1998. It is now the oldest surviving as well as the most prestigious invitational international hockey tournament. All the major hockey nations have figured though the Asian countries are the more frequent visitors.

Encouraged by the success of Sultan Azlan Shah Cup, in 2011, Malaysia introduced an international tournament for the juniors on similar lines. Sultan of Johor Cup will see its fifth edition push off in Johor Bahru on October 11. The participating teams are: Australia, England, Argentina, India, Malaysia and Pakistan.

All the editions have been held at the Taman Daya Hockey Stadium or Johor State Hockey Stadium in Johor Bahru.

It was also the main venue of the 9th Men's Junior Hockey World Cup in 2009. All this means that Malaysia now has another major hockey centre, in Johor Bahru, the capital of Johor, one of the most developed states in the country.

After the single league, there will be play-offs for 1/2 (final), 3 /4 and 5/6 positions.

The more regular participants in this invitational tournament are the Asian sides and Australia and New Zealand, though the latter will be absent this year.

From among the European nations, Germany have appeared only once. Great Britain/England will be there for the third time this year.  Argentina will be making their debut, a first for any country from the American continent.

Pakistan's show has been very disappointing in all the four editions. They have failed to reach the podium even once: 5th in 2011, and 4th in both 2012 and 2013.

The 2014 event saw the Green-shirts finish last among the six sides. Moreover, they conceded the highest number of goals (20) and scored the least (6).

Pakistan were throughout termed the whipping boys of the competition. This year, a new-look junior side will be seen in action at Johor Bahru. Only two members, captain Dilber Hasan and vice-captain Afsar Yaqoob (grandson of Afzal Manna, member of 1964 Olympics' silver medal winning Pakistan hockey team), have played for the national senior side.

Many will be making their debut for Pakistan at any level. The boys went through extensive eight-week training under the supervision of a coaching panel headed by Tahir Zaman, a highly qualified and internationally recognised trainer. The former national captain, who played a stellar role in Pakistan's World Cup victory of 1994, is FIH's Grade 1 High Performance Senior Coach. He is also the FIH Academy Coach Educator — the only Asian to have that position. An outstanding inside right in his heyday, Tahir has coached the national teams of Azerbaijan (women), Egypt (men) and Barbados (men and women).

The assistant coaches are M Irfan and Zeeshan Ashraf, who captained the gold medal winning Pakistan team at the 2010 Asian Games.  Former international Irfan has had coaching stints with the national senior and junior sides.

In addition, he has been in charge of the PIA's s senior and junior teams for more than a decade, and his sides have won quite a few national titles.

Under Zeeshan's guidance, the National Bank of Pakistan won the last national junior championships. A good show is expected of this new bunch of juniors. However, it must be remembered that the Sultan of Johor Cup is only an invitational tournament.

The real test lies ahead; also in Malaysia. The Junior Asia Cup starts in Kuantan from November 14. A title tournament, the event will also serve as the qualifier for the next year's Junior World Cup.

There are four Junior World Cup places allocated to Asia, with one place already assigned to India in their role as the host country.

The three remaining places will be assigned to the three highest ranked teams other than India at the end of the event in Kuantan.

Pakistan Hockey Federation's new Secretary General Shahbaz Ahmed has rightly remarked, "With the national team failing to make the 2014 World Cup and 2016 Olympics, we pin our hopes on these boys. Missing qualification for the Junior World Cup would be a disaster for Pakistan hockey."

The PHF has made an important decision in this regard. The Sultan of Johor Cup will end on October 18 and the Junior Asia Cup gets under way on November 14.

The junior squad will stay in Malaysia for their final phase of training for the Junior Asia Cup. Besides training, the Pakistanis are also expected to play a few friendlies against the Malaysian juniors and Malaysia Hockey League clubs.

The Sultan of Johor Cup pits Pakistan against India, the two-time defending champions; Malaysia, the reigning junior Asian champions; Australia, No 1 team in the FIH rankings; Great Britain, who figure among the world's top five teams; and Argentina, the winners of all the ten Pan American junior championships.

Hence, a battle-hardened and well-acclimatised Pakistan side will be ready for the challenge of the Junior Asia Cup.

The News on Sunday


---

Welsh Performance staff help lead GB Under 21's in Malaysia

Great Britain's Under 21 Men start their campaign for the Sultan of Johor Cup tomorrow in Malaysia and among the performance staff leading the team are Wales' Senior Men's Head Coach Zak Jones and Senior Men's Programme Manager Paul Gannon.

The pair were selected for roles within the GB Under 21 Programme at the start of the season - Zak Jones taking on the role of Assistant Coach and Paul Gannon Team Manager - and is a huge testament to the progress and success they have had with Wales Senior Internationals in recent seasons.

Hockey Wales Head of Performance Dan Clements, said, "It was fantastic to see Zak and Paul appointed to the programme. It's deserved recognition for the work that they put into our own Performance Programme and further confirmation of the talent that we have working with us in Wales. I am sure people across the game in Wales are proud to see them with GB and wish them all the best of luck in Malaysia."

For Jones and Gannon, the appointment to key positions at GB level provides them with crucial coach development experience through working at the highest level. The opportunity also provides a first-hand view of what is required from athletes to transition to GB level, which will be beneficial for athletes on the Welsh International Programme.

Zak Jones said, "Although it has been a very intense and short programme, it has been both enjoyable and invaluable. For Paul and I, working with the best Under 21 male athletes in Great Britain and alongside some of the best coaches in the British Isles has been a real pleasure. Not only is it an inspiring environment in which to work but it is also a fantastic vehicle for developing greater understanding between the home nations and sharing knowledge."

In their warm-up matches this week Britain lost to 2-1 to India but beat Malaysia 3-2. Both matches were closely fought and in extremely humid conditions. Following the matches, Zak Jones said:

"Having had a narrow loss against India and a narrow win against Malaysia in the warm up matches, the whole squad are very much looking forward to getting the tournament underway tomorrow night when they play Malaysia in front of a packed an vociferous home crowd."

Along with Zak and Paul's appointments, two Welsh players, Rhodri Furlong and Ben Francis were selected to be part of the initial Under 21 training squad, but both narrowly missed out on final selection.

For full match schedule or to keep up with results from the Sultan of Johor Cup, visit www.sultanjohorcup.com.my.

Hockey Wales media release


---

Aitchinson strike gives students victory



University of Birmingham's Vanessa Hawkins, right, in action against Buckingham's Amie Hone, Oct 10 2015. Credit Andy Smith.

AN early strike from Katelyn Aitchinson proved enough for the University of Birmingham to beat hosts Buckingham and maintain top spot in the Investec Women's Hockey League Premier Division on Saturday.

Strong defence from the home side ensured the league leaders – who have averaged more than three goals a game so far – did not score further, but equally Buckingham couldn't break through a tight visiting defence.

Second-placed East Grinstead kept pace with the leaders as they won 5-0 at Bowdon Hightown, Pippa Chapman scoring in each half, while others came from Laura Unsworth, Lucy Bairner and Courtney Hansford.

And Surbiton remain unbeaten after beating hosts Clifton 4-1, Jenna Woolven, Jo Hunter, Sandra Roche and Abi Robinson getting on the scoresheet.

Emily Maguire scored the only goal of the game as Holcombe won at Reading to secure their first victory of the season.

And Susie Rowe scored from a penalty corner four minutes from the end to beat Leicester 2-1. Dirkie Chamberlain had given the home side a first half lead, while Kerry Whitehead scored Leicester's goal just before the hour mark.

Investec Conference North

Suzy Petty hit a hat-trick as Beeston beat Springfields 7-0 in the Investec Conference North, condemning them their fourth defeat of the season.

The top two teams, Wakefield and Loughborough Students met and it was leaders Wakefield who came out on top, winning 3-1. Goals from Heather Stafford, Sophie Davies and Rosie Tootell saw them keep first place.

Ben Rhydding were also 3-1 winners, beating the University of Durham. Belper took their first win of the season with a 2-0 defeat of hosts Brooklands Poynton and the game between Liverpool Sefton and Whitley Bay and Tynemouth ended in a 1-1 draw.

Investec Conference East

Slough are still unbeaten in the Investec Conference East after beating Hampstead and Westminster 1-0. Philipa Newton's second half strike was enough to give them three points. They lead the table by five points already.

Cambridge City moved up to second place with a 4-2 win over Maidenhead. Lucy Holder was on target twice.

St Albans were in fine form, beating Ipswich 5-1. Eleanor Watton hit a brace and other goals came through Natasha Humphris, Emily Panniers and Sarah Embrey.

Chelmsford were also winners with goals from Kate Taylor and Kate Robinson helping them to a 2-0 victory at home to Harleston Magpies.

Investec Conference West

Swansea City maintained their 100 per cent start to the season and stayed top of the Investec Conference West after a 2-0 victory at home to Oxford Hawks.

Katrin Budd and Lisa Daley both scored in the first half for the home side to give them a three point cushion on the chasing pack.

Sutton Coldfield kept up the pressure in second with a 2-1 win away at Trojans thanks to two goals from Emma McCabe, whilst Stourport stay third after they beat Isca 2-0.

Bristol Firebrands stay bottom after they were beaten 2-1 at home by Gloucester City, and the University of Bristol were 2-1 winners at Olton and West Warwicks.

Investec Women's Hockey League (Saturday, October 10 2015):

Investec Women's Premier Division: Buckingham 0, University of Birmingham 1; Clifton 1, Surbiton 4; Bowdon Hightown 0, East Grinstead 5; Reading 0, Holcombe 1; Canterbury 2, Leicester 1.

Investec Women's Conference East: Chelmsford 2, Harleston Magpies 0; Cambridge City 4, Maidenhead 2; St Albans 5, Ipswich 1; Slough 1, Hampstead and Westminster 0; Sevenoaks 2, Wimbledon 1.

Investec Women's Conference North: Brooklands Poynton 0, Belper 2; Beeston 7, Springfields 0; Liverpool Sefton 1, Whitley Bay and Tynemouth 1; Ben Rhydding 3, University of Durham 1; Wakefield 3, Loughborough Students 1.

Investec Women's Conference West: Bristol Firebrands 1, Gloucester City 2; Olton and West Warwicks 1, University of Bristol 2; Trojans 1, Sutton Coldfield 2; Swansea City 2, Oxford Hawks 0; Stourport 2, Isca 0.

England Hockey Board Media release


---

Goals galore when hockey heads indoors



Tina Cullen celebrates scoring in Hockey 5s final 2015

Spectacular indoor hockey makes a return to The SSE Arena, Wembley on 31 January 2016, as England Hockey hosts the Super 6s – an action-packed day which is one of the most popular in the hockey calendar.

Over 50 goals have been scored on Finals Day in previous years, and the nature of indoor hockey is fast, and exciting action, making it a brilliant spectacle for all ages.

The games will revert back to the 6-a-side format last seen in 2013. New this year, the women's semi-finals will also feature at the event meaning there will be six games rather than four.

The International Hockey Federation (FIH) recently made a decision to implement a number of changes to the Rules of Indoor Hockey that will come into force on 1 January 2016.

The most significant of the changes means the number of players on the field of play changes back to six from five – this decision means England Hockey's flagship indoor competition has changed from Hockey 5s to Super 6s with immediate effect to align the domestic game with the international game.

East Grinstead won the Men's Hockey5s Final last year after beating Canterbury 6-5 in an enthralling game. Chris Griffiths' hat-trick inspired his team to a seventh successive indoor title, however this year the club have lost inspirational leader Mark Pearn whilst other teams have strengthened as they aim to end East Grinstead's dominance.

Throughout the five days of play, the nine competing men's teams scored 419 goals, summing up just how exciting the competition is. On average, there were 10.7 goals per game during the 39 matches. Wimbledon and Loughborough both join the men's top flight this campaign after finishing as the top two placed teams in Division One.

In the Women's Hockey5s Final, Bowdon Hightown beat East Grinstead 4-1 to claim the title. Overall, 272 goals were scored throughout the 39 women's matches, averaging at just under 7 goals per game. Surbiton and Leicester secured promotion into the top flight, meaning fans will see the England stars Georgie Twigg, Giselle Ansley, Sabbie Heesh and Holly Payne playing.

With mini hockey games, fun zones and a chance to meet England Hockey stars, the Super 6s offers a huge amount for children and families.

The event is also historically a big hit with clubs and schools – year after year large groups of club members and classmates attend and the 2016 event will feature fancy dress as a theme for group bookings and anyone else wanting to dress up. There are incentives for groups and group bookings and enquiries can be made by contacting This email address is being protected from spambots. You need JavaScript enabled to view it. or 01628 897522.

The first round of Super 6s matches are on 12-13 December with the second round on 9-10 January 2016 determining who takes their place in the Semi-Finals and Finals in both genders on 31 January.

Tickets for the Finals day cost from £17.50 for an adult and £7.50 for Under 18s (plus booking fees), are now on sale at www.englandhockey.co.uk/super6s 

More information on the change to 6-a-side can be found here.

Event and ticket information is available at www.englandhockey.co.uk/super6s 

England Hockey Board Media release


---

Sliders 2-1 Titans: Dorris Kirui strikes to send hosts second

By BRIAN YONGA



Rehab Nyuthe of Kenyatta University's Titans is challenged by Anita Agunda of Sliders during their national women's league match at City Park Stadium on October 10, 2015. PHOTO | MARTIN MUKANGU |

Dorris Kirui scored the winner in the second-half as Sliders beat Kenyatta University Titans 2-1 on Saturday in a Kenya Hockey Union (KHU) women's national league match played at the City Park Stadium.

The win saw Sliders move back to second in the log behind leaders and champions Telkom Orange.

Sliders captain Beryl Okwach gave her team a first-half lead in the 14th minute before the university students levelled in the 50th minute through Rehab Nyuthe before Kirui grabbed the winner in the 54th minute to give her team the three points in their final match in the first leg, displacing Strathmore University Scorpions from second place.

HAPPY WITH WIN

Sliders coach Nixon Nyangaga was full of praise for his team which showed a strong fighting spirit, saying they still have a chance of winning the league title.

"It was a difficult match, we started well and got an early goal but after that we relaxed and allowed KU back into the match. We had to dig deep for the win and I am glad we got the three points," Nyangaga told Sunday Nation Sport.

"We are six points from the top and we will prepare for the second leg. We harbour ambitions of winning the title and we will need to improve our consistency and see out games more comfortably", Nyangaga added.

It could have been a different result had Titans taken their chances and they paid the price for their wastefulness. Titans started strongly with Prudence Wasilwa almost  giving the students the lead in the fifth minute but her shot was saved by Sliders keeper Flavian Amukhaya.

The students continued to threaten with a series of short corners but were unable to sound the boards.

It therefore came as a shock when Sliders took the lead with their first attack as Okwach sounded the boards through a penalty corner.

The goal sprung Titans into action and they almost levelled through Wasilwa but her shot hit the post. Sliders took the lead going into the break.

Titans further attacked in the second half and they were rewarded for their efforts when they levelled through Nyuthe Rehab's field goal However Sliders re-took the lead through Kirui's angled shot after a well worked penalty corner. Titans were unable to find the equaliser but Sliders held out for the victory.

Daily Nation


---

Spotlight on: Argentina




Alongside the Netherlands, Argentina (FIH World Ranking: 3) have been the dominant force in women's hockey for well over a decade. 
They have won five of the last six elite Champions Trophy tournaments and also claimed the bronze medal at the 2014 World Cup and Silver at the London 2012 Olympic Games.

Despite the retirement of iconic attacking midfielder and eight times FIH Player of the Year Luciana Aymar after the 2014 World Cup, there is no question that Argentina remain a true powerhouse of world hockey.

Delfina Merino, Carla Rebecchi and drag-flicking defender Noel Barrionuevo are all potential match winners amongst the current group, while 2014 FIH Young Player of the Year Florencia Habif is rated as one of the most exciting emerging talents in the game.

The side is coached by former men's international player Santiago Capurro, who represented Argentina at the Atlanta 1996 and Sydney 2000 Olympic Games.

Nickname: Las Leonas (The Lionesses)

Key player: Carla Rebecchi. A sensational attacker who can change the game in a blink of an eye, Rebecchi is one of the most experienced players in the Argentina line-up and is always influential.

Notable honours:

2x World champions (2002, 2010),
2x Olympic Silver medallists (2000, 2012),
2x Olympic Bronze medallists (2004, 2008),
7x Champions Trophy winners (2001, 2008, 2009, 2010, 2012, 2014),
6x Pan-American Games Gold medalists (1987, 1991, 1995, 1999, 2003, 2007),
4x Pan-American Cup winners (2001, 2004, 2009, 2013).


Additional information: Although the first women's teams were officially formed in 1909, it was the appointment of former men's international Sergio Vigil as Head Coach in 1997 that triggered a rapid rise to greatness. Under Vigil's leadership, Las Leonas achieved their first Hockey World Cup title, their first Olympic medals and their first Champions Trophy medals. The staggering success of the team has seen them achieve a level of fame normally reserved for their national football team, with some of the players hosting television shows and appearing in advertising campaigns for major brands. The achievements of Las Leonas has ensured that hockey is one of the most popular sports in the country, with the player and fan base continuing to grow at great speed. The team's reputation for being tenacious even in the face of defeat was the central factor for their now legendary nickname, with the lioness being chosen as their symbol shortly after the team achieved qualification for the Sydney 2000 Olympic Games.

FIH site


---

Men's Masters Australian teams

Australian teams selected for Masters & Grand Masters World Cups




Following the conclusion of the men's Masters Australian Championships in Cairns the Australian national Masters teams have been selected. The teams will compete at the Masters and Grand Masters World Cups in Canberra and Newcastle respectively next year.

On Saturday, the Players of the Tournament for the Men's Masters Australian Championships were also announced. Congratulations to all.

Over 35: Matthew Whitbread (VIC #17)
Over 40: Steve Carter (ACT #6)
Over 45 Div 1: Stuart Beltz (TAS #1)
Over 45 Div 2: Glenn Turner (NSW 1 #9)
Over 50 Div 1: Paul Gasmier (Qld #1)
Over 50 Div 2: Carris Nicolaou (Qld #13)
Over 55 Div 1: Graham Body (NSW #3)
Over 55 Div 2: Greg Mill (Qld #4)
Over 60: Dale Thompson (SA #7)
Over 65: Rodney Sims (WAC #12)
Over 70: William Baldwin (WAC #1)

Teams for the 3rd IMHC Masters World Cup, Canberra

Australian Over 35s
Coach: Troy WILLIAMSON (Mentone, VIC)
Manager: Samantha BRAY (Macarthur Square, SA)
Captain: Dean DAWSON (Giralang, ACT)
VC: Scott WHITAKER (East Bundaberg, QLD)
Todd BLACKSTOCK (Wheelers Hill, VIC)
Daniel BRENNAN (Box Hill North, VIC)
Adam BYRNE (Warrick,QLD)
Brett FUNNELL (Crace, ACT)
Lannon HARLEY (Rivett, ACT)
Drew HAROLD (Maryborough QLD)
Matthew HOTCHKIS (Curtin, ACT)
Alex JONES (Manly, NSW)
Matthew LOBSEY (Grafton, NSW)
Ian McGREGOR (Hornsby, NSW)
Jason MULDER (Croydon Hills, VIC)
Mathew SELBY (Devonport, TAS)
Philip TAYLOR (Kawungon, QLD)
Graeme THOMPSON (Parkes, NSW)
Michael TWEEDIE (Bateua Bay, NSW)
Mathew WHITBREAD (Peakhurst, VIC)

Australian Over 40s
Coach: Geoff HORSLEY (Leeming, WA)
Manager: Russell RIECK (Subiaco, WA)
Captain: Nigel TOUSSAINT (Moonee Ponds, VIC)
VC: Andrew MAY (Runcorn, QLD)
VC: Brian SIVA (Dalkeith, WA)
Steve DOWNEY (Hampton, NSW)
Scott HAMILTON (Ballina , NSW)
Matt HOPE (Kambah, ACT)
Michael ILLINGWORTH (Greenwood, WA)
Chris McCARTHY (Taralaga, ACT)
Brad MATHERS (Carina, QLD)
Danny MAYFIELD (Mackay, QLD)
Mathew  REGAN (City Beach, WA)
Scott REID (Proserpine, QLD)
Troy ROSSITER (Wuttulla, NSW)
Matt RILEY (Palm Beach, QLD)
Justin SHEPHERD (Mackay, QLD)
Glen STOLK (Bolwarra Heights, NSW)
Dean TYLER (Forrest Lodge, NSW)
Garry WELSMAN (Doncaster, NSW)

Australian Over 45s
Coach: Alan SHEEHY (Mingarra, QLD)
Manager: Robert THOMPSON (Artarmon, NSW)
Captain: Steve CARTER (MacGregor, SA)
VC: Paul ARMITAGE (Hilton, WA)
David BROWN (Lismore, NSW)
Alan COLTHART (Carlisle, WA)
Wayne GRIMES (Burns Beach, WA)
Nicholas HILL (MacLeod, VIC)
David HURST (Ashby, WA)
Peter KEEBLE (Runaway Bay, QLD)
Dean LOMAX (Bunbury, WA)
Darryn MARJORAM (Orange, NSW)
Stewart McDONALD (West Leederville, WA)
Andrew NEWTON (Blakehurst, NSW)
Leon PHILLIPS (Merewether, NSW)
Andrew SANDERS (Sorrento, WA)
Damian SMITH (New Town, TAS)
Grant SMITH (Ballina, NSW)
David TILKER (Croydon, VIC)
Dean WIGHTMAN (Bundaberg, QLD)

Australian Over 50s
Coach: Cameron FAIRBROTHER (WA)
Manager: Paula DICK (East Vic Park, WA)
Capt: Alan DICK (East Vic Park, WA)
Vc: Phil FROST (Noriane, VIC)
Vc: David COLLIER (Epping, NSW)
Robert BEHETS (Applecross, WA)
Trevor COLE (Mount Pleasant, QLD)
Peter CONNOLLY (Daglish, WA)
John DODDRELL (Endeavor Hills, VIC)
Peter GAGGIN (Mount Stuart, TAS)
Paul Gasmier (Worongary, QLD)
Ashley GRUMMIT (Port McQuarie, VIC)
Michael HALLAM (Floreat, WA)
Alan HART (Middle Park, VIC)
Louis MATTHEWS (Campbelltown, NSW)
Michael RUSS (Waterview Heights, NSW)
Brian SAXBY (Ballajura, WA)
Phil SHAW (Lyndoch, SA)
Jeff STIBBARD (Surry Hills, NSW)
Greg VAN MEEUWEN (Epping, VIC)

Shadows (Over 50s)
Leon ACHILLES (QLD)
John DUKA (SA)
Amuria AMAT (NSW)
Craig McBRIDE (VIC)
Peter STORER (SA)
Alan KIDD (WAC)
Kevin KNAP (WA)
Greg ROSS (WA)
Mark KRONIG (QLD)
Andrew SMALL (QLD)

Australian Over 55s
Coach: Rob LAWSON (Innaloo, WA)
Manager: Paul HARDIE (QLD)
Capt: Brian ROBBINSON (Salter Point, WA)
Vc: Greg JOHNSON (Baulkham Hills, NSW)
Vc: Trevor JOHNSTON (Tallai, VIC)
Graham BODY (Woonona, NSW)
Craig BURGESS (Canning Vale, WA)
Neil CHASELING (Lenox Head, QLD)
Peter CROWE (Scarborough, WA)
Martin FERRARI (Perth, WA)
Ian FERREIRA (Endeavor Hills, VIC)
Mathew JONES (Como, WA)
Lyle KENNY (Waterford, WA)
Kevin MCLAUGHLIN (Greensborough, VIC)
Graham MILLER (Dudley Park, WA)
Noel MORRISON (Kennsington, WA)
Paul MURRAY (Albany, WA)
Brianne NORTHWOOD (Torrington, VIC)
Stephen PESTANA (Inglewood, WA)
Paul SCICLUNA (Bedford, WA)

Shadows (Over 55s)
Rick AMBROSE (NSW)
Ian HODINOTT (QLD)
Craig PATON (VIC)
Simon WINTER (VIC)
Peter OUTRIM (NSW)
Graham PICKERING (QLD)
Jeremy WALSH (WA)
Andrew CROWLEY (VIC)
Michael IRBY (NSW)
Philip PRICE (NSW)
Jeff RENDELL (QLD)
Bruce PHILIPS (VIC)
Terry HORNE (SA)
Tom VINCE (WAC)

Teams for the 8th WGMA World Cup, Newcastle, NSW

Australian Over 60s
Coach: John CAMPBELL (Ashgrove, QLD)
Manager: Carolyn CAMPBELL (Parramatta, NSW)
Capt: John CAMPBELL (Ashgrove, QLD)
Vc: Robert REDDING (Lithgow, NSW)
Vc: Geoff ROBINSON (Carlisle, WA)
Peter BYRNE (Altona, VIC)
David CAMPBELL (Parramatta, NSW)
Dennis CRANSTON (Albian Park Rail, VIC)
Glen CROWHURST (Winmalee, NSW)
Wayne CUTTLER (Yangebup, WA)
Clive HARRISON (Caringbah, NSW)
Rudy KESWICK (Canning Vale, WA)
Paul LEADBEATER (Richmond Hill, NSW)
Geoffrey LEWIS (Kellor, VIC)
Peter MANN (Loganholme, QLD)
Greg RICHARDS (Parrearra, QLD)
Norman SAME (Malvern, VIC)
Stephen SAWYERS (Waloon Ipswich, QLD)
Peter SHEPHERD (Young, ACT)
Andrew TERREY (Grafton, NSW)

Shadows (Over 60s)
Glen BUTTSWORTH (NSW)
Stephen FARRAL (WA)
Colin RAWDINE (QLD)
Kevin MIEKLE (QLD)
Garry ROYLE (QLD)
Peter WESTLAND (WA)
Rick McCONNELL (NSW)
Steven PREECE (NSW)
Allan SHASSER (NSW)
Stan HART (NSW)

Australian Over 65s
Coach: Bob CLAXTON (SA)
Manager: Ric ROBERTS (SA)
Capt: Peter SWEENEY (New Lambton, NSW)
Vc: David PEEBLES (Barwon Heads, VIC)
Vc: Bruce SNAPE (Gloucester, NSW)
Ray BOULTON (Manunda, QLD)
Keith CHAY (Glass House Mts, QLD)
Russell CLUCAS (NSW)
Phillip DOWNEY (Goulburn, ACT)
Rod DYSON (Hawthorndene, SA)
Noel FRENCH (Narwee, NSW)
Winston INKSTER (Paradise, SA)
Keith JERVIS (Sawtell, NSW)
Dennis LOVELL (Hall, ACT)
Peter MORGAN (Dalkeith, WA)
Peter NEAGLE (Darlington, SA)
John NICHOLAS (Evatt, ACT)
Ray NORTHWOOD (Earlwood, NSW)
David SPIDEN (Greensborough, VIC)
Neil SUE SEE (Banksia Beach, QLD)

Shadows (Over 65s)
Allan HARRIS (WAC)
Kieth ROBERTSON (QLD)
Steve JAKIWCZYK (ACT)
David WEBSTER (ACT)
Neil COSTER (VIC)

Australian Over 70s
Coach: John WATTS (VIC)
Manager: Robert ROWLEY
Capt: Len BLYTH (South Perth, WA)
Vc: Dick CUMMINS (Rosslea, QLD)
Vc: Barry PAICE (Bulleen, VIC)
Bill BALDWIN (South Perth, WA)
Ken BRIGGS (Goulburn, ACT)
Graham CHALLENOR (Mosman Park, WA)
Keith ELLIS (Armidale, NSW)
John HARPER (Glen Forrest, WA)
Gerin HINGEE (Chapman, ACT)
Noel JOHNSTON (Parkes, NSW)
John LONGMUIR (Albert Park, VIC)
Ian MacDONALD (Adelaide, SA)
Chris O'DEMPSEY (Buderim, QLD)
Tony RODGERS (Geilston Bay, VIC)
David SINCLAIR (Waurn Ponds, VIC)
Simon THOMPSON (Watermans Bay, WA)
Doug TRUMAN (Tamworth, NSW)
Les WALDON (Gwellup, WA)

Shadows (Over 70s)
Peter ANDREWS (WA)
Ken WALTER (WA)
Tony COHEN (NSW)
Simon WILLIAMS (WA)
Mike MARTIN (NSW)
John HAMILTON (NSW)
Ian WRIGHT (VIC)
Bill OVERELL (VIC)
John JEFFREYS (WA)
Maurie DOBBIN (ACT)
Colin WHITTKER (NSW)
Robbie RAY (QLD)
Ian HILL (WA)
Julian GARDNER (WAC)
Van RICHARDS-SMITH (QLD)
John BURT (WA)
Alan MOSS (NSW)

Australian Over 75s
Coach: Barry MOTT
Manager: Bill WILLIAMSON (WA)
Capt: John McBRIDE (Taringa, QLD)
Vc: Gordon SMITH (Essendon, VIC)
Vc: Peter GASON (Nedlands, WA)
Des BIDDLE (Waramanga, ACT)
Robert BRUCE (Taree, NSW)
Kevin CONNOR (Taralga, NSW)
Barrie EAGER (Elsternwick, ViC)
John HALLEY (City Beach, WAC)
Graham HARLER (Mount Claremont, WA)
Bruce McBRIDE (QLD)
Barry MOTT (Maroochydore, QLD)
Dick OSBORNE (WAC)
Barry RUTTER (Wilson, WA)
Colin SANDERS (Nedlands, WA)
Brian STEWART (Broadwater, WAC)
Ron TODERO (Templestowe, VIC)
Ron VENABLES (Balcatta, WA)
David WEBSTER (NSW)

Hockey Australia media release