All the news for Tuesday 15 September 2015

China defend Women's Junior Asia Cup title

Host nation take dramatic shootout triumph over Japan to win Gold in Changzhou



Photo: (c) Asian Hockey Federation

Home favourites China have retained the Women's Junior Asia Cup in the most dramatic way possible, defeating Japan's talented Junior Cherry Blossoms in a shootout following a thrilling, high quality final in Changzhou.

China - winners of the 2011 competition in Bangkok, Thailand - were twice ahead in the final thanks to strikes from competition top scorer Gu Bingfeng, who netted her 10th and 11th goals of the event in the Gold medal match. However, her strikes were overhauled on each occasion by a Japanese side that greatly impressed during the competition, with Marina Yagi and team captain Yukari Mano getting the crucial goals to take the match into the shootout.

China were successful in all three of their shootout attempts with Gu, Yuan Meng and Zhong Mengling doing the damage, while Japan's Motomi Kawamura, Kanon Mori and Hazuki Nagai failed to find the target and handed China their second successive title.

The Bronze medal went to Korea, who clawed themselves back from the brink of defeat to claim a breathtaking 3-2 win over India. India entered the final five minutes of the match with a 2-1 lead thanks to goals from Namita Toppo and Lilima Minz, but two goals in three minutes from team captain Lee Minji and Cho Hye Jin gave Korea a stunning 3-2 triumph as well as that all-important Bronze medal.

A double strike from Hanis Onn helped Malaysia to a 3-1 victory over Thailand to secure a 5th place finish, while DPR Korea claimed a shootout win over Singapore to take 7th place at an event where they improved significantly in every match that they played. A 13-0 loss to India on day 1 was followed by an 11-0 defeat to China, a 4-0 loss to Singapore before going down 3-2 to Malaysia. Their progress was clear for all to see in the 7-8 play-off, holding a side that had convincingly defeated them just five days earlier to a 1-1 draw before winning the shootout 3-1. The result forced Singapore into 8th place, with Chinese Taipei finishing in 9th position.

More info about the competition can be found on www.asiahockey.org, the official website of the Asian Hockey Federation as well as on social media using the #wjac2015 hashtag.

FIH site


---

PHF strikes down ban on players over 30



The rule was introduced in Zia's tenure as hockey body's president. PHOTO: AFP

KARACHI: The newly-formed Pakistan Hockey Federation (PHF) management lifted a ban on players aged above 30 which barred them from playing in the domestic and international circuits.

"The ban was imposed in Qasim Zia's tenure, who himself had represented Pakistan while being above 30," PHF secretary Shahbaz Senior told The Express Tribune. "We have nothing against players above 30 if they are fit and alert and can become an asset for the team."

He added that the recruitment criteria should focus on a player's ability to deliver rather than making age a factor to bar them from playing.

The official further said that many such players lost their jobs in their respective departments. "The departments and clubs decided against continuing their contracts due to the ban," said Shahbaz.

"Now they will not only be given a chance to represent their clubs and departments in the domestic events, but will also be able to play for the national side, provided they adhere to the standards of fitness."

The Express Tribune


---

Blacks Sticks coach Colin Batch dismisses talk Kookaburras will tank at Oceania Cup

CLAY WILSON



Colin Batch says the Black Sticks men can expect a stiff challenge at the Oceania Cup, whichever Australian team turns up. GETTY IMAGES

Black Sticks men's coach Colin Batch has dismissed European speculation world champions Australia will tank at the Oceania Cup to hand New Zealand qualification for the Rio Olympics.

After a disappointing sixth-place finish at the World League semifinals in Argentina in June, the Black Sticks' last hope of booking their spot for Rio is to win the Oceania Cup being hosted in Taranaki from October 21-15.

The Kookaburras are already qualified after winning the other World League semifinal tournament in Belgium and, based on a complex qualifying system, world No 14 Ireland will claim the 12th and last spot if the seventh-ranked Black Sticks are unable to bag the Oceania crown.

Hockey Australia chief executive Cameron Vale has labelled the tanking claims "disgraceful" and "ridiculous", going as far as contacting International Hockey Federation director-general Kelly Fairweather to ensure he understood their intentions.

Vale acknowledged they would not be sending their "absolute best team", while assistant coach Paul Gaudoin would be in charge with head coach Graham Reid not crossing the ditch.

Vale said both factors were part of a long-standing model to develop depth and achieve sustained success.

Capped 175 times for Australia before an eight-year stint as the team's assistant coach, Batch said he had seen Vale's response, but no specific tanking claims.

The Kiwi team coach said it was not unusual to see fringe players as part of the Australian squad outside of major tournaments, but added that would not necessarily make it easier for his side to beat them.

"The Kookaburras have been very strong over a long period of time, and one of the reasons they have been strong is that they've been able to develop the depth in their squad," Batch said.

"Whoever turns up they will be very competitive matches because ...  put it this way, if you're a young guy in the Australian group and you have an opportunity to play for the Kookaburras and you perform well you could be going to Rio.

"That's a great incentive for them so I see it will be very strong competition we will face."

Batch said the complicated nature of the Olympic qualifying system meant people were going to speculate.

However, he agreed with Vale that any such speculation was perhaps underestimating the sporting rivalry between New Zealand and Australia.

"They are No 1 in the world, they have been playing very well over a long period of time and it's Australia versus New Zealand so there is no easy match.

"It shows [the people making the claims'] lack of knowledge. They need to get out of their own region and play elsewhere ... like any Kiwi sports team we have a lot of pride in our performance and Australia is very similar."

The Kookaburras also have their No 1 ranking to maintain, which gives them the upper hand when the draw for the Olympics is done.

The Australian team is named at the conclusion of the Australian Hockey League on October 2, while the Black Sticks squad for a four-test series against India and the Oceania Cup is expected to be named towards the end of next week, after the completion of the national league.

Stuff


---

Indian hockey team to tour New Zealand in October

NEW DELHI: The Indian hockey team will tour New Zealand to play a bilateral Test series from October 2 to 11.

They will play two practice matches against New Zealand A at Auckland on October 2 and 3 before taking on the senior Black Sticks side in four Test matches, two each to be played at Nelson (October 6 and 7) and Christchurch (October 9 and 11).

They will then host reigning World Champions Australia in a short series from November 20 to 23 at Raipur, the venue for the elite eight-team Hockey World League (HWL) Final to be played in the Chhattisgarh capital from November 27 to December 6.

"India will tour New Zealand in October and then host Australia in November before the HWL Final in Raipur," Hockey India (HI) president Narinder Batra said on Monday.

The team will then also take part in the 12th South Asian Games to be held in Guwahati and Shillong from December 10 to 20.

The Times of India


---

Hockey India League announces regulation changes for 2016 season



Hockey India League Chairman Dr. Narinder Dhruv Batra announced key regulation changes for the 2016 tournament

After three highly competitive seasons of the Hockey India League (HIL), the HIL Governing Committee has announced it will introduce new regulations to make the competition more competitive and intense.

One of the most significant changes for the 2016 HIL season will be the new goal-scoring system. Field Goals will be given more priority than Penalty Corners, with two goals awarded for every Field Goal to encourage more skilful and tactical hockey.

To curb rough tackles and maintain discipline among players, two goals will awarded to every Penalty-Stroke goal scored (other than from Penalty Strokes resulting from a Penalty Corner).

Two Goals will also be awarded for every goal scored from a Penalty Stroke resulting from a Penalty Corner where a goal is prevented from being scored by a deliberate foul.

The rest of the goal-scoring points system remains the same where Penalty Corner goals, goals scored from a Penalty Stroke resulting from a Penalty Corner (where a goal is prevented from being scored as a result of the ball hitting a foot or body) as well as a goal from a direct shoot-out and Penalty Stroke goals in a shoot-out competition, will be considered as one goal.

HIL hope that with the new regulations, the HIL will see the world's best players showcase their hockey skills to score more goals through open play via field goals. HIL also hope that the new regulations will reduce aggressive moves and maintain discipline among players.

Another amendment is that each franchisee will have a squad of 20 players with a composition of 12 Indian players and eight foreign players.

The squad must have minimum two goalkeepers sitting on the bench and all the players of 20-member squad will be listed in the match sheet and must be present at their respective team's dug-out during the HIL matches.

Speaking on the announcement Hockey India President and Hockey India League Chairman Dr. Narinder Dhruv Batra said: "Penalty Corners give undue advantage to those teams which have Penalty Corner specialists. The teams also fight to earn Penalty Corners rather than scoring goals through circle penetrations. The new system will encourage teams and players to play to score goals instead of looking for Penalty Corners. The system will surely enhance players' skills and mentality of playing good hockey. HIL is committed to promoting the world's best hockey and with these new regulations, players will improve themselves in a competitive environment. We expect Hockey India League to continue its legacy of high-class hockey and take the sport to a new level."

HIL 2016 REGULATIONS
Team Composition
Squad of 20 players.
12 Indian players.
8 Foreign players.
Minimum of 2 goalkeepers in the squad and sitting on the bench.

Playing Composition
All players will be listed on the match sheet for each match and allowed on the bench.

Player Replacement
A Franchise can now make immediate replacements by selecting a player from the HIL Reserve List 2016.
Complete the Replacement Player Application Form as per the HIL Player Replacement Policy 2016.

Scoring
New goal-scoring points. The first time played in any hockey competition.
For every Field Goal and Penalty Stroke Goal scored in a match other than resulting from a Penalty Corner: 2 goals
For every goal scored from a Penalty Stroke resulting from a Penalty Corner where a goal being scored is prevented by a deliberate foul: 2 goals
For every Penalty Corner scored in a match: 1 goal
For every goal scored from a Penalty Stroke resulting from a Penalty Corner (where a goal being scored is prevented as a result of the ball hitting a foot or body): 1 goal
In a shoot-out competition a goal from a direct Shoot-out and a Penalty Stroke: 1 goal
These amendments were made ahead of the HIL 2015 auction which is scheduled for 17 September. There, 135 Indian and 141 Foreign Players will go under the hammer.

Earlier in August 2015, HIL had provided all the franchisees the option to retain up to 3 Indian and 3 foreign players, while releasing the rest of the squad.

With 276 players to get auctioned, each franchisee will be looking at a strong team with the hope of having the required edge over others.

To keep up to date with all the latest information about the HIL, visit the official website by clicking here.

FIH site


---

No Pakistanis in Hockey Indian League unless PHF apologises: NK Batra

Chander Shekhar Luthra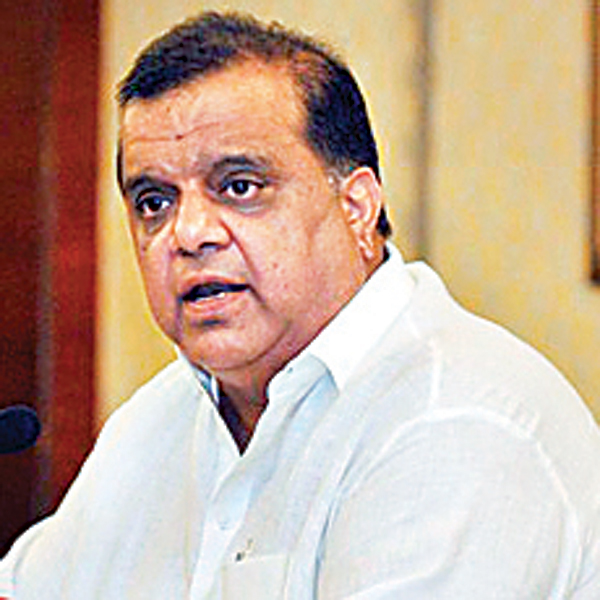 Batra

HI chief has still not forgotten the 'shameful' behaviour of players from across the border during last year's Champions Trophy

Hockey India president NK Batra has virtually ruled Pakistani players out of contention for the upcoming Hockey Indian League (HIL) unless their parent association, Pakistan Hockey Federation (PHF), apologises for the 'shameful' behaviour during last year's Champions Trophy semifinal.

This has come at a time when franchise owners are gearing up for September 17 auctions and Batra's remarks would certainly force them to rethink their strategy of picking any players from the neighbouring country.

Pakistani players' "unacceptable" behaviour, when they used foul language against the crowd and media after their 4-3 win over India last year is still fresh in the memory of Indian hockey fans. Even though two Pakistani players were suspended by the International Hockey Federation (FIH) for indulging in obscene gesturing and taking off their jerseys, HI is yet to receive a formal apology from its Pakistani counterpart.

On Monday, when HI president was asked to clear the air over Pakistan players' participation in HIL IV at the launch conference here, he categorically made it clear that the players from neighbouring country can't come to India and play until the PHF apologises for the shameful incident.

"They have shown no regret for the shameful incident in writing or otherwise. That kind of behaviour is unacceptable. Least, we need an apology from them. The PHF has to regret for the behaviour of their players which they are treating as normal. For us, it is actually abnormal. So, until they express their regret, we will not be playing with them. I would have loved to see the Pakistani players in the HIL but not with the kind of unacceptable behaviour they showcased," Batra said.

He said India would only play against Pakistan in FIH-sanctioned events, and not in any friendly Test series, while also informing that the political situation in the country was also not in favour of letting Pakistan players play in the HIL.

In the inaugural season of HIL in 2013, nine Pakistani players were part of the event, but due to protests from some right-wing political outfits, they were sent back home before the start of the tournament. No player from Pakistan has since been part of the HIL.

New rules

The HIL 4 will see the introduction of some new rules where a field goal will be counted as 'two' goals instead of one. Similarly, a goal scored via penalty stroke will also be counted as 'two' in order to prevent rough tackles and to maintain discipline among the players. The new goal-scoring system is approved by the FIH Competitions Committee and Rules Committee.

The other change in the rules is that each franchise will have a squad of 20 players, of whom eight players should be from overseas.

Batra also spoke about the chances of 'suspended' Gurbaj Singh playing in the HIL if the HI's Athletes Disputes and Grievance Redressal Committee overturns his nine-month ban on September 18.

"He would automatically be included in the HIL's reserve pool if the suspension is lifted. Normally, we have seen that before the league starts, there are always some changes related to players. He will stand a good chance of playing in the league," he said.

DNA


---

Pakistani players cannot play in Hockey India League until they apologise for bad behaviour: Narendra Batra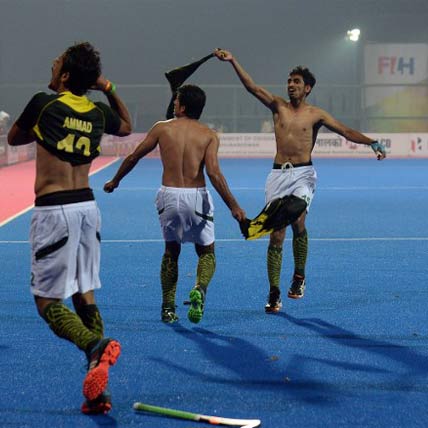 Pakistani players misbehave after defeating India last year Pakistani players misbehave after defeating India last year AFP photo

Still awaiting an apology from Pakistan over its players' behaviour in last year's Champions Trophy hockey tournament, Hockey India president Narendra Batra on Monday said he would love to have players from the neighbouring country in the HIL but not with the kind of conduct they displayed.

Still awaiting an apology from Pakistan over its players' behaviour in last year's Champions Trophy hockey tournament, Hockey India president Narendra Batra on Monday said he would love to have players from the neighbouring country in the HIL but not with the kind of conduct they displayed.

Two players were handed a one-game ban and reprimanded by the International Hockey Federation (FIH) after the Pakistan team went on a rampage post their semi-final win against India in Bhubaneswar in December last year. Showing obscene gestures to the crowd, some players also took off their shirts in celebration. Batra insists that India have received no act of regret from Pakistan for the unfortunate incident.

"I would love to have Pakistan players but not with the kind of behaviour they displayed in the Champions Trophy. And they have shown no regret of that incident in writing or otherwise. I don't want to politicise the issue but that kind of behaviour was unacceptable. Least we need an apology from them," Batra said.

Nine Pakistani players were part of the first edition of Hockey India League (HIL) in 2013 but had to leave the country before the start of the tournament following protests from a few political organisations. Since then no Pakistan player has been included in the three HIL editions so far.

India though have benefited from the mega-event with quite a few international players rubbing shoulders with the national youngsters. And Batra is boastful of the HIL having a positive impact on Indian hockey.

"Our aim at HIL is to form a pool of players for the future. We already have eight players from HIL in the national side. HIL has created heroes and a space for itself in the big world of cricket.

"We have won the Asian Games gold after 16 years and were able to get the better of Pakistan in an Asian Games final after 48 years since 1966. So the national sport has certainly improved in the last four or five years and HIL is one of the reasons behind it," said the HI president.

Batra also informed that the senior and junior hockey set-up is on the verge of getting a boost by addition of more coaching staff.

"The senior team will have a new analytical coach by November 1. The junior team will be getting a scientific advisor in a month's time. The women's senior and junior team will also be getting an analytical coach and a scientific advisor respectively. So we are in the process of equipping our players with the best support staff for a bright future of the national game," Batra said.

DNA


---

Former Pakistan hockey coach slams India's demand for apology



PHOTO: AFP

Former hockey head coach Shahnaz Sheikh on Monday said that Pakistan does not need to reply to India's demand of an apology for the Champions Trophy incident, instead they should wait to take them on in the field.

Hockey India president Narendra Batra issued a statement on Monday saying: " I would love to have Pakistan players but not with the kind of behaviour they displayed in the Champions Trophy. And they have shown no regret of that incident in writing or otherwise. I don't want to politicise the issue but that kind of behaviour was unacceptable. Least we need an apology from them," Batra said, as quoted by Press Trust of India.

While talking to Express News on Batra's statement, Shahnaz said: "I met Indian players in Belgium and they were optimistic that Pakistani players will be invited to the Indian Hockey League this year. They think that Pakistani players bring with themselves quality and it is good for commercial aspects too."

He added that he knew Batra personally and someone else was placing words in his mouth.

"I am disappointed by the statement of Batra," said Shahnaz.

"Batra is a nice man. I don't know who is dictating him to say such things. Pakistan and India can only solve the problems of hockey if they play a bilateral series."

Shahnaz said that the quality of hockey in the sub-continent is dependent upon Pakistan-India bilateral series.

"Pakistan and India need to play bilateral series to improve the quality of hockey in the sub-continent."

"Indian hockey was not able to digest the loss against Pakistan in the Champions Trophy. So they are twisting that case further. FIH took action on the matter then and there and Pakistani players were barred from the next match, the final, which we lost."



PHOTO: AFP

He proposed the idea that Pakistan should start its own hockey league and invite Indian players.

"I would suggest that Pakistan Hockey Federation should start its own league and invite Indian players to participate in the tournament. This would send a message that we are not like them."

When asked how Pakistan should reply to India on this matter, Shahnaz said: "Pakistan will reply India in the ground now. And we did reply them in India when we beat them at home. And what are the Indians complaining about? FIH punished our players for their mistake but Indian spectators pointed fingers and chanted abuses at me and my players, what about that?

The Express Tribune


---

India's politics destroying spirit of sports in subcontinent: Shahnaz Sheikh



"Pakistan should now stop thinking about India and must move forward," says Shahnaz Sheik. - AFP/File

ISLAMABAD: Former Olympian Shahnaz Sheikh on Monday lashed out at the Indian Hockey League (IHL) officials for not including Pakistani players in its fourth edition, saying the politics in the neighbouring country is destroying the spirit of sports in the subcontinent.

According to reports, the Indian hockey officials have continued their anti-Pakistan campaign and have not contacted Pakistani hockey players for the IHL, following in the footsteps of its cricket board (BCCI) which has constantly snubbed the Green-shirts in the India Premier League (IPL).

In IHL, players from around the globe take part and their bidding for different franchises will be held on Sept 17 but none of the Pakistani players have been invited in the auction.

Talking to APP, Shahnaz said he cannot understand what is bothering the Indian sports bodies about Pakistani players and why they are feeling so threatened by our cricket and hockey players. "It is time they (Indian sports bodies) put an end to their immature attitude and tell Pakistan what they really want as their mindset is affecting the spirit of sports in the subcontinent," he said.

Shahnaz added that during the World Hockey League at Belgium, he had met with the Indian hockey officials and they were very optimistic to include the Pakistani players in their league. "But now they have dumped our players which is disappointing to say the least," he added.

The former Olympian said all players from Asia are called in for the leagues but not Pakistan which is against the spirit of sports.

"India has always given us a cold shoulder and their recent attitude is in response to their defeat against Pakistan in the Champions Trophy last year," he said.

"Pakistan should now stop thinking about India and must move forward," he said, adding that India is not everything and there are many other better teams waiting to play against Pakistan.

Speaking about the internal hockey affairs, Sheikh said the Inter-provincial Coordination Ministry (IPC) and Pakistan Sports Board (PSB) should grant the deserved prize money to the players for their performance in the Champions Trophy and Asian Games.

He said according to the sports policy the team prize money amounts to rupees one million per player.

"IPC and PSB assured us of cash rewards and I hope we get them soon," he said.

Dawn


---

Oltmans turns down offer to coach Wizards

Sabi Hussain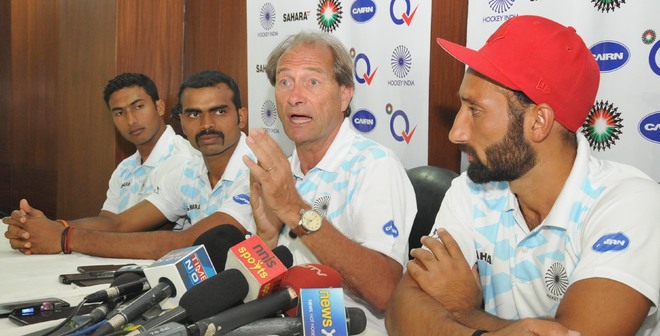 Indian men's hockey team coach Roelant Oltmans(2nd from Right)

New Delhi - At a time when the BCCI is struggling to deal with several conflict of interest controversies, Indian hockey team coach Roelant Oltmans has set an example of how not to get into such situations.

Oltmans has turned down an offer from Uttar Pradesh Wizards to continue coaching the franchise in the fourth edition of the Hockey India League (HIL). Oltmans does not want to be in a situation where he could be accused of favouritism while selecting the core probables for the Rio Games. "I said no to avoid a possible conflict of interest. Someone might accuse me of favouritism if there's a player from UP Wizards among the Olympics probables," Oltmans told The Tribune.

The 61-year-old Dutchman said it was important for him to concentrate on building a strong team for the Rio Games rather than spending two months with a franchise. "I've been assigned a specific job – to help the side do well at the Rio Games. Each day is crucial and I can't afford to spend two months with a franchise. Obviously, all the players would be busy playing in the HIL and I would have no one to train at that time. But, still, I shouldn't be a part of the league," Oltmans said.

It must be mentioned here that the Sports Authority of India (SAI) had objected to Oltmans' role in HIL's third edition and had threatened to scrap his contract, along with that of the then chief coach Terry Walsh who had taken up a coaching assignment with Kalinga Lancers. SAI said since both the coaches had been employed by it, how could they take up an assignment with a commercial league and earn money from it?

Oltmans was, however, given a go-ahead as he was only the High Performance Director at that time, not directly involved with the day-to-day affairs of the team. Even former coach Michael Nobbs had triggered a club v/s country debate last year by criticising HI for allowing Oltmans to hold two posts simultaneously. Nobbs also disclosed that he had turned down an offer to coach an HIL team during his coaching stint with India.

The Tribune


---

Top hockey teams for Bengaluru Cup announced

BENGALURU: Hockey Karnataka's second Bengaluru Cup All-India tournament will be held from October 10 to 19, it was announced here on Monday with former India cricket captain Rahul Dravid and swimmer Nisha Millet gracing the occasion.

The tournament will feature six teams from across India in both the men's and women's categories. The teams include Air India, Indian Oil Corporation Ltd, Bharat Petroleum Corporation Ltd, Army XI, Karnataka XI and ONGC in the men's section, and Punjab XI, Haryana XI, Karnataka XI, Jharkhand, MP Academy and RCF in the women's category.

The highlight of The Bengaluru Cup 2015 will be the presence and participation of players from the National women's team which has qualified for the Rio 2016 Olympics. Speaking on the occasion, Hockey Karnataka joint secretary Sandeep Somesh said: "With this tournament, we endeavour at amplify awareness and assist the development of the sport of hockey at the grass root level and bring back the vigour, valour and pride that was once associated with the national game.

"With the help of Hockey Karnataka, we look at unearthing and honing promising talent from the state. We intend to pave a way for the growth of the game in the country and showcase the best hockey talent from across India."

Dravid said: "Hockey Karnataka offers young hockey players a fantastic opportunity by giving them a chance to rub shoulders with some of the most prominent and established players in the country. Recalling pleasant memories from the days I played hockey on the field, it gives me immense pleasure to support the sport and a sense of pride to see national game thrive."

Millet said: "This initiative by Hockey Karnataka helps create an intrigue and buzz among the masses about the sport. The Bengaluru Cup is a platform for hockey players in India to showcase their caliber. My best wishes and support to the tournament and we look forward to the event."

The Times of India


---

Cobras stay strong, Northland Women go top



Photo: Planet Hockey

The Capital Cobras have stayed in touch with front runners Auckland after a dominant 5-0 win over Northland in Round 5 of the Ford National Hockey League.

With goals from Blair Hilton, Benedict van Woerkom, Ollie Logan, Brad Read and Stephen Jenness, the Cobras have consolidated second spot on the men's table with 14 points.

Meanwhile, Auckland extended their winning streak to five in a row after a narrow 2-1 win over the Canterbury Cavaliers. Goals from Jared Panchia and Johnny Bilkey led the Aucklanders to a result which sees them untouchable on the points table with a maximum 20 points.

North Harbour snuck home with a 4-3 result over the Central Mavericks, coming back from a two goal deficit to secure all four points. Harbour were first to score through Genki Mitani before Steve Davison caught fire and scored a hat-trick for the Mavericks. But Central's hopes were dashed when North Harbour went on to score three unanswered goals to snatch the win.

The Southern Dogs earned a vital four points from their 2-1 victory versus Midlands thanks to goals from Kieran O'Connor and Richmond Lum.

In today's women's games, Northland muscled their way into top spot on the table after a convincing 4-2 performance against Capital.

The hosts were in control from the opening whistle with goals from Jasmin McQuinn, Ella Gunson, Brooke Neal and Carli Michelsen. Capital's goals came from Charlotte Eastman and Kelsey Smith. The result leaves Northland on top of the table on 16 points.

It was an emphatic outcome for Midlands, who ran rampant over the Southern Storm 8-1. Midlands led 2-1 after a tight first half before the floodgates opened in the fourth quarter with Midlands scoring five goals in the final seven minutes. Gemma Flynn scored a brace while Sam Charlton, Shiloh Gloyn, Natasha FitzSimons, Kim Tanner, Amy Robinson and Nicky O'Donnell also netted.

Auckland grabbed two points from a 4-2 shoot-out win over the Canterbury Cats after the game was locked up 0-0 at fulltime. Both sides played a high energy game but neither could crack the opposition defence in regulation time.

The Central Mysticks kept themselves in finals contention with a well earned 3-0 victory against North Harbour. Rebecca Herbert scored a double and Michaela Curtis added her side's third goal.

Tomorrow is a rest day in Whangarei, with Round 6 kicking into action from 12:30pm on Wednesday with Auckland vs Capital Cobras opening the day's play for the men, before the Southern Storm take on Central Mysticks on the women's draw at 1:00pm.

The Ford National Hockey League is proudly supported by the Whangarei District Council and Trillian Trust.

CLICK HERE for more on the 2015 Ford NHL

MEN'S RESULTS – ROUND 5

WOMEN'S RESULTS – ROUND 5

Auckland vs Canterbury Cavaliers
Auckland won 2-1
Auckland: Jared Panchia, Johnny Bilkey
Canterbury: Dominic Newman

North Harbour vs Central Mavericks
North Harbour won 4-3
North Harbour: Genki Mitani, Dave Kosoof,
Alex Hanham, Nathaniel Joy
Central: Steve Davison 3

Southern Dogs vs Midlands
Southern won 2-1
Southern: Kieran O'Connor, Richmond Lum
Midlands: Zac Woods

Northland v Capital Cobras
Capital won 5-0
Capital: Blair Hilton, Benedict van Woerkom,
Ollie Logan, Brad Read, Stephen Jenness


North Harbour vs Central Mysticks
Central won 3-0
Central: Rebecca Herbert 2, Michaela Curtis

Southern Storm vs Midlands
Midlands won 8-1
Midlands: Gemma Flynn 2, Sam Charlton, Shiloh Gloyn, Natasha FitzSimons, Kim Tanner, Amy Robinson, Nicky O'Donnell
Southern: Kelly Nicholson

Northland vs Capital
Northland won 4-2
Northland: Jasmin McQuinn, Ella Gunson, Brooke Neal, Carli Michelsen
Capital: Charlotte Eastman, Kelsey Smith

Auckland vs Canterbury Cats
Match drawn 0-0 at fulltime
Hockey New Zealand Media release


---

The Inside Track



University of Birmingham Coach Phil Gooderham makes his point

University of Birmingham Women and Holcombe Men are both sides who have been active in the summer transfer market. Both put their new signings on display this past weekend as the domestic league kicked back into action for the new season. Both sides faced local derbies with bragging rights as well as points at stake. Phil Gooderham's new look side came out 3-0 winners over Leicester whilst new Holcombe signing Sam Ward scored four times in a 7-2 win over Canterbury. Both share their thoughts on the weekend and the season ahead.

Phil Gooderham University of Birmingham Coach:

On the win over Leicester:

"We were very happy with the performance and obviously the result. We know each other very well as there are players on both sides who have played for the other, so that alongside the local rivalry makes it a really tough game. To come out on top and get a good start to the league season is very pleasing."

On Birmingham's busy summer:

"We've had a bigger turnover than usual this year. We lost quite a few including some of our more experienced players so gaining the players we have has been a big boost for us. They've all fitted in well and we're very excited about the squad we have for this season."

On the impact of new signing, Vanessa Hawkins:

"She is someone I've known a long time so when we found out she might be open to coming to play for us we jumped at the chance. She settled straight in and her experience, her quality on the ball and things she can teach our players on and off the pitch are a massive boost. She is a fantastic signing."

On targets for the season:

"The 16 we put out at the weekend had never played as a team together before, so we know there is a way to go before we get things right. We still have Lily Owsley to come back in which should give us something extra up front but the team is very optimistic about our chances this season. We want to better our finish from last season. We don't like to set specific goals, we prefer to stick to the old one game at a time cliché, but this is an optimistic group who wants to achieve things. We are aiming as high as we can."

"The league looks very strong again this year. East Grinstead have made some good signings, Holcombe have too. Surbiton are very strong again. It could be six or even more teams competing for the top four. It is very ex citing to see."



Sam Ward takes on the German defence whilst playing for England

Sam Ward, Holcombe Forward

On Saturday's win over Canterbury:

"It was a dream debut for me but there were definitely improvements for us to make. It took us a while to get going and to settle into the game as a team, but once we got going we played very well and that's why we got the goals we did. We probably deserved to win but they had chances and George Pinner made some great saves at crucial times which allowed us the platform to build into a better second half performance and in the end, the three points."

On the crowd at Holcombe Park:

"It was nice to see a lot of people come down to watch. The Canterbury fans were very loud and certainly let us know they were there, they never lost their spirit and it was great to see such support for both sides in a domestic league game."

On the pressure to perform:

"There's pressure to perform as a squad like ours is always going to draw attention from outside but we're experienced and we try to get on with our jobs and play well as a team to get the results.

The league is wide open. Wimbledon and Surbiton look strong, so do Beeston, but I think East Grinstead will bounce back from their loss to Surbiton. You're then looking at a number of other clubs who could easily break into the group. It should be a good season."

On his team's aims for the season:

"We want to make the playoffs. That'd be a good start to life in the premier for Holcombe. We will have times where we're missing players and we will need our squad players to step up. We need to pick up points when we can, continue to gel as a team and see where that leaves us at the end of the season."

For all the fixtures in the upcoming weekend of the Investec Women's Hockey League, click here. 

For a run down of the weekend's fixtures in the men's league click here.

This season there is a Fantasy Hockey competition, run by England Star Tom Carson and his company, Young Ones. To add a bit of spice and interest to the domestic season, why not enter and test yourself against other hockey fans? For all the details click here.

England Hockey Board Media release


---

New Zealand drag-flicker Andy Hayward is ready to help Surbiton secure European spot

By Graham Wilson



Andy Hayward hopes to secure a European place after signing with Surbiton. GETTY

ANDY HAYWARD is ready to tip the title balance Surbiton's way.

The Surrey club, who missed out on Europe to East Grinstead by a goal difference of four at the top of last season's England League, left the Sussex outfit shellshocked 7-0 in their opening Premier Division clash on Sunday.

Surbiton have recruited New Zealand drag-flicker Hayward to go alongside top marksman Matt Daly. Hayward scored once, Daly twice, with Scottish striker Alan Forsyth grabbing a hat-trick.

Among a host of changes East Grinstead have lost England's Ashley Jackson to newly-promoted Holcombe and he scored a goal in the promoted club's 7-2 win over Canterbury, with fellow international Sam Ward, signed from Beeston, cracking in four goals on his debut.

East Grinstead's signing of England defender Laura Unsworth, from Holcombe, shows which direction their newly-promoted women's squad are taking and they held last season's unbeaten champions Surbiton to a 1-1 draw in the Investec Premier Division.

Daily Express


---

Peillat rockets part of a Dutch goal-fest

An incredible 42-goals were scored on the opening day of the Dutch Hoofdklasse as the season returned with a bang with the results going largely to the preseason predictions.

The pick of the games was in Bilthoven where SCHC led against HGC on numerous occasions only for a Gonzalo Peillat rocket in the last minute to win a 5-4 classic.

Goals from Thomas Vis, Marc Schwarz, Barend van der Berg and Jeroen Wolters saw SCHC lead 2-1, 3-2 and 4-3 before HGC bounced back with two goals in the closing eight minutes to snatch the win.

OZ shook off Hurley 4-2 with Benjamin Stanzl grabbing a contentious goal in his debut for the club while Mink van der Weerden fired in a couple of corners.

For Amsterdam, Mirco Pruyser, Robert Tigges, Justin Reid-Ross, Sander 't Hart, Kenny Bain and Max Sweering all got on the mark in a 6-3 win over Den Bosch, building a three-goal lead early on and staying well clear.

SV Kampong saw Bjorn Kellerman score on his debut to start their 4-2 win over Voordaan but it took a while to finally get over the line with Quirijn Caspers' last minute goal finally removing any doubt.

Rotterdam's new boys Mitch Darling – from Ireland – and Johan Bjorkman – from Sweden – scored in their 4-2 win over Pinoke while Bloemendaal were the biggest winners with a 6-0 success against Schaerweijde.

Euro Hockey League media release


---

Martin-Brisac gives Racing the edge in France

Racing Club de France already have a narrow lead over the rest of the French "Top 8" after they were the only side to win on the first day of the new season.

They won 2-1 at Lyon with Simon Martin-Brisac scoring both in a tough and close game right up until the final whistle. He scored in the second and third quarter while their chances of easing home were limited due to a missed penalty stroke.

Moments later, Lyon scored to reduce the gap to one, setting up a lively final quarter but Racing held out amid a lot of Lyon pressure to secure the win.

Lyon's hand has been boosted this season by the return of Jean-Baptiste Forgues and Gaspard Baumgarten and look to be key contenders for the Top 4 later in the season.

Racing's hand has been boosted by the arrival of Eduardo Campuzano, a 20-year-old former underage international, who will link up with the panel this week.

Elsewhere, there were a couple of surprises with Paris Jean Bouin drawing 3-3 with city rivals St Germain while Wattignies held Lille 0-0 in another derby match. CAM and Le Touquet shared a 2-2 tie.

They will be taking part in a much-changed French league. Initially, there will be a league of eight teams playing home and away across 14 rounds. The Top 4 qualify for another mini-league of six rounds where the top two go forward to the finals weekend.

Euro Hockey League media release


---

Hazy prediction in TNB Cup semis

By Jugjet Singh



THT players after beating KLHC 5-4 to lift the league title at the Batu Buruk Stadium in Kuala Terengganu.

KUALA Lumpur Hockey Club (KLHC) team manager George Koshy will have more than Sapura on mind when both the teams meet in the First Leg Semi-finals of the TNB Cup at the National Hockey Stadium in Bukit Jalil Tuesday.

For Koshy, who is also the Competitions Committe chairman, will have one eye on the haze enveloping the country right now.

The haze reading around Bukit Jalil yesterday evening, by the National Sports Institute, was around 180 to 200, and this could throw a spanner in the TNB Cup party.

The other semi-finals will be between league champions Terengganu Hockey Team and Maybank.

"The Competitions Committee is constantly monitoring the haze situation around Bukit Jalil, and if it reaches an unhealthy level, we will make a call on the spot. But we will not set any standard, or figure just yet, as there is a chance the situation could improve in the next 24 hours," said Koshy.

The form-book suggests KLHC and THT advance to the final, but both the coaches will be taking a cautious approach.

THT coach Sarjit Singh said: "Our aim is to play in the final and defend our Overall title and that's what we will be playing for. Having said that, Maybank have shown tremendous improvement from their disappointing league statistics, and they will be hard to beat, but not impossible."

Maybank finished fifth in the six-team league, with only one win and a draw to show. But they played much better in the two-leg quarter-finals to edge out a fighting Tenaga Nasional.

THT had beaten Maybank 5-1 and 3-2 in the league.

As for KLHC coach K. Dharmaraj, he believes Sapura would be a handful as they were held 3-3 and 4-4 in the league.

"Both our earlier matches against Sapura ended in draws, and that's one reason why the league title slipped from our hands. Players from both teams know each other well, and I predict KLHC will have to be on their toes during both legs to play in the final," said Dharmaraj.

Players to watch in THT are Faizal Saari, 13 goals, and Tengku Ahmad Tajuddin, seven goals.

As for KLHC, national skipper Razie Rahim is the mainstay in defense, as well as penalty corners where he has scored nine goals.

Pakistan import Muhammad Imran, with six penalty corner goals, will be Sapura's trump card.

TUESDAY --Semi-finals (First Leg): Terengganu Hockey Team v Maybank (Bukit Jalil Pitch II, 6pm); Sapura v Kuala Lumpur Hockey Club (Bukit Jalil Pitch II, 8pm).

THURSDAY: Semi-finals (Second Leg): Kuala Lumpur Hockey Club v Sapura (Bukit Jalil Pitch II, 6pm), Maybank v Terengganu Hockey Team (Bukit Jalil Pitch II, 8pm).

Jugjet's World of Field Hockey

---

Top scorer Mohd Imran key to Sapura's final ambitions

By S. Ramaguru



Sapura's Pakistani player Mohamed Imran (right) in action against Maybank in the Malaysia Hockey League last week. - FAIHAN GHANI/ The STAR

KUALA LUMPUR: Sapura's Pakistani penalty corner specialist Mohamed Imran could well hold the key to unlocking the Kuala Lumpur Hockey Club's (KLHC) defence when they clash in the first leg of the semi-final tie for the overall title in the Malaysia Hockey League (MHL).

Imran is Sapura's top scorer with seven goals. He scored three goals in the 5-3 aggregate win over Universiti Kuala Lumpur (UniKL) in the quarter-finals.

Imran also has a good knowledge of the KLHC outfit, He played for them in 2012 and 2013, when they last won the league and overall titles.

"For me, the question of scoring does not arise ... it's my job to score from the penalty corners. I know KLHC quite well and I believe that they are a tough team to beat. But we're focused on winning the semi-final tie. We have the players to do it," said Imran on Monday.

"Team work is crucial and we have to complement each other. It doesn't matter who score the goals as long as we win. I will play my part and also guide the younger players in the team."

In the preliminary round, the teams drew their matches. The first one ended 3-3 and the second 4-4, with Sapura taking the lead both times and KLHC netting the equaliser in the last quarter.

Besides Imran, the other three foreigners in the Sapura team are also from Pakistan – Kashif Ali, Mohd Azfar Yaqoob and Abdul Haseem Khan.

Sapura also signed three experienced national players – Mohd Marhan Jalil, Faiz Helmi and Mohd Izad Hakimi – from Tenaga Nasional this year.

Overall, Sapura have the material to win the match. But how they contain the KLHC players will be crucial.

This match is likely to go all the way to the second leg – and even possibly be decided in a penalty shootout.

The Star of Malaysia


---

Maybank up against Terengganu machine in semis

By S. Ramaguru



KUALA LUMPUR: The odds are stacked against Maybank as they face reigning champions Terengganu in the semi-finals for the overall title of the Malaysia Hockey League.

Maybank have not beaten Terengganu in the last two seasons. This year, they lost 5-1 and 3-2 in the league fixtures.

But Maybank coach S. Vellapan, who steered the Tigers to victory in the quarter-finals, begs to differ.

"Yes, we are the underdogs as the Terengganu side have championship material to bank on. We have come a long way since those two league defeats, so we will fancy our chances against them," he said.

Since both matches are being played at the National Hockey Stadium in Bukit Jalil, Maybank will not have to worry about the vociferous crowd at the Kuala Terengganu stadium.

"It's not the home crowd that we need to worry about. Terengganu have a balanced side and their players are all hitting form. They're almost like a national side," said Vellapan.

"But I feel that the quarter-final wins have given my players a boost and they are more confident of their game now.

"There are still a number of areas we need to look into and rectify. But with each passing game I see improvements in our play."

Maybank have six foreign players in their ranks but Pakistani Mohamed Waqas is still a doubtful starter for the game.

Vellapan said that their Pakistani goalkeeper Imran Butt has had a good run thus far, and will be relied on to stop the Terengganu goal machine.

Terengganu come into the match with the benefit of a week's rest.

"That gives them an edge as they would have had time to rectify their mistakes. We went straight into the last eight after the preliminary round and only have one day's rest before the semi-final."

Faizal Saari is Terengganu's main goal-getter with 13 goals. Others – Tengku Ahmad Tajuddin, Mohd Firhan AZhaari, Fitri Saari and Ismail Abu – have been just as effective.

Terengganu could well wrap up the tie in the first leg – they have ample firepower to do just that.

The Star of Malaysia

---

A favourite in command of Pakistan hockey yet again

By Khawaja Manzar Amin

LAHORE: The eagerly anticipated changes in the Pakistan Hockey Federation (PHF) setup have been made and the general disgusted feeling is that of finding only a cigarette butt after rummaging through a huge pile of garbage. The latter substance (or trash or junk) is what Pakistan hockey has become or been turned into by successive managements appointed on the basis of our infamous (because it totally ignores merit or even plain common sense) patronage and spoils system. The old, familiar and failed pattern and mindset continues unabashedly with this new appointment. The lucky lottery winner this time is a retired army man, Muhammad Khalid Sajjad Khokhar, who again used his near magical powers of winning the most high-profile and most coveted public offices to telling effect. His post-army career is not without interest in its rich diversity, as he was not only closely associated (as member of various committees) with the Pakistan Tennis Federation in the reign of Senator Syed Dilawar Abbas, but also appointed Managing Director of the public sector Pakistan Mineral Development Corporation (PMDC). He reportedly lobbied hard to replace Syed Dilawar Abbas as president of the Pakistan Tennis Federation, but was outgunned by another political stalwart, Salim Saifullah Khan.

But no hard feelings, for he was appointed in February 2013 to the coveted PMDC post by, guess who? None other than the PPP Prime Minister Raja Pervez Ashraf and was fired in May of that election year by the caretaker government due to irregularities in his appointment. Now for this PHF post he has been appointed by the PML (N) Prime Minister, who is also the patron in chief of the PHF. So our boy is not only socially aggressive and ruthlessly ambitious but is also cerebrally ambidextrous, if he can work both the rival political parties to his advantage.

Not that he is totally innocent of any acquaintance with hockey, as he was a prominent hockey player in the army and reportedly also the team captain. At the national level he has had some experience of managing the national team. Further, his close connections with the present political bigwigs can be a clear blessing without any disguise as the funds which were previously withheld (deliberately, to usher in the new setup?) will now be flowing freely, hopefully for the good of the shattered game. The Prime Minister, who was loath to meet with the previous PHF setup on numerous occasions, has reportedly given audience to the new gent twice in ten days only recently.

Knowing his connections with a powerful federal minister, and hence which side their bread was buttered, the Pakistan Hockey Federation Congress was quick to unanimously rubber stamp his appointment, giving it legality, as indeed it had done earlier in the case of his predecessor, Akhtar Rasool. It is still unclear whether the latter Olympic great was unceremoniously given a parting kick to clear the way for the new man, or had resigned. Such mysteries remain mysteries forever in our environment. In another depressing development, Qasim Zia also a former Olympian and greenshirt skipper of the past, is in the soup and in the press for the wrong reasons. These are indeed bad times for Pakistan hockey.

The new president is what is termed a 'colourful' personality in our society, and with the flair and daring that accompanies this label, the future of the game can go either way, either to the highest heights or to the lowest depths. But the self-assurance and self-confidence that he exudes will stand him in good stead in motivating the demoralized greenshirts back to their winning ways. Also, that thanks to his efforts, they will hopefully enjoy a much more lucrative financial package, will help things no end. In the buildup to the Antwerp Olympic qualifiers, the PHF's 'financial dehydration' was such that Hockey India mischievously offered to bankroll the greenshirts for the event! It was an embarrassing and hurtful moment.

Since the new PHF president is reportedly close or related to the Vision 2025 minister, it would be appropriate (especially for him) to link up the revival of Pakistan hockey to this ambitious programme, as the eighth point on its agenda. In this way he can stay in office till the expiry of this Vision, if it is not further extended, which will be all to be good. He has already stated that his eyes are set on the 2020 Olympics, although there are a couple of important hockey events before that date, and his own term is said to expire in 2017, being a continuation of the fragmented Akhtar presidency.

But now to return to the worn-out old record : when, O when, will the Prime Minister give up his chief patronage of sports bodies and pave the way for a more democratic and transparent mode of appointment in them. One wonders that with so much on his plate (if that is the correct cliché here), matters of such momentous national importance, whether he can muster time enough for the much lesser sphere of sports at all? But they are all loath to part with their powers, great or small, in the grand tradition of 'to the winner belong the spoils'. And so the blue-eyed boys do not, and never will, become like the Dodo, an extinct species, but will multiply and flourish in these parts.

The Daily Times