All the news for Tuesday 1 September 2015

Ashleigh having a Ball after gold medal return to action at EuroHockey Championships

By Graham Wilson



Ashleigh's having a Ball with gold medal

ASHLEIGH BALL could not stop showing off the gold medal round her neck and who could blame her.

London's 2012 Olympic bronze medallist never expected to be in the England squad that snatched the European title from the world and Olympic champions the Netherlands at the Unibet EuroHockey Championship final at the Olympic Park on Sunday.

Ball, 29, spent a year out of the game recovering from a knee ligament operation and was only called in by coach Danny Kerry as a last-minute replacement.

In front of the TV cameras and a sell-out crowd, England came back from two goals down in the last quarter to draw 2-2 and take the Dutch to a shootout where goalkeeper Maddie Hinch managed to save three times for England to win 3-1.

Ball said: "I feel completely exhausted and delighted. With my injury and everything else I did not know how it would work out. I am just glad to have come through it. I got a text saying my surgeon had not been told I was playing.

"I was called up so late I didn't have the time to tell him. I haven't replied to him yet but I will now. I just could not waste this opportunity."

She added: "This sends out a strong message for Rio. We are 14 games unbeaten now. It is great to show the Dutch what we are made of. And I feel great. The GPS shows that I am stronger than ever.

"I am covering more ground. We have to stay focussed and although I have an Olympic bronze and now a Euro gold I still have to fight for my place."



England celebrate beating the Netherlands

Captain Kate Richardson-Walsh said: "This has been amazing. A lot of teams would have crumbled under the pressure. The Dutch had 10 penalty corners. We have trained hard and we have that gold medal at last.

"It wasn't pretty but sometimes you have to win ugly. Danny told us to do the simple things but to make sure we could look everybody in the eyes when we came off that pitch. I told the players we would get our chance and we did.

"Maddie was brilliant but we have great back-up in the goalkeeping department. They watch hours of video, they all do their bit."

Kerry said: "We will be better for Rio."



Helen Richardson-Walsh celebrates against the Netherlands

In the celebrations afterwards, Kerry jokingly asked his players to stop the nerve-wracking endings to their games. Hinch led the chorus of replies: "Boring, boring, boring."

This was indeed a fantastic day for the women and made up for the men's earlier failure to win a medal, leaving Ireland to deservedly to take the bronze medal. But the men had given their all against the holders and Olympic champions Germany in a stunning semi-final and could not reach those heights again.

England chief executive Sally Munday said: "Our job is to set the best stage possible. I liken this to a rock concert but you need the stars to perform. Today you were the rock stars."

This was a superb return by England in the first major event to be held at the Olympic legacy stadium, with hockey of the highest quality towards the final stages and a great advert for women's sport in particular.

There had been many arguments about the women taking the prime Sunday time for the final. It is usually reserved for the men.

This all paid off and the show will go on next year for another world class event when Great Britain's women compete in the Champions Trophy in June. Tickets for the final are already on sale.

Daily Express


---

Pruijser reflects on proudest achievement



Image credit: Koen Suyk

Amsterdam's Mirco Pruijser says that the growth of the Dutch team to being potential Olympic challengers is visible following their Unibet EuroHockey Championships victory in London.

Speaking to reporter Jonathan Spencer, he says that while he is one of the newer members of the team, this was a special victory, beating Germany 6-1 in the final.

"It's amazing. I have been in the Dutch team for the year now but the other guys have been waiting a bit longer for first prize now, so yes the team feeling is great.

"I think it was the perfect performance. We were defending very hard and were physical. We tried to concede no goals because we only have one goal against us this tournament. There were a lot of good counter attacks and it was great to be a part of it."

He added that this was his proudest achievement to date and is now looking forward to pushing hard during the build up to the Rio Olympics next year.

"There is still a year to go but you can see the team is growing. Also, the game is changing, it's getting more physical but we are doing great."

Next on the agenda for Pruijser is a return to club action with Amsterdam in the Hoofdklasse before taking on the first round of the Euro Hockey League in early October.

Euro Hockey League media release


---

Zwicker takes positives from London



Image credit: Frank Uijlenbroek

Germany's Martin Zwicker says that while his side is hugely disappointed to lose the final of the Unibet EuroHockey Championships, the tournament revealed plenty about his team.

They fell 6-1 to the Netherlands in the final but the Berliner man told reporter Jonathan Spencer that his side can be reasonably pleased by their week's work.

"In the end, silver is a good result but right now we are very disappointed. If you lose the final, you are always disappointed," he said.

"The Olympics are very far away but I think we had a good tournament as a team and we are looking forward to the future. I think we are on a good path. We have a lot of things to do still and plenty of training sessions but the rest will come for sure."

As for the final, Zwicker said that nothing went his side's way against the Dutch who showed a ruthless streak.

"It was a very tough game for us. They scored every goal, so it was very disappointing for us. It was not easy to get back into the game because they kept creating good chances and they scored, so it was very bad for us."

Euro Hockey League media release


---

Amsterdam takes on the Euros baton for 2017




Amsterdam has been formally confirmed as the venue for the 2017 European championships with EHF President Marijke Fleuren signing the contract in London following an epic 2015 edition.

Speaking about the next chapter in the continental competition's history, Fleuren said: "As we close what was a fantastic EuroHockey Championships in London, it is our great pleasure to know that this Championships is in the very safe hands of the KNHB in 2017.

"Every world level hockey event seems to set down a new marker, being bigger, bolder and louder than the last! We have seen here in London the wonderful pride of the fans and how our athletes have enjoyed the interaction with the adoring fans.

"We know that the KNHB will run another player centric event and we are very much looking forward to working with them over the next two years."

Erik Cornelissen, President of the KNHB "We are very happy to host the next EuroHockey Championships. After the World Cup in 2014 it is the next big event that we will host. We will have men and women together in the famous Wagner Stadium.

"One part of our bid was really to get the whole of Europe involved, not just the participating teams but the 43 Member Associations of the EHF. So we have have programmes planned on development, sharing knowledge and a lot of side events and we hope to have all the members there. After this great event in London we are very happy to be the next host!"

Euro Hockey League media release


---

EuroHockey Masters prove age is no barrier to hockey



The Masters showed they have still got it . Photo: Scottish Hockey

Last week, England played host to the EuroHockey Masters tournament which welcomed 1,625 athletes playing for 92 teams who took part in 16 age category competitions at three venues.

Regardless of age, these competitions were competitive and feisty, with old rivalries rekindled and a display of skilful hockey that had the crowd gasping.

It was a showcase of longevity as the players took to the field at venues in Essex, Hertfordshire and at Lee Valley Hockey and Tennis Centre, which was also playing host to the Unibet EuroHockey Championships 2015.

A packed stadium watched the Men's Over 60s, the Men's Over 55s and the Women's Over 40s finals on the same day that England women played Italy in the EuroHockey pool matches.

"Holding the final here during the EuroHockey Championships has just elevated this event," said Tracy Bow, captain of Wales Over 40s. "For people in my team who have not played for their national side before, this has made it really special."

And the event itself was a mammoth lesson in logistics – 92 teams across 16 age categories, ranging from the "youngsters" in the Over 40s to the Grand Masters, the Over 70s.

Nations represented included France, Belgium, Wales, Scotland, Italy, Netherlands, Germany and England.

The Masters scene is one of the fastest growing areas of participation. The men's scene has been vibrant for many years, but the women's competition has been a relatively new phenomenon.

Tournament organiser Deb Wilkes said: "We introduced women's Masters in 2005 in response to a huge demand from players across Europe, and it has just grown and grown. In truth, while it is important for health and fitness, and there is obviously the competitive element, for me it is about giving women some time to themselves."

Sally Munday, CEO of England Hockey agreed. "International Masters is all about showcasing that you can still play competitively whatever age you are. It is about keeping fit, it is social, it is time for themselves. And I have to praise Debs (Wilkes), she has chaired the EuroMasters organising committee, there were 92 teams over three venues and 1,625 players, that is no mean feat!"

"This is a great opportunity for people, like me, who have played hockey all our lives to a decent level, to keep playing competitively," said Howard Atkinson, a member of the Wales Over 55 team. Atkinson, who plays his hockey at Wisbech in East England, said that the Masters scene was growing exponentially. "In Wisbech we have entered a team into the national Men's Over 40s competition for the first time." With a wry smile he added: "More and more of us are discovering our Welsh roots."

These thoughts were echoed by Alex Hooker speaking after her team's defeat of Wales in the Women's Over 40s. She said: "I'm so excited to be playing for England Masters. It's a fantastic competition with amazing organisation and a real buzzing atmosphere. The commitment from all the individuals – from the players to the coaching team to the organisers - is incredible given that it is all self-funding. I think anyone who comes to watch or is involved will realise how important Masters hockey is, not just now but for the future as more and more people are extending their hockey playing career because of opportunities like this."

The last word goes to Wilkes: "I think the important message is that age is no barrier to hockey and that pride certainly doesn't diminish with age."

To find out more about the EuroHockey Masters on the European Hockey Federation website by clicking here.

FIH site


---

Ireland's Nikki Symmons and Spain's Pol Amat inducted into European Hall of Fame



EHF President Marijke Fleuren with European Hall of Fame inductees Santi Freixa , Pol Amat, Nikki Symmons and Teun de Nooijer. Photo by Frank Uijlenbroek.

The European Hockey Federation inducted Ireland's Nikki Symmons and Spain's Pol Amat into their Hall of Fame at the weekend, during half-time of the men's final at the Unibet EuroHockey Championships 2015 in London.

The Spanish winger and the Irish legend are the latest additions to the Hall of Fame that includes Germany's Natascha Keller, Spain's Santi Freixa and Netherlands' Teun de Nooijer. The latter three were inducted in 2013 in Boom, Belgium during the last edition of the EuroHockey Championships.

Amat earned 304 caps and scored 150 goals for Spain, representing his nation in five Olympic Games, winning silver in both Atlanta and Beijing. He also took part in nine European Championships, winning gold Leipzig, Germany in 2005.

Paying tribute to Amat, Great Britain and England goalkeeper Simon Mason said: "When Pol played well, Spain played well. He had incredible hand-eye co-ordination and when he carried the ball one-handed outside his left, he was virtually impossible to tackle."

One of the Spaniards best moments came in the final of the 2005 European Nations Cup when he scored two goals in less than a minute to turn around a 2-1 deficit and inspire his team to gold.

Symmons, meanwhile, is a record-breaker in Irish hockey, becoming the first player to pass the 200-cap mark.

Reflecting on an international career that spanned 13 years and 208 caps – including six European championships – she said: "Every time I put on the Irish shirt gave me great memories, not always good, but the bad also served as good memories to make me who I am today."

"I guess I gave my life to hockey for the love of the sport. There were many sacrifices I had to make and I think I inspired people by the way I went about giving it all I had on the pitch, especially near the end of my career. I was always striving to be the best I could be and to be a role model."

And the 33-year-old is continuing to help inspire new hockey fans through her work with the FIH as a digital co-ordinator, promoting the sport to a whole new generation.

For more information on the European Hockey Federation Hall of Fame, click here.

FIH site


---

WP state their case at hockey nationals

JONATHAN COOK in Pretoria



Rhett Halkett (4) attempts a spectacular goalshot during Tuffy Western Province's11-0 whitewash of North West on day two of the SA Men's Interprovincial Tournament at Tuks Astro in Pretoria Monday. PHOTO SEAN BURKE

There was no mistaking the intent of the most successful team over the last decade on day two of the SA Men's Interprovincial Hockey Tournament at Tuks Astro in Pretoria Monday.

Head coach Steve Evans' Tuffy Western Province line-up overwhelmed a never-say-die North West 11-0 after leading 5-0 at half-time, their comprehensive win studded with a host of exquisitely constructed goals.

Daniel Bell (2), James Drummond (2), captain Rhett Halkett, Dave Agar, Lloyd Norris-Jones (2), Callum Buchanan, Wade Paton and Shannon Boucher all got on the busy scoresheet via five penalty corners, one penalty stroke and five field goals in a display that exemplified the Capetonians' ability of making entries into the strike zone count.

WP have certainly laid down the marker and it will take a special effort from one of the IPT teams to topple them.

In the late game, South Africa U21, who are special IPT invites in a bid to assist their preparation for Junior World Cup qualification, shaded hosts Northern Blues 3-2 after leading 2-0 at half-time.

For Blues, who finished this entertaining encounter strongly, trying to haul in the SA Juniors' 3-0 advantage was a bridge too far.

SA U21 scored through sharpshooter Ryan Crowe (2) and Bili Ntuli while Grant Glutz got a brace for Blues.  

In Tuesday's match of the day, which starts at 6pm, head coach Krinesan Moodley's Blues combination will be determined to get points off the impressive KZN Raiders.

Raiders were accurate in accounting for Inland in the KZN derby to the tune of 7-1 after leading 3-0 at the interval.

The Durban-based team found the back of the net via the sticks of their penalty corner kingpins - captain Matt Fairweather and Greg Last (2) – plus Keagan Robinson (2), Ross Hetem and Ryan Williams from field play. Inland skipper Gavin Jelley netted his side's lone goal.

WP Peninsula beat KZN Mynahs 4-0, their goals by Jordan Turnbull, Seb Golding, Warren McEwan and Ben Wiley.

South Gauteng Wits staged a magnificent fightback to beat Free State 3-2 after trailing 2-0 at half-time. The Gautengers struck success through the goalshots of Dean Symons, Brad Venter and Kamal Ramburuth-Hurt's 53rd minute winner.

Free State, who must be kicking themselves for allowing their two-goal advantage amount to nothing, had goal success from Kurt Hensburg and Melrick Maddocks.

Hockey heavyweights Southern Gauteng were not at their best, despite beating an inventive Eastern Province 3-1 after leading 2-0 at half-time. The Johannesburgers scored through Dylan Coombes, Lance Louw and Julian Hykes from the penalty spot. EP's Cerezo Comerasamy scored a good goal five minutes after half-time.   

The second-tier B Section tournament starts at St Albans College Tuesday.

RESULTS
SG Wits 3 Free State 2; KZN Raiders 7 KZN Inland 1; WP 11 North West 0; Southern Gauteng 3 EP 1; WP Pens 4 KZN Mynahs 0; SA U21 3 Northern Blues 2.

TUESDAY FIXTURES
A Section (at Tuks Astro): 09h15 Tuffy WP vs SG Wits; 11h00 EP vs Free State; 12h45 Southern Gauteng vs North West; 14h30 WP Pens vs SA U21; 16h15 KZN Mynahs vs KZN Inland; 18h00 Northern Blues vs KZN Raiders.
B Section (at St Albans): 09h15 Namibia vs Northern Cape; 11h00 SA Country Districts vs Northern Blues B; Eastern Gauteng (bye).

SA Hockey Association media release


---

MHL umpires abused, accused of match-fixing



Malaysia Hockey League umpire Nazmi Kamarudin's car vandalised

TEMPERS flew Sunday during two Premier Division matches at the National Hockey Stadium in Bukit Jalil, and umpires were abused with vulgarities and accused of match-fixing.

The said umpires have made a written report, while Universiti Kuala Lumpur (UniKL) have also made a protest and paid RM500 for a review.

The first incident happened during the Sapura-Kuala Lumpur Hockey Club match which ended 4-4.

Sapura team manager Louis Gregory and coach Tai Beng Hai, unhappy with umpiring, had verbally abused umpires Nazmi Kamarudin and Mohamed Rohizan.

Gregory had said, as written in the umpires report: "Berapa dia orang bayar you? (How much did they pay you)."

While Beng Hai was reported as saying: "You are damn blind (and) you sudah boleh berhenti tiup (You can retire from blowing)."

The report said both the incidents happened in front of KLHC players as well as team manager George Koshy.

The other incident happened after UniKL lost 4-3 to Tenaga Nasional.

UniKL coach Arul Selvaraj and player S. Selvaraju are said to have made vulgar remarks to umpires Iskandar Rashdan and K. Lingam.

The umpires report read: "After the match UniKL coach Arul Selvaraj approached us (Iskandar and Lingam) and said: 1. You are both F***** idiots; 2. You are clearly biased; 3. You are S**** F*** internationals.

Selvaraju is said to have commented: "You do not train 24 hours a day, F***** this game and are clearly biased."

UniKL's protest note read: "Inconsistent decisions by Lingam and Iskandar, who did not work as a team and made decisions which contradicted. UniKL have video evidence, and will provide it during inquiry."

Meanwhile, the Junior Asia Cup grouping was released by the Asian Hockey Federation (AHF) , and Malaysia are in Group A with India, Japan, and China. In Group B are  Pakistan, South Korea, Oman and Bangladesh.

The Project 2016, coached by Arul Selvaraj, need to finish among the top-four in Kuantan on Nov 14-22 to qualify for the 2016 Junior World Cup in India.

Group matches will be for placing, as all teams play in the quarter-finals, and Malaysia need only one win in the knock-out to play in the World Cup.

Jugjet's World of Field Hockey


---

Terengganu gunning for some payback in MHL title showdown

By S. Ramaguru

KUALA LUMPUR: Double champions Terengganu are still sore over the opening game 6-2 loss to Kuala Lumpur Hockey Club (KLHC).

The east coast side now want to exact revenge when they take on KLHC in the last Premier Division match at the Batu Buruk Hockey Stadium in Kuala Terengganu on Friday.

Defender Azlan Misron, who left KLHC to join Terengganu in 2013, believes that they have found their momentum to score their first win over KLHC this season.

"It's not just about revenge for the earlier defeat, but to ensure that we retain the title.

"Last year we won our first title at home and we want to repeat the feat. We're hitting form at the right time," said Azlan on Monday.

Terengganu took over the lead for the first time this season when they edged Maybank 3-2 at home on Sunday. KLHC dropped to second after they could only manage a 4-4 draw with Sapura at the National Hockey Stadium in Bukit Jalil.

Terengganu have 24 points from nine matches in the six-team league, one more than KLHC.

All Terengganu need now is a draw to retain the crown. But they are not going to be satisfied with a draw.

Said Azlan: "I think the main thing is to ensure that we play as a unit. We are quite good defensively, but our strength is the forward-line. The forwards have been scoring in the last few matches."

KLHC are not giving up, though.

"Terengganu are the favourites as they have home ground support. At this stage we've nothing to lose but go for a win," said KLHC coach K. Dharmaraj.

The main problem with KLHC is their slow start. Against Sapura, KLHC trailed 2-0 and 4-2 before fighting back to secure a point.

"We have been slow starters in most of the matches. We need to look into it as we cannot afford to trail Terengganu. But we're confident of solving this problem," said Dharmaraj.

It all points to an interesting showdown. Both Terengganu and KLHC have several potential match winners.

For Terengganu, they have international forward Faizal Saari who is the top goalscorer in the Premier Division with 12 goals. Mohamed Firhan Azhaari and Tengku Ahmad Tajuddin can also be counted on to deliver the goods.

As for KLHC, they will rely on Ali Shan and Mohamed Rashid Baharom. The two Pakistans have netted five goals each.

The Star of Malaysia


---

HWL R4: 24-day camp for 26 probable to commence in Delhi




That India takes the hosting of the Hockey World League Finals (Nov-Dec 2015) seriously with an ambition to be in the medals'bracket is manifest today when Hockey India announced a 25-day camp for 26 probable to be held in Delhi starting from 5th of September.

Which means India's HWL R4 specific training will start three months in advance, which is a good augury.

When India hosted the same event's final two years ago, it finished last in the elite 8-team event, and the seriousness with which the camp has started three months in advance now prove that the Indians are all out not to repeat the past.

Roelant Oltmans, who wears the double cap of Director High Performance, Hockey India and Chief Coach of the team said: "The upcoming tournament is very important as here the team will be actually put to test as it will be a platform to understand their strengths and where all do they lack before playing the Olympics Games 2016. Each player from here will work towards building on oneself for the all important RIO Olympics and there is very less scope to falter. The team at this point is very high on its confidence be it the youngsters or the most experienced player, each one is playing with the sole motive to win."

GOALKEEPER P R Sreejesh, Harjot Singh, Akash Chikte

DEFENDERS: Birender Lakra, Kothajit Singh, VR Raghunath, Jasjit Singh Kular, Rupinder Pal Singh, Gurjinder Singh, Pardeep Mor,

MIDFIELDERS: Sardar Singh, Chinglensana Singh, SK Uthappa, Satbir Singh, Danish Mujtaba, Devinder Walmiki, Manpreet Singh, Dharamvir Singh,

FORWARDS SV Sunil, Ramandeep Singh, Akashdeep Singh, Mandeep Singh, Talwinder Singh, Lalit Upadhyay, Mohd. Amir Khan, Nikkin Thimmaiah.

Stick2Hockey.com


---

Camp for Men's Hockey World League Final begins on Sept 5

NEW DELHI: The preparatory camp of the Indian Men's Hockey team for the upcoming World League Final will be held at Major Dhyanchand National Stadium from September 5 to 29.

Twenty six players will be part of the camp, wherein they will be gauged on their skills as they undergo meticulous training sessions to prepare for the Men's Hockey World League Final to be held in Raipur, Chhattisgarh from November 27 to December 6.

The Sardar Singh-led Indian team is brimming with confidence post their good play in the recently culminated Europe Tour where they took the series against France and Spain. They gained considerable experience through the tour as they had a good experience on the European style of play.

Commenting on the preparatory camp, Roelant Oltmans, Director High Performance, Hockey India and Chief Coach said, "The upcoming tournament is very important as here the team will be actually put to test as it will be a platform to understand their strengths and where all do they lack before playing the Olympics Games 2016.

"Each player from here will work towards building on oneself for the all important RIO Olympics and there is very less scope to falter. The team at this point is very high on its confidence be it the youngsters or the most experienced player, each one is playing with the sole motive to win."

List of the players:

Goalkeeper: P R Sreejesh, Harjot Singh, Akash Chikte

Defenders: Birender Lakra, Kothajit Singh, VR Raghunath, Jasjit Singh Kular, Rupinder Pal Singh, Gurjinder Singh, Pardeep Mor

Midfielders: Sardar Singh, Chinglensana Singh, SK Uthappa, Satbir Singh, Danish Mujtaba, Devinder Walmiki, Manpreet Singh, Dharamvir Singh

Forwards: SV Sunil, Ramandeep Singh, Akashdeep Singh, Mandeep Singh, Talwinder Singh, Lalit Upadhyay, Mohd. Amir Khan, Nikkin Thimmaiah.

The Times of India


---

Delay in turf completion forces Hockey India to shift camp

Rutvick Mehta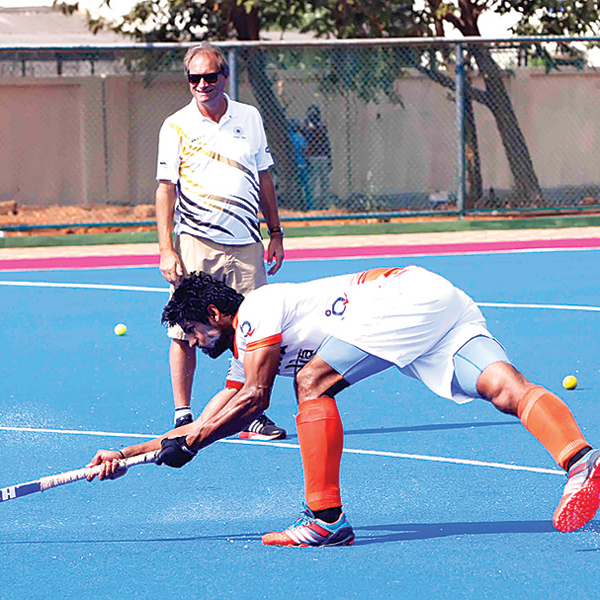 Oltmans Roelant Oltmans says he would've preferred to train in Bengaluru

It is learnt that the top brass of Hockey India (HI) wanted to keep the camp commencing from September 5 at the SAI Centre in Bengaluru. But the centre's inability to finish work on the newly-laid green turf in time has forced them to keep it in the Capital.

A delay of about seven days in the completion of a turf in the Sports Authority of India (SAI) Centre in Bengaluru has forced the national men's hockey camp to be shifted to New Delhi.

It is learnt that the top brass of Hockey India (HI) wanted to keep the camp commencing from September 5 at the SAI Centre in Bengaluru. But the centre's inability to finish work on the newly-laid green turf in time has forced them to keep it in the Capital.

The SAI officials had, earlier this year, decided to lay two new artificial turfs – a green and a blue — in its centre. The green turf, which replicates the one used at last year's FIH World Cup in the The Netherlands, was initially supposed to be completed by June. It overshot the deadline, and is now expected to be completed by the second week of September. HI refused to postpone its camp by a week, and instead chose to make do with the turf at the Major Dhyan Chand Stadium.

"We were told that the turf would be completed and ready to use only by September 11 or 12," HI president Narinder Batra said. "There was no way I would've postponed the camp. Thus, I had no option but to keep it in New Delhi."

Roelant Oltmans, HI's high-performance director and head coach of the men's team, admitted that they would've preferred to keep the camp in Bengaluru, as the conditions there are more suited for the team to train in the build-up to the 2016 Rio Olympics.

"We would've preferred Bengaluru because you don't have to worry about the travel time. That time can be used for different aspects like training sessions or fitness or team building. We like to go to Bengaluru, and it would've been ideal if we were there," Oltmans said. The SAI Centre is in the outskirts of Bengaluru, and the team is put up in the vicinity itself.

The Dutchman added that the overall environment was not conducive to holding a camp there yet.

"Look, the pitch is not completely ready, and the same goes with the sprinklers. The pitch has been laid down, but I'm not sure if the whole environment is ready to hold a camp. It's also about the medical facilities, strength and conditioning facilities, testing facilities, the meeting rooms, all that kind of things are important for us," Oltmans said.

BLUE TURF UNLIKELY TO BE READY SOON

The completion of the blue turf, which will be similar to the one that will be used in the 2016 Rio Olympics, is also almost certain to be delayed. While the deadline for that was set for October, it is unlikely that it will be ready to use before the start of next year.

"They are planning to put the blue one down there from October," Oltmans said. "I think October will be quick, to be honest. I don't know exactly the dates that they can start. It depends on a lot of things. I expect us to start training on it after Hockey India League (January-February 2016)."

It would mean that the team will have about five months to get used to that kind of turf before the all-important Games begin in August.

Meanwhile, it is learnt that the team will tour New Zealand for a six-match test series at the end of September, pending final clearance from HI.

Squad: PR Sreejesh, Harjot Singh, Akash Chikte, Birender Lakra, Kothajit Singh, VR Raghunath, Jasjit Singh Kular, Rupinder Pal Singh, Gurjinder Singh, Pardeep Mor, Sardar Singh, Chinglensana Singh, SK Uthappa, Satbir Singh, Danish Mujtaba, Devinder Walmiki, Manpreet Singh, Dharamvir Singh, SV Sunil, Ramandeep Singh, Akashdeep Singh, Mandeep Singh, Talwinder Singh, Lalit Upadhyay, Mohd. Amir Khan, Nikkin Thimmaiah

DNA


---

Country's pride, harassed in Haryana

3 India players allege Hockey Haryana is withholding their 2011 National Games certificates

Gaurav Kanthwal

Chandigarh - The whole country may be showering accolades on the hockey eves for qualifying for the Olympics after 36 years, but Haryana, the state from where seven players are in the team, chooses to victimise them in its own way.

Three girls from the national team have levelled charges of harassment against their home state association, Hockey Haryana. They claim that Hockey Haryana has been deliberately withholding their winners' certificates from the 2011 National Games to harass them.

The certificate is a pre-requisite to apply for a government job and the state award — the Bhim Award.

"Twice I have applied for a state government job and the Bhim Award but on both occasions my application was rejected because I could not furnish the proof of my achievements," said ace forward Rani Rampal.

The other two players, on the condition of anonymity, said that they had complained to Hockey India (HI) president Narinder Batra on more than one occasion but nothing has come out of it.

"The runners-up and the second runners-up have got their certificates. Some of the girls from the Haryana team have also got their certificates but when it comes to me, Hockey Haryana has all sorts of reasons. This is nothing but harassment," added Rani Rampal.

Recounting one instance, a player said, "As the last date for filling the job application was nearing, I waited till 11.30 pm outside a hotel in New Delhi where an official was staying. Frustrated, I had to return empty-handed."

The Indian Olympic Association (IOA) organises the National Games and issues the certificates to Hockey India, which in turn passes them on to the state associations.

"We give certificates to the players as soon as we get them. No certificate of any player has been withheld by us. Those who are crying hoarse have already shifted to Punjab. We do not owe them anything," Hockey Haryana secretary Sunil Malik said.

The three players, who are products of the Shahbad training centre, feel they are paying the price of petty politics and favouritism within the state ranks.

The players allege that Shahbad has been on the receiving end every time it has won the state championship. "The winners' certificates are never issued to us," a player said.

Sources said the Shahbad training centre has been systematically downgraded, with the hockey nursery and the academy shut down. The supply of equipment has been choked since 2012. Not a single hockey stick or a ball has come to the centre that has produced numerous international players.

The Tribune


---

Hockey hurts, but don't let injuries get you down

Kookaburras captain Mark Knowles has spent a large part of his international career in rehab. He tells us how to turn the negatives into positives.

Tim Doutré



Mark Knowles has endured his fair share of injuries.

It's winter. I'm in Melbourne. And I'm injured.

The familiar grab at the back of my leg sent me to the sidelines about a month ago, once again destined to line the pockets of physiotherapists across the city.

It's not the first time it's happened, but in the grand scheme of things, it's not that bad.

For starters, I'm certainly no Kookaburra.

I would consider myself a weekend hack – and that's being generous.

On the other hand, Kookaburras captain Mark Knowles, well, let's just let his injury list speak for itself…

"My biggest problem over my career have been my ankles," he said.

"I broke my ankle in 2003 – the day I was named in the national team for the first time.

"I was out for just over four months.

"My first training session back for Australia, with four minutes to go, I broke my ankle again."

That was Knowles' first year living in Perth, away from family and friends. He was 19.

Then there was knee surgery ("just a clean out") in 2005, foot ligament damage in 2006, hernia surgery in 2007, and another ankle injury in 2010.

And they're just the highlights.

Knowles said he has played 265 games and missed about 135-140.

It's enough to make a physio blush.

Injury blues

You would assume the worst thing is the rehab, right? The stretching, the appointments, the setbacks.

Not for Knowles. He confessed that he doesn't mind the rehab side of things. He enjoys putting in the work. It's the mental aspect, watching his team-mates run out and achieve success that challenges him the most.

"I've been someone who has always loved training hard and doing extra and stuff, it's more just not playing," he said.

The good news is there is something that lessens that game envy, but our younger readers may not like to hear it.

"It's a bit easier now when you're injured and you've got a young family," Knowles said.

"It gives you a bit more time to be home with them so that's the light at the end of the tunnel."

Getting back on the park

Knowles said he has overcome the insecurity he suffered when he was injured in his younger days – that fear of letting others take his place.

"Now it's a bit more about just being careful because you don't want these things to linger on.

"When you get injured, I haven't tried to come back too soon."

As for me, I've run the laps at training, seen the physios, completed the repetitive stretches and stood on the sidelines drinking water (mostly), while my team went out and played.

I was feeling ready to hit the field next week.

But then Knowles stressed the importance of maintaining your diet while injured:

"You don't want to be behind the eight ball when you come back."

Gulp. *Puts down meat pie*

Five tips for the injury-prone from Mark Knowles

1. Don't rush

"Make sure you are right when you come back."

2. See the opportunity

"I've used getting injured as an area to improve something else. When I broke my ankle and did my foot, I used it as an opportunity to do more upper body work, get stronger on the ball with my core."

3. Change is as good as a holiday

"Use it as a freshen up. I'm fresh and firing when I come back or I'm better in a different area.

"That was something I learnt from guys when I came into the national squad."

4. Have faith

"For most people I think especially at my level, my hockey knowledge and hockey skills aren't going to go anywhere but you find it hard to think about that in that first week when you come back and you are not at your best. It will come back."

5. Eat right

"When you are injured, one of the most important things is your diet.

"For people at a club level, they think they can let the foot up or not be as disciplined with their food.

"I think that's really important just to be careful with your diet when you are injured."

The New Daily


---

Shahbaz refuses to accept positions in PHF

KARACHI: Pakistan's former World Cup winning captain Shahbaz Ahmed has refused to accept the positions of coach, manager or chief selector in the Pakistan Hockey Federation.

"I don't want either of these positions. I think I can do much more if asked to revamp our domestic hockey structure which is in very bad condition, and is neither attracting new players nor producing fresh talent," Shahbaz told PTI.

"I want to use my expertise to revamp and upgrade domestic hockey. India has spent a lot of time and money on their domestic hockey and they will soon reap the dividends. We also need to focus on our domestic structure," he said.

Shahbaz, one of Pakistan's hockey greats and one of the world hockey's most artistic forwards, is seen as a strong candidate to replace Rana Mujahid as secretary of the federation if the new President Brigadier (retd) Khalid Sajjad Khokar decides to make the changes in the set-up.

Khokar was elected as PHF President last week after Akhtar Rasool had stepped down after a fact finding commission of the government recommended changes in the federation to stop the rot in Pakistan hockey. Khokar, who was nominated as PHF President by the PHF chief patron and Prime Minister Nawaz Sharif earlier this month was elected at a special congress meeting of the PHF held in Islamabad last Thursday.

Besides Akhtar Rasool, the chief coach of the national team, Shahnaz Sheikh has also resigned after the national team failed to qualify for the Rio Olympics from the World Hockey League held in Belgium in June. Shahbaz said he is not gunning for any big post in the hockey set-up.

"I sincerely believe our hockey has gone down because our domestic structure is not attractive enough and is not producing fresh talent. We are playing around with the same group of players for the last few years and are heavily dependent on them which has led to the downfall," the former Olympian said.

Shahbaz, under whose captaincy Pakistan won the Champions Trophy and World Cup in 1994 and also the Asian Games in 1990, said he wanted to use his expertise to revamp the domestic structure. "By revamp I want to make it more competitive and financially rewarding for players. Our domestic structure needs to have professional coaches and be in line with the requirements of modern day hockey," he said.

The Times of India


---

Khokhar set to revamp junior hockey team set-up

LAHORE: Newly-elected Pakistan Hockey Federation (PHF) president retired Brig Khalid Khokhar is likely to ring in the changes by announcing a new selection committee and team management of the national junior team on Wednesday.

According to sources, former Olympian Hasan Sardar is favourite to become the chief selector while another Olympian, Tahir Zaman is the main candidate for the post of manager/head-coach.

Former Pakistan captain Zeeshan Ashraf is likely to be inducted as assistant coach as Khokar looks in to bring tried and tested people into the fold while Wasim Feroze, Shahbaz Junior, Mussadiq Hussain and Rana Shafiq would be in the selection committee.

Although Hasan and Tariq were great players, they failed to impress when they were given similar posts previously.

But with the change at the PHF helm, a lobby will also come on different posts and those who

worked during the tenure of retired Gen Mohammad Aziz Khan as its chief are likely to return to the federation.

Khokhar served as manager and selector of the national team during Aziz's tenure

Dawn


---

Rebuilding hockey? Sardar set to take up chief selector's post



Olympian Hassan Sardar PHOTO: FILE

Olympian Hassan Sardar has been chosen to lead the Pakistan Hockey Federation (PHF) selection committee by newly appointed president Brig (retd) Khalid Sajjad Khokhar, with an official announcement to be made later this week.

Upon assuming charge, the PHF president has decided to make major changes in the management and the federation has decided to form a quality selection committee, comprising four members instead of five.

Sardar has been named the next chief selector and will be assisted by three other former players. The post was left vacant after Olympian Islahuddin Siddique resigned from his post following the national team's poor performance at the Hockey World League (HWL).

"I have many plans lined up for the resurgence of hockey," Sardar told The Express Tribune. "The need of the hour is to acquire talent from schools for the junior level. The senior teams just need the right combination for respective tournaments, so the formation of a useful junior team is the key area to focus on right now. The larger pool of players we have, the greater will are our chances be to form a good national team."

He added that regional associations should be made stronger with individuals who are willing to work for hockey rather than pandering to politics.

The Express Tribune