All the news for Friday 17 July 2015

Retegui's Argentina tighten grip on Pool A and Canada remain top of Pool B

Teams on the hunt for a ticket to Rio at Pan American Games in Toronto, Canada




The morning session of men's Day 2 at the Pan American Games Hockey competition featured two Pool A matches, with Trinidad & Tobago drawing with Cuba whilst Argentina's Los Leones made it two wins from two by defeating USA. 

The afternoon session featured two Pool B matches as Brazil scored the only goal of the game to beat Mexico.  They were followed by Chile and Hockey World League Finalists Canada, again one goal separating the two as Canada took the points.

More details on the matches can be found below.

Pool A
Trinidad & Tobago 2-2 Cuba
A late goal from Solomon Eccles gave Trinidad & Tobago a share of the points against Cuba, who lead on two occasions before eventually having to settle for a 2-2 draw. The result left both teams searching for their first win, although Cuba remain unbeaten having also drawn with USA in their opening match. Cuba opened the scoring in the 22nd minute with a perfectly executed penalty corner drag-flick from Yoandy Blanco, a lead that they held until nine minutes from the end of the match when a blistering strike from Akim Toussaint restored parity and set up a dramatic finale. The ever-dangerous Blanco restored Cuba's lead with another penalty corner effort - his fourth goal of the competition - before a last-gasp penalty corner from Eccles gave T&T their first point of the competition.

USA 0-6 Argentina
Argentine penalty corner ace Gonzalo Peillat scored twice as Los Leones continued their impressive start to the Pan American Games with a comprehensive victory over USA. It was a second successive win for the South American giants, enough to guarantee their position as the winners of Pool A with a game to spare. in the quarter-final phase, they will face the team that finishes bottom of Pool B. Agustin Mazzilli and Manuel Brunet gave Argentina a 2-0 lead at half time before Peillat and Facundo Callioni both registered in the third quarter. Peillat's second penalty corner effort found the goal two minutes into the final quarter, with Nicolas Della Torre adding a sixth goal to ensure that Head Coach Carlos Retegui's dream of winning a Pan American Games Gold medal as both a player and a coach remains very much alive. As a player, Retegui won Gold in 1991, 1995 and 2003, with his 1995 team featuring two iconic coaches of the modern game - Max Caldas, Head Coach of the Netherlands, and former Argentina women's Head Coach Gabriel Minadeo, who guided Las Leonas to Pan Am Gold in 2007.

Pool B

Brazil 1 Mexico 0
With both teams looking for their first win, it was Mexico who won the first penalty corner of the match which they were unable to convert.  With both teams defending well, it was still 0-0 going into third quarter.  The deadlock was then broken when Mexico lost possession and although Brazil's first shot on goal was blocked by Mexico's keeper Moises Varga, Brazil's Lucas Paixao followed up to score and take the lead.

Mexico attacked hard in the final quarter but Brazil keeper Rodrigo Faustino stood firm saving several shots.  Brazil then had a last minute opportunity but the shot went wide.  However, the final result 1-0 to Brazil was enough to earn them their first Pan Am Games win and three points.

Canada 1 Chile 0
Hockey World League Finalists Canada confirmed their position at the top of Pool B with a narrow 1-0 victory over Chile.  With both teams winning their opening pool games on Tuesday, all eyes were on this match. In a close game it was a goal from Scott Tupper in the 54th minute, his second of the Games that separated the two.

Keep up with all of the action on www.panamhockey.org.

#PAGhockey15 #TO2015 #RoadToRio

FIH site


---

Second half flick from Tupper breaks deadlock, sends Canada to victory

Canadians undefeated through two games at Pan Am Games

Shaheed Devji



Photo: Yan Huckendubler

Canada's men's field hockey team is off to a perfect 2-and-0 start at the 2015 Pan American Games after a 1-0 win over Chile Thursday at the Pan Am Fields in Toronto.

A second half dragflick from captain Scott Tupper - his second goal on the penalty corner in the tournament - was the difference in the match and puts Canada in the driver's seat to finish finish in Pool B.

"We identified Chile as probably our biggest game of the pool," says Tupper. "Most people would have thought we were both going to be playing for first in the pool. It was always going to be a tense game."

Heading into the match, the two teams were very familiar with each other after having met for a short series earlier this year in Chile, in which both teams experienced success.

The familiarity meant no surprises for either team and the play in the first half showed as much.

Neither team was able to break through the other's defense, save for a chance on either end.

Gabriel Ho-Garcia found himself with a little space in the Chilean circle and fired a backhand on goal from a sharp angle but was turned away by keeper Adrian Henriquez.

Chile got a good chance of their own when a ball into the Canadian circle was deflect in close, but a quick reaction from keeper David Carter kept it out.

Tupper had a chance to give Canada the lead when his team was awarded its first penalty corner of the match, but the exchanged wasn't clean and the Canadians weren't able to manage a shot.

After a scoreless first half, the Canadians came out with renewed purpose in the second and controlled the majority of possession.

Mark Pearson had a close call in the third quarter when a cross-goal pass from Matthew Sarmento just missed connection.



Canada celebrates winning goals. Photo: Yan Huckendubler

Late in the match, Canada had the ball in the Chilean and Sukhi Panesar was able to earn a penalty corner in the fifty-fourth minute. It was Canada's second of the match and unlike the first, Tupper was able to release his vaunted dragflick to the top right corner beat Henriquez and giving Canada the lead late.

"I was flicking the ball pretty good in training leading up," says Tupper about his success on the corner so far this tournament. "Pulls are good, stops are good, it's easy for me to come in with lots of confidence and hopefully put a lot of pace on the ball."

Tupper goal was all the Canadians would need for the victory as they kept possession for the remainder of the game, securing their second win in as many matches at the Pan Am Games.

Canada will face Mexico, ranked thirty-fourth in the world, on Saturday (4pm PT/7pm ET) in its both teams' final preliminary round match. The tournament quarterinal will take place on Tuesday, June 21st.

Field Hockey Canada media release


---

USMNT Falls to Top-Seeded Argentina



Photo: Paul Winstanley

TORONTO, Canada – In their second pool play match, the U.S. Men's National Team fell to familiar opponent and 6th FIH World Ranked Argentina by a score of 0-6 at the 2015 Pan American Games. Competing in two preparatory games against Argentina last week in Boston, Mass., Team USA was acquainted with their playing style but couldn't match the performance shown today.

"We played incredibly well in the first half and made two unacceptable errors," said U.S. Men's National Team Head Coach Chris Clements. "But then we just strayed away from what our original intentions were and had been in that first period and therefore Argentina was able to capitalize on that. We had something in place that has been successful for us and wanted to continue with that plan. We slightly moved away from that, so now it's a matter of discipline from our younger players to make sure we follow through as to what we've set down as the plan of attack. We have evidence that it's working, so there's no need to change our original plan."

Team USA was put under pressure early by Argentina who had multiple circle penetrations. With composure and patience, the USMNT defense held strong and handled the persistent advances. In the 11th minute, Argentina earned their first penalty corner of the game, but a collective effort by USA's strong defensive corner unit kept them from crossing the goal line.

Working to transition the ball up the field, Mortiz Runzi (Boston, Mass.) found an open passing lane and sent a hard ball across the goalmouth but the drive went through without hitting another USA stick to capitalize on the chance. End-to-end hockey progressed as both teams advanced entering into their respective circles but just before the end of the first quarter, Argentina's Agustin Mazzilli cranked a backhanded ball from the top left of the circle to make the score USA 0, Argentina 1.

At the start of the second quarter, Argentina was awarded their second penalty corner of the match but USA's goalkeeper Chris Rea (San Diego, Calif.) had an outstanding save on the left side of the cage to deny the drag flick. This translated into a USA breakaway threat by Pat Harris (Moorpark, Calif.) through the middle of the pitch but the offensive run was stopped by Argentina's defense.

In the 19th minute, Argentina's Manuel Brunet entered the top right of the circle and released a powerful hit that found the low left bottom corner of the cage to change the score to USA 0, Argentina 2.

With determination, Team USA's front line tirelessly continued to generate circle entries and in the 22nd minute earned their first penalty corner of the game. Off the corner, Will Holt's (Camarillo, Calif.) drag flick opportunity was saved by the glove of Argentina's goalie. Just two minutes later Team USA earned their second penalty corner and Aki Kaeppeler's (Stuttgart, Ger.) low flick went off the toe of Argentina's goalkeeper keeping the score at USA 0, ARG 2 going into halftime.

In the opening minutes of the third quarter, Argentina posed a quick backhand shot but the opportunity went just wide of the cage. Continuing to develop scoring chances, Team USA broke into the circle in the 35th minute with smooth connecting passes but Argentina's defensive line stepped up to eliminate USA's front-foot attack.

Forced defensive errors earned Argentina a penalty corner in the 38th minute. Rea's quick reaction to the initial shot was successful but he was unable to clear a fast paced rebounded ball by Argentina's Gonzalo Peillat who changed the score to USA 0, Argentina 3.

Just three minutes later, Argentina found the back of the cage again when Facundo Callioni maneuvered through USA's defenders to challenge Rea who slid into a solid stack save. Collioni flicked the ball over Rea's reach creating a new score of USA 0, Argentina 4.

Argentina continued to apply high pressure on Team USA's defense and capitalized off two penalty corner opportunities in the 46th minute on a goal by Peillat and again in the 54th minute on a goal by Nicolas Della Torre to make the final score USA 0, Argentina 6.

"We have to be a little bit sharper when we're under pressure because the best teams, as you've seen today, will punish you if you're not sharp the entire game, especially in the defensive circle," said Harris. "We still need to focus on our goal and our goal is to win a medal. Losing this game doesn't change the color of the medal we want to win. We have to and we want to win the next game. We're simply focused on that. We're going through this tournament one step at a time."

The U.S. Men's National Team will be back on the field Saturday, July 18 at 11 a.m. EST in their final pool play game against Trinidad and Tobago. For all information regarding USA Field Hockey at the 2015 Pan American Games, including the full schedules, check out the event page and be sure to follow on Twitter @USAFieldHockey for live Team USA game updates.

USFHA media release


---

Calypso Stickmen rally for draw



T&T goalkeeper Andrey Rocke blocks a shot by Argentina's Joaquin Menini during the second half of a field hockey match at the Pan Am Games, Tuesday, in Toronto. AP Photo

Australia-based forward Akim Toussaint and Solomon Eccles scored in the final ten minutes as T&T senior men's hockey team rebounded from its 11-0 loss at the hands of Argentina with  a2-2 draw against reigning Central American and Caribbean (CAC) Games champions Cuba in Pool A play at the Pan Am Fields.

At the end of the first 15 minute quarters, the scores were goalless, but Cuba which spanked T&T 5-1 in the CAC Games Final in Guadalajara, Mexico last November took a 1-0 into the half thanks to a 22nd minute item from Yoandy Blanco. Both teams then fought out a 0-0 third quarter, before Toussaint drew T&T level in the 51st minute, only for Blanco to restore his team's slim lead at 2-1, two minutes later.

However, T&T's determination would eventually pay off with a minute left as Eccles slammed home the equalizer to earn his team a share of the points, its first of the tournament ahead of its final round-robin match with USA on Saturday from 11am at the end of which the quarterfinals will take place.

The Trinidad Guardian


---

Fiji men and women lead the way in the Hockey 5s at the Port Moresby XV Games



(Photo Port Moresby XV Games)

Hockey 5s at the Port Moresby XV Pacific Games in Papua New Guinea has provided an entertaining first three days with exciting and action packed matches.

The women's round robin matches have concluded and the line-up's for the semi-finals confirmed.

Previous winners Fiji women made an excellent start to the event winning all three of their round robin matches including a very close 5-4 win over Papua New Guinea (PNG). This was PNG's only loss of the round robin's and they move into the semi-finals to take on Vanuatu who were winners on day two.

The other semi-final sees Fiji line up against event newcomers Tonga. Both semi-finals will take place on Friday 17th July – times (local) as below;

1430   SF1       PNG     vs    Vanuatu
1730  SF2        Fiji       vs     Tonga

The men's event round robin's has also seen Fiji with a 100% win record followed by Vanuatu who have won two matches. One of Vanuatu's wins came from a shootout with PNG after the score was tied at the end of their match on day two. With all teams scoring goals, the last day of the men's round robin's looks to be very exciting as Vanuatu take on newcomers the Solomon Islands and PNG play Tonga.

Click here for the Pacific Games website and here for the Oceania Hockey Federation for more information.

FIH site


---

New format the key to a brighter future for Pacific hockey?

By Richard Ewart in Port Moresby



Vanuatu's hockey compete at the Pacific Games in Port Moresby. (Richard Ewart)

There is a new sport in town at the Pacific Games in Papua New Guinea — after rugby sevens, Twenty20 cricket and rugby league nines, now comes hockey fives.



Papua New Guinea regroup after 5-4 loss to Fiji in the Pacific Games hockey competition. (Richard Ewart)

And those charged with running the sport in the Pacific say it could be the saviour of game.

Hockey has only featured in the Pacific Games on three previous occasions, and until Port Moresby there has never been a tournament for both men and women.

The reasons for that are straightforward: hockey has never been a heavy hitter on the sporting scene in the region.

It is expensive to take an 18 player squad to compete in an international tournament and most Pacific countries cannot afford to do it.

In recent times, Fiji's men's and women's teams qualified to play in the next stage of the World League, but neither side went because there was no money to send them.

But with five-a-side hockey the picture is very different. Half the number of players are required, so naturally costs are significantly reduced as well.

Hence five teams have made it to PNG and the hope is more will follow at future Pacific Games.

'We're just happy to be involved instead of being left out'

Fiji's team manager Senimili Rose said hockey fives make perfect sense.

"We're just happy to be involved instead of being left out of the Games as has so often been the case in the past," she said.

"This new format makes it more affordable in terms of preparations, getting athletes to the competition, getting proper uniforms.

"It just makes things easier on people's pockets because we all struggle financially."

For the team from Vanuatu to suggest that getting to Port Moresby was a struggle would be an understatement.

In the wake of Cyclone Pam, their hockey facilities were devastated and women's team captain Mary Siro said the team had been doing it tough.

"The cyclone destroyed our field so our training was badly disrupted. We had to be bussed as a team to a temporary base, and it hit our finances hard," Ms Siro said.



Papua New Guinea hockey coach Ossie Kekesan. (Richard Ewart)

"We had only two months to prepare for the Pacific Games because the repairs to our field will be expensive and will take a long time."

But all the teams at the hockey fives tournament are learning to adapt to the new format, so Vanuatu have not entirely been left behind.

The Fiji squad may have an edge, having played five-a-side hockey in the past, but only indoors, not outdoors on the brand new all-weather surface in PNG.

With just a goalkeeper and four outfield players on each team, hockey fives is fast, near enough non-stop and you can shoot from anywhere.

Matches are played over three 12-minute periods (with just a couple of two-minute breaks), and boards all around the field mean the ball is constantly in play.

Good crowds have turned up to get a first glimpse of hockey fives and they seem to like what they see.

PNG women's coach Ossie Kekesan says his players have really taken to this new form of the game.

"It's a new concept to us and we only started playing last year, before our new centre was ready. But the girls have picked it up very quickly, and they love it, once they start playing, they don't want to stop," he said.

When the Pacific Games are over Kekesan wants hockey officials to keep the momentum going.

"This concept I think can be great driver for hockey in the Pacific and we should have an annual tournament and involve as many Pacific islands as possible," he said.

"It's ideal for schools and getting kids involved. We'd like everybody to get behind us, especially our federations. That would be great."

But more immediately there are Pacific Games gold medals to be won, and the hockey medals will be among the last to be decided on the final day of the Games on Saturday.

So expect big crowds because every medal counts and for the host nation in particular, as PNG strives to take the Pacific Games crown away from New Caledonia.

ABC News


---

Hockey's best do battle in Durban

JONATHAN COOK



Hosts Riverside will look to SA striker Taine Paton in the red zone during the Greenfields Elite Club Challenge in Durban. PHOTO ACTION PIX

Hockey fans in the province are set for a wonderful weekend with the advent of the 2015 Greenfields Elite Club Challenge, which plays out between six top SA teams at Riverside Sports Club in Durban North from Friday evening to Sunday morning.

The event boasts the largest prize-money pool in SA hockey history and Ayden Shrives of sponsors Greenfields said their investment makes sense.

"The Greenfields Elite Club Challenge gives the company that produces world-class astro turf and synthetic flooring the perfect opportunity to interact directly with its market," said Shrives, himself a former top player and current world-rated umpire.

The event, started in 2013 by Riverside Sports and its Riverside Hockey Club, is targeted as an event for the whole family. "Pure hockey enjoyment at its best is our mission," added RHC chairperson Wayne Phillips. And the line-up is impressive.

Wanderers Jockeys of Johannesburg have six national players in their team including Beijing 2008 Olympian Tommy Hammond, London 2012 Olympian and SA number one goalkeeper Rassie Pieterse as well as the 84-Test striker Migs da Graca. Host club Riverside HC boast four national players in the 100-Test London Olympian Taine Paton as well as fellow Olympian, Commonwealth Games and World Cup midfield maestro Tim Drummond.

And few will forget the stunning performance of current SA second-choice keeper Gowan Jones in the inaugural edition of the Greenfields Elite Club Challenge two years ago when a phenomenal display under the Riverside crossbar won the home team the coveted trophy in a heart-stopping final.

What could prove decisive in a gruelling event that features 12 matches in 42 hours – each side playing a stamina-testing five games in that time – is the management of the players, and in this department Riverside are well set. Experienced coach Sheldon Klingbiel, former SA coach Alan Paton, and the man with the winning mojo, Shane Fouqureaux, are masters of the art of winning tournaments.

Kearsney HC have two SA players in their midst, defender Robin Jones plus the school's former captain, the Belgium-based professional Greg Last, Malik Old Albanians of Pretoria are packed with Northerns provincial players, while fellow Greenfields Elite Challenge newcomers Old Edwardians of Johannesburg have the supremely competitive double Olympian striker Thornton McDade leading from the front as player/coach alongside the hugely talented SA-capped gamebreaker supreme, Nic Gonsalves.

The Cape Town-based defending champs Western Province CC Badgers undoubtedly have the best pedigree of all. The Badgers boast six SA players in their midst, including double Olympian and captain Andrew Cronje, as well as Olympians Rhett Halkett, Chuck Norris-Jones, Wade Paton and Steve Evans.

With entrance free at the splendid Riverside Sports Club, this is a hockey bonanza not to be missed.

GREENFIELDS ELITE CLUB CHALLENGE FIXTURES

Friday - 18h00 (turf 1) – WPCC Badgers v Old Edwardians; 18h00 (turf 2) – Malik Old Albanians v Kearsney HC; 20h00 (turf 1) – Riverside HC v Wanderers Jockeys.

Saturday - 09h30 (turf 1) – Riverside HC v Malik Old Albanians; 09h30 (turf 2) – Kearsney HC v Old Edwardians; 11h30 (turf 1) – Wanderers Jockeys v WPCC Badgers; 16h30 (turf 1) – Malik Old Albanians v Old Edwardians; 18h00 (turf 1) – Kearsney HC v Wanderers Jockeys; 20h00 (turf 1) – Riverside HC v WPCC Badgers.

 Sunday - 09h00 (turf 2) – 5th / 6th place playoff; 09h30 (turf 1) – 3rd / 4th place playoff; 11h15 (turf 1) – FINAL.

Fieldhockey.com


---

Karnataka holds defending champion IOC in opener

K. Keerthivasan



Full stretch: Goalkeeper Mahan Gowda shows quick reflexes to keep Deepak Thakur at bay. Photo: M. Vedhan

A young and exuberant Karnataka team lit up the 89th all-India MCC-Murugappa Gold Cup hockey tournament at the Mayor Radhakrishnan Stadium here on Thursday in a Pool A match, holding the defending champion IOC to a 1-1 draw. Later, Army XI put up a majestic performance to crush IOB 6-0 to begin its campaign on a rousing note in Pool B.

Karnataka could not have asked for a better start against a team that has several former internationals in its ranks. Exhibiting fine dribbling skills, Karnataka upset IOC's rhythm with good work from the wings. The Karnataka forward-line showed speed and ingenuity, but lacked the finishing touch, missing quite a few easy opportunities (including a penalty-stroke by Thimanna early in the first half).

Aware of IOC's strong frontline, led by former India player Deepak Thakur, Karnataka stayed back and ensured it nullified the defending champion's relentless push for much of the first half. Left-back Sanjeev Dung played a stellar role in intercepting many of IOC's forays.

Karnataka opened its account through Machaiahpa, whose fierce shot hit the roof of the net. IOC equalised within a few minutes through captain Deepak. The forward sprinted from nowhere to flick the ball past the on-rushing goalkeeper Mahan Gowda.

The match was halted for a brief while towards the end of the second half after IOC goalkeeper Devesh Chauhan and Jagath Nachapa were injured in a minor collision.

Opening the floodgates

Johny Jasrotia opened the floodgates for Army with a neatly-placed drag-flick. Biraj Ekka converted one from a rebound off the goalkeeper's pads after a penalty corner. Attacking relentlessly, Army XI pumped in four more goals in the second half, toying with IOB's defence.

The best goal was arguably the one scored by Binoy Bhengra. Upon receiving the ball, he turned and drove powerfully into the roof of the net.

The results: Pool A: Karnataka 1 (Machaiahpa 49) drew with IOC 1 (Deepak Thakur 53); Pool B: Army XI 6 (Johny Jasrotia 19, Biraj Ekka 21, Binoy Bhengra 53, A.P. Siraju 54, Chandan Aind 64, Pawal Lakra 70) bt IOB 0.

The Hindu


---

Durga and Deepak make their international umpiring debut in Breda



Deepak Joshi (right) with golden whistle holder Raghu Prasad.

Netaji Subhas National Institute of Sports' alma mater Durga Thakur and Deepak Joshi have left for Breda, The Netherlands, as Indian umpires for the forthcoming double 4-Nation Cup.

Its first international assignment for the youngsters who did Hockey Coaching Diploma in the NSNIS four years ago in the same batch.

Deepak Joshi is from Uttarkhand, presently working with Government of Delhi as hockey coach whereas his college peer Durga Thakur hails from Himachal Pradesh.

She is at present Physical Education Teacher in Modern School, New Delhi.



Durga Thakur

Durga, who represented her state in the National Championships in three sporting disciplines (handball, basketball and Hockey), has started her umpiring career with a posting in HI Sub-Junior Nationals three years ago.

Grabbing the nuances quickly, Durga has grown in stature getting posted for the crucial matches of most tournaments she was assigned, finals of the last Nationals Games is one such.

Deepak Joshi started his umpiring career around the same time as that of her, with a posting at the SAIL-Nehru Champions Colleges Cup in Delhi, and then did not look back.

His career in coaching and umpiring picked up fast.

He was the umpire for the hardline match of Junior Nationals last year, and for the semifinals of the Senior Nationals this year. undefined

Incidentally, both were among three posted at Delhi's Major Dhyan Chand National Stadium for about two months as interns as part of their diploma course during which spell my NGO boys (One Thousand Hockey Legs) had the benefit of their coaching and affection in full measure.

Durga's husband Devinder Thakur is pro-Kabbadi player while his brother is none other than Ajay Thakur, Indian Kabbadi sport legend.

Perhaps, the duo represents the emerging culture of youngsters opting for umpiring early in their career. And getting dividends for that.

The Breda break will do a world of wonder for their upward march in the chosen path.

Stick2Hockey.com


---

Indian team coach Paul van Ass had a spat with hockey boss Narinder Batra

While Narinder Batra was in the middle of his address to the players, Van Ass intervened and asked Batra to leave the field.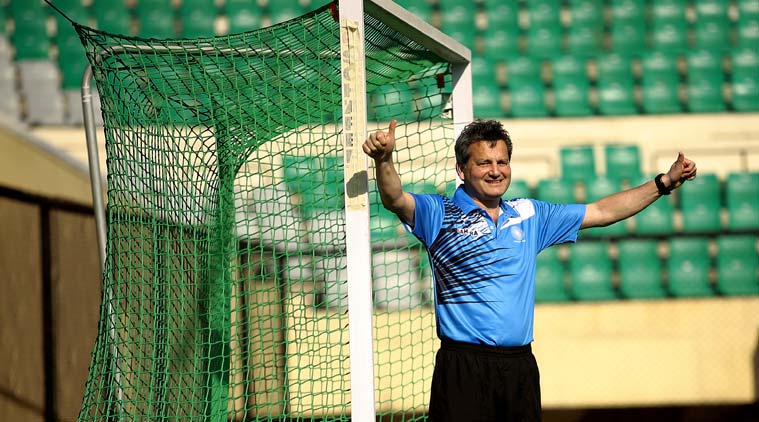 The questions over Paul van Ass's return comes at a time when Hockey India is set to begin an in-depth postmortem over the team's 'disappointing' performance at the World League semifinals in Belgium. (Source: Express File)

Hockey India insists that its chief coach Paul van Ass will return from leave this weekend but it appears that all is not well in the national set-up.

Sources said that Van Ass and federation president Narinder Batra had a public spat on the field moments after India beat Malaysia in the quarter-final of the recently-concluded World League semifinals in Antwerp.

Two late drag-flicks by defender Jasjit Singh had saved India from suffering an embarrassing defeat at the hands of Malaysia on July 1. But the hard-fought win did not impress Batra, who was in Belgium for the tournament.

According to sources, Batra entered the field of play and had a casual word with the players. "He was unhappy with the team's performance. After the match, as the players were undergoing their cool-down exercises, Batra came near the dug-out and told the players that the performances needed to improve. He also suggested that the coach and captain should sit together and chart the way forward," the source said.

While he was in the middle of his address to the players, Van Ass intervened and asked Batra to leave the field.

"Van Ass wasn't happy that Batra was talking to the players directly after the match. He reminded Batra that he was the coach and on field, only he had the authority to talk to the players. Batra was left red-faced and he eventually left but he told Van Ass that his behaviour was not acceptable," the source added.

Later, Van Ass is believed to have told the players he was ready to face the consequences for his verbal outburst against Batra.

While rest of the Indian contingent, including high performance director Roelant Oltmans, returned home, Van Ass flew directly to Holland for his scheduled leave. Van Ass, who guided Holland to a podium finish at the London Games, later said he was "unsure" when he would return.

The national camp, meanwhile, is set to begin in Shilaroo, Himachal Pradesh, in his absence from July 18. While Van Ass did not respond to calls seeking comment, Batra denied such an incident occurred.

"I can't recall anything like that happening. It did not happen," Batra said, adding that Van Ass was expected to return by July 18.

Apart from this incident, Hockey India's decision to cancel a test series against Holland next month, which Van Ass and Oltmans believed would be crucial in terms of preparation for the Olympics, has also not gone down too well with the two Dutchmen.

India eventually finished fourth in the Antwerp tournament.

Indian Express


---

Hockey player Baljit puts loyalty ahead of money

By Aftar Singh



UniKL player Baljit Singh (left) in action in the Malaysian Hockey League last year. - STAR Filepic

KUALA LUMPUR: Not many players will say no to a lucrative offer.

And national defender Baljit Singh Charun is one of them.

The Universiti Kuala Lumpur (UniKL) player intends to prove that loyalty pays after rejecting an offer to join double champions Terengganu for the Malaysia Hockey League (MHL) this season.

"I love playing for UniKL because they offered me a permanent clerical job in 2012. I don't want to join Terengganu just for the money," said Baljit, who has represented Malaysia 171 times since making his debut in the Sultan Azlan Shah Cup in 2007.

"I need to think about my future also. I'm coaching the university players on part-time basis. I need to learn all the coaching skill so that when I retire I can be a coach.

"UniKL are also serious about improving the standard of hockey in the country ... and they will build a new hockey turf in Bangi by next year," added Baljit, who made his MHL debut with Kuala Lumpur City Hall (DBKL) in 2003.

He joined Tenaga Nasional in 2004 and played for them for eight years, helping the team win the overall title three times in 2004, 2007 and 2009. He was also named the Best Player in the MHL in 2009.

Baljit admitted that UniKL have not made much of an impact in the MHL since he joined them in 2012.

"We were quarter-finalists in the last three years in the knockout stage. I hope we can reach the semi-finals this time," said Baljit, who will turn 29 on Sept 22.

Last year, UniKL finished fourth in the six-team Premier Division.

Besides UniKL, Terengganu and Tenaga, the other teams in the Premier Division are Kuala Lumpur Hockey Club (KLHC), Maybank and Sapura.

The MHL will begin with the Charity Shield match between Terengganu and KLHC on Aug 2.

The Star of Malaysia


---

Asian Games runners-up finally paid

Hockey players awarded Rs700,000 each by the Pakistan Sports Board.

By Nabil Tahir

KARACHI: Pakistan hockey finally received some reprieve from its monetary woes after the 2014 Asian Games runners-up were paid their due reward by the Pakistan Sports Board (PSB) as per the National Sports Policy.

The PSB paid out Rs700,000 to each player who won silver medals at the Games held in Incheon, South Korea from September 19 to October 4.

The team lost the final to arch-rivals India 1-0, which not only cost them the title but also direct entry to the Rio 2016 Summer Olympics. The Greenshirts then had another chance to qualify for the mega event by finishing among the top five at the Hockey World League (HWL) Semi-finals, but finished eighth out of 10 teams.

The players expressed delight at receiving the amount. "We have not received our daily allowances for the past two months, so this payment is a huge relief for us," goalkeeper Imran Butt told The Express Tribune.

He added that had the PSB taken this step a bit earlier, then the players would certainly have been in a good frame of mind to perform better at the HWL semi-finals.

Meanwhile, the Greenshirts still await an almost equal remuneration for their silver-medal victory at the Champions Trophy, which they are hopeful of receiving sooner than later.

The Express Tribune