All the news for Thursday 16 July 2015

After day two, United States and Argentina women lead pools



2015 Pan American Games - Canada vs. Argentina. Photo: Yan Huckendubler

On a perfectly clear day, day two of the women's competition got underway. Both Chile and the United States were looking for another win in Pool B; while Canada and Argentina were looking for another win in Pool A. The day featured both of these match-ups.

Host Canada played Argentina. The first six minutes of the match, Canada held most of the possession, but Argentina's defense prevented any Canadian player from taking a shot. In the sixth minute, Argentina was in their attacking circle for the first time and immediately earned three penalty corners. After Canada's Karli Johansen and Danielle Hennig worked hard to break up the first two corners, Argentina's Noel Barrionuevo converted the third with her signature drag flick. Thus, Argentina took the 1-0 lead over Canada in the 8th minute. Canada regained possession, but again could not get the ball into their attacking circle. Argentina's Delfina Merino had the ball near Argentina's attacking goal, but the ball went off the end line. With play in the midfield the first quarter came to a close with Argentina up one goal over Canada.

Throughout the beginning of the second quarter Canada worked hard to go on attack. Brienne Stairs, Hannah Haughn and Natalie Sourisseau each had runs on attack for Canada, but could not find the back of the net. In the 20th minute, Argentina earned another penalty corner. Canada's keeper Kaitlyn Williams made the quick save. Argentina kept up their attacking pressure. On Argentina's next penalty corner Julia Gomes Fantasia hit a hard shot past Williams to put her team ahead by two goals in the 24th minute. Canada rushed back on attack and nearly scored off their first penalty corner. Argentina's keeper Belen Succi, however, made a high glove save to keep Canada off the scoreboard. In the 28th minute, after a Canada player broke early on a penalty corner, Argentina's Florencia Habif took advantage of the penalty corner situation to fire a rocket past Williams. In the final minute, Canada's defense prevented Argentina from taking another shot on goal to keep the score Canada 0, Argentina 3.

To start the third quarter, Agustina Albertarrio quickly ran down on attack and forced a penalty corner. Barrionuevo's shot went wide. Argentina quickly earned another penalty corner, but uncharacteristically the initial injection went far down the pitch. Canada found Haughn waiting near Canada's attacking goal, but the ball slipped over the endline. Both teams kept battling for possession in the midfield. Argentina had a quick break on attack and Delfina Merino had a hard shot on goal. Keeper Kaitlyn Williams came out to make the save and Albertarrio was waiting close by and put in Merino's initial shot in the 38th minute. Soon after, play was back down near Canada's attacking circle, but a Maddie Secco shot went wide.  For the remaining minutes of the third quarter, either team was unable to string together more than three consecutive passes. The scored remained Canada 0, 4 Argentina.

The first five minutes of the fourth quarter started quiet with play in the midfield, but Merino changed that with a hard shot in the 51st minute to give her team a five goal lead over Canada. Argentina continued to hold the majority of possession. Jimena Cedres nearly increased Argentina's lead, but Williams reached high with her glove to stop the shot. With Argentina unable to get another shot off, the final result remained Canada 0, Argentina 5.

In Pool A, Mexico and the Dominican Republic played. Both teams appeared evenly matched at the start. Dominican Republic had a shot in the second minute, but keeper Jesus Castillo was there for the save. A few minutes later, Mexico earned the first penalty corner of the match. Michel Navarro got a high shot of that was brilliantly saved by keeper Cindy De La Rosa for the Dominican Republic. Both teams continued to trade possession until the Dominican Republic earned three penalty corners late in the first quarter, but could not capitalize. With a last minute shot attempt going wide for Mexico, the match remained scoreless going into the second quarter. The second quarter featured more play in Mexico's attacking half. Mexico, however, had trouble getting past Dominican Republic's defense. Mexico's  Ana Juarez received a yellow card in the 24th minute. The Dominican Republic immediately went on attack and took advantage as Cecilia Oflaherti sent a hard ball past Castillo. Oflaherti's goal gave Dominican Republic the 1-0 lead over Mexico in the 26th minute. Still a man down from the yellow card, Mexico managed to earn a penalty corner in the 28th minute, but could not complete the play. Thus, the score at halftime was Mexico 0, 1 Dominican Republic.

For the first four minutes of the third quarter, Mexico dominated possession that ultimately resulted in a penalty corner for Mexico. Jessica Sanchez hit a hard shot to tie the match 1-1. A minute later, the Dominican Republic had a chance to re-take the lead with a penalty corner, but the shot was too high. For the rest of the third quarter, Mexico and the Dominican Republic traded possession in the midfield. The further quarter also started with Mexico dominating possession. Michel Navarro and Fernanda Oveida both lost the ball off their attacking end line. Oveida then had a shot blocked by De La Rosa in the 50th minute. Mexico continued to pressure on attack, but had a couple more shots go wide. Oveida had another shot in the 55th minute blocked by De La Rosa. The Dominican Republic had a flurry of attack in the final minute, but could not get a shot off before time expired and the match ended in a 1-1 draw.

Uruguay and Cuba played a Pool B match. In the opening seconds, Uruguay earned a penalty corner, but failed to capitalize. Uruguay kept up their attacking pressure and a few minutes later earned a couple more penalty corners that were again broken up by Cuba's defense. Cuba's keeper Heidy Gonzalez blocked a close shot by Manuela Vilar in the 8th minute. Uruguay continued to pressure hard on attack and then Constanza Barrandeguy was able to score in the 10th minute. For the rest of the first quarter, Uruguay continued to dominate possession, but Cuba continued to play solid defense to keep Uruguay mostly in the midfield. The first quarter ended Uruguay 1, Cuba nill. The second quarter began with Cuba on attack. Yunia Milanes, Sunaylis Nikle and Marisbel Sierra all tried to attack for Cuba, but Federika Kempner and Agustina Nieto broke up their plays. In the 22nd minute, Yuraima Vera Rojas, however, hit a hard shot into goal to tie the match.  Both teams continued to try to attack and Uruguay earned another penalty corner in the 29th minute. Vilar's shot bounced into goal to regain her team the lead to close the half with the score Uruguay 2, Cuba 1.

The third quarter started in an exciting fashion as Cuba's Yaniuska Paso hit a hard penalty corner shot in the 32nd minute to tie the match 2-2. Cuba's Captain Mileysi Argentel played good offense and defense to help keep play in the midfield. After coming back from a green card, Florencia Norbis had a good chance to score off a penalty corner play, but could not finish. Cuba then countered with a penalty corner, but the shot went wide. Both teams continued to battle throughout the third quarter, but with either able to break the tie the third quarter ended tied. The fourth quarter started with Uruguay pressuring on attack and Norbis found Anastasia Olave for the score that broke the tie in the 47th minute Uruguay then had a few penalty corner plays blocked by Cuba's keeper Heidy Gonzalez. Late in the match, Sierra had a rare attacking possession for Cuba in the fourth quarter, but could not get a shot on goal. With either team unable to score in the final minutes, Uruguay came away with the 3-2 victory over Cuba. 

Day two of the women's competition began with Chile and the United States. In the opening minutes, the United States had a couple shots blocked by Chile's keeper Claudia Schuler. Soon after, the United States earned the first penalty corner of the match, but Rachel Dawson's shot was blocked by the Chilean defense. The United States continued to apply attacking pressure to result in another penalty corner. This time Jill Witmer completed the penalty corner play to make the score United States 1, Chile nill in the 7th minute.  After a lot of passing by the United States around their attacking half, Paige Selenski found an opening to send a hard shot past Schuler in the 13th minute. Chile immediately ran back on attack and earned their first penalty corners of the match. Chile's Captain Camila Caram had two hard penalty corner shots blocked by the United States defense; keeping the score United States 2, Chile nill at the end of the first quarter. To start the second quarter, Chile's Sofia Walbaum and Camila Caram played strong defense to hold off the United States attack. Chile continued to play incredibly strong defense and Francisca Vidaurre had a breakaway on attack for Chile, but could not get a shot off. Chile had more possession in the second quarter, but often it was Walbaum and Camila Caram passing in their defensive end. With either team able to hold possession for any length of time, the score remained United States 2, Chile 0.

The third quarter started with Chile's Manuel Urroz and Carolina Garcia running on attack, but Daniela Caram just missed a good shot. Urroz kept fighting on attack, but the United State's Dawson  sent the ball back down to the United States attacking end. Schuler made a couple big saves to keep the United States from increasing their lead. Then it was Agustina Venegas and Francisca Tala trying to generate attack for Chile, but still having trouble getting past United States last line of defense led by United States Captain Lauren Crandall. Like the second quarter, both teams were unable to hold possession long enough to stay on attack. In the 42nd minute, the United States earned a couple penalty corners, but the first shot was blocked by Schuler and the second went wide. Both teams continued to battle for possession and play was mosltt in the midfield for the next 10 minutes. In the 53rd minute, Chile earned a penalty corner, but Briggs stopped the shot. Chile's Javiera Villagra had one of Chile's best scoring opportunities, but just missed the ball standing by the goal post. Chile's Josefa Villalabeitia and Garcia kept working the ball near the goal. Their hard work resulted in two penalty corners, but again Briggs was there to break them up. The United States earned a penalty corner in the final minute, but Schuler made the save to prevent the United States from scoring another goal. Thus the final score was Chile 0, United States 2.

With Argentina's dominating win over Canada, Argentina took the top spot in Pool A. Argentina also became the team with the most goals in the tournament thus far (14), behind three goals each from Agustina Albertarrio, Noel Barrionuevo and Delfina Merino thus far. Canada is still right behind Argentina with goals scored (12). Day two also featured Uruguay's first win of the tournament, while Mexico and Cuba are still looking for their first win.

Pan American Hockey Federation media release


---

USA and Uruguay record Pool B wins while Argentina win to top Pool A




Day two of the women's hockey event at the Pan Am Games has finished with wins for USA, Urgugay and Argentina.

The first match of the day was Chile v USA who both won their opening matches on day one. Here, the USA emerged the winners in a close match following a strong defensive display by Chile. Following them was Hockey World League Semi-Finalists Uruguay, against Cuba in another very close match with Uruguay winning 3-2. An evenly matched game between Mexico and the Dominican Republic ended in a 1-1 draw before Argentina beat Canada to remain at the top of Pool A.

Pool B

USA 2 Chile 0

In the opening minutes of the match, USA had a couple shots blocked by Chile's keeper Claudia Schuler. Soon after, they then earned the first penalty corner of the match, but Rachel Dawson's shot was blocked by the Chilean defence. Continuing to apply attacking pressure resulted in another penalty corner, this time Jill Witmer converted to give the USA the lead. After a lot of passing around their attacking half by USA, Paige Selenski found an opening to send a hard shot past Schuler in the 13th minute making it 2-0. Chile came back quickly on the attack but their two penalty corners were saved by the USA defence to end the first quarter 2-0.

The following three quarters saw an incredibly strong Chile defence with Claudia Schuler making some excellent saves. Both teams fought for possession throughout and the final quarter saw Jackie Briggs save two Chile penalty corners before the USA themselves had a penalty corner saved in the final minute to leave the score 2-0 at the end of the match.

Uruguay 3 Cuba 2

The second match of the day burst into action as Uruguay earned a penalty corner in the opening seconds, although they failed to capitalise on their quick start. Uruguay kept up their attacking pressure and a few minutes later earned a couple more penalty corners that were again broken up by Cuba's defence. Continuing to pressure hard on attack, Uruguay then scored through Constanza Barrandeguy in the 10th minute and ended the first quarter 1-0 up.

The second quarter began with Cuba on attack and they were rewarded when Yuraima Vera Rojas scored to tie the match. Both teams continued to try to attack and Uruguay earned another penalty corner in the 29th minute. Manuela Vilar's shot bounced into goal to regain the lead for Uruguay and close the half with the score Uruguay 2, Cuba 1.

The third quarter started in an exciting fashion as Cuba's Yaniuska Paso scored with a PC hit in the 32nd minute to tie the match 2-2. Both teams then continued to battle hard, but with neither able to break, the third quarter ended 2-2.

Uruguay pressuring on attack in the fourth quarter saw Uruguay's Florenica Norbis find team mate Anastasia Olave and take the score to 3-2 and win the match for Uruguay.

Pool A

Mexico 1 Dominican Republic 1

From the start, both teams looked to be evenly matched. The Dominican Republic had a shot in the second minute, but Mexico keeper Jesus Castillo was there to save. A few minutes later, Mexico earned the first penalty corner of the match but Michel Navarro's shot was brilliantly saved by Dominican Republic keeper Cindy De La Rosa. Both teams then continued to trade possession until the Dominican Republic earned three penalty corners late in the first quarter, but could not capitalize.

The second quarter saw the first goal of the match when Cecilia Oflaherti scored for the Dominican Republic. Mexico had a penalty corner late in the second quarter but the score remained 1-0 at the end of the half.

Coming into the third quarter, Mexico dominated possession and were rewarded with a goal from Jessica Sanchez to tie the match 1-1. A minute later, the Dominican Republic had the chance to re-take the lead with a penalty corner, but the shot was too high.

The final quarter also started with Mexico dominating possession and pressuring on attack, but seeing their shots go wide. Fernanda Oveida had another shot in the 55th minute blocked by De La Rosa. The Dominican Republic responded with a flurry of attack in the final minute, but the match ended in a 1-1 draw.

Argentina 5 Canada 0

First day winners Canada and Argentina in Pool A then took on each other on day two.

Canada dominated possession in the first minutes of the match but the Argentina defence held firm before Argentina earned three penalty corners. Canada prevented them capitalising on the first two but could not stop Argentina's Noel Barrionuevo convert the third with her signature drag flick to make it 1-0 to Argentina.

Throughout the beginning of the second quarter Canada worked hard to go on the attack but couldn't find the back of the net. Canada's keeper Kaitlyn Williams then saved an Argentinian penalty corner but couldn't keep out the next one for 2-0 to Argentina. This was followed by a fantastic save by Argentina's keeper Belen Succi to prevent Canada pulling one back.

Then in the 28th minute, after a Canada player broke early on a penalty corner, Argentina's Florencia Habif took advantage to fire a rocket past Williams and the quarter ended 3-0 to Argentina.

Both teams kept battling for possession in the third quarter until Argentina broke quickly on attack. Williams saved the first effort on her goal but could not keep out Agustina Albertarrio who followed up to take the score to 4-0 Argentina.

The first five minutes of the fourth quarter started quietly until Delfina Merino changed that with a shot in the 51st minute to give her team a five goal lead over Canada. Williams then made another great save before the match ended Argentina 5 Canada 0 and Argentina top of Pool A.

 Keep up with all of the action on www.panamhockey.org.

#PAGhockey15 #TO2015 #RoadToRio

FIH site


---

Argentina hands Canadian women first loss at Pan Am Games

Canada faces Mexico in final pool match on Friday

Shaheed Devji



Photo: Yan Huckendubler

In a game that had the intensity of a playoff game on the field and in the crowd, Argentina handed the Canadian women's field hockey team its first loss of the 2015 Pan American Games 5-0 Wednesday at the Pan Am Fields in Toronto.

After a dominant first game against the Dominican Republic on Monday, Canada faced a significant step up in the level of competition in the tournament's top ranked team.

"It was a disappointing scoreline but I thought there were large patches of play where we played well," says Canadian head coach Ian Rutledge. "Unfortunately we just gave away too many corners and they scored on three of them. That's something that we can fix, for sure."

The game was fairly level through the first half of the first quarter, with Canada seemingly comfortable facing the world's third ranked team, and the team that be the last obstacle to Olympic qualification.

In the eighth minute, however, Argentina was finally able to breakthrough on a penalty corner as Noel Barrinuevo beat Canadan keeper Kaitlyn Williams for the game's first goal.

The lead could have doubled shortly after if it wasn't for a big kick save by Williams, who despite the lost looked comfortable and confident in goal from start to finish.

Argentina, however, was able to exend its lead in the second quarter. In the twenty-fourth minute, on another penalty corner, Julia Gomes was also able to find the back of the net

Canada had a chance to tie in the twenty-sixth minute on its first penalty corner of the game when a nearly perfectly placed dragflick from Danielle Hennig was turned away by a diving stick save from Belen Succi.

The save turned out to be a big one as only moments later in the twenty-ninth minute, Argentina scored for the third time on a penalty corner for the 3-0 lead. Argentina added two more before the game was out.

Despite being outscored by a fairly large margin, Canada looked at times like it was on the verge of breaking through. The Canadians generated several turnovers and quick counterattacks, but in the end we not able to convert in the final third.

"I thought we created enough field position and had some good chances with regards to terriroty," adds Rutledge. "We were just a little impatient and there was a few critical moments which I don't think we capitlized on. In saying that, we're making improvements and every time we play this team we're getting better."

It's a good sign, as if Canada hopes to win the tournament on home soil, they will likely have to go through Argentina in the end.

Canada will close out the round robin portion of the tournament when it faces Mexico at 7pm ET on Friday. The playoff round begins on Monday.

Field Hockey Canada media release


---

USWNT Displays True Grit to Hold Strong Over Chile



Photo: Paul Winstanley

TORONTO, Canada –The U.S. Women's National Team was tested defensively against 22nd FIH World Ranked Chile but full-field composure and early scoring gave way to a 2-0 victory in Team USA's second pool play match of the 2015 Pan American Games.

"It was certainly an important game for us to win today," said U.S. Women's National Team Head Coach Craig Parnham. "Chile is an opponent that has several threats and they're improving. We're pleased to get the win today. It sets us up nicely for the next game which is our focus now."

With a quick start, Team USA moved the ball down the field to gain early momentum. In the 6th minute the USWNT earned their first penalty corner of the match but a goalmouth scramble after the initial shot found a USA foot to lose the scoring chance. With a front line eager to capitalize, Team USA was again awarded with another penalty corner that translated into a successful result. Fed by a sweep from Michelle Kasold (Chapel Hill, N.C.), Jill Witmer (Lancaster, Pa.) deflected a fast ball into the cage to put Team USA up 1-0.

The scoring continued in the 13th minute as Lauren Crandall (Doylestown, Pa.) threaded a ball through the middle of the field to Paige Selenski (Shavertown, Pa.) who received and fired a shot on cage to make the score USA 2, Chile 0.

Being persistent, Chile continued to challenge the USA defense with an aggressive front foot lead until they earned their first penalty corner just two minutes later. The solid sweep on cage by Chile was denied by the Team USA defensive corner unit but a hard tackle foul resulted in another Chilean penalty corner opportunity. On the second attempt, USA's goalkeeper Jackie Briggs (Robesonia, Pa.) made a strong glove save to keep Chile off the board.

In the second quarter, Chile responded with multiple circle penetrations putting the USA's defenders under more pressure. Team USA worked together to remain composed and keep the score USA 2, Chile 0 going into halftime.

Possession remained in Chile's favor at the start of the third quarter as they steadily tested the USWNT's defense for gaps in their offensive circle. The outcome of a smart defensive reaction to read the play allowed Michelle Vittese (Cherry Hill, N.J.) to intercept a pass and generate instant offense to earn back-to-back penalty corners. The chances nearly hit the target but the scoreboard remained unchanged.

With a score of 2-0 going in to the final quarter, play continued to be a back-and-forth contest between the teams. In the 52nd minute USA's Katie O'Donnell (Blue Bell, Pa.) received a green card resulting in a man-down situation for Team USA. One minute later on their second penalty corner of the match, Chile swept the ball into the circle in hopes of finding a final finishing touch, but USA's goalkeeper Briggs came through with an impressive diving save. Chile continued to fire numerous shots on goal from various angles challenging Team USA's defense. Back-to-back penalty corners for Chile resulted in more potentially dangerous scoring opportunities, but Briggs made a crucial stick save to keep Chile scoreless.

Staying defensively sound, the USWNT were able to take control of the ball and move it into their attacking end to earn a penalty corner with one minute remaining in the game. Unable to make the most of the closing opportunity the final score stood at USA 2, Chile 0.

"We were very persistent and stuck to the game plan," said Briggs. "Our team knew Chile was going to come out at us hard and they play a different style than we do. We did our homework. We had each other's backs and had a bit of grit at the end when Chile had a good extra push. We put in a solid performance and successfully dealt with pressure which gives us some confidence going into the next game."

The U.S. Women's National Team will be back in action on Friday, July 17 at 9 a.m. EST in their final pool play game against Cuba. For all information regarding USA Field Hockey at the 2015 Pan American Games, including the full schedules, check out the event page and be sure to follow on Twitter @USAFieldHockey for live Team USA game updates.

USFHA media release


---

Mollenhauer's Pan Am experience comes full circle in Toronto

Ali Lee



Nancy Mollenhauer. Photo: Yan Huckendubler

Twenty eight years ago Canadian Nancy Mollenhauer (nee Charlton) had one of the biggest honours in sport. The two-time Olympian lead the entire Canadian contingent as flag bearer at the opening ceremonies of the X Pan American Games, hosted in 1987 in Indianapolis, USA,. Today she returns to the Games, this time in Toronto, as a volunteer at the field hockey venue.

"As soon as I knew the games were coming to Toronto I thought that it would be a neat opportunity to come and not only support our men's and women's teams but also give back to a community that has been incredibly supportive of field hockey in this country," said Mollenhauer, who is volunteering daily helping with technical officials with results. "I get to catch up with lots of the girls that I played with and seeing the new faces of the up and comers is great. I'm really enjoying it."

In 1987 the Victoria, British Columbia native guided the Canadian women's field hockey team to a bronze medal in a year that saw Canada finish third overall in medal count with 30 gold, 56 silver and 75 bronze medals.

"I'm not usually lost for words but I was really speechless," said Mollenhauer about being selected as flag bearer for the games. "It was an absolute huge surprise and an incredible honour. I didn't know at the time but that was the first year that women's field hockey was in the Pan Am Games so it was incredibly special."

Paul "Bubli" Chohan is the only other field hockey player to be a Canadian flag bearer at a Pan American Games. Chohan waved the flag proudly in the 1995 Games.

Mollenhauer competed at both the 1984 and 1988 Olympics when Canada finished fifth and sixth, respectively. She was a part of a 1980's Canadian dynasty that used to rank high in the world standings, while the program has yet to appear at an Olympics since their seventh-place result in 1992.

"When I played Pan Ams we were in the USA and the '84 Olympics were also in the States so that was sort of as close to home as we got," added Mollenhauer about what it would be like to play at home. "Fortunately we had incredible support from our families. When you look up into those stands regardless of whether you had a good game or a bad game you know that you've got that support there."

Not only is Mollenhauer in Toronto giving back and cheering on the Canadian contingent but she is also setting the pathway for the future. Youngster Anna Mollenhauer, Nancy's daughter, is in the stands soaking up all of the international competition. Still in high school, Anna has already shown her mother's talents being named on the recent Canadian Junior Development Squad (JDS) and consistently ranking among the top Under 18 athletes in her province.

"I get goose bumps just thinking about the possibilities," said Nancy about Anna's potential for an international career in hockey. "(Anna) is loving every minute of her involvement in the programs in (British Columbia) and this opportunity to take part with the JDS at her age is a dream come true."

"I wasn't even exposed to international field hockey at her age and so it's a wonderful opportunity for her. For me, it's a dream come true (to see her with a chance to represent Canada), as it would be for any parent, even more special as she is in fact enjoying and playing field hockey. It's a treat."

Mollenhauer, whose international career spanned from 1982 to '89, will get another special treat at the Toronto 2015 games. On Jul. 18 Mollenhauer will be inducted into the Field Hockey Canada Hall of Fame. The two-part induction includes an inaugural class of eight people – four athletes, three builders and one pioneer.

"It's an incredible honour." was the continued theme from Mollenhauer. "I'm just a name and a face being inducted and with that I take hundreds of people with me starting with my mom and my dad, my brothers and sisters and my immediate family, my friends, the community of Victoria, UVic, B.C. – it's a long, long list. It takes a village and I have been very fortunate to have an incredible support network and village to support me over the years."

The 2015 Canadian squads are only one game through pool play in Toronto and seeing those teams and hearing the anthem are strong reflections for Mollenhauer.

"It's all about the relationships," responded Mollenhauer about her favourite moment as an international athlete. "You win games. You lose games. You win medals. You don't win medals. At the end of the day, though, looking back, the legacy you want to leave as a player is, I think, how you represented your country, yourself and your family and your support network."

"I come back here (in Toronto) and see so many familiar faces and those are women that I played with and obviously it has held a special place in our hearts and will for the rest of our lives."

Pan American Hockey Federation media release


---

Fijians through to gold play-offs in hockey competition

Shalveen Chand In Port Moresby

THE Fiji men's and women's hockey teams are through to the gold medal play-offs after finishing the round robin unbeaten in the Pacific Games.

The Fiji men defeated hosts Papua New Guinea 10-1 at the Sir John Guise Stadium yesterday evening.

The score does not reflect the intensity of the game as PNG had its fair share of attacks but keeper Ben Lutua was at his best. In attack, Fiji was unstoppable. Adrian and Hector Smith combined well to lead the young players on and the team's ability to score from anywhere on the turf was remarkable as well. Christopher Mockm who is still in high school, was also one of the players that stood out along with his brother Denzel and Amenatave Veitamana.

Fiji men's coach Shaun Corrie said the players were here to do a task and they would ensure that it was done.

"The players are focused, we the men have not played at the Pacific Games for 36 years and now we are here we want to win," Corrie said.

"The players have two days off before the gold medal play-offs on Saturday."

Fiji faces Vanuatu in the gold medal play-offs.

The Fiji Times


---

Wales confident approach to European in Lisbon

Wales Senior Men Hockey side travel on Thursday to Lisbon for the European Hockey Championship III on Thursday. The squad has a number of fresh faces to it following the 2014 Commonwealth Games but with an average age of 23 the future certainly looks bright.

Results suggest so too, recently registering a 2-1 series win over Austria (world ranking 22) in Vienna.
 
Wales will be the highest ranked team in their pool, facing hosts Portugal and Sweden. They will be led by the experienced duo of David Kettle, Lewis Prosser and Luke Hawker who are very enthusiastic about their prospects.
 
You can keep up to date with the Welsh squads results @HockeyWales @HociCymruMen
 
INTERNATIONAL RESULTS STATISTICS. Compiled by Patrick Rowley
-----------------------------------------------------------------------------
H E A D-H E A D   M E N
Austria v  W a l e s

   P.   22   W.   9    D.   1    L.  12    F.  36   A.   57

27.09.70  W  2 - 1  Brussels   EC -
24.04.76  L  1 - 3  Cork        T -
24.08.83 yL  1 - 6  Amstelvn p EC – Werner Ditz / M Brough, David Peters 3pc, Andy Gowman, Bryn Williams.
27.08.83  W  1 - 0  Amstlvn Cl EC - Rene Rarrel (67) / ---.
25.04.88 yL  1 - 6  Rome        T -
01.07.90  L  1 - 3  Vienna     EQ -
12.10.92  L  2 - 6  Olten     ICQ - ??? / A Colclough 2, ???.
03.07.93  W  1 - 0  Vienna   SF T – Burkner (17pc) / ???. (80th Anniv Tourn).
09.07.02  W  1 - 0  Dublin   p EQ -
14.07.02  L  2 - 4  Dublin 3/4 EQ –
17.10.05  L  1 - 2  Rome   3/4 ET – (gg). Armin Stremitzer (17) / Ben Rogers (35), Ollie Cooper (gg).
12.11.09  W  2 - 0  Invercrg p WQ – Michael Korper (18pc), Benjamin Stanzl (50)/ -.
15.11.09  W  3 - 2  Inverc 5/6 WQ – Georg Jelinek 2 (42,54), Michael Korper (61) / Benjamin Croxall (39), Matthew Ruxton (41).
21.07.11  W  2 - 1  Vienna     TS – (40pc),(70) / Mike Shaw (16pc).
23.07.11  L  1 - 3  Vienna     TS – (48) / M Shaw (4pc), Rhys Gowman*(47), Andy Cornick (64).
24.07.11  L  2 - 3  Vienna     TS – (39pc)(67) / Rhys Gowman (4), Owain Dolan-Gray (16), M Shaw (64pc).
09.09.12  D  0 – 0p Cardff rr WL1 - (4-3:SO). --- / ---.
13.07.13  L  2 - 5  Wrexham     - - ??? / Andy Cornick, Rees 2 (pc), Shaw (pc),  McNaught-Barrington (pc).
14.07.13  W  3 - 2  Wrexham     - - ??? / Gareth Furlong (pc), Luke Hawker.
10.07.15  L  2 – 3  Vienna     TS – Leon Thornblom (pc), Dominic Uher (ps)  / Benjamin Francis, Gareth Furlong 2 (ps).
11.07.15  L  2 – 4  Vienna     TS – Bernhard Schmidt (pc), Patrick Schmidt / G Furlong (pc), Dale Hutchinson (pc), Liam Brignull, Rupert Shipperley.
12.07.15  W  4 – 3  Vienna     TS – P Schmidt, D Uher (pc), L Thornblom, Michael Korper / Rhys Gowman, G Furlong (pc), Stephen J Kelly (pc).

Fieldhockey.com


---

Scotland U18s travel to Santander to challenge Europe's top teams




Scotland U18 Men and Women begin their quests to challenge the continent's top nations when they compete in the EuroHockey U18 Nations Championship in Santander, Spain.

Head Coaches Steven McCurry and Justine Allen have selected their squads of eighteen players to make the trip to the region of Cantabria for the week-long tournament that starts on Sunday 19 July.

In the men's competition, the Scots have been drawn in Pool B with Germany, Ireland and the Netherlands. Belgium, England, Russia and Spain make up the teams competing in Pool A.

McCurry's side will be aiming to repeat the exploits of their predecessors in 2013, who retained their place in the top level of European competition at this age group.

Belgium, France and the Netherlands join Scotland in Pool A of the women's competition, while England, Germany, Russia and Spain will contest Pool B.

Allen's charges will also be targeting retention of their place in the competition following promotion in 2013.




You can follow the progress of both sides by visiting the EuroHockey Santander 2015 website, where there is information on the tournament and details of live coverage online.

Scotland U18 Men
| | | | |
| --- | --- | --- | --- |
| Forename | Surname | School | Club |
| Dean | Baber | Glasgow School of Sport | Clydesdale |
| James | Carrie | Edinburgh Academy | CALA Edinburgh |
| Patrick | Christie | Glasgow Clyde | Inverleith |
| Hamish | Galt | St Leonards | Grove Menzieshill |
| Kyle | Gladwin | Thomas Telford School | Telford & Wrekin |
| Fabian | Goldie | University of West Scotland | Western Wildcats |
| Rob | Harwood | Stirling High School | Western Wildcats |
| Callum | Mackenzie | Adams' Grammar School | Telford & Wrekin |
| Joe | McConnell | Douglas Academy | Western Wildcats |
| Ryan | McCurry | St Columba's High School | Grange |
| Murray | McDiarmid | Edinburgh Academy | Western Wildcats |
| Chris | McFadden | Bellahouston Academy | Clydesdale |
| Aidan | McQuade | St Columba's High School | Inverleith |
| James | Nairn | Hutchesons' Grammar School | Clydesdale |
| Guy | Rowson | George Heriot's School | CALA Edinburgh |
| Elliott | Sandison | Blairgowrie High School | Dundee Wanderers |
| Joe | Waterston | Loretto | Inverleith |
| Andrew | Webb | Robert Gordons College | Gordonians |
 Scotland U18 Women
| | | | |
| --- | --- | --- | --- |
| Forename | Surname | School | Club |
| Amy | Costello | Mary Erskine School | Inverleith |
| Bella | Fisken | St George's | CALA Edinburgh |
| Catriona | Booth | Bearsden Academy | Wildcats |
| Charlotte | Watson | St Johns Dundee | DWHC |
| Claire | Hilton | George Watsons | CALA Edinburgh |
| Ellie | Halliday | St Columbas | Kelburne |
| Ellie | Hutcheson | The High School of Glasgow | Western Wildcats |
| Erin | Gilchrist | The High School of Glasgow | Clydesdale Western |
| Flora | Walker | Mearns Castle | Clydesdale Western |
| Katherine | Holdgate | George Watsons College | Watsonians |
| Laura | Swanson | Balerno High School | Inverleith |
| Leia | Mackinnon | Earlston | Borders Fjordhus |
| Lorna | Cruickshank | George Heriots | CALA Edinburgh |
| Mckenzie | Bell | George Heriots | CALA Edinburgh |
| Millie | Steiger | Craigholme | Clydesdale Western |
| Morven | Duff | NE Scotland College | Merlins Gordonians |
| Susan | Al Haddad | Glasgow Academy | Western Wildcats |
| Anna | Logan | Loretto | CALA Edinburgh |
Scottish Hockey Union media release


---

Is van Ass on his way out?

Harpreet Kaur Lamba

Has coach Paul van Ass decided to part ways with Hockey India just three months into the job? The Dutchman, who was supposed to arrive in New Delhi for the national camp beginning in Shilaroo on July 18, was noncommittal on his plans, saying he did not know "when or if" he would arrive.

"I do not know if I am coming or not," van Ass said from Holland. "Please ask Hockey India or (high performance director) Roelant Oltmans for any further thing."

India finished fourth at the recent World League semi-finals and team sources suggest that van Ass had a "minor tiff" with HI president Narinder Batra during the event in Antwerp, Belgium.

There was a lot of attrition over India's tour to Holland next month for a test series — planned by Oltmans and van Ass for a strong build-up to the 2016 Rio Olympics — which was shot down by the federation at the last minute.

"The matches between India and Holland were arranged on a special request from Oltmans to the Dutch federation, and the sudden change of plans hasn't gone down well with anyone," says a source. "The coaches were miffed at not being able to work according to their plans since it denied the team crucial match practice ahead of the Olympics."

It may be noted that the Dutch federation had refused to release their players for next year's Hockey India League — citing Olympic preparations — and HI's decision followed. Oltmans too, it was learnt, had decided to tender his resignation earlier but had a change of heart.

Oltmans on the day expressed the hope that van Ass would arrive in New Delhi by July 18, saying it was "too early to say anything".

"We are waiting for Paul to arrive. I have submitted my evaluation report to Hockey India today as is the normal practice. We had discussions over the future of the team and further plans, but that is all I can say at the moment," he said.

India will compete at the World League finals in December at home, but do not have any engagements over the next few months.

The Asian Age


---

Paul van Ass's future in doubt, India hockey team camp set to begin in his absence

Paul van Ass — currently on a leave, visiting Holland —himself is believed to have said he is unsure when he will return.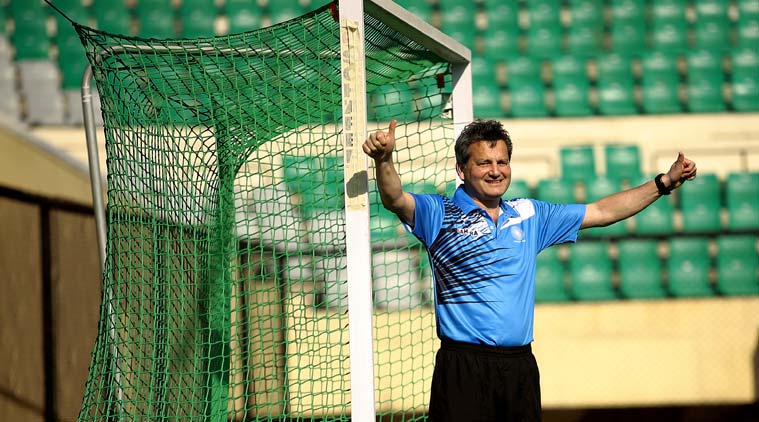 The questions over Paul van Ass's return comes at a time when Hockey India is set to begin an in-depth postmortem over the team's 'disappointing' performance at the World League semifinals in Belgium. (Source: Express File)

ON a day when chief coach Paul van Ass was to submit his report to Hockey India over India's performance in the recently-concluded World League, uncertainty has emerged over his role with the team.

It is learnt that the Dutchman's name is conspicuously missing from the letter sent to the players, which informs them about the national camp that begins at the Sports Authority of India (SAI) centre in Shilaroo, Himachal Pradesh, from July 18. Instead of van Ass, the letter says players have to report to Sandeep Sangwan, who is one of the assistant coaches of the team.

Normally, the players are asked to report to the chief coach when they receive summons for the camps.

Moreover, van Ass — currently on a leave, visiting Holland —himself is believed to have said he is unsure when he will return. Hockey India president Narinder Batra said van Ass is 'supposed to return on 17th or 18th' of July.

The questions over his return comes at a time when Hockey India is set to begin an in-depth postmortem over the team's 'disappointing' performance at the World League semifinals in Belgium.

Batra had said they would conduct a thorough evaluation and would take whatever steps necessary to ensure the team does not finish last at next year's Olympics.

The World League semifinals was India's second outing under van Ass.

They had won a bronze medal at the Sultan Azlan Shah Cup and even though the team finished fourth in Belgium, the top brass of the federation was not happy with the performance. They were particularly peeved with India's inability to put up a fight against top teams such as Belgium, Great Britain and Australia. India lost all those matches by heavy margins.

Hanging in the balance

The performances have left the fate of the chief coach and high performance director Roelant Oltmans' hanging.

Even before the team returned home from the tournament, Oltmans had decided to resign but later had a rethink and was convinced to carry on for the time being.

Van Ass, who was appointed as the coach earlier this year, is known to be outspoken and is believed to have had a series of meetings with the players in Belgium, where he has categorically informed them that reputations would count for nothing and heads would roll if the players failed to perform.

Indian Express


---

No pay, no training, Hockey players say

By BRIAN YONGA



National women's hockey team players during a past training session. PHOTO | FILE |   NATION MEDIA GROUP

The national women's hockey players have vowed not to resume training for their upcoming Olympic qualifiers until the full allowances owed to them from previous assignments are cleared.

Both the men and women's teams had on Tuesday received part of their allowances owed to them by the Kenya Hockey Union but the women's team remained adamant that they will not resume training until they get all their dues.

The two teams had boycotted training since May ahead of the Olympic qualifiers set for Ismailia, Egypt from October 17-25. On Tuesday, the government through the Ministry of Sports released Sh710,880 that was paid to the teams for their participation in the world league one and two series.

However, women's team captain Betsy Ommalla told Daily Nation Sport the team's position remains the same and will remain so until their balances are cleared.

"It's good we've been paid the Uruguay (world league two series) money which we should have been paid five months ago but they still owe us the local allowances," Ommalla told Daily Nation on phone.

MEN TEAM PAID

The squad of 18 players, which went to Uruguay in February, were each paid Sh21,160 as part of the international allowances while four players - who were dropped from the team - were paid Sh15,000 local allowances for their participation in the world league one series.

The men's team of 18 players, which failed to advance to the second round of the Olympic qualifiers, were each paid Sh15,000, 10 months since the end of the world league one series which was held in Nairobi.

Ommalla wondered why half the players were given their full amount while others were told to wait and still expected to turn up for training.

"It is clear that someone is playing games and we can clearly see. We are not kids and they want to make it look like it's a favour they're doing to us," she added.

Kenya has a last chance to qualify for next year's Olympics if it wins the Africa Cup of Nations which will also as the continental qualifiers to the Rio Games.

South Africa has already pulled out of the event leaving only Ghana and Egypt as Kenya's serious challengers for the sole ticket.

Daily Nation

Note: The South African Hockey Association have confirmed to me that South Africa have NOT pulled out of the Africa Cup of Nations and will be attending both Men's and Women's version of the event. What has happened is that SASCOC, South Africa's Olympic Committee, have said that even if South Africa win the event to qualify, they will not be going to the Olympics as the competition in Africa is not strong enough and SA had to qualify through the HWL. Both SA teams failed to do this. If South Africa does win the event, one of the top 12 teams from the HWL Round 3 will be allocated South Africa's place and Africa will have no allocated team at the Olympic Games. The team that comes second does not inherit South Africa's qualification place.


---

KHU IN TROUBLE: National hockey teams boycott training ahead of 2016 Rio Olympic Games qualifiers

By Elizabeth Mburugu



Kenya National team player Brian Musasia when they played Egypt during the World League round one at Citypark, Nairobi. ON 06/09/14 PHOTO : JENIPHER WACHIE

With less than two-and-a-half months remaining before this year's Africa hockey cup of nations cup Rio 2016 Olympic qualifiers, the men and women's national teams are yet to begin preparations.

The players kept away from national team training owing to unpaid allowances from previous national assignments. Africa Hockey Federation (AFHF) released the dates of the continental biennial event as 17-25 October and Ismailia, Egypt as hosts.

The Government, through the Sports ministry, had earlier on promised to pay the  players' allowances by mid July and indeed paid part of the money at the weekend.

The squad of 18 players, who represented the country in the International Hockey Federation (FIH) world league two in Uruguay in February this year, were each paid Sh21,160 as part of the international allowances.

World League

Four players, who were dropped from the team, were paid Sh15,000 local allowances for their participation in the World Hockey League One series in September last year. The men's team of 18 players, who failed to advance to the second round of the World League which also served as an Olympic qualifying event, was paid Sh15,000 each.

However, even after being paid part of their allowances, the players are still adamant they will not commit to the national team until their allowances are paid in full.

National women's team captain Betsy Ommalla said the team's position remains the same and will remain so until their balances are cleared.

"I'm glad we have been paid the Uruguay (World League Two series) money which we should have been paid on completion of the assignment, however we are not ready to commit ourselves to any other tasks," Ommalla told FeverPitch on phone during an interview, yesterday.

Quitting Duty

Omalla continued that the ill treatment they have been receiving as hockey players has made most of them contemplate quitting national duty.

Kenya Hockey Union (KHU) chairman Nashon Randiek confirmed that the women's team had been paid their allowances for the Uruguay duty because that is what the Government had released.

"It is true that we still owe the women's team, we only paid them the money given to us by the government."

Randiek, however added that national team training will begin on Thursday (today) whether the players honour their call-up or not.

"We will have national teams for the continental championship training begin today (Thursday). Even if the current team stays away we must have a team."

The Standard Online


---

Azlan says it's time to leave national hockey team

By Aftar Singh



Former national hockey player Azlan Misron.

KUALA LUMPUR: "There's no point playing for the country if I cannot contribute towards the team anymore."

Those are the words of Azlan Misron who became the third player to retire from the national hockey team.

National skipper Mohd Razie Abdul Rahim and forward Tengku Ahmad Tajudin were the first two to quit following the national team's disappointing outing in the recent World Hockey League Semi-Finals in Antwerp, Belgium.

Malaysia needed a top-four finish in the tournament to qualify for next year's Rio de Janeiro Olympics but ended up a miserable sixth. 

The 32-year-old Azlan, who is the most capped player in the national team with 349 caps, added: "I'm already 32 and the time has come to let the younger players feature for the country.

"I've contribute enough to the national team over the last 14 years... the time has also come for me to concentrate on my family," said the defender, who made his international debut in the four test matches against New Zealand in 2001.

Azlan, who captained the national team from 2008-2013, said his biggest disappointment "is failing to feature in the Olympics".

"It's every player's dream to play in the Olympics, but we blew that chance by losing (3-2) to India in the quarter-finals of the World Hockey League," said Azlan, who has two children.

The Perak-born Azlan described the Antwerp outing as a revelation as it allowed them to see the tremendous improvement made by the European teams.

"The time has come for the team management to look into this... we need to start improving on every aspect of our game if we hope to qualify for the next Olympics (in Japan in 2020)," said Azlan who was in the team that finished last in the 2014 World Cup in Holland.

Azlan was also a member of the national team who placed third in the 2006 Melbourne Commonwealth Games and the Asia Cup in Chennai (2007); and second in the 2010 Guangzhou Asian Games.

Azlan will continue playing for double champions Terengganu in the Malaysia Hockey League (MHL), which begins on Aug 2.

The Star of Malaysia


---

Leuven build panel for EHL return

KHC Leuven have added two defenders and a new coach to their roster as they begin preparations for their return to the Euro Hockey League.

Joeri Beunen has been confirmed as their new first team coach, coming in to replace Dutchman Norbert Nederlof who stepped down from the role after two seasons. He has taken up a role as technical director with Klein Zwitserland.

On the playing front, French defender Lucas Sevestre, pictured, returns to the club after a year in Australia with the Westside Wolves while Spaniard Gérard Girabent switches from Egara.

Euro Hockey League media release


---

Free-falling Pakistan plunge into 'coma'



With the national team in such a poor state hockey is struggling to attract youngsters in a country where cricket gets wall-to-wall media coverage. PHOTO: AFP

KARACHI: Pakistan's field hockey team has been on the slide for years but the side's failure earlier this month to qualify for the Olympics for the first time marks a calamitous new low.

Former players have blamed corruption, officials living in denial and a failure to keep up with developments in the game prompting Prime Minister Nawaz Sharif to set up a committee to try to arrest the slide. But it has a monumental task.

Pakistan, three-time Olympic gold medallists and four-time world champions, finished a distant eighth in the World Hockey League in Antwerp, Belgium, earlier this month.

They needed to finish at least fifth to qualify for the Rio 2016 Games but the former Asian masters suffered the ignominy of losing to newcomers Ireland and France.

Former Olympian Sami Ullah described the fall as inevitable after last year's failure to qualify for the World Cup, also a first in an event which has existed since 1971.

"The alarm bells should have been ringing last year when we went out of the World Cup but our officials never heeded that failure and this latest failure has sent our hockey in a coma," Sami told AFP.

The former left winger, nicknamed the "Flying Horse" for his extraordinary speed, was part of Pakistan's successful team of the 1970s and '80s.

Pakistan used to boast some of the world's best players — the likes of Sami Ullah, right winger Islahuddin Siddiqui and playmaker Shahbaz Ahmed, who anchored Pakistan's last World Cup victory in 1994 in Australia.

But the sport has moved on significantly since those days, with technical innovations such as artificial turf as well as new tactics and frequent rule changes.

Former goalkeeper Mansoor Ahmed, whose penalty stroke save in the final helped Pakistan win the world title in 1994, said Pakistan were also badly lagging in fitness.

"We did not keep pace with the changes in hockey," he said.

"Our players lack fitness, the officials and coaches are not fit for the task and above all, political influence destroyed our game."

While European teams and Australia marched on with high levels of fitness, lasting 70 minutes on stamina-sapping turf, players from Asia were exposed.

Asia, once regarded as the superpowers of field hockey with South Korea emerging in 1980s, will only have one representative — India — at next year's Games in Rio.

India, the eight-time Olympic gold medallists, missed out on the 2008 Beijing Games but managed to regroup with a big injection of financial support.

Pakistan have been plagued with money woes, with head coach Shahnaz Shaikh and skipper Mohammad Imran blaming the lack of funding for the team's failure.

"I have been shouting for funds for the last year," said Shaikh, a world famous left-side forward in his day.

"Government need to pour big money to lift hockey as we lack facilities."

Imran said the lack of funding was having a serious impact on the players' conditioning.

"You can't compete at international level eating chickpeas and bread," he said, referring to the players' diet in the pre-tournament camps.

"We lived on a meagre $20 daily allowance in Belgium, which was very tough on players."

But the government has refused to release a grant, instead demanding an audit of the reported 1.2 billion rupees ($120 million) funding given by the previous government in 2009.

Sami pointed the finger at the Pakistan Hockey Federation.

"Any sport could have been lifted with money like that," said Sami.

"But there was corruption and the officials should be taken to task for misusing the funds which have brought the darkest period on our national game."

With the national team in such a poor state hockey is struggling to attract youngsters in a country where cricket gets wall-to-wall media coverage.

But Mansoor feels all is not lost.

"I still feel we can lift our hockey but for that we need to appoint a foreign adviser, most suitably an Australian because their style of play matches ours," suggested Mansoor.

"We have to do that first and develop players for modern hockey. Hockey is in our hearts and it will not die."

The Express Tribune


---

Comment: No change of guard but system revamp can salvage Pakistan hockey

Anwar Zuberi

Change of guard in the Pakistan Hockey Federation (PHF) alone will not solve the ongoing crisis confronting the game and it is imperative to revamp the system for Pakistan to make a comeback into the leading hockey playing nations.

The successor of Akhtar Rasool and Co will have no magic wand to remove the flaws with the players overnight. Corrective measures need to be enforced forthwith for a better result tomorrow.

A lot has been said and written over Pakistan's failure to qualify for the 2016 Rio Olympics with just about everyone putting the entire blame on the PHF, the team management and the players without looking into the causes of the debacle.

It is the government, the IPC and the PSB that are to be blamed most for the entire episode as they never really gave a fair deal to the national game. Instead, the govts kept appointing hand-picked men as heads of PHF and removed them if the team fared badly, only to replace them with more such favourites.

Positive signals were quite visible when the same team started producing results and finished on the victory podium twice by securing silver medals in succession at the Champions Trophy and the Asian Games. That was the time when the players needed a pat on their back which was unfortunately not done by those who matter in the Federal Capital.

A result-oriented system had worked effectively for decades during the golden era of Pakistan sports and the nation has become used to fine victories by the national team every now and then. But the early signs of decline started to show when the greenshirts faltered at the Willesden World Cup in 1986 when they finished 11th among 12 nations, just ahead of India.

A probe committee was also formed then and had invited experts and sports journalists including this correspondent to ascertain the causes of finishing an all-time low.

But today, we have done away with the system. The sports departments in financial institutions as well as in other organisations were closed down long ago while an embargo has been clamped in PIA and Customs on hiring of players.

The stadia have been encroached and the healthy trend of giving admission on sports basis in the city colleges is a now a thing of the past.

In a bleak scenario like the one prevailing today and in view of the high cost of living, why would a youth pick up hockey or any other sports for that matter, with cricket perhaps being an exception. Majority of the players come from the poor families and find it difficult to make ends meet. They need some stipend for transportation to travel to the grounds daily for practice besides maintaining nutrition levels for a fair output.

It is pertinent to mention that at least 10 or 11 players of the Pakistan hockey team that won the gold medal at the 1984 Los Angeles Olympics were unearthed during the PIA Colts scheme. It was the brain-child of PHF's the then director sports, late Brig M.H. Atif, who inducted the players in 1980.

Former Prime Minister Mir Zafarullah Khan Jamali, who is also a former PHF president, ordered hiring of sportsmen in various departments and a notification was also issued but could not see the light of the day.

Taking the Antwerp debacle as an eye-opener, the government should immediately take corrective measures including merging the ministries of sports and education.

Secondly, the government should give the responsibility of running hockey affairs to Customs (preventive) under the Central Board of Revenue (CBR) which, if given the task, can generate substantial funds by imposing levy on all consignments. If these steps are taken forthwith, it will undoubtedly yield positive results after a few years.

Dawn


---

PHF approached PCB for financial bail-out last May

Mohammad Yaqoob

LAHORE: The cash-strapped Pakistan Hockey Federation (PHF) which had gone from pillar to post to generate funds for its national and junior teams early this year also approached the Pakistan Cricket Board (PCB) to come forward and bail out the hockey federation but the request went in vain.

Well-informed sources told Dawn that PHF president Akhtar Rasool had written a letter to PCB chairman Shaharyar M. Khan in the month of May, appealing him to provide Rs50 million to the PHF, either as loan or a grant, so that it could field the national team in the Olympics qualifying round. However, the PCB did not give any response to the PHF appeals.

Moreover, the PHF also wanted to send its junior team to Holland for a six-nation tournament starting there on July 18. The tournament is the only available opportunity for the PHF to prepare its junior team for the qualifying round of the Junior World Cup, to be held in India this year. But sources said the PCB did not even bother to give any reply to that request as well.

However, the Pakistan Sports Board (PSB) later came forward to provide a generous grant to the PHF which prety much solved their problems and it managed to send its senior team to Belgium. It is another story that the national team failed to qualify for the Rio Olympics and the nation had to bear the ignominy of getting ousted from the extravaganza for the first ever time in its history.

Currently two fact finding committees are working both at government and PHF level to find out reasons for the debacle. The PHF, due to paucity of funds, has also decided not to send its Junior team to Holland.

It may be mentioned here that during the PCB tenure of retired Lt Gen Tauqir Zia, the Board had helped out the PHF on the request of then federation president retired Lt Gen Mohammad Aziz Khan and had granted a loan of Rs20 million. Both Tauqir and Aziz were then serving generals in the early 2000.

Dawn


---

Shafqat fails to appear before body

LAHORE: Except for Shafqat Rasool, three other players appeared before the Pakistan Hockey Federation's appointed fact-finding committee, probing the reasons behind Pakistan's failure to qualify for the Olympics following a shameful performance in the Hockey World League Semi-Finals in Belgium.

The committee headed by former Olympian goalkeeper Shahid Ali Khan had summoned Tousiq Ahmed, Rizwan Senior and Moham­mad Irfan besides Shafqat to record their statements on Wednesday.

Shafqat, however, did not appear. The committee will issue its fresh schedule of meetings after Eid-ul-Fitr, in which versions of the team management, including head coach Shahnaz Sheikh and chief selector Islahuddin Siddiqui, will also be taken.

Dawn