All the news for Monday 13 july 2015

Stage set for Pan American Games in Toronto
   
The XVIIº Pan American Games (41 countries, 36 sports, 6,500 athletes) opened on July 10 in Toronto, with the field hockey competitions starting on Monday, July 13 (women's pool matches) and closing on Saturday, July 25 (men's final).

Eight men's teams and eight women's teams qualified for the marquis continental competitions through the 2013 Pan American Cups, 2014 South American Championships and 2014 Central American & Caribbean Games. In both Pan Am competitions, the teams are split into two pools of four and play a round-robin that will decide the quarter-final panel. Following quarter-finals, all teams  play cross-overs  followed by classifications matches, for a total of 48 high-level matches for the hockey fans in a 12-day period.

Hockey matches will be played on a brand new facility, built for the occasion, in the historic heart of the University of Toronto back campus, right downtown, probably the most easily accessible Pan Am Games venue for spectators.

MEN

Field hockey was admitted in the Pan Am Games in 1967 in Winnipeg, Canada. Argentina won the first gold medal and were joined on the podium that year by Trinidad & Tobago and the USA. The Argentinians have never finished lower than second in the Pan American Games since that first podium experience.

Canada appeared on the lower step of the podium, finishing third, in 1971 when the games were hosted in Cali, Columbia. From the 1975 games in Mexico onward, all the men's finals involved Argentina and Canada, with the South Americans winning six times and the North Americans topping the podium four times. The rivalry between the two continental powerhouses has been intense and often decided by a single goal (1-0 in 1975, 1995, 1999 and 2003) or even in a dramatic penalty competition as in 2007 in Rio de Janeiro.

Argentina enters the 2015 competition as the reigning Champions and the top-ranked team (6th in the FIH World Rankings). Argentina has already qualified for the 2016 Olympic Games in Rio after their second-place finish in World League Round 3 in Buenos Aires. They have a mature and experienced roster (average of 28 years old and 130 international caps) and are on a roll after a superb bronze medal at the 2014 World Cup in the Netherlands.

Canada will probably improve their current ranking of 15th, thanks to their recent fourth-place finish in World League Round 3 which included winning a spectacular and lengthy shoot-out duel with New Zealand in quarter-finals. The Canadian roster is younger (average age 25) than the Argentinian, but they boast a lot of experience with an average of nearly 100 caps per player.

Chile (ranked 25th), USA (26th) and Trinidad & Tobago (29th) will try and challenge the two top guns but will more likely fight for the third step of the podium. Chile has the upper hand on experience  but USA is fielding talented young players who are progressing quickly. The USA lost to Chile in World League Round 2 in San Diego but handsomely beat Trinidad & Tobago twice.

The Caribbean team will unfortunately be deprived of their charismatic leader Kwan Browne, who played a significant role on the pitch in the last four Pan American Games but will this time be confined to the coaching bench due to injury.

The Brazilian team will have its own personal goal of finishing in the top six of the teams in Toronto in order to validate their berth as host in the 2016 Olympic Games in Rio. Anything less and they would lose the opportunity to play at home and their reserved spot would go to another team based on World League results.

The lowest ranked team in the men's competition in Toronto is Cuba (48th), but their surprisingly low ranking is only a reflection of their lack of participation in international competitions and certainly not of their real level. Four years ago in Guadalajara, they arrived with a similarly low ranking (45th) but beat higher ranked teams USA and Mexico before giving a hard time to Canada in the semi-final and Chile for Bronze.

WOMEN

Field hockey was introduced for women only in 1987 in Indianapolis. Argentina won the first Gold Medal over the host USA, then hogged the top step of the podium at every Pan Am Games… until 2011 in Guadalajara, when the USA caused a major upset by cleanly beating the World Champions, ranked 13 spots ahead of them!

Argentina are not as dominant since the retirement of superstar and eight time FIH Athlete of the Year, Luciana Aymar, as well as stalwart Rosario Luchetti. They lost a four-match test series against the USA in February and struggled at the World League Round 3 in Valencia, losing to Great Britain, China and Germany to finish in fourth place. To complicate matters, Las Leonas will travel to Toronto without injured Carla Rebecchi, their most experienced player (246 International Caps) and top scorer from the World League Round 3.

The USA were frustrated by their performance in the World League Round 3, dropping a crucial pool match to Ireland then losing the decisive quarter-final to Argentina. Their fifth-place finish in Valencia will probably be enough for an Olympic berth when all the continental championships are completed, but their disappointing results will possibly be an additional incentive to work harder with the aim of defending their Pan Am Games gold medal.

The gap in rankings is wide behind the two continental ogres. The closest team, Canada, is only ranked 20th. But the young Canadians (average age of 23) have accumulated experience in the past years (already more than 70 International Caps on average) and playing against top flight teams in the World League gave them the necessary momentum to aim for the bronze medal in front of their home crowd.

Chile (ranked 22nd) and Uruguay (ranked 28th) will be the likely challengers for a spot on the lower step of the podium. The Chileans have a hugely experienced team (more than 100 Caps on average) and the players will want to avenge their loss to Canada in a close shoot-out that stopped their adventure in the World League. After winning the World League Round 2 at home, Uruguay surprised many with their enthusiastic style of play and gained a lot of admirers in Valencia for their first foray in the top international flights.

Just like their men's team, the Cuban women are always a bit of a mystery, arriving with little international exposure but excellent physical preparation and technical skills.

Action starts on Monday at the Pan Am Field downtown Toronto with four women's pool matches: Chile vs. Cuba and USA vs. Uruguay in the morning (9:00am) then Argentina vs. Mexico and Canada Dominican Republic in the afternoon (5:00pm).

For live updates on matches follow @panamhockey and #PAGhockey15 on twitter, Instagram and facebook. Match reports, photos and more will be available online at www.panamhockey.org.

Pan American Hockey Federation media release


---

Canada's Pan Am Games field hockey teams by the numbers

Key numbers for Canada on the eve of the Toronto 2015 games

Shaheed Devji

With the field hockey competition at the 2015 Pan American Games set to kick off in less than twenty-four hours, it's time to look at some of the key numbers.

Both Canada's men's and women's National Teams will be looking to punch their tickets to the 2016 Olympic Games in Rio de Janeiro, Brazil by winning gold at the Pan Ams.

Here what you need to know, and what's fuelling our men and women by the numbers:

1 – One team from each gender will earn a ticket to the Rio 2016 Olympics by winning gold at the 2015 Pan Am Games

1 – One pair of siblings (Gordon and Shanlee Johnston) will be competing for Canada's field hockey teams at the 2015 Pan Am Games

1 – Canada has won Pan Am Games field hockey gold one time on home soil (1999 in Winnipeg)

2 – Two active Canadian field hockey players (Scott Tupper and Mark Pearson) have competed in an Olympic Games

3 – Canada has hosted the Pan Am Games field hockey competition three times (1967 in Winnipeg, 1999 in Winnipeg, 2015 in Toronto)

3 – Canada's women's Pan Am Games field hockey roster has three players  – Thea Culley (136), Abigail Raye (133), and Kate Gillis (133) – who have played in more than 100 international matches for Canada

4 – Men's National Team defender David Jameson will be playing in his fourth Pan American Games in Toronto (others include 2011 in Guadalajara, 2007 in Rio, and 2003 in Santo Domingo)

4 – Canada's men have won Pan Am field hockey gold four times (1983, 1987, 1999, 2007)

4 – Since 1987, Canada's women's field hockey team has won four medals total at the Pan Am Games (1 silver, 3 bronze)

6 – Canada's men's Pan Am Games field hockey roster has six players  – David Jameson (225), Scott Tupper (209), Mark Pearson (176), Adam Froese (113), David Carter (111), Iain Smythe (104) – who have played in more than 100 international matches for Canada

7 – Seven members of the Canadian women's Pan Am Games field hockey team are playing in their first Pan American Games

8 – Eight members of the Canadian Men's National Team won silver at the 2011 Pan Am Games in Guadalajara, Mexico

9 – Nine members of the Canadian men's Pan Am Games field hockey team are playing in their first Pan American Games

10 – The last ten Pan American Games men's finals have featured Canada and Argentina

11 – Since 1967, Canada's men's field hockey team has won eleven medals total at the Pan Am Games (4 gold, 6 silver, 1 bronze)

12 – Members of the Canadian Women's National Team won bronze at the 2013 Pan American Cup

15 – Canada's men's field hockey team enters the 2015 Pan American Games ranked fifteenth in the FIH World Rankings

16 – It was sixteen years ago (1999 in Winnipeg) that Canada's women's field hockey team last won a medal (bronze) at the Pan Am Games

20 – Canada's women's field hockey team enters the 2015 Pan American Games ranked twentieth in the FIH World Rankings

Field Hockey Canada media release


---

Play Begins for U.S. Pan American Men's and Women's Field Hockey Teams

Team USA kicks off the action in Toronto

COLORADO SPRINGS, Colo. –  Beginning this week, the U.S. Men's and Women's National Teams will contend for qualification to the Rio de Janeiro 2016 Olympic Games at the Pan American Games in Toronto, Canada from July 13-25. More than 7,000 athletes, from across the Americas and Caribbean, come together every four years for the Pan American Games, the world's third largest international multi-sport tournament. The event showcases top-level athletes in 36 different sports.

U.S. Women's National Team Head Coach Craig Parnham and U.S. Men's National Team Head Coach Chris Clements have both established their 16-athlete rosters and two replacement athletes. The competition format for both the men's and women's events consists of eight national teams evenly divided into two pools of four squads. The tournament winners from the men's and women's divisions not only earn the Pan American Games gold medals but also the outright opportunity to play at the Olympic Games in August 2016.

U.S. Pan American Women's Field Hockey Event Schedule:

Pool A
Argentina
Canada
Dominican Republic
Mexico

Pool B
Chile
Cuba
Uruguay
United States

Monday, July 13 USWNT vs Uruguay at 11 a.m. EST
Wednesday, July 15 USWNT vs Chile at 9 a.m. EST
Friday, July 17 USWNT vs Cuba at 9 a.m. EST
Monday, July 20 Quarterfinals
Wednesday, July 22 Semifinals
Friday, July 24 Finals

U.S. Pan American Men's Field Hockey Event Schedule:

Pool A
Argentina
Cuba
Trinidad & Tobago
United States

Pool B
Brazil
Canada
Chile
Mexico

Tuesday, July 14 USMNT vs Cuba at 11 a.m. EST
Thursday, July 16 USMNT vs Argentina at 11 a.m. EST
Saturday, July 18 USMNT vs Trinidad & Tobago at 11 a.m. EST
Tuesday, July 21 Quarterfinals
Thursday, July 23 Semifinals
Saturday, July 25 Finals

Although field hockey matches at the Pan American Games will not be broadcasted, follow @USAFieldHockey on Twitter for live Team USA game updates. Match reports will be posted to usafieldhockey.com following each game. For all information regarding USA Field Hockey at the 2015 Pan American Games, including the full schedules, check out the event page.

USFHA media release


---

Irish U18 Girls Win Eurohockey Championships!




The U18 Girls have completed their undefeated run in style at the Eurohockey Championships II in Mori. The Little Green Army defeated Poland 7-0 in the final to be crowned champions and earn promotion to Division A of European hockey. The convincing victory saw 6 separate players get on the scoresheet which accurately reflected the impressive team performances throughout the tournament.

Lena Tice was first on the scoresheet 6 minutes into the game, but credit to the Polish defence as they kept the Irish at bay until the 28 minute mark when captain Zoe Wilson made it 2-0. Further goals from Sally Campbell, Ellen Curran, Tori Hastings and 2 from Zara Malseed ensured the game was out of reach.

Lena Tice was awarded Player of the Tournament and Sally Campbell won joint Top Goalscorer which rounded out a fantastic tournament for the entire team and coaching staff.



Lena Tice- Player of the Tournament     



Sally Campbell- Joint Top Goalscorer

Irish Hockey Association media release


---

Future Black Sticks set for big challenge



Pictured: Maddie Dowe, courtesy Kiwi Hockey

The Future Black Sticks Men and Women are set to depart for the Volvo Invitational Tournament in Breda, Netherlands.

The tournament pits some of the world's best under 21 age group players against each other from 18-25 July.

Coached by Sean Dancer, the women's team includes five National Development Squad players in Stephanie Dickins, Maddie Dowe, Tessa Jopp, Su Arn Kwek and Danielle Sutherland.

The Future Black Sticks Women will go up against England, Netherlands, Germany, India and China during round robin play at the tournament. They play England in their opening game on Monday 20 July at 1:15am (NZ time).

Meanwhile the men's team, coached by Bryce Collins, is a strong mix of experience and youth led by Development Squad member Richard Joyce and Leo Mitai-Wells.

Three over-aged players are permitted at the men's tournament with Joyce joined by Sanjay Lala and Mick Lammers.

The men play six round robin games against Pakistan, India, Belgium, Germany, England and Netherlands, who they face first up at 3am Sunday 19 July (NZ time).

CLICK HERE for the full draw

Hockey New Zealand Media release


---

Drag-flicker to drag UniKL into semis

by Jugjet Singh

UNIKL Young Guns are aiming for a semi-finals spot in the Malaysia Hockey League (MHL) which will begin on Aug 1.
 
And to achieve their target, they are in the midst of hiring a foreign drag-flicker.
 
With only six teams in the Premier Division, UniKL who finished sixth last season, will be jostling for the semis with double champions Terengganu Hockey Team, Kuala Lumpur Hockey Club, Sapura, Tenaga Nasional and Maybank.
 
UniKL coach Arul Selvaraj will be banking on four national players who played in the recently concluded World League Semifinals in Antwerp.
 
"All four of them (Haziq Samsul, Baljit Singh, Izwan Firdaus, Meor Azuan) had an exceptional tournament and will be out main players this season. We hope to break into the semi-finals circle, it wont be easy, but we are ready to give our best," said Arul.
 
Arul, who is also Project 2016 coach, has roped in 10 from the Junior World Cup trainees to play for UniKL.
 
Players like Sufi Ismat, Zul Pidaus Mizun, Maxhans Christi, Ashran Hamsani, Azwar Rahman, Najmi Farizal, Nor Azrul and Ezry Mustafa will turn out for UniKL, and will also represent Malaysia in the Junior Asia Cup in Kuantan in November.
 
"We are also in the midst of signing up two foreign players, but I can't name them yet because negotiations are ongoing. All I can say is that one if from South Africa and the other from Germany.
 
"And one of them is a penalty corener drag flicker. We won many penalty corners, even against the best teams in the MHL last season, but our conversion rate was very low and thats why we finished last.
 
"Hopefully, if we manage to sign the foreign drag flicker, things will chance for the better," said Arul.
 
For the record, last season saw UniKL bundled out of the quarter-finals stage for the sixth-year running.

Jugjet's World of Field Hockey


---

Ducks sign Argentina star Paredes




The Waterloo Ducks have made a significant addition to their line-up with Argentina international Matias Paredes linking up with the side for the 2015/16 season.

Paredes has played in two prior Olympic Games (in 2004 and 2012) and helped his side to a bronze medal in The Hague last year at the World Cup.

He is one of a number of strong signings for the club with Alex de Paeuw returning after a year at Egara while Luca Masso has arrived from Oree.

Euro Hockey League media release


---

Nelson's Anita Punt wants to a leave a lasting legacy with New Zealand hockey



Black Sticks captain Anita Punt takes a hockey coaching clinic at Saxton Turf in Nelson. PHILLIP ROLLO/FAIRFAX NZ

A photograph hangs at Anita Punt's parents' house of her and former Black Stick Mandy Smith.

The Black Sticks were in Nelson for a coaching session that day and some of the region's junior players, including Punt, ventured down to Saxton Turf to meet their heroes and to learn whatever tips they could from a group of the country's leading players.

"I was just in awe of Mandy and got a picture with her and I still have the picture. There were pictures of me playing around with the other girls and it's crazy now to think that people look up to you like that," Punt said at Saxton Turf on Saturday, taking her own coaching session for junior players.



Black Sticks captain Anita Punt takes a hockey coaching clinic at Saxton Turf in Nelson. PHILLIP ROLLO/FAIRFAX NZ

Punt did not know at the time, in fact not many did, that one day she would follow in Smith's footsteps and represent New Zealand.

"I'm my own biggest sceptic. I kept saying 'stop it, you're never going to make it.' I had a job and I was just ticking along, but with the hope that one day I would," she said.

"I never wanted to be complacent. I always wanted to keep pushing and keep getting better, but you know I didn't win anything for Nelson, my school never won any tournaments, I never even went to the top tournaments, I just wanted to prove to people that you don't have to go to those to be one of the top players."



Anita Punt in action during the Fintro Hockey World League semifinal match against South Korea. DEAN MOUHTAROPOULOS/GETTY IMAGES

Today, Punt is the Black Sticks captain. She has made more than 200 appearances for New Zealand and has just become the Black Sticks' all-time leading goal scorer with 78 international goals. But she still struggles to come to terms with the fact that she made it.

"Even now you still don't believe it," she said.

"You never thought someone from Nelson would ever get there, so when I come home I try to inspire the kids and show them that if you work hard you don't have to be in the big provinces, you don't have to be winning tournaments."



Anita Punt when she was selected for the New Zealand under-18 hockey team back in 2005. FAIRFAX NZ

Punt believes the turning point in her career was Black Sticks coach Mark Hager. He saw something in her that not many others did.

"He saw some potential in me and if it wasn't for him I don't think I would have made it.

"I suited his style, so luckily for me he came along when he did."

Punt "loves animals" and said if she wasn't playing hockey she would be working with animals, but right now her life revolves around a stick and a ball -- and that's more than enough to keep her busy.

"It's very hard trying to balance everything. It's a lot of hard work.

"There's not a lot of reward, you're made to act like a professional full-time paid athlete but you're not. You're not even a part-time or paid athlete. The honour of representing your country has to be enough and if it's not you don't do it, which is why we have very good values within the team.

"It's not the money that we're doing this for."

Punt and the Black Sticks train six days a week, they just get Sunday off, so she fits in work around that, doing sports administration for a school in Auckland. She said hockey is not flexible, so she is glad the school is.

The Black Sticks have just returned from the FIH World League semi-finals in Belgium, where New Zealand was pipped by arch-rivals Australia in the third-fourth playoff match. New Zealand had previously beaten Australia in the tournament -- which is when Punt broke the goal scoring record.

She said her aim now is to extend the record so far that it is never beaten, and at 27-years-old she still has plenty of time to add to the tally, especially when you consider the fact she scored 39 of them in 2014.

"It's an honour. The girls I passed are such amazing strikers and such amazing players, so credit to them. They set a good record, but now I want to set one that hopefully doesn't get beaten."

Punt could become the first woman to make 300 appearances for her country, but she said the quality of her performances, not the quantity, remains the focus in the prime of her career.

"You can get 50 caps in a year, which a huge amount of games, and now the milestone could be huge but it doesn't have the same prestige as what it did years ago. In my first season I played 10 games, now I'm playing 50 a year.

"It's still an amazing achievement though, saying I've played 200 games. Like that is crazy. But who knows? I'll push for the Rio Olympics and assess after that."

No matter where her career goes from here, Punt will go down as one of New Zealand's hockey greats, and one of Nelson's sporting greats, and wants to to leave a lasting legacy in the black No 32 dress.

"You want people to want your number once you've finished and hopefully I'm starting to do that.

"My main aim to make a legacy for my name, my number and for myself. I want people to strive to be me, just like I strived to be Mandy Smith."

Stuff


---

Indian Jr Men,Women team leave for Netherlands

s2h team

After attending a rigorous preparatory camp in June 2015, the Indian Junior Men and Women Team left today for Breda, Netherlands to participate in the Volvo International Men U-21 tournament, from 18th to 25th July.

The 18 junior men and women had been part of the core probable's who had participated in an intensive training camp in June in New Delhi. Harjeet Singh will be the captain of the Junior Men team who is a promising midfielder himself, also captained the winning team in the Sultan of Johor Cup 2014 in Malaysia. In their first match, the Indian Junior Men U-21 team will clash against Germany, on 18th July. While the women team will be lead by star striker Rani Rampal, who is also one of the lead forwards of the Indian Women Hockey team. In the tournament, India will play their first match on 19th July against the Hosts nation Netherlands.

Junior Men's team Skipper Harjeet Singh feels the recent preparatory camp has been beneficial for young lads and is hopeful for a good run in the tournament.

"Thanks to the intensive preparatory camp, we have been able to fine tune our attack and defense strategies. This time we also have new players, who have the capability to showcase superb dexterity with their sticks and excellent on field coordination. We are ready and well equipped for any challenges that the opponents might throw at us." Harjeet said.

While Indian Women's team captain Prior to the departure, said, "We have been training hard for this tournament and are looking to score our first win against Netherlands. We have worked on our weaknesses and have worked on the on-field strategy. It will be a challenge but the team is prepared well for the tournament and we want to come out as the superior opponent. "

Stick2Hockey.com


---

At World League, feisty Indian women show the way

The men's team, already qualified for the Rio Olympics as Asian champions, seemed to lack the hunger to succeed

Jitendra Nath Misra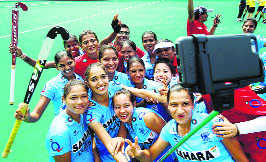 The Hockey World League Semifinals at Antwerp held no surprises, showing that the great powers of hockey will not easily yield their privileged positions. From the men's section Australia, Belgium and Great Britain qualified for the Rio Olympics, joined by India for the World League Finals.

The Netherlands, South Korea and Australia qualified for the Rio Olympics from the women's section, with New Zealand joining them for the World League Finals. The outcomes were consistent with rankings.

The real heroism was shown by aspirants to hockey's pantheon. The less heralded men's team from Ireland and the Indian women's team have almost won Olympics qualification. The Belgian women faltered on the big stage and the fast-improving Italian women are set for future laurels. Pakistan's failure to qualify for the Olympics must have something to do with the lack of opportunities to play the top teams. France showed an ability to compete with the best, and Malaysia displayed flair.

For India the dual-gender format of the tournament provided for a real contest between the men's and women's teams. The women won the duel. Ranked 13, they were able to beat one higher-ranked team (No. 10 Japan). Undaunted by heavy defeats early on, they showed improvement as the tournament progressed. In contrast, the men could not beat a single higher-ranked team, and played a draw with the lower-ranked Pakistan.

For the women, to defend a narrow 1-0 lead for over three quarters of the game against Japan was stellar. Clearly, they showed a desperate desire to keep alive their Olympics dream, which also explains their competitive game against Australia, 11 places above India in ranking. That was a high-energy game with uncluttered minds.

Yet, the structural problems in the play of the women's team remain. The Netherlands and New Zealand blew the Indians away with unsettling fury. With better defensive play, the defeats might have been narrower.

Against the Netherlands India's attacking game gave the Dutch girls too much space for counterattacks. India's slow build-up was too predictable, and their second-half comeback too late. In the 2013 World League Semifinals at Rotterdam, the Dutch had beaten the Indians by the same seven-goal margin. The next frontier is to reduce the margins of defeat to the top teams.

After narrow victories against lower-ranked teams, the men faltered as the tournament progressed. Yet, their long-term, gradual improvement is discernible. From a sixth place finish at the 2013 World League Semifinals, the men progressed to the fourth position at Antwerp.

But the team's playing structure remains wobbly. In the quarterfinals, Malaysia almost outwitted India by dictating the pace of the game, forcing Indian errors in the circle. Only in the final quarter were India able to get their defence right. Australia, Belgium and Great Britain played against India as if their lives depended upon the outcome, but the Indians seemed to be sleep-walking, especially when not with the ball. Had the hunger to win vaporised after the Olympics qualification had been done with?

The stark truth bears reiteration: India are significantly behind the top six teams. Even the Irish team traps better and hits the ball cleaner and flat. The only way forward is to go on playing the top teams regularly. Hockey India's successful bids for major tournaments and its astute marketing mean that India will do just that. The next test will be in the Men's Hockey World League Finals in the winter. Much work remains before the Rio Olympics.

With the Olympics qualification out of the way, this tournament was an opportunity for coach Paul van Ass to experiment. But clearly, he has not been given enough time for the team to internalise the 10-on-10 attack-defence strategy. The first part of the strategy worked against the par teams, and the players regularly fell back to defend in numbers. But the second part, tight marking in the circle, needs more work. Against Australia, Belgium and Great Britain the team faltered in the Indian circle, giving the opponents too much time and space to shoot.

On balance the tournament can be reckoned a modest success for Indian hockey. The Indians can now believe in better outcomes against the top teams. If Belgium and Argentina can do it, why can't India?

World hockey has been predictable for so long that a change in its power structure would invigorate the sport. Improving India should steel themselves to throw that challenge, and the women at least are developing feisty self-esteem. We should therefore stop obsessing with the men and look at the sport in its totality. Indian hockey would be better off being treated like an Ardhanarishwara character, where the success of one gender stimulates the adrenaline of the other.

The writer, an Indian Foreign Service officer, is India's ambassador to Portugal. The views expressed are his own.

The Tribune


---

Why we failed at Olympic qualifiers in Antwerp

By Muhammad Ali




There is a lot of hue and cry and pall of gloom shrouding Pakistan after the national hockey team failed to qualify for the Olympics for the first time in the history of the quadrennial event. Once a powerhouse of the sport, Pakistan gave pathetic performance in the recently concluded Hockey World League, the qualifiers for the Rio de Janeiro Olympic Games 2016, in Antwerp and ended at the eighth position. The greenshirts' below par show in Belgium shattered hopes and dreams of their 180 million countrymen. Pakistan struggled in their 2-1 victory against Poland in the opening match, suffered 6-1 defeat at the hands of the formidable Australia besides sharing points with India and France by playing two draws in the Pool A. In the quarterfinal, they were outplayed by Britain 2-1. Worst came in the classification matches. Pakistan were first shocked by lowly ranked Ireland 1-0 in a match for 5-8 positions and later France stunned them 2-1 in a classification match for 7th-8th positions.

The failure prompted the government to form a committee to probe the causes of the national side's poor show in Belgium. The probe committee has been formed by the Inter-Provincial Coordination (IPC) Ministry on the instruction of Prime Minister Nawaz Sharif, who happens to be the patron of the Pakistan Hockey Federation (PHF). Prime Minister Sharif said that the team's performance in 2016 Rio Olympics qualifiers was embarrassing. He has sought explanation from the PHF officials and the sports ministry and questioned why the team had performed so poorly. The PHF top officials are facing immense pressure from all quarters to resign.

The Hockey World League was the last chance for Pakistan to qualify for the 2016 Olympic Games, after losing the Asian Games final to India in Incheon, South Korea last year. Pakistan needed to finish at least in the fifth spot in Antwerp to have any hopes of getting a ticket to next year's Summer Games in the Brazilian capital. Pakistan, who once ruled world hockey, also failed to qualify for the World Cup last year for the first time in the history of the event which they have won more times than any other country.

Pakistan hockey also remained absent from Commonwealth Games in Glasgow, held in July-August last year, after the PHF failed to enter the event by the deadline because of an internal dispute of the National Olympic Committee of Pakistan. The formation of a parallel Pakistan Olympic Association (POA) and the PHF supporting it meant the greenshirts missed the chance to compete at Glasgow 2014.

The ignominious ouster at Antwerp now have both critics and fans up in arms as they demand a thorough inquiry into the debacle and a complete overhaul of the national game and the PHF. Behind India's eight gold medals and Germany's four titles, including one by West Germany, Pakistan are the most successful team in Olympic history. Pakistan have won three gold medals out of their six appearances in the title contest at the Olympics. Pakistan finished poor eighth at the Beijing Olympics in 2008 and seventh at the London Olympics 2012. It was their worst ever showing in the Olympics.

Reasons of failure: Pakistan hockey structure lacks in terms of skills and competitiveness. The very base of the game has shrunk beyond belief. Pakistan hockey's slump is not quite as dramatic or sudden as it now seems to be. It's been a slow and painful decline that began after 1994. Cricket, with better financial rewards and glamour, slowly replaced hockey in schools and colleges. A few remaining national hockey clubs still play and train their players on grass and these players struggle when they play top level tournaments, national and international, on artificial turfs. It is interesting to note that all European schools and colleges, where field hockey is played, have artificial turfs. The crippling financial state of the sport has finally struck a killer blow to the country's national game. In the last two years, the PHF had to beg private parties to fund the team's foreign tours. The government, whose priority has never been sports, had hardly budged when the PHF repeatedly pleaded for financial support to ensure participation at the Antwerp event. But after the debacle the government is now fully aroused and has started to probe the disaster, although quite belatedly. Inquiries are nothing but a sham in this 'land of the pure' to hoodwink people.

At the Hockey World League even the lowly level European teams were much better than the greenshirts. Their physical fitness and superior planning being the main difference. The PHF has not been able to give maximum international exposure and facilities to the senior as well as junior players. For the last two decades, the government has done nothing seriously for promotion of the national sport of the country but wants results. What a pity. To remain consistent, Pakistan hockey needs improvement all over at every tier of the game at the domestic level to show an upward graph. For many, the greenshirts have become an enigma. They will go on and beat the top ranked team in their own backyard, or criminally lose out to a mundane opposition just as easily. But we must also understand that Pakistan hockey, which remained up in the clouds for more than three decades, is not the same force that it used to be.

The decline of Asian hockey also coincides with the advent of artificial turf that gained currency in the late 1970s and early 1980s. It changed the dynamics of Asian hockey, rendering the dribble-and-dodge game of short passes that Indians and Pakistanis were so good at completely obsolete. It also cut the careers of players by half, and demanded greater physical fitness than before. The Asians have not been able to match the fitness levels of Western players. Also, the International Hockey Federation (FIH) has over the decades changed some basic rules of the game that the Asians had mastered in their heyday. This also proved to be a disadvantage. The PHF has become politicized and nepotistic, just like its cricket counterpart. Unlike the cricket board, the PHF pays very little money to its players, which is a recipe for low fitness and sagging morale. School, college and club hockey has almost vanished. To rise above again, Pakistan hockey requires strong financial backup, commitment and self-belief. Only hard and incessant efforts lead to success. In the absence of these, we should not dream of reaching skies.

Going by past trends, one can predict that a post-mortem of the Antwerp performance will be carried out, resulting in sweeping changes and a few retired players might be asked to take over. We will then get to hear a few more hollow promises for the 2020 Olympics. We must keep in mind that the change of command in no way promises success, planning does. But we are not a nation of sage souls. Rather we indulge in thoughtless decisions. If changing managers, coaches and top officials after every defeat or poor performance had been the best remedy, Pakistan would have been champions. Unfortunately, the technical understanding of issues is always ignored, and it triggers a rot.

No sporting federation is a bed of roses, especially one that carries the aspirations of the nation. Pakistanis have an emotional connection with hockey; the older generation still talks and recall with great delight the spellbinding achievements of the past. While the present generation only has tales of the past to live on. We should focus how to resurrect the national game which over the years has experienced unprecedented decline. It is dying slowly. We have to come over from past glory days dreams. Yes, we ruled the world, but that is past now. All other teams and countries have given top priority and invested heavily on hockey and especially on players.

The lack of resources is affecting Pakistan hockey's international performance. No operation can be run without adequate fuel. The need of the hour is to bring Pakistan hockey into line with the rest, best and the latest aspects of modern hockey as the game has changed a lot in recent years. Even the best of players cannot win without strategic strength as all team games need to have excellent pre-emptive and offensive strategies worked out scientifically. And for that we need money, government support, revival of hockey at school and college levels, grooming of players, maximum international exposure and facilities to the senior as well as junior players and those persons at the helm of affairs who are thorough professionals with solution to the predicament. And above all, foreign coaching staff is must as our former Olympians cannot match the qualified ones. Only then the elusive triumphs will replace the current tragedies that demean the team once basking in Olympic golds and world crowns.

It is pertinent to mention that Pakistan's last major triumph came in the 2010 Asian Games under Dutch coach Michel van den Heuvel, who was sacked unceremoniously by the PHF.

It is ironic that many of the game's former Olympians, who once did the country proud by excelling on the field, have been instrumental in blotting the national game's impeccable record by either indulging in needless ego tussles or resorting to selfish gains at the game's expense. Pakistan's present cricket-crazy generation has very little knowledge of or interest in field hockey. In fact, Pakistan's youngsters are more interested in cricket and European football players than hockey. It is very unfortunate and lamentable that country's national sport, having so much pride and passion, has gone to the dogs.

The Daily Times


---

Probe committee submits report to PM

By Nabil Tahir



Pakistan failed to qualify for the Olympics for the first time in their history. PHOTO: AFP

KARACHI: The Prime Minister's probe committee, headed by IPC secretary Ejaz Chaudhry, has submitted a report to Prime Minister Nawaz Sharif after meeting with Pakistan Hockey Federation (PHF) president Chaudhry Akhtar Rasool, secretary Rana Mujahid, captain Muhammad Imran and former head coach Shahnaz Sheikh regarding the poor performance at the Olympic qualification round.

The committee held its first meeting on June 9 where the coach and captain gave their reports and suggestions for the national game. The committee then met with the PHF president and secretary, who were also asked several questions and were expected to be asked to step down.

The committee was supposed to meet the officials, coach and captain for three days before presenting a detailed report to the PM, but only met with them for a single day.

The committee asked the officials and the captain to ensure their presence on June 10, in what was supposed to be the second day of the meeting. Sheikh, meanwhile, was not asked to join.

However, when the officials and Imran arrived at the PHF joint secretary's office for the meeting on June 10, the committee was not there. After waiting for a few hours, they were told via text that the meeting will not take place.

A source close to the matter claimed that the committee — comprising Col (R) Mudassar, Shahbaz Senior, Khawaja Junaid and Akhtar Ganjera — mainly questioned Sheikh and Imran, while Mujahid and Akhtar Rasool were not asked many questions.

The source also claimed that the inquiry was seemingly not conducted in earnest, with the committee having already made up their minds about the results — with reports circulating of Mir Zafar Ullah Khan Jamali being asked to help the committee generate the report.

"Jamali is odds-on to become the next president and the necessary amendments could be made in the PHF constitution to pave way for him to take over the president's office," claimed the source.

"According to the PHF constitution and the rules of the International Hockey Federation, all office bearers in the federation have to be under 70, while Jamali is 71."

The Express Tribune


---

KHA wants Army chief to become PHF patron-in-chief

Anwar Zuberi

KARACHI: The Karachi Hockey Association (KHA) has voiced their concern on the step-motherly treatment which is meted out to the national game and suggested that Chief of the Army Staff Gen Raheel Sharif should take over the reins of the Pakistan Hockey Federation (PHF) from the Prime Minister Nawaz Sharif who is its patron-in-chief.

This was the crux of the annual executive committee meeting of the KHA held at its Gulshan Iqbal hockey complex on Sunday. Senior vice-president of the KHA, DSP Ejazuddin, chaired the meeting in the absence of KHA president Wasey Jalil who is away from the country.

Briefing newsmen, KHA secretary Farooq Khan said when the prime minister has no time to meet the national team that won back-to-back silver medals in the Asian Games and Champions Trophy and duly reward them to raise their morale, it was appropriate that he should step down and make room for the COAS.

He identified closure of hockey teams in a number of organisations as a major factor of decline of the national game in the country.

Criticising the Pakistan Sports Board (PSB), he said instead of probing the Belgium debacle, the inquiry committee should have been formed against the inefficiency of the Pakistan Sports Board (PSB) which is primarily responsible for deterioration of the country's sports.

He said the PSB should have carried out the audit of the PHF's last five years accounts much earlier instead of delaying it so long and fixed the responsibilities.

The secretary thanked the PHF for their kind gesture of gifting the HCP Stadium's used astro turf to the KHA and the Sindh government for allocating funds for its laying at the KHA complex. The work is expected to be completed before the end of this year.

The KHA put their weight behind the incumbent PHF officials and said they would continue to support them in future.

The Sindh Hockey Association (SHA) president former Olympian goalkeeper Shahid Ali Khan who also joined the meeting later, lauded the KHA for organising many events of the PHF calendar in the city.

The meeting was also attended among others by vice-president Jan Mohammad, Dr Majid and joint secretaries Qadeer Ahmed and Talat Mahmood.

Dawn