All the news for Sunday 12 July 2015

What makes the Pan American Games so special?

Ken Pereira (Canada)

Sarah Juggins,

Ken Pereira is one of Canada's best known field hockey players. He represented Canada at five Pan Am Games, winning gold twice. His international career spanned 20 years and 348 games. During that time he also played in two Olympic Games, two World Cups and three Commonwealth Games.

We caught up with Ken on the eve of this year's Pan Am Games and asked which of those events meant the most to him?

"They are all very special but for sure my first Pan Am Games in Mar del Plata, Argentina in 1995. It sticks out because it was my first. I just remember the crowds were crazy. And of course, Winnipeg 1999 when we won against Argentina. I got the only goal in the final. It was the only goal I scored in the tournament, but it was the winner."

When it comes to picking an individual match that had special significance, Ken points to two matches during the 2007 Games at Rio de Janeiro. In the semi-finals, Canada were losing to Trinidad and Tobago, a lead they managed to claw back in regulation time. The match then went to extra time and Pereira's teammate Wayne Fernandes scored the winner. Canada virtually recreated that scenario in the final, going behind to Argentina twice then beating them on sudden death penalty strokes.

When it comes to taking part in the Pan Am Games, Ken says that the fact that the event is an Olympic qualifier gives it an added excitement. "I loved the pressure that created, it was huge as a result. Also, it was just a fun games. I always enjoyed myself and meeting other athletes from other sports was great."

For non-athletes, it is hard to imagine what it must be like wearing the national playing strip, standing with teammates on the field of play as the national anthem plays. For Ken it was always a special moment: "It's pretty indescribable actually, standing there arm and arm with your teammates with the Maple Leaf on your chest representing your country. It's unbelievable. I always got goosebumps, and still do, whenever I hear the anthem. I always got in grief for not singing along but I didn't want to drown out the anthem with my out of key singing, I just loved listening."

When Ken stopped playing for Canada, he says it was tough to readjust to life away from the field. "I never really wanted to stop. I love this game and loved playing for Canada. I would trade in all five of my Pan Ams to play in this one coming up in my home town of Toronto. I think it's going to be great.

"Retiring from your sport, it's very tough, you do something your whole life and then bang it's gone and you have to make major adjustments. 20 years is a long time. I love my life now though. It's the best."

But, while the 42-year-old is enjoying his life, there remains a hint of nostalgia and regret when he looks back on his international playing days. "I miss everything about playing for Canada; the travel, the team, the competition of playing against the best, the pressure, the goofing around, the jokes, even signing autographs!"

These days Ken is a personal trainer and hockey coach. He runs coaching clinics as well as coaching provincial sides and high school teams. He has also just graduated from a fire fighting course, and once he has passed a few more tests, he is hoping to make this a full-time career. His natural competitive nature comes to the fore as he talks with relish about the "competitive environment" of the firefighting world.

The new career will call for high levels of fitness, something Ken has maintained since his international days. He says that fitness is a massive part of his life and he goes to the gym regularly as well as participating in a variety of sports. "I still play quite a bit of hockey in club tournaments in Canada and in the U.S. I am actually on my way to Vancouver to play in the Kings tournament right now. I also play ball hockey and love to golf. I also dabble in a bit of tennis and football."

At this year's Pan Am Games, Ken will be keeping an eye on how the field hockey team is doing, but he is also looking forward to watching beach volleyball and some athletics. "It wasn't something we could do so much when we were playing, so it will be good to see some other sports."

"In terms of our teams, the boys had a great result at the recent Hockey World League Semi-Finals. It seems like a good mix of youth and experience. I am sure they will do well. There is always a battle at the Pan Ams, and a lot of the other teams have picked up their game, so it will be interesting, but I bank on Canada doing well. I would love to be playing. 348 games and I only got to play in Toronto three times!"

Pan American Hockey Federation media release


---

Once again, national field hockey teams have a distinctive local flavor
   
By Lee Tolliver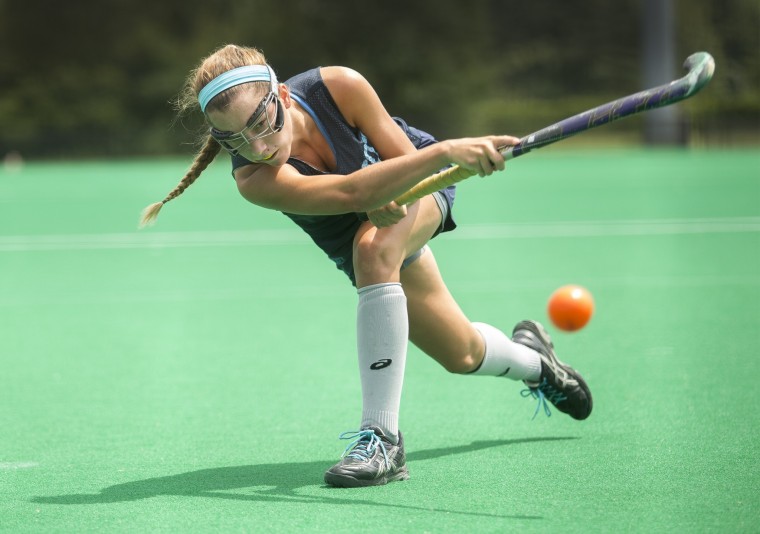 First Colonial's Haley Schleicher practices with the team on Wednesday, Aug. 13, 2014, at the USA Field Hockey Training Facility in Virginia Beach. (Bill Tiernan | The Virginian-Pilot)

USA Field Hockey announced its national teams last week, and Virginia Beach players continue to have a strong presence.

Haley Schleicher was named to the under-19 team for the first time, while Leah Crouse and Charlotte De Vries made the U-17 team for the first time.

Schleicher, a rising senior at First Colonial, was a member of last year's U-17 team.

Playing against older competition will help Schleicher prepare for playing at Duke.

"Playing against the older field is going to really help my skills," said Schleicher, who finished last season as the All-Tidewater Player of the Year after becoming the only high school member of the nation's 50-50 club with 52 goals and 52 assists. "One of my future teammates at Duke is on the team with me and two more are on the U-21 team. So getting to play with them and get to know them is really going to be a huge help."

With hockey taking up so much of her time, Schleicher says vacations are out of the question. But being on one of the national teams has its bonuses.

"We went to Belgium last year with the U-17 team," she said. "After weekend workouts and practices, the U-19 will be touring somewhere in the spring. So hockey is helping me travel to places where I'd probably never get to go."

Crouse, a rising sophomore at Cox, played a critical role on the Falcons' forward line - helping to lead the team to a record 18th state field hockey title last fall.

She scored 17 goals and had 20 assists.

"We have out entire forward line coming back and they're very fast," Cox coach Julie Swain said. "She's going to bring a whole new dimension of skills sets to the team. I had several girls at National Futures, but for her to get the kind of coaching she'll be getting will definitely help our team tremendously.

"Her main goal is to make her teammates look better and she's very good at it."

De Vries would have been a rising freshman at Cape Henry. But the family is moving to Pennsylvania.

"It's such a bummer," Cape Henry coach Kristen Wheeler said. "We just graduated the most players I think I've ever graduated in one year and her leadership on and off the field, even though she was going to just be a freshman, was really going to help us.

"She's beyond her years as a player and is such a great kid. Her positive spirit and work ethic were really going to help us."

The Virginian-Pilot


---

Derek Forsyth dismayed by budget cut for Scotland men

By Keir Murray

Scotland's sport agency, sportscotland, stands accused of making it harder for the country's men's hockey team to compete against the top nations.

Head coach Derek Forsyth feels that the 11% cut in funding for Scottish Hockey for 2015-19 is "ridiculous".

"They keep cutting our funding but then expect us to raise the bar - and they give us unrealistic targets," he said.

A sportscotland spokesperson said the investment focus for the men's game is on development, not the national team.

Scottish Hockey had its budget cut from £3.63m to £3.23m when sportscotland announced its funding programme last month for the four-year cycle from 2015.

In a change to its funding provisos, Scottish Hockey can no longer determine how it divides that money between its men's and women's programmes.

Instead, such has been the progress made by Gordon Shepherd's women's team, the cash for the women's performance and development programmes has been ring-fenced by sportscotland.

And Forsyth, who became manager in January 2012 after being in charge of the Scotland Under-21s, claims his job with the men's team, who are ranked 27th in the world, is even more difficult now he faces an annual shortfall of £100,000.

"Our budget's been slashed, which I'm far from happy about," he told BBC Scotland at the team's base at Glasgow Green.

"I've no idea what sportscotland are up to. It's great to invest in winners all the time. How about helping someone become a winner? It's much more gratifying, I'd say.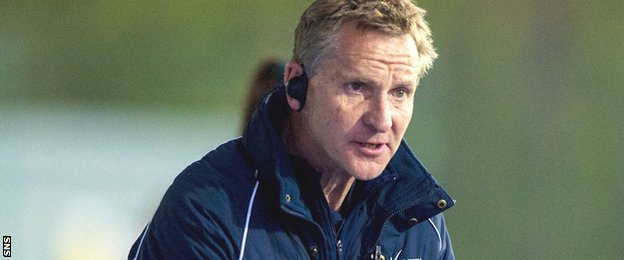 The cash from sportscotland for the men's game must pay for squad training camps and the salaries of head coach Derek Forsyth and Under-21s coach Graham Moodie, though the latter is part-funded by Edinburgh University

"Sometimes you need assistance to get there, whereas they only really invest once you're there. It's not the way forward."

Scotland's men next weekend compete in the second-tier EuroHockey Nations Championship 2 in Prague, where they will play Poland, Croatia and Ukraine in Group A.

If they can reach the final, they will gain promotion to the continent's top tournament for the first time since 2005, although not in time to play in this year's finals in August in London.

Following recent series wins over Wales and Czech Republic in Glasgow, Forsyth and his squad head to play Poland on Monday for two warm-up games before the nations meet competitively in Prague, a quirk of changes in seeding.

"We have to build our programme over a short period of time, which is consistently reduced," said Forsyth, who led Kelburne to 10 National League titles and five Scottish Cups before his promotion to national coaching roles.

"With more money, we could have more contact time through the off-season, like most other international teams have. They have camps.

"Our women have been to Spain, Germany and Ireland. We've had nothing. They (sportscotland) expect us to keep improving or hit targets, but they are not willing to invest. I don't understand it."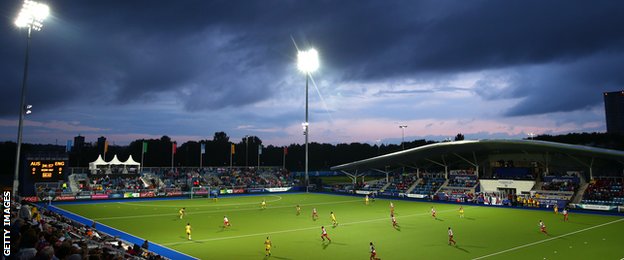 The Glasgow National Hockey Centre staged the matches at the Commonwealth Games last summer

According to sportscotland, which is also funding four regional development managers, its budget decisions were based on sports "building capacity, showing growth in membership, displaying good governance, and attaining performance targets".

Its spokesperson told BBC Scotland: "The men's team had bespoke investment in the run-up to the Commonwealth Games, as did other sports such as weightlifting and table tennis.

"There's a finite amount of money available. We are investing £3.2m in hockey.

"The women's team has been performing particularly well over a number of years and we are continuing to invest in the performance programme and in development.

"For the men's team, our focus is on development. We will review the performance of the men's team on an ongoing basis."

The cut in the budget is a direct result of the men's team not meeting the performance targets set in the 2011-15 cycle, which incorporated the EuroHockey finals in 2009, 2011 and 2013, plus the 2014 Commonwealth Games where Scotland finished eighth.

"In the men's game, the Commonwealth Games is not far off a World Championship," continued Forsyth.

"Australia, England, Pakistan, India - they are all always top-10 world teams, they are all full-time.

"Scotland is expected to compete against these guys.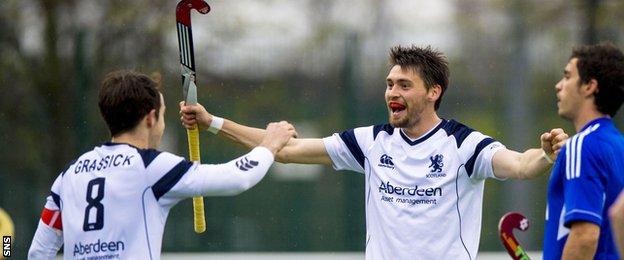 Scotland duo Chris Grassick and Kenny Bain play professionally for Surbiton and Amsterdam respectively

"We lost 5-0 against Australia [the world's top-ranked team], Australia beat England 5-0 in the World Cup. England have a full-time programme, we had 21 days' training.

"We lose 2-0 to South Africa, who have been training for 10 months going to a World Cup.

"Malaysia [currently ranked 12th in the world] are full-time, we lose 2-1. We lose 6-2 to India, who are a professional outfit who have been together for eight months.

"How am I supposed to compete against that? It's like Alloa Athletic playing against Manchester United and they have to win. It's ridiculous."

Highlighting the coaching challenge he faces, Forsyth points out that his first contact with Chris Grassick and Gordon McIntyre since last summer's Commonwealth Games was just a few days ahead of last month's three friendly matches against Wales.

That is because Surbiton's Grassick and Beeston's McIntyre, originally from Edinburgh and Greenock respectively, are tied to the Great Britain set-up at Bisham Abbey.

"My hands are tied," added the manager. "When they come back here, they are coming from a professional set-up to an amateur set-up."

On Friday, Scottish Hockey announced  that it had partially offset the loss of funding by securing sponsorship from Edinburgh-based Artemis Investment Management.

Scotland men's Group A matches in EuroHockey Nations Championship 2, Prague

Sunday 19 July, Poland v Scotland
Monday 20 July, Scotland v Croatia
Wednesday 22 July, Scotland v Ukraine

Group B teams: Azerbaijan, Switzerland, Austria and Czech Republic

Top two teams in tournament win promotion to EuroHockey top tier

BBC


---

MHL champs Terengganu taking their time over foreign signings

by Aftar Singh



Faizal Saari (left) played for Terengganu in the Malaysia Hockey League last year. - Filepic

KUALA LUMPUR: Double champions Terengganu are in no hurry to sign up foreign players for the Malaysia Hockey League (MHL), which will begin on Aug 2.

Terengganu, who were the first team from the east coast to win the double – the league and overall titles - still have until July 26 to hire the players. 

Even if they don't sign up the foreign players, Terengganu still look good to rule the Premier Division as they have the services of seven national players – goalkeeper Mohd Hafizuddin Othman, defender Azlan Misron, midfielders Mohd Shahrun Nabil and Mohd Fitri Saari and forwards Faizal Saari, Tengku Ahmad Tajuddin and Mohd Firhan Ashaari – in the team.

Six of them, except Fitri, featured in the World Hockey League Semi-Finals in Antwerp, Belgium, which ended on July 5.

Terengganu also have three former internationals – defender Engku Abdul Malek, midfielder Jivan Mohan and forward Ismail Abu – in the squad.

And in Faizal, Terengganu have a proven goal scorer. He netted 16 goals for Terengganu in last year's league.

Coach Sarjit Singh, who guided Terengganu to the double last year, said that he'd rather wait and sign up quality foreign players than rush and get duds.

"We want foreigners who can help us retain the double. We have 16 local players in the squad and we'll sign up four foreigners," said the former national coach.

Terengganu were powered by five South Korean internationals last season – penalty corner specialist Jang Jong-hyun, Kang Moon-kyu, Kang Moon-kweon, Bae Jeong-seok and Seo Jong-ho.

But the Koreans are unavailable this year because they will be involved in their domestic league.

"I'll be more than happy if we can retain at least one title this year," Sarjit added.

Terengganu, who made their debut in 2013, will face league and overall runners-up Kuala Lumpur Hockey Club (KLHC) for the Charity Shield match on Aug 2.

The other teams in the Premier League are Sapura, Tenaga, Maybank and Universiti Kuala Lumpur (UniKL).

The Star of Malaysia


---

Fiji Schools combine in hockey challenge

Kalesi Mele



Darius Fatiaki, right, of Marist Brothers Primary School in control of the ball during their match against the combined team of The Learning Centre/Nehru Primary School at the National Hockey Centre yesterday. Picture: JOVESA NAISUA

THE Learning Centre and Nehru Primary teamed and drew opponents Marist Brothers Primary School and Mahatma Ghandi Memorial Primary School 1-1 in final round of the Suva Primary Schools Hockey Association league games.

The four schools paired up to compete in the league challenge of the U14 grades held at the National Hockey Centre in Laucala.

In other grades Suva Methodist Primary School edged MGM 3-0 in the U8 division and private school TLC defeated MGM 4-0.

SPSH association treasurer Patreaschea Pesaminon said teams would o take a breather prior to the final of 11 a side matches next week.

"We are just finishing off our final rounds of competitions. Some teams have taken a break this week due to commitments and so we will continue next week for what will be our final matches for the season before we hand out our awards for outstanding performances," she said.

Results: U8: TLC1- (WBD) SMPS, MGM 0-3 SMPS, TLC2-(WBD)MGM

U10: MGM (WBD)-MBPS, U10: TLC 3-0 SMPS, TLC 4-0 MGM

U14: TLC 0-1 MGM, NMPS - (WBD) MBPS

The Fiji Times


---

FIH need to formulate Pakistan Hockey Promotion Project

K Arumugam



India-Pak clash, always a sell out across the globe

One of the most revered and most feared field hockey nations, Pakistan, is in dire need of all round support, as its fortunes and future dips and trips each passing day. The importance of Pakistan hockey for the over all development of global hockey needs no elaboration. Its stating the obvious.

If not for anything, Pakistan hockey has to survive as a vibrant force internationally at least for three reasons.

Firstly, Pakistan, together with India, represents a different school of hockey. Their artistic brand bemused the world at least for six decades from the 1920 to 80s. If either India or Pakistan hockey doesn't survie, this brand of hockey, though not winning for them medals, will be a thing of fast. That will spell doom for world hockey where even now 90 percent of players start their career on grass or mud-backed grounds.



Pakistan players celebrating the goal that gave them the Olympic hockey gold in 1968.

Secondly, Pakistan's contribution in converting fiercely conservative body like FIH, which toed Avery Brundage brand of amateurism, is immense. They played pivotal and pioneering role in field hockey having its own competitions like World Cup and Champions Trophy. These have great historical significance, as these events are backbone of contemporary hockey.

Thirdly, Asian hockey will slowly melt away without Pakistan, as India-Pakistan sustains hockey's presence at the Asian Games. Hardly, 5,6 countries play there good hockey.

It was in those days when the FIH was ruled by orthodox umpire turned administrator like Etinne Glitchith -- who were loathe and were taking almost 4,5 years to seriously look at the India-Pak's combined proposal of World Cup -- the Pakistan Hockey Federation headed by Air Marshal Noor Khan and engineered by its Secretary General and 4-times Olympian MH Atif agreed to bear even the travel costs of all the participating teams besides hosting the event! They wanted World Cup at any cost.



IOC President Avery Brundage giving away gold to Pak legend Brig MHF Atif at Rome

Only then the FIH relented and we had our first World Cup in 1971.

FIH put in place a World Cup almost 40 years after football, that too after so much persuasion, prompting and even cajoling. PHF presented the invaluable World Cup and Champions Trophies. Its time now the hockey community to pay back.

Pakistan hockey is in need of it.

The global governing body of field hockey, the Federation Internationale de Hockey (FIH), being sensitive to traditional hockey bastions and their health, formulated Indian Hockey Promotion Project a decade ago when Els van Breda Vriesman was its visionary chief. It was a joint project of FIH and the International Olympic Committee. Nitty gritty of the Project is well known, and can be browsed in this site.

India Hockey Project was put in place in the early 2006.

Indian hockey then was a silver medallist at the Asian Games, have been qualifying for all World Cup and Olympics.

Now that Pakistan did not qualify for the last World Cup and the next Olympics, the situation is grimmer than what was the Indian scenario in 2006.

In the past when an earthquake hit both India and Pakistan, the FIH organized a chain of events including an India-Pak match in Chennai as a symbol of sympathy and also to collect donation.

Now both Tsunami and Earthquake have struck Pakistan.

What Pakistan need right now is not money, but moral support. Their government and other agencies do not seem to extend timely help in terms of funds to the PHF. The PHF doesn't seem to offer anything to the government in terms of events due to some socio-political issues.

Therefore, the FIH can visit Pakistan and discuss with the Govt, and motivate them to open their purses.

The FIH can persuade nations to visit Pakistan to bring them into manifold and strike with their local mass. undefined

Except China, no country have ever visited Pakistan in the current decade. The FIH can help sort out the matter with a Continental teams like Africa, Asia, Europe etc. If these symbolic tours are successful in terms of safety, which I believe it will, others nations will automatically follow suit.

Innovations such as these can help Pakistan hockey to wriggle out of the chrysalis of darkness. If funding is the problem, the FIH can think of a fund raising event which will strike response chord with Pak & India diaspora.

Its actually time not to sit and watch. Its time to think and act differently.

Let us save Pakistan Hockey with their dignity and pride in tact.

Stick2Hockey.com


---

Prime minister to receive report on hockey fiasco

Mohammad Yaqoob

LAHORE: Prime Minister Nawaz Sharif is likely to take a decision on the report about Pakistan hockey team's declining performance before he leaves for Saudi Arabia to spend last few days of Ramazan there.

The report is prepared by a probe committee of the Inter-provincial Ministry after Pakistan hockey team failed to qualify for next year's Olympics for the first time after finishing eight in the qualifying round, which concluded recently in Antwerp, Belgium.

The probe committee discussed the issue of Belgium debacle with head coach Olympian Shahnaz Sheikh and captain Mohammad Imran, while IPC secretary Ijaz Chaudhry, who is the convener of the committee, held separate discussions with PHF president Akhtar Rasool and secretary Rana Mujahid.

Sources said former PHF president Zafarullah Jamali, who is also an ex-prime minister of Pakistan, was active in forming the probe committee and his chances of becoming the next PHF president were bright as the prime minister had asked him to help him in sorting out the hockey crisis.

The IPC is also in favour of Jamali as it believes the prime minister is not happy with the performance of Akhtar Rasool.

In this scenario, the main hurdle in the way of Jamali to become the next PHF president is his age. The International Hockey Federation (FIH) has set the age limit of 70 for heads of hockey associations while Jamali is 71.

There are reports the IPC is still trying to find a solution for Jamali's induction. But for that, it has to challenge the writ of the FIH.

The IPC had previously tried to go against the rules of International Olympic Committee in the case of Pakistan Olympic Association but it had to make a U-turn in order to avoid IOC's suspension.

The prime minister has to find out a solution if he does not go with Akhtar Rasool and Jamali.

A weak choice for the prime minister is Brig Khalid Sajjad Khokhar, who has no prominent contribution in hockey but he is a close relative to federal minister Ahsan Iqbal.

Khokhar had even tried to contest the elections for Pakistan Tennis Federation's president but withdrew himself when another political icon Saleem Saifullah Khan came in the contest. He also had a short stint with the national hockey team as manager in Gen Mohammad Aziz Khan's tenure as PHF president.

Dawn


---

HCP to get blue turf soon as hockey decline continues

Anwar Zuberi



The rolls of astro turf wait to be unrolled as the worn out synthetic pitch has been removed at the Hockey Club of Pakistan on Saturday

The city of Karachi which boasts a population of over 20 million will soon get a new blue astro turf — only the second in the metropolis after Dr M. A. Shah and Islahuddin academy — at the Hockey Club of Pakistan (HCP). However, it is unlikely to boost the hockey culture here which is constantly on the decline and one can't find even five hundred 'serious' hockey players in the city who want to pick the game as a profession.

The turf which has been imported from Holland will replace the worn out synthetic pitch at the HCP. Under an agreement, the old HCP turf will now be laid at the Karachi Hockey Association (KHA) ground located in Gulshan Iqbal.

Both the blue turfs are a gift from the Sindh government to hockey fraternity of the city and the late provincial sports minister Dr M.A. Shah deserves a lot of credit for this.

To add to the two blue turfs, Customs has also replaced their old hockey pitch with a new one where the department had organised The Quaid-i-Azam Gold Cup early this year.

Besides, there were three more synthetic hockey pitches that were laid quite sometime ago in the city which include one at the Pakistan Steel, at the UBL Sports Complex and the DHA ground. However, all of them have now lost their lives. Besides, the Olympian Iftikhar Syed Sports Academy is also equipped with an astro turf.

For a nation like Pakistan, it's difficult to meet the high costs of the turf, its transportation and tax. But even when the turfs have been laid after overcoming several hurdles, the facility has neither been accessible to the youth nor properly maintained which is a sad scenario indeed.

The soon-to -be-laid astro turf at the HCP Stadium is the fourth in the stadium's history. The first of these turfs were laid in 1979 before the second Champions Trophy that took place in 1980.

The blue turf, though, will not do much to lighten up the HCP Stadium, which was inaugurated by Gen Mohammad Musa in 1963, since it is in a dilapidated condition and needs an immediate facelift.

The Sindh sports department has apparently shown willingness to refurbish it. It is important, however, that while striking a deal with the PHF for the HCP uplift, the provincial sports secretary should ensure restoration of track around the field and make efforts for allocation of funds for laying a tartan track in the next annual development plan. It will be a great service to the city by all counts. It was great injustice done to the athletes and sportspersons when during the Nur Khan era, a portion in front of the main enclosure was cemented and an iron railing was erected around the field at the expense of the tartan track.

Veteran international athlete and renowned coach Mohammad Talib, who runs Athletic Fitness School (AFS) at the HCP Stadium since 1977, has been advocating for restoration of track and laying a tartan track on it in the larger national interest. "It's one of my dreams that I want fulfilled during my lifetime," the 80-year-old Talib, who had produced thousands of athletes during the last five decades, told Dawn.

It is pertinent to mention that the HCP Stadium had hosted the opening and closing ceremonies and athletics events of the National Games twice in 1970 and 1976 in which many foreign teams also participated.

Dawn