All the news for Wednesday 8 July 2015

USMNT Preparing for Games Against Argentina

Chris Rea #30 

Sunday was an inspiring day seeing the U.S. Women's Soccer Team win the soccer World Cup final. A hat-trick in the first 15 minutes, a challenge we are setting for Will Holt (Camarillo, Calif.) in the Pan American Games final! For dinner, Rutger took us to one his favorite spots in Boston. We all tucked into a mouth watering steak, a good feed after a hard day of training and conditioning.

Training has been progressing nicely here at Harvard and the final touches are being put in place before we take on Argentina on Wednesday. Our session was followed by a fun pool recovery session where the lads used this as an underwater photoshoot opportunity. The highlight of this was seeing Ranjot Sangha (Sacramento, Calif.) swim for the first time, a fine display of doggy paddle I must say, good on you son!

The afternoon consisted of rest and recovery. Our trainer Jason has been working around the clock to ensure that we are all fighting fit for each day. With the first game versus Argentina fast approaching we are all raring to go and feeling extremely confident with how the team is performing.

USFHA media release


---

From Hockey World League Semi-Finals to Pan Am Games

Top teams competing for Pan Am title and Rio 2016 qualification



USA women need to win the Pan Am Games to qualify for the Rio 2016 Olympics

The Hockey World League Semi-Finals have brought mixed results for the Pan-American teams who took part. In Buenos Aires, Argentina men finished in second place to secure an automatic Olympic qualification spot, while the Argentine women had to wait until the other women's Semi-Final in Antwerp had concluded to find out their Rio 2016 fate.

Australia's win at that event over Oceania rivals New Zealand in the third place play-off meant Argentina women now qualify for the 2016 Olympic Games by virtue of their higher World Ranking – Argentina's Las Leonas are ranked third, while New Zealand's Black Sticks are ranked at four.

Speaking after their loss to Germany in the Semi-Finals, Argentina's coach Santi Capurro spoke about the result. Argentina had plenty of chances during the match, but an outstanding performance by Germany goalkeeper Kristina Reynolds in the match and then in the shoot-out meant Germany took the qualification spot.

After the game, Capurro said: "I am proud of my team and how they played but today it just didn't fall our way. We will go back, regroup and come back to contest the Pan-Americans. Whether we had qualified or not, we always look to win every game and the Pan-Ams is our next target."

For Craig Parnham's USA women's team, the Hockey World League Semi-Finals were frustrating. They finished fifth overall therefore must win the Pan-American Games to ensure they are on the field at next year's Olympics. A loss to Argentina in the quarter-finals in the Hockey World League Semi-Finals in Valencia means USA's surge up the rankings and into the top four was brought to a halt.

Canada men achieved positive results in Buenos Aires. A fourth place finish puts them in contention for Olympic qualification as they performed way beyond their world ranking spot.

Canada women however did not do as well. They lost games to China, Argentina, Great Britain and Spain in the pool matches, although some honour was restored when they defeated fellow Pan-Am rivals Uruguay in the 9/10th play-off.

Speaking after their final game, Canada women's coach Ian Rutledge said: "We're a young team and we need experience and I think this tournament (HWL Semi-Final) has provided us with that. It shows us where we are at and a benchmark for us. We can now go away, grow and work on the areas that we need to be at to compete against the top teams.

"From the tournament perspective, it was a really important tournament for us to attempt to qualify. From a process point of view and a long-term view, this experience will do our young team a world of good."

Experience is certainly something that Uruguay will have gained in Valencia. The team brought flair and excitement to the tournament and improved with every game. As a nation that has no water-based pitch and has not competed at such a high international level before, the South American team performed well. "This has been a great learning curve for us," said captain Sofia Mora.

With qualification spots still up for grabs, nothing will be decided until all the continental qualifiers are completed, and with so much at stake, expect the hockey competitions in Toronto to be extremely competitive.

FIH site

You have got to know your qualification system is overly complicated when your own people don't understand it! With the Host Nation, Brazil, failing to meet the FIH and IOC criteria from qualification by not qualifying for the Pan American Games, their place goes to New Zealand who finished 4th at Antwerp and by virtue of the fact that both Australia and New Zealand have already qualified, whoever win the Oceania Cup will open another HWL place which will go to USA. If USA wins the Pan American Games that place from the Oceania result opening will shift to India.


---

Lorena Rinaldini - Inspired leadership

Sarah Juggins



Lorena Rinaldini (Argentina)Photo: © Yan Huckendubler)

Tournament Directors are top dogs at sports events but, for the most part they prefer to stay behind the scenes, poised to take control if needed, but ready to trust their team to do their jobs. In their role, the Tournament Director needs a wide range of skills and abilities – with negotiation skills and man management at the top of a long list. Argentina's Lorena Rinaldini is the women taking charge of the women's hockey competition at the Pan American Games in Toronto and, she says, she has learnt her role from some of the best in the business.

Rinaldini has been involved in managing hockey events for a number of years in a variety of roles, taking on more responsibility as she has gained experience. She pays tribute to some of the Tournament Directors she has worked alongside. "I started my career having the opportunity to work and learn from great top Tournament Directors: Rosie Stern from Australia, Canada's Janet Ellis, the incredible Sheila Brown from South Africa and of course my compatriot Laura Pigretti. They are all such wonderful people, always willing to teach and share knowledge and experience."

For any event, such as the Pan American Games, to run smoothly, there has to be a well-structured and well-managed team behind the scenes. Hockey is no different to any other sporting event: for the event to be successful then every aspect has to be managed, from the field of play to the medical support.

In Toronto, Rinaldini will have a team of 26 officials to ensure that for athletes, coaching staff and the spectators, the event is flawless. From umpires, judges and technical officials to the medical staff and the communications team, the Tournament Director oversees them all. Quite a lot of pressure on one person's shoulders. We met up with the Rinaldini to see how she is coping as the tournament looms ever closer.

"I see the role of the Tournament Director as multi-faceted," said Rinaldini, "People management, responsibility, patience, negotiation, hard work are all important factors, but also you must have a deep love for field hockey."

In her day job, Rinaldini is a website and graphic designer. She says that there are skills and challenges within her every day job that she is able to utilize to help her perform her role as Tournament Director. She identifies teamwork as the main shared quality between her two roles but also says that being part of a campaign and helping clients reach their goals is something that transcends both jobs. "The tournament is a project that must be delivered on time and to the best of everyone involve's ability. That is no different to my day-to-day job."

The learning process is not one-way. A tournament, especially one of such significance and importance as a Continental Championship, will produce all sorts of tensions and challenges. These are all lessons that those involved can learn from and add to their management experience or set of soft skills. Rinaldini says: "I've learned a lot from tournaments, especially when it comes to management and negotiation. I have also learned a lot from working with people from different cultures."

Certainly the role of Tournament Director is a challenging one. Every day brings new questions, issues and problems, but Rinaldini says that it is important to remember what is at the heart of the event. "The most important thing is that players can have a good, enjoyable and fair tournament, played at the highest level.

"To perform my role well, I must seek to balance so many different qualities. It's a role where balance, common sense, pressure, understanding, consistency, fairness, strength, responsibility and joy have to be merged together. And all these qualities must be present in perfect proportion. This is not easy to achieve, you discover that every person involved in a tournament has different goals. For some people it is about their job and the development of their career; for others it is about involvement in a major event and the personal challenges that presents; for others it is just love for the sport. But we have to marry those aspirations into one team that delivers a great tournament."

A former high level player herself, Rinaldini fits into the latter group. For her, it is all about love of the sport and the desire to provide the players with the very best platform to show off their skills. "As a hockey lover, the best thing for me is to be part of running a tournament where players can perform at their best without any issue."

And the Tournament Director knows what she is seeking from the perfect tournament. "It is a tournament where all teams compete to their best level; where rules and regulations are consistent and, if at all possible, there are no discipline matters. It is also an event where the umpiring is of the highest standard and recognized by everyone as fair. This all comes down to teamwork and good communication between all those involved. That should be transparent to everyone involved, whether they are players, coaches or members of the public. In short, it is an event where everybody enjoys the thing we are all there for – the hockey."

In a career that has incorporated Champions Trophies, Youth Olympics, Pan American Games and many other international events, the best moment in Rinaldini's hockey career so far was her involvement in the London 2012 Olympics. She says of the experience: "It was the pinnacle. Besides being a dream come true, it was also a culmination of everything I had achieved before. It meant the FIH (International Hockey Federation) trusted me to perform well. It was a huge responsibility."

Tournament Director for the London Olympic Games women's competition was Laura Pigretti. Rinaldini says of the renowned hockey official: "She has always been my inspiration. She uses her experience to such great effect and has excellent management skills, particularly when it comes to international relations. Luckily I worked with her at several tournaments, which has allowed me to learn a lot."

Pan American Hockey Federation media release


---

Pan Am Games a true home games for Ontario athletes

Four field hockey athletes will be playing in or near hometown

Shaheed Devji




It's getting to be crunch time. With only days to go before the beginning of the 2015 Pan American Games, Mississauga's Devohn Noronha-Teixeira has had a lesson from his teammates about what is important when it comes to preparation.

"Every day at practice they ask me what the temperature (in Toronto) is like," he says days before the Men's National Team leaves Vancouver for Toronto. "But I've been training with them in Vancouver so I say 'I've been here the whole time so I don't know what to tell you'."

As the lone athlete representing Ontario on the men's Pan Am Games field hockey team, Noronha-Teixeira will be competing in his first major, multi-sport games for Canada literally in his own backyard.

That makes his position on the Pan Am Games team a unique one, and his opinion valued amongst his teammates.

"They also ask me what's the buzz and how people are feeling about it," he explains.

While Western Canadian communities – and by extension the Canadian Field Hockey Teams, who train in Vancouver – may not yet feel the buzz of the Pan Am Games, as Eastern Canadian communities may not have felt the 2010 Olympic buzz from Vancouver until the Games actually began and were broadcast nationwide, there certainly is anticipation.

Canada hosting an event of this magnitude is rare, and for any athlete, competing on home soil is even more so.Amanda Woodcroft in Toronto

For a handful of athletes and their families, there was even more excitement when the Canadian Pan Am Games field hockey teams were named.

"My mom might have cried a little when she saw it," says Waterloo, Ontario's Amanda Woodcroft, who is one of three women on the Pan Am Games team who are from Ontario. "Everyone is really proud and they're all going to come watch and I'm super excited about that."

With both teams training in Vancouver full-time and often oversees in competition, the opportunity to watch Canada compete in Canada, let alone Ontario, is infrequent at best.

"It's getting more and more exciting as we get closer and closer to the event, because everybody is calling me and saying 'are you playing?,'" says Noronha-Teixeira, who has recently become a staple on the Canadian roster. "I actually get to say yes for the first time in my life."

While Canada is home to all the athletes wearing the red-and-white, the Greater Toronto Area and surrounding Ontario communities are where Noronha-Teixeira, Woodcroft, Kate Gillis (Kingston), and Brienne Stairs (Kitchener) grew up, making these Pan Am Games truly a home games.

"It'll get the adrenaline going and I'll want to play well for my family and friends," Woodcroft explains. "Just the being there will excite me even more."

That feeling will be mutual, as family and friends will also know that seeing Canada play on home soil is an experience they will remember for years to come.

Field Hockey Canada media release


---

Rain halts play at NZ National Under-18s



Photo credit: Jamie Ryan

The rain played havoc today, but it didn't stop Capital Women edging their way ahead of Southern in a penalty-shoot out at the National Under-18 Regional Tournament at North Harbour.

With lightning strikes and a flooded turf, tournament officials had to delay play for some of the games today but the Capital Women vs Southern game went ahead as planned. And it was good news for Capital, winning the penalty shoot-out 3-0 after it was tied 2-2 in regulation time.

Capital was first to score when Whena Munn scored from a penalty corner, and they held their lead until the 25th minute when Southern's Isabelle Beccansall-Ryan equalised.

The wet and wintery conditions did not deter the vocal Southern supporters, who jumped to their feet when Annabel Girvan knocked home a penalty corner to give them a 2-1 lead just before half time.

In the second half both teams gave it everything and it was Capital's Bronie Edwards who scored in the 62nd minute to tie it all up.

In the shoot-out, Capital clinched the deal thanks to two goals from Munn and one from Esther Chan, while their goalkeeper Shannon English did a sterling job of defending some skillful attempts from Southern.

Today's result means that on Thursday, Southern will now face Central while Capital will take on Northland. In Pool C, Canterbury will play against Midlands, and North Harbour will take on Auckland.

In other women's results today, Central bounced back with a 3-1 win over Northland. The Midlands vs North Harbour game was called off in the 47th minute, with North Harbour leading 2-0. The teams returned to play the remainder of the game in the evening, but the score remained. The tight competition continued in the later women's game when Canterbury continued their winning ways and won a shoot-out 4-2, against Auckland.

In the men's competition, Central stormed to a massive 8-0 win against Northland to secure their place at the top of Pool A. After a 4-4 draw, Auckland won the penalty-shoot out 2-1 against Canterbury, In Pool B, Capital edged Midlands 2-1 and North Harbour beat Southern 6-1.

DAILY RESULTS – 7th JULY
MEN'S POOL A
Central 8 (Sam Hiha x2, Dion Spackman, Aaron Purser, Ryan Gray, Lee Moir, Mathew Wilson, Liam Melville) vs Northland 0
Canterbury 4 (Matt Cumins, Silas Dalley,Shaun Coles, Moss Jackson)  vs Auckland 4 (Oliver Paterson, Jeram Kalyan, Mark Bell-Kake, Xavier Guy). Auckland won the shoot-out 2-1.

MEN'S POOL B
Capital 2 (Lothar Krumpen, Zac Caldwell) vs Midlands 1 (Declan Keaney)
Southern 1 (Joseph Pugh) vs North Harbour 6 (Benji Edwards x3, Travis Good, Ben Williams, Henry Will)

WOMEN'S POOL A
Central 3 (Holly Pearson x2, Emma Rainey) vs Northland 1 (Samantha Polovnikoff)
Midlands 0 vs North Harbour 2 (Ella Hyatt-Brown, Tonya Botherway)

WOMEN'S POOL B

Capital 2 (Whena Munn, Bronie Edwards) vs Southern 2 (Isabelle Beccansall-Ryan, Annabel Girvan). Capital won the shoot-out 3-0
Auckland 2 (Miranda Stuart, Rose Tynan) vs Canterbury 2 (Emily Wium, Maddie Wotton). Canterbury won the shoot-out 4-2.

CLICK HERE for all official results from the 2015 National Regional and Association Under-18 Tournaments

Hockey New Zealand Media release


---

Ireland Women's Squad Announced for Eurohockey Championships  




Graham Shaw, who recently took over as head coach of Ireland's senior women's hockey team, has announced the squad that will compete at the Eurohockey Championships ΙΙ in Prague (Sat 18th Jul - Sun 26th Jul 2015).

Ireland is drawn in Pool A with Czech Republic (world ranked 35), Ukraine (world ranked 26) and France (world ranked 24) and will be looking for a top 2 the tournament in order to gain promotion into the top division in European hockey.

The tournament comes just weeks after Hockey World League in Valencia, which saw the Green Army narrowly miss out on Olympic qualification. Much of that squad remains with any absences accounted for by retirement, work commitments or injury, most notably Nikki Evans who is recovering from 2 fractures to her jaw.

A number of the teams competing in Prague were in Dublin for World League 2 in March; Ireland beat Ukraine 5-0 and Belarus 7-0 at World League 2.  Similar to then, Ireland will be the highest ranked team in the tournament, and will look to capitalize and channel the positives from several impressive performances in Valencia.

Speaking about his selection, Graham Shaw said "The objective of this tournament is a top 2 finish to secure promotion back to A Division. This is very important for this squad and the path we want to take. With seven changes from the squad that went to Valencia it shows the real strength in depth we have in Irish hockey with the calibre of players we have called in. The Squad selected has flexibility with multiple players able to operate in more than one position and physically fit to cope with the heat in Prague".

Please find the Squad for this upcoming European B Division in Prague:

1. Ayeisha McFarren
2. Stella Davis
3. Ali Meeke
4. Kerri McDonald
5. Hannah Mathews
6. Clio Sargent
7. Shirley McCay
8. Megan Frazer (C)
9. Yvonne O Byrne
10. Gill Pinder
11. Nicci Daly
12. Chloe Watkins
13. Emily Beatty
14. Naomi Carroll
15. Chloe Brown
16. Deirdre Duke
17. Kate Lloyd
18. Katie Mullan

Reserves:

Roisin Upton
Hayley Mulcahy
Sinead Loughran

Ireland's pool matches are as follows:

Sat 18th July 13:30 Ireland vs France
Sun 19th July 20:15 Ukraine vs Ireland
Tues 21st July 17:45 Ireland vs Czech Republic

The tournament website can be found here

Irish Hockey Association media release


---

Indian men's team returns

A day after the Indian women's team returned home to a rapturous welcome after a historical performance at the Hockey World League semifinals in Antwerp, the men made a comparatively silent return home in the wee hours of Tuesday after finishing fourth in the tournament.

The Sardar Singh-led team did manage to make it to the top four but its performance in the tournament left a lot to be desired.

However, there were some positives for the side and one of them was Jasjit Singh Kular. The 25-year old hogged the limelight by scoring two goals in India's win against Malaysia but his presence on the field was one of the stabilising factors in the side's defence.

"It was a good tournament for me. I tried to do my best as per the team's plans and I am thankful to my team and the coaches for their confidence in me. It is a great responsibility to perform against the world's top teams and it was a great learning experience for me. It will only help me move forward and improve further for future tournaments," Jasjit said on the team's return.
Task cut out

The tournament, in fact, was more about the younger players in the side and by that yardstick, coach Paul van Ass would have his task cut out in the coming days. Besides Jasjit, the other youngsters to impress were Davinder Walmiki, making his senior team debut, and Lalit Upadhyay with his runs down the middle and clean passing and trapping.

"The tournament was a fruitful one. Young players like Jasjit Singh and Davinder Walmiki, got a good platform to gain experience against top teams and now we have more options for the national side. Overall, I feel all players played well as per the team's strategy. Yes, there are some shortcomings and we will be working on them," Hockey India's high performance director Roelant Oltmans said.

The Hindu


---

For Walmiki brothers, the journey together has just begun

Devinder Walmiki, who debuted for India in the HWL Semifinals says his elder brother Yuvraj's words of advice helped him ease the pressure

Rutvick Mehta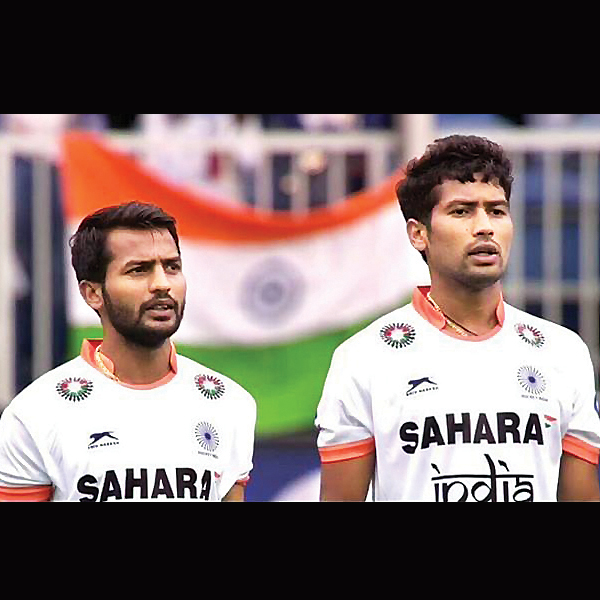 Devinder Walmiki (right) says standing next to elder brother Yuvraj in the first game of the Hockey World League Semifinals gave him goosebumps

In the coming years, India's 3-2 win against France in the recently-concluded Hockey World League Semifinals might be forgotten, but it will be etched forever in the minds of two young men.

The Walmiki brothers —Yuvraj and Devinder — played together on the international stage for the first time. Big brother Yuvraj may not have had the proverbial butterflies in the stomach, but it was a first of sorts for debutant Devinder.

So what was going through their minds when they were living their childhood dream?

"Ahead of the first match against France, I was standing beside Yuvraj for the national anthem. It gave me goosebumps," Devinder told dna on Tuesday.

The Indian team, which finished fourth in the 10-team tournament, returned from Antwerp on Tuesday morning.

It was only on the eve of the match that Devinder knew of his selection. Striker Kothajit Singh got injured during training. Soon, coach Paul Van Ass called a meeting. He first announced Satbir Singh's selection. At that point, Devinder lost all hope. Seconds later, however, Van Ass announced: "I'm also taking Devinder."

"At that point, I was stunned," Devinder recalled. "But I didn't show my excitement. Once I got back to my room, I started jumping all alone."

His elder brother then visited him that night. "All he told me was to be calm, cool and enjoy the game the next day. He made sure I felt no pressure. That's the best thing about him; he is always there for me," said Devinder, who scored the team's second goal in his debut game.

Their bond was quite visible in the way their celebrated their respective goals with each other in India's 3-0 win in the next game over Poland.

"Once he scored that goal on debut, I knew he was going to do well in the tournament," Yuvraj said. The 25-year-old flew back to Mumbai where he shared his experience with aspiring kids at the Mumbai Hockey Association Stadium in Churchgate.

"It was always on the back of my mind that I wanted to play for India with my brother. But scoring a goal in the same match is what dreams are made of. I wish I could express myself more on the field at that moment, but we only get 40 seconds to celebrate."

Not surprisingly, the brothers celebrated in a similar manner. They called up their mother immediately after the game.

Yuvraj, who reached a personal milestone of earning 50 international caps in the game against Pakistan, made no qualms in admitting that his younger brother played better than him in the tournament.

"I'm very happy for Devinder. I'll be the first one to say that he played better than me in the tournament, though I was ruled after the game against Pakistan (due to an on-field injury). Devinder was the standout performer of the team."

And while the two hope to continue playing for the country together, there is one thing Yuvraj wants Devinder to learn.

"I told him to share his experiences with the kids as soon as he gets back home. I want to carry this practice forward. Just like how I inspired Devinder to play hockey, this will inspire many more kids."

Their journey together has just begun.

DNA


---

Disappointed Pak hockey team returns home after HWL debacle

KARACHI: The Pakistan hockey team returned from Brussels after a disappointing campaign in the FIH World League Semifinals and coach Shahnaz Sheikh blamed it on financial constraints, lack of facilities and tough competition.

"The reaction of everyone to this dismal performance is understandable and I am not offering any excuses but the truth is we have faced financial constraints, lack of facilities and intense competition and we failed to qualify for the Olympics," he said.

Pakistan's hockey team failed to qualify for the Summer Olympics for the first time in its history and Prime Minister Nawaz Sharif has already ordered an inquiry into the debacle and also a special audit into the PHF accounts. Sheikh also backed the government decision.

"We also call for and support a thorough audit and why hockey is facing financial difficulties for the last two years," the former Olympian said.

"We want an audit and probe into the team's performance which has resulted due to financial constraints and lack of facilities from Pakistan Hockey Federation," he said at the Islamabad international airport.

Team captain Muhammad Imran avoided the media.

Sheikh said while he appreciated the Prime Minister's interest in the state of affairs in hockey, the government should have acted earlier.

"The situation is very dismal with grounds in dilapidated conditions which forces players to abandon training and routine play," he added.

Sheikh, who is rumoured to have submitted his resignation in Belgium, insisted that any changes in the PHF or team management should happen with consensus and in a democratic way.

PHF Secretary Rana Mujahid also broke his silence since the demoralizing losses to Great Britain, Ireland and France insisting the performance was being played up unfairly by critics.

"I had warned beforehand, we would face such a situation given the problems we have faced and the way the sport has not received consistent financial support," he said.

The Times of India


---

Shahnaz holds govt responsible for poor show

Coach along with PHF officials to appear before probe committee tomorrow

Mohsin Ali

ISLAMABAD - Pakistan hockey team along with head coach Olympian Shahnaz Shaikh returned home on Tuesday morning after participating in the Olympic qualifiers in Belgium.

Talking to The Nation, coach Shahnaz Sheikh refused to accept the entire blame of national team's failure to qualify for the 2016 Rio Olympics and termed certain reasons including federation's inefficiency to provide facilities to the players and lack of opportunities and international exposure.

"The prime minister also didn't spare time for the players and the federation.

The PHF and government didn't take Olympic qualifiers seriously so such pathetic results were obvious."

"I had offered over a comprehensive training plan to the federation soon after the Champions Trophy final and urged them to assist me to work on this fruitful plan which would surely help in getting better results in the Olympic qualifiers but no heed was paid and the result was in front of all.

We were also unclear about our participation in the Olympic qualifiers.
When the trials were conducted, we didn't have visas nor funds were released by the government.

So in such scenario, how could it be possible for us to produce desired results," he added.

"The players failed to score on plenty corners and we just managed to score nine goals in the entire event and conceded 15 goals.

We scored only four goals on plenty corners and five field goals, while we conceded six goals on plenty corners and nine field goals.

We played very close matches against all the opponents with the only exception of Australia, we could have won those matches, but poor finishing cost us badly," Shahnaz said.

The ex-Olympian said: "Hockey is in my blood and I will continue giving my 100 percent to this game at any cost.

I was given task till 2016 Olympics and I managed to produce excellent results in four events.

Only one bad result is not enough to judge my performances.

I had helped green shirts qualify for next year's Champions Trophy.

We finished second in Australia four-nation event.

I request all the Olympians to stop blame game.

I request the PM to invite all the stakeholders and listen to their suggestions and grievances instead of relying on the IPC probe committee.

We can't afford more splits, if someone has ability and can take Pakistan hockey out of crisis, I am ready to make room."

"I received a call from Pakistan Sports Board (PSB) who asked me to ensure presence before probe committee on July 9 at 10am along with federation officials.

I will definitely appear before the committee and inform them about actual facts," Shahnaz concluded.

The Nation


---

Pakistan coach blames govt for Olympic failure

ISLAMABAD: Pakistan's hockey coach on Tuesday blamed the government for the team's failure to qualify for next year's Olympics, saying lack of funds had badly hurt their preparations.

Pakistan finished a poor eighth in the World Hockey League semi-finals in Antwerp on Saturday, a tournament which served as qualifying for the Games in Rio de Janeiro, Brazil. The team needed to finish in the top five to have any chance of qualifying.

It will be the first time in Pakistan's 67-year history that they will not feature in the field hockey event at the Summer Games, a failure which prompted Prime Minister Nawaz Sharif to set up a committee to investigate.

Coach Shahnaz Shaikh said the government had not funded the team properly.

"As a head coach I take the responsibility but I had been asking the federation, the ministry and the government for funds -- without funds we were not able to prepare properly," Shaikh told reporters on the team's return at Islamabad airport.

"We need to pour money in hockey to lift the structure and give financial support to the players who don't even have a contract."

Shaikh said players had to live with an allowance of just $20 a day in Belgium.

Pakistan, three-time Olympic and four-time world champions, have rapidly slumped in the sport. They finished a poor 12th and last in the 2010 World Cup held in India.

Pakistan also failed to qualify for the 2014 World Cup and were seventh in the 2012 Olympics in London.

The Times of India


---

Hockey head coach blames financial constraints for historic defeat



Pakistani hockey captain Mohammad Imran (L) and team head coach Shahnaz Sheikh arrive at Islamabad International Airport in Islamabad on July 7, 2015, from Belgium after playing in the World Hockey League. PHOTO: AFP

Pakistan hockey head coach Shahnaz Sheikh on Tuesday said financial constraints, lack of facilities and intense competition were to blame for the team's failure to qualify for the Summer Olympics for the first time in its history.



PHOTO: AFP

"We call for an audit of the defeat resulting from financial constraints and lack of facilities from Pakistan Hockey Federation," Sheikh said, while addressing the media at the airport.

Urging Prime Minister Nawaz Sharif to devise a solution to address the troublesome situation of the national sport, Sheikh said, "The government should have had taken notice of the situation before."

"The situation is very dismal with grounds in dilapidated conditions which force players to abandon training and routine play," he added.



PHOTO: AFP

Further, he said he will present his recommendations to the federation. "If anyone is to be removed from their position, it should happen with consensus and in a democratic way."



PHOTO: AFP

Pakistan lost 1-0 to Ireland in the FIH Hockey World League semi-finals on Friday – a defeat that shattered its hopes to take part in the mega event to be held next year in Rio de Janeiro, Brazil.

The Express Tribune


---

Coach Shahnaz blames financial constraints for Olympic failure




ISLAMABAD: Pakistan hockey head coach Shahnaz Sheikh on Tuesday blamed the government for the team's failure to qualify for next year's Olympics, saying lack of funds had badly hurt their preparations. Pakistan finished a poor eighth in the World Hockey League in Antwerp on Saturday, a tournament which served as qualifying for the Olympic Games 2016 in Rio de Janeiro, Brazil. The team needed to finish in the top five to have any chance of qualifying. It will be the first time in Pakistan's 67-year history that they will not feature in the field hockey event at the Summer Games, a failure which prompted Prime Minister Nawaz Sharif to set up a committee to investigate.

Shahnaz said the government had not funded the team properly. "As a head coach I take the responsibility but I had been asking the federation, the ministry and the government for funds – without funds we were not able to prepare properly," he told reporters on the team's return at Islamabad airport. "We need to pour money in hockey to lift the structure and give financial support to the players who don´t even have a contract." He said players had to live with an allowance of just $20 a day in Belgium. Pakistan, three-time Olympic and four-time world champions, have rapidly slumped in the sport. They finished a poor 12th and last in the 2010 World Cup held in India. Pakistan also failed to qualify for the 2014 World Cup and were seventh in the 2012 Olympics in London.

The Daily Times


---

Poor diet and lack of preparation led to disaster, bemoans Imran

Mohammad Yaqoob

LAHORE: A poor diet, lack of preparation and unnecessary changes in the squad after every tournament were main impediments to hockey team's success, said captain Mohammad Imran on Tuesday, with the recent failure in Antwerp meaning the green-shirts won't be featuring in the 2016 Rio Games.

"Naan Cholay [bread and chick peas] eaters cannot achieve the desired results and no one should have expected victory in the Hockey World League semi-finals," maintained captain Imran having arrived here from Belgium via Islamabad after his team slumped to eighth position in the HWL which served as qualifying round for the Rio Olympics.

Top five teams of the round qualified for the Rio Games with the green-shirts failing to secure spot for the Olympics for the first time in their rich 67-year hockey history.

"You can't imagine what poor level of our preparation was for the matches against Ireland and France," remarked the captain while stating that practical steps were needed for the resurrection of the game of hockey.

"We have to think seriously about how we should resurrect our dying national game. We will have to promote hockey at the grass-roots level by introducing it in schools, colleges and clubs," said Imran.

Pakistan played seven matches in the qualifying round, winning just one pool match against Poland besides playing two drawn games against India and France with Aussies — the winners of the qualifying round— mauling them 1-6 in another pool match.

Before losing the fifth place match to the lowly-ranked Ireland to squander their chances of qualifying for the Rio Games besides crumbling down like a house of cards against France to finish eighth, the greenshirts lost the quarter-final 1-2 against England in Antwerp.

Talking about financial crisis of the Pakistan Hockey Federation (PHF), Imran said that everybody knew about the difficult situation the hockey federation was in but hardly any one took any notice.

Expressing bittersweet reaction to the probe committee formed on the orders of the prime minister, he said the step must be welcomed but notice must have been taken much earlier.

Nonetheless, he said that the action taken by the prime minister should not be a cosmetic one and must deal with basic players' issues including providing jobs to them.

"The players should be provided jobs so that they should not be worried about their children's future," he commented.

Answering a question, Imran said now many people were raising hue and cry over the debacle but they never made their contribution when the players were making appeals continuously to everyone for easing out their financial crisis.

"Even the players made all-out efforts by setting aside their financial issues with the PHF but our preparations did not match up to the standards of France, Ireland and other participating teams," he said.

Asked if the team was selected with his consent, Imran said it was the job of the national selection committee to pick the squad and they must have selected the best possible one.

However, he lamented some changes made to the squad, saying: "It was not the right way to make a couple of changes after every tournament as we did in the last three events (tour of Australia, South Korea and now in the qualifying round).

Answering yet another question, he said resignation was no solution to hockey problems, adding that if resignation on part of anyone including him could serve Pakistan hockey, he was ready to quit.

"All undeserving people must go and good ones should remain to bring more good people to raise the level of the national game," Imran further said.

The captain, on the other hand, admitted that his team could not create a good number of penalty-corners, saying the forward line failed to click.

"In the previous tournaments, penalty-corner conversion has been our main strength as we got penalty-corners at an average of six per match which enabled us to cash in on two or three but this time we got less short-corners and thus converted less," maintained the captain.

Dawn


---

Pak hockey team can't qualify for Olympics eating chana, khajoor: Imran

Karachi: The captain of the Pakistan hockey team Muhammad Imran today lashed out at the government for ignoring the national sport and said no one should expect big performances from players on a diet of "chana daal and khajoor".

Talking to the media in Lahore after the national team returned from Brussels today morning, Imran minced no words in stating that the players now had no motivation to do well.

"Hum Rooh Afza aur Khajooro par, naan channay khaa kar world champions nahi ban saktay," Imran said a clear reference to the problems faced by players since last few years due to the financial crisis in the Pakistan Hockey Federation.

"Why didn't the Prime Minister or government take notice of our problems or the state of hockey affairs when they should have," he said.

The Pakistan team returned home on Tuesday from Brussels in a low key fashion with head coach and manager, Shahnaz Sheikh also giving a number of reasons for the team¿s failure to qualify for the summer Olympics and finish eight in the 10 team World Hockey League.

"The reaction of everyone to this dismal performance is understandable and I am not offering any excuses but the truth is we have faced financial constraints, lack of facilities and intense competition and we failed to qualify for the Olympics," he said.

Pakistan's hockey team failed to qualify for the Summer Olympics for the first time in its history and Prime Minister Nawaz Sharif had already ordered an inquiry into the debacle and also a special audit into the PHF accounts.

Imran said he would gladly appear before the inquiry committee formed by the government on Thursday morning in Islamabad with Shahnaz Sheikh.

"We want someone to listen to the problems faced by the players. We have lost some very good players in recent times because there is no financial motivation for them in hockey.

These players were forced to go and play in foreign leagues to earn good money," he said.

The inquiry committee will hold its first meeting on Thursday. Imran noted that since last year the players had been pleading with authorities to listen to them and their problems but they were ignored.

"We are as hurt and disappointed at what happened in Brussels but if hockey is to survive in Pakistan than players should be able to make a career in hockey and play with a peace of mind and not worry about daily allowances, contract payments or meals," he said.

Mid-Day


---

Hockey failure reverberates in Senate

Kashif Abbasi

ISLAMABAD: National hockey team's poor show in the Hockey World League Semi-finals reverberated in the Senate on Tuesday with Federal Minister for Inter-Provincial Coordination (IPC) Riaz Hussain Prizada saying hockey stakeholders were summoned for Thursday to know the reasons behind the debacle.

Bemoaning the poor show put up by the greenshirts in the HWL, Chairman Senate Main Raza Rabbani said the recent poor show was a shame. "We have hit rock bottom in hockey which is a matter of shame and pity," he remarked.

Endorsing the view point of the chairman Senate, Leader of the House Raja Zafar-ul-Haq said the entire nation was disappointed after the team's failure.

"Hockey is our national game and the minister should focus on the work in connection with its uplift," said the Leader of the House, adding that without providing facilities to players we should not expect favourable results from the team.

Shedding light on reasons behind the poor performance of the national team, the IPC minister said that there was a need for scientific approach for uplifting the game of hockey.

He said rules of hockey and others games wherein Pakistan had tremendous record had completely changed and it was time various federations take steps for implementation of scientific approach in all sports.

He further said that the captain and coach would appear before a six-member probe committee formed on the orders of the prime minister. It is imperative to note that the IPC secretary is the head of the probe body which will question captain Moham­mad Imran, head coach Shahnaz Sheikh and others.

The IPC minister maintained during his Senate speech that the captain and head coach were summoned but when Dawn contacted coach Shahnaz, he said that PHF president and secretary will also appear before the head of the probe committee on Thursday.

The debate on hockey in the Upper House took place in response to a question asked by Senator Rubina Irfan about an attack on the PFF House in Lahore.

However, the IPC minister told the House that his ministry had no role in election issues of the Pakistan Football Federation (PFF).

But he did tell the Upper House that Faisal Saleh Hayat had been occupying the top slot at the PFF for the last 12 years despite a two-term restriction.

Dawn


---

WP U13 boys unstoppable at hockey interprovincial

JONATHAN COOK in Pietermaritzburg



Viwe Mbata of Western Province sizes up Northerns' Jarrod Bauch during the SA U13 Interprovincial at Maritzburg College Tuesday. WP won 7-1. PHOTO QUICKPIX
 
While the unstoppable force that is defending champions Western Province continued their march to the SA U13 Boys Interprovincial Hockey Tournament title, possibly the most remarkable feat of day two action Tuesday was the back-to-back victories achieved by unheralded North West.

The Potchefstroom-based lads were on the receiving end of a 9-1 defeat by WP on Monday afternoon but bounced back in impressive fashion Tuesday with back-to-back wins over the competitive South Gauteng and Amathole teams.

The EP boys beat KZN Coastal 2-0 in a key match to go to second place on the log. Coastal were, apart from WP, the only unbeaten team after day one's matches. They drop to third spot, on equal points with North West but with a better goal difference.

WP striker Caleb Oliphant scored five goals on day one and added another five on day two for a tally of 10. WP midfielder Mustapha Cassiem netted four goals on day one and added four more strikes on day two for eight goals in four matches. WP beat Northerns 7-1 and KZN Inland 5-0.

An intriguing boys' match-up at the AB Jackson Greenfields Turf Wednesday sees WP versus KZN Coastal at 8am. Some of the other boys' clashes to watch are the WP versus Southern Gauteng match at 1.30pm, as well as the EP/North West tie at 2.30pm and the KZN derby between hosts Inland and Coastal at 3.30pm.

In the girls' A Section, Southern Free State had an excellent day to go top of the log after 1-0 and 3-0 wins over Southern Gauteng and Northerns respectively.

Defending champs WP are in second spot, one point behind SFS, and are the only unbeaten team left in this section, having played four, won two and drawn two. SFS have three wins from four matches, with one defeat.

EP dropped from top spot to fourth place after picking up a single point Tuesday, following their full house on day one.
 
U13 IPT A SECTION RESULTS (Tuesday)
Boys – at Maritzburg College: KZN Inland 0 EP 1; NW 1 SG 0; Northerns 1 WP 7; Amathole1 KZN Coastal 4; SG 3 Northerns 1; NW 2 Amathole 1; EP 2 KZN Coastal 0; KZN Inland 0 WP 5.
Girls - at AB Jackson: EP 0 KZN Coastal 1; Northerns 2 Amathole 0; KZN Inland 1 WP 2; Southern Free State 1 Southern Gauteng 0; Amathole 1 KZN Inland 0; Northerns 0 SFS 3; KZN Coastal 2 SG 2; EP 0 WP 0.
A SECTION LOGS
(all played four, goal difference, points)
Boys: 1 WP (gd21) 12pts; 2 EP (gd4) 9pts; 3 KZN Coastal (gd3) 7pts; 4 North West (gd-6) 7pts; 5 South Gauteng (gd1) 6pts; 6 Amathole (gd-3) 3pts; 7 Northerns (gd-8) 2pts; 8 KZN Inland (gd-12) 0pts.
Girls: 1 South Free State (gd4) 9pts; 2 WP (gd3) 8pts; 3 KZN Coastal (gd2) 7pts; 4 EP (gd1) 7pts; 5 Northerns (gd0) 6pts; 6 KZN Inland (gd-2) 3pts; 7 Amathole (gd-3) 3pts; 8 South Gauteng (gd-5) 3pts).
WEDNESDAY A SECTION FIXTURES
Boys - at AB Jackson: WP vs KZN Coastal (8am); Northerns vs EP (9am); Amathole vs SG (10am); KZN Inland vs North West (11am); Northerns vs Amathole (12.30pm); SG vs WP (1.30pm); EP vs NW (2.30pm); KZN Coastal vs KZN Inland (3.30pm).
Girls - Maritzburg College: WP vs SG (8am); KZN Inland vs KZN Coastal (9am); Southern Free State vs Amathole (10am); EP vs Northerns (11am); Amathole vs WP (12.30pm); KZN Inland vs SFS (1.30pm); KZN Coastal vs Northerns (2.30pm); SG vs EP (3.30pm).

SA Hockey Association media release


---

Williams promoted to International Indoor Umpire



Umpire Rachel Williams

Following the recent European Club Cup in Lithuania, Rachel Williams has been promoted by the FIH to the rank of International Indoor Umpire.

This is Rachel's second international promotion in quick succession, following her elevation to the rank of International Outdoor Umpire just 12 months ago.

Rachel describes the Indoor game as thrilling, quick and skilful and a real test of an umpire's decision making and communication skills.

Following news of her promotion, Rachel commented: "I've been incredibly fortunate to have had so much support from Umpire Managers and the NPUA, affording me the opportunities to be able to perform at some tremendous events run by England Hockey. I'd like to thank everyone who has supported my journey so far and I promise this is just the beginning!"

All at England Hockey would like to extend their congratulations to Rachel on her achievement and look forward to following her progress in the coming months.

England Hockey Board Media release


---

Graham Child appointed to World Masters Games 2017 Board




Former New Zealand hockey representative and Chair of Hockey New Zealand, Graham Child, has been appointed to the board of World Masters Games 2017.

In addition to a successful sporting career as a hockey player, coach and administrator, Child is currently a Trustee on the Board of Aktive – Auckland Sport and Recreation.

He complements his sporting knowledge and experience with an extensive background in finance at senior management and governance level and is a Chartered Accountant.

Chairman of World Masters Games 2017, Sir John Wells, said the event had an underlying goal of promoting the 'sport for all' ethos of the Olympic Charter.

"The World Masters Games as a global event encourages people to participate and compete in sport, regardless of capability, at any age.  This ethos is very much in line with the role of Aktive, and we welcome Graham's involvement on our board, which is very much complementary to his existing roles and interests."

Child was a New Zealand representative hockey player for New Zealand in 1990 and played more than 100 games for Auckland.  He was also the New Zealand Men's Assistant Coach for three years during the '90s.  He was Chair of Hockey New Zealand for five years and is a Life Member of the organisation.

Child said he was excited to be joining the Board of the World Masters Games 2017, which is the largest multi-sport event in the world, measured in terms of competitor numbers.

"The scale and complexity of a major multi-sport event such as this presents new and unique challenges.  I hope there are great legacies from the Games, and that the event inspires people across generations to participate competitively or socially.  I am delighted to be part of the Games journey from now until April 2017."

Child replaces Barry Maister who resigned as a director due to increasing commitments in his role as an International Olympic Committee member.

Hockey New Zealand Media release