All the news for Tuesday 7 July 2015

FIH confirm Rio 2016 qualifiers at the Hockey World League Semi-Finals

Argentina Women confirmed as being Officially Qualified for Rio
FIH confirm the nations who qualified for the 2016 Rio Olympics at the Hockey World League Semi-Finals
Men's teams going to Rio – Germany, Netherlands, Argentina, Australia, Belgium and Great Britain
Women's teams going to Rio – Great Britain, China, Germany, Netherlands, Australia and Argentina
Hockey World League Finalists include all the above plus Canada men, India men, Korea women and New Zealand women
The International Hockey Federation (FIH) have today confirmed the nations who qualified for the 2016 Rio Olympics at the Hockey World League (HWL) Semi-Final Olympic qualifying events.  The events across three venues, saw forty nations take part in pursuit of places at the 2016 Rio Olympics and the HWL Finals.

The nine men's and seven women's qualifiers from Round 2 of the HWL were joined in the Semi-Final by the teams ranked from 1-11 at the time of seeking entries all entering the fray.

Beginning in Buenos Aires, a gripping ten days of competition saw Germany men defeat hosts Argentina to win the overall event, with the Netherlands beating Canada to take third place and the remaining automatic ticket to Rio.

Buenos Aires was followed by an equally exciting event in Valencia, Spain where Great Britain women took the title with a win in the final against China.  Germany were third after beating Argentina in the third/fourth decider match to take the third Olympic ticket available in Valencia.

The final qualifying event, a joint men and women's event, culminated in Antwerp, Belgium last night.  In the women's event, the Netherlands defeated Korea with a late winner to win the event while Australia beat New Zealand to take third place.  With Korea having already achieved Olympic qualification by virtue of winning the Asian Continental Championship last year, a top three finish in Belgium opened the door to the highest ranked of the fourth place finishers from the HWL Semi-Final events in Valencia and Antwerp.  Argentina finished fourth in Valencia and sit above New Zealand in the FIH world rankings, guaranteeing them an Olympic ticket.

Meanwhile, the men's event saw a late goal from Australia to take the title with a narrow victory over hosts Belgium with Great Britain securing third place over India to take the third and final Olympic ticket.
 
The remaining Olympic places will not be finalised until after the Continental Championships which finish in October this year.  For more information on the qualifying process and to track who has qualified, click here for the men and here for the women.

Eight teams from both the men's and women's events also qualified for the 2015 HWL Finals. The Finals are showpiece events where trophies and World Ranking points are on the line and will mark the end of a journey that began in June 2014. The women's competition will take place in Argentina while India will play host to the men's event, with the winning teams being rewarded with a place at the elite FIH Champions Trophy tournaments in 2016.

The line-up's for the HWL Finals are as follows:

Men – India, Germany, Netherlands, Argentina, Australia, Great Britain, Belgium and Canada

Women – Great Britain, Germany, China, Argentina, Australia, Netherlands, Korea and New Zealand

FIH media release


---

Johnston siblings set to share Pan Am Games experience in Toronto

Shanlee and Gordon to compete in major games together for the first time

Shaheed Devji



Shanlee and Gordon Johnston. Photo: Yan Huckendubler

On a midsummers day in Vancouver, if you were to walk into the Johnston residence, chances are you would hear about one thing.

"We get home and all we want to talk about is field hockey," says Shanlee Johnston, a member of the Canadian Women's National Team.

It's been this way since Shanlee, 25, and her brother Gordon, 22, took up the sport when they were kids. But the focus on field hockey has intensified since they both became part of the National Program.

And now, it has reached its peak.

Shanlee and Gordon will both be participating in the 2015 Pan American Games in Toronto beginning July 10. It is the first time the siblings will be competing in a major, multisport event together, let alone on home soil.

"It's really exciting," she adds. "We have our whole family – my parents and my sister – coming out to watch."

It's a rare opportunity and one the Johnstons know can be illusive.

In 2014, with the Commonwealth Games – another major event, which both the men's and women's teams were attending – just around the corner, Shanlee was rehabbing a knee injury, desperately trying to crack the squad and head to Glasgow with her brother

"Obviously Shan went through a lot with her knee injury last year," says Gordie, who has played in 67 senior international matches for Canada. "She never really wavered from her goal. She always knew that despite the fact that it would be a long and challenging road, she always pushed."

Unfortunately, she wasn't able to get back to peak form in time. But despite the disappointment of not making the Commonwealth Games team and sharing the experience with her brother, there was a silver lining.

"I felt like I was able to connect with her and figure out where she's at and if she ever needed picking up or pushing through the hard points or difficult times through her rehab," he says. "I was able to sometimes talk to her and remind her of that goal."

While in many brother-sister environments, sibling rivalry is inevitable. But in the case of the Johnstons, it is admiration and respect that rules the relationship. And it continues to help the relationship grow.

"My brother has been a bit of an inspiration because he's always had something to fight back from," she says. "He's always pushed me too. It's not like 'Oh, it's okay, you're injured,' it's like "No, you've got to get back into it.'"

Which is exactly what Shanlee did, working her way back on to training tour rosters and eventually being named to the Pan American Games team, where she will compete in her first multi-sport event.

"I definitely pull motivation from her, seeing her work hard and I hope maybe she does the same," says Gordie. "As soon as both team were named, we had big smiles on our face because it was the first major games we're going to together."

And while they will likely keep to themselves and focus on competition throughout their time in Toronto, it will be when they're back home in Vancouver after the Games, in one on their many conversations about field hockey that Shanlee and Gordon will be able to reflect on how special the experience really was.

Field Hockey Canada media release


---

Scottish Over 35s triumph in inaugural Home Nations

Last weekend Peffermill hosted the inaugural FIH Masters Over 35s Home Nations Championships, alongside similar yet more established tournaments for the over 45s and over 55s.

With Ireland unable to assemble a squad a Scottish invitational squad along with England and Wales, were the opposition facing Scotland Blues over the weekend's event.

The opening fixtures on Friday saw Scotland Blues versus the Scottish Select, with Scotland Blues coming out on top 10-1, Scott MCartney's four goal haul the highlight of the match. England edged a fiercely contested match 3-2 against western neighbours Wales.

On Saturday Scotland faced the auld enemy England, with England confident that a win would see them crowned overall winners.

In an edgy game with few goal scoring opportunities, England dictated large periods of play with their older and more experienced side a semmingly more cohesive unit than the recently assembled Scottish side.

Despite England's dominance roving left back Chris Miller gave Scotland the lead late in the first half, with his shot deflected in off a defenders stick at the back post.  Not perturbed by their misfortune England continued to play direct hockey causing Scotland all sorts of problems in defence.

Their positive approach paid dividends in the third quarter as they executed a well organised penalty corner routine to level the scores.  Chances came and went for both teams, but to no avail.  Scotland left with a sense of relief at gaining a point when considering the Englsih dominance, but with a hint of regret given some glaring goal scoring opportunities that were passed up.  Elsewhere Wales hammered the Scottish Select 8-1, despite the Scots holding them to 3-1 at halftime and a markedly improved performance.

The final day of the tournament was to be pivotal in determining the destiny of the championship.  Based on form England were predicted to beat the Scottish select and did not disappoint with a 4-1 victory.

With England returning seven points from their three matches, Scotland first and foremost needed to beat Wales to win the tournament.  Moreover they had to either win by two clear goals, or to win by one clear goal having scored four of more goals, in order to pip England to the title.  Scotland looked to be cruising to victory in the first quarter with goals from Scott McCartney and Magnus Ferrier putting them in complete control.

Wales, however, came back strongly in the second quarter with two penalty corners strikes levelling the scores going it at half time.

The second half saw Scotland reassert themselves with fresher legs coming to the fore as the effects of tournament hockey and travel took its toll on the Welshmen.  Two quickfire goals for Magnus Ferrier and Scott McCartney gave Scotland what seemed like an unassailable lead with ten minutes to go.

With six minutes of the match to go Wales were awarded and duly despatched a penalty flick, to bring the score to 4-3.  A scoreline with which if Scotland could hold on to would be enough to see Scotland win by virtue of a superior goals scored column.  Hold on they did, as they sealed a memorable win against an unrelenting Welsh side.

A tremendous effort by a squad of individuals that ended the tournament playing as a team.

The team would like to thank Scottish Hockey, Edinburgh University, all officials, St Andrews Ambulance and of course the team manager Fraser Auld for all his tireless work and organisation behind the scenes.

Scotland O35s
William Dunster
Doug Swanson
Allan Laing
Graham Dunlop
Mike Leonard
Ross MacPherson
James Hollington
Duncan Batchelor
Nairn Scobie
Gordon Menzies
Alan Meikle
Andrew Maclaine
Magnus Ferrier
Chris Miller
Scott McCartney
Steve Chalmers
Alan Wall
Stuart Robin

Scottish Hockey Union media release


---

FIH Masters Home Nations round-up



Scotland Over 55s
Back Row:- Alan Kerr, Ali Hay, Stephen Springthorpe, John Bennett, Ali McArthur, Ian Fenn-Tye, Derek Bell, Neil Sharp, Mike Gilbert. Front Row:- Billy Taylor, David Rowlands, Arthur Robertson, Colin MacBeth, Benny Gibson, Khalid Bashir, Marray Graham, Niall Sturrock

Scotland Over 35s

Scotland were winners of the Inaugural Home International Masters O-35s Tournament at Peffermill 26-28 June, 2015.

On Saturday, in what was a hard fought contest neither side was prepared to concede much, Scotland took a deserved lead against England with a superb strike in open play from Chris Miller (Watsonians). Both sides were to squander what few opportunities came in the next 1/4, but England equalised through Peter Gibbins with a well worked PC routine. It was an excellent team performance and many will feel disappointed to have only drawn.

With England defeating Wales 3-2 in their opening match and results being equal, Scotland thought they had to beat Wales by two goals.

On the Sunday with Graham Dunlop missing through injury, Wales started stronger having most of the early possession, however it was Scotland who took the lead through McCartney (Western)- flicking high from the penalty corner.  This settled the team and Scotland quickly followed up with a second, Magnus Ferrier (Inverleith) lifting over the out-rushing keeper. Wales pulled one back and then a second to leave the Scots a little shell shocked going into half time. A further two goals from Scott McCartney (Western) gave the Scots a 4-2 lead, but a converted Penalty Stroke from Wales made the last few minutes more nervous than they should have been. Scotland took the title on having a greater "goals for" total.

A big thank you to all 35 plus players who have trained throughout the winter, but especially Graham Dunlop (Clydesdale) for his coaching and calm organisation on the pitch. A final thank you goes to Duncan Batchelor (Grange) who Captained the team with such authority over the weekend. Here is to many more masters titles.

Masters Men's O-35 Squad: W. Dunster (Dunfermline Carnegie), Douglas Swanston (Watsonians), Chris Miller (Watsonians), Stuart Robin (Kelburne) Alan Wall (Inverleith), Ross Macpherson (Kelburne), James Hollington (Watsonians),Magnus Ferrier (Inverleith), Nairn Scobie (Uddingston), Andrew Maclaine (Hillhead), Allan Laing (Falkirk), Duncan Batchelor -Capt (Grange), Graham Dunlop (Clydesdale) (COACH), Alan Meikle (Hillhead), Scott McCartney (Western), Stevie Chalmers (Dunfermline Carnegie), Gordon Menzies (Kelburne), Michael Leonard (Grange)

Scotland Over 45s

The Scotland O45s got off to a strong start against Wales, playing strong, high quality hockey which prevented the Welsh team getting into the game and we ran out solid 5-0 winners.

On Saturday we came up against a motivated Ireland side that tested us in the first half and we went into the break trailing 3-0. A change of tactics and a growing confidence of the squad saw us dominate the two final quarters and we recovered to draw the game 3-3. We created many chances and in the end were disappointed not to clinch the win.

We went into our final match against England knowing that only victory would enable us to win the trophy. After meticulous preparation, we started the game sensationally and put England on the back foot immediately forcing a short corner with the first passage of play which was converted well after a slick routine by Jon Williams take an early lead.

As expected from a strong England side, they clawed their way back into the game after converting a short corner and forcing a penalty stroke after another short corner found a defenders foot on the line. Scotland worked incredibly hard harrying the English side and not allowing them any time or space on the ball and we were rewarded with a penalty stroke when Chris Flight was upended by a stranded England goalie as he closed in on goal. The penalty was calmly slotted by player coach Stevie Menzies and we went into the half time break at 2-2.

The Scottish side continued to play high quality hockey with an exceptional work rate but England managed to force a short corner which they slotted from the top of the D, the response from the Scotland team showed just how far the progress of the squad has made over recent times and eventually we drew level with 5 minutes remaining after another well worked short corner was again calmly finished by Jon Williams.

Scotland continued to press to find the winner and inevitably left gaps and we were caught on the counter at the death for England to score the winner and secure the Championship again.

Scotland Over 55s

Scotland Over 55s warmed up for the European Cup with good victories in Edinburgh on Friday against Wales 4-0 and Saturday against Ireland 2-0. Tactically everything that the Squad looked to do came to fruition and it set up the final game on Sunday against England as the Championship decider.

Despite a reasonable start against a very strong English Squad Scotland soon found themselves one down after sustained English pressure to a deflected effort from the top of the D. Some excellent defending was then to nothing when a short corner came back off the post to hit the diving Goalkeeper on the head and cross the line to make it 2-0.

As the game reached half time Scotland were very much in the game but a resilient English midfield was holding them at bay. In the second half despite Scottish pressure and several Short Corners, Scotland could not get in the game and finally ran out of time as the English held off to win the Championship.

Scottish Hockey Union media release


---

Great Britain rue mistakes after defeat to Australia in the World League semi-finals

By Graham Wilson



Barry Middleton marked his 350th appearance with a goal. World Sport Pics Frank Uijlenbroek

MAKE one mistake maybe, make three and count out any chance of beating the Australians.

Such was the pressure Great Britain men came under in the Fintro World League semi-final in Antwerp that they gifted the world champions a 3-1 victory and the route to the final against hosts Belgium.

The Kookaburras also won that brilliant encounter but only by a Chris Ciriello corner strike that came after the final whistle.

The effort and sheer intensity GB had put into their game was reflected in a 5-1 win over India to take third place which came almost at a canter by comparison. That included a goal by captain Barry Middleton on his 350th cap.

GB had won Olympic qualification by reaching the semi-finals but all had to bow to the unrelenting Aussies – including GB's influential defender Iain Lewers. He said: "Yes, we are going to Rio but we are at a stage where we are wanting to win these tournaments. Mistakes cost us but we are not that far away from the Australians."

With both GB men's and women's squads now qualified for Rio, England can now enjoy hosting the European Championships at the Olympic Park next month. Women's coach and overall performance director Danny Kerry said: "We are delighted. Both men and women have qualified in some style."

Of the match against Australia, he said: "We have to maintain where we were in the first 15 minutes. If you can do that you are truly world class and we showed the potential whereas Australia kept the level and they grind you down and mistakes tend to be indicative of that level they maintain. But if you compare that with a couple of years ago I would say the trajectory is good. It is going to be a really interesting year."

Men's coach Bobby Crutchley said: "We want to challenge these guys and win these tournaments. We started well against Australia and for the whole game we defended well and restricted their chances. We need to cut out the mistakes. The last two years we have developed considerably but we now have to use every day to continue improving. We are satisfied where we are at the moment. We kept the same level as them in the early stages but they continued at a high level and capitalised on our mistakes."

Of the India win, Crutchley said: "It's nice to finish with a big win and it's our best display in a long time."



Bobby Crutchley issues his team talk during the break. World Sport Pics Frank Uijlenbroek

Middleton said: "It has been a good two weeks. We've had a big six or seven months coming into this tournament where we weren't sure what to expect or where we were as a group. We know we are a good team but we needed to prove it. We pride ourselves on finishing strong in tournaments because that's where you win medals.

"We're very good defensively and hard to beat but we want to be better at scoring goals and breaking teams down. We had a great intensity against Australia, but we needed to do that again against India and make them chase us, which we did. It's nice to execute a game plan like that.

"We are capable of games like this. It's hard work out there and we put a lot in to get ourselves into such a strong position. The last couple of minutes were a bit slower but I can promise you it wasn't comfortable before that.

"I want to score in every game but it's one of those things to score on my 350th appearance. It looks nice on the outside and it's a good feeling but as long as we're winning 5-1 I don't mind who's on the score sheet."

Daily Express


---

Kampong's Harte wins goalkeeper award at WL semi-final



Picture: Grant Treeby/FIH

Kampong goalkeeper David Harte added yet another goalkeeper of the tournament title to his extensive list as he helped Ireland to an impressive fifth place at the World League semi-final in Antwerp.

The "big man" produced key saves in last Friday's 1-0 victory over Pakistan, getting a big glove out to deny the Asian side an equaliser three minutes from the end.

He followed up with a series of heroics on Sunday in a 4-1 win over Malaysia, particularly in the second quarter, to help his side to a finish which could potentially see Ireland reach the Olympic Games.

"It's all a bit surreal and indescribable. We have given an Irish team the best possible chance to qualify for an Olympic Games," Harte told Irish website The Hook.

"It's out of our hands but we have done everything we had to do as a national team to try and get to the Olympic Games – fingers crossed everything falls into place."

Ireland have not played in the Games since 1908 when they were under the British banner while the country has not had a team sport of any description play in the Olympics since 1948.

They must now wait and see how the continental championships pan out but they could be set to join Germany, the Netherlands, Belgium and Great Britain – and probably Spain – in Rio next summer.

Euro Hockey League media release


---

Ireland's Olympic Journey Explained




Sunday's superb victory earned the Green Machine 5th place at Hockey World League but what does that mean in terms of Olympic Qualification? Well the FIH have created an infographic to help explain the route to Rio and journalist Stephen Findlater has further simplified it below:

1. Pan-American Games (July 10-26) – if either Argentina or Canada win, then another team from the World League earns a ticket. Those two sides are the only entrants in the world's top 15. Chile are next best placed at 25th.
2. Brazil – should Olympic hosts Brazil finish outside the top six at the Pan Am Games, then they will not meet FIH criteria for the event. Should this happen, another berth goes to WL3 places.
3. European Championships (August 21-30) – if Ireland win, they qualify for the Games. If one of Germany, Netherlands, Belgium, England (GB) or Spain, this would move Ireland another place up the list
4. Oceania Cup (October 21-25) – if Australia win, another place goes to WL3. Their main competition is New Zealand for whom this is potentially a last chance saloon for Olympic qualification.
5. Africa Cup for Nations (October 17-25) – the winner of this competition will be offered an Olympic place. The one addendum is that South Africa's Olympic council, SASCOC has stated they will not send a team on the basis of victory of a continental championship. Should they win the tournament – they are the highest ranked nation, seven above Egypt – this could open up another WL3 place.

Mightily complicated but should three of those five issues work out in Ireland's favour, the Olympic ticket will be theirs.

Irish Hockey Association media release


---

Women's Black Sticks certainties of qualifying for Rio Olympic Games

LIAM HYSLOP



The Black Sticks women can celebrate knowing they are all but assured of a spot at the Rio Olympic Games. PHOTOSPORT

A catastrophic series of upsets is the only thing standing between the Black Sticks women and Olympic qualification.

The team missed out on booking an automatic spot for Rio 2016 when they lost to Australia in the bronze medal match at the World Hockey League semifinal last week.

The fourth-place finish all but assured them a spot at the games, but working out the formula for how they will qualify just requires the help an algebra professor.

Without boring you with the qualification process, the Black Sticks women would miss out on qualification if Fiji beat both them and Australia at the Oceania Cup in October, a minnow such as Belarus won the European Championships and Argentina lost the Pan Am Champs.

A loss to Australia in the final of the Oceania Cup would even be enough to see them through.

Hockey New Zealand high performance manager Terry Evans said it would take an unfortunate miracle for them to miss the trip to Brazil.

"There would need to be a series of about five catastrophic events to happen for them not to qualify.

"But we can't say that we are qualified until it is confirmed, which should be in October."

Evans said he was pleased with the form of the women's side in the group phase, but wanted to see more from them in the knockout games. They also lost a quarterfinal to Korea at the World League semifinal.

"The girls were probably only second to the Dutch in terms of form at the tournament.

"We just have to make that next step and win those big games."

They  will get a chance to test themselves in more big games when they play at the World League final, starting in November and featuring seven of the top eight teams in the world.

The Black Sticks men face a trickier task of making it to Rio, needing to beat Australia in October to assure themselves of a spot.

"The format suits us as it's a one-off game and Australia are already qualified," Evans said.

"We believe we can beat them, we've done it before."

A loss might not be the end of the road for the team, Evans said.

"If everything fell into place for the boys, in terms of the right teams winning their regional tournaments, then we could qualify even with a loss to Australia.

"But we aren't banking on that and will be putting all our effort into beating Australia."

Stuff

The author clearly doesn't understand the qualification process as New Zealand have already qualified due to the Host nation, Brazil, not making the Pan Am Games and Korea double qualifying as Asian Champions and their 2nd place finish at Antwerp. This means both 4th places, Argentina (officially confirmed by the FIH) and New Zealand have qualified.


---

Indian women's hockey team arrives to grand welcome

NEW DELHI: Having all but booked a berth in next year's Rio Olympics, Indian women's hockey team on Monday arrived here early morning to a grand welcome amidst beating of drums and loud cheers.

A large contingent of officials and media gathering was present at the airport to receive the team, which finished fifth at the just-concluded Hockey World League Semifinals in Antwerp, Belgium.

The result has enhanced Indian eves chances of qualifying for the 2016 Games.

"We knew we had to be in the top five to stay in contention for the Rio Olympics. The last two games were very crucial for us and the girls kept their cool despite huge expectations and pressure. The young players specially played really well and I can confidently say that the future for women hockey in India is very bright," said India's coach CR Kumar.

Indian eves lone Olympic appearance was at Moscow in 1980. Effectively, India's fifth spot here should secure them an Olympic Games ticket when the countdown to allocate spots takes place.

Three spots each are on offer at both the World League Semifinal competitions, here at Antwerp and in the just-concluded event at Valencia.

With five continental event champions being allowed another route, there are likely to be several dual qualifications. In turn, that can open up Olympic spots for nations which do not make the top four of the two World League Semifinals.

Germany, Great Britain and China have secured the three Olympic berths from the World League Semifinals in Valencia.

Three teams -- The Netherlands, South Korea and Australia -- here at Antwerp have secure their Rio de Janeiro tickets, but South Korea have already earned an Olympic slot by winning the Asian Games gold medal.

An African champion could be the only one not to have featured among the top four teams at these two World League Semifinals, opening up more places, even if Olympic hosts Brazil are given a leeway to make the grade.

Both in the men and women's events, Brazil have been allowed a leeway of making the Olympics if they can achieve the fifth place in the Pan American Games. In the women's event, Brazil are only a reserve team in case there are any withdrawals from the Pan American Games that start in Canada in two weeks time.

Indian women's team skipper Ritu Rani said they will begin their preparations for the Olympics instantly even though they still await an official confirmation from the International Hockey Federation (FIH).

"Our target was to qualify for the Olympics and we are still in contention. All the players played to their strengths. We played against some of the higher ranking teams, which gave us insights on our shortcomings. We will work on them to improve our game and be ready for our Olympics dream," she said.

Indian custodian Savita emerged a saviour by blocking half-a-dozen goal-bearing chances as India defeated Japan 1-0 victory in the fifth-place playoff match.

The match-winner for India came in the 13th minute from Rani Rampal, who capitalised on a rebound from the Japanese goalkeeper after the initial shot from Vandana Katariya in open play was blocked.

But the star of the day for India was Savita, who firmly stood between repeated Japanese raids and the Indian goal, often diving to either side to block firm shots.

"The match against Japan was very crucial for us. We knew it was our last shot to qualify for the Olympics at Rio, so we had to play to our strengths. During the successive penalty corners in the last quarter, it was the effort of the entire team which helped in defending our lead. I think everyone was aware that we had to safeguard the sole goal we scored and we did it beautifully. If we qualify for Rio it will be a dream come true," Savita said after arriving here.

Star striker Rani Rampal, who scored the winner for India, added: "Qualifying for the Olympics has been a dream come true moment for all of us. The team chemistry of the players, on field coordination and coach's guidance helped us tremendously in registering the previous two successive wins. I cannot wait to start the next phase of training for the Olympics."

The Times of India


---

Daring to dream big

Uthra Ganesan



Goalkeeper Savita (left), Captain Ritu Rani (center) and Striker Rani Rampal played key roles in realising India's hopes of participating in its first Olympic ever. Photo: Prashant Nakwe

 With a fifth-place finish at the Hockey World League Semifinals, the Indian women's hockey team has almost booked a spot at the 2016 Rio Olympics, for the first time in history. The official communication in this regard, though, from the International Hockey Federation (FIH) will come only by the end of October this year, after the culmination of all continental championships. With no coach for half the year and a new one taking charge just a month before the event, it was a gritty performance.

Its architect was 20-year-old Rani Rampal, the top-scorer for India. "When we left we had wanted to be in the top four. But we couldn't do what we wanted to. We lost to Belgium in the very first game, a match we should have at least drawn.

"That changed the rhythm of the tournament. The moment we lost, we knew we had a tough quarterfinal against the Netherlands. But then, we thought the next best thing would be to finish fifth and we did that," Rani said, hours after returning from Antwerp.

Although jet-lagged and without sleep for almost 36 hours, the players were happy to oblige the occasional stranger walking up for a photograph even as they spoke to The Hindu. "We told ourselves after the Italy match (5-8 places) that the game should have ended much before the shoot-out. We had the chances; we kept attacking throughout the game.

"Perhaps, we were impatient. There was the pressure of winning — we hurried the moves and almost paid for it. But we learnt from it. Against Japan, we were patient, holding on to the ball and waiting for our chance. And when they attacked, we defended patiently," Rani said.

Goalkeeper Savita Punia, who not only staved off at least five penalty-corners in the last 10 minutes against Japan but stood like a rock throughout the game, agreed. "The Italy game was much more important. We were confident against Japan because we had beaten them at the Asian Games and at the Hawkes Bay Cup in New Zealand."

Captain Ritu Rani knew this was her last chance to make the cut for the Olympics. As coach Mathias Ahrens drew the Olympic rings after every game to remind the players of their target, Ritu kept staring at them — it was her dream for more than 10 years. "It feels good we managed this under my captaincy, but the whole team worked for it. We had one chance and we had to take it," she said.

The Hindu


---

Indian women's hockey future is bright: Rani

Ashish Sen

JAIPUR: It's a dream come true for Rani Rampal. Her stupendous show kept India's hopes of qualifying for the Rio Games alive as the team earned a fifth-place finish in the women's Hockey World League semifinals in Antwerp last Saturday. Rani also scored in India's 1-0 win over Japan.

"Playing for my country is a great honour and I will keep working hard to win more games for my team in the coming years," she told TOI after the team reached New Delhi on Monday morning.

"Our target is to qualify for Olympics and we are still in contention. All the players played to their strengths. The last two games were very crucial for us and the team members were well aware of their jobs and they performed superbly. The younger players, especially, played really well and I can confidently say that the future for women's hockey in India is very bright," Rani said.

Rani scored a brilliant goal in the 13th minute and that proved to be the difference. "Going into the fifth place playoff, we drew confidence from our victory over Japan in the bronze medal game of the Asian Games in Incheon. It was a tough match no doubt, but we knew the war would be over if we lost belief in ourselves," she said.

The young India striker said doubts are always going to creep into one's mind before a crunch game. "But we stayed focused since our target was to qualify for the Rio Olympics. We played some of the higher-ranked teams, which helped us to improve ourselves in some areas," she stated.

Talking about the team's strengths and weaknesses, she said there were a few shortcomings which could be ironed out. "We will work on them to improve our game and be ready for our Olympic dream."

The Times of India


---

Haryana girls power India's Olympic dream

Gaurav Kanthwal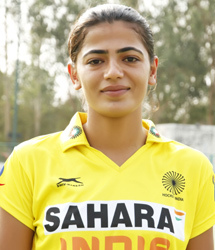 Savita Poonia

Chandigarh - Haryana's hand is quite visible in the Indian women hockey team's success in the recently-concluded Hockey World League Semifinals in Antwerp.

Seven players in the squad that landed in New Delhi to a grand welcome on Monday belong to Haryana. Goalkeeper Savita Poonia, Poonam Rani (both from Hisar), captain Ritu Rani, Rani Rampal, Navjot Kaur (Shahbad), Deepika Thakur (Yamunanagar) and Monika (Sonepat) were the members of the team that finished fifth in the tournament.

The girls are on the threshold of securing an Olympic berth; they will, though,  have to wait for the results of the two tournaments (EuroHockey Nations Championship in August and Oceania Cup in October) before getting the confirmation.

After Indian eves' lone Olympic appearance in Moscow (1980), an invitational event, this is the first time that the team is on the doors of Olympic qualification. Hisar girl Savita Poonia displayed great skills under the bar. It was her heroic performance in the penalty shootout against Italy that secured a win for India. In the fifth-place match, Poonia saved five penalty corners against Japan to bring India closer to the Olympic dream.

"We were quite tense before the last match and knew such opportunities come rarely. It was a huge responsibility not to fluff this chance. Luckily, we managed to win. Our dream to qualify for Rio is on course," Savita said from New Delhi.

Poonia was adjudged the best goalkeeper in the Eighth Women's Asia Cup Hockey in 2013. She was also a part of the Indian team that won a bronze medal in the eighth Women's Asia Cup Hockey in Kuala Lumpur in 2013. Savita's coach Azad Malik congratulated the team on their success.

Road to Rio

The Indian women will now have their eye on the EuroHockey Nations Championship to be held in England in August this year. If the Netherlands, reigning Olympic and world champions, win then India qualify. However, if the Dutch fail, India will have another chance. Australia and New Zealand, both finishing above India in Antwerp, will be vying for the Oceania Cup title in October this year. Playing against a weak field, it is almost certain that one of these two teams will win, which will open the way for India.

The Tribune

Note: The Indian women would do better to watch the Pan American Games as a win by either Argentina or USA will see them technically qualify due to Australia and New Zealand both qualifying already. Otherwise a win by Netherlands, Germany or Great Britain will also qualify them as those nations have already qualified. It is not just down to the Dutch winning, although to be fair they must be the overwhelming favourites.


---

MHC to revamp hockey team after failure in Belgium

by S. Ramaguru



Malaysia's Shahril Saabah is dejected after losing to India in the quarter-finals of the World Hockey League Semi-Finals in Belgium last week. - FIH

ANTWERP (Belgium): The Malaysian Hockey Confederation (MHC) will revamp the national team following their failure at the World Hockey League Semi-Finals.

Although he has been at the helm of MHC for just over a month, president Datuk Seri Subahan Kamal said he would take full responsibility for the dismal show.

"I am not going to blame the coaches, players or officials. We are all collectively responsible. It is a sad end as the team came close despite not being given much of a chance," he said.

Malaysia needed a top-four finish to qualify automatically for next year's Rio de Janeiro Olympics. At worst, they should have at least finished fifth to stay as a reserve in case there is a vacancy.

But they finished sixth after being humiliated 1-4 by Ireland on Sunday. Now, Malaysia are third on the reserves' list behind Canada and Ireland.

"At the end of it, we were just not good enough. I feel for the senior players as it is a dream to play in the Olympics. But it didn't work out for them," said Subahan.

Subahan now wants the team officials to send in their reports within a week and for the coaching committee to meet soon so that they can come up with the plans and recommendations for the future.

"I want the report to be tabled at the next executive board meeting in August.  And we will take it from there.

"There is no doubt we will make changes... for the betterment of the game. The people concerned have to accept it.

"We have to look forward and qualify for the 2020 Olympics. No two ways about it … we should not look at sneaking in through the back door," he said firmly.

In Antwerp, Malaysia kicked off their campaign in Group B with a 3-2 win over China.  They followed it up by beating Ireland 4-2. Then, they were beaten 2-0 by Belgium and 3-1 by Britain to finish third in the group.

In the quarter-finals, Malaysia were forced into the fifth-eighth placing playoffs after losing 2-3 to India.

They downed France 4-1, but when it mattered most the Malaysians crumbled against Ireland.

"There were some very good performances. All is not lost. We have a talented group of youngsters in the national team as well as in our junior ranks.

"But how do we move forward? I think we need the full support of the National Sports Council (NSC) and National Sports Institute (ISN)," said Subahan, who was with the team throughout the duration of the tournament.

The Star of Malaysia


---

'Lack of funding contributed to hockey's Olympic debacle'

LAHORE: Despite Pakistan hockey's Olympic debacle, a number of former Olympians continued to back the federation as they expressed their lack of trust in the five-member probe committee formed by the Inter-provincial Sports Committee on instructions of the prime minister.

At a news conference at the National Hockey Stadium on Monday, Anjum Saeed, Rehan Butt, Malik Shafqat, Tariq Sheikh, Akhlaq Ahmed and Ajmal Khan Lodhi said the Pakistan Hockey Federation (PHF) did all it could but it was lack of support from the government which contributed to its downfall.

Three-time Olympic champions Pakistan failed to make it to the Games for the first time in their history when they failed to secure at least fifth place at the Hockey World League Semi-finals in Belgium last week.

That meant they will miss out on next year's Olympics in Rio de Janeiro a year on from failing to qualify for the World Cup.

"For the last two years, the PHF hasn't got any financial grant from the federal government and it went everywhere with a begging bowl in its hands but no one came out to its rescue," the Olympians said.

"The other participating teams at HWL reached 10-15 days prior to the event but Pakistan, due to the paucity of funds, reached just four days before. The team couldn't prepare itself well and players were also upset due to the financial problems."

Of the probe committee, the Olympians questioned its neutrality since two of its members, Shahbaz Senior and Khawaja Junaid, were part of the PHF in the recent past.

"Shahbaz was relieved from his parent organisation [Pakistan International Airlines] on a letter of the PHF where he was shown as advisor of the PHF president Akhtar Rasool while Junaid enjoyed the longest coaching-manager assignment with the PHF from 2010 to 2012 when Akhtar was head coach of the national team," Akhlaq said. "We request the IPC to nominate other names in the committee."

Rehan argued that the players' performance levels drop when they aren't given the daily allowances and prizes they deserve.

"Those problems have been widely reported but the government has turned a deaf ear," he said. "The Junior team had to play a tournament in the Netherlands from July 18 before competing in qualifiers for the Junior World Cup in October.

"But the PHF pulled the team out of the tournament in the Netherlands due to financial issues and qualification for the Junior World Cup is unlikely too."

Anjum reckoned there were too many aspects which played their part in the debacle while adding that the PHF had given a free hand to both chief selector Islah-ud-Din Siddiqi and head coach Shahnaz Sheikh to run the team's affairs.

"No doubt, Islah and Shahnaz would've given it their best shot and now we should wait for the head coach's report to move forward," he said. "The PHF is an elected body and has its own system to change the command."

Akhlaq, meanwhile, warned that the government not to take any decision to impose ad hoc on the PHF, as it would not be acceptable to the FIH and the IOC.

Dawn


---

Pak hockey team returns amid reports of tension among players

KARACHI: The Pakistan hockey team, which failed to qualify for next year's Olympic Games after its disappointing show at the Hockey World League Semi-Final in Belgium returns home on Tuesday amid reports that there was tension among the players during the tournament.

It is learnt that captain Muhammad Imran, who had earlier announced his decision to step down, may make some disclosures on returning home.

The disclosures apparently have something to do with the reports that a group seven players had ganged up against the captain and team management and had even refused to start play in the crucial quarterfinal match against Great Britain.

"I don't want to either confirm or deny such reports but yes it is true some of the players were terribly unhappy with their captain, team management and even the Pakistan hockey federation officials for failing to fight for their rights and ensure they got their promised financial benefits," one former team official said.

Surprisingly, the PHF changed the support coaching staff of the team before it left for the Olympic qualifiers.

The failure of Pakistan team to qualify for the Olympics and finish at eighth in the HWL Semi-Final has resulted in a strong whiplash in the country with Prime Minister Nawaz Sharif also expressing his concern at the state of affairs in the game and ordering a five member committee to probe into the team's poor show and hockey affairs.

Until now despite repeated calls for them to resign or be sacked by former Olympians and internationals and critics, the PHF president Akhtar Rasool and secretary Rana Mujahid have remained silent on the developments unfolding in hockey.

The Prime Minister got into the act after Pakistan also lost their 5th-6th classification match to Ireland and squandered any opportunity left to qualify for the Olympics, the first time the greenshirts will not appear in the multi-sporting showpiece event since 1948.

To make matters worse, Pakistan were also beaten 1-2 by France in the classification match for 7th-8th position.

Well informed sources said that there could be fireworks once the team and officials return home and apparently Muhammad Imran has been told to pass the buck on to a group of players for the team's poor show.

"These players however have their own story to tell to the extent that they were not even paid their daily allowances properly and had to turn to Pakistani community in Belgium to bring food for them on daily basis," one source said.

In the aftermath of the hockey debacle the national selection committee headed by Islahuddin Siddiqui has already resigned.

The Times of India


---

16 rough diamonds cut and polished on Dar Academy's Tour of Holland

By Ijaz Chaudhry

This was Lahore based Dar Hockey Academy's fourth tour to Europe. After three visits in successive years, beginning from 2010, the 2015 trip came after a gap of two years. It was a new batch of the colts and all were making their first overseas journey.  Then it was a very hectic schedule as the Dar HA played nine matches in as many days in Holland.

The side had a setback even before leaving Pakistan. Academy's head coach World Cup winner Danish Kaleem was assigned the coaching role with the Pakistan's national team just a few days before the departure for Amsterdam.  Dar HA left without Danish who had been training them for last three years. 

The opposition faced by the Dar HA in Holland included not only age group (under 18) sides but also senior men's teams of the Dutch clubs. Holland has easily the best domestic structure in the world. Around 350,000 registered players and 400 turfs; all the clubs have a number of teams starting from under 8 and going up to the veterans.   

Hence, it was a real test for the novices. Dar Hockey Academy, comprising of highly promising youngsters scouted from different parts of the country, passed the test impressively. Of the nine matches played across different parts of South Holland, the Dar HA won five, lost two and drew two.  The two defeats came against the senior men's sides. Even in those encounters, the boys were never out played and only went down after putting up a good fight. In the other two ties against the senior rivals, the academy won one and drew the other. They remained unbeaten against the age group sides –dominating most of the matches.    

Winning and losing aside, the colts were on a learning tour. It was imperative to get good competition.  Playing against the Dutch clubs' vastly matured and experienced Men's sides, which until only few weeks back had been participating in the toughest hockey league of the world, provided the boys with a wealth of experience.

It is also pertinent to mention that Holland is world's tallest nation. That in it provided a challenge to the lads: to find way across defenders with big reach.  The Dutch are aware about this advantage and also indulge in physical play. All this was part of the learning.

At the same time, the academy boys appeared well trained for the trip. The coaches had done a good job.  The players were proficient in basic skills and also well versed with the modern tends of the game.  Also on display were classic skills of deft stick work, body dodges and oriental dribbling which captivated the spectators.  All the squad members were given good exposure. The two goal keepers were rotated after every match.  There was a match every day; nine of them without any rest.  That speaks of players' stamina and fitness.

As before, it was the MOP club in the Southern Dutch town of Vught, who hosted the colts' team from Pakistan. Like the previous years, Rob Lathouwers, the world famed former international umpire and a great friend of Dar HA, supervised the excellent arrangements. Two other prominent MOP club members, Martijn Gosens and Jan Chris Pinxteren went out of the way to make the trip comfortable and enjoyable.  Kids are kids; they also need recreation. The boys had a boat ride in Den Bosch, visited the beach at The Hague and had a wonderful tour of Efteling, the Disneyland of Holland, which is frequented by visitors from all over the Western Europe. 

Keeping up the tradition, the Dar Hockey Academy officials presented all their hosts with a number of mementoes. After each match, the best player of the opposing team was given an international standard Pakistani hockey stick of famous brands, and the manager as well as the two umpires received the beautiful academy shields. 

Dar Hockey Academy really appreciates the Dutch hospitality.  In 2012, the academy officials arranged a tour of Pakistan for a team titled Flying Dutch Veterans, comprising former hockey stalwarts of Holland including some great names such as Maarten Grimbergen and Gijs Weterings.  Preparations are afoot for another trip later this year.  

The 2015 tour of the Dar HA was well covered by the Dutch media. There were reports in the newspapers.   One TV channel even interviewed a couple of academy players.  Pakistani expats turned up in good numbers for quite a few games.   

The prime aim is to prepare quality players for Pakistan hockey. The academy is already functioning as a conveyer belt and a number of players have graduated to Pakistan's national sides, senior as well as the age group teams.

16 rough diamonds have been cut and polished on this tour.

Dutch keenly follow the international hockey. Pakistan hockey's pathetic state was often mentioned during talks.

In this darkest period of Pakistan hockey, Dar Academy provides a ray of sunshine.                                    

Fieldhockey.com


---

James Leman Appointed Manager of EGHC Mens 1st Team

East Grinstead Hockey Club is delighted to announce that James Leman has assumed the role of Manager for East Grinstead Men's 1st Team with immediate effect.
 
James has been a member of EGHC since 1970, during which time he has had a profound effect on the club having himself competed at the highest National League level between 1980 and 1990, chaired the Club between 2004 and 2010, and actively played a role in leading our boys development side between 2008 and 2010.
 
During his time as Chairman, James was extremely closely linked with the Men's 1st team, overseeing the period in which they returned to the National Premier League in 2005, their two Premier League Titles in 2009 and 2010 and overseeing the start of a long running series of Indoor titles.  On many occasions he could be seen pitch side alongside the 1st team management group during key matches in the England Hockey League and the Euro Hockey League.  James will be assisted in his role by Phillip Coote, another long serving member of the East Grinstead Hockey Family.
 
James Leman said, "it is a great honour to take over the responsibility to manage the Men's 1st Team and to support Karl Stagno, our 1st Team Coach.  Having been closely involved with the 1st team on and off for many years, and benefiting from a good handover from Matt Jones, I'm excited about the prospect of playing my part in the continued development of the 1st team group"
 
Phillip Coote said, "having James involved with the team is fantastic and will ensure a smooth transition from Matt.  His experience, knowledge and character will prove invaluable as we support Karl Stagno outdoors and Richard Organ indoors in the coming seasons"
                                                                                                                            
Karl Stagno said, "having already begun working with James in the past weeks, I'm excited at the prospect of continuing the good habits the club has developed over the years while bringing new ideas to our approach"
 
Richard Organ said, "having played alongside James I know well his competitive spirit and will to win.  I am pleased we are able to team up "off the pitch" now and continue to drive East Grinstead forward"
 
The Men's 1st team will next be in competitive action when they and their Ladies counterparts host the second Annual "Five Feathers Invitational Cup" across the August Bank Holiday weekend (Saturday August 29th to Monday August 31st).  Featuring three visiting men's and ladies sides, the competition will provide an excellent opportunity for hockey enthusiasts to see top quality hockey close to home.
 
The men will return to action in the National Premier League in September and will compete in the Euro Hockey League Round 1 in Barcelona between October 9th and 11th.

East Grinstead Hockey Club media release


---

Paragon retains women's hockey title

Malvern is U-19 boys champ

Nigel Simon

Paragon retained hold of the T&T Hockey Board Women's Championship Division at the National Hockey Centre, Tacarigua after battling to a 1-1 draw with Courts Malvern on Saturday night. With the point earned, Paragon pushed its points tally to 23 from 11 matches and one left to play, the same as second placed Harvard Checkers, which has already completed its 12-match campaign.

Paragon also has a healthy goal-difference of plus-23 to Checkers' plus-nine and must go under in its final match, by a big margin to throw away the title. Going into Saturday's match, Paragon had one hand on the crown after Notre Dame whipped Shandy Carib Magnolias 3-1, ending the latter's slim chance while Harvard Checkers were assured of three points due to Ventures decision to forfeit their scheduled encounter.

This meant, a point would be enough for Paragon and after a 0-0 first 15-minute quarter, national forward Kristin Thompson put the table leaders ahead in the 21st. However, nine minutes from the final whistle Jamaican Andrea Jackson drew Malvern level as both teams ended with a share of the spoils.

For the Dames, national midfielder Stephanie Whiteman netted twice in the first-half, in the eighth and 17th minutes for a 2-0 lead. Two minutes after the resumption former national captain, Stacey Siu Butt pulled a goal back for Magnolias as they tried to find a way back, but two minutes later, Nicole Whiteman, Stephanie's younger sibling, restored the Dames two-goal cushion at 3-1 after which they held on for the win.

And in the lone Men's Championship Division fixture, Shane Newallo scored in the 54th and 58th for Fatima to seal a come-from-behind win over Paradise. On Sunday, Courts Malvern captured the Under-19 Boys crown with a 2-1 defeat of Queen's Park in their top-of-the-table fixture. Teague Marcano opened the scoring for Malvern as early as the first minute, but Jodi O'Brien responded for Queen's Park in the 31st, only for Joshua Drayton to fire in the decisive item a minute into the second-half.

With the win, Malvern ended with maximum 24 points from eight matches, six more than second placed Queen's Park.

T&T Hockey Board Results:

Saturday:
Women's Championship Division:
Paragon 1 (Kristin Thompson 21st)  vs Courts Malvern 1 (Andrea Jackson 51st)
Harvard Checkers 3 bt Ventures 0 - by default
Notre Dame 3 (Stephanie Whiteman 8th, 17th, Nicole Whiteman 39th)  vs SC Magnolias 1 (Stacey Siu Butt 37th)

Men's Championship Division:
Fatima 4 (Shane Newallo 54th, 58th, Kafele Alexander 30th, Jordan Vieira 33rd) vs Paradise 1 (Theron Stoute 20th)

Trinity Men:
Paradise 2 (Kareem Alfred 12th, Daylon George 53rd) vs Carib 2 (Randall Ramsammy 62nd, Dylan Francis 68th)
 
Under-19 Boys:
Shape 5 (Ghardel Elcock 37th, 69th, Sheldon De Lisle 21st, Tyreek Burroughs 40th, Roshane Hamilton 61st) vs Raiders 0
 
Sunday:
Under-19 Boys:
Courts Malvern 2 (Teague Marcano 1st, Joshua Drayton 36th) vs QPCC 1 (Jodi O'Brien 13th)
 
Men's Championship:
Defence Force 3 (Neil Lashley 29th, Jovan Woodward 30th, Shane Legerton 60th) vs Paradise 3 (Nave Roach 1st, Theron Stoute 10th, J. Trim 10th)

The Trinidad Guardian


---

Paige Selenski shares the tricks of the trade

Morty Ain

Women's national field hockey team forward Paige Selenski spoke with reporter Morty Ain about what it was like to take it all off for ESPN The Magazine's Body Issue and her love of HGTV.

For more from the 2015 Body Issue, check out espn.com/bodyissue! And pick up a copy on newsstands starting July 10.

Sometimes I think I have a magnet attached to my face. I've been hit in the face a lot. At the international level, you aren't required to wear any eyewear like you are in high school, because getting hit in the face doesn't happen very often -- except for me. One, two, three, four, five -- five scars on my face left by either a stick or a ball.

It's not like I woke up one day and I had a really athletic body and ripped-up abs. I was lucky that I was naturally gifted with an athletic body, but I also put a lot of work into it. I don't stay home and do abs all day long; it just comes with running and all the things I do to stay in shape. I use my body every day for my job. We constantly put our bodies through pain. I'm not afraid to show that off.

Every day I pick up something new. Even now, even though I play at an elite level; I never see myself go stagnant as a player -- because you can always keep getting better and learning a new skill. I think that's kind of what attracted me to the sport.

People don't appreciate the speed that's required to play field hockey. It's not only the amount of endurance you need to play the sport but also quickness. I ran track in high school; I specialized in sprints. A lot of our players are really quick.

We typically run 4 to 5 miles per game. Our sports science director tracks our movements.

In ice hockey you can use the back of your stick; in field hockey you can't. So you have to learn how to basically use your left hand as more of your main hand to turn the stick, and your right hand is used more as a guide. It's really different.

Your hands need to be a lot quicker as you move up levels. Sometimes I'll use a tennis ball to practice my stick-handling skills. It's a lot lighter, so it teaches you how to turn the stick quick. If you can actually watch TV while you're dribbling a tennis ball, that helps with keeping your head up. You're a better player if you can keep your head up while you're dribbling. It's actually a very helpful training technique.

Anything on HGTV. It's a good channel to watch while practicing because you don't need to necessarily be fully engaged with it. And you get great home and gardening tips!

I'd say at least half of our national team are from Pennsylvania. It's kind of a field hockey hub, I'd say. On the West Coast you don't see it at all. My cousins grew up in California, and they didn't even have field hockey in their high school.

Sometimes I look down and think, "Ugh, my quads are not proportional to the rest of my body." They are very muscular. But I can squat a lot. Sometimes we rep close to 100 kilos [220 pounds], which is pretty crazy.

I can barely touch my toes. I'm not typically a very flexible person. I've always had tight hamstrings, but I found that hot yoga helped with that a lot and helped me avoid injury. The first time I did hot yoga, I was thinking, "I can't do this." But as you keep going, it gradually gets easier and easier.

We trained with the Navy Seals back in San Diego right before the London Olympics. I wish I could remember everything they had us do, but I think I blocked it out. It was awful.

After the 2016 Olympics, I'll probably get my torn labrum fixed. It was a gradual injury; it just kind of occurred. I've actually been playing on it for almost a year now. Certain moves will bother me, but for the most part I've gotten used to it. Surgery would also require a six-month recovery, and we had our Olympic qualifier in June and then the Pan Am Games in July. It would be too much time off. What's another year at this point?

I know how to push myself. My mom passed away from ovarian cancer when I was in high school, and she's the person who got me into field hockey in the first place. That drives me to compete every day and to make her proud of me. But I want to be great because I want to be great, not because of anyone else.

I'm not the fittest person. I have a sprinter-based body; I don't have a lot of endurance. In our sport, you really need to be both fast and fit on an endurance level, and I feel like I struggle to have both. As a forward, I do a lot of agility stuff -- short sprinting. My subbing rotations are a little shorter than in the midfield, so my sprinting actions are a lot quicker -- they don't sprint as fast, so they can last a little bit longer on the field.

A teammate and I have joked that we're going to try out for the bobsled team. But it's not really a joke. We're both really quick. We may give it a shot. We'll see ... 2018. I think maybe I can give them a run for their money. I've actually already scoped out their scoring table, so ...

This is an online exclusive story from ESPN The Magazine's Body Issue 2015. Subscribe today!



Paige Selenski, Age: 25 , Height: 5'7", Weight: 133 pounds

ESPN


---

FIH Hockey Heritage arm signs MOU with The Hockey Museum



Jean-Pierre Strebel (FIH Foundation Treasurer), Katie Dodds (THM Chair) and Leandro Negre (FIH President) sign the MOU

FIH has today announced that its Foundation for the Promotion & Development of Hockey (the FIH Foundation) and The Hockey Museum (THM) have signed a MOU that formalises the collaboration between them to work together to preserve hockey's heritage.

Set up in Woking, UK, four years ago by a group of dedicated and enthusiastic volunteers THM has made excellent progress in pursuit of its strategic goal; 'preserving and presenting all aspects of the history of hockey for the education and enjoyment of the hockey family and general public.'

THM is working towards building a sustainable fully functioning museum and archive which will give hockey's history a future by sharing hockey's heritage and bringing its history to life.

With the help of the FIH Foundation, THM is determined to obtain formal museum status in the UK through gaining Museum Accreditation and to achieve international recognition as a leading sports museum.  These aspirations are complementary to one of FIH's goals – to build a recognised, powerful image for hockey.

Founding Trustee and THM Chair Katie Dodd said; "I am delighted that THM has signed a MOU with the FIH Foundation.  We are already receiving valuable support from FIH but a formal agreement with our sport's governing body and its Foundation will have a big impact on the development of THM and on its ability to give hockey's history a future."

FIH President Leandro Negre said;" I am privileged to be on the board of the FIH Foundation and for the Foundation to be involved in such a wonderful project.  Hockey has an amazing heritage which we want to both promote and protect.  My sincere thanks to the volunteers at THM who work so hard in performing a unique and vital job for our great sport and I look forward to working together to develop the enormous potential of THM."

For further information about THM, please visit us at:

www.hockeymuseum.org
www.facebook.com/nationalhockeymuseum

FIH site