All the news for Saturday 2 May 2015

Four-Nation hockey tournament: Pakistan take on Australia on May 2

By Nabil Tahir




KARACHI: Pakistan will begin their campaign in the Four-Nation Men's Hockey tournament against hosts and world number one side Australia in Hobart on Saturday.

The Greenshirts, who prepared for the tour during a month-long training camp in scorching heat, will be happy to play in the cold weather of Australia. "The team has trained in hot weather which has boosted their stamina and it will be easy for them to play in the cold Australian conditions," head coach Shahnaz Sheikh told The Express Tribune from Hobart after the first practice session at the venue.

Sheikh said that the players would be able to increase the pace of the game in the weather conditions of Australia and in turn give a boost to their attacking style of play.  "We [all coaches] have analysed how the team plays and have pointed out some areas on which the coaches will guide them."

The coach added that they will substitute more often in order to help players save their stamina and increase their standard of performance.

Meanwhile, skipper Muhammad Imran said that besides them, other teams will also benefit from the weather, with Australia having maximum advantage as they have been training on their home turf. "It will take us a bit more time to adjust but the advantages of playing in cold conditions make up for that."

On Saturday, Australia A will play against South Korea in the opening match of the tournament while Pakistan will play the second match of the day.

The Express Tribune


---

Confident Indian side reaches Bhubaneswar




Just days before the India-Japan Test Series 2015, both the national teams arrived today at Biju Patnaik International Airport in Bhubaneswar to perform at their best during the series. It was the Japan team who arrived first at the morning with full strength and confidence to surprise higher-ranked Indian team at the Kalinga Stadium.

The Indian team arrived at noon after concluding a nine-day preparatory camp in New Delhi. Post finishing at 3rd position in the 24th Sultan Azlan Shah Cup, the team is looking for a series win against FIH Rank 16 Japan. For India, the Test series will be in preparation for the upcoming FINTRO Hockey World League Semi-Final in Antwerp, Belgium, scheduled in June. While for Japan, the series will help them gear-up for the FIH Hockey World League Semi-Final in Buenos Aires, Argentina, to be held in June again.

Speaking after arriving in Bhubaneswar, Japan Coach Keonwook Kang stated, "The Test Series is a very good opportunity for our team as this series will help us to judge our player's performance against a top team. We are preparing our team for the Hockey World League Semi-Final in Buenos Aires and this Test Series will give all the players a good chance to improve their skills. We have brought all the senior and best players here for the series and we will play with full strength. We had a 3-day preparatory camp before arriving here and we worked on various aspects of our team. Our team is looking good and we are all set for the Test Series."




Commenting after arriving at Bhubaneswar, local hero Birendra Lakra said, "This India-Japan Test Series is important for us as it a good opportunity to build our team for the FINTRO Hockey World League Semi-Final in Antwerp. In this series, all the players will get enough chance to improve their skills and work on their weaknesses. For the last few days in New Delhi, we had been practicing hard for the Test Series and now, we have to implement the strategies on field. We all are in good shape and we are hoping for positive result in the Series."

The four-match Test Series will see a high-level contest between the two Asian teams in-front of the hockey-crazy crowd of Bhubaneswar. Indian will take on Japan in the 1st match on 3rd May 2015 at 07.00 pm, which will be telecasted LIVE on DD Sports.

Stick2Hockey.com


---

Japan series good opportunity for India: Birendra Lakra

BHUBANESWAR: Indian hockey team defender Birendra Lakra said that their upcoming bilateral Test series against Japan is a good opportunity of getting the playing XI right.

Both the teams landed on Friday to take part in the four-match series, which starts on Sunday at the Kalinga Stadium.

"This India-Japan Test series is important for us as it is a good opportunity to build our team for the Hockey World League semifinal in Antwerp. In this series, all the players will get enough chances to improve their skills and work on their weaknesses," Lakra said.

"For the last few days in New Delhi, we had been practicing hard and now we have to implement the strategies on field. We all are in good shape and are hoping for positive results."

The Indian team arrived here after concluding a nine-day preparatory camp in New Delhi.

he Times of IndiaI


---

India-Japan at hockey: When Japan Prime Minister travelled with Indian team in the train.

By K Arumugam




Historically speaking, but for Emperor Japan's willingness to take part against odds, the Olympic hockey event of the 1932 Olympics would not have taken place.

The Great India, which would later become the undisputed hero for six more hockey Olympic hockey titles, would not have made the incomparable record but for Japan's participation in Los Angles. There would have been a break, as recession spoilt Los Angles Olympics saw leading world powers giving a bye.

Japan, then a sporting power, far and higher than India, having taken part in the Olympics 1912 onwards, and have won eight medals till then, agreed to the Indian proposal of sending a field hockey team to Los Angles. Fittingly, then reigning Olympic hockey champions India toured Japan en route American sea journey as a return gesture. Ironically, Indian team sailed to the Olympics in a Japanese liner Tatsuta Maru.

When Indian team halted at Tokyo after brief stays at Kobe and Hong Kong, it presented them an opportunity to play Test match in the summer of 1932, which is the first ever hockey Test match between these two Asian hockey nations.

The first test match between them ended 11-0 in favour of India.

An incident occurred during the visit.

When the Indian team was travelling from Kobe to Tokyo, at about 9 pm a quite Japanese gentleman got into the train and occupied a seat in the compartment next to Indian team manager Pankaj Gupta. Journalist Pankaj wanted to pick up a conversation with him. He asked the train conductor who he was. It was none other than Prime Minister of Japan!

This bit of information is explained in a player's personal memoir .




India later went on to defeat Japan at the Los Angles Olympics (11-1), but the fact is Japan is the first country to score against India at the Olympics! Legendary Richard Allan in goal was beaten for once. For India which did not concede single goal in the previous Olympics and also in many others subsequently, this goal had been an eye opener.

Beating Japan by dozen goals did not continue for longer.

Japan offered great resistance to India at the second most popular of hockey events after Olympics, namely the Asian Games when the competitions like World Cup, Champions Trophy were yet to don on the hockey horizon. World Cup came into being in the early 70s while the Champions Trophy in the late 70s.

Yes, it's a fact that India defeated Japan with one-sided scores in first two Asian Games, 8-0, 7-0 respectively in 1958 and 1962, but the competitions have become tighter and tighter as years went by.

Often India struggled to get past Japan at crucial juncture at Asian hockey. A perennial semifinalist to lock horns against India at the Asian Games, India often won by breadth of a hair, especially in 1970 and 1998 editions. In 1998 -- when India won the Asian Games gold after a gap of 32 years -- Japan almost undid India when Kenichi Katayama struck in the 40th minute to reduce the score to 2-1 and then went on to miss a couple of penalty corners. A mesmeric field goal by Dhanraj Pillay saved India from the semifinal blues.




The scores from 3rd Asian Games vouchsafe for the fact that Japan is no more a push over.
1966 ; 3-0 semifinal
1970: 1-0 semifinal
1974: 3-0 league
1978: 2-0 2-0 semifinal
1982: 7-2 semifinal
1986: 3-1 league
1990: 3-0 league
1994: 1-0 semifinal
1998: 3-1 Semifinal
2002: 3-0 league
2006: did not meet

Old timers give lot of credit to Japan in the Asian context. Japan had been a force to reckon with, ranking only below India and Pakistan. India, a reluctant visitor to Asian countries in the 50s through 80s, chose to visit Japan in 1967 (see pics).

This was India's return gesture and also preparation for the Mexico Olympics. Till then only Japan had been visiting India.

First visit of Japan: The visitors played at Kolkata, Lucknow, New Delhi, Amritsar and Bombay. In all five matches, winning nil, losing all, striking only two goals while conceding 25. The 1951 visit was a learning curve for the land of rising sun.

Second Visit of Japan: 13 years later, Japan came to India. Matches were played at Bombay, New Delhi, Patiala, Ldhiana and Amritsar. Japan just struck a goal in the whole tour, while India won all the test matches though with respectable scores.

Third Visit of Japan: Next year Japan toured some north Indian cities and played four test matches. This time the feature is Japan did not come to play test matches in India, but to play in the Nehru Cup. Then IHF just lapped it up on the opportunity to play them in a test series.

In the 70s through now, Japanese men hardly visited India, but that credit went to their female counterparts.

However, Japan's men team often came close to upset the applecart of India in the synthetic era.

2002 Kuala Lumpur World Cup is a classic example. India met Japan in the opener, and it was billed by the media as the easiest of the rivals. But the reverse set in. Japan spoilt the Cedric-Dhillon party in the opener. India hardly managed a draw 2-2 again through a late goal by Dhanraj Pillay doing the magic. Goal tenders of Japan, Kazuyuki Ozawa and Tahakiko Yamabori almost came close to strike again.

This writer returned to hotel from the stadium in the same bus the Japanese were returning, and their joy in the entire trip was seen to be believed. A world Cup opener against reigning Asian Games champions ended in draw, their joy was truly justified.

Japanese women, on the other hand, mostly got upper hand over Indian girls, be it Asia Cup or Asian Games. When Japan is defeated, a bronze is sure for India nowadays, but we will reserve this women's rivalry for a later date. That time we will cherish the likes of Sakae Morimotos.

Japanese hockey is mainly university-driven, always youthful teams but veteran do come by. Japan men at present seeks to establish their Asian hold which they lost to Malaysia and China of late. With Chinese men on downhill due to paucity of funds, Japan sees their chances to bounce back, and that is how they are here in India.

Last time Japan came to India was 2007 Asia Cup. India could beat them 4-1 in the semifinal with goals coming from Shivender Singh, Prabhjot Singh and Roshan Minz.

A couple of months before the Chennai Asia Cup, Japan went down to India in the Champion Challenge Cup at an encouraging score of 3-4. There in Boom, India was comfortably placed 3-1 at half time but thereafter a goal each by Keninichi Katayama and Takahiko Yamabori threatened a draw.

Japan is the most unexpected of visitor to India. This series in fact comes like a bolt from the blue. Japan comes to India after a gap of 7 years. Not much is known about them, but the fact is that Japan is friend of India, a traditional rival on the sports fields.

Fit and energetic, Japan will do all it can to do better against the hosts.

Stick2Hockey.com


---

Jharkhand, Punjab storm ahead

Jharkhand and Punjab stormed into the semifinals of the 5th senior women National hockey championship 2015 (A Division) with comprehensive victories in their respective Pool C and Pool D matches here on Friday. While Jharkhand outplayed Assam 10-1 in the day's first match, Punjab thrashed Kerala 10-2 where Gurjit Kaur got her name four times on the scoresheet for the winner.

Basanti Kachhap, Anima Minz and Birsi Mundu struck two goals apiece for Jharkhand. The lone goal for Assam was scored by Moully Yadav in the 55th minute, by which time Jharkhand had already decided to take it easy after completing its scoring tally.

In another Pool C encounter, Karnataka split points with Uttar Pradesh after a 1-1 draw, the only such result of the tournament so far, while Mumbai beat Bhopal 6-2 in Pool D.

At Rajnandgaon, only two of the scheduled four games could take place at the 5th junior women National hockey championship 2015 (B Division). Chandigarh blanked Bengal 11-0 in Pool B while Assam beat Goa 4-1 in Pool C. Gangpur-Odisha and Vidarbha received walkovers after their respective opponents failed to turn up.

Manju struck four goals for Chandigarh, including a hat-trick, while Shweta got three goals against her name. In the other game, Gitanjali and Chayashree scored two goals apiece in Assam's victory. Geeta Rathod got one for Goa.

The results: Women: Senior: A Division: Pool C: Jharkhand 10 (Basanti Kachhap 2, Anima Minz 2, Birsi Mundu 2, Shabnam Lakra, Etwari Mundu, Poonam Madhuri, Nisha Rani Aind) bt Assam 1 (Moully Yadav); Karnataka 1 (Ranjitha A.K.) drew with UP 1 (Reena Devi).

Pool D: Punjab 10 (Gurjit Kaur 4, Navpreet Kaur 2, Ramandeep Kaur, Sukhjit Kaur, Meenakshi, Pooja Rani) bt Kerala 2 (Anjali Abraham, Vismaya A); Mumbai 6 (Rituja Rijutai 2, Pinky Thokchom, Sarita Minz, Krishna Patel, Navneet Kaur) bt Bhopal 2 (Ritusha Arya, Ranjita Sanasam).

At Rajnandgaon: Junior: B Division: Pool C: Assam 4 (Gitanjali Kissan 2, Chayashree Gohain 2) bt Goa 1 (Geeta Rathod).

Pool B: Chandigarh 11 (Manju 4, Shweta 3, Jyoti Rani 2, Kamlesh, Suman) bt Bengal 0.

The Hindu


---

Jalandhar girls get trials

Rachna Khaira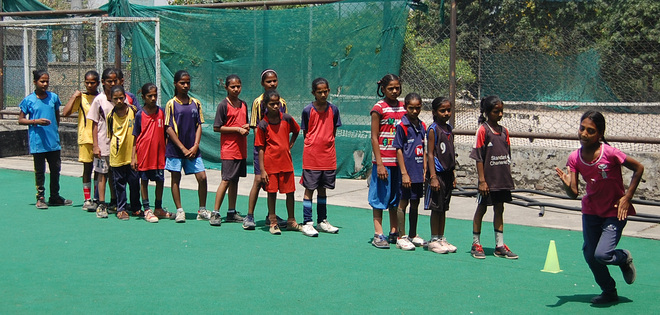 Hockey players of Government School at Nehru Garden, Jalandhar, during the trials on Friday. Tribune photo: Malkiat Singh

Jalandhar - Giving a fresh lease of life to the women hockey players of the Government School at Nehru Garden in Jalandhar, the newly constituted Punjab Institute of Sports (PIS) conducted fresh trials for these players, around 30, on Friday. Last week, the Punjab Sports Department conducted their trials and closed down the wing, citing poor performance by the players.

The fresh trials were conducted after The Tribune carried a series of reports saying how the players had been given a raw deal, and how hockey lovers criticised the Sports Department for not taking care of the hockey wing that had produced so many players.

Sukhbir Grewal, Director (Training), PIS, said the school's poor infrastructure was largely responsible for poor showings of the students. "Despite having full support from the Sports Department and the Sports Authority of India (SAI), the school failed to build even a playground of its own," said Grewal. He said while the Sports Department provided diet and kit to the players, SAI deputed a dedicated coach. "Despite that, the school failed to carry forward the rich legacy; no one from the school has won laurels at national level in recent times."

He said those selected in the trials will be accommodated in other residential hockey wings running at Amritsar, Bathinda, Muktsar, Tarn Taran and Kairon.  "We have around 125 seats each in men's and women's category," he said.

The Tribune


---

Thousands of additional Unibet EuroHockey Championships tickets now on sale



England at EuroHockey

Over 20,000 additional tickets go on sale at 13:00 today for the Unibet EuroHockey Championships 2015, including for the Finals and England sessions which had previously sold out.

These tickets are in high demand and are likely to sell very quickly so fans are urged to secure their seats for Finals, Semi-Finals or England sessions as early as possible. Tickets can be bought at the event website – www.eurohockey2015.co.uk. 

The expansion of the Lee Valley Hockey and Tennis Centre stadium is a result of the huge interest around this much-anticipated event on Queen Elizabeth Olympic Park, featuring the best teams in Europe including both England teams who will be aiming for medals. The Unibet EuroHockey Championships 2015 forms part of an exciting British summer of sports events, alongside cricket's Investec Ashes series, the Rugby World Cup. It provides another chance for the British public to show their national pride and unite behind their teams as they have a realistic chance of silverware – England's women's team won a Silver medal at the 2013 Championships.

Lee Valley Hockey and Tennis Centre is hockey's Olympic legacy stadium and the event offers crowds an opportunity to relive the atmosphere created by the hockey at the London 2012 Olympics, where it was the highest-attended team event with 630,000 people enjoying the thrilling action.

The event promises a fantastic day out for families and general sports fans. There will be entertainment on and off the field, with a large fan park offering a full day's activities for all ages.

England Hockey's Commercial Director Jonathan Cockcroft commented: "Hockey is growing as a spectator sport, and this stadium expansion demonstrates that more and more people are realising what a great day out hockey is. Not only is the action on the pitch fast-paced and exciting to watch, but we provide a fun environment for families. We're confident that fans will have a great time at the Unibet Eurohockey Championships 2015".

Hospitality is also available at the event, with two packages available, and there are still sponsorship opportunities available for the event.

England Hockey Board Media release


---

Road to Lee Valley: The Finals



Cup Finals medals and trophy

This weekend Lee Valley Hockey and Tennis Centre plays host to the Men's Knockout Finals. With 13 titles up for grabs over the two days, the Road to Lee Valley reaches its exciting conclusion with plenty of drama and goals in prospect. Here's a rundown of the games ahead.

The first game of the day is the 2nd Xi Plate Final between Sussex outfit Lewes and Nottinghamshire's Beeston.

Lewes have had a tough season in the league, finishing in the lower reaches of the Kent/Sussex League and subsequently suffering relegation. The cup has proved to be a nice distraction for them; however as wins over Bexleyheath and Belvedere (11-1), Eastcote (walkover), Stafford (6-3) and Bedford (4-3) secured them a spot at finals day. Although they have been in the final of this competition before (2010-11 and 2011-12) they lost out narrowly in both finals, so will be hoping to exorcise those demons and pick up the title.

Standing in their way is a formidable Beeston outfit. They saw off Berkswell and Balsall Common (4-1), Didsbury Northern (5-1), Blackheath (W/O) and Old Bordenian (5-3). In their league campaign they finished fourth in the very competitive Midlands 2nd XI Premier Division, winning 13 games and scoring 67 goals. Lewes will have to be at their best to stop the Nottinghamshire giants, but that's what the cup is all about.

Next up is the Vase Final, pitting two league champions and prolific goal scorers against each other as Crawley meet Coalville Town.

Both sides have had stellar seasons, winning their respective leagues and have been in irresistible form on the way to the final. They have scored 60 goals between them in the knockout rounds including a 9-0 semi-final win by Coalville over Tamworth. It is fair to say this is a tough one to call, but whatever happens, the spectators will be granted their share of goalmouth action. For more on Crawley's run to the final, click here.

After the Vase, the Trophy takes centre stage with holders Guernsey hoping to defend their crown against Sheffield University Bankers, who are having a phenomenal season. Bankers have not lost this campaign and have scored plenty of goals, too, netting 100 times in the league and 30 times in four games in the Trophy. A title would be a perfect end to a perfect season for them, but Guernsey who tasted the agony of defeat in this competition as recently as 2012-13, when they were beaten by Lewes will fancy their chances after a typically stylish run to the final. The holders vs. the first ever winners, it should be a cracking match.

Then comes the main event as the two Premier Division sides slug it out for the cup as Reading take on Surbiton. The teams have had contrasting fortunes in the league this season with Surbiton narrowly missing out on top spot and Reading finishing in the bottom half, a low position for a club of such stature. Both teams have won this competition in recent years with Reading collecting the cup in 2008-09 and Surbiton in 2012-13. Reading's crop of young guns will go in with no fear against Surbiton's high flyers and with both sides scoring plenty of goals en route the final, including Surbiton's 18-0 first round win over Marlow, it promises to be an exciting spectacle with some great players on show.

Surbiton fans will be roaring another of their teams on in the last game of the day as the 2nd XI Cup final takes place between the Sugden Road outfit and Cannock. Cannock knocked out holders Southgate in the quarter-finals and have looked unstoppable in a run that has taken in wins over Leicester, Timperley, Brooklands and Team Bath Buccaneers, who they beat 4-0 in the semi-finals. Surbiton have had some tough games on the Road to Lee Valley also with a penalty shootout needed to see off Loughborough Students in the semi-finals. Two good 2nd XI sides with a smattering of class players, it should be an exciting game.

Sunday promises to be an action packed day of hockey too, with the Masters Competitions taking centre stage.

Sevenoaks, who enjoyed great success last weekend in the Women's Masters, are back for a shot at the O50s Trophy against Hereford. The O50s Shield pits Bournemouth up against Charnwood Mountsorrel before Reading and Harleston Magpies clash in the O50s Cup. If that wasn't enough, Iceni Rex Essex will play Gloucestershire in the O60s Plate with the O40s cup a mouth-watering clash between Stourport and Khalsa. Norwich Dragons and Taunton Vale will follow in the O40s Shield and Worcestershire and Herefordshire try to half the tricks and skills of Indian Gymkhana in the O60s Cup. The weekend is rounded off by the O40s Trophy between Henley and Cannock.

Saturday 2nd May 2015

09:30 - NOW: Pensions Men's 2nd XI Plate Final - Lewes v Beeston
11:30 - NOW: Pensions Men's Vase Final - Coalville Town v Crawley
13:30 - NOW: Pensions Men's Trophy Final - Sheffield University Bankers v Guernsey
15:30 - NOW: Pensions Men's Cup Final - Reading v Surbiton
17:30 - NOW: Pensions Men's 2nd XI Cup Final - Cannock v Surbiton

Sunday 3rd May 2015

09:00 - NOW: Pensions Men's Masters O50s Trophy Final - Hereford v Sevenoaks
10:00 - Men's Masters O50s Shield Final (Pitch 2) - Bournemouth v Charnwood Mountsorrel
11:00 - NOW: Pensions Men's Masters O50s Cup Final - Reading v Harleston Magpies
12:00 - Men's Masters O60s Plate Final (Pitch 2) - Gloucestershire v Iceni Rex Essex
13:00 - NOW: Pensions Men's Masters O40s Cup Final - Stourport v Khalsa (Warks)
14:00 - Men's Masters O40s Shield Final (Pitch 2) - Norwich Dragons v Taunton Vale
15:00 - Men's Masters O60s Cup Final - Worcestershire & Herefordshire v Indian Gymkhana
17:00 - NOW: Pensions Men's Masters O40s Trophy Final - Henley v Cannock

England Hockey Board Media release


---

George Koshy: I'm not in in for the glory

By Jugjet Singh

GEORGE Koshy is not in it for the glamour or glory, but to make sure there is a better financial and structural standing in the Malaysia Hockey Confederation (MHC).

Koshy, who has hockey blood running in his veins, will be challenged by Datuk Nur Azmi Ahmad in the May 13 MHC elections for the deputy president's post.

He is taking the dive head on, even though he knows that the MHC coffers are empty, while their organisational structure is hap-hazard to the core.

And even though only Kuala Lumpur has nominated him, as opposed to Nur Azmi who has 10 nominations, Koshy said Friday that he will not back down even though he has until May 9 to do so.

"I am not going to withdraw my nomination, and I am going all the way to voting day even though there is an escape window before May 9," said Koshy Friday.

His confidence stems from the feed-back that he has received after nominations closed on April 28.

"Many state affiliates did not nominate me because they felt that I was not serious about running for the deputy president's post. But now that I have made contact with the affiliates, many have thrown their support behind me," said Koshy.

The former Kuala Lumpur HA president as well as Malaysian Hockey Federation treasurer (before it became the MHC) said he knows that the financial and structural standing of the MHC is porous, and wants to come in to make them stronger.

"I will not gain anything from this position, as I already have everything I need in my life, and I am also not chasing for glory but to place the MHC in a better financial as well as structural position. I'm not going in blind-folded, but with many plans to help MHC.

And how is he going to bail out a bankrupt MHC?

"That will come with a strong CEO with a KPI to deliver the sponsorship side of matters. Hockey in Malaysia is a marketable sport, and I am sure with the right approach and planning, sponsors would not mind supporting our activities," said George.

In the women's deputy president's race, S. Shamala would be up against K. Maheswary. The vice-president positions, five for men and two for women, have seven and three candidates respectively but withdrawals before May 9 might see no contest but direct appointments in this section.

(Note: If the third lady gets higher votes than the fifth man, then three ladies and four men will make the veep).

Jugjet's World of Field Hockey


---

No turning back for George in MHC elections

By S. Ramaguru




KUALA LUMPUR: No turning back.

Former national team manager George Koshy has confirmed that he's not withdrawing from the race for the deputy president's post in the Malaysia Hockey Confederation (MHC) elections.

He is in a straight fight with senior vice-president Datuk Nur Azmi Ahmad for the post when the MHC Congress is held on May 13.

All candidates vying for the various posts in the elections have until May 9 to withdraw from the race.

"I'm in the fight to the finish. I believe that I can contribute and I've been in hockey for a very long time. There have been questions raised as to whether I would really go for the post?" he said.

"I want to state clearly that there is no turning back."

Koshy, 54, also said that he has a clear idea on what ails the MHC and what needs to be done to put Malaysian hockey back on a strong footing.

He pointed out that the administration of the MHC needed to be made more efficient and that greater efforts had to be put into the development programmes, including shoring up the domestic competitions.

Financial independence was also necessary to lift the game to another level, he said.

Koshy was the treasurer of the previous Malaysian Hockey Federation (MHF) from 2002 to 2004. He became the national team manager in 2008 and relinquished the post after the World Cup in The Hague last year.

He was also the Kuala Lumpur president and now runs the Kuala Lumpur Hockey Club (KLHC) in the Malaysia Hockey League (MHL).

Selangor's Datuk Seri Subahan Kamal will take over as the new president of the MHC on May 13. He was unopposed when nominations closed on April 28.

Incumbent president Tengku Abdullah Sultan Ahmad Shah had declined to stand again.

There is also a straight fight for the post of the women's deputy president between Prof Dr. S. Shamala and K. Maheswari while 10 candidates are vying for the seven vice-presidents' posts.

The Star of Malaysia


---

Fiji's Lautoka to start games

Zanzeer Singh

THE Lautoka Hockey Association will start its preparations for the first national championship at the Nadovu grounds today.

The association will host the tournament at the end of this month.

The Sugar City men's team will be boosted with the services of the Fiji youth reps Epeli Naduva and Apenisa Vatuniveivuke, Ovini Drasuna and Kyle Kava.

The association's liaison officer Fergus Underwood said they hoped to do well at the tournament.

Underwood said all the district reps should attend the first training session.

"Lautoka is hosting the first event so we are starting our preparations early," he said.

"We request the players to be at the ground at 2pm."

The Fiji Times