All the news for Friday 1 May 2015

Burrows and McAleese return to bolster Black Sticks




Veterans Phil Burrows and Shea McAleese return to bolster the Black Sticks Men for the International Challenge at the Tasmanian Hockey Centre in Hobart next week.

The pair are included in five changes to the team which recently won the Sultan Azlan Shah Cup in Malaysia, with defender Joe Bartholomew and strikers Marcus Child and Jacob Smith also recalled.

Burrows (332 test caps) and McAleese (210) have been playing club hockey for HGC in Netherlands following the Glasgow Commonwealth Games and return to add huge experience to the New Zealand midfield.

The five players come into the side in place of Ryan Archibald (unavailable), Arun Panchia, James Coughlan and Nick Wilson (injured) and Hugo Inglis (being rested).

Burrows, who is currently travelling to link up with the team, said he's excited about putting on the Black Sticks singlet after sitting out the last few tournaments.

"I'm really excited to be back playing in the black shirt. We have a very strong squad at the moment so I'm looking forward to the challenge of competing for a spot in the World League Semi-Final team," Burrows said.

"It's so important to play top international opponents leading into Olympic qualifying, so the Hobart series is a perfect stepping stone towards booking a place in Rio."

At the International Challenge the Black Sticks will play two tests against world champions Australia and one off games against Pakistan and Korea.

The tournament is important preparation ahead of the FIH World League Semi-Final in Argentina from 3-13 June, which provides an opportunity to qualify for the 2016 Rio Olympic Games with a top three finish.

The Black Sticks are joined in Pool A at the World League Semi-Final by Netherlands, Korea, Japan and Egypt while Pool B consists of Germany, Argentina, Spain, Canada and Austria.

Head coach Colin Batch is viewing the Hobart series as a prime opportunity to gain top level experience and competition at the perfect time.

"This tournament is very helpful going into Olympic qualifying at the World League Semi-Final. You always want to challenge yourself against the best in the world and Australia certainly provide that.

"We will have the chance to look at a few other players before we pick our side for World League, and those selections will come down to the wire. There's a huge amount of competition for spots in the group which is a very good thing.

"Winning the Sultan Azlan Shah Cup was a huge step for us, but we need to keep that momentum going and use it to become a better team."

The Black Sticks travel home from Hobart on 11 May and the squad will be centralised in Auckland for two weeks before the World League team departs for Argentina on 25 May.

New Zealand's opening game at the World League Semi-Final is against relative unknowns Egypt at 5:00am on 4 June (NZ time).

CLICK HERE for the full schedule and more on the International Challenge

BLACK STICKS MEN
International Challenge, Hobart
| | | | | |
| --- | --- | --- | --- | --- |
| NAME | REGION | POSITION | AGE | CAPS |
| Joe BARTHOLOMEW | North Harbour | Defender | 26 | 35 |
| Phil BURROWS | Capital | Midfielder | 35 | 332 |
| Marcus CHILD | Auckland | Striker | 24 | 76 |
| Simon CHILD (capt) | Auckland | Striker | 26 | 226 |
| George ENERSEN | Canterbury | Goalkeeper | 23 | 8 |
| Nick HAIG | Canterbury | Defender | 28 | 160 |
| Andy HAYWARD | Midlands | Defender | 29 | 186 |
| Blair HILTON | Capital | Striker | 25 | 138 |
| Stephen JENNESS | Capital | Striker | 24 | 124 |
| Devon MANCHESTER | Auckland | Goalkeeper | 25 | 51 |
| Shea McALEESE | Central | Midfielder | 30 | 210 |
| George MUIR | North Harbour | Midfielder | 21 | 27 |
| Shay NEAL | Northland | Striker | 24 | 58 |
| Dwayne ROWSELL | Auckland | Defender | 23 | 14 |
| Alex SHAW | Capital | Defender | 25 | 65 |
| Jacob SMITH | Capital | Striker | 24 | 40 |
| Blair TARRANT | Southern | Defender | 24 | 123 |
| Nic WOODS | Midlands | Midfielder | 19 | 14 |
Hockey New Zealand Media release


---

India name 24-member hockey team for Japan series

Indian hockey team gears up for Japan Test seriesIndian hockey team starts training for Japan series25 probables announced for India-Japan seriesIndia go down to USA in classification matchIndia eves take on United States in playoff

NEW DELHI: India on Thursday announced a 24-strong team for the men's hockey series against Japan in Bhubaneswar from May 3 to 9.

The Preparatory Camp for the series, which started on April 22 at the Major Dhyan Chand National Stadium, ended on Thursday.

The team will leave for Bhubaneswar on May 1. The series will be in preparation of the all-important FIH Hockey World League Semi-Final scheduled in June this year.

After finishing third in the recent Sultan Azlan Shah Cup, the team will be looking for a series win against Japan in the upcoming tournament.

Speaking on the team, Head Coach Paul van Ass said, "The team looks confident ahead of the upcoming tournament. They are on a high post their third place finish at the 25th Sultan Azlan Shah Cup and the team will aim for a series win."

"The team has worked on the various aspects including starting the game with speed and putting the initial pressure and to keep the attack going in the final minutes of the game."

Team
Goalkeepers: PR Sreejesh, Harjot Singh.

Defenders: Gurbaj Singh, Rupinder Pal Singh, Birendra Lakra, Kothajit Singh, VR Raghunath, Jasjit Singh, Gurmail Singh, Yuvraj Walmiki, Harmanpreet Singh.

Midfielders: Manpreet Singh, Dharamvir Singh, Sardar Singh, SK Uthappa, Chinglensana Singh Kangujam, Pardeep Mor.

Forwards: SV Sunil, Ramandeep Singh, Akashdeep Singh, Mandeep Singh, Nikkin Thimmaiah, Satbir Singh, Lalit Upadhyay.

The Times of India


---

Pardeep Mor returns for Japan Test Series

s2h Team

Talented midfielder and fighter to the core, Pardeep Mor, returns to the India team after a gap of almost two years, while Lalit Upadhyaya too find his name in the Japan Test series.

Indian team for the Japan Series to be held in Bhubneswar from 3rd onwards has been announced. Being a friendly series between the two traditional hockey nations, India has announced a 24-member team.

The team is at present in a camp in Delhi.

Speaking on the team, Head Coach Paul van Ass said, "The team looks confident ahead of the upcoming tournament. They are on a high post their third place finish at the 25th Sultan Azlan Shah Cup and the team will aim for a series win."

"The team has worked on the various aspects including starting the game with speed and putting the initial pressure and to keep the attack going in the final minutes of the game."

Matches will be held on 3rd, 5th, 7th and 9th May 2015 at 19 hrs IST.

The team

Goalkeepers: PR Sreejesh and Harjot Singh; Defenders: Gurbaj Singh, Rupinder Pal Singh, Birendra Lakra, Kothajit Singh, VR Raghunath, Gurmail Singh, Yuvraj Walmiki, Harmanpreet Singh, Midfielders: Manpreet SIngh, Dharamvir Singh, Sardar Singh, Chenglen Sana Singh, SK Uthappa, Pardeep Mor, Forwards: SV Sunil, Ramandeep Singh, Akashdeep Singh, Nikkin Thimmaiah, Satbir SIngh, Mandeep Singh, Lalit Upadhyay.

Stick2Hockey.com


---

With eye on defence, Paul van Ass to try out new players

With an eye on the World League semifinals to be held in June, India coach Paul van Ass has decided to give seven players, who have been on the fringes, an opportunity to stake claim to the national team.

In addition to the 18-member squad which travelled to Malaysia for the Sultan Azlan Shah Cup in March, the Dutchman has included six more players for the four-match test series against Japan, which begins in Bhubaneswar from May 3. Van Ass, who has insisted the need to strengthen the back line, has included three young defenders — Harmanpreet Singh, Jasjit Singh, Gurmail Singh — for the series.

Harmanpreet has been impressive in the domestic circuit and was one of the better performers for Dabang Mumbai in the Hockey India League this year. Van Ass had highlighted the defence as one of the key areas that needed immediate attention after the Azlan Shah Cup, where India conceded several soft goals. "Our easy-going days are over and we are working harder in this preparation camp. We are rectifying our loop-holes, especially in defence," he said.

Energetic midfielder Pardeep Mor and forwards Yuvraj Walmiki and Lalit Upadhyay too have been included in the squad. Walmiki, who was among the standbys, was a last-minute inclusion after Danish Mujtaba picked up an injury during the recently-concluded National Championships. Among the notable omissions was Gurjinder Singh, but he too is believed to be recovering from an injury. Walmiki returns to the India team for the first time since last year's World Cup. Upadhyay, who was dropped after the Champions Trophy, will hope to utilize the opportunity to cement his place in the team after being in-and-out for a while. "We are reviewing our previous performances and working on various aspects. We are trying out new players in the tournament and will give maximum opportunities to all the players to perform on the field," Van Ass said.

Sardar, too, said he expected the young players to gel well with the team. "We have brought back few young players. It's good to have many options, which will help us to implement our tactics on the ground," he said.

The Squad:

PR Sreejesh, Harjot Singh; Gurbaj Singh, Rupinderpal Singh, Birendra Lakra, Kothajit Singh, VR Raghunath, Jasjit Singh, Gurmail Singh, Harmanpreet Singh; Manpreet

Singh, Dharamvir Singh, Sardar Singh, SK Uthappa, Chinglensana Singh, Pardeep Mor; SV Sunil, Ramandeep Singh, Akashdeep Singh, Yuvraj Walmiki, Mandeep Singh, Nikkin Thimmaiah, S Singh, Lalit Upadhyay.

Indian Express


---

Arminen and Wien showdown in Austria




Austria's top two SV Arminen and HC Wien face off this Sunday in a battle that will go a long way to deciding the upper echelons of the Bundesliga.

EHL heroes Arminen hold the edge in the league to date on 17 points after seven rounds of regular season matches with Wien in second on 15 with three rounds still to be played.

Earlier in the season, Arminen – who became the first Austrian side to reach the KO16 – won 5-0 with Sebastian Eitenberger netting twice with Pit Rudofsky, Florian Steyrer and Dominic Uher also scoring.

But a couple of draws have left the reigning champions in range of Wien who can go top should they succeed in this key battle in pursuit of an EHL place.

Navax will be waiting in the wings as they play fourth place Post while Verifone WAC and currently pointless Neudorf meet in the weekend's other games.

Euro Hockey League media release


---

States name AHL coaches

NSW and WA name former internationals in leading roles



Warren Birmingham of NSW in a team talk.

Hockey NSW and Hockey WA have announced their men's and women's coaches for the 2015 Australian Hockey League competitions in Darwin (men) and Sydney (women) in September and October.

Hockey NSW announced the appointment of Warren Birmingham and Katrina Powell OAM as the Head Coaches of their Waratahs (men's) and Arrows (women's) teams respectively late last week, with both coaches having captained Australian teams in the past.



Birmingham (above), also Hockey NSW's Coaching Director, last year took the Arrows to a gold medal finish. A former Olympian twice named Best Player in the World, he led the Kookaburras into over 200 matches and this year is joined by Assistant Coaches Stewart Dearing and Dave Willott.



Powell was a winner of two Olympic gold medals during her time with the Hockeyroos, whom she captained for four years among her considerable other achievements as a hockey player. She is the current Head Coach – Women's Hockey at the New South Wales Institute of Sport and one of only ten women in the world holding an FIH Coach – High Performance accreditation. Ben Senior will be supporting Katrina as Assistant Coach.

Read the full announcement including quotes on the Hockey NSW website.

Hockey WA is pleased to announce the appointments of Jason Butcher as Head Coach of the WA Thundersticks and Suzanne Tiverios (nee Faulkner) as Head Coach of the WA Diamonds for the 2015 Australian Hockey League.



Jason Butcher, also Hockey WA's High Performance Coach & Mentor, has coached the WA Diamonds for the past two years, taking them to semi-finals in both years, including the grand final in 2013. He will now take over WA's senior men's team for 2015. This has come as a result of Nathan Eglington, who on the back of performances in the Melville Toyota League as a senior coach with Westside Wolves, and more recently with the WA Thundersticks last year, was offered a role as an Assistant Coach of the Kookaburras.



Suzanne Tiverios is a former Hockeyroo and Olympian, who has won gold at the 2006 Commonwealth Games and silver at the 2006 World Cup. Since retiring, Tiverios has held a variety of coaching roles at both a state level for Hockey WA, and at club level. In 2014, she coached University of WA's Women's Melville Toyota League team to the premiership.

The changes and promotions for coaches with the WA Thundersticks and WA Diamonds has caused a change of coaches for Hockey WA's U21 State Teams. Jeremy Davy takes over the Under 21 Women's state team, whilst Richard Davies will coach the Under 21 Men's state team.

Read the full announcement including quotes on the new improved Hockey WA website.

The 2015 AHL will run from 26 September to 2 October. The women's competition will take place at Sydney Olympic Park while the men's will take place at Marrara Hockey Centre in Darwin.

Hockey Australia media release


---

Jharkhand, Karnataka, Punjab, Bhopal win in Women Hockey Nationals

SAIFAI: Hockey Jharkhand, Hockey Karnataka, Hockey Punjab and Hockey Bhopal won their respective pool matches to move a step closer to the knockout stages of the ongoing fifth Senior National Hockey Championship 2015 (Women) Division 'A', on Thursday.

While Jharkhand outclassed Uttar Pradesh Hockey 7-2, Karnataka defeated Assam 3-1 in Pool C.

Later in the day, Punjab beat The Mumbai Hockey Association Ltd 3-1 before Bhopal got the better of Kerala 5-0 in Pool D.

In Friday's matches, Jharkhand will face Assam, Karnataka will play Uttar Pradesh, Punjab will lock horns against Kerala and Bhopal will clash against The Mumbai Hockey Association Ltd.

The Times of India


---

Birsi stars for Jharkhand

Birsi Mundu fired in three goals as favourite Jharkhand registered an easy 7-2 victory over Uttar Pradesh in a Pool C match at the fifth senior women National hockey championship 2015 (A Division) here on Thursday.

Shabnam Lakra scored twice for the winner, which led 2-1 at half time. The second half, though, was completely dominated by Jharkhand, which kept scoring at will past a hapless UP defence.

In another Pool C encounter, Karnataka beat Assam 3-1.In Pool D, Bhopal thrashed Kerala 5-0 to register a facile win, while Punjab edged past Mumbai 3-1 in another game.
Iram sizzles

At Rajnandgaon, Iram slammed in six goals as Chandigarh walloped Gujarat 22-0 in a Pool B match at the fifth junior women National hockey championship 2015 (B Division).

The results (A Division):

Pool C: Jharkhand 7 (Birsi Mundu 3, Shabnam Lakra 2, Etwari Mundu, Suman Saru) bt Uttar Pradesh 2 (Reena Devi 2); Karnataka 3 (Komla B.M., Rashmi P.P., Nischitha M.J.) bt Assam 1 (Moully Yadav).

Pool D: Punjab 3 (Hardeep Kaur, Navpreet Kaur, Pooja Rani) bt Mumbai 1 (Navneet Kaur); Bhopal 5 (Jameela Bano, Rashmi Singh, Binita Kindo, Ranjita Sanasam, Shivani Bisht) bt Kerala 0.

At Rajnandgaon:

Junior Women (B Division): Pool B: Chandigarh 22 (Iram 6, Suman 4, Manju 4, Shweta 2, Sujata 2, Jyoti Rani, Kamlesh, Kiran, Rosy) bt Gujarat 0.

Pool C: Gangpur-Odisha 8 (Jiwan Kishori Toppo 3, Janhabi Pradhan, Prmanjali Toppo, Namrata Jasmin Bara, Own goal) bt Goa 0, Assam w/o Himachal; Pool D: Manipur 9 (Gita Rani 3, Merry Devi 3, Soniya Devi 2, Sarita Devi) bt J&K 0.

The Hindu


---

Sardar, Sindhu in Khel Ratna mix

Sabi Hussain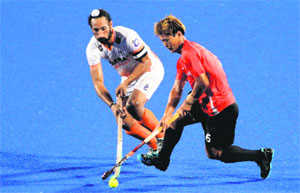 Sardar Singh will be one of the main contenders for the top sports award. file photo

New Delhi - Badminton star PV Sindhu and Indian hockey team skipper Sardar Singh have forwarded their applications to the Sports Ministry for the Khel Ratna award this year.

Asian and Commonwealth Games medallist Tintu Luka, Incheon gold medallist Dipika Pallikal and silver medallist in the men's high jump at the Paralympics, Girisha Hosanagara Nagarajegowda, are among the other first-time nominations for the coveted award, whereas golfer Jeev Milkha Singh and Paralympian Devendra Jhajariya have decided to try their luck yet again.

The BCCIhas again decided to not send any name for Khel Ratna, for which the last day of filing applications was Thursday. However, the BCCI has ecommended batsman Rohit Sharma's name for the Arjuna Awards.

Star shooter Jitu Rai, who won back-to-back gold medals in Glasgow Commonwealth and the Incheon Asian Games, Rahi Sarnobat and Prakash Nanjappa are also in the fray for the Arjuna Award. From the wrestling arena, Glasgow gold winners Amit Kumar Dahiya and Babita Phogat are vying for this coveted award along with Incheon silver medallist Bajrang.

The maximum applications have been received from the boxing arena. Apart from Asian champion Shiva Thapa, Mandeep Jhangra, Pinki Rani and Paramjeet Samota have also thrown their hats into the ring.

Commonwealth Games gold medallist weightlifter Satish Sivalingam, who unfortunately missed out on an Asian Games medal after falling seriously ill on the eve of his event, is also a serious contender for the Arjuna. The awards are being given every year on August 29, the birthday of legendary Major Dhyan Chand.

In the 21-year history of Khel Ratna, 2014 was the only year when no sportsperson was awarded.

The Tribune


---

Road to Lee Valley: What's the story down in Crawley?



Crawley Men's Vase Finalists 2015

This Saturday, Sussex outfit Crawley will take to the field in the Men's Vase Final to take on Coalville in what could be the second leg of an historic double for the club.

A small club in the shadow of Sussex's other leading lights such as East Grinstead, Lewes and Chichester, Crawley have waited a long time for their moment in the sun.

"This year has been the best for Crawley for nearly 20 years." says Carl Wright, one of Crawley's attacking players. "We've won the league already and we're really excited about the cup, we're hoping to add that to the league title. We'd really love to do the club proud."

Crawley won the Sussex League in 1998-99 but have had a barren run since then, before finally winning the Kent/Sussex Division 2 this season, seeing off amongst others, Holcombe 2s and Sevenoaks 2s in the process. The secret of their success, says Wright, is not a particularly complex one:

"We've worked really hard on our fitness but we also have great team spirit. Those are the main things to see us through this year. We're all mates but we work hard for each other. We've won a lot of games with goals in the second half and that extra fitness and will to win has meant we were able to cope with two games in a weekend. It's been a great season."

Crawley, who have netted an impressive 78 times in the league this season have come through the cup rounds with an impressive track record, beating Haslemere 2-1, Camberley and Farnborough, last year's winners 4-2, Yeovil and Sherborne 8-2, then a 9-4 defeat of Ludlow in the quarter finals ahead of a 7-1 win over Redbridge and Ilford in the semi-finals. It is fair to say goals are the order of the day for the Sussex side, but Wright is keen to point out not only the role of top scorer Kieran Fuller, but also that of goalkeeper Jamie Westwood.

"Kieran's scored 38 goals this season and he's a real threat from penalty corners but we also have a very good goalkeeper in Jamie Westwood. He played in goal for East Grinstead when he was younger but until this season had been playing outfield for us. We persuaded him to go back in goal and he's been outstanding."

For a club the size of Crawley, their big day out at Lee Valley, dubbed "Hockey's Wembley" is obviously a big deal. There is a suggestion that some players may find themselves overawed by the occasion, something Wright is keen to ensure doesn't happen:

"We have some younger players in the group who will have never experienced anything like this before but luckily we have plenty of experience, too. Adrian Bettesworth and I both played in the National League for Lewes and Alex Watson has played a high level too." he adds "Hopefully we can help the rest of the squad keep their focus and get the win."

Opponents Coalville will be a stiff test for Crawley, they too have found goals easy to come by netting 30 times in their four games to reach this stage. Wright puts it quite nicely when he weighs up his side's chances of getting the win:

"We're a bunch of mates who work hard and love socialising and playing in a team together. Win or lose, we'll have a great night afterwards!"

Two prolific goalscoring teams, one final, one trophy. Let battle commence!

Tickets are still available for Men's Knockout Finals weekend. The schedule of the weekend is below and tickets can be purchased here. 

Saturday 2nd May 2015

09:30 - NOW: Pensions Men's 2nd XI Plate Final - Lewes v Beeston
11:30 - NOW: Pensions Men's Vase Final - Coalville Town v Crawley
13:30 - NOW: Pensions Men's Trophy Final - Sheffield University Bankers v Guernsey
15:30 - NOW: Pensions Men's Cup Final - Reading v Surbiton
17:30 - NOW: Pensions Men's 2nd XI Cup Final - Cannock v Surbiton

Sunday 3rd May 2015
09:00 - NOW: Pensions Men's Masters O50s Trophy Final - Hereford v Sevenoaks
10:00 - Men's Masters O50s Shield Final (Pitch 2) - Bournemouth v Charnwood Mountsorrel
11:00 - NOW: Pensions Men's Masters O50s Cup Final - Reading v Harleston Magpies
12:00 - Men's Masters O60s Plate Final (Pitch 2) - Gloucestershire v Iceni Rex Essex
13:00 - NOW: Pensions Men's Masters O40s Cup Final - Stourport v Khalsa (Warks)
14:00 - Men's Masters O40s Shield Final (Pitch 2) - Norwich Dragons v Taunton Vale
15:00 - Men's Masters O60s Cup Final - Worcestershire & Herefordshire v Indian Gymkhana
17:00 - NOW: Pensions Men's Masters O40s Trophy Final - Henley v Cannock

England Hockey Board Media release


---

Varsity Hockey kicks off in Potch

The third season of South Africa's Varsity Hockey is ready to launch with the competition just a day away from kicking off in Potchefstroom on Friday.

The tournament hosted by NWU-PUK will feature only women's hockey as part of a rotational structure where the men's and women's tournament is played biannually.

Eight universities, including defending champions the University of Stellenbosch, will battle it out for this season's Varsity Hockey title which will run until May 18 across three different venues.

NMMU, UCT, UJ, Tuks, Maties, Wits, Pukke and Kovsies will battle it out for the title in the first round of fixtures taking place at Pukke from May 1 to 4. The next round of matches will be played at Wits and UJ from May 8 to 10, with the final being played on May 18 at the venue of the team that finished highest on the log.

All participating teams will receive prize money on a sliding scale with the top teams earning the biggest sum. Varsity Sports plays an important role in helping lift the profile of hockey in South Africa. Although hockey is a popular sport in terms of participation, the South African Hockey Association estimates around 250 000 people play the sport annually. However, hockey has at times struggled to get a foothold in becoming a truly professional sport. 

Lack of sponsorship and funding has often meant that talented players fall by the wayside because they cannot afford to pay their own way to big tournaments. But Varsity Hockey is taking one small step to readdress those imbalances. By offering young talents exposure, specifically through television broadcasts, Varsity Sports aims to raise the profile of the talent pool of South Africa's young players, through which they can subsequently garner individual sponsorship to assist them with their career growth.
 
Duitser Bosman, CEO of Varsity Sports, said the tournament should be a resounding success.

"We are really excited about this year's Varsity Hockey tournament," said Bosman.

"We've had tremendous success with all our other sporting codes so far this year and we hope the crowds will come out and support the hockey teams.

"Part of what makes Varsity Sports so successful is the exposure it offers to young athletes and it's no different with hockey. A number of our Varsity Hockey players have gone on to earn their national stripes and we hope to see many more graduate from the system this year.

"With the 2016 Olympics a goal for many of these young sporting stars, this weekend's line-up is sure to be action-packed with non-stop suspense and excitement."

The Citizen


---

Kenya Police target Greensharks scalp

By BRIAN YONGA



Kenya Police's Felix Okoth (left) dribbles past Cyril Mandela of Strathmore Gladiators during their Vaisakhi Hockey tournament match on April 22, 2015 at City Park Stadium. PHOTO | CHRIS OMOLLO |

Fresh from winning their second Vaisakhi hockey title last Sunday, Kenya Police will be hoping to carry the momentum to their Kenya Hockey Union (KHU) league match against arch-rivals Greensharks on Sunday.

Five matches will be played on Friday at the City Park Stadium with another five set to be played over the weekend. Police have won their two matches this season and sit joint top of the men's standings with champions Butali Sugar Warriors.

The law enforcers will be counting on their good form when they come up against winless Greensharks.

Sharks lost 3-0 to Butali in their opening match and will be seeking to bounce back with a win. Police coach Kenneth Kaunda has urged his players to build on last weekend's triumph to secure the title before fatigue creeps in.

"Our target is to try and win many matches early on so that we can be in a good position to challenge for the title. The season is long and many points will be dropped and that is why we want to secure early wins when we are still fresh," Kaunda said.

REVENGE

Last season, Police lost 1- 0 to Greensharks in their opening match and the latter's coach, Nixon Nyangaga wants his team to repeat the feat on Sunday.

"We began the league with a loss which was a big shame as we played really well but we have put that behind us and we are now focused on the match against Police. We beat them last season and I think we can do it again," the tactician said.

Champions Butali have two fixtures this weekend against Parkroad on Saturday and Western Jaguars on Sunday.

The Cliffe Okello-led team thrashed Wazalendo 7-1 in their last game and their next opponents will need to be at their best to stop them.

Nakuru Sikh Union, who survived the drop last season will begin their campaign on Friday when they take on 2012 champions Nairobi Simba before taking on Mombasa Sports Club and Mvita XI on Saturday and Sunday respectively.

The only women's match this weekend will see Strathmore Scorpions take on Vikings on Sunday.

The varsity side will be seeking to bounce back from their disappointing defeat at the hands of Telkom Orange during the Vaisakhi final.

Daily Nation


---

Tough competition ahead in Toronto!

Sarah Juggins, for PAHF



Raimundo Valenzuela (Chile) and Carla Rebecchi (Argentina). (Photo: Paul Winstanley / Yan Huckendubler)   

Meet two hockey players. One has a trophy cabinet brimming with trophies, mostly gold, including Olympic medals and World Cup medals; the other has a solitary bronze medal from the 2011 Pan Am Games. But both players share many traits: they are long serving members of their respective teams; despite the longevity of their service they are always seeking to improve their game; they are out and out team players; and their passion for hockey has not diminished over the years.

Carla Rebecchi and Raimundo Valenzuela are two players who have been the mainstay of their teams for more than a decade, and both have dreams and ambitions for this year's edition of the Pan American Games.

For Carla, currently on more than 225 caps for Argentina, the forthcoming Pan-American Games is both a chance to regain the crown they lost to the USA in 2011 and a second chance to qualify for the Rio 2016 Olympics, if by chance they fail to qualify through the Hockey World League Semi Finals in June this year.

Raimundo, the Chile captain, has represented his country more than 120 times at senior level and was part of the U21 squad that participated in the Junior World Cup in 2005. For him, this year's Games is all about equaling or possibly bettering the bronze medal that Chile won in 2011.

The Pan American women's hockey scene has been dominated in recent years by the increasingly tight matches between Team USA and Argentina. Now ranked fifth and third respectively, both teams have been main players on the world stage. Team USA won friends and plaudits for their attacking, innovative play and incredible team spirit at both the Champions Challenge 1 in Glasgow in 2014 and then a few months later at the Hockey World Cup.

Argentina won bronze at that World Cup, beating USA to a medal position. But for the USA, the result signified a huge jump forwards – the team had entered the competition ranked 11th in the world – while Argentina would have liked to have been contesting the gold medal.

At a recent four-match tests series, the honors were even, while in an eight-nation tournament in New Zealand, the teams will only meet if they both make it to the final. While that would be a tense affair, the encounters at both the HWL Semi Finals in Valencia and the Pan Am Games in Toronto promise to be epic.

Rebecchi is fulsome in her praise of her rivals. "I think that USA is a very good team that has improved a lot in the past few years and it's not going to be easy to win, it's always going to be a very tough game against them.

"Both tournaments (HWL Semi Finals and Pan Am Games) are going to be tough challenges because every team is looking for the qualification to the Olympics, but we are training and preparing well.

The Argentine side has a number of new players, and coach Santiago Capurro is using events such as the New Zealand Hawkes Bay Festival of Hockey as a chance to integrate his players into the team.

At the time of writing, Argentina had lost the quarter-finals in Hawkes Bay to Australia, but Rebecchi was sanguine about this: "I think it came down to luck, we had plenty of chances, but also our players are learning. As we move forwards, the experienced players in the squad will be very important, but also those players who are more 'intermediate', they have to step up and be the base of the team. But the young players, they are the future, we need to build and develop."

Of course, the watching world will want to know how Las Leonas are faring without Luciana Aymar. The superstar midfielder retired after Argentina won the 2014 Champions Trophy and Rebecchi doesn't hide her sadness. "It's not the same without her, both on the pitch and off the pitch. She was such a huge part of our team, and she played so many years. It is difficult to play without her."

But Rebecchi knows that there is enough talent in the squad for the blue and white strip to win many more trophies, and she also knows that she is one of the players the new recruits will be looking to for inspiration. "I want to give the best I have for the team. I want to be very well trained for that and also to score goals to help the team win. But it is about the team, we are a team that always plays 100 percent. We run and fight for every ball. We have good players in every line, and that's very important."

Raimundo Valenzuela's passion for hockey shines through with every word he speaks. "I started playing when I was four years old and I have never stopped since." He made the national U21 team when he was just 17 and was part of the team that qualified for the Junior World Cup in 2005 – where Chile finished in 15th place, beating Mexico in the last match.

He was made captain of the national team since 2012, and his ambition for this Pan-Am Games is to finish in bronze position. "I think it's going to be a very hard tournament. We have chances to win a medal but we have to play a perfect tournament. If we fail in any minor detail any other team will be able to beat us."

Valenzuela identifies Argentina and Canada as the main contenders for the top medals, but he feels that there is a parity among the other teams. "I think Argentina and Canada should be in the medal zone. Besides them, I think USA, Trinidad and Tobago, Cuba and Chile have similar possibilities to go for a medal. It will come down to who brings their best game on the day."

Some of the Chile squad have been playing abroad – in Spain, Germany and Belgium – but now the whole squad is back in Chile and training together in preparation for the games. The squad trains together seven times a week, three spent working on technique and skills; two physical training and conditioning sessions; and two gym-based sessions. Even when the players are training overseas, they still try to stick to this program all year, working it in with their club training.

"We have a team that knows each other well," says Valenzuela, "We still have a lot of work to do but we are going the right way. We played well in the World League Round 1 and 2 and in the South American Games where we won a silver medal (losing to Argentina in the final)."

When it comes to Chile's key players in the Pan Am Games, Valenzuela points to Sven Richter and Martin Rodriguez, "both very talented players," and the up and coming youngster Nicolas Renz. "But our biggest strength is the fact that we are a cohesive group of players and we have enormous capabilities to work as a team."

By the time Rebecchi and Las Leonas arrive in Toronto they will know whether the Pan Am Games is also going to be their route to the Olympics, depending upon how they fared in the HWL Semi Finals in June. But, as Valenzuela and his Chile team know, the differences between the teams is getting less and, on the day, it is about which team brings their best game to the pitch.

Pan American Hockey Federation media release


---

No brotherly love as only Juniors compete in SEA Games

By S. Ramaguru



One of the seniors in the squad, Mohd Shahril Saabah (right) will be focusing on the World Hockey League in Belgium in June.

KUALA LUMPUR: The Malaysian hockey team bound for Singapore for a five-match series from May 5-13 will only comprise Project 2016 players.

The five matches are part of the team's preparations for the SEA Games in Singapore from June 5-16.

The Malaysian Hockey Confederation (MHC) had initially wanted to send a mixed team of seniors and juniors for the SEA Games.

But the seniors will not be able to compete in Singapore as they will be taking part in the World Hockey League Semi-Finals in Antwerp, Belgium, from June 20-July 5. This tournament is a priority for the seniors because it's a qualifying meet for next year's Rio de Janeiro Olympics.

Malaysia last featured in the Olympics in Sydney 2000.

So, it looks like the National Juniors will have to go it alone and retain the gold medal at the SEA Games.

National Juniors coach A. Arulselvaraj dropped two players from the 25-man training squad – goalkeeper Mohamed Adi Fazri Rahim and defender Zul Pidaus Mizun – for the friendlies against Singapore.

Three others – Meor Azuan Mohd, Mohd Sharil Saabah and Mohd Haziq Shamsul – are with the senior team for their tour of Europe. 

"For now, only the juniors will go to the SEA Games. We'll only consider the seniors if they are dropped from the World Hockey League squad.

"If any of the three juniors are dropped from the senior side, they will make my final SEA Games line-up."

The SEA Games hockey competition will feature four teams – Malaysia, Singapore, Thailand and Myanmar.

The National Juniors will also be going to India from May 20 for a five-match tour – on the invitation of the Indian Juniors.

The main target for the National Juniors is the Junior Asia Cup in Kuantan in November. It is also a Junior World Cup qualifier for the Asian region.

In October, they will also play in the fifth edition of the Sultan of Johor Cup.

The Star of Malaysia


---

No laughing matter for Subahan

DATUK Seri Subahan Kamal will be stepping into a hyena's den on May 13.

The Malaysian Hockey Confederation (MHC) president-elect received an overwhelming mandate to replace Tengku Abdullah Sultan Ahmad Shah when nominations closed April 28, but the doors to many teething problems will open for him from now.

MHC has 16 affiliates, 14 states and Armed Forces as well as Police make up the numbers, and 13 of them nominated Subahan as the unopposed sixth president of the MHC.

Perlis did not send in nominations for any position, while the other two which did not name Subahan were Kuala Lumpur and Sarawak.

The first challenge for Subahan would be to fill up the empty MHC coffers, but before he saves whatever he brings in, he has to make sure the ring of creditors receive their long overdue dues.

The creditors range from players, officials, coaches... right up to the tea-man who provides vadai and other refreshments for tournaments and meetings.

The list runs into millions, and hundreds are waiting to be paid right after the elections.

Money is just a small problem as compared to what Subahan will face next.

Under-performing players, coaches, officials, office administrators and even umpires and technical officials have brought disrepute to the MHC to the extend that the International Hockey Federation (FIH) had to wave the big stick right across their nose before matters like the constitution was rectified.

Subahan is the current Selangor HA president and knows first hand, or has heard about all these problems, so there is no need to refresh his memory in the days leading to his proclamation ... safe to say that he is inheriting a motley crew of problems which need urgent attention.

But even before he steps into office, he might just inherit a council which is more keen on glory than working for the sport.

For, the nomination list lacks quality, especially among the vice-president nominations, which is the working arm.

He will have two deputies, a luxury not accorded to the last five presidents, and the task of handling the men and women will fall on his most trusted henchman and woman.

For the position of his right man, delegates will decide for Subahan between incumbent vice-president and current team manager Datuk Nur Azmi Ahmad and former team manager as well as former Kuala Lumpur Hockey Association president George Koshy.

And for his right hand woman, Subahan has the choice of former vice-president's -- S. Shamala and K. Maheswary who are both steely in their own ways.

For the record, when nominations closed MHC affiliates had stood strongly behind certain candidates, but in the days leading to the elections, some states have started to sing to a different tune and the numbers could turn out to be just numbers.

This election is also very unique, as women have a 50 per cent say on who gets elected. So those who have been underestimating the ladies, beware of their wrath on May 13.

The old adage 'Figures don't lie, but liars figure' comes to mind when looking at the nomination list.

Subahan was unchallenged and also received the backing of 13 states, and it figures the strong support he has to helm the piping hot MHC seat.

However, the deputy president's equations look set to change as delegates start canvassing their choices.

Going by numbers Nur Azmi, who received 10 nominations, is going to whip Koshy who was only nominated by Kuala Lumpur.

And Shamala received backing from eight states, while Maheswari was supported by three states.

The race for the vice-president's post will see seven men battling for five slots, and three women for two slots... and the least said about this group is the better for them.

However, with the social media and messaging systems working overtime, and burning fingers way past midnight, there might be some upsets during election time.

Only one thing figures at the moment, whoever wins, Subahan will inherit a motley of problems which ALL need urgent attention, and he will be without a secretary until a CEO is sourced.

With Friday being Labour Day, good luck on your forthcoming labours MHC.

(Note: So far, Subahan has yet to openly back the candidates he wants).

Jugjet's World of Field Hockey


---

IOA feud out in the open, Batra wants No Confidence Motion against Ramachandran



N Ramachandran. PTI

New Delhi: Just days after International Olympic Committee chief Thomas Bach's visit to the country, the factional feud within the Indian Olympic Association surfaced with a top official demanding a Special General Body Meeting to propose a No Confidence Motion against incumbent president N Ramachandran.

Hockey India chief Narinder Batra on Thursday claimed that he has written to the IOA to move a No Confidence Motion against Ramachandran.

"Hockey India has written to the IOA to call a Special GBM at the earliest. We have three votes in the IOA General Body and all of us have expressed no confidence on N Ramachandran," Batra told PTI.

He said if the Special GBM is not called within a month, he will take the lead for a requisition meeting.

"Under the IOA Constitution, any National Sports Federation can request for a Special GBM and move a No Confidence Motion. I have the support of 66 percent of the IOA General Body," he claimed.

According to the IOA constitution, a No Confidence Motion against the president, secretary general, treasurer and other executive council members can be passed if it has two-thirds majority of the members are present and voting.

The quorum for such a meeting will have to be three-fourths of the total strength of the IOA General Body entitled to vote.

The IOA General Body has 183 votes in total -- three each for NSFs and two each for state Olympic bodies.

The infighting among the top brass of the IOA, which came out of a 14-month suspension only last year, came to the open just three days after Bach's first visit to the country after taking over as IOC chief in 2013.

In his one-day whirlwind visit on 27 April, Bach had called for unity among the IOA members so that they can work together for the betterment of Indian sports and sportspersons. He has also laid to rest the speculation that India may bid for 2024 Olympic Games.

Discontent against Ramchandran had been brewing for quite some time now with many members feeling that the IOA chief was running the show all by himself without consulting other officials.

Ramchandran's move to keep IOA office bearers, including secretary general Rajiv Mehta, in the dark before he visited Bach in Lausanne, Switzerland, along with Sports Secretary Ajit Sharan did not go down well with some members.

Firstpost


---

Recognizing a Hockey Icon's Legacy

A hockey icon passed away last Friday. Allan Woods spent a major portion of his life playing, coaching, administrating and advocating for the sport. His personality was always charismatic and his face brightened as he related his hockey life. I spoke to him around once a month until a year ago when he seemed to disappear. He was fighting a form of dementia that in the end prevailed. Every time I spoke to him, without exception, a week later a package would arrive chuck full of historical items related to hockey. He wanted them to be a part of an eventual museum dedicated to the sport.

Earlier this week I spoke to his daughter Amanda. She affirmed again his love of hockey and asked those who knew Alan and wanted to honor him to make a donation in his honor to either USA Field Hockey by clicking here or the Lewey Body Dementia Association.

He was a terrific ambassador for the sport and will be hugely missed.

- Steve Locke, Executive Director of USA Field Hockey

Allan Scott Woods, 85, of Chester, CT, formerly of Rowaton, CT, died peacefully on April 24th after a gallant battle with Lewy Body Dementia.

Allan grew up in Rye, NY and was a proud graduate of Rye Country Day, Deerfield Academy and Lafayette College.  Retiring after a 31-year marketing career with IBM/Lexmark, allowed him to focus on his long-term engagement with amateur sports, specifically men's field hockey. For the better part of six decades, he was involved with field hockey as a player and administrator. As a result, he travelled to more than 30 countries across 6 continents, including attending in a variety of official capacities, every summer Olympic Games between 1976-2004 (except the boycotted Moscow Games in 1980).

In addition to being a former national team player, Allan served as President of the Field Hockey Association of America, a Director of the Pan-American Hockey Federation, a Council Member and Chairman of the Equipment Committee for the International Hockey Federation and a member of the United States Olympic Committee. Allan always tried to encourage the next generation to get involved in extra curricular activities and to create opportunities for them to do so. For this reason, he was most proud of the work he did serving as a past President of the New York Amateur Sports Alliance and as a Development Organizer for the Sports and Arts in Schools Foundation, organizations that support these endeavors.

Allan is survived by his wife of 49 years, the former Pamela Wallace; daughter Amanda Wasserstrom, son-in-law Eric Wasserstrom and grandsons Will and Hugo Wasserstrom of New York; and his sister Ruth Frothingham of Shelburne, Vermont.

A memorial service will be held at Rye Presbyterian Church on Wednesday, May 6 at 11am.  In lieu of flowers, donations may be made in Allan's name to the Lewy Body Dementia Association, Inc. or to the United State Field Hockey Association.

USFHA media release