All the news for Friday 24 April 2015

Australian squad for Hobart tests

Australia to travel with 40 players to Hobart next week




A combination of 40 national senior, development and junior players have been selected to play at the upcoming Hobart International Challenge next week. Playing matches against New Zealand Black Sticks, Korea and Pakistan, Graham Reid's selection will offer younger players the chance to experience world class international hockey within Australia.

Following a training camp, the squad will be divided into two training teams - Australia and Australia 'A' – to play Korea and Pakistan on Saturday 2 and Sunday 3 May. A final Kookaburras squad will be selected to play the remaining four matches on 5, 7, 9 and 10 May, against New Zealand Black Sticks, Korea and Pakistan.
          
Tasmanian representatives Eddie Ockenden, Tim Deavin, Nick Budgeon, Jeremy Edwards, Joshua Beltz and Kurt Mackey will return to Hobart to play on home soil. Part of the 2014 Australian Hockey League-winning team, the Tassie Tigers, adopted Tasmanian Tristan Clemons will also join teammates at next week's event.

The international tests will see the return of 11 senior players, after being rested at the recent Sultan Azlan Shah Cup in Ipoh, Malaysia, where the Kookaburras claimed silver after a final shootout against New Zealand Black Sticks.
          
Part of the 2015 national development squad, Blake Govers, 19, brother of Kookaburras forward Kieran Govers, has been awarded his place amongst the 40 selected athletes and is expected to make his debut in the Kookaburras kit against Pakistan on Saturday 2 May. Recently returning home from the United Kingdom, Govers' five goals helped crown Wimbledon 2015 English Champions in their final against East Grinstead, and confirmed Wimbledon's place in the 2015/2016 Euro Hockey League.
          
16 months out from the 2016 Olympic Games in Rio de Janeiro, these matches will act as preparation and as a significant selection tool for the forthcoming Olympic qualifying tournament, the World League Semi-Final held in Antwerp, Belgium, from 22 June – 5 July.
          
Explaining the selections, Graham Reid said, "Everything is on the table here, we are looking to provide opportunities not to just our senior players, however, our development players as well. The reason we are doing this is for the learning opportunities and a chance for our players to play some good competition.
          
"We will be using the test matches in the second week to refine our squad for the World League Semi Finals, which is our benchmark event this year. All three oppositions are high quality and offer something different, it's perfect for our preparation coming into World League to play three teams ranked in the top 10."

Tickets to see the Kookaburras in action at the upcoming Hobart Intentional Challenge can be purchased via the Ticketek website. General admission, reserved seating and a series pass are the available options, with tickets starting from just $6 for a junior admission.

Hobart International Tests
Match schedule
Saturday 2 May: Australia A v Korea [1pm AEST], Australia v Pakistan [3pm AEST]
Sunday 3 May: Australia A v Pakistan [1pm AEST], Australia v Korea [3pm AEST]
Tuesday 5 May: Pakistan v Korea [5pm AEST], Kookaburras v New Zealand[7pm AEST]         
Thursday 7 May: New Zealand v Pakistan [5pm AEST], Kookaburras v Korea [7pm AEST]        
Saturday 9 May: Pakistan v Korea [4pm AEST], Kookaburras v New Zealand [6pm AEST]
Sunday 10 May: New Zealand v Korea [3pm AEST], Kookaburras v Pakistan [5pm AEST]

National Senior Athletes
Athlete (Hometown)
Daniel Beale (Brisbane, QLD)
Kiel Brown (Toowoomba, QLD)
Nick Budgeon (Hobart, TAS)
Joel Carroll (Darwin, NT)
Andrew Charter (Canberra, ACT)
Chris Ciriello (Melbourne, VIC)
Tom Craig (Lane Cove, NSW)
Matthew Dawson (Central Coast, NSW)
Tim Deavin (Launceston, TAS)
Jamie Dwyer (Rockhampton, QLD)
Matt Gohdes (Rockhampton, QLD)
Kieran Govers (Wollongong, NSW)
Jeremy Hayward (Darwin, NT)
Leon Hayward (Darwin, NT)
Mark Knowles (Rockhampton, QLD)
Tyler Lovell (Perth, WA)
Trent Mitton (Perth, WA)
Eddie Ockenden (Hobart, TAS)
Simon Orchard (Maitland, NSW)
Glenn Simpson (Melbourne, VIC)
Matthew Swann (Mackay, QLD)
Jake Whetton (Brisbane, QLD)
Tristan White (Wollongong, NSW)
Dylan Wotherspoon (Mulwillumbah, NSW^)
Aran Zalewski (Margaret River, WA)

National Development Athletes
Kiran Arunasalam (Doncaster East, VIC)
Chris Bausor (Perth, WA) 
Josh Beltz (Old Beach, TAS)
Tim Cross (Melbourne, VIC)
Tristan Clemons (Bunbury, WA)
Jeremy Edwards (Hobart, TAS)
Blake Govers (Wollongong, NSW)
Kurt Mackey (Lauderdale, TAS)
Flynn Ogilvie (Wollongong, NSW)
Matthew Willis (Victoria Park, NSW)
            
National Junior & Institute Athletes
Robert Bell (Brisbane, QLD)
Simon Borger (Brisbane, QLD)
Justin Douglas (Townsville, QLD)
Jack Hayes (Wollongong, NSW)
Casey Hammond (Melbourne, VIC)

^Dylan Wotherspoon is an athlete at the Queensland Academy of Sport and is classified as a QLD athlete but grew up in Mulwillumbah, NSW.

Hockey Australia media release


---

Trans-Tasman Deal Struck

HA & HNZ to launch new international event starting 2016




Hockey Australia and Hockey New Zealand will put aside their traditional on-field rivalry to work together to launch a new annual contest that will pitch all four national teams into a battle of true trans-Tasman pride.
        
Australia's Kookaburras and Hockeyroos, and New Zealand's men's and women's Black Sticks will take centre stage in the annual event following the signing of the four-year agreement, the first of its kind between the two countries. Although the exact competition format is still to be confirmed, it's proposed the four national teams will battle it out for one trophy, with the first event in 2016.
        
Hockey New Zealand chief executive Malcolm Harris says the event will build on the national pride and rivalry that exists between the two countries.
        
"We expect that this new annual contest will be a real step forward for the sport in terms of engaging fans and raising the profile of hockey on both sides of the Tasman," says Harris.
        
Hockey Australia chief executive Cam Vale says the agreement is important for the future growth of hockey in both countries.
        
"We have the chance to develop something from scratch with entertainment and the fan experience at the heart, creating a new, big event," says Vale.
        
"Sport and sports fans love the Australia-New Zealand rivalry and the rivalry in hockey is one of the closest there is. On any given day either country can come out on top.
        
"The opportunities created by this exciting new competition will appeal to broadcasters, commercial sponsors, tourism and government partners alike, and we look forward to redefining the trans-Tasman rivalry over the next few years."
        
Both countries will work together on innovations with broadcasters, sponsors and fans to ensure it becomes a key event in Australia and New Zealand's sporting calendar.
        
It has been agreed that next year's inaugural event will be in New Zealand, with Australia set to host in 2017. Host venues will be announced in due course.

Hockey Australia media release


---

New annual trans-Tasman event confirmed




Hockey New Zealand and Hockey Australia have put aside their traditional on-field rivalry to launch a new annual contest that will pitch all four national teams into a battle of true trans-Tasman pride. 

New Zealand's Black Sticks Men and Women and Australia's Kookaburras and Hockeyroos will take centre stage in the annual event following the signing of the four-year agreement, the first of its kind between the two countries.

Although the exact competition format is still to be confirmed, it's proposed the four national teams will battle it out for one trophy, with the first event to take place next year.

Hockey New Zealand chief executive Malcolm Harris believes the event will build on the national pride and rivalry that exists between the two countries.

"We expect that this new annual contest will be a real step forward for the sport in terms of engaging fans and raising the profile of hockey on both sides of the Tasman," said Harris.

Hockey Australia chief executive Cam Vale says the agreement is important for the future growth of hockey in both countries.

"We have the chance to develop something from scratch with entertainment and the fan experience at the heart, creating a new, big event," says Vale.

"Sport and sports fans love the Australia-New Zealand rivalry and the rivalry in hockey is one of the closest there is. On any given day either country can come out on top."

Both countries will work together on innovations with broadcasters, sponsors and fans to ensure it becomes a key event in New Zealand and Australia's sporting calendar.

It has been agreed that next year's inaugural event will be in New Zealand, with Australia set to host in 2017. Host venues will be announced in due course.

Hockey New Zealand Media release


---

Black Sticks men and women confirm annual hockey series with Australia


g
New Zealand's Kirsten Pearce celebrates Olivia Merry's goal against Australia in Hastings this month. The two trans-Tasman rivals have announced a new annual series, with the first event to be held in New Zealand next year. Photosport

New Zealand and Australia have launched a new annual trans-Tasman hockey contest involving the men's and women's national teams from both countries.

New Zealand's Black Sticks men's and women's teams and Australia's Kookaburras and Hockeyroos will take centre stage in the annual event following the signing of the four-year agreement.

Although the exact competition format is still to be confirmed, it is proposed the teams will play for one trophy, with the first event to take place next year.

Hockey New Zealand chief executive Malcolm Harris believes the event will build on the national pride and rivalry that exists between the two countries.

"We expect that this new annual contest will be a real step forward for the sport in terms of engaging fans and raising the profile of hockey on both sides of the Tasman," said Harris.

Hockey Australia chief executive Cam Vale said the agreement is important for the future growth of hockey in both countries.

"We have the chance to develop something from scratch with entertainment and the fan experience at the heart, creating a new, big event.

"Sport and sports fans love the Australia-New Zealand rivalry and the rivalry in hockey is one of the closest there is. On any given day either country can come out on top."

Both countries will work together on innovations with broadcasters, sponsors and fans to ensure it becomes a key event in New Zealand and Australia's sporting calendar.

It has been agreed that next year's inaugural event will be in New Zealand, with Australia set to host in 2017. Host venues have not been decided.

Stuff


---

Kenya Police floor battling Strathmore in Vaisakhi tourney

By BRIAN YONGA



Kenya Police's Felix Okoth (left) dribbles past Cyril Mandela of Strathmore Gladiators during their Vaisakhi Hockey tournament match on April 22, 2015 at City Park Stadium. PHOTO | CHRIS OMOLLO |

Kenya Police twice made their intentions of reclaiming the Vaisakhi Hockey title known after their 3-2 fight back win over Strathmore Gladiators in their opening Pool B match on Wednesday night.

Samuel Wokila scored the winner 10 minutes from time with the game seemingly headed for a draw.

Gladiators started well with Benson Ochieng breaching the Police defence to sound the board three minutes into the match but the lead only lasted eight minutes as the law enforcers hit back through Robert Masibo.

Gladiators reclaimed the lead in the 24th minute through Constant Wakhura, who scored after converting an Ochieng penalty corner. The see-saw battle continued with Police leveling again through skipper Brian Saina.

Both teams continued to attack after the break in search of further goals but both defensive units had answers to questions asked by their opponents.

However, with 10 minutes to play, Strathmore were punished for sloppy defending in their own final third and Wokila took full advantage to ensure the 2013 winners take maximum points.

Police coach Kenneth Kaunda praised his team for their fighting spirit in the encounter.

"We have been working hard in training on scoring late goals and it is coming in handy, we pushed for that winner and it eventually came. We are now on course for the semis," Kaunda said.

His opposite counterpart Meshack Senge said his charges gave everything in the match but fatigue caught up with them in the final quarter.

"We started the game well and took an early lead but towards the end we became a little bit complacent and we got punished by an experienced side," Senge said.

The win sees Police move top of Pool B with three points while Strathmore, who take on Uganda Simba Tuesday evening, are bottom with no points.

In Pool A, last year's losing finalists Ghana Revenue Authority beat Greensharks 2-1 to open their title defence with a win. The West Africansscored their goals through Moses Charles in the 11th minute and Hanson Nick's 46th minute strike. Sharks' consolation goal came three minutes from time through Samuel Mucheke.

In the last game, Sikh Union beat Parkroad 2-1 in a Pool D encounter. Five games have been lined up for Thursday.

Daily Nation


---

Northern Blues and KZN Coastal Raiders in four-goal thriller

JONATHAN COOK at the AB Jackson



Action from the WP Free State game

The game of the day at the Greenfields SA U21 Men's Interprovincial Tournament on the AB Jackson Greenfields Turf Wednesday was the thrilling 2-2 draw between title hopefuls and Pool B frontrunners KZN Coastal Raiders and Northern Blues, which ended 2-2.

Western Province, the defending champs, cemented their place in Saturday's 1pm final with a game to spare when they beat a feisty Free State 5-0 to make certain of ending tops in Pool A.

The other Pool A clash saw Southern Gauteng beat South Gauteng Witsies 7-1 while in the early Pool B match, Western Province Peninsula (Pens) edged Eastern Province 1-0 thanks to a goal by Rushin October.

The upshot is that the KZN derby at 3pm Thursday is crucial for Raiders, but derbies are always uncertain affairs and host province Inland will be keen to upstage their Durban rivals for local bragging rights.

Another Pool B clash of great importance sees Blues tackle Pens at 11am. Pretoria's Blues must make certain of victory, as it is their last match in this round. Pens, however, are punching above their weight – as is characteristic of Western Province's second side – and the outcome is far from clear-cut.

Pens meet Raiders at 11am Friday in the last round, so Thursday is crucial.

Blues will rue missing out on three great chances against Raiders, but a draw was also reward for the Durban lads who gave everything and more in this clash.

Blues' potent penalty corner machine was responsible for their two goals, both by captain Tim Guise-Brown, while Javed Mea followed up a penalty corner rebound for the Raiders' first goal and the sheer grit of Tylo Remke made sure of the equaliser.

WP nailed their five goals against the Bloem lads through the usual suspects, Ryan Crowe (2), James Drummond (2) and Nqobile Ntuli. It was 3-0 inside seven minutes, and WP now stand on 21 goals with none against after three matches.

Southern Gauteng's goals came from a Brandon James hat-trick plus strikes by Winchester Scott, James Gilbert, Kyle Lion-Cachet and Stuart Brown. South Gauteng Witsies' lone goal was from Brandon Grant.

RESULTS
Western Province Peninsula 1 Eastern Province 0; KZN Coastal Raiders 2 Northern Blues 2; Southern Gauteng 7 vs South Gauteng Witsies 1; Western Province 5 Free State 0.
LOGS
(matches in brackets, goal difference, log points)
Pool A: 1 Western Province (3) GD21, 9pts; 2 Southern Gauteng (3) GD1, 4pts; 3 Free State (2) GD-5, 1pt; 4 South Gauteng Witsies (2) GD-7, 1pt; 5 North West (2) GD-11, 1pt.
Pool B: 1 Northern Blues (3) GD6, 7pts; 2 Western Province Peninsula (2) GD2, 6pts; 3 KZN Raiders (2) GD2, 4pts; 4 KZN Inland (2) GD-5, 0pts; 5 Eastern Province (3) GD-5 0pts.
FIXTURES
Thursday - 9am WP vs Wits; 11am Blues vs Pens; 1pm Free State vs North West; 3pm KZN Inland vs KZN Raiders.

SA Hockey Association media release


---

Inland and Coastal in controversial KZN derby

JONATHAN COOK at the AB Jackson



Western Province Peninsula's Abu-Bakr Effendi (left) tracks man in possession Ashley Kemp of Northern Blues.

There was drama aplenty on day four of the Greenfields SA U21 men's Interprovincial Tournament at the AB Jackson Greenfields Turf Thursday as teams battled it out to remain in contention for Saturday's medal matches or to snatch whatever they could to avoid the dreaded battle for last place.

Not in this tussle were Western Province, last year's champions, who had already assured themselves a place in Saturday's 1pm final by Wednesday.

They continued their flawless run in Pool A with a comprehensive 8-0 defeat of a dogged South Gauteng Witsies who did everything in their power to concede as few goals as possible.

The big game saw Pool B hopefuls Northern Blues all but cement their spot in the final when they beat the impressive underdog, WP Peninsula, 6-2 Thursday.

It was Blues' more assured skill in the strike zone that was the major difference, and if anyone has the slightest chance of beating Western Province it is the Pretorians.

The most hotly contested and controversial match was the KZN derby between hosts KZN Inland and arch-rivals 80-odd km down the N3, KZN Coastal Raiders.

Raiders had to win to stay within striking distance of Blues while Inland were determined to upstage their coastal cousins and in the process get points to avoid Saturday's wooden spoon match.

The match was packed full of contentious decisions - and they were big game changers.

Arguably the fastest player here with stick and ball in unison is Inland striker Tevin Kok. In the 15th minute he burnt his marker down the left wing after being freed from deep by former Maritzburg College team-mate Tyson Dlungwana, only to be clearly upended in the strike zone.

To the utter disbelief of the vociferous home fans, who arrived in numbers during the game, the interference with Kok did not earn a penalty stroke or even a penalty corner. Soon after half-time the Raiders won the first of two penalty strokes - and one at least was not warranted.

In the 45th minute, Dale van der Merwe converted the Raiders' second opportunity from the penalty spot, this after Steven McManus had finished clinically to open the scoring for the Durbanites in the 40th minute.

After the Raiders' first effort from the penalty spot effort had been missed, Inland had a penalty corner strike saved on the goalline by defender Kelly Taylor-Stack at the other end – and this just about summed up the home province's major problem, the inability to make their penalty corner chances count.

That said, Inland did get a rebound goal from a PC that was converted by corner injector Dlungwana, but at 25 seconds left in the match. Far too many in this match, and in every other Inland match, have been wasted.

Key matches in Pool B Friday see Raiders having the near-impossible task of beating Peninsula by eight clear goals to pip Blues for a berth in the gold medal match, while Inland and Eastern Province will be desperate to beat each other to avoid the wooden spoon affair on Saturday. In Pool A, South Gauteng Wits and North West also have wooden spoon concerns.

LOGS
(matches in brackets, goal difference, log points)
Pool A: 1 Western Province (4) GD29, 12pts; 2 Southern Gauteng (3) GD1, 4pts; 3 Free State (3) GD-5, 2pts; 4 North West (3) GD-11, 2pts; 5 South Gauteng Witsies (3) GD-14, 1pt.
Pool B: 1 Northern Blues (4) GD10, 10pts; 2 KZN Raiders (3) GD3, 7pts; 3 Western Province Peninsula (3) GD-2, 6pts; 4 Eastern Province (3) GD-5 0pts; 5 KZN Inland (3) GD-6, 0pts.
RESULTS
WP 8 (Jordan Turnbull 2, Nqobili Ntuli 2, Dan Bell, James Drummond, Ryan Crowe, Ryan Julius) Wits 0; Blues 6 (Stephen Cant 2, Ashley Kemp, Jason Stiff, Tim Guise-Brown, Chris van den Berg) Pens 2 (Jamie Christians, Nick Price); Free State 2 (Qhayiya Jack, tbc) North West 2 (Ruan de Jong, tbc); KZN Inland 1 (Tyson Dlungwana) KZN Raiders 2 (Stephen McManus, Dale van der Merwe).
FIXTURES
9am Free State vs Wits; 11am KZN Raiders vs Pens; 1pm Southerns vs North West; 3pm KZN Inland vs EP.

SA Hockey Association media release


---

Major blow for hockey team as Shahril goes under the knife

By Aftar Singh



Shahril Saabah (right) will miss the World League Semi-finals in Antwerp, Belgium next month as he will undergo surgery for his shoulder.

KUALA LUMPUR: The Malaysian hockey squad have been dealt a major blow before the World League Semi-finals in Antwerp, Belgium next month.

Forward Mohd Shahril Saabah, who has the knack to score from penalty corner flicks, will undergo a shoulder surgery and will miss the tournament.

The 21-year-old player from Terengganu has been hampered by the injury since December last year.

National coach Tai Beng Hai said doctors have advised Shahril not to delay surgery.

"Although the date has not been fixed he will certainly not feature in the World League Semi-finals," said Beng Hai.

There are currently 25 players in the training squad and two other players – defender Mohd Sukri Abdul Mutalib and forward Mohd Haziq Samsul – are also nursing injuries.

Sukri is carrying a knee injury while Haziq injured his jaw during training.

"I am keeping my fingers crossed the duo will recover in time and that there will be no more injuries from the other players ahead of the playing tour to Europe next week," said Beng Hai, who will name 20 players for the tour this week.

Malaysia are expected to play seven matches there – two each against Holland and Belgium, one against the Dutch juniors and two against club teams.

The team will return on May 11 and will continue training for one month before they leave for the Belgium meet which begins on June 20.

Malaysia will play two friendlies there before opening their Group B campaign against China on June 21 followed by matches against Ireland (June 25), Belgium (June 26) and Britain (June 28).

World No. 1 Australia, India, Pakistan, France and Poland will do battle in Group A.

Malaysia, who finished bottom in the six-nation Sultan Azlan Shah Cup in Ipoh early this month, face a difficult task as they have to finish in the top three to qualify for next year's Rio Olympics.

Malaysia last featured in the 2000 Sydney Olympics.

The Star of Malaysia


---

Robertson & Maguire selected for Great Britain



Sarah Robertson is named in the GB squad against Japan. Photo Credit: Ian Steele

Great Britain Women's Head Coach Danny Kerry has named a squad of 20 athletes ahead of the Investec Private Banking International against Japan on Sunday 26 and Monday 27 April. The final 18 athletes will be selected on the morning of the events as both teams head back to Queen Elizabeth Olympic Park for the first time since London 2012.

Scotland's Emily Maguire and Sarah Robertson are included in the squad, with the latter being afforded an opportunity from Head Coach Danny Kerry to press home a claim for a squad berth in the forthcoming FIH World League 3 competition,
"We've given an opportunity to young Scotland international Sarah Robertson to stake a claim for a place in the World League squad and we have also brought Helen Richardson-Walsh back into the fold for a capped match following a long period of rehabilitation to vie for a place in the squad that goes to Valencia."

"We've given an opportunity to young Scotland international Sarah Robertson to stake a claim for a place in the World League squad and we have also brought Helen Richardson-Walsh back into the fold for a capped match following a long period of rehabilitation to vie for a place in the squad that goes to Valencia", said Kerry.

"Japan will set us a number of different tactical challenges with an Asian style of play which will feel different to our playing group. This type of experience is great for the development of the team. All the coaching staff are looking forward to seeing how we play given a good period of focussed and intense training over the last few months."

14 of the 20 athletes named by Kerry were part of the squad who travelled to Spain for a three match series – which Great Britain won, back in February. There is a call up for Leicester goalkeeper Sabbie Heesh who has impressed since joining the training squad, the 23-year-old will be hoping to win her second senior international cap.

If selected, Helen Richardson-Walsh will reach 250 combined international caps when she takes to the field against Japan. The last time the Reading midfielder represented her country was over a year ago when the squad played the USA out in San Diego. Since then, Richardson-Walsh has struggled with a back injury, but has been back in full time training since the start of the year.

Great Britain have only played Japan eight times and their record against the Cherry Blossoms makes for pretty good reading - won six and lost two. The home side have also got 24 goals to their name and have conceded just eight times. England's star striker Alex Danson has been on target three times in the teams' last two meetings; a 3-0 victory at the 2012 Champions Trophy when teammate Helen Richardson-Walsh was also on target and then later that year the forward bagged a brace on Olympic Park during London 2012 when Kerry's side ran out 4-0 winners in the pool stages.

Scottish Hockey Union media release


---

Volkov sees Kazan ties as key to Stroitel season




Dynamo Stroitel boss Dmitry Volkov believes his club's key showdown with Dinamo Kazan this weekend in the Russian league will have a huge bearing on how his side performs in the remainder of the season.

The Ekaterinburg side returned to action last weekend with two games in Belarus in Minsk, winning one and losing the other, after their winter break.

Their games with Kazan, though, represent the first ones which will count in the Russian title race. Kazan sit top with ten wins from ten and won both of the fixtures in Tatarstan but with five double weekends to go before the playoffs, things can change quickly.

And Stroitel's Volkov says that his third place side can start to eat into that margin this weekend.

"The mood we get from the first match will be the same mood you are likely to bring into the remaining matches of the championship," he said. "The opponent is a very serious one, very strong, and a win over them would give us additional power which will make later games easier.

"Kazan will play a disciplined and productive game and will most likely play on the counter-attack.

Euro Hockey League media release


---

Pearn calls time after glittering career




East Grinstead's Mark Pearn has decided to call time on his elite hockey career this week at the age of 38 after a superb ten year stint with East Grinstead.

He joined the club in 2005 after a successful spell with Reading over nine years while he also played in Spain for one year, making for an incredible 20 years at the top level.

Speaking to the East Grinstead Courier about the decision, he feels the time is right to step down even though he helped the club to top of the regular season league table in England, earning the Gladiators an EHL spot.

"I have really enjoyed my time here and made lots of friends, but I think the time is right for me now to focus on other things, including my family," he said.

"At the stage I am at in my life, it is a big commitment to play in the Premier Division and in Europe, and you do have to listen to your body and your family."

He was part of the side that won seven national indoor titles in a row while he also helped to win the club's first national outdoor title in 2009.

Pearn bows out in the wake of EG's 8-5 loss to Wimbledon in the recent championship final.

Euro Hockey League media release


---

Road to Lee Valley: The Invincibles vs. The Silent Assassins.



Surbiton's Abi Robinson celebrates with Sandra Frankland

This Saturday, two of the big hitters from the Investec Women's Premier Division will go toe-to-toe to fight for the Investec Women's Cup. Holders Surbiton, dubbed "The Invincibles" take on "The Silent Assassins" of Clifton.

The two sides will be familiar with Lee Valley Hockey and Tennis Centre having played there just a week ago in the league finals. Now, however it all comes down to one game, winner takes it all.

Both sides have had to overcome some stiff tests on their way to the final with Surbiton seeing off, Hampstead and Westminster, Holcombe, Oxford Hawks and Loughborough Students. Clifton have had a far from easy run, either, beating University of Birmingham 1-0, Gloucester City 2-0 and then Bowdon Hightown in the semi-final, 2-1.

Brett Garrard's side have shown their strength in depth during this competition with some of their more established stars taking a back seat to allow some up and coming talent to take centre stage. The squad have not disappointed. Charlotte Calnan, Emily Atkinson and Abi Robinson have all impressed alongside the likes of Sarah Page, Sandra Frankland and Jenna Woolven. Investec Women's Premier Division Player of the Year and Top Goalscorer Rebecca Herbert will captain the team as she hopes to round off a splendid personal season with some more silverware for the team. The Sugden Road outfit will field an impressive line-up and hope to impose their free flowing brand of hockey on their opponents.



Harriet Pearce

Clifton were disappointed to have finished fourth in the league playoffs last weekend, but come into the final full of confidence. They are a club with terrific pedigree in this competition reaching the final this year for the seventh time since 1991-92. They have won the title twice in that time and will be fighting hard to add a third win this weekend.

In Caitlin Jeffries they have a supremely talented goalkeeper, whilst Harriet Pearce is a defensive rock with a missile of a strike on penalty corners. Further forward the talents of Joie Leigh are well documented whilst Claire Thomas and Els Mansell both know how to find the net. Like Surbiton, Clifton have quality all over the pitch and are able to turn it on when it matters.

Plenty of attacking talent, two very astute coaches, two excellent teams, one game, one trophy. It promises to be a spectacular clash!

Saturday 25th April 2015

09:30 - Women's 2nd XI Plate Final - Bromley & Beckenham v Oxford
11:30 - Investec Women's Vase Final - Oxted v Amersham & Chalfont
13:30 - Investec Women's Trophy Final - Newcastle v Newent
15:30 - Investec Women's Cup Final - Clifton v Surbiton
17:30 - Women's 2nd XI Cup Final - Beeston v Surbiton

Sunday 26th April 2015

09:30 – Investec Women's Masters O35s Shield Final (Pitch 2) - Redbridge & Illford v Wrekin
10:00 – Women's Masters Over 45's Cup Final - Cambridge City v Sevenoaks
11:30 – Investec Women's Masters O35s Trophy Final (Pitch 2) - Jersey v Bury St Edmunds
12:00 – Investec Women's Masters O35s Cup Final - Bowdon v Sevenoaks
13:30 – Women's Masters Over 45's Plate Final (Pitch 2) - Driffield v Canterbury

England Hockey Board Media release


---

Grand & Great Grand Masters prepare for Celtic Cup challenge




Scotland's Over 60 and Over 65 teams cross the Irish Sea to Bangor on the weekend of 24-26 April in a bid to retain both Celtic Cups.

Grand Masters

The Over 60 side play a round robin against France, Wales and Ireland over the three days, while their older brethren take on Wales after the French Over 65 side had to withdraw at the last minute.

Over 60: Jim Bate, Hew Bishop, John Candlin, Jim Chisholm, John Connaghan,  John Hay, Chris Kalman (GK), Derek Johnstone, Gordon Loudon, Steve Macdonald, Bernie Morrison, Alistair Ogilvie, Glenn Paton, Stuart Robertson, Chris Taylor (GK), Ian Wilson. Ally Trainor is manager and Ian Wilson coach/captain.

Over 65: Alan Auld (captain), Ernie Brittain-Dodd, Alex Cathro, Roy Crichton, Donald Dunbar, Andy Ferrol, Colin Gallacher, Peter Gordon, Chris Kalman (GK), Alan Parker, Stuart Robertson, Colin Tucker, Dougie Turner, Sandy Weir. George Black is manager and reserve goalkeeper, and Peter Gordon is the coach.

Both competitions were very close last year, with Wales the main threat to both Scottish teams. Scotland Over 60s edged out Wales in the 2014 Celtic Cup but lost to them in the group stages of the 2014 World Cup, so will be looking for revenge.

Scotland and Wales Great Grand Masters could not be separated over two matches in 2014 and another close encounter is expected.

Scottish Hockey Union media release


---

Scotland Senior Women add Jen Wilson to coaching team



Jen Wilson (Photo Credit: Ady Kerry)

Scotland Senior Women have added a new Assistant Coach to their coaching team, recruiting triple Olympian and South Africa playing legend Jen Wilson to the post.

The thirty-six year-old has been in charge of Canterbury Ladies in the England Hockey League as Player-Coach since 2013, which has included a league winners and runners-up finish in the last two seasons.

Moreover, Wilson had the opportunity to join up with the Scotland camp at the Investec Cup last summer, working with the strikers included in the squad.

Commenting on her appointment, Wilson said, "It's a real privilege to work with a National Team and I look forward to challenging each individual so they can contribute to the team's progression.

"The ability to get the most out of players, coupled with a blend of coaching characteristics from some key sources over the years, have helped create a unique coaching style for me.

"I had the opportunity to work with the strikers last summer while they were in full time training and during the Investec Cup. I was impressed with the response of the players at sessions. The players' work ethic and desire to develop their game was passionately evident."

The South African had six seasons in charge of Ashford Men's 1st XI in the Kent/Sussex and South Premier League.

As an international player representing South Africa 180 times and scoring 65 goals, she achieved great success, including appearances at three Olympic Games (Athens 2004, Beijing 2008, London 2012), three World Cups (Australia 2002, Spain 2006, Argentina 2010) and three Commonwealth Games (Manchester 2002, Melbourne 2006, Delhi 2010). At the 2004 Games in Athens, she finished tournament top scorer.

A sports fanatic in and out work, and is always the first out to a traditional South African braai!

Scottish Hockey Union media release


---

U20 National Hockey Championship: NBP, WAPDA set up final clash

By Nabil Tahir



NBP outclassed SSGC 4-0 as goals from skipper Atiq Arshad, Muhammad Naveed, Azfar Yaqoob and Mubashir Ali ended the contest in favour of the defending champions. PHOTO: FILE

KARACHI: NBP and Wapda progressed to the U20 National Hockey Championship final in a replay of last year's decider after convincingly defeating their respective rivals in their semi-final at the Hockey Club of Pakistan in Karachi on Thursday.

NBP outclassed SSGC 4-0 as goals from skipper Atiq Arshad, Muhammad Naveed, Azfar Yaqoob and Mubashir Ali ended the contest in favour of the defending champions.

Meanwhile, in the second semi-final, Wapda thrashed Punjab-A 5-0 as Shahbaz scored a hat-trick, while Bilal Mehmood and Sohail Anjum added one goal each to conclude the rout.

Tournament director Anjum Saeed said that the young players have showcased brilliant skills, which evidence the bright future of hockey in Pakistan. "The semi-finals should have been more competitive, but sadly they turned out to be one-sided. We hope to see a good final between the top two teams," he added.

The final would be played on Friday, while Punjab-A and SSGC will face each other in the third place play-off.

The Express Tribune


---

NBP to face Wapda in junior hockey final

Anwar Zuberi



WAPDA defender clears the ball against Punjab "A" during their semi-final - Anis Hamdani/White Star

KARACHI: Holders National Bank of Pakistan (NBP) and last year's runners-up Water And Power Development Authority (Wapda) set a repeat final after their teams won one-sided semi-finals in the 34th National Junior (under-20) Hockey Championship at the Hockey Club of Pakistan Stadium on Thursday.

Both the encounters fell short of expectations and pathetic performance exposed the falling standard of game in the country.

The bankers, who had dethroned Wapda 2-1 to capture the crown at the same venue in May last year, halted the winning run of debutant Sui Southern Gas Company (SSGC) registering an emphatic 4-0 victory in the first semi-final.

The reigning champions, who took time to settle, opened their account in the second quarter when team captain Atiq Arshad's shot left opponent custodian Muneeb guessing in the 21st minute. The bankers mounted their pressure and M. Naveed capitalised an opportunity four minutes later to consolidate team's lead.

The post interval period also produced two goals – one each by Azfar Yaqoob in the 42nd minute and Mubashir Ali in the 51st, the second off penalty corner.

The SSGC, who sent PIA packing 3-1 to emerge pool "B" champions and survived a scare against low-profile Khyber Pakhtunkhwa before winning by a solitary goal in the quarter-final, was found wanting in all departments of the game.

Meanwhile, Shahbaz slammed hat-trick as former champions Wapda handed a 5-0 thrashing to Punjab "A" to set a date with NBP in the title clash. Shahbaz's goals came in the second, eighth and 17th minutes. Bilal Mehmood and Sohail Anjum added one apiece to complete the rout.

Like the SSGC, Punjab "A" was also totally off colour and failed to produce their previous performance that they had displayed against former champions PIA in the quarter-final.

Off the field, the Wapda-Punjab "A" encounter witnessed two chief guests separately. First, chief selector and former Olympian Islahuddin Siddiqui was introduced to the two teams before the start of the match and the exercise was repeated in the half time when both the sides were lined up again to shook hands with Additional Collector Customs Shafqat Niazi. This annoyed the veteran Olympian who left early before completion of the match.

It is pertinent to mention that in his capacity as chief selector, Islah has watched almost all the matches to scout talent.

The final between NBP and Wapda will be played on Friday at 4.30pm. It will be preceded by play-off for the third-fourth position between the SSGC and Punjab "A" at 2.30pm.

Dawn


---

Players left in the lurch as girls' hockey wing closes

Chief Parliamentary Secretary Tinnu cites non-performance, players say it's because they protested against 'mismanagement'

Rachna Khaira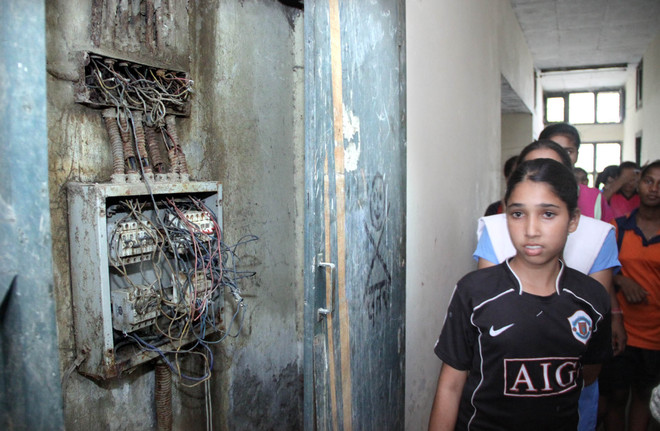 In September 2014, trainees of the hockey wing at the Government Girls Senior Secondary School at Nehru Garden, Jalandhar, had complained of girls getting electrocuted by open wires. File Photo

Jalandhar - The residential hockey wing at Government Girls Senior Secondary School at Nehru Garden, Jalandhar, once famous for producing India players has been abruptly closed by the Punjab Sports Department.

The decision has brought 45 players, many from humble background, virtually on the road and their future staring at dark. The Sports Department has been particularly harsh on hockey players while other disciplines such as basketball and volleyball will carry on as usual. Their trials for the new batch of trainees have been slated on April 24.

The school does not have an astroturf of its own. The hockey coach deputed at the state-run academy belong to the Sports Authority of India (SAI), and in the recent past, the academy has been in the news for poor infrastructure and mismanagement.

Chief Parliamentary Secretary for Sports Pawan Kumar Tinnu said, "The players have not been able to improve their performance. Moreover, we are restructuring the sports infrastructure across the state after the constitution of the Sports Authority of Punjab. Only once the complete layout will be finalized, I will be able to assess the fate of the Nehru Garden Sports wing."

But the trainees allege that the decision is shear vindictiveness. "We protested against the inhumane living condition inside the school premises last year. Instead of slamming the school authorities, the sports department has chosen to take their side and close the wing," said one of the players.

The players do not mince words when it comes to slamming the school authorities. "The department has taken the decision at the behest of the incompetent school authorities who have failed to maintain the high standards of hockey in the school," said another player.

The players say that in last one year five girls from the school have played the U-19 hockey tournament at the 60th National School Games, New Delhi on January 2-8, 2015. As many as four players have participated in Rural National Games this year. What more, the school attained third position in the Punjab School Games, the players ask.

The players said, "How can the sports department expect players hailing from poor rural families to perform with empty stomachs and bare hands." In September 2014, the residential wing players protested against the school authorities for inadequate diet and lack of sports kits, following which the authorities allegedly threatened to throw them out of the school.

"Last year the situation got so bad that the leaking roofs of the hostel led to instances of electric shocks to the trainees. Many politicians have come and promised but no one has delivered," said a player.

Ironically, it is the same sports department citing the blip in performances, who forty years ago opened this very institution because of chain of good performances. The Sports department had even established a residential hockey wing with 45 seats with a daily diet worth Rs 200 per day for each player. As the performances kept getting better, the Sports Authority of India (SAI) adopted the wing in 1980 and besides provided a full time coach. It also built a sports hostel for the players.

Nehru Garden school has produced women hockey stalwarts such as Ajinder Kaur (Arjuna Awardee), Rajbir Kaur, (Olympian), Nisha Sharma and Sharanjeet Kaur (Asian Games gold medallists) and Pritpal Kaur along with numerous national and international players.

The Education Department too has failed to come to rescue of the aspiring players. In one of its notification issued in 2010, the education department has issued directions to only depute principals having sports background in the residential sports wing schools however the directions have not been complied.

The Tribune


---

A hockey story from coffee-country

Bhumika K.



Sandhya Kumar's documentary 'Hockey In My Blood' tells the story of the Kodava community's passion for the game

Over 3,000 players — men, women, and children — of the Kodava community from Coorg gather annually for the family hockey tournament in the midst of coffee plantations, summer vacations and the wedding season.

It's regarded as the world's largest field-hockey tournament. Curious about this sociological phenomenon and their passionate love for the game that forms the glue, binding generations, Bengaluru-based documentary filmmaker Sandhya Kumar decided to make a film.

After two years of research, several visits to Coorg, interviewing players and hosting families, crowd-funding, and filming the 2013 tournament, her film Hockey In My Blood is ready to be aired at this year's tournament.

The 52-minute film is in English and Kodava-takk (with English subtitles). The 19th edition of the Kuppanda Cup Kodava Hockey Namme 2015 is currently underway at Virajpet (Coorg) and Sandhya's film will be screened at the festival on May 7, two days before the finale.

The tournament is played over a month, with a series of about 250 knockout matches, played by anywhere between 220 to 260 teams — each team being one family. Many of the players have played for the State and National teams; some are even former Olympians. Every year, one family hosts the tournament.

"It's the coming together of people that fascinated me. It's a family tournament, with no big money or stakes involved. The Kodavas are a sports-obsessed community. Most of the people don't live in Coorg — they live and work mostly in Bangalore, Mangalore, and Mysore — but have an estate and family to go back to in Coorg. When you have to put together a team of 11, contacting third and fourth cousins you're otherwise not really in touch with, it is something. Within the clan there are classes — a carpenter may be playing alongside a banker — but the point is every one comes together for this," explains Sandhya.

Armed with an MFA in Film from the San Francisco Art Institute, and an MA in Mass Communication from Jamia Millia Islamia University, Sandhya has been making documentaries since 2007. She won the President's National Film Award of India (2013) for her documentary O Friend, This Waiting! After she moved to Bangalore three years ago when she married, she missed her close-knit film community in Delhi; so, along with fellow filmmakers, Sandhya helped revive Vikalp Bengaluru, a forum that regularly screens the best of documentary films from all over the world.

The story of Hockey In My Blood started when a Kodava friend of Sandhya's was talking about the tournament, and suggested "Why don't you make a film on it?" "There were no books on the subject, very few people in Bangalore knew about it. I only had newspaper articles to fall back on and I hadn't been to Coorg before that. Later, when I was in Coorg for a wedding, I became interested in the community sociologically, and their passion for hockey when the rest of the country was obsessed with cricket."

Her friend Deepthi Bopaiah offered help and introduced her to the host family for 2013 — the Madanda family, and the tournament's coordinator Thimmaiah Madanda.

There were initial apprehensions about her making the film. But when they met up, they were pleased that someone was interested in this phenomenon, adds Sandhya.

Through the organiser, she identified players she wanted to interview and film. While she started filming impulsively with her own funds, film grants were few to come by. She soon found a need to crowdfund the film — in about five months, she raised Rs. 7 lakhs from family and friends through the Orange Street platform. "I met this young boy called Prajwal. He and his family lived on a small estate, and along with his brother he practised hockey in the coffee-drying yard in front of their home. We filmed him extensively. The film was shot in Balugodu, Virajpet, Palangala, Murnad, and the Karnataka State Hockey Association. Participants start practising just about a week before the tournament, because most live far off; some players have even come in from Dubai to participate."

Sandhya also met Pandanda Kuttanni, who is well into his 70s, and the founder of the concept of this tournament. "He said he was in Delhi during the 1982 Asiad cup and felt Coorg needed a tournament like this to bring together a people who were moving away from home," recalls Sandhya.

At the end of it all, Sandhya says: "It's the commitment of the players to their families, the extent they will go to, to give up whatever they are doing to go back home to Coorg, and play for family — that was my best takeaway from the film."

The Hindu


---

The dreaded deadline

How do match reports appear online or in print so rapidly. We take a behind-the-scenes look at the hockey print media



Image from KNHB at The Rabobank Hockey World Cup 2014

At the end of each hockey match at a major competition, you might have noticed the hordes of people who crush themselves into a small area, normally to the side of the players' benches. These people might wield microphones, recording devices, pens and notepads or cameras and, for a few minutes, they seem to be involved in an almighty rugby scrum as they jostle for places at the front of the crowd.

Welcome to the world of media reporting at a sports event. This assortment of people are the world's hockey press and the area they are operating in is known as the 'mixed zone.' It is the place where the players and the coaches give their post-match comments and short interviews, which then get written into the match reports and dispatched back to the office to re-emerge in newspapers, magazines and on websites.

This is a behind-the-scenes explanation of the written branch of the media operation at an international sports event.

At the Hockey World League Semi-Finals, the media will be out in force because this is where some of the Olympic places are being decided. The media will be after several different sorts of information. Most important will be the match results: who played who; who won; which players performed well; how their respective national teams are standing in the pool matches and knock-out stages. Then there will be the human interest stories – injuries, surprise omissions from the team, celebrating a milestone number of caps or a number of goals. Finally, there is the analysis. This comes after the event and is often a far more in-depth piece, either rueing a team's failure to perform to their best or examining why a team has achieved so highly.

How the stories are disseminated has changed beyond recognition in the past few years. Leading the change has been social media and, in particular, Twitter. Now there are journalists whose sole job is to tweet throughout a match. The journalists will tweet about every piece of noteworthy action, giving the media outlet's audience up-to-the-minute coverage of a match. For the hockey fan who cannot watch the match live or via online streaming, this is often the only way they can keep up with the action.

Journalists working for online publications will file their report as soon as they have all the information they need and the final written report will appear online within 20 to 30 minutes of a game finishing. This report will include a match report, plus comments from some of the players or the coaches that are gathered from interviews in the mixed zone after the game.

In some instances there will have been a press conference in addition to a game, in which case the journalist's copy will be slightly delayed. Back in the head office, the editor will be tearing his or her hair out as they wait for the delayed copy to arrive, but at a press conference there is a chance you might get an insight or a snippet of information that is a world exclusive, making it worth the wait.

Print journalists will write a match report, which they will email back to their office and this will appear in the printed newspapers the next day. These journalists can afford a little more time, so the match reports will be more in-depth and the comments from players and coaches will be more detailed.

Aside from the actual matches, which provide the vast majority of the journalist's copy, there are the press conferences or individual interviews that take place over the course of an event. Hockey is a sport where the players and coaches are quite accessible to the press. Journalists may request interviews with players or coaches which are scheduled for non-playing days. These will appear as feature articles or incorporated into larger analytical pieces. Such an example might be a coach's opinion of rule changes or a player's intentions to retire after a major tournament.

Finally, there are the press conferences which are arranged with officials, either from the host nation's federation or with International Hockey Federation (FIH) officials. These are organised to explain developments in the game or announce new initiatives.

This article does not touch on the other forms of media – broadcasters and photographers – who are also in full operational mode throughout a major tournament but, if you see a harried-looking journalist rushing from pitch side to the press centre, give them room to run because rest assured a deadline is screaming to be met.

FIH site


---

Missed out on EuroHockey 2015 Finals or England match tickets?

Great news, additional tickets go back on sale in one week!




Due to an extremely high demand for tickets to the Unibet EuroHockey Championships 2015 with many sessions currently sold out, the exciting decision was made to expand the seating capacity at the stadium to allow more hockey fans to enjoy the event!

Additional tickets to these sold out sessions, including the Men's and Women's Finals and many England sessions will come back on general sale on Friday 1 May. If you missed out on the chance to secure your seat at an England or other sold out session, make sure you visit the EuroHockey 2015 website on 1 May.

If you would like to secure your seat to one of the sold out sessions before 1 May, there is a priority window opening on Monday 27 April available to all purchasers of a EuroHockey ticket or a GB ticket. To qualify for this priority ticket window you would need to purchase a ticket to the EuroHockey Championships, GB v Japan this Sunday or GB v Australia on 13 June. Purchases need to be made by midnight on 26th April.

Don't forget - Friday 1 May additional tickets go back on sale!

England Hockey Board Media release