All the news for Thursday 23 April 2015

Black Sticks set for Four Nations in Tasmania




Fresh off their victory at the Sultan Azlan Shah Cup, the Black Sticks Men have been confirmed to compete at the International Challenge in Hobart next month.

New Zealand will play two tests against world champions Australia with one off games against Pakistan and Korea at the Tasmanian Hockey Centre, with the team to be announced next week.

The International Challenge is important preparation ahead of the FIH World League Semi-Final in Argentina from 3-13 June, which provides an opportunity to qualify for the 2016 Rio Olympic Games with a top three finish.

The Black Sticks are joined in Pool A at the World League Semi-Final by Netherlands, Korea, Japan and Egypt while Pool B consists of Germany, Argentina, Spain, Canada and Austria.

INTERNATIONAL CHALLENGE - HOBART
Tasmanian Hockey Centre, 2-10 May 2015

All in New Zealand time
DATE



TIME



FIXTURE



2 MAY

3:00pm
5:00pm



Australia A vs Korea
Australia vs Pakistan



3 MAY

3:00pm
5:00pm



Australia A vs Pakistan
Australia vs Korea



5 MAY

7:00pm
9:00pm



Pakistan vs Korea
New Zealand vs Australia

7 MAY

7:00pm
9:00pm

New Zealand vs Pakistan
Australia vs Korea



9 MAY

6:00pm
8:00pm



Pakistan vs Korea
New Zealand vs Australia

10 MAY

5:00pm
7:00pm

New Zealand vs Korea
Australia vs Pakistan
Hockey New Zealand Media release


---

Telkom Orange 10-0 Simbarettes

Jackline Jow scores six as champions rout Meshack Senge's juniors

By BRIAN YONGA



Telkom Orange's Irene Ofula (left) shields the ball from Jane Nzula of Simbarretes during their Vaisakhi Hockey Tournament match at City Park Stadium on April 22, 2015. PHOTO | CHRIS OMOLLO |

Kenyan League defending champions Telkom Orange thrashed Simbarettes 10-0 in the opening match of the Vaisakhi Hockey tournament played at City Park Stadium on Wednesday.

Veteran striker Jackline Jow Wangenci was the star of the match scoring six goals against the national women's junior team to underline their dominance in the match.

Hellen Chemtai added the other four goals.

The win means that Orange will now need to avoid defeat in their next match against Strathmore Scorpions to seal their place in the final.

Orange had originally been scheduled to play Scorpions but the game was moved to Saturday as the latter were unable to make it due to school commitments.

Jow continued her fine start to the season adding six goals to the four she scored on Sunday against Vikings in a league match Orange won 6-0. She gave her side the lead in the third minute through a field goal firing the ball past Natasha Maria.

She scored two more goals in the 11th and 12th minutes as Orange dominated early proceedings against the young side. She added her fourth in the 28th minute through another field goal as the champions made the inexperienced juniors pay for their mistakes.

COMPLETED THE ROUT

Chemtai also sounded the board in the 32nd minute to give Orange a 5-0 lead going into the breather with their opponents rarely threatening. The second half was not different as the African Club champions picked from where they had left it in the opening half while Simbarettes happy to sit back.

Chemtai scored two more goals in the 36th and 39th to extend her team's lead with brilliant field goals which Maria could do nothing to keep out. Jow scored her fifth and sixth goals soon afterwards as the champions continued to rip apart their opponents defence. Chemtai completed the rout in the 61st minute as Orange kicked started their title defence in a convincing manner.

Six-goal hero Jow attributed the win to team work and warned their opponents that they are out to recapture their titles this year.

"It was a great win, we scored some beautiful goals and the team's momentum is good. We are confident that we will retain the title because we have some good players," Jow said.

Simbarettes coach Meshack Senge said his team showed too much respect to their opponents and were punished for been too timid in possession. He, however, noted that the team will work hard in their next matches.

Daily Nation


---

GB squad named to face Japan on Olympic Park



Helen Richardson-Walsh in action for Great Britain

Great Britain Women's Head Coach Danny Kerry has named a squad of 20 athletes ahead of the Investec Private Banking International against Japan on Sunday 26 April at 3pm. The final 18 athletes will be selected on the morning of the event as both teams head back to Queen Elizabeth Olympic Park for the first time since London 2012.

Great Britain squad – FIH world number 8
The Great Britain squad contains seven athletes who competed at the 2012 Olympic Games; defenders Emily Maguire and Kate Richardson-Walsh as well as Laura Unsworth, Helen Richardson-Walsh, Georgie Twigg, Alex Danson and Hannah Macleod. Ashleigh Ball, who also competed at London 2012, is out with long term injury whilst fellow Olympians Nicola White and Sally Walton are not selected.

14 of the 20 athletes named by Kerry were part of the squad who travelled to Spain for a three match series – which Great Britain won, back in February. There is a call up for Leicester goalkeeper Sabbie Heesh who has impressed since joining the training squad, the 23-year-old will be hoping to win her second senior international cap. There is also a place for Scotland's Sarah Robertson who has over 50 caps for her home nation.

If selected, Helen Richardson-Walsh will reach 250 combined international caps when she takes to the field against Japan. The last time the Reading midfielder represented her country was over a year ago when the squad played the USA out in San Diego. Since then, Richardson-Walsh has struggled with a back injury, but has been back in full time training since the start of the year.

Speaking ahead of the two match series [including the capped game on Monday 27 April], Head Coach Kerry said: "Japan will set us a number of different tactical challenges with an Asian style of play which will feel different to our playing group. This type of experience is great for the development of the team. All the coaching staff are looking forward to seeing how we play given a good period of focussed and intense training over the last few months."

On the selected squad: "We've given an opportunity to young Scotland international Sarah Robertson to stake a claim for a place in the World League squad and we have also brought Helen Richardson-Walsh back into the fold for a capped match following a long period of rehabilitation to vie for a place in the squad that goes to Valencia."

Japan squad – FIH world number 10
Japan have also named a squad of 20 athletes to travel to London with 17 of the 18 who finished eighth at the recent Hawke's Bay Cup, included. Naho Ichitani is the one omission from that group whilst Keiko Manabe, Shiho Otsuka and Yukari Mano have been added to take the squad to 20.

Click here to find out more about the ones to watch for Great Britain and Japan.

The facts – Great Britain v Japan
Great Britain have only played Japan eight times and their record against the Cherry Blossoms makes for pretty good reading - won six and lost two. The home side have also got 24 goals to their name and have conceded just eight times.

Great Britain's star striker Alex Danson has been on target three times in the teams' last two meetings; a 3-0 victory at the 2012 Champions Trophy when teammate Helen Richardson-Walsh was also on target and then later that year the forward bagged a brace on Olympic Park during London 2012 when Kerry's side ran out 4-0 winners in the pool stages.

The last time Great Britain suffered defeat at the hands of the Cherry Blossoms was 12 October 2003 when the Japanese ran out 3-2 winners in a test match.

Investec Private Banking Internationals - Great Britain squad v Japan

Name , Club
Maddie Hinch, Holcombe
Sabbie Heesh, Leicester
Emily Maguire, Reading
Kate Richardson-Walsh, Reading
Hollie Webb, Surbiton
Giselle Ansley, Surbiton
Zoe Shipperley, Buckingham
Laura Unsworth, Holcombe
Helen Richardson-Walsh, Reading
Georgie Twigg, Surbiton
Shona McCallin, Slough
Susie Gilbert, Reading
Susannah Townsend, Canterbury
Lily Owsley, University of Birmingham
Joie Leigh, Clifton
Alex Danson, Reading
Sophie Bray, East Grinstead
Hannah Macleod, St Albans
Sarah Robertson, Holcombe
Ellie Watton, St Albans

England Hockey Board Media release


---

Kate Richardson-Walsh on the Road to Rio



Kate Richardson-Walsh on the Road to Rio

Great Britain take their next step on the Road to Rio this coming Sunday as they take on Japan in the Investec Private Banking International at the Lee Valley Hockey and Tennis Centre. We spoke to Olympic Bronze medallist Kate Richardson-Walsh about her memories of the Queen Elizabeth Olympic Park and Sunday's opponents, as well as looking ahead to the challenges to come.

A veteran of approaching 350 international caps, Richardson-Walsh still glows with pride when she talks about her international career. The enthusiasm and excitement of returning to the scene of that London 2012 bronze medal win still burns brightly in the Reading defender:

"I can't wait to come back and play for Great Britain. For me, the pinnacle of my career is playing for GB and going to the Olympics, it's the ultimate. Coming back to the Olympic Park you really get that buzz. Walking through the park to get to Lee Valley you start to feel the hairs on the back of your neck stand on end. We all came to watch the men against Germany the other week and the hype and the noise is amazing. I can't wait to get out there."

Being back on the Queen Elizabeth Olympic Park as Great Britain for the first time since that glorious 2012 summer inevitably brings up memories for the 34-year-old, but they are perhaps not the ones you would think:

"You remember funny things, like seeing the media centre from where the bus used to pull up. That was always a little reminder of where we were and what it meant. It's the really small details that stick out. We always walk past where we stayed in the Olympic Village which is really nice as well." she adds "I'll also never forget the feeling I had when we walked out for the bronze medal game. We all looked each other in the eye and I knew we were going to win. There was no way we were going to lose that medal. That sense of pride and respect amongst a group of girls who worked so hard for each other is something very special which I'm reminded of every time I come here."



Great Britain's Women with their Olympic Bronze medals

The temptation to reminisce and reflect is a strong one, but Richardson-Walsh is typically focused on the upcoming tasks, starting with Japan this Sunday in the Investec Private Banking International as the team continue their preparations for the Olympic Qualifiers in Valencia this June.

"We always have close games with Japan. The opening game against them at the Olympics was almost a perfect one for us, apart from me breaking my jaw, of course!
We scored four and we played well but they are a good side. Defensively they are very structured. They sometimes play quite deep and it will be a good test for us as it is a team we will have to work hard to break down." She continues "We've had a good block of training and we're looking fit and sharp. It's really a crunch time for us as we are all working hard to get selected for the big games. It's a hard stage of our journey, but an important time and we're all really looking forward to the coming weeks."

England Hockey Board Media release


---

The Road to Lee Valley - The Finals



Surbitons Jenna Woolven celebrates scoring in the cup final

This weekend The Lee Valley Hockey and Tennis Centre welcomes those sides who have battled their way through the rounds to the finals of the Investec Women's Knockout Competitions. With no less than ten titles up for grabs it promises to be an exciting weekend of hockey once again.

The weekend begins with the final of the Women's 2nd XI Plate as Bromley and Beckenham face off against 2011-12's beaten finalists Oxford. Both sides came through tough semi-finals to get here with Bromley beating East Grinstead and Oxford seeing off Towcester for a chance to get their hands on the title.

The game is followed by the Women's Vase Final as two-time finalists Oxted aim to recapture the title they won in 2011-12 as they take on Amersham and Chalfont.

The Women's Trophy is up next as Newcastle take on Newent. The side from the West knocked out holders Henley 5-1 in the semi-final and will be keen to get the job done in normal time against Newcastle, the shootout specialists who have won on penalties three times on their way to the final.

Following on from that clash is the big one, as the Women's Cup Final takes place at 1530, pitting Investec Premier Division outfit Clifton against Champions and cup holders Surbiton. The two sides were in action at Lee Valley last weekend in the league finals and will be keen to put on another good show this time out with more silverware up for grabs.

The day then rounds off with the 2nd XI Cup Final, which also features Surbiton, 2010-11 finalists against 2012-13 runners-up Beeston.

Sunday is the turn of the various Masters teams with Wrekin taking on Redbridge and Ilford in the Over 35s Shield, followed by Cambridge City vs. Sevenoaks in the O45s Cup. Jersey and Bury St Edmunds will battle for the O35s Trophy and then in the Investec Women's Masters O35s Cup Bowdon Hightown and Sevenoaks face off before Driffield and last year's beaten finalists Canterbury vie for the Women's Masters Over 45's Plate.

With the final game starting at 13:30 that allows the players time to celebrate their victories or commiserate their defeats before settling in to watch Great Britain's Women take on Japan in the Investec Private Banking International at 3pm.

It should be a fantastic weekend and England Hockey would like to wish all the competing teams the best of luck.

Saturday 25th April 2015

09:30 - Women's 2nd XI Plate Final - Bromley & Beckenham v Oxford
11:30 - Investec Women's Vase Final - Oxted v Amersham & Chalfont
13:30 - Investec Women's Trophy Final - Newcastle v Newent
15:30 - Investec Women's Cup Final - Clifton v Surbiton
17:30 - Women's 2nd XI Cup Final - Beeston v Surbiton

Advanced tickets for Saturday are available for £8 an Adult and £4 for U18s. Click HERE to purchase tickets online.

Sunday 26th April 2015

09:30 – Investec Women's Masters O35s Shield Final (Pitch 2) - Redbridge & Illford v Wrekin
10:00 – Women's Masters Over 45's Cup Final - Cambridge City v Sevenoaks
11:30 – Investec Women's Masters O35s Trophy Final (Pitch 2) - Jersey v Bury St Edmunds
12:00 – Investec Women's Masters O35s Cup Final - Bowdon v Sevenoaks
13:30 – Women's Masters Over 45's Plate Final (Pitch 2) - Driffield v Canterbury

Tickets are also available for the Investec Private Banking International between Great Britain and Japan which takes place after the O45's Plate Final. Details here.

England Hockey Board Media release


---

Play-off finale gets underway with semi-final weekend

Scottish Hockey's European & Relegation Play-Off Semi-Finals get underway this weekend with eight semi-final matches across Men's and Women's National League Division 1 taking place on Saturday 25 and Sunday 26 April.

National Champions Trophy / European Play-Offs

In the Men's semi-finals, home side AAM Gordonians face up to the challenge of a first lef against Bromac Kelburne at Countesswells (14.00) on Saturday with the return leg scheduled for the Glasgow National Hockey Centre on Sunday (15.10).

Form will favour the Paisley side in the contest but the Aberdonians have been solidly consistent throughout this season and could spring a surprise.

With Grange on a high after last weekend's Scottish Cup win, it will be down to Western Wildcats to rise to the occasion in the second men's semi-final. The Wildcats host the Stags at Auchenhowie in Saturday's first leg (14.00), before the second leg takes place at Fettes College (14.00) on Sunday.

In the Women's semi-finals, Edinburgh University travel to Glasgow on Saturday to take on Western Wildcats at Auchenhowie (16.00), before Peffermill plays host to the second leg the following day (14.30).

Wildcats will have their work cut out after the students recorded 18 wins from 18 matches in the league campaign but player-coach Kaz Marshall will have her charges rallied for the cause.

With the dust not long settled after last Saturday's epic Scottish Cup Final, Grove Menzieshill and Milne Craig Clydesdale Western will meet again in the second of the semi-final matches.

The newly crowned Scottish Cup winners will welcome Grove Menzieshill to Titwood on Saturday (13.00) before the second leg takes place at DISC the next day (14.30)
Relegation Play-Offs

An intriguing contest in the first of the Men's semi-finals as second division Uddingston play Inverleith.

The South Lanarkshire outfit edged out St. Andrew's University on goal difference to reach the play-offs and provide a real goal threat with nearly 150 goals scored this season.

However, they will expect a tough battle against the Purple Robes.

The first leg takes place at Glasgow National Hockey Centre on Saturday (15.00), while the second leg is on Sunday (16.00).

Division 1 battlers Hillhead and Dundee Wanderers go head-to-head in a match-up to keep their place in the top league. Wanderers host the Glasgow side at DISC (11.30) on Saturday before the return at the Glasgow National Hockey Centre this Sunday (13.30).

In the Women's semi-finals, Peffermill will host the first legs of the Inverleith versus GHK Ladies contest (16.30), and the Watsonians against Kelburne match (16.30).

On Sunday, GHK Ladies will host the second leg against Inverleith at Auchenhowie (12.30), while Watsonians visit the Glasgow National Hockey Centre for the return leg against Keburne (12.10).

Scottish Hockey Union media release


---

2022 Hockey World Cup: Pakistan to make bid for hosting rights

By Nabil Tahir



ATTEMTPING TO REESTABLISH: According to a PSB official, it is crucial to restore the pride that the national game used to bring to the country. PHOTO: FILE

KARACHI: The Pakistan Hockey Federation (PHF) will be making a bid to host the 2022 Hockey World Cup with support from the Punjab government, which will bear all the expenses and provide security to the visiting teams if the country is given hosting rights. 

During his visit to the National Hockey Stadium in Lahore, Usman Anwar, Director Punjab Sports Board, met players and PHF officials after an exhibition match was played to help prepare the national side for its 2016 Rio Olympics qualification round scheduled to take place in June.

The PHF, in current times of financial crisis, is being supported by the Punjab government to resume the training camp and for upcoming tours and according to Anwar, Chief Minister Punjab Mian Shahbaz Shareef is taking a keen interest in reviving sports in Pakistan, especially hockey.

"Chief Minister Punjab has been supporting hockey players and the PHF financially and will keep supporting them in their foreign tours as well," said Anwar. "He wants Pakistan to host sports events and revive the heat of the national game in our own stadiums."

Anwar, while offering assistance to the PHF, has asked the federation to convince international teams to tour Pakistan as the Punjab government will give them foolproof security and will also bear all expenses.

"The law and order situation of the country is getting better. We will provide visiting teams all the security they require," he said.

PHF secretary Rana Mujahid appreciated the efforts made by the Punjab government. "We will try to convince other international teams to tour Pakistan and will bid for the 2022 Hockey World Cup and hopefully the verdict will be in our favour."

The Express Tribune


---

PHF terms grants meager for int'l events

Mohsin Ali

ISLAMABAD - Pakistan Hockey Federation (PHF) secretary Olympian Rana Mujahid Hussain Wednesday has confirmed to receive amounts from the Pakistan Sports Board (PSB) and Sports Board Punjab (SBP).

Talking to The Nation, Rana said that the SBP released Rs 8.6 million grant from Rs 18 million they owed to the Pakistan Hockey Federation on Wednesday, while the PSB also issued Rs 1.2 million fourth quarterly grant of the PHF. "The SBP has actually allocated Rs 100 million, from which the PHF has already received Rs 82 million, while Rs 8.6 million were handed over on Wednesday while remaining Rs 9.5 million hopefully would be handed over in near future." Rana thanked both the PSB and SBP for helping the PHF in extreme pressure situation but the matter of the fact was that combined total of Rs 9.7 million was not even enough for four-nation championship in Hobart, Australia, where they needed at least Rs 15 million. "We will borrow, contribute and even ready to beg, but we will not stop team from fulfilling international obligations, as in the past, we were fined by the FIH. We don't want to bring bad name to country by not participating in international events."

"Soon after Hobart 4-nation tournament, we have to play five-test matches against South Korea from May 12 and then the Olympic qualifiers from June 20 to July 5. We are in desperate situation and left empty-handed. The PHF doesn't even have money to run day-to-day affairs, paying salaries, dailies to players and other staff is almost impossible. We have decided not to pay any dailies or incentives to players during the four-nation tournament. When funds situation improves, we will clear each and every single penny of not only players but also of the entire coaching staff including selectors and other supporting staff," the PHF secretary added.

"We have made up our minds and ready to go door to door to collect funds for the PHF. We don't need any thing for ourselves but we just want players to get facilities and at least some money so that they may concentrate on hockey rather than thinking about their bread and butter," he said.

When asked about long overdue meeting with the PM, Rana replied: "I am sure sports loving prime minister will definitely spare time and meet with players and PHF officials and we will be granted special fund soon. We are looking holding our breaths at the PM. I am sure he will not turn his back and helping the national game and players soon. Our recent record clearly indicates we are on the right track, and the team is performing well but what we need to regain lost hockey glory is support and special grant of the PM."

"It is my humble request to IPC Minister Mian Riaz Hussain Pirzada, IPC secretary Ejaz Chaudhry and PSB DG Dr Akhtar Nawaz Ganjera to order lying down of blue astro-turf at Naseer Bunda Hockey Stadium, as players and coaches are missing the hospitality and facilities there," Rana concluded.

The Nation


---

Punjab govt reiterates support to hockey

LAHORE - Punjab Minister for Sports and Education Rana Mashhood Ahmad Khan has said that hockey is a national game and sincere efforts will be made for its bright future.

"In past, we had been ruling the game of hockey and we are now eager to provide each and every facility to the hockey players to regain that lost glory and want to see our team standing among the top hockey playing nations," said the minister while talking to the reporters here at the National Hockey Stadium (NHS) Wednesday.

PHF secretary Rana Mujahid and head coach Shahnaz Sheikh received the minister and Sports Board Punjab (SBP) Director General Usman Anwar at the stadium. Head coach Shahnaz Sheikh also introduced all the camp probables and coaching staff with provincial minister. The minister and the DG also witnessed the national hockey team's training camp which was under progress for the preparation of Olympic qualifying round scheduled to be played in Belgium.

Mashhood said the government had already issued a hefty amount of Rs 100 million to the Pakistan Hockey Federation (PHF). "Rs 8.6 million were issued recently for the camp proceedings and other preparations for Olympic qualifier," he said.

The minister urged the members of national hockey team to learn the modern techniques of the game. "We are quite fortunate to have top class coaching staff. Our coaches should make the young players of the national team aware with modern requirements of the game," he added.

Replying to a query regarding accountability of the PHF, Mashhood said: "The strict accountability process is underway and the responsible individuals will be answerable to the investigative committee but we don't want to disturb the training camp due the audit process."

Earlier at a ceremony held at the NHS to honour former Olympic cyclist M Ashiq and national deaf squash champion Bilal Tahir, Mashhood awarded a cheque of Rs 500,000 to Ashiq and a world class sports kit to Bilal on behalf of Punjab chief minister Mian Shahbaz Sharif.

The minister lauded the services of Olympic cyclist Ashiq, who rendered great services for the country in the 50's and 60's. "Honouring our greats is our old tradition and we will continue this practice in future as well," he announced.

Mashhood said the Punjab CM was a great sports lover and he put a lot of emphasis on the growth of sports. "Our sports heroes grabbed remarkable laurels in the past and we expect the same fervor from them in the upcoming sports events."

It may be noted here that the Sports Board Punjab has already been giving scholarships of Rs 20,000 and Rs 10,000 to Bilal Tahir and M Ashiq respectively. Both Ashiq and Bilal thanked the Punjab chief minister, Punjab sports minister and DG SBP for their valuable financial support and encouragement.

The Nation


---

Punjab boys falter at the final step

Chandigarh - Punjab ceded their national title after three years as they went down 4-3 to Odisha in the final of the junior men's National Hockey Championship (Division-A) in Mysore today. Punjab, who had beaten the same opposition in the finals of the last three editions, were left to rue their many missed chances on the day. After leading twice — first 1-0 and then 2-1 — Punjab let the match slip in the second half. And though they fought back from 4-2 down to reduce the deficit late in the game, Punjab fell agonizingly short.

"The team played well, especially in the first half. The defence made a few silly errors and we missed a lot of chances," coach Avtar Singh told The Tribune.

Harjeet Singh, Simranjeet Singh and Ajit Pandit scored for Punjab. Harmanpreet Singh was adjudged the Best Defender, while Simranjeet was named the Best Forward.

"We played to our strategy. It was just that we missed our chances, while Odisha made their count," said Harmanpreet. The drag-flicker, who scored two goals in the semifinals, missed from the only penalty corner Punjab got today. "There were a few decisions that went against us. We should have gotten more penalty corners. But it is part of the game," said Harmanpreet, who flies off to Delhi to join the senior national camp.

Avtar, however, was not at all impressed by the level of umpiring. "When we were leading 2-1, the umpire missed a clear carried from an Odisha defender in their circle. A goal then could have changed the match," he said.

Despite the defeat, Avtar was satisfied by his "young" team's performance throughout the tournament.

"Six of our guys were on the younger side, out of which two or three were playing their first major tournament."

The Times of India


---

Faizal Skipped Training To Prepare For Engagement - Radha

PUTRAJAYA -- The mystery of Malaysian hockey foward Faizal Saari, who has gone missing during training for the second time, has been solved.

Malaysian Hockey Confederation (MHC) treasurer, Datuk Radha Krishnan said the 24-year-old forward skipped training to prepare for his engagement.

The media reported Tuesday that Faizal had gone missing during training once again and the coach was not informed of his whereabouts.

"The last episode was about bonus payment and it has been settled and now it is a personal issue. I just heard that he is getting engaged.

"Faizal contacted MHC secretary Datuk Johari (Datuk Johari Abdul Aziz) yesterday saying that he is getting engaged. I accepted and hope there is no other reason," he told reporters after the logo launch of 2015 Putrajaya Deuter Trail Run at Menara KBS, in Putrajaya, Wednesday.

It was officiated by Deputy Youth and Sports Minister Datuk M. Saravanan.

Faizal skipped training since the end of the World League Second Round in Singapore in January, citing non payment of match winning bonuses as one of the reasons.

"I hope he will turn up soon as his absence has affected training. This is unfair to the other players," said Radha, who is also the managing director of Universal Fitness and Leisure Sdn Bhd (UFL).

He said Faizal's absence during training is a concern for MHC as the world qualifiers is getting close.

On bonus payment issues, Radha noted the payment was made during the Sultan Azlan Shah Cup tournament in Ipoh, recently.

"All the players were paid bonuses during Sultan Azlan Shah Cup recently except those who did not play in the tournament. They have to contact the MHC secretary for the payment.

"An equal amount is given to all the players. Everybody is equal, there are no primadonas (in giving out the bonus)," he said.

BERNAMA


---

Former Women's National Team coach, van der Merwe, named to Canada's Sports Hall of Fame

Becomes first field hockey representative to be inducted in Hall's history

Shaheed Devji, fieldhockey.ca




Former Canadian Women's National Team coach Marina van der Merwe became the first individual representing the sport of field hockey named to Canada's Sports Hall of Fame when she was announced as a part of the Class of 2015 on Wednesday.

Van der Merwe, who was named to the inaugural Field Hockey Canada Hall of Fame Class in 2014, will also be entering Canada's Sports Hall of Fame as a builder.

"Being named made me re-live the best years of my life," she said Wednesday after the official announcement. "It was just a very emotional, happy, surprising award."

For nearly twenty years, van der Merwe coached the Canadian Women's National Team, overseeing a tenure that is widely regarded as the pinnacle of field hockey for Canada on an international level.

During her time at the helm of the Women's National Team, Canada's women competed in three Olympic Games, six World Cups, and three Pan American Games.

It was at the 1983 Women's World Cup of Hockey where van der Merwe and her athletes were rewarded for being one of the emerging international powerhouses of field hockey at the time, by taking home a silver medal.

"It was the best years of my life and I look back and I think of the lessons learned, how I grew through the sport, and how we were able to make the sport grow," she adds. "It wasn't the Olympics that was the grind and the wonderful part, it was getting to the Olympics which was a huge effort on the athletes' part. And that was where the growth had to occur."

The South African-born coach was a long-time leader in the Canadian University ranks, presiding over six silver and two bronze medals at the National level. She will be officially inducted into Canada's Sports Hall of Fame in a ceremony on October 21, 2015 in Calgary, Alberta.

Van der Merwe enters the Hall alongside speed skater Susan Auch, ice hockey players Paul Coffey and Daniel Goyette, para-swimmer Michael Edgson, judoka Nicolas Gill, cross-country skiers Sharon and Shirley Firth, freestyle skier Jennifer Heil, soccer player Craig Forrest, cyclist Lori-Ann Meunzer, and golfer Jocelyne Bourassa.

"I just had the opportunity to meet and mingle with them," she says. "It's funny we all talk the same language, although we are different sports, we all talk the same language about what it takes to make it."

Additionally, van der Merwe and her fellow inaugural class members will be inducted into Field Hockey Canada's Hall of Fame at a ceremony to be held during the 2015 Pan American Games in Toronto this summer.

Field Hockey Canada media release


---

Sikhs in Hockey in Canada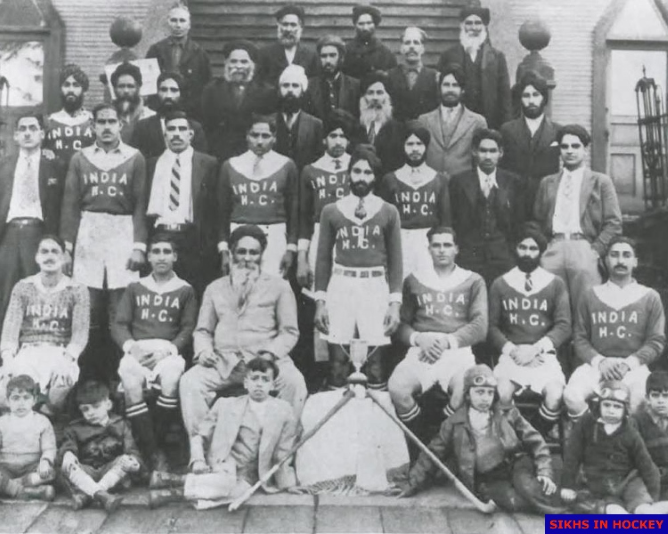 The India Hockey Club in front of the Vancouver Sikh Temple, 1934. The Team won the Mainland League Cup and the O.B. Allan Cup in 1934.

Hockey has been played in Canada since 1896 (The Vancouver Ladies Hockey Club was founded in 1896). Vancouver Hockey Club (Men) were Champions of British Columbia in 1902.

Sikhs first came to British Columbia in 1903. Sikh pioneers Lushman Singh Gill and Sardara Singh Gill founded The India Grass Hockey Club in 1932 and the Club joined the Mainland Grass Hockey League. They played against four established teams - The Vancouver Club, The Cricketer's Club, The Varsity Club and University of British Colombia Club. After only two years in Vancouver Field Hockey League, they were the League Champions, winning the Mainland League Cup and the O B Allan Cup for the next three consecutive years. Sardara Singh Gill, Jagir Singh and Mangar Singh Gill were selected to represent Vancouver during this period.

India Club's Harinder Jit (Pandit) Singh Rai, who also played for University of British Columbia during the 1956/57 season, was selected to represent the Canadian National Team against the USA, in Rye, New York, in Canada's first official international match on 21 October 1962. He scored Canada's first international goal in this match which Canada won 1 - 0.

Kuldip Singh Gosal, Paul Bubli Singh Chohan and Sarbjit Singh Dusang represented Canada at the Montreal 1976 Olympic Games and since then eleven Sikhs have represented Canada at Olympic Games.  The 2008 Canadian Olympic team had four Sikh athletes, Ravinder Singh Kahlon, Sukwinder (Gabbar) Singh, Bindi Singh Kullar, Ranjeev Deol, and one Sikh coach, Hargurnek Singh Sandhu.  This group entered the opening ceremonies wearing their Canadian Olympic wardrobe, while honouring their Sikh tradition by wearing a turban.

Canada's team at Buenos Aires 1978 World Cup included four Sikhs - Paul Bubli Singh Chohan, Sarbjit Singh Dusang, Mohinder Pal Singh and Paramjit Singh Bahia and Sikhs have represented Canada at every World Cup since then.

Paul Bubli Singh Chohan who made his international debut against Pakistan on 9 February 1974 in Christchurch, New Zealand went on to become one of Canada's most capped international player with 317 caps. He completed in three Olympics (1976, 1984 and 1988), three World Cups (1978, 1986 and 1990) and six Pan-American Games (1975, 1979, 1983, 1987, 1991 and 1995).

Hargurnek Singh Sandhu was selected to represent Canada against Scotland in Edinburgh on 13 September 1980 whilst still in the junior squad.  He went on to Captain Canada at the Junior World cup in Kuala Lumpur in 1982; played at Los Angeles 1984 and Seoul 1988 Olympic Games; and London 1986 and Lahore 1990 World Cups.  His brother, Hargurpreet Singh Sandhu was also a member of the Lahore 1990 World Cup team and captained the 1985 Vancouver Junior World Cup team.

Poonam Kaur Sandhu represented Canada's Women's team both at Junior and senior levels. She won her first senior cap in 2009 and represented Canada at the Glasgow 2014 Commonwealth Games.

Gary Singh represented Canada at the first Indoor World Cup in Leipzig in 2003 and Sikhs have been in Canada's team at every Indoor World Cup since then.  Jeewanjot Singh Bath has represented Canada in three consecutive Indoor World Cups, and also played in the 2001 Hobart Junior World Cup.  Including Jeewanjot Singh, there were a total of seven Sikh athletes (Aneal Singh Basi, Inderjit Singh Bath, Rajbir Singh (Sunny) Kahlon, Jesse Kaloti, Shalinder Singh Somal, and Jaideep Singh Takhar) and one Sikh coach (Manminder Singh Gill) on the 2001 Hobart squad.

Shiv Sharan Singh Jagday was Canada's National Coach from 1982 to 1986 during which time Canada played at Los Angeles Olympic Games and London 1986 World Cup. Canada won the 1983 Pan American Games for the first time in their history under his coaching.

There are several Clubs in Canada with Sikh players, India Field Hockey Club, United Brothers Field Hockey Club, West Coast Kings' Field Hockey Club, Calgary Kings Field Hockey Club and Toronto Lions Field Hockey Club to name a few.

All Canadian Men's and Women's teams, both at senior and junior levels, include Sikh players.



Canada Team at Pre Olympic Tournament in Lyons, France 1963. Harinder Jit Singh Rai is standing 4th from left.

Sikhs in Hockey


---

FIH President elected to ASOIF Council

.    Leandro Negre becomes ASOIF Council member for four years
.    FIH wins SportBusiness Ultimate Sports Federation Award

At Wednesday's General Assembly of the Association of Summer Olympic International Federations (ASOIF) held in Sochi, Russia, FIH President Leandro Negre was elected to the ASOIF Council for a four-year period. Negre received 20 out of 28 votes in the first round.

Following the election, the FIH President said: "I am immensely honoured and would like to thank the ASOIF family for their trust and support.  After over six years as FIH President and having served as both a Continental and National Association President before that, I am convinced that I can make a positive contribution for the benefit of all ASOIF members. Our cooperation with ASOIF has always been very fruitful and I am very much looking forward to working closely with the other Council members in a constructive manner."

In addition, FIH CEO Kelly Fairweather has been leading the ASOIF Olympic and Multi-Sports Games Consultative Group since 2013.  This expert group supports ASOIF's increased role in connection with the Olympic Games, Youth Olympic Games and other multi-sports events like the Commonwealth Games.

The good news came on top of the announcement that FIH was named winner of the Branding category in the SportBusiness Ultimate Sports Federation Awards during the SportAccord Convention in Sochi.

About the International Hockey Federation (FIH)
The International Hockey Federation (FIH) is the world governing body for the sport of hockey, recognized by the International Olympic Committee (IOC). Founded in 1924, FIH today has 132 member National Associations. For further information about FIH, please visit us at:

www.fih.ch    
www.youtube.com/fihockey 
www.twitter.com/fih_hockey
www.facebook.com/fihockey

FIH site