All the news for Thursday 12 February 2014

Second match of series ends in stalemate



Alex Danson in action for Great Britain against Argentina at the Visa International Invitational Hockey Tournament

Match two between Great Britain and Spain ended in deadlock as the sides played out a 1-1 draw at the Polideportivo Virgen del Carmen Betero.

In similar fashion to yesterday, Great Britain's Alex Danson got her team off the mark with a goal in the fourth minute thanks to a searching run into danger from Holcombe's Nicola White. Spain drew level with the visitors just before half time when Lola Riera Zuzuarregui converted a penalty stroke. The flick was awarded when the umpire adjudged the ball had struck a Great Britain foot on the line after a save by goalkeeper Maddie Hinch from a penalty corner.

With the score tied at 1-1 going into the third and fourth quarters Great Britain upped the pressure and were unlucky not to go ahead as they created plenty of opportunities; Slough's Shona McCallin and Reading's Susie Gilbert with perhaps the best of the chances to take the victory. However, Spain's defence stood strong and the hosts held on for the draw.

Speaking after the game Great Britain Head Coach Danny Kerry said: "I was much happier with the performance today. We created a lot more opportunities compared to yesterday and Spain had no open play shots and only one penalty corner. We've been working really hard on certain areas of our game in training and I think we're much harder to break down as a unit now and we are able to defend higher up the pitch which is paying dividends for us. I'm obviously disappointed with the final result, but it was a really good step forward from yesterday."

Great Britain's final match against Spain will take place on Friday at 1030 [UK time]. The three matches are taking place at Polideportivo Virgen del Carmen Betero, the same venue Kerry's team will travel to in June when they battle for Olympic qualification at the FIH Hockey World League Semi Final.

SPAIN 1 (1)
Lola Riera Zuzuarregui 30 (PS)

GREAT BRITAIN 1 (1)
Alex Danson 4 (FG)

Click here to find out more about the squad members.

Great Britain Women v Spain – fixture information
Tuesday 10 February - 1530 - Spain 0 v 1 Great Britain
Wednesday 11 February - 1530 - Spain 1 v 1 Great Britain
Friday 13 February - 1030 - Spain v Great Britain

England Hockey Board Media release


---

India, Germany and Great Britain women join Spain in Valencia



(Photo: RFEH facebook)

Preparations for the Hockey World League Semi-Final in Valencia which will take place in June this year, are hotting up as the second stage of the training sessions and games, are in progress in Valencia.

In January, Ireland and Holland women joined the Spanish women's team to enjoy the temperate climate in Valencia and take part in training sessions along with games at what will be the Semi-Final venue in Valencia - Polideportivo Virgen del Carmen Beteró.

Now is the turn of India, Germany and Great Britain women to join the Spanish team for training sessions and games on the brand new pitch.

In advance of the start of the second stage in Valencia, Spanish coach Adrian Lock said he was looking forward to it as his team benefitted from playing twice against the Netherlands, the current World Cup winners in the first session.

Las #Redsticks began the first match of the program with a narrow defeat to Great Britain on Tuesday 10 February and will play them again today, Wednesday 11 February and on Friday 13th February.

They will then take on India in three games next week, before Germany for a final three games the week after, with all the teams getting the chance to train and play on the new pitch ahead of the Semi-Final in June.  The dates are below:

10/02/2105 Spain v Great Britain
11/02/2015 Spain v Great Britain
13/02/2015 Spain v Great Britain
14/02/15 Spain v India
16/02/15 Spain v India
22/02/2015 Germany v India
23/02/2015 Spain v Germany
24/02/2015 Spain v Germany
25/02/2015 Spain v Germany

Click here for results and more information from the Real Federación Española de Hockey website.

FIH site


---

Wizards toy with Mumbai

Nandakumar Marar



Commanding win: Ramandeep Singh, who opened the scoring for Uttar Pradesh Wizards (center), celebrates with teammates. Photo: PTI

Reverse hits flew past helpless goalkeepers in a high-scoring Hero Hockey India League 2015 game. Uttar Pradesh Wizards won 5-1 on the strength of superior strike force for fourth win in eighth match, thwarting Dabang Mumbai efforts to avert another loss on home turf, at the Mahindra stadium.

Ramandeep Singh scooped home the first, teammate Bob de Voogd whipped home two reverse hits, Nikkin Thimmaiah diverted a pass as the visitors walked away with honours in the eighth match. Drag flicker V. Raghunath powered home the fifth.

Adrian D'Souza replaced David Harte after the first two reverse, but the power-packed hits flying past them at wicked angles could not be stopped. Jeremy Hayward pulled back a consolation goal, via a reverse hit from a narrow angle, but by then, the match had gone out of hand.

Ramandeep squeezed the ball beyond the reach of three defenders and goalkeeper Harte for the Wizards first goal in the second quarter. Running on to a lob from the midfield, the striker trapped and scooped high into the left corner, catching the defence closing in by surprise.

Mumbai custodian Harte, called into action twice till then, covered the angle to let go a de Voogd placement roll wide, but was caught at the other post when Ramandeep scooped home.

Wizards went ahead via a move involving three players. Jolie Wouter carried the ball down the left flank, daring the defence to close in. Ramandeep and Thimmiah positioned themselves at either posts for the final pass, diverted by Ramandeep for the latter to direct the ball in.

D'Souza, replacing Harte under the bar, was helpless on the goalline due to the change in the point of attack, only had time to react when de Voogd whipped home the third via a reverse hit from an acute angle. The ball flew in off the goalkeeper. He repeated the act later.

A similar attempt at the other end by Hayward helped the home team reduce the margin of defeat following a penalty corner. Sreejesh blocked the first shot, the ball was relayed to the Mumbai player again whose wristy reverse hit flew at an angle into the cage.

The result:

Uttar Pradesh Wizards 5 (Ramandeep Singh 26, Nikkin Thimmaiah 34, Bob de Voogd 42,45, V. Raghunath 50) bt Dabang Mumbai 1 (Jeremy Hayward 44).

The Hindu


---

Wizards thrash Mumbai 5-1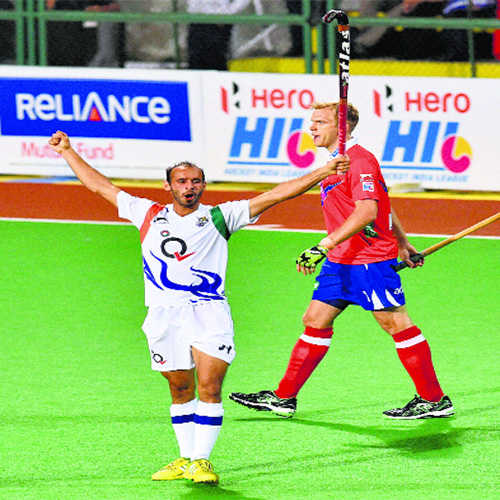 UP Wizards' Ramandeep Singh celebrates after scoring a goal against Dabang Mumbai on Wednesday. PTI

MUMBAI: Uttar Pradesh Wizards trounced Dabang Mumbai 5-1 to take a firm step towards the semifinals of the Hero Hockey India League at the Mahindra Stadium on Wednesday.

Dutch midfielder Bob de Voogd scored two brilliant reverse-hit field goals in quick succession (42nd and 45th minutes) for the winners, who rode roughshod over the home team after the first quarter.

The winners' remaining goals were notched by India internationals Ramandeep Singh (26th; the account opener), Nikkin Thimmaiah (34th) and V R Raghunath (50th).

The lone goal for the home team came off the stick of Australian Jeremy Hayward off an indirect penalty corner conversion -- the fourth set-piece award out of a total of eight earned -- in the 44th minute of play.

Their fourth win in eight games helped UP take their tally to 25 points with two games in hand, against Mumbai again at Lucknow on February 15 and against holders Delhi Waveriders on February 18.

Mumbai, who suffered their fourth loss from seven games, failed to get any from the match and remained on 12 points -- their qualifying hopes severely dented by the humiliating loss though they have three away games in hand.

Mumbai started on a storming note, creating openings with blistering runs down the right flank in the opening quarter, but they lost steam in the second as UP settled down to have more say in the match.

The Mumbai defence also leaked aplenty which was taken full advantage of by the speedy set of UP forwards, especially by Dutchman de Voogd.

The visiting team, who were third in the table going into their eighth league game, started attacking more from the second quarter and reaped rich rewards as they took a 3-0 lead before the home team reduced the margin.

But they had to wait for the opening goal as India defender V R Raghunath moved on the right and squared the ball across the goalmouth with Mumbai goalkeeper David Harte unable to cut it off, but the pass went waste with nobody there to deflect it home.

A minute later, de Voogd muffed a good chance from close range before international Ramandeep trapped a long scoop essayed from the centre, hoodwinked two rival defenders and shot home off-balance to beat Harte under the Mumbai bar to put UP 1-0 up in the 26th minute of the game.

Both teams forced a penalty corner each in the second part of the quarter, but neither could find the mark. UP attacked with vigour whenever they got the ball, in contrast to Mumbai whose attack did not carry the same punch as in the opening quarter.

The visitors made it 2-0 through some brilliant stick work by another Dutchman Jolie Wouter who showed a clean pair of heels to rival defenders as he weaved his way on the left into the circle before squaring to Ramandeep in front of the goal, who, in turn relayed it to Nikkin Thimmiah for the last-named to shoot home in a jiffy.

Mumbai replaced Harte under the bar with former India custodian Adrian D'souza but the brittle defence made the change meaningless as he conceded two goals, both to the reverse hits of de Voogd.

The skillful Dutch player dodged his way into the circle on the left side and then essayed a reverse-hit that hit the roof of the goal via D'souza's stick.

But Mumbai hit back immediately to score off their fourth penalty corner in an indirect manner as the ball came to pusher Glenn Turner who relayed it to Australian compatriot Jeremy Hayward to hit home with a reverse hit.

But any hopes of the hosts staging a comeback were dashed when de Voogd beat D'Souza with another reverse hit (4-1), after some shoddy defensive work by Mumbai, and then Raghunath made no mistake with his drag-flick to score from UP's second penalty corner award early in the final quarter (5-1).

Mumbai forced four more penalty corners in the remaining time but failed to break the rival defence.

The Times of India


---

Delhi Waveriders take on Kalinga Lancers



Delhi Waveriders members celebrate their victory over Dabang Mumbai. File photo: R.V. Moorthy

Defending champions Delhi Waveriders take on bottom-placed Kalinga Lancers in their first leg match of the Hero Hockey India League at Kalinga Stadium in Bhubaneswar on Thursday.

Delhi Waveriders have collected 15 points from two wins, two losses and two draws and they would look to register another victory to improve their position from the fourth spot they are occupying now in the six-team league.

On the other hand, with a lone win to their credit in the league so far, home team Kalinga Lancers are sitting at the bottom with only nine points and will take the field with a sole intention of recording a win against the Waveriders and ascend in the league standings.

Kalinga Lancers lost their last match against Dabang Mumbai by a solitary goal in a tightly contested game.

Kalinga Lancers and Delhi Waveriders met twice in the previous edition of Hero Hockey India League in 2014. On both the occasions, Delhi Waveriders have won 5-0 and 4-3.

As Delhi Waveriders will be looking to continue their winning spree over Kalinga Lancers tomorrow, the hosts will aim at avenging their past defeats.

Speaking about Thursday's match, of Kalinga Lancers head coach Jude Felix said, "The team has been training really hard and our aim is to win every match that we play from here on.

It is going to be an interesting match tomorrow as Delhi Waveriders is a tough team and as they are the defending champions their sole motive will be to retain the title.

"We will try and use Delhi Waveriders' previous defeat against Jaypee Punjab Warriors to our benefit, as we have learned that though the Waveriders' squad is pretty strong, there are quite a few loopholes that may prove to be advantageous for us," Felix said.

Delhi Waveriders head coach Cedric D'Souza said, "The mistakes committed during the last match are being observed minutely and the boys are working rigorously to improve their game. We have the skills and we can do much better in the League," he said.

"We are working towards our attacking strategies and to better approach during circle penetrations, in order to build up as many opportunities as possible," he added.

The Hindu


---

Thokchom the secret behind Punjab success

Gaurav Kanthwal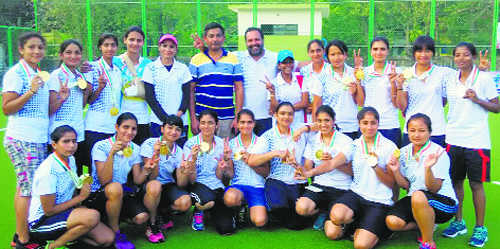 The Punjab hockey team after winning gold at the National Games on Wednesday. Tribune photo

Chandigarh, - Alright, Punjab women have won gold in the National Games. And an enthusiastic Deputy Chief Minister, Sukhbir Singh Badal, has promptly congratulated the team for bringing laurels in Punjab's traditional game.

In a statement issued here, Badal, who is the president of Hockey Punjab and the Sports Minister, while congratulating the Punjab women's hockey coach and the players, said that the game of hockey was synonymous with Punjab. The name of Punjab has emerged with flying colours at the National level.

Something, however, is odd. The scoresheets of the tournament show one Anuradha Devi Thokchom as the most prolific scorer of the team and tournament as well.

How come Thokchoms in Punjab? Till now Kaurs and Singhs ruled roost in Punjab hockey; now Thokchoms have infiltrated the erstwhile bastion of hockey.

A look at the Punjab's scoresheets in the tournament will easily let out the secret that a Manipur native Anuradha Devi Thokchom has been carrying the team over her shoulders.

The 26-year-old forward scored a hat-trick against UP (3-1), scored the equaliser against Jharkhand (2-1) and drew first blood against Odisha (3-0) in the semifinal.

She has represented India in 67 matches and scored nine goals in international hockey. If you think this is it, there's more. Lalremruati Khangte and Rasalind Lalachhanhimi Ralte are other players from the north eastern states.

Four players representing Punjab, Hardeep Kaur, Monica and Anju Dhiman and Reena Rani, are actually products of a Shahbad-based academy in Haryana. Punjab coaches, of course, would be knowing it well.

Actually, in a bid to raise the medals tally, states try to rope in players from every possible quarter. Thokchom is a a railways employee posted in Punjab, which makes her eligible to play for the state. Same is the case with the other players. Sources said Punjab had tried its best to put up an assorted team and were eager to rope in more but had to be content with these many.

So, if you think there has been a revolution in Punjab's talent pool, think again.

The Tribune


---

Karachi outplay Police 6-2, Pak Steel hold PAF

Anwar Zuberi



KARACHI: Pakistan Steel's Abbas Hyder dribbles past PAF's goalkeeper Qurban in an effort to score in the fifth Quaid-i-Azam Gold Cup on Wednesday.—Anis Hamdani/White Star

KARACHI: Karachi thumped Pakistan Police 6-2 to register their maiden victory in pool A of the fifth Quaid-i-Azam Gold Cup hockey tournament at Customs Preventive Service Club and Sports Complex on Wednesday.

The second match between the PAF and Pakistan Steels ended in a two-all stalemate.

Both the matches that were of academic interest marked culmination of the league.

Having lost earlier two games to Customs 2-3 and National Bank of Pakistan 2-12, the local outfit made amends by winning their last fixture. Allay Hassan netted twice, both field goals, — once in second and fourth quarters — to steer his team victory. Earlier, Waseem Aslam drew blood in the fifth minute while Shujaat Ali consolidated the lead off first penalty corner in the 11th minute. Sharjeel Sheikh and Ali Hassan contributed one goal apiece, the last on penalty corner one minute before the final whistle.

Back to back goals by Anas Siddiqui in 39th and 55th minutes helped Policemen reduce the deficit. They earned half-a-dozen penalty corners but in vain. It is pertinent to mention that Police remained winless in the competition having suffered a massive 0-21 defeat at the hands of NBP and 2-7 to Customs.

Waseem Aslam of Karachi won Man of the Match award of Rs10,000.

The PAF and Pakistan Steels fought a fierce battle in the next match that was marred by some rough play.

After the barren first quarter, Abbas Hyder struck twice for Pakistan Steels in 32nd and 50th minutes while full back Mushtaq slammed both the goals for PAF off third penalty corner in 41st minute and fourth in 49th minute.

Mushtaq of PAF earned the Man of the Match award of Rs10,000.

Group A champions National Bank of Pakistan takes on runners-up of pool B Railways in the first semi-final on Thursday at 1pm. This will be followed by second semi-final between winners of pool B PIA and runners-up of pool A Customs at 3pm.

Dawn


---

Five join hockey team ahead of Olympics qualifiers

By BRIAN YONGA



From left: National Hockey team players Terry Juma, Audrey Amooh, Pauline Amutebi and Anita Agunda during a past match. Five new players were on February 11, 2015 included in the final list of the national women's hockey team that is set to take part in the World League two series. PHOTO | FILE |   NATION MEDIA GROUP

Five new players were on Wednesday included in the final list of the national women's hockey team that is set to take part in the World League two series.

The five will make their debut in the Olympic qualifying tournament that gets underway in Montevideo, Uruguay on Saturday where Kenya will be seeking to make it to the final round.

Only eight teams will seal their place to next year's Rio Olympic Games from this qualifying round.

Mount Kenya University (MKU) goalkeeper Shirley Liyavuli is the only surprise inclusion in the team.

Other players who got their first caps are Sandra Vodoti, Rhoda Nyambura (both Kenyatta University) and defender Beatrice Mbugua (USIU) who has been outstanding this season.

SUPRISE OMMISIONS

However, the exclusion of Telkom Orange striker Margaret Rotich - who had a stellar season with both club and country - took many by surprise.

Rotich helped Orange bag their unprecedented seventh African club championship and 17th league crown last year.

The forward has been part of the national team since 2008 and scored two vital goals during last year's World League one series helping the country advance to the second round.

Other players who also failed to make the team are Glen Namasake (Orange), Anita Agunda (Sliders) as well Doreen Barasa and goalkeeper Ruth Njoki.

The team will be captained by Bettsy Omalla - voted the most valuable player during the first round - while Pauline Naise, who finished as top scorer, will lead Kenya's forward line with the evergreen Jackline Wangeci and Lillian Aura.

Coach Jos Openda expressed confidence that the team has what it takes to reach the next round. Kenya opens her campaign against France on Saturday before taking on Trinidad and Tobago and Azerbaijan in their subsequent Pool A matches.

"There is a blend of youth and experience in the squad and I know they are relishing the opportunity to prove their worth in the competition. We know little about our opponents but we are going there to seal a spot in the next round," Openda told Daily Nation Sport.

The travelling party of 18 players and 10 officials including a government official are set to leave the country Thursday at 4pm according to head of delegation Elynah Shiveka.

TEAM

Cynthia Onyango, Betsy Omalla (captain), Terry Juma, Lorraine Nondi, Flavian Mutiva, Caroline Guchu, Audrey Omaido, Lilian Aura, Tracy Nungari, Elizabeth Ngombo, Rachel Ousa, Yvonne Wanjiku (assistant captain), Pauline Naise, Vodoti Sandra, Jackline Mwangi, Beatrice Mbugua, Rhoda Nyambura and Shirley Liyavuli.

Daily Nation


---

Champions Butali beef up squad

By BRIAN YONGA



Butali Sugar Warriors celebrate a goal against Parkroad during their Kenya Hockey Union (KHU) Premier League match at City Park Stadium on November 2, 2014. The Hockey Premier League champions Butali Sugar Warriors have signed three players ahead of the 2015 season. FILE PHOTO | MARTIN MUKANGU |  NATION MEDIA GROUP

Hockey Premier League champions Butali Sugar Warriors have signed three players ahead of the 2015 season.

The are midfielder Brian Musasia from Kenya Police, center-half Seth Oburu from Strathmore University and forward Barnabas Odhiambo from Nakuru Sikh.

Butali coach, Cliffe Okello, welcomed the new additions to the lakeside team saying they will aid in the club's league defence and win their maiden Africa Club Championship.

"These  are experienced players who have featured not only for top clubs, but also formed part of the men national team in the previous years. we believe they will help us have a successful season," said Okello.

Musasia , a former player with the Italian side, HC Superiba, has  in the span of two years changed clubs thrice. He played for Strathmore University in 2013 before being sold to Kenya Police mid last year and now joins the defending champions less than five months.

VERY OPTIMISTIC

Oburu, on the other side, has been out of action since been banned by KHU last year for disciplinary action will be relishing the chance to link up with the defending champions.

Okello is optimistic the club will  honor the Africa Club championship later in the year after they skipped the last championship that was held in Zimbabwe.

"We are currently training to be ready for the new season  and  be at a better place when the league gets underway.

"Our main aim  is to retain the national trophy and then  make a come back at the continental tournament. We gave the annual event a wide berth as we were not prepared and also we did not have sponsors, but now that we have Butali Sugar on board, we have no excuse," said Okello.

Meanwhile,  the 2015 league season  will revert to the round robin format back from  the  pooling format last season.

According to sources who attended a  KHU meeting held last weekend, officials confirmed that the pooling system had been scrapped. "We have gone back to the league format that was sued two years ago.  However, the clubs will have to wait for official communication.

 Many clubs and coaches had complained about the pool format calling on the Union to do away with it arguing that it was not helping in he growth of players and the sport in the country.

The new season is expected to begin mid next month.

Daily Nation


---

Series with U.S. Under-21 team begins Thursday

Shaheed Devji, fieldhockey.ca




So far it's been an extremely busy month for Canada's National field hockey teams, specifically the women.

The indoor team is coming off participation in the 2015 Indoor World Cup, and the outdoor Women's National Team has just returned home from a training tour in New Zealand in which they faced the world number four ranked Black Sticks four times.

But just as the senior level ladies take some time to recover before the year gets even busier, Canadian Junior Women's National Team is about to begin play in a series of matches with the United States' Under-21 Women's National Team at Spooky Nook in Lancaster, Pennsylvania.

The series continues the progress in the cycle leading up to the 2016 Women's Junior World Cup (November 23-December 4, 2016 in Santiago, Chile).

So far, through scouting and training camps Canada has identified potential athletes to take part in the tournament, many of whom are a part of the recently named Women's Junior and Senior Development Squads.

The touring roster selected to compete in Lancaster comprises of a mix of players from both teams, and includes three members for the Senior Development Squad – Lauren Logush (Richmond Hill, ON), Priya Randhawa (Surrey, BC), and Nikki Woodcroft (Waterloo, ON) – who will be counted on to bring their senior international experience to the team, which otherwise constitutes of many athletes who be playing their first international matches for Canada.

The series with the United States at Spooky Nook is the first half of a two part series - the return leg will be played in Canada in August - aimed at preparing the women for 2016 Junior World Cup qualification, which will be held late 2015/early 2016.

Throughout 2015, the juniors will continue to train with the direction from the National Program individually, at various training camps, and in competitions such as this one with the United States.

The Junior Women's National Team arrived in Lancaster earlier this week and will train until Thursday evening when they play the first of four matches.

2015 Women's U21 CanAm Series Schedule

Game 1 – February 12th, 9:00pm
Game 2 – February 13th, 6:00pm
Game 3 – February 15th, 6:00pm
Game 4 – February 16th, 12:00pm

For a full schedule and results click here.

Field Hockey Canada media release


---

HC Bra claim Italian indoor title with late flourish




HC Bra claimed the Italian national indoor title with a stunning second half display to beat CUS Bologna in the final 6-3 last Sunday.

It earned the Piedmontese the title for their second indoor crown in the last four years, adding to their 2012 success, seeing off a Bologna side playing in their third successive final.

Sergey Stasiuk and Nicola Sanasi twice gave Bologna the lead in the first 15 minutes, cancelling out Nicholas Chiesa's 13th minute goal. Loris Perelli equalised for a second time at 2-2 but CUS moved 3-2 up at half-time via Simone Cesari.

Bra, though, bossed the second half scoring four times without reply to win the crown. Chiesa got his second seven minutes after the break and it remained level at 3-3 until just three minutes from the end.

But once Devis Mapelli put Bra in front, they never looked back. Matteo Moro gave them some breathing room before Chiesa completed his hat trick in the final minutes.

Euro Hockey League media release


---

Kookas Team of the Year

Aussie men named AIS Team of the Year at inaugural ASPAs




The Australian men's hockey team, the Kookaburras, has been named Team of the Year at the AIS Sports Performance Awards (ASPAs).

Kookaburras assistant coach Paul Gaudoin accepted the award on the team's behalf at a ceremony held at the Melbourne Museum on Wednesday night. The Kookaburras held off stiff competition from the Australian netball team, the Diamonds, and the Australian para rugby team, the Steelers, to secure the award.

The accolade acknowledges an outstanding year for men's hockey in which the Kookaburras successfully defended their World Cup title with a thrilling display in the 6-1 grand final win over the Netherlands before going on to win a fifth consecutive Commonwealth Games gold medal with a 4-0 win over India. Those results were followed up by a young, less experienced team securing bronze at the Champions Trophy in December, Australia's seventh consecutive Champions Trophy podium finish.




Explaining what he sees as the major reasons for the team's success in 2014, Assistant Coach Paul Gaudoin said, "Post-2012, the Olympics, there was a certain shift of building our culture up again. From a psychology point of view that's been a point of difference and we've worked very hard.

"The sacrifice and the time that the athletes have put in over the last 18 months to two years has been phenomenal from what I've seen. It's also probably the hardest I've worked!

"That culture shift certainly changed the way we prepared, we trained and pushed ourselves to an even higher level and the rewarding results in the end were testament to that hard work."

Paying tribute to the Australian Institute of Sport and the Australian Sports Commission for their support, which Gaudoin labelled "valuable", he added, "They're our principal partners and allow us to do what we do, and without their support it gets difficult. I'm including all our sponsors and supporters but certainly the Sports Commission is crucial to our success."

The ASPAs recognise Australia's leading athletes, teams and coaches, and celebrate their outstanding achievements in high performance sport.

The award comes hot on the heels of the International Hockey Federation's announcement last month of captain Mark Knowles as International Player of the Year and former coach Ric Charlesworth as International Coach of the Year.

22 Kookaburras are currently competing in the Hockey India League, which runs until 22 February. Following their return to Australia, the team will prepare for the Sultan Azlan Shah Cup in Malaysia in April ahead of their first opportunity to qualify for the Rio 2016 Olympic Games at the World League Semi Final tournament in Belgium in June

Hockey Australia media release